WEEK OF SEPTEMBER 3 THROUGH SEPTEMBER 9
Iran: US aiding Zionist interests in name of Christianity
Sept. 4 ….(Israel Today) A leading Iranian cleric on Friday told the nation that US President George W. Bush is the standard-bearer of what he labeled a "Satanic" twist on Christianity that advocates helping the Jews to reclaim their biblical homeland. In remarks carried by Iran's IRNA news agency, Ayatollah Mohammed Kashani said helping the Jews return to the Land of Israel violates the teachings of Jesus, but that some Christians believe that by bringing all the Jews to the area he calls "Palestine" they can hasten Messiah's return. "They are after gathering the entire Jews of the world in Palestine [sic], which is definitely a move with political and Satanic roots, but the idea is put forth in the framework of an idea behind the hope for reappearance of Messiah," Kashani preached. The cleric insisted Bush is the primary proponent of that philosophy and policy, but noted with satisfaction that the president and his views are increasingly unpopular in America and the West. In contrast to the Bush-led United States, Kashani stated that the Islamic Republic of Iran is a "divine world power."
FOJ Note: Biblical or Christian Zionism does teach that Christians should foster good relations with Israel, but Bible prophecy also reveals that Israel will be wooed by the Antichrist in the Last Days. Therefore any movements to hasten the Messiah's return are fool-hearty.
Israeli Pullout Means Ceding Land to Iran's Extensions
Sept. 4….(YNET) During a special Knesset session Tuesday, opposition leader Benjamin Netanyahu warned that the establishment of a Palestinian state would increase Israel's vulnerability to rocket attacks. The Likud chairman said he was opposed to another Israeli withdrawal from the territories, saying "on the eve of Rosh Hashana, the nation has already done its soul-searching and realizes that another pullout means relinquishing land to extensions of Iran. "Now they tell us that we have a partner. Who is the partner, (Palestinian President) Mahmoud Abbas? This is the partner?" Netanyahu said.
Sept. 4….(IsraelNN.com) Speaking at a special mid-recess Knesset session Tuesday morning, Opposition Leader Binyamin Netanyahu spoke of the dangers of Prime Minister Olmert's intention to give away most of Judea and Samaria in a new diplomatic initiative being negotiated with Fatah leader and Palestinian Authority (PA) Chairman Mahmoud Abbas. "We keep hearing about an international summit in November in which we will more or less promise to give away more land in another unilateral withdrawal," Netanyahu said. "It wasn't enough that we retreated in Lebanon and Gaza, that now they're planning another one?!" Netanyahu was referring to ongoing negotiations between Olmert and Abbas, known as Abu Mazen. The goal of the talks is to reach an agreement in principle of a withdrawal from nearly all of Judea and Samaria, in exchange for peaceful relations with a Palestinian state to be formed there. So they'll say that it's not unilateral, rather now we have a partner," Netanyahu continued. "And who's the partner? Abu Mazen. He's a partner!? Reciprocity is when you get something back in exchange for what you give. But what will we receive? Will we receive the complete nullification of the 'right of return' to Israel? We know that we will not. Will we receive sovereignty over Jerusalem? No, we know that our government has ceded this too. And it keeps on going, with every Olmert-Abbas meeting, another 100 terrorists are freed, as we heard this morning, and that's when they meet here; when they meet in the US, it's hundreds of terrorists who go free, and we hear that at the summit they're going to be talking about thousands! Not to mention the guns that the PA keeps receiving..."
Concessions are Downright Dangerous
"This government just gives and gives," Netanyahu railed, "and receives nothing, and this will place us in dangers much greater than we have known before, as we see in Sderot; the risks in the Galilee continue as well. Our country will end up endangered by rockets from three directions." "One diplomatic mistake made by government leaders, 1,000 generals cannot fix," Netanyahu said. "Two of our leading politicians [Defense Minister Ehud Barak and PM Olmert] have made terrible mistakes. Barak's hasty retreat from Lebanon brought Katyushas to the Galilee and Olmert's major role in the Disengagement from Gaza brought Kassams to the Negev. We warned in the past about Iran's rockets, and about Hizbullah, and about Hamas, and that Olmert is blind to the dangers, and that we must not let him be in charge of our country, and then just a few months later, our predictions came true when the war in Lebanon broke out."
Where's the Promised Response?
"I remind you of the promises made by Olmert and other fellow Disengagement-proponents regarding the strong, powerful military response we would carry out if the terrorists fire at us from Gaza. Nu? Where's the response? They themselves [Barak and Olmert] realize there is a problem, and they say they can't withdraw right now [from Judea and Samaria], because then the terrorists will take over and fire at us. This means it won't bring peace, but will rather bring the rockets closer." "What, then, must we do? We must first of all realize that at present, there is simply no Palestinian partner. The reason why Judea and Samaria does not turn into Hamastan is because we are still there.
Iranian and Hizballah Instructors Upgrade Palestinian Missile Capabilities in Gaza
(IDF restrained from striking)
September 4….(DEBKA) For all its upgraded armor, Israel's armed forces are prevented from launching effective offensive action to destroy the upgraded Palestinian missile infrastructure in Gaza. After a Palestinian seven-missile barrage hit Sderot and its environs Sunday, the town's parents decided to send the town's school children to Jerusalem with their school books to hold classes opposite the Knesset. They are protesting yet another meaningless pledge by the prime minister "to punish every missile launcher" in Gaza and his appeal to… the UN to stop the Palestinian missile blitz from Gaza. Sderot citizens say the school year which opened Sunday, Sept 2, is over. The town is breaking up because the armed forces are not allowed to break up the Hamas and Jihad Islami missile system or stop the flow of smuggled war materiel into Gaza. Once the education system shuts down, the town will expire. DEBKAfile's military sources report: The Jihad Islami chief Mohammad al Hindi recently brought back from Tehran dozens of Iranian and Hizballah artillery experts who are training their operatives and advising on the development of upgraded, extended-range missiles. Southern command officers told DEBKAfile: The government forbids us to take out the Iranian and Hizballah missile experts recently arrived in Gaza. The officers ask why the government appealed to the United Nations, which is helpless, instead of to Egypt, which knowingly allowed the terrorists and their foreign advisers to touch down in Cairo and proceed to Gaza despite an intelligence alert of their arrival. Since they landed in early August, Palestinian capabilities have improved. Above all, the commanders ask, why is the army not given the go-ahead to knock out the upgraded Palestinian military machine and its foreign helpers.
Hamas Rockets Land in Israeli Day-Care
Sept. 4….(Fox News) Palestinian rocket landed in a courtyard next to a crowded day care center on Monday, sending panicked mothers scrambling to take their screaming toddlers to safety and bringing warnings of retribution from Israeli leaders. None of the 15 children at the center was hurt. But frantic parents in Sderot, already furious over the government's failure to protect them and their children from the near-daily rocket fire, pulled their children out of schools on the second day of the academic year. It was unclear when studies would resume. The army said seven rockets were fired Monday morning at Sderot, a frequently targeted city just a mile from the Gaza Strip. Islamic Jihad, a radical Palestinian militant group that has fired hundreds of rockets into Israel in recent years, claimed responsibility. Israeli Prime Minister Ehud Olmert said Israel would show no restraint in its efforts to stem the attacks from Gaza. "We will not limit ourselves" he told a news conference in Jerusalem, adding that Israel would "do everything to provide better security for the residents of Sderot." The military carries out almost daily ground and air strikes aimed at rocket-launching squads in northern Gaza, but the crude rockets continue to baffle the high-tech military. The Education Ministry said studies would continue normally. But Batya Katar, head of the Sderot Parents Association, said parents were pulling all 2,500 of the town's students out of school. Sderot, a working-class town of 22,000, has been battered by thousands of the crude projectiles launched in recent years from Gaza.
Hamas Rockets Continue to Rain on Sederot
(Olmert government has done nothing to stop the rocket attacks)
Sept. 4….(JNEWSWIRE) Gaza's Palestinian Arabs, who have been relentlessly, and mostly with impunity, raining rockets down on southern Israel, scored another victory Monday when they succeeded in terrorizing parents of Sderot students into pulling their children out of school. Seven Kassams slammed into the Negev town in the morning in what the Palestine Islamic Jihad terrorist organization described as "a present for the start of the new school year" that began Sunday. The PIJ said it had fired fully nine "Kuds-3" rockets at Sderot. Some missiles scored direct hits: one pulverizing a road in the town, another blowing a hole in a house adjacent to a day care center, according to reports. Soldiers and civilian staff had just rushed to evacuate 15 babies from the center when the rocket struck next door. Emergency workers reported that no one was wounded, but a number of adults and children had to be treated for shock. According to the Jerusalem Post parents in the beleaguered town, many of whom are already furious with the Olmert government for its pathetic responses to the Kassam terrorism, vowed to remove their children from school. They will not allow them to return to classes, they said, until the government makes a real effort to safeguard their lives.
Chinese Military Hacked into Pentagon
Sept. 4….(Financial Times) The Chinese military hacked into a Pentagon computer network in June in the most successful cyber attack on the US defense department, say American ­officials. The Pentagon acknowledged shutting down part of a computer system serving the office of Robert Gates, defense secretary, but declined to say who it believed was behind the attack. Current and former officials have told the Financial Times an internal investigation has revealed that the incursion came from the People's Liberation Army. One senior US official said the Pentagon had pinpointed the exact origins of the attack. Another person familiar with the event said there was a "very high level of confidence, trending towards total certainty" that the PLA was responsible. The PLA regularly probes US military networks, and the Pentagon is widely assumed to scan Chinese networks, but US officials said the penetration in June raised concerns to a new level because of fears that China had shown it could disrupt systems at critical times. "The PLA has demonstrated the ability to conduct attacks that disable our system and the ability in a conflict situation to re-enter and disrupt on a very large scale," said a former official, who said the PLA had penetrated the networks of US defense companies and think-tanks. Hackers from numerous locations in China spent several months probing the Pentagon system before overcoming its defenses, according to people familiar with the matter. The Pentagon took down the network for more than a week while the attacks continued, and is to conduct a comprehensive diagnosis. "These are multiple wake-up calls stirring us to levels of more aggressive vigilance," said Richard Lawless, the Pentagon's top Asia official at the time of the attacks.
Hamas Just as Strong as Fatah in West Bank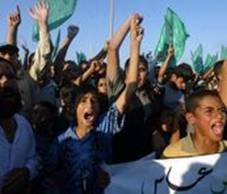 Sept. 4….(Israel Insider) Defense officials reported that Hamas is equally as strong as Fatah in the West Bank and poses a grave threat to PA Chairman Mahmoud Abbas' position in the region, the Jerusalem Post reported. Terrorists in Judea and Samaria reportedly possess over 80,000 illegal weapons. The London-based Al-Quds al-Arabi newspaper reported Monday that Fatah security forces had recently thwarted an attempted coup in the PA by Hamas, in an ongoing struggle for control of the West Bank.
Hamas had previously attempted to establish a military force in the West Bank similar to its Executive Force in the Gaza Strip, with reported plans to attack PA institutions and take over the government. Despite Fatah's numerical and organizational superiority, defense officials stress that Hamas is far more driven, a characteristic that could undermine Fatah's strength in numbers. Fatah had four more times the men than Hamas when Hamas seized control of the Gaza Strip in a bloody coup in June. "They have weapons and explosives and, more importantly, they are highly motivated," a senior defense official said. "It is not about manpower," he added, "but about motivating the Fatah forces to want to fight and defend the PA." Another official added: "The security forces need to feel that they have a reason to fight. They need to feel like they have a better life to look forward to. Otherwise, they will not pose a challenge to Hamas." Hamas is now aiming its efforts at infiltrating its men into the ranks of PA security branches, the Palestinian Police and the National Security Force. According to the official, Hamas is currently in a "waiting period" and is working towards uniting some of its splinter groups spread throughout the various West Bank cities, with terrorist hubs in the northern Samaria cities of Nablus and Jenin.
Remnants of the Second Temple Being Destroyed by Islamic Wakf
Sept. 4….(Arutz) A large trench being dug on the Temple Mount is destroying a never before uncovered section of the outer wall of the Second Temple. The construction is being supervised by the Wakf—the Muslim Authority acting as custodians to the Temple Mount. Archeologists have been calling for construction to halt on the trench which is approximately 1,300 feet long and five feet deep. The Wakf claims the trench is being dug to replace 40-year-old electrical cables for nearby mosques.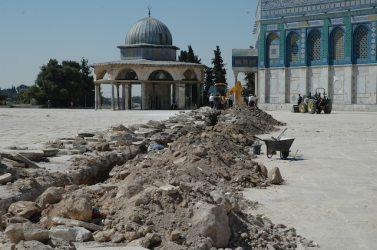 Muslims dig a trench across the temple mount destroying artifacts
New photos of construction debris from the Temple Mount show carved stones casually dumped in a pile that appear to be a section of the outer wall of the Second Temple, according to archaeologist Eilat Mazer. According to Rabbi Chaim Richman, International Director of the Temple Institute, the Wakf is intentionally digging in areas where "undoubtedly the Temple once stood." "For the first time since the Temple's destruction, a section of the Temple Wall itself has been exposed," Richman said. "And the Wakf under the guise of laying down electrical pipes has dug a trench, destroying the most important holy artifact ever found to date."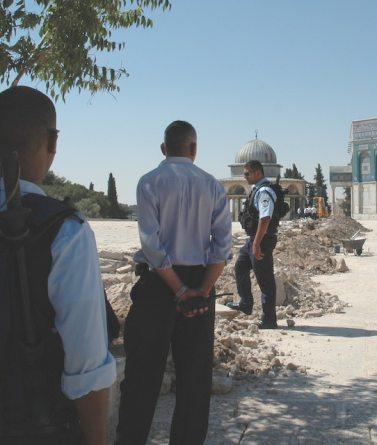 Israel Police look on as Muslim tractor destroys Temple
Richman contends that the Temple remains are being "purposely destroyed with no supervision," calling the government's tolerance of the construction "complicit cooperation." According to a report by WorldNetDaily, Prime Minister Ehud Olmert personally gave permission for bulldozers, steam shovels and other heavy equipment to be used to dig the trench. "This is an extraordinarily serious offense," Richman states. "A corrupt, spiritually bankrupt government is allowing Judaism's holiest site to be trashed because of political agreements to officially hand over the Temple Mount to the Palestinian Authority. Jews in Israel and abroad are asleep, and have not awoken to the importance of the Temple in Judaism or the desecration of this holy site being performed daily by the Wakf." The Israel Antiquities Authority approved the construction despite archaeologists' concern that precious artifacts are being destroyed. The Authority, which digs for religious artifacts across the State of Israel, has not inspected construction on Judaism's holiest site even once since the work began, despite continuous calls for the construction to be supervised and halted. The police say they will not act since the Antiquities Authority approved the dig. The Wakf has denied that any Jewish artifacts have been discovered during the dig, but new photos of work on the Mount belie the claim, clearly showing what is likely to be an ancient piece of carved wall. The wall in question is from the outer wall of the Temple itself, as opposed to the Western Wall, which is a remnant of the retaining wall around the larger Temple platform.
WEEK OF AUGUST 27 THROUGH SEPTEMBER 2
UN Summit: Boycott Israel
(United Nations conference at EU parliament compares Israel to apartheid South Africa)
Aug. 31….(YNET) A UN conference, held at the European Parliament in Brussels, heard an array of speakers call for a boycott against Israel and strategize on ways to achieve its international isolation, during the first day of an event billed by organizers as a gathering to promote "Middle East peace". The 'International Conference of Civil Society in Support of Israeli-Palestinian Peace' has been organized by the UN's Committee on the Exercise of the Inalienable Rights of the Palestinian People, and attracted political figures and pro-Palestinian members of non governmental organizations (NGOs). According to the Bnei Brith organization, which sent delegates to attend the conference from its European Affairs Office, British Member of Parliament Clare Short said during her speech that Israel was not interested in a two-state solution, and blasted the EU for "allowing" Israel to build "an apartheid wall". "The boycott worked for South Africa, it is time to do it again," Short was quoted as saying. The security fence was also attacked by the European Parliament's vice president, Edward McMillan-Scott, who maintained that it would not bring peace to Israel. McMillan-Scott added that the European Parliament was committed to "a two state solution with safe borders," according to the Bnei Brith report of the conference. Addressing the conference on behalf of PA President Mahmoud Abbas, Leila Shahid, Palestinian Representative to the EU, read out a statement in which Abbas expressed satisfaction that the conference was hosted by the European Parliament, and lamented the suffering of the Palestinian people. Pierre Galand, European coordinator of the Committees and Associations for Palestine, claimed that the conference was taking place despite pressures to cancel it, and blamed the Fatah-Hamas conflict on "Israeli policy".
'Members guided by clear agenda'
"This is a conference of Israel-haters," Adam Mouchtar, Director of Bnei Brith's European Union Affairs Office, told Ynetnews. Mouchtar attended the conference's first day, and said its members were clearly guided by a single agenda: "To prove that Israel is a racist apartheid state, and therefore Israel should be boycotted internationally, as South Africa was." "We've had this in Durban in 2001. These are the same organizations that took over the Durban conference and coined the term 'Zionism is racism'," Mouchtar said. "It's a biased conference. It nearly totally excludes any reasonable Israeli speakers."
Sheikh Salah: Israel Wants to Encroach on Temple Mount
(Head of Islamic Movement accuses Israel of conspiring to build Jewish Temple on Temple Mount)
Aug. 31….(YNET) Israel is conspiring to encroach on the Temple Mount to build a Jewish temple near the Al-Aqsa mosque, Sheikh Raed Salah, the head of the Islamic Movement northern branch, said Thursday. Salah called on Arab and Muslim nations to "prevent the division of the Al-Aqsa by Israel." In a letter to Arab kings and leaders of Muslim countries, Salah urged all Muslims to torpedo "Israel's plan that aims at dividing the Al-Aqsa Mosque between Muslims and Jews whereas in the Jewish part it plans to build its imaginary temple." Salah also lamented Israel's practice of allowing groups of religious Jews to visit the Temple Mount, and according to Salah, to pray and perform religious rituals. The Temple Mount, which houses the Al-Aqsa and Dome of the Rock Mosques, is the holiest site in Judaism for Jews. The Al-Aqsa Mosque, the third holiest Muslim shrine, nests just above the last remaining wall of the Temple, the Western Wall. Salah said the whole complex was Muslim but Israel was trying to expropriate parts of it.
Jerusalem's Temple Mount Dig by Muslims Questioned
Aug. 31….(YAHOO) Israeli archaeologists charged on Thursday that digging overseen by Islamic religious leaders at a hotly disputed Jerusalem holy site damaged a wall that might date back to the Bible.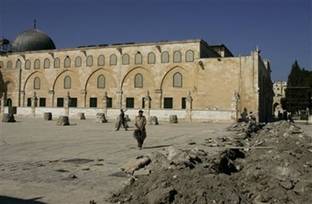 Islamic authorities responsible for Haram as-Sharif, known to Jews as Temple Mount, said digging a trench was necessary to replace 40-year-old electrical cables. They called the Israeli group's charges "sheer propaganda."
The hilltop compound is a flashpoint in the Israeli-Palestinian conflict. Home to the silver-domed Al Aqsa Mosque and gold-capped Dome of the Rock, it is Islam's third-holiest shrine. Jews revere it as the location of the two biblical Jewish temples, making it the holiest site in Judaism. Disagreements over who should control the holy site have helped scuttle past Mideast peace talks. On Thursday, Israeli archaeologist Zachi Zweig said a tractor used to dig the trench damaged the foundation of a 7-yard-wide wall "that might have been a remnant of the Second Temple." Zweig said his group, the Public Committee Against the Destruction of Antiquities on the Temple Mount, drew that conclusion because of the location of the damaged foundation. "We saw the damage for ourselves and documented it," he said. The Second Temple was built by Cyrus the Great of Persia in 515 BC and destroyed by the Romans in 70 AD. The tractor dug a trench that was 4 feet deep, Zweig said. "The bedrock at this location is very shallow, so there is a high probability that ancient remnants were damaged," he added.
The top Muslim cleric in Jerusalem, Mufti Mohammed Hussein, rejected the Israeli group's charges. "We don't harm the antiquities, we are the ones who are taking care of the antiquities, unlike others who destroy them," the mufti said. Zweig said the Israel Antiquities Authority supervisor who was assigned to oversee the cable replacement was a novice archaeologist. "The oversight was a joke," he said. The authority had no comment. Digging for the cable was completed on Wednesday, the Muslim Religious Council said. Israel captured the hilltop compound from Jordan in the 1967 Mideast war. Israel has left its daily administration to Islamic authorities and barred Jews from praying there out of respect for Muslim sensitivities. But Palestinians insist on sovereignty there, rejecting any Israeli or Jewish link to the site. Disputes over construction projects there have erupted in violence several times since Israel captured it from Jordan. Earlier this year, an Israeli archaeological dig just outside the disputed site led to widespread Muslim protests. Israel said it was planning to replace a shaky access ramp, but Muslims charged the Israelis were damaging the site.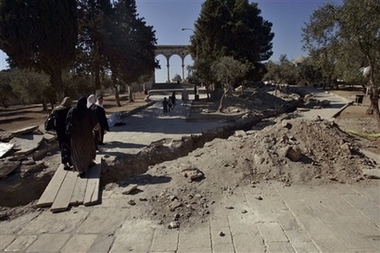 Olmert Offered Judea, Samaria, Division of Jerusalem in Draft Accord
Aug. 31….(IsraelNN.com) Israel's government has agreed, in writing, to hand over 6,250 square kilometers of land, the equivalent of its entire biblical and strategic heartland, to an Arab terror state. So reports Dr. Guy Bechor, a leading expert on Arab affairs, who also supplies some of the details of the negotiations. Bechor reports, based on "leaks from the Palestinian side," that Israel has, in the past few days, presented Palestinian Authority chairman Mahmoud Abbas at least one draft of an "agreement of principles." The agreement calls for a state named Palestine to be established alongside Israel, and have a territory of 6,250 square kilometers: the equivalent of all of Judea, Samaria and Gaza. "Palestine" will be demilitarized. Most of the Jewish communities built in Judea and Samaria over the past 40 years are to demolished and their inhabitants expelled, according to the plan. The remaining communities are to be concentrated in small salients for which the Arab state will be compensated with additional territory elsewhere in present-day Israel. A passage of some sort will connect Gaza and Judea and Samaria. It will be under Jewish sovereignty and Palestinian administration. Israel agrees to re-divide Jerusalem. Arab neighborhoods will be under Arab sovereignty and Jewish ones under Jewish sovereignty. Mention is made of "religious areas," but further details are not known as of yet. Each side will recognize the other's spiritual needs. The "refugee" question is not mentioned at all, and Bechor reports that this is the main sticking point. Abbas is insisting that Arabs descended from those who fled Israel in 1948 be allowed to return to Israel, at least in principle. Bechor says that Abbas and his men have gone over the draft and are not pleased; they know how to negotiate, he notes. In a recent interview with PA TV, Abbas said that "declarations of principles are a waste of time" and "useless." What the PA wants, he said, is a clear timetable for establishing Palestine, as well as an Israeli pullback, demolition of Jewish communities and "return of refugees" (i.e., the flooding of Israel with Arab citizens). The Arabs are hoping Israel will become more pliable in November, when an international diplomatic conference, sponsored by the US, is to be held in an attempt to hammer out an accord.
Russia Uses Syrian port to Demonstrate its Power in the Mid-East
Aug. 31….(Jerusalem Post) Russia is expanding its military presence in Syria, developing an advanced naval port at Tartus and providing Syria with sophisticated missile technology.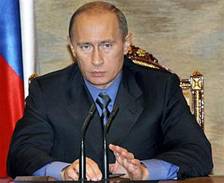 Russian President
Vladimir Putin
The story of Russia's return to Tartus, Syria's second most important port after Latakia, broke a year ago. It is Moscow's only foreign naval outpost situated outside the former Soviet Union. In June 2006 Russian media reported that Moscow had begun dredging at Tartus with a possible eye to turning what was largely a logistical base into a full-fledged station for its Black Sea Fleet, soon to be redeployed from the Ukrainian port of Sevastopol. But Tartus is much more than just a new home for the fleet; it allows projection of Russian power into the entire eastern Mediterranean, and, by extension, a flexing of military might before Israel and the West. Russian sources said the country's military planned to form a squadron to operate in the Mediterranean within three years, built around the Moskva missile cruiser. In addition, several respected Russian newspapers have reported that Moscow planned to deploy an S-300PMU-2 Favorit air-defense system to protect the base, with the system being operated by Russian servicemen rather than by Syrian forces. According to these reports, the system would provide air defense protection for a large part of Syria. Moscow and Damascus have also reached an agreement to modernize Syria's anti-aircraft network by upgrading medium-range S-125 missile complexes that were sold to Syria in the 1980s. Another instance of secret activity at the port came on March 9, 2005, when yet another Russian Black Sea Fleet vessel, the Azov, supposedly carrying machinery for rebuilding the moorage at the Tartus technical base and replacements for obsolete items in the base's storage, left for Syria. When it arrived at the port, several suspicious meetings between local authorities and Russian Navy officers took place, Russian media reported. Less than two months later, Syria test fired new Scud missiles. The Syrians launched one Scud B missile with a range of 300 kilometers, and two Scud D missiles with a range of 700 kilometers. It is tempting to suggest that technologies for these projectiles were among the "equipment" brought on board the Azov. The Russians have not stopped at moving missiles in their attempt to make an impression in the region. On one occasion they sent fighter planes into Israeli airspace. In January 1996, the Russian Navy aircraft carrier Admiral Kuznetsov came very close to Israeli territorial waters. On January 27, it launched several advanced Su-33 fighters, the naval version of the Su-27. The jets ventured into Israeli air space near Haifa. IAF planes were scrambled to intercept, but a skirmish was avoided. The incident was kept secret for six years and was only revealed in 2002 in an article in the Israel Air Force magazine. According to the report, Russian planes entered Israel's airspace at least twice and several F-16 scrambled for an intercept mission after an intrusion alert was received.
Israel Offers Palestinians Control of Temple Mount
(Prime minister's office today presents formal plan placing Judaism's holiest site under Arab authority)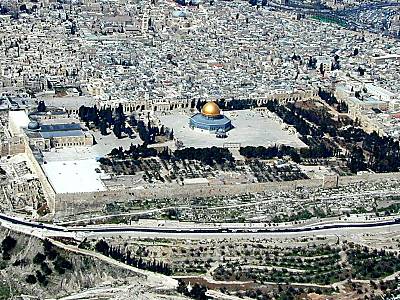 Aug. 30….(WND) Prime Minister Ehud Olmert's office today presented the Palestinian Authority with a formal plan in which the Jewish state would forfeit the Temple Mount, Judaism's holiest site, to Muslim control, according to top Palestinian sources. The sources said Olmert's plan calls for the entire Temple Mount plaza to fall under Arab sovereignty; Jerusalem's Old City holy sites near the Mount to be governed by a Jewish, Christian and Muslim task force; and the Western Wall plaza below the Mount to be controlled by Israel.
The report follows a WND exclusive report last week stating Palestinian negotiators drafting an agreement behind the scenes with Prime Minister Ehud Olmert's office made clear they will not accept any final peace deal with Israel unless the Jewish state forfeits the Temple Mount. According to Palestinian negotiators who took part in today's Olmert-Abbas meeting, the Israeli leader today also presented Abbas with a plan for Israel to evacuate most of the West Bank and cede eastern sections of Jerusalem. The plan called for Israel to retain three main settlement blocks and in exchange Israel would offer the Palestinians Israeli Arab towns in the north of the country, the Palestinian negotiators told WND. David Baker, a spokesman for Olmert, would neither confirm nor deny the prime minister offered the Temple Mount. He said ahead of today's talks the summit would center on "the development of Palestinian-governing institutions, bolstering Abbas' government and issues concerning Israelis and Palestinians living side-by-side." A senior Palestinian official, speaking on condition his name be withheld, told WND yesterday Israel "understands there won't be any deal with the Palestinians unless it forfeits the Temple Mount." The official said the Mount was previously a sticking point in Israeli-Palestinian negotiations, but he said Prime Minister Olmert's government has expressed a number of times a willingness to compromise on the Temple Mount. "We've recently received many Israeli plans that showed Israel is willing to allow another body, whether Palestinian or international, to control the Temple Mount. The issue is no longer a sticking point," the Palestinian official said. During U.S.-led negotiations in 2000, Barak, then prime minister, reportedly was willing to forfeit the Temple Mount to international control. The negotiations fell through after Palestinian President Yasser Arafat rejected an offer of a Palestinian state in the West Bank, Gaza Strip and eastern sections of Jerusalem.
Abbas Breaking Promise to not Court Hamas
Aug. 30….(Israel Today) Palestinian Authority leader Mahmoud Abbas is seeking reconciliation with the Hamas terrorist organization and the reestablishment of a unity government, despite assurances earlier this month that he would do no such thing. The London-based Arabic daily Asharq Alawsat reported on Wednesday that Hamas lawmakers had presented Abbas with a reconciliation proposal a day earlier, and that the Palestinian leader was viewing it positively. According to the report, the proposal offered to return Palestinian institutions and security bases in the Gaza Strip to the control of Abbas' Fatah-dominated security force in return for reinstating the Hamas-led unity government and implementing reforms in the Palestinian power structure. A Palestinian source in Ramallah said that if the proposal wins the backing of top Hamas leaders in Gaza and Damascus, Abbas will accept it. Abbas was also reportedly negotiating a reconciliation with Hamas via an extremist Israeli-Arab parliamentarian. The news flies in the face of assurances Abbas and his newly-appointed prime minister, Salaam Fayad gave to Israel and visiting US congressional leaders earlier in the month that they would not allow Hamas back into the government or seek reconciliation with the terror group. Both Israel and the US based their renewal of financial aid to Abbas' government on those assurances.
New Book Challenges US Support for Israel
Aug. 30….(Israel Today) An upcoming book that challenges whether diplomatic and military support for Israel is in the United States' best interests is set to spark fresh debate on Washington's role in the Middle East. "The Israel Lobby and US Foreign Policy," written by two of the United States' most influential political science professors, is set to hit the bookshelves next Tuesday and promises to break the taboo on the subject. Written by John Mearsheimer from the University of Chicago and Stephen Walt from Harvard, the book follows an article they published last year that stirred impassioned debate by setting out a similar position. Their thesis is that US endorsement of Israel is not fully explained by strategic or moral reasons, but by the pressure exerted by Jewish lobbyists, Christian fundamentalists and neo-conservatives with Zionist sympathies. The result, according to the book, is an unbalanced US foreign policy in the Middle East, the US invasion of Iraq, the threat of war with Iran or Syria and a fragile security situation for the entire Western world. "Israel is not the strategic asset to the United States that many claim. Israel may have been a strategic asset during the Cold War, but it has become a growing liability now that the Cold War is over," the authors said. "Unconditional support for Israel has reinforced anti-Americanism around the world, helped fuel America's terrorism problem, and strained relations with other key allies in Europe, the Middle East, and Asia," they added. According to the two writers, "backing Israel's harsh treatment of the Palestinians has reinforced Anti-Americanism around the world and almost certainly helped terrorists recruit new followers." Abraham Foxman, director of the Anti-Defamation League, described the book as "an insidious, biased account of the Arab-Israeli conflict and of the role of supporters of Israel in the US," in an interview with AFP. "Everything about American policy toward the conflict is presented in exaggerated form, as if America is completely one-sided in support of Israel and that those policies are simply the product of the Israel lobby." He is countering Mearsheimer and Walt's book with his own title: "The Deadliest Lies. The Israel Lobby and the Myth of Jewish Control," due out on the same day. Mearsheimer and Walt highlight the three billion dollars in US economic and military aid that Israel receives every year,- more than any other country. They also point to Washington's diplomatic support: between 1972 and 2006, the United States vetoed 42 United Nations Security Council resolutions that were critical of Israel, while watering down many others under threat of veto. Foxman counters that the special relationship works both ways and that the United States has gained much out of its ally. The Chicago Council on Global Affairs canceled a public debate on the issue planned for September and featuring Mearsheimer and Walt when they were unable to schedule a time that Foxman could also manage. In the conclusion of their book, Mearsheimer and Walt say that the United States must change its policy towards Israel. "The United States would be a better ally if its leaders could make support for Israel more conditional and if they could give their Israeli counterparts more candid advice without facing a backlash from the Israel lobby." With just over a year until the 2008 US presidential election, however, they said the issue was unlikely to even enter the debate. "Regrettably, no. The one issue on which there will be virtually no debate is the question of whether the United States should continue to give Israel unconditional backing," they said.
Israel Urged US to Attack Iran - Not Iraq
Aug. 30….(Gareth Porter) Israeli officials warned the George W Bush administration that an invasion of Iraq would be destabilizing to the region and urged the United States instead to target Iran as the primary enemy, according to former Bush administration official Lawrence Wilkerson. Wilkerson, then a member of the US State Department's policy planning staff and later chief of staff for secretary of state Colin Powell, recalled in an interview that the Israelis reacted immediately to indications that the Bush administration was thinking of war against Iraq.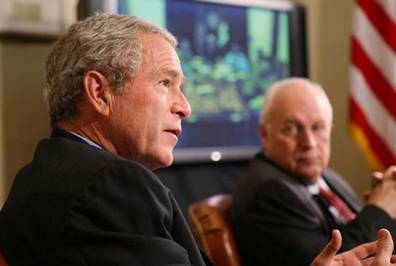 After the Israeli government picked up the first signs of that intention, said Wilkerson, "The Israelis were telling us Iraq is not the enemy - Iran is the enemy." Wilkerson describes the Israeli message to the Bush administration in early 2002 as being, "If you are going to destabilize the balance of power, do it against the main enemy." The warning against an invasion of Iraq was "pervasive" in Israeli communications with the US administration, Wilkerson recalled. It was conveyed to the administration by a wide range of Israeli sources, including political figures, intelligence, and private citizens. Wilkerson noted that the main point of their communications was not that the US should immediately attack Iran, but that "it should not be distracted by Iraq and Saddam Hussein" from a focus on the threat from Iran. The Israeli advice against using military force against Iraq was apparently triggered by reports reaching Israeli officials in December 2001 that the Bush administration was beginning serious planning for an attack on Iraq. Journalist Bob Woodward revealed in Plan of Attack that on December 1, 2001, secretary of defense Donald Rumsfeld had ordered the Central Command chief, General Tommy Franks, to come up with the first formal briefing on a new war plan for Iraq on December 4. That started a period of intense discussions of war planning between Rumsfeld and Franks. Soon after Israeli officials got wind of that planning, Israeli prime minister Ariel Sharon asked for a meeting with Bush primarily to discuss US intentions to invade Iraq. In the weeks preceding Sharon's meeting with Bush on February 7, 2002, a procession of Israeli officials conveyed the message to the US administration that Iran represented a greater threat, according to a Washington Post report on the eve of the meeting. Israeli defense minister Fouad Ben-Eliezer, who was visiting Washington with Sharon, revealed the essence of the strategic differences between Jerusalem and Washington over military force. He was quoted by the Post as saying, "Today, everybody is busy with Iraq. Iraq is a problem, but you should understand, today Iran is more dangerous than Iraq." Sharon, who was incapacitated by a stroke last year, never revealed publicly what he said to Bush in the February 7 meeting. But Yossi Alpher, a former adviser to prime minister Ehud Barak, wrote in an article in The Forward last January that Sharon advised Bush not to occupy Iraq, according to a knowledgeable source. Alpher wrote that Sharon also assured Bush that Israel would not "push one way or another" regarding his plan to take down Saddam. Alpher noted that Washington did not want public support by Israel and in fact requested that Israel refrain from openly supporting the invasion in order to avoid an automatic negative reaction from Iraq's Arab neighbors. After that meeting, the Sharon government generally remained silent on the issue of an invasion of Iraq. A notable exception, however, was a statement on August 16, 2002, by Ranaan Gissin, an aide to Sharon. Ranaan declared, "Any postponement of an attack on Iraq at this stage will serve no purpose. It will only give Saddam more of an opportunity to accelerate his program of weapons of mass destruction." As late as October 2002, however, there were still signs of continuing Israeli grumbling about the Bush administration's obsession with taking over Iraq. Both the Israel Defense Forces' chief of staff and its chief of military intelligence made public statements that month implicitly dismissing the Bush administration's position that Saddam's alleged quest for nuclear weapons made him the main threat. Both officials suggested that Israel's military advantage over Iraq had continued to increase over the decade since the Gulf War as Iraq had grown weaker. The Israeli chief of military intelligence, Major-General Aharon Farkash, said Iraq had not deployed any missiles that could strike Israel directly and challenged the Bush administration's argument that Iraq could obtain nuclear weapons within a relatively short time. He gave an interview to Israeli television in which he said army intelligence had concluded that Iraq could not have nuclear weapons in less than four years. He insisted that Iran was as much of a nuclear threat as Iraq. Israeli strategists generally believed that taking down the Saddam Hussein regime could further upset an Iran-Iraq power balance that had already tilted in favor of Iran after the US defeat of Saddam's army in the 1991 Gulf War. By 1996, however, neo-conservatives with ties to the Likud Party in Israel were beginning to argue for a more aggressive joint US-Israeli strategy aimed at a "rollback" of all of Israel's enemies in the region, including Iran, but beginning by taking down Saddam and putting a pro-Israeli regime in power there. That was the thrust of the 1996 report of a task force led by Richard Perle for the right-wing Israeli think-tank the Institute for Advanced Strategic and Political Studies, and aimed at the Likud prime minister Benjamin Netanyahu. But most strategists in the Israeli government and the Likud Party, including Sharon himself, did not share that viewpoint. Despite agreement between neo-conservatives and Israeli officials on many issues, the dominant Israeli strategic judgment on the issue of invading Iraq diverged from that of US neo-conservatives because of differing political-military interests. Israel was more concerned with the relative military threat posed by Iran and Iraq, whereas neo-conservatives in the Bush administration were focused on regime change in Iraq as a low-cost way of leveraging more ambitious changes in the region. From the neo-conservative perspective, the very military weakness of Saddam's Iraq made it the logical target for the use of US military power.
United Nations to Host Quartet and Arab League Peace Meeting
Aug. 30….(UN News) The international Mideast mediators known as the Quartet will meet with key Arab nations next month to promote new efforts to revive the Arab-Israeli peace process, the UN's top Middle East envoy said Wednesday. Michael Williams, the UN special coordinator for the Middle East peace process, told the Security Council the Sept. 23 meeting will be "an important moment" to take stock of Palestinian-Israeli discussions now underway and prepare for a US-sponsored international peace conference in November. The "substantive dialogue" developing between Palestinian President Mahmoud Abbas and Israeli Prime Minister Ehud Olmert and the reform efforts of Palestinian Prime Minister Salam Fayyad "have created growing expectations," he said. "We cannot afford a new failure in the efforts to revive the Arab-Israeli peace process," Williams said. "There is a hope now which has been absent for almost seven years. A setback at this stage could have serious consequences." UN Secretary-General Ban Ki-moon will host the Sept. 23 meeting of top officials from the Quartet, the United Nations, the United States, the European Union and Russia, at UN headquarters, he said. That night, Quartet members will also host a dinner for members of the Arab League committee that has been promoting a pan-Arab plan for peace with Israel. On Sept. 24, Williams said the Palestinian donors group chaired by Norway, known as the Ad Hoc Liaison Committee, will also meet at UN headquarters at the ministerial level. It includes the United States, the European Union, Canada, Russia and several Arab states as well as the International Monetary Fund and the World Bank. "We hope that this meeting will reconfirm the international community's strong support for the Palestinian Authority government's program," he said. "The meeting will also be a key stepping stone towards a donor pledging conference planned for December." In his final briefing to the UN Security Council before returning to London to become British Prime Minister Gordon Brown's Mideast envoy, Williams said the Quartet representative, former British Prime Minister Tony Blair, would participate in both meetings. Blair has been tasked by the Quartet to prepare the foundations for a stable, economically strong West Bank government that could lead the Palestinians into statehood.
FOJ Note: The world and its powerbrokers are confederated against Israel. They have crafted together to isolate Israel and partition its land. The nearness of the Lord's return is also nearer, and he will take vengeance on Israel's adversaries. (Psalms 83:2-5 For, lo, thine enemies make a tumult: and they that hate thee have lifted up the head. They have taken crafty counsel against thy people, and consulted against thy hidden ones. They have said, Come, and let us cut them off from being a nation; that the name of Israel may be no more in remembrance. For they have consulted together with one consent: they are confederate against thee:)
Ahmadinejad Says Iran Ready to Fill Power Vacuum in Iraq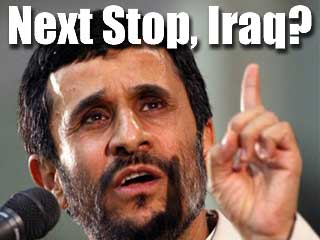 Aug. 28….(Fox News) Iranian President Mahmoud Ahmadinejad warned Tuesday that a power vacuum is imminent in Iraq and said that Iran was ready to help fill the gap. "The political power of the occupiers is collapsing rapidly," Ahmadinejad said at a press conference in Tehran, referring to US troops in Iraq. "Soon, we will see a huge power vacuum in the region. Of course, we are prepared to fill the gap, with the help of neighbors and regional friends like Saudi Arabia, and with the help of the Iraqi nation." Although Ahmadinejad did not elaborate how Iran could fill a power gap, his bold remarks reflected what may be perceived as Iran's eagerness for an increasing role on its neighbor's political scene. Earlier this month, during a visit here by Iraqi Prime Minister Nouri al-Maliki, Iranian leaders said that only a US pullout would bring peace to Iraq and pledged their government would do its best to help stabilize the country. Soon after al-Maliki's trip, the Iranian Foreign Ministry announced that Ahmadinejad had accepted an invitation to Baghdad by the Iraqi prime minister for a state visit. But the ministry added that a final decision on the trip had not been made. Ahmadinejad accused the United States of interfering in Iraq's internal affairs, and dismissed US criticism of al-Maliki's unsuccessful efforts to reconcile the country's Sunnis, Shiites and Kurds. "They rudely say (the Iraqi) prime minister and the constitution must change," Ahmadinejad said. "Who are you? Who has given you the right" to ask for such a change, he added, addressing the US critics of al-Maliki, who is also a Shiite. Ahmadinejad dismissed the possibility of any US military action against Iran. "I tell you resolutely that there is no possibility, whatsoever, of such a decision in the US," Ahmadinejad told reporters. "Even, if they were to decide to do so, they would be unable to carry it out." The US has accused Iran of being behind attacks on US troops in Iraq, a claim the Iraqi government has only partially backed, saying Iran could have a role in the attacks.
FOJ Note: Should the US military be hastily withdrawn from Iraq, it will indeed become Western Iran, and the US invasion against Saddam Hussein would go down in history as the worst geo-political move in recent history. An Iranian-controlled Iraq is America's worst nightmare.
President Bush: Iraq is Front Line Against Iran
Aug. 28….(News.com.au) US President George W. Bush tomorrow will describe Iraq as the front-line against Shiite extremism championed by Iran and the Sunni extremism of Al-Qaeda, an aide said today. President Bush is due to level the charge in a speech to the American Legion veterans group, the second of two presidential addresses meant to bolster support for the war in Iraq ahead of a critical September 15 progress report. "The president will talk about Sunni extremism and Shia extremism. Sunni extremism is embodied by Al Qaeda and its many affiliates. Shia extremism by Iran and its support of Hezbollah, Hamas, the Taliban and its pursuit of nuclear technology," an official said on condition of anonymity. "Iraq is at the heart of where these two extremisms must be dealt with," the official said as Bush traveled to Reno for a political fundraiser. "Al Qaeda in Iraq and Iranian armed and supported Shia militias continue to undermine the Iraqi struggle for security and stability and continue to kill Americans forces," the official said.
President Bush will plead for patience from lawmakers pending an assessment on the war from the US commander in Iraq, General David Petraeus, and the US ambassador to Baghdad, Ryan Crocker, the official said.
FOJ Note: If Iraq is truly the front-line in the war-on-terror and the terrorists are intent on attacking America's homeland, then why in the world is there such a broad political movement to flee out of Iraq so quickly? Either the president is wrong, or our politicians are stupid.
Israel Building Underground Bunker to Withstand Nuke Attack
Aug. 28....(PTI) Israel is constructing an underground bunker, which will house the prime minister's office and military command centers, to withstand a nuclear attack, a media report here said. Construction of the USD 240 million worth new National Command Center, where the country's leaders would be taken, should Israel suffer a nuclear attack, is rapidly progressing, daily 'Yedioth Ahronoth' reported today. "It's like something out of a movie, you walk around it in complete awe, knowing this is the place they'll be running the country from," a government source was quoted by the daily as saying. The bunker is being constructed in one of Jerusalem's mountains and will have a guarded tunnel, designed to allow two trucks to ride side by side, leading into it, the report said. At an undisclosed depth lay a series of halls, dozens of feet high, where the official offices, quarters and emergency exits will be built, it said. Four of the world's leading construction companies have been working together to build the bunker, 'Ynet' reported. All those involved in the project, including the construction crews, are Jewish and have been subjected to rigorous security screening procedures, it said. The underground complex will eventually be connected to the new prime minister's office currently being built, the report said. Environmental organizations have started protesting against the facility's effects on the natural reserve, but none of them have been allowed to inspect the construction site, or its plans, for security reasons. The National Command Center is expected to be completed in 2011, the report said. Israel has dubbed Iran's nuclear program as the 'single biggest threat' against the Jewish state.
'We Are Going to Get Hit Again'
(The head of the National Counterterrorism Center speaks out on Al Qaeda's plans, America's readiness—and the nature of the war on terror)
Aug. 28….(excerpt from NEWSWEEK) Al Qaeda has an active plot to hit the West. The United States knows about it but doesn't have enough tactical detail to issue a precise warning or raise the threat level, says Vice Admiral (ret.) John Scott Redd, who heads the government's National Counterterrorism Center. In an interview at his headquarters near Washington, DC, Redd told Newsweek's Mark Hosenball and Jeffrey Bartholet that the country is better prepared than ever to counter such threats. But he also believes another successful terror attack on the US homeland is inevitable.
| | |
| --- | --- |
| | Retired Vice Admiral John Scott Reed, head of the National Counterterrorism Center is shown in this photo with President Bush. The terror analyst says that America is the ultimate target of most Middle East terror groups, and that our nation will likely be hit again. |
Saudi Arabia Blames Syria for Assassinations in Lebanon
(Riyadh-based Oukaz lashed out at the Syrian regime Tuesday accusing it of having plotted the assassination of Lebanese politicians starting with Druze leader Kamal Jumblatt.)
("The burden of Damascus.
Behold, Damascus is taken away from being a city, and it shall be a ruinous heap.—Isaiah 17:1)
Aug. 28….(In The News) For the last 30 years Syria has set up a clear-cut plan to systematically kill Lebanese leaders to incite strife among various Lebanese sects, and consequently reinforce its presence and role in Lebanon," the newspaper said. The Saudi daily has published in its Tuesday issue a special report from Beirut tackling the role of Syria in Lebanon since 1975. The daily described the current Syrian regime as "a regime of slaying and slaughter," and accused it of making use "of all possible means to restore its influence in Lebanon after their withdrawal in April 2005." "The Syrian regime has long worked on inciting hatred and conflicts among the Lebanese and has currently created what could be labeled as 'death teams' to silence anyone who dares to speak against Syrian influence in Lebanon," Oukaz reported. The daily blamed Syria for plotting all the assassinations of March 14 figure which took place following the assassination of former Premier Rafik Hariri. Oukaz also accused Syria of killing former presidents Bashir Gemayel and Rene Mouawad. Tensions between Saudi Arabia and Syria escalated in the last week or so because of discord over Lebanon. Syrian Vice President Farouq al-Sharaa said last week the kingdom's regional influence was in a state of paralysis. Riyadh snapped back saying Damascus was trying to incite disorder and conflicts in the region. Relations between the two countries deteriorated after the February 2005 Hariri assassination, which ultimately led to Syria's withdrawal of its troops from Lebanon after a three-decade military presence. "The Syrian regime has brought nothing but harm to the Lebanese as well as the Palestinians in Lebanon; fueling inter-Lebanese and Lebanese-Palestinian skirmishes in an attempt to boost its role in Lebanon," the daily said.
Errors in CNN's "God's Jewish Warriors" Noted
Aug. 28….(IsraelNN.com) CAMERA, the Committee for Accuracy in Middle East Reporting in America, has published a detailed, scathing attack on the two-hour television program "God's Jewish Warriors." CNN's Christiane Amanpour is the creator of a three-part CNN television series entitled "God's Warriors." The segment on Jews is the "most poisonously biased and factually shoddy feature to air on mainstream American television in recent memory," writes CAMERA's Executive Director Andrea Levin - and supports her claim with examples and refutations. Levin begins by attacking the basic premise of the series, which purports to examine how Jewish, Christian and Muslim religious beliefs impact on the Middle East and the world. It is "deeply false," she writes, to equate "Jewish (and Christian) religious fervency with that of Muslims heard endorsing 'martyrdom,' or suicide-killing. There is, of course, no counterpart among Jews and Christians to the violent jihadist Muslim campaigns underway across the globe. To demonstrate the supposed threat of Jewish fundamentalism, the few cases of Jewish terrorism - a handful spanning decades with each one overwhelmingly denounced by Israeli society and with those involved arrested, tried and jailed, are elaborated on at length and cast as a profound peril." Levin then focuses on Amanpour's repeated emphasis on the Jewish towns in Judea and Samaria and their supposed illegality, implying that just as extremist Moslems endanger the world with their terrorism, so do the Jews with their "settlements." "Throughout," writes Levin, "Amanpour hammers the claim that Jewish settlements violate international law, and she seeks to paint this position as a universally accepted view with a lopsided parade of like-minded commentators. However, many legal scholars argue these communities are, in fact, legal... Such experts include Meir Shamgar, former Israeli Supreme Court Justice, internationally renowned legal scholar Professor Julius Stone and Former Under Secretary of State Eugene Rostow, among others. But not one scholar of this viewpoint is given voice in a two-hour feature largely devoted to decrying settlements and their residents." Levin then moves on to Amanpour's presentation of US presidents speaking against the Jewish towns. "Ronald Reagan [is seen] making a tangential comment framed as agreeing" that "substantial resettlement of the Israeli civilian population in occupied territories, including East Jerusalem, is illegal," Levin writes, while in fact, Reagan did not agree at all. Levin quotes Reagan, based on a February 1981 New York Times story, as having said explicitly, "I believe the settlements there... they're not illegal."
Others of the report's errors and deceptions noted by Levin:
Amanpour declares that "the 40-year tug of war over Jerusalem began when Israel bulldozed the Arab neighborhood next to the Western Wall and built a plaza where Jews now pray." Levin: "Obviously, the modern battle over Jerusalem "began" 60 years ago when the Arabs attacked in 1948 to destroy the newborn state of Israel, seizing the eastern side of Jerusalem, including the Jewish quarter of the old city. Every Jew was expelled or killed and all synagogues destroyed. Thereafter for 19 years, no Jew could pray at the Western Wall, and Christians had limited access to their holy sites." "CNN needs to correct every error and slander against Israel and its American supporters," Levin demands. "More importantly, it needs to air an accurate and contextual documentary on these subjects, just as lavishly funded and promoted as Amanpour's, that will set the record straight." Another CAMERA article comparing the "Warriors" programs on Jews and Muslims notes that while the former was heavily devoted to "the influence of pro-Israel activists in America, Amanpour utterly neglected to report on the powerful Oil Lobby, primarily Saudi-backed, and numerous other Muslim organizations seeking to influence American public opinion and foreign policy decisions." CAMERA notes fascinatingly that Amanpour "harps on the phrase 'Jewish warriors,' repeating it 20 times in the first episode," while mentioning "Muslim warriors" only four times in the second program. "Why does she utter the words 'Jewish warrior' five times more often than 'Muslim warrior' when violent Muslims have inflicted thousands of times more death and destruction in the world than violent Jews have?" Furthermore, "There was a noticeably gentler and more cordial tone toward Muslim extremists, in contrast to the often snide and hectoring tone displayed toward pro-Israel Americans and Israeli settlers."
France's Sarkozy Speaks out About US Plan to Bomb Iran
Aug. 28….(DEBKA) Addressing 180 French diplomats Monday, Aug. 27, French president Nicolas Sarkozy said a nuclear-armed Iran would be unacceptable and the world must tighten sanctions while offering Tehran incentives to halt weapons development. "This initiative is the only one that can enable us to escape an alternative that I say is catastrophic: the Iranian bomb or the bombing of Iran," he said. Sarkozy thus became the first important Western leader to declare with brutal frankness that Iran stands in peril of an attack on its nuclear installations. DEBKAfile notes that he spoke out shortly after a long holiday in the United States and a day-long visit to the Bush family estate in Maine. His frank language, he called Iran's nuclear ambition the world's most dangerous problem, caused astonishment in diplomatic circles much like the jeans he wore on his visit to the US president. Sarkozy did not indicate whether France would take part in an American or Israeli attack on Iran, but he did stress French backing for Security Council sanctions over Iran's refusal to back away from uranium enrichment. DEBKAfile's diplomatic sources disclose that Sarkozy's warning to Tehran was the bluntest but not the only one Tehran received of the Bush administration plans to bomb its nuclear facilities. Iran was discreetly warned by the Kremlin in early spring that an American attack was impending and would be coordinated with an Israeli strike against Syria. All three armies, the Iranian (plus Hizballah), Syrian and Israeli, have been deep in hectic war preparations ever since. The French president's reading of the situation was close to that of the former US ambassador Edward P. Djerejian, whose impressions from talks with Syrian leaders last week were disclosed by DEBKAfile. Djerejian underscored the Syrian president Bashar Assad's unshakeable commitment to Tehran's foreign and military policies, even if his relations with Washington do improve. Like Barak, Mohammed ElBaradei, director of the International Atomic Energy Agency, is trying to pour oil on troubled waters. He sent inspectors to Tehran to collect understandings and so fend off the third round of sanctions promised at the UN Security Council next month. The IAEA and Iran jointly announced Monday they had "agreed a timeline for implementing a plan to clarify Tehran's nuclear program." Iran took this some steps further, claiming "the IAEA accepted that earlier statements made by Iran (on the issue of plutonium) are consistent with the agency's findings and thus this matter is resolved." Tehran also announced cooperation with a nuclear watchdog probe of an "alleged secret uranium processing project linked by US intelligence to a nuclear arms program." Washington is not buying this show of Iranian compliance and zeal for cooperation with the world community. The US ambassador to the IAEA in Vienna pointed to "real limitations" in the timeline understanding and accused Tehran of "manipulating the IAEA as a way to avoid harsher sanctions." ElBaradei had previously called a military attack on Iran "madness." The assessments of Sarkozy and ElBaradei therefore veer dangerously between "catastrophe" and "madness."
Holy Forfeit! Is Israel Willing to Give up Temple Mount
(Jewish leader offers Arab coalition joint control)

Temple Mount
Aug. 28….(WND) Israeli Defense Minister Ehud Barak told the Egyptian government the Jewish state is willing to forfeit control over the Temple Mount, Judaism's holiest site, to the management of Egypt, Jordan and the Palestinian Authority, according to an Arab media report. The Egyptian Al Massrioun daily reported this weekend Barak informed Egyptian President Hosni Mubarak, PA Chairman Mahmoud Abbas and the Jordanian government Israel is be willing to hand them joint control over the Temple Mount. The report follows a WND report last week stating Palestinian negotiators drafting an agreement behind the scenes with Prime Minister Ehud Olmert's office made clear they will not accept any final peace deal with Israel unless the Jewish state forfeits the Temple Mount. According to the Egyptian media report over the weekend, Barak stated an umbrella group of several Arab countries controlling the holy site instead of only the PA would help ease Israeli domestic opposition to giving up the Temple Mount, since Egypt and Jordan are considered by Israeli policy to be moderate countries. Ronen Moshe, a spokesman for Barak, told WND the Egyptian media report is "untrue." "We do not comment on the specifics of private conversations with world leaders, but this report is not what was said during the talks," Moshe said. A senior Palestinian official, speaking on condition his name be withheld, told WND yesterday Israel "understands there won't be any deal with the Palestinians unless it forfeits the Temple Mount." The official said the Mount was previously a sticking point in Israeli-Palestinian negotiations, but he said Prime Minister Olmert's government has expressed a number of times a willingness to compromise on the Temple Mount. "We've recently received many Israeli plans that showed Israel is willing to allow another body, whether Palestinian or international, to control the Temple Mount. During US-led negotiations in 2000, Barak, then prime minister, reportedly was willing to forfeit the Temple Mount to international control. Those negotiations fell through after Palestinian President Yasser Arafat rejected an offer of a Palestinian state in the West Bank, Gaza Strip and eastern sections of Jerusalem. Adviser Gilad Sher, who represented Barak at initial Israeli-Palestinian planning meetings in 2000 during which President Clinton discussed the Temple Mount, wrote in his book "Beyond Reach" that Clinton's plan called for the Temple Mount to become complete Palestinian sovereign territory, while the Western Wall below and its complex would fall under Israeli sovereignty. Barak was said to have initially rejected that plan, but according to participants at the negotiations summit, he was ultimately willing to place the Mount under international sovereignty.
Palestinian State Outline 'Coming by November'
(Plan drafted by veteran politician would forfeit strategic West Bank)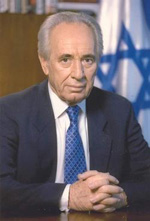 Aug. 27….(WND) Newly installed Israeli President Shimon Peres hopes to achieve the outline of a final status deal with the Palestinians before an international conference in November, the veteran politician said. Israeli diplomatic sources told WND earlier this month Peres quietly drafted a plan for the Jewish state to evacuate and transfer to the Palestinians nearly the entire West Bank and several Arab Israeli cities located within territory that undisputedly is Israel's according to the international community. The official role of the president here is limited largely to ceremonial matters; the president is not allowed to lead foreign policy. The diplomatic sources also said earlier this US-brokered month biweekly meetings between Prime Minister Ehud Olmert and Palestinian Authority President Mahmoud Abbas are being utilized to draft the outline of a permanent status deal ultimately yielding a Palestinian state scheduled to be aired in public at the November summit, which is being organized by the US. Confirming the plan, Peres told Tokyo's Nikkei business daily newspaper he believes the outline of a final deal can be achieved before November. "To work out the details (of the political if not the geographical outline of a future Palestinian state) will take more time, but as for principles, yes, we can achieve an agreement" before the autumn peace conference, he said. Peres said improved economic conditions for the Palestinians will lead to "peaceful coexistence." "We shall go in a policy of two tracks, economic development and political negotiations, one complementary to the other but not dependent upon it," he said. Last week the Arab media reported Peres held a secret meeting with Palestinian Prime Minister Salam Fayyad at his official residence in Jerusalem. Israeli diplomatic sources told WND during the meeting Peres presented Fayyad with his plan for Israel to evacuate the West Bank, which borders Jerusalem and is within rocket range of Tel Aviv and Israel's international airport. The West Bank is home to many biblical Jewish communities and some of Judaism's holiest sites. Peres also presented his initiative to top European Union officials, Olmert and to top aides for Abbas in the past few weeks, after he took office as Israeli president last month, diplomatic sources in Jerusalem told WND.
Olmert, Abbas, Fayad and the EU are mulling over the plan, said the diplomatic sources, who stated Olmert agrees with much of the plan's contents. Peres' plan calls for Israel to hand 97 percent of the West Bank over to Abbas, with Israel retaining a small number of the territory's Jewish communities. In exchange for Israel keeping some land, the Jewish state will give the PA control of Arab Israeli cities north of Tel Aviv which, together with the evacuated West Bank territory, would amount to the equivalent of 100 percent of the West Bank. Yesterday, Abbas said the PA would not consent to population exchanges as part of a permanent agreement that would leave some West Bank Jewish communities with Israel. Top EU diplomats in recent days told the media they want the US-sponsored international conference scheduled for November to lead to negotiations on a final agreement with the Palestinians.
Peres overstepping his boundaries?
When Peres assumed the role of president last month, political analysts and pundits here widely expected him to defy the limits of his office and take a hands-on role in Israeli diplomacy and policy making. According to Knesset sources, Peres is contemplating even asking lawmakers to officially expand the role of the president to include conducting foreign policy. During his acceptance speech last month, Peres called for Israel to retreat from the West Bank. The next day, he called for direct negotiations with Syria, which is hosting top Palestinian terror leaders and supporting the Lebanese Hezbollah militia, which last summer launched thousands of rockets into Israeli population centers. Syrian President Bashar Assad warned several times the past few months his country is preparing for war. Peres, Israel's longest standing Knesset member, was the driving force of the 1993 Oslo Accords. The Peres Peace Center, headed by the new president, advocates the division of Jerusalem and Israeli withdrawals from the strategic West Bank and Golan Heights. Peres repeatedly has come under fire by critics for policies and plans many say would greatly undermine Israel's security if implemented.
The Iranian Threat
Aug. 27….(by General Tom McInerney and Fred Gedrich) Speaking before the Democratic Leadership Council recently, former President Clinton urged "more diplomacy" as a way to ameliorate America's hostile relationship with countries like Iran. Simply waving a diplomatic wand in front of this enemy won't make the problems it is causing in Iraq and elsewhere disappear. The principal aims of Iran's ruling theocrats are to drive the United States out of Muslim countries; destroy Israel and fragile US-supported democracies in Afghanistan, Iraq and Lebanon; and create a power base of like-minded regimes stretching across the upper tier of the predominantly Sunni Muslim Arab world. Beginning with the Carter administration, a series of US presidents, including Mr. Clinton, have failed to devise and implement effective policies to counter the belligerent activities of Iran's Shi'ite regime, which practices a brutal form of Islamic fundamentalism. Iran's rulers have waged a one-sided war with the US for 28 years. Their minions seized the US embassy in Tehran and kept 52 Americans hostage for 444 days, bombed US embassies in Lebanon and residences in Saudi Arabia and kidnapped and murdered Americans. The regime currently manufactures and supplies lethal roadside bombs to Shi'ite militias in Iraq and the Taliban in Afghanistan which kill and maim American troops. In response to these aggressive acts, the United States broke diplomatic relations with Iran in 1979, declared it a terrorist state every year since 1984, and imposed economic sanctions and export controls. The United States also worked through the UN Security Council in attempting to curb Iran's nuclear development program and recently held meetings where US and Iranian ambassadors to Iraq discussed that country's security situation. These actions haven't diminished Iran's ambitions and troublemaking capabilities. In the absence of doing business with the United States, Iran's trade with other countries increased to about $110 billion for 2006, with China, Japan, Germany, France and Russia among the leading traders. Two permanent UN Security Council members, China and Russia, continue to provide the regime with dangerous weapons technology and arms. And US Ambassador to Iraq Ryan Crocker reported an "escalation not de-escalation" of Iranian support for Shi'ite militias after recent discussions with his Iranian counterpart. This lack of progress illustrates the futility of relying solely on diplomacy, sanctions and the international community as primary weapons against this terrorist juggernaut. The United States could intelligently recalibrate overall Iran strategy by taking the following actions: One, inform Iran that it must stop: (1) developing its nuclear program immediately and verifiably; (2) providing ordnance and training to Iraqi Shi'ite militias like the Mahdi Army, the Badr organization and others; (3) supporting foreign terror groups like Hezbollah, Hamas and Palestinian Islamic Jihad; and (4) providing sanctuary to al Qaeda leaders and operatives. If Iran fails to cease these activities, the consequences will be selective US air strikes on nuclear facilities and anything that supports them; IED factories; and the special navy, air force and ground force units of the Revolutionary Guard Corps. Two, encourage Iranian opposition and resistance groups and dissidents to combine efforts to peacefully change Iran's government. The time appears ripe. The regime doesn't allow 65 million citizens basic political rights and civil liberties or a free press. And poor governmental policies have created high unemployment and inflation. Additionally, the regime is resorting to a wave of repression against trade unionists, teachers, journalists, students and intellectuals. During the past four months, it reportedly arrested more than 1 million people and hanged and stoned several hundred of them to death. Three, after congressional consultations, revoke the 1997 Clinton/Albright State Department decision to place the multiethnic Mujahidin-e Khalq Organization (MEK) on the United States terror list. The MEK is the largest, best organized, and most feared of all Iranian resistance groups and more than 50,000 members have been killed by the Islamic regime. This group helped expose Iran's secret nuclear program and currently provides the United States with critically important intelligence. The Clinton administration blacklisted it, apparently hoping the move would foster better relations with Iran. The MEK's leader, Maryam Rajavi, is a Persian Muslim who advocates creation of a secular, democratic, nuclear-free, and death penalty-free state. The 2006 book "Appeasing the Ayatollahs, Suppressing Democracy" debunks the prime reasons given for the group's blacklisting. Iran poses a clear and present danger to the United States. And President Bush appears poised to act if its behavior is not modified. During the dark days leading to World War II, many European and American leaders mistakenly thought they could bargain with or isolate their countries from sinister forces threatening mankind. Their failure to recognize right from wrong and good from evil prevented them from promptly acting collectively against that gathering threat. As a result, 60 million died, including 6 million Jews. History shows appeasement is a failed policy. Let's ensure it doesn't repeat itself.
Hamas and Fatah Working Together to Attack Israel
Aug. 27….(Israel Today) Members of Palestinian Authority Chairman Mahmoud Abbas' Fatah organization are working with Hamas cells in the so-called West Bank to carry out terrorist attacks against Israelis. According to Fatah officials who spoke to WorldNetDaily, members of the two groups active in the West Bank have formed a new umbrella group called the Fire Belt under which joint terrorist operations will be conducted. The news gave the lie to assertions out of Washington and other Western governments that Abbas and Fatah are today totally opposed to Hamas and its views, providing fertile ground for a final status peace agreement between Israel and the Fatah-dominated Palestinian Authority. In line with that position, the Bush Administration has joined a number of other governments in resuming large-scale financial aid to Fatah, ignoring concerns that they are in reality directly financing terrorism against the Jewish State.
New Arabian Gulf Oil Pipeline Network Will Detour Hormuz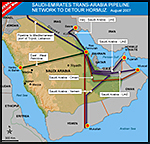 Aug. 27….(DEBKA) Saudi Arabia, Bahrain, the United Arab Emirates, Oman and Yemen have launched a vast Trans-Arabia Oil Pipeline project with encouragement from Washington. By crisscrossing Arabia overland, the net of oil pipelines will bypass the Straits of Hormuz at the throat of the Persian Gulf and so remove Gulf oil routes from the lurking threat of Iranian closure. The 35,000-strong new Saudi security force, disclosed this week, will protect the new project, together with the oil installations of the world's biggest oil exporter, from attack by such enemies as al Qaeda or Iran. The first 5,000 recruits are already in training, as plans advance to start laying the first section of the new pipeline system in November, 2007. Because of the sensitivity of their mission, Saudi security experts assisted by American advisers are thoroughly screening each recruit about his family, tribal and past associations to weed out religious extremists. DEBKAfile adds that the new oil security force will be the third largest in Saudi Arabia, after the armed forces and the National Guard. The first Trans-Arabia pipeline will carry 5 million barrels of oil a day, almost one third of the 17 million barrels produced by Gulf emirates. The crude will be pumped through pipes running from the world's biggest oil terminal owned by Saudi Aramco at Ras Tannura, south to S. Yemen's oil port of Mukallah and west to the Red Sea port and industrial town of Yanbu north of Jeddah. The $6 billion investment in the first stage will come from the participating governments within the framework of the Gulf Cooperation Council – GCC. Rising regional tensions and the vulnerability of the Straits of Hormuz, the only maritime outlet for Gulf oil, to hostile blockade has galvanized the partners into urgent action to get the project up and running. The Straits of Hormuz are a chokepoint in every sense. Only 37 km wide, they consist of two lanes able to accommodate oil tankers entering and exiting Gulf ports. Every 24 hours, an average 30 vessels transit the straits loaded with roughly one-quarter of the world's oil consumption. This volume varies according to weather conditions, currents and whether it is day or night. The traffic during the navigable hours tends to be heavy, no more than 6 minutes between each vessel. Even if the US Navy and Air Force deployed in the Persian Gulf succeed in keeping the Straits of Hormuz open to shipping in an emergency situation, their very presence must slow the traffic down. The flow could be reduced to about half its regular capacity. DEBKA-Net-Weekly's Gulf sources report that the Trans-Arabia Oil Pipeline project's second stage for rerouting South Iraqi oil will start in early 2009 without waiting for the first to be completed. Consisting of about 60% of Iraq's oil product, the oil from the Basra terminal will be diverted from the Shatt al-Arb outlet to the Persian Gulf, which Iraq shares with Iran, and flow into pipes crossing the Iraqi Desert directly into Saudi Arabia – according to the plan. On August 9, Tehran countered by announcing negotiations with Baghdad on a deal to build a pipeline to carry 200,000 barrels per day of southern Iraqi crude to refineries in Iran. According to another part of the plan, Tapline will be resusciated. The story of how this pipeline fell into disuse mirrors half a century of Middle East conflict. The Trans-Arabian Pipeline Company started operating in 1950 as the largest oil pipeline of its time, a joint venture of Standard Oil of New Jersey (Esso), Standard Oil of California (Chevron), The Texas Company (Texaco) and Socony-Vacuum Oil Company (Mobil). It transported Saudi oil from Persian Gulf fields to a Mediterranean outlet, whence it was shipped to Europe and the eastern United States. The conflict in Palestine in 1946 caused the Tapline Company to seek alternative routes, which went through Jordan, over the Golan Heights and up to the north Lebanese port of Tripoli on the Mediterranean. The section running across Golan was discontinued after the 1967 war.
DEBKA-Net-Weekly's oil sources report that Kuwait and Qatar, though members of the GCC, have opted out of the Trans-Arabia pipeline project. The two emirates are deeply involved in building a gas pipeline network which is a higher priority for them than the transport of oil - especially Qatar which has large gas reserves but not much oil. Southern Iraq's oil is therefore projected to flow directly into Saudi Arabia and bypass Kuwait.
The Trans-Arabia Oil Pipeline network will consist of five main branches:
Pipeline No. 1: Work begins on this section in November. It will run 350 km from Ras Tannura on the Saudi easern coast to Al Fujairah in the United Emirates, also collecting cruide from Abu Dhabi's Habashan oil field. Its 48-inch diameter provides a capacity of 1.5 million bpd.
Pipeline No. 2: This will link Ras Tannura to Musqat, Oman.
Pipeline No. 3: This will run southwest from Ras Tannura through Hadhramouth and onto Mukalla, on the Yemeni shore of the Gulf of Aden.
Pipeline No. 4: This pipeline will will also terminate at Mukalla, but first circle round from Ras Tannura to the UAE before turning back into Saudi Arabia and on to Yemen.
Pipeline No. 5: This line will slice across Arabia from Ras Tannura in the East due west to Yanbu on Saudi Arabia's western coast on the Red Sea. This route is already occupied by two older pipelines. They were laid in the 1980s during the Iran-Iraq war for the very same purpose as the contemporry project, namely to circumvent the Straits of Hormuz. One was built to carry Iraqi oil out to market away from the war zones of the Iranian-Iraqi frontier. Alive to possible Iranian or al Qaeda sabotage attempts, the Trans-Arabia Pipeline partners have decided to sink large sections underground and secure the system with such obstructions as fences, earthworks, moats and roadblocks. The new oil force will man the system. Even after the US pulls its army out of Iraq, it will retain troops for securing both the northern and southern oil fields and installations. They will be there to keep Iran at a distance, especially from the the Basra oil center. The project also fits into the preparations underway in the Gulf oil emirates and Saudi Arabia to step up oil production by 4 million bpd to rein in skyrocketing prices before they hit $100 per barrel. On the inter-Arab plane, Riyadh hopes Syrian Bashar Assad will appreciate the benefits accruing to his country from the pipeline across its territory - enough to draw away from his close clinch with Iran and mend his fences with Washington. The Saudis are pinning their hopes on Tapline's resurrection helping to put Damascus-Washington relations on a new footing.
UN IAEA Chief Criticizes US Military Aid to Israel
Aug. 27….(AP) The head of the UN's nuclear watchdog criticized US moves to assist in the supply of weapons to its allies in the Middle East, saying the money would be better spent on regional development projects. In an interview with the Austrian newsweekly Profil, to be published Monday, Mohamed ElBaradei, director general of the Vienna-based International Atomic Energy Agency, said a US strategy to support a weapons buildup in countries such as Israel, Saudi Arabia and Egypt was not helpful for improving security in the Middle East. "Pouring more money into arms is not going to resolve the issue," ElBaradei said. "You can end up in a situation like the Cold War in the past. Does that provide security? Does that provide stability? It doesn't." Audio excerpts of ElBaradei's comments, in English, were shared with The Associated Press before the interview is published in German Monday. The IAEA has not released a transcript on its Web site, but IAEA spokeswoman Melissa Fleming confirmed ElBaradei's quotes late Saturday. Earlier this month, the United States offered Israel an unprecedented $30 billion of military aid over 10 years. It is also proposing weapons packages to Saudi Arabia and other Gulf states to help them counter growing Iranian assertiveness. The US has expressed grave concern over Iran and Syria's backing of the Hezbollah militia in Lebanon. In addition, the United States says Iran is backing Shiite insurgents in its war in Iraq and trying to develop nuclear weapons.
FOJ Note: It is ironic that El Baradei has not offered any criticism whatsoever of Russia's military aid to Iran and Syria.
Hamas Chief says Mideast Conference Doomed to Fail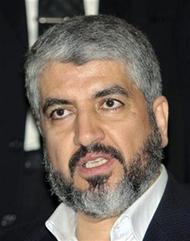 Aug. 27….(CNN) A US-sponsored international conference on Israeli-Palestinian peace is doomed to fail because it will serve only Israel's interests, Hamas chief Khaled Meshaal said in a CNN interview broadcast on Monday. Calling the gathering, expected in November, "a meeting controlled and directed by (US Secretary of State) Condoleezza Rice," Meshaal, who lives in exile in Damascus, said neither Israel nor the United States was serious about achieving peace. "There is no doubt that the outcome will be leaning towards Israel's best interest because Israeli Prime Minister Ehud Olmert is the stronger side in the negotiations," Meshaal said, according to CNN's translation of his comments in Arabic. "All these reasons are going to lead to a failure," said Meshaal, who was injected with poison by Israeli agents in Jordan in 1997 but was saved by an antidote sent from Israel after his attackers were overpowered and arrested. Hamas Islamists, who violently took control of the Gaza Strip in June, have rejected Western calls to recognize Israel, renounce violence and accept existing interim Israeli-Palestinian peace accords. Leaders of Hamas, whose 1988 founding charter calls for the Jewish state's destruction, have offered a long-term truce with Israel in return for a viable Palestinian state in the occupied West Bank and in the Gaza Strip. "The American administration is fighting Hamas and working on isolating it," Meshaal said in the interview, which CNN reported was held in a heavily guarded Hamas safe house in the Syrian capital. But Meshaal said Washington, which supports Palestinian President Mahmoud Abbas of Fatah, would eventually realize it would have to deal with Hamas for the sake of Israeli-Palestinian peace. "I only want to tell them to take a short cut and not waste their efforts," he said, while acknowledging that a US invitation to Hamas to attend the upcoming conference was unlikely. Meshaal called on the international community to deal with "the reality of the Palestinian arena," an apparent reference to Hamas's strong influence, and move the Middle East closer to "genuine peace" in which "the waterfall of blood will stop."
WEEK OF AUGUST 20 THROUGH AUGUST 26
CNN Broadcasts Distorted Program Against Fundamentalist Christians
(Documentary compares Jews and fundamentalists Christians to Muslim terrorists)
Aug. 24….(WND) A CNN special series airing this week entitled "God's Warriors," produced and anchored by the network's chief international correspondent, Christiane Amanpour, is "one of the most grossly distorted programs" ever aired on mainstream American television, according to a media watchdog report. "God's Warriors" takes up six prime-time hours on CNN this week, airing in three parts at 9 p.m. EST. It started Tuesday and concludes tonight. The first part of the series, "God's Jewish Warriors," compared Jewish and Christian "radicals" to Muslim supporters of suicide terror, presented anti-Israel commentators with no counterbalance, falsely labeled the West Bank as Palestinian land, and minimized Jewish rights to the Temple Mount, Judaism's holiest site, the critics said. During Tuesday's program, Amanpour also conducted a friendly interview about Israel with former President Jimmy Carter, whose most recent book, "Palestine: Peace, not Apartheid," criticized the Jewish state's treatment of Palestinians. The book was slammed for a series of falsehoods and was widely labeled anti-Israeli by multiple media critics. "The CNN series is false in its basic premise, established in the opening scene in which Jewish and Christian religious fervency is equated with that of Muslims heard endorsing 'martyrdom,' or suicide-murder. There is, of course, no counterpart among Jews and Christians to the violent jihadist Muslim campaigns under way across the globe," stated the report by the Committee for Accuracy in Middle East reporting in America. Amanpour's CNN documentary "God's Warriors" describes itself as focusing on religious fundamentalism among Christians, Muslims and Jews. Tuesday's segment started off comparing "Jewish terrorists" to that of Muslims, specifically focusing on the few instances of violence or attempted violence by religiously motivated Jews against Muslims. It told the story of Baruch Goldstein, an American-born Israeli physician who killed 29 Arabs in the West Bank city of Hebron in 1994. Goldstein's actions were widely condemned by Israelis and worldwide Jewry. The organization he was a part of was outlawed in Israel. States the CAMERA report: "While in reality Jewish 'terrorism' is virtually non-existent, the program magnifies at length the few instances of Jewish violence" comparing it to "violent jihadist Muslim campaigns" when indeed there is no such comparison "either in numbers of perpetrators engaged or in the magnitude of death and destruction wrought." While discussing Islamic suicide attacks, Amanpour painted "martyrdom" as "quite noble." "To the West, martyrdom has a really bad connotation because of suicide bombers who call themselves martyrs," Amanpour stated. "Really, martyrdom is actually something that historically was quite noble, because it was about standing up and rejecting tyranny, rejecting injustice and rejecting oppression and, if necessary, dying for that." Amanpour's feature moved on to interviews with critics of Israel without providing any pro-Israeli voices. The feature repeatedly falsely referred to the West Bank as "Palestinian territory." "It is also Palestinian land. The West Bank, it's west of the Jordan River, was designated by the United Nations to be the largest part of an Arab state," stated Amanpour. The West Bank contains some of Judaism's holiest sites and biblical Jewish cities, including Hebron, home to the oldest Jewish community in the world. The territory was recaptured by Israel in the 1967 Six Day War after Jordan, which controlled the West Bank, ignored Israeli advice to stay out of the conflict. In reality, the UN labels the West Bank as "disputed," not Palestinian territory. Several guests, including former Sen. Charles Percy and University of Chicago professor John Mearsheimer, who co-authored Carter's book on Israel, state in Amanpour's documentary pro-Israel lobbies in Washington force American lawmakers to support Jewish expansion in the West Bank and promote causes contrary to US interests. Former President Carter is interviewed claiming no American politician could survive politically while calling for cuts in aid to Israel unless the Jewish state ceases expanding West Bank Jewish communities. "There's no way that a member of Congress would ever vote for that and hope to be re-elected," stated Carter. Contradicting Carter's sentiments, CAMERA notes critics of Israel's West Bank policies have thrived politically, including Senate Majority Leader Robert Byrd and Reps. James Trafficante, Dana Rohrabacher, Nick Smith, Fortney Pete Stark, Neil Abercrombie, David E. Bonior, John Conyers Jr, John D. Dingell, Earl F. Hilliard, Jesse L. Jackson Jr., Barbara Lee, Jim McDermott, George Miller, Jim Moran, David R. Obey, Ron Paul and Nick J. Rahall II, among others. Amanpour suggested West Bank settlements are the cause of Arab anger. "The Jewish settlements have inflamed much of the Arab world," she says. Multiple guests describe West Bank settlements as being the cause of the Israeli-Palestinian conflict. But CAMERA points out multiple Arab wars and acts of violence were waged against Israel long before the settlements were first established in 1967. "The Arab world was just as anti-Israel (actually more so) before the settlements were built," stated the CAMERA report. Amanpour claims all US presidents since 1967, including Ronald Reagan, deemed Israeli settlements "illegal." But US policy did not deem settlements illegal. Amanpour quoted Reagan as stating, "the United States will not support the use of any additional land for the purpose of settlements." But the documentary failed to produce the rest of Reagan's quotes, in which the late president stated West Bank settlements are not illegal. "As to the West Bank, I believe the settlements there, they're not illegal," stated Reagan.
Amanpour minimized Jewish rights to Temple Mount
Amanpour moves on to holy sites in Jerusalem, where she minimizes Jewish rights to the Temple Mount, Judaism's holiest site, and exaggerates Islamic claims, critics said. Muslims say the Mount it is their third holiest site. "It was from here [the Temple Mount], according to Muslim scripture, that the Prophet Mohammed ascended to heaven around the year 630. But Hebrew scripture puts the ancient Jewish Temple in the same location, destroyed by the Romans in the year 70." The Quran doesn't once mention Jerusalem. Islamic tradition states Mohammed took a journey in a single night from "a sacred mosque," believed to be in Mecca in southern Saudi Arabia, to "the farthest mosque" and from a rock there ascended to heaven. The farthest mosque later became associated with the Al Aqsa Mosque in Jerusalem. The Jewish Temple is described throughout biblical sources as the center of religious Jewish worship. The Temple Mount compound has remained a focal point for Jewish services over the millennia. Prayers for a return to Jerusalem have been uttered by Jews since the Second Temple was destroyed, according to Jewish tradition. Jews worldwide pray facing toward the Western Wall, a portion of an outer courtyard of the Temple left intact. Amanpour interviews the Muslim Grand Mufti of Jerusalem, who offers an Islamic perspective on the importance of the Temple Mount and Al Aqsa Mosque to Muslims, but no Jewish religious figure is ever presented to discuss the paramount religious importance of the Mount to Jews, noted CAMERA.
Amanpour's feature also claimed a visit to the Temple Mount by former Prime Minister Ariel Sharon in 2000 instigated the Palestinian intifada which began that year, even though multiple intifada planners and Palestinian leaders admitted the violence was pre-planned and that Sharon's visit was used as an excuse to launch a terror war on Israel. The intifada was launched after Arafat returned from US-mediated peace talks at the Camp David presidential retreat during which the Palestinian leader turned down an Israeli offer of a state in the West Bank, Gaza Strip and eastern sections of Jerusalem. "Whoever thinks the Intifada broke out because of the despised Sharon's visit to the Al-Aqsa Mosque is wrong. The Intifada was planned in advance, ever since President Arafat's return from the Camp David negotiations,"admitted Palestinian Communications Minister Imad Al-Faluji to an Egyptian daily newspaper. Arafat himself spoke of planning the intifada months before Sharon's visit, as did Marwan Barghouti, a jailed Palestinian parlaiment member and one of the chief architects of the intifada. Multiple senior terror leaders involved in intifada admitted during numerous WND interviews Sharon's visit to the Mount did not spark the intifada. The CAMERA report concludes: "Whether wittingly or not, Amanpour's program, with its reliance on pejorative labeling, generalities, testimonials, and a stacked lineup of guests, is a perfect illustration of classical propaganda techniques. Unfortunately propaganda is the opposite of journalism, the profession Amanpour is supposedly employed to practice."
FOJ Note: The CNN documentary seeks to portray fundamentalist Bible-believing and Christian Zionists as demagogues, and that they are the obstacle to world peace, and are the real terrorists in the world, even superseding the radical Islamic Jihadists who kill and maim thousands of innocent people.
Iraqi Terrorists Caught Along Mexico Border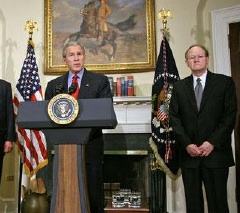 President Bush and National Intelligence
Director Mike McConnell
Aug. 24….(WND) President Bush's top intelligence aide has confirmed that Iraqi terrorists have been captured coming into the United States from Mexico. The confirmation comes from National Intelligence Director Mike McConnell, who talked about the situation in an interview with the El Paso Times recently. "Coming up through the Mexican border is a path," McConnell said. "Now, are they doing it in great numbers? No, because we're finding them and we're identifying them and we've got watch lists and we're keeping them at bay." But, he said, "There are numerous situations where people are alive today because we caught the terrorists." Intelligence officials say the numbers and details of such situations are classified, but McConnell pointed as an example to Mahmoud Youssef Kourani, who entered the United States through Tijuana, Mexico, in 2001, and later pleaded guilty to helping raise money for Hezbollah, which has been designated by the US government as a terrorist organization. The goal, McConnell said, is for terrorists to gain admittance to the United States, and then produce "mass casualties." "You've got committed leadership. You've got a place to train. They've got trainers, and they've got recruits," McConnell told the newspaper. "The key now is getting recruits in. So if your key is getting recruits in, how would you do that?" McConnell's office did reveal some numbers, during fiscal 2006, there were 14 Iraqi nationals caught trying to enter the US illegally, while so far in 2007, that number is 16. "Now some we caught, some we didn't," McConnell told the newspaper. Also revealed was that the US Customs and Border Protection intercepted 60 Iraqis crossing the nation's southwestern border in 2006 who were seeking asylum in the US, while that number so far in 2007 is 178. The Times report said a US intelligence analyst said there's been evidence that human smugglers, or coyotes, are telling Iraqis to ask for amnesty if they are caught. The typical scenario is this: Forged documents are used to get an Iraqi into a country in South or Central America. Since travel from country to country is allowed without vises in many locations there, they work their way north to the US border.
'Convert or Die,' Christians in Pakistan Told
(Muslims flood Christian neighborhoods with threats)
Aug. 24….(WND) Christian residents of several neighborhoods in northern Pakistan have been sent letters "inviting" them to abandon Christianity and join Islam, or be killed, according to a new report from Voice of the Martyrs, the ministry to persecuted Christians around the world. "There have been numerous threats sent to Peshawar's Kohati area," sources for VOM reported this week. "The letters say if we don't become Muslim we will be killed." The unsigned threats began several weeks ago, when residents of Peshawar, the capital of the North-West Frontier Province, reported receiving the letters threatening suicide bombings if they did not convert. The letters went to Christian residents of the Tailgodom, Sandagodom and Goalgodom neighborhoods, according to a report from Assist News Service. "These letters sent a wave of fear and uncertainty among the Christian residents of these areas," Kamran George, a Peshawar government member, told the news service.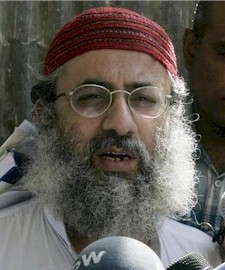 Abdul Rashid Ghazi

Each of the districts houses an estimated 2,000 Christians. "Through this open letter you are openly invited to convert to Islam and quit Christianity, the religion of infidels," the letter said. Readers could "ensure your place in heaven" by adopting Islam. "We will wipe out your slum on next Friday, August, 10th, 2007. And you, yourself would be responsible for the destruction of your men and material. Get ready! This is not a mere threat, our suicide bombers are ready to wipe out your name and signs from the face of earth. Consider it be the Knock of Death," it said. Although that deadline has passed, Christians still fear the threat, a government official told Assist. He noted that a man dressed in Pakistan's national dress managed to get inside a recent meeting at St. John Catholic Church in Peshawar, but fled immediately when he saw police. George said the threats were prompted by the suggestion from US presidential candidate Tom Tancredo that the US threaten to bomb Muslim holy cities of Mecca and Medina in retaliation if there would be a terrorist nuclear attack on the United States. "We would be pleased to send those to Hell who dared casting malicious eye on Khana Kaba (Mecca, Saudi Arabia) and Prophet's Mosque (Medina, Saudi Arabia). There is death here (in Pakistan) for the agents and followers of the religion of Americans (Christians)," said the letter. "We will wipe out the Churches from the face of the earth because our mosques, seminaries and children are being martyred on the directions of United States. We would write a new history with the blood of Infidels. Our suicide bombers, lovers of Holy Prophet Muhammad (Peace be upon him) are ready to strike churches, to protect the sanctity of Mecca and Medina, and pride of Islam. "These suicide bombers will strike at any time or day. It is our first and foremost Jihad (Islamic Holy war) to assassinate and eradicate the infidels from the face of earth," the letter said. Additional police have been assigned in the region, the same area where a surge of violence followed the recent occupation and storming of the nation's Red Mosque. There, as WND reported, radical leaders faced off against Pakistani forces and said the 1,800 children in the compound had taken oaths on the Quran to fight to the death.

Followers of Abdul Rashid Ghazi, leader of the pro-Taliban mosque, staged the standoff after a crackdown was launched on the mosque for a months-long campaign to expand Islamic religious law. The VOM cited a list of other attacks on Christians in Pakistan in recent weeks that also have raised concerns. For example, the organization reported that Muslims had confessed and apologized for attacking a church in the Punjab region, but have to this point offered no compensation for injuring Christians and damaging their building. Reports confirmed seven Christians were hurt and Christian literature was destroyed at a Salvation Army church north of Faisalabad in the attack, and attackers admitted they had planned to burn a page of the Quran, which can bring a life prison sentence in Pakistan, and then blame the Christians of the community. The attack happened just as Christians were assembling for a worship meeting, and several victims were hit with axes. Bibles and hymn books also were destroyed. Just weeks earlier, a formal court session in Lahore also sentenced a Pakistani Christian to death for blasphemy. Authorities said Younis Masih, a Christian from Chungi Amar Sadu in Lahore, was accused of blasphemy of the Prophet Muhammad. Christian Solidarity Worldwide says Pakistan's blasphemy laws are regularly misused as a means of settling scores or targeting religious minorities.

Russia Confirms Soviet Sorties over Dimona in 1967

Aug. 24….(Jerusalem Post) The chief spokesman of the Russian Air Force, Col. Aleksandr V. Drobyshevsky, has confirmed in writing for the first time that Soviet pilots, in the USSR's most-advanced MiG-25 "Foxbat" aircraft, flew highly-provocative sorties over Israel's nuclear facility at Dimona in May 1967, just prior to the Six Day War. Gideon Remez and Isabello Ginor, who co-wrote the recent book Foxbats over Dimona, which asserts that the Soviet Union deliberately engineered the war to create the conditions in which Israel's nuclear program could be destroyed, on Thursday described this "extraordinary disclosure" as "official confirmation of the book's exhibit A and the source of its title." The Israeli duo's book asserts that the Soviets flew sorties over Dimona in the still-experimental and top-secret Foxbats both to bolster a deliberate Soviet effort to encourage Israel to launch a war, and to ensure that the nuclear target could be effectively destroyed once Israel, branded an aggressor for its preemption, came under a planned joint Arab-Soviet counterattack. Soviet nuclear-missile submarines were said to have been poised off Israel's shore, ready to strike back in case Israel already had a nuclear device and sought to use it. The Soviets were also said to have geared up for a naval landing on Israel's beaches. The book, hailed by experts such as the former US ambassador to Israel and Egypt Daniel Kurtzer for marshalling a "compelling argument," nonetheless featured what the authors acknowledged was a dearth of incontrovertible documentation that would back up central aspects of their thesis. They noted at the time that it was "entirely possible that few corresponding documents ever existed," that key documents may have been destroyed, and that "the accounts of numerous Soviet participants refer to orders that were transmitted only orally down the chain of command." However, a delighted Remez and Ginor told the The Jerusalem Post that official confirmation of the Soviet Foxbat sorties had now been published by Drobyshevsky in an article posted on the official Web site of the Russian Defense Ministry. The "extraordinary disclosure of a hitherto secret operation," they noted, "apparently was included inadvertently, in a statement that was published in a completely different context": to mark the anniversary of the test pilots' school from which one of the pilots who participated in the 1967 flights graduated. The relevant section of Drobyshevsky's article states (in translation): "In 1967, the military valor and high combat training of Col. Bezhevets, A.S. (now a Hero of the Soviet Union, an honorary test pilot of the USSR, and retired Air Force major-general), were demonstrated while carrying out combat operation in Egypt, and enabled him to perform unique reconnaissance flights over the territory of Israel in a MiG-25RB aircraft." Remez and Ginor said this high-level admission of the Soviet sorties, which was first posted on the ministry's Web site last October, "comes as close to an official document as one can hope for in the foreseeable future, given the prevailing circumstances in Russia." They noted that it corroborates the personal testimony of Bezhevets's senior colleague, Lt.-Gen. Aleksandr I. Vybornov, who is quoted in the book as having described the missions on several occasions. The book's findings were first published by the Post on May 16, under the heading "Soviets engineered Six Day War 'to destroy Israel's nuclear program.'" Remez and Ginor told the Post that this article "was widely reproduced" and "aroused intensive discussion" in the FSU. Several respected news media outlets, notably the Russian daily Komsomolskaya Pravda, they said, "contacted some of the veterans who were among the main sources for the book, and they reiterated their accounts." Among such veterans confirming their stories was Gen. Vasily Reshetnikov, the commander of the Soviet strategic bombers, said to have been given maps for the planned strike at Dimona. The "conventional view" of the events leading up to the 1967 war, Remez noted when the book came out, "is that the Soviet Union triggered the conflict via disinformation on Israeli troop movements, but that it didn't intend for a full-scale war to break out and that it then did its best to defuse the war in cooperation with the United States." The book, he said, "totally contradicts everything that has been accepted." Having received information about Israel's progress toward nuclear arms, the book asserts, the Soviets aimed to draw Israel into a confrontation in which their counterstrike would include a joint Egyptian-Soviet bombing of the reactor at Dimona. The Soviets' intended central intervention in the war was thwarted, however, by the overwhelming nature of the initial Israeli success, the authors write, as Israel's preemption, far from weakening its international legitimacy and exposing it to devastating counterattack, proved decisive in determining the conflict. Because the Soviet Union's plan thus proved unworkable, the authors go on, its role in stoking the crisis, and its plans to subsequently remake the Middle East to its advantage, have remained overlooked, undervalued or simply unknown to historians assessing the war over the past 40 years. The Israeli authors' thesis, they told the Post this week, had now won over Komsomolskaya Pravda's Col. Viktor Baranets, a noted military correspondent and former General Staff officer. They quoted him as having written recently that "the time has apparently come to set the record straight. So far, the facts have often been replaced by inventions. No one can dispute the obvious: the USSR 'orchestrated' that war. The USSR was prepared for an invasion of Israel.

● FOJ Note: These disclosures reveal the true intentions of Russia in the Middle East, and why they would enable Iran to become a nuclear power. Russia is indeed plotting the course prophesied by the prophet Ezekiel to one day come against Israel.

The Prophecy Clock Ticks Forward

Aug. 23….(By Bill Wilson, KIN Senior Analyst) Since August 1st, Russia has been making a coordinated strategic effort to reestablish itself as the evil empire it once was under the former Soviet Union. The move began with Russian submarines in the Arctic claiming the oil and natural gas rich territory as its own. Then on August 19th, Russia teamed with China in a 6,500 man joint military exercise on Russian soil. On August 21st, the Russian Armed Forces Chief of Staff demanded that the Czech Republic wait to make its decision to deploy an American missile defense system until after a new US president is elected. And on August 22nd, Russian President Vladimir Putin announced Russia would become the world's largest producer of military technology and aircraft. Prior to Putin's world aircraft domination announcement, Putin also announced the resumption of the Soviet Union's Cold War practice of flying long-haul missions to areas patrolled by NATO and the United States. On August 17th, Britain's Royal Air Force jets scrambled to intercept Russian bombers over the North Atlantic. It was the first time since June that the new Typhoon Eurofighter jets, which of late have been used to protect the UK from hijacked planes, were scrambled on a genuine alert. Earlier this year, Putin announced a seven-year, $200-billion rearmament plan to develop new generations of missiles, planes, and perhaps aircraft carriers to rebuild Russia's arsenal. Putin's Russia is behind the nuclear expansion of Iran and the arming of Iran and Syria, both considered sponsors of terrorism by the United States and other Western nations. And it is very interesting that Russia wants the Czech Republic to hold off on deploying the US missile defense system until after a new US president is elected. Putin is obviously betting that the next president, predicted by the polls to be a Democrat, will not pursue the strengthening of global US defense as vigorously as the current Administration. Russia long has been an exporter of military goods and technologies to those who seek to establish totalitarianism. Russia views this as a way to control masses of people and a means to establish a world government. Attempts to bring Russia into the mainstream of capitalism and representative government have only nominally succeeded as Russia has used these overtures to strategically reestablish its traditional roll as a leader of the dark side. The prophecy clock continues to accelerate toward the Ezekiel 38 prophecy where Russia will lead Iran and Northern Africa against Israel as they "ascend and come like a storm…like a cloud to cover the land…to take a spoil, to take a prey."

Putin Accuses US of Wanting to Dominate World

Aug. 23….(Reuters) Russian President Vladimir Putin, in one of his harshest attacks on the United States in seven years in power, accused Washington on Saturday of attempting to force its will on the world. The White House said it was "surprised and disappointed" by Putin's accusations but added Washington expected to continue to work with Moscow in areas such as counter-terrorism and reducing the spread and threat of weapons of mass destruction. In a speech in Germany, which one US senator said smacked of Cold War rhetoric, Putin accused the United States of making the world a more dangerous place by pursuing policies aimed at making it "one single master". Attacking the concept of a "unipolar" world in which the United States was the sole superpower, he said: "What is a unipolar world? No matter how we beautify this term it means one single center of power, one single center of force and one single master." "It has nothing in common with democracy because that is the opinion of the majority taking into account the minority opinion," he told the gathering of top security and defense officials. "People are always teaching us democracy but the people who teach us democracy don't want to learn it themselves." Gordon Johndroe, press secretary for the White House National Security Council, rejected Putin's comments. "We are surprised and disappointed with President Putin's comments. His accusations are wrong," Johndroe said. "We expect to continue cooperation with Russia in areas important to the international community such as counter-terrorism and reducing the spread and threat of weapons of mass destruction," he added.

Syria transfers Elements of its Commando Division 14 to Mt. Hermon north of Golan. Both sides extend fortifications

Aug. 23….(DEBKA) The redeployment of commando units close to Israeli lines on the slopes of Mt Hermon has raised temperatures in Israel. Military sources comment that these Syrian units, especially trained for cross-border raids, are now in position to make a grab for Israeli territory or a surprise attack on the Israeli army position at the meeting point of the Israel, Syria and Lebanese borders. To the south, Syrian units are reported by our sources as having moved a large fleet of bulldozers to the Golan. They are busy building another line of fortifications around their "pita" disposition (which forms a flat semicircle like pita) and digging new anti-tank trenches. The IDF is likewise building fortifications on the Israeli side of the Golan Heights, while also deepening and extending protective trenches. A series of ramps has been constructed for the use of tanks.Some western observers say Israel's war preparations are more extensive than those of the Syrian army. At the same time, both are taking the utmost care to avoid the slightest move that might be interpreted as crossing the red line between fortifying and posing to spring into action.

The Syrian army has cancelled its summer war game for the first time in 34 years. The IDF opted for the opposite course and stepped up its training exercises on the Golan. The Syrian step could be seen three ways:

1. As extreme care to avoid precipitating a sharp Israeli response. In recent years, Syrian war games included the live fire of Scud C and Scud D surface missiles from northern Syria to the point in the south where the Syrian-Jordanian and Iraq borders converge. Some of those missiles are capable of carrying chemical warheads. Firing them could rouse Israel to taking extreme steps.

2. Syria's summer maneuvers were usually accompanied by a reshuffle of commanders. Their cancellation has frozen the next round of appointments, promotions and the introduction of a young generation of officers to the high command. This could be seen as another cautionary measure, or alternatively, reluctance to drop seasoned warhorses in favor of inexperienced officers when a war is impending. In the same way, Israel last week put a reshuffle of its top command on ice.

3. UNDOF, the United Nations Disengagement Observer Force, which monitors the 1974 accord between Israel and Syria for the disengagement of their forces on the Golan, compliments both armies, reporting that never before have they observed every iota of their 35-year old accord so meticulously.

Let's Just Call Him Allah

Aug. 22….(Stan Goodenough) His name is proclaimed as "greater" in the call to prayer that goes up five times a day from minarets around the world. In his name millions of people pray for the destruction of Israel and the United States. In his name the Saudi Arabian hijackers flew the planes they had commandeered into the Pentagon and the World Trade Center in New York. And in His name men and women climb aboard buses or enter restaurants, take a careful look at the people traveling or eating around them, and then blow themselves up, killing as many as they can. But to Roman Catholic Dutch Bishop Bishop Martinus Petrus Maria Muskens, his name is "a very beautiful word for God [so] shouldn't we all say that from now on we will call God 'Allah'?" This blasphemy came last week from the mouth of a man who revels in controversy. According to Muskens' website, "If Muslims and Christians address God with the same name, this contributes to harmonious living between both religions." Betraying his ignorance, Muskens holds that in Arabic-speaking lands, Christians speak of "Allah" as Westerners might speak of "Lord." In fact, while "Allah" is Arabic for the noun "god," the proper noun "Allah" is the name of the Arabian Moon God, an idol elevated to the position of "God" by the founder of Islam. The name of the God of Israel, written in capital letters as "LORD" in the English translation, is spelled yod hey vav hey (YHWH) in the Hebrew and pronounced Yahoveh or Jehovah (although not by the Jews, who in reverence towards God will not pronounce His name but read "Adonai" which is "Lord.") It was by this name that the LORD introduced Himself to Moses, according to the text in Exodus. He also has many other names describing aspects of His nature and character. "Allah" is not one of them. Many Jews and Christians, notably those who do not know their Bible, are deceived about this, or think, as does Muskens, that "God doesn't care what we call Him."

FOJ Note: If it is a serious commandment that we not take the Lord's name in vain, then hadn't we better seriously salute his actual name? The Lord himself introduced himself to the world as I AM, and later confirmed that this was because we knew not his name which was Jehovah. (Exodus 6:2-3 And God spake unto Moses, and said unto him, I am the LORD: And I appeared unto Abraham, unto Isaac, and unto Jacob, by the name of God Almighty, but by my name JEHOVAH was I not known to them.) And when the Lord swore a promise to Abraham, he swore by his own name, since there was none greater! Allah is not the Creator, and he is not the god of Abraham, nor is he the Father of Jesus Christ, therefore they are not one in the same name.

PA: Temple Mount is the Price For Peace

Aug. 21….(JNEWSWIRE) The Palestine Liberation Organization/Palestinian Authority will enter into no peace pact with Israel that does not award the Muslim Arabs who call themselves "Palestinians" full and irreversible control over the site most sacred to the Jewish people. This is according to a WND report published Friday detailing some of the issues being discussed in secret meetings between officials representing Israeli Prime Minister Ehud Olmert and Arabs negotiating on behalf of PLO/PA chairman Mahmoud Abbas. The meetings are meant to be setting the stage for the International Middle East Peace Conference called for by US President George W. Bush and scheduled to be held in November this year under the chairmanship of Secretary of State Condoleezza Rice. Headlined with the question, "Israel to give up the Temple Mount?" the report suggested that the Olmert government would be willing to consider such a demand, a suspicion fueled by the fact that three days have passed since its publication without an outright denial from the Prime Minister's Office. This "Palestinian" position, long held by the PLO leadership at the aggressive insistence of the entire Islamic world, remains as solid and unyielding today as it did when it helped scupper the talks at Camp David in July 2000. There, under the benevolent eye of US President Bill Clinton, Israeli Prime Minister Ehud Barak offered PLO chief Yasser Arafat all of Gaza, 97 percent of Judea and Samaria, with the other two percent exchanged for pieces of land from "Israel proper," the Arab-populated eastern parts of Israel's capital, the Old City of Jerusalem, and the Temple Mount. What put an abrupt end to the summit, and caused Arafat to hurl insults in Barak's direction and storm out of the room, was the Israeli leader's groveling plea for his nation to be awarded sovereignty over the rubble from the First and Second Temple periods that lies buried beneath the Temple Mount platform. Arafat could have everything possible for the creation of his state, including the coveted site of the Dome of the Rock and the Al-Aqsa Mosque, Barak said. All Israel wished for was control over the "sub-terrace spaces" containing dried-out pottery shards and other dusty remains from an era those who discount the Bible don't even believe existed at all. The arch-terrorist responded by returning to the Middle East and igniting the Oslo War, or Al-Aqsa Intifada, that saw gallons of Jewish blood spilled in Israel. But while the explosion of terrorism awakened many deluded Israelis to the true goal and nature of the "Palestinian" leadership and people, who consistently supported and celebrated "suicide" and other massacres, it drove dyed-in-the-wool Jewish leftists to advocate even further extremes and carte blanch appeasement. Thus are influential Israeli secularists now urging the government to indeed relinquish Israel's millennia-old claim to the site millions of Jews prayed daily down the centuries to see their nation restored to. "Give them the Temple Mount," wrote Akiva Eldar in Ha'aretz Sunday of the site the God of the Bible calls His holy hill. To not do so would be to repeat the "mistake" made when then-Prime Minister Ehud Barak balked at handing the Mount over to Yasser Arafat at Camp David in July 2000. Eldar, the diplomatic affairs analyst for Israel's "elites" (who, JNW readers should note, views a strong Christian Zionist Israel relationship as an "unholy alliance"), said any reluctance to surrender the Temple Mount (or give in to other maximalist Arab demands) was "bad news." Religious Jews won't agree to this surrender, and neither will extremist "Palestinians," he argued. The answer, therefore, is for Olmert "to take away the main contentious elements preoccupying the religious extremists, and to hand them over to the moderate secularists." However, because it was unrealistic to expect the Islamist Arabs to ever countenance any Jewish say over "the Islamic holy sites in Jerusalem," the Temple Mount should be offered to the PLO at the November conference and taken away from the Jews altogether. This would keep Hamas quiet, effectually sidelining instead of strengthening them against "moderate" PLO/PA leader Mahmoud Abbas. "Receiving the prestigious keys to the holy site will bolster the pragmatists among the Palestinians, and will make it easier for them to relinquish their wish to use the keys to homes they left behind in Jaffa," Eldar explained, handily ignoring the reality that the Arab side is not, nor ever has been, willing to give up an "inch" of the soil it insists is rightfully its own. News reporters meanwhile continue to do a marvelous job of distorting the reality of what is at stake. The Temple Mount houses the third-holiest site to Muslims, they aver, while Israel's holiest site is the Western Wall, a Herodian structure buttressing the Temple Mount platform. By giving away the Temple Mount, Israel can then have peace, so Eldar and the peace activists, and possibly even Olmert think.

Russia, China Hold Joint War Games

Aug. 20….(In The News) Fighter jets streaked through the air as Russian and Chinese forces held their first joint maneuvers on Russian land Friday in a demonstration of their growing military ties and a shared desire to counter US global clout. The war games in the southern Ural Mountains involved some 6,000 troops from Russia and China along with a handful of soldiers from four ex-Soviet Central Asian nations that are part of the Shanghai Cooperation Organization, a regional group dominated by Moscow and Beijing. The drills coincided with a massive Russian air force exercise in which dozens of Russian strategic bombers ranged far over the Atlantic, Pacific and Arctic oceans. President Vladimir Putin, Chinese leader Hu Jintao and other leaders of the SCO nations attended the exercise, which followed their summit Thursday in the Kyrgyz capital, Bishkek. The summit concluded with a communique that sounded like a thinly veiled warning to the United States to stay away from the strategically placed, resource-rich region. "Stability and security in Central Asia are best ensured primarily through efforts taken by the nations of the region on the basis of the existing regional associations," the statement said. The United States, Russia and China are locked in an increasingly tense rivalry for control over Central Asia's vast hydrocarbon riches. Washington supports plans for pipelines that would carry the region's oil and gas to the West and bypass Russia, while Moscow has pushed strongly to control the export flows. China also has shown a growing appetite for energy to power its booming economy. Ivan Safranchuk, an analyst at World Security Institute, said Friday's exercise underlined that "the SCO wants to show that Central Asia is its exclusive sphere of responsibility." Relations between Russia and the United States have worsened steadily amid US criticism of Russia's democracy, Moscow's strong objections to US missile defense plans and differences over global crises. In a parallel exercise Friday, dozens of Russian strategic bombers flew to the Atlantic, Pacific and Arctic oceans, air force spokesman Col. Alexander Drobyshevsky said. NATO jets were scrambled to accompany the Russian aircraft, he said, according to the ITAR-Tass news agency. Soviet bombers routinely flew such missions to areas from which nuclear-tipped cruise missiles could be launched at the United States. The maneuvers stopped the post-Soviet economic meltdown, but booming oil prices have allowed Russia to increase its military budget. The SCO was created 11 years ago to address religious extremism and border security issues in Central Asia. In recent years, with Iran, India, Pakistan and Mongolia signing on as observers, the group has increasingly grown into a bloc aimed at defying U.S. interests in the region. In 2005, the SCO called for a timetable to be set for the withdrawal of US troops from two member countries, Uzbekistan and Kyrgyzstan. Uzbekistan evicted US forces later that year, but Kyrgyzstan still has a US base, which supports operations in nearby Afghanistan. Russia also maintains a military base in Kyrgyzstan. Moscow and Beijing have developed what they call a "strategic partnership" since the Soviet collapse, cemented by their perceptions that the United States dominates global affairs. Iranian President Mahmoud Ahmadinejad, whose country has SCO observer status, attended the summit for the second consecutive year. On Thursday, Ahmadinejad criticized US missile defense plans as a threat to the entire region. "These intentions go beyond just one country. They are of concern for much of the continent, Asia and SCO members," he said.

Syria Takes Delivery of Russian SA-22's
(Russia's Pantsyr anti-aircraft system)
Aug. 20….(Nezavisimaya) Syria has begun taking delivery of the first batch of anti-aircraft missile and gun range land-based Pantsyr-S1E defense systems (SA-22), the Russian newspaper Nezavisimaya Gazeta reported Saturday. The report, based on wires from the arms-related branch of the Russian Tass news agency, cited a previously signed agreement between Syria and Russia for the purchase of 50 sets of the system for a total of about $900 million. According to other sources, however, the signed deal included only 34-36 systems. Army Radio reported that Russian military officials agreed to the deal only after Syria vowed that the systems would not be resold or distributed to a third country, such as Lebanon or Iran. But in May, the reputable Jane's Defense Weekly reported that Syria agreed to transfer ten of the systems to Iran. In the past year, Israel has accused Russia of supplying the Lebanese Shi'ite organization Hizbullah with weapons systems which were later used against Israeli tanks during the Second Lebanon War. The systems allegedly used by Hizbullah were older than the SA-22 E, which is a new development based on older SA-19 and SA-N-11 systems. Vitaly Shlykov, a member of Russia's Council on Foreign and Defense Policy, slammed the Israeli claims as "silly rumors". Alexander Rybas, a top official of KBP Instrument Design Bureau, denied the allegations, saying "Hizbullah has not and would not have been able to own Russian-made systems." The SA-22 E, produced by KBP, a precision weaponry manufacturer based in Tula, Russia, is a combined surface-to-air missile and anti-aircraft artillery weapon system. The versatile platform can be mounted either on a tracked or wheeled vehicle. The system contains 12 missiles with a range of 1-12 km., carrying a load of 16 kg. each. The guns on the SA-22 E are of a 30mm. caliber, capable of firing 700 rounds per minute. The system requires two operators and a driver for the carrying vehicle. According to Nezavisimaya Gazeta, the recently developed SA-22 E will be dispatched to Syria even before its deployment in the Russian military. Other clients of the system are China and the United Arab Emirates, which already owns 50 systems, half on wheeled vehicles and half on tracked carriers.

Bishop Tiny Muskens
Catholic Bishop Urges Christians to Call God "Allah"
(Catholic leader believes it would help ease tensions between religions)
Aug. 20….(In The News) Catholic churches in the Netherlands should use the name "Allah for God" so as to ease tensions between Muslims and Christians, says a Dutch bishop. Tiny Muskens, the bishop of Breda, told the Dutch TV program "Network" Monday night he believes God doesn't mind what he is called, Radio Netherlands Worldwide reported. The Almighty is above such "discussion and bickering," he insisted. Muskens points to Indonesia, where he served 30 years ago, as an example for Dutch churches. Christians in the Middle East also use the term Allah for God. "Someone like me has prayed to Allah yang maha kuasa (Almighty God) for eight years in Indonesia and other priests for 20 or 30 years," Muskens said. "In the heart of the Eucharist, God is called Allah over there, so why can't we start doing that together?"
Al Qaeda's Open Door to Iraq Runs Through Damascus
(Damascus International Airport is a hub for terrorists)
(The burden of Damascus. Behold, Damascus is taken away from being a city, and it shall be a ruinous heap. Isaiah 17:1)
Aug. 20….(FOJ) The United States is at long last making significant progress against al Qaeda in Iraq, but the road to victory now requires cutting off al Qaeda's road to Iraq through Damascus. Thanks to Gen. David Petraeus's new counterinsurgency strategy in Iraq, and the strength and skill of the American soldiers fighting there, al Qaeda in Iraq is now being routed from its former strongholds in Anbar and Diyala provinces. Many of Iraq's Sunni Arabs, meanwhile, are uniting with us against al Qaeda, alienated by the barbarism and brutality of their erstwhile allies. Yet, defeating al Qaeda in Iraq requires not only that we continue pressing the offensive against its leadership and infrastructure inside the country. We must also aggressively target its links to "global" al Qaeda and close off the routes its foreign fighters are using to get into Iraq. Recently declassified American intelligence reveals just how much al Qaeda in Iraq is dependent for its survival on the support it receives from the broader, global al Qaeda network, and how most of that support flows into Iraq through one country, Syria, and one city - Damascus. Al Qaeda in Iraq is sustained by a transnational network of facilitators and human smugglers, who replenish its supply of suicide bombers, approximately 60 to 80 Islamist extremists, recruited every month from across the Middle East, North Africa and Europe, and sent to meet their al Qaeda handlers in Damascusa, from where they are taken to Iraq to blow themselves up to kill Americans and Iraq police. Although small in number, these foreign fighters are a vital strategic asset to al Qaeda in Iraq, providing it with the essential human ammunition it needs to conduct high-visibility, mass-casualty suicide bombings. The US military estimates that between 80% and 90% of suicide attacks in Iraq are perpetrated by foreign fighters, making them the deadliest weapon in al Qaeda's war arsenal. Without them, al Qaeda in Iraq would be critically, perhaps even fatally, weakened. That is why we now must focus on disrupting this flow of suicide bombers–and that means focusing on Damascus, through which up to 80% of the Iraq-bound extremists transit. Even terrorists from countries that directly border Iraq travel by land via Syria into Iraq because of the permissive environment for terrorism that the Syrian government fosters. American forces have spent considerable time and energy trying to tighten Syria's land border with Iraq against terrorist infiltration. But given the length and topography of that border, the success of these efforts is likely to remain uneven at best, particularly without the support of the Damascus regime. Before al Qaeda's foreign fighters can make their way across the Syrian border into Iraq, however, they must first reach Syria, and the overwhelming majority does so by flying into Damascus International Airport, making the airport the central hub of al Qaeda travel in the Middle East, and the most vulnerable chokepoint in al Qaeda's war against Iraq and the US in Iraq. Syrian President Bashar al Assad claims that he is doing all he can to stem the flow of terrorists into Iraq, yet Al Qaeda recruits using the Damascus at will. This is not the first use of the Damascus airport by terrorists. It has long been the central transit point for Iranian weapons en route to Hezbollah, in violation of United Nations Security Council sanctions, as well as for al Qaeda operatives moving into and out of Lebanon. Now the Damascus airport is the point of entry into Iraq for most of the suicide bombers who are killing innocent Iraqi citizens and American soldiers, and trying to break America's will in this war. It is therefore time to demand that the Syrian regime stop playing travel agent for al Qaeda in Iraq. One of the first things America needs to consider in winning thw war in Iraq, and sidelining Iran is to begin developing a range of options to consider taking against Damascus International airport, unless the Syrian government takes appropriate action, and soon. At a time when the al Qaeda network in Iraq is already under heavy stress thanks to American and Iraqi military operations, closing off the supply line through which al Qaeda in Iraq is armed with its most deadly weapons–suicide bombers–would be devastating to the terrorists' cause. Simply put, for the US and our Iraqi allies, defeating al Qaeda in Iraq means locking shut Syria's "Open Door" policy to terrorists.
Ahmadinejad Says Israel is 'Flag of Satan'

Aug. 20….(Arutz) Iran's President Mahmoud Ahmadinejad announced Saturday that Israel is the "flag of Satan." Iranian state-run news agency IRNA reported that Ahmadinejad made the statement at a religious conference where he predicted that Israel is on the road to dissolution. "The Zionist regime is the flag bearer of invasion, occupation and Satan," Ahmadinejad said. " When the philosophy behind its creation and survival is invalid, it is not unlikely that this regime be on the path to dissolution and deterioration." Some Western newspapers continue to argue that Ahmadinejad's past references to Israel were mistranslated. The Editor-in-Chief of a popular Arabic newspaper based in England recently said that he would celebrate Iranian nuclear bombs fired at Israel. "If a war breaks out, where will the Iranians retaliate?" asked Abd Al-Bari Atwan, Editor-in-Chief of the Al-Quds Al-Arabi newspaper on ANB TV on June 27. Answering his own question, Atwan said: "If Iran is able to retaliate, it will burn the oil wells, block the Straits of Hormouz, attack the bases in the Gulf, and Allah willing, it will attack Israel as well. If the Iranian missiles strike Israel, by Allah, I will go to Trafalgar Square, and dance with delight if the Iranian missiles strike Israel."

Syrian Newspaper Claims US Pushing Israel to War
(Baath mouthpiece Tishrin daily says US preventing Israel from restarting peace talks with Syria, pushing Jerusalem to war with Damascus 'after last year's defeat at hands of Hizbullah')
Aug. 20….(YNET) The state-run Syrian newspaper accused the United States on Monday of pushing Israel to war with Syria. Tishrin, the mouthpiece of the ruling Baath Party, held Israel and the United States responsible for instability in the Middle East. "Even if Israel is not directly responsible for the daily killings, tragedies, and war crimes in the region, it is an accomplice to those," the daily wrote in its editorial. The newspaper slammed Washington's decision to boost military aid to Israel whom it promised $30 billion over the next 10 years. "American aid to Israel comes at a time when it is not only rejecting peace but also threatening and vowing to work around the clock to conduct military maneuvers in preparation of a new war. It is no secret that the war statements made by Israel officials against Syria are not pointless but express Israel's true intentions towards Syria," the editorial read. "The American regime, which prevented Israel from returning to peace talks over the last six years, is pushing it to a military adventure and is encouraging it after last year's defeat at the hands of the national Lebanese resistance," the newspaper said in reference to last year's war with Hezbollah.
Joint Russo-Chinese War Games
(Combined commando and air units onto Russian soil for the first time)
On Aug. 3, DEBKA-Net-Weekly 312 carried an exclusive report on the Peace Mission 2007 exercise run simultaneously from command centers 3,000 kilometers apart in Russia and China. Friday, Aug. 17, President Vladimir Putin, while watching the exercise with China's Hu Jintao, announced his order for the resumption of regular Russian long-range strategic bomber flights after 15 years. DEBKA military experts note that the Russian-Chinese exercise began in fact two weeks before the given date and that an important part of the drill was the transfer of large military forces across vast distances. The war game practiced tight military cooperation between the Russian and Chinese armies, and not only in combating terror. Those sources pointed to four novel manifestations:
1. Chinese Air Force and special units will enter Russian territory for the first time and be activated in conjunction with Russian units from Chelyabinsk in the Russian Urals and Urumgi, capital of the Chinese province of Xingiang.
2. Also for the first time, a Russian-Chinese-Central Asian military war game will be directed from two command centers 3,000 kilometers apart in Russia and China.
3. China has never drilled its air force over any foreign territory. A formation will fly over the Altay Mountains at an altitude of 4,000 meters when it crosses the Sino-Russian frontier. China will also send 16 Mi-17 transportation helicopters and 16 Z-9 armed helicopters to Russia.
4. Another first will be the Chinese army's use of the Russian military railway system. The main force of 1,600 troops set out with its munitions from Xinjiang on July 19, transferring at China's Inner Mongolian border to a Russian military train for the rest of the journey. The capability to transfer large-scale military contingents across vast distances is essential should Moscow and Beijing decide on joint military action in the event of a possible American military operation against Iran spilling over into the Caspian and Central Asian regions. The exercise was tagged a joint anti-terrorism drill staged by the six members of the Shanghai Cooperation Organization (SCO) China, Kazakhstan, Kyrgyzstan, Russia, Tajikistan and Uzbekistan. It involved 6,000 military personnel including 4,700 Russian soldiers and 36 aircraft. The Chinese joint commander of the maneuver Gen. Xu Qiliang, pointed up the common interests binding Moscow and China as including energy and opposition to US dominance of Central Asia. The war games coincided with Russian air force maneuvers involving strategic bombers which flew over the Atlantic, Pacific and Arctic Oceans. Speaking near the Ural Mountain city of Chelyabinsk, Putin said a halt in the flights of Russian long-range bombers after the Soviet collapse had affected Russia's security and they would now be resumed on a regular basis. In Washington, State Department spokesman Sean McCormack said: "It's interesting. We are certainly not in the kind of posture we were with what used to be the Soviet Union. It's a different era."
FOJ Note: The last joint Russia-China war games simulated the transport and infusion of forces into the Middle East in a projected war against an imaginary country. Russia and China's recent war games depict that those two mighty nations are preparing for the prophesied invasion of the Middle East. The "Kings of the East" and the great Magog-led alliance will likely coordinate their Middle East assault!
Iranian Republican Guards Killed by US Troops in Iraq
Aug. 20….(UPI) Three gunmen killed by US troops in Iraq this week were discovered to be members of Iran's elite Revolutionary Guards Corps, a US military statement has announced in Baghdad. The US Army statement said that in several anti-insurgency attacks this week, a total of nine gunmen were killed. However, in one raid in northeastern Baghdad targeting a leader of the Iranian Guards' foreign fighters known as Al-Quds, three of his aides were killed by US forces. The unidentified leader was arrested on suspicion of supplying arms to Iraqi insurgents, the statement said. Iran has repeatedly denied coalition allegations it has provided training and weapons to Iraqi rebels. Wednesday, the US Department of Defense announced it was planning to designate the Revolutionary Guard a terrorist operation, which would disrupt the group's considerable foreign business transactions.
Hamas Creating Armed Cells in West Bank, Abbas Scared of Plans for a Coup
Aug. 20….(Israel Insider) Hamas has managed to renew activity in the West Bank and create new, armed cells in several cities, according to the Jerusalem Post. Despite efforts by Palestinian Authority security forces, Hamas' armed wing, Izzadin Kassam, has become "very active" in certain areas in the West Bank, specifically in Nablus. "We are very worried about what's happening in the West Bank, especially in Nablus, where Izzadin Kassam appears to have resumed its activities after a long lull," the paper quoted a PA security official as saying. "In recent weeks the group has been launching almost daily attacks on Israeli military patrols, particularly in the northern West Bank." There have also been unconfirmed reports that Hamas and Fatah recently conducted secret talks in Damascus in an effort to reunite the rival factions. Prime Minister Ehud Olmert has repeatedly warned PA Chairman Mahmoud Abbas that any attempt to repair relations with Hamas would halt the current peace process between the PA and Israel. Olmert recently pardoned some 178 Fatah fugitives and released 250 prisoners from jail in a bid to strengthen Abbas. The chairman vowed on numerous occasions not to renew talks with Hamas, despite reports of meetings held in secret. Since Hamas' putsch in Gaza, PA security forces have detained nearly 200 Hamas activists in the West Bank, but most of the suspected militants in custody are not linked to Izzadin Kassam. "We are going after the wrong guys," the official said. "We are detaining journalists, university students and low-level political operatives. Meanwhile, Izzadin Kassam is establishing secret cells and acquiring more weapons." Meanwhile, PA officials have reported suspected collusion between some Fatah gunmen and Hamas militants in the West Bank. "Some of the Hamas men have been receiving assistance from Fatah gunmen and this is very worrying," a security commander said. Abbas officials are afraid that Hamas is creating an executive force in the West Bank as a preliminary step to overthrowing the PA government. If Hamas succeeds in overthrowing Abbas, all recent diplomatic progress towards a Palestinian state would be undermined.
WEEK OF AUGUST 13 TO AUGUST 19
Saudi Arabia Accuses Syria of Spreading Chaos in the Mideast
| | |
| --- | --- |
| | (FOJ) Saudi Arabia's King Abdullah visiting the Grand Mosque in Mecca on Wednesday. King Abdullah is the principle promoter of the Arab League Peace Plan with Israel. |
Aug. 17….(Ha Aretz) A war of words over who has the leading role in the Arab world has broken out between the Syrian government and the Saudi ruling family, the House of Saud. A government spokesman in the Saudi capital Riyadh accused Syria in a widely broadcast statement Thursday evening of attempting to destabilize the region and spread chaos. "They believe they can deceive the Arab and Muslim nation, but their actions are proof of their malicious intentions," the statement said. Saudi Arabia is a close ally of the United States in the Middle East, and has just signed an arms deal with it for an estimated $20 billion of sophisticated weaponry. Syria, however, is accused by the US of supporting terrorism and aiding the insurgency in Iraq. The Saudi royal house accused Syrian Vice-President Farouq al-Sharaa of spreading "lies" about Saudi Arabia. Al-Sharaa had said on Tuesday at a press conference in Damascus that Saudi Arabia was not playing an active role in regional politics. He also said that in its foreign policy, the Islamic kingdom was paralyzed and was therefore unable to push the rival Palestinian factions Hamas and Fatah to a lasting settlement. Relations between Saudi Arabia and Syria have cooled dramatically since the assassination of former Lebanese premier Rafik Hariri in February 2005. Billionaire Hariri was a confidant of the Saudi ruling family and Damascus is suspected of involvement in his killing. The statement from Riyadh said that in spite of the difference of opinion with the Syrian leadership this would not alter "the fraternal relations between the peoples of Syria and Saudi Arabia."
Is Israel Willing to Give up Temple Mount?
(Palestinians say no agreement unless Olmert forfeits holiest site in Judaism)
Aug. 17….(WND) Palestinian negotiators drafting an agreement behind the scenes with Prime Minister Ehud Olmert's office have made clear they will not accept any final peace deal with Israel unless the Jewish state forfeits the Temple Mount, Judaism's holiest site, WND has learned. According to a report in Israel's Yediot Aharonot daily yesterday, Olmert is willing to discuss joint Israeli-Palestinian control over the Temple Mount complex. The report didn't state the positions of the Palestinian side on the issue. A chief Palestinian negotiator, speaking to WND on condition his name be withheld, said yesterday, "there can be no agreement with Israel unless we get complete sovereignty of the Mount. Once Palestinian control over the Temple Mount is fixed, then we will make assurances for Jewish visits to the site." The chief negotiator said aides from Palestinian Authority President Mahmoud Abbas' Fatah organization have been hammering out the parameters of a final status agreement for presentation in November at a US-backed international summit regarding the Middle East. Issues already discussed between Israel and the Palestinians reportedly include the division of parts of Jerusalem and debates regarding permanent borders between Israel and the PA. The November international conference and talk from the Bush administration the past few weeks has led many here to speculate the US will push in the near future for intense Israeli-Palestinian negotiations leading to a Palestinian state. With a year and a half left in office, President George Bush and Secretary of State Condoleezza Rice have been urging meetings between Abbas and Olmert to establish a framework for momentum leading to a breakthrough at November's conference. Olmert and Abbas have been meeting bi-monthly in summits brokered by the US. Asked by WND whether Olmert is willing to forfeit the Temple Mount in an agreement with the Palestinians, David Baker, a spokesman for the prime minister, had no comment.
Jews, Christians barred from praying on Mount
The Temple Mount is the holiest site in Judaism. Muslims say it is their third holiest site. The First Jewish Temple was built by King Solomon in the 10th century BC. It was destroyed by the Babylonians in 586BC. The Second Temple was rebuilt in 515BC after Jerusalem was freed from Babylonian captivity. That temple was destroyed by the Roman Empire in AD70. Each temple stood for a period of about four centuries. The Jewish Temple was the center of religious Jewish worship. It housed the Holy of Holies, which contained the Ark of the Covenant and was said to be the area upon which God's "presence" dwelt. The Al Aqsa Mosque now sits on the site. The temple served as the primary location for the offering of sacrifices and was the main gathering place in Israel during Jewish holidays. The Temple Mount compound has remained a focal point for Jewish services over the millennia. Prayers for a return to Jerusalem have been uttered by Jews since the Second Temple was destroyed, according to Jewish tradition. Jews worldwide pray facing toward the Western Wall, a portion of an outer courtyard of the Temple left intact. The Al Aqsa Mosque was constructed around AD709 to serve as a shrine near another shrine, the Dome of the Rock, which was built by an Islamic caliph. Al Aqsa was meant to mark where Muslims came to believe Muhammad, the founder of Islam, ascended to heaven. Jerusalem is not mentioned in the Quran. Islamic tradition states Mohammed took a journey in a single night from "a sacred mosque," believed to be in Mecca in southern Saudi Arabia, to "the farthest mosque" and from a rock there ascended to heaven. The farthest mosque later became associated with the Al Aqsa Mosque in Jerusalem. Currently under Israeli control, Jews and Christians are barred from praying on the Mount. The Temple Mount was opened to the general public until September 2000, when the Palestinians started their intifada by throwing stones at Jewish worshipers after then-candidate for prime minister Ariel Sharon visited the area. Following the onset of violence, the new Sharon government closed the Mount to non-Muslims, using checkpoints to control all pedestrian traffic for fear of further clashes with the Palestinians. During "open" days, Jews and Christian are allowed to ascend the Mount, usually through organized tours and only if they conform first to a strict set of guidelines, which includes demands that they not pray or bring any "holy objects" to the site. Visitors are banned from entering any of the mosques without direct Waqf permission. Rules are enforced by Waqf agents, who watch tours closely and alert nearby Israeli police to any breaking of their guidelines.
Abbas Invites Hamas to Reunite
Aug. 16….(Israel Today) Brushing aside every assurance given to Israel and the Bush Administration, Palestinian Authority Chairman Mahmoud Abbas on Wednesday invited the Hamas terrorist organization to join him in reconciliation talks. "The split that happened as a result of Hamas's coup in Gaza is temporary and will be removed," Abbas told reporters in Ramallah. "The Palestinian people are opposed to this separation because we want a united and independent Palestinian state." Abbas urged Hamas to "return to national unity." Israeli Prime Minister Ehud Olmert responded by releasing a statement warning that the peace process will come to a screeching halt if Abbas allows Hamas back into his internationally-recognized government. Abbas and his appointed prime minister, Salaam Fayad, have spent the past week assuring both Israeli and US leaders that Hamas will never again play a role in Palestinian government or have influence over the peace process.
Abbas Seeks Unity With Hamas, Breaking Promise to US
Aug. 16….(IsraelNN.com) Just days after promising US lawmakers that his Fatah movement would not reconcile with Hamas, PA Chairman Mahmoud Abbas is inviting the Islamist movement to kiss and make up. Abbas called on Hamas to "return to national unity" following his meeting with Japanese Foreign Minister Taro Aso Wednesday. "The split that happened as a result of Hamas's coup is temporary and will be removed," Abbas said. Hamas welcomed Abbas's statements and invited him to negotiations in Gaza. Hamas and Fatah briefly formed a unity government after hammering out a power-sharing deal in Mecca that they hoped would renew international aid to the Palestinian Authority. Western aid had been cut off since Hamas won PA elections in a landslide, though the PA as a while received more money than ever before with the help of Muslim donor countries. Prime Minister Ehud Olmert's office issued a warning Wednesday night that a Hamas-Fatah reconciliation would result in the breakdown of the nascent "diplomatic process" that is being hastily constructed by Abbas and Olmert. Israeli papers repeatedly report that secret talks between Hamas and Fatah are ongoing.
Olmert Worried About Possible Fatah-Hamas Reunification
Aug. 16….(Arutz) PA Chairman Mahmoud Abbas' seemingly conciliatory messages to Hamas have Israeli Prime Minister Ehud Olmert concerned. Olmert warned Abbas on Wednesday that any move to reunite the two rival factions would cause the collapse of Israeli-PA negotiations. Olmert's comments followed a comment made by Abbas urging Hamas to "return to national unity," which Hamas understood as a call for renewed negotiations. There have recently been numerous reports of secret talks between the two groups. "The split that happened between the West Bank and the Gaza Strip as a result of Hamas's coup is temporary and will be removed," Abbas said. "The Palestinian people are opposed to this separation because we want a united and independent Palestinian state." Abbas pledged to continue to work toward reuniting the Palestinians. "We will also continue to support our people in the Gaza Strip, because this is our responsibility," he said. However the chairman vowed not to renew negotiations with Hamas, which advocates terrorism against Israel and refuses to recognize the Jewish state's right to exist. In related news, the Olmert administration is working with the PA leadership to create a series of economic initiatives in an attempt to strengthen and stabilize the region under Abbas. According to Haaretz, Israel proposed several "strategic" projects, among them are infrastructure improvements such as electricity and water, city planning in the West Bank and Gaza, rehabilitation of sewage systems and the establishment of a "peace corridor" in Jericho. "Efforts on the economic track are not at the expense of the diplomatic dialogue with the PA," Foreign Minister Tzipi Livni said. "Israel has a responsibility to create a diplomatic process and reach an agreement with the Palestinians on the widest possible basis." Livni, Japanese Foreign Minister Taro Aso, Jordanian Foreign Minister Abdelelah al-Khatib, and the Palestine Liberation Organization's chief of negotiations, Saeb Erekat met on Wednesday at Jericho's Intercontinental Hotel to discuss the plan.
Olmert, Abbas holding final status peace talks
Israeli Prime Minister Ehud Olmert revealed this week that he has for weeks been holding talking with Palestinian Authority Chairman Mahmoud Abbas on a final status peace agreement. The talks are focused on resolving the primary outstanding issues between the two sides, such as the borders of a future Palestinian state, control of Jerusalem and the Palestinian demand that millions of so-called refugees be allowed to take up residence inside Israel. The two leaders are holding the talks in an effort to bridge their gaps before a major Middle East peace summit being hosted by US President George W. Bush in November. Both Olmert and Abbas want to be able to present a final status peace agreement at that time. Observers noted that the Palestinians would only be likely to accept a final status deal that met 100% of their demands, which include a full Israeli withdrawal from Judea and Samaria, surrender of the eastern half of Jerusalem, and the absorption of millions of Arabs. Israeli Prime Minister Ehud Olmert has stated that Israel is seeking for a permanent agreement to be brokered with the Palestinian Authority before November, before an international peace conference on the Middle East is due to take place. The Prime Minister has admitted to a delegation from the US House of Representatives that he has been meeting President Abbas over the past few months to discuss core issues, such as final status borders, the division of Jerusalem and even the Temple Mount. A report by London's Al Hayyat newspaper recently revealed that the two men have opened a secret channel of talks to discuss the core issues, contrary to the Prime Minister's official line that he is working towards a skeleton agreement only, the details of which would be filled in at a later date. Olmert expects that once Israel and the Palestinian Authority agree on the division of the land, that the plan will be implemented at a later date.
Quote: "Based on past statements by Olmert and his deputy, Tzipi Livni, Israel would apparently agree to return more than 90 percent of the West Bank in the framework of a permanent agreement and allow the Palestinians to create a corridor between Gaza and the West Bank. In return for holding on to large Jewish settlement blocs in the West Bank, Olmert would likely agree to give up some parts of the Negev to the Palestinians. In the past the prime minister hinted to the possibility of transferring a number of east Jerusalem neighborhoods to the control of a future Palestinian state. It is estimated that Olmert would also be willing to discuss joint control over the Temple Mount complex.
A Breakable Link?
(Despite current alliance, national interests of Syria, Iran not quite the same)
Aug. 16….(YNET) While Damascus and Tehran appear to be demonstrating a united front, seeking to strengthen Iran's expansionism in the Middle East and aggression towards Israel, Israeli government officials were recently reported as commenting that Syria is still not a satellite of Iran and can, in fact, be extricated from an Iranian "bear-hug." Indeed, closer inspection of Syrian-Iranian relations reveals slight disparities between Iran's objectives of regional expansionism and the national interests of Syria. With creative leveraging, Israel just might be able to seize upon the opportunity that these rifts provide to dismantle a key link holding the Iranian expansionist project together. Despite the feeling after the Second Lebanon War that a moderate anti-Iranian axis could be created, recent events seem to indicate that the stock of Iran and its rejectionist allies is rising: Hamas handily defeated Fatah in Gaza, the Saudi Peace Initiative lost momentum, Lebanon remained frozen in a face-off while France appealed to Iran for its resolution, the Bush Administration finally engaged Iran over the future of Iraq, all the while Iran steadily progressed in its nuclear program. As in Lebanon and Iraq, Iran has an interest in showing that it is inextricably linked to the resolution of key regional conflicts, including those that involve Syria. (This explains the recent reports – true or untrue – of the Syria-Iran strategic military deal.) Since such disputes can apparently not be solved without Iranian cooperation, Iran creates leverage over the international actors involved, such as France or the US, hoping that this will inhibit further international sanctions or a potential military strike against its nuclear program. Thus, one way to undermine the Iranian expansionist project, whose ultimate goal is a region dominated by fundamentalists and absent of a Jewish state, is to dismantle the links from which Iran derives its immunity. While Iran has sought to present a united front that includes Syria, a number of potential gaps in each country's respective national interests tell a slightly different story. Following the outbreak of the political crisis in Lebanon, Iran coordinated its position with Saudi Arabia and did not give its full backing to Syria over the issue of the international tribunal for the Hariri assassination, indicating a willingness to sideline Syrian interests when Iran needs to protect itself. Regarding the future of Iraq, Syria has expressed interest in a strong central government in Baghdad with a secular Arab identity, while Iran prefers a weaker, more de-centralized Iraq in which religious Shiites dominate. Furthermore, Syria's national interest to negotiate the return of the Golan Heights with Israel fundamentally contradicts Iran's priority of preventing any political process with Israel. Removing Syria from Iran's orbit of influence would be a significant blow to Iran's aspirations for regional hegemony and immunity for its nuclear program. The key may be to place Syria's national interests in conflict with Iranian expansionism. On one hand, as long as Syria continues to facilitate the rejectionist activities of Iran, Hamas and Hizbullah, it should remain isolated from the West, under international pressure concerning Lebanon and wary of the possibility of military action should it provoke Israel. On the other hand, a tripartite US-Israel-Syria deal, something Assad has hinted at, may be emerging due to a convergence of interests among the three. While Syria wants carrots beyond resolution of its dispute with Israel, such as an end to pressure and isolation led by the US, Syria can actually help the US achieve its primary objective of stabilizing Iraq in addition to ending support for Hamas and Hizbullah and weakening Iran. Israel may want to explore with the US the potential mutual benefits of containing the expanding Iranian threat by having the road from Damascus to Washington pass through Jerusalem.
Syria, Hizb'allah, Protest Loudly: Make War? What Us??
Aug. 16….(JNEWSWIRE) They want to be able to paint Israel as the aggressor in the event war breaks out between them and the Jewish state, thereby ensuring them a sympathetic international ear when they demand a ceasefire and seek to negotiate terms, like the return of more territory to the Arab side.
This is one likely explanation for why Syria and the Lebanese Hizb'allah simultaneously announced Tuesday that they have no interest in war against Israel. Syrian Vice-President Farouk a-Shara issued his nation's denial Tuesday. "Israel knows we don't want war. We should always be ready to respond to Israeli aggression, but Syria will not start a war," he said. Israel, on the other hand, a-Shara was careful to say, is "looking for any excuse to start a war." Over in Lebanon, the leader of the terrorist Hizb'allah organization that triggered a war with Israel last summer, sending hundreds of missiles into the Jewish state, also chose yesterday to signal his opposition to another war while warning dire consequences of there would be one. Hizb'allah was not interested in another bout of fighting with Israel, Hassan Nasrallah said, according to the Associated Press. However, "if you the Zionists are thinking of attacking Lebanon. I promise great surprises that could alter the fate of the war and the region, insh'allah." Nasrallah said his group now has advanced missiles that can hit targets anywhere inside Israel. According to Israel's National Infrastructure Minister, Binyamin Ben-Eliezer, "Nasrallah has never lied. He is cocky, he is arrogant, but at least from our experience with him, to my regret, what he has said, he has done. "And when he says 'I have 20,000 missiles' I believe him," the minister said Wednesday. Israel responded to what journalists termed "calming" messages from its two northern enemies by attempting to make mollifying noises of its own. Prime Minister Ehud Olmert told IDF officers in the north Tuesday Israel "is not interested in war with Syria, but we are preparing for any eventuality." And Defense Minister Ehud Barak stated: "Israel does not want war, and by our assessment, neither does Syria. Therefore, there is no need for a war here."
Giuliani Says Palestinian State Would Support Terrorism
Aug. 15….(Arutz) American Republican presidential candidate Rudy Giuliani has bucked the party line of successive US administrations and come out against the establishment of a Palestinian state. "Too much emphasis has been placed on brokering negotiations between the Israelis and the Palestinians, negotiations that bring up the same issues again and again," the former New York City Mayor wrote in a paper published in Foreign Affairs magazine. "It is not in the interest of the United States, at a time when it is being threatened by Islamist terrorists, to assist the creation of another state that will support terrorism." Giuliani did not rule out the eventual establishment of such a state, but warned against the push by President George W. Bush and embattled Israeli Prime Minister Ehud Olmert to quickly establish a state in Judea and Samaria ruled by Fatah. "Palestinian statehood will have to be earned through sustained good governance, a clear commitment to fighting terrorism, and a willingness to live in peace with Israel." Giuliani also took a swipe at the United Nations, saying America should have "realistic" expectations about the effectiveness of an organization he says has made itself "irrelevant" to the resolution of the past half-century's conflicts. "The organization can be useful for some humanitarian and peacekeeping functions, but we should not expect much more of it." Saying the war with "Islamic fascism" will be a lengthy one, Giuliani explained that: "The Terrorists' War on US was encouraged by unrealistic and inconsistent actions taken in response to terrorist attacks in the past. A realistic peace can only be achieved through strength."
FOJ Note: Mr. Giuliani is wrong on a number of social issues, but he is right on target on the Palestinian Statehood issue.
US Will Classify Iran's Revolutionary Guard as Terrorist
(Bush Administration will designate group as 'global terrorist')
Aug. 15….(MSN) The United States has decided to designate Iran's infamous Revolutionary Guard Corps, the country's 125,000-strong elite military branch, as a "specially designated global terrorist," according to US officials, a move that allows Washington to target the group's business operations and finances. The Bush administration has chosen to move against the Revolutionary Guard Corps because of what US officials have described as its growing involvement in Iraq and Afghanistan as well as its support for extremists throughout the Middle East, the sources said. The decision follows congressional pressure on the administration to toughen its stance against Teheran, as well as US frustration with the ineffectiveness of UN resolutions against Iran's nuclear program, officials said. The designation of the Revolutionary Guard will be made under Executive Order 13224, which President Bush signed two weeks after the Sept. 11, 2001, attacks to obstruct terrorist funding. It authorizes the United States to identify individuals, businesses, charities and extremist groups engaged in terrorist activities. The Revolutionary Guard would be the first national military branch included on the list, US officials said, a highly unusual move because it is part of a government, rather than a typical non-state terrorist organization. The order allows the United States to block the assets of terrorists and to disrupt operations by foreign businesses that "provide support, services or assistance to, or otherwise associate with, terrorists." The move reflects escalating tensions between Washington and Tehran over issues including Iraq and Iran's nuclear ambitions. Iran has been on the State Department's list of state sponsors of terrorism since 1984, but in May the two countries began their first formal one-on-one dialogue in 28 years with a meeting of diplomats in Baghdad. The main goal of the new designation is to clamp down on the Revolutionary Guard's vast business network, as well as on foreign companies conducting business linked to the military unit and its personnel. The administration plans to list many of the Revolutionary Guard's financial operations. "Anyone doing business with these people will have to reevaluate their actions immediately," said a US official familiar with the plan who spoke on the condition of anonymity because the decision has not been announced. "It increases the risks of people who have until now ignored the growing list of sanctions against the Iranians. It makes clear to everyone who the IRGC and their related businesses really are. It removes the excuses for doing business with these people." For weeks, the Bush administration has been debating whether to target the Revolutionary Guard Corps in full, or only its Quds Force wing, which US officials have linked to the growing flow of explosives, roadside bombs, rockets and other arms to Shiite militias in Iraq and the Taliban in Afghanistan. The Quds Force also lends support to Shiite allies such as Lebanon's Hezbollah and to Sunni movements such as Hamas and the Palestinian Islamic Jihad. Formed in 1979 and originally tasked with protecting the world's only modern theocracy, the Revolutionary Guard took the lead in battling Iraq during the bloody Iran-Iraq war waged from 1980 to 1988. Iranian President Mahmoud Achmadinejad rose through the ranks of the Revolutionary Guard and came to power with support from its network of veterans.
US to List Iran's Revolutionary Guards Corps a "Specially Designated Global Terrorist"
Aug. 15….(DEBKA) The US is moving to isolate Iran. This move is planned to coincide with the UN Security Council's September meeting called to impose a third set of hitherto ineffectual sanctions on Iran for defying UN resolutions barring uranium enrichment. It would be the first time a US government has targeted the business operations and finances of a national military branch which is a part of the government of a UN member. DEBKAfile's Iran sources note that the Bush administration would in effect be declaring economic war on Iran. The Revolutionary Guards Corps' ground, air and naval corps, numbering 125,000 men, are in charge of Iran's nuclear program and missile units and form the military backbone of the Islamic Republic. Iran will not pass up any chance of a harsh response, possibly by raising the military heat in Iraq, Afghanistan, Lebanon and the Gaza Strip or against American forces and US allies, especially Israel. DEBKAfile's sources strongly doubt that President George W. Bush's remaining 18 months in office will suffice for those measures to attain the goal of compelling Tehran to give up its nuclear activities. The decision of whether to carry on will be left to his successor in the White House. The Bush administration's new order would be limited to enabling the blockage of RG assets in US financial institutions and banks and penalizing their foreign clients who do business with Tehran. It would not be binding on Iran's leading trading partners, such as China, Russia, some of the Gulf emirates, Venezuela and Cuba, governments which sell the Islamic Republic arms and weapons technology in defiance of UN sanctions. Unlike the non-state terrorist groups, Al Qaeda, Taliban, Hizballah and Hamas, whose funds Washington obstructs, the Revolutionary Guards (Pasdaran) command an economic empire which controls most branches of the Iranian economy including the oil industry. Since 2005, the Bush administration has imposed measures targeting Iran's banks, its operations on the world's financial markets and the companies associated with its nuclear program. This campaign has been successful, but fallen short of dislocating that program. The campaign's extension by the new order will bring into play America's foreign ties and strategic interests in the world, including such countries as China and Russia.
Hezbollah Warns Israel That it has Surprises in Event of War
Aug. 15….(Israel Daily) Hezbollah leader Sayyed Hassan Nasrallah warned Israel of a "great surprise" in the event of another war between the Lebanese guerrilla group and the Jewish state. Marking the first anniversary of the end of last year's war between Hezbollah and Israel, Nasrallah said his group did not want conflict but described readiness as a duty. If you think - oh Zionists - about launching a war on Lebanon, I will not promise you surprises such as those which happened (in the last war), rather I promise you a great surprise which could change the fate of the war and the fate of the region," Nasrallah said in a televised speech. The Hezbollah chief said he would not reveal what this was. "The Zionists and Americans are beating the drums of war," he said at the start of his speech, addressing tens of thousands of supporters gathered in Beirut to watch him speak on a screen.
"God willing there will not be a war. As I have said in previous speeches, we do not want war," Nasrallah said, blaming Israel for last year's conflict, which killed about 1,200 people in Lebanon, mostly civilians, and 158 Israelis, mostly soldiers. The conflict was triggered on July 12 when Hezbollah, a Shi'ite Muslim Islamist group, launched a raid into northern Israel and captured two soldiers. "If, God forbid, war happens we must be ready," Nasrallah said, adding that his remark last month that his group's rockets were capable of hitting any spot in Israel was designed as a deterrent and not to bring on a conflict.
Syrian General Pushing Assad Toward War on Israel
Aug. 14….(Israel Today) The head of Syria's military intelligence is pressing President Bashar Assad to initiate hostilities with Israel as early as next month, according to Arab officials from Lebanon and Syria. General Asef Shawkat, who is also Assad's brother-in-law, has been working hard to convince the Syrian leader that "there is no chance of a political channel to return the Golan Heights," a Lebanese official told Israel's Yediot Ahronot on condition of anonymity. Shawkat reportedly informed Assad that Syria would not have to actually win a war with Israel, but just inflict enough damage on its cities by means of large-scale missile attacks to force the Israelis to the negotiating table, where Damascus would then be in a good position to regain control of the Golan. A Syrian official who recently fled his homeland after getting on Shawkat's bad side told Yediot that "the general is controlling the president by sidelining his aides, and is exploiting Bashar's unstable moods." Further motivation for Shawkat seeking a war is the fact that he has been directly implicated in the assassination of former Lebanese prime minister Rafik Hariri. Assad has reportedly been considering turning Shawkat over to an international tribunal into the murder in order to save his own neck.
Israeli soldiers participate in a training
exercise on the Golan Heights.
Hamas Pressuring Gaza Christians to Become Muslims
Aug. 13….(Israel Today/MENL) The Hamas rulers of the Gaza Strip are pressuring local Christians to either become Muslims or leave the area, according to Palestinian officials who spoke to Middle East Newsline. The charge comes less than a week after reports revealed that Gaza's top female academic had been abducted and forced to convert and marry a Muslim man. Sana Al Sayegh, who was born a Christian, remains the dean of the Science and Technology Faculty at Palestine University in Gaza City. Her Hamas-affiliated university colleagues were reportedly behind her abduction and forced conversion. In a further sign of Hamas' intent to create an Islamic state in Gaza, the group has offered to reduce prison sentences by one year for any inmates who grow a beard in compliance with Islamic law and memorize at least five chapters of the Koran. A mere 2,000 Christians live in the Gaza Strip amid a Muslim population of 1.5 million. When Hamas seized control of the area in June, one of the group's leaders warned that local Christians would have to submit to strict Islamic law.
Israeli Arabs Forming Terror Groups Inside Security Wall
Aug. 13….(DEBKA) An Israeli-Arab terrorist organization calling itself the "Free People of Galilee" has claimed credit for Friday's shooting attack in Jerusalem's Old City in a statement published by the Bethlehem-based Ma'an news agency. The group's previous attacks include the 2004 abduction and murder of Israeli soldier Oleg Shaichat. Monday's statement raised fears that some Arab residents of Israel's northern regions are again following the example of their Palestinian cousins by organizing themselves into terror groups. Hezbollah claims that it helped recruited Ahmad Hatib for the latest Jerusalem attack. Hizballah cells are believed to be planted in the Galilee villages of Manda and Kafr Kana. One source told DEBKA that if Hatib did indeed act on behalf one of those cells, Hizballah can claim to have carried out its first cross-border attack in Israel since kidnapping the Israeli soldiers Ehud Goldwasser and Eldad Regev last summer and sparking the Lebanon War. The Israeli Islamic movement called Hatib a shahid. In the four years since Oleg Shaichat's murder, Israeli security authorities have not got to the bottom of the Hizballah network suspected to have been planted between Carmiel and Nazareth Illit, although even in 2003, there were signs that Hizballah was sending orders and money to Arab citizens deep inside northern Israel.
FOJ Note: Since the effectiveness of the security wall, Palestinian terrorists have sought ways to circumvent Israel's protective measures. Recruiting Israeli Arabs is one way to bypass the security fence.
China Holds Debt Knife to US Dollar Throat
Aug. 13….(Trumpet/Robert Morley) It is amazing how many people still think the United States can force its economic policies on the rest of the world. Yes, there was a time when it could, just like there was a time when America was the world's creditor. But those days are fading into history. On Tuesday, Senator Joe Lieberman warned Chinese lawmakers that if China didn't start making its currency appreciate faster, American lawmakers would pursue "currency manipulation" charges before the International Monetary Fund. The Senate has already passed a bill that could lead to trade sanctions against Chinese businesses. For the record, every country in the world engages in currency manipulation. Countries commonly adjust, or attempt to adjust, their currency's value against other foreign currencies by manipulating interest rates, increasing or decreasing foreign exchange reserves, expanding or contracting the money supply, and by other means. The US adjusts the dollar's value using these same methods. The problem in this case is that China, unlike Europe and the rest of the Western world, has refused to let the dollar fall against its currency. Instead, Beijing has opted to keep the yuan's value relatively pegged to the dollar, allowing it to rise by only 9 percent over the past two years, although some economists say its value should be much higher. This is a problem for America, because the US carries a huge trade deficit. Against China alone, it was a whopping $27 billion in June. America loses thousands of jobs to outsourcing and hundreds of billions of dollars per year because of the trade imbalance. Some lawmakers feel that American businesses would be more competitive globally if the dollar's international value depreciated. A cheaper dollar would make American exports relatively less expensive, and would reduce labor costs in the US compared to other countries. Thus America would sell more goods to its trade partners, and the trade deficit would diminish. In Beijing's case, American politicians contend that Americans are purchasing more Chinese goods because Chinese products are unfairly cheaper than American-made goods, thanks to an undervalued yuan. But China does not want to give up its undervalued currency. Chinese manufacturers are pumping out exports to the US and the rest of the world, and consequently Beijing's coffers are overflowing with dollars. Hence, the Chinese politicians realize their strength and power over the US through monetary policies. According to the Telegraph, in response to American pressure, the Chinese government has begun a "concerted campaign of economic threats against the United States" (August 8). And unlike in years past, China now has the economic muscle to back it up. Two leading Chinese officials have issued statements over the past few days warning for the first time that China might use its massive US dollar reserves as a political weapon to counter US congressional pressure. Xia Bin, a cabinet-rank minister, was the first last week to state that China's foreign reserves should be employed as a "bargaining chip" in trade talks with the US, although he also added that "China doesn't want any undesirable phenomenon in the global financial order." He Fan, an official at the Chinese Academy of Social Sciences, went even further, warning that China could set off a dollar crash if it so desired. "China has accumulated a large sum of U.S. dollars. Such a big sum contributes a great deal to maintaining the position of the dollar as a reserve currency," he said. Although Russia, Switzerland and several other countries have reduced their dollar holdings, "China is unlikely to follow suit as long as the yuan's exchange rate is stable against the dollar," He Fan said. If China's central bank is forced to dump its US currency, it "might lead to a mass depreciation of the dollar," he said. "The words are alarming and unambiguous. This carries a clear political threat," to the US Senate, Simon Derrick, a currency strategist at the Bank of New York Mellon, said. China's state media describes the use of the country's huge dollar holdings (much of which are in the form of US Treasury debt) as a political weapon as its "nuclear option," indicating Beigjing could easily trigger a dollar crash of massive proportions. If China were to start dumping its dollars, US interest rates would spike, inflation would soar, the housing market would get pummeled, and the economy would likely plunge into a serious recession. In pressuring the Chinese, American politicians may be playing with fire. America has been benefiting from China's "crawling" dollar peg. To keep its currency relative to the dollar, China takes its trade profits and buys US treasuries, effectively lending Chinese trade profits back to the United States. This has greatly benefited America by providing easy debt to finance its expenditures. However, there is a trade-off in this process. By keeping its currency undervalued, China not only keeps the status quo for its exporters, but it supplies America with dangerously easy debt. Like a drug dealer supplying cocaine, China provides easy loans to American politicians, who are more than eager to borrow and spend. Consequently, America has become addicted to the artificial short-term benefits supplied by Chinese lending, including low interest rates, increased US consumer spending, inexpensive Chinese products and concealed inflationary pressures. The trade-off, of course, is that America continues to become increasingly indebted to Beijing, and jobs continue to leave for China. America becomes more and more vulnerable economically and politically. For these reasons, the US economy is stuck between a rock and a hard place. America's economic condition is deteriorating, yet present realities can be hard to accept. President Franklin Delano Roosevelt once famously proclaimed that America didn't need to worry about debt because it is owed to Americans. He argued that if the government pays interest, it's paid to Americans, so it did not matter. Though that pretense is arguable, those days are now long gone. Once the world's dominant creditor, America is now its largest debtor, relying heavily on foreign nations to finance government spending. We no longer owe our debt just to ourselves, we also owe it to the whole world, and most of it to China. As of the end of 2006, the federal government owed $2.2 trillion to foreign entities. Over one fifth of America's official $9 trillion debt is now held by non-US citizens. America may be about to face the music. By endorsing protective legislation against China, US politicians may have started a series of events that will be difficult to handle. America is in for some tough economic times ahead. Its massive debt loads have left the economy walking a fine line. If America imposes legislation to protect its manufacturing and export base, it risks a global backlash led by China that could wreak havoc on the dollar, and immediately throw the economy into turmoil. If America does nothing, it will continue on the present course of trade deficits, increased indebtedness and outsourcing, only stalling the day of reckoning. Yet, America's situation could have easily been avoided by living within its means and following simple, commonsense practices like avoiding debt to foreign powers, which obviously have their own best interests at heart. God warned the ancient nation of Israel about the folly of foreign debt, and what the eventual outcome would be. Read it for yourself in Deuteronomy 15. God specifically told the people of Israel that if they wanted to prosper, they could lend to other nations but not borrow from them (verse 6). As wise King Solomon noted, "The rich ruleth over the poor, and the borrower is servant to the lender" (Proverbs 22:7). America being held economically hostage by a country that is still largely Third World shows just how precarious the US's economic position is, and how suddenly it could be devastated.
Why Is America Imploring Israel to Capitulate?
Aug. 13….(FOJ) The more tenuous Israel's position gets, the more its primary ally (America) pressures it to retreat. A couple of weeks ago, US Secretary of State Condoleezza Rice stepped up the pressure on Israel when she stated the Bush policy towards Israel, "The occupation of the West Bank will have to end," echoing the demand made in a recent speech by President George W. Bush. By stating so clearly that 'the occupation of the West Bank will have to end, Secretary Rice has set a new standard for United States officials of our opposition to Israel's presence in Judea and Samaria." While President Bush himself did not actually go as far as demanding Israel retreat from all the West Bank, he did say that future Israel-Palestinian negotiations must "lead to a territorial settlement, with mutually agreed borders reflecting previous lines and current realities, and mutually agreed adjustments." In reality, however, those borders and adjustments can only be "mutually agreed" if Israel capitulates. The Palestinians, with Palestinian Authority leader Mahmoud Abbas certainly being no exception, have continually proven they will not compromise on their position. That position includes the demand by Abbas that millions of Arab refugees be given the right to live in Israel and that almost half a million Jews be removed from their homes in the West Bank. Not only does Abbas have everything to take in terms of territory; he also demands the release of terrorists and that Israel curb its terror-prevention initiatives. Israel, on the other hand, has a proven track record of capitulation and appeasement, prisoner releases, territorial concessions, and so on. So it should come as no surprise that the United States, in the face of a hopeless situation and desperate for a peace deal, is putting the pressure on Israel rather than the Palestinians. In its desperation, the US is employing tactics that have consistently failed in the past: an international meeting and negotiations, and the provision of money and weapons to the "moderate" Palestinians, led by Abbas. So, as Israel is asked to concede the West Bank, the Palestinians are asked to concede nothing, in effect, not even to repeal the provision in the plo covenant, for example, that calls on the State of Israel to be eliminated by armed military struggle. The fact is, it is abundantly clear that the goals of the Palestinians are irreconcilable with the continued existence of Israel. As America's influence in the Middle East wanes, and its ability to put pressure on Arab states declines, we can expect the US to instead lean more on its ally Israel to appease and concede, all for a temporary illusion of moving toward a resolution in the Arab-Israeli conflict. Of course, such a course of action will do nothing but continue to embolden Israel's enemies. The demand Secretary of State Rice is making of Israel, therefore, is a reflection of American weakness, and that the curse of compromising God's land is falling on the head of America. America's foreign policy makers need to heed the warning of Zechariah. (Zechariah 12:2-3 Behold, I will make Jerusalem a cup of trembling unto all the people round about, when they shall be in the siege both against Judah and against Jerusalem. And in that day will I make Jerusalem a burdensome stone for all people: all that burden themselves with it shall be cut in pieces, though all the people of the earth be gathered together against it.)
West Bank Rally: 10,000 call for Islamic State
Aug. 13….(Jerusalem Post) A global Islamic movement that wants bring Muslims back to the roots of their religion drew a crowd of more than 10,000 at a rally Saturday and denounced the moderate Palestinian Authority leadership in the West Bank as infidels. However, the Liberation Party espouses non-violent change, and PA security officials said they would not restrict the movement's activities as long as it does not resort to violence. The movement's annual rally was held at a time of heightened tension between the Hamas and the moderate Fatah movement of PA Chairman Mahmoud Abbas. Hamas seized control of Gaza in June, and Abbas' security forces cracked down on Hamas in the West Bank in response. The Liberation Party, founded in 1953 by a Palestinian cleric in Jerusalem, calls for re-establishing the caliphate, or Islamic state, across the Muslim world. Saturday's rally was held on the sports field of the Quaker-run Friends School, a private English-speaking school. "The caliphate is coming," read a large poster on the wall of the field. Several tents were set up, and speakers explained in detail what an Islamic state would look like. They said 13 ministries would be established, including for media and foreign affairs. In a statement distributed in the crowd, the movement said the Palestinian Authority, a result of interim Israeli-Palestinian peace deals a decade ago, was set up by infidels and is fighting against the caliphate. "It's known that no one fights the caliphate, expect for infidels or representatives of the infidels," the statement said. "The employees in the Palestinian Authority are supposed to be Muslims. How can they stand with the infidels fighting their religion and their nation." Several speakers addressed the crowd, interspersed by shouts of "Allahu Akbar," or God is great. The current leader of the group, Ata Abu Rishta, told the audience by telephone that pro-US leaders in the Arab world are being used by the US. Hazem Bader, a member of Liberation Party, said an Islamic state is "nearer than ever," but that holy war would have to wait until that state has been established.
Iran Plots Syrian President's Ouster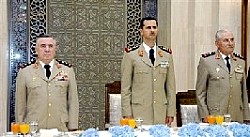 Aug. 13….(DEBKA) Buoyed up by the triumphs of Hizballah's war offensive against Israel in 2006 and Hamas' takeover of Gaza, the clerical rulers of Tehran have invested so heavily in their expanding power structure across the region that a fiasco could push their regime and military prop, the fierce Revolutionary Guards, into a perilous slide at home. To play it safe, DEBKA reports that its Iran sources reveal that Iran has hatched a plan to replace the vacillating figure in Damascus with a puppet at their beck and call, modeled on Hizballah's Hassan Nasrallah in Beirut. Thus far, Assad has not strayed too far from the guidelines he and his Iranian allies laid down together, but Tehran can never be sure when he might swerve from the straight and narrow to make his peace with the Americans. The can only guarantee Syria stays in their pockets is by installing a pro-Iran loyalist in the presidential palace in Damascus. Sources close to Persian Gulf rulers believe that if Tehran opts for this course, its chosen instrument for throwing up a military ruler would be the Syrian armed forces, on the assumption that a general has the best chance of unifying the country and its ethnic and religious minorities around the new regime. The Iranians have therefore doubled and tripled their efforts to build up influence in the Syrian army. An overt manifestation of their success is the prevalence of Syrian army men sporting beards in the style of Revolutionary Guardsmen. But two additional Iranian steps have been more discreet.
1. Three-week, five-star vacations in Iran are being handed out to hundreds of graduates of every Syrian officers' course and their families. While the families visit tourist sites, the graduates undergo indoctrination at special RGs seminaries.
2. Last April, RG instructors began handpicking outstanding Syrian officers at these courses and forming them into secret cells for planting in military units on their return home. They are trained to seize centers of government, military installations and public buildings.
It is not known if Assad knows what is going on in his armed forces, or how deeply collaboration with Iranian intelligence for implanting these cells has penetrated the high Syrian command. Such information would be of paramount bearing on the Syrian ruler's decision on whether or not to stage a flare-up with Israel, now projected for November or early next winter. An American intelligence estimate, passed to Israel last week, predicts that Syria will then plan to ignite clashes by low-intensity military operations to test Israel's responses.
The Syrian leadership is divided on this issue:
The anti-war faction. This camp consists of the veteran class of Syrian army generals, traditionally the most American-oriented of the armed forces. Its leaders, defense minister Gen. Hassan Turkemany, chief of staff Gen. Habib Ali, and the presidential military and intelligence adviser Gen. Muhammed Nasif, all urge abstaining from hostile action against Israel.
The pro-war faction. This camp is headed by the Gen. Assaf Shawqat, head of Syrian military intelligence and the president's brother-in-law. Around him is a band of ambitious young Syrian generals and colonels who have not yet made their name. They network closely with the high command of Iran's armed forces and Revolutionary Guards. Their argument for war is that the Assad regime is wobbling so badly that it would take the extreme measure of a war with Israel to unite the country behind the national leadership. These young Turks have convinced Assad that Israel is determined to avoid the kind of large-scale ground operation which went awry in the 2006 Lebanon War and will therefore focus on aerial bombardments of military bases and certain infrastructure targets such as bridges, power plants and water works. They estimate that even then, Israel will confine itself to a limited air offensive, because its policy-makers and military leaders alike will be leery of provoking reprisal from Syrian medium range ground-to-ground C and D Scud missiles against the central and southern populations. By mid-July, the war faction appeared to be winning the upper hand with President Assad, against the veteran generals. At the same time, neither camp can know for sure exactly where aggressive action against Israel may lead. A Syrian military defeat in a battle for the Golan and heavy Israeli bombardments deep inside Syria could generate conditions for a military coup d'etat against Assad by generals held up as popular heroes for fighting Israel. At the same time, Assad's failure to repulse heavy Israeli military pressure would open the door to Iranian military intervention and a tailor-made opportunity for ousting the regime in Damascus.
US Pressure on Israel for a Palestinian State Foreseen
Aug. 13….(by Hillel Fendel(Arutz) As the US, Jordan, the PA and others prepare for a high-level Middle East summit in November, a squeeze on Israel to agree to a Palestinian state just kilometers from Tel Aviv is feared. PA chairman Mahmoud Abbas (Abu Mazen) has met in recent days with Prime Minister Ehud Olmert and with Jordan's King Abdullah, reportedly discussing plans for the upcoming Middle East summit. The summit is the brainchild of U.S. President George Bush, and is scheduled to be held three months from now. Some Israelis fear that it will mark the climax of a heavy series of pressures upon Israel to agree formally to the formation of a Palestinian state in Judea, Samaria and Gaza. "With a quiet and densely-packed timetable," writes IDF Col. Moti Yogev, "the US Administration is cooking up, together with Prime Minister Olmert and Abu Mazen, very fateful plans for the State of Israel. The US will apply very heavy pressure on Israel to agree to understandings that will form the basis of the declaration of a Palestinian state in Judea and Samaria within just two months." Yogev explains that the Bush Administration is working under the pressure of the 2008 elections. "By then," Yogev posits, "Bush plans to hit the Iranian nuclear infrastructures. This is why he is in such a rush to give the Palestinians and the moderate Moslem states fat weapons deals and a Palestinian state, in order to silence them in anticipation of the planned attack on Iran." "Bush has partners," Yogev continues, "Abu Mazen and Olmert, and the common denominator for all of them is their unpleasant political situation, which is prodding them to take steps they hope will improve their standing."
MK Yuval Shteinitz (Likud) told Arutz-7 this morning that the summit is something that must be strongly opposed: "This summit could well lead to a Palestinian state, with clear Hamas and Iranian influence, right on the doorstep of Tel Aviv, Jerusalem and Ben Gurion International Airport. Even if it just serves as a small support for this idea, the summit is something that we must not allow." Shteinitz served as head of the Foreign Affairs and Defense Committee in the previous Knesset. Though plans are proceeding apace for the summit to be held, several major stumbling blocks remain, including the refusal of Saudi Arabia to announce its participation, and the questionable status of Abu Mazen. Conflicting reports abound as to whether Hamas and Fatah are on the road to peace between them or to a resumption of hostilities. If the latter, then Abu Mazen could find himself a target of assassination; a statement by Hamas elements accuses him of "launching a war against Hamas together with the Zionist occupation forces." In addition, a group of influential businessmen in the PA is considering starting a new party, which Abu Mazen said he "supports."
Yogev says we must be very far from complacent, however: "[Israeli Cabinet ministers] are again working, trying to give between 70 and 90% of Judea and Samaria to the PA for a state. True, some say the present government does not have the political strength to pull it off. But what is now on the agenda is just a signature on a 'declaration of principles' for the establishment of a Palestinian state. Even if the implementation is put off, it will still be an international Israeli commitment, and this is very grave. In addition, if it is marketed as a way of saving Israel from the Iranian nuclear threat, it will be very hard to convince the average Israeli of the dangers of abandoning most of Judea and Samaria - despite what has happened in Gaza." The only way to stop this, Yogev writes, is for the "nationalist, religious, Zionist camp to wake up, unite as one, and work together. We have the strength to declare firmly that the Land of Israel belongs to the People of Israel, and that any thought of giving it to 'moderate' murderers is immoral and will not bring peace or security."
WEEK OF AUGUST 6 TO AUGUST 12
Democratic Presidential Candidates Speak Strongly Against Traditional Marriage At Gay Forum
Aug. 11….(Bill Wilson/KIN) If Americans were looking for the most disgusting show of political pandering to date in the race for President of the United States of America, they needed to go no further than the Democratic presidential forum hosted Thursday night by the radical homosexual activist group Human Rights Campaign and broadcast on the pro-homosexual television channel Logo. The questions asked of the candidates included those about how their religious beliefs affected their stance on same sex marriage. In the context of the forum the aim appeared to minimize religion in the argument against same sex marriage and promote in its stead the emphasis on the superiority of federal rights. Each of the leading candidates said they stood against the Defense of Marriage Act and that they supported equal rights as mandated by the federal government. New York Senator Hillary Clinton said she believed in full equality for homosexuals and its "how we get there" is the debate, implying that full marriage rights for homosexuals should be done in steps. The first step is civil unions, according to Clinton who said, "I am absolutely in favor of civil unions with full equality of benefits, rights and privileges." She also said that one of her highest priorities is repealing the "Don't Ask, Don't Tell" policy of the military so that homosexuals could openly serve in the armed forces. Illinois Senator B. Hussein Obama said he would "continue to support a civil union that provides all the benefits that are available for a legally sanctioned marriage." Obama said that federal law must convey to homosexuals all the benefits available to straight people and that individual churches could decide whether they want to accept them. Former Senator John Edwards said that he shouldn't have said he was against homosexual marriage because of his religion and that he would fight for the equal rights of homosexual couples. It is obvious that the leading Democratic Presidential contenders support abolishing traditional marriage by conveying the rights of marriage to homosexuals. They also believe the Federal government issues rights that are superior to religious beliefs against homosexuality. The founding fathers, however, said in the Declaration of Independence that "all men are created equal, that they are endowed by their Creator with certain unalienable Rights…" If rights are endowed by the Creator and the Creator says, "Thou shall not lie with mankind, as with womankind: It is abomination, (Leviticus 18:22)" then homosexuality cannot be condoned. And those who do condone it are against God, no matter what rights the government conveys.
Federal Reserve Acts to Stem Credit Turmoil
(Fed Pumps Another $38B Into US Financial System Friday to Stem Credit Turmoil)
Aug. 11….(AP) The Federal Reserve, trying to calm turmoil on Wall Street, announced Friday that it will pump as much money as needed into the US financial system to help overcome the ill effects of a spreading credit crunch. The Fed, in a short statement, said it will provide "reserves as necessary" to help the markets safely make their way. The central bank did not provide details but said it would do all it can to "facilitate the orderly functioning of financial markets." The Fed pushed $38 billion in temporary reserves into the system Friday, on top of a similar move the day before. Financial markets in the United States and around the globe have been shaken by fears about spreading credit problems that started with home mortgages for those with tarnished credit histories. Investors are worried that these problems will infect the larger financial system and possibly hurt the US economy. The Fed's action may have eased some investors' anxieties. The Dow Jones industrials were down around 90 points in afternoon trading Friday following much sharper losses near the start of the session. Presidential spokeswoman Dana Perino said the Fed is an independent body, and the White House will not comment on its decisions. The Fed's action comes one day after a financial panic about a credit crunch swept through Europe. That prompted the Europeans to pump $130 billion into their financial system. The Fed moved Thursday to add an extra $24 billion in temporary reserves to the US banking system. But that wasn't enough to comfort Wall Street, which suffered its second-worst decline of the year that day. The Fed on Friday chose not to cut a key interest rate, called the federal funds rate, to address the problem. That interest rate still stands at 5.25 percent. The funds rate is interest banks charge each other on overnight loans and is the Fed's main lever to influence economic activity. Instead, the Fed is seeking to provide reassurance to investors that the central bank will plow extra money into the US financial system to make sure the credit crunch doesn't worsen. The Federal Reserve Bank of New York, which carries out the central bank's market operation, moved to add $19 billion in temporary reserves Friday morning. It pumped in another $16 billion in reserves a couple of hours later, then $3 billion more in the afternoon. "In current circumstances, depository institutions may experience unusual funding needs because of dislocations in money and credit markets," the Federal Reserve in Washington said in its statement. It told banks that the Fed's discount window, where banks can turn in an emergency for short-term loans, is available as a source of funding. After the Sept. 11, 2001, terror attacks, the Fed used the discount window to extend billions of dollars worth of emergency loans to banks to keep the financial system functioning. The current meltdown in the housing and mortgage markets has caused new home foreclosures to climb to record highs and has forced some lenders out of business. Problems first sprouted in the market for higher-risk or "subprime" mortgages, which are held by people with poor credit or low incomes. But some problems have spilled over to more creditworthy borrowers. That has led to tighter lending standards, making credit harder to get for people and businesses. The free flow of credit is important to the smooth functioning of the national economy.
(FOJ Note: Many Americans are living beyond their means, and or simply using the system to squelch on accountability. The national debt will take a drubbing as a result of this extravagance and irresponsibility. And the nations that are bought into our national debt through Treasury bills and bonds are becoming angrier with the US.
New Al Qaeda Threat of Radioactive Truck Attacks Target New York, Los Angeles, Miami
Aug. 10….(DEBKA) Anew Al Qaeda threat was picked up by DEBKAfile's monitors from a rush of electronic chatter on al Qaeda sites Thursday, Aug. 8. The al Qaeda communications accuse the Americans of the grave error of failing to take seriously the videotape released by the American al Qaeda spokesman Adam Gaddahn last week. "They will soon realize their mistake when American cities are hit by quality operations," said one message. Another said the attacks would be carried out "by means of trucks loaded with radio-active material against America's biggest city and financial nerve center." A third message mentioned New York, Los Angeles and Miami as targets. It drew the answer: "The attack, with Allah's help, will cause an economic meltdown, many dead, and a financial crisis on a scale that compels the United States to pull its military forces out of many parts of the world, including Iraq, for lack of any other way of cutting down costs." There is also a message which speaks obliquely of the approaching attacks easing the heavy pressure America exerts on countries like Japan, Cuba and Venezuela. DEBKAfile's counter-terror sources and monitors say there is no way of gauging for sure how serious these threats are, how real, or whether they are part of a war of nerves to give the Gaddahn tape extra mileage. But it is important to note that the exchange of messages took place over al Qaeda's internal Internet sites and that they contained the threat of radioactive terror and specific American cities for the first time after a long silence on these subjects. In addition, a growing number of clips has been disseminated of late over al Qaeda sites instructing the faithful how to design remote-controlled gliders, pack them with explosives and launch them against predetermined targets.
IDF Intel: Syria May Launch Missile Attack Soon
Aug. 10….(IsraelNN.com) Contrary to the official Military Intelligence line, according to which Syria does not intend to attack Israel in the near future, many researchers in the intelligence community suspect that Syria is waiting for the right moment to strike, and that the moment may come soon. This is the reason that Israel's Home Front Readiness Cabinet met Wednesday to discuss the possibility of a massive Syrian missile attack, according to Ynet's veteran military analyst, Ron Ben-Yishai. Ben-Yishai says Syria is completing the construction of a large rocket array aimed at Israel from the Syrian Golan Heights. These are not Katyusha rockets but larger ones with a much greater range: 222 mm., 302 mm. and 600 mm. rockets with a payload of up to half a ton, which can reach Tel Aviv. Dozens of launchers have already been set up and these are capable of firing hundreds of missiles simultaneously. Syria also has SCUD missiles which can reach southern Israel, but these can supposedly be intercepted by the Israeli Arrow anti-missile system. The heavy missiles in the Golan cannot be intercepted by the Arrow, however. According to Ben-Yishai, all this means that the Syrians can launch a massive attack on Israel's home front without Israel having any advance warning of the attack.
Iraqi PM Nouri al-Maliki Awarded Honors in Tehran
| | |
| --- | --- |
| | (FOJ) Iraqi Prime Minister al Maliki is shown in this photo walking hand-in-hand with Iranian president Mahmoud Achmadinejad. This picture makes me very angry, as many American soldiers have died to bring freedom to Iraq, while Iran has been fueling the battle against our soldiers. |
Aug. 9….(DEBKA) Iraqi Prime Minister Nouri al-Maliki visited Iran yesterday and held private talks on security with Ali Larijani, head of Iran's Supreme National Security Council, followed by a photo-op showing him hand in hand with President Mahmoud Achmadinejad, and a meeting with supreme leader Ayatollah Ali Khamenei. He also discussed plans for Iran to build a power station in Baghdad's Shiite Sadr City district and supplies of 400,000 tons of kerosene and liquid gas. A large US military operation in Baghdad's Sadr City has meanwhile killed 32 Shiite insurgents and detained 12. They were members of a Mehdi Army radical faction suspected of facilitating the smuggling of weapons from Iran. In lieu of his visit with Ahmadinejad, Maliki is left with just over half his cabinet and no Sunni ministers when five parliament members announced a boycott of cabinet meetings in protest against Maliki's pro-Shiite favoritism. Last week, six members of the largest Sunni Arab bloc, the Accordance Front, exited the government. Al Maliki is left with an extremely fragile lineup of 24 of his original 40-member coalition government.
Maliki and Achmadinejad: Iran & Iraq Will Work Together
Aug. 9….(AP) Iran's President Mahmoud Ahmadinejad told visiting Iraqi Prime Minister Nouri al-Maliki that Tehran and Baghdad share a "heavy responsibility" in establishing peace and security in the region, the official IRNA news agency reported Thursday. "Tehran counts on the victory of Iraqis for the future of the region," IRNA quoted Ahmadinejad as telling his guest during their meeting late Wednesday. Al-Maliki responded that Iran has a "positive and constructive" role in helping the Iraqi government improve security in his wartorn nation, IRNA said. Violence will fail to undermine the ties between Tehran and Baghdad, said Maliki, a Shiite Muslim deemed close to Iran's Shiite regime. "Today, Iran, Iraq and all countries of the region must fight against terrorism," al-Maliki was quoted as saying. The two leaders walked in to an ornate meeting room holding hands. They then shook hands for the cameras before beginning their talks, which were attended by several other Iraqi and Iranian officials and closed to the media. Ahmadinejad described the current situation as "very sensitive," IRNA said. "Iran and Iraq have a heavy responsibility for establishing peace and security in the region," he said. He praised the Iraqi government's efforts as it struggles to provide security for its people. "Trying to preserve the independence and dignity of Iraq, creating a free government is the best action," the agency quoted Ahmadinejad as saying. The Iraqi premier's three-day visit to its powerful neighbor came as the United States has stepped up accusations that Tehran is arming Iraqi Shiite militants. Al-Maliki's government is closely tied to mainly Shiite Iran and refuses to openly embrace the US claims against Tehran. Instead, Baghdad has been struggling to balance between its two top allies, who are bitter rivals of each other. The Iraqi prime minister's visit to Tehran came two days after US and Iranian experts held talks in Baghdad on improving Iraq's security, part of Baghdad's attempts to bring the two sides closer together. Iraqi officials would not say if al-Maliki, on his second trip to Tehran in the past year, was directly pressing Iran on the US accusations during his talks with Iranian leaders. The US military says that Iran is fueling Iraq's violence. Lt. Gen. Raymond Odierno, the US second-in-command, said Sunday that Iranian-armed Shiite militiamen were behind 73 percent of the attacks that killed and wounded US troops in Baghdad in July, nearly double the figure six months earlier. Iran has denied arming or financing Shiite militias. Al-Maliki's government has said only that it does not "rule out" Iranian involvement.
Moscow's Tactic With Iran is Linked to Putin's Energy Strategy
(First Russian fuel rods were already delivered secretly to Bushehr on June 2-3)
Aug. 9….(DEBKA) A US official in Vienna told AP Tuesday, Aug. 7, that the Russians had warned Iran fuel would be withheld from its nearly completed nuclear reactor unless Tehran comes clean on past atomic activities. A US official said the Russians are not meeting other commitments that would allow Iran to activate the Bushehr reactor in order to pressure Tehran into more compliance with UN Security demands. DEBKAfile's military sources report that the Bushehr reactor is not linked to Iran's nuclear weapons program but is being used as a decoy; in any case, the project is seven years behind schedule. DEBKAfile reported last month that, shortly before the G-8 summit of industrialized nations opened in Germany, the Russian manufacturers Novosibirsk Chemical Concentrates Plant tankers loaded the first consignment of nuclear fuel for activating Bushehr on a special train. It was unloaded at the Iranian reactor a few days later. Moscow and Tehran have been bickering for years over how to calculate the payment due from Iran but, most of all, Russia's latest warning to withhold further fuel shipments to Bushehr is linked to its energy interests. President Vladimir Putin, who manages this policy in person, is using the warning to pressure Iran to pull out of its recent agreements with Turkmenistan and Turkey on a new gas pipeline, which would cut into Moscow's monopoly control over the gas routes from Central Asia to Europe. Putin is also watching the debate in the Bush administration between advocates of harsher UN Security Council and other sanctions against Iran, a third round of which is due shortly, and those who urge military action to halt the Islamic Republic's advance toward a nuclear weapons capability. Moscow calculates that its threat to twist Iran's arm on its nuclear secretiveness by delaying completion of the Bushehr reactor until late 2008 will boost the camp in Washington favoring diplomacy and sanctions over military action. Such delaying tactics will also help Iran by dragging out the unresolved military option up until the US presidential election at the end of next year and Bush's departure from the White House.
Israel Holds 'Very Sensitive' Meeting on War With Syria
(Ministers briefed on Damascus' military escalations, movement of missiles)
Aug. 9….(WND) Israel's security cabinet, composed of the country's top ministers, today held what was deemed a "very sensitive" closed-door meeting to plan for the possibility of war with Syria. Ministers were asked to leave their cell phones outside to prevent the possibility of leaks. In attendance were Prime Minister Ehud Olmert, Foreign Minister Tzipi Livni, Defense Minister Ehud Barak, Strategic Affairs Minister Avigdor Lieberman and nine top lawmakers. It was the sixth such security cabinet meeting in recent weeks. According to security officials, the ministers were briefed on recent Syrian military movements and Damascus' acquisition of missiles and rockets capable of hitting civilian population centers, including Jerusalem and Tel Aviv. The ministers were told Syria recently stepped up the pace of its own rocket production and moved some rockets close to the Israeli border. The ministers were briefed on possible war scenarios, Israeli military options for countering any Syrian attack and the readiness of Israel's home front, including bomb shelters and anti-missile systems, security sources said. Security officials told the ministers during today's meeting Syria is preparing for war with the Jewish state but that its preparations were seen as defensive in nature. They said they were concerned Syria might miscalculate Israel's intentions and launch a war based on faulty intelligence. During a portion of the meeting that was made public, Olmert told ministers Israel has no intention to attack Syria. "But there is concern that someone might mistakenly think that there will be an offensive and a war which no one is interested in," Olmert said. "Therefore, we must prepare for any scenario, so that Israel can be ready." The Syrian army has improved its fortifications, according to the Israeli security officials, and has received modern, Russian-made anti-tank missiles similar to the missiles that devastated Israeli tanks during the last Lebanon war, causing the highest number of Israeli troop casualties during the 34-days of military confrontations. Syria also received from Russia advanced anti-aircraft missiles. The security officials said any conflict with Syria could degenerate into a larger war involving Hezbollah along Israel's northern border and Palestinian terror groups launching attacks from Gaza in the south and the West Bank toward the center of Israel. Israel also has information Syria recently acquired and deployed Chinese-made C-802 missiles, which were successfully used against the Israeli navy during Israel's war against Hezbollah one year ago. The missiles were passed to Syria by Iran. In a recent WND interview, a top official from Bashar Assad's Baath party warned if Israel doesn't vacate the strategic Golan Heights by August or September, Syrian groups might launch guerrilla attacks against Jewish communities there that could lead to a larger confrontation with Israel. The Baath official warned that in the opening salvo of any conflict, Syria has the capabilities of firing "hundreds" of missiles at Tel Aviv.
Overstretched US Cuts Aid to Israel
Aug. 9….(Telegraph) America has been forced to withhold funding from its key ally in the Middle East amid the strain of paying for its expensive military campaign in Iraq. Washington had promised Israel a substantial increase in its financial support to bolster it against Iran. But US officials decided to amend their pledge because of escalating costs, including the need to spend $750 million (£375 million) to fly thousands of armored troop carriers to Iraq to protect troops against Iranian-made roadside bombs. The Pentagon has come under intense pressure to speed up deployment of the new Mine Resistant Ambush Protected vehicle (MRAP), which boasts a V-shaped hull and a raised chassis and is proven to withstand a range of explosive projectiles common in Iraq. The diversion of funds has caused a budget shortfall in Israel that forced Ehud Olmert, the prime minister, to convene an emergency cabinet meeting yesterday. Officials discussed ways of dealing with the £250 million deficit in next year's budget, which Israeli commentators said would result in austerity measures. More worryingly for Israel, there are fears the shortfall will have a significant impact on the ability of the country to defend itself as military training and procurement are cut back. The tension over the delayed American money has tarnished relations between the two countries, which were boosted only last week when Israel confirmed it would enjoy a surge in American defense aid of 25 per cent over the next 10 years.
China Threatens 'Nuclear Option' of Dollar Sales
Aug. 8….(WND) The Chinese government has begun a concerted campaign of economic threats against the United States, hinting that it may liquidate its vast holding of US treasuries if Washington imposes trade sanctions to force a yuan revaluation. Two officials at leading Communist Party bodies have given interviews in recent days warning, for the first time, that Beijing may use its $1.33 trillion (£658bn) of foreign reserves as a political weapon to counter pressure from the US Congress. Shifts in Chinese policy are often announced through key think tanks and academies. Described as China's "nuclear option" in the state media, such action could trigger a dollar crash at a time when the US currency is already breaking down through historic support levels. It would also cause a spike in US bond yields, hammering the US housing market and perhaps tipping the economy into recession. It is estimated that China holds over $900bn in a mix of US bonds. Xia Bin, finance chief at the Development Research Centre (which has cabinet rank), kicked off what now appears to be government policy with a comment last week that Beijing's foreign reserves should be used as a "bargaining chip" in talks with the US. "Of course, China doesn't want any undesirable phenomenon in the global financial order," he added. He Fan, an official at the Chinese Academy of Social Sciences, went even further today, letting it be known that Beijing had the power to set off a dollar collapse if it choose to do so. "China has accumulated a large sum of US dollars. Such a big sum, of which a considerable portion is in US treasury bonds, contributes a great deal to maintaining the position of the dollar as a reserve currency. Russia, Switzerland, and several other countries have reduced their dollar holdings. "China is unlikely to follow suit as long as the yuan's exchange rate is stable against the dollar. The Chinese central bank will be forced to sell dollars once the yuan appreciated dramatically, which might lead to a mass depreciation of the dollar," he told China Daily. The threats play into the presidential electoral campaign of Hillary Clinton, who has called for restrictive legislation to prevent America being "held hostage to economic decisions being made in Beijing, Shanghai, or Tokyo". She said foreign control over 44pc of the US national debt had left America acutely vulnerable. Simon Derrick, a currency strategist at the Bank of New York Mellon, said the comments were a message to the US Senate as Capitol Hill prepares legislation for the Autumn session. "The words are alarming and unambiguous. This carries a clear political threat and could have very serious consequences at a time when the credit markets are already afraid of contagion from the subprime troubles," he said. A bill drafted by a group of US senators, and backed by the Senate Finance Committee, calls for trade tariffs against Chinese goods as retaliation for alleged currency manipulation. The yuan has appreciated 9pc against the dollar over the last two years under a crawling peg but it has failed to halt the rise of China's trade surplus, which reached $26.9bn in June. Henry Paulson, the US Treasury Secretary, said any such sanctions would undermine American authority and "could trigger a global cycle of protectionist legislation". Mr. Paulson is a China expert from his days as head of Goldman Sachs. He has opted for a softer form of diplomacy, but appeared to win few concessions from Beijing on a unscheduled trip to China last week aimed at calming the waters.
Muslim Terrorists Teaming with Drug Cartels
Aug. 8….(Washington Times) Islamic extremists embedded in the United States, posing as Hispanic nationals,are partnering with violent Mexican drug gangs to finance terror networks in the Middle East, according to a Drug Enforcement Administration report. Since drug traffickers and terrorists operate in a clandestine environment, both groups utilize similar methodologies to function, and all lend themselves to facilitation and are among the essential elements that may contribute to the successful conclusion of a catastrophic event by terrorists," said the confidential report, a copy of which was obtained by The Washington Times. The 2005 report outlines an ongoing scheme in which multiple Middle Eastern drug-trafficking and terrorist cells operating in the US fund terror networks overseas, aided by established Mexican cartels with highly sophisticated trafficking routes. These terrorist groups, or sleeper cells, include people who speak Arabic, Spanish and Hebrew and, for the most part, arouse no suspicion in their communities. "It is very likely that any future 'September 11th' type of terrorist event in the United States may be facilitated, wittingly or unwittingly, by drug traffickers operating on both sides of the United States-Mexico border," the DEA report says. Rep. Ed Royce of California, ranking Republican on the House Foreign Affairs terrorism and nonproliferation subcommittee, said the DEA document substantiates information that his committee has been given in the past year. "Hearings I held in Laredo [Texas] last year and this DEA report show that our southern border is a terrorist risk," Mr. Royce said. "Law enforcement has warned that people from Arab countries have crossed the border and adopted Hispanic surnames. The drug cartels have highly sophisticated smuggling and money-laundering networks, which terrorists could access." Garrison K. Courtney, spokes- man for the DEA, would not comment on the document. However, he said that the DEA, which has only 5,000 active agents worldwide, is sharing information with other US intelligence agencies and working closely with local law enforcement. "We focus on drugs, but we keep our eyes open for any connection that can aid our other partners in law enforcement," Mr. Courtney said. "Everything we do relies on our ability to gather intelligence. We have said for years that there are shades of gray in the organizations we're dealing with. Intelligence requires us to look at the whole picture. Realistically to leave out a certain set of dots could be a huge mistake." In the two years since the report was written, other DEA intelligence officials have said they are still struggling to cooperate with and share and gather information from other lead US agencies charged with fighting the war on terrorism. Lack of information sharing between US intelligence agencies is creating a blind spot in the war on terror and has left the US vulnerable to another attack, the report states. "We are the eyes and ears when it comes to gathering intelligence on the cartels and smugglers," said the DEA official. "What we know for sure is that persons associated with terrorist groups have discovered what cartels have known all along, the border is the backdoor into the US." According to a Department of Homeland Security intelligence report obtained by The Times, nearly every part of the Border Patrol's national strategy is failing. "Al Qaeda has been trying to smuggle terrorists and terrorist weapons illegally into the United States," the 2006 document states. "This organization has also tried to enter the US by taking advantage of its most vulnerable border areas. They seek to smuggle OTMs [other than Mexicans] from Middle Eastern countries into the US." Peter Brown, terrorism and security consultant, stated that the "biggest element" to the DEA report is the ease with which terrorist cells have taken on new identities. "The ability for people to completely transform their nationalities absent of their own identities is a dangerous step in the evolution of this cross-border operation," he said. "This is a true threat." Lending credence to Mr. Brown's concern, an El Paso, Texas, law-enforcement report documents the influx of "approximately 20 Arab persons a week utilizing the Travis County Court in Austin to change their names and driver's licenses from Arabic to Hispanic surnames." Under the current drug-intelligence collection, analysis and reporting posture, the DEA runs the risk of failing to detect or report the entry of terrorists, weapons of mass destruction or portable conventional weapons into the United States, according to the DEA document. Many times, smugglers don't know what they are transporting. "Despite all the pronouncements of the administration that these networks and their funding is being traced," Mr. Brown warned, "progress has been limited, and in certain circles of intelligence, they are nonexistent."
McCain: Disarm Hizbullah, Confront Patron in Damascus
| | |
| --- | --- |
| | (FOJ) Iranian Defense Minister Mustafa Muhammad Najar, right, and his Syrian counterpart Hassan Turkemani exchange a Memorandum of Understanding. Their joint understanding includes mutual defense pacts between their two countries and a military alliance that includes using terrorist armies to destroy Israel. |
Aug. 8….(Israel Insider) To achieve lasting peace, sooner or later, one way or another, Hizbullah must be disarmed and its patron in Damascus confronted," according to US Presidential hopeful John McCain, who wrote to The Jerusalem Post as part of the latest installment to the "Road to the White House" blog on JPost.com, which addressed the issue of how the US should deal with Syria. "Lasting peace and security in Lebanon", he stressed, "must include a democratic government that has a monopoly on authority within Lebanon's borders. That means no independent militias, no Hizbullah fighters, no weapons and equipment flowing to Hizbullah across Lebanon's borders. So long as that is not the case, Hizbullah is likely to further regroup, reconstitute, and rearm." Another presidential hopeful, Barack Obama, on the other hand, was of the opinion that a path of confrontation would not be constructive. Despite the fact that "so far, the Syrian regime has given all the wrong answers," the Illinois Senator said he "would engage Syria in direct bilateral talks while insisting on our core demands." According to Obama, "The Democrat hopeful accused the Bush Administration of issuing "empty threats" against Assad. "The Administration has eschewed bilateral talks on the full range of issues and failed to present a convincing roadmap to a different kind of relationship."
Hamas and Fatah Conducting Secret Talks, Going Against Olmert-Abbas Deal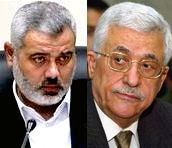 Aug. 8….(Israel Insider) Prime Minister Ehud Olmert's plans to bolster Fatah may experience a grave setback in light of Hamas and Fatah's renewal of secret talks aimed at repairing relations. Olmert has been attempting to bolster Fatah's position and isolate Hamas, a militant group whose primary goal is to destroy Israel. "The talks are being held at a low-level," a Fatah official told the Jerusalem Post. "It's premature to talk about a breakthrough, but at least we are talking again." Olmert said on Tuesday that he does not have information about the talks, according to sources in the prime minister's office. However during his meeting with PA Chairman Mahmoud Abbas on Monday, Olmert said that the renewal of Fatah-Hamas talks could have harsh "diplomatic ramifications," underscoring his opposition to a united Palestinian government. Abbas vowed not to renew contact with the militant group. A Hamas-Fatah reuinification could undermine all diplomatic progress achieved so far between Olmert and Abbas. However a senior Fatah official and Abbas aide, Ahmed Abdel Rahman, said Fatah was willing to begin a dialogue with Hamas. "We want to hear from Hamas an apology for what they did in the Gaza Strip," Abdel Rahman said. "If they want to resume the dialogue with Fatah, they must first admit that they made a mistake when they staged a coup against the legitimate authority." Hamas officials insist that Fatah is willing to reunite without its demands being met. Hamas leader Khaled Mashaal on Wednesday called on Yemen to secure a national agreement between Hamas and Fatah because "Israel and other international organizations are seeking to deepen the tear between the two groups." According to a Fatah official, Russia was also involved in the mediation efforts, the Postreported. "The Russians informed Abbas that they were planning to invite senior Hamas representatives to Moscow for talks on ways of resolving the dispute," he said. "We are not opposed to the mediation efforts, but there are certain conditions that Hamas must fulfill before we move forward. Hamas must apologize for its coup and hand over all the security installations it occupied last June." Another official said that several Arab countries were also active in reconciling the two factions, holding meetings in the West Bank, Beirut, Cairo and Damascus, as well as several Gulf capitals
Olmert Will Comply With 100% of Palestinian Land Demands
Aug. 7….(Israel Today) Israeli Prime Minister Ehud Olmert is considering a final status peace deal with the Palestinians that would require Israel to allow the creation of a Palestinian state on the 100 percent of the territory liberated by Israel in the 1967 Six Day War. According to the proposal, which was first reported on by Ha'aretz, Israel would retain control over several large settlement blocs in the West Bank, and in exchange transfer a number of Arab towns insider sovereign Israel to Palestinian control. Olmert's office issued a denial of the original Ha'aretz report, but the newspaper got confirmation from aides to Israeli President Shimon Peres that the prime minister had in fact adopted the plan, which was formulated by their boss when he was serving as Olmert's deputy. Meanwhile, chief Palestinian negotiator Saeb Erekat said that Monday's meeting between Olmert and Palestinian Authority Chairman Mahmoud Abbas had accelerated the establishment of a Palestinian state on Israel's biblical heartland. "Abbas and Olmert discussed the fundamentals that will allow a Palestinian state to be established in an expeditious manner," Erekat told Israel's Army Radio.
Olmert Tells Abbas: We're Ready for Palestine State
Aug. 7….(Ha Aretz) Israeli Prime Minister Ehud Olmert told Palestinian leader Mahmoud Abbas when the two met in Jericho on Monday that he is ready to begin talks aimed at birthing a Palestinian Arab state on Israel's biblical heartland. "I came here in order to discuss with you the fundamental issues outstanding between Israel and the Palestinian Authority, hoping that this will lead us soon into negotiations about the creation of a Palestinian state," Ha'aretz quoted Olmert as saying at the outset of the meeting. Olmert and Abbas got together in an effort to lay substantial groundwork ahead of a major peace summit to be held under US auspices this fall. Israel and the Palestinians want to achieve the "maximum possible mutual understandings on a two-state solution prior to the summit in the fall and in a way that will not endanger the entire process," an Israeli government source told the newspaper. The Olmert government and its benefactors in Washington are keen to bolster Abbas against Hamas' growing power and influence by quickly concluding a final status peace agreement they believe will make the Palestinian leader appear more capable among his people. Meanwhile, the head of research at Israel's Military Intelligence, Brig.-Gen. Yossi Baidatz told the cabinet on Sunday that Abbas' rule in the West Bank and its ability to keep a lid on Hamas there depends almost entirely on Israeli military action against the Islamic terror group.
Former CIA Director: Terrorist Strike Within US Real Threat
Aug. 7….(Newsmax) Former CIA Director R. James Woolsey told NewsMax in an exclusive interview that terrorists could strike the American homeland, possibly with a weapon of mass destruction, this summer or early fall. He also warns that if Iran fails to comply with international efforts to stop its nuclear weapons program, the US will have no other option than to bomb it. "I think the threat of a serious attack in the next few months is very real," Woolsey said. A terrorist strike with a dirty bomb or with biological weapons is "a real possibility." Woolsey's comments echo those of FBI Director Robert Mueller, who told NewsMax in May that al-Qaida's paramount goal is clear: to detonate a nuclear device that would kill hundreds of thousands of Americans. While Woolsey doubted terrorists would be able to acquire a nuclear explosive device, he warned that terrorists were trying to acquire one, either on the black market from the former Soviet Union, or from Iran or North Korea. (And Iran would certainly sell them one) The former CIA director said he favored "really tough sanctions" on Iran for another few months, but if that failed to bring Iran's nuclear weapons program to a halt, the United States had no other choice but to bomb Iran's nuclear sites. He also blasted those in the State Department who believe we can convince the Iranians through negotiations to stop their nuclear programs. "I've never thought there's a chance in hell of that," he said. Asked what three things we need to do to make America safe, Woolsey said that the first and most important was not to tie the president's hands when it came to intelligence collection. Efforts by Democrats to require court orders to intercept international communications amounted to "shooting ourselves in the foot," he added. Secondly, he said the United States absolutely must step up pressure on Iran, by focusing on Iran's weak economic underbelly and the wellspring of popular discontent with the regime. In the longer term, Woolsey said it was essentially that the US beef up its military forces and to prepare Americans psychologically and politically for a long war with radical Islamic terrorists. "I think this is a long war, and we need to treat it as such, and go on a full war-footing," he said. Woolsey had plenty more to say on the topic of Iran, wrapping up the interview with a list of things needed to keep the United States safe. Beginning right now, we need to work with those countries that sell refined oil products to them, such as gasoline and diesel, of which they import about 40 percent, to figure out how to get those stopped. We need broadcasting into Iran in the fashion we used to do on Radio Free Europe during the Cold War into Eastern Europe. I testified about these things last time nearly two years ago to a Senate committee, saying it was getting late. So I don't know if sanctions can work. But I believe there is a chance that really blocking their imports of gasoline and refined diesel would work, by bringing a lot of dissention from minority groups which are nearly half of the country, and from regular citizens, as happened a few weeks ago with Ahmadinejad's gas rationing and increase in gas prices. So I would still like to see us try that not half-heartedly but vigorously, and not be deterred at all by the threats and the other steps that they will take. Remember, the Persians invented chess. They're good at it. Their most valuable piece, their "queen" really, is their nuclear weapons program. Syria rises to the level of a rook, since that's a government. Hamas, Moqtada al-Sadr, Hezbollah, they're all pawns. Whether it was the war with Israel or what, they move their subordinate pieces around in such a way as to protect their queen. Once they have a nuclear weapon, the world changes in some extraordinarily unpleasant ways. So I believe that for a short time, I don't know if its four to five months, or a year, but it's surely not much longer than that, we're in a situation where we have a choice of letting Iran have a nuclear weapon, or using force. And at that point, with great reluctance, we should act militarily. Iran's threats of destroying Israel are as real as "Mein Kampf." Their potential to unleash Hezbollah, which is the world's most professional terrorist organization, much more capable really than al-Qaida or others, could conceivably do a lot of damage in the US as well as various places abroad, including Iraq. I think the threat of a serious attack in the next few months is very real.
Russia and China Building a Rival to NATO
Aug. 7….(Times On Line) Russian and Chinese troops are joining forces this week in the first military exercises by an international organization that is regarded in some quarters as a potential rival to NATO. Thousands of soldiers and 500 combat vehicles will take part in "Peace Mission 2007", organized by the Shanghai Cooperation Organization (SCO) in the Chelyabinsk region of Russia. Russian officials have also proposed an alliance between the SCO and a body representing most of the former Soviet republics. Scores of Russian and Chinese aircraft begin joint exercises tomorrow before a week of military maneuvers from Thursday that will include Tajikistan, Kyrgyzstan and Kazakhstan. At least 6,500 troops are involved in what is described as an antiterror exercise. Colonel-General Vladimir Moltenskoi, the deputy commander of Russian ground forces, said: "The exercise will involve practically all SCO members for the first time in its history." Staff officers from Uzbekistan, the sixth SCO member, will also attend in what is being regarded as a major extension of the organization's capabilities. The SCO was founded as a nonmilitary alliance in 2001 to combat drugs and weapons smuggling as well as terrorism and separatism in the region. It has since developed a role in regional trade and is increasingly regarded by Moscow and Beijing as a counterweight to US global influence. The SCO has invited Iran to join the alliance! The secretary-general of the Collective Security Treaty Organization (CSTO) called last week for joint military exercises with the SCO. Nikolai Bordyuzha said that the body representing Armenia, Belarus, Kazakhstan, Kyrgyzstan, Russia, Tajikistan and Uzbekistan should work with the SCO to guarantee security across the region. Mr. Bordyuzha has already announced a CSTO plan to create a large military force capable of assisting a member state in the event of an attack. A rapid-reaction force is already based in Central Asia and there are plans for a common air defense system covering most of the former Soviet Union. Leaders of SCO member states will meet in Bishkek, the Kyrgyz capital, next week for their annual summit. Turkmenistan will also attend for the first time, while Mongolia, Iran, India and Pakistan will have observer status. Igor Ivanov, the head of Russian security, played down concerns in May that the SCO was evolving into a military alliance to counter the expansion of NATO into Asia as part of the War on Terror. But MPs on the Foreign Affairs Select Committee expressed fears last year that the West could be on a collision course in the struggle for energy resources with "an authoritarian bloc opposed to democracy" that was based on an alliance between China and Russia. A newly assertive Russia, flush with oil and gas revenues, is moving rapidly to increase its military capability amid tensions with the West over missile defense and NATO expansion.
Ahmadinejad Tells Israel to Look for a New Home Elsewhere
Aug. 7….(Kuwait Times) Iran's outspoken President Mahmoud Ahmadinejad called on Israel to "go find somewhere else" for its state and leave its territory for the creation of a Palestinian state, according to an interview published yesterday. "Our support (for the Palestinian people) is unconditional. As for the Israelis, let them go find somewhere else," Ahmadinejad told several Algerian newspapers ahead of an visit to Algiers that starts Monday. Iran consistently refuses to recognize Israel's right to exist in the Middle East, and Ahmadinejad sparked outrage abroad by stating after coming to power in 2005 that Israel should be "wiped from the map." He also provoked a storm in June by saying a "countdown" had begun that would end with Lebanese and Palestinian militants destroying Israel!
Israeli Settlers & Squatters in Hebron Forcibly Removed
(IDF removes settlers in move to prepare for Palestinian state)
Aug. 7….(AP) Israeli police on Tuesday forcibly removed Jewish squatters who were holed up in several apartments in the market area of the biblical city of Hebron. Police units, backed by army troops, were confronted by hundreds of angry settlers. The evacuation began at 6:30 am, police said. A few of the settlers had holed themselves inside a concrete enclosure. Hebron, a frequent flashpoint of tensions between Israelis and Palestinians, is home to about 500 Jewish settlers living in heavily guarded enclaves among some 160,000 Palestinians. Clashes are frequent. Two Jewish families have been squatting illegally in several apartments in the Hebron market for several months. The market has been closed since 1994, when the Jewish militant Baruch Goldstein opened fire in a shrine holy to both Jews and Muslims, killing 29 Palestinians. Settlers have been seeking to re-establish a presence. The settlers claim the property was owned by Jewish families for decades until Jordanian authorities seized it after the 1948 Israeli war of independence. Israel captured the West Bank from Jordan in 1967. "This is a crime against justice and against Jewish history," said Noam Arnon, a spokesman for the Hebron settlers. "I am sure we will return. Hebron has a long history and we will return." Police forces broke through the fortified apartment doors using bars and metal clippers, carrying the settlers out one by one. The operation follows the highly publicized refusal of several Orthodox Israeli infantry soldiers to take part in the evacuation. On Monday, the army made clear it would not tolerate any form of mutiny and sentenced a dozen of the soldiers, including two commanders, to brief terms in jail. Tensions have been high among army units since Israel unilaterally withdrew from the Gaza Strip in 2005, forcibly removing its 9,000 settlers. Last February, soldiers clashed with settlers again when they uprooted part of the illegal West Bank outpost of Amona.
Russia Making a Comeback in Middle East
(For first time since Iron Curtain's fall, Russia to set up naval base on Syrian soil)
August 6….(YNET) Another phase in Russian President Vladimir Putin's imperialistic aspirations is being realized. It was just a matter of time before the Russian navy returned to the Mediterranean and resumed permanent command over the Syrian ports of Tartus and Latakia, which it abandoned with the fall of the Soviet Union. A Russian flag on Syrian soil has significant strategic implications. Firstly, it challenges the US and the dominance of the Sixth Fleet stationed in the Mediterranean. Secondly, with its actual presence in Syria, Russia is announcing that it is actively participating in any process and conflict in the Middle East, that it has a stance of its own, and that it must be reckoned with. From Israel's point of view, we can expect a change in the rules of the game in the Mediterranean in general, and more specifically along the Syrian-Lebanon coasts: We haven't seen Soviet spy ships in the Mediterranean for quite some time. A permanent port in Syria would significantly facilitate its operations in our arena. Under such circumstances, the Israeli navy's freedom of action would inevitably change, and we may assume that Israel would have a problem striking at land-based facilities during wartime. The large-scale Syrian-Russian arms deal also includes systems for protecting coasts and ports and land-to-sea missiles of the most advanced type. Now we understand why. Generally speaking, any possible Israeli military operation against Syria in the future would have to take the Russian presence into account. This presence would not necessarily be neutral. It is very reasonable to assume that Russia would take sides, at least diplomatically, in such a conflict. But perhaps the situation is not so bleak. As a "responsible adult" residing in Syria, Russia can actually serve to restrain a violent conflict from erupting between Syria and Israel. Even now we can see that the Russians refrained from selling the Syrians some problematic arms from our point of view, such as the missiles that followed the Scud missile generation or the Russian equivalent of the Patriot anti-aircraft missiles. Although the Russians have agreed to upgrade Syria's MIG-29 aircraft, they have still not concluded the sale of new MIG-31A aircraft. There are still quite a few items the Syrians have asked for that the Russians are still weighing. Moreover, Russia may have a very central role is restraining the Iranian bear hug embracing Syria. In an age where there is talk of American withdrawal from Iraq, such a restraining Russian influence is doubly important in impeding the fundamentalist wave that is threatening to immerse the region.
Russian Navy to Operate from Syria
August 6….(YNET) For the first time since the fall of the Iron Curtain, Russia plans to re-operate the Tartus and Latakia ports in Syria as permanent bases for the Russian Navy in the Mediterranean basin, according to recent western media reports. Rumors on the growing Russian activity in the Mediterranean began spreading following a statement by Russian Navy commander, Admiral Vladimir Masorin, as he visited the Russian Navy base in the Sebastopol port in Ukraine. "Being present in the Mediterranean is very important for our Navy in the Black Sea," the admiral said. The Qatar-based television network al-Jazeera quoted a senior Russian Defense Ministry official over the weekend, who declared that Russia must be permanently present in the Mediterranean again. According to the reports, Syria plans to let Russia use its ports as part of the large arms deal signed between the two countries in the past year. The breakthrough which led to the arms deal was made possible after the two parties resolved their financial differences. Over the years, Syria had accumulated a huge debt of approximately $11 billion to Russia. The Russians recently conceded more than 70% of the debt. The remaining debt will be returned by Syria partly in cash and partly through permanent port services to the Russian Navy ships in Latkia and Tartus. Israeli security officials estimated that the renewed Russian activity in these bases, which were active throughout the Cold War, was related to the renewed tensions between Russia and the United States, mainly in light of the American plan to station antimissile missile systems in Europe, a plan Moscow views as a threat to its security. "The bases will allow Russia to protect its interests in the region," the sources estimated. While US naval forces are permanently present in the Mediterranean, Russian Navy ships have so far settled for exercises and friendly visits to different countries in the region. Since the Soviet Union's disintegration the Russian Navy has been experiencing a crisis, but in the past two years efforts have been made to rehabilitate the warships and the submarines. The Russian Navy is known to massively operate spy ships. Israeli officials estimated on Sunday that a renewed base in Syria will help the Russians carry out spy missions against Israel, particularly electronic spying aimed at observing new weapon systems and the flow of information in channels used by the army and the defense establishment.
US Armed Forces Integrate Valiant Shield Exercise-possible Operation Against Iran
Aug. 6 ….(DEBKA) The maneuvers beginning Monday, Aug. 6, in waters off Guam include the simultaneous deployment of three carriers and their air and naval strike groups: USS Stennis, USS Nimitz and USS Kitty Hawk, altogether 30 warships, 280 warplanes and 22,000 soldiers and sailors. The exercise is commanded by Adm. Robert Willard, Pacific Fleet chief. DEBKAfile's military sources report: This will be America's last major combined sea-air war game before during Bush presidency which ends in Jan. 2009 and last opportunity for drilling large-scale combined units should the president decide on a military operation against Iran. To indicate that outside eyes were not desired, foreign observers who attended the Pacific exercises last year were not invited this year. US military sources in the region said that invitations to officers of regional nations to watch the drills would have had to include Malaysia, which has close ties with Iran. According to DEBKA-Net-Weekly's military sources, the exercises will be held in conditions resembling as closely as possible those in Iran and practice assaults of the kind that may be executed against the Islamic Republic. When he spoke of the drills, Willard may well have been describing the realities expected to prevail in a real-life offensive against the Islamic Republic. Valiant Shield, he said, will "include the complexities of operating three aircraft carriers in the same area while at the same time adding in the operations of another component, the fighters, bombers and tankers of the US Air Force."
He said the exercise will not detract from the Navy's "real world" missions in the Persian Gulf but help drill the Navy and its crews for that real world. Valiant Shield's commander's words may have been meant to answer the sharp criticism coming from Persian Gulf governments.
Russia Plans New Nuclear Missile Production
Aug. 6….(Breitbart) The Russian Navy announced Sunday it will produce a series of intercontinental missiles for its next generation of nuclear submarines. "The last test trial of the Bulava-M at the end of June was very important. After examining the results we decided to start work on these missiles for our new armament system," navy chief Admiral Vladimir Marossin told Russian news agencies. The Bulava-M missile, with a range of more than 8,000 kilometres (4,970 miles) can hold up to 10 nuclear warheads. "The success of the last test trial gave us the possibility to commission the production of a series of missiles," Marossin said. The two Bulava-M missile tests were made in 2007 and the others would be made next year. The Russian navy plans to finish all its tests of the new system in 2008. "We hope that during the testing we will decide to put the missile into service in 2008," said Marossin. The first Bulava missile test was made in September 2005. Three Bulava-M trials in 2006 failed, but at least 10 more missile trials are scheduled for 2008. Bulava-M, the sea version of the sophisticated surface-to-surface missile Topol-M, will be fitted for nuclear submarine launchers with engine type 955. Yuri Dolgorukii, the first example of this type of submarine was launched in April 2007. Russia wants to make eight fleet ballistic missile submarines (SSBN) with Bulava technology between now and 2018. The two submarines of this generation, the Alexander Nevskii and the Vladimir Monomakh, which come after the Dolgorukii, should be up and running in 2009 and 20011, respectively. In addition to the Bulava-M missile tests, Russia announced at the end of May that they successfully tested the RS-24, a new inter-continental missile with multiple warheads adopted by Topol-M, which was presented up to now as the first response to the American anti-missile shield project. The Russians have condemned a US anti-missile shield planned for eastern Europe despite US assurances it is only intended to counter "rogue states" such as Iran.
Palestinian PM: "We Cannot Impose Law and Order in West Bank"
| | |
| --- | --- |
| | In this photo released by Israel's Government Press Office, Israel's Prime Minister Ehud Olmert, left, shakes hands with Palestinian Authority President Mahmoud Abbas, right, prior to their meeting at a hotel in the West Bank town of Jericho, Monday, Aug. 6, 2007. Olmert on Monday will become the first Israeli prime minister to visit a Palestinian city since the outbreak of fighting seven years ago, meeting Abbas in Jericho to discuss the creation of a Palestinian state. |
Aug. 6….(Israel Insider) Prime Minister Ehud Olmert met the Palestinian chairman, Mahmoud Abbas, in Jericho today to form a basic outline for future agreements ahead of the US-sponsored Mideast peace summit slated for the fall. This meeting marks the first time that an Israeli leader will visit a PA city since the outbreak of the second Intifada. What exactly is on the agenda is yet unclear. While PA officials have said that among the topics for discussion borders, the Palestinian refugees, settlements in the West Bank and the future of Jerusalem, sources in the Prime Minister's Office have said that talks will focus on building Palestinian governing institutions and discussing in broad strokes the content and contours of a future Palestinian state. "The purpose is to achieve the maximum possible mutual understandings on a two-state solution prior to the summit in the fall and in a way that will not endanger the entire process," a senior political source in Jerusalem said Sunday, Haaretz reported. Israel's aim is to stabilize Abbas' rule in the West Bank, allowing the PA to carry out its commitments, particularly on the security front. Originally, Fayad made clear that the transfer of some West Bank cities to PA security control was one of the PA's most significant requests of Israel. Israel not immediately rejecting the proposal, demanded that PA security forces be prepared to take action against any militants who may try to carry out a terror attack against Israel from areas that Israel would put in PA jurisdiction. However Palestinian PM Salam Fayad told Israeli officials that PA security forces cannot "impose law and order in the West Bank at this time."
Iran and the Nuclear Gambit
(Analysts warn that US could strike deal with Iran and exclude Israel)
Aug. 6….(Israel Insider) An Israeli research institute that works closely with the government on national security issues has recently called on Israel to initiate talks with the United States on Iran. The institute warns that if Israel does not act soon, the US may try to achieve a "package deal" excluding Israel. In recent days the institute, Reut, published the report "A Libya scenario in Iran, the United States goes it alone," warning that Washington may try to resolve the Iranian nuclear crisis without considering Israel. Reut's findings have many top Israeli officials worried. Iranian President Mahmoud Ahmedinijad has called repeatedly for Israel to be "wiped off the face of the map," a threat that would gain frightening credibility if Iran were to achieve nuclear capability. The Iranian government currently funds and smuggles weapons to militant groups that carry out terrorist attacks against Israel. The institute is nonprofit and nonpartisan, focusing on national security, especially in particular regarding the Palestinians. Senior figures in the Prime Minister's Bureau, the National Security Council, the Foreign Ministry, the Defense Ministry and the Israel Defense Forces read and take into consideration its position papers. This most recent report warns that despite the strength of Israel's alliance with the US, it is imprudent to assume that the two countries' interests always overlap. Analysts say that America ranks Iraq and stability in the Gulf states as first priority. Reut analysts outlined three possible scenarios, beginning with a US military strike against Iran, which they say is becoming less and less likely. A second projected scenario is that the Bush administration will continue with indirect diplomatic channels and sanctions, leaving the big decisions to his successor. Last, and the most threatening to Israel, is direct talks between Washington and Teheran that exclude Israel.
The report warns that if the US and Iran strike a deal without Israel's involvement, then the Jewish state must ensure that "the essential interests of the State of Israel are preserved."
---