WEEK OF FEBRUARY 24 THROUGH MARCH 1
Obama: I Will use 'Bully Pulpit' for Gays
March 1…..(Baptist Press/Michael Foust) Democratic presidential candidate Barack Obama sought the support of voters in the homosexual community Feb. 28, telling them in a letter that if elected president he would work to pass laws important to that constituency and would use the "bully pulpit" to urge states to grant same-sex couples the legal benefits of marriage. The 770-word letter was posted on a section of Obama's campaign website devoted to homosexual issues. He and Hillary Clinton have worked for months to get the votes of the homosexual community, even appearing in August at a historic Democratic presidential forum devoted solely to homosexual issues. In the letter, Obama touted his past record on such issues and said he would continue that record if elected. He used the acronym LGBT, which stands for "lesbian, gay, bisexual and transgender, six times. "As your President, I will use the bully pulpit to urge states to treat same-sex couples with full equality in their family and adoption laws," he wrote. "I personally believe that civil unions represent the best way to secure that equal treatment. But I also believe that the federal government should not stand in the way of states that want to decide on their own how best to pursue equality for gay and lesbian couples, whether that means a domestic partnership, a civil union, or a civil marriage." He once again said he backs the "complete repeal" of the Defense of Marriage Act (DOMA), a law passed in 1996 that gives states the option of not recognizing another state's "gay marriages." It also prohibits the federal government from recognizing "gay marriage." Ever since it was passed homosexual activists have viewed it as a significant legal barrier to nationwide legalization of "gay marriage." "While some say we should repeal only part of the law, I believe we should get rid of that statute altogether," he wrote. "Federal law should not discriminate in any way against gay and lesbian couples, which is precisely what DOMA does." Austin Nimocks, an attorney with the Alliance Defense Fund, a legal organization that supports the Defense of Marriage Act, said overturning DOMA "would lead to the recognition of everything the homosexual agenda stands for, including same-sex marriage." "A repeal of DOMA would mean that the federal government is acknowledging and supporting same-sex couples, and that would be in Arizona and everywhere else," Nimocks told Baptist Press. "And it would start with the extension of certain federal benefits, the filing of joint tax returns by same-sex returns, and it would chip away at the institution of marriage in every state, and most egregiously in those states that have voted through a constitutional amendment or a law to protect marriage between one man and one woman." In the years since DOMA was signed into law, more than 40 states have passed various types of laws prohibiting "gay marriage," including 27 that have passed constitutional marriage amendments. "To suggest that DOMA in some form or fashion prevents states from fashioning their own marriage law is just disingenuous at best," Nimocks said. "To repeal DOMA means that every American taxpayer would be forced to fund the homosexual agenda." Obama also said he supports "age-appropriate sex education that includes information about contraception" and favors lifting "the federal ban on needle exchanges." During a September Democratic debate he said he would be comfortable with teachers reading to second-graders a children's book, "King & King," supportive of "gay marriage." In the letter he asserted that in multiple forums, talking to rural farmers or to Baptist parishioners, he has talked about the need to "fight homophobia." "I believe that we can achieve the goal of full equality for the millions of LGBT people in this country," he said. "To do that, we need leadership that can appeal to the best parts of the human spirit. Join with me, and I will provide that leadership. Together, we will achieve real equality for all Americans, gay and straight alike." Obama also mentioned in the letter his speech in 2006 during an HIV/AIDS conference at Saddleback Church, where Rick Warren pastors. At the time Warren released a statement saying he disagrees with Obama on abortion and other issues.
Following is the full text of Obama's letter:
"Equality is a moral imperative. That's why throughout my career, I have fought to eliminate discrimination against LGBT Americans. In Illinois, I co-sponsored a fully inclusive bill that prohibited discrimination on the basis of both sexual orientation and gender identity, extending protection to the workplace, housing, and places of public accommodation. In the U.S. Senate, I have co sponsored bills that would equalize tax treatment for same-sex couples and provide benefits to domestic partners of federal employees. And as president, I will place the weight of my administration behind the enactment of the Matthew Shepard Act to outlaw hate crimes and a fully inclusive Employment Non Discrimination Act to outlaw workplace discrimination on the basis of sexual orientation and gender identity. "As your President, I will use the bully pulpit to urge states to treat same-sex couples with full equality in their family and adoption laws. I personally believe that civil unions represent the best way to secure that equal treatment. But I also believe that the federal government should not stand in the way of states that want to decide on their own how best to pursue equality for gay and lesbian couples, whether that means a domestic partnership, a civil union, or a civil marriage. Unlike Senator Clinton, I support the complete repeal of the Defense of Marriage Act (DOMA), a position I have held since before arriving in the US Senate. While some say we should repeal only part of the law, I believe we should get rid of that statute altogether. Federal law should not discriminate in any way against gay and lesbian couples, which is precisely what DOMA does. I have also called for us to repeal Don't Ask, Don't Tell, and I have worked to improve the Uniting American Families Act so we can afford same-sex couples the same rights and obligations as married couples in our immigration system. "The next president must also address the HIV/AIDS epidemic. When it comes to prevention, we do not have to choose between values and science. While abstinence education should be part of any strategy, we also need to use common sense. We should have age-appropriate sex education that includes information about contraception. We should pass the JUSTICE Act to combat infection within our prison population. And we should lift the federal ban on needle exchange, which could dramatically reduce rates of infection among drug users. In addition, local governments can protect public health by distributing contraceptives. "We also need a president who's willing to confront the stigma, too often tied to homophobia, that continues to surround HIV/AIDS. I confronted this stigma directly in a speech to evangelicals at Rick Warren's Saddleback Church, and will continue to speak out as president. That is where I stand on the major issues of the day. But having the right positions on the issues is only half the battle. The other half is to win broad support for those positions. And winning broad support will require stepping outside our comfort zone. If we want to repeal DOMA, repeal Don't Ask, Don't Tell, and implement fully inclusive laws outlawing hate crimes and discrimination in the workplace, we need to bring the message of LGBT equality to skeptical audiences as well as friendly ones, and that's what I've done throughout my career. I brought this message of inclusiveness to all of America in my keynote address at the 2004 Democratic convention. I talked about the need to fight homophobia
when I announced my candidacy for President, and I have been talking about LGBT equality to a number of groups during this campaign, from local LGBT activists to rural farmers to parishioners at Ebenezer Baptist Church in Atlanta, where Dr. Martin Luther King once preached. "Just as important, I have been listening to what all Americans have to say. I will never compromise on my commitment to equal rights for all LGBT Americans. But neither will I close my ears to the voices of those who still need to be convinced. That is the work we must do to move forward together. It is difficult. It is challenging. And it is necessary. "Americans are yearning for leadership that can empower us to reach for what we know is possible. I believe that we can achieve the goal of full equality for the millions of LGBT people in this country. To do that, we need leadership that can appeal to the best parts of the human spirit. Join with me, and I will provide that leadership. Together, we will achieve real equality for all Americans, gay and straight alike."
USS Cole Sails Towards Lebanon
Feb. 29….( ) The United States has ordered a warship to take up position off the coast of Lebanon in a show of support for the country's embattled government. The deployment of the USS Cole is being seen as a warning to Syria which, along with Iran backs the opposition.
The USS Cole was attacked by al-Qaeda in 2000.
The Western-backed Lebanese government and the opposition have repeatedly failed to agree a deal to end political impasse. A US official quoted by news agencies said, "We are very concerned about the situation in Lebanon." It has dragged on a very long time". A US defense official said the USS Cole, a guided-missile destroyer was heading toward Lebanon. He stressed that once in position, it would not be within visible range of Lebanon but "well over the horizon". The USS Cole was attacked in the port of Aden, Yemen, in October 2000 by water-borne al-Qaeda suicide bombers. Seventeen US sailors were killed and the ship was badly damaged. Lebanon has not had a president since 24 November, when pro-Syrian Emile Lahoud left office. Parliament has repeatedly failed to elect a successor amid an ongoing row over candidates. The election was postponed once again this week, and is now due to take place on 11 March. It was the 15th such delay. There are fears that the political deadlock could lead to escalating sectarian violence, andbe used by Hezbollah to instigate trouble. Recent clashes between supporters of rival factions have further raised tensions and prompted several countries to advise their citizens against travelling to Lebanon. Saudi Foreign Minister Prince Saud al-Faisal warned earlier this month that the country was "on the verge of civil war".
Palestinians Will Unite With Hamas Against Israel
Feb. 29….(FOJ) Despite Israel's acquiescence to cooperate with the world's scheme to create a second Palestinian State in the Promised Land, and to grant the West Bank to the auspices of Mahmoud Abbas and the Fatah terrorist organization under the umbrella of the PA, Palestinians will unanimously support Hamas in its provocative rocket war against Israel. Although Israel withdrew from Gaza 2 years ago, Hamas is intent on using the Gazan Strip as a launching pad to take its terrorist campaign into the very heart of Israel. Last summer, Hamas inflicted a military defeat on Fatah in the Strip, yet, Fatah loyalists are fervently behind Hamas in the current wave of attacks.
| | |
| --- | --- |
| | |
| (FOJ) Palestinians shout slogans during a demonstration in support of Gaza in front of the Dome of the after Friday prayers in Jerusalem's Old City. Israeli air strikes have killed at least 33 Gazans in the past two days. Israeli leaders say the rocket fire leaves the Jewish state with little choice but to launch a broader military offensive into Gaza. West Bankers obviously will support Hamas against Israel in spite of Israel's pledge to foster the creation of a new state for Palestinians under Abbas | |
| | (FOJ) Have you ever noticed how many photos we see emanating from Gaza and the explosive Muslim world of people holding aloft the book of the Koran. These pictures clearly reflect the fact that the wars on Israel and the terror war on the US being waged out of the Middle East is a war about the word of Allah vs. the word of Jehovah God. |
Hezbollah Calls US Warship Deployment off Lebanon a 'Threat'
Feb. 29….(Fox News) We did not request any warships from any party, US-backed Prime Minister Fuad Saniora said, hours after the US military announced it was sending ships off Lebanon. He insisted the US ships would cruise off the coast, not in Lebanese territorial waters. Saniora, who has been accused by the opposition of following US policy, spoke in front of Arab diplomats at government headquarters in Beirut after his Hezbollah opponents called the US deployment a threat to Lebanese sovereignty and independence. The US military said Thursday the Navy was sending at least three ships, including an amphibious assault ship, to the eastern Mediterranean Sea in a show of strength during a period of tensions with Syria and political uncertainty in Lebanon. "We are facing an American threat against Lebanon," Hezbollah legislator Hassan Fadlallah said. "It is clear this threat and intimidation will not affect us," he said on local television. Fadlallah also called on Saniora's government to reject the Navy deployment. Hezbollah is leading the opposition seeking to topple the US-backed government in Beirut. The group fought Israel in the 2006 war and is linked to Muslim militants who attacked US forces and diplomats in Lebanon in 1983-84 during the Lebanese civil war, killing about 270. Lebanon's long political crisis is increasingly viewed as taking on a regional scope: a proxy confrontation between the United States and some of its Arab allies against Iran and Syria, both staunch opponents of America's Mideast policies. (FOJ Note: Make no mistake about it—Russia is enjoying the turmoil these clients are causing the US)
The decision to deploy American ships appears to be a not-too-subtle show of US force as international frustration mounts over a long political deadlock in tiny, weak Lebanon. The United States blames Syria for the impasse, saying Syria has never given up its ambitions to control its smaller neighbor. Tensions in Lebanon have sharpened after the assassination in Syria of top Hezbollah commander Imad Mughniyeh, who was wanted by the United States for a plane hijacking and was suspected of attacks against American targets in Lebanon as well as Israeli and Jewish interests abroad. Hezbollah has accused Israel, promising retaliation, and Israel has put its forces along the Lebanese border on alert. Sheik Afif Naboulsi, a Shiite cleric close to Hezbollah, scoffed at the US Navy deployment. "We say to the Americans: We will not be afraid of your threats, and we won't hand over the country to you to use it to pressure Syria," he said at a Friday sermon in southern Lebanon. In 1983, at the height of US intervention in Lebanon, about 17 ships, two aircraft carrier battle groups and two mammoth battleships, patrolled the Lebanese coastline with a Marine contingent deployed at Beirut airport. A Hezbollah suicide bombing destroyed the Marine base in October 1983, killing 241 American service personnel. Lebanese territorial waters are now patrolled by Lebanon's navy and a United Nations Naval Task Force that is assisting Lebanese authorities under the UN resolution that halted the summer 2006 war between Israel and Hezbollah. The last time US ships came to Lebanon was during the 34-day conflict in 2006, with warships taking part in the evacuation of Americans in Lebanon.
IDF Forces Prepare for Gaza Incursion
(Israel has dozens of tanks, artillery battery positioned just north of Gaza to reinforce infantry, engineering corps forces already inside Strip ahead of possible large-scale ground operation.)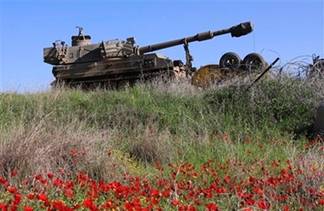 Feb. 29….(YNET) Over the past few days the IDF has positioned an artillery battery near Kibbutz Beeri, located about three kilometers (1.8 miles) from the Gaza border, and dozens of tanks have made their way to an assembling area just north of the Strip.
The last time an artillery battery was stationed in the area was in May 2007. The mobile artillery units, which were used to target areas from which Qassam rockets are launched toward Israel, have been all but deactivated due to a number of incidents in the past. Forces from the Givati Brigade, the Armored Corps' 9th Battalion and the Engineering Corps have already entered the Strip ahead of a possible large-scale ground incursion. The reinforcements, while limited, appear to indicate increased readiness on the part of the IDF. Meanwhile, during his flight back from Japan Friday morning, Prime Minister Ehud Olmert was updated on Thursday's Grad and Qassam rocket attacks on Ashkelon and the western Negev. The massive rocket barrages on Israel have prompted the IDF to intensify its aerial onslaught on the Strip. Israeli aircraft have waged dozens of strikes on numerous targets over the past 24 hours, killing 31 Palestinians, among them a number of children. The army is currently focusing its attacks on Hamas positions and weapons caches and on rocket-launching cells.
Ashkelon Katyushas Came From Iran Via Egypt
Feb. 29….(IsraelNN.com) Israel's Foreign Ministry says the Grad-type Katyusha rockets fired at Ashkelon came from Iran and may lead Israel back to Gaza. "In the past 24 hours, over 15 heavy rockets were fired from Hamas-controlled Gaza against Israel's southern port city of Ashkelon," a Foreign Ministry dispatch to journalists and diplomatic staff said. "The 122 mm Grad rockets (also known as Katyushas), are a type of standard military artillery weapon produced in the former Soviet bloc and by other states deploying non-Western arms. It is manufactured to military standards, by a conventional arms industry, and is equipped with a weapons-grade high explosive fragmentation warhead." The Foreign Ministry pointed the finger at Tehran. "The Grad rockets fired today were apparently smuggled into Gaza from Iran via Egypt through tunnels and the breached Rafah border fence," the dispatch stated. "Israel has repeatedly warned neighboring states and the international community about the arms buildup taking place in Hamas-controlled Gaza. Today's attacks constitute a regretful yet unequivocal proof of the veracity of Israel's warnings." Prior to the implementation of the 2005 Disengagement from Gaza and northern Samaria, anti-expulsion activists placed posters all around Ashkelon proclaiming that the withdrawal would herald missiles on the port city and advising resident to oppose the move or prepare for the attacks. Thursday's missiles slammed into the campus of Barzilai Hospital, destroyed a family home in one of the city's neighborhood, made a large crater in one of the city's streets and stuck the municipal cemetery. The Foreign Ministry statement ended with an acknowledgement echoing the predictions of Gaza's Jewish evictees: that Israel will have no choice but return to settle the region. "Israel left the Gaza Strip over two years ago, with no intention of ever returning," the statement said. "Yet, the continued escalation of Hamas terrorism emanating from Gaza, purposely targeting Israeli civilians, is liable to leave Israel with no choice."
US Warships Move into East Mediterranean in case Gaza Escalation Spills over into Lebanon
Feb. 29….(DEBKA) Friday, Feb. 29, Egypt's intelligence minister Omar Suleiman canceled his visit to Israel because of estimates in Cairo that hectic preparations current in Israel and the Gaza Strip augur a steep escalation of cross-border violence. DEBKAfile's military sources report: Officials in Cairo expect Israel redouble its air bombardment and armored raids against Hamas targets in the Gaza Strip, and Hamas to intensify and broaden the scope of its missile and rocket attacks on Israeli towns and villages. Both sides are convinced that a further ratcheting-up of the war will generate indirect truce talks through a third party. The US has meanwhile posted naval and marine vessels opposite the shores of Israel and Lebanon in case the fighting spreads to a second front. DEBKAfile's Washington sources quote US and Israeli military sources as skeptical of the chances that prime minister Ehud Olmert and defense minister Ehud Barak will secure a ceasefire. The Gaza conflagration is more likely, they believe, to stir Hizballah to ignite a fresh assault from South Lebanon. These sources point to four significant developments to watch for:
1. Hizballah is adamant about avenging the death of its military commander Imad Mughniyeh by border strikes against Israel and terrorist attacks inside the country. This Iranian front group is also committed to helping Hamas. The end of the 40 days of mourning for Mughniyeh on March 22-23 is anxiously awaited.
2. Israel is braced for this eventuality and in mid-preparation for its army to turn the tables on a Hizballah assault and carry the war into Lebanon.
US intelligence sources note that last week, the IDF deployed Patriot missile defense batteries around Haifa in case Hizballah unleashes a rocket offensive on the North as in 2005.
Our sources also report that local authorities and private security firms responsible for public safety in northern Israel were instructed to inspect bomb shelters and ascertain they were ready for use by March 10.
3. The quarrel between Saudi King Abdullah and Syrian president Bashar Assad, which is nearing boiling point, threatens to be fought out in Lebanon, their main bone of contention. Both are sending quantities of arms and ammo to the Lebanese militias under their respective wings.
4. This week, Abdullah persuaded Egyptian president Hosni Mubarak and Jordan's Abdullah to boycott the forthcoming Arab League summit in Damascus. Assad is unlikely to take this slap in the face lying down. There are indications he is ready to stir up Palestinian terrorist groups for attacks on Saudi, American and Israeli interests in the region. Standing close by for immediate action off the troubled Mediterranean shores of Lebanon, Israel and Gaza is the USS Cole guided missile destroyer opposite Lebanon. It was joined Monday by the USS Nassau amphibious warship and its strike group of six vessels carrying 2,800 marines, flight crews and sailors. US naval sources report that a third group will join them shortly. DEBKAfile's military sources report the Nassau is accompanied by the amphibious transport dock ship USS Nashville , the guided missile destroyers USS Ross and USS Bulkeley and the fast nuclear strike submarine USS Albany SSN 753. While cruising off the Lebanese coast, this formidable US naval force is close enough to the shores of Israel and Gaza to respond to developing emergencies.
As Bigger Rockets reach Ashkelon, Barak Warns War is Approaching
Feb. 29….(Israel Insider) Terrorists in Gaza stepped up their campaign against southern Israel on Thursday, firing dozens of Qassam rockets and ten longer-range Grad rockets, ten of which hit Ashkelon, some 10 km from the Gaza border, one of them slamming into a home. There were more than a dozen casualties, most suffering from shock or light shrapnel injuries, including a 17-year-old girl, a 70-year-old woman and the advance security contingent of Public Security Minister Avi Dichter, who was about to visit the town, who was wounded when a Qassam hit Sapir College on the outskirts of Sderot, near the site where a 47-year-old man was killed Wednesday in a similar attack. Speaking to reporters later at the college, Dichter nevertheless rejected proposals to reoccupy the Gaza Strip, calling them "populist ideas which I don't connect to, and in my opinion, no intelligent person does either." Defense Minister Ehud Barak warned on Thursday that the situation was heating up. "We must prepare for escalation," he said during security discussions. "A large, significant and tangible ground operation. We won't flinch." He assured listeners that "Israel will reach those responsible, hit them in operations, and Hamas will pay the price for its activities." Barak ordered on Thursday the activation of the "Color Red" rocket early warning system Ashekelon, the sirens from which have become a many-times-daily feature of life in Sderot. Earlier on Thursday, Interior Minister Meir Sheetrit said that a large-scale ground operation in the Gaza Strip will not put an end to Kassam rocket fire. "I am opposed to an operation [that includes] entering and taking over Gaza," Sheetrit said. "This is the wrong approach, and it won't lead us anywhere. We won't just go in and suddenly everything will be okay." He said that he favored increasing targeted killings of Hamas leaders. "We must not let anyone involved in the shooting stay alive," Sheetrit, a member of the Foreign Affairs and Defense Committee, said. "I am opposed to hesitation and in favor of wiping out anyone who is in Hamas; from the military and political echelons, no matter who." Former IDF chief of General Staff Lt.-Gen. (res.) Amnon Lipkin-Shahak said Thursday that the army should have targeted Hamas leaders long ago in retaliation for the rocket attacks on southern Israel. "I think what they have avoided doing in recent months, hitting Hamas headquarters and Hamas leaders, it seems they are beginning to do now. I believe it would have been the correct course of action long ago," he told Army Radio. Meanwhile, Industry, Trade and Labor Minister Eli Yishai demanded that the Knesset Foreign Affairs and Defense Committee be convened to address the Kassam threat from the Gaza Strip. "The situation had been raised to a new level that we cannot ignore. We must convene for a deep and integrated discussion and present different alternatives [for a response]," said Yishai. Transportation Minister and former defense minister Shaul Mofaz slammed the government's response to the Kassam attacks. "We cannot continue to hesitate while we define different goals and we must not let terror continue to dictate the agenda," said Mofaz, Army Radio reported. Hamas will likely be able to expand the range of its home-made rockets to 20 kilometers (12 miles) by the end of the year, an Israeli security official said Thursday, giving the Palestinians an unlimited supply of rockets for targeting the Israeli coastal city of Ashkelon, spreading over a range of 10 to 17 kilometers (6-11 miles) from northern Gaza, with 110,000 residents. "We are doing our best to upgrade our capabilities," said Abu Obeida, a spokesman for Izzedine al Qassam militant wing of Hamas. "We will never have equipment comparable to our enemy, but we are working all the time to have enough to make any aggression a regrettable adventure for the enemy."
Israel, Tired of Gaza Rocket Attacks, Strikes Gaza
(An IAF helicopter attack strikes outside home of Hamas leader Ismail Haniyeh)
Feb. 28….(FOJ) It's difficult to decide frontline in Israel's war-on-terror will explode first, South Lebanon or Gaza. Maybe both will ignite at the same time with a gentle shove from Iran. Right now, it looks as if all bets would be on Gaza to explode first. Israel suspects that Hamas acquired advanced long-range rockets, anti-tank rockets and anti-aircraft missiles in an Iranian-backed smuggling operation into Gaza during the recent border wall breach with Egypt. Apparently, Iranian-trained Hamas guerrillas also came across the border and are helping Hamas operate the new rocket weapons. Israel knows too that Hamas would like to drag Egypt into a conflict around Gaza, such as has been the modus operandi of Hezbollah in Lebanon. At some level someone inside of Egypt is complicit in the ongoing smuggling of weapons into Gaza. Egypt's Muslim Brotherhood, the main opposition party, still looks at Hamas as its Palestinian branch, so they could be a party to such activity. Today's retaliatory strikes by Israel indicate that Israel must do something to change the status quo in Gaza. No other nation in the world would allow incessant rocket attacks on its cities without retaliation. But, undoubtedly, the world will soon issue a condemnation of Israel's actions in Gaza.
| | |
| --- | --- |
| | (FOJ) An Israeli couple take shelter in a cement shelter in the center of the southern Israeli city of Sederot as a 'red alert' is sounded today. Another round of incoming Palestinian rockets, launched from the Gaza Strip into southern Israel has kept Israeli's on edge for months now. Under heavy pressure to protect its citizens, finally the Olmert government has taken action to stop the rocket attacks out of Gaza. |
Israeli aircraft today struck a series of targets throughout the Gaza Strip. The Israeli attacks are meant to step up the pressure on Hamas, a day after a rocket fired by the Islamic militant group from Gaza killed an Israeli man in Askelon, a major city nearly 12 miles north of Gaza. One helicopter attack struck a target outside the home of Hamas Prime Minister Ismail Haniyeh in an apparent message aimed at the group.
Abbas Says Terrorist Path is Impractical, "For Now"
Feb. 28….(Arutz) Mahmoud Abbas, Israel's so-called partner in peace talks and the head of Fatah and the Palestinian Authority, enjoys a reputation as a "moderate," largely in light of his juxtaposition with the arch-terrorists of his rivals/allies in Hamas. However, he now says that terrorism and violence against Israel are actually the preferred approach, and certainly need not be ruled out in the future. "At present," Abbas told the Jordanian newspaper A-Doustour, "I am against an armed struggle against Israel because we can't do it just now, but in the coming stages, things may change." "I do not rule out a return to the way of armed struggle against Israel," he said in the Wednesday night interview. Seventeen Arabs, mostly terrorists, have been killed in six Israel Air Force counter-terrorism actions in Gaza since Wednesday morning. One of the dead was the son of a top Hamas official.
Abbas Proud to Have Shot the First Bullet
Abbas took pride in the fact that he was the first terrorist in the struggle against Israel. "I had the honor of firing, in 1965, the first bullet of the 'resistance', he boasted. He added that it was his Fatah organization that taught Hizbullah and other terrorist organizations in the world how to run terrorist campaigns. Abbas, whose nom de guerre is Abu Mazen, said that he does not demand that Hamas, the terrorist movement that violently wrested control of Gaza from Fatah last year recognize Israel at present. "I wanted to establish a unity government with Hamas that would negotiate with Israel," he said. "Syria's Bashar Assad supported me. I am not the only one who wants recognition of Israel; the Arab initiative, which is a matter of consensus in the Arab and Islamic worlds, also says this." Abbas is happy about rejecting the notion of Israel as a "Jewish state." He said that in the Annapolis Summit of last November, "they wanted us to agree to a summation saying that Israel is a Jewish state, and we objected strongly. The summit almost blew up because of this."
Israel Retaliates Against Gaza
Feb. 28….(YNET) Israel pounded several targets in Gaza following a barrage of more than 50 Kassam rockets and Katyusha missiles on Sderot and Ashkelon Wednesday, which killed one Israeli and wounded dozens more. The Air Force struck Hamas's Gaza chief Ismail Haniyeh's office Wednesday night, and another Hamas compound, wounding dozens of people. "No one in Hamas, whether low ranking or among the senior ranks, will be immune," Prime Minister Ehud Olmert threatened in comments on the matter made from Japan. In another strike early Thursday in Gaza's Saja'iyeh neighborhood, three terrorists were killed. One man was a Hamas terrorist and the two others were of the Hizbullah-backed Popular Resistance Committee. Another terrorist was wounded in the strike. Two vehicles were targeted, with some of the terrorists having just returned from terrorists training in Arab countries, according to the IDF. Two more strikes took place in Jabalya and Beit Hanoun.
Judea and Samaria Counter-Terror Operations Too
Two terrorists were killed by IDF forces during an operation in Shechem (Nablus), in northern Samaria. One belonged to the Popular Front for the Liberation of Palestine (PFLP) and the other to Fatah, the faction currently embraced by the Israeli government as a partner for peace negotiations. In Shechem's Balata neighborhood, an IDF reconnaissance unit came under fire and responded, killing one terrorist and wounding another. Both those terrorists also belonged to the ruling Abbas Fatah faction.
Olmert Considering International Troops for Gaza
(Olmert weighs allowing NATO to protect Israel)
Feb. 28….(WND) Prime Minister Ehud Olmert's government is debating asking the international community or NATO to send troops to the Gaza Strip, according to Israeli defense officials speaking to WND. The officials said Olmert is considering allowing the Israel Defense Forces to launch a large-scale ground operation in Gaza to counter the Hamas terrorist group's advanced military infrastructure in the territory and to halt the regular onslaught of rockets from Gaza fired at nearby Jewish communities. According to the defense officials, after a prolonged ground operation, Olmert would threaten that Israeli troops would remain in Gaza unless the international community deploys forces to serve as a buffer between Israel and Gaza-based militants and to assist Palestinian Authority President Mahmoud Abbas' Fatah forces, which would re-enter Gaza. US and Israeli policy considers Fatah moderate. Fatah's declared military wing, the Al Aqsa Martyrs Brigades, is the most active West Bank Palestinian terror group and is classified by the State Department as a terrorist organization. Olmert has been under pressure from IDF leaders to approve a ground onslaught in Gaza, where terrorists have been firing rockets into Israel at an exponentially increasing rate. Military sources also warn Hamas has transported mass quantities of weapons into Gaza and built army units with some commanders trained by Iran. Yesterday, one Israeli civilian was killed and several were wounded after more than 30 rockets slammed in and near Sderot, a town of 25,000 residents about three miles from the Gaza border. Residents of Sderot and surrounding communities have been protesting against Olmert in recent weeks, setting up camp and leading marches outside the Knesset. Defense officials speaking to WND said most senior IDF officials strongly oppose the idea of NATO or international troop deployment in Gaza. They said they fear international forces would not be motivated to protect Israel and would impede any further necessary Israeli ground operations in Gaza. "Does anyone believe France or Belgium would protect Israel?" the official asked sarcastically. The official pointed to international troops deployed in south Lebanon following Israel's 2006 war against Hezbollah there. According to reports, Hezbollah rearmed, regrouped and transferred rockets and anti-tank missiles to the area the international forces were supposed to maintain as an arms-free zone. According to the defense officials speaking to WND, Olmert and Foreign Minister Tzipi Livni support the deployment of international forces in Gaza while Defense Minister Ehud Barak and IDF officials have voiced reservations. "We are now in a process that is expected to strengthen the capabilities of the Palestinian Authority, so they would fight terror instead of Israel. However, one cannot exclude the possibility that we will need to discuss what can be the role of NATO in supporting the need for a change, a real change, on the ground," Livni said. Some world leaders in recent months spoke openly about joining a force in the Palestinian territories. In December, French President Nicolas Sarkozy told the media he would be supportive of the "deployment, when the time and conditions are right, of an international force to assist the Palestinian security services." "After the [Second] Lebanon War, the sides see the merit in an international security presence," he said.
Abbas Admits: Al Qaeda is Active in Gaza
Feb. 27….(Israel Today) Palestinian leader Mahmoud Abbas on Wednesday admitted what Israeli security experts have been saying for over a year - that Osama bin Laden's Al Qaeda terrorist network is active in the Gaza Strip. Speaking to the London-based Arabic newspaper Al-Hayat, Abbas said that Al Qaeda cells were receiving assistance from Gaza's Hamas rulers in setting up a base of operations. Abbas complained that the Hamas-Al Qaeda alliance would only hinder the overall Palestinian goal of gaining sovereignty over Judea and Samaria and declaring a sovereign state that includes the Gaza Strip. Abbas' remarks were published a day after Israeli Military Intelligence chief General Amos Yadlin reported that a large number of Al Qaeda operatives, including snipers and explosives and engineering experts, had used last month's breach of the Gaza-Egypt border to enter the coastal strip. Israel and the United States repeatedly urged Egypt to reseal the border, warning the breach would be exploited by terrorist elements. However, claiming that it had no choice but to assist the Palestinians in relieving themselves after months of Israeli blockade, Cairo failed to repair the border for nearly two weeks. As Israel forcibly evicted Jewish communities in Gaza and withdrew its forces from the area in 2005, numerous Israeli opposition figures and defense experts warned that it was only a matter of time before a Jew-free Gaza transformed into the world's leading terrorist haven.
Oil Prices Hit Alltime High; US May See $4.00 Gas by Spring
Feb. 27….(Times on Line) Gasoline prices, which for months lagged the big run-up in the price of oil, are suddenly rising quickly, with some experts fearing they could hit $4 a gallon by spring. Diesel is hitting new records daily and oil closed at an all-time high on Tuesday of $100.88 a barrel. The increases could not come at a worse time for the economy. With growth slowing, high energy prices that were once easily absorbed by consumers are now more likely to act as a drag on household budgets, leaving people with less money to spend elsewhere. These costs could exacerbate the nation's economic woes, piling a fresh energy shock on top of the turmoil in credit and housing. "The effect of high oil prices today could be the difference between having a recession and not having a recession," said Kenneth Rogoff, a Harvard University economist. The depth of the nation's economic problems became clearer Tuesday with the release of figures showing that prices at the producer level rose 1 percent in January, driven in large measure by energy costs. Compared with a year ago, prices were up 7.4 percent, the worst producer price inflation in the United States since 1981. Other new figures showed that home prices around the country are falling at an accelerating pace, suggesting no end is in sight for the housing meltdown. As of Tuesday, regular gasoline was selling at a nationwide average of $3.14 a gallon, according to AAA, the automobile club, up from $2.35 a year ago. The price has jumped 19 cents a gallon in two weeks. Energy specialists predict that as demand picks up further this spring and summer, retail prices will surpass the high of $3.23 a gallon set last Memorial Day weekend.
Obama Claims He's a Friend' of Israel, and its Security Interests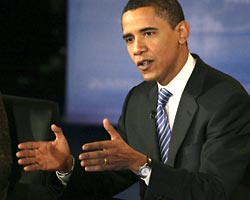 Feb. 27….(Ha Aretz) Democratic presidential hopeful Barack Obama on Tuesday stressed his "stalwart" support for Israel and his ties to American Jews, during a presidential debate with rival candidate Hillary Clinton. During the debate, Mediator Tim Russert pressed Obama on the endorsement he got from the anti-Semitic African-American leader Louis Farrakhan. Obama said: "I have been very clear in my denunciations of Minister Farrakhan's anti-Semitic comments. I did not solicit this support." Obama leveled criticism on Farrakhan's anti-Israel and anti-Semitic statements, calling them "unacceptable and reprehensible." He added that has always been "a stalwart friend of Israel's" and said he considers Israel to be one of the US' "most important allies in the region [Mideast]." "I think that their security is sacrosanct," he added. In response to Obama's remarks, Clinton argued that there was a difference between denunciation and rejection of the endorsement. "You asked specifically if Obama would reject it [the endorsement] and there's a difference between denouncing and rejecting," she said. "If the word 'reject' Senator Clinton feels is stronger than the word 'denounce', then I'm happy to concede the point and I would reject and denounce Farrakhan" Obama responded. Obama, talking about Farrakhan, and about anti-Semitism among African-Americans, which he also denounced in his speech on Martin Luther King Day, touched a sensitive nerve when he was talking about one possibility that's inherent to his candidacy: the chance to restore the alliance between blacks and Jews.
Abbas Holds Gun to Bush's Head
Feb. 27….(JNEWSWIRE) PLO/PA chief Mahmoud Abbas, whose cause successfully attracted international support through decades of terrorism and Jew-killing, tried Monday to increase the pressure on Israel via Washington: If the Bush administration does not immediately intervene and get Israel to reach a deal with the "Palestinians" before the end of 2008, he warned, the world can kiss Middle East peace goodbye. Abbas chided the US leadership immediately following a closed-door meeting with Jordan's King Hussein. If Washington falls down on its commitment to "make 2008 the year to broker peace, there will never be any future chances to achieve this goal," he said, according to the Associated Press. US President George W. Bush "must understand it is to play an active role, not just as a supervisor, by intervening directly to help make peace." As for Israel, which is weathering daily and increasingly bloody rocket attacks from "Palestinians" in the Gaza Strip, Abbas said it had better "stop escalating the situation in the Palestinian territories [sic] and stop all attacks in the Gaza Strip, including firing missiles there." Abbas' ultimatum comes hard on the heels of a similar threat from the Arab League, which last week warned it would withdraw its so-called peace initiative if Israel did not accelerate progress towards the creation of Palestine on the Jews' ancient homeland. Jerusalem called that bluff and also hardly appears phased by this one. Israeli Prime Minister Ehud Olmert responded Tuesday by freely airing his doubts about the chance of arriving at a deal before year's end.
UN Nuclear Watchdog Report On Iran, Much Ado About Nothing
Feb. 26….(Bill Wilson, KIN Senior Analyst) The United Nations International Atomic Energy Agency's report on Iran's nuclear program is much ado about nothing. Nothing has changed. For at least five years, IAEA chief Mohamed ElBaradei has acted as an apologist for Iran's nuclear program. He has investigated, issued reports, advised Iran on how walk the line of intent on international law to avoid UN sanctions, and he has continued to give mixed signals and reports about Iran's nuclear intentions. In the process, ElBaradei, an Egyptian-born Muslim, has even won the Nobel Peace prize. All the while Iran's nuclear program is on a fast track with only minor speed bumps. In November 2004, ElBaradei said, "I am not ready to jump to the conclusion and say this is a weapons program unless I see a diversion of nuclear material to such a program or I see clear cut proof that this is a weapons program. And we are not there yet." On February 22, 2008, ElBaradei said, "I should, however, add that in connection with the weaponization studies, we have not seen any indication that these studies were linked to nuclear material." So what has changed over the past five years with Iran's nuclear program? Because of ElBaradei's Iranian apologetics and delay tactics, Iran has steamed forward with its nuclear program on one side, and its nuclear missile development program on another side. Still, ElBaradei sees no connection to the development in parallel of Iranian missiles, assisted by Russia and China, with large enough payloads to carry nuclear weapons, and a nuclear program that is enriching uranium at record paces, has received shipments from Russia of enriched uranium ostensibly for fueling a nuclear plant, and the use of dual purpose technology that is utilized for nuclear weapons development. Experts around the world say that Iran will have a nuclear weapon in one to five years. Yet, nations such as the United States and Israel continue to rely on the less than transparent efforts of ElBaradei to keep the world guessing about Iran's nuclear intentions. All the while, Iran is building its nuclear program unimpeded. Does the world have any remote understanding of what would happen if Iran had a nuclear weapon and the capability to deliver it? Islam is at war with the world. It intends to conquer the world and establish the rule of Islam and Sharia law. And the world is allowing an Egyptian-born Muslim to hold it at bay while the most radical Islamic sponsor of terrorism develops a nuclear weapon. Jeremiah 4:7 says, "The lion is come up from his thicket, and the destroyer of the Gentiles is on his way; he is gone forth from his place to make your land desolate; and your cities shall be laid waste, without an inhabitant." Let us pray for God's wisdom to quicken our leaders.
Farrakhan Sings Obama's Praises
| | |
| --- | --- |
| | (FOJ) There is only one "Savior", and his name is Jesus Christ. (John 14:6 Jesus saith unto him, I am the way, the truth, and the life: no man cometh unto the Father, but by me.) I think the Lord's words recorded here by John leave no room for any other supposed savior, whatever name he is called by. Mr. Farrakhan is promoting false saviors and a false religion, and his support for change in America via Senator Obama raises suspicions that the "change" being promoted is one that is anti- Christian and anti- American. |
Feb. 26….(Newsmax) In his first major public address since a cancer crisis, Nation of Islam Minister Louis Farrakhan said Sunday that presidential candidate Barack Obama is the "hope of the entire world" that the US will change for the better. The 74-year-old Farrakhan, addressing an estimated crowd of 20,000 people at the annual Saviors' Day celebration, never outrightly endorsed Obama but spent most of the nearly two-hour speech praising the Illinois senator. "This young man is the hope of the entire world that America will change and be made better," he said. "This young man is capturing audiences of black and brown and red and yellow. If you look at Barack Obama's audiences and look at the effect of his words, those people are being transformed." Farrakhan compared Obama to the religion's founder, Fard Muhammad, who also had a white mother and black father. "A black man with a white mother became a savior to us," he told the crowd of mostly followers. "A black man with a white mother could turn out to be one who can lift America from her fall." Farrakhan also leveled small jabs at Hillary Rodham Clinton, Obama's rival for the Democratic nomination, suggesting that she represents the politics of the past and has been engaging in dirty politics. Farrakhan's keynote address at McCormick Place, the city's convention center, wrapped up three days of events geared at unifying followers and targeting youth. It had a different tone from a year ago, when Farrakhan made what was called his final public address at a Saviors' Day event in Detroit.
Khamenei Solidly backs Ahmadinejad's Drive for a Nuclear Weapon
Feb. 26….(DEBKA) Ayatollah Ali Khamenei today threw all his weight and authority behind his country's nuclear program and President Mahmoud Ahmadinejad, and their quest for a nuclear bomb. His speech in Teheran today clearly celebrated the failure of the United States, the West at large and Israel to stall Tehran's nuclear ambitions, whether by military force or sanctions. Today the supreme ruler told Iranian officials: "One example of an advance by the Islamic system has been the nuclear issue, in which the Iranian nation has honestly and seriously won a great victory." For the first time, he echoed Ahmadinejad's intransigent position and praised his role in advancing the nuclear issue as "outstanding." In the face of the UN nuclear watchdog's latest report that questions about Iran's possible weaponization of nuclear materials remain unanswered, Khamenei backed to the hilt the hard-line positions taken by Ahmadinejad and the Revolutionary Guards and their drive for a nuclear bomb and nuclear-capable missiles. Transparently pouring scorn on the US and Israel, the supreme ruler said: "Those who used to say Iran's nuclear activity must be dismantled are now saying we are ready to accept your advances, on condition that it will not continue indefinitely. This was achieved by perseverance." The ayatollah was referring obliquely to certain Western powers including Germany which have discreetly engaged Tehran for a deal to acknowledge Iran's nuclear achievements provided it put its military option on ice for some years. Khamenei treated this concession, which would leave the Islamic Republic free to invoke its option at will, as a "great victory." He was clearly crowing over US secretary of state Condoleezza Rice's call for a third round of sanctions and Ehud Olmert's reliance on the international community. Khamenei's lavish praise for Ahmadinjad ahead of the majlis vote was a setback for the theory held by US and Israeli policy-makers that the supreme ruler and his faction are more amenable to reason, and that Ahmadinejad and the Revolutionary Guards and, if confronted with a military showdown with the US and Israel, they would prefer to deal. Khamenei's rhetoric today served notice that he supports Ahmadinejad's call to strategy to wipe Israel off the map.
FOJ Note: The Islamic theocracy of Iraq is clearly set on a course to develop a nuclear bomb, and has as its primary goal to destroy the state of Israel. The Ayatollah knows full well that the US will now do nothing to preempt an Iranian nuclear bomb, and that even in the course of international debate on the issue that Russia will continue to stand guard on their behalf. The virtual pass that Iran has gained on this issue is serving to fulfill Bible Prophecy, and will culminate in Iran becoming a major player in Russia's eventual military incursion into the Middle East against Israel. FOJ rightly predicted that Iran would escape the scrutiny of the US-led attempts to prevent Iran from acquiring nuclear weapons, as Iran is forecast to be a fully-equipped and prepared ally of Magog.
Obama and Clinton's Advisers visit Syrian President Assad

Feb. 26….(DEBKA) Zbigniew Brezhinsky, adviser to former president Jimmy Carter is advising Barack Obama on Middle East affairs. Brezhinsky, President Jimmy Carter's national security adviser, now advises Democratic Senator Barack Obama on foreign policy, and the Iranian-American Hassan Nemazee is also advising Hillary Rodham Clinton. The advisers to the two Democratic contenders were in Damascus last week as part of a RAND Corporation delegation. While Nemazee was tight-lipped on his talks with President Bashar Assad, Obama's adviser stated: "The conversation dealt with recent regional developments, affirming that both sides have a common desire to achieve stability in the region, which would benefit both its people and the USA." These words, in the tone of an officiating government servant, raised new speculation about the Middle East policies of the Senator from Illinois and his attitude toward Israel. Brezhinsky's statement was compatible with Obama's avowed intention, if elected, of meeting Iranian president Mahmoud Ahmadinejad and the Syrian ruler to persuade them that cooperation with America is preferable to confrontation. Clinton calls this approach naïve. However, Brezhinsky went so far as to portray Assad as a seeker of Middle East peace and stability. This sounds odd to anyone familiar with the Syrian ruler's record of permitting anti-American fighters, weapons and cash to flow from his country to Iraq, his violent destabilization of Lebanon, his arming of Hizballah and his playing host to the command centers of the most radical Palestinian terrorist organizations such as Hamas and Jihad Islami. Brezhinsky in fact called on Assad only days after the master terrorist Imad Mughniyeh was assassinated in Damascus, exposing for all the world to see the welcome he and his ilk enjoy in the Syrian capital. Questions were inevitably asked as to whether the adviser represented the presidential contender's views or just his own. The talks Nemazee held with Assad were just as coolly received in New York and Moscow. Clinton's commitment to Israel's security and Lebanon's stability, both victims of the Assad regime's machinations, were called into question by Jewish and Lebanese circles alike. In Moscow, the very presence in Damascus of Jimmy Carter's adviser in the 1970s, the darkest days of the Cold War, was cause for suspicion. Some Russian sources commented that Brezhinsky is still bent on making trouble for the Kremlin, and may even have tried to persuade Assad to break off Damascus' military ties with Russia, including the Russian Navy's use of Syrian Mediterranean ports.
Obama Worked with Terrorist Organization
(Senator helped fund organization that rejects 'racist' Israel's existence)
Feb. 25….(WND) The board of a nonprofit organization on which Sen. Barack Obama served as a paid director alongside a confessed domestic terrorist granted funding to a controversial Arab group that mourns the establishment of Israel as a "catastrophe" and supports intense immigration reform, including providing drivers licenses and education to illegal aliens. The co-founder of the Arab group in question, Columbia University professor Rashid Khalidi, also has held a fundraiser for Obama. Khalidi is a harsh critic of Israel, has made statements supportive of Palestinian terror and reportedly has worked on behalf of the Palestine Liberation Organization while it was involved in anti-Western terrorism and was labeled by the State Department as a terror group. In 2001, the Woods Fund, a Chicago-based nonprofit that describes itself as a group helping the disadvantaged, provided a $40,000 grant to the Arab American Action Network, or AAAN, for which Khalidi's wife, Mona, serves as president. The Fund provided a second grant to the AAAN for $35,000 in 2002. Obama was a director of the Woods Fund board from 1999 to Dec. 11, 2002, according to the Fund's website. According to tax filings, Obama received compensation of $6,000 per year for his service in 1999 and 2001. Obama served on the Wood's Fund board alongside William C. Ayers, a member of the Weathermen terrorist group which sought to overthrow of the US government and took responsibility for bombing the US Capitol in 1971. Ayers, who still serves on the Woods Fund board, contributed $200 to Obama's senatorial campaign fund and has served on panels with Obama at numerous public speaking engagements. Ayers admitted to involvement in the bombings of US governmental buildings in the 1970s. He is a professor at the University of Illinois at Chicago. The $40,000 grant from Obama's Woods Fund to the AAAN constituted about a fifth of the Arab group's reported grants for 2001, according to tax filings obtained by WND. The AAAN, headquartered in the heart of Chicago's Palestinian immigrant community, describes itself as working to "empower Chicago-area Arab immigrants and Arab Americans through the combined strategies of community organizing, advocacy, education and social services, leadership development, and forging productive relationships with other communities." It reportedly has worked on projects with the Illinois Coalition for Immigrant and Refugee Rights, which supports open boarders and education for illegal aliens. Speakers at AAAN dinners and events routinely have taken an anti-Israel line. The group co-sponsored a Palestinian art exhibit, titled, "The Subject of Palestine," that featured works related to what some Palestinians call the "Nakba" or "catastrophe" of Israel's founding in 1948.
Pro-PLO advocate held Obama fundraiser, describes Obama as 'sympathetic'
AAAN co-founder Rashid Khalidi was reportedly a director of the official PLO press agency WAFA in Beirut from 1976 to 1982, while the PLO committed scores of anti-Western attacks and was labeled by the US as a terror group. Khalidi's wife, AAAN President Mona Khalidi, was reportedly WAFA's English translator during that period.
Rashid Khalidi at times has denied working directly for the PLO but Palestinian diplomatic sources in Ramallah told WND he indeed directed WAFA. Khalidi also advised the Palestinian delegation to the Madrid Conference in 1991. During documented speeches and public events, Khalidi has called Israel an "apartheid system in creation" and a destructive "racist" state. He has multiple times expressed support for Palestinian terror, calling suicide bombings response to "Israeli aggression." He dedicated his 1986 book, "Under Siege," to "those who gave their lives, in defense of the cause of Palestine and independence of Lebanon." Critics assailed the book as excusing Palestinian terrorism. While the Woods Fund's contribution to Khalidi's AAAN might be perceived as a one-time run in with Obama, the presidential hopeful and Khalidi evidence a deeper relationship. According to a professor at the University of Chicago who said he has known Obama for 12 years, the Democratic presidential hopeful first befriended Khalidi when the two worked together at the university. The professor spoke on condition of anonymity. Khalidi lectured at the University of Chicago until 2003 while Obama taught law there from 1993 until his election to the Senate in 2004. Khalidi said he supports Obama for president "because he is the only candidate who has expressed sympathy for the Palestinian cause." Khalidi also lauded Obama for "saying he supports talks with Iran. If the US can talk with the Soviet Union during the Cold War, there is no reason it can't talk with the Iranians."
Obama advisor wants talks with terrorists
The revelations about Obama's relationship with Khalidi follows a recent WND article quoting Israeli security officials who expressed "concern" about Robert Malley, an adviser to Obama who has advocated negotiations with Hamas and providing international assistance to the terrorist group. Malley, a principal Obama foreign policy adviser, has penned numerous opinion articles, many of them co-written with a former adviser to the late Palestinian Authority President Yasser Arafat, petitioning for dialogue with Hamas and blasting Israel for numerous policies he says harm the Palestinian cause. Malley also previously penned a well-circulated New York Review of Books piece largely blaming Israel for the collapse of the Israeli-Palestinian negotiations at Camp David in 2000 when Arafat turned down a Palestinian state in the West Bank, Gaza and eastern sections of Jerusalem and instead returned to the Middle East to launch an intifada, or terrorist campaign, against the Jewish state. Malley's contentions have been strongly refuted by key participants at Camp David, including President Bill Clinton, then-Israeli Prime Minister Ehud Barak and primary U.S. envoy to the Middle East Dennis Ross, all of whom squarely blamed Arafat's refusal to make peace for the talks' failure.
Obama: Dividing Israel Doesn't Make me Anti-Israel
Feb. 25….(Israel Today) US presidential hopeful Barrack Obama on Sunday insisted that just because he tends to side with those who advocate dividing the Land of Israel as the most viable path to peace does not mean that he is an enemy of the Jewish state. Speaking to Jewish leaders in Cleveland, the Illinois senator complained that "there is a strain within the pro-Israel community that says unless you adopt a unwavering pro-Likud approach to Israel that you're anti-Israel." Israel's opposition Likud Party and its supporters promote minimal or no territorial compromises in the quest for peace with an Arab world that has tried to militarily destroy the Jewish state at least three different times. But, according to Obama, backing the Jews' biblical, historical and legal claim to all of the land in question "can't be the measure of our friendship with Israel." Nor can supporting the view that only by defeating its Islamic foes can Israel enjoy any semblence of peace and security, continued the Democratic frontrunner. As his popularity grows, Mr. Obama has come under scathing attack from supporters of the Jewish state for turning to advisors who have in the past expressed anti-Israel opinions.
Israel to Trust in EU Princes
Feb. 25….(JNEWSWIRE) For its survival Israel turns, not to God, but to Europe. This was the thrust of the top story in The Jerusalem Post Sunday: that Israel's Foreign Ministry has taken a strategic decision to establish strong relations with the European Union and thereby develop a "third pillar" to help ensure the survival of the Jewish state. Where secular Israelis have traditionally seen their country's security supported by the twin pillars of a strong IDF and an unbreakable diplomatic relationship with the United States, the thinking is now that, with the fast-growing EU intent on contending with America for the position of superpower #1, it is important to plug Israel into the Continent too. In exchange, Israel is allowing Europe to play a greater role in Israeli diplomatic and economic processes. Historically, and to the present day, European countries have been almost exclusively pro-Arab and anti-Israel. After centuries of saturating antisemitism the soil of Europe is still permeated with prejudice - undiluted by either the pre-Holocaust Enlightenment or the post-Holocaust and post-communist transition to a more modern, politically-"corrected" society. Still, secular-humanist politicians in Israel have grasped at the straws offered by "friendly" heads of European states like former British Prime Minister Tony Blair, French President Nicolas Sarkozy and German Chancellor Angela Merkel.
WEEK OF FEBRUARY 17 THROUGH FEBRUARY 23
Nasrallah: Israel's Disappearance Soon to be an Established Fact
Feb. 22….(YNET) Hezbullah Secretary-General Hasan Nasrallah said Friday that Israel's disappearance would soon be an established fact and that "the murder of (Hizbullah commander) Imad Mugniyah is a preliminary step Israel is planning for invading Lebanon and the region." The Hizbullah leader promised the Jewish State that the next war against his organization would be "something you have never seen." According to Nasrallah, who spoke in a televised speech broadcast to thousands of supporters at a Beirut mosque, Israel's defeat in the 2nd Lebanon War has marked the beginning of its decline. "In Israel there is a unanimous agreement that it lost the war." He added that the Jewish state's plan to target his organization's leaders would not weaken Hizbullah. Nasrallah's speech was broadcast at the Sayed al-Shohada mosque affiliated with the organization in the Lebanese capital's Dahiya quarter, during an event in memory of three of the organization's former leaders: Secretary-General Abbas Mousawi, the group's senior intelligence official Imad Mugniyah, and senior official Ragheb Hareb who was killed in 1988.
Bernard Lewis at Jerusalem Conference
Feb. 22….(IsraelNN.com) The Jerusalem Conference concluded Wednesday night with a packed-house lecture by Bernard Lewis, a world-renowned expert on Islamic history and the relationship between Islam and the West. An author of 30 books, Lewis coined the phrase "clash of civilizations" in his work The Roots of Muslim Rage, written 11 years before 9/11. Lewis, who was present throughout the two days of the Conference, provided, in his lecture, a general survey of the geo-political situation in and regarding the Middle East. Among the leading external factors, he mentioned the US presence in Iraq. "Some complain about American imperialism, but this displays only ignorance. When they complain, they are really complaining that US does not fulfill its imperialist pax-Americana role well enough."
US and Iraq
Obviously we cannot know what the upcoming US elections will bring, Lewis said, but noted there are two possibilities regarding Iraq: Either the US will finish the job it started there, or, based on a false comparison with Vietnam, will leave as quickly as it can, "even though it might mean the betrayal of a few hundred thousand people, but that doesn't bother [those who are calling for a US withdrawal]. A third external factor of importance is the UN and the international community, where we have found an incredible level of discrimination against Israel ever since its foundation.
Russia, India, China
Other external factors of some importance, Lewis noted, are "the problematic role of Russia, which cannot be expected to remain a passive observer of the Middle East, and also India and China, which will inevitably become more and more involved, particularly India with its very large Muslim minority, the 2nd largest Muslim population in the world, after Indonesia."
Iran Doesn't Mind Getting Nuked Back
He then turned to the "regional factors shaping the course of events here. First is Iran. It's not an Arab country, but rather a Muslim country, ruled now by a Muslim theocracy, which calculates its policies not by Iranian national interests, but by what is good for Islam. It is actively pursuing nuclear power; even a non-nuclear Iran is dangerous for Israel, and it must be carefully watched." "But with these people in Iran, Mutually Assured Destruction is not a deterrent factor, but rather an inducement.""Iran's leadership comprises a group of extreme fanatical Muslims who believe that their messianic times have arrived. This is quite dangerous; though Russia and the US both had nuclear weapons, it was clear that they would never use them because of MAD - mutual assured destruction. Each side knew it would be destroyed if it would attack the other. But with these people in Iran, MAD is not a deterrent factor, but rather an inducement. They feel that they can hasten the final messianic process. This is an extremely dangerous situation of which it is important to be aware." He also that wherever you have Muslims, you have violence, such as in the Balkans, Russia, central Asia, Kashmir, Timor.
US Faces Economic Disaster over Oil Wealth Exodus
Feb. 22….(Money News) One of America's most influential businessmen, legendary oilman T. Boone Pickens, says the nation's wealth is being plundered by oil exporters and the US faces a potential financial disaster if our energy policy is not reformed. Pickens, who correctly predicted that oil would top $100 a barrel, also says he expects oil prices to drop sharply in the near term. Appearing on CNBC's "Squawk Box" Thursday morning, Pickens pointed out that the US is currently sending half a trillion dollars out of the country each year to buy oil, in some cases from people who "are our enemies." Said Pickens, "You take 10 years and you've got $5 trillion, or more than $1 billion a day. "We can't stand that. Wealth is moving out of our country, and not one presidential candidate has addressed this. The candidates have to get up to speed on what energy cost is doing to our country."
The Gaza-Sinai Terror Connection
Feb, 21….(Washington Times) The recent violence and chaos on the border separating Gaza from Egypt should serve in part as a wake-up call about the jihadist threat emanating from the Sinai Peninsula, which has become a recruiting ground for al Qaeda and, increasingly, an infiltration route into Israel. After months of plotting, the Hamas regime that controls Gaza engineered the destruction of part of the border fence with Egypt on Jan. 23, opening a gap that permitted the flow of weapons and upwards of 200,000 people across the border. Since that time, Egypt has periodically moved to seal the border, but Israeli officials say the on-and-off nature of the closures has permitted terrorists to join the Gazans entering Egypt to obtain supplies. Once in Egyptian territory, they make their way to less-defended areas of the Sinai and cross into Israel to stage attacks. No one denies that there has been substantial arms smuggling from Egypt into Gaza since Israel withdrew from that territory two-and-a-half years ago. Israeli security forces say that, since the border was breached last month, the problem has worsened, as Hamas has smuggled anti-tank missiles, anti-aircraft missiles and long-range rockets from Egypt into Gaza. Those weapons in turn are fired at Israeli towns located near Gaza, more than 400 such rockets and missiles have been fired into Israel since New Year's Day. But Gaza is only part of the security problem in the region. Located next door, the Sinai has become the soft underbelly of terror, and a huge security problem for Egypt and Israel and for the tens of thousands of foreign tourists that visit its resorts each year. There are also approximately 1,800 members of the Multinational Force and Observers (MFO), the Sinai-based international peacekeeping force based in the Sinai to monitor compliance with the security provisions in the 1979 peace treaty signed by Egypt and Israel. Americans comprise the largest MFO contingent. The modern era of terrorism came to Gaza on Oct. 7, 2004, when the Abdullah Azzam Brigades, an al Qaeda-affiliated organization, killed 34 persons and injured 171 in a resort city. Al Qaeda offshoots were also behind a series of bombings in Sharm el-Sheikh on July 23, 2005, which left 88 dead and wounded more than 200 in the deadliest terrorist attack in Egypt's history. The following month, two Canadian members of the MFO were wounded when their vehicle was bombed. On April 24, 2006, three bombs exploded at another Sinai resort, killing 23 persons and wounding more than 80. Shortly afterward, several suicide bombers blew themselves up in unsuccessful attempts to kill Egyptian policemen and members of the MFO. In the past year, Gaza-based terrorists have used the Sinai as an infiltration route into Israel. On Jan. 29, 2007, a Gaza-based suicide bomber who entered Israel through the Sinai blew himself at a bakery in Eilat, killing three people. Two more terrorists from Gaza, who remain at large, infiltrated Israel from Sinai earlier this month. Israeli officials say there are as many as 20 terror cells in Sinai preparing to launch attacks on Israel, and late last month terror alerts on the Egyptian border reached their highest level since the second intifada began in September 2000. Dealing with this growing jihadist danger is expected to be a top priority for Israel and Egypt in coming months.
Jerusalem: Demographics and Division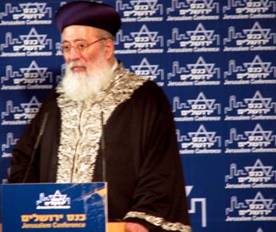 Chief Sephardi Rabbi Shlomo Amar
Feb. 21….(IsraelNN.com) For the second day, the Jerusalem Conference held a discussion on Jerusalem's future. Wednesday's discussion dealt with demographics and the Temple Mount. "Jerusalem should not be up for negotiation," Chief Sephardi Rabbi Shlomo Amar declared, joining a similar statement a day earlier made by his Ashkenazi counterpart Rabbi Yonah Metzger. "The Temple Mount is the heart and soul of the Land of Israel and there is no Jewish unity without the unity of the Land of Israel."
"The neighborhoods surrounding this hotel [the Regency, between the Jewish French Hill and Arab Sheikh Jarrah neighborhoods in Jerusalem] are but a few of those that are to be relinquished in an agreement reached by this government," Shragai said. "The routes leading to Mt. Scopus and neighborhoods like Pisgat Ze'ev, Neve Ya'akov and Har Homa are being negotiated, whether they will have to be accessed via tunnels or covered roads." The 25-year-veteran journalist stressed that Jerusalem's Jewish neighborhoods are but a few hundred meters from the Arab ones that would become part of a sovereign Arab state. "The proximity of all these Jewish neighborhoods to the new Palestinian ones leave them vulnerable to attack, even by light weaponry, which is possessed by every Palestinian faction." Session Chairman Yechiel Leiter pointed out that the distance from the rocket-launching pads of the northern Gaza region to the western Negev is greater than the distance between most Arab and Jewish neighborhoods in Jerusalem. Shragai, whose newspaper has been the strongest backer of the Oslo Accords and subsequent initiative, estimated that "It is reasonable to assume that attacks will continue even after a final agreement. The Palestinians will not give up on the "Right to Return," including in Jerusalem. They have documented all the pre-'48 properties and plan on standing by these demands."
Jerusalem's Handling by Government Unethical to the Core
"The way Jerusalem is being negotiated personifies the unethical nature of this government," said Danny Dayan, the new head of the Yesha Council of Judea and Samaria communities (formerly Gaza as well). "Even before Annapolis, the Olmert government obviously put Jerusalem on the table, conceding at least the Clinton parameters to the PA [which entail Israel relinquishing many of Jerusalem's Arab neighborhoods –ed.]." Dayan said the fact that the Olmert government is completely willing to lie to the faces of the populace, knowing that the citizenry knows full well they are being lied to, personifies the unethical nature of the current government. But he pointed the finger at the populace for failing to topple the government. "Everyone knows what is going on and everyone is hiding their heads in the sand," Dayan said. "The press is being complicit and allowing it," he added, echoing Shragai.
Jerusalem Without the Holy Temple is Not Jerusalem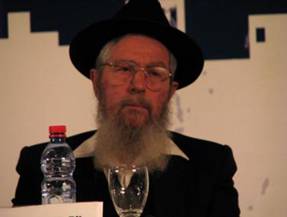 Temple Institute founder Rabbi Yisrael Ariel
Rabbi Yisrael Ariel, the founder of the Temple Institute in Jerusalem spoke about his experience being part of Motta Gur's Paratrooper unit that liberated the Temple Mount. "Once we liberated the area, I saw the Prime Minister, the president and all sorts of dignitaries entering the Temple Mount. But where did they head? To the Kotel [the Western Wall of the Temple Mount]. We arrive at the Temple Mount after 2,000 years, and where did we go?
"There is no Jerusalem without the Holy Temple," he proclaimed. "I have been sitting here for two hours and heave heard about housing and demographics and even the Jewish Quarter, but nothing about the Holy Temple, which is inextricably the whole essence of Jerusalem. It is impossible to speak about Jerusalem without mentioning even once the Holy Temple. "Every generation at least implemented to the best of their ability what they prayed for. Our generation simply runs away from it. We talk about the Temple Mount, but not building the Holy Temple."
Saudi Arabian Bankers Fueling Global Islamic Jihad
Feb. 21….(IsraelNN.com) Rachel Ehrenfeld, Director of the American Center for Democracy, said at the Jerusalem Conference Tuesday that Saudi Arabian bankers are the main financiers of global terrorism. "Sharia financing" corrupt banking practices legal under Islamic law, are a fairly new phenomenon, Ehrenfeld saod, and were first developed by the Muslim brotherhood in the 70s, following the financial power gained by Saudis during the oil boom.
"Saudis are using money in order to corrupt the West, to fund terrorism, and eventually to take over the West," said Ehrenfeld. "For years, Saudi Arabia has been a main supporter of terrorism, both physically and financially, and their illegal activity is now causing many innocent investors to commit serious crimes without even the knowledge that they are doing so." According to Ehrenfeld, Saudi Arabian bankers have roughly $1 trillion ready to be invested through means of what she terms "financial Jihad." The financial practices she refers to as "Sharia financing" are run according to Islamic law, governed solely by the Koran and making no distinction between public and private practices. "Legitimate financing goals are literally indistinguishable from immoral and illegal practices, causing unsuspecting companies and individuals to unknowingly fund terrorism." "Sharia financing means complete and total submission to Islamic bankers," Ehrenfeld explained. "Investors give over all rights to choose what their money supports. They are virtually forced to divest from any company or concept that is not in agreement with Muslim ideology or belief, including any company that is even inconsequentially involved with Israel. Additionally, Saudi Arabian bankers have the right to list and delist companies as they please, without legitimate cause or legal course of action. "Not surprisingly, these illegal banking practices do not have security, which comes at a very large price to investors, who are at great risk both of losing their money, endangering their shareholders, and being prosecuted by American banking laws, which strictly forbid the financial support of terrorism. Besides the money that is used to support Islamic agenda, twenty percent of funds, labeled 'mandated charity' go directly to foreign companies in support of terrorism." Ehrenfeld warns: "They are expanding fast, and are now in more than 80 countries, and more than 300 financial institutions around the world. This is really spreading like wildfire."
ZOA President: Mahmoud Abbas is a Fraud
Feb. 21….(IsraelNN.com) "Mahmoud Abbas is a fraud and not interested in peace," said Morton Klein, President of the Zionist Organization of America (ZOA), in an interview with Arutz Sheva at the fifth annual Jerusalem Conference. "He is just trying to get as much as he can through negotiations that he could not get through any sort of war." Klein explained that Abbas is not a moderate, as much of the Israeli and Western world believes, and his actions even in the past few weeks are evidence of this. When George Habash, a notorious terrorist, was killed, Abbas called for three days of mourning and to fly all the flags at half-mast. Also, he recently approved the new official "Fatah" poster, which shows all of Israel as "Palestine" and includes a rifle and an oversized picture of Yasser Arafat. Abbas is also a "career Holocaust denier," Klein notes, who has wrote his PhD thesis and an entire book on the topic. He also glorifies suicide bombers and until recently, praised Hamas. "It is astonishing to me that the Israeli media, the American media, George W. Bush, Ehud Olmert, all ignore all this, believing that if you give him a state, maybe things will be okay, maybe he'll revert to being totally decent." Klein believes that President Bush is actually appeasing Abbas and is trying to send a message to the Arab world that he is not against Muslim culture. The Israeli government tries the land-for-peace route mostly because of pressure from Europe and America, but fails to appreciate that Congress would support them if they refused to negotiate with the Palestinians. In a recent press conference with Palestinian Authority Prime Minister Sayam Fayad, Klein asked him how he could claim to be moderate when his actions suggest otherwise. Fayad could only say that his government sometimes did things that are not consistent with their goals. "In other words," said Klein, "he had no answer." Klein, who has a personal relationship with Prime Minister Ehud Olmert, has asked him these questions. But he says Olmert supports the establishment of a Palestinian state, and is willing "to expel seventy thousand Jews." Klein objects, saying that "statehood and sovereignty does not resolve the problem," citing Iran and North Korea as examples. "A Palestinian state will make things worse, not better, and too few people understand that reality." Israelis and Americans are being mislead by their governments and are not being educated about the true nature of Abbas and his "moderate" government. Mr. Klein, who visits (mostly Conservative and Reform) synagogues across America, says that once he explains the facts, these American Jews realize the negotiations process makes no sense. "I have tremendous confidence in American Jews," said Klein, citing a recent poll which found that 81% of American Jews do not believe that the goal of the PA is to have a state.
Kleins explains that "if the Palestinians wanted peace, the incitement in the textbooks, in the newspapers and TV that promote hatred and murder against Jews and Israelis would have ended." They would not be calling for the release of terrorists from prison. "Their goal is Israel's destruction and that is why nothing has worked and nothing will work…until they transform this society."
Another Iran Whitewash Job From UN Nuclear Watchdog
(Iranian opposition leader Mohammad Mohaddessin warns tomorrow will be too late for thwarting Iran's nuclear plans)
Feb. 21….(DEBKA) Israel's UN ambassador Danny Gillerman says Israel is losing patience with the wishy-washy reports delivered by Mohammed ElBaradei, head of the International Atomic Energy Agency, on Iran's nuclear work. Wednesday, Feb. 20, Mohammad Mohaddessin, of the exiled Iranian National Council of Resistance, warned that the Iranian regime had accelerated its nuclear weapons program, including the production of nuclear warheads. He told a news conference that Tehran had established its first command and control center to work on a nuclear bomb and was setting up a center to produce warheads southeast of the capital. The council's previous allegations of Iran's covert nuclear activities, including the Natanz site, have been borne out. Mohaddessin said Iran cheated inspections by closing down one center only to open another later with the same purpose. Addressing the watchdog agency, the exiled Iranian activist advised action against Iran now, for tomorrow would be too late. Ahead of the ElBaradei report, whose release is expected Friday, Iranian president Mahmoud Ahmadinejad said his government would ignore calls by major powers to halt the work which has led to two rounds of UN sanctions. The report's findings will determine the Security Council powers' decision on a third round.
Netanyahu: Olmert is Planning to Divide Jerusalem
Feb. 20….(YNET) Israel must not, under any circumstances, withdraw from Jerusalem and allow another terrorism base to be established in the heart of the country," Opposition Leader Benjamin Netanyahu stated Wednesday. Speaking during the Jerusalem Conference held at the Hyatt Hotel in the capital, the Likud chairman added, "It should be made clear that HAmas would enter any place we withdraw from. Signing an agreement with the weaker elements in the Palestinian Authority makes them even weaker." According to Netanyahu, "Islamic fundamentalism constitutes a conventional and unconventional threat to Israel. The Iranians are building bases in the Middle East. Our two withdrawals have brought Hizbullah and Hamas to positions of power, the withdrawal from Lebanon emboldened Hizbullah and the pullout from Gaza strengthened Hamas. "Signing an agreement with such a weak Palestinian government signals Hamas and Iran that Israel is planning a pullout, and that Iran can move to fill in the void. If we withdraw from Jerusalem, it will become the Mecca of global terror. "If you want peace in Jerusalem, keep it unified," he stressed. Commenting on Prime Minister Ehud Olmert'smeeting wit Palestinian President Mahmoud Abbas Tuesday, Netanyahu said, "The prime minister said we're not discussing Jerusalem, and that the issue has been postponed to the final stage of the talks. But I say they are planning to divide Jerusalem."
Olmert: We Haven't Discussed Jerusalem, Palestinians-Yes We Have
(Prime minister says Jerusalem wasn't discussed during Tuesday's meeting with Abbas; Palestinian version completely different)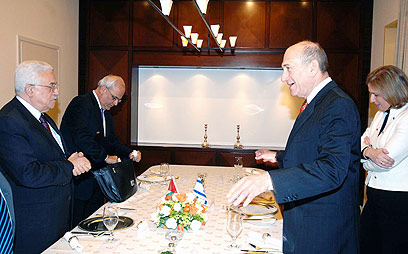 Feb. 20….(YNET) Despite Israeli claims that the issue of Jerusalem was not discussed in Tuesday's meeting between Prime Minister Ehud Olmert and President Mahmoud Abbas, Palestinian officials presented a completely different version. Palestinian negotiator Saeb Erekat said that "the meeting dealt with all the issues pertaining to a final-status agreement, including Jerusalem." A senior Palestinian source added that "we're not talking about the snow in Jerusalem, but rather, we're talking about the settlement activity in Jerusalem." Erekat said the meeting featured in depth discussions and stressed that Israel reiterated its obligation to discuss the so-called "core issues," borders, Jerusalem, settlements, and refugees. A senior Palestinian official said that Jerusalem, just like other core issues, is being discussed at every meeting. "We make it clear to the Israeli side that all the construction in Jerusalem is illegal in our view, and that in the future this construction will either be razed or be handed over to the Palestinians," the official told Ynet. The two sides were reportedly able to make some progress by the end of the meeting. Earlier Tuesday, PM Olmert said that the Palestinians did not bring up the issue of the postponement of talks on the status of Jerusalem. "The issue of postponing the discussion on Jerusalem to the end of the negotiations was not brought up in talks between me and Abbas," Olmert said following the meeting. He also noted that "Israel is obligated to prevent a humanitarian crisis in the Gaza Strip, but it is not obligated to open the Gaza crossings."
The prime minister's position is that the issue of Jerusalem is the most problematic. If this issue is brought up now, the negotiations will end." Another political source said that "what is clear is that we are aiming for an agreement by the end of 2008 that would be acceptable to the international community and serve as a fundamental, constitutive document." "If indeed this is going to happen, the pace has to be stepped up and stepped up significantly," he said.
Pakistan's Pro-Musharraf Party Concedes Defeat
Feb. 19….(MSN) Pakistan's ruling party conceded defeat Tuesday after opposition parties routed allies of President Pervez Musharraf in parliamentary elections that could threaten the rule of America's close ally in the war on terror. A leading opposition figure suggested that Musharraf should listen to the "verdict" of the people in the Monday balloting and step down. As partial returns pointed to an opposition landslide, Chaudhry Shujaat Hussain, head of the Pakistan Muslim League-Q, told AP Television News that "we accept the results with an open heart" and "will sit on opposition benches" in the new parliament." The private Geo TV network said the party of slain former Prime Minister Benazir Bhutto and another group led by ex-premier Nawaz Sharif had so far won 149 seats, more than half of the 272-seat National Assembly. The Pakistan Muslim League-Q party was a distant third with 33 seats. Several close political allies of Musharraf were election casualties. The chairman of the ruling party, the foreign minister and railways minister were among those who lost seats in Punjab, the most populous province and a key electoral battleground. Religious parties also fared badly, and were set to lose their control of the North West Frontier province gained in the last parliamentary elections in 2002, when they benefited from Pakistani anger over the US-led invasion to topple the Taliban in Afghanistan. The results cast doubt on the political future of Musharraf, who was re-elected to a five year term last October in a controversial parliamentary ballot. With the support of smaller groups and independent candidates, the opposition could gain the two-thirds majority in parliament needed to impeach Musharraf, who has angered many Pakistanis by allying the country with Washington in 2001 to fight al-Qaida and the Taliban after the Sept. 11 attacks in the United States. The election's outcome appears to be a stinging public verdict on Musharraf's rule after his popularity plummeted following his decisions late last year to impose emergency rule, purge the judiciary, jail political opponents and curtail press freedoms. Musharraf, at best, faces the prospect of remaining in power with sharply diminished powers and facing a public hostile to him. Last year he stepped down as army chief, and his successor has pledged to remove the military from politics. The PML-Q said it accepted the results, but Pervaiz Elahi, the party's president, noted that the party had stood by Musharraf for five years. "We respect him, and we are still with him," Elahi said. The results could have far-reaching implications for the US-led war on terror, especially Pakistani military operations against al-Qaida and Taliban-style militants in border areas of the northwest. Sharif and others have called for dialogue with the extremists and have criticized US military operations in the area because of their impact on civilians. Afrasiab Khattak, a leading opposition politician from the northwest, said his Awami National Party did not believe "that a military solution will work," adding his group "will never support American forces coming here and operating." Islamic militant violence has scarred the entire election, most notably the Dec. 27 assassination of charismatic opposition leader Bhutto, but polling day was spared such an attack. The government confirmed 24 election day-related deaths in clashes between political parties.
Castro's Anti-Israel Regime Ends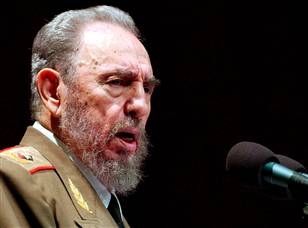 Feb. 19….(IsraelNN.com) Fidel Castro has stepped down after nearly a half-century as leader of Cuba. His anti-Israel stance, both diplomatically and militarily, was pronounced. Castro, 81, seized national power in 1959, aided by his brother and designated successor, Raul, aged 76. Already then, his Nazi-like tactics were noticed by many of the estimated 20,000 Jews then in Cuba. In college in the 1940s, he was said to have walked around the campus with a copy of Adolf Hitler's Mein Kampf under his arm. His first attempt at seizing power, in July 1953, was an attack on an isolated outpost of the Cuban army, in which 100 people were killed. It was reminiscent of Hitler's attack on the War Ministry in Munich in 1924, both were seemingly amateurish, and both made their perpetrators national figures. When he finally took over Cuba several years later, Castro stabilized his rule by summary executions and eliminations, and with a total take-over of the media. In addition, he created the Nazi-like Committees for the Defense of the Revolution, assigned to spy on and control neighborhood residents, as well as the Young Pioneers, in imitation of the infamous Hitler Youth. Though the Cuban Jewish community numbered as high as 30,000 in the 1950's, by 1967 only about 2,000 were left. This number has now dwindled down to 1,000.
Anti-Israel


Castro led Cuba along a clearly anti-Israel path, both diplomatically and militarily. After the Six-Day War in 1967, Cuba's ambassador in the United Nations called it an "armed aggression against the Arab people, by a most treacherous surprise attack in the Nazi manner." A year earlier, the Tri-Continental Conference in Havana, featuring revolutionaries and terrorists from around the world, passed a resolution calling for the breaking of all treaties with Israel and for its expulsion from all international organizations. Later in 1966, Castro opened more than a dozen guerrilla training camps under the direction of a KGB officer, in which budding Palestinian terrorists were trained. In October 1973, during the Yom Kippur war, not only did Castro break diplomatic relations with Israel, but he deployed thousands of Cuban soldiers, including helicopter pilots and tank crews, to fight alongside the Syrians. The next year, Castro gave the Palestine Liberation Organization (PLO) an expropriated Jewish community center in Havana, and awarded the visiting Yasser Arafat with Cuba's highest award, the Bay of Pigs Medal. Evidence of Cuban training of Palestinian terrorists continued to surface throughout the 1970's and the ensuing decades. In 1975, Cuba sided with the UN majority that called Zionism "a form of racism," and in 1991, when the UN finally repealed the resolution, Cuba voted against the repeal. In 1982, it was the Cuban Embassy in Beirut that served as Arafat's headquarters during Israel's Peace for Galilee War in southern Lebanon.
Gaza Muslims Continue Ethnic-Cleansing
Feb. 19….(JNEWSWIRE) Muslims attacked the library of the YMCA (Young Men's Christian Association) in Gaza Friday in the latest move to drive Christians and Christianity out of the Islamist-controlled Strip. According to a report in The Jerusalem Post Sunday, gunmen, some masked, others not, "stormed" the library, kidnapped two security guards, looted electronic equipment and stole a vehicle, then detonated a number of bombs inside the building, totally destroying the book collection. Intent on making the area Islamically "pure," Muslim Arabs have looked for "reasons" to "justify" their targeting of the tiny Christian community, around 3000 strong, that lives in the midst of Gaza's 1.4 million Muslims. The persecution has increased since Hamas violently took control of Gaza a year ago. On October 6 last year, Muslims abducted Rami Ayyad, the manager of Gaza's only Christian bookstore that had been bombed by masked Muslims six months earlier. Ayyad, 31, was the father of two small children; his wife was pregnant with their third. His shot and repeatedly stabbed body was found a day after he disappeared. For Gaza's Muslims, ridding themselves of any active Christian presence would be cherry on top after successfully forcing Israel to remove every single Jew from Gaza in 2005. "Palestinian" crowds have often been heard to chant: "First we'll fight on Saturday and then on Sunday," meaning, after they rid themselves of Jews they will rid themselves of Christians.
PA Defies Israel, Re-Opens PLO Headquarters in Jerusalem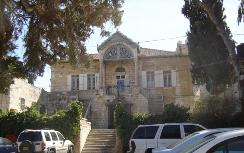 Feb. 18….(IsraelNN.com) The Palestinian Authority, aided by international donors, will attempt to open official institutions in Jerusalem within weeks. While Israel has not officially approved the PA's presence in Jerusalem, Palestinian diplomatic sources said there is an unwritten agreement in which Prime Minister Ehud Olmert's office has agreed not to interrupt some PA activities in Jerusalem. The Palestine Liberation Organization (PLO) ignored the government's decision to extend the closure of PA institutions in the capital this week, and partially reopened Orient House, the official headquarters of the Palestinian Authority in Jerusalem. On its website, Orient House is describe as being "the national headquarters of the Palestinian people in Jerusalem" that serves "the well-being of the Palestinian civilian population in Occupied Palestinian Jerusalem." PA officials have begun to arrange meetings with foreign diplomats there and in other PA institutions in the eastern section of the capital, according to Voice of Israel government radio. An aide to PA Prime Minister Salam Fayyad confirmed that security and intelligence officers are now operating in eastern Jerusalem on a limited basis, although formal PA departments have not reopened in Orient House. The move is a violation of an Israeli ban on any official PLO presence in the capital. Hatim Abdul-Qadir, a Fatah leader and PA government aide for Jerusalem affairs, confirmed in an interview with the Bethlehem-based Ma'an news agency that he and other PA officials have been holding meetings with foreign dignitaries at the building. Abdul-Qadir further admitted that PA security and intelligence officers are also now working out of Orient House, but claimed they do not carry weapons, do not wear military uniforms and are not authorized to make arrests. The senior aide added that the security and intelligence operatives "help resolve certain problems and collect information about the construction of Israeli settlements in eastern Jerusalem." The move comes in defiance of a decision by the Israeli government to extend by a year the closure of all PA institutions in Jerusalem, including the Orient House. The government's decision comes in the wake of incessant and increasingly deadly attacks against Israeli civilians by PA terrorists, including firebombings, rock attacks, shootings, stabbings, suicide bombings and kidnappings, from Samaria in the north all the way south to the separation barrier with Gaza. Arabs in Gaza have attacked Israel with mortar shells and Kassam rockets more than 700 times since the beginning of this year. PA Chairman Mahmoud Abbas slammed Israel's decision Saturday during a joint news conference with visiting French Foreign Minister Bernard Kouchner, who joined him in condemning the extended closure of PA institutions in the eastern section of Jerusalem. Orient House, which has operated as PLO headquarters, was shut down by the government in response to the August 9, 2001 Sbarro restaurant massacre in downtown Jerusalem. A Palestinian suicide bomber murdered 15 people, including 7 children, and wounded 130 others in and around the popular pizza restaurant. The massive attack was carried out less than a year after the outbreak of the Oslo War, referred to by some as the Second Intifada. Thousands of Kassam rocket and mortar attacks have since battered communities in the western Negev, most targeting the city of Sderot, located less than a mile away from Gaza.
Syria Leveraging Mughniyeh Death to Repossess Lebanon
Feb. 18….(DEBKA) Syria is not waiting for its official investigation to wind up and expose the party responsible for killing Hizballah commander and Tehran's terror tactician in Damascus any more than Hizballah. Both are using the situation to accuse Israel, and therefore to bolster its presence in Lebanon. Tehran, Syria and Hizballah have all threatened revenge against Israel within or outside its borders. However, Bashar Assad's strategists are not losing a moment to cash in on the abundant conspiracy theories surrounding the death, to plant one of its own, that Mughniyehwas killed in their capital by their Lebanese enemies. Therefore, it is feared in Washington and Jerusalem that, while plotting revenge on Israel, Hizballah, backed by the Syrian commando units, will launch attacks on Lebanese national intelligence and Druze targets in Beirut. Their immediate goal would be to overthrow the pro-Western, anti-Syrian government headed by Fouad Siniora and stir up a new civil war. The door would then re-open for Syria to make a comeback to the troubled country and move troops in for the first time since they were thrown out in 2005, in contravention of UN Security Council resolutions. Syria's machinations give substance to Director of US National Intelligence Mike McConnell's assertion to Fox TV Sunday, Feb. 17, that, while Hizballah is blaming Israel, "there's some evidence that it may have been internal Hezbollah. It may have been Syria. We don't know yet, and we're trying to sort that out." "It is a serious threat, and it's primarily against Israel," said the US intelligence director. Mughniyeh was responsible for more deaths of Americans and Israelis than any other terrorist with the exception of Osama bin Laden. So this man over time had lots of enemies. Remember, he's a Shia, and oftentimes his targets could be Sunni as well as against Israel." In July 2007, McConnell referred to Hezbollah sleeper cells in the United States waiting for orders to spring into action. Our sources report they are part of the trans-continental network which Mughniyeh himself established on behalf of Hizballah and Tehran. Syrian sources promise the results of their finished inquiry will cause an earthquake in the Arab world and Middle East when they are published Saturday, February 22. Hizballah leader Hassan Nasrallah has scheduled another of his broadcast speeches for the same day, this one to mark the anniversary of his predecessor Abbas Musawi's death in 1992, which was also attributed to Israel. The two events are feared by US and Israeli officials to have been coordinated on the same day to flash the signal for the Syrian-Hizballah plan to start unfolding. DEBKAfile outlines the case Syria has begun putting together to incriminate its Lebanese enemies:
1. A large Israeli Mossad spy ring was allegedly uncovered in Damascus and Beirut. Its mission was to keep tabs on Syrian commanders, Hizballah heads and Palestinian leaders before liquidating them.
2. The ring comprised Lebanese members as well as collaborators from a key Arab intelligence body, possibly Saudi or Jordanian. DEBKAfile sources report that Damascus, increasingly isolated in the mainstream Arab world over Lebanon and its ties with Tehran, has no qualms about confronting Saudi Arabia and Jordan and accusing their intelligence agencies of being in league with Israel to destroy the "Arab resistance movement." Saudi Arabia has indicated that its chair will be empty at the forthcoming Arab League summit in Damascus at the end of March.
3. Syria claims to have found evidence that two Lebanese intelligence agencies are involved in the Mossad ring. One is the research branch of the Lebanese General Security Service, whose director, Capt. Wissam Eid, was murdered in a car bomb attack in Beirut on Jan. 25. Capt. Eid was deeply involved in gathering evidence for the Hariri assassination case and uncovering Syrian leadership's criminal involvement. Our intelligence sources note that success by a Syrian undercover team in immobilizing this service would not only deprive the Fouad government of its primary security shield, but also bring the investigation into the three-year old assassination of the former Lebanese prime minister to a halt, just when the international tribunal is preparing to start work in the Netherlands. The second clandestine Lebanese agency which Syria stigmatizes as part of the Mossad network is the Druze leader Walid Jumblatt's private intelligence service. Jumblatt, whose father was assassinated on orders of Bashar Assad's father, is marked as the Syrian president's most implacable Lebanese foe.
Iran: Cancerous Israel to be Destroyed by Radiation
(In a letter of condolence to Hizbullah secretary-general following Imad Mugniyah's assassination, Revolutionary Guards commander says, 'In the future we will bear witness to the disappearance of this cancerous bacterium, Israel, by the radiation of Hizbullah fighters')
Feb. 18….(YNET) General Mohammad Ali Jaafari, commander of the Iranian Revolutionary Guards, has sent a letter of condolence to Hizbullah Secretary-General Hasan Nasrallah following the assassination of the organization's senior commander Imad Mugniyah, saying he believed "the cancerous bacterium called Israel" would vanish soon, the Iranian news agency Fars reported Monday. According to Jaafari, "I am convinced that with every day that passes Hizbullah's power increases, and in the near future we will bear witness to the disappearance of this cancerous bacterium, Israel, by the radiation of Hizbullah's fighters." In the letter comforting Nasrallah over the death of the "shahid" (martyr) Mugniyah, Jaafari wrote, "There is no doubt that the death of this loyal fighter will strengthen the determination of all the revolutionary and warrior Muslims in their battle against the Zionist regime, and particularly the determination of those fighting alongside this shahid." Mugniyah was considered close to the Revolutionary Guards, and particularly to the Quds Force, which was recently designated by the United States as a supporter of terror. Together they trained Hizbullah fighters in Lebanon and Iran and planned terror attacks worldwide. Upon hearing of Mugniyah's death, the Iranian leaders, headed by supreme leader Ayatollah Ali Khamenei and President Mahmoud Ahmadinejad, sent cards and letters of condolence to Nasrallah. Their message was clear: Mugniyah's death would only strengthen Hizbullah, and he would be replaced by hundreds and thousands of other fighters ready to sacrifice their lives for the sake of the battle against Israel. The commander of the Revolutionary Guards and other Iranian officials, including Vice President Perviz Daudi, took part Sunday in a memorial ceremony for Mugniyah at a Tehran mosque. On Tuesday, the Tehran University will hold a ceremony in memory of the assassinated commander, which will be attended by Hizbullah and Islamic Jihad representatives and ambassadors from Islamic countries. Last Thursday, Nasrallah threatened to fight Israel anywhere in the world. "Israel entered the war in July 2006," he said. "The Zionist dubbed it the 'sixth war' although senior Israeli strategists called it the 'first war.' All of Israel, from the right to the left, agreed that it lost the war. The Winograd report did not manage to conceal this, the hundreds of failures and deficiencies, the lack of political and military leadership. Does the Winograd report not say this?" The Hizbullah chief said his group was ready for "open war" with Israel if the Jewish state wanted it.
US Supports Creating New Islamic State In Europe
Feb. 18….(Bill Wilson/KIN) With the support of the United States and the opposition of Russia and China, Kosovo has declared its independence from Serbia, and in doing so, has laid hold of Serbia's most celebrated Christian shrines. The Kosovo declaration of independence oddly puts the United States and several of its allies in direct support of establishing the fourth Islamic state in Europe, in addition to Albania, Turkey and Bosnia. The move fans the flames of a struggle between Christians and Islamists that dates back to the Ottoman Empire takeover of Serbia in 1389. Over the next 400 years, the Islamists controlled the former Christian empire of Serbia. According to historic accounts, many Christian Albanians converted to Islam to avoid high taxes and persecution from Muslims. In the 1870's the Christian Serbs once again tried to retake Serbia, but were defeated and over a quarter of a million Serbs were ethnically cleansed from Kosovo between 1876 and 1912 by Turkish and Albanian Muslims. Fighting continued through the 1900's until the area became a segregated part of Yugoslavia and later, part of Serbia. Enter communist Slobodan Milosevic who rose to power and took over Kosovo, which was striving for independence in the 1980's. During the Kosovo war in 1999, Serbian forces under Milosevic were accused of ethnic cleansing of approximately 10,000 Albanian Muslims living in Kosovo and reportedly destroyed 300 of the 500 mosques in Kosovo. United Nations resolution 1244 placed Kosovo under transitional UN administration. Since then, the repression of the Serbian Christian Orthodox minority by the Kosovo Muslims has manifest in trafficking of women and children for the sex slave market. And according to Jihadwatch.org, "The Kosovo Liberation Army is considered an Islamic terrorist group responsible for beheadings, torture, rape, burning down churches filled with Christians, and other atrocities." President Bush is in full support of Kosovo's independence. Serbia's leadership, however, says that Kosovo and its historic religious sites, are part of Serbia. Kosovo's independence should be stopped as should Islam's advance on Europe. Spain, who once suffered under Islamic oppression, knows this all too well and is opposed to Kosovo's independence, concerned that Kosovo independence will encourage Muslims in Spain to try to establish their own country. The first Commandment is, "Thou shalt have no other gods before Me." But when much of the world leadership, including America's own President, believes that Allah and Jehovah are the same god, there is no understanding of the prophetic implications at stake by allowing Europe to fall to Islam.
Former President Bush Backs McCain
Feb. 18….(Newsmax) Former President George H. W. Bush endorsed John McCain on Monday, a nod of approval from the Republican political dynasty's patriarch that sends a strong signal to a GOP establishment wary of the Arizona senator.
President George W. Bush is backing McCain through his body language, with protocol demanding that he not swing explicitly behind the candidate with a race still technically, and only technically in progress. His father's endorsement, which follows one from former Florida Gov. Jeb Bush, who is George W. Bush's brother, is a further nudge by GOP chieftains for conservative activists to get over their distaste for McCain and for rival Mike Huckabee to get out. Without mentioning McCain's chief standing rival by name, the elder Bush suggested that he wasn't sending a signal to Huckabee, the former Arkansas governor. "I did not come here to tell any other candidate what to do," Bush said. Bush also called criticism by the right flank that McCain is not conservative enough "grossly unfair."
FOJ Note: FOJ had mildly supported current President Bush through much of his two terms in office, but because of President Bush's pathetic stance on partitioning the Promised Land, and his unmitigated gall to honor Allah in the White House, FOJ has regularly warned its readers that America may have seen the last-best-hope for any return to traditional Christian principles. It is now quite obvious that the Bush forces, with its collective powerbrokering network with Big Oil, has thrown its support to the non-conservative, and anti-Christian John McCain. Thus the Republican Party, like the Democratic Party decades ago, has totally abandoned the Judeo-Christian heart of America. In the final analysis, and because America has not repented of its national sins, God has left America with a choice of leaders (McCain and Clinton/Obama) that is unbefitting our once proud Christian nation.
WEEK OF FEBRUARY 10 THROUGH FEBRUARY 16
Iran, Syria and Hezbollah Commemorate Terrorist
| | |
| --- | --- |
| | |
| | Hezbollah-run Manar TV shows Hezbollah leader Hassan Nasrallah delivering a speech broadcast during the funeral of assassinated Hezbollah commander Imad Mughnieh, February 14. Israel is bracing for threatened retaliation by Hezbollah over charges it assassinated one of the Lebanese militia's top commanders |
Vladimir Putin Conveys Nuclear Threat to the West

Vladimir Putin used the language of the Russian street in his tirade
Feb. 15….(Telegraph) Vladimir Putin has delivered perhaps his most menacing tirade against the West yet, repeating threats to train nuclear missiles on Europe and warning of unspecified retaliation if Kosovo declared independence. Addressing his last press conference as Russian president, Mr. Putin mounted a defiant display that demonstrated more emphatically than ever the widening gulf between Moscow and its former Cold War rivals.
In a vintage performance, the former KGB spy laced almost five hours of invective with crude insults, threats and admonitions often expressed in the argot of the Russian street. Reserving his greatest ire for the United States, which he accused of harboring a colonial mentality towards Russia, Putin again said that Europe would pay the consequences for a Washington-backed plan to erect a missile shield in Poland and the Czech Republic. "Our generals, our security council, consider these moves a threat to our national security," he said. "We asked our partners to stop but no one listened to us. So if they continue we will have to react appropriately by retargeting our missiles." Putin also made similar threats against Ukraine if it joined NATO. The Russian leader, often accused of returning his country to a state of autocracy, portrayed his nuclear threat as an act of democratic generosity, saying he was acting in the interests of Europeans who opposed American military expansionism. Few western countries escaped the vitriol. Europe was scolded for its "silly", "immoral" and "illegal" backing of Kosovo's imminent unilateral declaration of independence from Serbia. Although he did not elaborate, Putin gave warning of retaliation once Kosovo broke away, a threat likely to chill Western leaders. "We have a ready-made plan and we know what we are going to do," he said. Asked what had made him such a great leader, Mr. Putin suggested that he had been anointed by God to make Russia a great state and boasted that he had made no mistakes during his eight years in power.
Muslim Terrorists Destroy YMCA, Christian Books

Anti- Christian Hamas demonstrators in Gaza
('We don't need any of these missionary institutions')
Feb. 15….(WND) In the latest attack on Christians in Gaza, 16 Palestinians forced their way into the YMCA library, stole everything but Christian books and then burned down the building. According to Palestinian terrorist sources in Gaza, the attack was carried out by Hamas and its ally, the Popular Resistance Committees. Israeli security sources said Hamas knows exactly who was behind the attack. Sheik Abu Saqer, leader of Jihadia Salafiya, an Islamic outreach movement that recently announced the opening of a "military wing" to enforce Muslim law in Gaza, told WND the YMCA had Muslim children in its nursery program. "Gaza is Muslim, more than 99 percent are Muslim," he said. "We don't need any of these missionary institutions. These Christians have only one goal, to convert our sons and daughter to Christianity."
Palestinians Claim Biblical Hero Joseph 'was Really a Muslim'
(Palestinians make astonishing claim, refuse to help restore burned tomb)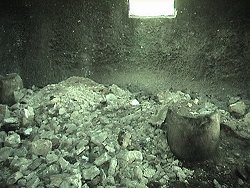 Gravestone at traditional burial site for biblical patriarch Joseph after it was ransacked by Palestinian mobs
Feb. 14….(WND) In the wake of an attack on Joseph's Tomb, Judaism's third holiest site, Palestinian Authority President Mahmoud Abbas' Fatah faction issued a statement denying it will help restore the shrine, referring to both the shrine and the biblical patriarch as "Muslim." "Pay no attention to the rumors that we will work with Israel to restore the burial site of the holy Muslim Joseph," said the statement, issued from Nablus, the biblical city of Shechem. "We are going to guard this holy Muslim site." Joseph's Tomb is the believed burial place of the son of Jacob who was sold by his brothers into slavery and later became viceroy of Egypt. Under the 1993 Oslo Accords, which granted nearby strategic territory to the Palestinians, Joseph's Tomb was supposed to be accessible to Jews and Christians. But following repeated attacks against Jewish worshippers at the holy site by gunmen associated with then-Palestinian Liberation Organization leader Yasser Arafat's militias, then-Prime Minister Ehud Barak in October 2000 ordered an Israeli unilateral retreat from the area. Within less than an hour of the Israeli retreat, Palestinian rioters overtook Joseph's Tomb and reportedly began to ransack the site. Palestinian mobs reportedly tore apart books, destroying prayer stands and grinding out stone carvings in the Tomb's interior. A Muslim flag was hoisted over the tomb. Israel first gained control of Nablus and the neighboring site of Joseph's Tomb in the 1967 Six-Day War. The Oslo Accords signed by Arafat and Prime Minister Yitzhak Rabin called for the area surrounding the tomb site to be placed under Palestinian jurisdiction but allowed for continued Jewish visits to the site and the construction of an Israeli military outpost at the tomb to ensure secure Jewish access. In early 2000, the Israeli army began denying Jewish visits to the tomb on certain days due to prospects of Arab violence. Following US-mediated peace talks at Camp David in September 2000, Arafat returned to the West Bank and initiated his intifada. During one bloody week in October 2000, Fatah gunmen attacked the tomb repeatedly, killing two and injuring dozens, prompting Barak to order a complete evacuation of Judaism's third holiest site Oct. 6.
Hezbollah's Most Wanted Terrorist Died the Way he Lived
Feb. 14….(JWR) Before there was Osama bin Laden, there was Imad Mughniyeh. In April 1983, David Welch, the State Department's Lebanon desk officer, received a middle-of-the-night call that a suicide bomber had struck the US Embassy in Beirut, killing more than 60 people. Marine Sgt. John Selbe felt Mughniyeh's work on Oct. 23, 1983, as he sat in his cot in the US Marine headquarters at the Beirut airport. A suicide bomber detonated the explosives-packed truck he was driving, killing 241 American servicemen. On June 14, 1985, members of the Lebanese terrorist group Hezbollah, led by Mughniyeh, hijacked TWA Flight 847 between Athens and Rome. The next day, they singled out Patricia Stethem's son, Navy diver Robert Dean Stethem, beat him, shot him in the head and dumped his body onto the tarmac at the Beirut airport. On Wednesday, Welch, Selbe and Patricia Stethem were among hundreds, if not thousands, of Americans who welcomed the news that 25 years after Hezbollah declared war on the United States, Mughniyeh was killed with a car bomb in Damascus, Syria. Patricia Stethem called word of Mughniyeh's death "the best bit of news I've had in 20-some-odd years. Our family has been waiting for this moment." "We've never forgotten this guy," said Welch, now the assistant secretary of state for Near Eastern affairs. Nowhere was the celebration more heartfelt than it was at CIA headquarters outside Washington. Among the Westerners whom Mughniyeh and his Hezbollah cohorts took hostage in Lebanon was William Buckley, the CIA station chief in Beirut who was kidnapped in 1984 and was killed in captivity. What hurt the most, though, at the CIA, at the Pentagon, at the State Department and all over Washington, was the fact that Mughniyeh, supported by Iran, was successful. Hezbollah was responsible for killing more Americans than any other terrorist group until al-Qaida, and the operations Mughniyeh conceived or commanded drove the United States out of Lebanon and fostered the perception, still widespread among Islamic radicals, that America has no stomach for casualties. The kidnappings of Buckley and others also led to the arms-for-hostages scandal known as Iran-Contra, which nearly torpedoed Ronald Reagan's presidency. Even in the post-Sept. 11 world, with the hunt for bin Laden and other al-Qaida leaders a top priority, the US government never gave up the hunt for Mughniyeh, a shadowy figure who was sometimes reported to be living in Tehran. Magnus Ranstorp, a counterterrorism expert at the Swedish National Defense College and the author of an authoritative book on Hezbollah, said that US intelligence agencies maintained a team dedicated to finding Mughniyeh. Hes was the most sought-after individual in the 1980s and `90s before Bin Laden.
Ahmadinejad: We Have a Million More Mugniyahs
(Iranian leader sends letter of condolence to Nasrallah, says assassination of top Hizbullah commander 'casts more shame on the Zionists and their supporters'; adds: Occupiers of Jerusalem must know these crimes will not compensate for their humiliating defeat during in Lebanon)
Feb. 14….(YNET) Iran's president sent a condolence letter on Thursday to Hezbollah leader Hassan Nasrallah following the assasination of the Lebanese terror group's top military commander Imad Mugniyah. "(Mugniyah) was neither the first nor the last victim in the defense of the dignity of the nations, but his death is casts more shame on the Zionists and their supporters," Mahmoud Ahmadinejad wrote in the letter. "The occupiers of Jerusalem (Israel) must know that these crimes will not compensate for their humiliating defeat during their invasion of Lebanon," he continued to say. "Despite the fact that the Lebanese nation has lost a great commander, there are hundreds of thousands, even millions more Haj Radwan's (Mugniyah's nickname) who possess the same courage and resolve to join the struggle against the occupiers, the terrorists and the uncultured." Mugniyah, a terrorist mastermind on American and European Union most wanted lists, was killed by a car bomb explosion in Damascus on Tuesday. Hizbullah said he was assassinated by Israeli agents. Iranian spiritual leader Ayatollah Ali Khamenei also sent a letter expressing his condolences to Hizbullah in which he wrote that "The bloodthirsty Zionist criminals must know that the holy blood of martyrs such as Imad Mugniyah will produce hundreds of martyrs like him and will multiply the resistance to oppression and exploitation." Iranian Foreign Minister Manouchehr Mottaki attended Mugniyah's funeral in Lebanon before heading to Syria to meet with President Bashar Assad and other top officials in Damascus. "Mugniyah is a source of pride to all believers; he fought the occupiers and supported the right of self-determination," Mottaki said during the memorial service. "May his death cast shame on the Zionists' history; the Zionist occupiers should know that they will not achieve their goals." The purported leader of al-Qaeda in Iraq called in a new posting on a militant website on Thursday for attacks on Israel and the liberation of Palestine, proposing that Iraq's territory be a "launching pad" to seize Jerusalem. In the 30 minute audiotape, Abu Omar al-Baghdadi, who heads the Islamic State of Iraq, lashed out at Arab and Palestinian groups, especially the Palestinian Hamas, for failing to liberate Palestine.
Bush Signs Waiver Allowing PLO to Remain in Washington
Feb. 14….(IsraelNN.com) United States President George W. Bush again signed a six-month waiver of a law which bans the presence of the Palestine Liberation Organization terrorist group in Washington, DC. The law was based on anti-terrorist legislation dating back to the 1980's, but has been routinely waived since the Oslo process in 1993. Bush sent the renewed waiver to Congress on Wednesday, the day before the funeral in Beirut of Hizbullah arch-terrorist chieftain Imad Mughniyeh, who spent 25 years on the FBI's "20 Most Wanted" list. The American President also signed another routine six-month waiver, this one postponing the relocation of the US Embassy from Tel Aviv to Jerusalem. President Bush had promised that his first step on taking office in 2001 would be to move the embassy to Israel's capital. In less than a month after Bush entered the White House, then-US Secretary of State Colin Powell reneged on Bush's campaign promise, citing tension and violence in the area. Powell rejected attempts to pin him down on exactly when the embassy would relocate to Jerusalem. The new Bush administration's National Security Adviser Condoleezza Rice also stalled, saying the new administration was still committed to the move, but could not say when it would take place. On June 12, 2001 President Bush issued the second of what would become a series of semi-annual "routine" waivers to delay the embassy's relocation to Jerusalem. His predecessor, former President Bill Clinton, had carried out the same practice. The US embassy has remained in Tel Aviv up to the present time. Observers have noted that the delay of moving the US embassy to Jerusalem calls into question US recognition of Jerusalem as Israel's capital. Bush's term in office will end January 15, 2009, leaving him two more opportunities to fulfill his promise to the American Jewish community and the People of Israel.
Nasrallah: We Are Ready for Open War with Israel
| | |
| --- | --- |
| | (FOJ) Mourners in Damascus gathered for the funeral of assassinated Hezbollah terrorist leader and No. 2 Imad Mughniyah. |
Feb. 14….(FOJ) Hezbollah leader Hassan Nasrallah said on Thursday the group was ready for "open war" with Israel after terrorist mastermind and the group's second-in-command, Imad Mughniyah, was killed by a bomb in Damascus late Tuesday. "Zionists, if you want this type of open war then let the whole world hear: let it be an open war," Nasrallah told the tens of thousands of mourners at Mughniyah's funeral. In his address to the mourners, most of them Hezbollah supporters, Nasrallah said all signs pointed at Israel's involvement in the assassination. "In every future war there won't be one Imad or a few thousand fighters, but tens of thousand loyal fighters who are willing to die as mourners," he warned.
Notorious Hizballah Terrorist Imad Mughniyeh Killed in Damascus
Feb. 13….(DEBKA) DEBKAfile's military sources report that Imad Fayez Mughniyeh, the Hizballah's supreme commander and plotter of major anti-US and anti-Israel terror operations in the last 25 years reportedly was killed in a car bomb explosion in the Damascus district of Tanzim Kafr Susa Tuesday night, Feb. 12. Hizballah TV interrupted its broadcasts Wednesday to announce his death, accusing Israel of the assassination. Its leaders are conferring in Beirut on how to retaliate. Special security has been imposed at Israeli embassies and Jewish centers worldwide. The Iranian News Agency reports that Haj Hussein Khalil, the Hizballah's deputy for political affairs was killed in the same explosion. Hassan Nasrallah will eulogize Mughniyeh at his funeral in Beirut Wednesday by video link. Beirut is already tense since the funeral falls on the third anniversary of the assassination of former Lebanese Prime Minister Rafiq Hariri. On Aug. 5, 2006, DEBKAfile described Mughniyeh as the only undercover agent in the Middle East who enjoys the complete personal trust of both Iranian supreme ruler Ayatollah Ali Khamenei and al Qaeda's Osama bin Laden. In recent years he has liaised between them. His death is a blow to both. The elusive Mughniyeh surfaced before both of them on the Islamist terror horizon. In 1982, Mughniyeh orchestrated the suicide bombings of US Marine and French Beirut headquarters, in which 241 Marines and 58 French soldiers were killed, prompting a decision by President Ronald Reagan to evacuate US troops from Lebanon. In 1983, he orchestrated the US embassy bombing, which killed 63 people and wiped out the top CIA Middle East staff. That year, the Israeli command center in Tyre was blown up killing scores of troops. In 1985, the United States indicted him for hijacking TWA Flight 847 and the resulting death of US Navy diver Robert Stethem. Mughniyeh was also infamous for numerous brutal kidnappings of Westerners in Beirut through the 1980s, most notably, that of Terry Anderson and US Army Col William Francis Buckley, who was later murdered. Mughniyeh's association with Tehran and its violent overseas exploits went back twenty years. In 1988, in collusion with Tehran, he organized the kidnapping of Colonel William R. Rich Higgins, the most senior American intelligence officer in Lebanon, who was tortured to death by Iranian Revolutionary Guardsmen and Hizballah operatives. The same partnership is believed to have staged the Khobar Towers blast in eastern Saudi Arabia on June 25, 1996, targeting US flight crews guarding Saudi oil fields. At least 19 Americans were killed and 200 injured. Mughniyeh, acting for Tehran and Hizballah, was held responsible for the 1992 bombings of the Israeli embassy and Jewish cultural center in Buenos Aires, in which more than a hundred people died. He planned the kidnap and murder of three Israeli soldiers eight years ago and his hand is believed behind the abduction of two Israeli reservists in 2006. After numerous attempts to capture him, the FBI in Oct. 2001 put him on its list of 22 most wanted terrorists and a $25 million bounty on his head the same as for bin Laden. Mughniyeh's first mentor was the Palestinian Yasser Arafat as a member of the Fatah's Force 17. While America and Israel come first to mind as responsible for Mughniyeh's death, DEBKAfile's counter-terror sources note that a possible inside job is worth considering. Dissatisfied with his performance in the 2006 Lebanon War against Israel, Tehran deposed Hizballah's secretary-general Hassan Nasralah as its supreme commander and replaced him with Mughniyeh. Nasrallah was confined to political functions, while his successor was assigned the task of rehabilitating Hizballah militia forces and preparing them for the next war on Israel. The dead terrorist may have set up his headquarters in Damascus under the protection of Syrian and Iranian security services because he did not feel safe in Lebanon. Penetrating these two security belts to slay the wanted man was undoubtedly an exceptional intelligence feat.
Imad Mughniyah - The Epitome of the 'Axis of Evil'
| | |
| --- | --- |
| | Damascus, Syria, capitol and headquarters of most of the Middle East terrorist organizations. Hezbollah announced Wednesday that Imad Mughniyeh, one of America's most wanted fugitives implicated in a series of infamous attacks against the US, Israeli and Jewish targets in Lebanon and abroad, was killed in the car bombing. |
Feb. 13….(WND) It there is, or rather if there was, a man who symbolized the very essence of the 'Axis of Evil,' his name was Imad Fayez Mughniyah. The link between Iran and Hezbollah, between the extreme Ayatollah ideology and the Lebanese Shiite movement is epitomized by Mughniyah. Titles such as Hezbollah "operations chief" or "deputy head" reflected very little of his actual activity. Mughniyah is at the top of the FBI most wanted list, surpassed only by Osama Bin Laden and the prize on his head is $5 million. If what the Arab press has rushed to announce is true, then that prize belongs to Meir Dagan and the Mossad. Iran saw Mughniyah as a crucial asset. Along with the Iranian ambassador and the commander of the Revolution Guard Corps, Mugniyah served as the Iranian presence in Lebanon. All of the Iranian-planned terrorist attacks carried out by Hezbollah were masterminded by Mughniyah himself. The killing of top terror chiefs has been questioned in the past, since sometimes the successor is even worse. It will take Iran and Hezbollah a great amount of time to find a worthy replacement. Whoever tracked Mughniyah down in Syria had excellent operational and intelligent abilities, something that was lacking in the Second Lebanon War. The Winograd panel wrote in its report that the wait for a special operation against Mughniyah or Nasrallah caused Israel to hesitate during the war. The operation sends a poignant message to Hamas, Islamic Jihad and Hezbollah and will make them think twice about opening a second front if Israel is to enter Gaza in a major ground incursion. The successful operation also makes one wonder how Israel failed to track down abducted Israel Defense Forces soldiers Ron Arad, Gilad Shalit, Eldad Regev and Udi Goldwasser. The immediate question, however, is whether or not Hezbollah or Iran will respond to the assassination with terror attacks in the north or overseas.
Palestinians Burn Joseph's Tomb
(Judaism's 3rd holiest site regarded as burial place of biblical patriarch)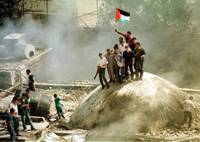 Building at Joseph's Tomb site after Palestinian Authority took control in 2000
Feb. 13….(WND) Palestinians yesterday tried to burn down Joseph's Tomb, Judaism's third holiest site, according to Palestinian security officials speaking to WND. It marks the second time the Palestinians attempted to burn down the tomb, located near Nablus, the biblical city of Shechem. Joseph's Tomb is the believed burial place of the biblical patriarch Joseph, the son of Jacob who was sold by his brothers into slavery and later became viceroy of Egypt. Palestinian security officials in Nablus said yesterday they were called to the tomb to find 16 burning tires inside the sacred structure. A Palestinian police official who inspected the site told WND today there was some fire damage to the tomb. He said the Palestinian Authority, fearing embarrassment, immediately formed a joint committee from the PA's Force 17, Preventative Security Services and Palestinian intelligence, to find out who was behind the fire.
Danger of Losing Lebanon 'Imminent'
(Hezbollah will try to take over Lebanese government by summer)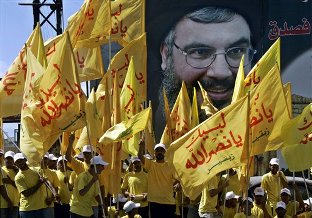 Feb. 13….(WND) When Americans consider the most critical "fronts" in the war on terror, the top four are almost always Iraq, Afghanistan, the ongoing conflict in Israel's Palestinian territories and the various unknown theaters where US special forces and intelligence collectors operate. Few, however, consider Lebanon a critical front. Sure, the Middle East nation has Hezbollah, but it also has Starbucks, resort hotels, trendy restaurants and a fashion industry that in many ways competes with Manhattan and Milan. But Lebanon is a front in which the enemy, the Iranian-Syrian axis and its proxy army, Hezbollah has the upper hand, because it appreciates the country's geostrategic value and has capitalized on the fact that the West seems not to. Tom Harb, secretary general of the pro-democracy World Council of the Cedars Revolution, says the danger of losing Lebanon is imminent. "Hezbollah will try to take over the Lebanese government by summer unless the pro-democracy majority proceeds and elects a president with a simple majority," Harb says. If Hezbollah takes over they will move south, fully supporting Hamas in Gaza for a move on the West Bank." Ahmad al Assad, a Lebanese Shiia political leader whose father, Kamal, served as the country's speaker of Parliament, says the war against the "axis," particularly the Iranian regime, is actually being fought on three major fronts: Iraq, the West Bank and Gaza, and Lebanon. "It is essential to win in Lebanon because Lebanon has all the ingredients to become a democracy and an open society with a blossoming economy," says Assad. Or, he says, it will continue its descent into the darkness of Islamic fundamentalism. "If we lose Lebanon, we lose the entire Middle East," Assad says.
Sederot Pounded by Gaza Rockets; Israeli's Demands Response
(Residents of the battered southern town of Sderot protest in Jerusalem against the government's failure to protect them from Gaza rockets)
Can you imagine living in a country, and having to beg the leaders of the country to defend your town from being constantly bombarded by rocket attacks from a neighbor.
Feb. 11….(Israel Today) Arab terrorists operating out of the Gaza Strip fired 22 rockets at communities in southern Israel on Friday morning. Most of the rockets landed in the battered town of Sderot and the coastal city of Ashkelon. A day earlier, Gaza-based terrorists fired 20 rockets and 10 mortar shells into southern Israel, again causing widespread damage and sending numerous people into shock.
An 8-year-old Israel boy and his 19-year-old brother were seriously wounded on Saturday night when a rocket fired by Arab terrorists operating out of nearby Gaza struck the southern Israel town of Sderot. The younger of the siblings had one of his legs amputated as a result of the attack. The boys had just left their home and were on their way to buy their father after-shave as a present when the rocket hit. It landed a few meters from the boys, completing severing one leg of the younger boy and shattering the other leg and wounding his chest with shrapnel. On Sunday, hundreds of angered residents of Sderot arrived in Jerusalem to protest the government's failure to authorize the kind of military response that would put an end to the daily rocket attacks. Gathered outside Prime Minister Ehud Olmert's official residence, the protestors demanded he give a green light to a major ground invasion of Gaza that military leaders and defense officials have been saying for years is the only way to significantly reduce and possibly eliminate the rocket threat. Speaking at Sunday's cabinet meeting, however, Mr. Olmert insisted that launching a crushing military response at this point would be little more than an emotional response to Saturday's attack and would solve nothing. Mr. Olmert was cited by the Associated Press as telling his ministers that Israel must "act in a methodical and organized fashion, over time. That's what we're doing, that's what we'll continue to do." A number of ministers, including those who have previously headed Israel's security forces, disagreed with Mr. Olmert. Interior Minister Meir Sheetrit suggested authorizing the IDF to call for the evacuation of an entire Gaza neighborhood and them demolish it. Internal Security Minister and former Israel Security Agency chief Avi Dichter, who had just returned from a weekend visit to Sderot, said the government must unleash Israel's full military power against the Gaza threat.
Barak Wants IDF to Prepare for Large-scale Military Assault on Gaza
Feb. 11….(DEBKA) Replying to pressing questions at the Knesset foreign affairs and security committee, Monday, Feb. 11, defense minister Ehud Barak said he had directed the Israeli army command to prepare for a possible major assault in Gaza and for its consequences, but also to put forward alternative options. Hamas spokesmen threatened Mon. Feb. 11 that attacks on its political leaders would be met with "unprecedented retaliation." DEBKAfile: The clamor has mounted for a strategic ground action to deal with the Palestinian missile and terrorist offensive buffeting Israeli civilians from Gaza for years, instead of the ineffectual forays pursued hitherto. The outcry climaxed Saturday night when an 8-year old and his brother were gravely injured by one of the 39 missiles which struck Sderot and its environs in the space of 48 hours. One of young Osher Twito's crushed legs was amputated. The eleven shock victims included their mother and a third brother. Many of the citizens remaining in Sderot stormed Jerusalem to protest the government's inaction. Serious damage was caused homes in Sderot, most of them half-wrecked already from previous explosions, and smashed Netiv Ha'asara greenhouses between the Gaza Strip and Ashkelon. Farmers have stopped working the fields abutting on the territory since Palestinian snipers began shooting at them. Backed now by ministers and lawmakers, Sderot and its neighboring communities are threatening to shut down institutions and roads in the southern Negev region Wednesday. Failing a strategic military operation, they demand the town's evacuation. Prime minister Ehud Olmert, who took off for Berlin Sunday, has barred both options. Barak will spend Tuesday in Ankara. DEBKAfile's military sources report: Ehud Barak has more than once threatened firmer and broader military action to stop the missile blitz from Gaza. So far he and the prime minister have kept the military on a tight leash. Israeli ground forces are restricted to areas 2-3 km inside Gaza, usually in the north, whereas the missile fire, whose accuracy has improved, comes from the villages and camps deeper inside the enclave, which Israeli forces are ordered not to enter. An Israeli infantry unit last week discovered for the first time new underground silos and timers for shooting missiles by remote control, making the launches and crews harder than ever to detect by air surveillance drones. Military sources believed they were installed with the help of the Lebanese Hizballah.
Olmert Says No Gaza Invasion
Feb. 11….(AP) Prime Minister Ehud Olmert on Sunday ruled out a broad military operation in the Gaza Strip, deflecting rising anger after an 8-year-old boy lost a leg in a Palestinian rocket attack. But Israel's top diplomat warned it will be impossible to reach a peace agreement with Palestinians as long as the Hamas rulers of Gaza continue to foment violence. "Anger is not an operational plan," Olmert said in response to clamoring for a full-scale invasion of northern Gaza to take over the areas where militants have been launching the rockets. There were calls from the Cabinet for assassinating Hamas political leaders. Residents of the battered town of Sderot near Gaza blocked the main highway entrance into Jerusalem as the Cabinet met. They demanded government action after doctors amputated Osher Twito's leg following a rocket attack that also wounded his 19-year-old brother. Over the weekend, with growing defiance and confidence, Hamas militants called on Israelis to flee from border towns as the rockets rained down. The boy's serious injury has galvanized Israeli outrage. In a public statement at the beginning of the weekly Israeli Cabinet meeting, Olmert said the surge in Palestinian rocket attacks is a response to Israel's own military strikes. He claimed 200 Gaza militants have been killed in recent months "as a result of initiated, aggressive, planned and comprehensive activity" by the Israeli military and security. As the demonstrators from Sderot approached his office, Olmert insisted he would not act out of anger. "We must act in a systematic and orderly fashion over time," he said. Olmert indicated that Israel might target Hamas political leaders. Up to now Israeli military strikes have been aimed at rocket squads and militant leaders. In 2004, however, Israel killed the founder of Hamas and his successor in two airstrikes four weeks apart. Israeli Foreign Minister Tzipi Livni denounced the daily rocket attacks, rejecting the world's tendency to dismiss the violence "simply by saying there are casualties on both sides." Livni told The Associated Press that while Gaza militants are targeting civilians, "Israel, according to international law, has the right and duty to defend its citizens." Livni, who heads Israel's team negotiating a peace agreement with Abbas' government, said such an agreement would be impossible as long as Hamas rules Gaza and foments violence. "There is no hope for any kind of peace or the vision of the Palestinian state which includes the Gaza Strip without real change on the ground," said Livni, who leads Israel's negotiating team. In recent months, Israel has augmented its military strikes with economic sanctions on Gaza, cutting back fuel supplies and sharply restricting the entry of other goods through Gaza crossings it controls.
Digging up Jerusalem's Past is Dangerous
Feb. 11…..(AP) Underneath the homes and ragged streets of the Palestinian neighborhood of Silwan lie the remnants of a glorious Jewish past: coins, seals, a water tunnel hewn by a Judean king 2,700 years ago, a road that led to a biblical Temple. But archaeology is hard-wired into the politics of modern-day Arab-Israeli strife, and new digs to unearth more of this past are cutting to the heart of the charged argument over who owns the holy city today. Israel says it's reconnecting with its ancient heritage. Palestinians contend the archaeology is a political weapon to undermine their own links to Jerusalem. Lying on a densely populated slope outside the walled Old City, the area is known to Israelis as the City of David, named for the legendary monarch who ruled a Jewish kingdom from this spot 3,000 years ago. It is the kernel from which Jerusalem grew. But Silwan is in east Jerusalem, which Israel captured from Jordan in 1967 and which Palestinians claim for the capital of a future state. Palestinians and Israelis are trying again to negotiate a peace deal, one which must include an agreement to share Jerusalem. The collision in this neighborhood, between Silwan and the City of David, encapsulates the complexities ahead. The organization funding the digs, the Elad Foundation, is associated with the religious settlement movement and is committed to preventing Israel from ever ceding the area in a peace deal. It says it has a yearly budget of close to $10 million, nearly all of it from donations, and is buying up Palestinian homes in Silwan to accommodate Jewish families. Around 50 have moved in so far, living in houses flying Israeli flags and guarded by armed security men paid for by the Israeli government. At the same time, the City of David digs have expanded through the neighborhood, carried out by respected Israeli government archaeologists with funding from Elad. Elad denies having any intention of driving out Silwan's Palestinians. "There will always be Jews and Arabs living together here," said Doron Spielman, Elad's international director of development. Dozens of Silwan Arabs are employed by Elad, he said, and the foundation's activities include neighborhood beautification projects which improve life for Palestinian residents. Still, he said, "We do not deny we have a Zionist dream, to reveal the ancient city beneath the ground and create a thriving Jewish neighborhood above the ground." More than 160 feet under Silwan on a recent afternoon, a visitor walked for half an hour in darkness and knee-deep water through Hezekiah's tunnel. The Old Testament books of Kings and Chronicles recount the tunnel's origins: Hezekiah, king of Judea, dug it to channel water inside the city walls ahead of a siege by Assyrian armies. Measuring 1,750 feet long, about a third of a mile, the tunnel was dug around 700 BC by two teams that started from each end and met in the middle, an engineering feat brought to life by their chisel marks, still visible on the walls, and recounted in an inscription they mounted on the wall. "The City of David shows us the history and archaeology of Jerusalem since the day it was founded. Jerusalem's foundations are here," said archaeologist Eli Shukrun, standing near the entrance to another tunnel, a long, dank-smelling Roman-era sewer through which Jews fled Jerusalem as it was torched by Rome's legions in 70 AD. The sewer ran beneath a road that led up to the Second Temple, the center of the Jewish faith, destroyed in the same Roman assault. Roni Reich of Haifa University, another City of David archaeologist, gives voice to the history pulsing through Jerusalem, reeling off the names of history's giants associated with the city, David, Jesus, the Roman Emperor Constantine, the Muslim ruler Saladin. "It's hard to list another city similar to this one," he said. "And this hill is where it all started." The dig regularly yields important and colorful finds such as 2,500-year-old pins used to hold robes closed, and seals stamped with the names of Yehochal ben Shlemiyahu and Gemaryahu ben Shafan, two figures mentioned in the biblical book of Jeremiah. Archaeologists not connected to the City of David digs don't dispute their importance. Amihai Mazar, a professor at Hebrew University in Jerusalem, said the site has already revealed important details of Jerusalem's history. He mentioned the discovery of massive Canaanite fortifications 3,700 years old. The archaeologists at the site say their work has nothing to do with politics. But others charge their colleagues with complicity in an agenda of moving Jews to the Arab neighborhood.
WEEK OF FEBRUARY 3 THROUGH FEBRUARY 9
Hizbullah Weapons and Tactics Appearing in Gaza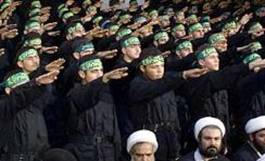 Feb. 8….(Arutz) Palestinian Authority terrorists in Gaza have been emulating the tactics of the Lebanese Hizbullah, according to IDF sources. At least one of the PA weapons suppliers is also the same as that of Hizbullah: Iran. IDF forces operating in the PA-controlled northern Gaza region on Thursday morning discovered rocket launchers that had been placed in concrete bunkers hidden underground. The launchers could be activated from a distance by remote control, IDF officials said, which allowed terrorists to escape IDF attempts to immediately retaliate against the rocket-launching cells. According to military sources, the concrete rocket bunkers in Gaza demonstrate that Hamas has been heavily influenced by the Lebanese Hizbullah terrorist organization. As was discovered by the IDF, Hizbullah forces have used similar tactics along Israel's northern border, in southern Lebanon. Officials have repeated warnings that Iran is supplying jihadists in Gaza with weaponry similar to that the Islamic Republic supplied to the Hizbullah in Lebanon. Evidence of this was provided in January, when a Katyusha rocket fired by Hamas terrorists during an attack on Ashkelon was found to have been manufactured in Iran. The continuing breach in the Gaza-Egypt border has further facilitated the transfer, not only of weapons, according to security sources, but also of Iranian advisers for the PA jihadists. Intelligence officials say that Iran has used funding, weapons and advanced terrorist training at camps inside the Islamic Republic to build up a critical influence on the PA's leading Hamas faction.
US General Explains How to Fight Terrorism

Feb. 8….(Hillel Fendel) US Brig.-Gen. (ret.) Nick Halley, a veteran Vietnam, Grenada and Desert Storm (Iraq) commander and general, says the war against radical Islam is a no-choice prospect, in which the West must do everything it can to win. In his book Terrorism: The Target is You!, Gen. Halley calmly but emphatically calls upon the American public to internalize that the war imposed upon them by extremist Muslims is for real. Each and every citizen has a role to play in this war, Halley says, mainly in understanding that a concerted war effort is crucial. His list of Do's and Don'ts includes the following: Don't judge progress based on casualty reports; Don't have unrealistic expectations; Don't overreact to bad news or future terrorist attacks; Do be alert; and Do put aside political differences in order to present a unified front against radical Islam. We [the US and allies] are the only force that can stop the Muslim extremists, and they are the only force that can stop us.
What Happened in Somalia
Halley writes that the terrorists were emboldened to begin their war by an incident that occurred in 1993 in Somalia:
"We [the US] went to that country with the purest of intentions, to restore order, end the civil war, and prevent the starvation of tens of thousands of Muslim people. The Muslim warlords were preventing international aid from being properly distributed to the starving people. "In an Army Ranger operation against one of those warlords, Mohammed Farah Aideed, a Blackhawk helicopter was shot down and 18 Americans were killed in the operation. Our response was to leave Somalia. "This was the final event that persuaded the international terrorist leaders and their organizations, especially Osama Bin Laden and Al-Qaeda, that the US would not strongly respond militarily to terrorist attacks. The terrorists became convinced that the most powerful country in the world had a very weak will. They were persuaded that we could be defeated in any conflict by turning American public opinion against a particular conflict simply by killing enough Americans over a period of time. In effect, the real target of the terrorist attack is the American people. They want to break the will of the American people. This so-called 'Somalia Strategy' is the basis of their current strategy [emphasis in the original]." Gen. Halley, who commanded thousands of soldiers in Vietnam, Grenada and Iraq (Desert Storm), writes that this war is the most dangerous and difficult war in US history, for several reasons: The enemies are hard to identify and isolate; they want to kill not only soldiers, but regular citizens and their children; the vast expanses of the Pacific and Atlantic Oceans that protected the US in previous wars are not effective against a terrorist war; and the war can be expected to last two decades or more. Though the strategy of deterrence helped win the Cold War against the Soviet Union, Halley asserts that it is very ineffective against terrorists who want to "kill us and our children, and are willing and even anxious to die in that process. Deterrence simply does not work under those conditions." Instead, Halley explains, the necessary strategy, though it has its dangers, is that of pre-emptiveness. It calls for attacking any country or group that presents a "clear and present" danger, even if not imminent. It "basically calls for us to hunt down and destroy any enemies before they strike, not after."
Halley emphasizes that the media has an important role to play in this war. "We are doing better in the global war against the radical Muslim groups than most citizens think," he writes. "Unfortunately, the bad news is being over-reported, while the good news is being under-reported. This is causing great confusion and creating divisions in American public opinion that is significantly reducing public support for this critical war. The continuing erosion of support, not defeats on the battlefield, could cause us to eventually lose this war. The enemy is counting on this." One of its closing quotations was uttered by World War II General Douglas MacArthur: "It is fatal to enter any war without the will to win."
Islamic Terrorists Flooded into Gaza During Border Breech
| | |
| --- | --- |
| | "Hear the word of the LORD, O ye nations, and declare it in the isles afar off, and say, He that scattered Israel will gather him, and keep him, as a shepherd doth his flock. For the LORD hath redeemed Jacob, and ransomed him from the hand of him that was stronger than he." —Jeremiah 31:10-11 |
Feb. 8….(In The Days) Thousands of Arab men have flocked into the Gaza Strip from Egypt in the past two weeks, offering to join in the fight against Israel, sources close to Hamas said Wednesday. The men, who came from Egypt and several other Arab countries, entered the Gaza Strip after the border with Egypt was torn down, the sources said, adding that they had offered to join Hamas and other armed groups. Egyptian sources said the men had toured a number of training bases and security installations belonging to Hamas and other groups and expressed their desire to remain in the Gaza Strip and launch attacks against Israel. The sources said some of the men had recently fled from Iraq, where they had been carrying out attacks against US troops. The Bethlehem-based Maan news agency quoted Hamas sources as estimating the number of Arab men who had entered the Gaza Strip at 2,000. According to the sources, the Palestinian groups expressed their gratitude for the show of solidarity, but said they already had enough men to fight against Israel. Palestinian Authority security officials told The Jerusalem Post that many of the men were Muslim fundamentalists who were eager to launch terror attacks on Israel. "Hamas has turned the Gaza Strip into an international center for global jihad," said one official. "Most of the men who entered the Gaza Strip through the breached border are now being trained in Hamas's camps and schools." Another PA security official said that according to his information, hundreds of al-Qaida operatives have managed to enter the Gaza Strip in the past two weeks. He said some of them had already been recruited to Hamas and Islamic Jihad. "They brought with them tons of explosives and various types of weapons, including anti-tank and anti-aircraft missiles," the official said. "What's happening in the Gaza Strip is very dangerous not only for Israel, but for many Palestinians as well." He added that a number of Iranian security experts had also entered the Gaza Strip to help train members of Hamas and other armed groups. Earlier this week, PA officials told the Post that Iran and Syria were behind Monday's suicide bombing in Dimona. Hamas's representative in Teheran, Abu Osama Abdel Mu'ti, announced that his movement was planning more suicide attacks against Israel. "The armed wing of Hamas has decided to resume martyrdom [suicide] operations against Israel after a one-year lull," he said. "The enemy should expect more attacks." He said the fact that Hamas suicide bombers had managed to carry out an attack in Dimona, "one of the most sensitive areas," was a major victory. "This operation shows that the Palestinian resistance groups won't succumb to the pressure from the Zionists, Americans and their allies in Ramallah," he stressed.
Hamas Smuggled Long-range missiles into Gaza
(Palestinian operatives say breached Gaza border enables smuggling of RPG, anti-tank, Katyusha rockets into Strip; warns Hamas may resume 'height of intifada)
Feb. 7….(YNET) Palestinian operatives confirmed Thursday that many advanced weapons have been smuggled into the Gaza Strip over the past few weeks and even more so since the border between Gaza and Egyptian Rafah was breached. Among the weapons which have made their way into Gaza are RPG, anti-tank and Katyusha rockets. We have been able to bring the same rockets used by Hizbullah to destroy Israeli tanks in the (Second) Lebanon War, into the strip," boasted an operative of one of the organizations in Gaza. According to the source, the organization has been able to obtain RPG rockets, as opposed to the self-made and pseudo-RPG rockets used in the Strip. The source refused to say whether or not long-range missile have found their way into Gaza; opting instead to say that regardless of the events in the Rafah Crossing "the Palestinians are constantly trying to increase rocket range, and many (long-range rockets) have already landed in Israel, even if the enemy doesn't publish it." Shin Bet Chief Yuval Diskin warned the cabinet Sunday of "advanced weapons, including long-range missiles, anti-tank, anti-aircraft missiles and other materials which are usually hard to get into the Strip, but have found their way into Gaza as a result of the breached border."
US to Boycott UN Anti-racism Meet due to anti-Israel Agenda
Feb. 7….(Ha Aretz) A US senator says the United States has decided not to attend next year's follow-up to the 2001 United Nations World Conference on Racism because the panel seems certain to repeat anti-Semitic and anti-Israel positions of the original gathering. The United States and Israel walked out of that conference, which ended two days before the Sept. 11, 2001, terror attacks on the United States. A State Department spokesman, Karl Duckworth, said Wednesday no decision had been made whether to stay away from the second conference. Word that the United States would reject the conference again came from Republican US Senator Norm Coleman. In a news release, Coleman said the decision came in response to a letter he and 26 fellow senators wrote to Secretary of State Condoleezza Rice. The US walked out of this conference after the anti-Semitism and anti-Israeli activities reached such an intolerable level that it was beyond repair," the letter said. It called the conference "yet another example of a seemingly noble UN agenda item being hijacked by member states to spew anti-Semitism." Canada also announced it is boycotting the conference, known as Durban II for the South African city hosting it. In announcing the decision last month, Canada's secretary of state for multiculturalism and Canadian identity, Jason Kenney, said, "We'll attend any conference that is opposed to racism and intolerance, not those that actually promote racism and intolerance." The Bush administration showed its distaste for the conference in December by refusing to accept a consensus vote on a preliminary UN budget for 2008-2009 and demanding a recorded vote. The vote was 141 to 1, the no vote coming from the United States. In the letter, Coleman and the others had particularly bitter words for governments and people being appointed to run Durban II. "Libya was appointed to chair the Executive Committee of the Preparatory Committee; a vice chairman is Iran, despite the fact that this country's leader has called for the destruction of Israel and been a leader on one of the most despicable forms of racism, Holocaust denial." In 2001, Rice, then President George W. Bush's national security adviser, explained on television why the Americans and Israelis had walked out: Participants spent far too much time trying to condemn Israel and single it out, and I think the United States made the right decision to leave.
Syria in 'Furious' Frenzy to get Russian Missiles
Feb. 7….(WND) Syria, aided by Russia and Iran, in recent months has been furiously acquiring rockets and missiles, including projectiles capable of hitting the entire state of Israel, according to Jordanian and Israeli security officials speaking to WND. A Jordanian security official said one of the main reasons Damascus did not retaliate after Israel carried out its Sept. 6 air-strike inside Syria allegedly targeting a nascent nuclear facility was because Syria's rocket infrastructure was not yet complete. The official said after the Israeli air-strike, Syria picked up the pace of acquiring rockets and missiles, largely from Russia with Iranian backing, with the goal of completing its missile and rocket arsenal by the end of the year. The Jordanian official said Syria is aiming to possess enough projectiles to fire over 100 rockets into Israel per hour for a sustained period of time. Top of Form
Bottom of Form
"The Syrians have three main goals," explained the Jordanian official. "To maximize their antitank, antiaircraft and ballistic missile and rocket capabilities." According to Israeli and Jordanian officials, Syria recently quietly struck a deal with Russia that allows Moscow to station submarines and warboats off Syrian ports. In exchange, Russia is supplying Syria with weaponry at lower costs, with some of the missiles and rockets being financed by Iran. "The Iranians opened an extended credit line with Russia for Syria with the purpose of arming Syria," said one Jordanian security official. "Russia's involvement and strategic positioning is almost like a return to its Cold War stance," the official said. Both the Israeli and Jordanian officials told WND large quantities of Syrian rockets and missiles are being stockpiled at Latakia, Syria's main port on the Mediterranean Sea, as well as at Syria's Tartus port, another major port area south of Latakia and north of Damascus. Syria's new acquisitions include Russia's S-300 surface-to-air missile defense shield, which is similar to the US-funded, Israeli engineered Arrow antimissile system currently deployed in Israel. The S-300 system is being run not by Syria but by Russian naval technicians who work from Syria's ports, security officials said. Israeli security officials noted Syria recently test-fired two Scud-D surface-to-surface missiles, which have a range of about 250 miles, covering most Israeli territory. In addition to longer range Scuds, Syria is in possession of shorter range missiles such as 220 millimeter and 305 millimeter rockets, which it is passing on to Hezbollah. Israel has information Syria also recently acquired and deployed Chinese-made C-802 missiles, which were successfully used against the Israeli navy during Israel's war against the Lebanese Hezbollah militia this past July and August. The missiles were passed to Syria by Iran, Israeli security officials told WND. Russia recently sold to Syria advanced anti-tank missiles similar to the projectiles that devastated Israeli tanks during the last Lebanon war, causing the highest number of Israeli troop casualties during the 34 days of military confrontations. Syria and Russia are negotiating the sale of advanced anti-aircraft missiles. Seemingly confirming the information, Mossad Chief Meir Dagan told the Knesset yesterday, "the military alliance between Damascus and Teheran has accelerated the arms race in the region, and solidified Russia's position with its old Cold War clients."
Al Qaeda seen Planning Attack on US
Feb. 6….(Washington Times) Senior al Qaeda leaders have diverted operatives from Iraq across the globe and are increasing preparations to strike the United States, senior intelligence officials told the Senate Select Committee on Intelligence yesterday. They said the terrorists had plans to attack the White House as recently as 2006. "Al Qaeda is improving the last key aspect of its ability to attack the US, the identification, training and positioning of operatives for an attack in the homeland," said Michael McConnell, director of national intelligence, which oversees all 16 US intelligence agencies. The officials added that al Qaeda is recruiting Westerners to terror camps in Pakistan. "While increased security measures at home and abroad have caused al Qaeda to view the West, especially the US, as a harder target, we have seen an influx of new Western recruits into the tribal areas since mid-2006," Mr. McConnell said. Mr. McConnell revealed that al Qaeda had plans to specifically target the White House. "Al Qaeda probably will continue to devote some effort towards honoring bin Laden's request in 2005 that al Qaeda attempt to strike the United States, affirmed publicly by current al Qaeda leader Abu Ayyub al-Masri in a November 2006 threat against the White House," he said. White House officials would not comment on specific security threats to the president or the White House.
Winograd Member Admits: PM Olmert Spared Due to 'Peace Process'
Feb. 6….(Arutz) Winograd Committee member Prof. Yechezkel Dror explained what motivated the committee to refrain from calling for Prime Minister Ehud Olmert's resignation: the preservation of the "peace process" and fear of Opposition head Binyamin Netanyahu winning the resulting elections. "Listen, if we think the prime minister, Ehud Olmert, will advance the peace process, that is a very honorable consideration," Prof. Dror told Maariv newspaper, which headlined that comment on its front page Wednesday. "What do you prefer?" Dror asked rhetorically, "an Olmert-Barak government or new elections where Netanyahu will rise to power?" The comments registered shock and condemnation from MKs, who said that it was clear that the Winograd Commission did not adhere to its mandate of examining the Second Lebanon War, but saw itself as fit to choose Israel's political leadership. MK Zevulun Orlev (National Religious Party), who heads the Knesset Control Committee, has called an emergency session to which Prof. Dror will be asked to explain himself. Prof. Dror explained to Maariv that in his view advancing the diplomatic process with the Palestinian Authority will save more lives, and it is therefore justified to take a prime minister's willingness to engage in negotiations into account when issuing a report like the Winograd Committee published last week. "The peace process, if successful, will save so many lives that it should be given great weight," Dror said. "It is not right to only look at one aspect." Asked if the bereaved parents of the Second Lebanon War are not a consideration, Prof. Dror responded: "I am thinking about the bereaved parents in a future war. If the peace process will prevent a war in the future, so think about those parents, who won't undergo the greatest pain there is." Summing up his viewpoint, Dror said: "The needs of the future must balance the need for justice in the present."
"Today it has been revealed that the Winograd Committee was corrupt and influenced by foreign consideration," said Likud MK Gilad Erdan. "It is now clear why the report made no recommendations regarding termination of office of government officials and why the first meeting of the committee took place in the Prime Minister's Office. It is now clear that the proper place for this report is in the trash can." Erdan called on Shas and Labor to withdraw from the government and "restore the faith of the nation by bringing down the government and going to early elections." MK Silvan Shalom (Likud) went further, demanding an official State Committee of Investigation, as was demanded initially. "It was clear from the beginning that those handpicked by PM Olmert were picked for a reason and now we see what it is," Shalom said. "It does not matter how long it takes, we need a committee that will really truly examine what happened and name who is at fault." Shalom explained that at a time when the public already has such little trust of its elected officials, it is critical that such an investigation be carried out in a sincere manner. The other four members of the Winograd Committee are reportedly furious with Prof. Dror for his statements. MK Limor Livnat (Likud) called on former Supreme Court Justice Eliyahu Winograd himself to issue an explanation or repudiation of his fellow committee member's words.
War Panel Spared Olmert to Keep Netanyahu from Power
Feb. 6….(In The Days) A member of the Winograd Commission that investigated the handling of the 2006 Second Lebanon War revealed in an interview published by Israel's Ma'ariv newspaper on Wednesday that the panel had refrained from calling for Prime Minister Ehud Olmert's resignation in order to prevent Benjamin Netanyahu's return to power and to maintain course toward the division of the Land of Israel and the creation of a Palestinian Arab state. Prof. Yechezkel Dror indicated that the belief Mr. Olmert will "advance the peace process" strongly influenced his and possibly other panel members' positions when formulating the final version of the Winograd report. The final version of the document carried a vastly different tone than interim version of the report published last year in which Mr. Olmert was called out personally and harshly criticized for his inept handling of the war effort. Prof. Dror admitted that despite the fact that the peace process with the Palestinian Arabs was not part of the Winograd Commission's mandate, keeping a leader in power who is viewed as most willing to strike a compromise deal with the Arabs was an important part of positions he took during the deliberations. Israeli lawmakers from across the political spectrum responded with outrage that any member of the commission would be guided by personal opinion regarding who can best bring peace and who should be prime minister, and demanded a new commission of inquiry not appointed by the government. Later in the day, the Knesset State Control Committee summoned Prof. Dror for an urgent hearing to explain himself.
In a Coordinated U-Turn, US and Russia both treat Iran's Space Launch as Attesting to a Nuclear Weapons Program
Feb. 6….(DEBKA) Wednesday, Feb. 6, Moscow followed Washington in voicing concern that the launch of Iran's Safir-1 space rocket Monday, Feb. 4, attested to the existence of a nuclear weapons program. This diametrically contradicts the US National Intelligence Estimate of last December, which concluded Iran had shelved its covert military nuclear program in 2003. Moscow too has evidently abandoned its persistent denial of evidence that Tehran is developing a nuclear bomb. The two comments from the White House and the Kremlin also point to Presidents George W. Bush and Vladimir Putin having settled their dispute over harsh sanctions against Iran. The two leaders began pulling their acts on Iran together in December 2007, as DEBKAfile first revealed, when Bush suddenly withdrew his objections to Russian fuel shipments for Iran's Bushehr reactor. Tuesday, Feb. 5, in answer to a question, the White House spokeswoman Dana Perino said Iran's "space" missile was cause for worry. Such technology, she said, is the same as that needed to deliver a nuclear bomb. Wednesday, Feb. 6, Russian deputy foreign minister Alexander Losyukov followed suit. He commented that Monday's test launch of Iran's "Safir-1 (Explorer-1) raises suspicions over Tehran's claims of peaceful nuclear intentions and suggested its possible desire to create a nuclear weapon. It was "of course a cause for concern." Long-range missiles are components of a nuclear weapons system, the Russian official said, the first time any senior Russian official had admitted to suspecting Iran of underhand nuclear weapons activity. The question is: Where does their collaboration go from here? Or, specifically, how does the White House propose to reward the Kremlin for adopting its hard line on Iran? The place to watch may be Poland and the Czech Republic, where the US president might be flexible in his push for missile interceptor bases in consideration of Moscow's tougher resistance.
Winograd Report: Knesset OK's Olmert's Post-Winograd Declaration
| | | |
| --- | --- | --- |
| | (FOJ) Israel's Knesset Members from all across the political spectrum gathered at the Knesset Monday ahead of the parliamentary discussion of the Winograd Report on the Second Lebanon War. | |
Feb. 5….(Arutz) In a special session, the Knesset voted its approval on Monday evening of Prime Minister Ehud Olmert's announced political decisions in the wake of the Winograd Committee's report on the Second Lebanon War. Fifty-nine MKs voted to accept the speech, while 53 voted against it, including six coalition MK's, and one Knesset Member abstained. In his Knesset speech, Olmert declared that he takes full responsibility for the Second Lebanon War and its failures: "I carry the supreme responsibility for all of the failures. I said that the day the fighting ended and I have never tried to escape from it or repudiate it." At the same time, Olmert said that he would not leave office despite what he characterized as the "harsh findings" of the Winograd Committee. Instead, he explained, he plans to remain in office in order to fix the problems revealed during the war and the subsequent investigation. Towards the end of the Prime Minister's address to the Knesset plenum, a man in the visitors' gallery whose son fell in battle in the 2006 war interjected, calling Olmert's words "insolent" and yelling, "You are not my prime minister!" When the man was asked to leave the Knesset hall, several other bereaved parents and Knesset Members provocatively left with him. Even as he took responsibility for wartime decisions, Prime Minister Olmert also noted that the entire government was privy to IDF assessments ahead of the Lebanon campaign regarding the dangers to the home-front. "The government approved unanimously and unconditionally to authorize the committee of seven, under my leadership, to direct the IDF operations," he said. The operational goals of the war were carefully and precisely defined, Olmert said, with the primary objective being the rescue of the kidnapped soldiers Eldad Regev and Ehud Goldwasser. "We were not able to achieve that goal," Olmert said, but added that he knew that the chances of success were not high. Olmert called UN Resolution 1701, which ended the fighting in Lebanon on terms agreed to by Israel and by the Hizbullah, "a great achievement for the State of Israel. The quiet, peace and prosperity that have been the lot of the north since the war are a great achievement for the State of Israel." Opposition Leader Binyamin Netanyahu said that Olmert's "cynicism" must be replaced with "Zionism."
Likud MK Gideon Saar added that Olmert's aides and political allies had distorted the Winograd Report by claiming that it did not condemn Olmert. "Even the members of the Winograd Commision are yelling, 'Read the report! That's not what we wrote!'" Addressing Olmert directly, Saar said, "This grave report describes the grave failure in the way this war was run, and your attitude towards the report is brazen, and itself explains why you must not continue to be the Prime Minister."
Israel's Goodwill Gestures Lead to More Terror
Feb. 5….(Arutz) Israeli lawmakers Monday called on Prime Minister Ehud Olmert to end talks with Palestinian Authority Chairman and Fatah leader Mahmoud Abbas (Abu Mazen) in the wake of a suicide bombing in Dimona that left one dead and more than 20 wounded. Likud Knesset Member and former Foreign Minister Silvan Shalom said, "We must understand that all the good will gestures to Palestinian Authority (PA) Chairman and Fatah leader Mahmoud Abbas (Abu Mazen) help terrorists." Over the past 12 months, Israel has freed hundreds of PA terrorists prisoners in "good will gestures" to prop up Abbas's government. The director of the Almagor terror victims' association said following Monday's attack, "We shouldn't be surprised if the perpetrators had previous criminal-terrorist records. General Security Services (Shabak) director Yuval Diskin warned Olmert in a meeting Sunday that releasing hard-core terrorists in exchange for Shalit would result in increased terror attacks. Abbas responded to the bombing with a statement that condemned the attack, but also slammed the IDF for killing two armed terrorists near the PA-controlled city of Jenin. Shas Chairman and Minister of Industry, Trade and Labor Eli Yishai called on the government to put security ahead of Israel's negotiations with Abbas and stop the talks. Until now, Shas has supported Prime Minister Ehud Olmert's goodwill gestures towards the PA.
'We Have to Guard Our Own Border'
Yishai also declared that the government of former Prime Minister Ariel Sharon, in which Olmert was a Vice Premier, made a "mistake" in giving up the Philadephi route along Israel's border with Gaza and Egypt. "The government's previous decision to abandon the Philadelphi Route without supervising forces was a serious mistake," he said. "The southwest border of Israel is exposed and breached." Terrorists have used the route for years to smuggle weapons and explosives into Gaza and Israel. Interior Minister Meir Sheetrit (Kadima) said bluntly, "We have to guard our own border, without worrying about what anyone else thinks or does about it. Whether the Egyptians guard or don't guard the border is not our problem. Our problem is our border and we have to protect it – sometimes by force if necessary."
'Iran is the Biggest Threat to Israel'
Feb. 5….(Jerusalem Post) Iran will attain offensive nuclear capabilities within three years and remains the central strategic threat to Israel, not only because it is striving for the attainment of nuclear weapons but also because of its influence on more imminent threats, such as Hamas, Hizbullah and Syria, according to an assessment presented to the Knesset Foreign Affairs and Defense Committee by Mossad head Meir Dagan Monday. Iran is acting on two tracks, Dagan said, one towards the enrichment of uranium and the other towards manufacturing surface to surface missiles with large payloads. He claimed that Iran had not yet attained full control of the knowledge necessary to produce weapons-grade uranium, but was not far from reaching that benchmark point. Iran, he said, was upgrading its relationship with Syria, especially with regards to the transfer of information, and was supplying the Palestinians with weapons, technology and training, especially in the Gaza Strip. He claimed that Iranian assistance would improve the range of the projectiles that the Palestinians could fire into Israel. According to the Mossad chief, Syria and Hizbullah had studied the lessons of the Second Lebanon War and come to the conclusion that they cannot overpower Israel and contend with its far superior firepower. Therefore, he said, they were investing their energies in developing missiles to target the home front, which they had recognized as Israel's weak point. "Rockets and missiles are a more substantial threat then they were in the past," Dagan said. "Syria is upgrading its arsenal of surface to surface missiles, and the number of missiles and rockets it possesses today is twice the amount it had only two years ago." According to Dagan, the US National Intelligence Estimate (NIE) made it harder to impose sanctions on Iran. It "pulls the rug out from under" diplomatic efforts to thwart the Iranian nuclear program, "leaving Israel to face the threat alone," he said.
Iran Launches First Space Rocket, Safir 1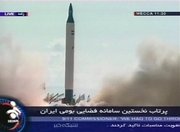 Feb. 5….(DEBKA) The Safir (Emissary) was launched into space Monday, Feb. 4, on top of the improved Shahab-3 which has a 4,000 km range. DEBKAfile's military sources report that the Iranian launch was Tehran's rejoinder to Israel's test of a new long-range missile propulsion engine on Jan. 17. Western experts reported at the time that Israel's newly-powered missiles could reach "any point on earth." The Iranian president Mahmoud Ahmadinejad was present for the test Monday. DEBKAfile's military sources report Safir-1 was fired from a missile base in the Semnan Desert southeast of Tehran. He also inaugurated Iran's first space research center and announced that the Ormid satellite would be placed in orbit "in the near future." Our military sources disclose that while Tehran's space program is in its infancy, the Iranians are capable of a crash program for cutting down the gestation period for producing a military space satellite, as they proved in their nuclear effort.
Iran Opens Space Center
Feb. 5….(AP) Iran launched a research rocket and unveiled its first major space center, state television reported Monday, the latest steps in a program many fear may be cover for further development of its military ballistic missiles. State television showed live images of the event, with President Mahmoud Ahmadinejad issuing the launch order. Iran has long declared a goal of developing a space program, but the same technology used to put satellites in space can also be used to deliver warheads. The country's space program, like its nuclear power program, has provoked unease abroad. "It is just another troubling development," State Department spokesman Sean McCormack said. "And, of course, the UN Security Council and other members of the international system have expressed their deep concern about Iran's continuing development of medium- and long-range ballistic missiles." Iranian officials have said they are developing a Shahab-4 missile to launch a satellite. Iran's powerful ballistic missile, the Shahab-3, is believed to have a range of at least 800 miles, putting Israel and much of the Middle East in range. In November, Iran said it had manufactured a new missile, the Ashoura, with a range of 1,200 miles. Iran, which also unveiled its first domestically built satellite Monday, says it wants to put its own satellites into orbit to monitor natural disasters in the earthquake-prone nation and improve its telecommunications. Iranian officials also point to America's use of satellites to monitor Afghanistan and Iraq and say they need similar abilities for their security. Despite concern over Iran's space program, it is not clear how far along it is, or whether the latest launch actually reached the internationally agreed-upon beginning of "space," set at 60 miles above the earth. Analysts have expressed doubts about certain technological achievements announced by Iran in the past. The country launched its first domestically built rocket last February, which soared to the edge of space but did not reach orbit level. On Monday, state-run television did not specify the altitude when announcing the launch. "With the launch, Iran has joined the world's top 11 countries possessing space technology to build satellites and launch rockets into space," it announced. The lowest flying satellites, ham radio satellites, orbit between 100-300 miles up, while communication, weather and global-positioning satellites fly between 250-12,000 miles up. Before the launch, Ahmadinejad opened Iran's first major space center, which includes a space launch pad and underground control station. "We need to have an active and influential presence in space," he said. The official news agency IRNA reported that the new domestically built satellite, called Omid, or Hope, would be launched into orbit sometime in the next 12 months. In 2005, the government said it had allocated $500 million for space projects in the next five years. That year, Iran launched its first commercial satellite into orbit from a Russian rocket in a joint project with Moscow, which appears to be the main partner in transferring space technology to Iran.
Malaysian Airport Customs Seize Bibles
Feb. 5….(AP) Malaysian customs officials seized 32 Bibles from a traveler, a church federation said Monday, adding its voice to a raft of complaints that the Muslim-majority country is becoming less tolerant of other religions. The Royal Malaysian Customs department, however, said it was only trying to determine if the Bibles were imported for commercial purposes. Custom officials at an airport in Kuala Lumpur took the Bibles from a Malaysian woman Jan. 28 on her return from the Philippines, according to the Rev. Hermen Shastri, general secretary of the Council of Churches of Malaysia. She was carrying the Bibles for a study group, he said. About 60 percent of Malaysia's 27 million people are Muslims.
Israelis Told to Prepare 'Rocket Rooms' for War
Feb. 4….(Breitbart) Retired senior officers of the IDF told Israelis on Saturday to prepare "rocket rooms" as protection against a rain of missiles expected to be fired at the Jewish State in any future conflict. Speaking on radio as part of a military propaganda offensive, retired general Udi Shani said: "The next war will see a massive use of ballistic weapons against the whole of israeli territory." Shani was tasked recently with drawing up a report on the way the military authorities operated during Israel's 2006 summer war against Hezbollah in Lebanon. During that conflict thousands of rockets hit Israel, but were limited to the north of the country from where hundreds of thousands of people were evacuated. The character of war has changed, said the general. "Strikes to the rear must now be taken into account, that is what will come and we must prepare in a totally different way for this eventuality," he said. Another reserve officer, Colonel Yehiel Kuperstein, added: "Protection of civilians must today be assured even inside their homes. "There is no absolute protection, but the best possible sort is that of a room able to provide shelter" inside houses, he said, evoking the norms in force in Israel for several years which envisage each apartment having a room with reinforced walls able to serve as a shelter. "Today in Israel only one third of apartments have such a room able to provide shelter... they have neither an air filter nor ventilation system enabling anyone to stay there for a long time," Kuperstein said. At the beginning of 2008 the military command in charge of passive defense began an information campaign to prepare Israelis for any future conflict "in the light of lessons drawn from the war in Lebanon." The authorities have distributed a brochure in six languages with advice on what to do, particularly in the event of missile attacks, as well as launching a campaign on radio and television. The report of a commission of inquiry into failings in the Lebanon war, which was released on Wednesday, highlighted serious errors in the protection of frontline residents. As the Israeli military bombed and shelled much of the infrastructure of Lebanon and killed an estimated 1,200 Lebanese, the Lebanese Shiite Hezbollah fired more than 4,000 rockets at north Israel during the 34-day war. Around a million Israelis took to primitive shelters or fled to safety in the south of the country.
US Methodist Church Renews Drive for Divestment from Israel
Feb. 4….(WND) Tensions are re-emerging between Jewish organizations and some mainline Protestant churches in the wake of a renewed drive for churches to divest from companies doing business with Israel. The United Methodist Church opened discussions last Friday on a resolution calling for divestment from Caterpillar, the tractor manufacturer, because the company supplies Israel with bulldozers used in building the separation barrier and in demolishing Palestinian homes. The divestment resolution comes only months after the publication of a church-sponsored report referring to the creation of the State of Israel as the "original sin." Relations with the Presbyterian Church (USA) are also strained, following remarks by church officials criticizing Israel because of the Gaza closure. The Methodist meeting, held on January 25 in Fort Worth, Texas, was an initial orientation meeting for delegation heads who will lead their groups at the church's quadrennial conference in April. Delegation leaders were presented with speakers both supportive and opposed to the draft divestment resolution, which calls for removing all Methodist pension fund holdings from Caterpillar. "The United Methodist Church holds $141 million of pension funds in companies that sustain the occupation," said Susan Hoder, a member of the church's Interfaith Peace Initiative. "This has to stop. We have to cut our ties to the Israeli occupation." Hoder, who strongly favors passage of divestment measures, went on to claim that American taxpayer dollars are used to fund Israeli military. "A lot of this money goes into the pockets of Israeli military leaders and politicians who get rich while the population of Israel suffers," she said. With 11 million members, The United Methodist Church is the largest mainline Protestant denomination in the US. The upcoming April general conference, the church's main forum for making policy decisions, will first discuss the divestment resolution in a subcommittee.
What prompted Jewish activists to take action was not only the renewed divestment drive but also a report from the women's division of the Methodist church, which addressed the Israeli-Palestinian conflict. The 225-page report, compiled by the Rev. Stephen Goldstein, attempts to outline the historical and current contours of the conflict, but according to Felson, the report amounts to "the most egregious thing that has crossed my desk that was not put out by an overt hate group." Among the statements in the report that irked Jewish community activists are a reference to the founding of the State of Israel as "the original sin," a passage calling Israeli founding father David Ben-Gurion an "extremist" and a passage defining Israeli actions as acts of "terror." Discussing the impact of the Holocaust on Israeli society, the Methodist report claims it has been the cause for "hysteria" and "paranoiac sense" among Israelis. The Presbyterian Church, the first to come up with resolutions calling for divestment, has so far avoided taking action on this issue, but it still supports a line seen by Jewish activists as anti-Israel.
Abbas's Own Fatah Tied to Today's Suicide Bombing
Feb. 4….(FOJ) In the photo above, masked Palestinian militants from the Al Aqsa Martyrs Brigade, a Fatah offshoot (a subordinate of Mahmoud Abbas), and the Popular Front for the Liberation of Palestine (PFLP), wait before a news conference in Gaza City, to proudly announce responsibility for the attack in Dimona. In an e-mail to The Associated Press, the Al Aqsa Martyrs' Brigade said that it sent suicide attackers from the West Bank town of Ramallah, Abbas' home base, to carry out the 'heroic martyrdom bombing in Dimona.' The faction said it carried out the attack with the small Popular Front for the Liberation of Palestine. An Israeli woman was killed and seven were injured in the bombing.
| | |
| --- | --- |
| | (FOJ) Palestinians Loai Abwaini, 20, and Musa Arafat, 23, are shown in these pictures. They were recruited by Fatah for a suicide mission against Israel. A third bomber was shot dead before he could detonate his explosives belt. America is blindly sending financial assistance to Mr. Abbas, who, like Arafat before him has never raised a hand to stem the indoctrination of terror.. |
Dimona (Israel's nuclear city) Hit by Suicide Bomber
Feb. 4….(Ha Aretz) One woman was killed and 38 people people were wounded, one critically, in a suicide attack in a Dimona commercial center Monday morning. Police said the attack was carried out by two attackers, but only one succeeded in detonating his explosives. The other terrorist was killed - seconds before he could detonate his explosives belt, by Kobi Mor, a police officer from an elite unit who happened to be on the scene. A suicide bomber on Monday blew himself up in the southern town that houses Israel's secretive nuclear reactor, killing at least three other people and wounding five, Israeli rescue officials said. Police said there were two attackers, though only one managed to detonate his explosives belt, but it was not immediately clear whether the Dimona nuclear reactor was their target. The blast, the first suicide attack in Israel in more than a year, took place in an industrial area about six miles from the reactor site. We heard a large explosion and people started to run. I saw pieces of flesh flying in the air," a witness of the attack in southern Israel, identified only by her first name, Revital, told Army Radio. The Haaretz daily reported that the second attacker was shot dead before he could explode himself. Southern Israel has been on alert against militant attacks since the Gaza Strip's Islamic Hamas rulers breached the border with Egypt on Jan. 23. Egypt managed to reseal the border only on Sunday. The breach made Israel's Negev desert, where Dimona is located, more vulnerable to penetration by Palestinian militants who could enter through Egypt's Sinai desert. Dimona is about 40 miles northeast of the porous Egyptian border. Last week, Israel closed a number of popular hiking areas in the south for fear of militant attacks.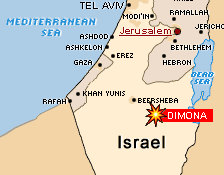 The two bombers entered Israel from Egypt after Hamas blew up the Gaza-Egypt border wall, a spokesman for the Al Aqsa Martyrs' Brigades said. Abu Fouad, a spokesman for the Fatah-linked organization, said the operation had been planned for a month, but was made possible after Hamas violently opened Gaza's border with Egypt on January 23. Earlier, in an apparent attempt to divert attention from the Gaza connection, Al Aqsa had claimed the bombers were from the West Bank. Southern Israel has been on alert against terror attacks since Hamas breached the border with Egypt.
Fatah: Suicide Bombers Infiltrated Israel Via Gaza-Egypt
(In Gaza press conference, members of Fatah's military wing, PFLP say suicide bombers who carried out Dimona attack entered Sinai from Strip. 'Attack has been planned for a month, but was only made possible due to breach in border,' says al-Aqsa Brigades spokesman. Meanwhile, Egypt detains Palestinian carrying explosives in Rafah)
Feb. 4….(YNET) Members of the Popular Front for the Liberation of Palestinian and the al-Aqsa Brigades, Fatah's military wing, confirmed Monday that the two suicide bombers who carried out the attack in Dimona had entered Sinai from the Gaza Strip and infiltrated Israel through Egypt. The Israeli defense establishment also believes that the bombers came through Egypt and were aided by elements inside Israel, perhaps Bedouins at the border area. Egyptian security sources reported Monday that police had detained a Palestinian man carrying explosives in the border town of Rafah. They said the man had been carrying an amount of TNT, but gave no further details. In a separate incident, five Palestinians were detained in Sinai on their way to the capital Cairo, security sources said. The men were not carrying weapons or explosives. Abu Fouad, a spokesman for the al-Aqsa Brigades, said in a press conference in Gaza that "the attack has been planned for a month, but was only made possible after gunmen bombed the fence at the Philadelphi route on January 23." Since the border was breached, Israeli defense officials have expressed their fear that terrorists would infiltrate Sinai through the Strip and enter the Negev. One of the bombers was identified as Mussa Arafat, a Khan Younis residents affiliated with the Abu Ali Mustafa Brgades, the PFLP's military wing. The second bomber was Lawai Lawani, an al-Aqsa member from Gaza's Sabra neighborhood. The al-Aqsa Martyrs' Brigades, Fatah's military wing, the Abu Ali Mustafa Brigades, and the United Resistance Brigades have claimed responsibility for Monday's terror attack in Dimona, Hizbullah's television station al-Manar reported. Abu al-Walid, a senior al-Aqsa Brigades official, said in a phone conversation with al-Manar, "We succeeded to carry out the attack today and we take responsibility for it, along with the Abu Ali Mustafa Brigades and the United Resistance Brigades, in response to the occupation and the killing of children and innocent people in the West Bank and the Strip." Palestinian President Abbas condemned the suicide bombing in Dimona (although it was conducted by his own Fatah) on Monday but also leveled censure at an earlier military raid by Israel in the occupied West Bank. "The Palestinian Authority expresses its full condemnation of the Israeli military operation this dawn in (the Palestinian village of) Qabatiya just as it condemns the operation that took place today in Dimona," a statement from Abbas's office said.
---