WEEK OF MARCH 30 THROUGH APRIL 5
Hamas TV: Palestinian Kid Kills "President Bush," Make White House A Mosque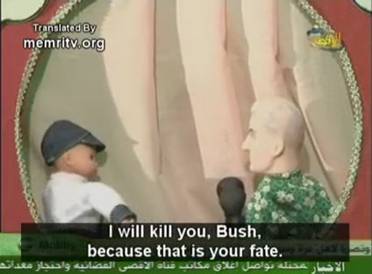 April 2…(Israel Insider) A child stabs President George W. Bush to death and the White House becomes a grand mosque in a children's puppet show broadcast on the official television channel of Hamas, the ruling Palestinian Authority party. In the Al-Aqsa TV skit, aired yesterday, the child confronts the US leader: "I have come to take revenge with this sword, revenge for my mother and my sisters. You are a criminal, Bush! You are despicable. You made me an orphan! You took everything from me, Bush! I must take revenge on you, with this sword of Islam, the prophet's Al-Battar sword." The Bush character tries to appease the child with food, toys and a visit to the White House but is rebuffed, as seen in a video clip translated by the Middle East Media Research Institute, or MEMRI. "You are impure, Bush, so you are not allowed inside the White House," the child figure says, because "it has been turned into a great mosque for the nation of Islam." The child declares: "I will kill you just like Mu'az killed Abu Lahab (an enemy of Islam's prophet Muhammad). I will kill you, Bush, because that is your fate." The child then stabs Bush repeatedly, and eventually smiles at his successful execution: "Ahhh, I killed him." On previous al-Aksa kid's shows, various animals, a bee, a mouse, a rabbit, have advocated or performed killing, but this marks the first time a child is portrayed as murdering. Pre-school kids have been interviewed approving of the killing of Jews as a commandment of Allah.
Hezbollah Criticizes Saudi Arabia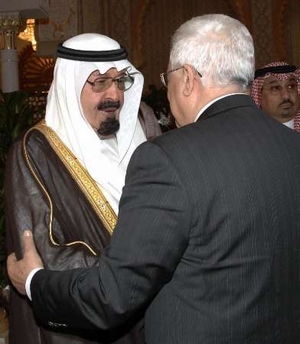 April 2….(AP) The Hezbollah militant group criticized Saudi Arabia on Tuesday, accusing it of siding with Lebanon's Western-backed government in its power struggle with the Syrian-allied opposition. The comments came only days after Saudi Foreign Minister Prince Saud al-Faisal slammed Syria and its Lebanese allies for obstructing an Arab League initiative to help Lebanon elect a new president. Hezbollah rejected Prince Saud's criticism and instead accused Lebanon's anti-Syrian majority of obstructing parliamentary elections for a new president. Lebanon has been without a president since pro-Syrian President Emile Lahoud ended his term last November without a successor. "This (Saudi) accusation against the opposition harms the kingdom's role and raises big question marks about its position and role in the Lebanese political crisis," Hezbollah said in a statement. In rare criticism of Sunni Muslim Saudi Arabia, the Shiite Hezbollah said Prince Saud's comments had put the kingdom in "a biased position incapable of playing a positive role in a solution" to Lebanon's deepening political crisis. Christian opposition leader Michel Aoun also rejected Prince Saud's comments and said he was surprised by "the Saudi position holding the opposition responsible for failure to implement the Arab initiative." He urged "friendly countries not to be a party to the Lebanese conflict." Prince Saud delivered his criticism Saturday in a press conference in the Saudi capital Riyadh timed to coincide with the opening session of the Arab League summit in Syria. Several Sunni Arab leaders, including Saudi Arabia's King Abdullah, boycotted the summit and instead sent low-level officials to protest Syrian policies in many parts of the Mideast and its close alliance with Shiite Iran. Lebanon boycotted the summit completely, accusing Damascus of preventing the election of a new Lebanese president in order to destabilize the country and reassert its control over the neighboring country. Arab foreign ministers unanimously adopted a plan in January that called for the election of Lebanese Army chief Gen. Michel Suleiman as a consensus president, formation of a national unity government and the adoption of a new electoral law. The country's sharply divided parliament has failed to embrace the plan because the parliamentary majority and the opposition remain deadlocked over the shape of the future government. The majority has strongly rejected the opposition's demand for veto power over future government decisions. The presidential impasse has compounded the yearlong power struggle between the Western-backed government of Prime Minister Fuad Saniora and the opposition, which has sporadically degenerated into street clashes in Beirut between supporters of the rival camps. The United States and Lebanon's anti-Syrian coalition have accused Syria of blocking the presidential election. Damascus has denied the charge, while its Lebanese allies have blamed Washington for scuttling attempts at reaching a solution.
Saudi Arabia, Egypt Accuse Syria of Blocking Mid-East Peace
April 1….(In The News) Saudi Arabia slammed Syria as a deeply divided Arab summit opened here Saturday, accusing Damascus of blocking Lebanese peace efforts and calling on the Arab League to punish members that don't honor its consensus decisions.
("The burden of Damascus. Behold, Damascus is taken away from being a city, and it shall be a ruinous heap." Isaiah 17:1)
The leaders of Saudi Arabia, Egypt and Jordan are boycotting the two-day summit to protest Syria's stances on Lebanon, a move that has deepened the rift between US Arab allies and Damascus, a close ally of Iran and Palestinian militant groups. Further highlighting the rift, US Secretary of State Condoleezza Rice was headed to the region over the weekend for talks on the peace process and was expected to meet with some of the boycotting leaders. The countries accuse Damascus of preventing the election of a new president in Lebanon, where they believe Syria is trying to re-establish its domination. Syrian President Bashar Assad denied interfering in Lebanon in his opening speech to the summit. To add to their snub to Syria, the three countries sent only minor officials to represent them at the summit. Lebanon did not send any delegation at all, the first country to completely boycott since annual summits began in 2000. In Riyadh, Saudi Foreign Minister Prince Saud al-Faisal said the kingdom's top leaders were boycotting the summit because of Syria, which he blamed for blocking an Arab League compromise aimed at resolving the Lebanon presidential crisis. "The problem is that what had been agreed by consensus in the Arab League, including by Syria, wasn't implemented in reality," Saud said. He called for the Arab League to punish member states that breach a common resolution. "Call it punishment or countermeasures," he said. "There must be a deterrent action." Saud also blamed Damascus for worsening Palestinian-Israeli peace efforts and the situation in Iraq. "Attempts to hinder the (Arab) initiative in Lebanon are clearly the same attempts (as those) that deepened the Palestinian rift and hindered the political solution in Iraq and Arab issues in general," he said. Lebanon has been the scene of a long power struggle between the anti-Syrian government, backed by the West, Saudi Arabia and Egypt, and the pro-Syrian opposition. The opposition has boycotted parliament to prevent it from electing a new president since November. The Arab League compromise called for Lebanese army chief Michel Suleiman to be elected president, then for a national unity government to be formed. But the opposition has demanded that the makeup of the government first be determined. In his speech, Assad denied that Syria was interfering in Lebanon. "The key to a solution is in the hands of the Lebanese. They have their country, constitution and institutions," he said. Egypt also accused Syria's stances of wrecking the summit. "Our hope was that a long-awaited solution to the political crisis threatening Lebanon's stability would precede this summit," a message from President Hosni Mubarak to the gathering said. "Unfortunately, this did not occur." The US' Arab allies are also deeply bitter over Syria's support for the Palestinian militant group Hamas, which they blame for damaging the Israeli-Palestinian peace process. They are also worried about Syria's close alliance with Iran. Ten heads of state from the Arab League's 22 members did not attend the two-day Damascus summit, though most were for separate reasons rather than anger at Syria. In the absence of US-allied countries, the summit took on a sharp tone against Israel. In his opening speech to the summit, Assad accused Israel of committing "massacres" against the Palestinians and rejecting peace offers. He warned that Arab countries may have to seek alternatives to a 2002 Arab peace plan if Israel continues to refuse to accept it.
Barak to IDF Northern Command: Hizbullah Wants War
(Defense minister tours IDF's Northern Command, says Hizbullah is 'wary of firing at Israel at the moment, but beneath this blissful quiet there is a storm brewing)'
April 1….(YNET) Israeli Defense Minister Ehud Barak said during a tour of the IDF's Northern Command Tuesday that "Hizbullah is wary of firing at Israel at the moment because of the blows it sustained during the Second Lebanon War, but we also have many lessons to learn from that war, which we will hopefully implement in IDF training." Barak, along with Northern Command Chief Maj. Gen. Gadi Eizenkot, Brigadier General Imad Fars, commander of Division 91, and Deputy Chief of the General Staff of the IDF, Major General Dan Harel, toured the IDF's Northern Command post along the northern border, speaking to IDF soldiers stationed there, and receiving a security briefing from senior officers of the Northern Command. "Hizbullah, lurking on the other side of the border, is wary of firing at Israel at the moment, but continues to plot various schemes throughout the entire northern front," said Barak. "Hizbullah is getting stronger, but so is Israel, and we are the strongest nation in the region. I would suggest that no one of the other side of the border mess with Israel, for their own good." As for heightened tensions on the northern front in wake of the assassination of Hizbollah commander Imad Mugniyah, Barak stated that "the IDF is ready, willing and able to deal with all possible contingencies. Israel sees right through this blissful quiet and is well aware that a storm is brewing underneath the surface."
Hizbullah might get others to do their dirty work
In similar vane, the Knesset's Foreign Affairs and Defense Committee met Tuesday with Chief of Staff Gabi Ashkenazi and a representative of the IDF's Intelligence Branch. The Intelligence Branch representative informed the Mks present that "Hizbullah is continuing its military escalation in Lebanon, and is supplied with ample arms from Syria and Iran. It is improving and streamlining all of its military units, and thus we still cannot rule out an attack in retaliation for Mugniyah 's assassination. Hizbullah is also likely to send other groups to do their dirty work for them, and not claim credit for such attacks."
IDF Chief of Staff Ashkenazi stated during the meeting that "Hizbullah operates in the sly and in resident clothing mainly in residential areas in Lebanon, because the United Nations Interim Force in Lebanon (UNIFIL) cannot operate in these areas without permission from the Lebanese army."
Bush Says Ukraine, Georgia NATO Admission is Vital
April 1….(DEBKA) Referring to the NATO summit opening in Bucharest Wednesday, April 2, the US president George W. Bush, remarked in Kiev Tuesday that Russia has no veto over former Soviet states joining the 26-member alliance summit, which President Vladimir Putin is attending as a guest. Bush was speaking at a joint news conference with Ukraine president Yushchenko. After the two-day summit, where a European consensus on NATO's eastward enlargement is doubtful in view of German and French reluctance to raise tensions with Russia, President Bush meets Putin at his Black Sea residence in Sochi April 6 for their last face-to-face as presidents. Putin hands over to president-elect Dmitry Medvedev in May. Bush is in the final months of his presidency. The US president admitted that there was still much work to do to persuade Moscow that America wants the US missile shield deployed in Poland and the Czech Republic, not to attack Russian but to defend Europe against ballistic missile attack. He denied any trade-off with Russia on the two issues in answer to a question. Another uphill task ahead of the NATO summit is persuading members to put up more troops for Afghanistan where the war against Taliban and al Qaeda is hobbled by a shortage of fighting manpower. France is expected to pledge 1,000 soldiers, the Czech Republic another hundred, nowhere near the necessary supplement needed for the 43,000-strong force, one-third American. NATO leaders may invite Croatia, Albania and possibly Macedonia to join the alliance.
Saudi Kingdom 'Braces for Regional Nuclear War'
(Arabia is reportedly preparing to counter any 'radioactive hazards' which may result from a US strike on Iran's nuclear plants.)
April 1….(Press) Popular government-guided Saudi newspaper Okaz recently reported that the Saudi Shura Council approved of nuclear fallout preparation plans only a day after US Vice President Dick Cheney met with the Kingdom's high ranking officials, including King Abdullah. As a result of the Shura ruling, the Saudi government will start the implementation of 'national plans to deal with any sudden nuclear and radioactive hazards that may affect the Kingdom following expert warnings of possible attacks on Iran's Bushehr nuclear reactors'. As the details of Cheney's recent discussions with his Arab allies remain unclear, pundits have begun to question the timing of the drastic measure by the Shura. Analysts claim the Bush administration had long rattled sabers with Iran over its nuclear program and is now informing its Arab allies of a potential war, in turn, allowing them to take precautionary measures. With the sudden resignation of Admiral William Fallon, a high-ranking US military official who was a fierce critic of White House war rhetoric against Iran, and reports of the recent deployment of a US nuclear submarine in the Persian Gulf; there is speculation that Washington is moving forward with yet another war plan in the oil-rich Middle East.
Secretary Rice: Israel I'm Watching You
April 1….(Stan Goodenough) US Secretary of State Condoleezza Rice wrapped up a two day visit to Israel and the Middle East Monday, but warned the Israelis that she will be monitoring them even more closely to ensure that they carry out their obligations under the Annapolis agreement. Her visit, the third this year was aimed at tightening the screws on Israel in order to be able to nail down a framework agreement by May 14 for the establishment of a Palestinian state on historical Jewish land. US President George W. Bush is scheduled to be in Israel on that date, which marks, on the Gregorian calendar, the 60th anniversary of Israel's Declaration of Independence. For the American administration, the dates appear to be part of the strategy. The Annapolis Conference was held on the 60th anniversary of the United Nations vote partitioning Palestine between Jews and Arabs. At that event, under intense pressure from host Bush, Israeli Prime Minister Ehud Olmert agreed to set November 4 this year as a deadline for reaching a final agreement with PLO Chief Mahmoud Abbas and his Palestinian Authority. And Bush said Sunday, according to the German newspaper Die Welt: "I hope that President Abbas and Prime Minister Olmert can sign an agreement before the end of my presidency [in January] that defines a clearly-outlined Palestinian state." While Rice claimed, upon her arrival here Saturday night, she had not come to insert American demands, this is really an all-American show and one with which Israel is expected to cooperate, especially as Bush has tied his political prestige to achieving substantial results in the effort to give the Palestinian Arabs a state on land belonging to Israel. Diplomatic reporters noted that Rice has not held back from "scolding" Israel's political leaders for "not doing enough" to ease life for the Arabs. A focal point of her visit this time was purportedly to try ease the movement of Arabs in Judea and Samaria. Restrictions on their movement have come about as a result of the "Palestinian" civilians harboring terrorists and terrorists using the civilian population as a human shield. Reported The Jerusalem Post Monday, Barak "learned his lesson from the last Rice visit, when she scolded him for not doing enough to ease the conditions of the Palestinians." This time he had come to their meeting with a lengthy document, in English, outlining the steps Israel would take. Rice said, first to Barak and later to foreign journalists, that she planned on more vigilantly monitoring Israel's implementation of its commitments "than she had been in the past." Despite Israeli promises to remove roadblocks in Samaria and Judea, the number of roadblocks had actually increased since Annapolis, she complained. Now, however, the US was going to make sure that Israel complied. "We've been told this is going to start and even be completed in a relatively short period of time. I'm not going to give you a date but I'm expecting it to happen very, very soon," the secretary said.
FOJ Note: God is also watching Secretary Rice and President Bush to see what they enforce upon his people, and their land.
Muslims More Numerous than Catholics
March 31….(Reuters) Islam has overtaken Roman Catholicism as the biggest single religious denomination in the world, the Vatican said on Sunday. Monsignor Vittorio Formenti, who compiled the Vatican's newly-released 2008 yearbook of statistics, said Muslims made up 19.2 percent of the world's population and Catholics 17.4 percent. "For the first time in history we are no longer at the top: the Muslims have overtaken us," Formenti told Vatican newspaper L'Osservatore Romano in an interview, saying the data referred to 2006. He said that if all Christian groups were considered, including Orthodox churches, Anglicans and Protestants, then Christians made up 33 percent of the world's population, or about 2 billion people. The Vatican recently put the number of Catholics in the world at 1.13 billion people. It did not provide a figure for Muslims, generally estimated at around 1.3 billion. Formenti said that while the number of Catholics as a proportion of the world's population was fairly stable, the percentage of Muslims was growing because of higher birth rates. He said the data on Muslim populations had been compiled by individual countries and then released by the United Nations, adding the Vatican could only vouch for its own statistics.
US Surprised' at Extent of Israeli Concessions
March 31….(Arutz) Israeli diplomatic sources said Sunday that the American delegation was very surprised at the extent of Israeli concessions to the Fatah-controlled "Palestinian Authority" (PA) announced by Defense Minister Ehud Barak. However, Secretary of State Condoleezza Rice was quick to say that they were not enough, and vowed to monitor Israel's execution of its promises. The latest Israeli concessions to the PA in Judea and Samaria include permission for construction of two new Arab neighborhoods in the Ramallah area, with a total of 5,000 to 8,000 housing units. In addition, about 50 closed roads will be opened in Samaria, thus enabling vehicular traffic between Jenin, Tulkarm, Kalkilya and Ramallah. The permanent IDF checkpoint in the Rimonim area will be removed. Barak announced the decisions in the meeting he held with PA "Prime Minister" Salam Fayyad and U.S. Secretary of State Condoleezza Rice Sunday.
Rice Talks Tough About Israeli Compliance
US Secretary of State Condoleezza Rice had some tough words for Israel Sunday regarding the "gestures" Israel has undertaken to carry out in Judea and Samaria. "We will monitor exactly what the Israelis do and the purpose is to improve the Palestinians' freedom of movement," Rice said. "We want to be much more systematic about what is promised and what is actually carried out," she added. American special envoy General William Fraser, Rice explained, will be following Israel's implementation of the Road Map closely "and making sure that the road blocks are indeed removed and that this has an impact on the Palestinians' freedom of movement."
PA will 'work' against terror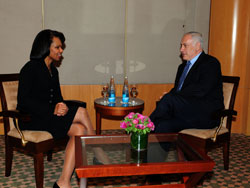 The agreements reached in the talks between Rice, Barak and Fayyad include only one commitment by the PA. "For its part, the Palestinian Authority will deploy security forces to provide law and order, and work to prevent terror," the statement issued by the American delegation said. However, the sources said, Israel needs to do even more to make the Arabs' lives better. Opposition chairman Binyamin Netanyahu told US Secretary of State Condoleezza Rice Sunday that a permanent status arrangement with the PA that does not leave the IDF in charge of "large areas" of Judea and Samaria would lead to a Hamas takeover and the creation of additional Iranian bases there. "We cannot transfer responsibility for security to subcontractors. Security needs to stay in the IDF and the security establishment. "If we abandon security to the care of others, we will receive rockets," the Likud chairman said. "We are the ones protecting Abu Mazen, he isn't protecting us."
WEEK OF MARCH 23 THROUGH MARCH 29
Hizbullah Rockets Can Now Reach Dimona

March 28….(Arutz) Hizbullah has significantly increased the range of rockets within its arsenal, posing an even greater threat to Israel now that it can reach the nuclear plant in Dimona, according to top IDF officials. The Shi'ite terrorist militia in Lebanon has received new rockets from Iran that can strike up to 300 kilometers (180 miles) away, meaning they can hit any of Israel's most populated areas as well as the nuclear reactor just outside the southern desert town of Dimona. During the Second Lebanon War, Hizbullah launched some 4,000 rockets at Israel with a range of up to 70 kilometers. After that conflict, the UN peace-keeping force in south Lebanon, UNIFIL, was beefed up with French and Italian troops to stop Hizbullah from getting resupplied with more weapons. But UN Secretary General Ban Ki-moon recently cited Israeli estimates that Hizbullah now has 30,000 rockets and missiles, more than double its arsenal at the outset of the war in summer 2006.

Barak Fears Hamas West Bank Takeover
March 28….(Jerusalem Post) Defense Minister Ehud Barak has warned the United States that gestures Israel is making to the Palestinians, including approving the transfer to the Palestinian Authority of weapons and armored vehicles, and allowing the deployment of PA policemen in West Bank cities could ultimately backfire because Hamas could come to power in the West Bank and be better equipped to turn on Israel. Barak issued the warning during a recent meeting with the US special envoy to Israel and the Palestinian Authority, Gen. James Jones. The Israeli defense establishment has drawn up a list of further gestures together with Jones that are set to include deploying 600 Jordanian-trained PA policemen in Jenin and the possible removal of dirt roadblocks. "We need to keep in mind the possibility that after all we have done, Hamas will take over the West Bank, not only by force but even in the upcoming general elections," Barak told Jones, according to defense officials. "This is certainly a possibility." Barak plans to present the list of gestures to US Secretary of State Condoleezza Rice, who is set to arrive in Israel on Saturday night, during their meeting the next day. Rice's visit is aimed at getting both the Israelis and the Palestinians to make progress on commitments undertaken in the road map peace plan and to otherwise push forward the peace process begun at Annapolis, Maryland, in November. The US has indicated that neither party has met its obligations, but the Bush administration has seemed particularly frustrated by Israel's failure to remove any roadblocks or illegal outposts. But Israeli defense officials dismissed claims that Barak was facing criticism from the US for not making greater efforts to remove roadblocks or to ease restrictions in the West Bank. "Both the Americans and the Palestinians understand that if we lift a roadblock and there is an attack we will fall back instead of moving forward in the negotiations," one official said. At the same time, the US has welcomed Barak's planned moves to ease movement for West Bank Palestinians. "These are welcome developments that indicate a desire by the Israeli authorities to move forward, to try to help improve the situation on the ground," the administration official said. While Israel is coming under pressure from the US to make things easier for the Palestinians, Israel is also worried that PA President Mahmoud Abbas of Fatah could become to weak too fend off a challenge from Hamas in the West Bank, in the form either of a coup similar to that which left Hamas in control of Gaza last June or a victory at the ballot box. A tenuous calm has prevailed in the wake Fatah holding talks with Hamas through the mediation of Yemen. Though the talks don't appear to have led to reconciliation, neither the US nor Israel has been eager to see a return of the Fatah-Hamas unity government that was dissolved following the Gaza coup. "We've made our views clear of the need for a Quartet-compliant government," the Bush administration official said, referring to the Middle East Quartet's demands that Hamas recognize Israel, renounce violence and accept previous Palestinian-Israeli agreements. "Deviations will not work."
Rocket Threats Mushroom
March 28….(By Stan Goodenough) Arabs to the north and in the south of the Jewish homeland have acquired and are manufacturing rockets whose range endangers Israel more than ever before. The developments have Israel Defense Forces officials worried, according to reports in the Israeli press Thursday. Lebanon's Hizb'allah, attacking from the north, have Iranian-supplied rockets that can reach populated areas in most of Israel, and which can even strike Israel's nuclear facility at Dimona in the Negev, hundreds of kilometers to the south of the Lebanese border. This is according to senior defense officials, who reportedly described as dramatic the upgrading of the terrorist organization's missile arsenal in the months since the Second Lebanon War. That war, fought in the summer of 2006, saw Hizb'allah launch close to 4,000 rockets at Israel over the period of one month. Their maximum reach then was about 70 kms inside Israel. Figures released by Israel in early March pegged the current level of Hizb'allah rockets at 10,000 long-range rockets and 20,000 short-range. Last July Hizb'allah chief Hassan Nasrallah boasted his rockets could strike "every point and every corner" in Israel. In Gaza, meanwhile, Palestine Islamic Jihad is reportedly manufacturing more accurate Kassam rockets that can carry twice the amount of explosives as those that have been rained down on Sderot to date, and with a range of more than 12.5 miles as opposed to the current six to seven mile range. Citing security officials, Ynetnews said the new rocket indicates that Gaza's terror groups have increased efforts to develop new weapons. also with help from outside the Strip. "The fact that they are able to produce their own long-range rockets…is disturbing and worrying," an army official said. Right-thinking analysts have warned that allowing the "Palestinians" to assume control of Judea and Samaria will see Israel surrounded on all three sides by rocket-armed Muslims who remain committed to driving the Jews into the Mediterranean, which is the only Arab-free border Israel would have left.
Jitters Over New Israel-Hezbollah-Hamas War
March 28….(AP) Recent attacks and retaliation threats have the Mideast on edge about the possibility of another war between Israel and Hezbollah, even though officials on both sides say they don't expect any eruption of major fighting soon. The issue lurks behind the scenes as Arab leaders head to a weekend summit in next-door Syria, whose relations with Lebanon and support for the Shiite Muslim militants of Hezbollah have raised regional tensions. "I think it's just posturing," said Timur Goksel, a former UN peacekeeping official who is a longtime observer of the Hezbollah-Israel conflict in southern Lebanon. War speculation heated up after the Feb. 12 assassination of the top Hezbollah military commander, Imad Mughniyeh. The fears heightened when a Palestinian gunman, linked by some Israeli officials to Hezbollah, killed eight Jewish seminary students in Jerusalem on March 6. Adding to the jitters, US warships recently deployed off Lebanon and Saudi Arabia advised its citizens to leave Lebanon. Washington said it sent the ships to stabilize the region. The Saudis gave no reason for their warning, but it came two days after the naval deployment. Hezbollah's leader, Sheik Hassan Nasrallah, keeps threatening Israel with "open war." Despite that, Hezbollah leaders say they have prepared for war but will not initiate a fight. Israeli defense officials, speaking on condition of anonymity, have warned that war could erupt if Hezbollah stages a large-scale attack to avenge Mughniyeh's killing. For the time being Hezbollah may be too busy with the Leabanon-Hezbollah crisis," and not willing to go to war, said Israeli analyst Efraim Inbar, director of the Begin-Sadat Center for Strategic Studies at Bar-Ilan University near Tel Aviv. He was referring to Hezbollah's bitter political power struggle with the Western- and Saudi-backed government in Lebanon.
| | |
| --- | --- |
| | (FOJ) Hezbollah members hold pictures of assassinated Sheik Abbas Musawi, left, Hezbollah leader Sheik Hassan Nasrallah, center, and assassinated top commander Imad Mughniyeh. Both Hezbollah and Israel are preparing for possibly another round of fighting. The assassination of a top Hezbollah commander and the killing of Jewish seminary students, seems to reinforce fears that war may be just around the corner in the Mideast. |
| | |
Is Barack Obama a Muslim Wolf in Christian Wool?
| | |
| --- | --- |
| | (FOJ) Patrick Henry, American patriot and Founding Father of our country said: "It cannot be emphasized too strongly or too often that this great nation was founded not by religionists but by Christians, not on religions but on the Gospel of Jesus Christ". The very first Supreme Court Justice, John Jay, said: "Americans should select and prefer Christians as their rulers." What would they say about the prospect of electing a closet Muslim as President of the US? But then, our current Christian President commemorates Ramadan in the White House. |
March 27….(Israel Insider) The glib handling of criticism of his relationship with the anti-American ("God Damn America!") and anti-Israel Reverend James Wright may have bought him a little time. But the legacy of dissimulation about his long-concealed identity is about to come crashing down around the ears of Barack Hussein Obama, courtesy of the assembled testimony of his family, friends, classmates and teachers. The accumulated research indicates that Obama was in his childhood a devout Muslim, the son of a devout Muslim, the step-son of a devout Muslim and the grandson and namesake ("Hussein") of a devout Muslim. He was registered in school as a Muslim and demonstrated his ability to chant praise to Allah in impressive Arab-accented tones even as an adult. Just as he has not disavowed his "uncle" Jeremiah, neither has he disavowed his Muslim faith that he was born into, raised with, celebrated and never abandoned. He just covered it over with a thin veneer of his own self-styled "Christianity." Although as an adult he would register as a Christian, and occasionally attend a Christian Church (but apparently not often enough to listen to the preaching of his pastor, or so he would claim) this was a necessary step for a man who from earliest boyhood has nurtured the precocious ambition to be President of the United States. He was entered into the Roman Catholic, Franciscus Assisi Primary School, in Jakarta, Indonesia, on January 1, 1968, registered under the name Barry Soetoro, an Indonesian citizen whose religion was listed as Islam. Catholic schools accept non-Catholics worldwide. Non-Catholic students are typically excused from religious instruction and ceremony. In kindergarten, Senator Obama wrote an essay titled 'I Want to Become President. '"Iis Darmawan, 63, Senator Obama's kindergarten teacher, remembers him as an exceptionally tall and curly haired child who quickly picked up the local language and had sharp math skills. He wrote an essay titled, 'I Want To Become President,' the teacher said." Three years later, in 1971, Obama enrolled in the Besuki Primary School, a government school, as Barry Soetoro, a Muslim. In third grade, Senator Obama wrote an essay titled 'I Want To Be a President.' His third grade teacher: Fermina Katarina Sinaga "asked her class to write an essay titled 'My dream: What I want to be in the future.' Senator Obama wrote 'I want to be a President,' she said." All Indonesian students are required to study religion at school and a young Barry Soetoro, being a Muslim, would have been required to study Islam daily in school. He would have been taught to read and write Arabic, to recite his prayers properly, to read and recite from the Quran and to study the laws of Islam. In his autobiography, "Dreams From My Father," Obama mentions studying the Koran and describes the public school as "a Muslim school." According to one of Obama's teachers and the principal from 1971 through 1989, Barry actively took part in the Islamic religious lessons during his time at the school. "I remembered that he had studied "mengaji" (recitation of the Quran)" The principal said. The actual usage of the word 'mengaji' in Indonesian and Malaysian societies means the strict study of learning to recite the Quran in the Arabic language rather than the native tongue. "Mengagi" is a word and a term that is accorded the highest status in the mindset of fundamentalist Islamic societies in Southeast Asia. To put it quite simply, 'mengaji classes' are not something that a non-practicing or so-called moderate Muslim family would ever send their child to. The fact that Obama had attended mengaji classes is well known in Indonesia and has left many there wondering just when Obama is going to come out of the closet. As I've stated before, the evidence seems to quite clearly show that both Ann Dunham and her husband Lolo Soetoro Mangunharjo were in fact devout Muslims themselves and they raised their son as such." The Obama Campaign told the LA Times he wasn't a "practicing Muslim." But his official website says: "Obama Has Never Been a Muslim, And Is a Committed Christian." That's not what his friends and classmates have said. Classmate Rony Amiris says young Barry enjoyed playing football and marbles but was most proud of being a very devout Muslim.. Amiris, now the manager of Bank Mandiri, Jakarta, recently said, "Barry was previously quite religious in Islam. His birth father, Barack Hussein Obama was a Muslim economist from Kenya. Before marrying Ann Dunham, Hussein Obama was married to a woman from Kenya who had seven children. All the relatives of Barry's father were very devout Muslims." Emirsyah Satar, CEO of Garuda Indonesia, was quoted as saying, "Obama was often in the prayer room wearing a 'sarong', at that time." "He was quite religious in Islam but only after marrying Michelle did he changed his religion." So Obama, according to his classmates and friends was a Muslim until the confluence of love and ambition caused him to adopt the cloak of Christianity to marry Michelle and to run for President of the United States. Obama Senior also had three sons by another woman who are all Muslim. Although Obama claims Senior was an atheist, Senior was buried as a Muslim. Barack Obama's brother Roy opted for Islam over Christianity, as the Senator recounted in his book when describing his 1992 wedding. "The person who made me proudest of all," Obama wrote, "was Roy. Actually, now we call him Abongo, his Luo name, for two years ago he decided to reassert his African heritage. He converted to Islam, and has sworn off pork and tobacco and alcohol. "Abongo "argues that the black man must "liberate himself from the poisoning influences of European culture." He urged his younger brother to embrace his African heritage. In Kenya while he was a Senator, Obama stumped for his cousin, opposition leader Raila Odinga. On August 29, 2007, Raila Odinga and Shiekh Abdullah Abdi, chairman of the National Muslim Leaders Forum of Kenya signed a Memorandum of Understanding in which it pledges the support of Kenyan Moslems for Raila's election. In return, as President of Kenya, Raila agrees within 6 months re-write the Constitution of Kenya to recognize Shariah as the only true law sanctioned by the Holy Quran for Muslim declared regions and within one year to facilitate the establishment of a Shariah court in every Kenyan divisional headquarters, everywhere in Kenya, not just in "Muslim declared regions," and to popularize Islam, the only true religion by ordering every primary school in Kenya in the regions to conduct daily Madrassa classes. In an interview with the New York Times, published on April 30th, Maya Soetoro-Ng, Obama's younger half sister, told the Times, "My whole family was Muslim, and most of the people I knew were Muslim." Obama describes his new found "Christian" faith as: (1) Suspicious of dogma (2) Without any monopoly on the truth (3) Nontransferable to others (4) Infused with a big healthy dose of doubt, and (5) Indulgent of and compatible with all other religions. In an interview with Nicholas Kristof, published in the New York Times, Obama recited the Muslim call to prayer, the Adhan, with a first-class Arabic accent." The opening lines of the Adhan (Azaan) is the Shahada: "Allah is Supreme! Allah is Supreme! Allah is Supreme! Allah is Supreme! I witness that there is no god but Allah I witness that there is no god but Allah and I witness that Muhammad is his prophet? According to Islamic scholars, reciting the Shahada, the Muslim declaration of faith makes one a Muslim. This simple yet profound statement expresses a Muslim's complete acceptance of, and total commitment to, the message of Islam. Obama chanted it with pride and finesse. An American ex-pat in southeast Asia who has lived in Indonesia for 20 years and has met with both the Taliban and al-Qaeda, proclaims the following: "Barack Hussein Obama might have convinced some Americans that he is no longer a Muslim, but so far he has not convinced many in the world's most populous Muslim country who still see him as a Muslim and a crusader for Islam and world peace. Many have been puzzled why Obama could claim not to be familiar with Wright's rants. It turns out the Trinity Church, like many African-American churches, happily accepts believing Muslims within its congregation. And evidently many Muslims have no problems surrounding themselves with an anti-American, anti-Israel preacher who week in and week out wins the amens of his adoring congregation. On Feb 15/08, Usama K. Dakdok, President of The Straight Way of Grace Ministry called Obama's Church and reported the following conversation: "I then asked the person who answered what I needed to do to join the church. She told me that I needed to attend two Sunday School classes in a row and then walk the aisle. I replied, "That sounds easy. One last question please. If I am Muslim and I believe in the Prophet Mohammed, peace be unto him and I also believe in Jesus, peace be unto him, do I have to give up my Islamic faith to be a member in your church? She answered: "No, we have many Muslim members in our church."
Obama Advisor Blames US Jews for Lack of Mid-East Peace

March 27….(Arutz) Once again, a furor surrounding US Presidential candidate Barack Obama has erupted, this time over a senior military advisor to the Obama campaign with a history of anti-Israel remarks. He has strongly criticized pro-Israel Jews in the United States for allegedly torpedoing peace efforts in the Middle East. In a 2003 interview with The Oregonian newspaper unearthed by The American Spectator magazine, General Merrill "Tony" McPeak, a former chief of staff in the United States Air Force who is a candidate for secretary of defense in a potential Obama administration, claimed that efforts to bring peace between Israel and the Palestinian Authority failed because there is no US-written "playbook" to create peace. An interviewer asked General McPeak "So where's the problem? State? White House?" McPeak pulled no punches. "The problem rests in New York City and Miami. We have a large voting block here in favor of Israel. And no politician wants to run against it, nobody wants to take on that problem. It's just too tough politically. So that means we can't develop a Middle East peace strategy. It's impossible," he said. Even prior to the Oregonian interview, McPeak was known as a long-time critic of Israel's presence in Judea, Samaria, Gaza and the Golan Heights. In a 1976 article in Foreign Affairs magazine, he criticized Israel for refusing to withdraw from areas liberated in the 1967 Six Day War, even as he wrote poignantly about the vital security advantages Israel obtained by conquering those areas. "At the Suez Canal, Israel had the best 'tank ditch' in the Middle East. The Gaza Strip, long a nursery ground for Egyptian-supported terrorism reaching to within a few miles of Tel Aviv, had come under Israeli administration. On the Golan, Israel at last held the high ground. The bulge of the West Bank, an implicit threat that Israel would be cut in two, had been superseded by the line of the Jordan River. More important, the air threat to Israel had disappeared, at least for the moment. Tel Aviv had been 12 minutes flying time from Egyptian bases in the northern Sinai," he wrote. Yet in the same article, McPeak calls for an Israeli withdrawal from those areas, and seems to suggest that despite Israel's legitimate security concerns, "genuine security depends on regional accommodation, which the Arab states say cannot occur until all of the occupied territory is returned."
The storm surrounding McPeak is the latest in a series of anti-Israel revelations to tar the Obama campaign in recent months. Obama has long been a favorite son of left wing elements in the United States, but has been strongly criticized for failing to cut ties with radical preacher Rev. Jeremiah Wright. Wright has called Israel a "racist country," said that "Israel" is a dirty word, and claimed US foreign policy was responsible for the September 11, 2001 terrorist attacks. McPeak also charged Jews and Christian Zionists with dual-loyalties, and said that concern for Israel manipulated American foreign policy in Iraq.
Arab League: Syria Summit to Adopt Plan for Hamas-Fatah Truce
March 27….(YNET) Arab League Secretary General Amr Moussa announced Wednesday that Thursday's Arab summit in Damascus will adopt a Yemeni initiative aimed at ending disputes among the Palestinians. Moussa arrived in Damascus on Wednesday to join a meeting of Arab League foreign ministers to be held in the Syrian capital on Thursday. He is to attend the two-day convention of the summit on Saturday. "The Arab summit will adopt all the crucial and sensitive Arab issues, mainly issues related to the situation in Lebanon, Iraq, Sudan and the Palestinian territories," Moussa told a news conference. Moussa confirmed that the Arab Summit, "which welcomed the Yemeni initiative of reconciliation, will adopt the initiative and will include a clause about it in the final statement of the summit." Abbas' Fatah faction on Wednesday, however, ruled out talks with Hamas unless the Islamist group first cedes control of Gaza, casting doubt on the Yemen-sponsored reconciliation push. Fatah and Hamas, which seized control of the coastal enclave last June, agreed in Yemen this week to revive direct talks after months of hostilities to "return the Palestinian situation to what it was before the Gaza incidents." Abbas's office insisted the Islamist group must first relinquish control of the Gaza Strip. "We are ready to open a new chapter but the Palestinian condition remains unchanged, and that is a complete and a total reversal of the coup," Abbas's media adviser Nabil Amr told reporters in the West Bank city of Ramallah. "This is the final position of the Palestinian National Authority, of the Palestine Liberation Organization and of Fatah." After the Gaza takeover, Abbas responded by sacking a Hamas-led unity government, arresting some supporters of the group and pursuing US-backed peace talks with Israel, a move Hamas opposes. Hamas has repeatedly called for reconciliation talks with Fatah but has rejected Abbas's condition that it first give up control of the Gaza Strip, where 1.5 million Palestinians live. Hamas official Sami Abu Zurhi said Amr's comments on Wednesday effectively "wiped out" the Yemeni initiative and reflected the positions of Israel and the United States

Bush, Putin to Discuss Missile Defense
March 27….(Washington Times) President Bush yesterday announced he will meet with Russian President Vladimir Putin in Russia early next month, and said he hopes to move toward an agreement on a missile-defense system in Eastern Europe, amid signs that Russian opposition to the plan is softening. Mr. Bush will travel to the Russian resort town of Sochi on April 6 at Mr. Putin's invitation, after a weeklong trip through Eastern Europe highlighted by a meeting of the North Atlantic Treaty Organization (NATO). It will in all likelihood be the last meeting between the two leaders who have shared a unique relationship over the past seven years but still find themselves in disagreement on missile defense, which was a major issue at their first meeting in 2001. Mr. Bush, speaking to foreign reporters at the White House yesterday about his NATO trip, said missile defense was a top priority for the talks with Mr. Putin. Russian newspapers last week reported there was growing "momentum" for a compromise after Secretary of State Condoleezza Rice and Defense Secretary Robert M. Gates traveled to Moscow and presented a new written US offer designed to ease Russian fears of the missile-defense installation. Russian Foreign Minister Sergey Lavrov said the Bush administration had offered new "confidence-building measures," including allowing Russian monitoring of the defense sites in Poland and the Czech Republic, to address Kremlin fears the system could be employed against Russian missiles. National Security Adviser Stephen J. Hadley said Mr. Bush, in his meeting with Mr. Putin, will seek "to find a way in concrete terms to reassure Russia that the radar and missile installation is about potential threats coming to Europe from the Middle East, and are not aimed at Russia." After the two men first met in 2001, President Bush said he had looked Mr. Putin in the eye and "got a sense of his soul," which he deemed "trustworthy." However, Mr. Bush described Mr. Putin last month as "a pretty tough character" with whom he has had some "diplomatic head butts."
'Russia Pushing Moscow Mideast Parley With or Without Israel
March 26….(Jerusalem Post) Russia is determined to go ahead with an international Middle East conference in Moscow in June whether Israel likes it or not, government sources told The Jerusalem Post on Tuesday, summing up Russian Foreign Minister Sergei Lavrov's visit here last week. The sources characterized Lavrov's one-day visit last Thursday as "nasty," saying the Russian minister was agitated throughout his meetings with Foreign Minister Tzipi Livni and President Shimon Peres. He was, the sources said, in a slightly better mood during his talks with Prime Minister Ehud Olmert. According to the sources, Russia's determination to go ahead with the conference, despite a decidedly cool, though officially noncommittal, reception to the idea from both Israel and the US, stemmed from Moscow's assessment that it desperately needed to increase its involvement in the Middle East and "make its mark" in the region. The reason the Kremlin wanted to get more involved right now, according to the officials in Jerusalem, was not because of a fear they were being outmaneuvered in the region only by the US, but rather because Moscow felt it was losing ground to Iran. According to the government sources, Moscow viewed Hamas's takeover of Gaza as benefiting Iran, Hizbullah's strong position in Lebanon as strengthening Iran, and the situation in Iraq as playing into Iran's hands. As a result, Moscow wants to dramatically increase its role and influence in the region. "They are afraid of Iran's strides here," one official said. According to the source, a nuclear cooperation deal Russia signed with Egypt during Egyptian President Hosni Mubarak's visit to Russia on Tuesday was also aimed at gaining influence in the region. Moscow, according to Israeli officials, saw arms sales and nuclear technology as a way to once again assert its presence and gain leverage in the Middle East, as it had during the period of the Soviet Union. Israel was noncommittal to the conference idea throughout Lavrov's visit, with Olmert refraining from publicly coming out either for or against the proposal. The sense in Jerusalem is that if what is planned is an international conference along the lines of the Annapolis Conference, where other Arab countries would reaffirm support for a Palestinian-Israeli agreement, then that is something Israel could go along with, although not with great enthusiasm. If, however, the idea was to hold Israeli-Palestinian bilateral negotiations in Moscow, that is something Jerusalem was not keen on. In general, Israel believes that an international conference is unnecessary at a time when bilateral Israeli-Palestinian negotiations are taking place. Nevertheless, while Israel has adopted a decidedly unenthusiastic tone toward Russia's increasing assertiveness in the region, Russia's interest in blocking Iran's march in the Middle East is very compatible with Israel's overall interests. For this reason, there may be an inclination in Jerusalem to go ahead with the international conference, even though it is wary of the idea. "For the Russians, we are just a small pawn in the greater game," one government source said. "They are going to go ahead with the conference no matter what we say, knowing we will have no choice in the end but to go along." Regarding reports that Lavrov told Syrian President Bashar Assad that the Golan Heights would be an issue at the proposed Moscow meeting, officials in Jerusalem said the Russians knew Israel was opposed to a "photo-opportunity" with the Syrians, and that if the Syrians were indeed interested in negotiations, they knew what they had to do. Israel has made clear that Syria would have to stop supporting Hizbullah and Hamas, kick the terrorist organizations out of Damascus, and pull away from its cozy embrace with Iran for there to be a possible peace deal.
Hezbollah is Bought and Paid for by Iran
March 26….(In The Days) In a recently published report, entitled "Iranian Influence in the Levant, Iraq, and Afghanistan," the American Enterprise Institute (AEI), a pro-Israeli think tank, seeks to link the growing strategic importance of Iran in the region with the concurrent rise in prominence of groups such as Hamas and Hizbullah. The emergence of Iran as a regional political force has coincided with the rise in prominence of groups like Hizbullah and the Mahdi Army, leading some commentators to surmise that a "Shiite Crescent" stretching from Iran through the Levant and the Gulf may threaten the existing regional order. The report argues, in part, that Hizbullah is a terrorist organization with operational capabilities across the Middle East and throughout the Lebanese diaspora elsewhere. Also central to the report's argument is that Hizbullah is a proxy, stating that the "Party of God" is a puppet of the regime in Tehran. In support of these claims, the report describes several mechanisms through which Hizbullah has become dependent on Iran, breaking the claimed dependency into financial and military spheres. Financially, the report claims, Hizbullah receives around $100 million annually from Iran, a number that has gone up since the 2006 war with Israel. Total Iranian funding of Hizbullah is placed in the billions. Militarily, the report says Hizbullah received around 12,000 missiles and rockets between 1992 and 2005. It is claimed that Iranian support has now offset any loss of weapons during the 2006 war and that weapons aid is becoming more sophisticated in nature. Furthermore, the report attributes Hizbullah's performance during the war to the technical weapons know-how and tactical advice of Iran's Islamic Revolutionary Guards Corps, and tunnel construction by "North Korean engineers" in the years preceding the war. The argument being made is that Hizbullah is dependent on Iran for its financial and military livelihood, and is merely a strategic tool of the Islamic regime. Amal Saad-Ghorayeb, an expert on Hizbullah, has argued that the party seeks to balance increasingly contradictory identities. In this view, Hizbullah is at once a geopolitical player in the region looking to Iran for support, a resistance movement acting as a bulwark against Israeli encroachment, and an actor seeking to maximize the Shiite communal interest in the Lebanon. When asked about the relative prominence of each of these overlapping aims during recent stages of the Lebanese political stand-off, Saad-Ghorayeb told The Daily Star that "the first two [geopolitics and resistance], intertwined, represent the main focus now. Any new war will be regional in nature, as the potential links between the [senior Hizbullah commander Imad] Mughniyeh assassination and the Jewish seminary shootings in Jerusalem indicate." She also said the resistance function has acquired regional commitments and that Hizbullah may act in Israel if the conflict continues to intensify. However, "Hizbullah is not dependent in the full sense of the term, the party may be financially dependent but is more than a mere tool. The relationship between Iran and Hizbullah is not one of dependence, but of mutual interest and benefit," she said. Conversely, Osama Safa, general director of the Lebanese Center for Policy Studies, views Hizbullah as "the strongest tool of interest Iran has in Lebanon and the region." Safa said "Hizbullah's various aims are directly related to the regional agenda."
Saudi King Calls for Interfaith Dialogue For Sake of World Peace
Saudi King Calls for Dialogue Among Different Religions, Including Judaism

Pope Benedict XVI and Saudi Arabia's King Abdullah
March 26….(ABC News) The Saudi king has made an impassioned plea for dialogue among Muslims, Christians and Jews, the first such proposal from a nation with no diplomatic ties to Israel and a ban on non-Muslim religious services and symbols. The message from King Abdullah, which was welcomed by Jewish, Christian and Muslim leaders, comes at a time of stalled peace initiatives and escalating tensions in the region. Muslims have been angered by cartoons published in European papers seen as insulting the Prophet Muhammad and by the pope's baptizing on Easter of a Muslim journalist who had converted to Catholicism. "The idea is to ask representatives of all monotheistic religions to sit together with their brothers in faith and sincerity to all religions as we all believe in the same God," the king told delegates Monday night at a seminar on "Culture and the Respect of Religions." The specifics of Abdullah's initiative, and who would participate remained unclear, in particular whether Israeli religious leaders would be invited to a Saudi-brokered dialogue. The kingdom and all other Arab nations except Egypt and Jordan do not have diplomatic relations with Israel and generally shun unofficial contacts. The call, the first of its kind by an Arab leader, was significant. The Saudi monarch is the custodian of Islam's two holiest shrines in Mecca and Medina, a position that lends his words special importance and influence. Abdullah said Saudi Arabia's top clerics have given him the green light, crucial backing in a society that expects decisions taken by its rulers to adhere to Islam's tenets. It also raises the possibility that a religious dialogue could have a political impact in the Middle East, easing tensions between Arabs and Israelis in a way that years of off-and-on negotiations and political conferences have failed to do. King Abdullah said he planned to hold conferences to get the opinion of Muslims from other parts of the world, and then meetings with "our brothers" in Christianity and Judaism "so we can agree on something that guarantees the preservation of humanity against those who tamper with ethics, family systems and honesty." Abdullah, who said he discussed the idea with Pope Benedict XVI when they met at the Vatican in November, framed his appeal in strictly religious and ethical terms, aimed at addressing the weakening of the family, increasing atheism and "a lack of ethics, loyalty, and sincerity for our religions and humanity." A Saudi official with knowledge of the proposal said it was not intended to have a regional political angle, saying "the initiative is not aimed at the Middle East but at the whole world. It's a global initiative." Abdullah, considered a reformer in Saudi politics, has in the past proposed peace deals with Israel, saying his country and other Arab nations are willing to recognize the Jewish state as long as it gives up land to Palestinians. Prominent Saudi cleric, Sheik Muhammad al-Nujaimi, said he saw no reason why any Saudi official, including Abdullah, cannot meet with Jewish religious leaders. "The only condition is for the rabbi not to be supportive of the massacres against the Palestinian people," he said. In Israel, Chief Rabbi Yona Metzger welcomed Abdullah's call. "Our hand is outstretched to any peace initiative and any dialogue that is aimed at bringing an end to terror and violence," he said in a statement. Rabbi David Rosen, head of inter-religious relations at the American Jewish Committee and a former chief rabbi of Ireland, said framing the dialogue in religious terms was key. "Religion is all too often the problem, so it has to also be the solution, or at least part of the solution and I think that the tragedy of the political initiatives to bring peace has been the failure to include the religious dimension," he said. Saudi Arabia follows a severe interpretation of Islam known as Wahhabism, and it was not clear whether Abdullah's call would be followed by steps in the kingdom to relax the ban on non-Muslim worship services, as well as symbols from other religions, such as crosses and Bibles. Abdullah's contacts with Pope Benedict are also significant. In an audiotape released last week, al-Qaida leader Osama bin Laden accused Pope Benedict of playing a "large and lengthy role" in what he called a "new Crusade" against Islam.
Who Founded Israel, God or the United Nations?
(The two previous UN secretaries-general reminded Israel repeatedly that the Jewish State owes its existence to the world body. Technically this is true, but spiritually it was God who organized the timing.)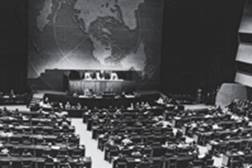 March 25….(Israel Today) The State of Israel has marked a significant milestone, the 60th anniversary of the UN General Assembly vote on the division of Palestine into an Arab and a Jewish state, with Jerusalem to be placed under international supervision. It took place on November 29, 1947. The UN Partition Plan was approved with 33 countries voting in favor, 13 against, and 10 abstentions. Six months later, on May 14, 1948, the Jewish state was founded. Immediately afterward, the surrounding Arab nations, which rejected the plan, attacked Israel in what became known as the War of Independence. Israel was established three years after the end of Adolf Hilter's attempt to exterminate the Jews during World War II; 50 years after the First Zionist Congress in Basel, Switzerland; 1,878 years after the destruction of the Second Temple in Jerusalem; and 1,948 years after the Messiah walked in this Land. So who is responsible for the establishment of the State of Israel, the UN or God? The two previous UN secretaries- general, Kofi Annan and before him Boutros Boutros-Ghali, reminded Israel repeatedly that the Jewish State owes its existence to the world body. Technically this is true, but spiritually it was God who organized the timing. The UN would have voted for the establishment of a Jewish state only in the immediate aftermath of the genocide of the Jews during World War II. God used the sympathy of the nations to bring about His plan. Just a few years later, and this sympathy would have dissipated, thwarting the creation of the State of Israel. Since God allowed the UN vote to take place in His timing, He also made sure that the UN was founded at the right time, 25 months before the decisive vote on the Partition Plan. "Zionism was lucky to take hold of history at the last minute," said Professor Shlomo Sand, who hosted a panel discussion on the creation of the State of Israel. "A short time later, we might have missed the Jewish state." Whether it was politics or divine intervention, in the end God's promises in His Word were fulfilled: ("Behold I will take the sons of Israel from among the nations where they have gone and I will gather them from every side and bring them into their own land. I will make them one nation in the land, on the mountains of Israel" (Ezekiel 37:21, 22). "They will rebuild the ruined cities and live in them, they will plant vineyards and drink their wine and make gardens and eat their fruit. I will also plant them on their land") (Amos 9:14, 15).
Saudi King to Organize Interfaith Conference with Jewish Participants
(King Abdul Aziz Ibn Saud announces that he will organize interfaith conference involving Christians, Muslims, Jews. Morality, breakdown of traditional values will be among topics up for discussion)
March 25….(YNET) Saudi King Abdul Aziz Ibn Saud announced Tuesday that he will organize a series of meetings involving representatives of the Jewish, Christian and Muslim faiths in an attempt to foster dialogue between adherents of the three main monotheistic faiths. The king announced that his goal in generating this interfaith dialogue is to attempt to prevent the rapid decline in morals and traditional family values rampant in society, and to restore loyalty and caring as guiding principles in our world. The London-based Arab language publications al-Hayat and al-Sharq al-Awsat reported Tuesday that the Saudi monarch had stated that humanity is currently facing a serious moral crisis. He also noted that he spoke to Pope Benedict XVI regarding these proposed interfaith meetings, and that "the pontiff greeted him at eye level as a fellow human being in a meeting that he will not soon forget."
Saudi clerics, revealed the king, were also enthusiastic regarding this interfaith conference. "With Allah's aid, we will meet our brethren of the Torah and the New Testament. Together we will prevent the decay of morality and family values in our society, and replace the contempt and hurtfulness omnipresent in our world with genuine human fealty."
US and Saudi Arabia Agree to Bring Oil Prices Down to $90
March 25….(DEBKA) DEBKAfile's Gulf sources disclose that US Vice President Dick Cheney persuaded Saudi leaders to raise production in order to curb rocketing world oil prices, during their talks in Riyadh on Saturday, March 22. King Abdullah thereupon convened the Supreme Council for Petroleum and Mineral Affairs Sunday, to underline the kingdom's commitment to stabilizing the international oil market "by ensuring adequate supply." The Saudi Supreme Oil Council's statement emphasized OPEC's role in "stabilizing the world energy market and realizing global progress and prosperity." It also "emphasized the Kingdom's desire for oil market stability, and ensuring supplies to different regions at all times to maintain world economic growth." The council expressed its satisfaction with the progress in new investment projects for expanding oil production and refine capacity; and, finally, committed the kingdom to working with OPEC countries, other producers and consuming countries toward oil market stability and avoidance of the effect of harmful speculation." These decisions, as DEBKAfile's Gulf oil sources disclose, add up to the Saudi King's compliance with Cheney's request to act for stable world oil prices, by speeding up the expansion of production and refining projects both inside OPEC and in cooperation with other world producers, such as Russia and Norway. Cheney thus succeeded where President George W. Bush failed in January. The Saudi monarch refrained from complying with the US president's request to persuade members of OPEC, the Oil Producing Cartel, at its last meeting to step up production. The Saudis only spiked the initiative of radical members, led by Iran and Venezuela, to cut production down. Saudi Arabia has targeted the year 2009 for increasing its output from 11 to 12.5 million barrels per year. The new Council decision brings the target date forward by some months. In any case, the kingdom does not export all it produces and could sell more by drawing on its emergency reserve. In the first two days of the week, oil prices, like other commodities, began to slide, mainly in response to US Federal Reserve steps. Those steps may have helped convince Riyadh that it was time for a more aggressive policy to curb the speculation rife in oil prices. While the extent of this downward trend is hard to predict, oil producers are looking favorably at prices of $85-90 in the short term, which are realistic given the protracted US dollar slump. Vice President Cheney proposed lower price levels for the more distant future, but Abdullah said that given the volatility of international oil and financial markets, this was not realistic.
Iran Gives Syria $1 Billion for Weapons
(Tehran moves to counter attempts to lure Damascus away from the Islamic Republic)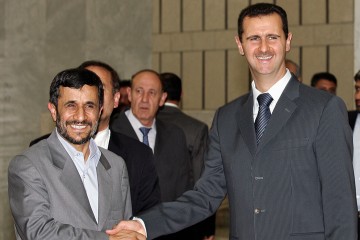 March 25….(Trumpet.com) In an effort to counter attempts to convert Syria to the moderate Arab camp, Iran has given Damascus $1 billion to upgrade its army, an Israeli newspaper has found. Haaretz reports, "The $1 billion that Iran has recently provided Syria has been used to buy surface-to-surface missiles, rockets, anti-tank missiles and anti-aircraft systems." It did not escape Haaretz that the weapons Syria acquired are tailored for a war against Israel. According to the report, "Israel has learned that Syria is buying more missiles than tanks, on the assumption that attacking the Israeli home front would deter Israel on the one hand, and help to determine the war on the other." This comes at a time when the international community, including Israel, has been reaching out to Syria to dump its old ally Iran. But this wouldn't be the first time Iran pushed its agenda on Damascus. In July 2007, Iranian President Mahmoud Ahmadinejad visited Damascus when Israeli Prime Minister Ehud Olmert reached out to Syria to begin peace talks. At that time, the London-based Al-Sharq Al-Awsat reported, Ahmadinejad promised Syrian President Bashar Assad that Iran would finance Russian and North Korean weapons deals in exchange for Damascus forgoing peace talks with Israel. Will Iran always be able to buy Syria's friendship? Israeli intelligence officials are undecided on the answer. Some think their strategic alliance is too strong to be severed. Others think that if Israel offered the Golan Heights and Washington reversed its foreign policy against Syria, there might be a chance.
Saddam's Terrorists Friends & The "Bush Lied About Iraq" Story
(What a Pentagon review of 600,000 Iraqi documents tells us)
March 24….(excerpt by Stephen F. Hayes) It has become a seemingly foregone conclusion in American politics that President Bush lied about Iraq's connection to Al Qaeda. But in truth, throughout the early and mid-1990s, Saddam Hussein actively supported an influential terrorist group headed by the man who is now al Qaeda's second-in-command, according to an exhaustive study issued last week by the Pentagon. Saddam supported groups that either associated directly with al Qaeda (such as the Egyptian Islamic Jihad, led at one time by bin Laden's deputy, Ayman al-Zawahiri) or that generally shared al Qaeda's stated goals and objectives. According to the Pentagon study, Egyptian Islamic Jihad was one of many jihadist groups that Iraq's former dictator funded, trained, equipped, and armed. The study was commissioned by the Joint Forces Command in Norfolk, Virginia, and produced by analysts at the Institute for Defense Analyses, a federally funded military think tank. It is entitled "Iraqi Perspectives Project: Saddam and Terrorism: Emerging Insights from Captured Iraqi Documents." The study is based on a review of some 600,000 documents captured in postwar Iraq. Those "documents" include letters, memos, computer files, audiotapes, and videotapes produced by Saddam Hussein's regime, especially his intelligence services. The analysis section of the study covers 59 pages. An abstract that describes the study reads, in part: Because Saddam's security organizations and Osama bin Laden's terrorist network operated with similar aims, considerable overlap was inevitable when monitoring, contacting, financing, and training the same outside groups. This created both the appearance of and, in some way, a 'de facto' link between the organizations. At times, these organizations would work together in pursuit of shared goals but still maintain their autonomy and independence because of innate caution and mutual distrust. Though the execution of Iraqi terror plots was not always successful, evidence shows that Saddam's use of terrorist tactics and his support for terrorist groups remained strong up until the collapse of his regime." Among the study's other notable findings: In 1993, as Osama bin Laden's fighters battled Americans in Somalia, Saddam Hussein personally ordered the formation of an Iraqi terrorist group to join the battle there against US forces. For more than two decades, the Iraqi regime trained non-Iraqi jihadists in training camps throughout Iraq. According to a 1993 internal Iraqi intelligence memo, the Saddam regime was supporting a secret Islamic Palestinian organization dedicated to "armed jihad against the Americans and Western interests." In the 1990s, Iraq's military intelligence directorate trained and equipped "Sudanese fighters." In 1998, the Iraqi regime offered "financial and moral support" to a new group of jihadists in Kurdish-controlled northern Iraq. In 2002, the year before the war began, the Iraqi regime hosted in Iraq a series of 13 conferences for non-Iraqi jihadist groups. That same year, a branch of the Iraqi Intelligence Service (IIS) issued hundreds of Iraqi passports for known terrorists. There is much, much more. Documents reveal that the regime stockpiled bomb-making materials in Iraqi embassies around the world and targeted Western journalists for assassination. In July 2001, an Iraqi Intelligence agent described an al Qaeda affiliate in Bahrain, the Army of Muhammad, as "under the wings of bin Laden." Although the organization "is an offshoot of bin Laden," the fact that it has a different name "can be a way of camouflaging the organization." The agent was told to deal with the al Qaeda group according to "priorities previously established."
In describing the relations between the Army of Muhammad and the Iraqi regime, the authors of the Pentagon study come to this conclusion: "Captured documents reveal that the Saddam regime was willing to co-opt or support organizations it knew to be part of al Qaeda, as long as that organization's near-term goals supported Saddam's long-term vision."
In making a case for invading Iraq in 2002 and 2003, President Bush and his top national security aides claimed that Saddam's regime had ties to Osama bin Laden's al Qaida terrorist network. Saddam also recruited non-Iraqi jihadists to serve as suicide bombers on behalf of the Iraqi regime. According to the study, captured documents "indicate that as early as January 1998, the scheduling of suicide volunteers was standard operating procedure.
The second section of the Pentagon study concerns "State Relationships with Terrorist Groups." An IIS document dated March 18, 1993, lists nine terrorist "organizations that Saddam's IIS cooperated with and had relations with various elements in many parts of the Arab world and who also had the expertise to carry out assignments" on behalf of the regime. Several well-known Palestinian terrorist organizations were included, including Abu Nidal's Fatah-Revolutionary Council and Abu Abbas's Palestinian Liberation Front. There were two terrorist organizations on the Iraqi Intelligence list that deserve special consideration: the Afghani Islamic Party of Gulbuddin Hekmatyar and the Egyptian Islamic Jihad of Ayman al Zawahiri. Hekmatyar "worked closely" with Osama bin Laden and his Afghani Islamic Party hosted "al Qaeda's terrorist training camps" in eastern Afghanistan. The IIS document also reveals that Saddam was funding another close ally of bin Laden, the EIJ organization of Ayman al Zawahiri. Zawahiri's Islamic Jihad Organization was established in Egypt 1979. Its goal is to apply the Islamic shari'a law and establish Islamic rule. It is considered one of the most brutal Egyptian organizations. It carried out numerous successful operations, including the assassination of Egyptian President Anwar Sadat. Zawahiri arrived in Afghanistan in the mid-1980s, and "from the start he concentrated his efforts on getting close to bin Laden. The leaders of EIJ quickly became leaders of bin Laden's terror organizations. Zawahiri soon succeeded in placing trusted members of Islamic Jihad in key positions around bin Laden. The largest share of bin Laden's financial support went to Zawahiri and the Islamic Jihad organization. Toward the end of 1989, a meeting took place in the Afghan town of Khost at a mujahideen camp. A Sudanese fighter named Jamal al-Fadl was among the participants. At the meeting, an Iraqi terrorist operative known as Abu Ayoub proposed the formation of a new organization that would wage jihad beyond the borders of Afghanistan. The new organization came to be called Al Qaeda--the Base. The alliance was conceived as a loose affiliation among individual mujahideen and established groups, and was dominated by Egyptian Islamic Jihad. The ultimate boss, however, was Osama bin Laden, who held the checkbook. Ayman al Zawahiri also attended the founding meeting of al Qaeda, and his EIJ "dominated" the new organization headed by Osama bin Laden. Soon afterward Zawahiri and bin Laden moved their operations to Sudan. At precisely the same time Zawahiri was "joining with bin Laden," in the spring of 1993, he was being funded by Saddam Hussein's Iraq. As Zawahiri's jihadists trained in al Qaeda camps in Sudan, his representative to Iraq was planning "commando operations" against the Egyptian government and as a memo from Saddam Hussein to a member of his Revolutionary Council testifies, Saddam ordered that terrorist operations be enacted against Israel and America. According to the Pentagon study, "the IIS hosted thirteen conferences in 2002 for a number of Palestinian terrorist organizations, including delegations from the Islamic Jihad. The documents show that the Iraqi regime provided "financial and moral support" to members of a group which would later become part of the al Qaeda affiliate in the region, Ansar al Islam.
The fourth and final section of the Pentagon study is called, "The Business of Terror." This section deals with indirect cooperation in the movement led by Osama bin Laden with Saddam Hussein. During the 1990s, both Saddam and bin Laden wanted the West, particularly the United States, out of Muslim lands (or in the view of Saddam, the "Arab nation")   In pursuit of their own separate but surprisingly 'parallel' visions, Saddam and bin Laden often found a common enemy in the United States." They further note that Saddam's security organizations and bin Laden's network were recruiting within the same demographic, spouting much of the same rhetoric, and promoting a common historical narrative that promised a return to a glorious past. One IIS document, authenticated by the Defense Intelligence Agency is dated March 28, 1992. It describes Osama bin Laden as an Iraqi intelligence asset "in good contact" with the IIS station in Syria. Bin Laden requested that Iraq's state-run television network broadcast anti-Saudi propaganda, and the document indicates that the Iraqis agreed to do this. The al Qaeda leader also proposed "joint operations against foreign forces" in Saudi Arabia. Military historians and terrorism analysts are engaged in a good faith effort to review the captured documents from the Iraqi regime and provide a dispassionate, fact-based examination of Saddam Hussein's long support of Jihadist terrorism. Yet most reporters and news media don't care. They are trapped in a world where politics says that the Bush administration simply lied to the country about an Iraq-al Qaeda connection, and no amount of evidence to the contrary, not even the words of the fallen Iraqi regime itself, can convince them to reexamine their mistaken assumptions. Bush administration officials, meanwhile, tell us that the Iraq war is the central front in the war on terror and that American national security depends on winning there. And yet even they are too busy, too tired or too lazy to correct these fundamental misperceptions about the case for the war in Iraq, the most important decision of the Bush presidency.
FOJ Note: Apparently President Bush and his administration have been more preoccupied with scoring points with Russian President Vladimir Putin, than with contending with the subject of Iraq's terrorist connections. It is a fact that Putin's Russia transported all the Iraqi weapons of mass destruction (that the Bush Administration based its Iraq war case upon) out of Iraq before the American-led invasion in 2003.
Obama Raised Funds for Islamic Causes
(Speeches for Palestinian refugees called code for Israel's destruction)
March 24….(WND) Senator Barack Obama has spoken at fundraisers for Palestinians living in what the United Nations terms refugee camps, WND has learned. Palestinians have long demanded the "right of return" for millions of "refugees," a formula Israeli officials across the political spectrum warn is code for Israel's destruction by flooding the Jewish state with millions of Muslim Arabs, thereby changing its demographics. In a conference call last month with Jewish and Israeli media aimed primarily at dispelling Internet reports he is anti-Israel, Obama stated "Palestinian refugees" belong in their own state and do not have a "literal" right of return to Israel. "We cannot move forward until there is some confidence that the Palestinians are able to provide the security apparatus that would prevent constant attacks against Israel from taking place," continued Obama during the conference with Jewish journalists. But in the 1990s Obama was a speaker at events in Chicago's large Palestinian immigrant community to raise funds for UN camps for the so-called Palestinian refugees. Ali Abunimah, a Chicago-based Palestinian-American activist and co-founder of Electronic Intifada, a pro-Palestinian online publication, recalls introducing Obama at one such event, a 1999 fundraiser for the Deheisha Palestinian camp in the West Bank. Abunimah is also a harsh critic of Israel and has protested outside pro-Israel events in the Chicago area. "I knew Barack Obama for many years as my state senator, when he used to attend events in the Palestinian community in Chicago all the time," stated Abuminah during an interview last month with Democracy Now!, a nationally syndicated radio and television political program. "I remember personally introducing Obama onstage in 1999, when we had a major community fundraiser for the community center in Deheisha refugee camp in the occupied West Bank. And that's just one example of how Barack Obama used to be very comfortable speaking up for and being associated with Palestinian rights and opposing the Israeli occupation," Abunimah said. Abunimah also was recently quoted saying that until a few years ago, Obama was "quite frank that the US needed to be more evenhanded, that it leaned too much toward Israel." Abunimah noted Obama's unusual stance toward Israel, commenting "these were the kind of statements I'd never heard from a US politician who seemed like he was going somewhere, rather than at the end of his career." Abunimah previously described meeting with Obama at a fundraiser at the home of Columbia University professor Rashid Khalidi, reportedly a former PLO activist. "Obama came with his wife. That's where I had a chance to really talk to him," Abunimah recalled. "It was an intimate setting. He convinced me he was very aware of the issues and very critical of US bias toward Israel and lack of sensitivity to Arabs. He was very supportive of US pressure on Israel.
'Very active' terror apparatus
Obama's 1999 fundraising for the Palestinian Deheisha camp raised the eyebrows of one senior Israeli security official who was contacted yesterday for comment on the issue. The official, who was not aware of Obama's fundraising, noted Deheisha, which is located near the city of Bethlehem, had a "very active" Palestinian terror apparatus in 1999, carrying out scores of deadly shootings against Israeli civilians that year. Two of the most deadly suicide bombings in 2002 also were planned from Deheisha, where the suicide bombers originated, said the security official. On one such bombing, in March of that year, 11 people were killed and over 50 injured, four critically when a Deheisha bomber detonated his explosives next to a group of Jewish women waiting with their baby carriages for their husbands to leave a nearby synagogue. The question of so-called Palestinian refugees is a sensitive one for supporters of Israel. All Israeli prime ministers have stated a final peace deal with the Palestinians cannot include the "return" of "refugees." When Arab countries attacked the Jewish state after its creation in 1948, some 725,000 Arabs living within Israel's borders fled or were flushed out when the Jewish state pushed back attacking Arab armies. Also at that time, about 820,000 Jews were expelled from Arab countries or fled following rampant persecution. While most Jewish refugees were absorbed by Israel and other countries, the majority of Palestinian Arabs have been maintained in 59 UN-run camps that do not seek to settle those Arabs elsewhere. There are currently about 4 million Arabs who claim Palestinian refugee status with the UN. The UN created the special agency, the United Nations Relief and Works Agency, or UNRWA, specifically to handle registered Palestinian refugees. It's the only refugee case handled by the UN in which the declared refugees are housed and maintained in camps for generations instead of facilitating the refugees' resettlement elsewhere.
Arab-American Activist Says Obama Hiding Anti-Israel Stance
March 24….(IsraelNN.com) Democratic presidential hopeful Sen. Barack Obama is currently hiding his anti-Israel views in order to get elected, according to a well-known anti-Israel activist. The activist, Ali Abunimah, claimed to know Obama well and to have met him on numerous occasions at pro-Palestinian events in Chicago. In an article he penned for the anti-Israeli website Electronic Intifada, Abunimah wrote: "The last time I spoke to Obama was in the winter of 2004 at a gathering in Chicago's Hyde Park neighborhood. He was in the midst of a primary campaign to secure the Democratic nomination for the United States Senate seat he now occupies. But at that time polls showed him trailing. "As he came in from the cold and took off his coat, I went up to greet him. He responded warmly, and volunteered, 'Hey, I'm sorry I haven't said more about Palestine right now, but we are in a tough primary race. Abunimah's report included a photo of Obama with his wife Michelle seated at a table with virulently anti-Israeli Professor Edward Said and his wife Mariam, in what Abunimah said was a May 1998 Arab community event in Chicago at which Said gave the keynote speech. In an interview earlier this year for the leftist radio show "Democracy Now!," a daily TV and radio news program hosted by Amy Goodman and Juan Gonzalez, Abunimah said he knew Obama for many years as his state senator "when he used to attend events in the Palestinian community in Chicago all the time." Obama was forthright in his criticism of US policy and his call for an even-handed approach to the Palestinian-Israeli conflict." "Obama's about-face is not surprising," Abunimah wrote. "He is merely doing what he thinks is necessary to get elected and he will continue doing it as long as it keeps him in power." When Obama first ran for the Senate in 2004, the Chicago Jewish News interviewed him on his stance regarding Israel's security fence. He accused the Bush administration of neglecting the "Israeli-Palestinian" situation and criticized the security fence built by Israel to prevent terror attacks: "The creation of a wall dividing the two nations is yet another example of the neglect of this Administration in brokering peace," Obama was quoted as saying.
Netanyahu: Jerusalem Withdrawal Will Bring Iran to Capital
March 24….(Arutz) Opposition leader Benyamin Netanyahu warned US Vice President Dick Cheney Sunday that an Israeli withdrawal from any part of Jerusalem would lead to the creation of an Iranian base in the heart of Israel. "The Iranian threat must be neutralized before it arms itself with a nuclear bomb. In addition, Iran must be prevented from building its main bases in the region, from Gaza to Lebanon, and particularly in Jerusalem," he said. Netanyahu has been warning about Iran's nuclear ambitions for more than a decade. His 1995 book Fighting Terrorism contains a chapter entitled "The Specter of Nuclear Terrorism" that focuses largely on the Islamic Republic, and outlines the history of Iran's nuclear installations at Bushehr and Isfahan and concludes with a chilling warning about terrorist groups and states obtaining nuclear weapons: "(They will) invariably deploy them in the service of their aggressive purposes." In addition to security issues, Netanyahu told US Vice President Dick Cheney that basic religious freedoms for non-Muslims would be endangered by ceding parts of the capital to Iran and its latest prodigy, the Hamas terrorist organization. "Hamas, Iran and other forces affiliated with them will take control of it. They will threaten Jerusalem's wellbeing, Israel's security and the freedom of worship for millions of pilgrims and members of the different religions who visit the city today," he said. Cheney replied that the US administration understood the situation. Netanyahu also reiterated his call to the Shas Party to quit the government over ongoing negotiations over Jerusalem with the PA, which Foreign Minister Tzipi Livni confirmed on Friday. Earlier this month, the Shas party received some 185 million shekels in government funding for its institutions as part of its coalition agreement.
WEEK OF MARCH 16 THROUGH MARCH 22
Obama's Church Published Hamas Terror Manifesto
(Compares charter calling for murder of Jews to Declaration of Independence)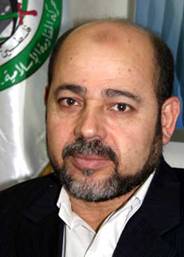 March 21….(WND) Sen. Barack Obama's Chicago church reprinted a manifesto by Hamas that defended terrorism as legitimate resistance, refused to recognize the right of Israel to exist and compared the terror group's official charter, which calls for the murder of Jews, to America's Declaration of Independence. The Hamas piece was published on the "Pastor's Page" of the Trinity United Church of Christ newsletter reserved for Rev. Jeremiah Wright Jr., whose anti-American, anti-Israel remarks have landed Obama in hot water, prompting the presidential candidate to deliver a major race speech earlier this week. Hamas, responsible for scores of shootings, suicide bombings and rocket launchings against civilian population centers, is listed as a terrorist group by the U.S. State Department. The revelation, quotes Israeli security officials who expressed "concern" about Robert Malley, an adviser to Obama who has advocated negotiations with Hamas and providing international assistance to the terrorist group. In his July 22, 2007, church bulletin, Wright reprinted an article by Mousa Abu Marzook, identified in the newsletter as a "deputy of the political bureau of Hamas." According to senior Israeli security officials, Marzook, who resides in Syria alongside Hamas chieftain Khaled Meshaal, is considered the "brains" behind Hamas, designing much of the terror group's policies and ideology. Israel possesses what it says is a large volume of specific evidence that Marzook has been directly involved in calling for or planning scores of Hamas terrorist offensives, including deadly suicide bombings. He was also accused of attempting to set up a Hamas network in the US.
Marzook's original piece was titled, "Hamas' stand" but was re-titled "A Fresh View of the Palestinian Struggle" by Obama's church newsletter. The newsletter also referred to Hamas as the "Islamic Resistance Movement," and added in its introduction that Marzook was addressing Hamas' goals for "all of Palestine." In the manifesto, Marzook refers to Hamas' "resistance," the group's perpetuation of anti-Israel terrorism targeting civilians, as "legal resistance," which, he argues, is "explicitly supported by the Fourth Geneva Convention." The Convention, which refers to the rights of people living under occupation, does not support suicide bombings or rocket attacks against civilian population centers, the Committee for Accuracy in Middle East Reporting in America noted. Marzook refers to Hamas' official charter as "an essentially revolutionary document" and compares the violent creed to the Declaration of Independence, which, Marzook states, "simply did not countenance any such status for the 700,000 African slaves at that time." Hamas' charter calls for the murder of Jews. Among its platforms is a statement that the "resurrection will not take place until the Muslims fight the Jews and the Muslims kill them, and the rock and the tree will say: 'Oh Muslim, servant of Allah, there is a Jew behind me, kill him!'" In his piece, Marzook says Hamas only targets Israel and denies that Hamas' war is meant to be waged against the US, even though Hamas officials have threatened America, and Hamas' charter calls for Muslims to "pursue the cause of the Movement (Hamas), all over the globe." Trinity Church did not respond to a phone message requesting comment. Obama's campaign also did not reply to phone and e-mail requests today for comment.
Bin-Laden: 'Free Palestine' Via Iraq
March 21….(IsraelNN.com) Osama Bin-Laden, head of the international jihadist terror organization Al-Qaeda, issued a new call for Palestinian Authority Muslims to fight against the Americans and their allies in Iraq, as a step on the path to the destruction of Israel. The audio tape of Bin-Laden, broadcast on the Qatar-based Al-Jazeera satellite TV network on Thursday, included a call for a renewed "holy war" on Israel. For its part, Bin-Laden declared, Al-Qaeda would increase its efforts to "free Palestine, all of Palestine, from the Jordan River to the Mediterranean Sea." Among what Al-Jazeera newscasters said were excerpts from a new recording, Bin-Laden said: "My speech is about the Gaza siege and the way to retrieve it and the rest of Palestine from the hands of the Zionist enemy. Our enemies did not take it by negotiations and dialog, but with fire and iron. And this is the way to get it back." The Saudi-born Islamic fundamentalist linked the jihad against Israel with the Iraqi insurgency: "The nearest field of jihad today to support our people in Palestine is the Iraqi field." Bin-Laden added that those of "our brothers in Palestine who could not join the jihad in the land of Al-Quds [Jerusalem]" should "get rid of illusions of political parties and groups which are mired in trickery of the blasphemous democracy and to take their positions among the ranks of the mujahideen in Iraq." The latest Bin-Laden audiotape follows on the heels of a recording publicized one day earlier, in which the Al-Qaeda leader threatened European nations with "severe" retaliation for the publication of cartoons mocking Islam's founder, Mohammad. The Al-Qaeda leader also accused the Pope of launching a "new Crusade" against Islam. According to its foundational ideology, Al-Qaeda sees its mission as fighting against the "Jews and the Crusaders [i.e., Christians]" in a worldwide jihad until Islam reigns supreme. The various theaters of battle in which Al-Qaeda is involved and the various states in which it is operating, such as North Africa, Iraq, Afghanistan, the United Kingdom, the United States, Spain, etc. are considered by Al-Qaeda strategists to be different fronts in a global struggle for domination. Defense officials have warned that Al-Qaeda operatives managed to infiltrate Gaza since the Hamas takeover of the region in 2006.
McCain Visits Sderot: Rockets an Act of War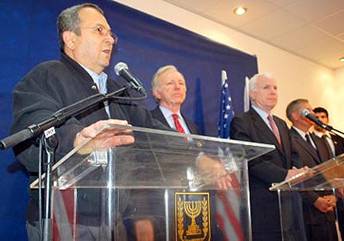 Barak, Lieberman and McCain in Sderot
March 20….(YNET) The grim situation in the rocket-battered town of Sderot has left a heavy impression on Republican presidential nominee John McCain, who visited there with Israeli Defense Minister Ehud Barak yesterday afternoon. McCain noted that there have been 900 rocket attacks on Sderot in the last three months, and that a rocket lands there every two hours in average. This puts intolerable pressure on the children and the population in general, he said, adding that this was "no way to spend the Purim holiday. Speaking at a press conference after touring the town with Barak, McCain stressed the importance of the peace process in bringing an end to the conflict.
The cycle of action and reaction must stop, and therefore the peace process should not be abandoned, he said. According to McCain, the US administration and Congress were determined to push forward with the peace process, and he urged Israel and the Palestinians to do the same. The Republican nominee reiterated his belief that Palestinian President Mahmoud Abbas was capable of advancing the process. Senator Joe Lieberman, who also attended the tour, said that Israel and the US were unified by there struggle against radical Islam. Lieberman stated that he was shocked to see the rockets' landing sites across town, comparing Sderot's plight to what the US experienced following September 11. Defense Minister Ehud Barak, who accompanied the three politicians on the tour, said that any normal country must respond to terror acts against it and that therefore Israel would continue its operations against the rocket launchers. "Once the terror emanating from Gaza ceases, the road will be open for different relations between us and our neighbors," he stated. Barak rejected the possibility of negotiations with Hamas. Referring to a recent poll indicating that group leader Ismail Haniyeh was growing in strength both in Gaza and the West Bank, he stated: "We read the polls, but I don't believe in them personally. We treat Hamas in accordance with its adherence to the demands of the Quartet and the international community. "Hamas must transform completely and accept these terms. Before it does so, we will not talk to it. I don't see Hamas taking such steps."
McCain Visits Sderot, Endorses Stronger Action
| | |
| --- | --- |
| | Remains of rockets fired from the Gaza Strip appear behind US Republican presidential candidate John McCain as he visits a local police station in the southern Israeli town of Sderot on March 19, 2008. McCain touts his foreign policy expertise at every turn, but he has given Democrats ammunition against his experience by wrongly saying Iran trains Al-Qaeda. |
March 20….(IsraelNN.com) Visiting US Senator John McCain (R., Arizona), all but assured of his party's nomination for President, says the US would not take rocket attacks on a city lying down.
McCain's visit, together with fellow Senator Joseph Lieberman, formerly of the Democratic Party and now a self-declared "independent," has included stops in Jerusalem and Sderot. McCain expressed sympathy for the people of Sderot, saying, "The residents obviously live under very severe stress. Living under a 15-second [rocket] alert is no way to spend Purim," a reference to the usually ultra-joyous holiday that begins Thursday night. Asked how he thinks Israel should respond to the Arab rocket attacks from Gaza, the Republican candidate for US President said he could not "give a good answer." But, he added, "I can tell you that I believe that if rocket attacks came across the border of the United States of America, that the American people would probably demand pretty strong action on the part of the President. On the topic of Hamas, McCain said, "Someone is going to have to answer me the question of how you are going to negotiate with an organization that is dedicated to your extinction." McCain was accompanied by Lieberman, an observant Jew, to the Western Wall on Wednesday, with both Senators sporting white knitted kippot (yarmulkes) for the occasion. Earlier, McCain visited Yad Vashem, and met with Prime Minister Ehud Olmert, Defense Minister Ehud Barak, Foreign Minister Tzipi Livni, and Opposition Leader Binyamin Netanyahu. At a joint press conference with Sen. McCain, Prime Minister Olmert said that Hamas is armed and sponsored by Iran and Syria. The senator said that as President of the United States, he would be active in trying to achieve peace between the sides in accordance with the principles agreed upon by the US and Israel.
Why Do Good Deeds toward Palestinians Go Unrewarded?
March 20….(JWR) On the evening of March 6 in Jerusalem, a heavily armed Palestinian terrorist from nearby east Jerusalem entered the Mercaz Harav yeshiva and opened fire on the unarmed teenage students studying there. Eight died, and 11 were badly wounded before another student and an off-duty soldier shot the terrorist. The atrocity ignited wild celebrations in Gaza. If you thought that the celebrations were anomalous, you might want to know about recent findings just published by the Palestinian Center for Policy and Survey Research, an independent polling organization based on the West Bank. According to its polls, 84 percent of Palestinians approved of this attack. Moreover, 64 percent approve of Hamas randomly firing rockets and mortars from Gaza into Israeli communities, and 75 percent favor ending negotiations between their leaders and the Israeli government. In September 2005, Israel, in an irenic gesture, withdrew its military from Gaza, but since then, it has endured about 2,500 rocket attacks from Gaza and almost an equal number of mortar attacks. I wonder whether 64 percent of the Palestinians would approve if Israel began reciprocal random attacks on Gaza. What is the old line, "Do unto others as you would have them do unto you"? Instead of lobbing artillery randomly, the Israel Defense Forces have attempted to counter Hamas' attacks with surgical strikes against their leaders and their rocket factories. However, Hamas' leaders nestle their headquarters and rocket factories in civilian neighborhoods, and civilians suffer collateral damage. That appears to have made Palestinians angry, and not at Hamas for its bellicosity but at Israel for responding to these cruel attacks. According to Khalil Shikaki, the Palestinian pollster who headed the aforementioned poll, never in the 15 years that the poll has been conducted has a majority of Palestinians favored rocket assaults on Israel or an end to negotiations. For handing over Gaza to the Palestinians, this is the thanks Israel has received.
Most Palestinians Favor Terror Over Talks
(Ishmael "And he will be a wild man; his hand will be against every man, and every man's hand against him; and he shall dwell in the presence of all his brethren."Genesis 16:12)
March 20….(In The Days) A new poll shows that an overwhelming majority of Palestinians support the attack this month on a Jewish seminary in Jerusalem that killed eight young men, most of them teenagers, an indication of the alarming level of Israeli-Palestinian tension in recent weeks. The survey also shows unprecedented support for the shooting of rockets on Israeli towns from the Gaza Strip and for the end of the peace negotiations between Palestinian and Israeli leaders. The pollster, Khalil Shikaki, said he was shocked because the survey, taken last week, showed greater support for violence than any other he had conducted over the past 15 years in the Palestinian areas. Never before, he said, had a majority favored an end to negotiations or the shooting of rockets at Israel. "There is real reason to be concerned," Mr. Shikaki said in an interview at his West Bank office. His Palestinian Center for Policy and Survey Research, which conducts a survey every three months, is widely viewed as among the few independent and reliable gauges of Palestinian public opinion. His explanation for the shift, one widely reflected in the Palestinian media, is that recent actions by Israel, especially attacks on Gaza that killed nearly 130 people, an undercover operation in Bethlehem that killed four militants and the announced expansion of several West Bank settlements, have led to despair and rage among average Palestinians who thirst for revenge. Mr. Shikaki's poll also showed that the militant Islamist group Hamas, which Israel and the United States have been trying to isolate, is gaining popularity in the West Bank while its American-backed rival, the more secular Fatah, is losing ground. Asked for whom they would vote for president, 46 percent chose Mahmoud Abbas of Fatah, the current president, while 47 percent chose Ismail Haniyeh of Hamas. Three months ago, Abbas was ahead 56 percent to 37 percent. After Hamas forces pushed Fatah forces out of Gaza last summer, Mr. Shikaki's polls showed the Palestinian public to be disillusioned with Hamas, and in the subsequent months many argued that Mr. Abbas, with the support of Washington and Israel, had an opportunity to win public support by easing living conditions and advancing in negotiations. That has not happened. According to the poll, of 1,270 Palestinians in face-to-face interviews, 84 percent supported the March 6 attack on the Mercaz Harav yeshiva, one of Israel's most prominent centers of religious Zionism and ideological wellspring of the settler movement in the West Bank. Mr. Shikaki said that result was the single highest support for an act of violence in his 15 years of polling here. On negotiations between Ehud Olmert, prime minister of Israel, and Mr. Abbas of the Palestinian Authority, 75 percent said they were without benefit and should be terminated. Regarding the thousands of rockets that have been launched on Israeli towns like Sderot and Ashkelon, 64 percent support it. The poll did show support for a two-state solution over the long term with 66 percent favoring normalized relations with Israel if it returned all land won in 1967 and a Palestinian state was established. The anger that this poll is registering is about equal to that at the very height of the second intifada," Mr. Shikaki said, referring to the years just after 2000 when suicide attacks on Israel and Israeli strikes on Palestinian forces reached new heights. "I am very worried about what is coming."
The Power of Symbolism
March 20….(Jerusalem Post) When Israel kills scores of terrorists, we wonder, how come many don't view the recent IDF operation in Gaza as a victory? We killed 100 terrorists, the IDF keeps saying, without realizing that our approach is completely different than the prevalent tactics in our region. For us, the sanctity of life is above everything. What wouldn't we do for one captive? Therefore, based on our criteria, 100 casualties is a terrible disaster. However, the other side doesn't see it that way, as it is a collective society willing to sacrifice its sons for the sake of a political objective: Palestinian nationalism, political Islam, Israel hatred, or any other goal. Late Egyptian President Sadat was willing, according to his declarations, to sacrifice a million soldiers in order to liberate the Sinai. As we recall, Palestinian leader Arafat declared that a million martyrs are marching on Jerusalem. Can you imagine an Israeli prime minister declaring that we are willing to sacrifice 100,000 IDF soldiers for the sake of the Golan, for example? While for us the State exists for the sake of the individual, in the society facing us the individual exists for the sake of the collective. Even the mother whose son committed suicide as part of the struggle against the Jews must openly declare that she is overjoyed by his martyrdom. In order words: Even if we kill 1,000 terrorists, the other side will still be declaring victory, as the objectives that are important to it, the political and leadership symbols and the broad political context, have not been hurt. Indeed, in symbolic terms, Hamas and its Islamic ethos stood its ground in Gaza. It controls the area, sends thousands of Israelis to bomb shelters, provokes unrest in Judea and Samaria, and Israel stopped the battle. For Hamas, this is a great achievement. Hamas adopted the common Middle Eastern tactics, which we have failed to understand: The tactics of symbols. It declared victory in the war and initiated a march by thousands of people to celebrate and reinforce the event. The symbolism of the march created power, as it enabled millions of viewers across the world to feel that they are marching with Hamas while also feeling a sense of solidarity and closeness. Such rally creates an event of its own. Hamas put on a performance. An important rule of thumb: Symbols, pictures, and performances will always overcome words, and we have words. A performance will always touch the emotions, and in the race between mind and emotions, emotions will always win, and the Islamic terrorists knows how to do that job well.
McCain Wary of Iran's Influence in Iraq
March 19…..(AP) Sen. John McCain, the Republican presidential nominee-in-waiting, expressed fresh concern Tuesday about Iran's influence in Iraq and rising sway in Mideast. McCain noted US military officials recently discovered a cache of armor-piercing bombs in Iraq, and he hinted the explosives had been provided by Iran. U.S. officials have long been saying that Iran provides explosively formed penetrators, or EFPs to, Shiite militias in Iraq, although the Iranian government denies any role. McCain also voiced concern that Tehran is bringing militants over the border into Iran for training before sending them back to fight US troops in Iraq, and blamed Syria for allegedly continuing to "expedite" a flow of foreign fighters. "We continue to be concerned about Iranian influence and assistance to Hezbollah as well as Iranian pursuit of nuclear weapons," McCain said. He added that, if elected president, he would coordinate better with Europe to impose a "broad range of sanctions and punishments" on Tehran, to "convince them that their activities, particularly development of nuclear weapons, is not a beneficial goal to seek." McCain declined to comment on whether he could back an eventual decision to strike Iran if Tehran doesn't cease its nuclear activities. In response to a question about possible US strikes against Tehran, McCain only said: "At the end of the day, we cannot afford having a nuclear armed Iran." And he warned that any hasty pullout from Iraq would be a mistake that would favor Iran and al-Qaida. "We continue to be very concerned about the Iranian influence in Iraq and in the region," McCain said. Later Tuesday, McCain received a celebrity welcome in Jerusalem, beginning a two-day visit to Israel with a stop at the Yad Vashem Holocaust memorial.
US Treasury Fears Islamic Strings on Investments
(Requests assurances decisions won't be dictated by Islamic sharia law)
March 19….(WND) The US Treasury is struggling with how to handle any political or Islamic ramifications as Persian Gulf sovereign wealth funds look to make substantial investments in capital-poor American banks and securities firms. The crisis in mortgage-backed securities has created a need for new capital to enter financial markets after major financial institutions such as Bear Stearns and Carlyle Capital Corp. failed over the weekend. The crisis is an opportunity for sovereign wealth funds that have prospered as the price of oil has soared over $110 a barrel. Sovereign wealth funds in six Persian Gulf countries, including Kuwait, the United Arab Emirates and Qatar, have now amassed $1.7 trillion, positioning them for attempts to control major banks and securities firms in the US. The question is whether political strings will come with the investment from the Islamic oil-rich states. Since the beginning of the year, Dubai and Abu Dhabi, two of the largest United Arab Emirate states, have been in discussions with the US Treasury, offering reassurances that their investments in US banks and security firms would not impose restrictions usually dictated by Islamic law, commonly know as sharia. The Wall Street Journal reported today that Abu Dhabi sent last week a three-page letter to US Treasury Secretary Henry Paulson and other Western finance officials spelling out a set of principles that will guide Abu Dhabi's investing philosophy. The letter marks the first time Abu Dhabi has responded to Treasury requests for reassurance the Islamic states will not use investments in US financial firms to seek political advantage. The Wall Street Journal reported the letter was also sent to the finance ministers of the other Group of Seven industrialized nations, the International Monetary Fund, the World Bank, the Organization for Economic Cooperation and Development and the European Commission.
US Loses No. 1 Ranking as Dollar Drops
(European Union now has world's biggest economy)
March 19….(WND) The European Union has overtaken the US as the world's No. 1 economy due to the continued dramatic fall of the dollar, according to a Reuters report. The US Gross Domestic Product, or GDP, for 2007 is officially estimated at $13,843,800 billion. The 2007 GDP for the 15 EU countries is estimated at 8,847,889 billion euros, the report said. That means when the euro yesterday topped $1.56, the EU officially became the largest economy in the world. Former Federal Reserve chairman Alan Greenspan declared the current financial crisis in the US "is likely to be judged in retrospect as the most wrenching" since the end of World War II. Greenspan further concluded the US financial crisis will not end until "home prices stabilize and with them the value of equity in homes supporting troubled mortgage securities."
The Dollar in crisis
The Federal Reserve is in a dilemma. As the Fed continues to lower rates to stimulate the sagging economy, the dollar is increasingly abandoned, hitting new lows almost every day against other major currencies. If the Fed were to raise rates to prop up the dollar, most Wall Street experts would expect a broad sell-off of US stocks across the board. Today, before the opening of the New York Stock Exchange, the dollar was trading at a new low, $1.5787 against the euro. Yesterday, the dollar hit a new all-time low in foreign currency exchange markets, closing at 71.44 on the US Dollar Index. Meanwhile, the crisis in the home equity market is spreading to impact major financial institutions. Over the weekend, the Federal Reserve and the Treasury intervened, guaranteeing J.P. Morgan Chase's bargain basement purchase for a mere $2 per share of then in free-fall Bear Stearns, the 85-year-old Wall Street investment bank that had survived the Depression and two world wars. For the first time since the Federal Reserve has published the data, bank non-borrowed reserves has begun to turn negative, reflecting the increased borrowing banks are utilizing to continue to operate.
The Two-State Thing: PA Stunt to Flood Israel with "Refugees"
| | |
| --- | --- |
| | PA leader Mahmoud Abbas is planning to ruin Israel's sixtieth birthday party, and to question President Bush's vision of a "two-state solution." |
March 19….(Israel Insider) The Palestinian Authority is planning to mark Israel's 60th anniversary by calling on all Palestinians living abroad to converge on Israel by land, sea and air, the Jerusalem Post reported. The plan, drawn by Ziad Abu Ein, a senior Fatah operative and Deputy Minister for Prisoners' Affairs in the PA, states that the Palestinians have decided to implement United Nations Resolution 194, which deals with the refugees, unilaterally. In effect, the plan represents the end of PA support for a two-state solution, and is clearly aimed at embarrassing Israel during its sixtieth anniversary celebrations. The PA plans to have "refugees" fly in to Ben Gurion airport between May 14 and 16, while at the same time other "refugees" will arrive by ship. Article 11 of the resolution, which was passed in December 1948, says that "refugees wishing to return to their homes and live at peace with their neighbors should be permitted to do so at the earliest practical date, and that compensation should be paid for the property of those choosing not to return and for loss of or damage to property which, under principles of international law or in equity, should be made good by the Governments or authorities responsible." As a propaganda stunt, the ploy aims to press all the buttons to put Israel on the defensive. "
Obama Tries to Explain Away Ties with His Mentor Pastor
| | |
| --- | --- |
| | Obama accused his white grandmother of making racist remarks and being afraid of big black men. But she can rest easy: he won't disown her any more than he will disown his anti-American, anti-Israel hate-mongering bigot pastor. |
March 19….(Israel Insider) In one of the more remarkable examples of understatement in American public life, Presidential wannabe Obama described his long-time pastor, the Reverend Jeremiah Wright as 'an occasionally fierce critic of American domestic and foreign policy.' This follows days in which Wright's tapes have been played on YouTube and the mainstream media with such gems as saying after September 11 that "America's chickens have come home to roost" or, in a clip released today, describing Israel as a "dirty word" and saying that you'd having to be blind not to see the connection between 9/11 and the Israeli-Palestinian conflict. Seven years later Obama remains a member of the church, having never criticized Wright, and just last year was still publicly praising him as a "great leader." Even now, despite Obama's occasional (not so fierce) criticism of Wright, the harshest term he used against the pastor in his speech today was "divisive," the speech seemed primarily to whitewash Wright's hate-tapes that have been getting air time in the US. The fact that Obama has not previously criticized his pastor after sixteen years of knowing him and listening to his vitriolic sermons, so harshly critical of the United States and its allies, is revealing. Obama's "Audacity of Hope," the title of his book, taken from a phrase of none other than Pastor Jeremiah Wright, has collided full force with the anti-American pastor's "mendacity of hate," and his comparing Israel to being a terrorist state!
Obama And His Pastor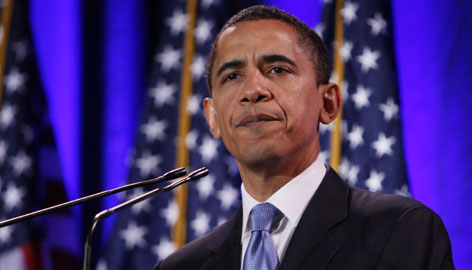 March 19….(FOJ) Yesterday Barack Obama, the leading Democrat candidate for a run at the US Presidency attempted to explain away the hideous comments from his personal pastor and mentor, Rev. Jeremiah Wright, formerly of Chicago's Trinity United Church of Christ. Obama condemned the remarks of his controversial pastor but also took several steps to explain why the Rev. Jeremiah Wright incendiary rhetoric was still valid. Going to great lengths and several times repeating his reason for his continued association to Pastor Wright and his membership at Trinity United Church of Christ in Chicago, Obama said his pastor introduced him to his Christian faith and continues to perform God's work on Earth. As imperfect as he may be, he is like family to me, Obama said.
Obama's membership in the church in question, especially under the shepherding of Pastor Wright reveals many things. First of all, it is incumbent upon Christians to always seek to integrate themselves in a church that is rooted in the doctrine of God's Holy Word, and thus they should make it the principle focus of their church life to sit under the teaching of a pastor that is a Good Shepherd. Mr. Wright is not a good shepherd. Mr. Wright is a blind guide, and a twister of Biblical teaching. In one of his inflammatory sermons, he denounces the state of Israel, and labels the Jews as perpetrators of terrorism against the Palestinians. Nothing could be further from the political truth of the Middle East Conflict, and nothing could further from the truth of Prophecy according to the Bible. Mr. Wright is an obvious anti-Semite, and an anti-Christian Zionist. He is doing the work of Satan by promoting the cause of Islamic terrorism against Judeo-Christian states, and especially against the Divine Plan of God to restore his chosen people into their covenanted land. Oh, yes, it is true that there are a lot of political and demographic complications relative to the rebirth of Israel in the Middle East, but any pastor with an ounce of knowledge about Bible Prophecy should know that the God of Israel, Jehovah is undertaking a process on our times to work a miracle through the regathered people of Israel. It is obvious that Obama has chosen to sit under the "shepherding" of an anti-American, anti-Israel sheep in wolves-clothing for a reason. Either he is ignorant of God's prophetic word, or is compliant to the conspiracy of Satan to wage cultural and spiritual warfare on the only two Judeo-Christian nations left in the world. This alone would explain Pastor Wright's invoking God to damn America. Then for Obama to use the race issue to further divide and conquer America is inexcusable. America has had its faults throughout its history, particularly with regards to slavery, but no other country has attempted to correct its shortcomings as has America. In the final analysis, Obama is not a deep Christian if he even knows what one is. In all of his refutings of being a closet Muslim, he never mentions the saving grace of Jesus Christ and him crucified on his behalf for sin, but merely mutters about being integrated into Christianity by his father-figure and mentor, Pastor Wright, and working to build a new earth. This is the "change" that he is promoting through his candidacy, and the new earth he envisions is one of Socialism.
US Ambassador: Jews Will Just Have to Leave Jerusalem
March 18….(Israel Today) US Ambassador to Israel Richard Jones suggested during a tour of overcrowded Jewish neighborhoods in Jerusalem on Monday that many Jews will just have to move out of the capital rather than expand into parts of the city claimed by the Palestinians. Jones told said in an interview with The Jerusalem Post that Washington is growing increasingly displeased with Jewish housing projects on the eastern side of Jerusalem, which are certain to hinder efforts to conclude a peace deal along the lines of US President George W. Bush's vision for the region. The American envoy said he is well aware of the lack of Jewish housing in Jerusalem, but in a remark betraying a lack of understanding regarding Jewish historical and spiritual connection to the city Jones concluded that "sometimes people do have to move to a different location. They cannot always stay close to their families." He insisted that more important than the Jews' restoration to their biblical capital and heartland is Israel's implementation of commitments made as part of the US-driven Road Map peace process, even if unreciprocated by the Palestinians. Jones ended the interview by all but justifying the Palestinian Authority's ongoing failure to meet its primary obligations to curb anti-Israel violence and incitement by stating that "it is not easy for either side to move ahead when they see the provocative behavior of the other side."
FOJ Note: If the American governing administration thinks that its roadmap peace process is more important than what the Bible proclaims about the Promised Land, then the US will find itself coming under more and more judgments that God will allow the enemies of America to perpetrate.
Abbas Threatens to Quit Peace Process, Revive Fatah Terror
(Abbas puts "alternative terror option" to talks on the table)

March 18….(DEBKA) DEBKAfile's Washington sources report that Palestinian Authority chairman Mahmoud Abbas has put President George W. Bush and secretary of state Condoleezza Rice on notice. He has sent them a warning that he means to break off peace talks with Israel unless Prime Minister Ehud Olmert comes through with concessions by April. After that, he says, the Palestinians may weigh "alternative actions on the ground," a transparent threat for his Fatah organization to revive the Palestinian "uprising" (terror campaign) against Israel from the West Bank. DEBKAfile's Palestinians sources note this is Abbas' second threat to reignite the Palestinian-Israeli war launched by Yasser Arafat in 2000. Two weeks ago, he told the Jordanian A Dustour, that while he prefers negotiations for now, he does not exclude an alternative option in the future. Our Washington sources disclose the Palestinian leader's conditions for the dialogue to continue:
1. The Israeli prime minister must meet Palestinian demands for concessions.
2. Foreign minister Tzipi Livni must satisfy her Palestinian opposition number Ahmed Qureia's demand for a final list of Israeli concessions on the core issues of borders, refugees, Jerusalem and water.
3. Israeli must halt all construction in Jerusalem and the settlements forthwith.
According to DEBKAfile's Middle East sources, Abbas's ultimatum was timed to profit from three forthcoming events: First: US Vice President Dick Cheney's visit on March 22. Palestinian officials will emphasize to him that they have run out of patience with Olmert and that some American arm-twisting is needed to make him more concessions forthcoming. Second: The forthcoming Arab League summit on March 29 in Damascus. Abbas is jockeying for a position that will upstage the Gaza issue, which is high on the summit's agenda, and steal the thunder from radical Hamas leader Khaled Meshaal's triumphal performance. For this, he needs a more radical platform than tame submission to the US-sponsored peace line. Third: A fighting stance would pave the way for reconciliation talks with Hamas on the formation of a Palestinian unity government. This would be applauded by all the Arab rulers present. For Abbas, time is running out with his own people. A new Palestinian popularity poll in mid-March placed Hamas prime minister of Gaza Ismail Haniyeh in the lead, 47 percent to the PA chairman's 46 percent. Significantly, Haniyeh gained 10 percent in popularity after Hamas smashed the Gaza-Egyptian border wall and escalated its missile onslaught on Israel. Fourth: The Palestinian leader is under fire from his own followers for letting Israel celebrate its 60th year of statehood in May without discernible progress toward Palestinian independence. The resumption of a Fatah-dominated terror offensive to mar Israel's anniversary events might quell the dissatisfaction with his leadership.
Foreign Envoys to Press Israel on Peace Process
(German chancellor, US vice president, Republican presidential candidate, Russia's foreign minister and Britain's foreign secretary expected to visit Jerusalem this week. Diplomatic tsunami reflects international community's concern over escalation in region)
March 17….(YNET) A busy and stressful week packed with visits by foreign diplomats awaits Prime Minister Ehud Olmert. The different envoys will try and exert pressure on Israel to uphold understandings reached at the Annapolis peace conference and refrain from engaging in an armed conflict in the Gaza Strip. During the week Olmert is scheduled to host German Chancelor Angela Merkl as well as eight German ministers, Republican presidential candidate John McCain and Russian Foreign Minister Sergei Lavrov. US Vice President Dick Cheney will land in Israel next Saturday. Britain's Foreign Secretary David Miliband may also visit the country, if his schedule permits. What has triggered this wave of high-profile visits is the growing concern in the international community over a possible escalation in Gaza and a potential IDF military operation that could have a devastating effect on the peace process. The foreign nations are also worried regarding the humanitarian situation in the Strip following Israel's blockade on the area. The diplomats are likely to press Israel over its recently-published decision to build some 2,000 new housing units in east Jerusalem and the West Bank settlements. The US believes that both Israel and the Palestinians were not doing enough to promote the diplomatic process. Secretary of State Condoleezza Rice said this week that neither side has done "nearly enough" to meet its obligations under a 2003 peace plan, making it difficult to sustain the US push to end the conflict. EU leaders echoed the sentiment during a Brussels conference this week. Meanwhile, officials in Jerusalem rejected recent reports that a follow-up conference to the Annapolis peace summit was set to take place in Berlin in July and focus on the peace negotiations. A senior official explained that the conference in question will concentrate on strengthening the Palestinian police, and on technical issues.
Washington Watch: Dividing Jerusalem? It's when, not whether
March 17….(In The News) Jerusalem will be divided. The question isn't whether, but when and how. The city's borders have been shifting for 3,000 years. Today's borders will not be tomorrow's. Already the security barrier cuts off some parts of the city, and the Palestinian Authority, with American funding, is to build a road linking east Jerusalem to Ramallah.
"Behold, I will make Jerusalem a cup of trembling unto all the people round about, when they shall be in the siege both against Judah and against Jerusalem."Zechariah 12:2
"But the court which is without the temple leave out, and measure it not; for it is given unto the Gentiles: and the holy city shall they tread under foot forty and two months." Rev 11:2
The Jewish majority is shrinking as many secular Jews move away, complaining "the city is too poor, too Orthodox and too Arab," reports the JTA. In a few years, if the present borders remain unchanged, David's City could be come Daoud's City and have a Palestinian mayor. Ariel Sharon understood the inevitability of dividing the city; his initial plans for the security barrier included putting some Arab neighborhoods of Jerusalem on the far side. American Jews who are increasingly demanding a voice in deciding the fate of Jerusalem understand the same reality; many oppose any change in the city's borders, including jettisoning Arab neighborhoods that were added only after 1967, because they oppose any and all land for peace deals with the Palestinians. Without Jerusalem, no deal is possible. There will be no end to the Arab-Israeli conflict nor will there be international recognition of the city as Israel's capital, even by the United States. Most of the Arab neighborhoods in east Jerusalem have no Jews living there, noted former top US peace negotiator Ambassador Dennis Ross, questioning why Israel would want to absorb nearly a quarter of a million Arabs who live in parts of the city where Jews don't visit. A bigger question may actually be whether Jerusalem's Arabs want their homes and property transferred to the Palestinian state and lose their Israeli permanent residency status and its accompanying social, educational, economic and other benefits. Polls indicate they would welcome the establishment of a Palestinian state but have little desire to move there; not unlike many American Jews' attitude toward Israel. Jerusalem has been on the negotiating table at least since 1979, and may or may not still be there, depending on whom you believe. Prime Minister Ehud Olmert mollifies his critics by assuring them he is not discussing Jerusalem with Palestinian President Mahmoud Abbas, who says just the opposite for the same reason - their own political survival. Each leader has a domestic constituency and Diaspora to worry about, and each faces death threats if it appears he's giving away too much. Abbas also has a plethora of Muslim and Arab states whose approval he needs for any agreement. Olmert's lack of public support for changing Jerusalem's boundaries makes little difference because the discussions with the bifurcated Palestinian Authority aren't going anywhere near where that would be necessary. When Israel annexed east Jerusalem in 1967 following the Six Day War, lines were drawn to reflect security considerations and to include as few Arabs as possible. Nonetheless, the Shuafat Palestinian refugee camp and some 28 Palestinian villages not previously considered part of the city wound up within Jerusalem's municipal boundaries. All too often talk of an "undivided" Jerusalem is less about preserving Jewish patrimony than blocking a peace settlement with the Palestinians. There is a two-state consensus among Israelis today, but there is also a vocal rejectionist camp. One of its leaders, Likud chairman Binyamin Netanyahu, has implied that if he becomes prime minister again he will shut down the US-initiated peace talks begun at Annapolis last November. This Jeremiah of his generation warns that if Israel leaves any part of Jerusalem "Hamas comes in" and will "start rocketing" and shooting into the Jewish neighborhoods. Withdrawal, he told American Jewish leaders recently, "will just put us one step closer to being forced out of the whole country." Rabbi Eric Yoffie, president of the Union for Reform Judaism, said, "In this case, the Jerusalem issue is simply one more way to block a peace agreement without having to specifically articulate that view, which is not acceptable to the broader Jewish community." Meanwhile, the future of Jerusalem is becoming a source of growing tension between the Olmert government and Diaspora leaders, many of who are demanding at least a voice, if not a vote, in any decision. Israeli leaders privately resent what they consider the paternalism of American Jewish machers who, they note, don't live in Israel, don't vote, don't pay taxes and don't serve in the army. Jerusalem is an emotionally charged issue and while Olmert is correct in saying it is a political decision for Israelis ultimately to make, ignoring the voices of the Diaspora would seriously fray the ties that bind them together. It will be up to Israeli leaders to educate Jewish and Christian supporters that redrawing municipal boundaries is not splitting the city asunder but making it a stronger capital of a stronger Jewish state.
Israel Threatens to Attack Damascus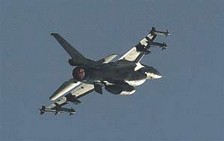 March 17….(In The News) Israel has secretly warned Syria that it may strike the country if Hizbullah attacks the Jewish state, Reuters reported on Friday. In early February Hizbullah threatened Israel with revenge following the assassination of the group's chief of operations, Imad Mughniyeh. Israel has denied involvement in his death. According to senior Israeli and European officials quoted by the news agency, later that month Israel secretly conveyed a message to Damascus through a third party that it would hold it accountable for any Hizbullah assault. "The message was passed around late February, before the last round of fighting in Gaza," an Israeli official said. "It has become clear to us [that] Syria has to understand there is a price for its use of proxy terrorism, especially as Damascus is itself a proxy - the long-arm of Iran." A European source said the message made it clear that Syria could be targeted, even if Hizbullah attacked from Lebanese soil. The sources said Israel was mainly concerned that the terror organization would barrage the north with rockets in the event of a large-scale operation in the Gaza Strip. Meanwhile an unnamed British official told the news agency that any flare-up in the north would be "a disaster." "The death of Mughniyeh and the threatened Hizbullah retaliation does leave a specter of a wider regional conflict," he said, adding that Israeli-Syrian peace talks under the circumstances were unlikely. "There's an interest on both sides but I think it's very difficult to move forward on it."
Jeremiah Wright: 'US of KKKA' knew About Pearl Harbor
(Obama Preacher tells black-on-black criminals they're fighting wrong enemy)

Sen. Barack Obama and Rev. Jeremiah Wright
March 17….(WND) Newly released video of Rev. Jeremiah Wright, Democrat presidential contender Sen. Barack Obama's controversial pastor, shows the preacher telling his congregation the United States knew of the attack on Pearl Harbor before the Japanese struck, the US would plant weapons of mass destruction in Iraq "just like the LAPD," and those committing black-on-black crime are "fighting the wrong enemy." In video of sermons, Wright, who moves his congregation to shouts of agreement, is shown wearing an African dashiki while in the pulpit and, at others, he wears a clerical collar. Wright, again, called on God to damn America, or "white America, US of KKKA," as he refers to the nation in another sermon, "for killing innocent people, for treating us citizens as less than human." As WND reported, in a 2003 sermon Wright encouraged blacks to damn America in God's name and blamed the US for provoking the Sept. 11, 2001, terrorist attacks by dropping nuclear weapons on Japan in World War II and supporting Israel since 1947. Yesterday, in response to mounting criticism over Wright's anti-American and racist comments, Obama issued a statement saying he strongly condemns and denounces "some inflammatory and appalling remarks Rev. Wright made about our country, our politics, and my political opponents." Despite having been at the church for two decades, Obama said he was not in attendance when Wright made any of the statements and never heard such talk in private conversations. Obama said yesterday that he rejects outright the statements by Rev. Wright that are at issue." Late yesterday, Wright stepped down from his formal role in Obama's campaign, as a member of his African American Religious Leadership Committee. Statements in the newly released video segments suggest earlier samples of Wright's sermons were not isolated instances and add to questions of how Obama and his family could have been unaware of such provocative messages coming from the pulpit of their home church. But Wright's sermon quotation, "God damn America, that's in the Bible, for killing innocent people. God damn America for treating us citizens as less than human. God damn America" reveals much about the man Barack Obama trusts with his spiritual matters.
WEEK OF MARCH 9 THROUGH MARCH 15
First-Temple Building Remains Found Near Temple Mount
by Hillel Fendel
March 14….(Arutz) The Israel Antiquities Authority announces the first time in the history of the archaeological research of Jerusalem that building remains from the First Temple period have been exposed so close to the Temple Mount, on the eastern slopes of the Upper City. A rich layer of finds from the latter part of the First Temple period (8th-6th centuries BC) has been discovered in archaeological rescue excavations near the Western Wall plaza. The dig is being carried out in the northwestern part of the Western Wall plaza, near the staircase leading up towards the Jaffa Gate. The Israel Antiquties Authority has been conducting the excavations for the past two years under the direction of archaeologists Shlomit Wexler-Bdoulah and Alexander Onn, in cooperation with the Western Wall Heritage Foundation. The remains of a magnificent colonnaded street [i.e., lined by columns] from the 2nd century AD were uncovered; the street appears on the mosaic Madaba map, and is referred to by the name Eastern Cardo. The level of the Eastern Cardo is paved with large heavy limestone pavers that were set directly atop the layer that dates to the end of the First Temple period. This Roman road thus "seals" beneath it the finds from the First Temple period, protecting them from being plundered in later periods. The walls of the buildings found in the dig are preserved to a height of Another impressive artifact found in the salvage excavations is a personal Hebrew seal made of a semi-precious stone that was apparently inlaid in a ring. The seal is elliptical and measures approximately 1 by 1.4 centimeters. The seal's surface is divided into three strips separated by a double line: in the upper strip is a chain decoration comprising four pomegranates, and in the two bottom strips is the name of the owner of the seal, engraved in ancient Hebrew script. It reads: "[Belonging] to Netanyahu ben [son of] Yaush." Though each of the two names are not unfamiliar, no one with that name is known to scholars of the period. A vast amount of pottery vessels was also discovered, among them three jar handles that bear similar stamped impressions. An inscription written in ancient Hebrew script is preserved on one these impressions, reading "Belonging to the King of Hevron."
I'd Like to See What You'd do, Mr. President
March 14….(JNEWSWIRE) So, United States' Middle East "peace progress monitor" General William Fraser is set to conduct a meeting Friday at which an assessment will be made of how Israel and the so-called Palestinians are implementing the first stage in the Quartet's "Road Map." In this first stage, Israel is meant to halt all building or expanding of Jewish communities in Samaria and Judea, dismantle so-called illegal outposts and remove security checkpoints in those central parts of its historic homeland so as to "ease life" for the Arabs in the areas under Palestinian Authority (PA) control. For its part, the PA is to have clamped down on terrorism and violence against Israelis by arresting terrorists and destroying their infrastructure. Both parties agreed at the Annapolis Conference last November to start work on implementing their commitments. More seriously Israel, under immense pressure from US President George W. Bush and Secretary of State Condoleezza Rice, agreed to grant the US the right to judge Israel's performance and coerce the Jewish state into complying with Washington's, and the world's expectations.
Israel in Cross-Hairs of Another Summer War?
(Brit intel says Iran preparing Hamas fighters)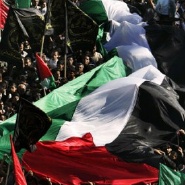 Hamas rally
March 13….(WND) Britain's Secret Intelligence Service says Iran's Revolutionary Guards are training hundreds of Hamas fighters to prepare for an all-out war this summer against Israel. The Gaza-based organization's elite Izzedine al-Qassam Brigade will form the southern front of an attack against the Jewish state while Hezbollah will launch its simultaneous assault from southern Lebanon, according to MI6. Analysts with the intelligence organization believe the attack will come in the rundown of the Bush administration and closing months of the bitter Democratic campaign. "With the Bush White House virtually a spent force and both the Democrats and Republicans looking inward to their conventions, there is mounting evidence that Tehran will seize the opportunity to attack Israel through its surrogates, Hamas and Hezbollah," said a senior intelligence source in London. MI6 analysts have confirmed tortuous negotiations in which Egypt acted as an intermediary between Hamas and Israel are now increasingly fragile. Hamas, which is pledged to destroy Israel, is officially excluded by Israel from direct negotiations with Prime Minister Ehud Olmert's government. But with the mounting threat of a simultaneous attack on Israel from two fronts, several members of the Israeli security services have begun to urge Olmert to meet with Hamas leaders. However, hardliners like the head of Mossad, Meir Dagan, and Yuval Diskin, the director-general of Israel's internal security service, Shin Bet, are opposed to any negotiations. Dagan has told Olmert: "To talk to Hamas is a waste of time. Gaza is a noxious mixture of our oxidized hopes." And Diskin added last week: "While we would be talking, Hamas would be sending still more of its fighters to Iran to be trained." MI6 undercover agents in Tehran, operating out of a secret base on the country's border with Iraq have established there are three training camps in Iran for Gaza fighters.
Obama's Pastor: God Damn America, US to Blame for 9/11
March 13….(ABC News) Sen. Barack Obama's pastor says blacks should not sing "God Bless America" but "God damn America." The Rev. Jeremiah Wright, Obama's pastor for the last 20 years at the Trinity United Church of Christ on Chicago's south side, has a long history of what even Obama's campaign aides concede is "inflammatory rhetoric," including the assertion that the United States brought on the 9/11 attacks with its own "terrorism." In a campaign appearance earlier this month, Sen. Obama said, "I don't think my church is actually particularly controversial." He said Rev. Wright "is like an old uncle who says things I don't always agree with," telling a Jewish group that everyone has someone like that in their family. Rev. Wright married Obama and his wife Michelle, baptized their two daughters and is credited by Obama for the title of his book, "The Audacity of Hope." An ABC News review of dozens of Rev. Wright's sermons, offered for sale by the church, found repeated denunciations of the US based on what he described as his reading of the Gospels and the treatment of black Americans. "The government gives them the drugs, builds bigger prisons, passes a three-strike law and then wants us to sing 'God Bless America.' No, no, no, God damn America, that's in the Bible for killing innocent people," he said in a 2003 sermon. "God damn America for treating our citizens as less than human. God damn America for as long as she acts like she is God and she is supreme." In addition to damning America, he told his congregation on the Sunday after Sept. 11, 2001 that the United States had brought on al Qaeda's attacks because of its own terrorism. "We bombed Hiroshima, we bombed Nagasaki, and we nuked far more than the thousands in New York and the Pentagon, and we never batted an eye," Rev. Wright said in a sermon on Sept. 16, 2001. "We have supported state terrorism against the Palestinians, and now we are indignant because the stuff we have done overseas is now brought right back to our own front yards. Sen. Obama told the New York Times he was not at the church on the day of Rev. Wright's 9/11 sermon. "The violence of 9/11 was inexcusable and without justification," Obama said in a recent interview. "It sounds like he was trying to be provocative," Obama told the paper. Rev. Wright, who announced his retirement last month, has built a large and loyal following at his church with his mesmerizing sermons, mixing traditional spiritual content and his views on contemporary issues. "I wouldn't call it radical. I call it being black in America," said one congregation member outside the church last Sunday. "He has impacted the life of Barack Obama so much so that he wants to portray that feeling he got from Rev. Wright onto the country because we all need something positive," said another member of the congregation. Rev. Wright, who declined to be interviewed by ABC News, is considered one of the country's 10 most influential black pastors, according to members of the Obama campaign. Obama has praised at least one aspect of Rev. Wright's approach, referring to his "social gospel" and his focus on Africa, "and I agree with him on that." Sen. Obama declined to comment on Rev. Wright's denunciations of the United States. Obama says these remarks don't detract from his affection for Rev. Wright or his appreciation for the good works he has done."
Top US Middle East Commander Adm. William Fallon Resigns, Denies Policy Differences with White House
(US Adm. William Fallon suddenly quits)
March 13….(DEBKA) Defense secretary Robert Gates told reporters Tuesday, March 11, that the chief of central command had quit after an Esquire magazine article portrayed him as opposed to White House policy on Iran, in particular, against war on Iran over its suspect nuclear program. Secretary Gates said it was "ridiculous" to speculate that Fallon's departure from his post means the US is preparing a military strike against Iran. The Esquire article described him as "in hot water again" with the White House for telling Egyptian President Hosni Mubarak that Iran would not be attacked. Fallon reportedly said a war with Iran would not happen on "my watch." DEBKAfile's military sources add some background. Adm. Fallon was at loggerheads with the president and Secretary Gates over many of the US Iraq commander Gen. David Petraeus' evaluations of the military situation in Iraq, which they backed. He considered that Petraeus had overstated American military successes in the Iraq war and warned the situation there was volatile and could change rapidly. His sudden departure comes at a particularly fraught moment for US positions in the areas of his command since 2007, US military operations in Iraq and Afghanistan, the war on terror and critical developments in Pakistan and Lebanon to which he gave his personal attention. In his statement, Fallon said: Although I don't believe there have been any differences about the objectives of our policy in the Central Command area, the perception that there is makes it difficult for me to effectively service America's interests there." In an interview last week with the Washington Post, Fallon dismissed the Esquire article as "poison pen stuff" and "really disrespectful and ugly." Gates said CENTCOM deputy commander, Lt. Gen. Martin Dempsey, will serve as acting commander until the Senate confirms Fallon's successor.
Islamic Jihad's Bethlehem Based Terror Leaders Killed
March 13….(Jerusalem Post) Five terrorists, including the Islamic Jihad leadership in Bethlehem, were killed in two clashes with the IDF in the West Bank on Wednesday. In the morning, IDF soldiers surrounded a house in Seida, near Tulkarm, and in ensuing gun battles killed Saleh Karkur, 27, an Islamic Jihad gunman. The IDF demolished half of the house. Islamic Jihad released a statement in Gaza saying Karkur was one of the group's top West Bank commanders and threatened to avenge his death. In the evening, a team from the Israel Police's elite Yamam counterterror unit raided Bethlehem and killed four Islamic Jihad gunmen. The Shin Bet (Israel Security Agency) said the four had constituted the leadership of the terrorist group's armed wing in the city. Among the dead was Mahmoud Shehada, 45, the commander of Islamic Jihad in Bethlehem. He had been on Israel's wanted list for eight years, since the eruption of the second intifada, for involvement in a number of deadly terror attacks. Another of the dead was Ahmad Balbul, 48, reported to have been a member of both Fatah's Aksa Martyrs Brigades and the Bethlehem City Council. The Shin Bet said Shehada had maintained direct contacts with Islamic Jihad headquarters in Syria and regularly received instructions from Damascus regarding attacks. Shehada was responsible for a series of car bombings and suicide attacks in Jerusalem earlier this decade. In November 2000, he sent the car bomb that exploded near Jerusalem's Mahaneh Yehuda market, killing two people, including Ayelet Hashahar Levy, 28, the daughter of then-National Religious Party chairman Yitzhak Levy, and 33-year-old Jerusalem lawyer Hanan Levy (no relation), and wounded 10 people. In March 2001, Shehada dispatched a car bomb to the capital's Talpiyot neighborhood that wounded five people. Later that year he sent two suicide bombers who blew up in separate incidents and wounded close to 50 people. Earlier Wednesday, Shehada and Balbul toured Bethlehem in the context of cooperation between Islamic Jihad and Fatah, the sources told The Jerusalem Post. Shehada and Balbul also met with several Fatah activists in Bethlehem and discussed preparations for holding the party's sixth conference in the coming months. The conference is scheduled to discuss demands by young guard Fatah members for a greater say in the decision-making process. The last time Fatah held such a conference was when Arafat was confined in Tunis in 1989. In Ramallah, a spokesman for PA President Mahmoud Abbas hailed the four men as "martyrs" and "heroes." An Abbas spokesman condemned the incident as a "brutal crime against our fighters and people."
Rice Defends Abbas Before Wary US Congress
March 13….(In The Days) US Secretary of State Condoleezza Rice insisted in a hearing before the House Appropriations Subcommittee on Foreign Operations on Wednesday that, despite his recent statements, Palestinian leader Mahmoud Abbas is dedicated to a negotiated settlement to the Israeli-Arab conflict and should continue to be showered with US taxpayers' dollars. During the hearing, Rice was asked to explain the Bush Administration's support for Abbas, even as he refuses to abide by signed agreements by teaching his people that violence against Israel must be abandoned completely. In an interview with Arab media last week, Abbas stated that he is "opposed to armed struggle because we cannot succeed in it, but maybe in the future things will be different." Rice attempted to brush the issue aside by maintaining that "we have all had the experience of perhaps saying things that we wish we hadn't said." The secretary further claimed that Abbas had been taken out of context, and that in her informed estimation, Yasser Arafat's protege and successor would never sanction terrorism against Israel. Secretary Rice failed to address the fact that just last week, official Palestinian media directly controlled by Abbas hailed the Israeli-Arab murderer of eight young Jewish bible students as a "holy martyr." Congress recently put a hold on the transfer of $150 million in US economic aid to the Palestinian Authority over fear that the Abbas regime was continuing to glorify terrorists and encourage the murder of Israeli Jews. Meanwhile, Israel on Thursday was bracing for a scathing report from US Middle East envoy General William Fraser, who is in the region this week to gauge Israeli and Palestinian compliance with the US-driven peace process. Fraser is expected to harshly criticize Israel's failure to remove Jewish outposts in Judea and Samaria, while largely ignoring ongoing Palestinian rocket fire from Gaza since Abbas is no longer in control there. Israeli leaders insist that Gaza is part of the peace process, and overall progress, including the implementation of Israeli concessions, is impossible so long as Gaza terrorist forces are assaulting the Jewish state.
Ninety Per Cent of Foreign Terrorists in Iraq Come From Syria
March 13….(In The Days) Despite increased counterterrorism efforts by Damascus, as much as 90 percent of the foreign fighters in Iraq cross the border from Syria, according to a Pentagon report that says Iran's support for Shiite militants also is hurting efforts to improve Iraq security. ("The burden of Damascus. Behold, Damascus is taken away from being a city, and it shall be a ruinous heap." Isaiah 17:1) As those external pressures dog coalition and Iraqi forces, the government of Iraq is also hamstrung by internal corruption and persistent problems getting basic services to the people, the report said. The Defense Department's quarterly report on progress in Iraq, released Tuesday, said that militants continue to find safe havens and logistical support in Syria. It is not clear that Syria has made a strategic decision to deal with foreign terrorists using Syria as a transit point into Iraq."In late January, Iraqi officials suggested that about 150 foreign and Iraqi fighters slipped into the country from Syria a few months earlier and were responsible for a devastating explosion in northern Iraq that killed at least 38 people and wounded more than 200. On the other border, meanwhile, Tehran's support for Shiite militant groups remains a sizable threat to stability in Iraq. The report asserts that the Quds Force, an elite unit of Iran's Revolutionary Guards, still provides much of the explosives for the militants. Several military commanders in recent weeks have said that despite recent promises by Tehran to help promote stability in Iraq, there is continued evidence that Iran is training and funding Shiite extremists. In related testimony on Capitol Hill on Tuesday, auditors told Congress that Iraq isn't spending much of its own money, despite soaring oil revenues that are pushing the country toward a massive budget surplus.
The expected surplus comes as the US continues to invest billions of dollars in rebuilding Iraq and faces a financial squeeze domestically because of record oil prices. "The Iraqis have a budget surplus," said US Comptroller General David Walker. "We have a huge budget deficit. One of the questions is who should be paying for the rebuilding of Iraq, Iraq or America. The US has spent more than $45 billion on rebuilding Iraq. And while officials in Iraq contend that much progress is being made, many projects remain unfinished and US troops are still needed to provide security. "They ought to be able to use some of their oil to pay for their own costs and not keep sending the bill to the United States," said Sen. Patrick Leahy, D-Vermont.
Despite Gaza, Washington Dissatisfied with Israel's Footdragging in West Bank
March 13….(Arutz) Tension between Jerusalem and Washington is intensifying over the latter's frustration over the stasis in the West Bank, especially with regard to the removal of roadblocks and the evacuation of settlement outposts. The Americans feel that Israel is not keeping its promises to improve the day-to-day life of West Bank Palestinians. A trilateral committee to monitor implementation of the first stage of the road map is scheduled to hold its first meeting on Friday. The meeting will be conducted by US General William Fraser, who was appointed by Secretary of State Condoleezza Rice to follow progress on the road map. Defense Minister Ehud Barak was originally set to attend the meeting, but he decided to send a senior adviser, Amos Gilad, in his stead. That could prove embarrassing, as the Palestinian side will be represented by Prime Minister Salam Fayyad. A senior Israeli official said the meeting is expected to be difficult, as Fraser is expected to present a report of road map violations likely to be critical of Israel's failure to remove roadblocks and its continued settlement construction. On the other hand, the official noted, the Palestinians can expect criticism over last week's terror attack in Jerusalem and other issues related to the war on terror. Secretary Rice repeatedly speaks about "steps on the ground," usually in reference to the lifting of restrictions on movement in the West Banks and the removal of roadblocks, as well as the evacuation of illegal outposts and an end to settlement expansion. Most of Rice's frustration is directed at Ehud Barak. In their meeting during her visit to the region last week, Rice reiterated her demand to see "steps on the ground" in the West Bank. She told a press conference that Israel had not done enough to meet their commitments since last November's Annapolis conference. Yesterday Rice spoke again about violations of the road map, specifically mentioning that Israel's recent announcements of new construction plans in East Jerusalem and the West Bank were "unhelpful" to the peace process. Quartet envoy Tony Blair is also unhappy about Israel's activities on the West Bank and its failure to take steps to improve Palestinian civilian life.
International Experts Foresee Collapse of US Economy
March 11….(Hielema, Bert) And you thought that I had a gloomy outlook on the economy. Now the bad news pops up everywhere. Harry Koza in the Globe and Mail quotes Bernard Connelly, the global strategist at Banque AIG in London, who claims that the likelihood of a Great Depression is growing by the day. Martin Wolf, celebrated columnist of the UK-based Financial Times, cites Dr. Nouriel Roubini of the New York University's Stern School of Business, who, in 12 steps, outlines how the losses of the American financial system will grow to more than $1 trillion, that's one million times $1 million. That amount is equal to all the assets of all American banks. Every day now, thousands of people all over the US and Great Britain are walking away from their homes, simply mailing their house keys to the banks, as housing bailout plans fail. With unemployment growing, the next phase will hit commercial real estate making the financial institutions the unwilling owners not only of quickly depreciating houses, but also of empty strip malls and even larger shopping centers. The next domino to fall will be credit card defaults, and after that, who knows? There are so many exotic funds out there, with trillions of dollars in paper, or rather computer-screen money, all carrying assorted acronyms, and all about to disintegrate into nothingness. Over the next couple of years, scores of banks that have thrived on these devices, based on quickly disappearing equities, will fail. The most frightening forecast so far comes from the Global Europe Anticipation Bulletin (GEAB), available for 200 euros, (about $300) for 16 issues annually. Its prediction is quite specific. Where my warnings never spelled out an exact date, this think tank has it pegged precisely. Here are its very words: "The end of the third quarter of 2008 (thus late September, a mere seven months from now) will be marked by a new tipping point in the unfolding of the global systemic crisis. "At that time indeed, the cumulated impact of the various sequences of the crisis will reach its maximum strength and affect decisively the very heart of the systems concerned, on the front line of which (is) the United States, epicentre of the current crisis. "In the United States, this new tipping point will translate into, now get this; a collapse of the real economy, (the) final socio-economic stage of the serial bursting of the housing and financial bubbles and of the pursuance of the US dollar fall. The collapse of US real economy means the virtual freeze of the American economic machinery: private and public bankruptcies in large numbers, companies and public services closing down."
FOJ Note: Unfortunately, gloomy news about the economic forecast for America in the immediate future should be taken seriously folks. Prophecy experts have speculated for years about the role America might play in the final days before the Lord returns. FOJ has always maintained that America would lose its status as the sole super-power of the world, and economics will likely play the main avenue for the restructuring of the world order that exalts the Antichrist. It may be that the time is nearing for that eventuality, as we witness the rise in oil prices, and the devaluing of the American dollar. Most wars, and most geo-political power shifts in the order of the world structure, historically, usually come about via monetary and economic decisions.
(Proverbs 22:7 The rich ruleth over the poor, and the borrower is servant to the lender.)
By continually increasing the national debt, our leaders have betrayed the blessed gift of our national sovereignty!
Al-Qaeda Kidnaps Western Tourists as 'Retribution' Over Israel
March 11….(IsraelNN.com) Members of the North African branch of the international terrorist organization Al-Qaeda announced Monday that they are holding two Austrian tourists hostage "in retribution" for what they claim is Western support for Israeli counterterrorism operations. Al-Qaeda threatened more such kidnappings. In an audio tape aired by the Gulf-based Al-Jazeera satellite network, a man who claimed to represent Al-Qaeda in Islamic North Africa (AQIM), Salah Abu Mohammad, identified the two Austrians and said they were in good condition. The alleged hostages, a man and a woman who had been touring southern Tunisia, were reported as missing in mid-February, according to Austrian officials. "We tell Western tourists that, while they come into Tunisia seeking joy, our brothers are being slain in Gaza by the Jews with the collaboration of the Western states," Abu Mohammad said. AQIM has threatened Austrian targets in the past and it has a violent history of deadly attacks throughout North Africa. Most recently, AQIM claimed responsibility for a suicide truck bombing of an Algerian police station, which killed three people on January 29 and for a shooting three days later at the Israeli embassy and an adjacent bar frequented by Westerners in Nouakchott, Mauritania. AQIM called the Algeria bombing the latest in a long campaign and threatened that the cries of "Americans and all the infidels" will yet be heard.
Al-Qaeda Focusing More on Israel
In addition, Al-Qaeda's leaders have recently issued more pointed and specific threats against Israel and Israeli interests. A leader of AQIM, Abu Musab Abd Al-Wadud, issued a threat earlier this year against those North African and other Middle Eastern nations that have "diplomatic and economic ties with Hebraic nations". The kingdom of Morocco was specifically cited as such a nation. Al-Wadud also issued a generalized threat against Western assets anywhere in North Africa. There have also been increasing reports of an Al-Qaeda presence in the Palestinian Authority. PA Chairman Mahmoud Abbas confirmed in late February that Al-Qaeda terrorists crossed the Egyptian-Gaza border when Gaza terrorists blew up the barrier separating the two sides. As far back as 2006, Abbas claimed that Al-Qaeda had set up shop in Hamas-controlled Gaza. Dominique Thomas, a specialist on radical Islam at the School of Higher Studies in Social Sciences in Paris, told the South African Independent, "When the border was opened between Gaza and Egypt, I saw calls on forums for foreign fighters to come and infiltrate the Gaza Strip to lead the battle against Israel."
Oil, Gas Prices Climb Higher
(Analysts see pump prices climbing to near $4 a gallon)
March 10….(MSNBC) Gasoline prices are poised today to set a new record at the pump, surpassing the record high of $3.227 a gallon. Oil prices, meanwhile, surged to a new inflation-adjusted record and their fifth new high in the last six sessions on an upbeat report on wholesale inventories. The national average price of a gallon of gas rose 0.7 cent overnight to $3.222 a gallon, 69 cents higher than one year ago, according to AAA and the Oil Price Information Service. Last May, prices peaked at $3.227 as surging demand and a string of refinery outages raised concerns about supplies. That record will likely be left in the dust soon as gas prices accelerate toward levels that could approach $4 a gallon, though most analysts believe prices will peak below that psychologically significant mark. In its last forecast, released last month, the Energy Department said prices will likely peak around $3.40 a gallon this spring. Light, sweet crude for April delivery rose $2.33 to $107.48 on the New York Mercantile Exchange after earlier setting a new trading record of $107.85. Energy investors shrugged off a relative stabilization of the dollar and a cooling in tensions between Venezuela and its neighbors Colombia and Ecuador. Many analysts believe speculative investing attracted by the weak dollar is the primary reason oil has risen so far so fast in recent months. Crude futures offer a hedge against a falling dollar, and oil futures bought and sold in dollars are more attractive to foreign investors when the dollar is falling. "We've got a Federal Reserve meeting on the 18th that could see a sizeable rate cut," said Brad Samples, an analyst with Summit Energy Services Inc., in Louisville, Ky. "So, it's not over." Indeed, while the dollar rose against the euro on Monday, many investors believe the greenback is likely to keep falling as the Fed continues to cut rates.
Palestinian Authority Honors Mass-Murderer as Martyr
March 10….(Israel Insider) Mahmoud Abbas's official Palestinian Authority daily newspaper has honored Alaa Abu D'heim, the killer of eight religious school students, all but one a teenager, gunned down last week in the library of Mercaz Harav yeshiva, with the status of Shahid (Holy Islamic Martyr). In so doing, Abbas and the PA is sending its people a straightforward message of support for the terror murders and the murderer. According to the PA interpretation of Islam, there is no higher status that a human being can achieve today than that of Shahid. The official PA daily Al Hayat Al Jadida prominently placed a picture of the killer on the front page, with the caption, "The Shahid Alaa Abu D'heim." In a Page One article on the terror killings, his act is again defined as a "Shahada achieving" action. This honoring of terror and terrorists by the PA may have significant financial ramifications, particularly at this time. Last week the US Administration sent a request to Congress to allocate $150 million to the Palestinian Authority. Cognizant of official Palestinian Authority support for terror in the past, the Congress made it illegal for the US to give money to entities that "advocate" terror, as follows: "The US shall terminate assistance to any individual, entity, which she has determined to be involved in or advocating terrorist activity." Congress further legislated that "none of the US assistance under the West Bank and Gaza Program may be made available for the purpose of recognizing or otherwise honoring individuals who commit, or have committed acts of terrorism." [2008 Foreign Operations Bill Sec. 657.B - C.1] Since a society's honoring of terrorists is one of the greatest terror promotions, and as the budget for the PA newspaper comes from the PA's general budget, the honoring of this and recent terrorists by Abbas's PA as Holy Islamic Shahids should render the Palestinian Authority ineligible to receive any American money under the terms of US law.
Intel Assessment: War Unlikely in '08, But 09 Looms Dangerous
March 10….(Jerusalem Post) Iran will likely reach the nuclear tipping point in late 2009 or early 2010, the heads of the Mossad and Military Intelligence told the cabinet on Sunday, during an in-depth briefing on the strategic situation facing the country in 2008. Assessments were given by representatives from the Mossad, Military Intelligence, the Shin Bet (Israel Security Agency), the intelligence arm of the Foreign Ministry and the Israel Police. As expected, both the Mossad and Military Intelligence pointed to Iran as Israel's most menacing threat - both because of the progress it was making in its nuclear program, and due to its leadership of a radical axis in the Islamic world. However, it was not the only problem, with Syria, Hizbullah, Gaza and Palestinian terrorism, and global jihad named as the other threats Israel would face in 2008. The intelligence community warned that a major flare-up on any front could lead to other fronts opening as well. For instance, an escalation in violence in the Gaza Strip could lead to a Hizbullah attack in the North. At the same time, the Mossad and Military Intelligence concurred that there was a low probability of a major attack on Israel in 2008, although there was a growing likelihood of violence by Hizbullah. The assessment was that the threat from Teheran was growing due to the weakening of the international front against it, the fact that its nuclear program was moving forward, and since it was establishing itself as the leader of the radical camp in Islamic world. While the intelligence officials said Iran was likely to reach a "point of no return" in its nuclear program by the end of 2009, they added that Syria was also engaged in an intense armament program and was deploying long-range missiles. Both the Syrian and the Iranian strategic doctrines were now based on the assumption that Israel could not be beaten in conventional war, due to its superiority on land and in the air, but rather by missiles aimed at the home front. The representatives from the Mossad and Military Intelligence said the region was in the midst of a struggle between a radical axis led by Iran, and a pragmatic camp that included Saudi Arabia, Persian Gulf states, Jordan and Egypt. They said that the pragmatic states did not face any immediate danger to their regimes. The officials said that while Syria was a member of the radical axis, some in the intelligence community believed that "under certain circumstances and if there were certain developments," there was a possibility of pushing Syria out of that axis. The price for this would be a full Israeli withdrawal from the Golan Heights and American rapprochement with Damascus. They said Syria believed the chances of this happening in 2008 were low, but not zero. Foreign Ministry representatives said the US was suffering from a declining status in the Middle East, and this was causing an increase in the maneuverability of other players in the region, including radical ones. However, they said, these radical forces were deterred by Israel, worried by its strength and concerned it would use it. This, the officials said, prevented them from acting with all their might. On the Palestinian front, the intelligence officials said there was a certain drop in support for Hamas and a boost for Fatah, but this change was not considered significant. As long as the diplomatic process between Israel and Fatah continued, they said, the chances of an agreement between Hamas and Fatah were low. Shin Bet representatives said there was an increasing separation between the Gaza Strip and the West Bank. Palestinian Authority President Mahmoud Abbas was making an effort to show an appearance of building up Fatah security forces, although in practice this was not being done, they said. In Gaza, meanwhile, they said Hamas had made a significant military leap and was now very close to having an organized army, with training coming from Iran. They also pointed to growing tensions between the Hamas leadership inside Gaza, and Hamas outside the Strip. Hamas inside Gaza had the upper hand, the Shin Bet representatives maintained. According to the Shin Bet briefing, Hamas has increased its operations in the West Bank, especially in Kalkilya and Nablus. The Shin Bet briefing also included an assessment that the level of terrorism in 2008 was likely to remain at about the same level as in 2007, and that the probability of a widespread popular uprising, a so-called third intifada, was low. At the same time, the Shin Bet warned that there was the constant potential for such an outbreak and that certain events could trigger it, such as harming Islamic holy places, especially on the Temple Mount, and a large number of Palestinian deaths in Gaza.
Syria 'Intensely' Arming With Russian Help
(Rockets, missiles place all of Israel within firing zone)
March 10….(In The News) Syria is in the midst of "intensely" arming itself, placing into position rockets and missiles capable of striking the entire Jewish state, according to an assessment presented to the Knesset today by multiple Israeli security agencies. The announcement follows a report last month quoting security officials stating Syria, aided by Russia and Iran, has been furiously acquiring rockets and missiles, including projectiles capable of hitting any point in Israel. The officials listed anti-tank, anti-aircraft and ballistic missiles as some of the arms procured by Syria. Yesterday, Israel's Mossad and Israel Defense Forces Military Intelligence chiefs presented an annual security report to the Knesset warning of Syria's armament program. The chiefs also warned of a possible flare-up at Israel's northern border with the Hezbollah terror group and said in their assessment Iran could cross the technological threshold enabling it to assemble a nuclear bomb by the end of next year. The assessment came after Prime Minister Ehud Olmert announced last week negotiations between the Jewish state and Syria should be seriously considered it if would bring an end to Syrian-sponsored terrorism and Damascus' "involvement in the axis of evil." The negotiations would aim for some sort of Israeli evacuation from the Golan Heights strategic, mountainous territory looking down on Israeli and Syrian population centers twice used by Damascus to launch ground invasions into the Jewish state. Syria openly provides refuge to Palestinian terror leaders, including the chiefs of Hamas and Islamic Jihad, and has been accused of shipping weapons to Hezbollah. Damascus is also accused of supporting the insurgency against US troops in Iraq.
'Furious frenzy' to get Russian missiles
Olmert's announcement of Israel's willingness to negotiate followed a WND report in which Israeli and Jordanian security officials outlined Syria's recent armament. A Jordanian security official said one of the main reasons Damascus did not retaliate after Israel carried out its Sept. 6 air strike inside Syria, which allegedly targeted a nascent nuclear facility, was because Syria's rocket infrastructure was not yet complete. The official said that after the Israeli air strike, Syria picked up the pace of acquiring rockets and missiles, largely from Russia with Iranian backing, with the goal of completing its missile and rocket arsenal by the end of the year. The Jordanian official said Syria is aiming to possess the capacity to fire more than 100 rockets into Israel per hour for a sustained period of time. The Syrians have three main goals: to maximize their anti-tank, anti-aircraft and ballistic missile and rocket capabilities," explained the Jordanian official. According to Israeli and Jordanian officials, Syria recently quietly struck a deal with Russia that allows Moscow to station submarines and war boats off Syrian ports. In exchange, Russia is supplying Syria with weaponry at lower costs, with some of the missiles and rockets being financed by Iran. The Iranians opened an extended credit line with Russia for Syria with the purpose of arming Syria," said one Jordanian security official. "Russia's involvement and strategic positioning is almost like a return to its Cold War stance," the official said. Both the Israeli and Jordanian officials told WND large quantities of Syrian rockets and missiles are being stockpiled at the major Syrian ports of Latakia and Tartus. Syria's new acquisitions include Russia's S-300 surface-to-air missile defense shield, which is similar to the US-funded, Israeli-engineered Arrow anti-missile system currently deployed in Israel. The S-300 system is being run not by Syria but by Russian naval technicians who work from Syria's ports, security officials said. New ballistic missiles and rockets include Alexander rockets and a massive quantity of various Scud surface-to-surface missiles, including Scud B and Scud D missiles. Israeli security officials noted Syria recently test-fired two Scud D surface-to-surface missiles, which have a range of about 250 miles, covering most Israeli territory. The officials said the Syrian missile test was coordinated with Iran and is believed to have been successful. It is not known what type of warhead the missiles had. In addition to longer-range Scuds, Syria is in possession of shorter-range missiles such as 220 millimeter and 305 millimeter rockets, some of which have been passed on to the Lebanon-based terrorist group Hezbollah. Israel has information Syria recently acquired and deployed Chinese-made C-802 missiles, which were successfully used against the Israeli navy during Israel's war against Hezbollah in 2006. The missiles were passed to Syria by Iran, Israeli security officials told WND. Russia recently sold to Syria advanced anti-tank missiles similar to the projectiles that devastated Israeli tanks during the last Lebanon war, causing the highest number of Israeli troop casualties during the 34 days of military confrontations. Syria and Russia are negotiating the sale of advanced anti-aircraft missiles
It's Iran vs. Israel
March 10….(Washington Times) Thursday's terrorist attack in Jerusalem in which eight seminary students were killed by a Palestinian gunman, and the latest fighting between between Israel and Hamas in Gaza, are more than new chapters in the Israeli-Palestinian conflict: They are part of a much larger struggle underway between Iran and Israel. As crowds took to the streets of Gaza celebrating the carnage in Jerusalem, Hamas issued a statement declaring that it "blesses" the operation. The Iranian-backed Hezbollah's al-Manar television station called the massacre at the yeshiva a "heroic" operation against an "extremist" school. Iran and Syria have long been the major arms suppliers for Hamas. A senior Israeli military intelligence official said Monday that all of the 20 long-range rockets that had been fired from Gaza into Israel since Feb. 28 were Iranian-made Grads, which have a range of approximately 12.5 miles. Hamas and another Iranian-backed group called the Popular Resistance Committees have said they have upwards of 300 of the missiles in Gaza. Iran has spent, conservatively speaking, tens of millions of dollars in helping to turn Gaza into an armed camp since Israel unilaterally withdrew its civilians and soldiers from Gaza in 2005. Dozens if not hundreds of Gazans have left the territory in recent years to undergo military training in Iran. Afterward, these men are smuggled back into Gaza to join Hamas and such terrorist organizations as Palestinian Islamic Jihad, which routinely fire rockets and missiles into Israel. These groups, aided by Iranian agents and Hezbollah trainers, have stepped up weapons smuggling since Jan. 23, when Hamas destroyed part of the border fence with Egypt. During the ensuing chaos, an estimated 200,000 Gazans poured into Egypt. Some crossed the border to obtain foodstuffs and other household items, but others were jihadists who left Gaza and crossed into Egypt with the hope of arming themselves and re-entering the unguarded Sinai border with Israel. The parts were smuggled into Gaza, then reassembled. And the situation will likely get more dangerous in the coming months, as Hamas, with Iranian help, works to extend the range of the rockets. Israeli Prime Minister Ehud Olmert has come under intensified pressure to take military action. Earlier this week, Israel launched several days of operations against rocket launchers in Gaza. Several days ago, Iranian President Mahmoud Ahmadinejad, whose government has been fomenting the Gaza-Israel violence, accused Israel of perpetrating a "Holocaust" in Gaza. Those are strong words coming from a Mideast leader who questions whether the Nazis perpetrated the Holocaust.
Hamas Wages Iran's Proxy War on Israel
(A Hamas leader admits hundreds of his fighters have traveled to Tehran)
March 10….(Ha Aretz) The Hamas commander was in a hurry. Hunched forward in a navy-blue parka, with the wind-chapped skin and drawn eyes of someone who had been outdoors all night, he had just returned from the front line with Israel. The whine of drones overhead signalled that his enemy was hunting for blood. For someone who had survived the fiercest fighting between Israelis and Palestinians since 2000 and the deaths of scores of his fellow fighters, the commander, already a senior figure in his late twenties, appeared remarkably composed. He is in the vanguard of the Izzedine al-Qassam Brigades, the military wing of Hamas which is growing into a disciplined army, trained to fight for victory rather than be consigned to the "martyr's death" of the suicide bomber. Israel has long insisted that Iran is behind this training. Last week Yuval Diskin, the head of the Israeli internal security service Shin Bet, said as much when he claimed that Hamas had "started to dispatch people to Iran, tens and a promise of hundreds". He provided no evidence. The Hamas commander, however, confirmed for the first time that the Iranian Revolutionary Guard has been training its men in Tehran for more than two years and is currently honing the skills of 150 fighters. The details he gave suggested that, if anything, Shin Bet has underestimated the extent of Iran's influence on Hamas's increasingly sophisticated tactics and weaponry. Speaking on the record but withholding his identity as a target of Israeli forces, the commander, who has a sparse moustache and oiled black hair, said Hamas had been sending fighters to Iran for training in both field tactics and weapons technology since Israeli troops pulled out of the Gaza strip of Palestinian territory in 2005. Others go to Syria for more basic training. "We have sent seven 'courses' of our fighters to Iran," he said. "During each course, the group receives training that he will use to increase our capacity to fight." The most promising members of each group stay longer for an advanced course and return as trainers themselves, he said. So far, 150 members of Qassam have passed through training in Tehran, where they study for between 45 days and six months at a closed military base under the command of the elite Revolutionary Guard force.
Kuwaiti Analyst: Best if Israel, Not US, Destroys Iranian Nukes
March 10….(AP) The destruction of Iran's nuclear capabilities would be in the interest of the Arab nations in the Gulf, and it would be less embarrassing if it was done by Israel rather than the US, a top Kuwaiti strategist said in remarks published Sunday. Officially Kuwait, like the other members of the Gulf Cooperation Council, wants a peaceful solution to the nuclear standoff between Tehran and the West and will not allow the U.S. to use its territories for any attack on Iran. But when asked in an interview with the daily Al-Siyassah about the consequences of an Israeli strike on Iran's nuclear reactors, analyst and former government adviser Sami al-Faraj said it would not be such a bad thing. "Honestly speaking, they would be achieving something of great strategic value for the GCC by stopping Iran's tendency for hegemony over the area," he said, adding that "nipping it in the bud by Israeli hands would be less embarrassing for us than if the Americans did it." Al-Faraj said Tehran was interfering in Iraq, Lebanon, and the Palestinian territories, and inciting strife between Sunnis and Shiites.
WEEK OF MARCH 2 THROUGH MARCH 8
Fatah Terrorist/Activist Planned Jerusalem Massacre
March 7….(WND) The Jerusalem shooting massacre that left eight Jewish seminary students dead yesterday was planned on behalf of the Hezbollah terrorist group by an activist from Palestinian Authority President Mahmoud Abbas' Fatah organization, according to senior Israeli and Palestinian security officials speaking to WND. Israel, coordinating with Palestinian intelligence services, has specific information the bloody massacre was financed by Hezbollah and was planned in the West Bank city of Bethlehem by Muhammad Jihadi, a Fatah activist who ran as a Fatah candidate but lost in the 2006 Palestinian elections. The attack reportedly was carried out by an Arab who worked as a driver at the rabbinical seminary and lived in the Jerusalem village of Jable al-Mujabre. Fatah activist Jihadi received financing from Hezbollah to plan the attack, according to senior security sources speaking to WND. Jihadi's Bethlehem house was raided and demolished this morning by Israeli forces. The Fatah activist, who was not inside his home, is still at large. According to Palestinian security officials familiar with Jihadi, after losing the 2006 election as a Fatah leader, Jihadi worked for about six months for the Islamic Jihad terror group but then switched back to Fatah. "He would go wherever the money was," said a Palestinian security official. "He thought he could get more money from Islamic Jihad, so he worked for them for a few months but then switched back to Fatah because he didn't like his Islamic Jihad salary." According to Israeli security sources, Jihadi previously assisted in terrorist attacks carried out from the Bethlehem area by the Al Aqsa Martyrs Brigades, Fatah's declared military wing. (an organization directly under Abbas's Fatah) Thousands gathered in Jerusalem today for the eight students' burials. In his eulogy for his pupils, yeshiva head Rabbi Ya'akov Shapira called the shooting an attack "on everyone in Jerusalem" and criticized Israel's expressed willingness to cede territory to the Palestinians. "The murderers are the Amalek of our day, coming to remind us that Amalek has not disappeared, just changed his appearance." Meanwhile, Israel imposed a complete closure on the West Bank and went on high alert in Jerusalem and Tel Aviv based on specific information of further terror attacks. Israel has the name of at least one Palestinian believed to be on his way to carry out another attack. The Palestinian, whose name is being withheld by WND, is an American citizen of Palestinian Arab descent who recently returned to live with his family in Bethlehem.
So-Called Palestinian 'Peace Partners' Call Jerusalem Attack 'Heroic'
(Thousands of Palestinians dancing in street, distributing sweets)
March 7….(WND) While Palestinian Authority President Mahmoud Abbas was quick to condemn today's deadly shooting massacre in Jerusalem, news websites affiliated with Abbas' Fatah organization labeled the attack "heroic." "In a heroic act of martyrdom, at least one of our hero's infiltrated a Zionist school in occupied Jerusalem," stated the beginning of a news dispatch on Fatah's Firas Press website. Another Fatah-affiliated news site, PalPress, also used the term "heroic" to label today's attack, in which at least eight Jews were killed and another dozen were wounded, some seriously. "President Mahmoud Abbas condemns the attack in Jerusalem that claimed the lives of many Israelis, and he reiterated his condemnation of all attacks that target civilians, whether they are Palestinians or Israelis," chief Palestinian negotiator Saeb Erekat told reporters today, yet the Fatah-affiliated news websites were brimming with congratulatory nods to Fatah's Al Aqsa Martyrs Brigades for today's attack, even though the Brigades did not claim responsibility for the mass shooting. Upon news of the attack, celebrations reportedly broke out in the Gaza Strip, where news footage showed thousands of Palestinians in the streets distributing sweets, dancing and firing their rifles into the air. Local mosques announced prayers of celebration. The Mercaz Yeshiva is well known for its religious Zionism and its affiliation with what is known as the settlement movement, or the movement associated with Jewish communities in the West Bank. An Israeli-Arab group calling itself the Freedom Brigades of the Galilee took credit for the shooting, claiming it was to avenge the assassination in Syria last month of arch-Hezbollah terrorist Imad Mughniyeh, who topped Israel's most wanted list and was responsible for infamous deadly attacks against the US and Israel, including involvement in the 1983 bombing of a US Marine barracks in Lebanon.
Hillary: 'I Doubt That Jesus is Necessary for Salvation
(Senator believes in resurrection, just not sure Jesus is the only way)
March 7….(WND) Sen. Hillary Clinton has "felt the presence of the Holy Spirit" in her life and believes in the historical resurrection of Jesus Christ, but she is ambivalent about the necessity of belief in Christ for salvation, according to segments of a New York Times interview. Christian Broadcasting Network reporter David Brody unearthed the quotes, which came from New York Times reporter Michael Luo's interview with the senator in July. Clinton declared: "I believe in the father, son, and Holy Spirit, and I have felt the presence of the Holy Spirit on many occasions in my years on this earth." Luo then asked, "Can I ask you theologically, do you believe that the resurrection of Jesus actually happened, that it actually historically did happen?" Clinton replied, "Yes, I do." The interview continued: Luo: And, do you believe on the salvation issue, and this is controversial too, that belief in Christ is needed for going to heaven? Clinton: That one I'm a little more open to. I think that it is, as we understand our relationship to God as Christians, it is how we see our way forward, and it is the way. But, ever since I was a little girl, I've asked every Sunday school teacher I've ever had, I asked every theologian I've ever talked with, whether that meant that there was no salvation, there was no heaven for people who did not accept Christ. And, you're well aware that there are a lot of answers to that. There are people who are totally rooted in the fact that, no, that's why there are missionaries, that's why you have to try to convert. And, then there are a lot of other people who are deeply faithful and deeply Christ-centered who say, that's how we understand it and who are we to read God's mind about such a weighty decision as that.
Terrorist's Family Proudly Displays Hamas Flags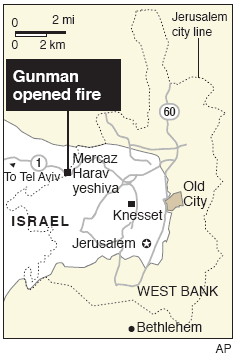 March 7….(YNET) Israeli security forces have razed the home of the murderous terrorist who murdered eight Merkaz HaRav yeshiva students. He lived in Jabel Mukabar, a neighborhood just east of Jerusalem's East Talpiyot neighborhood. His family set up a mourners' tent outside the ruins, and hung Hamas flags all around it. Police denied reports that the murderous terrorist had once worked for Yeshivat Merkaz HaRav. However, he was a driver who often transported children and others, and there were reports that he had occasionally been hired by the yeshiva. His last trip was Thursday evening to Yeshivat Merkaz HaRav, where his van was found after the attack with ammunition inside. Hamas militants, who have been battling Israel during a weeklong surge in violence in Gaza, praised the attack in a statement but stopped just short of claiming responsibility. "We bless the operation. It will not be the last," Hamas said in a statement. Israeli government spokesman Mark Regev said the Palestinian government must take steps against the terrorists/extremists, not just denounce their attacks. "Tonight's massacre in Jerusalem is a defining moment," he said Thursday. "It is clear that those people celebrating this bloodshed have shown themselves to be not only the enemies of Israel but of all of humanity."
Hizballah Gunman Slaughters Jewish Bible Students
March 7….(Israel Today) An Israeli-Arab gunman later identified as a member of Lebanon's Hizballah terrorist militia massacred eight Jewish bible students at a Jerusalem seminary on Thursday evening. Eleven other students were wounded, many seriously, in an attack that saw the perpetrator fire more than 500 bullets before finally being shot and wounded by an armed instructor at the yeshiva. An Israeli army officer who responded to the scene rushed into the building and finished off the killer. The terrorist was a resident of Jerusalem who it was also later revealed worked as a driver for the yeshiva, giving him intimate knowledge of when and where to enter the facility and quickly find his victims gathered for a study session marking the start of a new Hebrew month and dealing with the upcoming Bible-based festival of Purim. In a statement broadcast on Hizballah's Al-Manar television station, the shooter was identified as a member of a new Israeli-Arab wing recently established by the Lebanese terror group. Meanwhile, Ynet reported that the killers family set up a mourning tent and draped green Hamas flags outside their eastern Jerusalem home. The mood on the western side of Jerusalem on Friday was solemn as thousands gathered at the scene of the attack to hear a mass eulogy by the yeshiva's distraught rabbis. The attack was perpetrated at a yeshiva known as Merkaz Harav, which is the heart of the religious Zionist movement in Israel. Rabbis and other religious commentators said the terrorists' decision to attack that yeshiva sent a deliberate message confirming that Israel is engaged in a religious war with Islam over control of the Holy Land. Israeli government officials, who refuse to accept that Israel and the Judeo-Christian world are engaged in a religious war with Islam, issued grave statements of condemnation, but insisted the attack would in no way disrupt efforts to reach an agreement whereby Israel will surrender control of Judea, Samaria and half of Jerusalem to the Palestinian Arabs. The eight Israelis killed in the attack, all but one of them teenagers 19 or younger in age, were buried in their respective hometowns Friday morning. By midday, seven of the wounded youngsters were still in Jerusalem hospitals, three of them in serious condition.
Hamas Hails 'Heroic' Jerusalem Attack, Condemns America
March 7….(FOJ) The Palestinian Hamas movement hailed a deadly attack on a Jewish religious school in Jerusalem on Thursday night as "heroic," without claiming responsibility for the strike that killed eight. "This heroic attack in Jerusalem is a normal response to the crimes of the occupier and its murder of civilians," Hamas spokesman Sami Abu Zuhri said. Another spokesman, Taher al-Nunu, blamed the attack on Israeli Prime Minister Ehud Olmert, Defence Minister Ehud Barak and the Israeli government. "We have warned before about the responsibility of the escalation in Gaza and warned of Palestinian anger," Nunu said. Hundreds of Palestinians poured into the streets of Gaza City as news of the attack at a west Jerusalem yeshiva spread, firing automatic rifles into the air in celebration. Several more hundred people likewise celebrated in the northern town of Jabaliya, which has borne the brunt of deadly Israeli military strikes over the past eight days that have killed more than 130 Palestinians in Gaza amid a sharp escalation of violence in and around the impoverished territory.
(FOJ) Palestinians in the Gaza Strip burn an American flag, and a young boy stamps an an American flag while holding a Hamas banner showing a gunman aiming forward. Hamas, along with Hezbullah is threatening to inflame the entire West Bank, and says the US is responsible for the vile state of Israel.
Arab Terrorist Attacks Jerusalem's Merkaz HaRav Yeshiva: 8 Dead
March 7….(Arutz) An Arab terrorist infiltrated Jerusalem's Merkaz HaRav Yeshiva at around 8:30 Thursday night and murdered eight Jews. At least 10 students were wounded, including five in serious to critical condition. Five of the dead were high school students in Merkaz Harav's Yeshiva LeTze'irim, and three studied in the upper-school Merkaz HaRav Yeshiva.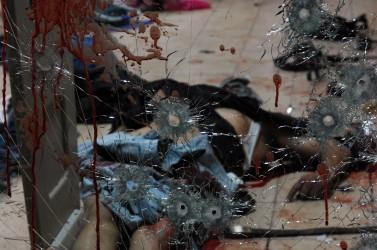 Lifeless body of Jewish victim seen through bullet-riddled window, Merkaz Harav
The attacker entered the yeshiva and opened fire on students before he was gunned down himself by a part-time yeshiva student, aided by an off-duty army officer from the neighborhood. The attack began in the seminary's library with the terrorist spraying bullets in every direction before anyone could react. The part-time yeshiva student who first shot the terrorist, 40-year-old Yitzchak Dadon, said he was in the Yeshiva's study hall when he heard the shots. "Everyone left through a side door," he said, "and I left through a window, and lied down on a roof overlooking the library. When he came out, I shot him in the head twice. I saw him start to stagger, and then David Shapira [a yeshiva graduate and paratroopers officer] arrived on the scene, shot him with his M-16 rifle, and then we emptied our magazines into him." Dadon later told Arutz-7, "It was terribly frustrating feeling, knowing he was in there shooting, but I could do nothing but wait for him to come out so that I could shoot him. While waiting, I could see some boys in a side room in the library turn off the lights and barricade their door, and though he tried, he was unable to come into the room and gun them all down." Dadon was interviewed on various television and radio channels and told his story. When describing what the terrorist was wearing, Dadon emphasized that he was armed with a Kalachnikov rifle that was given him by "our President Peres and by the Olmert government." The interviewers invariably tried to cut him off. Dadon told Arutz-7 that it is imperative that every yeshiva begin a military training course so that the students can defend themselves when necessary. Police deployed in the surrounding neighborhood, and scoured the yeshiva and connected buildings. Most students in the building were evacuated after taking cover in the yeshiva's bomb shelter.
| | |
| --- | --- |
| Zaka volunteers collect body parts and soak up blood for Jewish burial | Zaka volunteer places blood-soaked garments of dead yeshiva students in bag for Jewish burial |
Fifty ambulances responded to the scene. The wounded were evacuated to Hadassah Ein Karem and Shaarei Tzedek Hospitals. In Gaza City, Arab residents went out into the streets and fired rifles in the air in celebration of the attack against the Jews of Jerusalem. Police forces have been increased throughout the capital and placed on heightened alert around the country. The Merkaz HaRav Yeshiva is located near the entrance to Jerusalem, in the Kiryat Moshe neighborhood. The yeshiva, founded by Rabbi Avraham Yitzchak Kook, is at the heart of the national-religious movement in Israel.
Palestinian Terrorists Kill Students at Israeli Seminary
March 6….(Yahoo) Two Palestinian terrorist gunmen infiltrated a rabbinical seminary and opened fire after nightfall Thursday in Jerusalem. At least eight people were killed, police and local media said, including at least one of the terrorists. Israeli media said about 35 people were wounded. Ambulances raced to the scene from around the city. Most of the students at the seminary are high school age. The terrorists entered an area where about 80 people were gathered, witnesses said, and opened fire. "There are at least seven killed," said Eli Dein, director of Israel's rescue service. Yitzhak Dadon, a student, said he was armed with a rifle and was able to shoot one of the attackers from the roof of a nearby building. "He came out of the library spraying automatic fire. The terrorist came to the entrance and I shot him twice in the head," he said. Jerusalem police spokesman Shmuel Ben Ruby said one of the gunmen was wearing what at first appeared to be an explosives vest but turned out to be a belt holding extra ammunition. Terrorists infiltrated the Mercaz Harav seminary and opened fire in all directions, he said. There was no immediate claim of responsibility, though Hamas spokesman Sami Abu Zuhri said the group "blesses the heroic operation in Jerusalem, which was a natural reaction to the Zionist massacre." The seminary is in the Kiryat Moshe quarter of Jerusalem, a well-known center of Jewish studies identified with the leadership of the Jewish settlement movement in the West Bank. The school was founded in 1924 as a center of Religious Zionism, and today is one of the biggest centers of Jewish studies in Israel. In Gaza City, some Palestinians went out into the streets and fired rifles in celebration in the air after hearing news of the attack on the seminary. "This is God's vengeance," blared a loudspeaker in a Gaza City mosque. Also In Gaza, the Islamic militant Hamas praised the attack but stopped short of claiming responsibility. Thousands poured into the streets to celebrate, firing rifles in the air. "We bless the (Jerusalem) operation. It will not be the last," Hamas said in a text message sent to reporters.
Muslim States Urge UN to Condemn Israel
(Resolution supported by Organization of the Islamic Conference calls on UN Human Rights Council to condemn Israel's supposed 'war crimes' against Palestinian civilians in Gaza. Israeli ambassador says accusations should be directed at Hamas while US envoy slams the council's 'unbalanced and excessive focus on Israel)
March 6….(YNET) Arab and Muslim countries called on the top UN rights body Thursday to condemn Israel's recent military strikes in Gaza.A proposal put forward by Pakistan labeled Israeli incursions into the Palestinian territory a ''war crime.'' The draft resolution, supported by the Organization of the Islamic Conference and sponsored by the League of Arab States, expressed its ''shock at the Israeli bombardment of Palestinian homes, and the collective punishment against the civilian population, which constitute a war crime.'' It also called for Palestinian groups to stop firing rockets into Israel. Israel's ambassador, Itzhak Levanon, told the UN Human Rights Council at an urgent debate on Gaza Thursday that the accusations leveled against his country were ''exaggerations, distortions and inaccuracies.'' He said the Palestinian faction Hamas, which controls the small coastal territory, were the ones who committed war crimes. The Palestinian ambassador to the UN office in Geneva, Mohammad Abu-Koash, said the international community has failed to show a firm stance and halt the suffering of the population in the West Bank and Gaza. The Palestinian people are ''left to a merciless occupier that doesn't even hesitate to use F-16 (fighter planes) to pound homes and bury whole families under the debris under the pretext of self-defense,'' he told the council. Since it was created two years ago, the council has passed three resolutions explicitly condemning Israel and several more indirectly criticizing it. Slovenia's ambassador, Andrej Logar, who was speaking on behalf of the European Union, said, we are deeply alarmed by the recent Israeli military operations,'' he said, adding that Israel should show ''utmost restraint.'' He also said that Palestinian factions in Gaza must stop the rocket attacks.' The United States is not a member of the council. The council, which lacks enforcement powers, has been accused of spending excessive amounts of time focusing on Israel since replacing the widely discredited and highly politicized Human Rights Commission in June 2006.
Amnesty International: Situation in Gaza Worst Since 1967
(International boycott, Israeli blockade on Gaza caused situation in Strip to reach 40-years' low, report compiled by human rights groups claims, citing growing unemployment, rising food prices and limited fuel and electricity supply)
March 6….(YNET) The situation in the Gaza Strip is worse now than it has been since Israel has occupied the West Bank in 1967, a report by Amnesty International and other human rights groups claims today. The report paints a very grim picture of the situation in Gaza in recent years, and particularly since Israel has imposed strict restrictions on the movement of goods and people in response to Hamas' takeover of Gaza in June 2007. According to the report, the economic isolation of the 1.5 million Palestinians living in Gaza has worsened unemployment and poverty and caused education and health services to deteriorate. Hamas' takeover of the Strip has also had a devastating effect on the local economy. Between June and September 2007, the rate of Palestinians earning less than $1.20 a day rose from 55% to 70%. The unemployment rate in Gaza currently stands at 40% and experts believe it might soon reach 50%. In the last year alone, some 75,000 people have lost their jobs. The closure on the Strip and the collapse of the local economy have also contributed to a sharp increase in food prices. In 2007, Gazans spent 62% of their income on food supplies, compared to only 37% in 2004. As a result of the limited fuel and electricity supply, hospitals in Gaza face long power cuts, which last up to 12 hours a day. The report's authors call on the European Union to exert pressure on the Israeli government to lift the blockade on Gaza and refrain from limiting fuel and electricity supply to the Strip.
FOJ Note: It might be helpful of Amnesty International and the UN Human Rights organization to suggest to the Hamas terrorists that they stop firing rockets into Israel. Perhaps then their humanitarian situation would improve. Hatred does carry a high price!
Israel Announces 'Secret Negotiations" with Syria
(Sources say secret, high-level dialogue with Damascus began months ago)

Syrian leader Bashar Assad
March 6….(WND) Israeli Prime Minister Ehud Olmert announced today negotiations between the Jewish state and Syria will be more seriously considered it it would bring an end to Syrian-sponsored terrorism and Damascus' "involvement in the Axis of Evil." Olmert's government already has been secretly holding high-level talks with Syria regarding renewing negotiations over an Israeli retreat from the strategic Golan Heights. Top diplomatic sources in Jerusalem confirmed Defense Minister Ehud Barak, a former prime minister, has been passing official messages regularly to Syrian President Bashar Assad regarding Israel's willingness to negotiate over the Golan. The messages are being transmitted by the Turkish Embassy in Tel Aviv with the sanctioning of Turkish President Abdullah Gul. The Golan Heights is strategic, mountainous territory looking down on Israeli and Syrian population centers twice used by Damascus to launch ground invasions into the Jewish state. The diplomatic sources speaking to WND said the message-passing between Israel and Syria determined Damascus is ready to discuss the Golan on condition the US offers Syria a package that includes ending sanctions against the Assad government and pledges of aid to Damascus. Syria openly provides refuge to Palestinian terror leaders, including the chiefs of Hamas and Islamic Jihad, and has been accused of shipping weapons to Hezbollah. Damascus is also accused of supporting the insurgency against US troops in Iraq.
New Documents Show Iran Is Indeed Working on Nukes
March 6….(Ken Timmerman) New documents shown at a dramatic closed-door briefing to diplomats in Vienna by the International Atomic Energy Agency's chief nuclear inspector, Olli Heinonen, provided new evidence that Iran continues to work on developing a nuclear warhead for its long-range ballistic missiles, despite a recent report to the contrary from the US intelligence community. The documents, whose contents were described to Newsmax by persons present at the closed-door briefing on Feb. 25, included an internal Iranian government PowerPoint report detailing progress on a missile re-entry vehicle from July 9, 2003 through Jan. 14, 2004. The progress report on the re-entry vehicle, known as Project P111, contradicts the latest US National Intelligence Estimate on Iran, released in December, which concluded that Iran had shut down its nuclear weapons work in the fall of 2003. The board room fell silent when Heinonen showed the Iranian PowerPoint presentation. Participants sat transfixed by the stunning new evidence of Iran's secret nuclear weapons work, diplomats present during the briefing told Newsmax. Heinonen didn't say how he had obtained the PowerPoint, but noted that "several member states" had assisted his investigation. Heinonen traveled to Iran last month to confront the Iranians with the new evidence he had gathered. The Iranians dismissed the documents as "fabrications" and "baseless allegations." Heinonen also showed an analysis from the US intelligence community of Iran's Green Salt Project that has not been shared with top US government officials. According to IAEA reports, the Green Salt Project refers to studies to build a clandestine facility to convert uranium yellowcake into UF4. This process is vital uranium enrichment to produce uranium metal. Uranium metal can be machined to form hemispherical "pits" or weapon cores. The US intelligence community report was shared with the Iranian representatives to the IAEA during the Feb. 25 meeting in Vienna, but has not been briefed to senior US government officials involved in tracking Iran's nuclear weapons program. At one point, Heinonen showed a videotape of a "mock-up chamber and internals" of the missile re-entry vehicle, as well as laboratory preparations to test them, which could only have been obtained from sources inside Iran. He also showed an Iranian animation demonstrating how a Shahab-3 missile could be programmed to detonate at about 2,000 feet over a target. Heinonen noted that detonation at that altitude only made sense for a nuclear warhead. Key to the clandestine programs was a private Iranian company called Kimia Maadan, which the Iranians acknowledged had been set up in May 2000 to work on a secret uranium mine at Gachine. Kimia Maadan was run by Revolutionary Guards Brig. Gen. Mohsen Fakhrizadeh, one of a number of alleged nuclear weapons designers the IAEA has sought to interview, without success. Iranian Ambassador Ali Akbar Soltanieh "smirked during the presentation and shook his head in apparent distaste," according to one participant. Once the briefing was over, Soltanieh "shot up like a Shahab-3, more angry than I have ever seen him," another source present at the briefing told Newsmax. Practically shouting, Soltanieh accused the IAEA of "heading down a dangerous path" similar to its investigation of the AQ Khan nuclear black market network in Pakistan, the source added. In his report to the IAEA board of governors in Vienna on March 3, ElBaradei attempted to minimize the Heinonen findings, claiming that the Agency had clarified all but one outstanding issue with Iran. "The one outstanding issue that is relevant to Iran´s past activities is the so-called alleged studies involving possible weaponization activities," ElBaradei said. But several ambassadors disagreed, as did the United Nations Security Council, which passed on Monday a third resolution calling on Iran to halt all uranium enrichment and imposed new Chapter 7 sanctions. Other documents shown by Heinonen included:
 Schematic drawings of the missile warhead
 Flow sheets for a secret uranium conversion plant
 Test reports on high voltage detonators
 Production documents on an exploding bridgewire detonator
 Procurement documents showing that Iran had purchased spark gaps, shock wave software, neutron sources, special steel parts, and radiation measurement equipment, all of which are relevant to nuclear weapons work
 Documentation on Iranian training courses on neutron calculations, the effect of shock waves on metal, enrichment/isotope separation, and ballisic missiles
 Information on the construction of what appeared to be a nuclear test site, with a 1,300 foot shaft connected to a monitoring station six miles away, which the Iranians claimed was used to test conventional explosives.
Oil Advances to Record $105.97 as Dollar Drops to All-Time Low
March 6...(Bloomberg) Crude oil rose to $105.97 a barrel, the third day this week New York prices have reached a record, as the US dollar fell to its lowest ever against the euro. Gold and copper also advanced to all-time highs as the sinking dollar made commodities priced in the US currency cheaper. Oil closed at a record yesterday after US crude inventories fell for the first time in eight weeks and OPEC refrained from raising production. The reason we've gone above $105 is that the market is still focused on the weakness of the dollar, Olivier Jakob, managing director of Petromatrix Gmbh in Zug, Switzerland, said. It's going to take more signs of demand destruction around the world before oil stops gaining on the dollar. Crude oil for April delivery rose as much as $1.45, or 1.4 percent, to a $105.97 a barrel on the New York Mercantile Exchange, the highest since futures began trading in 1983. The euro climbed to $1.5358, the highest level since the single currency's debut in 1999, as the European Central Bank held its key interest rate at a more than six-year high as the Federal Reserve keeps cutting its benchmark rate.
Colombian Rebels
Besides dollar-led buying, oil rose after Colombian rebels bombed the Transandino Pipeline yesterday, escalating a cross- border dispute with Ecuador. Tensions in the region flared up after a Colombian military strike at the weekend prompted Venezuelan President Hugo Chavez to order tanks to move to the Colombian border. In the US, crude oil supplies fell 3.06 million barrels to 305.4 million in the week ended Feb. 29, according to the Energy Department. A 2.4 million-barrel gain was forecast, according to the median of responses by 15 analysts surveyed by Bloomberg. The 13 members of the Organization of Petroleum Exporting Countries, which supplies over 40 percent of the world's oil, decided at a meeting in Vienna yesterday to maintain quotas at 29.67 million barrels a day, on the grounds that supply and demand are balanced.
Israeli Cabinet Okays Hamas, Jihad Islami Targets for Attack

Hamas hard-liner Mahmoud a-Zahar
March 6….(DEBKA) DEBKAfile's military sources disclose that Israel's security cabinet approved Wednesday, March 5, a series of terrorist targets for early attacks as part of a sustained military offensive against escalated Palestinian attacks from Gaza on Israeli civilians. Prime Minister Ehud Olmert and defense minister Ehud Barak earlier obtained a quiet nod from US secretary of state Condoleezza Rice before she wound up her visit. These targets will likely include:
1. Chiefs and senior officers of Hamas' and Jihad Islami's armed wings.
2. Their senior political officials in the Gaza strip, excluding prime minister Ismail Haniyeh, but including hard-line Mahmoud a-Zahar.
3. Hamas and Jihad institutions, including police stations.
These decisions were taken at the security cabinet's first exhaustive review of Israel's Gaza options.
DEBKAfile's sources reveal the ministers considered demolishing urban districts in Gaza which serve as launching pads for missiles after evacuating their inhabitants. Our military sources report that these strikes are expected to let loose a stepped up Hamas Grad rocket barrage against Ashkelon or even points further north, such as Ashdod, both important Mediterranean port cities. Sderot, Netivot and Ofakim may also come under heavy missile attack and Hamas will make a supreme effort to bring off suicide attacks inside Israel. Notwithstanding this expectation, the defense minister is determined to deny Hamas the ability to create a balance of deterrent with Israel. Therefore, the Israeli operation will persist even under heavy Hamas assaults. In any case, the Palestinians launched a fresh onslaught on the heels of Rice's departure after her talks with Palestinian and Israel leaders. Five Katyusha rockets fired from Gaza at Ashkelon exploded on empty ground south of the city; four Qassam missiles were aimed at as Sederot and the Eshkol farming region, raising the total from Wednesday morning to eight.
| | |
| --- | --- |
| | A young Israeli girl stands in the destroyed kitchen of her parents house in Sderot after it was hit by a rocket fired by Palestinian militants from the Gaza Strip towards southern Israel, Thursday, March 6, 2008. The Islamic Jihad claimed responsibility. Israel has decided that it has no other choice but to stop the rockets. |
The Next Mideast War is Only One Rocket Away
By Michael B. Oren

It begins with a single Qassam rocket, one of the thousands of homemade projectiles fired in recent years by the Islamic radicals of Hamas from the Gaza Strip into southern Israel. The rockets have made life nightmarish for many Israelis but have largely missed their targets. But this one gets "lucky": It smashes into an elementary school, wounding 40 children and killing 15.

The Israeli government, which had heretofore responded to the Qassams with airstrikes and small ground raids, cannot resist the nationwide demand for action. Within hours, tens of thousands of Israeli troops and hundreds of tanks are rushing into Gaza, battling house-to-house in teeming refugee camps. Just as swiftly, Palestinian officials accuse Israel of perpetrating a massacre and invite the foreign press to photograph the corpse-strewn rubble. The images flash around the Middle East on al-Jazeera TV and trigger violent demonstrations in Arab capitals.

Hezbollah, the radical Lebanese Shiite militia, then gets into the act, raining Katyusha rockets on northern Israel. But when Israeli warplanes bomb the Katyusha batteries, Syria leaps in, sending its commandos to retaliate by capturing key Israeli bunkers atop the Israeli-occupied Golan Heights. Israel's counterattack succeeds only in precipitating a hailstorm of Syrian Scud-D missiles, some armed with chemical warheads, into Israeli cities. Then, just as Israeli planes are incinerating the main electrical plant in Damascus, the first of hundreds of Shehab-3 rockets, pre-targeted at Tel Aviv, lift off from Tehran.

Sound fantastical or too horrific to ponder? Not to Israeli intelligence analysts it doesn't. The Israeli military recently conducted a round of large-scale war games based precisely on this scenario. In some rounds, Israel managed to humble Hamas and Hezbollah while shooting down most of the Iranian and Syrian rockets with its own Arrow and Patriot antimissile systems. But other forecasts went far less well: Israel survives but barely, with its cities devastated and countless civilians killed.

This is the mess that will soon land in the lap of President Clinton, President Obama or President McCain. Despite the shadows of 9/11 and Iraq, the US primary season thus far has been dominated by the economy. But it's a mistake to assume that the next presidency will be. Instead of a honeymoon, the new president could inherit a brush fire raging out of control in a volatile region where US involvement has never been deeper. Would he or she merely convene the UN Security Council, or rush to Israel's defense? And how, in the event of a general Middle East war, would the president safeguard the woefully exposed US forces in Iraq?

The Middle East will continue to be the source the gravest threats to US security, whether in the long-term form of a nuclear-armed Iran or the short-term one of an unforeseen multistate war. So the candidates must be pressed about how they would handle a chain reaction in which events in Gaza suddenly engulf the entire region. To borrow an old slogan: It's the Middle East, stupid.

The possibility that a border scrap between Israelis and Palestinians could ignite a regional conflagration should not be too surprising. A very similar concatenation of events led to the most volcanic eruption in the region's modern history, irreparably convulsing the Middle East and carving many of the furrows that still destabilize it.

That conflict, too, began with Palestinian attacks into Israel, a series of Israeli reprisals and a mass clamoring for revenge. The countdown began just over 44 years ago, on New Year's Eve, 1964, when Palestinian guerrillas belonging to the Fatah faction crossed the Lebanese border to attack Israel. Though the infiltrators were intercepted, Fatah's leader, Yasser Arafat, declared the raid a heroic victory and dared Arab rulers to match his audacity.

Few could. The Arab world at the time was split between two warring camps: the socialist, pro-Soviet dictators in Egypt, Syria and Iraq and the conservative, pro-Western monarchs in Saudi Arabia, Jordan and elsewhere. Egypt's fiery leader, Gamal Abdul Nasser, gleefully branded King Hussein of Jordan a Zionist "whore," ratcheting up the tension by hinting that the kings were American lackeys. Despite the rhetoric, Arab rulers did not really want war with Israel. But Arafat's challenge left them little choice.

Nasser responded by ordering the Palestine Liberation Organization, originally established as an Egyptian propaganda tool, to launch its own cross-border attacks. The Israelis lashed back, blowing up Fatah's West Bank headquarters. Jordan accused Nasser of "hiding behind the skirts" of the UN peacekeepers deployed in the Sinai to separate Egypt and Israel. Mortified, Nasser ousted the UN forces on May 15, 1967, and closed a strategic Red Sea shipping route to Israeli vessels. Suddenly, Nasser was the champion of the Arab "street," hailed by huge demonstrations that demanded Israel's destruction. The Arab world closed ranks behind him. Shorn of international allies, Israelis were convinced they faced annihilation.

But then Israel struck first. On the morning of June 5, Israeli warplanes obliterated almost the entire Egyptian air force, and Israeli tanks rumbled through Gaza and Sinai. At the end of six days of fighting, Israel had nearly quadrupled the territories under its control, among them the West Bank, the Golan Heights and Gaza. A new era, and new sources of Middle East bloodshed had emerged.

Much has since changed in the Middle East. The Cold War is largely forgotten, as is the 1960s enmity among most Arab regimes. Israel remains a powerhouse, with more high-tech companies than Western Europe, an ironclad alliance with the United States and (it's widely assumed) a nuclear arsenal. Arafat's successor, Mahmoud Abbas, now rules the West Bank as the head of a Palestinian Authority publicly committed to coexistence with the Jewish state.

But for all these transformations, the Middle East remains the same explosive context of conflict it was in the 1960s. The region is still bitterly divided - not between Arab nationalism and conservatism but between religious moderation and the surge of Islamist extremism spurred, in part, by the Six-Day War. Backed by Syria and Iran, a phalanx of terrorist groups threatens Israeli and Arab societies alike. Israel has peace treaties with Egypt and Jordan and is engaged again in peace talks with the Palestinians, but it is still an object of abomination for the overwhelming majority of Middle Easterners. And violence in Gaza, now run by a democratically elected Hamas government, can still spark turbulent demonstrations throughout the region's streets.

If anything, the Middle East is even more flammable today than in the 1960s because of the countless thousands of short and long-range missiles in its armies' arsenals. These weapons vastly amplify the potential destruction of any military confrontation while slashing the amount of decision-making time that might be needed to avert all-out war. And modern weapons, including unconventional ones, make everything scarier. A conflict between Israel and Iran might not last six days but six hours, unleashing shock waves even more seismic than those of 1967.

Contemporary Middle Eastern leaders cannot afford to ignore these lessons. Neither can decision-makers, and would-be ones - in the United States. Though the waning Bush administration is focused on trying to reach an Israeli-Palestinian peace treaty, shore up Iraq and flex its muscles at Iran, it should not downplay the danger that a seemingly limited border skirmish could rapidly escalate into a regional catastrophe.

Nor should President Bush's heir. The next commander in chief may have to proceed directly from the inauguration to the Situation Room to try to defuse a Middle Eastern crisis of monumental dimensions. That moment could be a single Qassam rocket away.
Iran: UN Sanctions Mean Nothing
(Iran is let off lightly)
March 5….(DEBKA) The foreign ministry in Tehran said the third round of sanctions approved by the UN Security Council yesterday was "worthless and politically motivated." Iran will move ahead with its enrichment program, said the spokesman, in reply to Russian advice to suspend enrichment and study the renewed offer of incentives offered by the six world powers. The UN Security Council for the first time banned trade with Iran in goods with both civilian and military uses because of its refusal to shelve uranium enrichment. It was carried by 14 council members to nil, with Indonesia abstaining. DEBKAfile's Iranian sources reports the new sanctions are indeed worthless because Tehran anticipated them well in advance. If anything, Tehran took a sigh of relief Monday for three reasons:
1. This round of sanctions is the Bush administration's parting shot against Iran before bowing out of office. It marks the dramatic reduction in the penalties faced by Iran since 2007 when a US military option was still on the table.
2. The sanctions are not powerful enough to halt any of Iran's nuclear and missile projects.
3. Very few Security Council resolutions are ever fully or even partially implemented. This latest round will be no different.
Intelligence chief: Don't forget Iran, Syria
(IDF Major General Amos Yadlin says current quiet on other fronts should not mislead Israel, as country's enemies watch Gaza developments before taking next steps)
March 5….(YNET) The latest round of violence in Gaza was ignited by the assassination of five Hamas military experts trained in Iran, Syria and Lebanon, IDF Intelligence Chief Major General Amos Yadlin told cabinet ministers Sunday. Yadlin noted that the massive Qassam fire leveled at Israel by Palestinian terror groups began when Israel "prevented a quality terror attack" by assassinating the military experts. The intelligence chief also noted that Hamas is waging a broad-based strategic military campaign, and that Israel must consider all facets of this campaign in order to respond most effectively. "With all the focus on the south of Israel right now, said Yadlin, we must not forget Iran, Hizbullah, and Syria. The fact that they are quiet right now does not mean that they have bowed out of this battle. On the contrary, they are all looking to Gaza in order to see how this conflict will pan out, and this will greatly determine the steps they take next," he warned. Hamas is currently under political siege, explained Yadlin. "Very few countries are willing to have diplomatic relations with this organization," he said, and this has led Hamas to take steps to try and escape this political isolation. "Hamas reigns supreme in Gaza, Yadlin said, and it spearheads all military operations as well as all terror attacks originating from the Strip." Yadlin also addressed the cabinet ministers Sunday and stated that "we talk far too much, far more than is necessary, which removes the element of surprise in our dealings with these murderous organizations, and affords them much greater flexibility and preparedness in their actions." Olmert asked his cabinet to "keep talk of ultimatums, military strategy and the like to a bare minimum." The cabinet also discussed the cynical use Hamas makes of Palestinian civilians in camouflaging its rocket attacks on Israel. IDF Chief of Staff Gabi Ashkenazi told the cabinet that several days ago an old Palestinian man was spotted leaving a village in the northern Gaza Strip with a wagon. In this wagon was hidden a long-range Grad missile that was then promptly launched at Israel from a nearby orchard. Defense Minister Barak noted at the cabinet meeting that the Palestinians' recent use of Grad missiles is far graver than past Qassam rocket attacks. "Israel cannot and should not accept this escalation in violence and uninterrupted use of industrialized Grad missiles on the part of the Palestinians, which automatically triples the number of Israeli civilians vulnerable to such attacks," he said.
Some Palestinian's Grieve, While Terrorists Control Everything
March 5….(FOJ) War is hell. General Sherman voiced those words during the American civil war, and those words are pretty close to the mark. Hell however is still far worse than war, but war is the biggest atrocity that afflicts mankind. FOJ regularly supports the Biblical view of Israel's God-given deed to the Promised Land, but still, the Christian view is compassionate for those caught in the crossfire of the beastly affairs of war. Below, a photo shows a Palestinian father grieving beside the body of his newborn baby, whom Palestinian reporters said was killed by the Israeli forces gunfire late Tuesday in the central Gaza Strip. IDF combatants reported that the incident was due to crossfire with Hamas militants. Regardless of who is telling the truth, an innocent baby was killed, and the story now serves as war venom for Islamic terrorists bent on destroying Israel.
The Bible indicates that wars will continue to plague mankind until the "prince of peace", Jesus Christ returns to Jerusalem, albeit to a revived Israel. That may be offensive to Palestinians, but that is in God's plans. God loves Arab and Jew alike, and he intends to bless the whole of mankind through his son, who was born via the national vehicle of Israel. Yet as the world recoils in hatred for Israel, it well to remember the following: (Mathew 10:28 And fear not them which kill the body, but are not able to kill the soul: but rather fear him which is able to destroy both soul and body in hell.) Christians need to support Israel, as they figure prominently in God's providential plan for the salvation of this world, but we also need to pray for the millions of deceived people in the world who think that Israel is a curse, to come to the knowledge of the saving grace of Jesus Christ.
Venezuela and Columbia, Another Front in East vs. West Powerplays
| | |
| --- | --- |
| | (FOJ) Established in 1964 as the military wing of the Colombian Communist Party, the FARC is Colombia's oldest, largest, most capable, and best-equipped Marxist terrorist/insurgency. There are an estimated 18,000 FARC guerrillas fighting to overthrow the Colombian government. FARC funds itself through kidnapping, extortion and taxing the drug trade. The Communist FARC receives funding from Hugo Chavez, who in turn receives support from Russia. |
March 4….(FOJ) Hundreds of Venezuelan troops moved Tuesday toward the border with Colombia, where trade was slowing amid heightening tension over Colombia's cross-border strike on a rebel base in Ecuador. The Organization of American States scheduled an emergency afternoon meeting in Washington to try to calm one of the region's worst political showdowns in years, pitting US-backed Colombia against Venezuela's leftist President Hugo Chavez and his allies. Colombian and Ecuadorean officials, meanwhile, traded accusations in the United Nations and the International Criminal Court. The escalation of tensions was triggered over the weekend when Colombia troops crossed the border with Ecuador and killed Raul Reyes, a top commander of the Colombian FARC rebels who had set up a camp there. President Bush said the United States will stand by Colombia and criticized Venezuela's government for making "provocative maneuvers." Colombia has received some $5 billion in US aid to fight drugs and leftist rebels since 2000. Columbian President Uribe said his government would ask the International Criminal Court to try Chavez for "genocide" for allegedly financing the Revolutionary Armed Forces of Colombia or FARC, the country's main rebel group.
FOJ Note: Hugo Chavez, dictator of Venezuela is another in a long line of Russian clients to be propped up in South and Central America. It is the goal of Putin's Russia to eject the US out of oil rich regions, such as Venezuela, and secure the riches of the oil exports for the envisioned empire of Magog. Big oil interests in the US have long dominated the South American reserves, and alas have made many enemies there.
Secretary Rice Arrives in Israel to try to Save Peace Talks
March 4….(MSN) US Secretary of State Condoleezza Rice arrived in Israel on Tuesday after saying she hoped to salvage peace talks that Palestinians suspended in protest at an Israeli military offensive in the Gaza Strip. Rice flew to Tel Aviv from Cairo, where she had consulted with Egyptian leaders on ways to defuse Arab ire over the crisis in Gaza, where Israel killed more than 125 Palestinians, many of them civilians, in a five-day assault that ended on Monday. Israel has threatened to take further military action in the Hamas-controlled territory to curb cross-border rocket attacks. Rice's first meeting in Cairo was with Egypt's Foreign Minister Ahmed Aboul Gheit, followed by talks with President Hosni Mubarak. Saying Israel had the right to defend itself, Rice told reporters Hamas was trying to wreck Palestinian statehood talks between Olmert and Abbas. "Hamas is doing what might be expected, which is using rocket attacks on Israel to arrest a peace process in which they have nothing to gain," Rice said. She said any lengthy suspension of talks handed victory to Hamas, which seized control of Gaza last June and whose stepped up rocket attacks into Israel preceded the latest offensive.
Rice rejects parallels with Lebanon conflict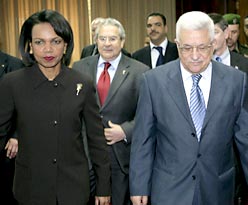 She strongly rejected parallels with the Lebanon conflict and said she would discuss with Egypt how to reduce the violence, as well as ways to secure Egypt's border with Gaza, briefly breached in January. Rice said there was merit to the idea of giving the Palestinian Authority control at the sensitive border crossing at Rafah and having European monitors return. Hamas, however, has demanded a role at the border, largely closed since June. "I will certainly be discussing how we make the Rafah situation sustainable and what that would mean for a role for the PA, for European monitors on that border," Rice said. She also voiced concern about the loss of innocent life in Gaza and the humanitarian situation there, which she said would be brought up in all her discussions. "I do think it will help if something can be done about the humanitarian situation in Gaza, including about regularizing in some fashion the Rafah crossing," she said. Rice is set to move on to the West Bank to see Abbas and Palestinian Prime Minister Salam Fayyad later on Tuesday. She will then go to Jerusalem for talks with Israeli leaders, before leaving for Brussels on Wednesday for a meeting of NATO foreign ministers.
Israel: Hezbollah has 30,000 Rockets
March 4….(Ha Aretz) Israel has said Hezbollah is rearming and has an arsenal that includes 10,000 long-range rockets and 20,000 short-range rockets in southern Lebanon, according to a report from Secretary-General Ban Ki-moon. Ban's report to the Security Council, obtained by The Associated Press on Monday, did not confirm Israel's claim. But the UN chief reiterated his concern about Hezbollah's public statements and persistent reports pointing to breaches of a UN arms embargo, which bans weapons transfers to the militant Islamic group. Ban also expressed concern at "the threats of open war against Israel" by Hezbollah leader Hassan Nasrallah. Nasrallah has accused Israel of trying to start a new war by assassinating a top Hezbollah commander and warned it would be a battle the Jewish state would lose. Israel has denied involvement in the Feb. 12 car bombing in Syria that killed Imad Mughniyeh. The secretary-general's report focused on implementation of the UN cease-fire resolution that ended the 34-day war between Israel and Hezbollah in August 2006. The resolution reiterates a call for the disarming of all militias and bans arms transfers to them. "Reports of Hezbollah rearming are a cause of great concern, posing serious challenges to the sovereignty, stability and independence of Lebanon," Ban said. He told the council he continues to believe that the disarmament of Hezbollah and other militias must be part of a Lebanese-led political process that would fully restore the government's authority throughout the country. In his last report to the council in late October, Ban alleged that Hezbollah had rearmed with new long-range rockets capable of hitting Tel Aviv and tripled its arsenal of C-802 land-to-sea missiles since the 2006 war. He also drew attention to alleged breaches of the arms embargo and the transfer of sophisticated weapons from Iran and Syria, both strong backers of Hezbollah, across the Lebanon-Syria border. Syria disputes the claim countering that the allegations of weapons smuggling are motivated by political rather than security considerations, Ban said, but Hezbollah's leaders have acknowledged on several occasions that their military capacity had been replenished since the war with Israel. After the 2006 war, a beefed-up UN force was stationed in south Lebanon, partially to keep Hezbollah from smuggling weapons into the area. In addition to information provided in previous reports, the government of Israel states that Hezbollah's arsenal includes some 10,000 long-range rockets, in addition to some 20,000 short-range rockets," the secretary-general said. Hezbollah denies transferring weapons to the area where the U.N. force is deployed, a move that would violate the 2006 resolution. Before the war, Israel estimates that Hezbollah had 13,000 rockets deployed. During the war, Hezbollah bombarded Israel with nearly 4,000 rockets. The rockets struck as far south as Hadera, 30 miles north of Tel Aviv.
Humanitarian Aid Flows into Gaza, Missiles and Mortars Fly Out
March 4….(IsraelNN.com) Even as Palestinian Authority terrorists continue to launch mortar and missile attacks at Israel, Jerusalem has given the go-ahead to open crossings into Gaza so trucks can deliver medical and other supplies to the region. For the second time in three days, truckloads of humanitarian aid made their way from Israel into Gaza through the Sufa Crossing. In addition, Israeli officials approved passage through the Kerem Shalom Crossing. It is the first time the terminal has been open since a spate of terror alerts seven weeks ago prompted the IDF to close the crossing. Early Tuesday morning, 80 trucks of aid rumbled through the two terminals and into southern Gaza carrying medications and other medical supplies. Sixty of the trucks passed through the Sufa Crossing with supplies donated by Jordan and Turkey. Two days earlier, Israel sent 62 trucks loaded with cases of fresh units of blood as well as basic food stuffs such as flour, sugar, salt and oil. Twenty more trucks laden with other humanitarian supplies drove through the Kerem Shalom Crossing. The decision by Major-General Yosef Mishlav, Coordinator of Government Activities in the Territories, to open the crossings for delivery of supplies into Gaza came after a request by PA Health Minister Fathi Abu Mogli. Hospitals in Gaza have complained they are overloaded with people wounded in clashes between PA terrorists and IDF forces, seriously taxing doctors' ability to treat those who arrive in their emergency rooms. On Monday, two Israeli hospitals accepted seriously ill patients and wounded Gaza residents for advanced treatment as well.
Ahmadinejad in Baghdad's Green Zone
March 4….(DEBKA) During his 2-day visit to Baghdad, March 2-3, Mahmoud Ahmadinejad and his Iraqi hosts did a good job of ignoring the ubiquitous US military presence in Iraq, except for the Iranian president's ritual anti-American blast. His welcome by Iraqi president, the Kurdish Jalal Talabani, and Shiite Prime Minister Nouri al-Maliki was played up as a bilateral event. Contact between the visitors' retinue and the US military was nil. Yet in Tehran, DEBKAfile's Iranian sources report, the president's excursion into US-occupied territory was counted as a step forward in its seven-month old secret Saudi-mediated dialogue with Washington. This dialogue has advanced in give-and-take steps on a broad set of issues. The most prominent is Iran's nuclear program. The third round of UN Security Council sanctions imposed Monday, March 3, banning trade with Iran did not really bother Tehran. The penalties were predicted and anticipated. Iran's rulers can live with a motion which they see as the Bush administration's parting shot in the dispute over the uranium enrichment issue. Not surprisingly Israel was not satisfied. But mostly they are looking ahead to the next US president and their objective is clear: the cementing of the incumbent White House position on the North Korean nuclear weapons status as a convention which its next tenant will apply to Iran. This in rough terms means accepting a Tehran guarantee to freeze its uranium enrichment process, its nuclear bomb program and nuclear-capable ballistic missile project, without demanding their dismantlement. This outline would be deemed in Tehran a positive basis for a nuclear deal with Washington. Iran's supreme ruler Ayatollah Ali Khamenei hinted broadly at its acceptability when he chose Feb. 26, the day the New York Philharmonic Orchestra played in Pyongyang, for some pointed nuclear remarks.
What does the Bush administration expect from Tehran?
According to our Washington sources, George W. Bush is keen to hand his successor a relatively stable Iraq where the violence spiral sustains its downward curve. The US president accordingly stopped direct US military action against pro-Iranian Shiite "special groups," in the expectation that Tehran will use its influence to keep Iraq on a relatively even keel for the remainder of his term in office. The quid pro quo runs like this: Tehran is bidding for an understanding with Washington on its nuclear program, while the US is after Iran's help to preserve the status quo in Iraq. Iran has two powerful resources for delivering the goods:
1. An extensive clandestine intelligence and military infrastructure across Iraq that will obey Tehran's orders to pull in its horns.
2. Tehran's hand on the spigot of the flow of weapons, money and extra-powerful roadside bombs to the different anti-US insurgent groups.
DEBKAfile's military sources in Iraq report that this flow has been slowed at times but never allowed to dry up. Up until the fall of 2007, pro-Iranian groups received a sufficiency of war materiel to mount attacks on US forces. Today, it is down to a trickle, just enough for the Revolutionary Guards to keep their hand in with those militias. The third key issue dominating the US-Iranian dialogue is southern Iraq and its oil. This is also pivotal for Iran's bilateral relations with Iraq. Ahmadinejad's hosts in Baghdad have to live with the realization that their guest has more clout with the Shiites of southern Iraq than the Maliki government. Tehran's dominance of southern Iraq has three focii: The shrine-cities of Karbala and Najef and the oil port of Basra. Iran and the radical Iraqi Shiite cleric Moqtada Sadr at the head of his Mehdi Army militia divide control of these three cities between them. If the central government wants any say in southern Iraq, it must stay on good terms with both its rival masters. During his last visit to Tehran at the end of last year, prime minister al-Maliki signed an agreement to lay a pipeline taking Iraqi oil to Iranian refineries in Abadan. This was a bid to link southern Iraq's oil to the Iranian oil fields and installations on the eastern bank of the Shatt al-Arb opposite Basra. The Americans, who control and defend the southern oil fields, let the agreement go through, although they are in competition against Iran in Central Asia and Turkey. The Bush administration is reconciled to including southern Iraq and its oil fields in the overall package of Iraq understandings with Tehran. This package the White House is willing to hand over to the next president as long as the status quo is preserved in that part of Iraq too.
Israel's So-Called 'Peace Partner' at War with Israel in Gaza
(Fatah fighters engage IDF troops, fire rockets into Jewish cities)
March 4….(WND) While Israel's ground operation in the Gaza Strip the past few days has been largely reported as a war against the Hamas terrorist group, members of Palestinian Authority President Mahmoud Abbas' Fatah organization boasted they also engaged in clashes against Israeli forces and fired rockets into Jewish population centers. US policy considers Fatah to be moderate. Yesterday, Prime Minister Ehud Olmert announced peace talks with Abbas aimed at creating a Palestinian state would resume while Israeli forces continue striking hard at Hamas in Gaza. The Israel Defense Forces yesterday ended a five-day ground onslaught into Gaza aimed at denting the Hamas terror group's rocket infrastructure in the territory. Air strikes in the territory continue. The ground operation came after Palestinian groups in Gaza escalated their war against Israel by firing long-range rockets into Jewish population centers, including the strategic port city of Ashkelon, about 11 miles from the Gaza border and home to 125,000 Israelis. In interviews with WND, members of Abbas' declared military wing, the Al Aqsa Martyrs Brigades, complained Hamas is taking all the credit for attacking Israel from Gaza. "We engaged in clashes with Israeli forces and just yesterday fired four rockets into Sderot and one into Ashkelon," said Abu Ahmed, a Gaza-based leader of the Al Aqsa Martyrs Brigades. Sderot is a city of about 25,000 near the Gaza border that has been barraged by more than 130 rockets since last Thursday. The Brigades in the northern Gaza Strip even released an official pamphlet taking credit for firing at Israeli troops involved in ground skirmishes with Palestinian terrorists. According to senior Fatah Al Aqsa Martyrs Brigades sources, cells of the terror group engaging Israeli troops include the Al Mujaheeden Brigades, a unit of Fatah fighters allied with Hamas; and the Aymin Guda cells, strong Hamas rivals.
The Hypocrisy of the World Media
March 3….(FOJ) The world's major media outlets are highlighting the terrible destruction that has engulfed Gaza this week. For instance, MSNBC ran this heading with the attached photos, indicating that the Palestinian people are helpless in the wake of an overwhelming Israeli incursion.
Palestinians suspend peace talks after offensive leaves more than 100 dead
The implications of these news stories are intended to stress a dramatic story on the plight of the Palestinians, and that the carnage is the direct result of an unmitigated and unnecessary military offensive against an innocent peace loving people. These stories totally ignore the reasons for the Israeli actions into Gaza. Hamas is using Gaza to unleash daily rocket attacks on Israeli towns and villages in southern Israel.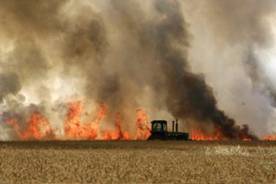 Hamas rockets have set fire to Israeli wheat fields, as well as slamming into elementary schools. The world ignores the fact that 90 out of the 100 casualties in Gaza have been the actual terrorists that instigated the crisis. Albeit, there are people in Gaza who do suffer, but they are suffering at the hands of their terrorist overlords, who will stop at nothing to totally destroy Israel, as Hamas's ally, Ahmadinejad, president of Iran has urged them to do. Even the prospect of a negotiated peace is not enough to inhibit their mad zeal to launch rockets on a people who literally gave them Gaza as a prerequisite prize for a peace resolution.
Secretary Rice Rushes to Mideast to Save Peace (Piece) Plan
March 3….(FOJ) US Secretary of State Condoleezza Rice left for the Middle East on Monday to try to salvage US-sponsored peace talks derailed by Hamas rocket attacks on Israeli towns and Israel's military response in Gaza. With US credibility at stake, Rice faces an uphill battle to revive peace talks suspended over the weekend by pro-Western Palestinian President Mahmoud Abbas. Washington wants those talks to result in a peace treaty by the end of the year but that hope seems increasingly unrealistic. While Israeli troops pulled out of the Gaza Strip on today in response to international appeals, a senior Israeli official described it as just a "two-day interval" during Rice's visit. Somehow, even as Hamas launches rockets out of Gaza, the US reputation as an honest peace broker is under the spotlight again in the Arab world because of Washington's close ties to Israel. The Bush administration made it clear it blamed Hamas for the latest upsurge in violence. This crisis started with Hamas rockets that have been fired from Gaza into Israel, recently killing and injuring Israeli citizens in some of their bigger cities, and yet the whole blame is somehow America and Israel's doing. Secretary Rice has already reiterated that the Palestinian people have a choice to make. Rice said, "It's a choice between terrorism, or a choice between a political solution that leads to a Palestinian state living side by side in peace and security with Israel." In spite of Secretary Rice's mission and President Bush's vision for two states, it is beyond me how they can honestly believe that a new state of Palestine will resolve anything. Even if their vision of statehood for Abbas materializes, it will only lead to rocket attacks from the West Bank. But then, that is part of the Globalist plan, simply to coerce Israel into accepting being carved into more and more pieces!
Hamas Terrorists Firing Rockets from Civilian Homes
(Terrorists surrounded by women, children, take up positions in Gaza)
March 3….(WND) Amid Israel's ongoing ground operation in the Gaza Strip, the Hamas terrorist group has been drawing Israeli forces into populated civilian areas, shooting at Jewish fighters from occupied civilian homes while women and children were inside, an Israel Defense Forces commander fighting in Gaza told WND. Hamas terror operatives shooting at us took up positions inside civilian homes while the civilians were still inside," said the commander, who was speaking from the outskirts of an IDF operation in Jabaliya in the northern Gaza Strip. "The aim is to draw us into killing civilians to bring about international pressure to end our operation," the commander said, speaking on condition his name be withheld due to Israeli military restrictions on media interviews by fighting forces. The commander said in one case today, four Hamas snipers shot at Israeli forces from an open window of a home where women can be clearly seen in the background. Israel this weekend launched a mid-sized ground and air assault on Hamas positions in Gaza following massive rocket bombardments of Jewish cities by Palestinian terrorists. In a major escalation over the past few days, Hamas has been firing long range Grad rockets at the strategic port city of Ashkelon, which is home to about 125,000 Israelis. Ashkelon houses a major electrical plant that powers most of the Gaza Strip. Grad rockets are longer-range Soviet-style projectiles similar to the Katyusha rocket, which the Lebanese Hezbollah terror group successfully used in 2006 to barrage northern Israel. The Grad travels farther and has a larger payload than the Qassam rocket, which can travel about five miles and is the usual rocket of choice for Palestinians. At least 140 rockets, mostly Qassams, targeted the Israeli city of Sderot the past four days, bombarding the working-class city of about 25,000 people located nearly three miles from the Gaza border. One Israeli man was killed and dozens injured last week. Thousands of rockets have been regularly launched at Sderot since Israel retreated from the Gaza Strip in 2005. In addition to rockets at Sderot, dozens of Grads struck Ashkelon the past few days, including at least three yesterday, wounding one woman who had used her body to protect her children during an incoming rocket onslaught. In response to the rocket attacks, the Israel Air Force has been targeting Hamas positions in Gaza, carrying out numerous air strikes against what Israel says are rocket crews, explosives assembly plants, and Hamas headquarters used in rocket storage and production. In an apparent statement that Hamas leaders are not immune from Israeli attack, the IAF today bombed the office of former Hamas Prime Minister Ismail Haniyeh. Alongside air strikes, Prime Minister Ehud Olmert approved a limited ground operation in Gaza focusing mainly on the northern Gaza town of Jabaliya, which houses a Hamas military and rocket infrastructure. The IDF this weekend took up key positions in Jabaliya, located about 1 mile into Gaza, conducting extensive searches for Hamas terrorists. Israel's entire Gaza ground incursion, which involves hundreds of ground troops and dozens of tanks, is limited to only about one mile inside Gaza. At least 90 Palestinians were killed in military operations this weekend. Israeli officials said 80 of those killed were Hamas terrorists. Israeli Defense Minister Ehud Barak defended the Gaza operation as necessary to combat ongoing rocket attacks. "We pulled out of Gaza, we tore Israelis from their homes, just for quiet in the communities in the Gaza envelope. These were painful concessions that we made for quiet, and Hamas has continued its fire without reason," said Barak. "They are firing on innocent civilians and have left us no choice. Still, the international community slammed what many world leaders called "Israeli aggression" against Gazan Palestinians. In an emergency United Nations session called today to discuss the Gaza violence, UN Secretary-General Ban Ki-moon slammed Israel's Gaza fighting as a "disproportionate" use of force. "I call on Israel to cease such attacks," he said. The European Union issued a statement urging Israel to halt activities it claimed endanger civilians saying they were contrary to international law.Pope Benedict appealed for an end to the conflict in Gaza, calling on both Israelis and Palestinians to unconditionally halt the violence. The US for its part also urged "calm" on both sides and urged Israel to continue negotiating with PA Leader Abbas toward creating a Palestinian state.
Askelon, Israeli city of 120,000 Under Attack
| | |
| --- | --- |
| | (FOJ) An Israeli soldier faces a cloud of smoke after a rocket fired from the Gaza Strip by Palestinians militants hit a building in Ashkelon, Israel, Monday, March 3, 2008. Three rockets hit Ashkelon, a city of 120,000. Hamas instigated the current crisis by firing rockets out of Gaza. |
March 3….(FOJ) Palestinian Hamas rockets, obtained from Iran and built in Russia are landing on one of Israeli;s largest cities in the South. Hamas, guided by Iranian experts are increasing their rocket range and thus have put tens of thousands of Israelis at risk. Israel's deputy defense minister warned of a disaster in Gaza because of the growing menace being waged by Hamas against Israeli towns. Gaza's unbowed Hamas rulers promised to fight on as Israeli troops, tanks and aircraft went after rocket-launching operations. The military said Gaza militants fired 19 rockets on Friday, including one that struck an Israeli house, slightly injuring one person.
Israeli Deputy Defense Minister Matan Vilnai told Army Radio that Israel had "no other choice" but to launch a massive military operation in Gaza. "As the rocket fire grows, and the range increases, they are bringing upon themselves a greater 'catastrophe' because we will use all our strength in every way we deem appropriate, whether in airstrikes or on the ground," Vilnai said. The fighting is challenging efforts by President Bush to forge a peace deal with Israel by year's end a goal they declared at a US-sponsored conference in November. It also highlights Iran's, and Hamas' role as a possible spoiler to any semblance of a peace. Israel evacuated its troops and all of its settlers from Gaza in late 2005, but Hamas terrorists and militants have proceeded to fire rockets on Israeli towns from the abandoned territory. On Thursday, the threat grew more ominous when Iranian-made rockets slammed into Ashkelon, a beach town 17 kilometers (11 miles) north of Gaza. Most previous rocket attacks targeted small border communities near Gaza. Hamas militants raised the stakes significantly by hitting Ashkelon, increasing the pressure on Prime Minister Ehud Olmert to protect the Israeli heartland. While Ashkelon had been targeted sporadically before, it never suffered direct hits. The city is home to 120,000 people, a hospital, a power station and hotels. Defense Minister Ehud Barak said Friday that the assaults on Ashkelon "demand an Israeli retaliation."
Putin's Puppet Wins Russian Presidency
March 3….(Reuters) Vladimir Putin congratulated his hand-picked successor on his apparent presidential election victory Sunday and said the win would guarantee the continuity of the course Putin set for Russia. Dmitry Medvedev, who had about 65 percent of the vote in early results, appeared alongside his mentor in Red Square and vowed to pursue Putin's policies. "Such a victory carries a lot of obligations," Putin said from the open-air concert stage outside the Kremlin. "This victory will serve as a guarantee that the course we have chosen, the successful course we have been following over the past eight years, will be continued." Medvedev is expected to formally take over as president in May, and Putin has agreed to be his prime minister, the second highest post in Russia. "We will be able to preserve the course of President Putin," Medvedev said. The Central Election Commission said that returns from 15 percent of Russia's electoral districts showed Medvedev with about 65 percent. Some voters complained of pressure to cast ballots for Medvedev, and critics called the election a cynical stage show to ensure unbroken rule by Putin and his allies. Sunday's vote came after a tightly controlled campaign and months of political maneuvering by Putin, who appeared determined to keep a strong hand on Russia's reins while maintaining while maintaining the basic trappings of electoral democracy and leaving the constitution intact. Some in the West have welcomed Medvedev's reputation as a moderate after years of tense ties with Putin over his crackdown on domestic dissent, US plans for a missile defense and Kosovo's independence, among other things. Few international observers monitored the election, in which accounts of pressure will reinforce Western concerns of backtracking on democracy under Putin. "The result doesn't matter as this is an illegitimate transfer of power," said former Prime Minister Mikhail Kasyanov, a Putin foe who was barred from the ballot. Though he has never held elected office, Medvedev has had an easy ride toward the presidency. Polls predicted he would take a solid majority of votes against the three other candidates: Communist Gennady Zyuganov, flamboyant ultranationalist Vladimir Zhirinovsky and the little-known Andrei Bogdanov of the Democratic Party. Liberal opposition leaders Kasyanov and Garry Kasparov, the former world chess champion and one of the Kremlin's most prominent critics, were both squeezed off the ballot on technicalities. The new president's major domestic tasks are economic. Russia has gotten rich from skyrocketing world oil prices, but the economy is hugely dependent on natural resources and needs to diversify to ensure long-term prosperity.
Gaza & The War on Terror (Its Not Just Iraq)
March 3….(FOJ) Israel Defense Forces killed 47 Palestinian Authority terrorists and wounded 40 others in Gaza over the weekend, according to PA sources. The casualties included several civilians, most during clashes with Hamas gunmen in northern Gaza. Hamas and allied terrorist groups recently intensified their war against Israel and attacked Ashkelon, injuring several people. Intense attacks by Givati and Armored Brigades, backed up by Israel Air Force fighter pilots, eliminated numerous terrorist cells firing mortar shells, rockets, anti-tank missiles and RPG (rocket-propelled grenades). IDF soldiers bombed a truck in northern Gaza carrying 160 rockets ready for use against Israel. On Saturday evening, IDF troops attacked the Rafiah police station. More than 180 missiles have been launched at Israel by Gaza terrorists, two rocket launches per hour, since last Wednesday. PA Chairman Mahmoud Abbas asked the United Nations to intervene and force Israel to stop its counterterrorist activities. Jordan and Egypt both condemned Israel for the attacks with muted statements accusing the Jewish State of "violating international law" and "carrying out these operations without calculating the consequences on the adopted peace efforts." On Saturday, reported the IDF in its statement, "A salvo of more than 50 Kassam rockets was launched today from Gaza at Israeli cities and towns in southern Israel, injuring 22 residents of Sderot and Ashkelon and causing severe damage to property.
Yet, due to international pressure, Israeli Prime minister Ehud Olmert today suddenly decided on the pullback of Israeli ground and armored units from northern Gaza before dawn Monday before they reached their goal of halting Palestinian fire. Stage one of Operation Hot Winter was announced at an end. He was later attacked by members of the Knesset foreign affairs and security committee for aborting the operation in contradiction of the pledges he and the defense minister made Sunday. Both had vowed that military ground action would press on until the Hamas missile-rocket offensive against Israeli civilians was stamped out. Aborting this action in mid-stream leaves Israel with the options of air, surface missile and artillery raids, or short, shallow forays, all of which have long proved ineffectual. Olmert's order to the Israeli ground force to turn around and withdraw in mid-offensive was astonishing and unprecedented. Thus, Hamas has won useful points in the propaganda war by getting images and footage of Palestinian women and children casualties of Israeli strikes onto TV screens and front pages way ahead of the suffering of Israeli civilians from the gratuitous Hamas blitz. This probably paved the way for Washington to lean hard on the prime minister to break off the operation. Secretary of State Condoleezza Rice threatened to call off her visit on Tuesday, March 4, and laid the blame on Israel for the breakdown of peace talks with the Palestinians, although it was Mahmoud Abbas who formally suspended all contacts with Israel. She accused Israel of undermining the Bush administration's entire Middle East strategy. Olmert found it politic to bow to this pressure. In the end analysis, the war-on-terror that America is fighting in Iraq and Afghanistan is being compromised by the Bush administrations actions to thwart the war-on-terror in Gaza
UN Chief Condemns Israel Over Gaza War
March 3….(AP) UN Secretary-General Ban Ki-moon condemned Israel for using "excessive" force in the Gaza Strip and demanded a halt to its offensive after troops killed 61 people on the bloodiest day for Palestinians since the 1980s. Addressing an emergency session of the Security Council in New York after four days of fighting in which 96 Palestinians have been killed, many of them civilians, Ban also called on Gaza's Islamist militants to stop firing rockets. The 1.5 million Palestinians crammed into the blockaded, 45 km (30-mile) sliver of coast, enjoyed a relative respite early on Sunday from Israeli air strikes and raids. Two Israeli soldiers died in a ground assault on Saturday. An Israeli civilian was killed by a rocket in a border town on Wednesday. "While recognizing Israel's right to defend itself, I condemn the disproportionate and excessive use of force that has killed and injured so many civilians, including children. I call on Israel to cease such attacks," said Ban. "I condemn Palestinian rocket attacks and call for the immediate cessation of such acts of terrorism," he said. The Islamist Hamas movement, which seized control of Gaza last June by routing Palestinian President Mahmoud Abbas's forces, vowed to maintain what it says is a self-defense strategy unless Israel agrees to end all military action. Senior Israeli diplomat Daniel Carmon dismissed suggestions Israel was guilty of war crimes. "Hamas bears sole responsibility for the violence," he told the Security Council.
UN RESOLUTION
Diplomats said the Security Council was unlikely to adopt a Libyan resolution that condemns Israel's killing of civilians but makes no mention of the Palestinian rocket fire. The United States, Israel's closest ally and a veto-wielding member of the Council, made clear its understanding of the Israeli position, while regretting loss of life on both sides. "There is a clear distinction between terrorist rocket attacks that target civilians and action in self-defense," White House spokesman Gordon Johndroe said. European diplomats said they believed the world body should at least make some comment on bloodshed which some say jeopardizes the new US-backed peace talks between Israel and Abbas, who holds sway now only in the occupied West Bank. US Secretary of State Condoleezza Rice is due to meet Abbas and Israeli Prime Minister Ehud Olmert this week to try to accelerate faltering negotiations which President George W. Bush hopes can forge a peace deal before he leaves office in January. Palestinian negotiator Saeb Erekat said: "If Israeli aggression continues, it will bury the peace process."
Ahmadinejad Welcomed in US-Built Iraq
March 3….(AP) Muslim megalomaniac and Iranian President Mahmoud Ahmadinejad, who foretells Israel's destruction in almost every one of his public speeches, received a hero's welcome when he arrived in Iraq on a state visit Sunday. Ahmadinejad, the first Iranian leader to visit Iraq since the 1980s, is scheduled to meet with the country's president and prime minister during his tour of the country his predecessors waged war against for eight years. The leaders of the two former enemy states were reportedly to hold their meetings behind closed doors.While it is not difficult to assess what this strengthening of ties and Iraq's growing debt to Iran portends for the future of the region, we are left to speculate about what Ahmadinejad and fellow-Shiite, Iraqi Prime Minister Nouri al-Maliki, will say in their meetings about Israel. Ahmadinejad's hatred for the Jewish state is often in the news, but Al-Maliki's feelings are less well known. The Iraqi did earn the ire of American lawmakers in the 2006 Second Lebanon War when he one-sidedly condemned Israel.
Israeli City of Askelon Shocked as Rockets Pound It
March 3….(AP) Residents of this beachside city are still coming to terms with being on the front lines of Israel's battle against Hamas militants. A dozen long-range rockets slammed into Ashkelon over the weekend, marking a significant turning point in the conflict and compelling Israel to strike back hard. "Until yesterday, I never would have believed that I would see the things I saw," said Rachel Shimoni, 66, as she stood amid shards of glass, blown out of the front window of her clothing store. "All of a sudden, the reality has changed." Palestinian militants fire rockets nearly daily at Sderot and other Israeli border towns near Gaza. But by reaching Ashkelon, a city of 120,000 people about 11 miles north of Gaza, Hamas raised the stakes considerably. It is one of the largest cities in southern Israel, home to Mediterranean beaches, a college and strategic installations like an electric plant and a water purification plant. Gaza militants have managed to hit the outskirts of Ashkelon in rare instances in the past, but the latest fighting was the first time they've been able to do it on a regular basis. Since the first rocket hit Ashkelon on Wednesday in retaliation for an Israeli strike that killed five militants, Israel's military has killed more than 100 Palestinians, according to Palestinian medical officials and militant groups. Three Israelis have also died in the violence. A military official, speaking on condition of anonymity because of the need not to divulge internal strategy, said the harsh Israeli reaction was intended as a clear signal to Hamas that hitting Ashkelon will not be tolerated. The official said Israel was willing to go all the way to stress its point, including a large-scale ground invasion into Gaza and the assassination of Hamas' political leadership. Ashkelon's mayor said he would not accept the rockets becoming a normal reality. "This is a state of war, I know no other definition for it," said Roni Mahatzri, from his makeshift office in an underground bunker. "We will not turn into Sderot," Shimoni said, referring to the town that has suffered most of the rocket attacks over the past seven years. The rockets have killed 13 people, wounded dozens more, caused millions of dollars in damage and made daily life unbearable. Ashkelon residents took to the street on Saturday night urging government action against the Gaza militants. Still, there was clearly a new reality. The army over the weekend installed its "Code Red" siren system in Ashkelon to alert of any future incoming rockets and on Sunday, Israeli emergency services began providing first-aid courses to instruct residents how to act in an attack. The fact that more than a dozen rockets have targeted the major population center of Ashkelon is a sign that the terrorists have broken through a new threshold in their war against the Israeli civilian population. Israeli officials assume that new and improved rockets, along with Iranian-trained rocket-launchers, were smuggled into Gaza when its border with Egypt was breached in January, bringing Ashkelon into its range.
Arab World up in Arms over Israel's Gaza Retaliation
| | |
| --- | --- |
| | (FOJ) Mamia Students Federation, a Shiite Muslim group, chant anti-Israeli slogans next to the US and Israeli flags, which spread on the road in Islamabad, Pakistan, Monday, March 3, 2008 during a protest rally to show their anger over the ongoing Israeli onslaught on the Gaza Strip |
| (FOJ) Tens of thousands of Syrian protesters joined other Muslim nations in anti-Israel marches as they filled the central square of the capital Damascus, Monday, March 3, 2008 chanting anti-Israel and anti-US slogans and expressing anger with the ongoing Israeli activity in the Gaza Strip. | |
| | (FOJ) supporters of Hamas march during an organized demonstration against Israel in Damascus. Arab governments around the world massed rallies against Israel today. Israel pulled its forces out of the coastal strip on Monday after a US appeal to end the offensive, due to the uprising in the Arab world. |
| (FOJ) West Bank Palestinians protest against the Israeli army operation in Gaza in the West Bank town of Hebron. The Gaza War, instigated by Hamas, at the behest of Iran raised the risk that the Israeli-Palestinian clashes would spread from Gaza to other Palestinian areas throughout the West Bank. It is a strategy that has long been on the agenda of Hamas, Hezbollah, Islamic Jihad, and Iranian backed terrorists. The flames of Gaza are being fanned to ignite the entire Arab world against Israel. | |
| | (FOJ) Opposition party supporters burn an Israeli flag, during a rally to show solidarity with Gaza, in Amman yesterday. Jordan's King Abdullah called Friday for greater US efforts to reconcile Israelis and Palestinians, saying US President George W. Bush's final year in office would be critical to Middle East. Even moderate Jordan is moved to join the anti-Israel rhetoric of the fundamentalist terror-minded Ayatollah's. |
Oprah's New Earth
(Chuck Norris blasts television diva's rabid endorsement of 'spiritual' New Age book)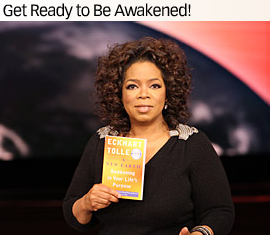 Oprah Winfrey endorsing 'A New Earth'
March 3….(WND) Today, a live ten-week webinar hosted by Oprah Winfrey and Eckhart Tolle, author of "A New Earth," will begin on the Internet. Both the book and the online course purport to be able to awaken you and our world to life's grand purpose. Hollywood celebrities have also chimed in with their endorsements of the book, like Guy Ritchie, Russel Simmons, Jenny McCarthy and Jim Carrey, who said, "I think one of the most important questions that people ask in life is who am I and why am I here? This book gets as close to an answer as any book could ever get." "A New Earth" has even been labeled "a spiritual classic" by one of today's leading spiritual thinkers. But will this religious text and its subsequent Internet church-like gathering really lead you and our world to God's gates of splendor?
A coincidental alignment?
I completely respect everyone's First Amendment rights to choose their religion of choice. But I also recognize the First Amendment rights to speak freely against what I and so many others deem as errant and spiritually unsafe. We can all agree to disagree agreeably, but that doesn't turn an aberrant spiritual opinion into almighty religious truth.
With this live webcast running through the very heart of one of Christendom's most sacred seasons of the year (including Lent, Palm Sunday, Easter and Pentecost), the queen of daytime talk is preaching from a primetime pulpit, from which she is heralding to the world community, "Get ready to be awakened!" But is it merely a coincidence that Winfrey's and Tolle's spiritual quest aligns with this special religious time of year? It is yet one more evidence of the paradigm shift in our culture from its moral absolute and Judeo-Christian basis to a relativistic worldview in which anything goes and everything is tolerated. The fact is: Tolle's "A New Earth" is being adopted and transformed into Oprah's new Easter.
Nothing new under the sun
Like most self-help spiritual texts of this type, it is a blend of half truths and half fabrications. One could easily save the purchase price of "A New Earth" and subsequently avoid misleading remarks by reading a Bible, which gives a much more thorough and accurate picture of life's purpose and methods for overcoming its obstacles. For example, Tolle advocates that the chief obstacle to awakening is our ego, and that fear is the basis of ego (Is that a revelation to anyone?) The Bible declared more than two millennia ago, "With pride comes disgrace, but with humility comes wisdom" and "perfect love drives out all fear." Tolle newly advocates "being in the now," while the Bible admonished long ago, "Be still and know that I am God." Before Tolle even conceived "A New Earth," the Bible described "a new heaven and a new Earth" and shows us exactly how we can inherit them in the future. Tolle concludes, "This book is about you. It will change your state of consciousness or it will be meaningless." On the other hand, the Bible emphatically assures its contents are "able to give you the wisdom that leads to salvation."
'Religion Light'
Tolle himself doesn't align with any one religion, but blends tenets of Buddhism, Hinduism, Islam, Sufism, Christianity and other faiths. One reviewer said of Tolle:
His spiritual outlook has become more complex since [his former book] "The Power of Now," when he dismissed external reality as an illusion and made it sound as if "living in the now" was a panacea for all the world's problems. In addition, Tolle believes outer realities, including politics, war, poverty and even the climate, will magically be transformed when individuals change their inner consciousness. This may be true, but only to an extent. The reason Tolle's psychology and spirituality is marketed so easy is that it is an eclectic mix of conventional and unconventional wisdom, and Western and Eastern beliefs, presented in a tolerant, non-threatening, and non-sectarian way. In other words, it's "Religion Light," in which one can be spiritual with "little down and no credit." It sells rewards for life by commendably calling us to rebel against the low expectations of culture and choose to "do hard things." Even Jesus said, "If anyone wishes to follow me, you must take up your cross and follow me." Tolle, however, only quotes relatively benign sayings of Jesus, while avoiding the more difficult ones. For example, he notes that Jesus taught that the "kingdom of heaven" was already present on Earth and can be experienced right now, but overlooks Jesus' teaching that one must be born again by believing in him as the Son of God and Savior to see that kingdom in the future. When will we learn? Our pursuit and obtainment of truth is hindered most by our subjective (or à la carte) selections of religion and refusal to consider tougher commandments that call us to higher accountability and our true purpose.
Looking back to move forward
My battle is not with Oprah, she has her guru (Tolle), and I have mine (Jesus). The real war is between those who espouse to be bearers of the truth, like Tolle and Jesus. And the question is: With contradicting truths, will we believe a mere man or one who claimed to be so much more? As C.S. Lewis, the great Oxford scholar and writer of the "Narnia" series who was once an avid atheist, wrote, A man who was merely a man and said the sort of things Jesus said would not be a good moral teacher. He would either be a lunatic, on a level with the man who says he is a poached egg, or else he would be the Devil of Hell. You must make your choice. Either this man was, and is, the Son of God: or else a madman or something worse. You can shut Him up for a fool, you can spit at Him and kill Him as a demon; or you can fall at His feet and call Him Lord and God. But let us not come with any patronizing nonsense about His being a great moral teacher. He has not left that open to us. He did not intend to. That might not be what Oprah, Tolle or others around the world want to hear on their webinar, but he is everything we all need to obtain peace with God and peace with one another. Again, the question is: Will we turn from what's easy, what's new, what's popular, what's even "Oprah" and take a step back and rediscover the answers that have been there all along? As C.S. Lewis also said, "We all want progress, but if you're on the wrong road, progress means doing an about-turn and walking back to the right road; in that case, the man who turns back soonest is the most progressive."
Abbas Rejects Jewish Israel, Open to More Terror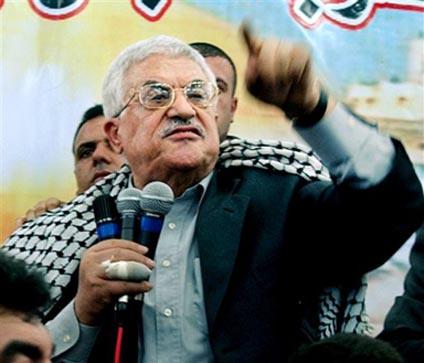 March 3….(Israel Insider) Palestinian Authority President Mahmoud Abbas said Wednesday that he doesn't rule out armed conflict against Israel. He also said that he was "honored" to have fired the first bullet of the Fatah terror organization in 1965, and to have taught terror tactics around the world, including to such groups as Hizbullah. In an in-depth interview published today in the Jordanian daily Al-Dustur on February 28, Abbas said that the PA is "unable" to pursue armed conflict for now, but said that "in the future stages things may be different." He rejected Israel as a Jewish state, and said that it was the PA's rejection of Israel's Jewishness that almost aborted the Annapolis Conference last November. Abbas said that he won't demand that Hamas recognize Israel. In fact, as PMW has reported in the past, he said that the only "recognition" of Israel he demands of a Palestinian unity government is to recognize Israel as its adversary.
Israeli's Suffer While the World Appeases Terrorists
March 3….(FOJ) Here, other Israeli citizens going about their daily routines end up neing pounded by Hamas rockets. One is shown wounded by a Kassam rocket, in his bed in Ashkelon's Barzilai Hospital after having his leg amputated.
| | |
| --- | --- |
| | (FOJ) A young Israeli girl from Sderot is rushed to Ashkelon's Barzilai Hospital after being wounded by shrapnel in a Hamas Kassam rocket attack in her neighborhood. While the world lashes out at Israel for launching a retaliatory raid into Gaza, the world turns a blind eye to the carnage being caused to Israeli citizens. |
| | |
Israeli Students duck and cover beneath their desks when the Color Red alert system sounds in Askelon. However the UN condemns Israel for defending its people. Apparently the plight of Gaza's terrorists is more important to the world than anything the terrorists are inflicting upon the citizens of Israel.
Oil Reaches New Record $103 As Dollar Declines to Record Low Against the Euro
March 3….(Yahoo) The surging price of oil reached another milestone Monday, jumping to an inflation adjusted record high of $103.95. The weaker dollar that has propelled oil and other commodities prices higher sent light, sweet crude for April delivery past $103.76 a barrel on the New York Mercantile Exchange. That's the level many analysts consider to be the true record high for oil, after its $38 barrel price from 1980 is translated into 2008 dollars. The price later traded up $1.52 at $103.36, fluctuating with the normal ebb and flow of trading. Oil's most recent run into record territory has been driven by the greenback's slump against other world currencies. Crude futures offer a hedge against a falling dollar, and oil futures bought and sold in dollars are more attractive to foreign investors when the dollar is falling. Gold, copper and wheat are among the other commodities that have rallied in recent weeks as the dollar has fallen. The dollar has been weighed down by concerns about the US economy and the Federal Reserve's interest rate-cutting campaign. Lower interest rates tend to weaken the dollar, which fell Monday to a new low of $1.5275 against the euro. The struggling dollar has prompted a wave of speculative buying by oil investors seeking a safe haven from the ongoing volatility of the stock market. Such speculation can become self-perpetuating, driving prices higher and attracting even more speculators. Many analysts believe oil prices aren't justified by crude's underlying supply and demand fundamentals. While supply disruptions in Nigeria and the prospect of a supply cutoff from Iraq and Venezuela helped boost oil prices last year, domestic oil inventories are now rising even as a number of forecasters are cutting their demand growth predictions due to the slowing economy. Prices were also supported Monday by tensions between Venezuela and Colombia over Colombia's killing of a top rebel leader in Ecuador; reports that Ukraine's president threatened a "gas war" with Moscow after Russia cut gas supplies over a financial dispute; and reports of a US airstrike on a Somali town held by Islamic extremists. Investors are keeping an eye on OPEC, which meets Wednesday to consider production levels. Surging oil prices are boosting prices at the pump. The average price of a gallon of gas stood at $3.165 Monday, according to AAA and the Oil Price Information Service.
Obama: Sermon on Mount OKs Same-Sex Unions
March 3….(Newsmax) Sen. Barack Obama (D-Ill.) told a crowd at Hocking College in Nelsonville, Ohio, Sunday that he believes the Sermon on the Mount justifies his support for legal recognition of same-sex unions. He also told the crowd that his position in favor of legalized abortion does not make him "less Christian." "I don't think same-sex union should be called marriage, but I think that it is a legal right that they should have that is recognized by the state," said Obama. "If people find that controversial then I would just refer them to the Sermon on the Mount, which I think is, in my mind, for my faith, more central than an obscure passage in Romans." (Paul's Epistle to the Romans condemns homosexual acts as unnatural and sinful) Obama's mention of the Sermon on the Mount in justifying legal recognition of same-sex unions may have been a reference to the Golden Rule: "Do to others what you would have them do to you." Or it may have been a reference to another famous line: "Do not judge, or you too will be judged." The Sermon, recorded in the Gospel of Matthew, includes the Lord's Prayer, the Beatitudes, an endorsement of scriptural moral commandments ("anyone who breaks one of the least of these commandments and teaches others to do the same will be called least in the kingdom of heaven"), and condemnations of murder, divorce and adultery. It also includes a warning: "Watch out for false prophets. They come to you in sheep's clothing, but inwardly they are ferocious wolves." The passage from St. Paul's Epistle to the Romans, which Obama dismissed as "obscure," discusses people who knew God but turned against him. "They exchanged the truth of God for a lie, and worshiped and served created things rather than the Creator, who is forever praised," wrote St. Paul. "Because of this, God gave them over to shameful lusts. Even their women exchanged natural relations for unnatural ones. In the same way the men also abandoned natural relations with women and were inflamed with lust for one another. Men committed indecent acts with other men, and received in themselves the due penalty for their perversion." On the topic of abortion, Obama said his support for keeping it legal does not trespass on his Christian faith. "I think that the bottom line is that in the end, I think women, in consultation with their pastors, and their doctors, and their family, are in a better position to make these decisions than some bureaucrat in Washington. That's my view," Obama said about abortion. "Again, I respect people who may disagree, but I certainly don't think it makes me less Christian. Obama opened his town-hall-type meeting at the college with a short speech and then provided lengthy answers to a handful of questions. One questioner, Leon Forte, a Protestant clergyman, asked Obama about evangelical Christians who were concerned about his position on issues that conservatives consider "litmus tests." Last Thursday Cybercast News Service published Obama's letter concerning LGBT (Lesbian, Gay, Bisexual and Transgender) equality in America." In that letter, Obama said he favored same-sex unions that were equal to marriage, including adoption rights, and that he was open to states codifying same-sex marriages. "As your President, I will use the bully pulpit to urge states to treat same-sex couples with full equality in their family and adoption laws," Obama said in the letter. In Ohio on Sunday, before mentioning the Sermon on the Mount, Obama insisted he was against "gay marriage" and did not mention his support for allowing same-sex couples to adopt children and have the same "family" status as heterosexual couples. "I will tell you that I don't believe in gay marriage, but I do think that people who are gay and lesbian should be treated with dignity and respect and that the state should not discriminate against them," said Obama on Sunday. If people find that controversial then I would just refer them to the Sermon on the Mount, which I think is, in my mind, for my faith, more central than an obscure passage in Romans. Obama also has been more aggressive in framing his pro-abortion position previously than he was on Sunday. When he was in the Illinois Senate, for example, he repeatedly opposed a bill that would have defined as a "person" a baby who had survived an induced-labor abortion and was born alive. In a 2001 Illinois Senate floor speech about that bill, he argued that to call a baby who survived an abortion a "person" would give it equal protection rights under the 14th Amendment and would give credibility to the argument that the same child inside its mother's womb was also a "person" and thus could not be aborted. When the Illinois Senate bill was amended to make it identical to a federal law that included language to protect Roe v. Wade, Obama still opposed the bill, voting it down in the Illinois Senate committee he chaired. Before discussing his views on same-sex unions and abortion, Obama told the crowd he was a "devout Christian." "In terms of my faith, there has been so much confusion that has been deliberately perpetrated through emails and so forth, so here are the simple facts," he said. I am a Christian. I am a devout Christian. I have been a member of the same church for 20 years, pray to Jesus every night, and try to go to church as much as I can when they are not working me. I used to go quite often.
---