WEEK OF JULY 27 THROUGH AUGUST 2
Report: Al Qaeda No. 2 Zawahiri Injured, Possibly Killed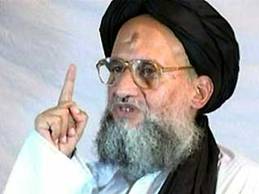 Aug. 1….(Fox News) Al Qaeda's second in command, Ayman al-Zawahiri, may be injured or even dead, according to a CBS News report based on an intercepted letter that urgently requests a doctor to treat Zawahiri. CBS News says it obtained a copy of the letter from sources in Pakistan, where Zawahiri, second only to Osama Bin Laden, is thought to be hiding. The letter, reportedly written by a local Taliban leader and dated Tuesday, says Zawahiri is in "severe pain" and his "injuries are infected," according to the report. A missile strike Monday in Pakistan's tribal areas reportedly killed Al Qaeda operative Abu Khabab al-Masri, considered a "Top Ten" target as the terrorist organization's top expert on chemical and biological weapons. That strike also killed five others, though it isn't clear whether Zawahiri was at the scene or in the area.
US Official: Iraqis told me WMD's Were Sent to Syria
(Former head of prisons says incarcerated ex-Saddam forces disclosed move)
July 31….(WND) A former American overseer of Iraqi prisons says several dozen inmates who were members of Saddam Hussein's military and intelligence forces boasted of helping transport weapons of mass destruction to Syria and Lebanon in the three months prior to Operation Iraqi Freedom. Don Bordenkircher – who served two years as national director of prison and jail operations in Iraq– told WND that about 40 prisoners he spoke with "boasted of being involved in the transport of WMD warheads to Syria. A smaller number of prisoners, he said, claimed "they knew the locations of the missile hulls buried in Iraq." Some of the inmates, Bordenkircher said, "wanted to trade their information for a release from prison and were amenable to showing the locations." The prisoners were members of the Iraqi military or civilians assigned to the Iraqi military, often stationed at munitions facilities, according to Bordenkircher. He said he was told the WMDs were shipped by truck into Syria, and some ended up in Lebanon's Bekaa Valley. Other Iraqi military personnel, including former top Saddam associates, have made the same claim. In early 2006, Saddam's No. 2 Air Force officer, Georges Sada, told the New York Sun Iraq's WMDs were moved into Syria six weeks before the war started. A former general and friend of Saddam who defected alleged WMDs were hidden in Syria and said the regime supported al-Qaida with intelligence, finances and munitions. Ali Ibrahim Al-Tikriti, the southern regional commander for Saddam's militia in the late 1980s, said the regime had contingency plans established as far back as the 1980s in the event either Baghdad or Damascus was taken over. Saddam knew the US eventually would come for the weapons, Al-Tikriti said at the time, and had "wanted since he took power to embarrass the West, and this was the perfect opportunity to do so." So he denied they existed and made sure they were moved into hiding, the former general said. Among other claims, a former US federal agent and counter-terrorism specialist deployed to Iraq before the war said he waged a three-year, unsuccessful battle to get officials to search four sites where he believed the former Saddam regime buried weapons of mass destruction. Bordenkircher said four of the Iraqi prisoners who separately offered to speak to the "right" people about Saddam's alleged transport of WMD later became involved with US and Iraqi intelligence agencies. Some prisoners said the drivers, upon return from transporting the WMDs out of Iraq, discussed the movement. They said, according to Bordenkircher, the materials shipped out would return once Iraq got "a clean bill of health from the UN, and then the program could be kick-started easily." Four of the prisoners, civilians attached to the Iraqi military, said they worked at the al-Muthana Chemical Industries site. They said the cargo included nitrogen mustard gas warheads for Tariq I and II missiles. Bordenkircher said the stories of the military personnel and the civilians matched and did not contradict one another. Bordenkircher also said prisoners confirmed al-Qaida had a presence in Iraq before Operation Iraqi Freedom began, specifically in Mosul and Kirkuk. Iraqis under the command of Uday Hussein, one of Saddam Hussein's sons, supported the al-Qaida elements in the country with training and providing safe harbor, they said. Bordenkircher also was a senior adviser to South Vietnam's correctional system during the war in Southeast Asia, from 1967-72. His task was to improve conditions for 80,000 civilian prisoners. The US Department of Justice asked him to play a similar role in Iraq, sending him first to Baghdad's infamous Abu Ghraib prison in Baghdad in March 2006 to shut it down. Bordenkircher previously served as Marshall County sheriff of Moundsville, W.Va., and police chief and warden of the state penitentiary at Moundsville.
Obama's Worldview, Rob the US to pay Poor Paul
July 31….(Newsmax) Secular would-be leaders of men who promise transcendence and transformational change have something in common with the promise and warning of many religions. They claim to want to preserve what is good in their people and change what needs to be changed to make their lives and souls even better. But unlike some religions, secular leaders with transforming visions of their mission often skip over the bits about what must be destroyed in order to bring those better things to man. And that is where religions are often more honest. For instance, in Hindu, the god Rudra, who is also known as Lord Siva, is the third god in the Hindu trinity. He destroys worlds. Specifically, he destroys the evil passions and animal instincts that usually characterize human consciousness in order to make room for divinity to enter man's world. He is believed by many Hindus to inspire people to perform acts of courage, spiritual wisdom and devotion. Now, I am, God knows, no expert on comparative religion. But among the more popular human attributes that many religions condemn is the human desire to possess material things (thou shall not covet thy neighbor's oxen or wives, etc.) And most religions remind us that we are all brothers and sisters of one humanity. But man persists in liking to have things and organizing around groups smaller than humanity. Specifically, modern Western civilization, and the US in particular, has done rather well organizing into nations and permitting its people to be free to produce and keep most of the fruits of our labor. Reading Senator Obama's Berlin speech, I see dangerous suggestions that he doesn't share that happy view of American prosperity. As he said, while he came to Berlin as "a proud citizen of the United States" he also came to Berlin as a "fellow citizen of the world." Putting aside the thought that a rally in Berlin in front of a quarter-million glistening-eyed, bosom-clenching, swooning Germans is an historically awkward spot for a leader to proclaim his worldwide goals for tomorrow, his actual words are disconcerting enough, even if they had been delivered in peaceful Switzerland. Mr. Obama said that "the walls between the countries with the most and those with the least cannot stand, the walls between natives and immigrants cannot stand. These now are the walls that we must tear down." He also said, "We know they have fallen before. After centuries of strife, the people of Europe have formed a Union of promise and prosperity." That last sentence would suggest Mr. Obama is not terribly keen about nation states. It suggests that he believes that nation states have outgrown their practical and moral utility. That is why, presumably, he says that we must tear down the walls between the countries "with the most," that would be the United States, and those with the least. That is why he calls for tearing down walls between "Natives and [illegal?] immigrants." That is why he is for strict reductions in carbon emissions for the United States even if it reduces our prosperity more than it does poorer countries. That is why he is a sponsor of Senate Bill 2433, the Global Poverty Act, legislation that Mr. Obama's own Web site proudly claims would "cut extreme global poverty in half by 2015." Now that bill would only authorize the end of gross wealth disparities between nations, it doesn't appropriate money for it or order taxes to pay for it. So technically that promise doesn't cost a cent. But if Mr. Obama is sincere about those goals that he proudly champions, and if he has the political power next year to raise taxes and appropriate taxpayer dollars, we could see the beginning of vast transfers of our wealth to his "fellow citizens of the world."
Israeli Prime Minister Olmert Resigns
(Olmert's move could precipitate Israeli confrontation with Iran)
July 31….(WND) Prime Minister Ehud Olmert today announced he will resign from office after his Kadima party holds internal elections in September to choose a new leader. Olmert said he is stepping down due to a criminal investigation described by police officials as "serious" in which he is accused of corruption and financial improprieties. The move could have far reaching consequences, including establishing a more hawkish Israeli leadership that favors tough action against Iran. "I have decided I won't run in the Kadima movement primaries, nor do I intend to intervene in the elections," Olmert said in a televised address from his official Jerusalem residence. "When a new (Kadima party) chairman is chosen, I will resign as prime minister to permit them to put together a new government swiftly and effectively," he said. Olmert's resignation immediately sent political shock waves throughout the country, as it could result in his Kadima party retaining power or the election of a prime minister from a different party. When Kadima elects a new leader in September, that person will work to form a coalition government consisting of more than half the Knesset's 120 seats. If a Knesset plurality is established, Kadima can retain its control over the prime minister's seat. But if the Kadima party cannot establish a ruling coalition, new elections will be held in which the leader of the party with the most seats becomes prime minister. Currently, opposition leader and former prime minister Benjamin Netanyahu is the favorite to win. Olmert had little choice but to resign. He stood no chance of winning his party's September leadership primaries, which he agreed to hold as a condition for retaining his major coalition partner, the leftist Labor party. Labor had threatened to bolt in June unless Olmert agreed to early Kadima primaries. Now top Kadima figures will battle for the party's leadership and possibly the prime minister's seat. The fight looks ready to be launched between Foreign Minister Tzipi Livni and Transportation Minister Shaul Mofaz, a former defense minister. Mofaz seems to be Olmert's favored candidate. Mofaz has made strong statements in support of military action against Iran. If he wins the Kadima primaries, he could form an alliance with Netanyahu's Likud party, which also favors strong action against Iran. If a new Kadima head cannot form a government, Netayahu looks likely to become Israel's next leader, although Labor chairman Ehud Barak, another former prime minister, also eyes the top position.
Olmert Suddenly Resigns
July 31….(IsraelNN.com) At a suddenly-called press conference Wednesday evening, the Prime Minister announced he will not participate in his party's primaries. He said he would resign when a new party leader is chosen, "in order to enable the new leader to form a new government." Kadima's primaries are to be held on September 17. Olmert began his speech, timed to coincide with the national televised evening news broadcasts, by boasting of his administration's economic successes, such as low unemployment. He added, however, that he believes that peace with the Arabs is the most important mission he faces. I have never tried to boast of my achievements for political purposes," Olmert said. "I have always had to defend myself from attacks... I am the Prime Minister, and am therefore an address for political attacks, but everyone knows that it has gone out of control. Have I made mistakes? Certainly I have, and I regret them. But I deserve to be treated as innocent until proven guilty, yet this has not happened. I am proud to live in a state where even a Prime Minister can be investigated; the police must investigate, and the Prosecution must do its job as well. The Prime Minister is not above the law, but he is in no way below it. It cannot be that minor clerks determine whether a Prime Minister continues in office. Unfortunately, this is not what is happening..." Towards the end of his talk, Olmert said, "The campaign of mudslinging being waged these days against me raises a question that I cannot and do not want to avoid: What is more important - personal justice for me, or the interests of the State?" He answered categorically that the latter take precedence, and therefore: "I have decided not to take part in the Kadima primaries, nor will I intervene in them. When a new party leader is chosen, I will resign in order to enable him/her to form a new government." "We have a wonderful state," Olmert concluded, "which I love with all my being. I thank you for the opportunity you have given me to act on your behalf." Unsurprisingly, Olmert did not entertain reporters' questions, and quickly left the room. The media event was announced only two and a quarter hours before its scheduled starting time, and was held in Olmert's official residence in Jerusalem. No further details were provided, and even some of the Prime Minister's close aides said beforehand that they did not know what Olmert planned to say.
Netanyahu Calls for New Elections
'This government has reached an end and it doesn't matter who heads Kadima,' opposition leader says, adding 'national responsibility requires a return to the people'. Ramon: Chances of holding new vote high.
July 31….(YNET) Israel's right-wing Likud leader Benjamin Netanyahu called on Thursday for a new parliamentary election after Ehud Olmert pledged to resign following his party's leadership contest in September. Dogged by corruption scandals, the Israeli prime minister's decision to bow out of the centrist Kadima party's leadership contest on Sept. 17 and then step down plunged the Middle East peace talks and Israeli politics into limbo. Recent opinion polls suggest Netanyahu's Likud party, a critic of Olmert's peace moves with the Palestinians and Syria, would win a snap election. "This government has reached an end and it doesn't matter who heads Kadima. They are all partners in this government's total failure," Netanyahu told Israeli Radio. "National responsibility requires a return to the people and new elections." Vice Premier Haim Ramon, a Kadima party leader and Olmert confidant, told Army Radio: "I believe the chance of holding new elections is high." Olmert, who could stay on as a caretaker prime minister for months while his Kadima successor struggles to cobble together a new coalition, has vowed not to "ease up" on peacemaking. The White House said its goal of getting Olmert and Palestinian President Mahmoud Abbas to reach a peace deal this year was unchanged. Having declared his intention to resign, Olmert would lack the political strength to make commitments, either in final-status talks with Abbas or indirect negotiations with Syria, analysts say. Four Kadima ministers, including Foreign Minister Tzipi Livni and Transport Minister Shaul Mofaz, have launched campaigns to replace Olmert in the Sept. 17 vote. Polls have shown Livni, Israel's chief negotiator with the Palestinians, ahead within Kadima. Olmert has faced weeks of public pressure to resign over probes into suspicions he took bribes from an American businessman. Olmert has denied any wrongdoing, and vowed on Wednesday to fight for his innocence. Olmert's successor as Kadima party leader would not automatically take over as prime minister. He or she must first cobble together a coalition government, a challenge that could prove time-consuming and complicated because of bitter divisions within parliament. Analysts say this process could drag on for months, possibly into next year if a parliamentary election is called. Defense Minister Ehud Barak, head of the left-of-centre Labor party and Olmert's largest coalition partner, told CNN that it was "not yet clear whether there will be election in three or four months from now" if Olmert steps down. Netanyahu, a former prime minister, could try to build his own coalition to stymie Kadima. Some analysts saw Olmert's plan as a ploy to remain in power despite controversy over the police probes. Looking at Olmert's history, this is a strategic move," said Professor Gerald Steinberg of Israel's Bar Ilan University. If the new head of Kadima fails to set up a coalition, "then he will be called back or he will become ... The acting prime minister until there are elections", Steinberg said.
Hamas' Christian Convert: I've left a Society that Sanctifies Terror
July 31….(Ha Aretz) A moment before beginning his supper, Masab, son of West Bank Hamas leader Sheikh Hassan Yousef, glances at the friend who has accompanied him to the restaurant where we met. They whisper a few words and then say grace, thanking God and Jesus for putting food on their plates. It takes a few seconds to digest this sight: The son of a Hamas MP who is also the most popular figure in that extremist Islamic organization, a young man who assisted his father for years in his political activities, has become a rank-and-file Christian. "I'm now called Joseph," he says at the outset. Masab knows that he has little hope of returning to visit the Holy Land in this lifetime. "I know that I'm endangering my life and am even liable to lose my father, but I hope that he'll understand this and that God will give him and my family patience and willingness to open their eyes to Jesus and to Christianity. Maybe one day I'll be able to return to Palestine and to Ramallah with Jesus, in the Kingdom of God." Nor does he attempt to hide his affection for Israel, or his abhorrence of everything representing the surroundings in which he grew up: the nation, the religion, the organization. "Send regards to Israel, I miss it. I respect Israel and admire it as a country," he says. "You Jews should be aware: You will never, but never have peace with Hamas. Islam, as the ideology that guides them, will not allow them to achieve a peace agreement with the Jews. They believe that tradition says that the Prophet Mohammed fought against the Jews and that therefore they must continue to fight them to the death." Is that the justification for the suicide attacks? "More than that. An entire society sanctifies death and the suicide terrorists. In Palestinian culture a suicide terrorist becomes a hero, a martyr. Sheikhs tell their students about the 'heroism of the shaheeds.'" And yet, in spite of the criticism of the place he left, California can't make the longings disappear. "I miss Ramallah," he says. "People with an open mind. ... I mainly miss my mother, my brothers and sisters, but I know that it will be very difficult for me to return to Ramallah soon."
Olmert Ready to Give Away Golan in Exchange for Direct Talks
July 30….(IsraelNN.com) Prime Minister Ehud Olmert has told Damascus that he is prepared to cede the Golan to Syria in exchange for Syria's agreement to enter into direct talks with Israel, according to sources in the Knesset. The sources from the opposition parties told Army Radio Wednesday morning that Olmert is wiling to make "painful concessions" in order to promote negotiations between the two countries. The sources did not specify what, if anything, Olmert asked the Syrians to sacrifice on their part. According to the report, Olmert promised Damascus that Israel would withdraw from the Golan Heights on the sole condition that the Syrians would agree to direct talks between the two governments, including a discussion on cutting ties with Iran, Hizbullah and Hamas. The Prime Minister's Office denied the claims. Officials for the PM said that Olmert has not made any promises to Damascus. Meanwhile, according to MK Yisrael Katz (Likud), the Syrians have agreed to direct talks with Israel on the condition that Israel gives them the Golan Heights in advance. Foreign Minister Tzipi Livni criticized Olmert Tuesday, saying that he would easily give up too much Israeli land without appropriate concessions from the other side. Livni pointed out that there are "issues regarding negotiations with Syria that still require internal planning." The FM's remarks came the same day that Olmert declared a willingness to present Syria with a "true alternative" to partnership with Iran and Hizbullah. Olmert also expressed his desire that the ongoing indirect talks become direct talks "at a certain stage."
US Intel: Iran Planing Nuclear Strike on US
July 29….(Ken Timmerman) Iran has carried out missile tests for what could be a plan for a nuclear strike on the United States, the head of a national security panel has warned. In testimony before the House Armed Services Committee and in remarks to a private conference on missile defense over the weekend hosted by the Claremont Institute, Dr. William Graham warned that the US intelligence community "doesn't have a story" to explain the recent Iranian tests. One group of tests that troubled Graham, the former White House science adviser under President Ronald Reagan, were successful efforts to launch a Scud missile from a platform in the Caspian Sea. "They've got test ranges in Iran which are more than long enough to handle Scud launches and even Shahab-3 launches," Dr. Graham said. "Why would they be launching from the surface of the Caspian Sea? Another troubling group of tests involved Shahab-3 launches where the Iranians "detonated the warhead near apogee, not over the target area where the thing would eventually land, but at altitude," Graham said. "Why would they do that?" Graham chairs the Commission to Assess the Threat to the United States from Electromagnetic Pulse (EMP) Attack, a blue-ribbon panel established by Congress in 2001. The commission examined the Iranian tests "and without too much effort connected the dots," even though the US intelligence community previously had failed to do so. "The only plausible explanation we can find is that the Iranians are figuring out how to launch a missile from a ship and get it up to altitude and then detonate it," he said. "And that's exactly what you would do if you had a nuclear weapon on a Scud or a Shahab-3 or other missile, and you wanted to explode it over the United States." The commission warned in a report issued in April that the United States was at risk of a sneak nuclear attack by a rogue nation or a terrorist group designed to take out our nation's critical infrastructure. "If even a crude nuclear weapon were detonated anywhere between 40 kilometers to 400 kilometers above the earth, in a split-second it would generate an electro-magnetic pulse [EMP] that would cripple military and civilian communications, power, transportation, water, food, and other infrastructure," the report warned. While not causing immediate civilian casualties, the near-term impact on US society would dwarf the damage of a direct nuclear strike on a US city. The United States "would quickly revert to an early 19th century type of country." In his recent congressional testimony, Graham revealed that Iranian military journals, translated by the CIA at his commission's request, "explicitly discuss a nuclear EMP attack that would gravely harm the United States." Furthermore, if Iran launched its attack from a cargo ship plying the commercial sea lanes off the East coast, a scenario that appears to have been tested during the Caspian Sea tests, US investigators might never determine who was behind the attack. Because of the limits of nuclear forensic technology, it could take months. And to disguise their traces, the Iranians could simply decide to sink the ship that had been used to launch it, Graham said. Several participants in last weekend's conference in Dearborn, Mich., hosted by the conservative Claremont Institute argued that Iranian president Mahmoud Ahmadinejad was thinking about an EMP attack when he opined that "a world without America is conceivable." The only thing Iran is lacking for an effective EMP attack is a nuclear warhead, and no one knows with any certainty when that will occur. The latest US intelligence estimate states that Iran could acquire the fissile material for a nuclear weapon as early as 2009, or as late as 2015, or possibly later. Iran's first test of a ship-launched Scud missile occurred in spring 1998, and was mentioned several months later in veiled terms by the Commission to Assess the Ballistic Missile Threat to the United States. Few experts believe that Iran can be deterred from launching such an attack by the threat of massive retaliation against Iran. They point to a December 2001 statement by former Iranian President Ali Akbar Hashemi-Rafsanjani, who mulled the possibility of Israeli retaliation after an Iranian nuclear strike. "The use of an atomic bomb against Israel would destroy Israel completely, while the same against the Islamic only would cause damages. Such a scenario is not inconceivable," Rafsanjani said at the time. As of today, we have no defense against such an attack. We need space-based missile defenses to protect against an EMP attack. Rep. Franks said he remains surprised at how partisan the subject of space-based missile defenses remain. Arizona Republican Sen. Jon Kyl, a long-standing champion of missile defense, told the Claremont conference on Friday that Sen. Obama has opposed missile defense tooth and nail and as president would cut funding for these programs dramatically. "Senator Obama has been quoted as saying, 'I don't agree with a missile defense system.' Kyl believes that the only way to eventually deter Iran from launching an EMP attack on the United States is to deploy robust missile defense systems, including space-based interceptors. The United States "needs a missile defense that is so strong, in all the different phases we need to defend against, that countries will decide it's not worth coming up against us," Kyl said. "That's one of the things that defeated the Soviet Union. That's one of the ways we can deal with a rogue state that refer to us as the Great Satan.
Could the Emergent Church Swing the 2008 Election?
July 29….(By Jan Markell) The President of the Southern Baptist Theological Seminary, Albert Mohler, isn't surprised that many young evangelicals are moving to the left politically. He states, "There is a sense among younger evangelicals that the conservative movement has gained a bad reputation as being against things rather than for them." Mohler continues, "I think the younger generation of evangelicals looks at a lot of older evangelicals and says, 'You just don't get it. You're not connecting with the issues. You're too happy, too consumerist, and too materialistic. You're living in an evangelical subculture." Younger Christians who might be a part of the Emergent movement, which is quite in line with the "Religious Left," have been seriously influenced by such leaders as Brian McLaren, Tony Campollo, Jim Wallis, and a host of others. And the bottom line is that the under-30 generation could be casting a deciding vote this coming November. Dr. James Dobson says, "With evangelical leaders who fought against abortion and for protection of the institution of marriage now retiring or passing away, a void is starting to appear. Just like a little wooden boat floating downstream, many evangelical Christians are adrift in new swift currents of a 'social gospel.'" Researcher and author Berit Kjos suggests that there is now an emphasis on deeds instead of creeds. She suggests that behind its noble appearance hides a post-modern version of "Christian Socialism," which many of these young people have bought into. They are more world-centered and perhaps less Word- centered. Their focus is not that of their parents' generation. This generation is not bound by anything the "Christian Right" may have focused on. They primarily want to think about caring for the planet and the poor, and will vote accordingly in November. And based on every political analysis, that age group will be turning out in record numbers in November as they did for the primary election. It seems to matter little what denomination they might claim. The more socially minded leaders they follow have convinced them that it is all right to set aside issues such as abortion or same-sex marriage and replace those with ridding Africa of AIDS. Conservatives are not against helping the sick and needy; however, they also will not abandon the defenseless unborn to the grinder of modern secular abortion mills. The "Christian Right" will remain more concerned about "spiritual poverty" and biblical illiteracy. It remains to be seen if these young people who are Emergent Church enthusiasts or followers of the pied pipers of the "Religious Left" will actually solve the problems for which they have a burden. One has to wonder if the post-modern generation even has a grasp on what true Socialism is and its failure around the globe upon masses of people. Change is in the wind, and the Emergent Church and "Religious Left" have done an incredible job of marketing their social gospel and have changed the face of evangelicalism whether conservatives like it or not. And no matter what administration rides into the White House on January 20, 2009, much of the glowing campaign rhetoric will fizzle out as man is not the problem solver nor is bigger government. The only solution is the government that is upon His shoulders (Isaiah 9:6). But the answer to the original question is "yes," the Emergent Church has left a permanent footprint on the landscape of the Western world and will likely sooner rather than later even sway foreign policy. Sadly, nine out of ten Christians cannot tell you what the Emergent Church is, so taking marching orders from their questionable leaders it grows larger by the day.
Pope Benedict to Visit Arabia?
July 29….(Newsmax) The mere prospect seems impossible: Pope Benedict XVI as the first modern-day pontiff to set foot on the Arabian Peninsula. But is such a visit so unlikely? Speculation about the possibility has been growing since Bahrain's King Hamad invited the Holy Father to visit his country earlier this month. The king is the first Arab head of state to officially invite the Pope during a private audience and comes after Qatar's deputy prime minister made a similar invitation last year. Another factor supporting the Pope's presence in Arabia is the current reformist tendencies in the House of Saud. King Abdullah is slowly trying to reach out to other faiths and engage with modernity. In June, he brought various heads of Islam to Mecca to discuss how to best dialogue with other faiths. And in mid July, he became the first ever Saudi monarch to host a major interfaith meeting, bringing together senior figures not only from Islam and Christianity, but also Judaism. These landmark meetings come on top of his meeting with Pope Benedict last year in Rome, modest improvements in religious freedom (private non-Muslim worship now goes unpunished), and successful clampdowns on Saudi terrorists. Although he cannot say it openly owing to the presence of extremists in his own government, few doubt the king would welcome a visit by the Holy Father. The only real obstacles to a papal visit are twofold. First, extremists will obviously oppose it. Much, therefore, depends on initiatives of King Abdullah and other Arab leaders to placate or discredit that vocal minority.
PA Officials: 'PA on the Brink of Bankruptcy'
July 29….(JPOST) The Palestinian Authority is facing a severe financial crisis due to the failure of donor countries to fulfill their pledges to fund the Palestinians, PA officials in Ramallah said Monday. The officials told The Jerusalem Post that the PA wouldn't be able to pay July salaries to more than 150,000 public servants and may be forced to close down several government institutions as a result of the deepening crisis. The officials disclosed that the deficit in the PA budget has risen in the past six months from $1.6 billion to $2b. "We are facing a real crisis," a top PA official told the Post, adding, "we are on the brink of bankruptcy. Another PA official warned that the financial crisis would undermine the PA and limit its ability to reach a peace agreement with Israel. "We will lose the support of the Palestinian public if we stop paying salaries to our civil servants and policemen," he said. "This is happening at a time when Hamas is receiving large sums from Iran and radical Islamic groups." PA Prime Minister Salaam Fayad expressed concern that the PA could face a financial crisis if the donor countries, particularly some Arab states, failed to transfer to the PA treasury the funds they had pledged to donate at the Paris conference. Fayad described the financial situation of the PA as "difficult," adding that his government was making enormous efforts to provide the necessary money to pay salaries to its employees. The Palestinian Economic Council for Development and Reconstruction [PECDAR] said Monday that the PA had received only $900million of the $7.7billion promised during the December 2007 Paris Donors' Conference for supporting the Palestinians. The money was promised to the PA over a period of three years by nearly 90 countries and international organizations during the Paris conference. The officials said they were particularly disappointed with the majority of the Arab countries for failing to meet their financial commitments toward the Palestinians. "Most of the Arab countries are now setting conditions for providing us with financial aid," the PA officials said. "Some are saying that they will give us the money only after we end our differences with Hamas, while others are suddenly talking about the need for reforms and transparency in the Palestinian Authority." The officials pointed out that the Arab countries have given the PA this year about 15% of what they promised. Saudi Arabia, which had pledged at least $500m. over the three-year period, has given the PA less than 20% of the funds. Kuwait, which pledged $80m. in aid to the PA this year, has yet to fulfill its promise, the officials said. Qatar, which used to provide the PA with more than $200million annually, stopped channeling the funds after the collapse of the Fatah-Hamas unity government. Most of the Arab countries have told the PA that they prefer to support vital economic projects in the West Bank and Gaza Strip rather than day-to-day government operations, a move that has drawn sharp criticism from the PA leadership.
Israel, Iran, and the November US Election
July 29….(Aaron Klein) A Jerusalem-based journalist says the overwhelming sentiment in Israel right now is that Barack Obama will be the next president of the United States, and that the Jewish state will have to take care of the Iranian nuclear problem on its own. Aaron Klein, Jerusalem bureau chief for WorldNetDaily, covered Senator Obama's recent visit to the Holy City. Even before Obama's arrival in Israel, says Klein, the people there had already made up their minds about the inevitability of Obama becoming president. So the clock may already be ticking for a unilateral Israeli strike against Iran's nuclear program, he says. "In Israel, there already is an assumption that Obama is going to win," the journalist states. "And then Israel knows that the window to do anything about it [Iran] would have to be before...the November elections or before the next president, which Israel does assume to be Barack Obama, is installed in January." On the other hand, Klein does not think it would be wise for Israel to attack Iran as long as Ehud Olmert is prime minister there. "The man couldn't handle a war against a few thousand guerrilla troops in Lebanon in 2006 and he has bungled every Israeli Defense Force operation since he's been in office," says the Middle East observer. Klein admits he is concerned about a scenario in which Barack Obama is the US president at the same time Ehud Olmert is prime minister of Israel.
Obama: I'll make Sure Palestinians have a State
(US presidential hopeful tells Meet the Press 'Israeli-Palestinian peace deal and Palestinian Statehood 'will weaken Iran and make it easier for Arab states and the Gulf States to support us when it comes to issues like Iraq and Afghanistan')
July 28….(YNET) "The Palestinian people are having a very tough time right now economically, and it is in US interests to make sure that they have a sense of hope and opportunity and a Palestinian state. I think it's in Israelis' interest as well," US Democratic presidential candidate Barack Obama told NBC's Meet the Press Sunday on the heels of his Mideast tour. "What I've said is that we're going to make sure that the Palestinians have a state that allows them to prosper as long as we also have certainty that Israel's security is not being compromised. I think it's in the interest of both parties, but we are the critical ingredient in terms of making sure that a deal actually gets done," he said. "I give the Bush administration credit that the Annapolis process has gotten Prime Minister Ehud Olmert in Israel and President Abbas in the Palestinian territories to have very serious and frank discussions. I think they have moved the ball forward. They may not be able to finish the job. They certainly can't finish it without serious participation by the next administration, and we've got to start early". According to Obama, if the US can "solve" the Israeli-Palestinian conflict, "then that will make it easier for Arab states and the Gulf States to support us when it comes to issues like Iraq and Afghanistan. "It will also weaken Iran, which has been using Hamas and Hizbullah as a way to stir up mischief in the region," he said, "if we've gotten an Israeli-Palestinian peace deal, maybe at the same time peeling Syria out of the Iranian orbit, that makes it easier to isolate Iran so that they have a tougher time developing a nuclear weapon."
Al Qaeda/Taliban Rebels Could Corral Pakistans Nukes
July 28….(In The Days) A crisis meeting of Pakistan's new coalition Government has been warned that it could lose control of the North West Frontier Province, which is believed to hold most of its nuclear arsenal. The warning came yesterday from the coalition leader, who, although he is part of the new Government, is regarded as having the closest links to al-Qa'ida and Taliban militants sweeping through the region. Maulana Fazlur Rehman bluntly told his colleagues: "The North West Frontier province is breaking away from Pakistan. That is what is happening. That is the reality." This came just days before new Prime Minister Yousuf Raza Gilani's scheduled meeting with US President George W. Bush to discuss al-Qa'ida and Taliban sanctuaries in Pakistan. Yesterday, the army was reported to have abruptly ended an operation in the Hangu district, close to Peshawar, after threats by militant leaders. Maulana Fazlur Rehman and the ANP members blamed the worsening situation on "President (Pervez) Musharraf's eight-year policy to deal with the issue through the barrel of a gun, and the alliance with America". The crisis meeting resolved to pursue dialogue with the jihadis, a policy derided by US and NATO-led forces in Afghanistan. It also declared itself to be implacably opposed to US or other forces entering Pakistani territory to deal with the growing jihadi militancy. Analysts in Islamabad believe the warning about the situation in the NWFP will prompt renewed concern about the security of Pakistan's nuclear arsenal. Al-Qa'ida's operational commander in Afghanistan, a 53-year-old Egyptian named Mustafa Abu al-Yazid, was interviewed on Pakistani television yesterday and claimed the organisation's strength in Afghanistan was growing so rapidly it would "soon occupy the whole country." He claimed that "the morale of our fighters in Afghanistan is very high and they are putting up a tough fight against US troops".
Prayer for World's 3rd Largest Mission Field – America
July 28….(WND) A blanket of prayer for America is being proposed for Sept. 11, 2008, the seventh anniversary of the terrorist attacks on New York and Washington, because it no longer is the Christian nation it once was. America used to send out missionaries," Matti Stevenson, a spokeswoman for the effort, told WND. "Now it's the third-largest mission field itself. People from Africa are coming to help us. What does that say? "It just takes my breath away," she said. The project is called "Cry out America" and intends to have a prayer vigil in every county, all 3,141 of them, on that day. It's being assembled by the Awakening America Alliance, a non-partisan broad coalition of Christian leaders, denominations, churches, ministries and others. America is a nation in great spiritual decline evidenced by current statistics which show that only 17 percent of Americans attend church on any given Sunday and that America is the third largest mission field in the world," the organization said. "In 2001 extremist enemies assaulted America with the terrorists attacks of 9/11. These acts of aggression signaled a physical wake up call for our nation as we entered the new millennium. Our lives were changed forever, millions of Americans fell to their knees in prayer," the organization said. "Now seven years later, as part of the Awakening America Alliance, Christians are issuing a spiritual wake call through a historical, nationwide prayer gathering on Sept. 11, 2008. "Cry out America" claims this day of prayer to fully awaken America to return to the Lord and to mark this significant day in its history with powerful prayer for every state, every county, and every heart. " Billy Wilson, the executive cabinet chairman of the Awakening America Alliance said 2008 will be a spiritually "critical" year for America. "The current condition of America demands united, and decisive action. We need more than one positive election, more than one court decision, more than one good series of sermons, we must experience a new national awakening in our generation," he said. The plan is for Christians to gather on 9/11 at every county courthouse from noon until 1 p.m. in a united cry to God for communities, friends, family and the spiritual condition of the nation. "DL Moody once said, 'Every great movement of God can be traced to a kneeling figure,''" the group said. Coordinators are being recruited for each county in the nation, and already hundreds of counties from more than 36 states have been designated. "For the last 40 plus years our nation has increasingly drifted lazily toward the falls of godless postmodern values, rejecting God's standards in favor of a reinterpreted anything goes morality. Soon we will reach the precipice of no return unless we act quickly," said John Franklin, member of the Cry Out America national mobilization team and president of John Franklin Ministries. "On one level the events of 9/11 awakened us to the threat of radical Islamic fundamentalism, but the greater threat confronting us is our departure from God."
WEEK OF JULY 20 THROUGH JULY 26
Olmert Says Bush has Deserted Israel Against Iran
July 26….(DEBKA) Israeli prime minister Ehud Olmert this week shot off a strong secret note to US President George W. Bush, sources reveal, protesting the administration's strategic steps toward rapprochement with Iran. Israel was not forewarned, Olmert wrote bitterly, although these steps directly violated US-Israel understandings on Iran of the past year. Bush, he said, had broken the promises he gave in face-to-face meetings with the Prime Minister earlier this year. If nothing is done to arrest Iran's progress towards a nuclear bomb, Olmert warned, Iran will have all the components ready for assembly by early 2009, that is, in 6-8 months. This time line is tighter than the one the Prime Minister gave the Democratic Senator Barack Obama when he visited Jerusalem Wednesday, July 23. DEBKAfile's Washington sources add that President Bush has not replied to the letter, although the prime minister wrote in a spirit of extreme alarm over the threat to Israel's security and indeed survival building up in Tehran. The US response apparently came in the way American military chiefs brushed off Israeli chief of staff Lt. Gen. Gabi Ashkenazi, when he presented intelligence updates on the state of Iran's military nuclear program. He was received with great honor during his week's working visit, but his hosts declined to address the working theories guiding the IDF with regard to that program. Res. Maj-Gen Yizhak Ben-Israel, former head of IDF Weapons Authority, strongly refuted the estimate published by Time Magazine quoting former Mossad chief Ephraim Halevi as speaking out against an Israeli attack on Iran, because it "could have an impact on us [Israel] for the next 100 years." Ben-Israel, a world-class expert on Iran's nuclear and missile programs countered that Israel's failure to attack Iran's nuclear sites would "jeopardize its security." Time is working against the Jewish State," he said. As he spoke, Iranian president Mahmoud Ahmadinejad announced his country's nuclear program had managed to double the uranium-enriching centrifuges operating in Natanz to 6,000.
McCain Vows US Embassy Move to Jerusalem
July 26….(JTA) John McCain said he would move the US embassy to Israel to Jerusalem upon being elected president. "Right away," Sen. McCain (R-Ariz.) the presumptive Republican nominee for president told CNN Friday. "I've been committed to that proposition for years." President Bush also committed to moving the embassy during his 2000 campaign, but never did. Presidents oppose such a move as preempting Israeli-Palestinian negotiations and endangering US security interests in the Middle East. McCain's rival, Sen. Barack Obama (D-Ill.), has said that he would only consider such a move once the sides come close to a final status peace agreement. McCain would not comment on how he would react should Israel preemptively attack Iran to prevent its acquisition of nuclear weapons. All he would say was that "the United State of America is committed to making sure there is not a second Holocaust."
Obama's $845 Billion World Poverty Plan
('Global Poverty Act' to cost each citizen $2,500 or more)
July 25….(WND) The U.S. Senate soon could be debating whether you, your spouse and each of your children, as well as your in-laws, parents, grandparents, neighbors and everyone else in America, each will be spending $2,500 or more to reduce poverty around the world. The plan sponsored by Sen. Barack Obama, the presumptive Democratic nominee for the office of president, is estimated to cost the United States some $845 billion over the coming few years in an effort to raise the standard of living around the globe. S.2433 already has been approved in one form by the US House of Representatives, and now has been placed on the Senate Legislative Calendar for pending debate. The proposal demands the president develop "and implement" a policy to "cut extreme global poverty in half by 2015 through aid, trade, debt relief" and other programs. Cliff Kincaid at Accuracy in Media has published a critique asserting that while the Global Poverty Act sounds nice, the adoption could "result in the imposition of a global tax on the United States" and would make levels "of US foreign aid spending subservient to the dictates of the United Nations." He said the legislation, if approved, dedicates 0.7 percent of the U.S. gross national product to foreign aid, which over 13 years he said would amount to $845 billion "over and above what the US already spends." The plan passed the House in 2007 "because most members didn't realize what was in it," Kincaid reported. "Congressional sponsors have been careful not to calculate the amount of foreign aid spending that it would require." A recent statement from Obama's office noted the support offered by the Senate Foreign Relations Committee. "With billions of people living on just dollars a day around the world, global poverty remains one of the greatest challenges and tragedies the international community faces," Obama said. "It must be a priority of American foreign policy to commit to eliminating extreme poverty and ensuring every child has food, shelter, and clean drinking water. As we strive to rebuild America's standing in the world, this important bill will demonstrate our promise and commitment to those in the developing world. "Our commitment to the global economy must extend beyond trade agreements that are more about increasing profits than about helping workers and small farmers everywhere," he continued. Obama has continued to lobby for such massive expenditures on his campaign stops. During an address as recently as last week, he said, "I'll double our foreign assistance to $50 billion by 2012, and use it to support a stable future in failing states, and sustainable growth in Africa; to halve global poverty and to roll back disease." Kincaid pointed out that the plan not only commits the US to the anti-poverty spending proposal, it also adopts for the US the United Nations Millennium Development Goal, which includes a variety treaties and protocols advocated by the UN. Tom DeWeese at Newswithviews said the plan "is very telling" about what Obama would do as president. DeWeese, president of the American Policy Center, warned the over-arching plan includes the ideals of consolidating all international agencies under the UN, regulation by the UN of all corporate environmental issues, license fees charged by the UN to use air, water and natural resources, a restructuring that would give hand-picked non-governmental organizations huge influence, authorize a standing UN army and require registration of all arms.
Obama Promises to 'Remake the World'
July 24….(Politico) Addressing more than 200,000 elated Europeans massed in Berlin at twilight, presumptive Democratic nominee Barack Obama promised Thursday that he would work to unite Christians, Muslims and Jews in a safer, more united world. The Democratic presidential contender Barack Obama also summoned the theme that Pope Benedict and Saudi King Abdullah have been echoing recently as he urged Europeans and Americans together to "defeat terror and dry up the well of extremism that supports it. His 27-minute speech at the gold-topped Victory Column was interrupted by applause at least 30 times, with occasional audience chants of "O-ba-MA!" Billed as a speech about TransAtlantic relations, it turned out to be a manifesto for the planet, with an appeal to "the burdens of global citizenship." Local authorities said the crowd was more than 200,000, triple Obama's previous record of 70,000 in Portland, Ore. Reaching out to skeptics back home, he heralded "the dream of freedom" and declared firmly: "I love America." "People of Berlin, people of the world, this is our moment. This is our time," he declared, offering himself "not as a candidate for president, but as a citizen, a proud citizen of the United States and a fellow citizen of the world." Obama's speech, the centerpiece of his presidential-style sweep of the Middle East and Europe, set a global agenda as expansive and audacious as any contemplated by a candidate for United States president. "In Europe, the view that America is part of what has gone wrong in our world, rather than a force to help us make it right, has become all too common," he said. But the burdens of global citizenship continue to bind us together," Obama continued. "A change of leadership in Washington will not lift this burden. In this new century, Americans and Europeans alike will be required to do more, not less." Invoking the fall of the Berlin Wall after the historic call by President Ronald Reagan at the nearby Brandenburg Gate, Obama declared that the greatest danger now "is to allow new walls to divide us from one another." "The walls between old allies on either side of the Atlantic cannot stand," he said. The walls between the countries with the most and those with the least cannot stand. The walls between races and tribes, natives and immigrants, Christians and Muslims and Jews cannot stand. These now are the walls we must tear down." In perhaps the most striking passage, Obama asserted: "I know my country has not perfected itself." "But I also know how much I love America," he said. "We are a people of improbable hope. With an eye towards the future, with resolve in our heart, let us remember this history, and answer our destiny, and remake the world once again."
Israeli Intelligence: Iran will Wait for Bush Exit
July 24….(Jerusalem Post) The Israeli intelligence community has reported its conclusion that Iran has decided to maintain restraint until the departure of US President Bush and that its allies hope for the election of Sen. Barack Obama. The intelligence community has assessed that Iran and Syria would continue preparations for war with Israel and the United States but would seek to maintain regional calm until the new administration takes office in January 2009. "They are unlikely to begin a war with Israel while Bush is still in office," Israeli military intelligence chief Maj. Gen. Amos Yadlin said. In a briefing to the Israeli Cabinet on July 20, Yadlin said Iran and Syria could use their proxies, particularly Hamas and Hizbullah, to attack the Jewish state. But the military intelligence commander said the two Middle East states remain concerned that Bush might order a massive strike before he leaves office. The Israeli intelligence assessment has determined that Damascus and Teheran believe that Bush's successor would either reject or suspend any US plan to destroy Iran's nuclear weapons infrastructure. The assessment said Iran and its Middle East allies were rooting for the victory of Sen. Barack Obama. Yadlin said Iran and Syria have not completed their rearmament effort. He said both countries were acquiring advanced Russian platforms and weapons and would need until at least 2009 to absorb them into their militaries. Over the last year, Iran and Syria have been deploying a range of Russian air defense systems. Officials said they included the S-300 for Iran, the TOR-M1 and the Pantsyr-S1E.
Iran Purchases New Russian Anti-Aircraft Systems
(Defense officials say new system could pose challenges to Israeli air strike on Iranian nuclear facilities, though setup, deployment time may take 6-12 months)
July 23….(YNET) Iran is set to receive an advanced Russian-made anti-aircraft system by year-end that could help fend off any preemptive strikes against its nuclear facilities, senior Israeli defense sources said on Wednesday. First delivery of the S-300 missile batteries was expected as soon as early September, one source said, though it could take six to 12 months for them to be deployed and operable, a possible reprieve for Israeli and American military planners. The new system is causing concern among Israel's security forces, and officials have previously stated that it has been proven very efficient against air strikes. This will pose new challenges for the Air Force (IAF) if it decides to attempt a strike on Iranian nuclear facilities. Iran, which already has TOR-M1 surface-to-air missiles from Russia, announced last December that an unspecified number of S-300s were on order. But Moscow denied there was any such deal. "There's no doubt that the S-300s would make an air attack more difficult," one defense official said. "But there's an answer for every counter-measure, and as far as we're concerned, the sooner the Iranians get the new system, the more time we will have to inspect the deployments and tactical doctrines. There's a learning curve." According to the official, it would take a year for Iran to deploy the S-300s and man them with trained operators. The US was also optimistic on this count. "Based on what I know, it's highly unlikely that those air defence missiles would be in Iranian hands any time soon," US Secretary of Defence Robert Gates said in a July 9 briefing. Robert Hewson, editor of Jane's Air-Launched Weapons, said: "The minimum work-up time to be comfortable with the system is six months, but more time is preferable." Hewson said the Iranian S-300 deal was being conducted via Belarus to afford discretion for Russia, which is already under Western scrutiny for helping Iran build a major atomic reactor. "Belarus is the proxy route whenever Russia wants to deny it is doing the sale. But nothing happens along that route without Moscow saying so," he said.
FOJ Note: Just in the past week, Russia has sold sophisticated military hardware to Venezuela, Libya, Sudan, and Iran. Ironically these are the exact same nations that are listed in Ezekiel's prophecy in which Russia arms and guards its clients as they prepare for an assault on Israel. Coincidence or Biblical accuracy?
Obama Pledges Openness to Divided Jerusalem
(Assures Palestinians his "undivided declaration" to Jewish group was a 'misunderstanding')
July 23….(WND) In a meeting here today, Sen. Barack Obama assured the Palestinians he supports a "negotiated settlement" that may grant the Palestinian Authority control over sections of Jerusalem, a senior PA official who took part in the meeting told WND. "He assured us there was a misunderstanding when he said in June he supports the Israelis' rights to hold on to Jerusalem. He told us he corrected this right away and that he supports a negotiated settlement that will give the Palestinians territory," said the PA official. The official, who was present when Obama met with PA President Mahmoud Abbas today, was referring to a speech Obama delivered in June to the American Israel Public Affairs Committee in which he stated if he is elected president, "Jerusalem would remain the capital of Israel and it must remain undivided." Immediately following the speech, Obama reversed himself during a CNN appearance, explaining he meant Jerusalem shouldn't be physically divided with a partition. "Well, obviously, it's going to be up to the parties to negotiate a range of these issues. And Jerusalem will be part of those negotiations," he said in response to a question about whether Palestinians have a legitimate claim to the city. Obama said "as a practical matter, it would be very difficult to execute" a division of the city. "And I think that it is smart for us to work through a system in which everybody has access to the extraordinary religious sites in Old Jerusalem but that Israel has a legitimate claim on that city." According to the senior PA official speaking to WND, Obama today expressed to Abbas his "full understanding" regarding halting Israel's "settlement activities," a reference to Israeli construction in the West Bank. The presidential candidate told Abbas he would work to ensure more "freedom of movement" for Palestinians in the West Bank, the senior official said. Freedom of movement usually refers to Israel removing anti-terror roadblocks and checkpoints that have been directly credited with stopping suicide bombers from entering central Israel. Palestinians complain the barriers impede their mobility. The Palestinian official speaking to WND also said Obama criticized "Israeli measures that create facts on the ground that may affect a future Palestinian State." The statement was a clear reference to Israeli construction in the West Bank and eastern Jerusalem neighborhoods the Palestinians claim for a future state. Obama spent much of the day trying to allay doubts about his support for Israel, donning a Jewish skullcap at Israel's Holocaust memorial, touring the rocket-besieged town of Sderot and declaring his intent to preserve America's close ties with Israel during a meeting at President Shimon Peres' official residence. "I'm here on this trip to reaffirm the special relationship between Israel and the United States and my abiding commitment to Israel's security and my hope that I can serve as an effective partner, whether as a US senator or as president," Obama said. In Ramallah, he told Abbas "he will be a constructive partner in the peace process" and would not "waste a minute" if elected
Olmert to Obama: Late 2009 or Early 2010, Iran will Have A Nuclear Bomb
July 23….(DEBKA) Israeli prime minister Ehud Olmert told visiting US Senator Barack Obama Wednesday night, July 23 that within little more than a year, Iran would be able to assemble all the components for a nuclear bomb. He said the international penalties to force Iran to give up its nuclear plans must be speeded up without removing the military option from the table. Earlier, senior Israeli defense sources reported that Iran is set to receive Russian S-300 anti-air missiles for fighting off strikes against its nuclear facilities by early September, seriously complicating any air attack. DEBKAfile's military sources note that this was the second statement in four days by Israeli security sources, stressing the need for expeditious action to preempt Iran's military nuclear progress. It is not by chance that this latest statement coincided with the visit by the Democratic presidential nominee Barack Obama. He spoke in general about his commitments on Iran if he wins the race to the White House. This second Israeli statement indicated a specific time frame for action. The Israeli sources, who refused to be named, said the first delivery of S-300 missile batteries was expected as soon as early September, weeks away, and could take six-to 12 months to be deployed and made operable. "There is no doubt," he said, "that the S-300s would make an air attack more difficult. This assessment clashed with a statement by US defense secretary Robert Gates who said on July 9, "it's highly unlikely that those air defense missiles would be in Iranian hands any time soon." Gates is known to be a firm objector to a US or Israeli military operation against Iran's nuclear sites. Israel's chief of staff, Lt. Gen. Gabi Ashkenazi, who is spending a week in Washington will no doubt update American officials on Israel's latest intelligence on Iran's plans. Saturday night, July 20, an Israeli "security-political official" estimated that if diplomatic efforts to bring Iran to give up uranium enrichment failed, President George W. Bush would order Iran attacked between the November 4 presidential election and his exit from the White House in January. The quote was aired shortly after the six-power talks with Iran in Geneva, with US official participation for the first time, ended without an answer from Tehran. One of the purposes of the Israeli air force drill over the Mediterranean last month, widely seen as a dress rehearsal for a possible raid on Iran, was to practice passes against the S-300 batteries which Greece acquired from Russia via Cyprus.
Media Ignores McCain, in Overdrive for Obama
July 23….(AP) Barack Obama was swarmed by media as he arrived in Baghdad Monday for a meeting with Iraqi Prime Minister Nuri al-Maliki. The same day, Obama's Republican presidential rival John McCain arrived in Manchester, NH As his plane taxied to a stop on the tarmac, he was greeted by just a single reporter and a photographer, according to the New Hampshire Union Leader. McCain was in the state to speak in Rochester on Tuesday. Despite the media's apparent lack of interest in the McCain campaign, spokesman Jeff Grappone said staffers were prepared for an "overflow" crowd at the Rochester Opera House. Meanwhile in the Middle East, the press eagerly followed every step of Obama's trip to Iraq. After a stop in the southern city of Basra, his delegation traveled to Baghdad, where a red carpet was unfurled outside Maliki's residence, The Washington Post and other papers reported. The press covered Obama's visit with Iraqi President Jalal Talabani, and his meeting with Iraq's Sunni Vice President Tariq al-Hashimi. Obama later toured the US military hospital inside the Green Zone and took a helicopter ride over Baghdad with Gen. David H. Petraeus, the top US commander in Iraq. McCain's campaign on Tuesday lashed out at the US media's "fascination" with Obama. "It's pretty obvious that the media has a bizarre fascination with Barack Obama. Some may even say it's a love affair," the Arizona senator's campaign said in an e-mail. "The media is in love with Barack Obama. If it wasn't so serious, it would be funny." Over the weekend the New York Times even refused to run a McCain article about the war in Iraq.
US News Anchors Follow Obama to Jerusalem
July 23….(JPOST) Major streets in Jerusalem will be closed on Wednesday, and millions around the world will be watching, and not because of Tuesday's bulldozer terrorist attack. Barack Obama is in town, along with hundreds of media personnel. Approximately 50 visiting journalists, most of the 400 foreign correspondents based in Israel, and the three anchors from the top US media networks will be following Obama through his day-and-a-half visit to the Holy Land as part of a longer trip to Europe and the Middle East. Katie Couric of CBS, Charles Gibson of ABC and Brian Williams of NBC have been promised exclusive, personal interviews with the presidential candidate. NBC, ABC and CBS evening newscasts are originating from stops along the route and will undoubtedly give it big play. US presidential candidate John McCain's March visit to Israel did not attract nearly as much of a media frenzy. McCain's trip was covered by several networks, both Israeli and foreign; however, only NBC and ABC sent special correspondents, and network anchors were out of the question. Obama has "proven adept at generating excitement," said David Folkenflik, media correspondent for US National Public Radio. He said the anchors hoped "a little bit of that excitement will rub off on their newscasts if they can convey an American phenomenon abroad, if that's what it turns out to be. Senator McCain is not as magnetic a figure in that way."
Russian Military "Considering Basing Bombers on Cuba"
July 23….(Europe News) The Russian military is considering deploying long-range bombers to Cuba to counter the perceived threat of the US missile defense shield planned to be based in the Czech Republic and Poland, according to Russian media reports Monday. 'At the moment, there are just thoughts, but that doesn't mean there isn't something concrete behind it,' an unidentified officer was quoted Monday as telling Izvestiya newspaper. He said the aircraft under consideration were Tu-160 and Tu-95 MC bombers. Russia gave up in 2001 a base in Lourdes, Cuba, which had been set up during the Soviet era. The former commander of this base, Lieutenant-General Mikhail Oparin, was quoted as welcoming the idea. 'Russia's air fleet must work towards a presence in every corner of the world,' he told Interfax news agency. The US, after all, had bases worldwide. 'An extended radius of action for our could be a response to the one-sided action of the USA in setting up a strategic system on Russia's borders,' he added. The newspaper said that from a technical point of view there would be no problem basing Russian bombers on Cuba for a limited period. However, Moscow's view on doing this was unclear. Prime Minister Vladimir Putin, while he was still president, had threatened 'reprisal measures' if the US went ahead with basing its missile defense shield in Poland and the Czech Republic. He warned that Russia was able to target central Europe with its own missiles. Russia views the planned deployment of ten US missiles in Poland and a radar facility the Czech Republic as a threat. However, the presence of Russian bombers on Cuba would provoke an international conflict, the Izvestiya report said. Just 90 kilometres separated Cuba from the US coast, and the US had 'eyes and ears' on Cuba with its Guantanamo base. In 1962 the Cuba crisis saw the US and Soviet Union in a dramatic face-off before Moscow abandoned plans to built missiles bases there.
US Gen Warns Russia Against Basing Nuclear Bombers In Cuba
(AFP) Russia would cross "a redline for the United States of America" if it were to base nuclear capable bombers in Cuba, a top US air force officer warned on Tuesday. "If they did, I think we should stand strong and indicate that is something that crosses a threshhold, crosses a red line for the United States of America," said General Norton Schwartz, nominated to be the air force's chief of staff. He was referring to a Russian news report that said the military is thinking of flying long-range bombers to Cuba, and possibly establishing a base there.
Sudan Receives New Shipment of Russian Fighter Jets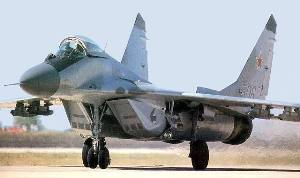 Russian MIG-29 fighter Jet
July 23….(Sudan Tribune) A shipment of new Russian MIG-29 tactical fighters has recently arrived into Sudan from Belarus, a source familiar with the matter told Sudan Tribune today. The source who spoke on condition of anonymity said that a dozen MIG-29 combat fighters were shipped discreetly by planes through a Belarusian company two weeks ago. However he could not confirm whether the fighters were actually sold by Belarus or they simply came through the East European country. The planes are now in the Wadi Sayedna air base, the source added. Belarus is one of the Sudan armament providers. A military cooperation protocol covering training, exchange of experiences, and military science fields was inked between the two countries in June 2006. If the MIG-29's are used in Darfur it would be in violation of UN Security Council (UNSC) resolution 1591 which prohibits selling arms to Sudan government or Darfur rebels for use in the war ravaged region. Last year Russia was accused by Amnesty International (AI) supplying arms to Sudan for use in Darfur but the Russian foreign ministry denied the charge. Last May a MIG-29 was shot down by Darfur rebels over the Sudanese twin capital city of Omdurman and its Russian pilot was killed.
Top US Military Chief is Convinced Iranians seek Atom Bomb
July 22….(DEBKA) Adm. Mike Mullen, chairman of the US Joint Chiefs of Staff, told Fox News he is convinced the Iranians are seeking to building an atomic bomb, "a very destabilizing possibility in that part of the world." He stressed the US had the capacity and the reserves to attack Iran as a last resort. DEBKAfile's Washington sources stressed the special significance of Mullen's statement on Sunday, July 20. The night before, a senior Israeli security official said that if the US-Iranian talks failed, President Bush planned to use the three-month period between the November elections in America and his exit from the White House in January for an attack on Iran's nuclear facilities. Saturday night, too, Israel's chief of staff, Lt. Gen. Gabi Ashkenazi arrived for a week's visit as the admiral's guest. Mullen warned that while the US has the capacity and reserves for attacking Iran, there could be "possible unintended consequences" and an unpredictable regional impact from any attack on Iran, a hint at a dangerous backlash from a possible Israeli strike uncoordinated with the United States. "I'm fighting two wars and I don't need a third one," said Mullen referring to Iraq and Afghanistan.
Guess What Terrorists are doing for Obama on Mideast Trip?
July 22….(WND) Members of the most active West Bank terror organization are set to serve in security forces being deployed to protect Sen. Barack Obama during his trip to the West Bank tomorrow, WND has learned. Obama is due to visit Israeli officials in Jerusalem and leaders of the Palestinian Authority in the West Bank city of Ramallah as part of a wider Middle Eastern and European tour that includes Jordan, France and Germany. According to security officials coordinating deployments of forces with the PA for Obama's Ramallah visit, members of the Al Aqsa Martyrs Brigades, Fatah's declared military wing, have been called upon by the PA to participate in the protection of Obama, particularly in securing the perimeter during a scheduled meeting with PA President Mahmoud Abbas. The Brigades is listed as a terror organization by the US State Department. The group took credit along with the Islamic Jihad terror organization for every suicide bombing in Israel between 2005 and 2006 and is responsible for thousands of shootings and rocket firings. Statistically, the Al Aqsa Brigades perpetuated more terrorism from the West Bank than Hamas, according to the Israeli Defense Forces. Brigades leaders, speaking to WND on condition of anonymity, confirmed they will participate in protecting Obama as official members of the PA's security forces. The Israeli Defense Forces, working with US security coordinators, will protect the main West Bank highway Obama's convoy will use to approach Ramallah. Security for Obama will be largely turned over to the Palestinians once he enters Ramallah, although security plans are being heavily coordinated with the US. One Al Aqsa Martyrs Brigades member who doubles as a PA security force officer and who is set to protect Obama, joked if there was any threat to the presidential candidate it will come from Israel: "Maybe the Israelis will try something because of Obama's policy on Israel, which the Zionists don't like, but we will certainly protect Obama.
Pope Benedict: Ecumenism Leads to Common Eucharist, Doctrine is Irrelevant
(FOJ-Popes message is paramount to work of False Prophet, as doctrine is an essential part in Biblical Christianity)
("Beware of false prophets, which come to you in sheep's clothing, but inwardly they are ravening wolves.") (Matthew 7:15) "For if he that cometh preacheth another Jesus, whom we have not preached, or if ye receive another spirit, which ye have not received, or another gospel, which ye have not accepted, ye might well bear with him." (II Corinthians 11:4)
July 21….(CNA) Fifteen leaders of the Australian Christian church met the Pope in an Ecumenical event held in the St. Mary's Cathedral Crypt on Friday morning. In his address to the church leaders, Benedict XVI called on them to not view doctrine as divisive since that view can prevent Christians from working to improve the world. Archbishop of Sydney, Cardinal George Pell represented the Catholic Church, while Rev. Robert Forsythe was present for the Anglican Church. Leaders representing the Syrian Orthodox, Maronite Catholics, Indian Orthodox, Chinese Methodist, the Lutheran and Uniting churches were also present. Youth representatives were also present at the event, where approximately fifty guests were present because of their involvement in the Ecumenical Council of New South Wales. The pope delivered a short address to the leaders, praising their commitment to the ecumenical movement, citing the Covenant signed in 2004 by the members of the National Council of Churches in Australia. "This document recognizes a common commitment, sets out goals, and acknowledges points of convergence without glossing over differences," said the Pope. While Baptism is the starting point for ecumenical dialogue, the Pope said that, "The road of ecumenism ultimately points towards a common celebration of the Eucharist, we can be sure that a common Eucharist one day would only strengthen our resolve to love and serve one another in imitation of our Lord." "For this reason, a candid dialogue concerning the place of the Eucharist, stimulated by a renewed and attentive study of scripture, patristic writings, and documents from across the two millennia of Christian history, will undoubtedly help to advance the ecumenical movement and unify our witness to the world," the Pontiff said. The ecumenical movement has, the Pope observed, "reached a critical juncture. To move forward, we must continually ask God to renew our minds with the Holy Spirit, Who speaks to us through the scriptures and guides us into all truth. We must guard against any temptation to view doctrine as divisive and hence an impediment to the seemingly more pressing and immediate task of improving the world in which we live." This emphasis will lead to our works of charity speaking more eloquently of God's bountiful goodness and love towards all, Pope Benedict said. Finally the Pope concluded his address by calling on the Christian world to work together. "As 'fellow citizens' of the 'household of God,' Christians must work together to ensure that the edifice stands strong so that others will be attracted to enter and discover the treasures of grace within."
*FOJ Note: Pope Benedict and Saudi King Abdullah are campaigning extensively for religious tolerance and religious rejection of extremism as it relates to violence and fundamentalism. FOJ has long postulated that Islam and Roman Catholicism could harmonize enough in the Last Days to emerge as the "two horns" that speak as a Lamb, but lead the whole world into subjection under the Beast. (Revelation 13:11 And I beheld another beast coming up out of the earth; and he had two horns like a lamb, and he spake as a dragon.)
British Intel: Syria Ready to Break with Iran
(Secret talks held at Mediterranean Union nations conference)
July 20….(Israel Today) The British intelligence service MI6 says secret backroom meetings at the Mediterranean Nations summit in Paris earlier this month could lead to a dramatic shift of power in the Middle East. At the meetings attended by Syrian, Spanish, Italian and Israeli intelligence chiefs, it emerged that plans for an attack on Iran's nuclear facilities will fail to destroy them because no Western intelligence service or Mossad knows where every facility is located. Gaps in the intelligence on the precise location and vulnerability of the Iranian nuclear complexes emerged during the outside-of-conference meetings between the intelligence chiefs. At the end of one meeting, Alon Liel, a former director of Israel's foreign ministry, confirmed Israel had been engaged in "low-key second-track discussions for many months" with Syria. Key to the progress of those talks was whether Syria was ready to break its close ties with Iran in return for the U.S. giving Damascus financial and military backing. Liel made it clear that any deal with Syria would require its ending support for military groups such as the Palestinian Hamas and the Lebanese Hezbollah, both backed by Iran. It was also made clear that any deal with Syria would probably not come until there was a new president in the White House. An indication of how far the backroom meetings had progressed came from the Turkish foreign minister, Ali Babacan, who said there had been "real progress to formal talks between Tel Aviv and Damascus." Both the Israeli prime minister, Ehud Olmert, and his foreign minister, Tzipi Livni, herself a former Mossad officer, sat alongside their Syrian counterparts, President Assad and his foreign minister, Walid al-Muallim. Publicly, Olmert acknowledged that the time was "fast approaching for direct talks."
WEEK OF JULY 13 THROUGH JULY 19
Pope Benedict Urges all Faiths to Unite Against Violence
(Pope adds his voice to that of Saudi King urging religious unity against religious intolerance)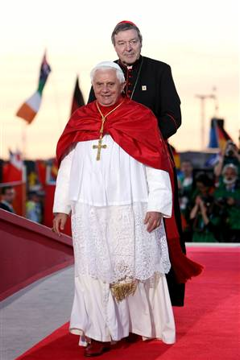 July 18….(MSN) Pope Benedict XVI on Friday urged religious leaders of all kinds to unite against those who use faith to divide communities, an apparent reference to terrorism in the name of religion. "In a world threatened by sinister and indiscriminate forms of violence, the unified voice of religious people urges nations and communities to resolve conflicts through peaceful means and with full regard for human dignity," Pope Benedict told a gathering of clerics from different faiths in Sydney. He met with representatives of Muslim, Jewish, Hindu and Buddhist faiths for about 40 minutes during the Roman Catholic church's youth festival, which has drawn hundreds of thousands of pilgrims to Sydney. Without mentioning terrorism directly, the pontiff said creating harmony between religion and public life was "all the more important at a time when some people have come to consider religion as a cause of division rather than a force for unity." The remarks come as the Vatican tries to repair ties with both the Islamic world, which he angered in 2006 with a speech that appeared to associate Islam with violence. In his address, Benedict warned that mankind's "insatiable consumption" has scarred the Earth and squandered its resources, telling followers that taking care of the planet is vital to humanity, striking a theme that has earned him a reputation as the "Green Pope."
US Makes it Absolutely Clear: We Will Not Attack Iran's Nukes
July 18….(JWR/Caroline Glick) Any residual doubt that Washington has decided to take no action to prevent Iran from acquiring nuclear weapons dissipated Wednesday with the news that Undersecretary of State William Burns will be participating in EU foreign policy chief Javier Solana's negotiations with Iran's nuclear negotiator Saeed Jalili in Geneva on Saturday. That those negotiations will fail to end or even slow down Iran's progress towards nuclear weapons capabilities is a certainty. Ahead of the talks, Iran's Supreme Leader Ayatollah Ali Khamenei reiterated for the umpteenth time that Iran will make no compromises on its uranium enrichment activities. And so far, Iran, as opposed to Washington, has been true to its word. Given Iran's forthrightness, there is only one reasonable explanation for the administration's decision to send Burns to meet with Jalili: the US wants it to be absolutely clear to Iran and everyone else that it has no intention whatsoever of attacking Iran's nuclear installations. It makes sense that Washington considers it necessary to make this point clearly. In light of the threat that a nuclear-armed Iran would constitute to US national security interests, it would have been more reasonable to assume that the US would attack Iran's nuclear facilities preemptively than to assume that the US would allow Iran to go forward with its goal to acquire nuclear weapons. A nuclear-armed Iran would place the US military's hard-won victories against Iranian surrogates in Iraq and its tentative success in separating Iraq's Shiite leaders from Teheran in jeopardy. So too, given Iran's increasingly active support for the Taliban, an Iranian acquisition of nuclear capabilities would cast doubt on the US's ability to defeat the resurgent Taliban in Afghanistan. The US's economic well-being would be also endangered by a nuclear-armed Iran. Teheran has repeatedly threatened to attack Saudi oil platforms and endanger the oil shipping lanes in the Straits of Hormuz. And a nuclear arsenal will give Iran unprecedented power to dictate price setting policies for the OPEC oil cartel. Beyond all that, a nuclear-armed Iran would directly threaten US territory in two ways. First, there is no reason not to think that Iran would use Hizbullah cells in the US to detonate nuclear devices in US cities. Iran has already shown its willingness to use Hizbullah to carry out terror attacks in the West, most spectacularly in the 1994 bombing of the AMIA Jewish center in Buenos Aires. Second, it is widely feared that Iran is developing the capacity to launch an electromagnetic pulse (or EMP) attack against the US mainland. An EMP attack is conducted by launching a nuclear bomb into the atmosphere above a country. It needn't actually hit the country. Simply by detonating a nuclear device at sufficiently high altitude, an EMP attack can destroy the electrical grids, communications systems and military-industrial foundations of a society. Such an attack on the US would set the country back a hundred years. Fears of an Iranian EMP attack against the US were sparked last week by Iran's test of an advanced version of its Shihab-3 ballistic missile. The day of the missile test, William Graham, who heads a congressionally mandated commission on the EMP threat to the US, gave testimony on the issue to the House's Armed Services Committee. Graham explained that Iran has already conducted missile test launches from ships in the Caspian Sea. If it acquires nuclear weapons, it will apparently have the capacity to launch a nuclear warhead capable of carrying out an EMP attack against the US from a freighter sailing in international waters off the US coast. While any of these threats would be sufficient to justify a preemptive US attack against Iran's nuclear installations, the US still has a reasonable excuse for not conducting such an attack: Iran has made clear that if it acquires nuclear weapons, the US will not be Teheran's first target. Israel enjoys that distinction. And since the US is Iran's second target, the Bush administration has made clear that if Iran attacks Israel, the US will launch an attack against Iran. That is, the US will fight to ensure that Iran won't be able to attack it if America moves to the head of Iran's target list. But as long as it's only number 2, it will take no action. The US cannot be accused of being unfair to Israel by deciding not to prevent Iran from acquiring nuclear weapons. After all, defending Israel is Israel's responsibility, not America's. And on this point, news reports in recent weeks have made it clear that while the US will not attack Iran, it has given Israel a "green light" to attack Iran's nuclear installations in a preemptive attack. And this is no small thing. The Bush administration's willingness to stand back and allow Israel to attack Iran's nuclear installations in order to prevent a nuclear holocaust of the Jewish state compares well with the President's father's administration's treatment of Israel in the 1991 Gulf War. At that time, Israel was under threat of Scud missile borne chemical weapons attack. Although Saddam Hussein ended up not attacking Israel with chemical weapons, the threat that he would was credible. He attacked Israel with Scud missiles almost every night for the duration of the Gulf War. Despite this obvious *causus belli*, the first Bush administration not only refused to politically support Israel's right to defend itself against Iraqi aggression, it took active steps to prevent Israel from attacking Iraq's Scud missile installations. Then President George H.W. Bush refused to provide Israel with the electronic codes that would allow Israeli and US jets to identify one another as friendly aircraft. In so doing, he left open the prospect that the US would shoot down IAF jets over Iraqi airspace if Israel dared to defend itself. So mindful of the precedent set by his father, President George W. Bush's decision to leave the door wide open for an Israeli preemptive attack against Iran is a positive development. But an open door is only significant if someone is willing to walk through it. And it is far from clear that the Olmert-Livni-Barak-Yishai government has any intention of walking through it. For an Israeli government to walk through that door, its leaders would have to be vested with a sense of national destiny and a modicum of responsibility and competence. But as Wednesday's bodies-for-murderers deal with Hizbullah demonstrated, the Olmert-Livni-Barak-Yishai government has no sense of national destiny and no competence to lead the country. What Wednesday's spectacle showed is that Israel's leaders' horizons are limited to the space between yesterday's news and tomorrow's headlines. Wednesday Israel received the corpses of IDF hostages Eldad Regev and Ehud Goldwasser in exchange for baby murderer Samir Kuntar, four fellow Hizbullah terrorists and two hundred bodies of Palestinian and Lebanese murderers. The government knows for a fact that Wednesday's deal will lead directly to the murder of more Israelis and to the abduction and murder of more IDF soldiers. It simply doesn't care. Given the media's refusal to cover anything that they can't personalize and trivialize, the media are incapable of adequately reporting the danger that Iran's nuclear program constitutes to Israel as a whole. And since they will not concentrate on this basic reality, the Olmert-Livni-Barak-Yishai government feels no pressure to contend with the danger. Aside from that, although a successful strike against Iran's nuclear facilities would win them considerable clout with the public and unsuccessful strike would end their political careers. And their careers are the only thing Israel's leaders are concerned with. This being the state of affairs in Israel today, all the open doors in the world won't help Israel in its moment of crisis. Only two things can guarantee that Israel's leaders will take action against Iran. Either someone will come up with a way to guarantee success, and this is not likely; or the government will fall and the nation will elect new leaders who understand their responsibility for Israel's national destiny and are capable of walking the nation through that open door.
US State Dept. Promotes 'Mosques in America'
(Publishes '09 calendar featuring worship sites for only 1 religion, Islam)
July 18….(WND) This now available from the U.S. State Department: "2009 Mosques of America Wall Calendar: Limited Edition for Ramadan." "Yep, you read that correctly. It's 'perfect for Muslim outreach efforts," according to a commentary at the Gates of Vienna blog. "Where's the ACLU on this one?" According to the Gates of Vienna, the government advertised: "In celebration of Ramadan, Global Publishing Solutions (GPS) is offering a limited edition of the 2009 Mosques in America Wall Calendar. This 12-month calendar is perfect for Muslim outreach efforts, as well as office and event giveaways. "The wall calendar features a vibrant photograph or photomontage for each month, displaying the beauty of mosques in America. The upper half of the hanging calendar depicts mosque facades or interiors, and the lower half displays a monthly calendar grid. 'The Global Publishing Solutions, manages this site as a gateway to information and transactions for their US State Department clients." On the site, Armance recommended, "My suggestion for the US State Department is to adorn the calendar with equally vibrant Quranic verses and hadiths, samples of what is preached in those mosques. For example: January: Kill the infidels wherever you find them. February: Allah's Apostle said: I've been made victorious with terror and so on and so forth." At Jihad Watch the sudden disappearance was noted. "Brian notes that the page has been pulled since he put his notice up at Snapped Shot yesterday. I still had it open and was able to capture the mosque image, but sure enough, it's gone now. As Brian remarks, it seems that the wise 'public servants' at State 'get all nervous when We, The People actually notice' what they're doing," the site said. "'The wall calendar features a vibrant photograph or photomontage for each month, displaying the beauty of mosques in America,'" wrote ImNoDhimmi on the website. "Now if that isn't enough to make you lose your breakfast, I don't know what is. There is nothing beautiful about mosques in America, or anywhere else in the West, for that matter."
US Turns the Other Cheek for Iran
| | |
| --- | --- |
| | (FOJ) One of the 60 US hostages Iran abducted in 1979 is being displayed outside the US Embassy in Tehran by Iranian hostage takers, Nov. 9, 1979. The US cut off diplomatic ties in response. The kidnapper pictured to the right of the US hostage is probably the present Iranian President, Mahmoud Ahmadinejad. |
July 18….(FOJ) The United States will announce in the next month that it plans to establish a diplomatic presence in Tehran for the first time in 30 years, a British newspaper said on Thursday. In a front-page report, the Guardian said Washington would open a US interests section in the Iranian capital, halfway towards opening an embassy. The unsourced report by the newspaper's Washington correspondent said: "The Guardian has learned that an announcement will be made in the next month to establish a US interests section in Tehran, a halfway house to setting up a full embassy. "The move will see US diplomats stationed in the country." Senior US diplomat William Burns said in testimony to Congress last week the United States was looking to opening up an interest section in Tehran but had not made a decision yet. The Guardian said the development was "a remarkable turnaround in policy by President George Bush who has pursued a hawkish approach to Iran throughout his time in office." Washington said on Wednesday it was sending Burns to join atomic talks with Iran this weekend to signal to Tehran and others that Washington wanted a diplomatic solution to their nuclear impasse. The United States cut off diplomatic ties with Tehran during the 1979-1981 hostage crisis, in which a group of militant Iranian students held 52 US diplomats hostage at the American embassy for 444 days.
US to Open Diplomatic Mission in Iran
July 18….(IsraelNN.com) In an apparent nod to a non-military solution to the Iranian nuclear threat, the United States plans to restore diplomatic relations with Iran. The US is preparing to station its first diplomats in the Islamic Republic since the 1979 Islamic Revolution, when diplomatic ties were severed between the two nations, the Guardian reported. According to the British report, an announcement will be made next month on a US "interests section" in Tehran, a preliminary step to establishing a full embassy in the Iranian capital. The section will be staffed by American diplomats. The announcement represents a dramatic shift in recent US policy towards Iran, which it has long classified a hostile regime. The US has regarded the Islamic Republic's interests as contrary to its own ever since the Muslim fundamentalist revolution which toppled the US-backed Shah, and the sudden reversal of US President George Bush's hawkish approach to the Tehran government comes just as international tensions reach a new peak over Iran's disputed nuclear program. The last months have seen Iran intensifying its threats to annihilate Israel as Iranian President Mahmoud Ahmadinejad's escalates his invective against the Jewish state and its American ally, whom he has taken to calling the "Great Satan". Meanwhile, following live tests of Iranian long-range missiles, the American military elite have grown sufficiently concerned about the Iranian nuclear threat to issue Israel an "amber light" to attack Iran if and when the US deems it necessary. As Israel gears up to deal with the Iranian menace, signs are appearing of a new entente between the superpower and the recalcitrant Middle East regime. The White House announced Wednesday that William Burns, a senior official in the US State Department, will fly to Switzerland on Saturday to meet with Iranian officials and hear Tehran's response to a European diplomatic initiative aimed at resolving the nuclear standoff. The meeting comes despite Bush repeatedly ruling out direct talks with Tehran until the Islamic Republic shelves its uranium enrichment timetable. The centrifuging of uranium into a weapons-grade isotope is a critical first step on the way to a nuclear weapons capability, and thousands of centrifuges are currently spinning in Iran, with many more expected to become operational soon. Although Bush has taken a hard line with Iran throughout the last seven years, many believe that, in the dying days of his presidency, he is making overtures toward an Iran rapprochement as a final legacy of a term in office, set to end next January. The return of US diplomats to Iran is contingent on Iran's approval. Presently, the Swiss embassy oversees US interests in Iran and Tehran has frequently complained of America's refusal to deal with it directly, relying instead on Britain, France and Germany as intermediaries. Earlier in the week President Mahmoud Ahmadinejad indicated that he was favorably disposed to a new US mission in Tehran. "We will receive favorably any action which will help to reinforce relations between the peoples," said the Iranian president, adding: "We have not received any official request but we think that the development of relations between the two peoples is something correct." The special interests section would be similar to the one in Havana, Cuba, where US diplomats returned in 1977 following a break precipitated by Castro's 1961 takeover of the island country. The Havana section carries out all the functions of an embassy, formally a part of the Swiss embassy but otherwise American-staffed and independent of the Swiss. The decision to open a diplomatic mission in Iran comes after years of intense debate within the Bush administration over the proper response to Iran's nuclear overtures and expressed hostility to the US and Israel. Vice President Dick Cheney has pushed for a military strike against Iran's nuclear sites, while the State Department has been pressing the White House to reopen diplomatic relations with Tehran by setting up an interest section. In the absence of such a section, the US has had to rely on European diplomats for information about the inner workings of Iranian politics. Having its own staff in Tehran would give the US access to students, dissidents and other sources of information vital to American and global security interests. While the US State Department is concerned that its move toward diplomacy not be interpreted as a sign of weakness, Iranian enthusiasm for the move was reciprocated by US Secretary of State Condoleezza Rice. "We want more Iranians visiting the United States, we are determined to reach out to the Iranian people, the chief American diplomat told reporters last month. Some in Israel worry that the American nod to a diplomatic approach to Iran in the face of European pressure is reminiscent of American appeasement of Germany in the years leading up to WWII. As Israel braces itself for a rocket attack from a potentially nuclear Iran, the fear in the Jewish State is that such appeasement will lead to another holocaust of its people.
Syria: Alliance with Iran Still Paramount
Tehran briefs ally Damascus on status of international standoff over its contested nuclear program. Syrian FM vows indirect peace negotiations with Israel won't have impact on relations with Iran
| | |
| --- | --- |
| | Syria's vice president Farouk al-Sharaa, right, speaks with Iranian Foreign Minister Manouchehr Mottaki in Damascus, Syria, Thursday, July 17, 2008. Iran's foreign minister is in Damascus for talks with Syria's president that will likely cover Tehran's disputed nuclear program. |
July 18….(YNET) Iran's foreign minister on Thursday briefed Syria's president on the international standoff over his country's nuclear program. The meeting in Damascus signaled Syria's willingness to act on a request by French President Nicolas Sarkozy to try to help resolve the crisis by pushing Iran to cooperate with the international community. Iran's foreign minister, Manouchehr Mottaki, welcomed a Syrian role in trying to ease the tension, Syria's official SANA news agency reported. Speaking at a news conference, he added that Iran has always kept the Syrians informed of developments in the standoff with the United States and its European allies. Sarkozy met with Syrian President Bashar Assad at a summit of European nations and other countries bordering the Mediterranean Sea last weekend in Paris. The French president asked Assad to step in and persuade Iran to offer proof that it has no intention of developing nuclear weapons. Iran's assurances that it only wants nuclear technology for the production of energy have failed to quell suspicions that it is seeking a pathway to an atomic bomb. Assad promised to relay the request from France to Tehran, but expressed doubts that his intervention would help, despite his country's close ties with Iran. On Thursday, Assad stressed his view that ''dialogue and diplomacy are the only way to settle this issue,'' SANA reported. The visiting Iranian foreign minister also met with his Syrian counterpart, Walid al-Moallem, who said at a joint news conference that Iran's peaceful intention ''was confirmed to us by our brothers in Iran." Al-Moallem said the ''strategic alliance'' between Syria and Iran was strong and would not be shaken by the possibility of a peace treaty with Israel. Mottaki expressed Iran's support for Syria's aims in the Turkish-mediated peace talks, namely the return of the Golan Heights, a strategic plateau that Israel captured from Syria in the 1967 Mideast war. ''We support the Syrian president's stand in recovering the occupied land,'' Mottaki said.
Lebanese Leader Desperately Appeals to Iraqi Shiite Grand Ayatollah
July 18….(DEBKA) Our exclusive sources report that Lebanon's pro-Western Sunni majority leader Saad Hariri resorted to the unheard-of step of a secret visit to the Iraqi town of Najef to seek the help of Grand Ayatollah Ali Sistani. He was desperate to check the Hizballah leader, Hassan Nasrallah's meteoric rise to power in Beirut. In another development, military sources disclose that Israel's defense minister Ehud Barak's visit to Washington, scheduled for this week, was indefinitely postponed. Jerusalem was informed that the Washington-Tehran rapprochement, is so advanced that no administration official would be available to hear Israel's concerns regarding Iran, Syria and Hizballah. A senior administration official told DEBKAfile Thursday, July 17, that this was an unfortunate time for an Israeli minister to come to Washington to discuss these matters. Israel's prisoner exchange deal with Hizballah has turned out to have damaged Israel and given Hassan Nasrallah a massive prestige boost in Lebanon and the region. An alarmed Hariri flew to Baghdad on the day the exchange took place with an SOS for prominent Iraqi Shiite clerics to save Lebanon's Sunni communities from harm at the hands of the Shiite Nasrallah's Hizballah. The Lebanese Sunni politician was received on his arrival by Iraqi prime minister Nouri al-Maliki. He then traveled in a heavily secured convoy to the Shiite shrine city of Najef to meet Grand Ayatollah Ali Sistani, the most esteemed doctrinal scholar in the Shiite world, whom not even Iran's president Mahmoud Ahmadinejad or Nasrallah would dare defy. Our sources disclose that Hariri appealed to the grand ayatollah for a guarantee of protection for the Sunni community's rights in Lebanon. This step is unprecedented, especially on the part of a Lebanese politician who until recently was one of the most prominent pro-Western figures in the Middle East. Hariri evidently saw no other way of controlling the damage to Lebanon in the wake of new US-Iranian understandings. He was therefore willing to chance life and limb to make the journey to the Iraqi Shiite domain in search of help against Nasrallah's brutal bid for dominance.
Saudi King Shuns Extremism as Faiths Gather for Unity
July 18….(Christian Today) Saudi Arabia's King Abdullah called on followers of the world's major faiths to turn away from extremism and seek reconciliation as he opened an unprecedented interfaith conference in Madrid on Wednesday. The Saudi-sponsored gathering aims to draw Muslims, Jews and Christians closer together and isolate those who use religion to justify violence or intolerance. It was the first time Saudi Arabia, where non-Muslims cannot practice their faith openly, had invited Jews to such a meeting. The king also invited Buddhists, Hindus and Sikhs as he showcased a more tolerant side to Saudi Arabia's strict Wahhabi Islam, under fire since 15 Saudis were among the 19 Arabs who carried out the Sept. 11, 2001 attacks in New York. "My brothers, we must tell the world differences do not lead to conflict and confrontation," said King Abdullah, flanked by Spain's King Juan Carlos at a royal palace west of Madrid. "Tragedies that have occurred in history were not caused by religion but extremism adopted by some of the followers of each one of the religions, and political systems." Jewish and Christian leaders said Abdullah had struck a blow against religious fanaticism by gathering believers from so many faiths under the same roof. The meeting could not take place in Saudi Arabia, where traditional clerics have shunned contact with non-Muslims and even seen other Muslims, particularly Shi'ites, as infidels. There were no Israeli Jewish leaders or Palestinian Christian or Muslim delegates on the list of 288 religious, political and cultural figures attending the event, including Tony Blair and Jesse Jackson. King Abdullah said previous attempts at interfaith dialogue had failed because they had focused on religious differences. "If we want to have success in this historical meeting, we have to emphasize what we have in common, the belief and deep faith in God," said the monarch. "Religions should be a way to bridge our differences and not cause disputes." The king launched the dialogue plan after meeting Pope Benedict at the Vatican in November. Spain, once Muslim ruled, was chosen as a venue after the Saudi king visited last year.
Saudi King Appeals for Tolerance, Diversity in Religions
King Abdullah of Saudi Arabia has called on followers of the world's main religions to turn away from extremism and embrace a spirit of reconciliation.

King Abdullah and co-host
King Juan Carlos of Spain
July 18….(BBC) The king was opening a conference in Madrid which brings together Muslims, Christians, Jews and Buddhists. He said the great conflicts of history were not caused by religion, but by the misinterpretation of religion. King Juan Carlos of Spain, the co-host, said Spain had always sought to promote international dialogue. Critics have dismissed the gathering as a propaganda gimmick by the Saudis who, they say, are not best placed to host a meeting on religious tolerance. Wahhabism, the strain of Sunni Islam that is officially practised in Saudi Arabia, is considered one of the religion's most conservative and intolerant forms. "My brothers, we must tell the world that differences don't need to lead to disputes," King Abdullah said. "The tragedies we have experienced throughout history were not the fault of religion but because of the extremism that has been adopted by some followers of all the religions, and of all political systems." Correspondents say King Abdullah has made reaching out to other faiths a hallmark of his rule since becoming king in 2005. He is the first reigning Saudi monarch to meet the Pope, for example. In June, Abdullah held a religious conference in Mecca in which participants pledged improved relations between Islam's two main branches, Sunni and Shia Islam. The conference is sponsored by Saudi Arabia and is billed as a strictly religious, non-political affair. It is off limits to journalists apart from the inaugural session.
Christians Warned: Offend a Homosexual (get 5 years prison)
(Teachers, pastors facing 'criminalization of homophobia')
July 17….(WND) Christians will face prison for speaking out against homosexuality if Brazil's Senate passes a bill approved unanimously by its House of Representatives. The measure is considered the country's newest attempt to promote homosexuality, disguised as an act to prevent discrimination, the Catholic News Agency reports. If anyone prevents actions of "homosexual affection" in public or private locations open to the public, they could face up to five years in prison for doing so, the Association of the Defense of Life reports. The bill also seeks to penalize private and public school administrators with up to three years in prison if they refuse to hire openly "gay" teachers. According to the CNA, the measure will force prison time for any "moral, ethical, philosophical or psychological expression that questions homosexual practices." The ADL claims the bill could spell disaster for churches and teachers. "[A] priest, a pastor, a teacher or even an average citizen who says in a sermon, a classroom or public conversation that homosexual acts are sinful, disordered or an illness could be denounced and detained," the association said. Only weeks ago the president of Brazil said "opposing" homosexuality makes you a sick person, and he believes such thoughts need to be criminalized. Brazilian chief Luiz Inacio Lula da Silva, who won a narrow re-election following a cash-for-votes scandals, held the First National Conference of Gays, Lesbians, Bisexuals, Transvestites and Transsexuals to condemn the biblical belief that homosexuality is wrong. Lulu, on June 5, not only officially opened the event to promote homosexuality across his nation but also issued a presidential sanction for the conference. Calling for "the criminalization of homophobia," he said opposition to homosexuality is "perhaps the most perverse disease impregnated in the human head." He said "prejudiced" people need to "open their minds and clean them." Other speakers encouraged homosexuals to claim to be part of a civil rights campaign that already has brought reforms for treatment of blacks, the elderly and the disabled. They also announced the nation's public hospitals soon would begin to perform sex changes on people.
Israel Unhappy With US About-face on Iran
July 17….(Israel Today) The Bush Administration's sudden willingness to engage Iran in direct diplomatic talks even as Tehran presses ahead with its nuclear program is the source of much consternation in Jerusalem. Earlier this week, Washington announced that its third highest diplomat, Undersecretary of State William Burns, would join upcoming negotiations with Iranian nuclear negotiators. The US had previously refused to talk directly with Iran until the latter agreed to halt its uranium enrichment efforts. On Thursday, The Guardian reported that the Bush Administration was also planning to open a low-level diplomatic office in Tehran in the near future with an eye toward reestablishing full diplomatic relations. The unanticipated softening of America's position vis-a-vis Iran was met with satisfaction and approval from Iranian President Mahmoud Ahmadinejad, who has for years been prophesying that US efforts to prevent his nations from acquiring nuclear weapons would ultimately come to naught. The reaction in Israel was of a notably less pleased tone. "There is a bad feeling in Israel and dissatisfaction with the US move," Israeli diplomatic sources told the Associated Press. They said Washington had tried to reassure Israel by explaining that the moves were all aimed at better determining if Iran could be trusted. The Americans reportedly accused European foreign policy chief Javier Solana of misrepresenting the outcomes of his negotiations with Iran, and said they wanted to witness the next round of talks first-hand.
IsraelNationalRadio Director Promotes Aliyah from US
July 17….(IsraelNN.com) Israel National Radio Programming Director Yishai Fleisher, on a speaking tour in the US, is making waves with his heart-to-heart calls for Jews to return home on Aliyah. On Thursday, Fleisher was hosted by Nachum Segal on the "JM in the AM" morning radio show, widely heard throughout the New York area. The two discussed Fleisher's experiences in Gush Katif before and after the expulsion, and some of the positive lessons the religious-Zionist public learned in its aftermath. He praised those Jews of the US who recognize the goodness and blessing of the US, and choose to make Aliyah to Israel, the "destiny of the Jewish People," nonetheless. Fleisher further described God's pleasure in "having all His children at home."
We Only Get One Strike
July 17….(JPOST) An Israeli attack on Iran seems inevitable. If it succeeds, it will return to Israel its deterrent power and send a clear message to the saber-rattling jihadists that they were too early in beginning the countdown for the disappearance of the Jewish state. If it fails, or fails to achieve the majority of its objectives, it could amount to an act of national suicide. Fanatical Muslims on every side will be encouraged by the failure and outcome of an Iranian retaliation which would cause heavy damage to the whole center of our country. Iran would unquestionably be joined by its proxies on our borders, Hizbullah and Syria on the north and Hamas on the south, the PLO jihad brigades under various names, and the Arabs of Israel. The latter have already shown their ability to block major traffic arteries and demonstrated that their loyalties rest with their Arab brethren, not with the Jewish state. The repeated declarations of President Mahmoud Ahmadinejad that the aim of Iran is to wipe Israel off the world map should not be taken as the empty, fiery words of a fanatical Muslim dictator, but as a plan of action. True, Iran does not need a pretext, but an Israeli attack on any nuclear installation in Iran, or just an invasion of Iranian air space could be used as an excellent reason for mounting an all-out missile attack. The damage to Iran would be serious, but not devastating. Iran has a very high tolerance level. It proved it in the early 1980s during the war against Iraq, when Teheran and other places came under destructive attacks by Frog and Scud missiles and the Iranian army suffered heavy losses on the battlefield. Iran can live with one Israeli air raid or two; not with a nuclear attack. As it seems now, Israel does not have the military facilities to deal with the distances involved and with other technical obstacles to carry out a successful attack on Iran. A combined Israeli and American effort, however, could cause irreparable damage to the Iranian nuclear program. A non-nuclear Israeli attack on Iran would be a "surgical" operation. But an Iranian-Hizbullah-Hamas attack would be indiscriminate and aimed at the major urban centers, causing tremendous harm. Iran has the motivation to destroy Israel, and if it is allowed to gain nuclear weapons it will not need an excuse to do so. That motivation is a double one: messianic Shi'ite and expansionist-imperial. Since the late ninth century, the Shi'ites have been expecting the emergence of the hidden imam-mahdi, armed with divine power and followed by thousands of martyrdom-seeking warriors. He is expected to conquer the world and establish Shi'ism as its supreme religion and system of rule. His appearance would involve terrible war and unusual bloodshed. Ahmadinejad, as mayor of Teheran, built a spectacular boulevard through which the mahdi would enter into the capital. There is no question that Ahmadinejad believes he has been chosen to be the herald of the mahdi. Shi'ite Islam differs from Sunni Islam regarding the identity of the mahdi. The Sunni mahdi is essentially an anonymous figure; the Shi'ite mahdi is a divinely inspired person with a real identity. However both Shi'ites and Sunnis share one particular detail about "the coming of the hour" and the dawning of messianic times: The Jews must all suffer a violent death, to the last one. Both Shi'ites and Sunnis quote the famous hadith attributed to the Prophet Muhammad: The last hour will not come unless the Muslims fight against the Jews, and the Muslims would kill them until the Jews hide themselves behind a stone or a tree and the stone or the tree would say: "Muslim! Servant of Allah! Here is a Jew behind me; come and kill him!" Not one Friday passes without this hadith being quoted in sermons from one side of the Islamic world to the other. Shi'ism regards the Jews as an embodiment of filth and the contaminating source of ritual impurity, which adds another religious justification to the Muslims to rid themselves of the Jews and their state. Iran threatens that it has the ability to do so with its ballistic missiles and the readily available services of local proxies who would love to join the general effort to kill the Jews. The other side of Iran's motivation to destroy Israel is the imperial one. Iran has the same virus inherent in every totalitarian power, to gain imperial dominion. Totalitarian Iran wants to recreate its empire east of the Mediterranean. The leaders of modern Iran, long before the present Islamic regime, toyed with the idea of reviving the empire of Cyrus and Darius. The present Islamic regime has the same aspirations. Nuclear power is necessary to achieve this desire. As fantastic as it sounds, the destruction of the State of Israel seems necessary for the expansion to the east Mediterranean (which might include the elimination of a few Sunni entities such as Saudi Arabia and some Gulf states). Let us try a scenario in which Israel carries out a successful attack, with or without active American help, on a few key Iranian reactors. Such an operation would not completely destroy Iran's nuclear capability, but it would badly wound its national and Islamic pride. The Iranian people, including the opposition would, at least in the initial stage, rally around the ruling mullahs. The price of oil would soar, Israel would be blamed for the destruction of the West's economy, and Europe might go so far as to impose sanctions on Israel, with or without a UN decision. Moreover, being an easy target, Israel would have to brace for the inevitable Iranian retaliation. Iran would attack with the Shihab 3 ballistic missiles that carry a warhead of up to one ton and have an accuracy of 50 meters-100m. Israel has an answer to a limited number of these missiles, of which Iran has probably a few hundred. It has no answer to all the missiles that would be launched against it from three fronts. Theoretically, Iran can deliver 1,000-1,500 tons of the most modern explosives within a few days. The long-range missiles that have been supplied to Hizbullah via Damascus, and the arsenal that has been massed by Hamas in Gaza, which includes missiles that can reach Beersheba, must also be taken into consideration. There is no question that these two organizations will move into action together with Iran, and it is not impossible that Hizbullah would attempt the invasion of Israel proper to gain a local victory by occupying a border village, killing inhabitants and kidnapping a few over to Lebanon. This gruesome situation can happen any time, and not necessarily as a result of an Israeli attack on Iran. Such an attack, however, would surely bring it about. ARE THESE facts not known to the Israeli intelligence agencies? They are, but so were Hitler's intentions known to the British and the French before World War II, and they were known to the Russians before Operation Barbarosa. None of them did anything to stop the German dictator before it was too late. At the end of the war, Europe was freed. The Germans were defeated and none of the countries of Europe was obliterated from the map. In the case of Israel, there is no recovery from a one-time devastation. There is no second chance.
Israel Exchanges Terrorist Killers for Coffins
| | |
| --- | --- |
| | Hizballah officials present the coffins of Ehud Goldwasser and Eldad Regev, finally confirming the two Israelis the group abducted in 2006 are dead. |
July 17….(Israel Today) Banners hung just over the border in Lebanon said it all as Israel on Wednesday swapped five live Lebanese terrorists for the bodies of two Israeli soldiers: "Joy in Lebanon," "Pain in Israel." As Lebanon prepared to celebrate the triumphal return of four Hizballah fighters captured in the last war and a Lebanese member of a Palestinian terror group jailed in 1979, tears flowed in Israel as television images of two black coffins confirmed that Israeli reservists Eldad Regev and Ehud Goldwasser were dead. Taken alive and returned in coffins, Israelis could only imagine the horrors that their soldiers had endured at the hands of their captors. Regev and Goldwasser were abducted in a 2006 cross-border raid by Hizballah that sparked the Second Lebanon War. The Lebanese terror group had violated international law by keeping their captives' fates secret until the moment of the exchange, a tactic that inflicted tremendous anguish on the families of the two soldiers. While the agony across Israel following the moment of truth was palpable, most remained confident that the difficult decision made by the government of Prime Minister Ehud Olmert was the right one. Even if the soldiers came back dead, they needed to come back. That was the sentiment of most Israelis who spoke to the media during long hours of special coverage. But some, including top army officials, continued to warn that the swap would ultimately harm Israel. In particular, the pardoning and release of Samir Kuntar elicited was seen in a generally negative light. Kuntar was jailed in 1979 after leading a cell of Lebanese and Palestinian Arab terrorists who infiltrated northern Israel via the sea. After arriving in the Israeli coastal town of Nahariya, Kuntar killed a police officer and then brutally executed Danny Haran and his four-year-old daughter Einat on the beach outside their home. Observers fear that Kuntar's release and hero's welcome in Lebanon will only encourage more Arabs, both Lebanese and Palestinian, to join the campaign of terrorist violence against the Jewish state.
Israeli Critics Question Lopsided Prisoner Swap
July 17….(My Way) Critics of Israel's lopsided prisoner exchange with Lebanese guerrillas said Wednesday that such deals only encourage more hostage-taking - a fear underscored by Gaza militants who said the swap proves that kidnapping is the only language Israel understands. The deal, in which a notorious Lebanese attacker, four other militants and the bodies of 199 Arab fighters were traded for two dead Israeli soldiers, closed a painful chapter from Israel's 2006 war in Lebanon. But it also raised questions about whether Israel should reconsider its policy of bringing back every soldier from the battlefield at just about any cost. Israel has been carrying out unequal prisoner swaps for decades, including handing over 4,600 Palestinian and Lebanese captives in 1983 in exchange for six captured Israeli soldiers. In the past it's even traded live prisoners for bodies, as it did Wednesday. The rationale for such trades was a wartime ethic seen as essential in Israel's early days to instilling loyalty and commitment from its troops. In today's world of asymmetric warfare, with militant groups increasingly focused on kidnapping as a way to pressure Israel and with the fight against terrorism now a worldwide challenge, the lopsided swaps could have graver consequences than in the past. "What we've done now has made kidnapping soldiers the most profitable game in town," said Israeli security expert Martin Sherman. "There is absolutely no reason why Hezbollah should not invest huge resources now, along with Hamas, in the next kidnapping."
Hezbollah Returns Corpses to Israel & Claims Victory
July 17….(YNET) Five Lebanese militants freed from prisons in Israel in exchange for the bodies of two captured Israeli soldiers strode down a red carpet behind a Hezbollah honor guard Wednesday to a boisterous welcome from hundreds of cheering spectators. Israel released Samir Kantar and four others after Hezbollah handed over two black coffins with the bodies of the Israeli soldiers, closing a painful chapter from the 2006 war in Lebanon. Kantar, who had been serving multiple life terms in Israel for a grisly 1979 attack, wiped away tears as he stood before hundreds in the coastal border town of Naqoura in southern Lebanon. An honor guard escorted the men to a stage as a brass band played martial music and rows of uniformed fighters saluted. The five later flew to Beirut, where they received an official welcome from the president and his government. Winning freedom for Kantar was one of the reasons Hezbollah leader Sheik Hassan Nasrallah cited at the time for going to war with Israel in 2006. Kantar was convicted in a nighttime attack that killed a 4-year-old girl, her father and a policeman. In the dead of night on April 22, 1979, Kantar and three other gunmen made their way in a rubber dinghy from Lebanon to the sleepy Israeli coastal town of Nahariya, 5 miles south of the Lebanese border. There, in a hail of gunfire and exploding grenades, they killed a policeman who stumbled upon them, then burst into the apartment of Danny Haran, herding him and his 4-year-old daughter outside at gunpoint to the beach below, where they were killed. An Israeli court found that Kantar shot Danny Haran in front of his child, then smashed her head with his rifle butt. Although polls showed Israelis solidly endorsed the exchange, many see Kantar as the embodiment of evil. "Samir Kantar is a brutal murderer of children and anybody celebrating him as a hero is trampling on basic human decency," said Mark Regev, spokesman for the Israeli prime minister. Wednesday's exchange was also a wrenching end to the war for Israel. The soldiers' capture by Hezbollah fighters in a cross-border raid in 2006 triggered the 34-day war. The campaign to bring Ehud Goldwasser and Eldad Regev home had become a national crusade. The soldiers' Hezbollah captors had withheld any information about them since they were taken, refusing to release pictures or allow the Red Cross to see them. It was not clear if Regev and Goldwasser were killed in the original raid or if they died in captivity. Hezbollah's commander in south Lebanon, Sheik Nabil Kaouk, called the swap an "official admission of defeat" for Israel. An official ceremony was planned at Beirut Airport and was to be attended by Lebanon's president, prime minister and parliament speaker. Later, Nasrallah was to address what is expected to be a huge celebration at Hezbollah's stronghold south of Beirut.
Saudi King Offers Russia Arms Deal if it Curbs Iran Ties
| | |
| --- | --- |
| | (FOJ) Prince Bandar bin Sultan, secretary-general of Saudi Arabia's National Security Council, and Russia's Prime Minister Vladimir Putin enter a hall for a signing ceremony yesterday. This strategic meeting basically demonstrates the "king of the South's anxiety over the growing alliance Russia has developed with the very nations that the prophet Ezekiel foresaw in chapter 38 in the Magog scenario. |
July 16….(Reuters) Saudi Arabia has offered to award major arms contracts to Russia in return for Moscow curtailing cooperation with Iran, Russia's Kommersant newspaper reported on Tuesday, citing unidentified diplomatic sources. Saudi Prince Bandar bin Sultan met Russian President Dmitry Medvedev and Prime Minister Vladimir Putin in Moscow for talks on Monday that focused on widening bilateral cooperation. Kommersant said Saudi Foreign Minister Prince Saud al-Faisal suggested Russia curtail its cooperation with Iran at a meeting in Moscow this February. The proposal was made to the Kremlin in the name of King Abdullah. "The Kingdom's leadership advised Moscow to phase out cooperation with Tehran and in return promised attractive contracts with Saudi Arabia," said the paper, one of Russia's most respected dailies. "In essence, Russia was offered to become a major partner in the Middle East." The paper said Bandar, who heads Saudi Arabia's National Security Council and is an influential former ambassador to Washington, fleshed out the proposal when he met Kremlin leaders this week. Saudi Arabia, the world's top oil producer and a close US ally, is wary of Iran's ambitions and shares Western concerns that Tehran is seeking to develop nuclear weapons. Iran says its nuclear program is peaceful. Russia, which has tried to boost cooperation with Tehran, says there is no evidence Iran wants to build a nuclear weapon but Moscow fears a conflict in the region would stoke instability close to its southern borders. Russia, awash with oil cash, has been trying to increase its influence in the Middle East after the chaos which accompanied the fall of the Soviet Union. Moscow is helping Tehran build its first nuclear power station and Putin, while still president, visited both Riyadh and Tehran last year. It was the first visit by a Russian leader to the Saudi kingdom and marked closer ties since a 2003 visit by King Abdullah, then crown prince, to Moscow. Saudi Arabia is interested in buying air defence systems, helicopters and tanks from Russia, Kommersant said. "Saudi Arabia strives to have varied sources of arms," Bandar was quoted as saying by Russian news agencies on Monday after talks with Putin.
Hizbullah Gearing up For War, Olmert Asks for UN Help
July 15….(IsraelNN.com) Arab reports indicate that Hizbullah is preparing to arm its rockets with chemical warheads and to build extensive fortifications. Defense Minister Ehud Barak blames the Syrians, while Prime Minister Ehud Olmert asks the United Nations to do something. "[UN] Resolution 1701 is being violated. The Hizbullah continues to get stronger with the ongoing and intimate assistance of the Syrians," according to Defense Minister Barak. Speaking at a meeting of the Labor party's Knesset representatives on Monday, Barak said, "The delicate balance that exists on the northern border should not be violated on the two-year anniversary of the Second Lebanon War. We should make an explicit statement: Resolution 1701 did not work, it is not working, and all indications are that it will not work in the future. It is a failure." Adding further weight to Defense Minister Barak's declaration is an article in the Kuwaiti daily Al-Siyasa, which reported Monday that Hizbullah has acquired chemicals needed to make weapons such as nerve gas or mustard gas from North Korean suppliers. The Lebanese terrorist organization is allegedly preparing to arm its Katyusha rockets with such chemical warheads. Echoing Barak's claims, the Kuwaiti paper also stated that the assistance of Syria and Iran has been crucial in Hizbullah's efforts to acquire chemical weapons capabilities. The Al-Siyasa report was based on intelligence provided to the Kuwaiti paper by Syrian opposition figures in the United States. Other Arab sources also indicate Hizbullah is entrenching itself for another attack on Israel. The organization is reportedly stockpiling "truckloads" of building materials, such as steel and concrete, in order to restore and expand the terrorists' network of fortifications in southern Lebanon. Beirut-based Dalal Steel Industries, a leading manufacturer of steel reinforced buildings, reported that it has provided Hizbullah with substantial bunker-building and other materials. The company told Arab media that it had been shipping Hizbullah orders southwards towards Israel's border. The underground bunkers used by Hizbullah, usually hidden by natural cover such as trees and foliage, were coined "nature reserves" by the IDF in the 2006 Second Lebanon War, and they proved difficult targets to find and destroy. Eyewitness accounts allege that Hizbullah members are preventing UNIFIL forces from inspecting the trucks or preventing their movements. Reports by UNIFIL commanders have confirmed that local Hizbullah supporters have effectively prevented the force from efficiently performing its duties under UN Security Resolution 1701, which ended the 2006 Lebanon War. Among other tasks, the UNIFIL mandate is to assure a southern Lebanon "free of any armed personnel, assets and weapons other than those of the Government of Lebanon and of UNIFIL deployed in this area." In light of the failure of UNIFIL and the ratcheting up of Hizbullah forces, Prime Minister Ehud Olmert turned to UN Secretary-General Ban Ki-Moon to prevent weapons smuggling to Hizbullah units in southern Lebanon. "UNIFIL must act much more intensively," Olmert said during a meeting with Ki-Moon on Monday
Iran and Russia Sign Major Oil Deal
July 14….(Jerusalem Post) A few days after French oil giant Total withdrew from its planned multi-billion dollar gas investment project in Iran, Russia's Gazprom is entering the market in a multi-billion-dollar deal. Gazprom's Chief Executive Alexei Miller met on Sunday with Iranian President Mahmoud Ahmadinejad and went on to sign an agreement for developing Iranian oil and gas fields. Iran has offered Gazprom an extended package for the development of oil and gas fields; construction of refineries; transfer of oil from the Caspian Sea to the Sea of Oman; development of Iran's North Azadegan oil field; exchange of technology and experience; and the possible participation of Gazprom in the planned pipeline between Iran, India and Pakistan. Azadegan is Iran's biggest onshore oil field with an estimated 42 billion barrels of crude oil. Iranian firms began working on the field in February after the Japanese partner, Inpex, quit the project. The accord also includes the future formation of a joint company between the two countries, for cooperation in oil and gas. Official reports from both countries have not yet revealed if the South Pars gas field will also be part of the deal. Last week, France's Total decided to freeze its investments in South Pars, following Iran's test-fire of long-range missiles.
Paris Summit: Leaders Pledge to work for WMD-free Middle East
Officials from 43 nations from Mediterranean's shores vow to work together to create stable, safer Middle East
July 14….(AP) Forty-three nations, including Israel and Arab states, pledged Sunday to work for a Middle East free of weapons of mass destruction at the close of a summit to launch an unprecedented Union for the Mediterranean aimed at securing peace across the restive region. In a final declaration, Israel, Syria, the Palestinians along with countries across Europe, the Middle East and North Africa agreed to "pursue a mutually and effectively verifiable Middle East Zone free of weapons of mass destruction." The countries committed to "consider practical steps to prevent the proliferation" of nuclear, chemical and biological weapons and their delivery systems. It was unclear, however, how the signatories would enforce the pledge. Israel is widely believed to have a stockpile of nuclear weapons but neither confirms nor denies it has them, an ambiguity meant to scare potential enemies from considering an annihilating attack while denying them the rationale for developing their own nuclear deterrent. Recently, tensions between Israel and arch enemy Iran have risen over Tehran's nuclear program. Iranian President Mahmoud Ahmadinejad has often spoken of wiping Israel off the map. And Israel and its ally the United States believe Tehran's nuclear program is aimed at producing nuclear weapons, despite Iran's insistence it is for producing nuclear energy. Syria, another Israeli foe, may also have nuclear ambitions. Last year, Israeli jets destroyed what US intelligence officials said was believed to be a partially built nuclear reactor in Syria, though Syrian officials said it was part of a non-nuclear military program. While trying to unify the region, the summit laid bare the deep divisions that still slice through it and highlighted how hard it will be to parlay the meeting's goodwill and words into real progress. Syria's president refused to shake the Israeli prime minister's hand. Still, summit host Nicolas Sarkozy, France's president, reveled at having brought so many leaders to the same table for the first time. "We've dreamed about a Union for the Mediterranean, and now it is a reality," Sarkozy said in closing the summit in a palace abutting the River Seine. He called it an "extremely moving, very important moment." The summit declaration also condemned "terrorism in all its forms" and announced six major projects, from a common university and easier travel visas for students to depolluting the Mediterranean Sea and promoting solar power. It also spoke of democratic principles, human rights and fundamental freedoms, values Western critics have accused such union members as Syria of violating. Sarkozy went to special efforts to bring Syria into the international fold for the summit: Assad met Lebanese President Michel Suleiman and German Chancellor Angela Merkel, separately, both for the first time. And he met Sarkozy after years of chill between their countries.
Bush Gives Israel Tentative 'OK' to Strike Iran
July 14….(WND) US President George W. Bush has given Israel the go-ahead to draw up a full plan of attack to take out Iran's main nuclear facilities and to present it to him for final approval, according to a senior Pentagon official who spokes to London's Sunday Times. The official said the president had given Israel an "amber light," explaining that "amber means get on with your preparations, stand by for immediate attack and tell us when you're ready." Israeli officials who had previously admitted to preparing for a possible strike on Iran's nuclear facilities said that such an attack would be impossible without a green light from Washington, as Israeli planes would need to travel through US-controlled Iraqi airspace. Israel would also need America's assistance in dealing with the diplomatic aftermath. The Pentagon source said that the Bush Administration had already determined not to attack Iran, but noted that "the president is really preoccupied with the nuclear threat against Israel and I know he doesn't believe that anything but force will deter Iran." Israeli Defense Minister Ehud Barak is scheduled to travel to the US on Monday where he will meet with various Pentagon officials to discuss how best to handle the Iran threat. An aide to Iran's Supreme Leader Ayatollah Ali Khamenei warned on Saturday that if an attack is launched on his country's nuclear facilities, Iran will "destroy" Israel and 32 American military bases across the Middle East. "If Israel and the US fire a bullet or a missile at Iran, its forces will attack the heart of Israel and 32 American bases in the region before the dust from such an attack has settled," Mojtaba Zolnour, Khameini's deputy representative in the Revolutionary Guards, told Iran's Fars news agency. Iran last week held what it called a major test of its improved medium-range missile arsenal, indicating that it possessed the means to launch a substantial counter-strike against Israel. However, Israeli and Western analysts who examined the missile test photographs so proudly distributed by Iran noted that they had been doctored. The Israelis further noted that the missiles in the photos appeared to be Iran's older Shihab-3 missiles, which are not capable of hitting Israel. The affair called into question Iran's ability to actually retaliate against Israel in the event of an aerial assault on its nuclear facilities.
43 Nations Creating Mediterranean Union
| | | |
| --- | --- | --- |
| | French President Nicolas Sarkozy greets Israel's Prime Minister Ehud Olmert during arrivals for a Mediterranean Summit at the Grand Palais in Paris July 13, 2008. The Union for the Mediterranean brings together leaders of 43 nations in Europe, the Middle East and North Africa, some of whom have never before sat around a single table. | |
July 14….(AP) More than 40 nations home to 800 million people were set Sunday to join in a Union for the Mediterranean, a vast though vague body its boosters hope can nudge this disparate and conflicted swath of the world toward peace and stability. Israeli, Syrian and Palestinian leaders were among those attending an unprecedented gathering on the River Seine in Paris. Coping with age-old enmities involving their peoples and others along the Mediterranean shores will be a central challenge to the new union. French President Nicolas Sarkozy urged nations around the Mediterranean to "learn to love one another rather than to continue to hate each other and wage war." Israeli Prime Minister Ehud Olmert said: "We are closer than ever to a possible peace agreement today" with the Palestinians, and said he hoped for direct contacts "soon" with enemy Syria. France's foreign minister urged the countries to unite to deal with global warming, growing migration and shrinking water and energy resources. "To do nothing would be a risk. We are fragile. Our world is fragile. Latent tensions and growing disparities are too dangerous for this unstable epoch. We have everything to gain by reinforcing our ties," Bernard Kouchner said to fellow foreign ministers from across Europe, the Middle East and Africa. The ministers were meeting in the grandiose Grand Palais abutting the Seine River. Later Sunday, presidents or prime ministers of 43 countries meet at a summit hosted by Sarkozy and Egyptian President Hosni Mubarak. The Union for the Mediterranean is Sarkozy's brainchild, originally devised as a pillar of his presidency and of France's leadership of the European Union. France holds the rotating EU post until the end of this year. Sarkozy made the unusual step of reaching out to Syria, a nation often accused of sponsoring terrorism and undermining regional unity, in an effort to bring it back into the international fold ahead of Sunday's summit. "How can we make peace if we don't speak with" everyone, Sarkozy asked alongside the Israeli and Palestinian leaders Sunday morning. Sarkozy asked Syrian President Bashar Assad for help in easing the international standoff with Iran over its nuclear program. Assad asked France to contribute efforts toward a peace deal between Syria and Israel. Assad appeared to throw cold water on speculation of a possible one-on-one meeting with Israeli Prime Minister Ehud Olmert at this weekend's summit. Assad said indirect Israeli-Syrian talks mediated by Turkey could turn into full-fledged direct negotiations, but suggested little progress was likely before the United States elects a new president.
| | |
| --- | --- |
| | (FOJ) Could this new Mediterranean Union be the entity which provides the political arena for the emergence of the Antichrist? This area would constitute the geographical territory of the old Roman Empire. |
The new union is to include at least 43 nations, all of which are sending a president or prime minister to the summit, except for Libya. Libyan leader Moammar Gadhafi objected to the whole idea and refused to come.
Assad Walks Out on Olmert in Paris Summit
July 14….(IsraelNN.com) Syrian strongman Bashar Assad confounded some Israelis' hopes that he would sit next to Prime Minister Ehud Olmert or perhaps even talk to him in the Paris Mediterranean Union summit. Assad walked out of the auditorium before Olmert's speech at the Union of the Mediterranean summit in Paris. The two did not shake hands and sat at a distance from each other. Earlier in the day, Olmert used Turkish Prime Minister Tayyip Erdogan to relay a message to Assad. Olmert's spokesman Mark Regev said that the Prime Minister asked Erdogan to tell Assad that he was "completely serious about the progress in the contacts with Syria." Erdogan later met with Assad. Assad was not the only one giving Olmert the cold shoulder in Paris: Olmert's own foreign minister, Tzipi Livni, reportedly did not speak to Olmert on the flight to Paris and even sat at a distance from him when they were received by French President Nicolas Sarkozy. Livni hinted Sunday that she believed Olmert was on his way out of the Prime Minister's Office. Asked by reporters at the summit if she agreed with Olmert's claim that the law enforcement branches had gone too far in their handling of accusations against him, Livni stated: "I did not need the latest scandal to determine my position. "Livni did not speak to Olmert on the flight to Paris and even sat at a distance from him when they were received by Sarkozy.
"Peace closer than ever"
Olmert put a brave face on matters despite the investigations which threaten to put and end to his premiership, and stated: at a joint news conference with Sarkozy and PA-Fatah chairman Mahmoud Abbas: "It seems to me that we are closer tham ever to the possibility of reaching an accord as we are today." "It seems that we have reached the time when the Palestinian authorities and the Israelis have to take serious and important decisions that will finally take us to where we have never been before," Olmert added.
Sarkozy taking "huge risk"
Sarkozy has high hopes for the summit as a means of improving Israeli-Arab relations, according to experts who spoke with JTA. "This conference is fascinating," said French Jewish sociologist and historian Jacques Tarnero. "I think Sarkozy wants to use the Mediterranean union to have Israel accepted by its Arab neighbors." "He's taking a huge risk," he added. "There is a minimum that Arab states along the Mediterranean need to accept in this project, and that minimum is Israel.
Assad Cold Shoulders Olmert-Sarkozy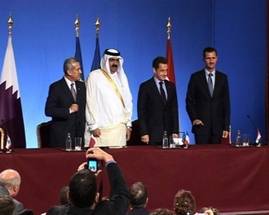 July 14….(DEBKA) French president Nicolas Sarkozy organized a jovial photo-op with Israeli prime minister Ehud Olmert and Palestinian Authority chairman Mahmoud Abbas to launch his Mediterranean union debut in Paris Sunday, July 13, attended by 40 leaders. The first sour note came from Syrian president Bashar Assad, who was reinstated by Sarkozys invitation on the international stage. He and foreign minister Walid Mualem walked out as Olmert entered to the hall to deliver a speech. Earlier, Assad had his security men jostle Israel correspondents and TV cameras out of his way as he swept past. And he firmly rejected Sarkozy's effort to arrange a meeting with the Israeli prime minister and announced that peace with Israel could take another two years. This reply followed Olmert's optimistic statement to reporters: "We have never been as close to an accord as we are today." Abbas and Sarkozy beamed their approval of Olmert's statement and co-chairman Egyptian president Hosni Mubarak called on Israel and the Palestinians to work harder for a peace deal to pave the way for a Palestinian state. Behind the bonhomie, DEBKAfile's Middle East sources report that Abbas' Fatah and its rival, the rejectionist Palestinian Hamas, have never been so close to a peace accord as they are today, largely due to the efforts of Mubarak himself. Success in this effort would write finis to the US-sponsored Palestinian peace track with Israel. This is the real purpose of the lengthy talks the Hamas delegations from Gaza and Damascus have been holding in Cairo. According to our sources, the rival factions have covered considerable ground:
1. Hamas has agreed to relinquish its rule of the Gaza Strip and accept a government manned by nonpartisan technocrats.
2. Parliamentary and presidential elections will be held in the Gaza Strip and West Bank, the date subject to the Hamas proviso that it is admitted to the Palestinian Liberation Organization leadership under a major structural reform.
3. Hamas and Fatah have agreed to Egyptian military forces' deployment in the Gaza Strip to organize and train Palestinian security and intelligence bodies.
Mahmoud Abbas' Fatah, Hamas and Egypt agreed to leave Israel out in the cold and present the Palestinian reunion as a fait accompli. They reckoned that Israel would swallow the deal if captive Israeli soldier Gilead Shalit were freed. In any case, the prime minister Olmert is not expected to survive the corruption scandals gathering over his head. The Palestinians groups and Cairo are moving forward as though George W. Bush, whose two-state solution was one of the high points of his international policy, had already left the White House.
WEEK OF JULY 6 THROUGH JULY 13
IDF & Iraq Deny IAF using Iraqi Airspace
July 12….(Jerusalem Post) Iraq denied on Friday reports claiming the Israeli Air Force has been practicing for a possible attack against Iran in its airspace. "As the Ministry of Defense, we haven't observed any IAF warplanes practicing in Iraqi airspace," said Major-General Mohammad al-Askari, spokesman for the Iraqi Defense Ministry. On Friday, sources in the Iraqi Defense Ministry told a local news network that Israel Air Force (IAF) war planes are practicing in Iraqi airspace and land on US airbases in the country as a preparation for a potential strike on Iran. The IDF has also denied the reports, calling them "baseless." The report, which was also carried by Iranian news outlets, claimed that recently massive IAF overnight presence was detected in several American held airbases. According to the sources, former military officers in the Anbar province said IAF jets arrive during the night from Jordanian airspace, enter Iraq's airspace and land on a runway near the city of Hadita. The sources estimated the jets were practicing for a raid on Iran's nuclear sites. The sources also said the American bases in Iraq might serve as a platform for the IAF from which to attack Iran. If Israeli warplanes will take off from Iraq, they can reach Bushehr in five minutes, a "record time," the sources said. An IDF spokesperson said the earlier Iraqi reports were "unfounded."
New Beirut Government Restores Syrian Control over Lebanon
July 12….(DEBKA) The majority bloc headed by the incumbent Fouad Siniora holds 16 portfolios in the new Lebanese government, the opposition led by Hizballah, holds 11. President Michel Suleiman exercised his prerogative to name three ministers. This lineup represents the national accord reached in Qatar earlier this year to end Lebanon's political crisis. But the numbers, DEBKAfile's Middle East sources note, add up to the radicalization of the new administration. The pro-Iranian Hizballah-led opposition has gained veto power and Damascus has solidified its grip on Lebanon's center of power, both through the Shiite-led bloc and through a first-time cabinet member, the Syrian Social Nationalist Party, the SSNP, which is dedicated to a Greater Syria. Thus Tehran and Damascus have succeeded in thrusting aside American and French bids for influence. According to DEBKAfile's counter-terror sources, the shadowy SSNP was Syrian intelligence's favorite terrorist arm in Lebanon for assassinations, attempted coups and bombings. Its operatives often worked with Hizballah (especially its military chief Imad Mughniyeh) and were believed implicated in the US embassy bombings in Beirut of 1982 and 1984. The first known female suicide bomber in terrorist history was a SSNP operative who detonated a truck bomb which killed two Israel soldiers in 1985. Another member was accused of assassinating Lebanese president Beshar Gemayel in 1982. The SSNP leader at the time, appointed by Damascus, was Ali Qanso, who now takes a seat in the new Lebanese government as minister of state. The same Lebanese party also holds one seat in the Syrian parliament, having been granted legal standing by President Bashar Assad in 2005. The SSNP is now Syria's largest party after the ruling Baath, while also represented in the Beirut government. It is thus faithful to its Greater Syria tenet which names Lebanon "Western Syria."
Congress Warned: US risks 'Catastrophe' in EMP Attack
(Expert: Growing threat posed by Iran, Russia, China, North Korea, terrorists)
July 12….(WND) A top scientist today warned the House Armed Services Committee America remains vulnerable to a "catastrophe" from a nuclear electromagnetic pulse attack that could be launched with plausible deniability by hostile rogue nations or terrorists. William R. Graham, chairman of the Commission to Assess the Threat to the United States from Electromagnetic Pulse (EMP) Attack and the former national science adviser to President Reagan, testified before the committee while presenting a sobering new report on "one of a small number of threats that can hold our society at risk of catastrophic consequences." "Not taking the steps necessary to reduce the threat in the next three to five years "can both invite and reward attack," Graham told the committee. The scariest and most threatening kind of EMP attack is initiated by the detonation of a nuclear weapon at high altitude in the range of 25 to 250 miles above the Earth's surface. The immediate effects of EMP are disruption of, and damage to, electronic systems and electrical infrastructure. Such a detonation over the middle of the continental US "has the capability to produce significant damage to critical infrastructures that support the fabric of US society and the ability of the United States and Western nations to project influence and military power," said Graham. Several potential adversaries have the capability to attack the United States with a high-altitude nuclear weapon-generated electromagnetic pulse, and others appear to be pursuing efforts to obtain that capability," said Graham. For example, an adversary would not have to have long-range ballistic missiles to conduct an EMP attack against the United States. Such an attack could be launched from a freighter off the US coast using a short-or medium-range missile to loft a nuclear warhead to high altitude. Terrorists sponsored by a rogue state could attempt to execute such an attack without revealing the identity of the perpetrators. Iran, the world's leading sponsor of international terrorism, has practiced launching a mobile ballistic missile from a vessel in the Caspian Sea. Iran has also tested high-altitude explosions of the Shahab-III, a test mode consistent with EMP attack, and described the tests as successful. Iranian military writings explicitly discuss a nuclear EMP attack that would gravely harm the United States. Graham reminded the committee even smaller nuclear weapons can create massive EMP effects over wide geographic areas. He also pointed out that United Nations investigators recently found that "the design for an advanced nuclear weapon, miniaturized to fit on ballistic missiles currently in the inventory of Iran, North Korea and other potentially hostile states, was in the possession of Swiss criminals affiliated with the AQ Khan nuclear smuggling network." Theoretically, an EMP attack is devastating because of the unprecedented cascading failures of major infrastructures that could result. Because of America's heavy reliance on electricity and electronics, the impact would be far worse than on a country less advanced technologically. Graham took the EMP debate out of the realm of science fiction by reminding the committee that as recently as May 1999, during the NATO bombing of Yugoslavia, Russian leaders threatened a US congressional delegation with the specter of such an attack that would paralyze the US. He also quoted James J. Shinn, assistant secretary of defense for Asian and Pacific Security, who two weeks ago told the same House committee that China's arms buildup includes exotic experiments with electromagnetic weapons that can devastate electronics with bursts of energy similar to those produced by a nuclear blast. "The consequence of EMP is that you destroy the communications network," Shinn said. "And we are, as you know, and as the Chinese know, heavily dependent on sophisticated communications, satellite communications, in the conduct of our forces. And so, whether it's from an EMP or it's some kind of a coordinated anti-satellite effort, we could be in a very bad place if the Chinese enhanced their capability in this area." Graham says terrorists who get their hands on one or a few unsophisticated nuclear weapons might well calculate they could get the most bang for their buck from attempting an EMP attack. "The commission reviewed current national capabilities to understand and to manage the effects of EMP and concluded that the US is rapidly losing the technical competence and facilities that it needs in the government, the national laboratories and the industrial community."
Russia Denies Iran is a Threat, Orders US to Drop Missile Shield Plan
(Russia has ordered the United States to drop its missile shield proposals after claiming that Iran's recent military exercises proved that Tehran did not have the firepower to attack Europe.)
July 12….(Telegraph) Escalating a war of words with Washington, Sergei Lavrov, the Russian foreign minister, said that this week's Iranian missile tests had provided further evidence of an American plot to neuter Moscow's nuclear deterrent. Iran launched a disputed number of its Shahab-3 ballistic missiles, which have a maximum range of 1,250 miles, during this week's Great Prophet III military exercises. Even though some analysts say that the Shahab-3 is capable of hitting southern Hungary, Lavrov claimed the tests showed that American plans to build a missile defense shield in Central Europe were unnecessary. "This proves what we've said before, that the idea of deploying the US missile shield in Europe is not needed to monitor and respond to missiles of this range," he said. "We are certain that talk of a missile threat emanating from Iran is an invented motive for deploying a missile shield in Europe." The minister's comments, which will cause both perplexity and irritation in Washington, come just days after Russia threatened a military response if the shield goes ahead. While the United States has never disputed Russia's claim that Iran lacks the technology to strike at the heart of Europe today, it has argued that it could acquire the ability to do so over the next decade or two. Bush administration officials said that this week's tests ought to convince Russia that the threat from Iran is substantial enough to make the erection of a shield essential for the protection of Europe. "This certainly addresses the doubts raised by the Russians that the Iranians won't have a longer range ballistic missile for 10 to 20 years," Robert Gates, the US defense secretary, said. "The fact is they just tested a missiles that has a pretty extended range." The United States on Tuesday secured a deal to build a key component of the defense system in the Czech Republic, a development that enraged Moscow. Dmitry Medvedev, the new Russian president, said he was "extremely upset" and threatened "retaliatory steps". The foreign ministry's response was even starker. "We will have to use military-technical rather than diplomatic methods," it warned. Even though the shield is clearly aimed at retaliating against a limited nuclear strike, it will consist of just 10 interceptor missiles, Russia believes that the United States is intent on containing its nuclear arsenal, the largest in the world. Vladimir Putin, the Russian prime minister, even threatened to retrain nuclear missiles on Europe if the system was deployed. The United States, which has won Nato backing for the shield, is still waiting for Poland to agree to host the 10 interceptor missiles. If that is given, the system should be installed by 2012.
OPEC Warns War With Iran Would Cause 'Unlimited' Oil Price Hike
July 11….(Fox News) World energy needs will spike by more than 50 percent by 2030 but adequate oil reserves, conservation and new methods of recovery mean supply will keep pace with demand, the Organization of Petroleum Exporting Countries said Thursday. Still, OPEC's secretary general acknowledged that dangers to steady supply exist. Addressing one, the threat of a US or Israeli attack on Iran because of its nuclear defiance, he warned that his organization was unprepared, and unable, to make up for resulting oil shortfalls. "It is impossible to replace the production of Iran," OPEC's No. 2 producer, Abdalla Salem El-Badri told reporters at the presentation of the organization's long term oil market outlook. "The prices would go unlimited. I can't give you a number." The United States and Israel have not ruled out a military strike on Iran as a last option if it does not give up uranium enrichment and heed other UN Security Council demands meant to dispel the fear Tehran wants to make nuclear arms. Tehran produced just over 4 million barrels of crude a day last year, more than 10 percent of OPEC's total production. In its report, "World Look Outlook for 2008," OPEC took issue with critics blaming present skyrocketing prices on the refusal of the organization to increase output, asserting that the weak US dollar and market speculators were at least partly to blame. And it suggested that decades of low prices led to under-investment, leaving the industry ill-prepared to sate the increased hunger for crude generated by strong economic growth. Past "low prices were bad for the oil industry, and in the longer term they were also bad for consumer," said the summary of the 214-page report. At the same time, despite delivery bottlenecks, "there is enough oil to meet the world's needs for the foreseeable future," it added. El-Badri made the same point. "Today, what is apparent is that oil supply and demand fundamentals are healthy," he wrote. "There is, and has been, more than enough supply to meet demand, and oil stocks in major consuming countries are at comfortable levels," he said. "This should point away from the direction of current price levels." Later, he said there was no reason for present prices because there was "plenty of oil in the market and plenty of oil in stocks." The report projected oil demand to rise by 29 million barrels a day from 2006 through 2030 to reach a daily 113 million barrels a day, a drop of 4 million barrels a day over its predictions last year, "due in part to the higher oil price assumption," expectations that pricey petroleum is here to stay. A large part of that projected demand will be met by new recovery and production procedures, meaning total demand for "conventional crude," oil pumped from wells and other methods using present day technology, will not exceed 82 million barrels a day by 2030, said OPEC. In comparison OPEC last month said it expects oil consumption this year to amount to an average of 86.9 million barrels per day. "Oil has been in the leading position in supplying the world's growing energy needs for the past four decades, and there is a clear expectation that this will continue," said the report, estimating that crude and other fossil fuels will make up 85 percent of the world's energy mix in 2030. "Gas is expected to grow at fast rates, while coal retains its importance in the energy mix." The generally optimistic tone of the report contrasted sharply with forecasts published last week by the International Energy Agency. That report by the energy watchdog of the world's top industrialized nations predicted that oil supplies will remain tight at least for the next five years, despite record prices that have reduced demand. And IEA Executive Director Nobuo Tanaka said the world was in the grip of an "oil shock," similar to once in the 1970s and then the 1980s, but with no simple fix this time. In its monthly forecast Thursday, the IEA slightly raised its forecast for global oil demand this year and said growth would continue in 2009 thanks to demand in developing countries. Light, sweet crude for August delivery rose $1.80 to $137.85 on the New York Mercantile Exchange. That is still below last week's record high of almost $146 a barrel. Part of the OPEC report's upbeat tone appeared to be based on the belief that new discoveries will make up for increased demand. "The level of ultimately recoverable reserves is clearly more than sufficient to supply the amount of crude oil and NGLs (natural gas liquids) that will be needed," it said, saying new estimates of additional reserves make figures on which present estimates are based outdated. Publicly, Western leaders and the Organization of Petroleum Exporting Countries are split over the cause of record oil prices. OPEC blames the weak US currency and speculators. The West says it is a supply issue. In the report, OPEC again blamed "the fall in the value of the dollar in relation to other currencies" for driving investors to buy oil every time the dollar falters. And it noted the trade in "paper barrels," oil futures that are bought and then quickly sold to lock in profits on each price spike, has risen to more than 18 barrels to each "physical barrel" traded, a threefold increase to just five years ago. "Many believe that the proper functioning of futures markets has been altered by the various loopholes that effectively allow unlimited and undetected speculation, far beyond the limits of healthy liquidity-providing levels towards damaging price-distorting ones." said the report. Booming economic growth in China, India and other developing nations has added to the demand that has seen prices triple over the past three years, and the OPEC report said that trend will continue into its forecast period, even though per capita consumption will remain substantially below that of the United States and other industrialized countries. Citizens of developing nations "will consume, on average, approximately five times less oil per person" than their counterparts in developed nations, it said.
Israeli Jets Flying over Iraqi Territory in Preparation for Strike on Iran
July 11….(YNET) Sources in Iraq's Defense Ministry say for past month Israel using American bases to conduct overflights as part of rehearsal for possible bombing or Iranian nuclear facilities. Israeli fighter jets have been flying over Iraqi territory for over a month in preparation for potential strikes on Iranian nuclear facilities, sources in the Iraqi Defense Ministry told a local news network Friday, adding that the aircraft have been landing in American bases following the overflights. Word of Israel's alleged Air Force maneuvers in Iraq has reached Iran. The sources said the US has boosted security in and around the bases used by Israel during the exercises. According to the Defense Ministry officials, retired Iraqi army officers in the Al Anbar district reported that fighter jets have been regularly entering Iraqi airspace from Jordan and landing at the airport near Haditha. The sources estimated that should the Israeli jets take off from the American bases it would take them no more than five minutes to reach Iran's nuclear reactor in Bushehr. American officials said recently that more than 100 Israeli F-16 and F-15 fighters took part in maneuvers over the eastern Mediterranean and Greece in the first week of June, apparently a rehearsal for a potential bombing of Iran's nuclear facilities.
Terrorism's World Capital
July 11….(Frontpage) Imagine that your neighborhood is overrun by a gang. These brutes are wielding crowbars, knives, and pistols in a frenzied spree of home break-ins and mugging and murder. Now suppose the police reveal that their grand strategy for dealing with this gang is to block them from getting submachine guns, as if without such weapons, the gang would no longer bother people. Would you sleep soundly at night? Or would you be outraged? Of course you would, because this gang--even without more powerful weapons, is already a serious menace that must be stopped. Now, what would you say if this ridiculous what-if scenario resembled our actual response to the very real threat from Iran? Ever since taking US embassy staff hostage in 1979, the Islamist regime in Teheran has led an international spree of bombings, hijackings, and other terrorist attacks on Americans and Westerners. Now politicians and diplomats, who put up with Iranian aggression for years, are loudly promising to block Iran's pursuit of nuclear weapons. On the campaign trail, for instance, the candidates debate how they'd negotiate to dissuade Iran from pursuing a nuke, on the idea that without such a weapon in Iranian hands, everything will be hunky-dory. But the uncomfortable truth is that if the mullahs got a nuke, Iran would not suddenly undergo a Jekyll-and-Hyde transformation from a friendly neighbor into a rabid enemy. Iran long ago proved itself a threat that must be stopped; a nuclear arsenal would only make it a far worse threat. For three decades the ayatollahs of Iran have been using proxies--such as Hezbollah, to carry out murderous attacks. Iran's Revolutionary Guard Corps helped create and train Hezbollah, which hijacked a TWA airliner and which kidnapped and tortured to death American citizens. Iran pulled the strings behind the 1983 bomb attacks on the US Embassy in Lebanon and later the barracks of US Marines, killing 241 Americans. Iran also orchestrated the 1996 car bombing of Khobar Towers in Saudi Arabia, where 19 US servicemen died. There's more: The 9/11 Commission found that "senior al Qaeda operatives and trainers traveled to Iran to receive training in explosives," and that "8 to 10 of the 14 Saudi 'muscle' operatives traveled into or out of Iran between October 2000 and February 2001." During the Afghanistan war, Iran welcomed fleeing al Qaeda and Taliban fighters. Today, according to the US military, Iran is running training camps near Teheran for Iraqi insurgents, who return to Iraq to practice and train others in their bomb-making skills. There's also growing evidence that Iraqi insurgents get bomb technology from Iran. What's going on here? A rational assessment of Iran would have to recognize that the mullahs in Teheran have been conducting a proxy war against America. The inspiration for this war is Iran's jihadist goal of imposing Islamic totalitarianism globally. Iran is a leading sponsor of jihadists and the self-identified role model for exporting its Islamic revolution to other countries. It is the sworn enemy of the West. We should take seriously its call to bring "Death to America!"- because it has already done so. But too many American diplomats and commentators refuse to judge Iran. Instead, they regard its past hostility as a string of disconnected crises, unrelated to Iran's ideological agenda. They avoid naming the nature of the regime and behave as if its acquisition of a nuclear weapon would be the decisive event. But that particular weapon, despite its power cannot be the whole story, since we don't worry about other countries, such as France and Britain, having nukes. The rarely admitted difference is that the regime in Iran would eagerly press the launch button. This fear-the-weapon-not-the-killer mentality refuses to understand the threat posed by Iran right now. This view holds that only the concrete facts about Iran's arsenal have any practical significance, while its abstract, ideological goals and character can be disregarded with impunity. But whether Iran uses one nuke, or attacks with more conventional weapons, its victims are still dead. Our leaders' narrow concern with Iran's nuclear capability cannot make the regime's longstanding hostility to America go away. Americans should face the real character and conduct of the Iranian regime, before it is too late.
Iran Announces Second Round of Ballistic Missile Tests
July 10….(DEBKA) Iran test-fired more long-range ballistic missiles in the Gulf Thursday, July 10, the day after its launch of 10 missiles including the Shehab-3, which is capable of delivering a one-ton payload over Tel Aviv. The second round was announced by Tehran state TV on Day Three of the Great Prophet war games. DEBKAfile's military sources report that the 20 missiles of assorted ranges tested so far (including the Fajar and Zelzal series) were put on show to convince the United States and Israel that Iran has enough missiles and launchers to keep on firing on consecutive days. This was more posture than reality. In fact, only one 2,000-km range Shehab-3 was actually test-fired. However, accentuating the Gulf as the location of the second day's tests, instead of an inland desert location like the first, raises the threat level. It was Tehran's answer to the bland comments delivered Wednesday by US undersecretary Nicholas Burns that Washington is not nearing a military confrontation with Iran and that Tehran's response to the latest six-power incentives package makes it possible to keep diplomacy going. Iran clearly prefers to continue talking from a position of strength and flexed military muscles. White House spokesman Gordon Johndroe said Wednesday. "The Iranians should stop the development of ballistic missiles, which could be used as a delivery vehicle for a potential nuclear weapon, immediately." US Secretary of State Condoleezza Rice pledged the US will defend its interests and its allies. The US has enhanced its security presence in the Gulf and "we take our obligations to defend our allies very seriously and no one should be mistaken about that." Democratic presidential nominee Senator Barack Obama said the missile tests showed the US needs to pursue direct and aggressive diplomacy backed by "tougher sanctions." His rival Senator John McCain said the missile firings mean "Iran continues to threaten the security of their neighbors." But he was sure that European allies are ready to impose financial and trade sanctions that "can be effective in modifying Iranian behavior."
Iran's Missile Tests Meant to Wage Oil Price Warfare on US
July 9….(FOJ) Iran test-fired nine long- and medium-range missiles Wednesday during war games that officials said aimed to show the country can retaliate against any US and Israeli attack, state television reported. Gen. Hossein Salami, the air force commander of Iran's elite Revolutionary Guards, said the exercise would "demonstrate our resolve and might against enemies who in recent weeks have threatened Iran with harsh language," the TV report said. Wednesday's war games were being conducted at the mouth of the Strait of Hormuz, a strategic waterway through which about 40 percent of the world's oil passes. Iran has threatened to shut down traffic in the strait if attacked. The report showed footage of at least three missiles firing simultaneously, and said the barrage included a new version of the Shahab-3 missile, which officials have said has a range of 1,250 miles and is armed with a 1-ton conventional warhead. That would put Israel, Turkey, the Arabian peninsula, Afghanistan and Pakistan within striking distance. "Our hands are always on the trigger and our missiles are ready for launch," the official IRNA news agency quoted Salami as saying Wednesday. Tehran has stepped up its warnings of retaliation if the Americans, or Israelis, do launch military action, including threats to hit Israel and US Gulf bases with missiles and stop oil traffic through the vital Gulf region. US Secretary of State Condoleezza Rice called Wednesday's tests "evidence that the missile threat is not an imaginary one." "Those who say that there is no Iranian missile threat against which we should build a missile defense system perhaps ought to talk to the Iranians about their claims," Rice said while traveling in Sofia, Bulgaria. In late June, Vice Adm. Kevin Cosgriff, who was then the commander of the US Navy's 5th Fleet, said any attempt by Iran to seal off the Strait of Hormuz would be viewed as an act of war. The US 5th Fleet is based in Bahrain, across the Gulf from Iran.
| | |
| --- | --- |
| | This map shows range of the Iranian Shahab-3 missile. Iran test-fired the missile, capable of reaching Israel, and angering the U S amid growing fears that the standoff over the contested Iranian nuclear drive could lead to a war. Iran has said it will also wage economic warfare on the US over the issue of its nuke program. Iran's missile tests ironically affected oil prices today, which enables Iran to profit off the tension. |
Putin, Ahmadinejad Pledge Military and Technical Cooperation
July 9….(In The Days) Russian Prime Minister Vladimir Putin had a telephone conversation with Iranian President Mahmoud Ahmadinejad on Monday. "And thou shalt come up against my people of Israel, as a cloud to cover the land; it shall be in the latter days, and I will bring thee against my land, that the heathen may know me, when I shall be sanctified in thee, O Gog, before their eyes."(Ezekiel 38:16) "Persia, Ethiopia, and Libya with them; all of them with shield and helmet:" (Ezekiel 38:5) "In the course of the conversation, Putin and Ahmadinejad discussed various aspects of trade and economic interaction between the two countries as well as energy cooperation, including atomic energy," the government press service said. "In this context, both sides emphasised the need for timely construction of the Bushehr nuclear power plant," it said. "Among other topics, Putin and Ahmadinejad also discussed issues pertaining to bilateral cooperation in the field of transport and military-technical cooperation," the press service said. The official news agency IRNA reports from Kuala Lumpur, where the Iranian president is currently on a visit, Ahmadinejad called for the development of bilateral relations and expressed hope for a bright future of Russian-Iranian ties. According to Ahmadinejad, relations between the two countries are developing owing to the will of their leaderships, and all of the agreements reached earlier are being implemented. Putin said Russia attached great significance to relations with Iran.
Russia Threatens Military Action Against US over Missile Defense Deal
July 9….(In The Days) Russia threatened to retaliate by military means after a deal with the Czech Republic brought the US missile defense system in Europe a step closer. ("And say, Thus saith the Lord GOD; Behold, I am against thee, O Gog, the chief prince of Meshech and Tubal:" Ezekiel 38:3) ("Watch therefore: for ye know not what hour your Lord doth come." Matthew 24:42) The threat followed quickly on from the announcement that Condoleezza Rice signed a formal agreement with the Czech Republic to host the radar for the controversial project. Moscow argues that the missile shield would severely undermine the balance of European security and regards the proposed missile shield based in two former Communist countries as a hostile move. "We will be forced to react not with diplomatic, but with military-technical methods," the Russian Foreign Ministry said in a statement. The ministry did not detail what its response might entail. Dr Rice, the US Secretary of State, hailed the agreement as a step forward for international security. After 14 months of negotiations, the US is struggling to clinch agreement with its other proposed partner, Poland, where it hopes to locate the interceptor missiles designed to shoot down any incoming rockets. Washington insists that the system will not be targeted at Russia, but will act as a safeguard for Europe against regimes such as Iran. The plan was endorsed by NATO in April. "This missile defense agreement is significant as a building block not just for the security of the United States and the Czech Republic, but also for the security of Nato and the security of the international community as a whole," Dr Rice said. "Ballistic missile proliferation is not an imaginary threat." A change of government in Poland last November saw the country introduce a range of demands including US investment in its air defences in return for siting the missiles. Poland's tough negotiating position has even led to a threat from the Pentagon to find an alternative site in the Baltic state of Lithuania. "There are remaining issues, but the United States has made a very generous offer [to the Poles]," said Dr Rice. A year ago at the G8 in Germany, President Vladimir Putin of Russia surprised the US by suggesting that the radar could be hosted in Azerbaijan so that the technology could be shared. The signing ceremony seemed to bury that idea. Addressing Russian anxiety about the anti-missile system in what used to be its backyard, Ms Rice added: "We want the system to be transparent to the Russians." Mirek Topolanek, the Czech Prime Minister, said that the deal was an example of "our joint desire to protect the free world" and said his country could not afford to miss out as it had done after the Second World War, when it fell under Soviet influence. "We were in the past in a similar situation and then we failed. We did not accept the Marshall Plan…we should not allow a second error of this kind," he said. In Prague, where polls consistently show a majority of Czechs opposed to hosting the US radar, protestors from Greenpeace unrolled a large banner proclaiming "Do not make a target of us." After Prague, Dr Rice will visit Bulgaria and Georgia where she will stress US support for Tblisi's application for Nato membership, another annoyance for Russia. She will also appeal for calm between Moscow and Tblisi over the separatist Georgian regions of Abkhazia and South Ossetia. "We have said both Georgia and Russia need to avoid provocative behaviour but frankly some of the things the Russians did over the last couple of months added to tension in the region," Dr Rice said. "Georgia is an independent state. It has to be treated like one. I want to make very clear that the US commitment to Georgia's territorial integrity is strong."
UN Resolution 1771 Set to Collapse as Syria Rearms Terrorists
July 9….(IsraelNN.com) Resolution 1701, the ceasefire passed by the United Nations' Security Council to end the Second Lebanon War in 2006, is widely expected to collapse as Hizbullah forces gather strength at the Israel-Lebanon border. The resolution will be discussed in Wednesday's meeting of the Israeli security cabinet, as the Israeli leadership revisits the terms of the 2006 agreement. The cabinet, convened by Prime Minister Ehud Olmert, will discuss the continued rearmament of Hizbullah by Syria in violation of the cease-fire, according to senior defense officials. Also on the table will be the options available to the Israeli government to deal with the growing threat, perhaps including the option of a renewed offensive against Hizbullah. During the meeting, cabinet ministers will be presented with an assessment of the situation in Lebanon, including a briefing on a resurgent Hizbullah and on preparations by the terrorist group for another attack on Israel. The cabinet will also discuss ways to dam the flood of weapons coming from Syria to the group. Defense officials estimate that Hizbullah now holds almost three times as many missiles as it did before the war. Also to be assessed in the meeting is Hizbullah's deployment in southern Lebanon. Security officials have suggested searching Arab press releases for leaks on the group's activities in the area. A Kuwaiti newspaper published a report, last week, detailing Hizbullah plans to place anti-aircraft missiles on the peaks of Lebanese mountains. Regardless of the prospect for a future military confrontation with Hizbullah, Israeli defense officials believe that Israel's only recourse at the moment is to place pressure on UNIFIL and the European countries that contribute to its forces. Israel has been making efforts to expand the role of UNIFIL as defined in Resolution 1701. The mandate for the U.N. peacekeeping force is up for renewal next month, and Israel is examining options to give the force more authority to stop the rearmament of Hizbullah. In a conversation with the French Foreign Minister, Bernard Kouchner, Israeli Defense Minister Ehud Barak said that "Israel cannot accept the ongoing and intensifying gnawing at Resolution 1701, which has not been fulfilled, and the continuing transfer of weaponry that is damaging the delicate balance at the northern border." Barak told Kouchner that Israel expects France, as a member of UNIFIL, to intervene in stemming the flow of weapons from Syria to Hizbullah, and that UNIFIL forces in southern Lebanon need to do a better job of preventing the rearmament and fortification of Hizbullah. "Syria is rearming Hizbullah at a rapid pace and this is proof that 1701 has completely failed," said one Israeli official.
The Weapons of World War III
July 9….(WND) Did the Chinese military cause the largest blackout in the history of North America? That is the assertion of Tim Bennett, the former president of the Cyber Security Industry Alliance, who says US intelligence officials confirmed to him the People's Liberation Army gained access to a network that controlled electric power systems serving the northeastern U.S. in 2003. Some 50 million people were affected by the 9,300-square-mile blackout that hit parts of New York, Canada, Michigan and Ohio. The official explanation for the power outage was that overgrown trees came into contact with strained high-voltage lines in Ohio. But the story of this possible skirmish in the "electromagnetic spectrum" is widely whispered about in defense and intelligence circles. It is referred to by some as the first battle of World War III, a conflict to be fought asymmetrically in cyberspace and with weapons that might seem like science fiction. The Moscow newspaper Zavtra reported only a week ago that Russia has developed "special powerful electromagnetic impulse generators that may be used in design of new type radars and as a basis of electromagnetic weapons that will render enemy electronics inoperable." "The US Army is convinced meanwhile that the Russians have already designed 'kinetic weapons' and 'directed energy weapons' (apparently lasers) for ASAT warfare," the article continued. "In any event, the Americans suspect that the recent episode with the Chinese laser that damaged an American spysat became possible precisely because Moscow had made this technology available to China." The superweapons being developed for the next global conflict began coming into sharper focus last winter when China destroyed one of its own aging, low-Earth-orbit weather satellites while it was circling at an altitude of 500 miles, using a ground-based, direct ascent anti-satellite weapon. This year, the US, using its sea-based Aegis missile defense system, shot down a disabled American intelligence satellite at 100 or so miles altitude as it tumbled uncontrollably toward the planet. The Defense Department says China is developing non-kinetic means of attacking satellites, such as jamming and blinding, and using lasers, microwave, particle beam and electromagnetic pulse weapons. Cyber-warfare, one of the proven strengths of the Chinese military, can also be used as an anti-satellite capability. In congressional testimony this year, the director of national intelligence stated, "Counter-command, control and sensor systems, to include communications satellite jammers and ASAT weapons, are among Beijing's highest military priorities." Bennett, meanwhile, told the National Journal he believes Chinese cyber-hackers were also responsible for another US blackout last February in Florida, one that affected 3 million customers. Bennett told the National Journal he decided to speak publicly about the incidents to point out that security for the nation's critical electronic infrastructures is weak and to emphasize that government and company officials haven't sufficiently acknowledged these vulnerabilities.
Iran: We Will Reduce Tel Aviv to Ruins
July 9….(Israel Today) A senior Iranian official on Tuesday told state-run media that Tel Aviv will be obliterated if either Israel or the US dare to launch a military strike against Iran's nuclear facilities. "The Zionist regime is pressuring the White House to attack Iran. If such a stupid act were undertaken, Tel Aviv and the American ships in the Persian Gulf would be our first targets and would be burnt to ruins," warned Ali Shirazi, an assistant to supreme Iranian leader Ayatollah Ali Khamenei. Over the past month, both the US and Israeli militaries have conducted massive exercises believed to have simulated strikes on Iranian nuclear facilities and maneuvers to defend against any Iranian retaliation. Despite those preparations, Israeli officials have acknowledged that Israel would be unable to actually launch an attack on Iran without a green light from Washington, as Israeli planes would have to fly through Iraqi airspace controlled by the US military. According to a former Pentagon official and leading US military analyst, the White House recently made very clear to Israel that that green light has not been given, and likely won't be given during the final months of the Bush Administration. Speaking to gathered Israeli defense analysts at Israel's Institute of National Security Studies on Monday, Prof. Anthony Cordesman said that reining in Israel was the primary purpose behind the recent visit by Chairman of the US Joint Chiefs of Staff, Adm. Mike Mullen. Cordesman, who is today the top defense analyst for the ABC television network, said that Mullen was sent by the White House to make it clear to Israel that the US is sticking to a policy of diplomacy vis-a-vis Iran, and that is not expected to change before the next US president takes office. Former US Ambassador to the United Nations, John Bolton believes that puts Israel in an impossible situation. Jerusalem is increasingly convinced that Iran will acquire nuclear weapons in the absence of military intervention by Israel or the US. But Democratic presidential candidate Barack Obama has indicated that if he is elected, he will take the military option for dealing with Iran off the table. If Obama wins the presidential election in November, Israel will know that it has less than two months to hit Iran, or have its greatest existential nightmare come true, Bolton told a leading British newspaper last month.
Iran Has 'Resumed' A-Bomb Project
July 9….(Newsmax) Intelligence information received by Western diplomats reports that Iran has resumed building equipment used for constructing atomic weapons. According to the London-based Daily Telegraph, the latest intelligence indicates that the work is aimed at developing a bomb according to a blueprint provided by Pakistani scientist Dr. Abdul Qadeer Khan, father of the Pakistanian nuclear program who sold information on building atom bombs to Iran in the early 1990s. Iran's Revolutionary Guard, along with senior officials from its Atomic Energy Agency, is reportedly directing the clandestine project that has been concealed from United Nation's inspection teams. Iran, the world's fourth-biggest oil exporter, says its nuclear activities are peaceful. The United States and its Western allies suspect they are a cover to build atomic bombs. "If Iran's nuclear intentions were peaceful there would be no need for it to undertake this work in secret," says an official familiar with the intelligence reports. Construction of the highly sophisticated atomic weapons is being done on the outskirts of Tehran, The Telegraph reports, and includes the advanced P-2 gas centrifuge for uranium enrichment. Tehran last week announced to the world media that it has no intention of halting its uranium enrichment program. European Union Foreign Policy Chief Javier Solana tells The Jerusalem Post he hopes to hold talks with the Iranian nuclear negotiator, Saeed Jalili, before the end of the month to diffuse tensions in the region. "There's been no response yet. We are still talking among ourselves, but we hope to have a response soon, hopefully by the end of the month," Solana says. Shabtai Shavit, adviser to the Israeli parliament's defense and foreign affairs committee, tells The Sunday Telegraph that time is running out to prevent Iran from creating an atomic bomb, predicting that Iran is less than 12 months from achieving its nuclear ambitions. Shavit, who retired from the Israeli intelligence agency in 1996, warns that he has no doubt Iran intends to use a nuclear weapon once it has the capability. "The time that is left to be ready is getting shorter all the time," he says in an interview with The Sunday Telegraph. "As an intelligence officer working with the worst-case scenario, I can tell you we should be prepared," Shavit says. "We should do whatever necessary on the defensive side, on the offensive side, on the public opinion side for the West, in case sanctions don't work. What's left is a military action." An Iranian official speaking on behalf the republic was quoted by Reuters Tuesday as saying Iran will hit Tel Aviv, US shipping in the Gulf and American interests around the world if it is attacked over its nuclear activities. "The first bullet fired by America at Iran will be followed by Iran burning down its vital interests around the globe," the students news agency ISNA quotes Ali Shirazi, an aide to Iran's supreme leader Ayatollah Ali Khamenei, as saying in a speech to Revolutionary Guards. More than 40 percent of all globally traded oil passes through the 35-mile-wide Strait of Hormuz, putting tankers entering or leaving the Gulf at risk from Iranian attacks, which Iran intends to use as leverage in the nuclear dispute.
How Might Israel Attack Iran's Nukes?
July 9….(Newsmax) Iran would retaliate against any attack on its nuclear facilities by "burning" Tel Aviv and US assets in the Gulf, an aide to Iranian Supreme Leader Ayatollah Ali Khamenei was quoted as saying on Tuesday. The remarks stoked global jitters over the possibility of a regional war resulting from any preemptive strikes by Israel, which has vowed to deny its arch-foe atomic technologies with bomb-making potential. Though Israel's conventional military is widely assumed to be too small to destroy the Iranian nuclear program outright, a successful attack could still delay by years Tehran's bid to develop technologies with bomb-making potential. Following is an overview of Israeli armed forces and the tactics they might employ in any future conflict with Iran.
Air
Israel has around 500 combat-ready warplanes, including advanced US-made F-15 and F-16 jets capable of reaching western Iran for a bombing run, further, should aerial refueling be an option. Onboard stealth and radar-jamming equipment could allow the warplanes to overfly hostile Arab territory en route to a sneak attack in Iran, and withstand ground fire. Armed with ground-penetrating "bunker buster" bombs, Israeli jets could significantly damage key nuclear sites. Satellite and optical guidance systems would allow for bombs to be released at high altitude and great distances, perhaps with some of the planes remaining outside Iranian airspace. The Israeli air force also commands ballistic missiles, a capability shrouded in secrecy. Israel is assumed to have dozens of long-range Jericho missiles designed to carry nuclear warheads as far as the Gulf. Conventional Jerichos could damage targets in Iran, but the salvoes would lack the element of surprise given the likelihood of launches being immediately spotted, and reported on, in Israel. Israel is widely believed to have the region's only atomic arsenal, but Israeli officials have hinted that any such capability would only be used in last-ditch national defense.
Ground
Israel does not border Iran, making most ground forces irrelevant to any future war. Should there be Israeli air strikes on Iran, commandos could be inserted to mark targets and monitor the damage to them. Special forces could also be deployed to hunt and destroy Iranian missile batteries before they can fire at Israel in retaliation.
Sea
Israel has three German-made, diesel-powered Dolphin submarines that dock at its Haifa port and are in theory capable of reaching the shores of Iran, though this would likely entail sailing around Africa, about a month-long voyage requiring stops for fuel and provisions. Each Dolphin has 10 torpedo tubes, four of them expanded in girth at Israel's request. Some independent analysts believe this was to accommodate cruise missiles capable of reaching Iran from the Mediterranean, or with supersonic engines allowing them to defeat enemy air defenses
Saudi King to Launch Inter-faith Forum in Madrid
| | |
| --- | --- |
| | The King's Interfaith Conference is due to be attended by Christians, Jews and Muslims. |
July 29….(EJP) King Abdullah of Saudi Arabia, whose country is home to Islam's holiest shrines, will launch an inter-faith conference in Spain later this month, the palace said on Saturday. The Saudi monarch "will inaugurate the international dialogue conference which will be held under his auspices in Madrid on July 16-18," a statement carried by the official SPA news agency said. The agency said the king had left for Morocco on a private visit ahead of the conference due to be attended by Christians, Jews and Muslims. In March, King Abdullah proposed talks among the three largest monotheistic religions in a first for the kingdom, which hosts Islam's two holiest shrines in Mecca and Medina. Last month the Mecca-based Muslim World League said the Madrid meeting would bring together representatives from the "followers of God's messages and other cultures." The term "other cultures" appeared to refer to non-monotheistic religions which Muslims do not recognize as proper religions, unlike Christians and Jews considered under Islam to be People of the Book. The conference will "discuss cooperation between communities from different religions and cultures over common human values," the league's secretary general Abdullah al-Turki said. Leading Islamic scholars meeting in the holy city of Mecca in early June also proposed creating a centre to promote relations between religions. Despite such overtures, Saudi Arabia remains the only Arab Muslim country to ban all non-Islamic religious practices on its soil, even though it has a large community of non-Muslim expatriates. Last November King Abdullah met Pope Benedict XVI during the first official visit to the Vatican by a monarch from the ultra-conservative Saudi kingdom.
Secret US-Iranian Dialogue Brings Oil Prices Down, Shakes up Mid East Alliances
July 8….(DEBKA) Oil prices suddenly slumped Tuesday, July 8 under the impact of the secret American-Iranian talks embarked on last month to solve burning issues by diplomatic engagement. These talks between the US and Iranian delegations, representing President George W. Bush and Iranian supreme ruler Ayatollah Ali Khamenei, have yielded ad hoc understandings on controversial issues. One is an agreement not to allow the price of oil to rocket past $150 the barrel. Exclusive Gulf and Iranian sources disclosed that the bilateral negotiations were deliberately masked by the war fever engineered by Washington in the form of a stream of leaks indicating that a US or Israeli attack on Iran's nuclear installations was imminent. At the same time, neither nation has sheathed its military option. Those understandings are ad hoc and could well break down in the volatile climate generated by hard-line elements of Iran's Revolutionary Guards, which are dead against deals with Washington. The last in a string of belligerent statements issued by IRGC chiefs came from Ali Shirazy, senior Navy cleric, who said Tuesday, July 8: If the US attacks Iran, "we will immediately strike back at Tel Aviv. Our first target is Tel Aviv and only then will we attack US shipping in the Persian Gulf; their destruction will represent Iran's crushing reprisal." Behind the saber-rattling, however, sources reported common ground was covered for three key objectives:
1. The American side was willing to refrain from military action against Iran before the end of the Bush presidency in January 2009, but could not promise Israel would not act unilaterally. In a bid to hold Israel's hand, sources in Washington have been putting out semi-official comments that Israel is short of the intelligence and military capability for striking Iran without help.
2. Iran undertook to open the way for the US military to continue to go from strength to strength in fighting al Qaeda and the Sunni guerrilla insurgents in Iraq, to allow President Bush to claim his Iraq campaign had ended successfully before leaving the White House. DEBKAfile's military sources report that Tehran ordered Iranian intelligence officers working undercover in Iraq to halt attacks on US troops by pro-Iranian militias, including Moqtada Sadr's Mehdi Army. This has left US and Iraqi government force with free hands for large-scale operations against al Qaeda. Iranian officers are also sharing useful intelligence on conditions in the field with American commanders.
3. In the background of the secret dialogue is the Bush administration's ambition to help fellow-Republican Senator John McCain get elected to the White House.
DEBKAfile's Iran experts comment that the revolutionary regime in Tehran has traditionally preferred a Republican over a Democrat in the White House since the days when its founder, Ayatollah Ruhollah Khomeini, helped Ronald Reagan defeat Jimmy Carter. Some of these understandings are still work in progress, but the oil price ceiling of $150 was definitely agreed and resulted in the sharp fall in prices Tuesday, July 6 by $3.92 a barrel. Some traders attributed it to an ease in geopolitical tensions related to Iran's nuclear program and a strengthening US dollar. DEBKAfile's sources question the first part of this assessment, finding no real ease in tensions around Iran's nuclear program. Monday, July 8, the US Navy's Fifth Fleet announced American, British and Bahraini vessels were to launch a new exercise in the Gulf called "Stake Net," to practice tactics and procedures for protecting maritime infrastructure such as gas and oil installations. The exercise was launched in response to threats by more than one Iranian military chief to control shipping in the Gulf and Strait of Hormuz if Iran was attacked or its regional interests jeopardized. The ball was picked up by the Revolutionary Guards which launched a retaliatory naval maneuver the next day.
Tuesday, too, the New York Times ran an article called "Nearer to the Bomb" by nuclear physicist Peter D. Zimmerman, former chief scientist of the US Senate Foreign Relations Committee. He wrote that all of Iran's activities, especially in uranium enrichment, are evidence that its "near-term ability to make nuclear weapons is gathering strength." He further warned that once Iran begins enriching uranium to weapons grade on an assembly-line basis, "it could transfer this material to groups such as Hizballah and Hamas." They could then "fabricate low-technology nuclear explosives with yields nearly as high as the bomb which destroyed Hiroshima." The understandings unfolding between Washington and Tehran have clearly impacted on Syria and Lebanon. One result was last month's Doha accord for the election of Lebanese president Michel Sleiman, which has produced a new government in Beirut headed by the pro-Western Fouad Siniora with veto power for Hizballah ministers. Washington has for the moment lowered the heat of political, economic and intelligence pressure on Iran's close ally, Syrian president Bashar Assad and even Hizballah leader Hassan Nasrallah, permitting them to assume a role in political processes in Lebanon and the Middle East at large. The bilateral understandings on Iraq have strengthened its Shiite prime minister Nouri al-Maliki, but even more dramatically revalued the Syrian president's international legitimacy, although some aspects of his position are still under discussion between Washington and Tehran. All the same, a senior Saudi official conversant with Lebanese and Syrian affairs put it this way: "On the face of it nothing has changed in Washington's attitude towards Damascus, but in reality, it has undergone a transformation." The threats to the Assad regime have receded, notably the international tribunal for prosecuting the assassins of the former Lebanese prime minister Rafiq Hariri, and Washington has withdrawn its support for Syrian opposition factions." The Saudi official further commented: "A US-Iranian earthquake is rumbling under the surface of the Middle East, especially in Syria."
Congress Examines EMP Threat
(Iran believed to test missiles for attack on US)
July 8….(WND) More than four years after a stunning report about America's vulnerability to a nuclear electromagnetic pulse attack was released to Congress, the House Armed Services Committee will hear testimony from the scientist who issued the warning and who believes Iran is pursuing such an option. William R. Graham, President Reagan's top science adviser and the chairman of the Commission to Assess the Threat to the United States from Electromagnetic Pulse (EMP) Attack, will update the committee Thursday morning. Graham warned in 2005 that Iran was not only covertly developing nuclear weapons, but was already testing ballistic missiles specifically designed to destroy America's technical infrastructure with the aim of neutralizing the world's lone superpower. The radical Shiite regime has conducted successful tests to determine if its Shahab-3 ballistic missiles, capable of carrying a nuclear warhead, can be detonated by a remote-control device while still in high-altitude flight, Graham said in his report. Graham said then there was no other plausible explanation for such tests than preparation for the deployment of electromagnetic pulse weapons, even one of which could knock out America's critical electrical and technological infrastructure, effectively sending the continental US back to the 19th century with a recovery time of months or years. Iran would have that capability, at least theoretically, as soon as it has one nuclear bomb ready to arm such a missile. Iran surprised intelligence analysts by describing the mid-flight detonations of missiles fired from ships on the Caspian Sea as "successful" tests. Even primitive Scud missiles could be used for this purpose. And top US intelligence officials reminded members of Congress that there is a glut of these missiles on the world market. They are currently being bought and sold for about $100,000 apiece. Others agree with Graham's sobering assessment. "A terrorist organization might have trouble putting a nuclear warhead 'on target' with a Scud, but it would be much easier to simply launch and detonate in the atmosphere," wrote Sen. John Kyl, R-Ariz., in the Washington Post in 2005 after reading Graham's report. "No need for the risk and difficulty of trying to smuggle a nuclear weapon over the border or hit a particular city. Just launch a cheap missile from a freighter in international waters, al-Qaida is believed to own about 80 such vessels, and make sure to get it a few miles in the air." The Iranian missile tests were more sophisticated and capable of detonation at higher elevations, making them more dangerous. Detonated at a height of 60 to 500 kilometers above the continental US, one nuclear warhead could cripple the country, knocking out electrical power and circuit boards and rendering the US domestic communications impotent. In 2005, the Senate Judiciary Subcommittee on Terrorism, Technology and Homeland Security chaired by Kyl, held a hearing on the electromagnetic pulse, or EMP, threat. "An electromagnetic pulse (EMP) attack on the American homeland, said one of the distinguished scientists who testified at the hearing, is one of only a few ways that the United States could be defeated by its enemies, terrorist or otherwise," wrote Kyl, "and it is probably the easiest. A single Scud missile, carrying a single nuclear weapon, detonated at the appropriate altitude, would interact with the Earth's atmosphere, producing an electromagnetic pulse radiating down to the surface at the speed of light. Depending on the location and size of the blast, the effect would be to knock out already stressed power grids and other electrical systems across much or even all of the continental United States, for months if not years." The purpose of an EMP attack, unlike a nuclear attack on land, is not to kill people, but "to kill electrons," as Graham explained. He serves as chairman of the Commission to Assess the Threat to the United States from Electromagnetic Pulse Attack and was director of the White House Office of Science and Technology Policy. Graham told WND he could think of no other reason for Iran to be experimenting with mid-air detonation of missiles than for the planning of an EMP-style attack. "EMP offers a bigger bang for the buck," he said. He also suggested such an attack makes a U.S. nuclear response against a suspected enemy less likely than would the detonation of a nuclear bomb in a major US city.
US Ties Chavez to Hezbollah
July 7….(In The Days) Venezuelan President Hugo Chavez has denied any connection between his government and the militant Hezbollah group in southern Lebanon. The Bush administration is accusing the government of Venezuelan President Hugo Chavez of providing cash and refuge to the militant Islamist group Hezbollah of southern Lebanon. An investigation by the US Treasury Department's Office of Foreign Assets Control (OFAC) names Venezuelan diplomat Ghazi Nasr al Din and Venezuelan-Arab businessman Fawzi Kanan as key links between the two. "It is extremely troubling to see the government of Venezuela employing and providing safe harbor for Hezbollah facilitators and fundraisers," said Adam Szubin, political affairs director of OFAC. Mr. al Din has served as charge d'affaires at the Venezuelan Embassy in Syria and as director of political affairs at the embassy in Lebanon. The Treasury Department made the accusations in a June 18 statement, which summarized an investigation of Venezuelan-registered businesses that are thought to be laundering money for Hezbollah. The department also froze assets of Mr. al Din and Mr. Kanan and banned them from conducting business in the US or with US citizens and residents. "Assets the designees hold under US jurisdiction are frozen, and US persons are prohibited from engaging in transactions in property or interests in property blocked under the order," the Treasury statement said. Treasury's report said Mr. al Din brought two Hezbollah parliamentary representatives to Venezuela in 2006 to "solicit donations" and open an "Islamic community center." The same report mentions the businessman, Mr. Kanan, who heads two travel agencies in Venezuela's capital, Caracas, as a "significant provider of financial support to Hezbollah." The US accuses Mr. Kanan of having "met with senior Hezbollah officials in Lebanon to discuss operational issues," as well as having "facilitated the travel of Hezbollah members to and from Venezuela." The US accuses Mr. Kanan of planning "possible kidnapping and terrorist attacks" and of "traveling with other Hezbollah members to Iran for training." Contacted at the offices of his Biblos travel agency in Caracas, Mr. Kanan dismissed Treasury's accusations as "lies." In a recent television broadcast, Mr. Chavez angrily denied any connection between his government and Hezbollah, claiming the US charges represent an attempt "to see if the world takes action against me." Foreign Minister Nicholas Maduro went further, saying the charges come from "the No. 1 terrorist in the world, George Bush." "There are no terrorists here. If they want to search for terrorists, look for them in the White House," Mr. Maduro said. Mr. al Din and Mr. Kanan were born in Lebanon's Baalbeck region, according to the Treasury Department. The latest allegations about Venezuela's involvement with Hezbollah follow reports that Chavez personally aided guerrillas of the Revolutionary Armed Forces of Colombia, or FARC, a Marxist-based insurgency that has battled to overthrow the Colombian government for four decades. The FARC connection is based on records in laptop computers seized by Colombian troops who raided a FARC camp in Ecuador in March. Chavez claims the content is fabricated by US intelligence officials working with the government of Colombian President Alvaro Uribe, who remains an ally of the US in a region where governments have shifted to the left in recent years. Chavez, a persistent antagonist of the US who has called President Bush "the devil," also has established strong business and commercial links with the Iranian government. Chavez and Iranian President Mahmoud Ahmadinejad have exchanged state visits and agreed on more than $17 billion worth of joint ventures in energy, mining and industrial projects. Iran and Syria are Hezbollah's primary sponsors in the Middle East.
Obama Will Immediately Move to Birth Palestinian State
July 7….(WND) The Palestinian Authority is hoping Sen. Barack Obama wins the presidential election in November and expects Obama to immediately set out to create a Palestinian state once he takes office, a top PA official said. "We would like to see Obama elected. If he is elected, we know an agreement about the foundation of a Palestinian state would be reached immediately," PA Planning Minister Samir Abdullah told reporters in Tokyo this weekend. Abdullah, who is the former head of the Palestinian Communist Party, said the PA expects Obama to win in November. He said once the Illinois senator takes office, "he will immediately study the Palestinian cause and will try to push it forward." "Obama has promised us that he will not wait until the last period of his office to relaunch negotiations, he will begin doing this since his first day in office, unlike President Bush, who waited until his last period of power." Abdullah is not the only Palestinian official to recently express support for Obama. In a headline-making interview, Ahmed Yousuf, Hamas' chief political adviser in the Gaza Strip, told ABC Radio in April he "hopes" Obama becomes president. "We like Mr. Obama, and we hope that he will win the elections," said Yousef. "I hope Obama and the Democrats will change the political discourse. He has a vision to change America to make it in a position to lead the world community, but not with humiliation and arrogance," Yousef said, speaking from Gaza.
Obama adviser: Divide Jerusalem
Much concern has also been expressed about Obama's top Midde East adviser, Daniel Kurtzer, who has long been seen as one of Israel's greatest foes in Washington. Kurtzer, a former US ambassador to Israel, has been identified by Israeli leaders, including prime ministers, as biased against Israel and is notorious for urging extreme concessions from the Jewish state. He was appointed as a primary Obama adviser on the Middle East earlier this year. Obama's appointment of Kurtzer raised eyebrows among the pro-Israel Jewish community. "We oppose the appointment of Kurtzer because of his long, documented record of hostility to and severe pressure upon Israel," said Zionist Organization of America National Chairman Morton Klein. Kurtzer has been blasted by mainstream Jewish organizations, including the Conference of Presidents of Major American Jewish Organizations. He has angered Israeli leaders many times for pushing Israel into what they described as extreme concessions to the Palestinians. Former Israeli Prime Minister Yitzhak Shamir said, Kurtzer "frequently pressured Israel to make one-sided concessions to the Arabs; he constantly blamed Israel for the absence of Mideast peace, and paid little or no attention to the fact that the Palestinians were carrying out terrorist attacks and openly calling for the destruction of Israel." The ZOA points out how Israel's leading daily, Yediot Ahronot, editorialized on Kurtzer's negative influence against Israel: "Possibly more than any other US State Department official, Kurtzer has been instrumental in promoting the goals of the Palestinians and in raising their afflictions to the center of the US policymakers' agenda," the paper stated. Kurtzer first rose to prominence in 1988 when, as a State Department adviser, he counseled the Reagan administration to recognize the Palestine Liberation Organization led by Yasser Arafat.
Syria 'Would Break Links with Iran' if America Helps
July 7….(Telegraph) Syria is ready to break off its close links with Iran if America gives it financial and military backing, a former Israeli diplomat involved in unofficial peace talks has revealed to The Sunday Telegraph. According to the official, who has been engaged in low-key "second track" discussions with Syrian representatives for many months, Syria's President Bashar Assad is increasingly open to a deal which would greatly weaken Iranian influence in the region. Alon Liel, a former director of Israel's foreign ministry, said the prospect of a peace agreement with Syria was growing, though it might require a new American president before a deal could be agreed. Syria's support for radical groups including Palestinian Hamas and Lebanese Hizbollah, both also backed by Iran, has played a large part in fomenting trouble in the Middle East. For any peace agreement to be struck between Israel and Syria, it would first be necessary to agree on the future of the Golan Heights, the lofty piece of territory claimed by Syria but occupied by Israel, which supplies much of that country's drinking water. They are asking not only for the Golan Heights but a change in Washington that will break the Syrian isolation internationally," said Mr. Liel. "But I also think they will not do it unless they are assured they have an alternative to Iran." Israel and Syria resumed indirect negotiations in March, mediated by Turkey, and two days of meetings this week have ended with promises to reconvene at the end of the month. The Turkish foreign minister, Ali Babacan, said the meetings mark an "initial stage" in resumed diplomacy. Now, all eyes will turn to next weekend's conference of Mediterranean nations in France, where for the first time the Israeli Prime Minister, Ehud Olmert, and the foreign minister Tzipi Livni will sit alongside their Syrian counterparts, President Assad and his foreign minister, Walid Ali Muallim. It has been speculated that Olmert and Assad may shake hands, an act of simple courtesy which would speak volumes about warming relations between the two, although Syrian officials have warned that Assad is not yet ready to do so. "I don't think it matters. What is more important is that these discussions are going on," said a spokesman for the Israeli foreign ministry, Arye Mekel. Olmert called last week for the two sides to begin direct, face-to-face talks "very soon". "With the Syrians, we are talking seriously and in my estimation very soon the negotiations will have to be direct. They will not be able to continue in the mode in which they are currently being held," Olmert said. The Syrian foreign minister, Ali Muallim, said such a meeting would be "premature" but has not ruled it out. Liel said "months" of negotiation still lie ahead to overcome the gaps between the two sides. But there is believed to have been progress on the Golan Heights, as well as on claims to fresh water in the region. Israel has been reluctant to withdraw from the Golan because of its strategic position above Syria, while many Israelis have been so taken with its wild beauty that they have built wineries and boutique hotels. The Golan front has also been quiet for years, providing little incentive to resolve the conflict. "The Golan Heights is considered our Tuscany. Israelis fell in love with the Golan, and it's a very easy conflict for us. That's why it's so difficult to convince Israel to withdraw," Liel said. Syria, which demands the return of all of Golan, has promised to allow Israelis to continue to enter the western part without visas, though the future of Israeli businesses and towns there is uncertain. More seriously, the Golan provides more than half of Israel's drinking water and in this year of drought, the biblical Sea of Galilee, known in Israel as Lake Kinneret, is already at dangerously low levels, making Israel reluctant to give it up. But Turkey is already said to have promised to supply more water to Syria, and possibly to the rest of the region, by drawing on the Euphrates, Tigris or Seyhan rivers. Syria has also demanded the building of a desalination plant in exchange for letting Israel continue to draw drinking water from the Golan.
Iran, Syria Sign Secret New Intelligence Cooperation Accord
July 7….(DEBKA) Under the intelligence cooperation agreement Iran and Syria signed secretly in Tehran on June 27, thousands of Syrian intelligence and police officers will receive special training in Iran, DEBKAfile's intelligence sources report. It was signed at the end of an unpublicized five-day visit to Tehran of Syria's clandestine and security service chiefs headed by Gen. Fouad Sultan, superintendent of internal security. His opposite number was the director of the Iranian interior ministry's external affairs department Ahmed Hosseini. The accord they concluded is a crucial element in the deepening strategic relationship between Tehran and Damascus. It belies the contention by French president Nicolas Sarkozy and prime minister Ehud Olmert, accepted also by Washington, that the Syrian regime is about to desert its close alliance with Tehran and embrace the West. On the strength of this false premise, Olmert is pressing forward along his peace track with Syria, and Sarkozy invited president Bashar Assad to be his guest of honor at the Bastille Day parade of July 14. While secretly bolstering his partnership with Iran, Assad has no trouble spreading the illusion of his willingness for a turn to the West, especially when his propaganda effort is promoted by none other than former Israel foreign ministry official Alon Liyel. Liyal, calling himself "an Israeli diplomat" asserted in an interview to the July 6 Sunday Times that Damascus would sever its strategic ties with Tehran, Hizballah and Hamas for substantial American military and economic aid and Israel's renunciation of the Golan. All this would happen, the ex-official promised, on Assad's behalf, after the change of presidents in Washington. DEBKAfile's sources report that Liyel spoke without authority or factual corroboration about Assad's intentions. He omitted to mention the fact that the Assad regime would have acquired a facility to produce fuel for Iran's nuclear weapons program, were it not for Israel's pre-emptive strike in September 2007. He also forgot that Damascus has for years provided friendly hospitality for the headquarters of the most extremist Palestinian terrorist groups and shown no sign that he means to evict them.
---