WEEK OF AUGUST 24 THROUGH AUGUST 30
'Israel Makes Tactical Decision to stop Nuclear Iran'
Aug. 29….(JPOST) Israel will not agree to allow Iran to achieve nuclear weapons and if time begins running out, Jerusalem will not hesitate to take whatever means necessary to prevent Iran from achieving its nuclear goals, the government has recently decided in a special discussion. According to the Israeli daily Ma'ariv, whether the United States and Western countries will succeed in toppling the ayatollah regime diplomatically, through sanctions, or whether an American strike on Iran will eventually be decided upon, Jerusalem has put preparations for a separate, independent military strike by Israel in high gear. So far, Israel has not received American authorization to use US-controlled Iraqi airspace, nor has the defense establishment been successful in securing the purchase of advanced US-made warplanes which could facilitate an Israeli strike. The Americans have offered Israel permission to use a global early warning radar system, implying that the US is pushing Israel to settle for defensive measures only. Because of Israel's lack of strategic depth, Jerusalem has consistently warned over the past years it will not settle for a 'wait and see' approach and retaliate in case of attack, but rather use preemption to prevent any risk of being hit in the first place. Ephraim Sneh a veteran Labor MK which has left the party recently, has sent a document to both US presidential candidates, John McCain and Barack Obama. The eight-point document states that "there is no government in Jerusalem that would ever reconcile itself to a nuclear Iran. When it is clear Iran is on the verge of acquiring nuclear weapons, an Israeli military strike to prevent this will be seriously considered." According to Ma'ariv, Sneh offered the two candidates the "sane, cheap and the only option that does not necessitate bloodshed." To prevent Iran's nuclear aspirations, Sneh wrote, "real" sanctions applied in concert by the US and Europe is necessary. A total embargo in spare parts for the oil industry and a total boycott of Iranian banks will topple, within a short time, the regime which is already pressured by a sloping economy and would be toppled by the Iranian people if they would have outside assistance. The window of opportunity Sneh suggests is a year and a half to two years, until 2010. Sneh also visited Switzerland and Austria last week in an attempt to lobby those two states. Both countries have announced massive long-term investments in Iranian gas and oil fields for the next decade. "Talk of the Jewish Holocaust and Israel's security doesn't impress these guys," Sneh said wryly. Hearing his hosts speak of their future investments, Sneh replied quietly "it's a shame, because Ido will light all this up." He was referring to Maj. Gen. Ido Nehushtan, the recently appointed commander of the Israeli Air Force and the man most likely to be the one to orchestrate Israel's attack on Iran's nuclear facilities, should this become the necessity. "Investing in Iran in 2008," Sneh told his Austrian hosts, "is like investing in the Krupp steelworks in 1938, it's a high risk investment." The Austrians, according to Sneh, turned pale. In related news, Israel Radio reported that Iran has finished installing an additional 4,000 centrifuges in the Natanz uranium enrichment facility. The Islamic Republic also announced it will install an additional 3,000 centrifuges in coming months. The pan-Arabic Al Kuds al Arabi reported Friday that Iran has equipped Hizbullah with longer range missiles than those it had before the Second Lebanon War and also improved the terror group's targeting capabilities. According to the report, which The Jerusalem Post could not verify independently, Hizbullah would begin a massive rocket onslaught on targets reaching deep into Israel's civilian underbelly in case the Jewish State would launch an attack on Iran.
Bulgaria Makes Case for Nabucco Pipeline

(The route of the Nabucco pipeline)
Aug. 28….(EU Observer) Bulgaria has called on the EU to throw all its weight behind the Nabucco energy corridor, a pipeline designed to lessen the bloc's dependency on Russian gas. "Finding enough supplies is the big problem and it cannot be solved just by the efforts of the companies in the Nabucco consortium. Without a political deal, this case cannot be solved," Bulgarian economy minister Petar Dimitrov said in an interview with Reuters on Wednesday (27 August).
The Nabucco project, connecting Turkey with Austria, via Bulgaria, Romania and Hungary - should enable the transportation of Caspian energy resources to the European market, but it remains unclear how to feed the pipeline. Earlier this year, Turkmenistan agreed to supply 10 billion cubic metres (bcm) of natural gas to the European Union each year. In addition, the union hopes the bulk of the supplies could come from countries such as Azerbaijan, Kazakhstan, Egypt or Iraq. In order to address this very point, Mr. Dimitrov suggested a high level political meeting take place between the EU and potential suppliers as well as transiting countries. "Russia is holding political talks to buy out the available gas from the Caspian region. I believe the EU should also hold such political talks and not narrow it all down to just principal support for the Nabucco project," the Bulgarian minister told Reuters. According to Forbes, Russia's state-run gas monopoly, Gazprom, offered to buy all of Azerbaijan's gas exports earlier this month. Demand for energy is sharply rising in the European Union and it is expected to import at least 360 bcm - out of 500 bcm consumed, from countries beyond the 27-country bloc by 2020. At the same time, the EU has been trying to diversify its energy supplies away from Russia. The Nabucco project's capacity amounts to 31 billion cubic metres of natural gas per year. The EU hopes construction will begin in 2010.
Rice Suggests Israelis didn't Want Peace, Bush Changed Their Minds
Aug. 27….(Israel Today) Visiting US Secretary of State Condoleezza Rice on Tuesday asserted that when Israelis elected former Prime Minister Ariel Sharon in 2001 it was on a platform that shunned regional peace, and so the very fact that Israel and the Palestinians are in dialogue today should be seen as a major achievement. Speaking at a press conference in Ramallah with her host Palestinian leader Mahmoud Abbas, Rice said: "I would just like to remind everyone that this time last year, we, of course, didn't have a peace process. And perhaps it's well to go back to when President George W. Bush came to office in 2001, in the midst of the breakdown completely of the peace process with the second intifada underway, with the election of Prime Minister Sharon who explicitly did not come to power intending to be a part of the peace process." Having laid equal blame on both the Israelis and the Palestinians for the breakdown of the peace process, Rice proceeded to hold up President Bush as the force that brought both sides back to their senses. "President Bush has worked tirelessly over the last seven years of his administration to lay a foundation for this peace process," said Rice. The secretary also reminded Palestinians skeptical of America's role in the peace process that Bush had directly committed "American taxpayer resources" to the birth of a Palestinian Arab state.
Moscow Looks East for Support
Aug. 27….(CNS) Russia will get its first clear indication of whether it can expect support for its Caucasian muscle-flexing from some quarters of the international community, when leaders of the Shanghai Cooperation Organization meet for an annual summit. The meeting comes at a time of significant tension between Russia and the West over its military intervention in Georgia, exacerbated by Tuesday's decision to recognize the breakaway republics of South Ossetia and Abkhazia as independent. With Washington spearheading criticism of the independence move and British Foreign Secretary David Miliband calling for the building of "the widest possible coalition against Russian aggression," President Dmitry Medvedev will be looking eastward for support. Dushanbe, capital of Tajikistan, will host the meeting of the SCO, whose other members are Russia, China and three of Tajikistan's four Central Asian neighbors, Kazakhstan, Kyrgyzstan and Uzbekistan (Turkmenistan is not a member.) The Moscow Times quoted a Russian foreign ministry official as saying Russia hoped to get unequivocal support from its SCO allies for its actions in Georgia, and that a declaration to that effect was being drafted. In Beijing, foreign ministry spokesman Qin Gang told reporters that South Ossetia would probably be among the "issues of interest" that SCO leaders would discuss, but did not say whether the summit would issue a statement on the matter. Russia's SCO partners each face the challenge of balancing expressions of solidarity with their own national interests and concerns. For China, a driving force behind the organization, an SCO priority from the start has been to combat separatism, one of the "three evils" cited in key SCO texts, the others being terrorism and extremism. Beijing views as a major security threat a campaign by some Muslim Uighurs to split the territory they call East Turkistan, China's resource-rich Xinjiang region from the country. It has sought through the SCO to prevent Uighur separatists from using Muslim Central Asian states as bases for their activities in Xinjiang. Elsewhere, Tibet and Taiwan pose other "splitist" headaches for China, and President Hu Jintao will likely be reluctant at Dushanbe to endorse the breaching of territorial integrity in the Caucasus. The Central Asian republics of the former Soviet Union are linked to Russia through a number of organizational structures, including the SCO, the Commonwealth of Independent States (CIS), and the Collective Security Treaty Organization (CSTO), a body which last October signed an agreement pledging closer cooperation with the SCO. Since Russia invaded Georgia earlier this month after Tbilisi launched an offensive against separatists in South Ossetia, responses from Central Asian leaders have been subdued. Dr. Kirill Nourzhanov, Central Asia specialist at the Australian National University, noted that when the presidents of Kyrgyzstan and Kazakhstan met on August 13, the Kyrgyz leader said that, "conflicts such as the one that unfolded between Russia and Georgia must be resolved solely on the basis of international law and only in the political and diplomatic way." Kazakhstan's foreign ministry, in an Aug. 19 statement, also took a cautious line, calling for the settling of "ethno-territorial" issues in accordance with international law. Russian leaders have attributed their military intervention in Georgia to the duty to protect Russian citizens from danger. "Any aggression against Russians will be met with a crushing response," Medvedev said on Aug. 15, a sentiment echoed several times in the ensuing days. The message resonated in other ex-Soviet states, home to some 20 million ethnic Russians as well as people of other ethnicities who hold Russian citizenship. In Central Asia, Russian minorities range from 30 percent of the population in Kazakhstan to one percent in Tajikistan. Merhat Sharipzhan, former head of the Kazakh service of Radio Free Europe/Radio Liberty, said in a commentary that Moscow was possibly signaling other former Soviet republics that it "might use the presence on their territory of Russian citizens as a pretext to exert political or economic pressure."
Afghanistan and US military interests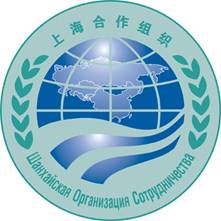 Shanghai Cooperation Organization
Founded as the Shanghai Five in 1996 and in its present form in 2001, the SCO is viewed by some as a Eurasian answer to NATO. In 2005 the group called for the US to set a deadline for withdrawing troops deployed in the region after 9/11 and Uzbekistan gave the US notice to vacate a military base used for operations in Afghanistan. Its SCO neighbors did not act on the declaration: The US continues to operate a base at Manas airport in Kyrgyzstan, and has overflight and refueling rights in Tajikistan, which lies between Kyrgyzstan and Afghanistan. Kazakhstan also allows coalition planes to use its airspace. And at a NATO summit in Bucharest last April, Uzbekistan offered to allow NATO forces in Afghanistan an overland supply route. The Central Asian route into landlocked Afghanistan has become increasingly important as security has deteriorated in Pakistan. Although 75 percent of supplies and 40 percent of fuel for the coalition mission move through Pakistan, either by air or through Karachi port and then overland, a Pentagon spokesman last November confirmed that alternatives were being considered, in case using Pakistan was no longer an option. Since then, Pakistan's political and security situation has worsened, with NATO supply convoys coming under Taliban attack. But Russia's ambassador to Afghanistan, Zamir Kabulov, told the London Times this week that Russia may now review agreements to let NATO to send supplies to Afghanistan through Central Asia, via Russian airspace. Whether Moscow hopes to use the SCO summit for further retaliation against the West remains to be seen. Prof. Stephen Blank, a Russia and CIS expert at the US Army War College, says although the summit may be a forum for America-bashing, it will not necessarily see concerted action. In a commentary on the EurasiaNet site, he cited differences between Russia and China on a range of issues, as well as spats among the Central Asian nations, including "Kazakh-Uzbek competition for primacy in Central Asia."
Iran
Another issue arising at the SCO summit, as at previous ones in recent years, is the question of Iran. Iran, one of four observer nations, has expressed a desire for full membership. Although Tajikistan has voiced support for Iran joining, observers generally do not expect Iran to be welcomed anytime soon. Meena Singh Ro, a research fellow at the Institute for Defense Studies and Analyses in New Delhi, doubts that Russia or China would want to bring Iran into the club while its differences with the West, especially over its nuclear programs, remain unresolved. Nonetheless, President Mahmoud Ahmadinejad will attend the gathering in Dushanbe, and will also hold talks on the sidelines with Medvedev. The Fars news agency said it would be the first meeting between the two, and would discuss strengthening bilateral relations as well as "regional and international issues." At a time when Russia's cooperation with the West has crumbled over Georgia, Blank said he expected the Medvedev-Ahmadinejad meeting to "provide a clear indicator on how Russia plans to proceed on the Iranian nuclear issue."
Russia: We'll React Militarily to US
Aug. 27….(JPOST) Russia may offer a military response to a US missile shield in Europe, Russian President Dmitry Medvedev warned Tuesday. He said that the deployment of an anti-missile system close to Russian borders "will of course create additional tensions." "We will have to react somehow, to react, of course, in a military way," Medvedev was quoted as saying Tuesday by the RIA-Novosti news agency. Meanwhile, US President George W. Bush urged Russia to reconsider its "irresponsible decision" to shower independent status on two breakaway Georgian provinces. Already rebuffed by Medvedev, Bush warned Russia to change course and respect the borders of its Georgian neighbor. "Russia's action only exacerbates tensions and complicates diplomatic negotiations," the president said by written statement from Texas, where he is vacationing. Medvedev said Tuesday that his country would grant diplomatic recognition to the separatist regions of Abkhazia and South Ossetia. He said Georgia forced Russia's hand by trying to gain control by force in the smaller of the two areas, South Ossetia, on Aug. 7. Bush shot back that Russia's move violates both United Nations resolutions and the six-point cease-fire deal that Russia, under Medvedev's watch, signed with Georgia to end war. "We expect Russia to live up to its international commitments, reconsider this irresponsible decision, and follow the approach set out in the six-point agreement," Bush said. The White House says the US will use its veto power to on the UN Security Council to ensure that the two separatist provinces remain part of Georgia in the eyes of the world. US Secretary of State Condoleezza Rice said that any push by Russia to do otherwise will be "dead on arrival" at the United Nations. The rhetoric underscored the stakes of a once obscure territorial dispute that has mushroomed into a Cold War-style conflict between the United States and Russia. The White House, though, sought to emphasize that Russia's real conflict was with the broader international community. Several world leaders criticized Russia's action on the two provinces. "Russia is making, I would say, a number of irrational decisions," commented Bush's Deputy Assistant Tony Fratto. "We hope that they hear the loud voices from the international community and understand that it's not in their long-term interests to take these kinds of actions," he said. Vice President Dick Cheney leaves next week on a trip that includes a stop in Georgia; Fratto said that no US officials plan to go Russia to appeal directly to leaders there. "The Russians know their obligations and I don't know that it requires anyone going to Russia to inform them of it," he said. Meanwhile, the United States dispatched a military ship bearing aid to a Georgian port city still patrolled by Russian troops.
Russia Recognizes Rebel Regions in Stern Challenge to the West
Aug. 27….(AP) President Dmitry Medvedev's declaration in a televised address prompted bursts of celebratory gunfire on the streets of South Ossetia and Abkhazia but strong censure from the United States and the European Union. In Georgia, President Mikheil Saakashvili lambasted the Russian move as an "attempt to wipe Georgia from the map" and promised a "peaceful struggle" against Russia's decision. Medvedev was unapologetic, saying when asked if he feared a new Cold War: "We're not afraid of anything." Announcing the move, Russia's president said he had signed decrees recognizing South Ossetia, the catalyst for this month's five-day military conflict with Georgia, and Abkhazia. "Russia calls on other states to follow its example," he said, insisting that the move was in line with the UN charter and international law. "This is not an easy choice, but it is the only way to save the lives of people." He said Russia had shown "restraint and patience" with Georgia and repeatedly sought negotiations, but its calls had gone unanswered. "Unfortunately, they were ignored also by NATO and the UN," Medvedev said. Western nations quickly voiced support for Georgia, strongly criticising Russia. US Secretary of State Condoleezza Rice called the Russian move "regrettable" and insisted the two regions "are clearly within the internationally recognised borders of Georgia." The EU "strongly condemns" Russia's decision, the bloc's French presidency said, while German Chancellor Angela Merkel warned the "unacceptable" stance "contradicts the principle of territorial integrity, a principle based on the international law of nations." In a strongly-worded statement, Britain's Foreign Minister David Miliband said the announcement "further inflames an already tense situation in the region." Saakashvili, in a television address, described Russia's decision as "the first attempt in Europe after Nazi Germany and the Stalinist Soviet Union to bring a neighbouring state to its knees and to change the borders of Europe by force." Russia seeks to "break the Georgian state, undermine the fundamental values of Georgia and to wipe Georgia fron the map," said the fiery Georgian leader, adding he wanted accelerated NATO admission. Russia's ambassador to NATO earlier announced Moscow was suspending cooperation with an "inappropriate, dishonest, hypocritical and deeply cynical" NATO, although cooperation in helping stabilise Afghanistan would not be affected, he said. Dmitry Rogozin said the alliance was "frozen in the Stone Age of the Cold War." Russia has drawn a direct comparison between South Ossetia and Abkhazia, on the one hand, and Kosovo, whose aspirations for independence from Serbia were supported militarily and diplomatically by the West. Tensions have mounted since Russian forces entered Georgia on August 8 to thwart a Georgian attempt to retake South Ossetia. France brokered a ceasefire but the United States and other Western nations have accused Russia of breaching the accord by keeping tanks and troops in Georgia. The US embassy in Tbilisi announced that a US navy destroyer carrying humanitarian aid was headed to the Georgian port of Poti, but later backtracked, saying it could no longer confirm the operation. A senior Russian general condemned a build-up of NATO ships in the Black Sea, said by the West to be delivering aid and conducting previously arranged exercises. "We're bewildered at the extreme level of activity of NATO naval forces in the Black Sea, which continue to increase their numbers," General Anatoly Nogovitsyn told a briefing. Russian Foreign Minister Sergei Lavrov played down Western opposition to the recognition, saying there was no question of Russia annexing the two rebel regions. The international community had warned Russia against recognising South Ossetia and Abkhazia, which broke from Georgia in the early 1990s with Moscow's backing after protracted separatist wars. The United States also says it warned Georgia against any effort to seize control of South Ossetia militarily. Meanwhile, there was rejoicing in Abkhazia and South Ossetia following Medvedev's announcement. In the Abkhaz capital Sukhumi local people took to their cars, driving through the streets with the flags of Abkhazia, South Ossetia and Russia streaming behind them. Men with Ossetian flags draped over their shoulders fired guns in Tskhinvali. South Ossetia's leader, Eduard Kokoity, told a crowd: "All my life I have been waiting for this moment. Our people have been waiting for 18 years." But Georgian police and Ossetian militiamen were locked in a stand-off over a flashpoint town, Akhalgori , which the Ossetians want to make part of their breakaway region.
Obama OK'd 'Live Born' Abortion
Aug. 27….(Newsmax) Sen. Barack Obama's pick of Sen. Joseph Biden, a pro-choice Catholic, will most certainly raise the abortion issue to a new level in the campaign. Obama's own record on abortion is steeped in controversy. Barack Obama not only has a perfect record in opposing pro-life legislation, he even fought against a bill protecting the right to life of a baby born alive. Author David Freddoso chronicles Obama's radical pro-abortion record in his best-selling book "The Case Against Barack Obama: The Unlikely Rise and Unexamined Agenda of the Media's Favorite Candidate." In March 2001, a bill was introduced in the Illinois Senate, where Obama was then serving, that stated in part: "A live child born as a result of an abortion shall be fully recognized as a human person and accorded immediate protection under the law." The bill came following an investigation of a Chicago-area hospital that left babies born alive to die without medical care. "This bill was not an abortion law," Freddoso writes. "It did not confer any right or legal status upon any baby not yet born. This bill had no legal conflicts with Roe v. Wade. Born and living survivors of abortion would be unambiguously considered 'persons.' Medically, scientifically, empirically, they were no different from the many premature babies who are born in American hospitals each year." Nevertheless, Sen. Obama spoke against the bill on the Senate floor. He was the only senator to do so. Arguing against the bill, Obama declared: "This is probably not going to survive constitutional scrutiny. Number one, whenever we define a pre-viable fetus as a person that is protected by the equal protection clause or other elements in the Constitution, what we're really saying is, in fact, that they are persons that are entitled to the kinds of protections that would be provided to a nine-month-old child that was delivered to term. That determination, then, essentially, if it was accepted by a court, would forbid abortions to take place. This would be an anti-abortion statute." According to Freddoso, Obama's stance disregarded language in the bill that clearly stated it applied only to babies that have already been born. Obama voted "present" on the bill. It passed the Senate, but later died in a House committee. In 2002, the legislation was reintroduced in three separate bills. Obama voted against the two bills that received a vote and, once again, spoke in opposition on the Senate floor. Obama also has opposed restrictions on partial-birth abortion, a late-term abortion that kills a partially delivered living fetus and is considered by some to be tantamount to infanticide. Freddoso writes: "Obama has also voted 'present' (again, effectively a 'no' vote) on requiring parental notification (not parental consent) when minor children obtain abortions. "I could find no instance in his entire career in which he voted for any regulation or restriction on the practice of abortion." Freddoso also quotes conservative columnist Terence P. Jeffrey: "Barack Obama is the most pro-abortion presidential candidate ever." And if elected, he would likely become the most pro-abortion president ever. In July 2007, Obama spoke before the Planned Parenthood Action Fund and said: "The first thing I'd do as president is sign the Freedom of Choice Act." Freddoso observes: "This bill would effectively cancel every state, federal, and local regulation of abortion, no matter how modest or reasonable. It would even, according to the National Organization of Women, abolish all state restrictions on government funding for abortions. "In promising to sign this bill, Obama is promising to abolish state laws that protect doctors and nurses from losing their jobs if they refuse to participate in abortions. He is promising to abolish requirements for parental notification and informed consent for mothers who consider the procedure. "Politicians' promises are often empty, but this one deserves to be taken seriously."
Rice: Split Jerusalem in Half
(Sources reveal status of secret talks to create Palestinian state this year)
Aug. 26….(WND) Secretary of State Condoleezza Rice, completing a visit to the region today, has been pressing Israel to sign a document by the end of the year that would divide Jerusalem by offering the Palestinians a state in Israel's capital city as well as in the West Bank and Gaza Strip, according to top diplomatic sources involved in the talks. The Israeli team, led by Prime Minister Ehud Olmert, has been negotiating the division of Jerusalem, despite claims to the contrary, but would rather conclude an agreement on paper by the end of the year that would give the Palestinians a state in the West Bank, Gaza and some Israeli territory, leaving conclusions on Jerusalem for a later date, the informed diplomatic sources told WND. The sources said the Palestinian team has been pushing to conclude a deal by January on all core issues, including Jerusalem, and has been petitioning the US to pressure Israel into signing an agreement on paper that offers the Palestinians eastern Jerusalem. Rice, the sources said, has asked Israeli leaders to bend to what the US refers to as a "compromise position," concluding an Israeli-Palestinian agreement by the end of the year that guarantees sections of Jerusalem to the Palestinians. But Israel would not be required to withdraw from Jerusalem for a period of one to five years. The diplomatic sources said the plan is that once an Israeli-Palestinian deal is reached on paper by January, Bush would issue an official letter guaranteeing that the U.S. supports the conclusions of the document. Any Israeli-Palestinian paper agreement is to finalize a process that began at last November's US backed Annapolis conference, which seeks to create a Palestinian state, at least on paper, before Bush leaves office. One Palestinian negotiator speaking to WND described as "crazy" the intensity and frequency of Israeli-Palestinian talks in recent weeks, saying both sides have been meeting on a daily basis, usually at the highest levels. The negotiator said Foreign Minister Tzipi Livni and Chief Palestinian Negotiator Ahmed Queri have been leading the talks. The negotiator said Jerusalem is being discussed by both sides and that the two teams are "closer than ever" on coming to an agreement on the status of the city. This claim was verified to WND by other diplomatic sources involved in the negotiations. The Palestinian negotiator said Jerusalem would be divided along the framework of the 2000 US-brokered Camp David accords. He said the general philosophy for dividing Jerusalem would be "Arab for Arab and Jew for Jew," meaning that most Arab-majority eastern sections of Jerusalem would be granted to the Palestinian Authority while Israel would retain Western, Jewish-majority sections.
Israel recaptured eastern Jerusalem, including the Temple Mount, Judaism's holiest site, during the 1967 Six Day War. The Palestinians have claimed eastern Jerusalem as a future capital. About 244,000 Arabs live in Jerusalem, mostly in eastern neighborhoods. Jerusalem has an estimated total population of 724,000, the majority Jewish. A number of Arab-majority eastern Jerusalem neighborhoods widely regarded as slated for a Palestinian state include large numbers of Arabs who live on Jewish-owned land illegally. The Jewish National Fund, a US-based nonprofit, owns hundred of acres of eastern Jerusalem land in which tens of thousands of Arabs illegally constructed homes the past few decades. Arabs are now the majority on the Jewish-owned land in question. Asked by WND whether Jerusalem is currently being negotiated, Mark Regev, Olmert's spokesman, simply stated, "No." Olmert has several times denied Jerusalem is being negotiated. Members of his government coalition have promised to bolt his government and precipitate new elections if Jerusalem is discussed in talks. Olmert, facing several criminal investigations described as "serious," recently announced he will resign after his Kadima party holds primaries next month to chose a new leader. That leader is widely expected to continue Israeli-Palestinian talks, especially if frontrunner Livni takes Olmert's place. The diplomatic situation in Israel is such that many commentators believe Olmert has an interest in concluding some sort of agreement quickly. Many believe he would like his input in an Israeli-Palestinian agreement to be among his final "achievements." WND reported that Olmert told the PA he intends to accelerate negotiations to reach some understanding on paper as soon as September. Over the weekend, the Israeli media quoted officials close to Olmert stating the prime minister is working for an interim document as soon as next month to be presented to the United Nations. The document likely will not be the conclusion of negotiations but an outline of some of the breakthroughs regarding the West Bank and Gaza. One PA negotiator told WND of the planned paper: "Papers are very important. It puts limits on the new prime minister. For example, the weak point of Israeli-Syrian negotiations are papers signed by former prime ministers that now must be abided during current negotiations."
US-influenced plan splits nation
Regarding the expected agreement on the Gaza Strip and West Bank, the general plan, according to top diplomatic sources, is to create a Palestinian state in the vast majority of the West Bank, but for Israel to retain large West Bank Jewish community blocs of Ma'aleh Adumim, Gush Etzion and the areas surrounding Jerusalem, and some land in the northern West Bank adjacent to Israel. A plan being floated and heavily influenced by the US grants the Palestinians passage between the West Bank and the Gaza Strip on territory that would be jointly patrolled by Israel and the PA. The passageway would give the Palestinians access to areas close to central Israeli population centers. An area from the Israeli Negev nearly equivalent in land mass to the territory Israel would retain in the West Bank would be transferred to the West Bank, marking the first official Israeli plan that calls for pre-1967 land to be given to the Palestinians. Pre-1967 refers to Israeli territory that was not reconquered in the 1967 Six Day War. Much of the plan previously was published by WND in a series of articles in recent months and was published last week by Israel's Haaretz daily. The plan would be set out on paper and implemented on the Israeli side in stages, while the PA would need to first retake control of the Gaza Strip from Hamas before Israel would give them most of the West Bank.
Jerusalem division plan revealed
Regarding the division of Jerusalem, top diplomatic sources said both sides are close to agreements on specific issues. One PA negotiator claimed the US has guaranteed the Palestinians that sensitive areas in eastern Jerusalem in which what he termed "extremist Jews" are purchasing real estate would be handed to the Palestinians. "The Israelis had no problem with this," the PA negotiator claimed. "We were also told not to worry too much about scattered Jewish properties in Arab neighborhoods, or yeshivas (Jewish seminaries) in the Old City." The PA negotiator's claim could not be verified by sources in Jerusalem. According to informed Israeli and Palestinian sources, officials from the State Department in 2008 presented both negotiating sides with several proposals for consideration regarding the future status of Jerusalem. It was unclear whether the US proposals were accepted. One US plan for Jerusalem obtained by WND was divided into timed phases, and among other things called for Israel eventually consider forfeiting parts of the Temple Mount, Judaism's holiest site. According to the first stage of the US proposal, Israel would initially give the PA some municipal and security sovereignty over key Arab neighborhoods in eastern Jerusalem. The PA would be allowed to open some official institutions in Jerusalem, could elect a mayor for the Palestinian side of the city and would deploy some kind of so-called basic security force to maintain law and order. The specifics of the force were not detailed in the plan. The initial stage also calls for the PA to operate Jerusalem municipal institutions, such as offices to oversee trash collection and maintenance of roads. After five years, if both sides keep specific commitments called for in a larger principal agreement, according to the US plan the PA would be given full sovereignty over agreed upon eastern Jerusalem neighborhoods and discussions would be held regarding an arrangement for the Temple Mount. The plan doesn't specify which parts of the Temple Mount could be forfeited to the Palestinians or whether an international force may be involved. The PA also could deploy official security forces in Jerusalem separate from a non-defined basic force after the five year period and could also open major governmental institutions, such as a president's office, and offices for the finance and foreign ministries. The US plan leaves Israel and the PA to negotiate which Jerusalem neighborhoods would become Palestinian. According to diplomatic sources familiar with the plan, while specific neighborhoods were not officially listed, American officials recommended sections of Jerusalem's Old City as well as certain largely Arab Jerusalem neighborhoods such as Jabal mukabar, Beit Hanina, Abu Dis, and Abu Tur become part of the Palestinian side. Also recommended were the Jerusalem neighborhoods of Shoafat, Kfar Akev and Qalandiya
US-Russia Friction Mounting, USS Iwo Jima sails for Middle East
Aug. 26….(DEBKA) The Georgian conflict over South Ossetia is spiraling into a contest between the US and Russia over control of the Black Sea region and the eastern Mediterranean. The US Vice President Dick Cheney will stop over in Georgia, the Ukraine, Azerbaijan and Italy during a trip starting Sept. 2. President Bush "felt it was important to have the vice president consult with allies in the region on our common security interests," said the White House spokesman Monday, Aug. 25. These steps were Washington's response to a rapid volley of decisions in Moscow: one was taken by the Russian Navy chief, Adm. Vladimir Vysotsky, as disclosed earlier by DEBKAfile, to place its warships bound for Syria's Mediterranean port of Tartus under the command of Russia's Black Sea Fleet headquarters in Sevastopol. At the same time, the American aircraft carrier, the Iwo Jima Expeditionary Strike Group, heading a six-vessel contingent, sets sail Tuesday for the Mediterranean and Persian Gulf, with 6,000 sailors and marines aboard. Also on Monday, the Russian general staff took the further step of announcing regular searches of all cargoes transiting the Georgian port of Poti, tightening its grip on the Black Sea shore. In Sochi, Russian president Dimitry Medvedev said he was considering halting Moscow's ties with NATO. The Russian upper house unanimously urged him to recognize the two breakaway Georgian provinces as independent republics. This step would defy international recognition of the status of South Ossetia and Abkhazia as breakaway provinces of Georgia for the first time. Medvedev said a decision to break off ties with NATO would be difficult but relations had "worsened sharply as a result of the conflict with Georgia over South Ossetia." Tehran reported the Russian and Iranian presidents would meet at the Shanghai Cooperation Organization's summit taking place in Dushanbe, Tajikistan Thursday and Friday, Aug. 28-29. Last week, at the height of the Georgian crisis, the Russian president received Syrian president Bashar Assad at Sochi to discuss sophisticated Russian arms shipments and the establishment of a Russian naval base Syria.
Iran's Ahmadinejad: New Verbal Attack on Israel
Aug. 25….(AP) Iranian President Mahmoud Ahmadinejad renewed his verbal attacks on arch-foe Israel on Saturday, accusing it of dragging the world into turmoil and predicting its demise. "About 2,000 organized Zionists and 7,000 to 8,000 agents of Zionism have dragged the world into turmoil," Ahmadinejad told a rally in the central Iranian city of Arak carried live on state television. He said that if the West does not restrain Zionism, "the powerful hand of the nations will clean these sources of corruption from the face of the earth," without specifying which nations. Iran does not recognize the Jewish state and Ahmadinejad has drawn international condemnation by repeatedly saying since his election in 2005 that Israel is doomed to disappear.
US Fears Russia Could Destablize Middle East
("Be thou prepared, and prepare for thyself, thou, and all thy company that are assembled unto thee, and be thou a guard unto them. Ezekiel 38:7)
Aug. 25….(In The Days) The president of Syria spent two days this week in Russia with a shopping list of sophisticated weapons he wanted to buy. The visit may prove a worrisome preview of things to come. If Russia's invasion of Georgia ushers in a sustained period of renewed animosity with the West, Washington fears that a newly emboldened but estranged Moscow could use its influence, money, energy resources, United Nations Security Council veto and, yes, its arms industry to undermine American interests around the world. Although Russia has long supplied arms to Syria, it has held back until now on providing the next generation of surface-to-surface missiles. But the Syrian president, Bashar al-Assad, made clear that he was hoping to capitalize on rising tensions between Moscow and the West when he rushed to the resort city of Sochi to meet with his Russian counterpart, Dmitri A. Medvedev. The list of ways a more hostile Russia could cause problems for the United States extends far beyond Syria and the mountains of Georgia. In addition to escalated arms sales to other anti-American states like Iran and Venezuela, policy makers and specialists in Washington envision a freeze on counterterrorism and nuclear nonproliferation cooperation, manipulation of oil and natural gas supplies, pressure against United States military bases in Central Asia and the collapse of efforts to extend cold war-era arms control treaties. "It's Iran, it's the UN, it's all the counterterrorism and counternarcotics programs, Syria, Venezuela, Hamas, there are any number of issues over which they can be less cooperative than they've been," said Angela E. Stent, who served as the top Russia officer at the United States government's National Intelligence Council until 2006 and now directs Russian studies at Georgetown University. "And of course, energy." Michael McFaul, a Stanford University professor and the chief Russia adviser for Senator Barack Obama, the presumptive Democratic presidential nominee, said Russia appeared intent on trying to "disrupt the international order" and had the capacity to succeed. "The potential is big because at the end of the day, they are the hegemony in that region and we are not and that's a fact," Professor McFaul said. Russia may yet hold back from some of the more disruptive options depending on how both sides play these next few weeks and months. Many in Washington hope Russia will restrain itself out of its own self-interest; Moscow, for instance, does not want Iran to have nuclear weapons, nor does it want the Taliban to regain power in Afghanistan. Dmitri Rogozin, a hard-liner who serves as Russia's ambassador to NATO, told the newspaper Izvestia this week that Moscow still wanted to support the alliance in Afghanistan. "NATO's defeat in Afghanistan would not be good for us," he said. Moscow may also be checked by the desire of its economic elite to remain on the path to integration with the rest of the world. The main Russian stock index fell sharply in recent days, costing investors $10 billion, many with close ties to the circle of Prime Minister Vladimir V. Putin. Still, although the confrontation over Georgia had been building for years, the outbreak of violence demonstrated just how abruptly the international scene can change. Now Russia is the top focus in Washington and some veteran diplomats fret about the situation spiraling out of control. "Outrage is not a policy," said Strobe Talbott, who was deputy secretary of state under President Clinton and is now the president of the Brookings Institution. "Worry is not a policy. Indignation is not a policy. Even though outrage, worry and indignation are all appropriate in this situation, they shouldn't be mistaken for policy and they shouldn't be mistaken for strategy." For Washington, there are limited options for applying pressure. Senator John McCain, the presumptive Republican presidential nominee, wants to throw Russia out of the Group of 8 major powers. Such a move would effectively admit the failure of 17 years of bipartisan policy aimed at incorporating Russia into the international order. Yet Washington's menu of options pales by comparison to Moscow's. Masha Lipman, an analyst at the Carnegie Moscow Center, said "there's a lot more" that the United States needed from Russia than the other way around, citing efforts to secure old Soviet nuclear arms, support the war effort in Afghanistan and force Iran and North Korea to give up nuclear programs. "Hence Russia has all the leverage," she said. In forecasting Russia's potential for causing headaches, most specialists look first to Ukraine, which wants to join NATO. The nightmare scenario circulating in recent days is an attempt by Moscow to claim the strategic Crimean peninsula to secure access to the Black Sea. Ukrainian lawmakers are investigating reports that Russia has been granting passports en masse to ethnic Russians living in Crimea, a tactic Moscow used in the Georgian breakaway republics of South Ossetia and Abkhazia to justify intervention to protect its citizens. Arms sales, as Mr. Assad's visit underscored, represent another way Russia could create problems. Israeli and Western governments have already been alarmed about reports that the first elements of the Russian-built S-300 antiaircraft missile system are now being delivered to Iran, which could use them to shoot down any American or Israeli planes that seek to bomb nuclear facilities should that ever be attempted. While Mr. Rogozin expressed support for assisting NATO in the war in Afghanistan, other officials have warned darkly about cutting off ties with NATO. The two sides have already effectively suspended any military cooperation programs. But Russia could also revoke its decision in April to allow NATO to send nonlethal supplies overland through its territory en route to Afghanistan. Russia could also turn up pressure on Kyrgyzstan to evict American forces that support operations in Afghanistan and could block any large-scale return to Uzbekistan, which expelled the Americans in 2005. "The argument would be, 'Why help NATO?' said Celeste A. Wallander, a Russia scholar at Georgetown's School of Foreign Service. Even beyond the dispute over Iran, Russia could obstruct the United States at the United Nations Security Council on a variety of other issues. Just last month, Russia vetoed sanctions against Zimbabwe's government, a move seen as a slap at Washington. "If Russia's feeling churlish, they can pretty much bring to a grinding halt any kind of coercive actions, like economic sanctions or anything else," said Peter D. Feaver, a former strategic adviser at the National Security Council. Russia could also accelerate its withdrawal from arms control structures. It already has suspended the Conventional Forces in Europe treaty to protest American missile defense plans and threatened to pull out of the Intermediate-Range Nuclear Forces treaty. Renewed tension could fray a recently signed civilian nuclear cooperation agreement and doom negotiations to extend soon-to-expire strategic arms control verification programs. "Ironically, since the collapse of the Soviet Union, there's always been the concern about Russia becoming a spoiler," said Ms. Stent, of Georgetown, "and now we could see the realization of that."
Jews in the Temple Area: A "Mount"-ing Controversy
Aug. 25….(IsraelNN.com) There's a big problem. The Arabs are desecrating the Mount. So for the Arabs it's allowed and Jews not? If they rule that Jews are not allowed on the mount, then Arabs should certainly not be allowed on it either." Several of Israel's leading rabbis have fired the latest shot in one of modern Israel's longest-running halachic disputes, whether a Jew may enter the Temple Mount nowadays. Rabbis Ovadia Yosef, Shalom Elyashiv and Chaim Kanievsky recently sent a letter to Rabbi Shmuel Rabinovich, the rabbi in charge of the Western Wall area, asking him to repeat a 40-year-old decree prohibiting Jews from entering the Temple Mount. The decree was originally signed by most leading rabbis upon the Mount's capture by Israel in the 1967 Six Day War. The Temple Mount is the area upon which both Holy Temples stood, in which the priests offered sacrifices, and where thrice-yearly convocations of the whole nation of Israel took place during the festivals of Pesach (Passover), Shavuot (Weeks) and Sukkot (Tabernacles). In the center of the Temple complex stood a Holy of Holies that guarded the Holy Ark, once containing the original Tablets of the Law given to Moses by G-d at Mt. Sinai, and the Foundation Stone for the creation of the universe. That spot is the holiest point in the world and the place that the High Priest entered only once a year to offer the most important atonement sacrifice of the year. The modern debate centers on whether or not there is enough information from classical rabbinical sources to identify the location of the Holy of Holies, as well as the layout of the Temple, which articulated specific areas accessible to different categories of Jews. The biblical prohibition against a person entering an area in the Temple complex forbidden to him carries with it the severe Divine penalty of karet. "As time passed, we have lost knowledge of the precise location of the Temple, and anyone entering the Temple Mount is liable to unwittingly enter the area of the Temple and the Holy of Holies," the three wrote in the letter. "Entrance to the Temple Mount, and the defilement of the Holy of Holies, is more severe than any of the violations in the Torah," wrote Rabbi Kanievsky. Signs were first placed around the area in 1967 warning Jews that they would be incurring a divine decree of death if they ascended the Mount. The signs enjoyed the support of most rabbis at the time. However, with the passing decades many religious leaders, especially from the religious-Zionist mvement, began to question the validity of the decree. Among them are Kiryat Shmona's chief rabbi Tzephania Drori, Kiryat Arba's Dov Lior, and Rabbi Nachum Rabinovich, head of the Maaleh Adumim yeshiva, who have all called for a review of the ban. Rabbi Yehuda Kreuzer is the head of the Jewish town of Mitzpeh Yericho, northeast of Jerusalem, as well as head of the "Yeshiva of the Jewish Idea" and founder of HaTnuah L'Kinun HaMikdash (the Movement to Re-establish the Temple). He is one of the growing number of rabbis who believe that Jews should be allowed to enter onto the Temple Mount, and in an interview with IsraelNationalNews, he cited a well-known rabbinical source: "In short, the Radbaz [a leading halachic authority from the 1500s] ruled that the Dome of the Rock is the Foundation Stone in the Holy of Holies…. He wrote that without a doubt this is the identity of the place. He wrote in a definite way the definite identity of the place," Kreuzner reiterated. "If so, it's possible to do the measurements." Rabbi Kreuzer noted that in Tractate Midot (Measurements) as well as in works by the Rambam (Maimonides, considered by many to be the greatest articulator of Torah law after Moses), the measurements of all parts of the Temple and the Mount are laid out in detail and agree with each other.
WEEK OF AUGUST 17 THROUGH AUGUST 23
US to Syria: Do Not Meddle in Russia-Georgia Conflict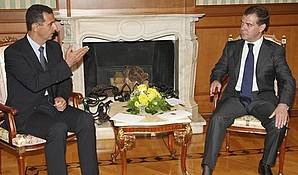 Aug. 22….(Ha Aretz) Senior US officials severely criticized Syria on Thursday after Syrian President Bashar Assad voiced his country's support of Russia in its military conflict with Georgia, saying that Syria should keep out of issues that don't pertain to them. The officials suggested that Syria refrain from meddling in the affairs of other nations, "such as Georgia," Channel 10 reported Thursday. They added that Syria should remain focused on its own problems in the Middle East and keep trying to achieve peace in the region. Earlier Thursday, Assad backed Russia's military action against Georgia at talks with President Dmitry Medvedev on Thursday. Syria, a foe of Israel in the Middle East which stands accused by the United States of supporting international terrorism, is only the second country after Belarus to voice public support for Russia's military operation in Georgia. "We understand the essence of the Russian position and its military response," Assad told Medvedev at the start of their meeting in the Kremlin leader's Black Sea residence, Bocharov Ruchei. "We believe Russia was responding to the Georgian provocation," the Syrian president said. Russia drew Western condemnation, led by the United States, when it mounted a crushing military offensive in response to Georgia's attempt two weeks ago to recapture the rebel, pro-Russian province of South Ossetia. Moscow says it was forced to act to avert bloodshed in South Ossetia and defend Russian nationals and peacekeepers from the Georgian attack, though Tbilisi says Moscow engineered the conflict. "I want to express my support for the Russian position in the breakaway regions of Abkhazia and South Ossetia. We oppose attempts to tarnish Russia's position," Assad said. Syria is interested in purchasing Russia's Pantsyr-S1 air defense missile system, the BUK-M1 surface-to-air medium-range missile system, military aircraft and other hardware, the Russian news agency Interfax quoted a diplomatic source as saying. According to Russian media, Assad offered to host the Russian missiles as a response to a deal signed by Washington and Warsaw this week to deploy elements of a US missile defense system in Poland, which has aggravated Moscow's relations with the West. Assad's visit is likely to become an additional irritant for Washington. In the past, the United States has more than once warned Moscow against selling arms to its longstanding ally Syria. Russian Foreign Minister Sergei Lavrov, asked by reporters about plans to sell Iskander missiles and other modern weapons to Syria, said: "We are ready to consider requests from the Syrian side on buying more arms.

Moscow Halts Cooperation with NATO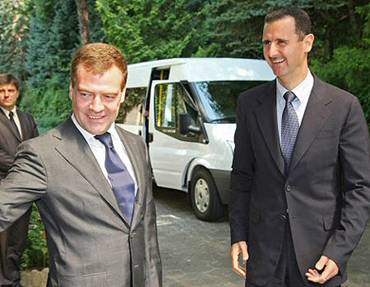 Aug. 22….(Fox News) Russia has halted all military cooperation with NATO, the Western alliance said Thursday, in the latest sign of East-West tension over the invasion of Georgia. Alliance spokeswoman Carmen Romero said NATO had received notification through military channels that Russia's Defense Ministry had taken a decision "to halt international military cooperation events between Russia and NATO countries until further instructions." She said NATO "takes note" of the decision but had no further reaction. On Tuesday, NATO foreign ministers said they would make further ties with Russia dependent on Moscow making good on a pledge to pull its troops back to pre-conflict positions in Georgia. However, they stopped short of calling an immediate halt to all cooperation. Under a 2002 agreement that set up the NATO-Russia Council, the former Cold War foes began several cooperation projects. They include sharing expertise to combat heroin trafficking out of Afghanistan, developing battlefield anti-missile technology, joint exercises and help with rescue at sea. Romero said she was unaware of any specific events under the cooperation agreement scheduled before early September. NATO itself decided last week to suspend plans for a Russian warship to join NATO counter-terrorism patrols in the Mediterranean Sea, deciding it was inappropriate in the wake for the eruption of fighting in Georgia. Meanwhile France's foreign minister said Thursday that two small columns of Russian troops were leaving Georgia, in what he called an encouraging sign of a much-awaited pullout. "Some encouraging signs, even if they are insufficient, were made yesterday and today," including the departure of the columns, Bernard Kouchner told reporters in Paris. He did not say where the troops were or where they were going. He said that after previous hopes of a pullout were dashed, "this time it appears that there is at least the beginning of a fulfillment." But even as Kouchner praised the progress, Russian forces dug deeper into their positions at the entrance to Georgia's main Black Sea port city of Poti, excavating trenches and setting up mortars facing the city. Several armored personnel carriers and troop trucks blocked the bridge that is the only land entrance to Poti and another group of APCs and trucks were positioned in a nearby wooded area. Although Russian President Dmitry Medvedev has promised that his forces would pull back by Friday, Russian troops appear to be settling in for a long presence, raising concern about whether Moscow is aiming for a lengthy occupation of its small, pro-Western neighbor. Nonetheless, a top Russian general said troops were moving out in accordance with the agreement. "The pullback of Russian forces is taking place at such a tempo that by the end of August 22 they will be in the zones of responsibility of Russian peacekeepers," Col.-Gen. Anatoly Nogovitsyn, the deputy head of the general staff, said at a briefing Thursday in Moscow. Georgian President Mikhail Saakashvili told The Associated Press that Russia was seizing strategic spots in Georgia even as it thinned out troops elsewhere. He called the Russian moves "some kind of deception game." "The Russians are making fun of the world," he declared. An EU-sponsored cease-fire says both Russian and Georgian forces must move back to positions they held before fighting broke out August 7 in Georgia's separatist republic of South Ossetia, which has close ties to Russia. The agreement also says Russian forces can work in a so-called "security zone" that extends 7 kilometers into Georgia from South Ossetia. Russian forces are also allowed a presence on Georgian territory in a security zone along the border with Abkhazia, another separatist Georgian region, under a 1994 UN-approved agreement that ended a war there. But Poti is 30 kilometers south of Abkhazia and lies well outside the security zone, and it's also at least 150 kilometers west of the nearest point in South Ossetia. Russian tanks, trucks and troops meanwhile continued to hold positions Thursday around the strategically key city of Gori and in Igoeti, about 50 kilometers west of the Georgian capital of Tbilisi. Both are along Georgia's main east-west highway. Georgia said Russian soldiers destroyed military facilities Wednesday in Osiauri, but the claim could not be confirmed. Several thousand people rallied Thursday in the Abkhazian capital Sukhumi to demand the region be recognized as independent and a similar rally was expected in South Ossetian capital Tskhinvali later in the day. Russian officials, including Medvedev, have indicated Moscow will recognize the regions as independent. Despite the EU peace accord, Nogovitsyn said Georgia has "no moral right" to return its soldiers to South Ossetia, where they had held some land as part of a peacekeeping mission. He said Russia will build 18 checkpoints in the security cordon around the province. Western leaders have stressed that Georgia must retain its current borders.
Israel Paying the Price
Russia may respond to latest Western moves by boosting Israel's enemies
Aug. 22….(JPOST) Officials at the Kremlin apparently took into account the possibility of a harsh diplomatic response by the West to the Georgia invasion. They were prepared for a verbal clash at the UN Security Council and with NATO, and showed willingness to cooperate with the French president's mediation efforts. However, the West then adopted three harsh retaliatory moves that the Kremlin apparently did not foresee: The US quickly signed a deal with Poland in respect to the deployment of warning systems and missiles; NATO announced it was suspending its ties with Moscow; and talks were launched on Georgia joining NATO. These moves are perceived by Russia as breaking the rules of the game, almost a declaration that the Cold War is being renewed. Through Russian eyes, this does not only undermine essential defense interests and their national honor, but also threatens the status of the Medvedev-Putin regime domestically, the two are being portrayed as impetuous for ordering the invasion. Because of their distress, Russian leaders decided on their own retaliatory moves, which also go beyond verbal and diplomatic blows: They stopped their military withdrawal from Georgia on the pretext of creating a "security zone" around south Ossetia and Abkhazia; they suspended their ties with NATO; and they quickly invited Syria's president to discuss arms sales and the tightening of relations. By doing so, the Russians are trying to signal to the West: You're undermining our interests through our rivals in Eastern Europe and the Caucasus? We'll get back at you, and not only in the Caucasus, but also in your soft underbelly, by boosting your rivals in the Middle East. Syria was selected as the first to be wooed, because recently it appeared that it has been trying to move closer to the West and restore its ties with the US. By bringing Assad closer, Moscow is threatening to torpedo this move in a manner that would have a negative effect on the West's ties with Lebanon and sabotage the chances of a peace deal between Syria and Israel. Russia will apparently ask for, and be granted, permission to boost its regular presence at Syrian ports, a move that would threaten America's naval supremacy in the region.
The Iranian context
However, Israel may end up paying the direct and heaviest price as a result of these warmer ties. The Syrian procurement list is topped by an advanced anti-aircraft system that provides aerial defense and can intercept missiles. In addition, Syria has been trying to purchase medium-range ground-to-ground missiles that are more accurate than anything it possesses today. Such missiles would enable Damascus to accurately target military installations in northern and central Israel. Syria is also seeking to purchase other anti-aircraft systems as well as optical warning systems; the combination of all of the above could significantly erode Israel's ability to protect itself against the thousands of ballistic missiles and rockets accumulated by Syria and used to threaten the Israeli home front. The greatest harm could be caused to the Air Force's ability to operate above Syria during wartime. We are not talking about systems that the Air Force, and the IDF in general, are incapable of "taking care of." However, many sorties and other means, as well as plenty of time, will be required in order to neutralize these systems. Throughout this time, Israel's home front will be exposed. The deployment of Russian experts in Syria, in addition to the hundreds who are there already, would also greatly undermine Israel's ability to "punish" Syria should it attack us, while upgrading the Syrian military's intelligence and electronic warfare capabilities. By threatening to upgrade Syria's military capabilities vis-à-vis Israel, Russia is trying to threaten the US. Israel has become the target through which the Russians are trying to hurt America. However, this is not the end of the story: By threatening to upgrade military ties with Syria, Moscow is hinting that should the West not step back and rescind the countermeasures adopted in relation to the Georgia war, the next in line for wooing would be Iran. It is obvious that Russia's ability to harm the West in the Iranian context is much greater than in the Syrian context. At this time, Russia is already selling advanced arms to Iran while preventing harsher sanctions on Tehran in relation to its nuclear plan. Should Russia decide to act unrestrainedly, the damage to the West and Israel could be much graver.
Israel's weapon: Peace conference
For the time being it appears that Russia is merely threatening, in a bid to deter the West. Officials in Moscow don't want to embark on a genuine cold war. This, among others, is the reason why President Medvedev spoke with Prime Minister Olmert and attempted to allay his fears. We will very likely see the Russians refraining from making an explicit commitment to Assad about selling his country advanced anti-aircraft systems and missiles. They will announce their intention to continue negotiations and move on to advanced stages in order to preserve the threat against Israel and the West, but for the time being they won't close a deal. Not officially at least. One reason for this is that Israel has a significant pressure lever it can use against Russia: Moscow is currently making great efforts to convene, in November, a multi-party Mideast peace conference. Without Israel, such conference, which Russia seeks in order to gain some direly needed national and international prestige, would not have any substantial value. Israel has already expressed in the past qualified willingness to participate in the conference, and Russia is concerned that closer ties with Damascus and the selling of advanced weapons to its army would prompt Israel to change its position. And so, the cards are still on the table, and the Russians are playing them cautiously. It appears that the West also does not wish to exacerbate the crisis. Should Russia withdraw its forces from sovereign Georgian territory, as Moscow promised to do, a new and saner phase of dialogue may follow and end the crisis. Yet meanwhile, President Assad has already proven his rashness and lack of diplomatic wisdom. Even before it became clear whether the crisis is getting worse or fading away, he started behaving as though the Cold War is here already. In interviews to the Russian press, he unequivocally positioned himself on Russia's side, sounding like a bumbling fool. He even offered that Russia deploy missiles on Syrian territory. Generally speaking, Assad left the impression that he misses the Cold War era and the role played in it by Syria as the Soviet Union's ally. The West, and mostly the US, will likely settle the score with him in the future. However, for now Israel must carefully weigh whether the unstable and impetuous Assad is a suitable partner for peace talks and strategic agreements.
Pakistan Nukes Present Major Problems For America and Israel
Aug. 21….(Bill Wilson, KIN Senior Analyst) Pakistan's nuclear weapons could fall into the hands of terrorist groups al Qaeda and the Taliban with the exile to Saudi Arabia of deposed Pakistani president and American anti-terrorist ally Pervez Musharraf. Experts, however, say this is unlikely because a ten-member committee makes the decisions regarding the nuclear weapons, which are protected by the military and closely screened security agents. What the experts are not considering is that the committee is comprised of Sharia-law Muslims who see the United States as an enemy and that is why Musharraf has been forced out of office in the first place. At a crisis meeting of the Pakistan government's ruling coalition on July 25th, one of the members who has close ties with al Qaeda said that Pakistan was in danger of losing control of the North West Frontier Province to, what he called, "militants." The province in question happens to be where al Qaeda and the Taliban have their strongholds and the reported area where Pakistan's nuclear arsenal is housed. The Australian newspaper reported that coalition member and al Qaeda sympathizer Maulana Fazlur Rehman's comments were backed by another coalition member whose party rules over the province. Problem is, Musharraf was apparently the last stronghold against working with the Taliban and al Qaeda to solve political problems in Pakistan. The new coalition government's approach is to work with and include the terrorist groups in decision making about the issues facing the country. Prior to Musharraf's demise, intelligence reports indicated that al Qaeda and the Taliban had infiltrated much of Musharraf's military and were laying in wait to seize nuclear targets, including submarines capable of launching nuclear weapons. The US State Department appears to be throwing Musharraf under the bus, saying that the Pakistan government can do what they want with him so long as it abides by the law. Further, at the announcement of Musharraf's resignation, Secretary of State Condoleezza Rice underscored the "Alice in Wonderland" approach by America to the situation. She said, "The United States supported the transition to democratic government in Pakistan and respects the results of the election...The United States will help with these efforts to see Pakistan reach its goal of becoming a stable, prosperous, democratic, modern, Muslim nation." There are reports that American money given to Pakistan has filtered down to training Taliban terrorists. 2 Corinthians 6:14 says, "Be ye not unequally yoked together with unbelievers: for what fellowship has righteousness with unrighteousness?" Heavenly Father, we have a problem.
Hamas Leader: We'll Retrieve Jerusalem Only by Way of Jihad
'Jerusalem will be returned to the Palestinians not by way of negotiations or hugging and kissing the enemy, but through blood, shahids and resistance,' Haniyeh says, adding 'Muslims must protect Al-Aqsa Mosque'
Aug. 21….(YNET) Hamas leader Ismail Haniyeh said Wednesday that the Islamist group will not accept any future peace agreement that does not include the return of Jerusalem and the Jordan Valley to Palestinians hands and the return of Palestinian refugees to their homes in Israel. Speaking at a ceremony marking 39 years since the fire at the Al-Aqsa Mosque in Jerusalem's Old City, Haniyeh said "no one can cede Jerusalem, the city from which the Prophet Muhammad ascended to the heavens. "Jerusalem will be retrieved to the Palestinians not through negotiations or by hugging and kissing the enemy, but by way of jihad, blood, shahids and resistance. With Allah's help, Jerusalem will be returned," he said. The Hamas leader added that "the Israeli-Arabs are safeguarding the Al-Aqsa Mosque; it is as if they are inside the belly of a whale. They represent the Islamic nation. We send them our regards. Haniyeh said that "according to most all reports on secret peace talks or agreements, Israel is refusing to relinquish Jerusalem and the West Bank, refuses to accept the right of return of Palestinian refugees, refuses to dismantle the settlements and deems the Jordan Valley vital to its security. On behalf of the Palestinian nation and Muslims everywhere, I say that we will not accept any such agreements," he said. The Hamas chief continued to say that Israel is looking to damage Al-Aqsa and called on all Muslims to "protect Jerusalem".
Syria May Host Russian Missile Batteries
Aug. 20….(JPOST) Syrian President Bashar Assad has pledged to support Russia in its conflict with Georgia and said that Damascus was ready to consider deploying Russian Iskander missile systems in its territory, in response to the US missile shield in Europe. In an interview with the Russian paper Kommersant, cited by the Interfax News Agency, Assad said regarding the option to install Rusian missiles on Syrian ground "In principle, yes. We have not thought of it yet. No such proposal has been received. In any case, all similar projects must be first studied by military experts. And when everything is decided, we will make an open and public announcement," Assad said in the interview, published on Wednesday, the day before his visit to Russia was scheduled to begin. The Iskander missile (NATO reporting name SS-26 Stone) is a short range, solid fuel propelled, theater quasi-ballistic missile system. The system is intended to use conventional warheads for the engagement of small and area targets, such as hostile fire weapons (missile systems, multiple launch rocket systems, long-range artillery pieces), air and antimissile defence weapons, especially those located in relatively fixed sites, command posts and communications nodes, critical civilian infrastructure facilities and other vital small and area targets. During his visit, Assad will meet with Russian Prime Minister Dmitry Medvedev. Assad's visit to Moscow is primarily meant as an introduction between him and Russia's recently appointed Medvedev, but the visit follows on the heels of Russia's attack on Georgia and a top Russian general's remarks that Israel was one of Georgia's key arms suppliers. Syria was a client state of Russia during the Soviet era and the Syrian military is equipped mostly with Soviet-made weapons. The Qatari-based Al Wattan quoted Syrian sources as saying the meeting would deal with the crisis in Georgia and with the importance of the strategic alliance between Damascus and Moscow, which, the sources said, "has always been a stabilizing factor in the Middle East." Syria kept its strategic ties with Russia after the fall of the Soviet Union, and is still a buyer of Russian arms. Al Wattan analysts assessed that during Assad's present visit, as in the past, Russia and Syria would sign deals for the sale of advanced weapons. The sources quoted by the paper said Syria's interest in the Russian-Georgian conflict grew "following the surprising discoveries of the dangerous role Israel played in transferring weapons to Georgia. Israel says it does not supply arms to other countries as a government but private firms conduct equipment sales and training with the defense ministry's approval. Assad said Israel's role would only encourage countries like Syria, a US foe and ally of Iran, to step up cooperation with Russia. "I think that in Russia and in the world everyone is now aware of Israel's role and its military consultants in the Georgian crisis," Assad told Kommersant. "And if before in Russia there were people who thought these forces can be friendly then now I think no one thinks that way." Israel has long urged Russia not to sell weapons to Syria. Damascus was a Moscow ally during the Cold War and is now key to the Kremlin's ambitions to reviving its Soviet-era role in the region.
If the Almighty Doesn't Exist
Aug. 20….(By Dennis Prager) We are constantly reminded about the destructive consequences of religion, intolerance, hatred, division, inquisitions, persecutions of "heretics," holy wars. Though far from the whole story, they are, nevertheless, true. There have been many awful consequences of religion. What one almost never hears described are the deleterious consequences of secularism, the terrible developments that have accompanied the breakdown of traditional religion and belief in G-d. For every thousand students who learn about the Spanish Inquisition and the Salem Witch Trials, maybe two learn to associate Gulag, Auschwitz, The Cultural Revolution and the Cambodian genocide with secular regimes and ideologies. For all the problems associated with belief in G-d, the death of G-d leads to far more of them. So, while it is not possible to prove (or disprove) G-d's existence, what is provable is what happens when people stop believing in G-d.
1. Without G-d there is no good and evil; there are only subjective opinions that we then label "good" and "evil." This does not mean that an atheist cannot be a good person. Nor does it mean that all those who believe in G-d are good; there are good atheists and there are bad believers in G-d. It simply means that unless there is a moral authority that transcends humans from which emanates an objective right and wrong, "right" and "wrong" no more objectively exist than do "beautiful" and "ugly."
2. Without G-d, there is no objective meaning to life. We are all merely random creations of natural selection whose existence has no more intrinsic purpose or meaning than that of a pebble equally randomly produced.
3. Life is ultimately a tragic fare if there is no G-d. We live, we suffer, we die, some horrifically, many prematurely, and there is only oblivion afterward.
4. Human beings need instruction manuals. This is as true for acting morally and wisely as it is for properly flying an airplane. One's heart is often no better a guide to what is right and wrong than it is to the right and wrong way to fly an airplane. The post-religious secular world claims to need no manual; the heart and reason are sufficient guides to leading a good life and to making a good world.
5. If there is no G-d, the kindest and most innocent victims of torture and murder have no better a fate after death than do the most cruel torturers and mass murderers. Only if there is a good G-d do Mother Teresa and Adolf Hitler have different fates.
6. With the death of Judeo-Christian values in the West, many Westerners believe in little. That is why secular Western Europe has been unwilling and therefore unable to confront evil, whether it was Communism during the Cold War or Islamic totalitarians in its midst today.
7. Without G-d, people in the West often become less, not more, rational. It was largely the secular, not the religious, who believed in the utterly irrational doctrine of Marxism. It was largely the secular, not the religious, who believed that men's and women's natures are basically the same, that perceived differences between the sexes are all socially induced. Religious people in Judeo-Christian countries largely confine their irrational beliefs to religious beliefs (theology), while the secular, without religion to enable the non-rational to express itself, end up applying their irrational beliefs to society, where such irrationalities do immense harm.
8. If there is no G-d, the human being has no free will. He is a robot, whose every action is dictated by genes and environment. Only if one posits human creation by a Creator that transcends genes and environment who implanted the ability to transcend genes and environment can humans have free will.
9. If there is no G-d, humans and "other" animals are of equal value. Only if one posits that humans, not animals, are created in the image of G-d do humans have any greater intrinsic sanctity than baboons. This explains the movement among the secularized elite to equate humans and animals.
10. Without G-d, there is little to inspire people to create inspiring art. That is why contemporary art galleries and museums are filled with "art" that celebrates the scatological, the ugly and the shocking. Compare this art to Michelangelo's art in the Sistine chapel. The latter elevates the viewer, because Michelangelo believed in something higher than himself and higher than all men.
11. Without G-d nothing is holy. This is definitional. Holiness emanates from a belief in the holy. This explains, for example, the far more widespread acceptance of public cursing in secular society than in religious society. To the religious, there is holy speech and profane speech. In much of secular society the very notion of profane speech is mocked.
12. Without G-d, humanist hubris is almost inevitable. If there is nothing higher than man, no Supreme Being, man becomes the supreme being.
13. Without G-d, there are no inalienable human rights. Evolution confers no rights. Molecules confer no rights. Energy has no moral concerns. That is why America's Founders wrote in the Declaration of Independence that we are endowed "by our Creator" with certain inalienable rights. Rights depend upon a moral source, a rights giver.
14. "Without G-d," Dostoevsky famously wrote, "all is permitted." There has been plenty of evil committed by believers in G-d, but the widespread cruelties and the sheer number of innocents murdered by secular regimes, specifically Nazi, Fascist and Communist regimes, dwarfs the evil done in the name of religion.
As noted at the beginning, none of this proves, or even necessarily argues for, G-d's existence. It makes the case for the necessity, not the existence, of G-d. "Which G-d?" the secularist will ask. The G-d of Israel, the G-d of America's founders, "the Holy G-d who is made holy by justice" (Isaiah), the G-d of the Ten Commandments, the G-d who demands love of neighbor, the G-d who endows all human beings with certain inalienable rights, the G-d who is cited on the Liberty Bell because he is the author of liberty. That is the G-d being referred to here, without whom we will be vanquished by those who believe in less noble gods, both secular and divine.
Iran and Syria, in the Role of Russia
Aug. 20….(Ha Aretz) Now that the fighting in Georgia has died down, policy shapers and pundits in the West are free to analyze the maneuvers and results, and draw lessons. The picture that emerges is a dismal one. Vladimir Putin's Russia exercised brutal force with the object of bringing a rebellious neighbor to its knees. The United States, which encouraged Georgian President Mikheil Saakashvili to defy Moscow, did not give him any real support. Former Soviet republics and satellites will now think twice before confronting Russia, or will be tempted to seek shelter beneath the cover of the US, NATO or the European Union. Oil is now much less likely to reach the Caspian Sea without Russia's involvement. The Georgian crisis will have specific repercussions on the Middle East. There is less of a chance that the United States and Russia will be cooperating to stop Iran's nuclear program. There is a greater chance that Russia will wage a more ambitious and aggressive policy, including selling advanced weapons systems to Iran and Syria. There will also be a host of indirect repercussions. In this context, there is a striking similarity between the Russian move in the Caucasus, and Iran and Syria's move in Lebanon. On May 7, an armed struggle broke out between Hezbollah and the so-called March 14 coalition, led by Lebanese Prime Minister Fouad Siniora. The crisis was prompted by Siniora's refusal to put up with Hezbollah having its own nationwide communication network, another blatant blow to the Lebanese government's sovereignty. Hezbollah beat its rivals in the violent conflict, but refrained from extracting a military achievement, opting instead for political gains. On May 23 a political compromise was reached in Doha, Qatar, enabling a new government led by Siniora, and letting the elected president, General Michel Suleiman, enter his post. In addition, Syria agreed, with French mediation, to establish diplomatic relations with Lebanon, thereby obliquely recognizing it neighbor's independence and sovereignty. That understanding paved the way for Bashar Assad's invitation to the July 13 conference of the new Union for the Mediterranean, as an honored guest of France. However, the full significance of the Doha compromise soon became clear. When Hezbollah threw a homecoming party for Samir Kuntar, the president and prime minister took part (the latter, at least, seemed to be under duress), and thus were seen as accepting Hezbollah's hegemony and role as a semi-state institution, and as accepting Kuntar and his murderous acts as a heroic Lebanese operation. More importantly, the new government's guidelines and President Suleiman's speeches gave legitimacy to Hezbollah's ongoing battle for the Shaba Farms. Hezbollah was therein given a standing equivalent to the Lebanese Army, and a rationale for continuing its violence against Israel, not as a terror organization, but as an arm of the Lebanese state. Hezbollah and its patrons have settled for these accomplishments for now, and have chosen not to use their military victory as a springboard for a complete takeover of the Lebanese state. The similarity between this chain of events and the crisis in Georgia is striking: For Israel, the developments in Lebanon are part of a complex strategic, political picture, Iran's aspiration to regional hegemony and nuclear weapons; the Iran-Syria-Hezbollah axis; the negotiations with Syria, the Palestinian Authority and Hamas; the Bush administration's decision to refrain from attacking Iran's nuclear facilities and its pressure on Israel to wait for diplomacy, all while the Israeli government and the Bush administration are approaching their end, with their potential heirs mired in elections and inheritance battles. This interim period is expected to end in early 2009. That is when the new US administration and the Israeli government will have to formulate both an overall strategy and specific solutions to the above issues.
Rice: Russia May Be Attempting to Rebuild Soviet Union
Aug. 20….(IsraelNN.com) Russia appears to be attempting to re-establish another Soviet Union, according to US Secretary of State Condoleezza Rice, and America intends to nip the effort in the bud. In remarks to journalists during her flight to Brussels for a meeting of the NATO Council, Rice noted Russia's reluctance to fulfill its end of a ceasefire agreement negotiated by French President Nicolas Sarkozy a week ago. The American Secretary of State reaffirmed the US commitment to its ally, vowing that "Georgian infrastructure will be rebuilt. Georgia's economy will be reinforced." Rice also noted that a wider risk is developing, one she said NATO is moving to block, by "backing up states that might be at risk of being reabsorbed into the Russian constellation. "We have an objective in the alliance to reaffirm the support of the alliance for those states that are now well outside of Russia's reach; that is, those that have been fully integrated into the transatlantic structures, states like, the Baltic states like Poland, which are fully integrated members of the transatlantic community. And that just shows how far we've come since 1991 and the collapse of the Soviet Union, and certainly how far we've come since 1968 when one of the countries that will be sitting around that table was brutally attacked and its government overthrown by Soviet forces." Rice noted that NATO would have to choose between a re-established Soviet presence in the region, or allowing states like Georgia and the Ukraine, neither of which is a member, to join its ranks.
Libya Positions Itself Firmly in Russia's Corner
Aug. 20….(CNSNews.com) At a time when the US is moving towards full normalization of relations with Libya, Muammar Gaddafi's son has made it clear that the North African nation is looking to Russia as its strategic partner. In a little-noticed interview with Russia's Kommersant business daily, Seif al-Islam Gaddafi said Moscow's resurgence, demonstrated by this month's military incursion into Georgia, was a positive development for the Arab world. "What happened in Georgia is a good sign, which means America is no longer the sole world power setting the rules of the game," Gaddafi said. "Now there is balance in the world. Russia is being reborn, and we value that. It is very good for us, for all of the Middle East," he said. Secretary of State Condoleezza Rice said Friday she hoped to visit to Tripoli soon. The US and Libya have not had formal diplomatic relations since 1980, and it will be the first visit by a secretary of state since 1953. Asked whether his strong statements were not risking Libya's newly-improved ties with the US, Gaddafi told the Russian paper that although his country has good relations with both the West and Russia, "Libya chose Russia as its strategic partner." "Of course, Russia is our strategic partner, and we cannot compare it with any other country for closeness. That's obvious." Gaddafi said Libya backed Moscow's position that Georgia had initiated the recent conflict, by mounting an offensive against separatists in a Russian-backed breakaway provinc, and forced a Russian military response. Libya would back Russia in the UN Security Council, he said. A key reason cited for some European countries' reluctance to antagonize Russia, for instance, by supporting the further eastward expansion of NATO, is the EU's reliance on Russian energy supplies, and Russia's willingness to use its oil and gas for political leverage. Instability in Georgia, a critical transit route for Central Asian energy supplies bypassing Russia, has added to the concerns. Italy and other European nations look increasingly to Libya, with Africa's largest oil reserves and fourth-largest natural gas reserves, to help ease its dependence on Russian supplies. But Tripoli's deepening alliance with Moscow raises doubts about whether Libya will be the answer to attempts to break the Russian stranglehold, particularly as Russian energy monopoly Gazprom recently signed agreements to invest in Libya's operations. Asked in the interview whether he thought Russia faced a threat of economic isolation over its actions in Georgia, Gaddafi said he doubted it. "The whole world needs Russian gas, Russian oil. It is not expedient for Europe to let relations with Russia worsen. And then we, the Libyans, will do everything possible to work in Russia and invest in its economy. Because Russia is a great country."
FOJ Note: Russia has been busy guarding and arming its Magog allies. Libya is one of those allies, as is Iran, and possibly the regions around the state of Georgia, which Russia has just smacked this week. Ezekiel 38:3-6 And say, Thus saith the Lord GOD; Behold, I am against thee, O Gog, the chief prince of Meshech and Tubal: And I will turn thee back, and put hooks into thy jaws, and I will bring thee forth, and all thine army, horses and horsemen, all of them clothed with all sorts of armour, even a great company with bucklers and shields, all of them handling swords: Persia, Ethiopia, and Libya with them; all of them with shield and helmet: Gomer, and all his bands; the house of Togarmah of the north quarters, and all his bands: and many people with thee.
Rice: Russia Playing Very Dangerous Game
Stern American warning: US Secretary of state says NATO would not allow Moscow to 'draw a new line' in Europe; Rice also slams renewed Russian bomber patrols off Alaska, says this is not 'cost free'
Aug. 19….(YNET) US Secretary of State Condoleezza Rice said Monday that Russia is playing a "very dangerous game" with the US and its allies and warned that NATO would not allow Moscow to win in Georgia, destabilize Europe or draw a new Iron Curtain through it. On her way to an emergency NATO foreign ministers meeting on the crisis, Rice said the alliance would punish Russia for its invasion of Georgia and deny its ambitions by rebuilding and fully backing Georgia and other Eastern European democracies. "We have to deny Russian strategic objectives, which are clearly to undermine Georgia's democracy, to use its military capability to damage and in some cases destroy Georgian infrastructure and to try and weaken the Georgian state," she said. "We are determined to deny them their strategic objective," Rice told reporters aboard her plane, adding that any attempt to recreate the Cold War by drawing a "new line" Through Europe and intimidating former Soviet republics and ex-satellite states into submission would fail. "We are not going to allow Russia to draw a new line at those states that are not yet integrated into the trans-Atlantic structures," she said, referring to Georgia and Ukraine, which have not yet joined NATO or the European Union but would like to. Rice could not say what NATO would eventually decide to do to make its position clear but said the alliance would speak with one voice "to clearly indicate that we are not accepting a new line."
Rice: Russia may wish to reconsider
At the same time, she said that by flexing its military muscle in Georgia as well as elsewhere, including the resumption of Cold War-era strategic bomber patrols off the coast of Alaska, Russia was engaged in high-stakes brinksmanship that could backfire. This "is a very dangerous game and perhaps one the Russians want to reconsider," Rice said of the flights that began again with frequency about six months ago. "This is not something that is just cost-free. Nobody needs Russian strategic aviation along America's coast," she said. Amid worsening relations with Moscow, NATO ministers were expected to review a range of military, ministerial and other upcoming activities planned with Russia, and decide on a case by case basis whether to cancel each activity. They will also discuss support for a planned international monitoring mission in the region and a package of support to help Georgia rebuild infrastructure damaged in its devastating defeat at the hands of the Russian armed forces. And, she suggested that Russian President Dmitry Medvedev, who signed an EU-backed cease-fire brokered by the French, may be unable to exert power behind the scenes against his powerful predecessor, Prime Minister Vladimir Putin, or the Russian military. She said she thought the French would be seeking "an explanation from the Russians for why the Russian president either won't or can't keep his word." "It didn't take that long for the Russian forces to get in and it really shouldn't take that long for them to get out," Rice said.
Putin Shows He is Still the Main Power Broker in Russia
| | |
| --- | --- |
| | Russian Prime Minister Vladimir Putin chairs a meeting Monday in Moscow. Russia's response to the crisis with Georgia suggests that Putin, retains his role as power-broker, and not Dmitry Medvedev, Russian president. |
Aug. 18….(MSNBC) When the fighting broke out in Georgia, it was Prime Minister Vladimir Putin and not Russia's new young president who stepped up to lead the country's tough response. The ongoing conflict has confirmed what has become increasingly obvious in recent weeks: Putin is still the one in charge. President Dmitry Medvedev has been the Kremlin's voice in recent days, but Putin set the tone from the beginning. And when Medvedev suddenly made an uncharacteristically blunt statement, he seemed to be imitating the mannerisms and language of his powerful mentor.
| | |
| --- | --- |
| | (FOJ) The republic of Georgia is the geographic territory that has provided the Caspian Sea oil pipeline to feed much needed fuel and energy supplies to the European Union. In the 1990's, the US designed the pipeline to bypass Russia intentionally, so that Russia could not flip off the energy switch. |
After Georgia opened fire on the Russian-backed separatist region of South Ossetia, Putin was the first to speak to the nation on television. He also was the first to confer with world leaders, including President Bush, in Beijing for the opening of the Olympics. Putin promised a strong Russian retaliation, which was not long in coming. Russia rolled hundreds of tanks into Georgia and bombed from the air. On his way home from China last weekend, Putin stopped in southern Russia to see South Ossetians who had fled the fighting. He was shown repeatedly on television bounding down the steps from the aircraft, sending the clear message that he was ready to take charge.
Musharraf Resigns As Pakistani President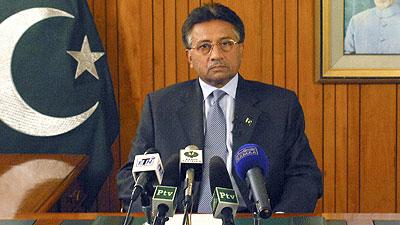 Aug. 18….(YNET) Pakistani President Pervez Musharraf announced Monday he was resigning to avoid an impeachment battle with Pakistan's ruling coalition that would harm the nation. Musharraf said in a televised speech that he will turn in his resignation to the National Assembly speaker later Monday. He said he leaves office knowing whatever he has done "was for the people and for the country." It was not immediately clear whether Musharraf would stay in Pakistan. He said his fate was in the hands of the Pakistani people. Musharraf dominated Pakistan for years after seizing power in a 1999 military coup, making the country a key strategic ally of the US by supporting the war on terror. But his popularity at home sank over the years. Many Pakistanis blame rising violence in their country on Musharraf's alliance with the US. Saudi envoys are reportedly in Islamabad to broker a deal for his safe passage and sanctuary. Mohammed Mian Soomro, chairman of the Senate and a Musharraf loyalist, replaces him temporarily pending a parliamentary vote to choose a new president within 30 days.
Bush Warns Russia over Disputed Georgian Provinces
US president says Moscow cannot lay claim to breakaway Georgian provinces South Ossetia, Abkhazia, but adds Medvedev's signing of ceasefire plan 'an important, hopeful step'
Aug. 17….(AP) US President George W. Bush sent a stern warning to Russia on Saturday that it cannot lay claim to two regions in US-backed Georgia even though their sympathies lie with Moscow. "There is no room for debate on this matter," the president said. Searching for signs of progress, Bush told reporters at his Texas ranch that Russian President Dmitry Medvedev's signing Saturday of a cease-fire plan was an important development, "a hopeful step." "Now, Russia needs to honor that agreement and withdraw its forces and, of course, military operations" from Georgia, a small former Soviet state on Russia's southwest border. The Russian foreign minister said Thursday that Georgia could "forget about" getting back two separatist regions in Georgia, South Ossetia and Abkhazia, both much aligned with Russia. Medvedev also met with their leaders in Kremlin this past week, raising the prospect that Moscow could absorb the regions even though the territory is internationally recognized as being within Georgia's borders. The US says this is a monumental sticking point in resolving the more than weeklong conflict. "A major issue is Russia's contention that the regions of South Ossetia and Abkhazia may not be a part of Georgia's future," Bush said, standing alongside Secretary of State Condoleezza Rice. "These regions are a part of Georgia and the international community has repeatedly made clear that they will remain so." Bush said that because Georgia is a member of the United Nations, its borders should be respected the same as any other nation's. Moreover, the UN Security Council has passed numerous resolutions based on the premise that South Ossetia and Abkhazia remain within Georgia and that international negotiations seek to resolve conflict in those areas. "Russia itself has endorsed these resolutions," Bush said. "The international community is clear that South Ossetia and Abkhazia are part of Georgia, and the United States fully recognizes this reality."
Back-Channel US-Russian Contacts De-escalate War of Words, after Moscow Threatens to Nuke Poland
Aug. 17….(DEBKA) DEBKAfile reports that both powers have begun acting to cool the rhetoric and review relations, after spokesmen in Washington, and especially Moscow, raised the threat level of their oratory to its highest pitch since the Cold War's end. Friday night, Aug. 15, Russia's deputy chief of staff Gen. Anatoly Nogovitsyn warned Poland it was "exposing itself to a strike 100 percent." He said any new US assets in Europe could come under Russian nuclear attack. Russian forces would target "the allies of countries having nuclear weapons" to destroy them "as a first priority," said Gen. Nogovitsyn. At the Black Sea resort of Sochi, Russian President Dimitry Medvedev dismissed the claim that the US missile interceptors in Poland were a deterrent against rogue states like Iran as "a fairy tale," insisting they were aimed against Russia. Warsaw, which will receive 10 batteries in return for American aid to boost its air defenses, later invited Russia to visit the site and see for itself. President George W. Bush said Russia's invasion of Georgia had damaged its credibility and the US stands with the people of Georgia and called for the withdrawal of "invading forces from all Georgian territory. Russian foreign minister Sergei Lavrov said extra security arrangements needed to be put in place before a withdrawal could begin, in defiance of US demand that Russian troops leave immediately. After meeting German chancellor Angela Merkel, Medvedev said he could not see South Ossetia and Abkhazia living with Georgia in one state." US secretary of state Condoleezza Rice persuaded Georgian president Mikhail Saakashvili to sign on the dotted line Friday night. DEBKAfile's political sources report that, as in most cases when international tensions and violence reach dangerous levels, the big powers have instituted secret diplomacy to cool the situation before it gets out of hand in order to formulate new modes of conduct and relations. This process began with Rice's visit to France and Tbilsi. In five hours of arm-twisting, she persuaded Saakashvili to accept clarifications to the ceasefire accord which contradict Washington's spirited assurances for Georgia's "territorial integrity." Russian troops allowed to remain in Georgia would be "very limited to a light patrolling ability, such as a few kilometers outside of South Ossetia, not the right to maintain a presence inside Georgia." This clause authorizes on behalf of the US and Europe the narrow security strips deep outside the South Ossetian and Abkhazian borders with Georgia. This American concession was designed as initial impetus for quiet diplomacy with Russia on a settlement in Georgia. The other concession, which will unfold in time, is the removal of the Georgian president, another of Moscow's conditions for ending the crisis.
Ukraine Offers Satellite Defense Co-operation with Europe and US
(Ukraine inflames mounting East-West tensions yesterday by offering up a Soviet-built satellite facility as part of the European missile defense system)
Aug. 17….(Telegraph) The proposal, made amid growing outrage among Russia's neighbours over its military campaign in Georgia, could see Ukraine added to Moscow's nuclear hitlist. A Russian general declared Poland a target for its arsenal after Warsaw signed a deal with Washington to host interceptor missiles for America's anti-nuclear shield. The move came as the Russian president, Dmitry Medvedev, signed a cease-fire deal that sets the stage for a Russian troop withdrawal after more than a week of warfare with its neighbor Georgia. The deal calls for both Russian and Georgian forces to pull back to positions they held before fighting erupted on August 8. As of last night, though, there was little apparent evidence of a Russian pull-out from the Georgian town of Gori, which Russian tanks and troops took last weekend. Russia's foreign minister, Sergei Lavrov, insisted a broader withdrawal would be contingent on further security measures. Just hours before Mr Medvedev put his signature to the ceasefire deal, Russian forces blew up a Georgian railway bridge on the main line west of the capital, Tbilisi, an act that critics interpreted as a malicious attempt to cripple the country's infrastructure. Moscow at first issued a denial, but television footage shot by the Reuters news agency clearly showed the bridge's twisted remains. Ukraine said it was ready to give both Europe and America access to its missile warning systems after Russia earlier annulled a 1992 cooperation agreement involving two satellite tracking stations. Previously, the stations were part of Russia's early-warning system for missiles coming from Europe. "The fact that Ukraine is no longer a party to the 1992 agreement allows it to launch active cooperation with European countries to integrate its information," a statement from the Ukrainian Foreign Ministry said. It follows a declaration earlier this week from Ukraine's pro-Western president, Viktor Yushchenko, that the Russian naval lease of the Ukrainian Black Sea port of Sebastopol would be scrapped if any vessels joined the conflict in Georgia. The crisis over Russia's display of military might in Georgia has alarmed ex-Soviet satellites states in a broad arc from the Baltics to Central Asia. Latvia, Estonia and Lithuania, all of which harbour bitter memories of Soviet occupation, have expressed solidarity with the Georgian position. Yesterday President George W. Bush hailed what he saw as progress in resolving the Georgia crisis, describing the cease-fire agreement as "a hopeful step." He reiterated, though, that the disputed regions of South Ossetia and Abkhazia remained part of Georgia, despite Moscow's insistence that they should now be allowed to become part of Russia. "There's no room for debate on this matter," said Bush. "The international community is clear that South Ossetia and Abkhazia are part of Georgia and the US fully recognizes this reality." Meanwhile, disturbing reports of abuse of ethnic Georgians in captured parts of the disputed region emerged. A group of captive soldiers were paraded in the streets of the South Ossetian capital, Tskinvali, and the bodies of at least 40 dead troops rotted in the sun. Teams of ethnic Georgians, some under armed guard, were forced to clean the streets. It was the first apparent evidence of humiliation or abuse of Georgians in the Russian-controlled breakaway republic.
Russia Considers Nuclear Missiles for Syria, Mediterranean, Baltic
Aug. 17…..(DEBKAfile Special Report) DEBKAfile's military sources report Moscow's planned retaliation for America's missile interceptors in Poland and US-Israeli military aid to Georgia may come in the form of installing Iskandar surface missiles in Syria and its Baltic enclave of Kaliningrad. Russian Baltic and Middle East warships, submarines and long-range bombers may be armed with nuclear warheads, according to Sunday newspapers in Europe. In Georgia, Russian troops and tanks advanced to within 30 km of Tbilisi Saturday, Aug. 15. A Russian general said Sunday they had started pulling out after president Dimitry Medvedev signed the ceasefire agreement with Georgia and president George W. Bush called again for an immediate withdrawal. After routing Georgia over the breakaway enclaves of South Ossetia and Abkhazia, Moscow appears to be eying Poland, the Middle East, and possibly Ukraine, as the main arenas for its reprisals. One plan on the table in Moscow, DEBKAfile's sources report, is the establishment of big Russian military, naval and air bases in Syria and the release of advanced weapons systems withheld until now to Iran (the S-300 air-missile defense system) and Syria (the nuclear-capable 200 km-range Iskandar surface missile). Shortly before the Georgian conflict flared, Moscow promised Washington not to let Iran and Syria have these sophisticated pieces of hardware. The Iskander's cruise attributes make its launch and trajectory extremely hard to detect and intercept. If this missile reaches Syria, Israel will have to revamp its anti-missile defense array and Air Force assault plans for the third time in two years, as it constitutes a threat which transcends all its defensive red lines. Moscow's war planners know this and are therefore considering new sea and air bases in Syria as sites for the Iskander missiles. Russia would thus keep the missiles under its hand and make sure they were not transferred to Iran. At the same time, Syrian crews would be trained in their operation. DEBKAfile's military sources report Syrian president Bashar Assad will be invited to Moscow soon to finalize these plans in detail. Military spokesmen in Moscow said Saturday and Sunday that Russian military planners to started redesigning the nation's strategic plans for a fitting response to America's decision to install 10 missile interceptors in Poland and the war developments in Georgia. The chairman of the Israeli Knesset foreign affairs and defense committee, Tzahi Hanegbi, spoke out strongly Sunday, Aug. 17, against treasury plans to slash the defense budget. He warned that the military faced grave confrontations in the coming year - possibly on several fronts.
Bush and Putin Aren't so Friendly Anymore
Aug. 17….(McClathecy News) There's no soul-gazing anymore between George W. Bush and Vladimir Putin. A series of disputes over Iraq, Iran, energy, NATO expansion, renewed repression of dissent in Russia and now the invasion of Georgia have breached the trust that Bush famously boasted of having placed in Putin when their presidential tenures were young. "Whatever personal word or assurance there might have been between them has been eroded," said James Collins, a former US ambassador to Moscow. Such bitter relations seemed unimaginable back in June 2001, when, outside the Brdo Castle in Slovenia, President Bush lavished praise on Putin in words that instantly entered the American pop lexicon. "I looked the man in the eye," Bush said. "I found him to be very straightforward and trustworthy. We had a very good dialogue. I was able to get a sense of his soul." After the Sept. 11, 2001, terrorist attacks, Bush repeatedly noted that Putin was the first world leader to call. In May 2002, Bush and Putin signed a treaty slashing the US and Russian nuclear arsenals by two-thirds. "The era in which the United States and Russia saw each other as an enemy or strategic threat has ended," Bush and Putin said in a joint statement. Later, the two strolled through Red Square outside the Kremlin in Moscow with their wives. "It sure is wonderful to be here with my friend," Bush told surprised passers-by. That feel-good esprit was gone this week, when Bush lambasted Russia for its invasion of Georgia, calling it "unacceptable in the 21st century." Putin and Bush had been side by side at the Olympic Games in Beijing as the Russian tanks rolled into Georgia. Putin ceded the presidency in May to Dmitry Medvedev, but he still appeared to be very much in charge as the prime minister. He left the Beijing games and flew to a staging ground near the Russian-Georgian border, where Russian TV broadcasts showed him with his sleeves rolled up, delivering orders to Russian generals, who saluted him as they went off to extend what supposedly had begun as a peacekeeping operation in the breakaway Georgian region of South Ossetia into an invasion of Georgia. Bush stayed in Beijing, watching American athletes perform as the crisis deepened. It marked the final blow to a relationship that many have said reflected a sort of naivete that ignored Putin's background as a one-time top official of the Soviet Union's KGB spy agency and growing evidence that he was pursuing policies that were counter to American interests, in Russia and around the world. Stephen Larrabee, a RAND Corp. analyst who served on the National Security Council staff under President Carter, said Bush wasn't the first Western leader who thought that a personal relationship with a Russian leader would overcome the vast differences in interests and approach. "Roosevelt felt this way about Stalin, who he called 'Uncle Joe,' " Larrabee said. "Clinton had this feeling about Yeltsin. Reagan felt this way with Gorbachev. They all felt that they had a special relationship with the Soviet and Russian leaders. But when it comes to defining national interests, the personal relationship is not very important." Larrabee said Bush's affection for Putin led him to ignore warnings about the Russian leader from his own senior aides. "He was one of the last holdouts in his administration as Russian policies began to harden," Larrabee said. Analysts offered a variety of explanations this week for the failure of those early days to blossom into a long-term end in US-Russian tensions. Many noted that Bush administration policies, including expanding NATO to include 10 countries that either had been part of the Soviet Union, such as Latvia, Lithuania and Estonia, or were former Soviet satellites, such as Poland, struck at the heart of Russia's perception of itself not just as a world power but also as the dominant force in its region. American insistence at installing a missile defense system in Eastern Europe to counter, the US said, possible missile threats from Iran angered Putin, who saw it as a threat to Russia. The fact that the deal includes an advanced Patriot antiaircraft defense system for Poland isn't likely to convince Moscow, either, given the slim likelihood of Iranian planes attacking Warsaw. The American stance on Georgia, however, was a particular irritant. Not only had Georgia been a key part of the Soviet Union, but it also was the birthplace of Stalin, who, after Lenin, was the most influential leader in Soviet history. Bush pushed, over Putin's objection, for the construction of a pipeline that carries oil and natural gas from Azerbaijan through Georgia to the Turkish port of Ceyhan. He pushed for Georgia to be accepted into NATO. He advocated the United States' spending tens of millions of dollars to train Georgia's military and rebuild the nation's infrastructure. As an expression of gratitude, the Georgians named the boulevard from Tbilisi, the capital, to the country's main airport after Bush. Collins, the former ambassador to Russia who's now a Russia and Eurasia analyst at the Carnegie Endowment for International Peace in Washington, blamed the deteriorating relations on the failure of Bush and Putin to create institutions that would allow the two countries to collaborate on common issues when the presidents weren't together. "You can't conduct the business of two major powers just on handshakes and personal relations," Collins said. Steven Pifer, a Brookings Institution analyst and former US envoy to Ukraine, agreed. "The US-Russia relationship tends to be very labor-intensive at the presidential level," Pifer said. "Without the focus from Bush and Putin from the top, it drifted and went into a downhill slide." There also were major distractions and conflicts, Pifer noted. Bush became focused on the Iraq war and his global war on terrorism, and Putin by his efforts "to re-establish Kremlin control of the political and economic power levers" in Russia. The US-led invasion of Iraq in 2003 probably also played a role by giving the US less standing to criticize Russian actions. "The whole question of national sovereignty and international law is more muddled than it was a decade ago, and the United States is partly to blame for the confusion," said Stephen Jones, a European studies professor at Mount Holyoke College in Massachusetts. Iraq could well have helped give Russia a sense that it could act with impunity in Georgia, Collins said. "There's a sense that America is tied down in Iraq and has economic problems. There's a lot of chest-beating in Russia. 'We're back, and the Americans are in trouble,' " he said.
China Confiscates Bibles from American Christians
Aug. 17….(AP) Chinese customs officials confiscated more than 300 Bibles on Sunday from four American Christians who arrived in a southwestern city with plans to distribute them, the group's leader said. The Bibles were taken from the group's checked luggage after they landed at the airport in the city of Kunming, said Pat Klein, head of Vision Beyond Borders. The group, based in Sheridan, Wyoming, distributes Bibles and Christian teaching materials around the world to "strengthen the persecuted church," according to its Web site. The group arrived in China on Sunday and had intended to distribute the Bibles to people in the city, Klein told the AP in a telephone interview while still at the airport. "I heard that there's freedom of religion in China, so why is there a problem for us to bring Bibles?" Klein said. "We had over 300 copies and customs took all of them from us." The move comes as China hosts the Olympics in Beijing, where false media reports last year claimed Bibles would be banned from the games. The state-run China Daily reported last month that 10,000 bilingual copies of the Bible would be distributed in the Olympic Village, which houses athletes and media. Bibles are printed under the supervision of the Communist government. The officially atheistic country only allows them to be used in government-sanctioned churches and in some big hotels catering to foreigners. China faces routine criticism for its human rights violations and its repression of religious freedom. Religious practice is heavily regulated by the Communist Party, with worship allowed only in party-controlled churches, temples and mosques, while those gathering outside face harassment, arrest and terms in labor camps or prison.
WEEK OF AUGUST 10 THROUGH AUGUST 16
Russia: Poland Risks Being Attacked Because of US Missiles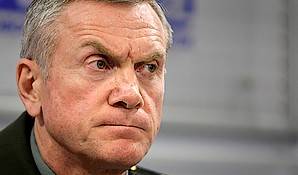 Russian Col. Gen. Anatoly Nogovitsyn
Aug. 15….(AP) A top Russian general said Friday that Poland's agreement to accept a US missile interceptor base exposes the ex-communist nation to attack, possibly by nuclear weapons, the Interfax news agency reported. The statement by Gen. Anatoly Nogovitsyn is the strongest threat that Russia has issued against the plans to put missile defense elements in former Soviet satellite nations. Poland and the United States on Thursday signed a deal for Poland to accept a missile interceptor base as part of a system the United States says is aimed at blocking attacks by rogue nations. Moscow, however, feels it is aimed at Russia's missile force. "Poland, by deploying (the system) is exposing itself to a strike, 100 percent," Nogovitsyn, the deputy chief of staff, was quoted as saying. He added, in clear reference to the agreement, that Russia's military doctrine sanctions the use of nuclear weapons "against the allies of countries having nuclear weapons if they in some way help them." Nogovitsyn that would include elements of strategic deterrence systems, he said, according to Interfax. At a news conference earlier Friday, Nogovitsyn had reiterated Russia's frequently stated warning that placing missile-defense elements in Poland and the Czech Republic would bring an unspecified military response. But his subsequent reported statement substantially stepped up a war of words. US officials have said the timing of the deal was not meant to antagonize Russian leaders at a time when relations already are strained over the recent fighting between Russia and Georgia over the separatist Georgian region of South Ossetia. Russian forces went deep into Georgia in the fighting, raising wide concerns that Russia could be seeking to occupy parts of its small, pro-US neighbor, which has vigorously lobbied to join NATO, or even to force its government to collapse. Under the agreement that Warsaw and Washington reached Thursday, Poland will accept an American missile interceptor base. "We have crossed the Rubicon," Polish Prime Minister Donald Tusk said, referring to US consent to Poland's demands after more than 18 months of negotiations. Washington says the planned system, which is not yet operational, is needed to protect the US and Europe from possible attacks by missile-armed "rogue states" like Iran. The Kremlin, however, feels it is aimed at Russia's missile force and warns it will worsen tensions. In an interview on Poland's news channel TVN24, Tusk said the United States agreed to help augment Poland's defenses with Patriot missiles in exchange for placing 10 missile defense interceptors in the Eastern European country. He said the deal also includes a "mutual commitment" between the two nations to come to each other's assistance "in case of trouble." That clause appeared to be a direct reference to Russia. Poland has all along been guided by fears of a newly resurgent Russia, an anxiety that has intensified with Russia's offensive in Georgia. In past days, Polish leaders said that fighting justified Poland's demands that it get additional security guarantees from Washington in exchange for allowing the anti-missile base on its soil
Bush Accuses Russia of 'Bullying and Intimidation' in Georgia Conflict
Aug. 15….(Fox News) President Bush on Friday ratcheted up his rhetoric against the Russian government, accusing Moscow of "bullying and intimidation" in its military campaign through Georgia and declaring the United States would not cast aside the former Soviet republic. Meanwhile, Russian President Dmitry Medvedev said the separatist Georgian regions at the center of the conflict appear destined for independence. "After what happened, it's unlikely Ossetians and Abkhazians will ever be able to live together with Georgia in one state," he said in a joint news conference in the Russian resort of Sochi with German Chancellor Angela Merkel. Amid the rhetorical crossfire, US Secretary of State Condi Rice pursued a diplomatic solution to the week-old crisis. Rice was in Tbilisi for talks with pro-Western Georgian President Mikhail Saakashvili about details of the cease-fire, which would require Russia to withdraw its combat forces from Georgia but allow Russian peacekeepers to remain in South Ossetia and conduct limited patrols outside the region. Bush said he would get regular updates from Rice and Secretary of Defense Robert Gates about the continuing showdown between Moscow and Tbilisi over two separatist provinces in Georgia. He voiced firm support for Georgia on Friday. Georgia's sovereignty and territorial integrity must be respected," said Bush, speaking just outside the Oval Office before traveling to his Texas ranch for a two-week stay. Moscow must honor its commitment to withdraw its invading forces from all Georgian territory. The people of Georgia have cast their lot with the free world, and we will not cast them aside." With just five months remaining in his administration, Bush faces one of his biggest foreign policy challenges in dealing with a suddenly assertive Russia, along with unfinished wars in Iraq and Afghanistan and the deeply troubled search for peace in the Middle East. Bush's influence is waning as the world turns its attention to the race to determine who will succeed Bush. Bush said that Russia, with its air, sea and land attacks in Georgia, had damaged its relations with the United States and other Western powers. "Bullying and intimidation are not acceptable ways to conduct foreign policy in the 21st century," the president said. "Only Russia can decide whether it will now put itself back on the path of responsible nations or continue to pursue a policy that promises only confrontation and isolation. "To begin repairing relations with the United States, Europe and other nations and to begin restoring its place in the world, Russia must respect the freedom of its neighbors," Bush said. Even before the crisis in Georgia, tensions between Washington and Moscow have been rising over disputes such as the independence of Kosovo, NATO's expansion toward Russia's borders and US plans for a missile defense system in Eastern Europe. In another development that infuriated Moscow, the United States and Poland reached a deal Thursday to install a US missile defense base on Polish territory. Still, Bush said, "The Cold War is over. The days of satellite states and spheres of influence are behind us." The United States has rushed humanitarian aid to Georgia, using US military planes that put American forces in the midst of the showdown with Moscow. The president said Americans might be perplexed why the United States had drawn a line in the sand in defense of Georgia, an impoverished country that is largely unknown on the world stage. "In the years since its gained independence after the Soviet Union's collapse, Georgia's become a courageous democracy," Bush said. "It's people are making the tough choices that are required of free societies. Since the Rose Revolution in 2003, the Georgian people have held free elections, opened up their economy, and built the foundations of a successful democracy." Aligning itself firmly with Washington, Georgia sent troops to Afghanistan and Iraq. Bush visited Georgia in a show of solidarity and promised that the United States would stand with the former Soviet republic. Bush acknowledged that Russia is anxious about the spread of democracy to its borders and sees it as a threat to its security. "The opposite is true," Bush said. "Free and prosperous societies on Russia's borders will advance Russia's interests by serving as sources of stability and economic opportunity."
Tough Exchange between Washington and Moscow
Aug. 15….(DEBKAfile Special Report) US president George W. Bush accused Russia of "bullying and intimidation" conduct unacceptable in the 21st century. He said Russia's invasion of Georgia had damaged its credibility, the US stands with the people of Georgia and he called for the withdrawal of "invading forces from all Georgian territory." In Moscow, president Dimitry Medvedev said the deployment of US missiles in Poland is aimed against Russia, contradicting their avowed purpose of protecting Europe against Iranian missile threat. Under the US-Polish deal signed Thursday, 10 interceptor missiles will be installed at a base on the Baltic coast in return for US aid to boost Polish air defenses. Russia's deputy chief of general staff, Gen. Anatoly Nogovitsyn said this was an act that "cannot go unpunished." He said "It's a cause for regret that at a time when we are already in a difficult situation, the American side further exacerbates relations between the United States and Russia" already strained by the Georgian conflict, Moscow has stood out against the deal which was 18 months in negotiation. After it was announced, Russian foreign minister Sergei Lavrov cancelled a visit to Poland.
US, Poland Reach Agreement on Missile Defense
Aug. 14…. (Bloomberg) The US and Poland signed a preliminary accord today that will allow for 10 US interceptor missiles to be based in the eastern European country, completing a defense system that Russia opposes. The US has agreed to Polish requests including modernization of its armed forces in exchange for the location of the missiles, Polish Prime Minister Donald Tusk said in an interview with private broadcaster TVN24 this evening. We are now harvesting the fruit of many months of hard work, said Polish Foreign Minister Radoslaw Sikorski at a joint press conference with US Undersecretary of State John Rood in Warsaw. Only people of ill intent should fear this agreement. Talks on locating part of the planned missile-defense shield on Polish territory made headway yesterday in the wake of the Georgian conflict. The Russian incursion heightened Poland's security concerns and made the Polish government a little more willing to conclude a deal,'' said Wade Boese, research director at the Arms Control Association, a non-partisan group in Washington. ``It may also have made the Bush administration more willing to meet the Polish demands.'' In Washington, White House spokeswoman Dana Perino said the purpose of the system ``is to protect our European allies from any rogue threats such as a missile from Iran'' and in no way is the missile defense aimed at Russia. Perino said she couldn't say whether Russia's attacks in Georgia spurred today's final action on the agreement. Poland and the US have been holding talks on establishing an American base in Poland for more than 18 months. While the US signed a final agreement last month with the Czech Republic on locating a radar base there, the Polish government held out for additional security assurances. The Polish government said before the current round of missile defense talks that the Georgian conflict had underscored its arguments in favor of more security guarantees. Sikorski confirmed that Russian Foreign Minister Sergei Lavrov had called off a visit to Warsaw, planned for next month. He said he had received the information before an agreement had been reached with Rood over missile defense and said he thought the Russian decision had been made ``in connection with Georgia.'' Russia has sharply criticized US plans to place elements of the defense shield in the two former Soviet satellite states, saying they threatened its national security. The Russian government has repeatedly warned it would build up military defenses along its frontiers if the project went ahead.
Lavrov: Russia Will Not Recognize Georgia Territorial Sovereignty
Aug. 14….(Fox News) Russia's foreign minister declared Thursday that the world "can forget about" Georgia's territorial integrity, and American and Georgian officials said Russia appeared to be targeting military infrastructure, including radars and patrol boats at a Black Sea naval base and oil hub. Russia's president met in the Kremlin with the leaders of Georgia's two separatist provinces, a clear sign that Moscow could absorb the regions. The comments from Russian Foreign Minister Sergey Lavrov appeared to come as a challenge to the United States, where President Bush has called for Russia to respect the sovereignty and territorial integrity of Georgia." The Russian refusal to withdraw from Georgia presents a challenge to the cease-fire agreement designed to end seven days of fighting. The EU-sponsored accord had envisioned Russian and Georgian forces returning to their original positions. In Washington, an American official said Russia appears to be sabotaging airfields and other military infrastructure as its forces pull back. The US official described eyewitnesses accounts for The Associated Press on condition of anonymity. The official said the Russian strategy seems like a deliberate attempt to cripple the already battered Georgian military. The United States poured aid into the Georgian capital of Tbilisi on Thursday and Secretary of State Condoleezza Rice launched emergency talks in France aimed at heading off a wider conflict. Russia's deputy chief of General Staff Col.-Gen. Anatoly Nogovitsyn said he was not sure that the US planes carried exclusively humanitarian cargo. "It causes our concern," he said. At least 20 explosions were heard near Gori, along with small-arms fire. It could not immediately be determined if the blasts were a renewal of fighting between Georgian and Russian forces, but they sounded similar to mortar shells and occurred after a tense confrontation between Russian and Georgian troops on the edge of the city. The strategically located city is 15 miles south of South Ossetia, the Russian-backed separatist region where Russian and Georgian forces fought a five-day battle. Russian troops entered Gori on Wednesday, after the two sides signed the cease-fire
US Puts Brakes on Israeli Plan for Attack on Iran Nukes
Aug. 13….(Ha Aretz) The American administration has rejected an Israeli request for military equipment and support that would improve Israel's ability to attack Iran's nuclear facilities. A report published last week by the Washington-based Institute for Science and International Security (ISIS) states that military strikes are unlikely to destroy Iran's centrifuge program for enriching uranium. The Americans viewed the request, which was transmitted (and rejected) at the highest level, as a sign that Israel is in the advanced stages of preparations to attack Iran. They therefore warned Israel against attacking, saying such a strike would undermine American interests. They also demanded that Israel give them prior notice if it nevertheless decided to strike Iran. As compensation for the requests it rejected, Washington offered to improve Israel's defenses against surface-to-surface missiles. Israel responded by saying it reserves the right to take whatever action it deems necessary if diplomatic efforts to halt Iran's nuclearization fail. Senior Israeli officials had originally hoped that US President George Bush would order an American strike on Iran's nuclear facilities before leaving office, as America's military is far better equipped to conduct such a strike successfully than is Israel's. Jerusalem also fears that an Israeli strike, even if it succeeded well enough to delay Iran's nuclear development for a few years, would give Iran international legitimacy for its program, which it currently lacks. Israel, in contrast, would be portrayed as an aggressor, and would be forced to contend alone with Iran's retaliation, which would probably include thousands of missile strikes by Iranian allies Hezbollah, Hamas and perhaps even Syria. Recently, however, Israel has concluded that Bush is unlikely to attack, and will focus instead on ratcheting up diplomatic pressure on Tehran. It prefers to wait until this process has been exhausted, though without conceding the military option. Israel's assumption is that Iran will continue to use delaying tactics, and may even agree to briefly suspend its uranium enrichment program in an effort to see out the rest of Bush's term in peace. The American-Israeli dispute over a military strike against Iran erupted during Bush's visit to Jerusalem in May. At the time, Bush held a private meeting on the Iranian threat with Prime Minister Ehud Olmert and Defense Minister Ehud Barak, and the Israelis presented their request for certain specific items of military equipment, along with diplomatic and security backing. Following Bush's return to Washington, the administration studied Israel's request, and this led it to suspect that Israel was planning to attack Iran within the next few months. The Americans therefore decided to send a strong message warning it not to do so. US National Intelligence Director Mike McConnell and Chairman of the Joint Chiefs of Staff Mike Mullen both visited here in June and, according to the Washington Post, told senior Israeli defense officials that Iran is still far from obtaining nuclear weapons, and that an attack on Iran would undermine American interests. Therefore, they said, the US would not allow Israeli planes to overfly Iraq en route to Iran. The Americans sent a similar message to Iraq, which had objected vociferously to the idea of its air space being used for an Israeli attack on Iran. These private messages were accompanied by a series of leaks from the Pentagon that Israel interpreted as attempts to thwart any possibility of an attack on Iran. For instance, the Americans revealed details of a major Israel Air Force exercise in the Mediterranean; they also said they doubted Israel had adequate intelligence about Iran's nuclear facilities. In addition, Mullen spoke out publicly against an attack on Iran. Two weeks ago, Barak visited Washington for talks with his American counterpart, Robert Gates, and Vice President Richard Cheney. Both conversations focused on Iran, but the two Americans presented conflicting views: Gates vehemently opposes an attack on Iran, while Cheney is the administration's leading hawk. Barak presented Israel's assessments of the Iranian situation and warned that Iran was liable to advance its nuclear program under cover of the endless deliberations about sanctions - which have thus far produced little in the way of action. He also acknowledged that effective sanctions would require cooperation from Russia, China and India, all of which currently oppose sanctions with real teeth. Russia, however, is considered key to efforts to isolate Iran, and Israeli officials have therefore urged their American counterparts in recent months to tone down Washington's other disputes with Moscow to focus all its efforts on obtaining Russia's backing against Iran. For instance, they suggested that Washington offer to drop its plan to station a missile defense system in Poland and the Czech Republic, a proposal Russia views as a threat, though Washington insists the system is aimed solely at Iran, in exchange for Russia agreeing to stiffer sanctions against Iran. However, the administration rejected this idea. In an attempt to compensate Israel for having rejected all its proposals, Washington then offered to bolster Israel's defenses against ballistic missiles. For instance, Gates proposed stationing an advanced radar system in Israel and linking Israel directly into America's early warning satellite network; he also offered increased American funding for the development of two Israeli missile defense systems - the Arrow-3, an upgrade of Israel's existing Arrow system for intercepting ballistic missiles, and Iron Dome, a system designed to intercept short-range rockets. In addition, Washington agreed to sell Israel nine Super Hercules long-range transport aircraft for $2 billion. However, it would not agree to supply Israel with any offensive systems. Now, Israel is awaiting the outcome of the latest talks between the West and Iran, as well as a formal announcement of the opening of an American interests section in Tehran. Israel views the latter as sure proof that Washington is not planning a military strike.
Russia Invading Georgia Heralds Return of Cold War
Aug. 12….(Newsmax) Russia scholar Michael McFaul of Stanford University summed up the use of overwhelming force by Russia in Georgia this week as nothing less than "a signal to everyone that Russia is back, and Russia is going to try and dominate this region of the world," according to a report in The Los Angeles Times. Last week, South Ossetian separatists, supported by Moscow, poured machine gun and mortar fire into neighboring Georgian villages. Georgia retaliated by attacking the separatist capital Tskhinvali with artillery, providing the pretext for Moscow's invasion of Georgia. Most recently, Russian soldiers drove into Georgia to open a second front in the escalating conflict, storming out of the Russia-backed breakaway republic of Abkhazia to seize control of a western army base, according to Associated Press reports. What seemed at first to be minor clashes in tiny, faraway places that most Americans never heard of now has think tanks buzzing, with scholars and pundits alike resurrecting such iconic terms as "Cold War," "Iron Curtain," and "spheres of influence." Robert Kagan, a senior associate at the Carnegie Endowment for International Peace, put things in perspective in a Washington Post column: "Historians will come to view Aug. 8, 2008, as a turning point no less significant than Nov. 9, 1989, when the Berlin Wall fell. Russia's attack on sovereign Georgian territory marked the official return of history, indeed to an almost 19th-century style of great-power competition, complete with virulent nationalisms, battles for resources, struggles over spheres of influence and territory." Russian Prime Minister Vladimir V. Putin, who raced back from the Bejing Olympics to take command on the ground, charged that the US has displayed a "Cold War mentality" in its friendship with leaders in the Georgian capital of Tbilisi, according to The Times. The August 11, 2008 edition of the Christian Science Monitor shouted dramatically in a headline: "By going to war with Georgia, Russia is drawing a new Iron Curtain." Such polemics aside, the nation's prodigious force of think-tankers has been burning the midnight oil analyzing just what Mr. Putin is up to. This is the man who once famously declared that the collapse of the Soviet Union was "the greatest geopolitical catastrophe of the [20th] century." Could the Georgia conflict be but a first step in a Russian renaissance of power and influence? Yes, declares Kagan, who writes further in his Post column that Putin "has reestablished a virtual czarist rule in Russia and is trying to restore the country to its once-dominant role in Eurasia and the world. "Armed with wealth from oil and gas; holding a near-monopoly over the energy supply to Europe; with a million soldiers, thousands of nuclear warheads and the world's third-largest military budget, Vladimir Putin believes that now is the time to make his move." But the Putin strategy reaches far beyond mere saber-rattling to impress what he perceives as the ever-encroaching West. Ariel Cohen, senior research fellow in Russian and Eurasian Studies and International Energy Security at The Heritage Foundation, has ferreted out what he believes to be the Putin strategy. In his most recent Web Memo report, Cohen concludes, "Russia is engaged in a classic combined arms operation. The Black Sea Fleet is blockading Georgia from the sea and likely preparing a landing, while Russian ballistic missiles and its air force are attacking Georgian military bases and cities." The Russia scholar surmises that Putin's goals for the war with Georgia are far-reaching and include: Expulsion of Georgian troops and termination of Georgian sovereignty in South Ossetia and Abkhazia; "Regime change" by bringing down President Mikheil Saakashvili and installing a more pro-Russian leadership in Tbilisi; Preventing Georgia from joining NATO and sending a strong message to Ukraine that its insistence on NATO membership may lead to war and/or its dismemberment; Shifting control of the Caucasus, and especially over strategic energy pipelines, by controlling Georgia; and recreating a 19th-century-style sphere of influence in the former Soviet Union, by the use of force if necessary. Expanding on his bullet points, Cohen notes that Putin spoke last spring about Russia "dismembering" Ukraine, another NATO candidate, and detaching the Crimea, a peninsula that was transferred from Russia to Ukraine in 1954, when both were integral parts of the Soviet Union. Cohen further notes that Putin wants to demonstrate that he can sabotage at will American and European Union (EU) declarations about integrating Commonwealth of Independent States members into Western structures such as NATO. "By attempting to accomplish regime change in Georgia, Moscow is also trying to gain control of the energy and transportation corridor, which connects Central Asia and Azerbaijan with the Black Sea and ocean routes overseas, for oil, gas and other commodities," the scholar concludes in his memo. Cohen's overall recommendation for a response to the Russian aggression: "The US and its European allies should communicate to Moscow that Russia has much to lose, including hosting the 2014 winter Olympics in the Black Sea resort of Sochi, membership in the G-8, and access to Western markets, if the Georgian aggression is not stopped."
Bush warns Russia; Medvedev orders halt to action
Aug. 12….(AP) With a crisis of Cold War proportions brewing, President Bush demanded that Russia withdraw its troops from the former Soviet republic of Georgia. Hours later, Russian President Dmitri Medvedev ordered a halt to the military action, saying it had brought security for civilians and Russian peacekeepers in the breakaway South Ossetia region. "The aggressor has been punished and suffered very significant losses. Its military has been disorganized," Medvedev said Tuesday in a nationally televised statement. On Monday, in his strongest comments since the fighting erupted, Bush told Russia to end a "dramatic and brutal escalation" of violence in Georgia and accept international mediation to end the crisis. "Russia has invaded a sovereign neighboring state and threatens a democratic government elected by its people. Such an action is unacceptable in the 21st century," Bush said from the White House just an hour after he returned to Washington from attending the Olympics in China. Bush said Russia's escalation had "raised serious questions about its intentions in Georgia and the region" and had "substantially damaged Russia's standing in the world." Earlier Tuesday, Russian Foreign Minister Sergey Lavrov said Georgian President Mikhail Saakashvili must leave office, and demanded that Georgian troops stay out of the breakaway South Ossetia region for good. A senior US official said Monday that the United States and its allies suspected Russia had been planning an invasion for some time and deliberately instigated the conflict through attacks on Georgian villages by pro-Russian forces in South Ossetia despite outwardly appealing for calm and promising to rein in the separatists. The official, who spoke on condition of anonymity to discuss internal Bush administration deliberations, said there were numerous "unpleasant precedents" for the current situation, including the 1979 Soviet invasion of Afghanistan and the 1968 Soviet invasion of Czechoslovakia. Despite the tough talk in Washington, there was no specific threat of any consequences Russia might face if it ignores the warnings. American officials said they were working with US allies in Europe and elsewhere, as well as with the Russians, to defuse the crisis. Earlier Monday, the United States and the world's six other largest economic powers issued a call similar to Bush's for Russia to accept a truce and agree to mediation as conditions deteriorated and Russian troops continued their advances into Georgian territory. Secretary of State Condoleezza Rice and her colleagues from the Group of Seven leading industrialized nations pledged their support for a negotiated solution to the conflict that has been raging since Friday, the State Department said. "We want to see the Russians stand down," deputy State Department spokesman Robert Wood told reporters. "What we're calling on is for Russia to stop its aggression." Rice and the foreign ministers of Britain, Canada, France, Germany, Italy and Japan spoke in a conference call, during which they noted that Georgia had agreed to a cease-fire and wanted to see Russia sign on immediately, Wood said. The G-7 diplomats called on Russia to respect Georgia's borders and expressed deep concern for civilian casualties. Wood said the United States was hopeful that the UN Security Council would pass a strong resolution on the fighting that called for an end to attacks on both sides as well as mediation, but prospects for such a statement were dim given that Russia wields veto power on the 15-member body. A senior US diplomat, Matthew Bryza, is now in Tbilisi and is working with Georgian and European officials on ways to calm the situation. Meanwhile, the State Department said it has evacuated more than 170 American citizens from Georgia. Wood said two convoys carrying the Americans, along with family members of US diplomats based in Georgia, left Tbilisi on Sunday and Monday for neighboring Armenia. The US Embassy in Georgia has distributed an initial contribution of $250,000 in humanitarian relief to victims of the fighting and is providing emergency equipment to people in need, although those supplies would have run out Monday, the department said. The Pentagon said it had finished flying some 2,000 Georgian troops back home from Iraq on C-17 aircraft at Georgia's request. It said it had informed the Russians about the flights before they began in order to avoid any mishaps, but Russian Prime Minister Vladimir Putin harshly criticized the step, saying it would hamper efforts to resolve the situation by reinforcing Georgian assets in a "conflict zone."
Three Major US Naval StrikeForces due this Week in Persian Gulf
(New America armada surrounds Iran)
Aug. 11….(DEBKA) DEBKAfile's military sources note that the arrival of the three new American flotillas will raise to five the number of US strike forces in Middle East waters, an unprecedented build-up since the crisis erupted over Iran's nuclear program. This vast naval and air strength consists of more than 40 carriers, warships and submarines, some of the last nuclear-armed, opposite the Islamic Republic, a concentration last seen just before the US-led invasion of Iraq in 2003. Our military sources postulate five objects of this show of American muscle:
1. The US, aided also by France, Britain and Canada, is finalizing preparations for a partial naval blockade to deny Iran imports of benzene and other refined oil products. This action would indicate that the Bush administration had thrown in the towel on stiff United Nations sanctions and decided to take matters in its own hands.
2. Iran, which imports 40 percent of its refined fuel products from Gulf neighbors, will retaliate for the embargo by shutting the Strait of Hormuz oil route chokepoint, in which case the US naval and air force stand ready to reopen the Strait and fight back any Iranian attempt to break through the blockade.
3. Washington is deploying forces as back-up for a possible Israeli military attack on Iran's nuclear installations.
4. A potential rush of events in which a US-led blockade, Israeli attack and Iranian reprisals pile up in a very short time and precipitate a major military crisis.
5. While a massive deployment of this nature calls for long planning, its occurrence at this time cannot be divorced from the flare-up of the Caucasian war between Russia and Georgia. While Russia has strengthened its stake in Caspian oil resources by its overwhelming military intervention against Georgia, the Americans are investing might in defending the primary Persian Gulf oil sources of the West and the Far East. DEBKAfile's military sources name the three US strike forces en route to the Gulf as the USS Theodore Roosevelt , the USS Ronald Reagan and the USS Iwo Jima . Already in place are the USS Abraham Lincoln in the Arabian Sea opposite Iranian shores and the USS Peleliu which is cruising in the Red Sea and Gulf of Aden.
Russia Moves to Restore Soviet Power Base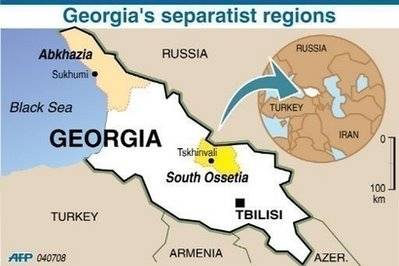 Aug. 11….(World Watch) The violence in South Ossetia appeared to show Russia's determination to subdue diminutive, US-backed Georgia, even at the risk of international reproach. Russia fended off a wave of international calls to observe Georgia's cease-fire, saying it must first be assured that Georgian troops have indeed pulled back from South Ossetia. Meanwhile, US Vice President Dick Cheney was said to have told Georgian President Mikheil Saakashvili that Russia's military actions in Georgia "must not go unanswered." Cheney's press secretary, Lee Ann McBride, said the vice president spoke Sunday afternoon with Saakashvili. "The vice president expressed the United States' solidarity with the Georgian people and their democratically elected government in the face of this threat to Georgia's sovereignty and territorial integrity," she said. Cheney told Saakashvili "Russian aggression must not go unanswered, and that its continuation would have serious consequences for its relations with the United States. Georgia, whose troops have been trained by American soldiers, began an offensive to regain control over South Ossetia overnight Friday, launching heavy rocket and artillery fire and air strikes that pounded the regional capital Tskhinvali. Georgia says it was responding to attacks by separatists. In response, Russia launched massive artillery shelling and air attacks on Georgian troops. The scope of Russia's military response has the Bush administration deeply worried. "We have made it clear to the Russians that if the disproportionate and dangerous escalation on the Russian side continues, that this will have a significant long-term impact on US-Russian relations," US deputy national security adviser Jim Jeffrey told reporters. The US military began flying 2,000 Georgian troops home from Iraq after Georgia recalled them, even while calling for a truce. Georgia borders the Black Sea between Turkey and Russia and was ruled by Moscow for most of the two centuries preceding the 1991 breakup of the Soviet Union. Both South Ossetia and Abkhazia have run their own affairs without international recognition since fighting to split from Georgia in the early 1990s. Both separatist provinces have close ties with Moscow, while Georgia has deeply angered Russia by wanting to join NATO. Russian Prime Minister Vladimir Putin, meeting Saturday with South Ossetia refugees who had fled across the border to the Russian city of Vladikavkaz, described Georgia's actions as "complete genocide." Putin also said Georgia had lost the right to rule the breakaway province, an indication Moscow could be ready to absorb the province. President Bush has called for an end to the Russian bombings and an immediate halt to the fighting, accusing Russia of using the issue to bomb other regions in Georgia. Both Ukraine and Georgia have sought to free themselves of Russia's influence, and to integrate into the West and join NATO. NATO Secretary General Jaap de Hoop Scheffer said Russia violated Georgia's territorial integrity in South Ossetia.
The Pipeline War: Russian Bear Goes for West's Jugular
August 11….(Mail on Line) The war in Georgia escalated dangerously last night after Russian jets reportedly bombed a vital pipeline that supplies oil to the West. After a day of heightening international tensions, Georgian leaders claimed that the Baku-Tbilisi-Ceyhan pipeline, which transports oil from the Caspian Sea to Turkey, had been attacked. But it is thought the bombs missed their target. Their claims came after Russian jets struck deep into the territory of its tiny neighbour, killing civilians and 'completely devastating' the strategic Black Sea port of Poti, a staging post for oil and other energy supplies. Reports last night also said that Russia had bombed the international airport in Tbilisi. Georgian economic development minister Ekaterina Sharashidzne said: 'This clearly shows that Russia has targeted not just Georgian economic outlets but international economic outlets as well.' The pipeline is 30 per cent owned by BP and supplies 1 per cent of the world's oil needs, pumping up to a million barrels of crude per day to Turkey. It is crucial to the world's volatile energy market and the only oil and gas route that bypasses Russia's stranglehold on energy exports from the region. As President Bush led the West in intensifying pressure on Russia to halt the bombing in Georgia last night, the two countries were edging closer to full-scale war over their conflicting claims for disputed territory. Georgia's President Mikheil Saakashvili called for a ceasefire and accused Moscow of mounting an unprovoked invasion that put 'the entire post-Cold War order of Europe and the world at stake'. But Moscow said that the conflict could not be resolved unless Georgia withdrew from its breakaway region of South Ossetia The alarming developments followed a second day of drama and bloodshed in the pro-Western country in which: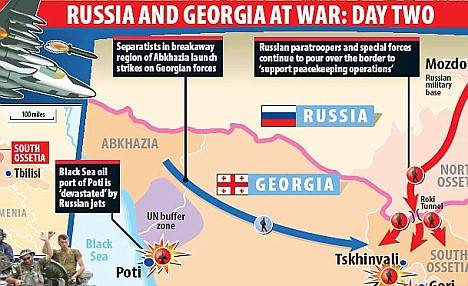 • Russian jets widened the offensive by bombing the central Georgian town of Gori, Joseph Stalin's birthplace, in an attack on military targets that Georgian authorities claimed killed 60 civilians, and attacked the port of Poti.
• Georgia claimed that Russian troops had opened a new front by moving into another disputed province, Abkhazia, which has also suffered from ethnic tensions.
• Georgia declared a state of war, recalled all its 2,000 troops from Iraq and ordered a mass call-up with reservists being sent to the war zone to 'defend the motherland'.
Georgia's war with Russia is a David and Goliath battle that, military experts say, the Black Sea state has no chance of winning. The Georgians are outnumbered and outgunned in every department. Russia has about 697,000 troops, while Georgia has only 19,500 full-time regulars. And with Russia's 1,200 combat aircraft confronting Georgia's seven outmoded support planes, and 6,000 tanks against 100 ageing machines, there is no contest. Mr. Putin has obviously moved to reinvigorate the Soviet power base, and dissect the West out of the Caspian Sea oil bananza!
War in Georgia: The Israeli Connection
August 11….(YNET) For past seven years, Israeli companies have been helping Gerogian army to preparer for war against Russia through arms deals, training of infantry units and security advice. The fighting which broke out over the weekend between Russia and Georgia has brought Israel's intensive involvement in the region into the limelight. This involvement includes the sale of advanced weapons to Georgia and the training of the Georgian army's infantry forces. The Defense Ministry held a special meeting Sunday to discuss the various arms deals held by Israelis in Georgia, but no change in policy has been announced as of yet. "The subject is closely monitored," said sources in the Defense Ministry. "We are not operating in any way which may counter Israeli interests. We have turned down many requests involving arms sales to Georgia; and the ones which have been approves have been duly scrutinized. So far, we have placed no limitations on the sale of protective measures." Israel began selling arms to Georgia about seven years ago following an initiative by Georgian citizens who immigrated to Israel and became businesspeople. "They contacted defense industry officials and arms dealers and told them that Georgia had relatively large budgets and could be interested in purchasing Israeli weapons," says a source involved in arms exports. The military cooperation between the countries developed swiftly. The fact that Georgia's defense minister, Davit Kezerashvili, is a former Israeli who is fluent in Hebrew contributed to this cooperation. "His door was always open to the Israelis who came and offered his country arms systems made in Israel," the source said. "Compared to countries in Eastern Europe, the deals in this country were conducted fast, mainly due to the defense minister's personal involvement." Among the Israelis who took advantage of the opportunity and began doing business in Georgia were former Minister Roni Milo and his brother Shlomo, former director-general of the Military Industries, Brigadier-General (Res.) Gal Hirsch and Major-General (Res.) Yisrael Ziv. Roni Milo conducted business in Georgia for Elbit Systems and the Military Industries, and with his help Israel's defense industries managed to sell to Georgia remote-piloted vehicles (RPVs), automatic turrets for armored vehicles, antiaircraft systems, communication systems, shells and rockets. According to Israeli sources, Gal Hirsch gave the Georgian army advice on the establishment of elite units such as Sayeret Matkal and on rearmament, and gave various courses in the fields of combat intelligence and fighting in built-up areas.
'Don't anger the Russians'
The Israelis operating in Georgia attempted to convince the Israeli Aerospace Industries to sell various systems to the Georgian air force, but were turned down. The reason for the refusal was "special" relations created between the Aerospace Industries and Russia in terms of improving fighter jets produced in the former USSR and the fear that selling weapons to Georgia would anger the Russians and prompt them to cancel the deals. Israelis' activity in Georgia and the deals they struck there were all authorized by the Defense Ministry. Israel viewed Georgia as a friendly state to which there is no reason not to sell arms systems similar to those Israel exports to other countries in the world. As the tension between Russia and Georgia grew, however, increasing voices were heard in Israel, particularly in the Foreign Ministry, calling on the Defense Ministry to be more selective in the approval of the deals with Georgia for fear that they would anger Russia. "It was clear that too many unmistakable Israeli systems in the possesion of the Georgian army would be like a red cloth in the face of a raging bull as far as Russia is concerned," explained a source in the defense establishment. For inctance, the Russians viewed the operation of the Elbit System's RPVs as a real provocation. "It was clear that the Russians were angry," says a defense establishment source, "and that the interception of three of these RPVs in the past three months was an expression of this anger. Not everyone in Israel understood the sensitive nerve Israel touched when it supplied such an advanced arms system to a country whose relations with Russia are highly tense." In May it was eventually decide to approve future deals with Georgia only for the sale of non-offensive weapon systems, such as intelligence, communications and computer systems, and not to approve deals for the sale of rifles, aircraft, sells, etc. A senior source in the Military Industry said Saturday that despite some reporters, the activity of Georgia's military industry was extremely limited. "We conducted a small job for them several years ago," he said. "The rest of the deals remained on paper." Dov Pikulin, one of the owners of the Authentico company specializing in trips and journeys to the area, says however that "the Israeli is the main investor in the Georgian economy. Everyone is there, directly or indirectly." "The Israelis should be proud of themselves for the Israeli training and education received by the Georgian soldiers," Georgian Minister Temur Yakobashvili said Saturday. Yakobashvili is a Jew and is fluent in Hebrew. "We are now in a fight against the great Russia," he said, "and our hope is to receive assistance from the White House, because Georgia cannot survive on its own. "It's important that the entire world understands that what is happening in Georgia now will affect the entire world order. It's not just Georgia's business, but the entire world's business." One of the Georgian parliament members did not settle Saturday for the call for American aid, urging Israel to help stop the Russian offensive as well: "We need help from the UN and from our friends, headed by the United States and Israel. Today Georgia is in danger – tomorrow all the democratic countries in the region and in the entire world will be in danger too."
Georgia: A US Lesson Learned About Russia
Aug. 11….(In The Days) The image of President Bush smiling and chatting with Prime Minister Vladimir V. Putin of Russia from the stands of the Beijing Olympics even as Russian aircraft were shelling Georgia outlines the reality of America's Russia policy. While America considers Georgia its strongest ally in the bloc of former Soviet countries, Washington needs Russia too much on big issues like Iran to risk it all to defend Georgia.
"…upon the earth distress of nations, with perplexity…"(Luke 21:25)
And State Department officials made it clear on Saturday that there was no chance the United States would intervene militarily. Mr. Bush did use tough language, demanding that Russia stop bombing. And Secretary of State Condoleezza Rice demanded that Russia "respect Georgia's territorial integrity." What did Mr. Putin do? First, he repudiated President Nicolas Sarkozy of France in Beijing, refusing to budge when Mr. Sarkozy tried to dissuade Russia from its military operation. "It was a very, very tough meeting," a senior Western official said afterward. "Putin was saying, 'We are going to make them pay. We are going to make justice.' " Then, Mr. Putin flew from Beijing to a region that borders South Ossetia, arriving after an announcement that Georgia was pulling its troops out of the capital of the breakaway region. He appeared ostensibly to coordinate assistance to refugees who had fled South Ossetia into Russia, but the Russian message was clear: This is our sphere of influence; others stay out. "What the Russians just did is, for the first time since the fall of the Soviet Union, they have taken a decisive military action and imposed a military reality," said George Friedman, chief executive of Stratfor, a geopolitical analysis and intelligence company. "They've done it unilaterally, and all of the countries that have been looking to the West to intimidate the Russians are now forced into a position to consider what just happened." And Bush administration officials acknowledged that the outside world, and the United States in particular, had little leverage over Russian actions. "There is no possibility of drawing NATO or the international community into this," said a senior State Department official in a conference call with reporters. The unfolding conflict in Georgia set off a flurry of diplomacy. Ms. Rice and other officials at the State Department and the Pentagon have been on the telephone with Russia's foreign minister, Sergey V. Lavrov, and other Russian counterparts, as well as with officials in Georgia, urging both sides to return to peace talks. The European Union, and Germany, in particular, with its strong ties to Russia, called on both sides to stand down and scheduled meetings to press their concerns. At the United Nations, members of the Security Council met informally to discuss a possible response, but one Security Council diplomat said it remained uncertain whether much could be done. "Strategically, the Russians have been sending signals that they really wanted to flex their muscles, and they're upset about Kosovo," the diplomat said. He was alluding to Russia's anger at the West for recognizing Kosovo's independence from Serbia. Indeed, the decision by the United States and Europe to recognize Kosovo may well have paved the way for Russia's lightning-fast decision to send troops to back the separatists in South Ossetia. During one meeting on Kosovo in Brussels this year, Mr. Lavrov, the foreign minister, warned Ms. Rice and European diplomats that if they recognized Kosovo, they would be setting a precedent for South Ossetia and other breakaway provinces. For the Bush administration, the choice now becomes whether backing Georgia, which, more than any other former Soviet republic has allied with the United States, on the South Ossetia issue is worth alienating Russia at a time when getting Russia's help to rein in Iran's nuclear ambitions is at the top of the United States' foreign policy agenda. One United Nations diplomat joked on Saturday that "if someone went to the Russians and said, 'OK, Kosovo for Iran,' we'd have a deal." That might be hyperbole, but there is a growing feeling among some officials in the Bush administration that perhaps the United States cannot have it all, and may have to choose its priorities, particularly when it comes to Russia. The Bush administration's strong support for Georgia, including the training of Georgia's military and arms support, came, in part, as a reward for its support of the United States in Iraq. The United States has held Georgia up as a beacon of democracy in the former Soviet Union; it was supposed to be an example to other former Soviet republics of the benefits of tilting to the West. But that, along with America and Europe's actions on Kosovo, left Russia feeling threatened, encircled and more convinced that it had to take aggressive measures to restore its power, dignity and influence in a region it considers its strategic back yard, foreign policy experts said. Russia's emerging aggressiveness is now also timed with America's preoccupation with Iraq and Afghanistan, and the looming confrontation with Iran. These counterbalancing considerations mean that Moscow is in the driver's seat, administration officials acknowledged. "We've placed ourselves in a position that globally we don't have the wherewithal to do anything," Mr. Friedman of Stratfor said. "One would think under those circumstances, we'd shut up."
'Oil, Israel and Iran' Among Factors that Led to Georgia War
Aug. 11….(IsraelNN.com) Analysis of the war in Georgia points to a fight over a major oil route as the main reason for hostilities, but also to an Israeli connection. Channel 2's expert on the Muslim world, Ehud Ya'ari, told viewers of the central evening newscast that Russia and neighboring countries were vying for control of a strategic oil pipeline from the Caspian Sea to the Mediterranean. This relatively new pipeline passes through Azerbaijan and Georgia to Turkey and is the only pipeline between Asia and Europe that does not pass through Russia or Iran. Israel was expecting to receive oil and gas through the pipeline. By using the ethnic Russian population in South Ossetia to destabilize Georgia, Russia was making a play for the pipeline, he said.
The Israeli Connection
The Georgian move against South Ossetia was motivated by political considerations having to do with Israel and Iran, according to Nfc. Georgian President Mikheil Saakashvili decided to assert control over the breakaway region in order to force Israel to reconsider its decision to cut back its support for Georgia's military. Russian and Georgian media reported several days ago that Israel decided to stop its support for Georgia after Moscow made it clear to Jerusalem and Washington that Russia would respond to continued aid for Georgia by selling advanced anti-aircraft systems to Syria and Iran. PRIVATE "TYPE=PICT;ALT= "Russia bombed a Georgian military plant in which Israeli experts are upgrading jet fighters for the Georgian military. Hundreds of Israeli defense experts are reportedly in Georgia and Israel's military industries have been upgrading Georgia's air force, training its infantry and selling the country unmanned aerial vehicles and advanced artillery systems.
Former minister Ronny Milo was reportedly among the leading Israeli middlemen in the arms deals with Georgia and Brig.-Gen. Gal Hirsch has been training army units through a company he owns.
Russia rejects ceasefire
Georgia has ordered its forces to cease fire, and offered to start talks with Russia over an end to hostilities in South Ossetia, Georgian officials said Sunday. However, Russia has reportedly rejected the offer. Earlier in the day, Georgia said its troops had pulled out of the breakaway region and that Russian forces were in control of its capital, Tskhinvali. Georgian President Saakashvili said Sunday that his country's sovereignty is in danger. After conducting consultations regarding events in Georgia, Foreign Minister Tzipi Livni said Sunday that Israel "recognizes Georgia's territorial integrity. Russian Deputy Foreign Minister Gregory Karasin said Sunday that international and western press coverage of events in Georgia were biased in favor of the Georgians. "The West behaved strangely in the first hours of the attack on South Ossetia," Karasin said, and added that "the USA's negative attitude" would be "taken into consideration in the future in contacts about other global questions." The US says it will ask the United Nations to condemn Russia's actions in Georgia.
Russia's Invasion is About Oil and Oil Profits
Aug. 11….(Jerome Corsi) War with Georgia could mean higher oil prices in U.SAs Russian tanks and jets cross the border into Georgia, Americans are faced with yet another obscure war that may turn out to have dramatic consequences for the price of oil. That the war could risk higher oil prices became evident Saturday as reports circulated alleging Russian fighter jets had targeted and attacked the major Baku-Tbisli-Ceyhan oil pipeline which carries oil to Western markets. While President Bush and Secretary of State Condoleezza Rice have called for an end to the shooting in statements supportive of Georgia, the United States is unlikely to consider seriously sending any US military forces to the region, even if Russia were to launch a determined assault to take over Georgia. While the US stands by watching, NATO and the EU are likely to lack the political will to intervene militarily, conceding to Russia the opportunity to exercise their political will through military force in the region. What remains to be seen is whether Russia is becoming more aggressive with Georgia in an effort to exert more control over now independent states that were formerly part of the Soviet Union. With the Bush administration pushing to expand missile-defense radar into the Czech Republic and signaling a willingness to accept Georgia and Ukraine into NATO, will Russian President Dmitry Medvedev feel compelled to begin his presidency with aggressive moves calculated to curb Washington's influence in Western Europe?
Obama Supports Global Tax From United Nations
Aug. 11….(Townhall) For an entire week, Americans watched as Senator Barack Obama took his act on the road, courting the European elitists and cowtowing to an endless array of foreign politicians. At this point it may be easy to take Obama's "celebri-plomacy" lightly. Yet, his trip highlights a dangerous threat to America's national sovereignty in the form of his globalist policies that will diminish America's role in the world and outsource decisions of vital national interest to the United Nations. His Global Poverty Act, currently under consideration in Congress, is just one such policy. Despite its seemingly innocuous title, the Global Poverty Act would force America to adopt the UN's "Millennium Development Goals" as official US policy. This means outsourcing to the United Nations all important decisions concerning the use of US foreign aid dollars. Not only that, but the fee for allowing the UN to play the "middle man" in our global war on poverty would be a tax of .7 percent of the US Gross National Product. That's right. Barack Obama and his liberal allies such as Senator Biden have signed on to a bill that would allow the UN to tax America (and Americans) an estimated $845 billion over the next 13 years. Obama's plan represents perhaps the greatest affront to our national sovereignty since the War of 1812. The Global Poverty Act dismisses the American ideals of a free-market economy and responsible government for a global bureaucracy that has already lost tens of millions in development funds to corruption. The measure demands virtually no accountability or reform from the impoverished and often oppressive nations who are the recipients of our charitable largess. Furthermore, the United Nations Development Program has become the favorite "rich uncle" of terrorist states and rogue regimes, accidentally funneling millions to North Korea's illicit weapons programs and violating 95 US export laws in the process. You might ask how this abomination has quietly made its way through Congress with barely a mention on mainstream media or by our representatives in Washington. The Global Poverty Act began in the US House with only 84 co-sponsors and was quietly passed by a voice vote by Democrats and some well-meaning Republicans who did not know what was in the bill. Now, Obama has "taken the football" and launched a continuous effort to ram the bill through the Senate with the help of his new foreign policy lap dog, Senator Joe Biden (In the interest of full-disclosure, I should note that I am currently the Republican running against Joe Biden for the US Senate in Delaware). Senator Biden rushed the bill through the Senate Foreign Relations Committee with another voice vote and without any hearings. The Senate voted against the bill in February 2008, but now Obama, Biden and their liberal cohorts lay in wait to slip the bill past the American people by rolling it into another larger spending package like the so-called "Coburn Omnibus." If we are not vigilant and allow Democrats in the Senate to sneak the "Global Poverty Tax" past the voters, we will sacrifice our national sovereignty and set the dangerous precedent of allowing the United Nations to tax Americans. Our "reward" for our benevolence will be a bureaucracy that provides little accountability and no measurable returns on our hefty global investment. Without an insistence on serious economic and government reforms and accountability for every dollar spent, the U.S. will continue to spend hundreds of billions attempting to treat the symptoms of global poverty while at the same time feeding the disease. Reform and accountability are key to insuring that our investment in the fight against global poverty produces immediate and measurable results while providing freedom and long-term economic reform that give individuals the tools to lift themselves out of poverty and partake in the benefits of a free-market economy. Throwing more money at the problem is not the answer. Handing over the job to an organization renowned for its incompetence is a recipe for disaster. Our greatest export is our unique system of government and the ingenuity it fosters. Economic assistance coupled with measurable reform provides a pathway to prosperity and a petri dish for burgeoning economic opportunity, not just for developing nations but also for the US We have only to look at our $17.5 billion in annual exports to India's growing middle class to see the long-term benefits of promoting government and economic reform both through responsible development aid and private sector partnerships. America as a nation is at a critical time in her history. For 200 years, the United States has been a beacon of freedom and prosperity for the world. If we subjugate our leadership role to the UN and outsource our responsibilities to the United Nations' Development Program, we will leave global prosperity and freedom to chance, crush the American economy with an $845 billion tax and fail all people throughout the world who aspire to all that we have achieved. The Global Poverty Act is the first battle in what is no-doubt a far-reaching liberal assault on our sovereignty, our prosperity and our role as the leader of the free world. Obama, Biden and other globalist Democrats want to turn the United States into a nation of followers, but I still believe that America has a unique role as a defender of the oppressed and an example to every person with the capacity to dream of a better life. If we shirk our responsibility now, we will lose our national soul and the free world will pay the price for our passing the buck.
WEEK OF AUGUST 3 THROUGH AUGUST 9
Evidence Mounts in Obama's Birth Certificate Fraud
Aug. 8….(Bill Wilson, KIN Senior Analyst) It is starting to read like a Robert Ludlum spy novel--the Islamic attempt to take over America by growing up and grooming a man to become president, forging his birth certificate so as to appear to meet the Constitutional requirements, placing him in a Christian church that does not require a change to Christianity to become a member, having him say he was never a practicing Muslim, but that he is a Christian, having him walk a fine line by never admitting the deity of Christ, and positioning him before the public as a dynamic and charismatic speaker with a plan--a simple plan--time for a change. If you are a conspiracy theorist, this is exactly what the B. Hussein Obama campaign for President is. But the facts are far too compelling to ignore as theory because many of them are true. And the Obama campaign is hanging on a daisy chain of stories tied together by a thread that is becoming thin and worn with each passing day. It is the authenticity of his certificate of live birth from Hawaii. The daily magazine Israeli Insider, as well as the National Review and Atlas Shrugs have been updating on a regular basis the findings of a forensic expert that confirm Obama's birth certificate is a fake. The most recent claim submits that the high resolution image of Obama's birth certificate posted on the campaign's official website in low resolution was derived from the certificate of live birth of Obama's sister Maya Kassandra Soetoro. This claim, the documentation soon to be made public, was arrived at by two independent forensic investigators. The claim, however, muddies the waters because it was thought that Obama's sister was born in Indonesia. According to Israeli Insider, "There do appear to be circumstances which would enable a foreign born child to get a US birth certificate, including a consular report of an overseas birth by an American citizen, or an adoption. There are many confusing twists and turns in this saga that could be straightened out by Obama himself. But he's not talking despite requests that he give an explanation. Blogger Mitchell Langbert is circulating a petition requesting the Federal Elections Commission verify Obama's eligibility to be president
Fast of Av Brings Memory of Temple
Aug. 8….(IsraelNN.com) The fast of Tisha B'Av, the "saddest" day in the Jewish calendar, begins on Saturday night as the Sabbath ends, and ends Sunday evening at sundown. Its name literally means "the ninth day of the Jewish month of Av," the date of some of the gravest tragedies to have befallen the Jewish People. Most notably, both Holy Temples in Jerusalem were destroyed on Tisha B'Av, but the list of calamities includes also the following:
G-d decreed, following the Sin of the Spies as recounted in Numbers 13-14, that the Children of Israel would not be allowed to enter the Land of Israel until the entire generation had died out.
The fall of Beitar, the last fortress to hold out during the Bar Kochba revolt in the year 135 AD, fell to the Romans, marking the last milestone in the beginning of our current Exile.
A year later, the Temple area was plowed under.
The Jews of Spain were expelled by King Ferdinand and Queen Isabella in 1492.
World War I erupted in 1914.
The Jews of Gush Katif spent their last legal day in their homes in 2005, and were expelled three days later.
The centerpiece of Tisha B'Av mourning is the destruction of the Holy Temple (Beit HaMikdash). Among the many groups that have sprouted over the past several years promoting awareness of the Beit HaMikdash is one named "Secular Jews for the Temple." Ahuvyah Tabenkin of left-wing Kibbutz Ein Harod said, "It's true that we don't exactly represent a majority of secular Kibbutz members... but the pioneers have always been a minority: the Zionists were a minority among the Jews, those who came to the Land were a minority among the Zionists, those who worked the land were also a minority, and now we are a minority as well. But I hope that soon we will be the leaders." Tabenkin has nationalist, political and historical reasons why the Temple and the Temple Mount are important. Asked if he has religious considerations as well, Tabenkin told Arutz-7's Ariel Kahane, "Well, the word 'religious' can be the subject of long discussions. Look, the Gerrer Rebbe once said, 'When the Haskalah [Enlightenment] came to the world, with science, physics, etc., we [the religious] left it for the secular Jews; when Zionism came to the world, we gave that too to the secular; and now we have also left the Repentance Movement for the secular.' Accordingly, it looks like we [the secular] will also have to build the Beit HaMikdash." Asked whether he calls for the actual construction of the Temple, he said, "There are many religious authorities, including Maimonides, who say that the Temple must be rebuilt, and so I think it should be done. As a first step, we must show that we control the Temple Mount. I call upon all of Israel to come to the Mount on [Tisha B'Av] and show that it belongs to the Jewish nation." Prominent rabbis permit the ascent to parts of the Temple Mount after certain Halakhic precautions have been taken.
Israel Warns Russia: We'll Neutralize S-300 if sold to Iran
Aug. 8….(JPOST) If Russia goes through with the sale of its most advanced anti-aircraft missile system to Iran, Israel will use an electric warfare device now under development to neutralize it and as a result present Russia as vulnerable to air infiltrations, a top defense official has told the Jerusalem Post. The Russian system, called the S-300, is one of the most advanced multi-target anti-aircraft-missile systems in the world today and has a reported ability to track up to 100 targets simultaneously while engaging up to 12 at the same time. It has a range of about 200 kilometers and can hit targets at altitudes of 27,000 meters. While Russia has denied that it sold the system to Iran, Teheran claimed last year that Moscow was preparing to equip the Islamic Republic with S-300 systems. Iran already has TOR-M1 surface-to-air missiles from Russia. A top IAF officer also said this week that Israel needed to do "everything possible" to prevent the S-300 from reaching the region. "Russia will have to think real hard before delivering this system to Iran, which is possibly on the brink of conflict with either Israel or the US, since if the system is delivered, an EW electronic warfare system will likely be developed to neutralize it, and if that happens it would be catastrophic not only for Iran but also for Russia," the defense official said. Neutralization of one of the main components of Russian air defense would be a blow to Russian national security as well as to defense exports. "No country will want to buy the system if it is proven to be ineffective," the official said. "For these reasons, Russia may not deliver it in the end to Iran." Also on Thursday, Defense Minister Ehud Barak told an Italian paper that a nuclear Iran would be "dangerous to world order." Barak emphasized that all options for dealing with threat of a nuclear Teheran were "open and ready," and stressed the importance of "strengthening and accelerating economic sanctions against Iran." "Either way, we need to keep every option open. If they provoke us, or they attack us, our army is prepared to attack and to succeed uncompromisingly
Demographic Landscape Shifting Across United States
Aug. 8….(USA Today) White populations have declined in more than half of the USA's counties since 2000, helping fuel a rise in the number of communities where minorities are now the majority, an analysis of 2007 Census estimates released today shows. The data reflect how immigration, a population boom among Hispanics and the slowing growth of an aging population of whites are reshaping the nation's demographic landscape. Minorities made up more than half the population in 302 of the nation's 3,141 counties last year. Most such areas in the early 1990s were centered in established metropolitan areas and border cities in the Southwest. Now, counties where minorities are a majority are popping up "all over the place," Though whites are 66% of the population nationwide, "it's kind of a zero sum game. Hispanic and Asians are growing nationally and they can spread out," Frey says. Because the white population is growing very slowly, whites leaving many communities are not replaced by other whites. At the same time, the white population continues to grow rapidly in many Sun Belt counties. Counties in which minorities have become the majority during the last decade include Osceola County, Fla., which saw its white population drop from 60.2% in 2000 to 46.1% in 2007, and Riverside County, Calif., where the share of white residents dropped from 51.6% to 43.1%. At least 10 counties are on the brink of seeing such change by 2010, Frey says. They include Clark County, Nev., the heart of the Las Vegas metropolitan area, which was 52.3% white in 2007, and Denver County, Colo., which was 50.7% white. "It's this intersection of continuing immigration, a spreading out of that immigrant population into new areas and the relatively young age structure of the Hispanic population, and to some degree the Asian population" that is contributing to these ethnic shifts, says Jeffrey Passel, senior demographer at the Pew Hispanic Center. The number of counties that are predominantly minorities likely will increase as white baby boomers retire from densely populated communities, says Mark Mather, a demographer for the Washington, D.C.-based Population Reference Bureau. "For a long time now, we've seen the white population moving out of those crowded areas," he says. "With baby boomers now hitting retirement, I think that's going to accelerate and obviously the people who are replacing those exiting boomers are mostly minorities." Other highlights in the population estimates for July 1, 2007:
• In more than a quarter of the 1,800 counties that grew from 2000 to 2007, Hispanics provided at least half of the gains. San Diego County gained 161,000 residents, including 150,000 Hispanics. Hartford County, Conn., gained 19,600, including 18,600 Hispanics.
• Blacks are returning to New Orleans after Hurricane Katrina. The number of non-Hispanic black residents in Orleans Parish grew by 16.4% to 144,050 between 2006 and 2007.
• The Southwest is home to counties that have the nation's oldest and youngest populations.
Russia Requests More Time For Iran
Be thou prepared, and prepare for thyself, thou, and all thy company that are assembled unto thee, and be thou a guard unto them." (Ezekiel 38:7)
Aug. 8….(In The Days) Russia said Wednesday that Iran should be granted more time to respond to a package of incentives that the United States and five other powerful nations have offered Tehran to freeze its uranium enrichment efforts, a stance that may slow US and European efforts to impose UN sanctions on Tehran. Russia's UN ambassador, Vitaly I. Churkin, said the six nations should continue negotiating with Iran over its nuclear program. He dismissed assertions by the United States, Britain and France that Tehran had missed a deadline this week to respond to the offer, which would make a push for UN sanctions inevitable. "We haven't set any deadlines for their response," he said. "We have some negotiating opportunities, and rather than focus almost entirely on sanctions we should focus on what those opportunities should be." Churkin's remarks raised the prospect of renewed strains between Washington and Moscow over Iran policy during the final months of President Bush's tenure. Administration officials say Iran is buying time to advance its capacity to enrich uranium, an effort they suspect is intended to fuel a nuclear weapon. They have made it clear they hope to secure a fourth round of UN sanctions against Tehran before Bush leaves office in January, according to UN diplomats. Iran denies that it is seeking nuclear weapons, and says that the council has no right to prevent it from developing a civilian energy program. The United States, France and Britain pressed ahead with efforts to punish Tehran after a conference call Wednesday between representative of the six nations. Britain's top Middle East expert, Kim Howells, indicated that the allies secured agreement with Russia and China to pursue a "dual track strategy" on Iran, including discussion of possible UN sanctions and further contacts between Iran's nuclear negotiator, Saeed Jalili, and Javier Solana, the European Union's foreign policy chief. The latest standoff comes nearly two months after the five permanent members of the Security Council, Britain, China, France, Russia and the United States, as well as Germany offered to sweeten a package of economic, political and security incentives to Iran. Solana, the group's representative, gave Iran until last Saturday to accept the package or face further UN sanctions. Iran said in a letter to Solana Tuesday that it is ready to respond to the offer as long as the six big powers "simultaneously" provide Tehran with a more detailed explanation of the incentives. The United States, France and Britain accused Iran of stonewalling, and said they would begin talks on a new UN sanctions resolution. Churkin, the Russian representative, conceded that "we would have preferred a more straightforward and positive answer from our Iranian colleagues." "The letter that we received yesterday appears to be a stalling tactic," State Department spokesman Gonzalo Gallegos said. He said the big powers are "beginning to consider the possible outlines of another resolution." Council diplomats and analysts said Russia's initiative would lend support to what they think is an Iranian effort to buy time. "The Iranians seems determine to run out the clock," said Justin Logan of the Cato Institute. "The Iran problem appears likely to be handed to the next president."
Warnings in Syria and Iran
Aug. 7….(Ron Ben-Yishai) In recent months, Hizbullah has been able to establish a military presence north and south of the Litani River that is already prepared to a large extent to fire rockets and missiles on northern and central Israel, while at the same time hindering the IDF ground forces who would enter Lebanon to curb the fire. In principle, Hizbullah's rockets and missiles (estimated at 40,000) are found on both sides of the Litani. Yet the heavy arsenal, made up of several hundred rockets with warheads weighing hundreds of kilograms and featuring a range of up to 250 kilometers (roughly 160 miles) is found underground north of the Litani and is well-fortified in land bought by Hizbullah. In south Lebanon, the group established a fortified underground system that would be used to fight the IDF armored corps and infantry troops that advance towards the rocket arsenal north of the Litani. Meanwhile, the logistical and training center of Hizbullah, which has been boosted with thousands of new fighters, is in the Beqaa Valley region in Lebanon. Yet the most worrisome development has to do with a new component that Hizbullah is attempting to set up in Lebanon with Syrian assistance. We are talking about an anti-aircraft system that is aimed at limiting Israel's ability to gather intelligence above Lebanon, and later make it more difficult for the Israeli Air Force to strike in Lebanon and Syria. Should Iran, Syria, and Hizbullah be able to establish a massive anti-aircraft system in Lebanon, this will fundamentally change the strategic balance of power. Hizbullah already possesses old models of anti-aircraft missiles and cannons; our Air Force has an answer for them. Some of them have already been deployed in the Second Lebanon War. Yet what the Syrians and Iranians may give Hizbullah at this time poses a different danger and is of a different scope than anything we have known so far (it should be noted these weapons have not yet been received by Hizbullah.) In fact, this system is supposed to provide aerial defense to the entire Syrian-Iranian rocket and missile arsenal in Lebanon and western Syria. Israel cannot reconcile itself to such development alongside Hizbullah's rocket arsenal and ground fortifications. Therefore, Jerusalem has embarked on a diplomatic-PR offensive in Europe and in the United States under the leadership of the army chief and defense minister, who recently visited Washington. Meanwhile, Olmert spoke about this with Sarkozy in Europe. The message to Syria, which is also being conveyed via Wednesday's cabinet meeting and through other means, some of them clandestine, is as follows: Israel would not accept the establishment of an advanced anti-aircraft system in Lebanon; should it be set up, Israel will not hesitate to act against it. Israel is also warning Lebanon against granting Hizbullah the freedom to act, in light of the latest government decision in Beirut that in fact defines Hizbullah as part of the national army. And the third issue: A warning to Hizbullah to refrain from carrying out acts of revenge for the killing of Imad Mugniyah; such acts would meet a "disproportional response." The Israeli government is attempting to convey all these messages at this time to Lebanon, Syria, Iran, and the international community. Israeli officials hope that exposing the Syria-Hizbullah intentions will deter Damascus and Tehran and stop them from implementing their plans in Lebanon.
By Rejecting Iran Sanctions, Moscow May be Inviting Israeli Attack
Aug. 7….(DEBKA) Sources in Washington commented Wednesday night, Aug. 6, that, while it is unlikely that Israel would attack Iran without US approval, this might change if tough sanctions were taken off the table. They reported Israel was building up its strike capabilities for an attack, had purchased 90 F-16I planes that can carry enough fuel to reach Iran and would receive another 11 by the end of next year. The Jewish state had also bought two new Dolphin submarines from Germany capable of firing nuclear-armed warheads, in addition to the three already in service with its navy. According to foreign media, Israel is active inside Iranian territory. DEBKAfile reports that this information was leaked by Washington sources, apparently to warn Moscow that by closing the door to sanctions, it was opening the door to an Israeli attack. A few hours earlier by Russian UN ambassador Vitaly Churkin: "There have been no firm agreements or understandings or any kind of concerted work" against Iran over its nuclear program." He took exception to US and British statements that a fourth round of UN Security Council sanctions was on the cards against Iran for its ambiguous response to the six-power incentives. The sources disclosed that Israel, believing Tehran will have enough enriched uranium for a nuclear bomb by next year or 2010 at the latest, is worried about Washington's softening on Iran and intention to open a US office in Tehran. Washington sources report that Israeli is building up its strike capabilities and appears confident that a military attack would cripple Tehran's nuclear program even if its installations were too widely scattered to be completely wiped out. US, British, Russian, Chinese, French, German and European officials spoke by conference earlier in the day. The US and Britain said they had agreed to consider a possible fourth round of UN Security Council sanctions for lack of a clear yes or no from Tehran on the suspension of uranium enrichment in return for incentives. This the Russian ambassador denied. He also said Moscow had set no deadline for Iran to respond to the offer made on June 19. "The negotiating track is open, there are contacts between the parties," he said. While Russian would have preferred a clear response, "It's more complicated than that as we all know." He suggested that further talks among the six powers would take place in September on the sidelines of the next UN General Assembly.
Israel Mulls Military Option for Iran Nukes
Aug. 7….(AP) Israel is building up its strike capabilities amid growing anxiety over Iran's nuclear ambitions and appears confident that a military attack would cripple Tehran's atomic program, even if it can't destroy it. Such talk could be more threat than reality. However, Iran's refusal to accept Western conditions is worrying Israel as is the perception that Washington now prefers diplomacy over confrontation with Tehran. The Jewish state has purchased 90 F-16I fighter planes that can carry enough fuel to reach Iran, and will receive 11 more by the end of next year. It has bought two new Dolphin submarines from Germany reportedly capable of firing nuclear-armed warheads, in addition to the three it already has. And this summer it carried out air maneuvers in the Mediterranean that touched off an international debate over whether they were a "dress rehearsal" for an imminent attack, a stern warning to Iran or a just a way to get allies to step up the pressure on Tehran to stop building nukes. According to foreign media reports, Israeli intelligence is active inside Iranian territory. Israel's military censor, who can impose a range of legal sanctions against journalists operating in the country, does not permit publication of details of such information in news reports written from Israel. The issue of Iran's nuclear program took on new urgency this week after US officials rejected Tehran's response to an incentives package aimed at getting it to stop sensitive nuclear activity, setting the stage for a fourth round of international sanctions against the country. Israel, itself an undeclared nuclear power, sees an atomic bomb in Iranian hands as a direct threat to its existence. Israel believes Tehran will have enriched enough uranium for a nuclear bomb by next year or 2010 at the latest. The United States has trimmed its estimate that Iran is several years or as much as a decade away from being able to field a bomb, but has not been precise about a timetable. In general US officials think Iran isn't as close to a bomb as Israel claims, but are concerned that Iran is working faster than anticipated to add centrifuges, the workhorses of uranium enrichment. "If Israeli, US, or European intelligence gets proof that Iran has succeeded in developing nuclear weapons technology, then Israel will respond in a manner reflecting the existential threat posed by such a weapon," said Israeli Deputy Prime Minister Shaul Mofaz, speaking at a policy forum in Washington last week. "Israel takes Mahmoud Ahmadinejad's statements regarding its destruction seriously. Israel cannot risk another Holocaust," Mofaz said. The Iranian leader has in the past called for Israel's elimination, though his exact remarks have been disputed. Some translators say he called for Israel to be "wiped off the map," while others say a better translation would be "vanish from the pages of time," implying Israel would disappear on its own rather than be destroyed. Iran insists its uranium enrichment is meant only for electricity generation, not a bomb, an assertion that most Western nations see as disingenuous. Israeli policymakers and experts have been debating for quite some time whether it would even be possible for Israel to take out Iran's nuclear program. The mission would be far more complicated than a 1981 Israeli raid that destroyed Iraq's partially built Osirak nuclear reactor, or an Israeli raid last year on what US intelligence officials said was another unfinished nuclear facility in Syria. In Iran, multiple atomic installations are scattered throughout the country, some underground or bored into mountains, unlike the Iraqi and Syrian installations, which were single aboveground complexes. Still, the Syria action seemed to indicate that Israel would also be willing to use force preemptively against Iran. "For Israel this is not a target that cannot be achieved," said Maj. Gen. Aharon Zeevi-Farkash, former head of Israel's army intelligence. However, it's unlikely Israel would carry out an attack without approval from the United States. Recent signs that Washington may be moving away from a military option, including a proposal to open a low-level U.S. diplomatic office in Tehran and a recent decision to allow a senior US diplomat to participate alongside Iran in international talks in Geneva, are not sitting very well with Israel. That may help explain recent visits to Jerusalem by Mike McConnell, the US director of national intelligence, and Adm. Michael Mullen, chairman of the Joint Chiefs of Staff, each of whom delivered a message to Israel that it does not have a green light to attack Iran at this time. Senior Israeli officials, speaking on condition of anonymity because they do not wish to appear at odds with their most important ally, said they were concerned about a possible softening of the US stance toward Iran. Apparently to allay Israeli concerns, Bush administration officials last week assured visiting Israeli Defense Minister Ehud Barak that the US has not ruled out the possibility of a military strike on Iran. And the US, aware of Israel's high anxiety over Iran's nukes, is also hooking Israel up to an advanced missile detection system known as X-Band to guard against any future attack by Iran, said a senior US defense official, who spoke on condition of anonymity because the discussions over the issue have not been made public. With sanctions and diplomacy still the international community's preferred method to get Iran to stop building the bomb, an Israeli strike does not appear imminent. If it did attack, however, Israel would have to contend with upgraded Iranian defense capabilities, including 29 new Tor-M1 surface-to-air missile systems Iran purchased from Russia last year in a $700 million deal. Russia has so far not gone through with a proposed sale to Iran of S-300 surface-to-air missiles, an even more powerful air defense system than the Tor-M1. An Israeli defense official said the deal is still on the table, however. This is a big source of consternation for Israel because the system could significantly complicate a pre-emptive Israeli assault on Iran. Military experts say an Israeli strike would require manned aircraft to bombard multiple targets and heavy precision bombs that can blast through underground bunkers, something Israel failed to do in its 2006 war against Hezbollah. It's widely assumed that Israel is seeking to obtain bunker buster bombs, if it hasn't already done so. Elite ground troops could also be necessary to penetrate the most difficult sites, though Israeli military planners say they see that option as perhaps too risky. America's ability to take out Iran's nuclear facilities is far superior to Israel's. Unlike Israel, the United States has cruise missiles that can deliver high-explosive bombs to precise locations and B-2 bombers capable of dropping 85 500-pound bombs in a single run. Yet the cost of an attack, by the US, Israel or both, is likely to be enormous. Iran could halt oil production and shut down tanker traffic in the strategic Strait of Hormuz, which could send the price of crude skyrocketing and wreck Western economies. It could stir up trouble for the US in Iraq by revving up Shiite militias there just as Washington is showing some important gains in reining in Iraqi chaos. It could activate its militant proxies in both Lebanon and the Gaza Strip, from where Israel could come under heavy rocket attack. And it could strike Israel with its arsenal of Shahab-3 long-range missiles, something Israel is hoping to guard against through its Arrow missile defense system. Perhaps most importantly, any strike on Iran, especially if it's done without having exhausted all diplomatic channels, could have the opposite of the desired effect, "actually increasing the nationalist fervor to build a nuclear weapon," said Meir Javedanfar, an Iranian-born Israeli and expert on Iranian affairs.
General Petraeus Pays Surprise Visit to Lebanon
Aug. 6….(DEBKA) US Iraq commander Gen. David Petraeus, soon to be promoted to Central Command chief, arrived unannounced in Lebanon today. DEBKAfile's military sources report that he came to check out the strategic ramifications of Hizballah's seizure on behalf of Syria and Iran of two strategic Lebanese peaks, Mt. Sannine and Mt. Barukh. Petraeus also sought the exact import of the Lebanese government's policy decision of Aug. 4, to let Hizballah stay armed (in violation of UN Security Council resolutions) and continue its war against Israel. Those sources stress that American intervention in Lebanon closes the door once again on the prospect of Israeli action against this new threat, in the same way as Washington vetoed effective action against Iran's development of a nuclear bomb and the buildup of Hamas' war machine in Gaza. Military sources question the value of yet another Israeli defense cabinet meeting on the crisis building up on the northern border, when Hizballah has been allowed to brazenly flout UN Security Council resolution 1701 of 2006 by taking delivery of quantities of smuggled Iranian and Syrian weapons and redeploying in South Lebanon. During that period, the Israeli government stood by and failed to interfere with this unfolding menace and Lebanon's takeover as a Syrian-Iranian outpost. Wednesday, an Israeli security source '"revealed" that Hizballah had amassed 40,000 rockets. On March 22, 2008, DEBKAfile's military sources first disclosed that Hizballah had built up its rocket arsenal three and-a-half times beyond its pre-2006 Lebanon War stocks. "Some of the 40,000 rockets of Syrian and Iranian manufacture can hit Israel targets as far south as Beersheba, 350 km. away from the Shiite terror group's launching pads north of Lebanon's Litani River. "Not only has Tel Aviv come within range, but Hizballah and the Palestinian Hamas in Gaza can between them cover most of Israel except for its southernmost tip at Eilat. Using these two surrogates, Tehran can therefore make war on Israel and keep its hands clean. On June 12, the Israeli military intelligence research director Brig. Yossi Baidatz reported that Hizballah had constructed a subterranean storage system, partly in south Lebanon, for tens of thousands of rockets. DEBKAfile's military sources added that they had been proofed by Iran's Revolutionary Guards against aerial attack. From then until now, the Israeli military has not been called upon to take any action. Hizballah has already deployed them on Mt. Sannine. After Israel made no move, the Lebanese Shiite terror group seized a second strategic peak on Mt. Barukh, thus acquiring its first capability to shoot down Israeli Air Force flights. And still, the Olmert government sat on its hands. So it is not surprising that Hizballah has moved on to considering how to dispose of a fresh batch of Israeli prisoners from downed warplanes, or that the Iran-backed group was cocksure enough to manipulate the new Lebanese government into endorsing its continuing armed battle against Israel. Had prime minister Olmert and his three likely successors Tzipi Livni, foreign affairs; Ehud Barak, defense; and Shaul Mofaz, transport, all of whom claim to be seasoned defense tacticians, resolved on proactive measures to curb Hizballah's march from strength to strength, Israel would have been less susceptible to American pressure on Lebanon and Iran.
US Slams Iranian Response on Nukes as 'Unacceptable'

(
Washington assails Tehran vaguely-worded dismissal of latest incentives package, announces diplomats representing world powers to convene on Wednesday to discuss next move. State Department warns more sanctions could be ahead
)
Aug. 6….(YNET) Iran's response to an incentives package aimed at defusing a dispute over its nuclear program is unacceptable, US officials said Tuesday, making the prospects of new sanctions against the country more likely. The officials told The Associated Press that a one-page document Iran presented to European Union foreign policy chief Javier Solana in Brussels is not, as had been sought, a definitive reply to the offer from major world powers to suspend uranium enrichment and reprocessing in exchange for economic and other benefits. Instead, the officials said it was a restatement of Tehran's earlier insistence on the right to conduct peaceful nuclear activities and essentially a transcription of portions of recent telephone conversations to that effect between Solana and chief Iranian negotiator Saeed Jalili. One US official familiar with the document described it as "more obfuscation and delay" and not a "real response" to the package, which was presented earlier this year by the five permanent members of the UN Security Council and Germany. The officials, who said they were not surprised by the response, spoke on condition of anonymity because Solana's office has not yet characterized the Iranian reply. In Brussels, an EU diplomat said the Iranian response would be analyzed and discussed "very soon" by Solana and senior diplomats from the six countries that made the offer - Britain, China, France, Germany, Russia and the United States. The State Department said those diplomats would hold a conference call on Wednesday to discuss the way ahead and the US officials said a discussion of new sanctions on Iran could begin as early as then. Shortly after Solana's office received the document and forwarded copies by e-mail to the six governments involved, the department said that anything less than full acceptance of the package would force the grouping, known as the P5-plus-1, to seek new sanctions against Iran. "We are looking for a clear, positive response from Iran, and in the absence of that we're going to have no choice but to pursue further measures against them," said spokesman Gonzalo Gallegos. The offer was reiterated to Iran on July 19, when senior diplomats from the six nations and the European Union met in person with Jalili to set an informal two-week deadline for Iran to either accept or reject it. The meeting was notable because the Bush administration broke with its long-standing policy and sent the third-ranking State Department diplomat to the session aimed at proving its seriousness about the package. The United States and others accuse Iran of trying to develop nuclear weapons under cover of a civilian atomic energy program. Iran denies the charge, insisting its program is peaceful, but it has thus far refused to halt enriching uranium, which can produce the ingredients for a bomb. Iran is currently under three sets of UN Security Council sanctions and could soon face a fourth unless it accepts the incentives package. In addition, the United States, the European Union and individual EU members have imposed their own unilateral sanctions against Iranian banks and other institutions.
Iran Threatens to Close Oil Shipping Lanes
Aug. 6….(In The Days) Iran warned Monday that it could easily close a critical Persian Gulf waterway to oil shipments and said that it had a new long-range naval weapon that could sink enemy ships nearly 200 miles away. The warning, by the head of Iran's Revolutionary Guards, followed the weekend expiration of an informal deadline for Iran to respond to an offer of incentives from six world powers to stop enriching uranium. The United States, which has warships deployed in the Persian Gulf, has said new sanctions should be imposed on Iran for failing to respond to the deadline. On Monday, a State Department official said the six powers, the United States, Russia, China, France, Britain and Germany, had agreed to pursue new sanctions, but it remained unclear what they might be or which nations would take part. In comments carried by the semiofficial Iranian news agency, Fars, Gen. Mohammad Ali Jafari, the head of the Revolutionary Guards, said Iran was capable of imposing "unlimited controls" at the Strait of Hormuz in the Persian Gulf, an important oil route. "Closing the Strait of Hormuz for an unlimited period of time would be very easy," he was quoted as saying. "The Guards have recently tested a naval weapon which I can say with certainty that the enemy's ships would not be safe within the range of 300 kilometers," General Jafari was quoted as saying. "Without any doubt we will send them to the depths of the sea." General Jafari gave no details about the type of weapon tested, but he said it was Iranian-built and "unique in the world." He said it would have the range to reach enemy warships in the Persian Gulf, apparently a reference to United States warships, which have been conducting naval maneuvers there. Iran has previously made similar claims about its military abilities, but analysts have treated them with skepticism. Last month, Iran said it had test-fired a number of missiles in war-game maneuvers, including at least one that the government in Tehran described as having the range to reach Israel and another that it said was a relatively new torpedo called a Hoot missile (the name means whale in Persian). Western military analysts said that those war games featured more bluff than real displays of new power and that the statements about the range of the largest missile were misleading. General Jafari's comments were the latest sign of tensions between Iran and the United States over Iran's civilian nuclear program, which Washington and other Western governments have warned could be used to cloak the development of a nuclear weapon, a charge Tehran has repeatedly denied. The Bush administration has refused to rule out a military option, and in June Israel's air force carried out what American intelligence officials described as a rehearsal for a possible strike on Iranian nuclear facilities. Representatives of the six nations met with Iranian officials in Geneva on July 19, with a senior American official taking part for the first time. The talks seemed to produce no progress on the chief demand, that Iran stop uranium enrichment, but the nations gave Iran two weeks to respond to their latest proposal before it would be withdrawn. Specifically, the nations wanted Iran to accept a formula known as freeze-for-freeze. Under the plan, Iran would not expand its nuclear program and the United States and the other powers would not seek new international sanctions for six weeks to pave the way for formal negotiations. The proposal, first offered last year, is intended to give Iran incentives to stop enriching uranium. Iran dismissed the deadline; on Saturday, President Mahmoud Ahmadinejad vowed that Iran would not move "one iota" on its nuclear rights.
Network TV Promotes Sex, But Not in Marriage
Aug. 6….(Fox News) Marriage gets little respect on network TV shows that instead revel in the pleasures of extramarital and even kinky sex, according to a study released Tuesday. The study by the Parents Television Council includes a strongly worded condemnation of prime-time TV, contending it "seems to be actively seeking to undermine marriage by consistently painting it in a negative light." Even more troubling, according to the watchdog group, is what it characterized as TV's recent obsession with what it termed "outre" or bizarre behavior, including partner swapping and pedophilia. As for references to pornography, sex toys and "kinky" behavior, those are now common on TV, the report said. Visual references to practices such as voyeurism and sadomasochistic sex outnumbered married-sex references by a ratio approaching 3 to 1. The effect on young viewers is dire, the Parents Television Council contends. Behavior that once was seen as "fringe, immoral or socially destructive have been given the imprimatur of acceptability by the television industry" and children are absorbing or even imitating it, the report contends. The study analyzed four weeks of scripted shows on the major networks at the start of the 2007-08 season, noting content including depictions of sex; implied sex; discussions on the subject, and visual references to strippers, pornography and other aspects of sexuality. Among the networks overall, references to adultery outnumbered references to marital sex by 2 to 1. The "family hour," the first hour of prime-time TV, which draws the most young viewers, contained the highest ratio of references to non-married vs. married sex, the study found. Shows held up as containing bad examples of TV behavior included "Grey's Anatomy," with the report citing a scene with singles Meredith and Derek in bed, and "Boston Legal," for an exchange about prostitution. "Desperate Housewives" was singled out for a bedroom scene involving Gabrielle and Carlos, who divorced and then, while in other relationships, had sex. Some shows have better attitudes toward marriage although they're not necessarily appropriate for families with young children, said Tim Winter, council president.
Lebanese Gov't Ensures Hizballah will Never Disarm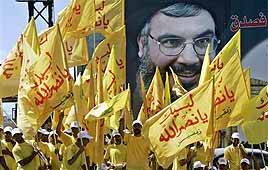 Aug. 5….(YNET) The Western-backed Lebanese government of Prime Minister Fuad Siniora on Monday confirmed what its international allies refuse to acknowledge: that it supports Hizballah and is party to the group's violent aggression against Israel. A policy statement drafted and approved by a council of Lebanese government ministers guarantees "the right of Lebanon, its people, army and resistance to liberate or recover occupied lands, by all legitimate and available means." The term "resistance" is understood to refer exclusively to Hizballah. The policy statement, which will go before the Lebanese parliament later this month, represents a violation of UN Security Council Resolution 1701, which brought an end to the 2006 Second Lebanon War. Resolution 1701 obligates Lebanon to prevent weapons shipments to Hizballah and to work toward the group's disarmament. But Timur Goksel, a former spokesman for the UN Interim Force in Lebanon (UNIFIL), said that the new policy statement had "put an end to any dreams of disarming Hizballah. It secures Hizballah's armed existence." Furthermore, noted Goksel, the Western-backed Lebanese government had "put its signature to a clause that allows Hizballah to take actions in the fields listed without seeking government approval." The document was seen throughout the region as yet another victory for Hizballah, which earlier this summer used a brief spate of violence to win unprecedented political concessions, including veto power over decisions made by the Siniora government. Israel responded to the policy statement by stating that the Lebanese government had now cemented its direct responsibility for any and all future acts of aggression by Hizballah. Israel also urged the international community to do what Lebanon won't by curbing illegal arms shipments to Hizballah. Israeli government officials cited by Ha'aretz said that with the international community unwilling to put any real pressure on what is erroneously viewed as the only true Arab democracy, Jerusalem will focus on the other nations most responsible for Hizballah's military might, Russia and Syria. Most of Hizballah's advanced weaponry is Russian-made, and nearly all the arms reach Hizballah via Syria. Israeli military officials estimate that in terms of manpower and medium and long-range missiles, Hizballah is about three times stronger than it was prior to the last war. The total failure to prevent Hizballah from rearming and gaining military and political strength has been held up as yet another example of the ineffectiveness of the UN.
Lebanese Government: Hizbullah Can Remain Armed
Aug. 5….Israel Today) Lebanese unity government authorizes policy draft affirming right of 'the resistance' to liberate territories under Israeli control. Pleased with achievement, veto-wielding Hizbullah already sets sights on new goal, ending IAF sorties. The Lebanese unity government unanimously approved the draft of its future policy statement, voting in favor of allowing Hezbollah to retain its weapons arsenal and continue its campaign to "liberate all its territories," i.e. the Shebaa farms and the village of Ghajar. The position paper will now be brought before the Lebanese Parliament for its vote of confidence. In recent days Hizbullah has drawn attention to its newly focused efforts on ending Israeli Air Force sorties over Lebanon. The clause in question was the main point of contention between the country's political factions as they sought to draft the policy proposal. Section 24 of the draft now assures the "right of Lebanon's people, the army and the resistance to liberate all its territories." Many officials in the anti-Syrian, pro-Western bloc had argued that statement should not include the word ''resistance'' and that it should make ''liberating the occupied lands'' solely the national army's responsibility. But Hizbullah and its allies strongly opposed those demands. Hizbullah said it was satisfied with the decision: "The government's decision proves that the resistance, which won in July 2006, and completed its victory in Operation Radwan (the prisoner-exchange deal with Israel), and is now going from victory to victory," said Lebanese MP for Hizbullah, Hassan Haballah.
Livni Affirms She will Surrender Golan to Syria
Aug. 5….(Israel Today) Israeli Foreign Minister Tzipi Livni, who is the frontrunner to take over for embattled Prime Minister Ehud Olmert when their Kadima Party holds primaries next month, confirmed on Sunday that she will continue land-for-peace talks with Syria. In an interview with CNN, Livni said that if elected Kadima leader she will press forward with efforts to make peace with Syria based on a partial or full Israeli withdrawal from the Golan Heights. Rejecting the current sentiment of the Israeli public and the positions of previous governments, Livni insisted that "the idea of peace means, of course, territorial concessions." Opinion polls consistently show that the vast majority of Israelis oppose surrendering any part of the Golan to Syria, even in the framework of a genuine peace agreement. Israel officially annexed the Golan in 1982, maintaining that the strategic plateau should never return to Syria after the latter had used it as a launching pad for attacks on and invasions of the Jewish State.
Saudis to Christians: Leave!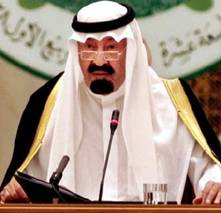 Aug. 5….(WND) More than a dozen Christians in Saudi Arabia who were accused by government officials of worshipping in their homes have been ordered deported. According to a report from International Christian Concern the Christians will be expelled tomorrow for one specific home worship service in Taif in April. The deportation conflicts with the message stated just weeks earlier by Saudi King Abdullah, who called for interfaith dialogue and held a summit in Spain with representatives from several major religions. "Deporting Christians for worshipping in their private homes shows that King Abdullah's speech is mere rhetoric and his country is deceiving the international community about their desire for change and reconciliation," said Jeff King, the president of ICC. The report from the Washington-based human rights group said 15 Christians will be deported. Sixteen had been arrested on April 25 when a dozen Saudi Arabian police officers raided a home during a prayer service. "The first officer to enter the house after breaking down the main gate pointed a pistol at the Christians and ordered them to hand over their resident permits and mobile phones," the report said. "The other 11 police followed quickly and started searching the entire house. The confiscated an electronic drum set, an offering box with 500 Saudi Riyal in it ($130), 20 Bibles, and a few Christian books." The worshippers initially faced accusations of preaching and singing. "They later changed the charge to holding a 'dance party' and collecting money to support terrorism," the ICC said. "During the raid, the police mocked, questioned and harassed the Christians for four hours. Then they took them to a police station where the head of the station interrogated them. The head of the police then wrote down their 'statements' in Arabic and forced the Christians, who are immigrants and not able to read or write Arabic, to sign the statements," ICC said. They were released three days later, and one Christian immediately left the country. The others returned to their work, but soon got letters ordered their departures tomorrow, ICC said. "Three weeks ago, Saudi Arabia hosted an interfaith conference in Madrid, Spain. During the conference that took place from July 16-19, King Abdullah of Saudi Arabia called for reconciliation among various religions," ICC said. According to an International Herald Tribune report, King Abdullah's meeting drew about 200 representatives of Christianity, Islam and Judaism as well as those representing Hindu, Taoism and others. The reporter noted that the meetings had to be held outside of Saudi Arabia because "the mere fact that rabbis would be openly invited to the kingdom, a country where in principle Jews are not permitted to visit, would have constituted a turning point."
Assad in Tehran: Talks with Israel won't affect relations with Iran
(Syrian president meets Ahmadinejad, says Israel, US 'conspiring in Middle East'. Iranian president: We won't retreat one iota from our nuclear rights)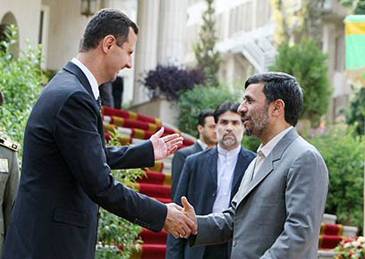 Aug. 3….(YNET) Syrian President Bashar Assad met his Iranian counterpart Mahmoud Ahmadinejad Saturday shortly after arriving in Tehran for a two-day visit. Ahmadinejad's office quoted Assad as saying during the meeting that "Israel and the US are conspiring in the region (Middle East) and we should be wary of this." As for the recent prisoner exchange deal between Israel and Hizbullah, the Syrian leader said it was "one of the achievements of the resistance forces and brought about the failure of the US and its allies in the region. "The Zionist regime is not strong and the states can obtain their rights through resistance and determination," he added. During the meeting Assad stressed that the ongoing indirect talks between Israel and Syria under Turkish mediation would not affect Damascus' ties to Iran. "Syria is working to embolden its relations with Tehran and is determined to maintain its cooperation and coordination with Iran." Addressing Iran's nuclear program, Assad said "according to the international treaties, every country, including Iran, has the right to enrich uranium and operate a nuclear reactor." Ahmadinejad said Assad's visit would help boost relations between Iran and Syria, adding "the Zionist regime has lost its existential philosophy and cannot guide the US and the European countries in the region anymore. Therefore, naturally it is on the verge of collapse. "The liberation of all occupied lands, the return of the Palestinian refugees, the establishment of a Palestinian state and the collapse of the Zionist regime are not considered by the region's nations to be goals that are unattainable," the Iranian president said. On the day of an informal deadline set by Western officials in a row over Tehran's atomic ambitions, Ahmadinejad said Iran would not retreat "one iota" from its nuclear rights. "In whichever negotiation we take part, it is unequivocally with the view to the realization of Iran's nuclear right, and the Iranian nation would not retreat one iota from its rights," he said. The deadline was set on July 19 by the UN Security Council's five permanent members plus Germany. On a request from France, Assad promised earlier in July to try to persuade Iran to offer proof to the West that it isn't developing nuclear weapons.
Tehran Hosts Assad to Celebrate Winning Nuclear Chess Game with West
| | |
| --- | --- |
| | Syrian President Bashar al-Assad (left) shakes hands with Iranian President Mahmoud Ahmadinejad after a joint press conference in Tehran. Ahmadinejad has told staunch regional ally Bashar al-Assad that Tehran is serious about finding a practical solution to the nuclear crisis. The two leaders insisted that their respective countries had the right to develop nuclear weapons. |
Aug. 3….(DEBKA) Syrian president Bashar Assad was due to visit Tehran in a week's time. The trip was brought forward to Saturday, Aug. 2 to coincide with the deadline the six powers gave Iran for an answer to its offer of benefits in return for its consent to suspend uranium enrichment, or face a fourth round of sanctions. DEBKAfile's Middle East sources report: Iranian and Syrian rulers are so pleased with their unforeseen success in outmaneuvering the West that they called an urgent summit for follow-up planning. When a line of Iranian leaders rejected the ultimatum on their "right" to develop a nuclear program, Washington responded mildly "we are not counting the days," while the European Union said there was no hurry. In any case, as DEBKAfile reports in a separate article on this page, a huge German energy deal with Iran has drawn the sting of any prospective penalties. The Syrian-Iranian get-together also follows the failure of top Israeli leaders traveling to Washington in the past three weeks to persuade the Bush administration of the urgency of considering military action against Iran's nuclear installations, or at least backing an Israeli operation. Transport minister Shaul Mofaz was the last arrival after chief of staff Lt. Gen. Gabi Ashkenazi, foreign minister Tzipi Livni and defense minister Ehud Barak. Iran's supreme ruler Ayatollah Ali Khamenei, president Mahmoud Ahminejad and Assad can therefore pat each others backs over the cooling of US-Israeli strategic relations in on top of their other successes. DEBKAfile's analysts report that their feats owe more to the way the West plays into their hands than their own ingenuity:
1. In mid-June, the Bush administration decided to embark on a secret dialogue with the Islamic Republic. After procuring a direct line for business with US government leaders, and wrapping up deals, mostly behind Israel's back, on the burning issues of oil pricing, Iraq and Lebanon, Iran nullified any leverage Washington had. Tehran can now afford to make light of the six-power ultimatum on its nuclear activities.
2. At about the same time, Israel entered into peace talks with Syria through Turkish mediation. While Iran was developing its back-door rapprochement with the US, the Syrian ruler had hit the jackpot for buying international legitimacy and a respected role in Middle East politics, without giving up his warm ties with Tehran or his sponsorship of terror. Damascus can now afford to dump its diplomatic track with Israel as soon as Ehud Olmert steps down as prime minister in September. The insistence of Olmert's would-be successors, Livni and Mofaz from his own Kadima and Labor leader Barak, on continuing the talks with Syria, on condition that Assad pulls away from Tehran, not only mislead the public about their purpose, but feed the Damascus-Tehran alliance which is aimed against Israel.
3. French president Nicolas Sarkozy gave Assad a massive boost to the stability of his regime when he hosted him as the guest of honor at the last French Bastille Day parade. Sarkozy assured him then that he would act through the UN Security Council to abolish the international tribunal set up to prosecute the murderers of former Lebanese prime minister Rafiq Hariri in 2005. This let the chief suspects, Assad's close kin and intelligence chiefs, off the hook.
4. A torrent of studies suddenly coming out of US think tanks in recent weeks shows how hard American research and intelligence circles are leaning on the administration to expand its dialogue with Tehran. Bush is being urged to call off sanctions against Iran's nuclear program and withdraw US backing from Iran's disaffected minorities' revolt against the Islamic regime, all for the purpose of putting US-Iranian relations on a normal footing.
Olmert Races Toward a Peace Deal With Syria
Aug. 3…..(TimesOnLine) Israeli prime minister Ehud Olmert is racing to conclude a peace deal with Syria before he steps down from office in a few months. Syria is close to agreeing to "normal relations" in the words of its president, Bashar al-Assad, and to disengage from Iran in return for an Israeli withdrawal from the occupied Golan Heights. The outline of a deal was reached in talks brokered by the Turks, according to reports in Israel. "We [Syria and Israel] desire to recognize each other and end the state of war. Let us make peace, let us end, once and for all, the state of war," Imad Mustafa, Syria's ambassador to the United States, told a Washington audience last week. Assad, who is due to visit Tehran this weekend, is expected to inform his Iranian partners that Damascus has opted to loosen its links with them and move closer to Israel. The meeting is likely to be a difficult one since Iran has been financing the rebuilding of Syria's armed forces and a mutual defense pact has only recently been ratified. Olmert is driving a hard bargain for what will be an unpopular deal in Israel. He wants the closure of the Damascus offices of Hamas and other militant organizations and a promise that Syria will not implement its defense pact with Iran if Israel or the United States should go ahead with an attack on Iran's nuclear facilities. Shaul Mofaz, Israel's deputy prime minister, told a Washington audience last week that Iran is on the path to a "major breakthrough" in its nuclear program, which he described as "unacceptable". Mofaz, tipped as a future Israeli leader, said the country faced an existential threat. "Israel's main purpose is to create a barrier between Syria and Iran and if this is achieved, the return of the Golan Heights to Syria would be a worthwhile price," said an Israeli defence source. "Assad is not stupid," political sources told the Israeli paper Ma'ariv. "He knows that being stuck between the Iranian leader Mahmoud Ahmadinejad and the Hezbollah leader Hassan Nasrallah can only harm Syria. He wants to be part of the West. He wants Syria to be no longer included in the 'axis of evil' and taken off the American list of countries that support terrorism. Israel should seize this opportunity with both hands." As part of his campaign to bring Syria in from the cold, London-educated Assad and his British-born wife Asma were received by President Nicolas Sarkozy in Paris last month. The peace negotiations paved the way to an end of years of diplomatic isolation. Assad will take a message from the French president to the Iranian leadership, warning Tehran that it must agree to international incentives in return for a cessation of its uranium enrichment program, which is widely believed to be part of a nuclear weapons program. But President Ahmadinejad seemed to rule out any progress last night when he was quoted on his official website as saying after talks with Assad that Iran would not retreat "one iota" from its nuclear rights. For all Olmert's efforts it will be almost impossible for him to achieve peace before leaving office. A decision on withdrawal from the Golan Heights, which Israel has occupied since its victory in the six-day war in 1967, would need the approval of the Knesset, Israel's parliament, and possibly a referendum. "Anything can happen in the Middle East between now and when Olmert finally steps down," said a security source.
Germany's Merkel Subverts Sanctions on Iran; Signs Gas Deal with Iran
Aug. 3….(DEBKA) German chancellor Angela Merkel blunted, in advance, the big-power drive for sanctions to punish Iran for its nuclear defiance. When Iranian nuclear negotiator Saeed Jalili faced the US, European Union, the UK, France, Russia, Geneva and China in Geneva on July 19, he knew that their two-week ultimatum for Tehran's answer to their incentives offer could be sidestepped with impunity. DEBKAfile's intelligence and Gulf sources report that a key sanction on the table was a ban on technology that would reduce Iran's dependence on refined fuel products. However, as far back as February, Merkel approved a $157 million deal for the SPG (Steiner-Prematechnik Gastec) to build three plants that convert gas to liquid fuels in the Islamic Republic. The deal was approved a month before the German chancellor's March stood up in the Knesset, promised to push for further sanctions against Iran and declared that Israel's security was "nonnegotiable." The chancellor saw no reason for Germany to hold back on trade with Iran when in June US embarked on a secret dialogue with Tehran, in July Israel decided not to complain to Berlin for fear for jeopardizing its prisoner swap with Hizballah through a German mediator, and the European Union was busy doing business with Tehran and Damascus. Her party colleague, Harmut Schaerte was therefore instructed to push the government Export Control Office to expedite the sale. SPG directors admitted in German press interviews that were it not for Schaerte's pressure, they would have abandoned the deal. Only after the transactions became public, did Jerusalem belatedly ask Berlin for "clarifications." Since then, British prime minister Gordon Brown has been pushing European leaders to extend sanctions to include liquefied gas technology. And after Iran test-fired long-range ballistic Shehab-3 missiles, the French company Total withdrew from a liquefied gas project when Paris asked French companies not to respond to Iranian tenders. The German chancellor has therefore decided to break away from the international front working for escalated sanctions against Iran, even though this means throwing Israel's "nonnegotiable" security to the winds.
Emerging Church Leader Promotes Lifestyle Rather Than Faith
Aug. 3….(Olive Tree) A Christian broadcaster claims that Emerging Church leader Brian McLaren is fulfilling the biblical prophecy that in the latter days men will not put up with sound doctrine, according to Timothy 4:3. Brian McLaren recently addressed 650 Anglican bishops attending the Lambeth Conference, a meeting he says was characterized by "a loving atmosphere" and "a deep spirituality centered in Bible study, worship, and prayer." McLaren tells ChristianToday.com that he envisions a new era for Christianity, which "is more about the Christian way of life than it is about a rigid and polemicized systems of belief." Tom McMahon, president of the "The Berean Call" ministry, says McLaren is obviously ashamed of the biblical gospel and is bent upon making it accommodate his own ideas about Christianity and "the Christian way of life." "Once you throw off biblical doctrine, what do you have to guide you? This is to me a reflection of what Satan did with Eve in the Garden, this is Genesis 3:1, 'Yea, hath God said?' In other words, if you undermine what God had said, then what have you got?" he questions. "Well, you've got Proverbs 14:12, 'There's a way that seems right unto a man, but the end thereof are the ways of death." McLaren also tells ChristianityToday that the future of Christianity will also require Christians to "join humbly and charitably with people of other faiths, Muslim, Hindu, Buddhist, Jewish, secularists and others, in pursuit of world peace, environmental stewardship," and other things that quote "matter greatly to the heart of God." But McMahon argues that what matters most to the heart of God is that individuals receive salvation on "his terms...through his gospel." "And that's what people of the world, people of faith desperately need," the ministry leader concludes. McLaren has joined the Matthew 25 Network, a liberal political action group of Catholics, Protestants, Pentecostals and Evangelicals seeking to get Senator Barack Obama (D-Illinois) elected president.
---