Be Still, and Know the Lord

Focus on Jerusalem Prophecy Ministry
By: Darrell G. Young
January, 2006

---
Psalms 46:10 Be still, and know that I am God: I will be exalted among the heathen, I will be exalted in the earth.
---
The purpose of Jesus Christ first coming into this world was to minister, and to give his life as a ransom payment for the sins of humanity. The mystery of Christ was that he was sent into the world by his Father to avail the dispensation of the grace of God to all mankind. This was part of the eternal purpose of God, which he purposed in Christ Jesus our Lord. (Ephesians 3:11)
Isaiah 14:24 The Lord of hosts hath sworn, saying, Surely as I have thought, so shall it come to pass; and as I have purposed, so shall it stand:
On one occasion, as he journeyed with his Disciples from Jericho on his way up to Jerusalem, Jesus was besieged by a great company of people seeking his attention. Among the multitude were a couple of blind men, one of them being Bartimaeus. He kept crying aloud, "have mercy on me", and his persistant appeals caused Jesus to abruptly stop still, and ask, "what wilt thou that I should do unto you?" Bartimaeus pleaded to Jesus for sight, and immediately Jesus gave him sight, adding that his faith had made him whole.
Mark 10:45-52 For even the Son of man came not to be ministered unto, but to minister, and to give his life a ransom for many. And they came to Jericho: and as he went out of Jericho with his disciples and a great number of people, blind Bartimaeus, the son of Timaeus, sat by the highway side begging. And when he heard that it was Jesus of Nazareth, he began to cry out, and say, Jesus, thou Son of David, have mercy on me. And many charged him that he should hold his peace: but he cried the more a great deal, Thou Son of David, have mercy on me. And Jesus stood still, and commanded him to be called. And they call the blind man, saying unto him, Be of good comfort, rise; he calleth thee. and he, casting away his garment, rose, and came to Jesus. And Jesus answered and said unto him, What wilt thou that I should do unto thee? The blind man said unto him, Lord, that I might receive my sight. And Jesus said unto him, Go thy way; thy faith hath made thee whole. And immediately he received his sight, and followed Jesus in the way.
Later, as Jesus approached Jerusalem and came to a prominent point (Mount of Olives) overlooking a view down upon the city, Jesus abruptly stopped, sat down and wept over the city. Unquestionably, Jesus was viewing more than just the geographical horizon of the city, but was looking into the future and bemoaning the fact that Jerusalem was not crying aloud (like Bartimaeus and the blind men) and beseeching him as to what he could do for the city. (Luke 19:41) Although there was gathered together there a crowd to welcome him into the city, Jesus foreknew that the city would reject him and fail to understand his first mission to the world, which was to call a blind world to repentance.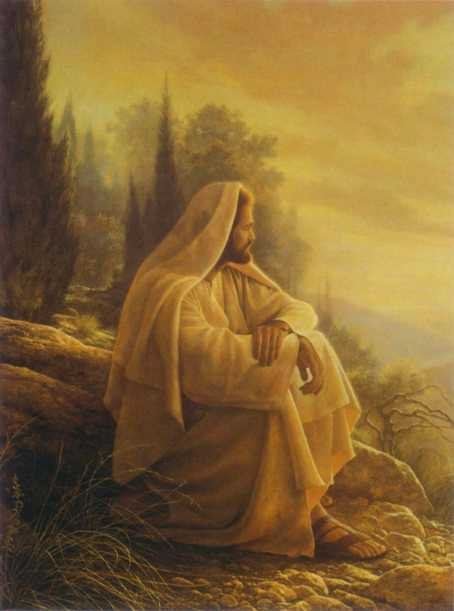 Israel, like the world was blind, but considered itself to be sight worthy. In Jerusalem, Jesus gave sight to a blind man on the Sabbath, and the event sparked a great controversy among the Pharisees. The story is recorded in John chapter nine.
John 9:1-41 And as Jesus passed by, he saw a man which was blind from his birth. And his disciples asked him, saying, Master, who did sin, this man, or his parents, that he was born blind? Jesus answered, Neither hath this man sinned, nor his parents: but that the works of God should be made manifest in him. I must work the works of him that sent me, while it is day: the night cometh, when no man can work. As long as I am in the world, I am the light of the world. When he had thus spoken, he spat on the ground, and made clay of the spittle, and he anointed the eyes of the blind man with the clay, And said unto him, Go, wash in the pool of Siloam, (which is by interpretation, Sent.) He went his way therefore, and washed, and came seeing. The neighbors therefore, and they which before had seen him that he was blind, said, Is not this he that sat and begged? Some said, This is he: others said, He is like him: but he said, I am he. Therefore said they unto him, How were thine eyes opened? He answered and said, A man that is called Jesus made clay, and anointed mine eyes, and said unto me, Go to the pool of Siloam, and wash: and I went and washed, and I received sight. Then said they unto him, Where is he? He said, I know not. They brought to the Pharisees him that aforetime was blind. And it was the sabbath day when Jesus made the clay, and opened his eyes. Then again the Pharisees also asked him how he had received his sight. He said unto them, He put clay upon mine eyes, and I washed, and do see. Therefore said some of the Pharisees, This man is not of God, because he keepeth not the sabbath day. Others said, How can a man that is a sinner do such miracles? And there was a division among them. They say unto the blind man again, What sayest thou of him, that he hath opened thine eyes? He said, He is a prophet. But the Jews did not believe concerning him, that he had been blind, and received his sight, until they called the parents of him that had received his sight. And they asked them, saying, Is this your son, who ye say was born blind? how then doth he now see? His parents answered them and said, We know that this is our son, and that he was born blind: But by what means he now seeth, we know not; or who hath opened his eyes, we know not: he is of age; ask him: he shall speak for himself. These words spake his parents, because they feared the Jews: for the Jews had agreed already, that if any man did confess that he was Christ, he should be put out of the synagogue. Therefore said his parents, He is of age; ask him. Then again called they the man that was blind, and said unto him, Give God the praise: we know that this man is a sinner. He answered and said, Whether he be a sinner or no, I know not: one thing I know, that, whereas I was blind, now I see. Then said they to him again, What did he to thee? how opened he thine eyes? He answered them, I have told you already, and ye did not hear: wherefore would ye hear it again? will ye also be his disciples? Then they reviled him, and said, Thou art his disciple; but we are Moses' disciples. We know that God spake unto Moses: as for this fellow, we know not from whence he is. The man answered and said unto them, Why herein is a marvellous thing, that ye know not from whence he is, and yet he hath opened mine eyes. Now we know that God heareth not sinners: but if any man be a worshipper of God, and doeth his will, him he heareth. Since the world began was it not heard that any man opened the eyes of one that was born blind. If this man were not of God, he could do nothing. They answered and said unto him, Thou wast altogether born in sins, and dost thou teach us? And they cast him out. Jesus heard that they had cast him out; and when he had found him, he said unto him, Dost thou believe on the Son of God? He answered and said, Who is he, Lord, that I might believe on him? And Jesus said unto him, Thou hast both seen him, and it is he that talketh with thee. And he said, Lord, I believe. And he worshipped him. And Jesus said, For judgment I am come into this world, that they which see not might see; and that they which see might be made blind. And some of the Pharisees which were with him heard these words, and said unto him, Are we blind also? Jesus said unto them, If ye were blind, ye should have no sin: but now ye say, We see; therefore your sin remaineth.
Jesus responded to the Pharisees in verse 39 that he had come had come into the world for judgment, and to provide sight to the blind, and to blind those who will not see. The thing that the Pharisees (and the world) refused to see was the reality that Jesus Christ was indeed the light and the hope of the world, and that he was in fact God's purposed deliverer.
Very soon, and once again according to God's purposes, Israel and the whole world will enter into a time of trouble. The "signs of the times" are the signatory (prophetic) landmarks that God has conveyed through his prophetic word to serve as the world's forecast of the climax of Gentile history. The judgment that the Lord came for remains part of Gods purpose. And as that time approaches, Israel and the world refuses to be still, and see that the Lord is still reaching out to do for each of us that which we truly need. The Lord is still seeking to heal the blind and to save the lost.
It is the prayer of the Psalmist for Israel:
Psalms 46:1-11 God is our refuge and strength, a very present help in trouble. Therefore will not we fear, though the earth be removed, and though the mountains be carried into the midst of the sea; Though the waters thereof roar and be troubled, though the mountains shake with the swelling thereof. Selah. There is a river, the streams whereof shall make glad the city of God, the holy place of the tabernacles of the most High. God is in the midst of her; she shall not be moved: God shall help her, and that right early. The heathen raged, the kingdoms were moved: he uttered his voice, the earth melted. The Lord of hosts is with us; the God of Jacob is our refuge. Selah. Come, behold the works of the Lord, what desolations he hath made in the earth. He maketh wars to cease unto the end of the earth; he breaketh the bow, and cutteth the spear in sunder; he burneth the chariot in the fire. Be still, and know that I am God: I will be exalted among the heathen, I will be exalted in the earth. The Lord of hosts is with us; the God of Jacob is our refuge. Selah.
The Hebrew word, "Selah" means to "take a pause," and be still, and reflect upon the fact that God is God, and that he worketh all things to his good pleasure and his purpose!
Oh, how I yearn that the world would be STILL,….. and know that Jesus will do unto them, and give unto the world just what they need. Jesus Christ has rendered to us the free offer of the living waters of salvation and he is coming back the second time to subdue evil in the world, and usher in true peace! He is our refuge!
Focus on Jerusalem Prophecy Ministry
Be Still, and Know the Lord
By: Darrell G. Young
January, 2005