WEEK OF APRIL 28 THROUGH MAY 5
Is NBA's Jason Collins' Gay Announcement PR for Pending Supreme Court Ruling on DOMA?
May 3….(Christian Post) First Lady Michelle Obama told him, "We've got your back" and NBA player Jason Collins who recently announced he is gay is having a lovefest in the media. But Harry Jackson Jr., senior pastor of the Hope Christian Church in Washington, DC, thinks it's a big public relations stunt for the pending Supreme Court ruling on the Defense of Marriage Act this summer. "One of the reasons why there has been so much activity in terms of people coming out of the closet, which we hear over the last six months about various athletes, is because the nation knows that same-sex marriage is going to be ruled upon by the Supreme Court this summer," said Jackson in an interview with The Christian Post on Tuesday. "It seems as though there is a very, very intense PR campaign being waged by people who want to redefine marriage in order to persuade the court of human opinion and the Supreme Court that the laws of our land are outdated," he observed.
After calling Collins on Monday to congratulate him on his controversial announcement, President Barack Obama told reporters on Tuesday that he told the NBA center that he "couldn't be prouder" of him. Collins is the first openly gay athlete in the four dominant pro sports. "I told him I couldn't be prouder. You know, one of the extraordinary measures of progress that we've seen in this country has been the recognition that the LGBT community deserves full equality, not just partial equality, not just tolerance but a recognition that they're wholly a part of the American family," he said at the White House. "Given the importance of sports in our society for an individual who's excelled at the highest levels in one of the major sports to go ahead and say, 'This is who I am. I'm proud of it. I'm still a great competitor. I'm still seven-foot tall and can bang with Shaq. And, you know, deliver a hard foul," added Obama.
The Supreme Court is currently reviewing the 1996 Defense of Marriage Act that defines marriage as a union between a man and a woman. Same-sex marriage advocates would like to have that definition expanded to include same-sex couples.
Palestinians Believe Suicide Terror Attacks are Justified
May 3….(Israel Today) Four out of ten Muslims in the Palestinian-controlled territories are of the opinion that suicide attacks against civilians in defense of Islam are justified. This shocking revelation was part of a study by the Pew Research Center in Washington, DC. For the representative study nearly 1,000 adult Palestinians were surveyed. Worldwide, the study was conducted in 39 Muslim countries. Nowhere were suicide bombers so accepted as among the Palestinians.
The investigation also showed that 89 percent of Palestinians want Islamic Sharia as their official civil law, and 87 percent were of the opinion that a wife must always obey her husband.
Only 16 percent of Palestinians Muslims surveyed said that they are familiar with the Christian faith and the practices of local Christians. Despite Christian claims to the contrary, the Palestinian Christian community is paid little, if any, positive attention by the Muslim majority, which largely views the Christians as dhimmi, or second-class citizens.
Vatican Astronomers are Searching for Alien Savior
May 3….(Ecumenical News) Two evangelical authors are set to release a book which claims that Jesuit astronomers at a Vatican-owned observatory in Arizona are using their telescope and another one called LUCIFER to search for extra-terrestrial life. What is even more astonishing is that the two authors, Tom Horn and Chris Putnam, say in their book that the Vatican is awaiting an alien savior. The claims in the book, called "Exo-Vaticana: Petrus Romanus, Project LUCIFER, and the Vatican's astonishing plan for the arrival of an alien savior" are the result of research the two authors conducted at the Mount Graham International Observatory. Although Lucifer in the Bible is associated with Satan, the word has its origins in Hebrew akin to light.
The researcher also examined Vatican records. While their claims seem too difficult to believe, Horn and Putnam have backed up their research with primary sources. They are currently discussing their findings with the media.
On April 1 they appeared on the show of American Messianic Jew Sid Roth, where Putnam revealed what they have uncovered in their research.
"The records in the Vatican go back centuries," said Putnam, who is a theologian. "I read two chapters of history concerning the Vatican's interest in extra-terrestrials."
"They have a whole theology developed around what they call the Principle of Plentitude, meaning anything God could do he would do," said Putnam.
"So they consider the existence of aliens the inevitable consequence of God's omnipotence."
Horn and Putnam were granted permission to visit the observatory on Mount Graham, which hosts the Vatican Advanced Technology Telescope (VATT), in September 2012. Not only were they able to discuss the study of deep space with the Jesuit astronomers there, but they also gained access to one the top Vatican astronomers in Rome. Horn said Brother Guy Consolmagno, who has also been called the papal astronomer, told the authors some astounding information during five interviews.
"He says without apology that very soon the nations of the world are going to look to the aliens for their salvation", said Horn. Consomagno also gave the authors private Vatican documents which reveal much of the thinking of high-level theologians and astronomers within the Church. Horn said these documents show that they believe that we are soon to be visited by an alien savior from another world.
To conduct their research, Vatican astronomers are using a German-owned telescope at the Mount Graham International Observatory which uses the acronym LUCIFER to shorten a very long name. The Large Binocular Telescope (LBT) has an infrared camera and spectroscope. Putnam said it is as powerful as the Hubble Telescope. Vatican research of the heavens dates back to the late 16th century when the Church conducted studies to reform the Julian calendar. Before it established the VATT on Mount Graham in 1987, the Vatican had built several observatories around Rome since the 1500s.
Vatican prepares for extraterrestrial disclosure
May 2….(Honolulu Exopolitics Examiner Michael Salla, Ph.D.) The Vatican has just completed a five day conference astrobiology where scientists convened to discuss the detection and implications of extraterrestrial life. A major driving force behind the conference was the Director of the Vatican Observatory, the Jesuit priest Father Jose Gabriel Funes. In May 2008, Funes gave an interview to the Vatican's L'Osservatore Romano newspaper saying that the existence of intelligent extraterrestrials posed no problems to Catholic theology. The conference itself was officially convened by the Vatican's Pontifical Academy of Sciences, chaired by its religious leader Bishop Marcelo Sanchez Sorondo, and was held on private Vatican grounds from November 6-10. Together with Funes' 2008 interview and subsequent public comments by him, the conference demonstrates a welcome openness by the Vatican on the possibility and implications of extraterrestrial life. The Vatican's openness to discussion of extraterrestrial life is no accident. It is part of an openness policy secretly adopted by the United Nations in February 2008. In fact, the Vatican is playing a leading role in preparing the world for extraterrestrial disclosure.
ESPN Apologizes for Commentator's Christian Worldview on Homosexuality
May 2….(Breitbart) While the left lectures Americans about the historic breakthrough made by NBA free agent Jason Collins in announcing his sexuality and calls for well-deserved tolerance, they are on full-out attack against ESPN commentator Chris Broussard for expressing his Christian views. And now ESPN has been forced to apologize. It all started when Broussard appeared on Outside the Lines to talk about Collins. Appearing with ESPN senior writer LZ Granderson, who is openly gay, Broussard was asked by the host, "How ready is the NBA and the locker rooms for having an openly gay teammate?"
Broussard answered, "The climate in society is very set for this thing to happen. A lot of people feel like if you come out and say you don't agree with homosexuality, you are viewed as a bigot, you are viewed as intolerant. So I think the climate is right for somebody to come out and say they are gay. I've been texting with players, GMs, coaches, agents throughout the day, and it's been overwhelmingly supportive of Jason, from former teammates to guys who have played against him." Broussard acknowledged that a few players said they might be uncomfortable with a gay player in the showers, but that "I don't think you'll see somebody come out and be against this, whether because of their true feelings or because of political correctness."
Later in the conversation, Granderson said, "If we really want to move toward progress and toward full acceptance, we have to have this conversation and this process. Broussard then seconded that motion, and gave an example of that conversation and how it could be productive: I'd like to second what LZ said. "I'm a Christian. I don't agree with homosexuality. I think it's a sin, as I think all sex outside of marriage between a man and a woman is. [ESPN's] LZ [Granderson] knows that. He and I have played on basketball teams together for several years. We've gone out, had lunch together, we've had good conversations, good laughs together. He knows where I stand and I know where he stands. I don't criticize him, he doesn't criticize me, and call me a bigot, call me ignorant, call me intolerant.
In talking to some people around the league, there's a lot Christians in the NBA and just because they disagree with that lifestyle, they don't want to be called bigoted and intolerant and things like that. That's what LZ was getting at. Just like I may tolerate someone whose lifestyle I disagree with, he can tolerate my beliefs. He disagrees with my beliefs and my lifestyle but true tolerance and acceptance is being able to handle that as mature adults and not criticize each other and call each other names…
Personally, I don't believe that you can live an openly homosexual lifestyle or an openly premarital sex between heterosexuals, if you're openly living that type of lifestyle, then the Bible says you know them by their fruits, it says that's a sin. If you're openly living in unrepentant sin, whatever it may be, not just homosexuality, adultery, fornication, premarital sex between heterosexuals, whatever it may be, I believe that's walking in open rebellion to God and to Jesus Christ. I would not characterize that person as a Christian because I do not think the Bible would characterize them as a Christian.
This has been the traditional Biblical view for thousands of years. Still, traditionally religious people in the United States, like Broussard, have reached an understanding and tolerance for those with whom they disagree. Mutual tolerance between the traditionally religious and proponents of the morality of homosexuality is what the conversation between Granderson and Broussard was all about. As Granderson said, "Chris and I have had those uncomfortable conversations, the NBA now needs to have those uncomfortable conversations." Tolerance is the goal. And tolerance requires tolerance on both sides.
But instead of having those uncomfortable conversations, and coming to mutual respect for one another's positions, the left went after Broussard hammer and tongs. The hashtag #firechrisbroussard quickly skyrocketed on Twitter. The same left that praised Bob Costas to the skies for randomly sounding off on Kansas City Chiefs linebacker Jovan Belcher and gun control now decided that Broussard was way out of line. The LA Times ran an online poll asking, "Should Broussard have said what he said on TV?"
Kelly Dwyer of Yahoo! Sports wrote, "The last thing [gay youths] need is to see someone like Chris Broussard, who ESPN (and by extension, the NBA) trusts as both its voice both at games and in-studio, to be referring to them as sinners who are in 'open rebellion to God.'" Deadspin's John Koblin said that it was "unclear why [Broussard's opinion was] necessary or even relevant at this hour." Variety subtly suggested, "In December, ESPN suspended commentator Rob Parker for questionable comments on the race of NFL quarterback Robert Griffin III, then chose not to renew his contract after it expired at year's end."
In response to all this leftist tolerance, ESPN dutifully released a statement apologizing for Broussard's comments: "We regret that a respectful discussion of personal viewpoints became a distraction from today's news. ESPN is fully committed to diversity and welcomes Jason Collins' announcement." Naturally, Buzzfeed's Kate Aurthur ripped ESPN anyway for not sufficiently falling into line: "So no apology from Broussard. ESPN got itself into this ridiculous, impossible situation here by relying on one of its employee's religious beliefs to inform a discussion about the huge Collins news. What I would like to know, therefore, is why they put Broussard on the air to discuss his personal feelings about Collins, homosexuality, and Christianity, rather than his area of professional expertise, basketball, in the first place." Aurthur went on a rampage, calling Broussard "punitive, unforgiving," and lamenting that "Collins' beautiful announcement" had been tarnished by ESPN's "outdated, homophobic pit of its own making."
Broussard's opinion was verboten according to the left. Granderson's was not. The right was happy to air both opinions. Yet the left thinks that Broussard was way out of bounds. That's because the goal of the left in overplaying the Jason Collins coming out party, a presidential call? Really? Is to portray those who disagree on homosexuality as bigots and homophobes who want to deny people like Collins happiness. Broussard never even remotely suggested that Collins should not have come out. He repeatedly stated that the time was ripe for Collins to come out. Virtually everyone on the right agrees with that general perspective. But Broussard violated the most taboo of all standards: he suggested that he had a different moral view than that of the left. And so now his job may be in jeopardy.
When it comes to tyranny and tolerance, the case of Chris Broussard is far more telling than that of Jason Collins. It is the left that wants tyranny of expression. Tolerance only extends to those deemed worthy by the left.
The UN Has Inverted Right and Wrong', Says Expert
(It's time to re-think the United Nations, which turns Israel into a villain)
May 2….(Arutz) The UN "was founded in the middle of the 20th Century to offer a new world order based on peace and security and protection of human rights, and it has inverted right and wrong so that Israel becomes the villain and the victims become those who are some of the most intolerant people in the region," said Bayefsky. She said that a "re-thinking" about the organization is in order, adding, "I think there is some mistaken belief on the part of democracies that the UN is some kind of harmless talking shop and that the kind of anti-Semitic, anti-Zionist, anti-Americanism that goes on at the United Nations won't have its effects. But it does."
Two weeks ago, noted Bayefsky, "the major committee that's been tasked with drafting a comprehensive convention on terrorism for the first time in history ended once again, as it has done year after year - in disarray, because they can't agree to define terrorism. The Organization of Islamic Cooperation believes that there should be an exception clause for so-called 'legitimate struggle.'" She mentioned the remarks this week of Richard Falk, the United Nations Human Rights Council-appointed "Special Rapporteur on the situation of human rights in the Palestinian territories occupied since 1967." Falk implied that the Boston terror attack was a justified response to US policies in Afghanistan, Pakistan and Iraq. "This isn't harmless talking," stressed Bayefsky. "When people don't understand the difference between right and wrong it encourages terrorism to the detriment of both Israel and the United States."
Christianity Becoming Extinct in Iraq as Islamists Drive Out Believers
May 1….(Mission Network News) Iraq's Christian heritage can be compared to its wetland marshes. Christ-followers in Iraq date back to the first century, making it one of the oldest Christian communities in the world. But today, Christianity in Iraq is under serious threat. Similarly, the wetland marshes, once teeming with flora and fauna, were drained to desert over a decade ago. What's more, it seems this attitude is part of a growing trend. Open Doors minister-at-large Paul Estabrooks explains, "The Christians are being told, 'We want a Muslim-only nation. We do not want any Christians here.' This is similar to what is going on today in northern Sudan." As a result, Christians in Iraq continue to be targets of violent attacks. "When the Iraq war began, Muslim extremists in Baghdad targeted one whole community called Dara, where the Christians lived in Baghdad," Estabrooks notes. "Today, just about every one of those Christian families has been driven out of the subdivision in which they lived." While the overthrow of Saddam Hussein in 2003 may have been a victory for coalition forces, ongoing changes in leadership have been a disaster for Iraqi Christians. Estabrooks says, "As each attack against Christians occurs in recent weeks and days, there are more and more concerns that Christians will continue the exodus."
Reports from Open Doors field workers indicate anti-Christian sentiment is only growing. "From a city like Mosul, armed men shot a Christian right in front of his home. Another one had a bomb thrown in his yard. In 2003, there were more than 1 million Christians in Iraq. A decade later, only a third of this number remains. The saddest part of this story, says Estabrooks, is the loss of history. Christians have been part of the fabric of Iraqi society since the beginning. During the seventh century, Islam took over and the Christians were hard-pressed, but they survived. That's what makes this modern-day "religicide" a travesty. "Even though they were second-class citizens at the time, they were able to survive through the challenges and the pressure of that [seventh-century] era," Estabrooks says. "Now, even these denominations are saying, 'If more and more Christians keep leaving or get killed, then there will be no church left in this country.'"
According to the Open Doors 2013 World Watch List, there are only an estimated 330,000 to 350,000 Christians left in Iraq. There were more than 1.2 million Christians in Iraq in the early 1990s. Many believers have fled to Jordan and Lebanon or to the northern Kurdish region of Iraq. Iraq is ranked No. 4 on the Open Doors list of the worst persecutors around the globe. Despite the doom and gloom of this story, it does include a bright note. Dreams and visions of Christ are commonly reported throughout the Middle East and North Africa as the rise of Islam continues. Even as reports of "religicide" pour in, people are accepting Christ as Savior. Mentoring these new Christians falls on the shoulders of the few church leaders left in the area.
Arab League Supports Land Swaps With Israel in Peace Talks
(Qatari prime minister says group amenable to 'comparable,' 'minor' territory transfers between the Israelis and the Palestinians)
May 1….(Times of Israel) Arab countries endorsed a Mideast peace plan Monday that would allow for small shifts in Israel's 1967 border, moving them closer to President Barack Obama's two-state vision. Speaking on behalf of an Arab League delegation to Washington, Qatari Prime Minister Sheik Hamad Bin Jassem Al Thani called for an agreement between Israel and a future Palestine based on the Jewish state's border before the 1967 Mideast War. But, unlike in previous such offers, he cited the possibility of "comparable," mutually agreed and "minor" land swaps between the Israelis and the Palestinians. Al Thani spoke after his delegation met across the street from the White House with Vice President Joe Biden and Secretary of State John Kerry, who has been pushing Arab leaders to embrace a modified version of their decade-old "Arab Peace Initiative" as part of a new US-led effort to corral Israel and the Palestinians back into direct peace talks.
Those negotiations have hardly occurred at all over the past 4 1/2 years amid deep disagreement over Israeli settlement construction in lands the Palestinians hope to include in their country. "We've had a very positive, very constructive discussion over the course of the afternoon, with positive results," Kerry said at Blair House, speaking with Al Thani at a podium beside him and senior officials from six other Arab governments behind them. He praised the Arab League for the "important role it is playing, and is determined to play, in bringing about a peace in the Middle East, and specifically by reaffirming the Arab Peace Initiative.
Although revolutionary when it was introduced by Saudi Arabia and endorsed by the 22-member Arab League, the initiative has never been embraced by Israel. And Palestinian officials have previously spoken out against any changes to its terms. What was striking, and perhaps most limiting, about the initiative was its simplicity, offering Israel comprehensive recognition in the Arab world in exchange for all lands conquered in the 1967 Mideast war.
Tsarnaev Family Received Over $100G in Benefits
May 1….(Boston Herald) The Tsarnaev family, including the suspected terrorists and their parents, benefited from more than $100,000 in taxpayer-funded assistance, a bonanza ranging from cash and food stamps to Section 8 housing from 2002 to 2012, the Herald has learned. "The breadth of the benefits the family was receiving was stunning," said a person with knowledge of documents handed over to a legislative committee today. The state has handed over more than 500 documents to the 11-member House Post Audit and Oversight Committee, which today met for the first time and plans to call in officials from the Department of Transitional Assistance to testify.
FOJ Note: Why doesn't our idiotic government just send a few million taxpayer dollars to Osama Bin Laden's family! Outrageous!
Illegal Aliens Got Food Stamps by the "Vanload"
May 1….(JUDICIAL WATCH) For decades the US government has knowingly given illegal immigrants food stamps, according to a former certification case worker who denounced the costly practice back in the 1980s but was essentially ordered to keep a lid on it. The retired assistant case manager, Craig McNees, was in charge of vetting food-stamp applicants in north Florida and Indiana in the '80s and says the program was infested with fraud and corruption that was perpetually ignored by management. "Illegals would come in by the vanload and we were told to give them their stuff," McNees said. "Management knew very well they were illegal. It was so rampant that some employees would tell their illegal relatives to come get food stamps."
McNees contacted Judicial Watch after reading documents obtained by JW from the US Department of Agriculture (USDA) detailing how the agency is working with the Mexican government to promote participation by illegal aliens in the US food stamp program. The effort includes a Spanish-language flyer provided to the Mexican Embassy by the USDA ensuring that Mexicans in the US don't need to declare their immigration status to get financial assistance from Uncle Sam. The documents ignited outrage considering the nation's food stamp program has exploded under President Obama, who claims there are too many "food insecure households" in America. To correct the problem the administration has spent millions on ad campaigns promoting food stamps and has rewarded states with multi-million-dollar bonuses for signing up recipients. It's been quite effective because American taxpayers spent an astounding $80.4 billion on the program in 2012 and a record number of people, 46 million and growing, get free groceries from Uncle Sam.
Russia Delivers New al-Qaida Warning to US
(Jihadists reportedly being armed by Obama administration)
May 1….(WND) Russia delivered to the Obama administration a list of the names of al-Qaida members among the Syrian rebels, who are receiving arms shipments coordinated by the US, according to informed Middle Eastern security officials. The list, the officials added, demonstrates the US is failing to vet the rebels being supported by the West for ties to al-Qaida and other jihad groups. The information comes amid scores of news media reports that the Obama administration is aiding the rebels, including by coordinating Arab arms shipments. The arming of Syrian rebels is considered highly controversial. A major issue is the inclusion of jihadists, including al-Qaida, among the ranks of the Free Syrian Army and other Syrian opposition groups.
Just last week, WND broke the story that the US in recent weeks aided in the transfer of shoulder-launched, anti-aircraft missiles, or man-portable air-defense systems, to the Syrian rebels, according to informed Middle Eastern security officials. The Middle Eastern security officials speaking to WND said the latest US-facilitated weapons transfers signify the most advanced deliveries yet to the Syrian rebels. Confirming WND's exclusive reporting for over a year, the New York Times reported in March that since early 2012, the CIA has been helping Arab governments and Turkey obtain and ship weapons to the Syrian rebels. While the Times report claims most of the weapons shipments facilitated by the CIA began after the latest presidential election, Middle Eastern security officials speaking to WND have said US-aided weapons shipments go back more than a year, escalating before the Sept. 11, 2012, attack on the US facilities in Benghazi.
In fact, the Middle Eastern security officials speaking to WND since last year describe the US mission in Benghazi and nearby CIA annex attacked last September as an intelligence and planning center for US aid to the rebels in the Middle East, particularly those fighting the Syrian regime of Bashar al-Assad.
Iran Criminalizes Christian Faith
May 1….(Worthy News) A new report by the International Campaign for Human Rights shows that many Christian customs in Iran are criminalized by the authorities, according to Barnabas Aid. Although the Iranian government claims to respect the rights of religious minorities, the report found that Christian converts and members of unregistered churches can face extrajudicial punishment and even execution for apostasy. In fact, the Islamic Republic hasn't permitted a single new church to be built since its revolution. Instead, many churches have been closed as attendance is restricted, members are monitored and their Bibles and other religious literature are routinely confiscated. The report also reveals a systematic pattern of arbitrary arrest and detention for purposes of state security; for example, Iranian-American pastor Saeed Abedini was recently arrested for planting house churches that officials claimed were "intended to undermine national security" by turning Iranian youth away from Islam.
When detained, Christians are often denied basic rights: they are held without charge, denied access to proper legal advice and are ill-treated, yet as a signatory to the International Covenant on Civil and Political Rights, Iran is legally obligated to safeguard these freedoms. "The egregious violations of Christians' rights," said Hadi Ghaemi, Executive Director of the International Campaign for Human Rights in Iran, "which include not only the inability to freely practise their religion, but also the threat of torture and death at the hands of state officials, go against all international law. The international community must let the Iranian government know this is unacceptable."
Muslim Continue Attacks on Christians in Egypt
April 30….(AP) An alleged romance between an Egyptian Muslim college student and a Coptic Christian man heightened sectarian tension on Friday in a small rural Egyptian town where police fired tear gas to disperse stone-throwing Muslims who surrounded a Coptic church in anger over the inter-faith relationship, a security official and priest said. The Muslim protesters accuse Saint Girgis Church of helping 21-year-old Rana el-Shazli, who is believed to have converted to Christianity, flee to Turkey with a Coptic Christian man.
Stories of conversions to Christianity or Islam, inter-faith romances and the illegal building and expanding of churches have caused a series of deadly sectarian incidents in recent years. Since Islamists rose to power after Egypt's 2011 uprising that forced out longtime autocrat Hosni Mubarak, Christians have grown more fearful of intimidation and violence from fellow Egyptians, especially ultraconservative Salafis. The alleged romance has been fueling sectarian tension for nearly two months in Wasta, a rural town in Beni Suef province, about 95 kilometers (60 miles) south of Cairo.
Muslims have attacked churches there and forced Christians to close their shops for nearly eight days last month and members of the Christian man's family have been arrested, including his mother and father, after a prosecutor accused them of collaborating in hiding the woman. The woman's family issued an ultimatum for the church to bring her back early this month, but when it didn't, violence erupted anew.
On Friday, ultraconservative Salafis distributed flyers accusing the church of "proselytizing Christianity," according to a copy of the flyer posted on a social networking site. It called on residents to rally inside a mosque located meters (yards) from the church to "rescue a Muslim soul and bring her back from the deviant path." Father Bishoy Youssef of the church said he heard loudspeakers from the adjacent mosque calling on worshippers to join a march to the church for the sake of the girl. He said churches in Wasta had been forewarned about "threats to attack the churches" and scheduled early morning masses that would be finished before Friday prayers at the mosque. Abu Islam, a well-known extremist cleric who was tried in an Egyptian court for insulting Christianity, appeared last month on his television program, which is broadcast on The Nation TV, calling on Muslims to take action against any church network that seeks to convert Muslim women to Christianity.
Iran: Israel Will be 'Wiped Out' if it Attacks Hezbollah
(Senior Revolutionary Guard general claims Tehran's borders now extend all the way to the coast of the Mediterranean)
April 30….(Times of Israel) top general in the Iranian Revolutionary Guards Corps on Sunday warned Israel that any military action against Lebanon and the Hezbollah terror group would result in Israel's destruction. In an address in the southwestern Iranian city of Shahrekord, Brigadier General Mohammad Hossein Sepehr claimed that Iran now extends all the way to the Mediterranean coast, presumably an allusion to Tehran's influence in Lebanon and Syria via its proxy Hezbollah. The semi-official FARS news agency quoted Sepehr as saying that Hezbollah's sizable stockpile of rockets can overcome Israel's Iron Dome missile defense system, and if Israel and Hezbollah engage in war, "the resistance front will wipe out Israel."
In recent weeks, the Israeli Air Force conducted a number of mock raids over southern parts of Lebanon. The low-altitude flights increased after a drone sent from Lebanon was shot down by an IAF F-16 Thursday some five miles off the coast of Haifa.
According to recent assessments among Israel's political and security echelons, Iran's Revolutionary Guard forces were directly behind the launch of the drone. Iranian forces operate on Lebanese soil to aid Hezbollah's drone capabilities, as well as provide support to the Assad regime, Ynet reported. Israel initially maintained that Hezbollah had sent the drone. Deputy Defense Minister Danny Danon accused the Iranians of using Hezbollah to test Israel.
Israel Bombs Syrian Chemical Weapons Base
April 30….(Israel Today) The Free Syrian Army (FSA) reported at the weekend that Israeli warplanes had bombed a chemical weapons base in Damascus. The Israeli government gave no response. FSA forces and the Syrian army were reportedly battling close to another chemical weapons base on the outskirts of Damascus on Monday, with the outcome of the battle still very much undetermined.
Israel and the West have taken the Syrian regime to task for reportedly using chemical weapons against rebel populations in recent weeks. Equally concerning is the idea that Syria's chemical weapons stockpile, one of the largest in the world, could fall into the hands of Syrian rebel groups or even Hezbollah.
Many of the groups making up the Syrian rebel forces are either affiliated with or part of organizations like Al Qaeda and the Muslim Brotherhood. The kinds of groups Israel will do almost anything to prevent from possessing weapons of mass destruction. The other nightmare scenario is that the embattled Syrian regime will transfer its chemical weapons to its Lebanese ally, Hezbollah, which has proved itself more than willing to visit death upon Israeli civilian centers. The Israeli army has started running drills at hospitals in northern Israel to prepare the local population to deal with a possible chemical weapons attack in the future.
Turkey Becomes Partner of China, Russia-led Security Bloc
April 29….(YAHOO) NATO member Turkey signed up on Friday to became a "dialogue partner" of a security bloc dominated by China and Russia, and declared that its destiny is in Asia. "This is really a historic day for us," Turkish Foreign Minister Ahmet Davutoglu said in Kazakhstan's commercial capital Almaty after signing a memorandum of understanding with Shanghai Cooperation Organisation Secretary General Dmitry Mezentsev. "Now, with this choice, Turkey is declaring that our destiny is the same as the destiny of the Shanghai Cooperation Organisation (SCO) countries."
China, Russia and four Central Asian nations, Kazakhstan, Kyrgyzstan, Tajikistan and Uzbekistan, formed the SCO in 2001 as a regional security bloc to fight threats posed by radical Islam and drug trafficking from neighboring Afghanistan. Since then, Central Asia's former imperial master Russia has watched with unease China's economic expansion in the resource-rich region, with Beijing investing billions of dollars in oil and gas and issuing large loans to local governments.
Turkey has displayed interest in closer ties with the SCO at a time when it is upset by the slow progress of accession talks with the European Union. Ankara began talks on joining the EU in 2005 but has only completed one of the 35 policy areas, or "chapters", every candidate must conclude to be allowed entry due to disagreements largely over the divided island of Cyprus. Turkish Prime Minister Tayyip Erdogan has called Turkey's wait to join the bloc "unforgivable" and has accused Brussels of not being a fair or genuine negotiating partner.
While China vies with Russia and the West for access to Central Asia's vast natural resources, some analysts view the SCO as a potential counter-balance to NATO. Kazakhstan, Kyrgyzstan and Uzbekistan speak Turkic languages, and while pledging to cooperate with the SCO economically and in fighting terrorist threats and drug trade together, Davutoglu stressed common historic roots. "Turkey will be part of a family, which is composed of the countries which lived together not for centuries, for millennia," he said. Turkey's "dialogue partner" status, also granted to Sri Lanka and ex-Soviet state Belarus, is below that of observer status held by India, Pakistan, Mongolia, Iran and Afghanistan which participate in SCO meetings but have no right to vote. Davutoglu, upbeat and smiling, stressed however that this status was "just the beginning". "I hope at the next summit in (the Kyrgyz capital) Bishkek we will be present, as well as at ministerial meetings," Davutoglu said. "This is the beginning of a long way, walking together, hand in hand and shoulder to shoulder."
US Imam Calls on Muslims Inside US to Wage Jihad
April 29….(Daily Caller) The controversial imam of a prominent mosque in Arlington, Va., has urged immigrant Muslims in the United States to wage war for Islam. "The enemies of Allah are lining up. The question for us is, are we lining up or are we afraid because they may call us terrorists?" Shaker Elsayed told a crowd of Ethiopian Muslims during a lecture at T.C. Williams High School in Alexandria, Va. "Let me give you the good news: they are already calling us terrorists anyway. Whether you sitting at home, watching TV, drinking coffee, sleeping or playing with your kids, you are a terrorist because you are a Muslim." Make it worth it. Make this title worth it, and be a good Muslim," said the Cairo-born Muslim. "Muslim men when it is a price to pay, they are first in line. They are the first in the community-service line. They are the first in jihad line," he declared to applause. "If Dar al-Hijrah were like most American religious institutions it would fire Elsayed, but it's not like most religious institutions," John Rossomando, a researcher at the Investigative Project on Terrorism. "The mosque operates as a front for Hamas and has the distinction of being connected with more terror plots than just about any other mosque in America," he said in a statement to TheDC. According to numerous Islamic leaders, Islamic law endorses the use of war to expand the rule of Islam. The law, dubbed Shariah, also endorses the killing of Islam's critics, including poets Christian preachers, and it allows only grudging recognition of non-Islamic governments.
Obama Sends Strong Warning to Israel
(Amid fears Iran about to cross so-called red line)
April 29….(WND) According to informed Middle Eastern security officials, US Defense Secretary Chuck Hagel delivered a strongly worded message to Israel, do not attack Iran. The officials told WND that Hagel informed the Israeli government the Obama administration will not accept any unilateral Israeli attack against Iran and that Israel must not strike Tehran without coordination with the US. Hagel further told Israel that Prime Minister Benjamin Netanyahu cannot decide alone whether Iran has crossed the nuclear threshold, or the so-called Red Line previously outlined by the Israeli leader.
In a speech at the United Nations in September, Netanyahu drew a red line on a drawing of a bomb, depicting the point where he said Iran will have enough medium-enriched uranium to move rapidly toward building a nuclear bomb Netanyahu said at the U.N. that Iran could reach that point this spring or summer. By contrast, Obama has resisted setting any such deadlines.
Last week, Israel's former military intelligence chief, Amos Yadlin, said, "If Iran continues to enrich uranium at its current rate, toward the end of the year it will cross the red line in a clear manner." The information comes after a former International Atomic Energy Agency senior nuclear inspector warned that Iran has discovered a way to circumvent Israel's red line and that the red line may have already been passed.
Last fall, an IAEA report on Iran's nuclear program showed a dip in the amount of 20 percent enriched uranium. Commenting on the report, the former deputy director-general for safeguards at the IAEA and senior nuclear inspector Olli Heinonen explained in a recent opinion article how this decrease is likely a gimmick. He wrote that Iran has the capability to reconvert the uranium material back to the gas needed for its nuclear program. The converted 20 percent enriched uranium, now in a less worrisome oxide form, can "be converted back into centrifuge feedstock within a week." Heinonen warned that Iran may be able to convert the uranium without risk of detection.
If, through this process, Iran can disguise the quantity of enriched uranium it actually possesses, then Israel's so-called red line may be artificial. Heinonen further argued Iran has already passed Netanyahu's red line of 250 kilograms of 20 percent enriched uranium, estimating Tehran possess as much as 280 kilograms, excluding any material that has already gone through the conversion process.
Al-Qaeda Battling for Control of Assad's Chemical Weapons
(A battle near a factory believed to be one of the Syrian regime's main chemical weapons plants shows just how close such weapons could be to falling into al-Qaeda's hands)
April 29….(The Telegraph) Set amid the rolling plains outside Aleppo, the town of al-Safira looks just like another vicious battleground in Syria's civil war. On one side are lightly-armed rebels, on the other are government troops, and in between is a hotly-contested no-man's land of bombed-out homes and burned-out military vehicles. The fight for al-Safira is no ordinary turf war, however, and the prize can be found behind the perimeter walls of the heavily-guarded military base on the edge of town. Inside what looks like a drab industrial estate is one of Syria's main facilities for producing chemical weapons, and among its products is sarin, the lethal nerve gas that the regime is now feared to be deploying in its bid to cling to power.
Last week, Washington said for the first time that it had evidence of Sarin being used in "small" amounts during combat operations in Syria, a move that President Barack Obama has long warned is a "red line" that President Bashar al-Assad must not cross. But as the West now ponders its response, the fear is not just that President Assad might start using his chemical arsenal in much greater quantities. Of equal concern is the prospect of it falling into even less benign hands, a risk that the stand-off at al Safira illustrates clearly. For among the rebel lines in al-Safira flutters the black flag of the al-Nusra Brigade, the jihadist group that recently declared its allegiance to al-Qaeda. Known for their fighting prowess honed in Iraq, they are now taking the lead in nearly every frontline in the Syrian war, and earlier this month, pushed to within just over a mile of al-Safira, only to for the Syrian troops to regain the ground last week.
Should the tide of battle turn in al-Nusra's favor again, though, there is the possibility of the West's worst-case scenario unfolding, Syria's weapons of mass destruction falling into al-Qaeda's control. Such grim possibilities are now uppermost in the minds of Western officials as they try to work out how to prevent Syria's vast chemical stockpiles being unleashed, be it by President Assad on his own people, or by his more extreme opponents on the outside world. The Syrian regime's chemical warchest is indeed vast, the biggest in the Middle East, and the fourth largest in the world. Started in the 1970s ranks with help from Syria's Cold War sponsor, Russia, today its program includes facilities for making mustard gas, sarin and another nerve agent, VX, which stays lethal for much longer after dispersal. In charge of the program is the innocuous-sounding Scientific Studies and Research Centre outside Damascus, a body officially tasked with academic research. In practice, it reports directly to President Assad and operates a string of chemical production facilities, some allegedly developed with help from Iran and North Korea.
As Syria has not signed the international Chemical Weapons Convention, it has never declared details of its stockpiles to the outside world. But outside intelligence estimates reckon that Damascus has between 100 and 200 warheads filled with sarin for its Scud missiles, and thousands of chemical artillery bombs filled with sarin and VX. With only limited evidence of Sarin use so far, they suspect Damascus is deliberately using such weapons just occasionally to test, and gradually undermine, Washington's resolve. President Assad, they reason, knows all too well that a major chemical attack would leave the US no option but to take action. But successive, smaller ones are a harder call, while still having the desired effect of spreading terror among Damascus's foes.
WEEK OF APRIL 21 THROUGH APRIL 27
Pastor Told to Deny Christ or Stay in Prison
April 26….(Worthy News) An American pastor sentenced to eight years in an Iranian prison for planting house churches in the Islamic Republic a decade ago recently wrote that prison officials have told him to either deny Christ, or remain incarcerated indefinitely, according to the Christian News Network. The letter from Pastor Saeed Abedini was released by the American Center for Law and Justice. According to Abedini's letter, officials told him to deny his faith in Jesus Christ and return to Islam, or remain in Evin Prison even after his eight year sentence is over. Abedini's response was Romans 8:35-39: "Who shall separate us from the love of Christ? Shall tribulation, or distress, or persecution, or famine, or nakedness, or peril, or sword? "As it is written, 'For Thy sake we are killed all the day long; we are accounted as sheep for the slaughter.' Nay, in all these things we are more than conquerors through Him that loved us. For I am persuaded, that neither death, nor life, nor angels, nor principalities, nor powers, nor things present, nor things to come, nor height, nor depth, nor any other creature, shall be able to separate us from the love of God, which is in Christ Jesus our Lord."
The ACLJ reported that despite his lack of strength, Abedini's faith is keeping him alive. Abedini, who resided in Idaho with his wife and children, was visiting Iran last year to build an orphanage when he was unexpectedly arrested by Iranian officials for establishing a network of house churches that would entice Iranian youth away from Islam to Christianity. The ACLJ requests Christians to send encouragement for Abedini at savesaeed.org.
Israel Shoots Down Hezbollah Drone
April 26….(Arutz) IDF fighter jets shot down an unmanned aircraft off the coast of Haifa Thursday. According to a military source, the aircraft took off from Lebanon and was apparently sent by Hezbollah. Deputy Defense Minister Danny Danon accused the Iranians of using Hezbollah to test Israel. "We'll respond where we find fit, but there will be a response," he said according to press reports. The IDF Spokesperson's Unit said it could not confirm that the drone was sent by Hezbollah, which has flown drones over Israel in the past, including last October. But other military officials, speaking on condition of anonymity because they were not permitted to talk to the media, said they believed it was an Iranian-manufactured aircraft sent by Hezbollah. A senior Lebanese security official, who also spoke on condition of anonymity in line with regulations, said Lebanon had no information on Thursday's incident.
Israeli navy and air force troops were sent to search the area where the aircraft was intercepted in order to prevent possible entry of additional drones and to locate debris which might shed light on the aircraft's mission. The plane was identified while still in Lebanon and IDF fighter jets were immediately scrambled to track it, the IDF said. Once it became clear that the drone was not an IDF or civilian aircraft, a decision was made to intercept the drone.
This is the second known instance in which the Lebanese terrorist group has sent a drone into Israeli airspace in the last year. In October, the Israeli Air Force shot down an unmanned aircraft in a similar incident in southern Israel. A military source told Walla news that Hezbollah has been making great efforts in recent years to obtain Iranian drones for spying and bombing sorties.
Netanyahu has recently warned that Hezbollah might try to take advantage of the instability in neighboring Syria to obtain what he called game-changing weapons.
Boston Terrorists Received American Welfare Checks
April 25….(Weekly Standard) Tamerlan Tsarnaev was on welfare, sponsored by tax payers. Tsarnaev, now dead, is suspected of bombing the Boston Marathon last week. "Marathon bombings mastermind Tamerlan Tsarnaev was living on taxpayer-funded state welfare benefits even as he was delving deep into the world of radical anti-American Islamism, the Herald has learned," reports the Boston Herald. "State officials confirmed last night that Tsarnaev, slain in a raging gun battle with police last Friday, was receiving benefits along with his wife, Katherine Russell Tsarnaev, and their 3-year-old daughter. The state's Executive Office of Health and Human Services said those benefits ended in 2012 when the couple stopped meeting income eligibility limits. Russell Tsarnaev's attorney has claimed Katherine, who had converted to Islam, was working up to 80 hours a week as a home health aide while Tsarnaev stayed at home. "In addition, both of Tsarnaev's parents received benefits, (Zubeidat Tsarnaeva, who was arrested in the United States in June on charges of shoplifting of over $16,000) and accused brother bombers Dzhokhar and Tamerlan were welfare recipients through their parents when they were younger, according to the state."
The benefits offered include food assistance, job assistance, emergency shelter, help for victims of domestic violence, cash aid for families with children, emergency assistance for the elderly and disabled.
Boston Bombers Had Links to Al Qaeda Terrorist Cells
April 25….(DEBKA) The surviving Boston bomber Dzhokhar Tsarnaev has every incentive for insisting that he and his brother acted alone and out of "ideological" motives in the Boston Marathon bombings of April 15. That was predictable. What is surprising is the acceptance of this claim by his federal interrogators. He can't speak because of a wound to the throat. But did they really expect him to write down the names and addresses of his and his brother Tamerlan's fellow terrorists and associates?
Dzhokhar was formally charged Monday, April 22, with using and conspiring to use a weapon of mass destruction. The charge related to the twin bombings of the Boston Marathon causing the deaths of three people including an 8-year old boy and injuring 180 others. One way or another, the 19-year old Dzhokhtar is condemned to die, whether under a federal court sentence or from his injuries. If he sticks to his story that they brothers acted alone in the cause of Islam, he dies a "a glorious martyr" to the sacred cause, celebrated across the radical Islamic world as a shining inspiration for more terrorist cells to go forth bearing his name. Politicians are not the only ones who care about their legacies. To achieve this he must refrain from spilling the beans and lead the FBI inquiry up a blind alley.
DEBKA's counter-terrorism sources say the investigation's best bet would be to finally follow up on the treasure trove the Federal Security Service of the Russian Federation, the FBS relayed to Washington in 2011. They not only fingered Tamerlan, who died in a shootout with the Boston police, as a "suspect Islamist terrorist" but revealed that he had toured radical Islamic mosques in Dagestan and Chechnya in search of contacts in jihadist terror groups. The Russians also appended a whole list of terrorist suspects of Caucasian descent in the Boston area.
Also worth following up is Barack Obama's call to Russian President Vladimir Putin on April 19 to thank him for Moscow's cooperation n the marathon bombing investigation. What was that about? What made Russian assistance valuable enough for the two presidents to agree on better cooperation between the FBI and the FBS?
And the content of a second conversation that took place at the height of the search for the Boston bombers would be highly relevant too. On April 17, Saudi Foreign Minister Prince Saud al-Faisal arrived unannounced at the White House and was immediately received by President Obama. Our sources report that he too handed a high-value dossier from confidential files in Riyadh containing data on clandestine Saudi terrorist cells in the Boston area.
By digging into an unsolved two-year old triple murder, the Boston Globe lifted a corner of the veil on the Tsarnaev brothers' violent past in the service of radical Islam. The Boston police consequently reopened the case this week and are looking at Tamerlan for the murder of three young Jews found with slashed throats in a Waltham, Massachusetts apartment on Sept. 11, 2011. Brendan Mess was Tamerlan's close friend, Erik Weissman, a Brandeis University graduate and Raphael Teken a devout Jew. Look again at the date: The murders took place on the 10th anniversary of 9/11.
Obama Renews Call for Assad Departure
April 25….(Voice of America) President Barack Obama has renewed his determination to achieve a political transition in Syria, and the departure of President Bashar al-Assad. The remarks, after talks with the visiting Emir of Qatar, came as the issue of Syrian chemical weapons remained high in the headlines. President Obama said Syria was among issues that he and Emir Sheikh Hamad bin Khalifa Al-Thani discussed in their Oval Office talks. "We have been cooperating closely with Qatar and other countries in seeking to bring about an end to the slaughter that is taking place there, the removal of President Assad who has shown himself to have no regard for his own people and to strengthen an opposition that can bring about a democratic Syria that represents all people and respects their rights, regardless of their ethnicity or their religious affiliations," said Obama. Sitting with the Qatar leader, Obama said he was pleased that in coming months the US will be stepping up support for Syria's opposition forces, and "closely coordinating" strategies to bring about "a more peaceful resolution to the Syrian crisis."
The US recently announced another $123 million in non-lethal aid to the Syrian opposition coalition, a doubling of aid levels to $250 million. Obama did not respond to a reporter asking about what had been the main headline of the day, remarks by a senior Israeli intelligence official who said the Assad regime has used chemical weapons against rebel forces. Brigadier General Itai Brun, head of research and analysis for Israel's military intelligence, said it was "our professional assessment" that chemical weapons had been used. He called use of such weapons without any appropriate international reaction "a very worrying development" that might signal that the world views the action as legitimate. President Barack Obama has said on a number of occasions that any use or movement of chemical weapons would be a red line that President Bashar al-Assad should not cross, at one point calling it a "game changer."
Press Secretary Jay Carney said President. Obama continues to view any use of chemical weapons as unacceptable. But Carney declined to engage in speculation about potential action the US or allies might take. "All the more reason why we have to monitor very closely and take action to verify and validate credible claims of chemical weapons use," said Carney. "What I won't do is jump to the next step and say if claims are verified, what action will we take. That is speculating, and I won't do that." Carney declined to say if Washington believes that Israel, along with France and Britain, have prematurely concluded that Syrian chemical weapons have been used. He said the US is being "extremely deliberate" in evaluating and attempting to verify these reports.
In Brussels earlier, Secretary of State John Kerry said Israel's Prime Minister Benjamin Netanyahu told him he was not in a position to confirm the statement about chemical weapons by the Israeli official. "I just think that the information I have at this point does not confirm it to me in a way that I would be comfortable in commenting on it as a fact," said Kerry. "But obviously whatever allegations are made have to be thoroughly investigated and it is appropriate to chase this one down and find out what is going on, no question about it."
Press Secretary Jay Carney said the US is using "a variety of methods," which he would not discuss for intelligence reasons, to assess reports and claims of Syrian government chemical weapons use. He said Washington continues to support a United Nations investigation, one he said the Assad regime has blocked.
Egypt Persecutes Christians and Americans Pay the Bill
April 24….(Ken Blackwell) Egypt's governing majority, the Muslim Brotherhood, is not actually crucifying the nation's Christians. But they are nonetheless actively persecuting Coptic Christians, who are said to be one-tenth of the population of the largest Arab country. A photograph of two young men set afire during recent demonstrations is pretty striking.
Typically, the Copts protest against Islamist violence directed at them and their churches. St. Mark's Cathedral, for instance, has been the target of Muslim extremists in recent weeks. When the Copts face police, they get tear-gassed, and then they are the ones arrested. The Muslim Brotherhood authorities pick up Coptic youth, hopefully the ones not yet set on fire, and jail them. Then the police grab some of the Islamists perpetrators and jail them. Later, following a much-ballyhooed "reconciliation," the authorities release all, perpetrators and victims alike. Christian Magdy Saber describes the phony process in an interview with the online Daily News of Egypt, an English-language source: "'This is a natural consequence of the reconciliation between Muslims and Christians in Al-Khasous and what some priests agreed to,' said Magdy Saber, vice head of the union's media committee. 'It brings us back to the old bargaining scenario [under Mubarak] where the criminals are released.' Saber said that this method has long been used in any sectarian conflict. 'Reconciliation sessions take place followed by Coptic arrests. Then both the Copts and the criminals are simultaneously released to end the conflict.'"
Police use tear gas against the Copts, and it is tear gas sold to Egypt by American firms. In addition to foreign aid, most recently a $250 million increase offered by Secretary of State John Kerry, our State Department has approved the sale of this "non-lethal" crowd-control agent to the Muslim Brotherhood governing party.
The Christian Copts of Egypt are divided among themselves, unfortunately. Some want the Egyptian military to exercise greater control over the actions of the Islamists aligned with the Muslim Brotherhood and the Salafists. But others remember what they call the Maspero Massacre of 2011, in which armored personnel carriers drove over Coptic protesters in an action reminiscent of the Chinese People's Liberation Army, which mowed down student pro-democracy demonstrators in Tiananmen Square in 1989.
The English version of Egypt's Al-Ahram online site carries these comments by Coptic activists: "'Copts are split between those who want the military back for protection and those who still remember the military tanks that ran over Coptic bodies only last year,' said Coptic political activist Sally Toma, referring to the 'Maspero massacre' in which 24 Copts were killed."
A report in the Los Angeles Times shows the difficulty faced by the Copts: "'The country's general chaos is causing everything to escalate and allows a radical Muslim ideology to propagate violence,' said biomedical engineer Karim Samuel, a Copt. 'I sometimes sit on the Metro [subway] next to men reading the Koran. I wonder if they really understand what they're reading or do they blindly follow sheiks.' "He paused and calculated the political math against his faith and other minorities. "'Morsi and the Brotherhood don't care about Copts, liberals or leftists,' Samuel said. 'I don't know what we can do as a Christian community.'" It is, to be sure, a most confused and confusing situation in Egypt. But this much should be clear: American taxpayers are underwriting a regime that has little concern for fundamental human rights. We are shoveling billions to Egypt in the naive belief that they are moving toward democracy. Is Egypt moving toward democracy? Pew polls and other opinion surveys regularly report that as many as 84 percent of Egyptians today say anyone who leaves Islam should be killed. Believing that, how can they have a democracy?
The Obama administration has never explained how it makes sense for Americans to borrow billions from China to give to a government in Egypt that is rolling over its own citizens and turning a blind eye to those of its backers who are burning Coptic churches, shooting Copts down and setting them on fire. We may not be able to protect the Copts of Egypt, but we surely should not be helping their persecutors. If the Morsi administration begins to crucify the Copts, will we pay for the nails?
Sudan Persecutes Christians While Declaring Religious Freedom
April 24….(Charisma News) Sudan's minister of guidance and endowments, Al-Fatih Taj El-sir, announced Wednesday that no new licenses for building churches will be issued. The Ministry of Guidance and Social Endowments oversees religious affairs in the country. The minister explained this decision by claiming that no new churches had been established since the secession of South Sudan in July 2011, due to a lack of worshippers, and claimed a growth in the number of abandoned church buildings. He added there was therefore no need for new churches but said the freedom to worship is guaranteed in Sudan.
This decision was announced against the backdrop of a campaign of repression against Christians in northern Sudan that began in December and has continued into 2013. Days before this announcement, the Catholic Information Service for Africa reported a senior South Sudanese Catholic priest, Father Maurino, and two expatriate missionaries had been deported on April 12. The two missionaries, one from France and the other from Egypt, worked with children in Khartoum. According to Fr. Maurino, no reason was given for the deportations. He added that Christians were in trouble in Sudan, since the government sought to Islamize the country and eliminate the Christian presence.
In a briefing published this month, Christian Solidarity Worldwide (CSW) states that since December, the organization "has noted an increase in arrests, detentions and deportations of Christians and of those suspected of having links to them, particularly in Khartoum and Omodorum, Sudan's largest cities. There has also been a systematic targeting of members of African ethnic groups, particularly the Nuba, lending apparent credence to the notion of the resurgence of an official agenda of Islamisation and Arabisation. "The campaign of repression has continued into 2013, with foreign Christians being arrested and deported at short notice and those from Sudan facing arrest, detention and questioning by the security services, as well as the confiscation of property such as mobile phones, identity cards and laptops. In addition to the arrests and deportations, local reports cite a media campaign warning against 'Christianisation.'"
In February, at least 55 Christians linked to the evangelical church in Khartoum were detained without charge. On Feb. 18, the cultural center of the Sudan Presbyterian Evangelical Church in Khartoum was raided by the National Intelligence and Security Services. Three people were arrested at the premises, and several items were confiscated, including books and media equipment. The three arrested were all from South Sudan; one was released days after the initial arrest.
CSW's advocacy director, Andrew Johnston, says, "The recent spike in religious repression in Sudan is deeply worrying. The minister's claims of guaranteeing freedom to worship are at odds with regular reports of Christians being harassed, arrested and, in some cases, expelled from the country at short notice. We urge the Sudanese government to end its campaign of harassment against the Christian community and respect the right of all of its citizens to freedom of religion or belief, as outlined in Article 18 of the International Covenant on Civil and Political Rights (ICCPR), to which Sudan is a signatory."
Syria's Beleaguered Christians
(Syria's Christian community is one of the oldest in the world, going back two millennia.)
April 24….(BBC) The apostle Paul is said to have been converted on the road to Damascus, while some Christians from the town of Maaloula can still speak Aramaic, the language of Jesus.
Near the northern city of Aleppo is the Church of St Simeon Stylites, who spent decades on top of a stone pillar to demonstrate his faith, while in the mountains west of Homs is the castle of Krak des Chevaliers, which was a fortress for the Knights Hospitaller during the Crusades.
Christians are believed to have constituted about 30% of the Syrian population as recently as the 1920s. Today, they make up about 10% of Syria's 22 million people. Sunni Muslims meanwhile make up some 70% of the population and about 12% are Alawites, members of a heterodox Shia sect to which President Bashar al-Assad belongs. There are smaller numbers of Druze and other sects.
The vast majority of Syrian Christians belong to Eastern denominations. The largest and oldest is the Greek Orthodox Church, which has about 503,000 members. The Armenian Apostolic Church has between 112,000 and 160,000, and the Syrian Orthodox Church about 89,000. Among the Uniate Churches, which are in communion with Rome, the largest is the Melkite Greek Catholic Church, with between 118,000 and 240,000 members. It is followed by the Syriac Maronite Church of Antioch, which has between 28,000 and 60,000, the Armenian Catholic Church, the Syrian Catholic Church and the Chaldean Catholic Church.
Despite their minority status, Christians have long been among Syria's elite. They have been represented in many of the political groups which have vied for control of the country, including the secular Arab nationalist and socialist movements which eventually came to the fore.
The founder of the Baath Party, which has ruled Syria since 1963, was a Christian, and Christians rose to senior positions in the party, government and security forces, although they are generally not seen to have any real power compared with their Alawite and Sunni colleagues. Although, like other Syrians, they had very limited civil and political freedoms, Christians are believed to have valued the rights and protection accorded to minorities by Hafez al-Assad, who was president between 1971 and 2000, and by his son Bashar. A large proportion of the country's Sunnis also tolerated or supported the Assads, whom they saw as guarantors of stability.
When pro-democracy protests erupted in Syria in March 2011, many Christians were cautious and tried to avoid taking sides. However, as the government crackdown intensified and opposition supporters took up arms, they were gradually drawn into the conflict. Hundreds of thousands of Christians have been displaced by the fighting or left the country in the past two years. Melkite Greek Catholic Patriarch Gregorios III Laham recently said more than 1,000 Christians had been killed, "entire villages cleared of their Christian inhabitants", and more than 40 churches and Christian centres damaged or destroyed. This has led some Christians to express support for President Assad, particularly as sectarian violence has increased and jihadist militant groups calling for an Islamic state in Syria have grown in strength. Many fear that if President Assad is overthrown, Christians will be targeted and communities destroyed as many were in Iraq after the US-led invasion in 2003. They have also been concerned by the coming to power of Islamist parties in post-revolutionary Egypt and Tunisia.
Patriarch Gregorios said the threat to Christianity in Syria had wider implications for the religion's future in the Middle East because the country had for decades provided a refuge for Christians from neighboring Lebanon, Iraq and elsewhere. His comments echoed those by another Damascus-based prelate, Maronite Archbishop Samir Nassar, who said Christians in Syria had to "choose between two bitter chalices: to die or leave".
Two armed Hizballah brigades fighting for Assad near Homs
April 23….(DEBKAfile Special Report) Israel's Defense Minister Moshe Ya'alon, pledged action against the use of chemical weapons in Syria and promised not to allow sophisticated weapons to reach other nations or Hizballah-type organizations. The Golan border would be well guarded, he said, speaking at a joint new conference with visiting US Defense Secretary Chuck Hagel Monday, April 22. "Whenever there is a problem in our region, we shall respond as we have already done," said the minister. Ya'alon's comments present three striking difficulties:
1. Hizballah didn't wait for advanced weapons to cross from Syria into Lebanon. Two heavily armed combat brigades of this Iranian-backed Shiite militia, each numbering 1,000 men, crossed instead in the opposite direction and are fighting Bashar Assad's battles around Qusayr 35 kilometers south of Homs. They collect their weapons directly from Syrian military arsenals and arms consignments airlifted in by Iran and Russia.
2. Some Israeli strategists predict that its deep involvement in the Syrian civil war will weaken Hizballah. Others maintain that Hizballah has lengthened its front against Israel into Syria and gained extensive battlefield experience, making it a greater menace to Israel than ever before. The defense minister did not address these developments.
3. He did say the Golan border would be well guarded. But then what about the Lebanese border which has twice erupted into full-scale war ignited by that same Hizballah?
On arrival in Israel, Hagel said the $10 bn arms deals for Israel, Saudi Arabia and the UA are "a very clear signal" to Iran that military options remain on the table over its nuclear program. "The bottom line is that Iran is a threat, a real threat," he said "and must be prevented from developing that capacity to build a nuclear weapon and deliver it." The arms deal includes KC-135 aerial refueling tankers, anti-air defense missiles and tilt-rotor V-22 Osprey troop transport planes for Israel, and 25 F-16 Fighting Falcon jets to the UAE. From Israel, the Secretary of Defense continues to Saudi Arabia and the UAE.
Debkafile's military sources report that this arms package will take years to deliver. Meanwhile, Secretary Hagel's talks in Israel were strongly deflected from the nuclear Iran issue by the hotter Syrian crisis, as we reported Sunday. This was confirmed by the French Le Figaro in its report Monday that Jordan had opened two corridors of its airspace to Israeli Air Force drones seeking to monitor the ongoing conflict in Syria. The Western military source in the Middle East who was cited said Israeli drones fly at night to avoid detection and are also armed and able to hit targets anywhere in Syria. This report was not confirmed by Israel or Jordan.
Prime Minister Binyamin Netanyahu was more open when he said in a BBC interview on April 18 that Israel has the right to prevent weapons falling into the wrong hands in Syria. If terrorists seized anti-aircraft and chemical weapons, they could be game changers in the region. Asked if Israel was involved in any action in the Syrian conflict, Netanyahu said he would not confirm or deny this. He spoke the day after Defense Secretary Chuck Hagel ordered 200 troops of the US 1st Armord Division to deploy in Jordan. According to the Pentagon statement, the force will "create an additional capability" for the United States to "potentially form a joint task force for military operations…and be ready for military action if President Barack Obama were to order it."
According to Debkafile's military sources, the various military movements around Syria, especially in Jordan and Israel, are laying the groundwork for potential US-Arab-Israeli activity against Syria.
Two Arrested in Al Qaeda US-Canada Train Plot – Directed from Iran
(Canadian police thwarted a terrorist attack on a US-Canada train by two men directed by Al Qaeda in Iran. Yes, Al Qaeda in Iran, say police.)
April 23….(AP) Two men were arrested Monday and charged with plotting a "major terrorist attack" on a Canada-US passenger train. Chiheb Esseghaier and Raed Jaser, who live in Montreal and Toronto, were acting alone, but were operating with support from Al Qaeda in Iran, according to the Royal Canadian Mounted Police.
Al Qaeda in Iran?
Assistant RCMP Commissioner James Malizia, the officer in charge of federal policing operations, said the plot was supported by "Al Qaeda elements in Iran." He also said that Al Qaeda provided "direction and guidance" to the alleged plot. The link to Iran is a curious one. Al Qaeda leaders and Iran's leaders have not been known allies. Al Qaeda is a Sunni-based movement. Iran is predominantly Shiite. Canadian officials made clear that they weren't connecting the alleged plot to the Iranian government. But the presence of Al Qaeda leaders, who fled from Afghanistan to Iran after September 11, 2001, has been known for some time. As Peter Bergen, wrote for CNN last month, "According to US documents and officials, in addition to Suleiman Abu Ghaith, other of bin Laden's inner circle who ended up in Iran include the formidable military commander of al Qaeda, Saif al-Adel, a former Egyptian Special Forces officer who had fought against the Soviets in Afghanistan, as well as Saad bin Laden, one of the al Qaeda's leader older sons who has played some kind of leadership role in the group."
What prompted the Bergen "Strange Bedfellows: Iran and Al Qaeda" article was the recent capture of Osama Bin Laden's son-in-law, Suleiman Abu Ghaith. As Reuters reported, "he was captured on Feb. 28 and brought secretly to the United States. Law enforcement sources say he was detained in Jordan by local authorities and the FBI after was believed to have been expelled from Turkey." But for most of the past decade Abu Ghaith had been living in Iran. "Current and former US officials said that group, known to US investigators as the Al Qaeda "Management Council," was kept more or less under control by the Iranian government, which viewed it with suspicion." Bergen describes the life of Al Qaeda members in Iran is a loose form of house arrest. They are allowed to go out shopping, for example, but with restrictions. This latest example of an Al Qaeda-Iran tie will raise some eyebrows.
Tsarnaevs Part of Terror Sleeper Cell?
(Britain's The Mirror quotes security source: "We have no doubt the brothers were not acting alone.") (Police believe the pair were specially trained to carry out the devastating attack)
April 22…(Reuters) The British tabloid newspaper The Mirror says that police believe Tamerlan and Dzhokhar Tsarnaev were specially trained to carry out the devastating attack, and were part of a larger "sleeper cell." This report is not corroborated by other news outlets and its veracity cannot be ascertained. The Mirror quotes a source close to the investigation who told it: "We have no doubt the brothers were not acting alone. The devices used to detonate the two bombs were highly sophisticated and not the kind of thing people learn from Google. "They were too advanced. Someone gave the brothers the skills and it is now our job to find out just who they were. Agents think the sleeper cell has up to a dozen members and has been waiting several years for their day to come."
A specialist team of CIA and FBI interrogators was flown Saturday to Boston's Beth Israel hospital to interrogate the younger brother, Dzhokhar. He is alive but in serious condition and reportedly is in no condition to talk to investigators. The report added that "a man and two women were arrested 60 miles from Boston in the port of New Bedford in the hours before Dzhokhar's capture. The three are believed to be of college age." The FBI are retracing elder brother Tamerlan's movements during a six-month trip he made to the Russia Caucusus last year, including a visit to Chechnya. "It's a key thread for investigators," Kevin Brock, a senior FBI counter-terrorism official, told The Mirror.
Tamerlan's Russian-language YouTube page contains numerous links to extremist Islamic sites, including one that features an hour-long speech by the radical cleric Feiz Mohammed, along with other videos labeled "Terrorists" and "Islam".
WEEK OF APRIL 14 THROUGH APRIL 20
Boston Terrorist Bombers May Have Had Handlers From Hezbollah
April 19….(WND) The two brothers who set off the bombs at the Boston Marathon Monday were assets of a bigger network out of South Asia and were set up to be burned so there would be no link back to their handlers, and Iran. As reported exclusively on April 16, a source within the Iranian intelligence services told WND that the Islamic regime had links to Monday's bombings and that Hezbollah terrorists and Quds Forces were involved in the shadows. That information was shared with US officials. A YouTube video posted apparently by one of the bombers, Tamerlan Tsarnaev, though not yet confirmed, shows a belief in the coming of the Shiites' 12th Imam, Mahdi, and the rise of an Islamic army with black flags out of Khorasan, a province in Iran.
The mullahs ruling Iran have promoted that same ideology, revealed in their secret documentary "The Coming Is Upon Us." The documentary says Iran's supreme leader, Ayatollah Ali Khamenei, is the one who, according to a centuries-old hadith, will raise the flag of Islam in creating the circumstance for the coming of the last Islamic messiah, Mahdi. Khamenei was born in Khorasan. It is believed that the Mahdi will only reappear when Armageddon is upon the world, and that is why Iran is seeking nuclear weapons to bring it on.
Tamerlan Tsarnaev, the older of the two brothers, was killed by police early today after a chase through Boston suburbs. WND's source said the Chechen brothers were likely recruited and trained by other assets connected with Hezbollah operators with centers in South Asia to carry out their terror attack and then abandoned so there would be no link to Iran. The regime's Quds Forces, along with Hezbollah, have long been recruiting and training terrorists with a focus in Herzegovina, Chechnya, Sri Lanka, Bangladesh and other parts of the world, extending into Latin America. A new focus in the recruiting is on Sunni Muslims and non-Arabs to avoid any trace back to Iran and Hezbollah and to either present a seeming link to al-Qaida or individuals acting on their own, the source said.
Another source within Khamenei's office, as reported exclusively by WND on Dec. 11, provided information that Quds Forces had drawn up plans to attack the US from within in 2013. The information, which was shared with US officials, was that because of continuing sanctions on Iran for its nuclear program and the push to oust Syrian President Bashar Assad, terrorist attacks would seek to create instability in America.
A senior commander of the Islamic regime had warned less than two months ago that terrorism was coming to America. "If the people of America and Europe do not confront the aggressive policies of their governments, they cannot then remain far from the possible future events (terror attacks)," the regime's armed forces deputy chief of staff, Brig. Gen. Masoud Jazayeri, said in a Feb. 23 interview with Fars News Agency, a media outlet run by the Revolutionary Guards. "Al-Qaida groups and other services which operate for the interests of America (in Syria) will soon change the region of their operations and thereafter create new problems for America and Europe."
Ayatollah Khamenei, in a speech on Wednesday in the aftermath of the Boston bombings, blamed America and Western culture for the world's problems and compared the Boston terrorism to military actions in Syria, Afghanistan and other troubled Middle East locations. Khamenei accused the West of a double standard, claiming it believes that killing innocent people in Boston is wrong but killing innocent people in other parts of the world is fine. "If there is an explosion in America or a Western country, the world needs to pay a price," he said. He said that America's actions were illogical and, based on its opposition to Iran as well as a lack of attention to human principles, he believes the United States is on the brink of collapse.
A senior source on Capitol Hill also told Fox News that the FBI is looking into any travel the suspects may have taken since arriving in the country. The senior source, who has been briefed by the National Counter-terrorism Center on the manhunt, told Fox News the FBI is trying to find out if the two went overseas or were potentially radicalized in the United States, since arriving as much as a decade ago. The source said the FBI is tracking passports, airline tickets and a lot of other data. The source said officials know the two suspects are Muslim, but don't know if they attended a mosque in the area, and are looking closely at that possibility.
George Beverly Shea, America's Gospel Singer, Passes
April 18….(LA Times) George Beverly Shea, a gospel singer and songwriter who was a featured part of the Billy Graham crusades for more than 50 years, died Tuesday. He was 104. Shea, who received a lifetime achievement award at the 2011 Grammy Awards, died in Asheville, NC, after a brief illness, spokesman Brent Rinehart of the Billy Graham Evangelistic Assn. told the Associated Press. "Bev" Shea became the soloist for the Billy Graham Evangelical Team in 1947, traveling the world with the famous preacher as part of his ongoing crusade. "I've been listening to Bev Shea sing for more than 50 years and I would still rather hear him sing than anyone else I know," Graham said several years ago.
Shea appeared on stage with Graham before live audiences of an estimated 210 million over the years in more than 185 countries and territories, The Times reported in 2003. By then, Shea was in his 90s and usually limited himself to one song, encouraged by Graham. "Billy still seems to want me around," Shea said in interviews. Tall and slim with a resonant baritone voice, Shea was known for his straightforward singing style and his simple renditions of traditional gospel songs. He rarely left a stage before delivering his version of "How Great Thou Art."
He recorded more than 70 albums and won a Grammy Award for Best Gospel Recording in 1965 for "Southland Favorites," recorded with Anita Kerr. He was a member of the Gospel Music Hall of Fame and the Religious Broadcasting Hall of Fame.
Shea also wrote and performed his own hymns, including his most popular, ''The Wonder of It All." One of his signature songs was "I'd Rather Have Jesus," putting a poem by Rhea H. Miller to his melody. "I just sing a simple hymn," Shea said in a 2000 interview with the Tennessean, the Nashville-based newspaper. "Mine is a quieting voice. That is why I sing, to soften hearts with a quiet little song." "I try not to do any vocal gymnastics. I'm just looking to get a simple message over," he said in a 1989 interview with the Syracuse (N.Y.) Post-Standard.
Born Feb. 1, 1909, in Winchester, Ontario, Canada, Shea was one of eight children in a musical family. "We would have choir around the table," he told the Daily Oklahoman in 2003. His father, Adam J. Shea, was pastor of a Wesleyan Methodist Church in Winchester. His mother, Maud, woke Bev, his two brothers and five sisters by singing gospel music to them in the morning.
Shea began his gospel music career singing in the choir at his father's church. He graduated from Houghton College, a Christian school in New York, where he was a member of the glee club. He then took a job with an insurance company in New York and sang regularly on Christian radio. He made music his full-time work in 1938, when he moved to Chicago to be a radio announcer and soloist with a Christian radio station. One day, Graham stopped by Shea's office to introduce himself. "I've been listening to you on the radio and just wanted to come by and shake your hand," Graham told Shea, who recalled the conversation in the 2003 interview with the Daily Oklahoman.
At the time, Graham was 21 and the pastor of a church in Western Springs, Ill. He was about to become the preacher on a radio program, "Songs in the Night," and he was looking for a marquee name to sing as his soloist. Shea was 34 and had attracted a following. They worked together on the radio program starting in 1943. Several years later, Graham asked Shea to join his evangelical team. Shea first appeared on stage with Graham in Charlotte, N.C., in 1947. He also became a regular on Graham's weekly radio show, "Hour of Decision."
In Graham's 1997 book, "Just as I Am," he referred to Shea as "America's beloved gospel singer.'' He added, "I would feel lost getting up to preach if Bev were not there to prepare the way through an appropriate song."
Assad: West Will Pay for Backing Al-Qaeda in Syria
(Syrian president says US, Europe will regret supporting rebels in Syria, 'will pay a heavy price')
April 18….(YNET) Syria's President Bashar Assad accused the West on Wednesday of supporting al-Qaeda operatives in Syria's civil war and warned they would turn against their backers and strike "in the heart of Europe and the United States". Assad also launched his strongest criticism yet of neighboring Jordan for allowing thousands of fighters to cross the border to join a conflict he insisted his forces would win and save Syria from destruction. "We have no choice but victory. If we don't win, Syria will be finished and I don't think this is a choice for any citizen in Syria," the defiant president said in a television interview.
Assad's forces have been fighting back across the country against rebels who have taken control of much of rural Syria and seized a provincial capital in March for the first time in two years of fighting. The conflict started with mainly peaceful demonstrations but descended into a civil war in which the United Nations says at least 70,000 people have been killed. Islamist militants have emerged as the most potent of the anti-Assad rebels.
Drawing parallels with Western support for anti-Soviet fighters in Afghanistan in the 1980s, some of whom later formed the al-Qaeda organization which attacked the United States in September 2001, Assad said Washington and Europe would regret supporting rebels in Syria. "The West paid heavily for funding al-Qaeda in its early stages in Afghanistan. Today it is supporting it in Syria, Libya and other places, and will pay a heavy price later in the heart of Europe and the United States," he told al-Ikhbariya channel.
Obama Sends US Troops to Jordan to Counter Syrian Attack on Kingdom
April 18….(DEBKAfile Special Report) US Defense Secretary Chuck Hagel announced Wednesday, April 17, that 200 troops of the US 1st Armored Division had been ordered to deploy in Jordan. debkafile's military sources report that they are being sent on arrival to the north and ranged on the Jordanian-Syrian border. According to the Pentagon statement, the force will give the United States the ability to "potentially form a joint task force for military operations, if ordered." The new deployment will include communications and intelligence specialists, who will assist the Jordanians and "be ready for military action" if President Barack Obama orders it. US units, consisting mainly of special forces and special groups trained for chemical warfare, have been have been quietly present in Jordan for the past year. The new deployment makes the US military presence official.
Debkafile's Washington sources disclose that President Obama ordered the new deployment to the kingdom when he discovered that Syrian President Bashar Assad was about to publicly and sharply condemn Jordan's King Abdullah in a special Syrian TV broadcast Wednesday night and accuse him of responsibility for sending hundreds of armed fighters into Syria to oppose the regime. Assad was also expected to warn the US and the West that they would regret their support for al Qaeda groups fighting with the rebels against his government.
In Washington and Amman, the forthcoming diatribe by Assad against the king was viewed as the opening shot for a presidential order to the Syrian army to launch an offensive against the Hashemite Kingdom. Debkafile's military sources report that if full-scale war were to erupt between US troops and the Jordanian Army, on one side, and the Syrian army, on the other, Israel and the IDF would almost certainly become involved.
US Was Warned of Coming Terrorism
April 17….(WND) Although it is not known yet who is responsible for Monday's heinous bombings at the Boston Marathon that killed three and injured more than 100 people, a source within Iranian intelligence services told WND the Islamic regime was behind them and to look for trails through Sri Lanka and Bangladesh. The source said the bombs were planted near the end of the race so that the horrific images of the blasts would be captured by all the media there and be replayed over and over throughout the world.
A senior commander of the Islamic regime had warned less than two months ago that terrorism was coming to America. "If the people of America and Europe do not confront the aggressive policies of their governments, they cannot then remain far from the possible future events (terror attacks)," the regime's armed forces deputy chief of staff, Brig. Gen. Masoud Jazayeri, said in a Feb. 23 interview with Fars News Agency, a media outlet run by the Revolutionary Guards. "Al-Qaida groups and other services which operate for the interests of America (in Syria) will soon change the region of their operations and thereafter create new problems for America and Europe."
Jazayeri, objecting to US involvement in the Syrian civil war, warned that explosions similar to those in Syria would take place in other countries. With information from a source in the supreme leader's office, WND reported exclusively on Dec. 11, 2012, that a team of Quds Force terrorist leaders had infiltrated the United States to attack from within in 2013. The source said the team is to create instability in America through terrorism should the US fail to accept the regime's illicit nuclear program or increase sanctions, confront Iran militarily or intervene in the Syrian civil war.
In a WND exclusive report on Feb. 28, the source said that a six-member team, including an explosives specialist, was to join 10 Quds Force commanders who already have a cell of 50 terrorists in the US. The source added that Iran is working with al-Qaida factions because al-Qaida attacks would not leave behind a link to Tehran. The source for today's information blamed the Islamic regime for the Boston attack and pointed to the collaboration of the regime's Quds Forces with Hezbollah and elements of al-Qaida with links to individuals in Sri Lanka and Bangladesh. He said that under Quds Force guidance, Hezbollah recruited Sunni terrorists allied with al-Qaida factions in Sri Lanka and Bangladesh, who then entered the US for terrorist activities. The information has been shared with US officials.
But until the FBI and other US agencies complete their investigations, all information regarding the bombings must be considered with great caution and any conclusions would be premature. If the source is correct, however, then three individuals will likely have had a hand in planning and preparing for the attack:
* Mustafa Badr Al Din, the brother-in-law and cousin of the dead terrorist Imad Mugniyah, who now serves as Mugnyiah's replacement as the military leader of Hezbollah and who also serves as the deputy of Qasem Soliemani, the head of the Islamic regime's Quds Forces.
* Mohammad Ali Hamadei, on the FBI's most-wanted list, a Hezbollah operator responsible for operation and infiltration of forces into America who was based in New Mexico with a Latin American passport and who was also seen last year in England.
* Talal Hamieh, the head of Hezbollah's External Security Organization responsible for operations outside of Lebanon. He has been in Mexico collaborating with drug cartels to raise funds for Hezbollah cells and facilitates the transfer of arms and terrorists into the US.
Both Badr Al Din and Hamieh were designated for sanctions by the US Treasury Department last year for their involvement in terrorist activities throughout the world. In the aftermath of the Boston bombings, Fars News Agency put out a piece headlined, "Obama in deep trouble if Boston bombing was by Salafis (ultraconservative Sunni Muslims)." Fars said one reason that Obama has not linked the Boston bombing to al-Qaida is that his administration wants to show it has defeated al-Qaida and any mention of the terrorist group would undermine his position. It ominously mentioned that America is now allied with the Salafis and al-Qaida in confronting Syria's Bashar Assad and that if it's proven that the same elements were responsible for the bombings in Boston, then Obama would be severely criticized by the American public. Fars, as with the earlier warning by Jazayeri, denounced Obama's decision to help the opposition in Syria and hinted that the Boston attack is related to al-Qaida and the hardcore Sunnis. It concluded that Obama would likely not name them as the guilty party to save face. Although the Islamic regime has long warned that America will not be safe from its reach and that it must not only accept Iran's nuclear program but also end its support for the opposition in Syria, there is no proven link yet between Boston and Tehran.
Saudi Terror Cell, Al Qaeda, Behind Boston Marathon Bombings
April 17….(DEBKAfile Exclusive Analysis) FBI Special Agent Richard Deslauriers told reporters Tuesday, April 16, that the probe had no leads 18 hours after two explosions blew up at the annual Boston Marathon's finishing line, killing three people and injuring 176 – 17 critically. Debkafile's counter-terrorism sources can disclose however that the investigation has in fact homed in on a suspected terror cell of three Saudi nationals, very possibly tied to Al Qaeda. The flat they share in the Revere, Massachusetts, near Boston, was searched after the questioning of one of the suspects, a Saudi student, who was hospitalized with badly burned hands. One of his flatmates was taken into custody over "visa problems." A third is on the run. All three hail from a prominent Saudi family belonging to a tribe from the Asir province bordering on Yemen.
The search for the wanted man led to the grounding of a plane at Logan International Airport Tuesday. The investigation has meanwhile broadened out to places in and outside Boston in a search for the cell's accomplices. The origins of the Saudi cell, if confirmed, strongly suggest that Al Qaeda of Arabia, AQAP succeeded in planting a cell in the United States for the bombing attack in Boston, and possibly more than one in other parts of the US. Asir Province is known as a hotbed of resistance to the Saudi throne in Riyadh.
US law enforcement authorities in charge of the probe are refusing to confirm any suspects are in custody, or even leads to whoever carried out the bombings. President Barack Obama said in his second statement in 24 hours: "we don't know if who was behind the bombings were foreign, domestic or individual." The President was forced to admit for the first time that the FBI was investigating "an act of terror." Debkafile earlier Tuesday was alone in reporting that the FBI Boston Marathon probe pointed to Mid-East terrorists with domestic support.
The lack of adequate security jumps to the eye after twin bombings struck the high-prestige Boston Marathon Monday, April 15, killing three people, including an 8-year old boy and injuring 140, seventeen critically. This was the world's oldest annual marathon, with 28,000 runners representing athletes from every US state and more than 90 nations. Yet there was no sign of dogs along the route trained to sniff out explosives or a police helicopter overhead with sensors for detecting explosives or traces thereof on the person of anyone present around the finishing line after the blasts. Tuesday morning, while interviewing witnesses and collecting photos taken by spectators, the Boston police and security officers announced they were seeking two wanted men: One was described as swarthy, speaking with a foreign accent, his face partially hidden by a hood, who was carrying a large backpack and kept on trying to enter a closed section near the finishing line. This was the first time an area was disclosed as having been closed to the public. The second man was photographed by a spectator walking on a rooftop overlooking the finishing line after the second bomb exploded. After the event, police searches turned up and defused another three explosive devices. Had that search taken place before the event, at least one of the lethal devices might have been discovered and the race aborted.
Tuesday, the FBI admitted "a potential terrorist inquiry" was underway, although President Barack Obama, when he pledged justice for "the perpetrators," carefully skirted the term "terror." This recalls his administration's refusal to brand as an act of terror the attack on the US consulate in Benghazi on Sept. 11, 2012, and the murder of Ambassador Chris Stevens, although it was clearly the work of an al Qaeda element.
Counterterrorism experts are equally certain of the Middle East terrorist hallmarks on the Boston Marathon bombings, although it is too soon to say whether it was the work of Al Qaeda or an allied radical jihadi group such as the Ansar al-Shariah, which was responsible for the Benghazi consulate in conjunction with a clandestine al Qaeda command center in Cairo. Here, too, initial investigation discloses the hand of al Qaeda or an affiliate.
Ahead of the London marathon scheduled for next week and the state funeral of the late UK Prime Minister Margaret Thatcher Wednesday, April 17, a determined official effort is being made in Washington and London to present the Boston bombings as the work of a lone wolf. However, experts experienced in these matters maintain that an attack on this scale and of this type would have required four or five bombers on the ground and a support team of about 10 spotters and accomplices familiar with the terrain, further back. They would have needed more than one vehicle and communications gear, in addition to mobile phones which are easily tracked. The two explosions, 400 meters apart, were obviously coordinated and designed to cause maximum casualties. The ball-bearings scattered across the crime scene and found in the pockets of some of the casualties were familiar to Israelis and others and telling evidence of Middle East terrorist authorship.
The explosive device which caused such havoc and agony was small yet deadly, another pointer to the "professionalism" of the attackers. A similar device was discovered in time three years ago in a bomb-rigged car parked in Times Square New York and left there by the Pakistani student Faisal Shahzad.
Suspicion of a foreign hand was strengthened when the US media reported that a Saudi national suffering from severe burns was being questioned in hospital. The Boston Police Department denied the report and the FBI, now in charge of the case, said that no one has so far been taken into custody. They did not deny questioning "persons of interest."
The first response to the explosions in Boston from the Middle East itself came from Mohammad al-Chalabi the head of an extremist Jordanian Muslim Salafi group, who said he's "happy to see the horror in America. American blood isn't more precious than Muslim blood," he said. "Let the Americans feel the pain we endured by their armies occupying Iraq and Afghanistan and killing our people there." A Mideast counterterrorism official based in Jordan said the blasts "carry the hallmark of an organized terrorist group, like al-Qaeda."
Boston Marathon Interrupted by Terrorist Attack
April 16….(DEBKA) An injured Saudi national is being questioned under guard in hospital after two powerful explosions struck the elite Boston Marathon Monday, April 15, causing at least two deaths and more than 100 injuries among the runners and the spectators packing the streets. These figures are expected to rise, as the injured are treated, many of them with amputated limbs. The two blasts were seconds apart, apparently in or near the Fairmont Copley Plaza Hotel at the finishing line, three hours after the winners passed.
The Boston police advised people to stay home after closing the city's airspace and also the mobile phone service to prevent the detonation of explosives. Air links between Boston and New York are suspended. The Secret Service closed the pedestrian walkway in front of the White House in Washington and the Pentagon was placed on heightened terror alert after Barack Obama was briefed on the Boston bombings.
President Obama, addressing the nation, said: "We don't know what happened, but we will get to the bottom of who and why, and the perpetrators will be held accountable and feel the full weight of justice." New York counter-terrorism police are deployed at Manhattan landmarks and strategic areas in the city. After the twin explosions, the Boston authorities found two more explosive devices at the Boston Marathon and dismantled. No information has been released about the cause of the explosions but they are being treated by the US authorities as a major, multiple terrorist event. Ball bearings found strewn at the scene of the blasts and in the pockets of victims were seen as consistent with terrorist methods and the same signature found in similar attacks in Israel and other places. The Boston Marathon with thousands of runners from many countries is one the most prestigious events of its kind in the world.
The head of an extremist Jordanian Muslim Salafi group said he's "happy to see the horror in America" after the explosions in Boston. "American blood isn't more precious than Muslim blood," said Mohammad al-Chalabi, who was convicted in an al-Qaida-linked plot to attack US and other Western diplomatic missions in Jordan in 2003. "Let the Americans feel the pain we endured by their armies occupying Iraq and Afghanistan and killing our people there," he said early Tuesday. A Mideast counter-terrorism official based in Jordan said the blasts "carry the hallmark of an organized terrorist group, like al-Qaeda." He did not give actual evidence.
Obama, Hamas Secretly Aiding Syrian Rebels
April 16….(WND) Hamas has been asked by Turkey to aid the so-called rebels in their fight against Syrian President Bashar al-Assad's regime, according to informed Middle Eastern security officials. There is a disagreement within Hamas about whether to collaborate with the rebels, sources within Hamas said. The Gazan group was specifically asked to help the rebels construct underground tunnels and to advise the jihadist-saturated rebels on adopting some of the tools Hamas previously put to use to confront Israel. The information comes amid scores of news media reports that the Obama administration is aiding the rebels, including by coordinating Arab arms shipments.
Just last week, WND broke the story that the US in recent weeks aided in the transfer of shoulder-launched anti-aircraft missiles, or man-portable air-defense systems, to the Syrian rebels, according to informed Middle Eastern security officials. The arming of Syrian rebels is considered highly controversial. A major issue is the inclusion of jihadists, including al-Qaida, among the ranks of the Free Syrian Army and other Syrian opposition groups. The Middle Eastern security officials speaking to WND said the latest US-facilitated weapons transfers signify the most advanced deliveries yet to the Syrian rebels. Middle Eastern security officials speaking to WND have said U.S.-aided weapons shipments go back more than a year, escalating before the Sept. 11, 2012, attack on the US facilities in Benghazi.
In fact, the Middle Eastern security officials speaking to WND since last year describe the US mission in Benghazi and nearby CIA annex attacked last September as an intelligence and planning center for US aid to the rebels in the Middle East, particularly those fighting Syrian Assad's regime. The aid, the sources stated, included weapons shipments and was being coordinated with Turkey, Saudi Arabia and Qatar. Last week, Reuters further reported Obama allegedly signed a secret order in 2012 authorizing US agencies such as the CIA to provide support to rebel forces in Syria.
Chemical Warfare Looms over Syria
April 15….(DEBKAfile Special Report) As the Syrian civil way went into its third year this week, signs abounded of increasing readiness for the use of chemical weapons on both sides of the conflict. Since February, the US, Israel, Ankara and Amman have been aware of Bashar Assad's resolve to override their threats and resort to deadly poison gas if the rebels closed in on the heart of Damascus. On April 3, an unnamed Syrian army officer made the warning clear. By continuing to advancie on Damascus, he said, "the rebels and their leaders" were assured of "certain death." At about the same time, Debkafile reported exclusively that the Syrian ruler had ordered protective suits for chemical warfare and gas masks distributed to the 4th and 3rd Divisions defending the capital. Tank commanders were told to activate their filtering systems against chemical and biological agents.
Protective suits have since been distributed to the Syrian army units fighting in southern Syria and the Golan, the enclave divided between Syria and Israel by the 1974 ceasefire that ended the Syrian war of attrition after the Yom Kippur War. These steps were registered by the joint counter-chemical warfare center set up between the US, Israel, Turkey and Jordan when President Barack Obama visited their capitals in the third week of March. In the last few days, Israeli troops were asked by this center to start handing out atropine injections or IV drips to Syrian rebels fighting Syrian troops on the Golan. Extracted from deadly nightshade (Atropa belladonna), Jimson weed (Datura stramonium) and mandrake (Mandragora officinarum), atropine is highly effective for blocking such nerve agents as sarin, VX, soman and tabun and counteracting the effects of poisoning, such as nausea, vomiting, abdominal cramping and low heart rate.
The IDF's distribution of a chemical weapon antidote to Syrian rebels may be regarded as the first Israeli intervention in the Syrian conflict, a small step past administering medical treatment to Syrians wounded in battle. The Syrian high command will have noted this, or been tipped off by its Iranian, Russian or Hizballah intelligence comrades. And, say Debkafile's military sources, this may account for the Syrian decision for the first time in 34 years to direct shell fire at an IDF Golani patrol on duty Friday night, April 12, in the northern Golani area of Kibbutz El-Rom.
The British disclosure April 12 in the Times of London of soil samples smuggled out of Syria provided forensic evidence of the use of chemical weapons but carefully avoided assigning responsibility. Though containing traces of "some kind of chemical weapon" collected from an unidentified "neighborhood on the outskirts of Damascus," the British experts could not identify the type of weapon, possibly even tear gas, or whether it was fired by forces loyal to President Assad or the rebels fighting him.
Debkafile's military sources note that, even if Britain's MI6 secret service knew the answers to these questions, they would take care not to make them public so as not to build up the pressure for Western military intervention, pledged by President Obama in the event of chemical weapons being used in Syria, before the US president was ready to give the go signal.
Iran Says it Will Stand by North Korea
April 15….(WND) Iran ratcheted up its vitriol against Israel and the United States over the weekend, warning that an attack on the Islamic regime's nuclear facilities could lead to global war. The rhetoric eerily matched that currently coming out of North Korea against its perceived enemies. "Iran will not stand by in the face of such aggression," Ali Ahani, Iran's ambassador to France, said Sunday, according to the Islamic regime's PressTV. "This can entail a chain of violence that may lead to World war III. A potential Israeli attack against Iran with an objective of destroying its scientific and nuclear facilities is sheer madness. Its consequences are disastrous and uncontrollable." The deputy chief of staff of Iran's armed forces, Brig. Gen Masoud Jazayeri, warned the United States on Saturday that Iran would continue its nuclear program. "We would not trade off our rights," he said, adding that Iran would stand with North Korea in its face-off with America.
According to Mehr News, Jazayeri blamed the tension on the Korean Peninsula on the US presence in the region. "Whenever necessary, we would stop the US excessive demands," he said. "The Islamic Revolution will never leave its past and present friends. The US and its allies will suffer great losses if a war breaks out in this region." The commander of the Islamic regime's ground forces, Brig. Gen. Ahmad Reza Poordastan, in his speech at Friday Prayers, also warned "the enemies" that the country's army has its finger on the trigger and that any attack on the country will make the "enemy" regret its actions.
China Breaking UN Sanctions to Support North Korea
As John Kerry arrives in Beijing, China continues to flout United Nations sanctions in order to prop up Kim Jong-un's regime)
April 15….(Telegraph) There was never any clue from the outside that a cheap apartment on the 16th floor of a tower block in the Chinese city of Dandong was in fact North Korea's lifeline to the outside world. But for nearly a decade, 1602 Huiyou Gardens was the Chinese office of an organization described by American investigators as a "key financial node in North Korea's weapons of mass destruction for profit apparatus".
Since it founded its Chinese branch in 2004, the Kwangson Bank, otherwise known as the Foreign Trade Bank, helped channel billions of pounds of valuable foreign currency to Pyongyang, money that was used to finance North Korea's nuclear weapons and ballistic missiles programs. Dandong, a grimy city of nearly 800,000 people that is separated from North Korea by the Yalu river, is Pyongyang's only major link to the outside world. Full of smugglers, spies and military officers it often feels as if the normal rules do not apply in this shady border town. Around 70 per cent of the £4 billion of annual trade between North Korea and China flows through the city, and there is, perhaps, another £6.5 billion of black-market trade. A key oil pipeline here provides the rogue state with 80 per cent of its fuel needs, and China, which is Pyongyang's only remaining ally, demands a high price for the privilege.
But with tensions on the Korean peninsula at their highest for years, it is widely being suggested that the cozy relationship between China and North Korea is unraveling. "No one should be allowed to throw a region and even the whole world into chaos for selfish gains," said Xi Jinping, the new Chinese president, in comments seen as a sharp rebuke to Pyongyang.
If China really were to cool its relationship with its neighbor, this could dramatically change the situation on the peninsula. Indeed, without China's support throughout its entire existence, North Korea's regime might have collapsed long ago. When Kim Jong-Un took over after the death of his father Kim Jong-il in late 2011, Beijing had expected him to follow the Chinese model of reforming the economy while keeping the political system under firm control. But North Korean officials have fretted that embracing capitalism would not only undermine the ideology that keeps them in power, but also grant China dangerously unfettered access to their markets.
WEEK OF APRIL 7 THROUGH APRIL 13
Pastor Saeed Abedini Given Ultimatum: 'Deny Christ or Else
April 12….(Christian Post) Iranian authorities have posed US Pastor Saeed Abedini with an ultimatum to deny Christ, or spend more time in prison. "Deny your faith in Jesus Christ and return to Islam or else you will not be released from prison. We will make sure you are kept here even after your 8 year sentence is finished," the authorities said, according to a letter by Abedini that was recently obtained by the American Center for Law and Justice.
The pastor, who was sentenced to eight years in January in what the law group says was a "sham trial" that targeted him for his Christian faith, had earlier shared of some of the abuse he faced in prison in a letter to his wife, Naghmeh Abedini, and their two children. He has stated that he will not abandon Christ in the face of such persecution. But the newly released letter reveals the specific threats the authorities have made against him in Evin Prison in Tehran. "My response to them is Romans 8:35-39. The reality of Christian living is that difficulties or problems do arise in our lives. Persecution and difficulties are not new occurrences, but are seen often in the Christian life. It is through the suffering and tribulations that we are to enter the Kingdom of God," the US citizen said in his letter.
The ACLJ, which is representing the pastor's family back in the US and has been at the forefront of campaigning for Abedini's release, commended the pastor for his strong faith in the face of mental and physical abuse. "My hair was shaven, under my eyes were swollen three times what they should have been, my face was swollen, and my beard had grown," Abedini wrote in a letter in March. "The nurse would also come to take care of us and provide us with treatment, but she said in front of others 'in our religion we are not suppose to touch you, you are unclean. Baha'i (religion) and Christians are unclean!' She did not treat me and that night I could not sleep from the intense pain I had." "Pastor Saeed is refusing to deny Christ. We must let him know that we will never forget him and will never stop working for his release," the ACLJ has said.
US Raises Nuclear Alert to DEFCON 3. China Mobilizes
April 12….(DEBKA) On Friday, April 12, the US raised its nuclear alert status to DEFCON 3, Condition Yellow (out of 5 levels), stating "There are currently no imminent nuclear threats against the United States at this time, however the situation is considered fluid and can change rapidly." Many believe that North Korea will launch their test missile on or about April 15. Japan has instructed its armed forces to shoot down any North Korean missile that heads toward its territory. Contrary to comments from the White House Thursday, the Pentagon reported that "North Korea probably has nuclear weapons that can be mounted on ballistic missiles." This is a very significant admission by the United States and a dangerous change to the Korean situation.
China has mobilized its military and is massing near the border with North Korea. This step was taken after North Korea placed a mid-range Musudan missile ready to launch on its east coast and its "dedication of more facilities at the Yongbon complex to nuclear weapons work." According to some sources in Washington, the Chinese military mobilization is not directed at deterring Pyongyang but as support for North Korea's steps.
Late Thursday, Representative Doug Lamborn, a Colorado Republican, made a disquieting disclosure. He quoted an excerpt from a Defense Intelligence Agency report expressing "moderate confidence" in the finding that North Korea has nuclear weapons capable of delivery by ballistic missiles whose "reliability will be low."
This disclosure raised a furor in the United States, bringing forth a White House response. The director of national intelligence, James Clapper, released a statement saying that the assessment did not represent a consensus of the nation's intelligence community [16 agencies in all] and that "North Korea has not yet demonstrated the full range of capabilities necessary for a nuclear armed missile."
Pentagon press secretary George Little backed him up by saying: "It would be inaccurate to suggest that the North Korean regime has fully tested, developed or demonstrated the kinds of nuclear capabilities referenced in the passage." US Secretary of State John Kerry arrived in Seoul Friday. After meeting South Korean leaders, he travels next to Beijing and Tokyo.
In his first comment on the Korean crisis, President Barack Obama said Thursday that now is the time for North Korea to end its belligerence. He said the United States will take ''all necessary steps'' to protect its people. But Obama also says that no one wants to see a conflict on the Korean Peninsula and would explore all diplomatic options for resolving the crisis. Obama spoke alongside UN Secretary-General Ban Ki-moon after the two met in the Oval Office.
New Muslim Vision: Lets Pray Together on Temple Mount
FOJ Note: (A united world religion and a new Temple plays right into the hands of the Antichrist)
April 12….(Jewish Press) The unique importance of the Temple Mount to Judaism and to Islam makes the location vulnerable to tensions and conflicts between Jews and Muslims. Usually, these incidents originate in rumors such as: "The Jews are coming today to bomb the mosques and build their Third Temple." Obviously, false accusations and baseless suspicions like these turn the site from a holy place of prayer and love into a site of violent political demonstrations. And, consequently, potential escalation of tension brings more restrictions and discomfort to all. Who benefits from this? Surely not the believers.
While the Israeli government ensures limited public access to the Temple Mount regardless of religious beliefs, only Muslims are allowed to pray at the place, which is known to Muslims as Haram al-Sharif. Otherwise, the government has prohibited everyone except Muslims from worshipping there since 1967, due to security concerns. Nevertheless, Muslims, too, are occasionally restricted. The Jordanian Waqf which administers the site has restricted non-Muslims from entering the Dome of the Rock and the Al-Aqsa Mosque since the year 2000. What's more, non-Muslim religious symbols are not allowed to be worn while entering the site.
Freedom of worship is an essential issue. The Temple Mount, where the First and Second Temples stood, is the holiest place to the people of Israel. However, it is no less holy to both Muslims and Christians. Since this is a location that God has announced to be a "house of prayer for all nations," it should be a place of festivity for all believers. As all who call on the God of Abraham are brothers, Jews and Christians should be able to offer prayers there in dignity and peace along with Muslims. To cast believers out from such a place, to prevent worship there, is a heinous and, quite frankly, cruel policy, which is an offense not only to men, but to Islam. God Himself condemns anyone who forbids worship: "And who is more unjust than he who forbids that in places for the worship of God, God's name should be celebrated?-whose zeal is (in fact) to ruin them? It was not fitting that such should themselves enter them except in fear. For them there is nothing but disgrace in this world, and in the world to come, an exceeding torment." (Koran 2:214)
Likewise, the Tanakh declares the will of God to make this unique spot a common sanctuary where all people learn to coexist and pray together: "For then will I turn clear language to the Nations, that they may all call upon the name of God, to serve Him shoulder to shoulder." (Zephaniah 3:9)
Anywhere one prays to the One and Only Almighty God is a house of prayer. Therefore, it is an atrocious thing to forbid anyone from praying at the Temple Mount. The longings of Bnei Israel to pray in that place can never be an offense to a Muslim. On the contrary, it is very pleasant to see Jewish people praying at the Temple Mount. Indeed, all the faithful people should be able to pray there. As a matter of fact, in Istanbul's Blue Mosque, Hagia Sophia and others houses of worship, foreign tourists often come and pray. Some perform their religious obligations according to their own faith, and it is something quite beautiful to see.
As a devout Muslim, I take pleasure when Jews pray to Almighty God, and their praying anywhere in the world, including at the Temple Mount, would be a glad tiding for me as well. As a devout Muslim, it would be a joy for me to see Prophet Solomon's Temple rebuilt as well. No, you did not hear me wrong. Prophet Solomon's Temple being rebuilt in all its magnificence and glory would be a great delight for me, as it would be to any Muslim. Under different circumstances, in an atmosphere of trust, love and brotherhood, Muslims would welcome this with enthusiasm. The Temple of Solomon is also a historically important place, and rebuilding it would be a wonderful occasion for all believers to contemplate. Every Muslim, every believer, will want to experience the spirit of those days again, and strive to bring the beauty of those days back to life. Actually, it is everyone's aspiration for that city to be adorned, to be beautified, and to regain the magnificent glory it had in the days of the Prophet Solomon.
Solomon's Temple being rebuilt would not entail any harm to the Muslim shrines. So I beg my Muslim brothers and sisters not to take my words in a direction that I do not intend. They should not feel unease at all, because the al-Aqsa Mosque and the Dome of the Rock will stand until the Last Day. Nobody will be able to harm them, because they are under the protection of God. There is a broad expanse of land around the Al-Aqsa Mosque and the Dome of the Rock. The land there is quite convenient in that respect, and the Temple can be placed just a little way from Qubbat As-Sakhrah, and a little ahead of Masjid el-Aqsa.
The very thought of Christians, Jews and Muslims cooperating to rebuild this house of worship, together hand in hand, and worshipping there together, is a matter of joy. We all want suffering to end and peace to prevail in the region! Obviously we cannot achieve this peace as long as we lack the spirit of unity. We all worship the same One God and we are all children of Prophet Abraham! Let us embrace each other with respect and love! Let us talk together, and envision better days in which we can all pray, and unite in celebration and brotherhood in this Prayer House of our blessed Prophet Solomon, and praise the glory of Almighty God together! Let every Christian, every Muslim, every Jew unite in this one godly desire! Let us endeavor to achieve this together, and let us believe that it is possible for everyone to perform their prayers in joy and peace!
ACLU…..A Communist Front Organization
April 11….(WND) The American Civil Liberties Union has planned a "war on God" from its beginnings, claims a new book by New York Times best-selling author Jerome Corsi, a scheme born from the group's foundation, steeped in communist goals. Corsi told WND, history may have conveniently forgotten the ACLU's original objective, but his new book, "Bad Samaritans: The ACLU's Relentless Campaign to Erase Faith from the Public Square," digs up what the ACLU doesn't want you to remember. "The book exposes the roots of the ACLU in the 1920s among socialists and communists who were opposing World War I," Corsi told WND. "It's founder, Roger Baldwin, was a draft resister in 1917 who went to prison. Among the early board members were outright communists, including William Foster, who was at one time the general secretary of the Communist Party USA and wrote the book 'Toward Soviet America.' "The initial impulse of the ACLU was to fight for a definition of civil liberties that lined up with atheist, communist ideals," Corsi continued. "Primary among the objectives was to eliminate God. [Communist philosopher Karl] Marx's idea was that religion was the 'opiate of the people,' so the idea of God had to be broken down to establish the basis for communism, namely scientific materialism, which clashed with the religious conviction of America's Founding Fathers, who believed our rights were inalienable, granted by God, and chief among those was freedom of religion."
Thus, rather than defending the freedoms enshrined in the Bill of Rights, as many today believe the ACLU does, the group's goal has been from the beginning to destroy the very basis for those rights, which, as the Declaration of Independence explains, are "endowed by our Creator." In fact, Corsi contends, the First Amendment protecting freedom of religion, rather than being sacrosanct to the ACLU, actually stands in its way. "Through a good public relations job over the years, the ACLU has tried to represent itself as defending liberties," Corsi told WND. "Most people don't know its real history, haven't studied the cases it championed, don't understand the extent to which it has advanced not civil liberties, but an extreme leftist agenda."
Corsi pointed to one of the ACLU's first cases, the Scopes "monkey" trial of 1925, in which the ACLU brought its own Clarence Darrow to defend John Scopes, accused of illegally teaching evolution at a Tennessee high school. But more importantly than defending Scopes, Corsi contends, was the ACLU's intent to attack biblical Christianity. "Barrow, the ACLU attorney, was trying to pit evolutionary science as knowledge and reason against the intellectual 'prejudice' of the Bible, in other words, to make the case only stupid people believe in the Bible," Corsi told WND. "The whole idea, perpetuated later by the movie 'Inherit the Wind,' was to establish in the public mind the primacy of science and human reason, these are the things the left looks to transplant belief in God and religious morals. "That kind of case was the ACLU trying to get God banned from schools, education, from the public square," Corsi continued, "but not by attacking the First Amendment head on, rather by attacking religion as a prejudice that violated 'civil liberties.'"
The founding principles of the ACLU, however, haven't been relegated to the dustbin of history, Corsi contends, but have continued in a steady march for nearly 100 years. Corsi demonstrates the ACLU has not only undermined the First Amendment, but also conducted a "war on God." As recently as March 2013, for example, the ACLU brought forth cases to challenge a portrait of Jesus Christ at a middle school in Ohio, a North Carolina county has been sued over its traditional Christian invocations at meetings and Mississippi's pending school prayer law is being threatened. "Since the organization was created in 1920, so many constitutional battles have been lost to the ACLU that time has grown short to stop the onslaught," the publisher's release asserts. "Over its history the ACLU has been an enemy to the nation's religious tradition, whose founders instilled within the organization values designed to erase all vestiges of the nation's Judeo-Christian roots. Even more insidiously, the ACLU strategy devised by its founders was predicated on a determination to wage its war on God in a stealth fashion in which the ACLU intends to destroy religious freedom by appearing on the scene as a defender of religious freedom."
US Army Says Fundamentalist Christianity is a Terrorist Threat to US
April 10….(WND) Soldiers in the US military are being told in a training briefing that evangelical Christians are the No. 1 extremist threat to America, even ahead of groups like the Muslim Brotherhood, KKK, Nation of Islam, al-Qaida, Hamas and others. "Men and women of faith who have served the Army faithfully for centuries shouldn't be likened to those who have regularly threatened the peace and security of the United States," said Col. (Ret.) Ron Crews, executive director of the Chaplain Alliance for Religious Liberty. "It is dishonorable for any US military entity to allow this type of wrongheaded characterization. It also appears that some military entities are using definitions of 'hate' and 'extreme' from the lists of anti-Christian political organizations. That violates the apolitical stance appropriate for the military." A slide titled "Religious Extremism" lists multiple organizations such as the Muslim Brotherhood, al-Qaida, Hamas, the Nation of Islam, the Ku Klux Klan and the Christian Identity movement as examples of extremist groups.
However, the first group on the extremist list is evangelical Christianity. Crews said it is astounding that soldiers were taught that a key foundation of the Christian faith is now considered extreme and compared to those who want to implement Shariah law. "The idea of salvation being exclusively through Christ is a key doctrine of the Christian faith," Crews said. "It is amazing that the trainer felt they had the authority and right to list evangelical Christian and orthodox Jews alongside groups like the Muslim Brotherhood." Crews said the major problem with the training brief is that it relies heavily on material provided by the Southern Poverty Law Center which has claimed that groups such as the Family Research Council and other pro-family groups are hate groups and extremists. "We're concerned the use of the SPLC list is not isolated," Crews said. "The Army should make sure its equal opportunity officers across the military do not fall prey and use this SPLC list that identifies Christian and conservative organizations as hate groups as the basis for their briefing." He went on to say that placing evangelical Christians first on the list of religious extremists speaks volumes about how the SPLC views Christianity compared to other religious groups. "This is absolutely abhorrent to all those who identify themselves as evangelical Christians in this country," Crews said.
Iraqi Al Qaeda and Syria Militants Announce Alliance
April 10….(Washington Times) Al Qaeda's branch in Iraq said it has merged with Syria's extremist Jabhat al-Nusra, a move that shows the rising confidence of radicals within the Syrian rebel movement and is likely to trigger renewed fears among its international backers. A website linked to Jabhat al-Nusra confirmed on Tuesday the merger with the Islamic State of Iraq, whose leader, Abu Bakr al-Baghdadi, first made the announcement in a 21-minute audio message posted on militant websites late Monday. Jabhat al-Nusra has taken an ever-bigger role in Syria's conflict over the last year, fighting in key battles and staging several large suicide bombings. The US has designated it a terrorist organization.
The Syrian group has made little secret of its links across the Iraqi border, but until now it has not officially declared itself to be part of al Qaeda. Al-Baghdadi said that his group, the Islamic State of Iraq, and Syria's Jabhat al-Nusra will now be known as the Islamic State in Iraq and the Levant. "It is time to announce to the Levantine people and the whole world that Jabhat al-Nusra is merely an extension and part of the Islamic State of Iraq," he said. He said that the Iraqi group was providing half of its budget to the conflict in Syria. Al-Baghdadi said that the Syrian group would have no separate leader but instead be led by the "people of Syria themselves," implying that he would be in charge in both countries.
The formal merger of such a high-profile Syrian rebel group to al Qaeda is likely to spark concerns among backers of the opposition who are enemies of the global terror network, including both Western countries and Gulf Arab states.
Christians Being Persecuted All Around The World
(About 100 million Christians are persecuted around the world, with conditions worsening for them most rapidly in Syria and Ethiopia, according to an annual report by a group supporting oppressed Christians worldwide.)
April 9….(Reuters) Open Doors, a non-denominational Christian group, listed North Korea, Saudi Arabia and Afghanistan as the three toughest countries for Christians last year. They topped the 50-country ranking for 2011 as well. Syria jumped from 36th to 11th place on the list as its Christian minority, first suspected by rebels of close ties to the Assad government, has increasingly become a target for radical Islamist fighters, the report said. Ethiopia, which is two-thirds Christian, shot up from 38th to 15th place in the ranking due to a "complex mix of persecution dynamics" including attacks by radical Islamists and reprisals by traditional Christians against new Protestant movements. Mali came from no listing for 2011 to 7th place because the sharia rule the Islamist Ansar Dine group imposed on the north of the country not only brought harsh punishments for the Muslim majority but also drove the tiny Christian minority, it said. "There are over 65 countries where Christians are persecuted," said the report released on Tuesday by Open Doors, which began in the 1950s smuggling Bibles into communist states and now works in more than 60 countries. "An estimated 100 million Christians worldwide are persecuted," the United States-based group said in the report. All but one of the 50 countries in the list, Colombia, which ranked 46th, were in Africa, Asia or the Middle East.
Christianity is the largest and most widely spread faith in the world, with 2.2 billion followers or 32 percent of the world population, according to a report by the Washington-based Pew Forum on Religion and Public Life. It faces restrictions and hostility in 111 countries around the world, ahead of the 90 countries limiting or harassing the second-largest faith, Islam, another Pew report said. "In recent years, we've been hearing that Christianity is the most persecuted religion in the world, that sounds right to us," said Open Doors France director Michel Varton at a presentation of the report in Strasbourg. Of the top 10 countries on the list, North Korea, Saudi Arabia, Afghanistan, Iraq, Somalia, Maldives, Mali, Iran, Yemen and Eritrea, eight are majority Muslim states threatened by what Open Doors called "Islamic extremism".
North Korea has kept its number one ranking for the past 11 years because it is illegal simply to be a Christian there, it said. Open Doors estimates that up to 70,000 North Koreans have been sent to labor camps for their faith. The report said second-placed Saudi Arabia, which bans public practice of any faith but Islam, has a growing Christian population because of its migrant workers and some converts it says converted after watching Christian satellite television.
Syria Becoming New Cradle for Foreign Extremists
April 8….(The Telegraph) Syria is on course to become a more fruitful breeding ground for jihadist fighters than Afghanistan or Iraq, according to new research which found that up to 5,500 foreigners have joined the civil war in less than two years. Most of those who have traveled from overseas to fight Bashar al-Assad's regime are from elsewhere in the Middle East, but between seven and 11 percent are from Europe, meaning hundreds are currently in Syria. Taking information from "martyrdom notices" on jihadist websites and hundreds of press reports over the course of a year, researchers from King's College found that the biggest number came from Britain, with between 28 and 134 fighters. Ireland however produced the highest number per capita, with 26, thanks to a group of men of Libyan origin who also fought Muammar al-Gaddafi's regime. In the first attempt to quantify foreign participation in the conflict, the King's researchers estimated that between 2,000 and 5,500 foreigners have joined rebel forces battling Assad's army and militias, with the first arriving in mid-2011. An estimated 70,000 people have died in the conflict.
During the 1980s, it is estimated that 10,000 to 12,000 foreigners joined the struggle against Russian occupation in Afghanistan, spawning a generation of extremists who later joined al-Qaeda or graduated to fight in Bosnia and Iraq. From 2004 to 2009 in Iraq, the number of foreign fighters is estimated at 10,000. "The real significance is that the scale of mobilization is really quite rapid," said Prof Neumann. "If the conflict goes on for years, as it could, we believe Syria could be a new cradle for militants. If jihadists can establish safe havens and training camps there could be a whole generation of new people coming out of that in the same way as they did from Afghanistan."The research will form part of a forthcoming book, The Syrian Jihad: How Al-Qaeda Survived the Arab Spring. It is the first attempt to quantify foreign participation in the conflict.
North Korea's Christians Need Prayer Now
April 8….(WND) Christian human rights group Open Doors USA says the ongoing threat of war is prompting North Korea's besieged Christian community to ask for the world's prayers. Recent intelligence reports appear to support the concerns of North Korea's Christians. The Washington Free Beacon reports that China has moved tanks and heavy military vehicles to the border to fulfill its military commitment to North Korea. The report says that the transfer of hardware to the border is connected to North Korea's March 30 declaration that a state of war exists with South Korea. Further intelligence reports place the heavy military hardware deployments in Daqing and in the border city of Shenyang in Liaoning Province.
CNN also is reporting that South Korean intelligence has intercepted a North Korean message that says North Korea is preparing to launch an intercontinental ballistic missile. Open Doors Communications Director Jerry Dykstra says the call for prayer is urgent. "Prayer for beleaguered believers in North Korea is more important than ever," said Dykstra, who is summoning Western Christians to heed the call. "We must respond now to the Christian leaders' request to pray for them," Dykstra said. And there's another need, he said. "Pray for Kim Jong-un; that God will work in his heart and he will pursue peace and not war. Pray for wisdom for leaders in the United States, South Korea and China," Dykstra said. "Pray for Christians who are put in even more danger due to war preparations. Pray families will find food to feed their families. Finally, pray that no matter what happens, Christians will remain strong in their faith," Dykstra said.
International Christian Concern Far East analyst Ryan Morgan says that while concern over the saber rattling is well founded, the West can't forget history. "While the world is rightly concerned with North Korea's threats of war and nuclear attack, we can sometimes forget that the Kim regime has been committing what amounts to genocide on millions of their own people for well more than half a century," Morgan said.
Morgan adds that Kim Jong-un is simply following in his father's footsteps. "I think that the outright hostility and complete lack of concern for international opinion that Kim Jong-un has been demonstrating in recent days puts the final nail in the coffin for anyone who still hoped his leadership was going to lead to reform," Morgan said.
Morgan adds that Christians will continue to suffer. "Tragically that means tens of thousands of Christians will probably remain locked up in atrocious conditions for the foreseeable future while thousands more remain in hiding, risking imprisonment or even execution for something as simple as owning a Bible," Morgan said. Ireland-based Church in Chains Executive Director David Turner confirms Morgan's assessment, that the war drums are only compounding an already vicious situation for North Korea's Christians. "In the Winter 2011 issue of our magazine, we reported: Anyone discovered to be a Christian is executed or sent to prison camp (the mere possession of a Bible can result in death) and attending an underground church service can result in public execution," Turner said.
Turner adds that the persecution goes beyond just the believer. "In such cases all family members are punished up to the third generation, and parents may be forced to watch their children's execution first," Turner said. "Escapees from labor camps report that Christians receive much more torture than other prisoners and that they are given the worst jobs in the prison camps, such as working in dangerous factories or with septic tanks," Turner said.
WND reported only weeks ago that just possessing a Bible still can be cause for a death penalty in North Korea, which remained No. 1 on this year's World Watch List of the world's most notorious persecutors of Christians, a project assembled by Open Doors USA. In North Korea, a possible lesser penalty for someone having a Bible would be for the offender, and three generations of his or her family, to be sent to prison camps, where at estimated 50,000 to 70,000 people are held.
Open Doors' Senior Communications Specialist Paul Estabrook said the reclusive communist dictatorship earned the ranking based on the group's five criteria for evaluating a country. "North Korea doesn't allow Christians any freedom in any of the five spheres used in the process," Estabrook said. "We use five spheres, the private, family, community, congregational, and public. North Korea doesn't allow Christians any freedom," Estabrook said. In addition, the dictatorship maintains a gulag, he noted. "North Korea is known to have somewhere between 50,000 to 70,000 Christians in forced labor camps. And they're there for doing nothing except trying to worship the Lord," Estabrook said.
WEEK OF MARCH 31 THROUGH APRIL 6
Ohio School Forced to Remove Jesus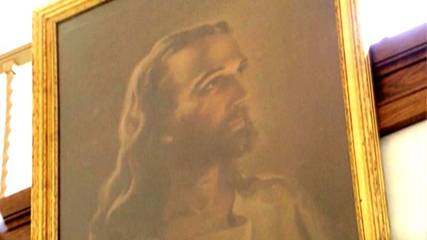 April 5….(Fox News) A portrait of Jesus that had adorned a southern Ohio public school district building since 1947 has been taken down after officials decided they could not risk losing a lawsuit to the American Civil Liberties Union. The superintendent of Jackson City Schools told The Associated Press that the decision was made after the district's insurance company declined to cover litigation expenses. Phil Howard said a student club that the school says owns the portrait took it down Wednesday morning at his direction. "At the end of the day, we just couldn't roll the dice with taxpayer money," Howard said. "When you get into these kinds of legal battles, you're not talking about money you can raise with bake sales and car washes. It's not fair to take those resources from our kids' education."
The ACLU and the Freedom from Religion Foundation had sued on behalf of a student and two parents, calling the portrait an unconstitutional promotion of religion in a public school. An ACLU spokesman says the lawsuit remains in effect, but will be dropped if the portrait stays down. The "Head of Christ," a popular depiction of Jesus, had been in an entranceway's "Hall of Honor" in a middle school building that was formerly a high school. It was near portraits of dozens of prominent alumni and people with local roots such as the late four-term Ohio Gov. James Rhodes. The portrait was moved recently by a Christian-based service club to the current high school building. A complaint that triggered the February lawsuit put the 2,500-student district in the midst of the ongoing national debate over what religious-themed displays are permissible.
Syrian Crisis Replicating Christian Exodus in Iraq
April 5….(Religion Today) The World Evangelical Alliance's human rights ambassador has warned that Christians are being "chased from their homes" in Syria, the Christian Post reports. According to Dr. Thomas Shirrmacher, Syria is seeing a mass exodus of Christians, similar to that in Iraq following the 2003 US-led invasion. A decade ago, there were an estimated 1.5 million Christians in Iraq, but around half the Christian population has since left due to hardship and persecution. Today, there are reportedly fewer than 60 churches left in the country. Schirrmacher said, "I know that many people in Syria are suffering, but Christians are seeing a repetition of the situation in Iraq, that they are largely wiped out between the opposing fronts, and once their survivors are driven out, they seldom have the opportunity to return." Of the previous 60,000 Christians in Homs, one of the areas worst affected by the Syrian conflict, fewer than 1,000 now remain. The WEA warns that churches are being destroyed and Christians are being killed, tortured, used as human shields and raped. Syrian rebels see Christians as supporters of President Bashar al-Assad, while Assad's loyalists do not trust Christians. Reports continue of people in green or black headbands beating up Christians and destroying their property, while threatening similar actions to any other Christians who do not leave the country.
Saudi Arabia Orders Destruction of All Churches in Region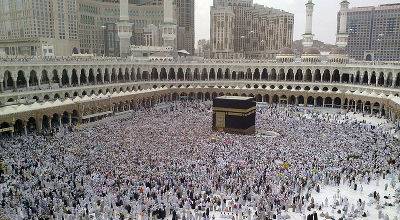 April 3….(Charisman News) Earlier this month, news reports surfaced out of Saudi Arabia that raised the red flag for Christians. Todd Nettleton, a spokesman for Voice of the Martyrs USA, says, "The Grand Mufti of Saudi Arabia, the top Islamic official in the country of Saudi Arabia—has declared that it is 'necessary to destroy all the churches of the region.'" Nettleton goes on to note that the report hasn't surfaced anywhere except on the Council on Foreign Relations Web site, which was then picked up by The Atlantic.
As Saudi Arabia is ranked second on the Open Doors World Watch List (a compilation of the 50 countries where persecution of Christians is most severe), the news is not really a surprise. There is no provision for religious freedom in the constitution of this Islamic kingdom. All citizens must adhere to Islam, and conversion to another religion is punishable by death. Public Christian worship is forbidden; worshippers risk imprisonment, lashing, deportation and torture. Evangelizing Muslims and distributing non-Islamic materials is illegal. Muslims who convert to Christianity risk being subjected to honor killings, and foreign Christian workers have been exposed to abuse from employers.
Sheikh Abdul-Aziz ibn Abdullah, the Grand Mufti of Saudi Arabia, created an implication with his assertion. Nettleton explains, "This was in a meeting with Kuwaiti officials who came to Saudi Arabia. They were asking this Islamic official, 'What should we do about the churches?' His statement was, 'There should be no Christian churches on the Arabian Peninsula.'"
According to the report, the delegation wanted to confirm Shariah's position on churches. Essentially, Nettleton says, "If you have churches in Kuwait, which they do, they should be destroyed. The interesting thing about this is that there are no churches in Saudi Arabia. There are no church buildings that are allowed to exist there. So he clearly wasn't talking only for his own country. He was trying to export this ideology to the surrounding countries."
This proclamation could affect churches in Kuwait, Oman, Yemen, Bahrain, Qatar and the United Arab Emirates. Nettleton observes that "in most of these countries, we're not talking about a lot of churches; we're talking about a few that are allowed to exist primarily to serve foreigners that are living in that country." However, the UN Human Rights Council has yet to take a stand on such blatant violations of freedom of religion. How the governments implement this declaration is yet to be determined. "Most of these countries would consider their native population to be 100 percent Muslim," says Nettleton. "We could see more persecution. We could see churches closed or destroyed. We just kind of wait to see now."
The concern raised by this view has not escaped the notice of the US government, though. The most recent International Religious Freedom report (annually issued by the State Department) remarks, "Freedom of religion is neither recognized nor protected under the law and is severely restricted in practice. The government officially does not permit non-Muslim clergy to enter the country to conduct religious services, although some do so under other auspices and are able to hold services. These entry restrictions make it difficult for non-Muslims to maintain regular contact with clergy. This is particularly problematic for Roman Catholics and Orthodox Christians, whose faiths require that they receive sacraments from a priest on a regular basis."
For the most part, says Nettleton, the Mufti's statement will be buried in the mainstream media. However, he's encouraging believers to ask God to continue to intervene. There are Christ followers in Saudi Arabia who "take great risk to follow Jesus Christ," he says. "They take great risk to even talk about their faith with another person. We can pray for God's protection over them. We can pray for encouragement." What's more, ask God to continue His intervention. While the Arabian Peninsula isn't a place for the more traditional approach to sharing Christ's story, there are still many who are encountering the gospel. "Pray that Muslims will come to know Christ," Nettleton says. "One of the things that's happening, not only in Saudi Arabia but across the Middle East, is Muslims encountering Christ through dreams and visions and other supernatural ways."
US On Alert for Nuclear EMP Attack From North Korea
April 3….(WND) US officials quietly are expressing concern that North Korea could use its "space launch vehicle" to explode a high-altitude nuclear device over the United States, creating an electromagnetic pulse that would destroy major portions of the US electrical grid system as well as the nation's critical infrastructures. The concern is so great that US officials who watch North Korea closely are continually monitoring the status of the North Korean "space launch vehicle," whose status could suggest a pre-emptive nuclear strike against the United States. They are aware of the three-stage missile North Korea launched last December that also orbited a "package," which experts say could be a test to orbit a nuclear weapon that then would be deorbited on command anywhere over the US and exploded at a high altitude, creating an EMP effect. This concern is in addition to North Korea's latest threat to strike targets in Hawaii and the continental US, as well as possible attacks against US bases in South Korea and Japan.
The 28-year-old North Korean leader, Kim Jong-un, has signed an order for North Korea's strategic rocket forces to be on standby to fire at US targets. The signing was against a photo backdrop following an emergency meeting of his senior military leaders showing large maps that were labeled "US mainland strike plan, specifically at Hawaii, Washington, DC, Los Angeles and Austin, Texas." One WND reader who traced the targeting to Texas said that it really was aimed at the Dallas/Fort Worth area. THIS is how an EMP event could bring the world's remaining superpower to its knees.
The latest North Korean threats occurred after the US sent two B-2 stealth bombers to strike targets with inert bombs during joint US-South Korean military exercises, which Kim considered a major provocation. "He finally signed the plan on technical preparations of strategic rockets, ordering them to be on standby to fire so that they may strike any time the U.S. mainland, its military bases in the operational theaters in the Pacific, including Hawaii and Guam, and those in South Korea," according to a statement by the North Korean news agency, KCNA. The statement added that the B-2 flights showed Washington's "hostile" intent, and the "reckless" act had gone "beyond the phase of threat and blackmail."
In response, US Secretary of Defense Chuck Hagel condemned North Korea's actions which to date have included dissolving the 1953 armistice between North and South Korea, severing the military hotline with South Korea and putting its artillery forces on high alert and threatening, once again, nuclear strikes against the US. In recent weeks, North Korea also had released three videos showing a nuclear strike on the US. "We've made very clear that we have the capability and willingness to protect our interests and our allies in the region," according to deputy White House press secretary Josh Earnest. He said that the US military exercises with South Korea should offer "pretty clear evidence" that the US can defend its interests and those of its allies in the region.
Sources say that sending the B-2s was in response to the recent North Korean threats to send a message, a message which Russia and China called a "provocative act." Russia and China have asked the US to continue talking to North Korea and not to take military action against North Korea. In response to North Korea's initial bellicose rhetoric, Hagel ordered the deployment of additional Aegis anti-missile systems for the US West Coast. They originally were destined for Europe. And a second anti-ballistic missile radar is to be installed in Japan. However, the Aegis anti-missile systems won't be operational until 2017, although there are some systems already deployed along the West Coast.
North Korea's continuing threats of a pre-emptive nuclear strike against US targets suggest to US officials that its military is confident in the capability of its missiles and that its recent nuclear testing for miniaturization of a warhead to be placed on a missile similarly was successful.
The fact that US military officials are expressing quiet but increasing concern that North Korea could launch an EMP attack has raised alarms over the preservation of the US national grid and such critical infrastructures as communications, energy, food and water delivery and space systems. This concern recently has been reinforced by a little-publicized study by the US Army War College that said a nuclear detonation at altitude above a US city could wipe out the electrical grid for hundreds, possibly thousands of miles around. The impact would be catastrophic.
Kim also has been defiant of any United Nations Security Council resolutions similarly condemning the recent missile and nuclear tests. China had joined in approving those resolutions. "The time has come to settle accounts with the US," the KCNA agency declared. His war-like tone may be indicative of attempts to solidify military support within his country. Some observers, however, believe the latest threats of a pre-emptive nuclear strike against the US remain for now just domestic posturing and efforts to establish military credentials on Kim's part to show that he is more forceful than his father.
Palestinians Cede Jerusalem Holy Sites Custodianship to Jordan's King
April 2….(DEBKAfile Exclusive Report) A historic agreement signed in Amman Sunday, March 31, between Palestinian leader Mahmoud Abbas and Jordan's King Abdullah II takes a new stand on Jerusalem, one of the core issues subject to negotiation with Israel, by accepting the king as Custodian of the city's Holy Sites. The Palestinians agreed that Abdullah "will oversee and manage the Waqf (Muslim religious authority) in Jerusalem" and represent the interests of the Holy Sites "in relevant international forums through feasible legal means." Where the Palestinian (Wafa) and Jordanian (Petra) versions of the same agreement differ is over the definition of "Palestinian sovereignty."
However, by this document, the Palestinian leader and the king have laid the foundation for a mixed Arab-Palestinian-Israeli framework for managing the shrines holy to Jews (who are not mentioned), Muslims and Christians in Jerusalem. It has opened the door to what many will be perceive as a proposal to internationalize Jerusalem's sanctuaries, a status affirmed but never honored from 1948 to 1967. This foundation will not only raise strong Israeli objections but also be challenged by many Palestinians and therefore will have to last a long and tortuous course to survive. Its importance lies in that the Palestinian Authority has taken the historically momentous step of ceding to the Hashemite throne the custodianship, religious, political, legal, and security of the Muslim shrines on Temple Mount with authority over the Palestinian Waqf.
It means that henceforth, instead of the Palestinian Authority, Israel will have to engage the Jordanian government in discussions of matters pertaining to Temple Mount, especially hyper-sensitive security arrangements. This should not be too much of a stretch since in practice, Israeli and Jordanian intelligence have cooperated quietly on such issues for many years.
The Hashemite House comes out of the accord with Palestinian recognition for the first time as the Custodian of the Holy Places of Jerusalem, especially the Mosque of al Aqsa, a title which parallels the Saudi king's traditional title as Guardian of the Holy Places to Islam in Mecca and Medina.
The degree of US Secretary of State John Kerry's involvement in Jordanian-Palestinian accord is still to be determined and also whether Israeli Prime Minister Binyamin Netanyahu and Justice Minister Tzipi Livni (in charge of negotiations with the Palestinians) were privy to its substance.
The Arab League summit meeting in Doha March 26-27, which debated the dormant Saudi Peace Plan, was certainly not in the picture. Those rulers now have much to chew on. A confederation plan for a Palestinian West Bank state and Jordan was the real subject of Prime Minister Binyamin Netanyahu's recent conversation with King Abdullah in Amman, not Syria. This idea has become a focal talking point in Amman, Washington and Palestinian centers. It ties in with the report from US and Jordanian sources that Israel and the Palestinians will resume talks in the spring. The new Abbas-Abdullah accord appears to be a strong move towards bringing this plan to fruition. That it is a practical document and not just a declaration is indicated by the detailed definition of the Custodian's purview appearing in the Jordanian version: "Recalling the unique religious importance to all Muslims of al-Masjid al-Aqsa with its 144 dunams including include the Qibil Mosque of al-Aqsa, the Mosque of the Dome of the Rock and all its mosques, buildings, walls, courtyards, attached areas over and beneath the ground (a hint at Israeli archeological digs for the Biblical city and Temple)."
Jordan and Palestine also pledged "all efforts to protect Jerusalem and its Holy Sites from Israeli escalatory Judaisation," according to another clause in the Petra version. On at least one very important point the Palestinian and Jordanian communiqués varied significantly: According to PA Minister of Waqf and Religious Affairs Mahmoud Habash, "The agreement confirmed Jordan's historic role in caring for the religious sanctuaries. It also confirmed Palestinian sovereignty over all of Palestine, including East Jerusalem as its capital." However, Article 3:3.1 of the agreement published in full by Jordan puts it this way: "The Government of the State of Palestine, as the expression of the right of self-determination of the Palestinian people, shall have the right to exercise sovereignty over all parts of its territory, including Jerusalem. While hailing their accord as a historic breakthrough, the Palestinian and Jordanian leaders will obviously need to get all parts of their act together before they face Israel.
US Government Ignores Persecution of Christians
April 2….(WND) The US government is absent when it comes to the issue of standing against the increasingly violent and deadly Christian persecution around the world, according to a new book. The charge is the topic of "Persecuted: The Global Assault on Christians," co-authored by Paul Marshall, Lela Gilbert and Nina Shea. Introduced at a Hudson Institute forum, the book says Christian persecution is on the rise worldwide, especially in the Muslim world. Marshall, a senior fellow at the institute, says that it's hard to measure how bad the persecution is getting. "The US has tended to underplay religious persecution in general, and called it something else, and, in the case of Christians, often does not even mention what is happening in places like Iraq and Egypt," Marshall said. "Or, the federal government mentions the fact of persecution of people, but, often with Christians, not their religion nor the fact that they are being persecuted because of their religion, as distinct from race, etc.," Marshall said. The panel also covered the ongoing case of American Pastor Saeed Abedini, who is being held in Iran's infamously brutal Evin Prison. All three co-authors pointed out that it was only in the past week that Secretary of State John Kerry asked the Iranian government to release the American pastor. WND reported last week Kerry's statement as Abedini reportedly was to be moved to a hospital outside of Tehran for medical treatment. However, there is no word on whether Abedini has actually been moved.
Marshall added that there is a price Christians worldwide are paying because of the US government's negligence. "The lack of US attention likely leads to more persecution, when countries believe that they can oppress, and that nobody in the world will protest, they are emboldened to go ahead," Marshall said. He added that there are limits on US power. "Of course the US cannot stop all persecution everywhere, but if we consistently raise the issue and state that there will be costs to those who persecute, then we can reduce it," Marshall said.
Gordon-Conwell Theological Seminary Center for the Study of Global Christianity Director Todd Johnson says the book is accurate. "Yes, I think the Hudson panel correctly represents the situation. I was just with Paul Marshall in Istanbul, Turkey, last week for a conference on religious freedom. I think he and his colleagues have an important point to make specifically as it relates to Christians," Johnson said. "But it is an issue that most governments in the Western world struggle with, so there are not many good examples to follow. I hope that things change as people like Marshall and Shea continue to point to inconsistencies and gaps," Johnson said.
Religious Freedom Coalition President and Founder William Murray said the point of the program was to zero in on the West's deficiencies in addressing religious persecution. "The book and the forum centered on the ignorance of worldwide religious persecution of Christians," Murray said. Murray added that the American church also bears some of the blame. "The fact is that the church in the USA is not dealing with the problem or even discussing it. Christians here in the US think not being able to give Easter cards out at schools is persecution," Murray said. "In Nigeria, it means more than 1,200 murdered last year and countless others.
Pope Refers to "Muslim Brothers" on Good Friday
April 1….(India Times) Pope Francis reached out in friendship to ``our many Muslim brothers and sisters'' during a Good Friday procession dedicated to the suffering of Christians from terrorism, war and religious fanaticism in the Middle East. The new pontiff, who has rankled traditionalists by rejecting many trappings of his office, mostly stuck to the traditional script during the nighttime Way of the Cross procession at Rome's Colosseum, one of the most dramatic rituals of Holy Week. With torches lighting the way, the faithful carried a cross to different stations, where meditations and prayers were read out recalling the final hours of Jesus' life and his crucifixion.
This year, the prayers were composed by young Lebanese, and many recalled the plight of minority Christians in the region, where wars have forced thousands to flee their homelands. The meditations called for an end to ``violent fundamentalism,'' terrorism and the ``wars and violence which in our days devastate various countries in the Middle East.''
Francis, who became pope just over two weeks ago, chose, however, to stress Christians' positive relations with Muslims in the region in his brief comments at the end of the ceremony. Standing on a platform overlooking the procession route, Francis recalled Benedict XVI's 2012 visit to Lebanon when ``we saw the beauty and the strong bond of communion joining Christians together in that land and the friendship of our Muslim brothers and sisters and so many others.'' ``That occasion was a sign to the Middle East and to the whole world, a sign of hope,'' he said. Friday's outreach followed Francis' eyebrow-raising gesture a day earlier, when he washed and kissed the feet of two women, one a Muslim, in the Holy Thursday ritual that commemorates Jesus' washing of his apostles' feet during the Last Supper before his crucifixion. Breaking with tradition, Francis performed the ritual on 12 inmates at a juvenile detention center, rather than in Rome's grand St. John Lateran basilica, where in the past, 12 priests have been chosen to represent Jesus' disciples.
Before he became pope, the former Cardinal Jorge Mario Bergoglio long cultivated warm relations with Muslim leaders in his native Argentina. In one of his first speeches as pope, he called for the church and the West in general to ``intensify'' relations with the Muslim world. The Vatican's relations with Islam hit several bumps during Benedict XVI's papacy, when he outraged Muslims with a 2006 speech quoting a Byzantine emperor as saying some of Prophet Muhammad's teachings were ``evil and inhuman.'' And in 2011, the pre-eminent institute of Islamic learning in the Sunni Muslim world, Cairo's Al-Azhar institute, froze dialogue with the Vatican to protest Benedict's call for greater protection of Christians in Egypt.
However, Francis' past outreach to the Muslim community in Argentina seems to have changed that. Al-Azhar's chief imam, Sheik Ahmed el-Tayyib, sent a message of congratulations to Francis on his election and said he hoped for cooperation. The Vatican's efforts to reconcile with the Islamic world have not been welcomed by all. Italy's most famous Muslim converts to Catholicism, Magdi Allam, announced last week he was leaving the church because of its ``soft'' stance on Islam. Allam was baptized by Benedict XVI in 2008 during the high-profile Easter Vigil service when the pope traditionally baptizes a handful of adults. There has been no Vatican comment on his about-face.
Thousands of people packed the Colosseum and surrounding areas for the nighttime procession, holding candles wrapped in paper globes as Francis sat in silent prayer as a giant torch-lit crucifix twinkled nearby. Some in the crowd had Lebanese flags around their shoulders in an indication of the special role Lebanese faithful played in this year's procession.
Lebanon has the largest percentage of Christians in the Middle East, nearly 40 percent of the country's 4 million people, with Maronite Catholics the largest sect. As civil war has raged in neighboring Syria, Lebanon's Christian community has been divided between supporters and opponents of Syrian President Bashar Assad. Overall, Christians in the Middle East have been uneasy as the Arab Spring has led to the strengthening of Islamist groups in most countries that have experienced uprisings. Thousands of Christians have fled the region, a phenomenon that the Vatican has lamented, given Christianity's roots in the Holy Land. ``How sad it is to see this blessed land suffer in its children, who relentlessly tear one another to pieces and die!'' said one of the Good Friday meditations. ``It seems that nothing can overcome evil, terrorism, murder and hatred.'' Francis picked up on that message, saying Christ's death on the cross is ``the answer which Christians offer in the face of evil, the evil that continues to work in us and around us.'' ``Christians must respond to evil with good, taking the cross upon themselves as Jesus did,'' he said.
Pope Francis Calls For World Peace, & World Unity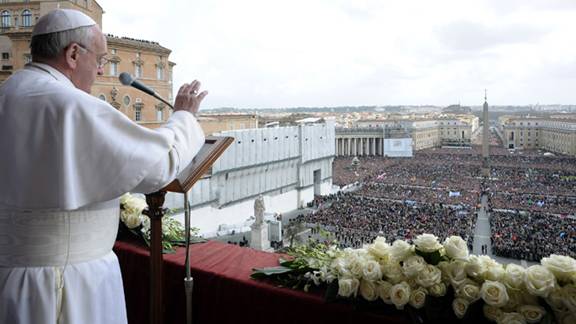 April 1….(Fox News) Pope Francis used his first Easter Sunday Mass as pontiff to make a world peace plea, saying that conflicts have lasted too long in Syria, in addition to urging unity in Africa and the Korean peninsula. Before a crowd of 250,000 in St. Peter's Square, he also denounced warfare and terrorism across the world, and decried a greedy affluent world looking for `'easy gain." "And so we ask the risen Jesus, who turns death into life, to change hatred into love, vengeance into forgiveness, war into peace," Pope Francis said. "Peace for the Middle East, and particularly between Israelis and Palestinians, who struggle to find the road of agreement, that they may willingly and courageously resume negotiations to end a conflict that has lasted all too long. Peace in Iraq, that every act of violence may end, and above all for dear Syria, for its people torn by conflict and for the many refugees who await help and comfort. How much blood has been shed! And how much suffering must there still be before a political solution to the crisis will be found?"
Pope Francis called for stability in Nigeria, Mali, the Democratic Republic of Congo and the Central African Republic, where he said many have been forced to leave their homes amid violence. The first pontiff to come from the Jesuits, an order with special concern for the poor, and the first pope to name himself after St. Francis, a medieval figure who renounced wealth to preach to the down-and-out, Francis lamented that the world is "still divided by greed looking for easy gain. Wearing cream-colored vestments, Francis celebrated Mass on the esplanade in front of the basilica at an altar set up under a white canopy. He frequently bowed his head as if in silent reflection. Francis added that he was especially remembering "the weakest and the neediest" and praying that all of humanity be guided along "the paths of justice, love and peace."
PA, Jordan Ink Deal to 'Defend' Jerusalem Against 'Judaization'
(Jordan, PA sign agreement confirming their "common goal to defending" Jerusalem and their opposition to so-called "Judaization" of Jerusalem.)
April 1….(Arutz) Jordan's King Abdullah II and Palestinian Authority Chairman Mahmud Abbas signed an agreement on Sunday confirming their "common goal to defending" Jerusalem and their opposition to efforts to "Judaize" the eternal capital of Israel. Palestinian Authority Religious Affairs Minister Mahmoud al-Habash said the agreement confirmed Jordan's role as protector of the city's holy sites and "Palestinian sovereignty over all of Palestine, including its capital East Jerusalem," the Ma'an news agency reported.
A statement by the palace said the deal confirms Jordan's historic role as custodian of Muslim holy sites in Jerusalem, particularly the Temple Mount, and outlines coordination between the two sides. "In this historic agreement, Abbas reiterated that the king is the custodian of holy sites in Jerusalem and that he has the right to exert all legal efforts to preserve them, especially Al-Aqsa mosque," the statement said, according to AFP. "It is also emphasizing the historical principles agreed by Jordan and Palestine to exert joint efforts to protect the city and holy sites from Israeli judaization attempts." "It also reaffirms the historic principles upon which Jordan and Palestine are in agreement as regards Jerusalem and their common goal of defending Jerusalem together, especially at such critical time, when the city is facing dramatic challenges and daily illegal changes to its authenticity and original identity," it said. "Jerusalem is currently facing major challenges and attempts to change its Arab, Muslim and Christian identity," the palace claimed, as the Arab world further attempts to strip Jerusalem of its Jewish identity.
---