WEEK OF JUNE 23 THROUGH JUNE 29
Supreme Court Strikes Down Key Provision in Defense of Marriage Act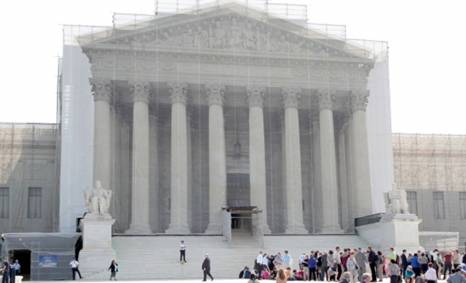 June 27….(The Christian Post) The Supreme Court, today struck down a key provision in the Defense of Marriage Act (DOMA) that denied benefits to legally married gay couples. With a narrow vote of 5-4, married gay couples will now be able to receive the same tax, health and retirement benefits that are available to married heterosexual couples. Hundreds of gay marriage supporters had gathered outside the Supreme Court, many of whom had waited for hours to hear the long-awaited decisions on DOMA and Proposition 8, a voter-approved amendment in California that defined marriage as a union between a man and a woman.
In March, the Supreme Court heard arguments on California's Proposition 8, Hollingsworth v. Perry case, before reviewing the federal Defense of Marriage Act in US v. Windsor, but decided to hold off on a decision until June. United States v. Windsor, which concerns DOMA, involves Edith Windsor of New York, who married her female partner in Canada, who later passed away in 2009. When Windsor inherited the property, DOMA prevented her from being seen as the lawful surviving spouse, and thus she faced a tax bill of close to $360,000, something which would not have been the case if the government recognized same-sex marriage as equal with marriage between a man and a woman.
While most US states uphold the traditional definition of marriage, same-sex couples are now allowed to get married in 12 US states, as well as Washington, DC. A number of prominent political leaders have called for DOMA to be struck down, including President Barack Obama and former President Bill Clinton, who signed DOMA back in 1996. Obama has said that if he could, he'd strike down all bans on same-sex marriage. Clinton, on the other hand, explained that circumstances of the time led him to sign DOMA. In March, the former president said that now times have changed, and he described the law as "unconstitutional."
Most Christians, however, oppose the redefinition of marriage, insisting that it is a union solely between a man and a woman. Eric Teetsel, executive director of the Manhattan Declaration, a movement of Christians from various denominations with traditional values working to preserve the sanctity of life, marriage and religious liberty, said earlier this week that regardless of the Supreme Court's decision, conservative Christians need to continue fighting for the culture of marriage and family. "It took generations to erode marriage and family, with disastrous consequences. Restoration may take just as long," Teetsel said. "No matter this week's rulings, we will rededicate ourselves to renewing in American culture the profound beauty, mystery and holiness of faithful marriage. We will be patient in the light of any setbacks. And, in the end, we will succeed, if we do not give up."
Earlier in June, a New York Times/CBS News of 1,022 Americans found that the majority feel the federal government should allow states to continue dealing with marriage on their own. Sixty percent of those who responded to the poll said that it should be the states' prerogative, while only 33 percent said the federal government should have the right to define marriage. The same poll found that 51 percent of Americans are in favor of legalizing gay marriage, while 44 percent oppose it.
FOJ Note: America was founded upon this continent as a Republic, and our Constitution written rooted upon precepts and laws that do not change with fads and public opinion polls. As so demonstrably stated by former President Clinton, "times have changed, and thus new laws of change" are now needed. If Americans come to view beastiality as a civil right, then our nation can vote it to become legal. But there is a God in Heaven, who never changes, and His law has never changed. He is the one who sanctioned that marriage should be between one woman and one man, and He has not changed with the times, as our so-called progressive politicians have. We are not progressing as a nation, but we are descending down a decadent spiral that will only end in judgment and decay!
(Proverbs 29:1-2 He, that being often reproved hardeneth his neck, shall suddenly be destroyed, and that without remedy. When the righteous are in authority, the people rejoice: but when the wicked beareth rule, the people mourn.) (Joel 2:17 Spare thy people, O Lord, and give not thine heritage to reproach, that the heathen should rule over them: wherefore should they say among the people, Where is their God?) (Malachi 3:6 For I am the Lord, I change not;)
Christians Are They're the Real Victims in the Gay Marriage Fight
(the Supreme court has created a new class of citizens to demonize: conservative Christians)
June 27….(Atlantic Wire) The Supreme Court struck down the Defense of Marriage Act as unconstitutional because, in part, the court found the law was created to express disapproval of a class of citizens: gay couples. But in doing so, the court created a new class of citizens to demonize: conservative Christians. At least, that's according to some conservative commentators and the religious right. As Justice Antonin Scalia predicted in his dissent, Erickson thinks gay marriage will come to the states soon. He says, "Once that happens, there will be an even messier culture war designed to treat traditionalism as a noxious notion of a bygone era, the equivalent of Jim Crow." Fox News' Todd Starnes tweeted on Wednesday, "Won't be long before they outlaw the Bible as hate speech." And: "they're going after the preachers next."
It was Rush Limbaugh who really clarified the stakes. "The Supreme Court majority, in its ruling, actually uses language that insults and demonizes the people who support marriage as it's been since the beginning of time," Limbaugh said on his radio show. There's an angry mob out there, and they're going to start hunting people down, people that believe in the Bible, preachers, and anyone that disagrees with them.
Should Jews Be Allowed to Pray On the Temple Mount
June 26….(Open Zion) If we think you're praying, you'll be arrested," the Israeli cop said impatiently as we walked up the Mughrabi Bridge, almost like a flight attendant reminding a delinquent passenger to turn off her iPhone.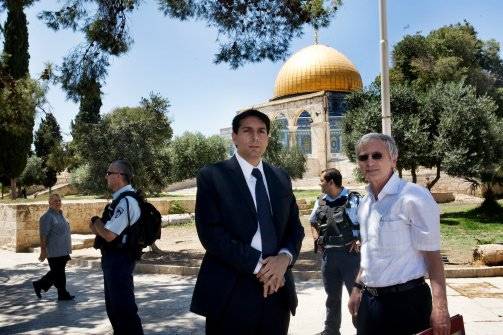 (Danny Danon (C) is taken on a tour of the Temple Mount or Al-Aqsa Mosque Compound the holy site for Judaism and the Islam in Israeli annexed east Jerusalem's old City )
One person in our Orthodox Jewish tour group was intent on being that passenger, the annoying one who gets kicked off the plane. As soon as we ascended the Temple Mount to us, Judaism's holiest site, he began moving his lips without speaking audible words, à la Hannah in the Book of Samuel. In other words, he was praying. Like Eli, the High Priest, our police supervisors were irate: a burly officer promptly whisked him off for detention. Suddenly scared of ending up in Israeli jail, none of us uttered a single word the rest of the trip.
Being on the Temple Mount in 2005, the whole atmosphere felt extremely tense, as if chaos could erupt at any moment. Maybe it was the ubiquitous presence of Israeli police, or it could have been the suspicious glances we received from the site's Muslim patrons. Walking around, past instances of violence seemed very real: the 1990 riots that resulted in the death of 20 Palestinians, the 2000 riots triggered by Ariel Sharon's visit that later turned into the Second Intifada, and the many smaller skirmishes that take place on a monthly basis. No fights broke out during my visit, but it felt as though one could have.
The Temple Mount has earned that resumé of instability through an entangled religious history. Known to Muslims as Haram al Sharif, it is host to twin mosques, Al Aqsa and the Dome of the Rock, and the former location of the First and Second Jewish Temples. When Israel captured the Temple Mount/Haram al Sharif in 1967, it reached a compromise with Jordan, under which Israeli police would provide for the site's security and the Wakf, an Islamic trust, would oversee the site's religious functions. As the aforementioned incidents show, this arrangement has been far from peaceful.
I bring up my story from 2005 because the Temple Mount/Haram al Sharif and the issue of prayer is, once again, in the news. On Wednesday, a group of Jewish teenagers was arrested on the Temple Mount because they looked as though they were praying. The youth reportedly prostrated themselves, in violation of the same restriction I was warned of seven years ago. These arrests are a common occurrence. A Reuters report released yesterday says that, "This month alone, Israeli police have hauled away half a dozen Israelis from the site." During the holiday of Sukkot, 10 Jews were arrested for attempting to pray. Even Knesset members, notwithstanding their legal immunity, have been arrested on the Temple Mount.
Behind these arrests is a growing movement for Temple Mount prayer. Fifteen thousand religious Jews visited the Temple Mount in 2012, up from 9,000 in 2011. Ninety percent of religious Jews in Israel think they should have the right to pray on the Temple Mount, and a majority of the Israeli public agrees with them. Even the US State Department has weighed in on the matter, mentioning Temple Mount restrictions as a blemish on Israel's otherwise sterling record of protecting religious freedom. On its surface, the struggle for Temple Mount prayer has all the trappings of a liberal and democratic movement for religious equality. Temple Mount activists have drawn favorable comparisons between themselves and the Women of the Wall.
Some Knesset members have responded to this pressure by arguing for changes to the Temple Mount law. Their efforts clash with strong institutional backing: Israel has fiercely defended its restriction as necessary to security, fending off judicial and legislative challenges. Its security establishment is deeply worried that extremists, motivated by Messianic theology, might attack the mosques on Haram al Sharif to pave the way for the Third Temple. Even though extremists' plots are unlikely to succeed, police worry that their attempts might be sufficient to provoke Muslim unrest and trigger widespread violence.
Palestinian Muslims, for their part, are extremely wary of any deviation from the status quo. Palestinian Authority officials, including Mahmoud Abbas, watch the growing Temple Mount movement with increasing concern, they believe extremists are actively trying to destroy Al Aqsa Mosque and build the Third Temple, not just seeking the right to pray in the enclosure. Are their fears overblown? Can we trust the Temple Mount movement? Having been a national-religious Jew once, obviously I only speak for myself—I would have loved nothing more than to see the Third Temple built. This is why I take seriously the threats of people like Moshe Feiglin; I know that they mean what they say. I've visited the Temple Mount Institute and have witnessed their plans in action: they've designed the Menorah, the showbread table, and the priestly garments, all to actually use in a Third Temple. In 1984, terrorists affiliated with this ideology came close to blowing up the Dome of the Rock. But, as a religious Jew, I would also have seen prayer on the Temple Mount as a generous consolation prize in lieu of the actual Temple. This is why I think it's unfair to impute the apocalyptic designs of Moshe Feiglin onto the rest of the Temple Mount movement. I understand when religious Jews say they only want to feel a historical "connection," through prayer, to the site that was once the fulcrum of Judaism. I also believe, like an Israeli judge made clear on Sunday, that it is manifestly unjust for a liberal democratic country to limit the religious freedom of a particular group, even if there is reason to suspect that group has provocative intentions. Indeed, it violates the Basic Law on which Israel was founded, and is underpinned by the same logic that was used to justify discrimination against Israeli Palestinian Arabs.
Israel must do what it can to undermine the subversive activities of Moshe Feiglin and his ilk, and it already is. But in so doing, it should not discriminate against all Jews. Ironically, the best solution is one that the most extreme Temple Mount activists would likely despise: for Israel to transfer sovereignty of the Temple Mount/Haram al Sharif to an international body that could objectively govern the site and ensure religious access to all faiths. International control might not completely eliminate the possibility of violence, but it would ameliorate the perception of bias that fuels outrage on both sides. If the Temple Mount movement were to accept it, it would go a long way toward verifying their intentions as benign. It would reassure us that extremists are not at its helm.
Saudis: We 'Cannot be Silent' in Face of Iran
June 27….(Jerusalem Post) Saudi Arabia regards the involvement of Iran and Hezbollah in Syria's civil war as dangerous and believes the rebels must be offered military aid to defend themselves, the kingdom's foreign minister said on Tuesday. Speaking at a news conference with US Secretary John Kerry in Jeddah, Prince Saud al-Faisal added that Saudi Arabia "cannot be silent" about Iranian intervention and called for a resolution to ban arms flows to the Syrian government. "The kingdom calls for issuing an unequivocal international resolution to halt the provision of arms to the Syrian regime and states the illegitimacy of the regime," Prince Saud said.
More than 93,000 people have been killed in the Syrian conflict, which began as a popular protest movement against Syrian President Bashar Assad but has descended into a civil war with sectarian overtones. Nearly 1.7 million refugees have fled into neighboring countries, including Lebanon, where clashes between armed groups supporting opposing sides in Syria have fueled fears of a lapse back into sectarian civil war. Syria's foreign minister said on Monday that a decision by Western and Arab countries to arm the rebels posed a danger to peace talks and would prolong the two-year conflict.
America Goes Gay!
June 27….(Bloomberg) A divided US Supreme Court overturned the federal law that defines marriage as a heterosexual union, saying it violates the rights of married gay couples by denying them government benefits. The vote on the Defense of Marriage Act was 5-4. Justice Anthony Kennedy joined the four Democratic-appointed justices in the majority. The historic cases, which marked the first time the high court had ever considered gay-marriage rights, reached the justices as the movement was showing unprecedented momentum. Twelve states and the District of Columbia have legalized same-sex marriage, six of them in the last year.
Joining Kennedy in the majority on the Defense of Marriage Act ruling were Justices Ruth Bader Ginsburg, Stephen Breyer, Sonia Sotomayor and Elena Kagan. Dissenting were Chief Justice John Roberts and Justices Antonin Scalia, Clarence Thomas and Samuel Alito.
FOJ Note: This decision by the US Supreme Court seals America's fate in God's assignment for judgment. Coming just days before America's 237th birthday, this "change," (remember Obama's campaign theme) wrought about by political leftists and progressives is being paraded as a great accomplishment in our nation's civil evolution. But in reality, it brings America to the brink of Sodom and Gomoraha.
Supreme Court Strikes Down DOMA
June 27….(AP) The Supreme Court has struck down a federal law barring the recognition of same-sex marriage in a split decision, ruling that the law violates the rights of gays and lesbians and intrudes into states' rights to define and regulate marriage. The court also dismissed a challenge to California's gay marriage ban, ruling that supporters of the ban did not have the legal standing, or right, to appeal a lower court's decision striking down Proposition 8 and clearing the way for gay marriage to again be legal in the nation's most populous state.
The decisions mark the first time the highest court has waded into the issue of same-sex marriage. Just 40 years ago, the Supreme Court tersely refused to hear a case brought by a gay couple who wanted to get married in Minnesota, writing that that their claim raised no significant legal issue. At the time, legal opinions often treated homosexuality as criminal, sexually deviant behavior rather than involuntary sexual orientation. Since then, public opinion has changed dramatically on gay people and same-sex marriage, with a majority of Americans only just recently saying they support it. Now, 12 states representing about 18 percent of the US population allow same-sex marriage. With California, the percentage of people living in gay marriage states shoots up to 30.
Obama Sequestration Cuts US Army by 10 Brigades, 80,000 Troops
June 27….(Newsmax) Noting that there's "no way around" budget cuts imposed by the sequester, Army Chief of Staff Gen. Ray Odierno said Tuesday that combat forces would be cut by 80,000 troops over the next five years, marking the largest US military downsizing since World War II. According to the New York Times, the reduction in brigades at 10 bases across the country comes as the Army works to cut its active-duty force to 490,000, following the wars in Iraq and Afghanistan.
The Times reported that brigades are being cut from Fort Drum, N.Y.; Fort Campbell and Fort Knox in Kentucky; Fort Hood and Fort Bliss in Texas; Fort Bragg, NC; Fort Carson, Colo.; Fort Riley, Kan.; Fort Stewart, Ga.; and Joint Base Lewis-McChord in Washington. The downsizing is a part of the Pentagon's response to the 2011 Budget Control Act, which resulted in this year's funding sequester. The sequester requires $487 billion in military spending cuts through 2021. A brigade consists of 3,500-5,000 personnel, and the Army plans to cut its brigade combat teams from 45 to 33 by 2017. An additional two brigades in Germany are being eliminated this year. A third brigade combat troop, also overseas, will be eliminated as well.
The upcoming reductions, which Odierno said would occur primarily through attrition from retirements and voluntary separations , will be the fourth round of military budget cuts since President Barack Obama took office. Odierno warned, however, that more cuts in officer personnel and other areas would be coming unless Congress moves to stop full implementation of the sequester. House Armed Services Committee Chairman Howard "Buck" McKeon echoed the general's concern, saying in a statement they "don't begin to reflect the crippling damage sequestration will do to our armed forces and national security."
President Obama Met With Muslim Leader to Ban Criticism of Islam
June 27….(Fox News) A Muslim scholar whose group supports Hamas, who has urged the UN to criminalize blasphemy and who is the deputy of an Egyptian cleric banned from the US over his radical statements was able to secure a visit at the White House earlier this month. A report from The Investigative Project on Terrorism uncovered a statement on the website of Sheikh Abdullah Bin Bayyah claiming he met June 13 with Obama administration officials in Washington.
Bin Bayyah is vice president of the International Union of Muslim Scholars, a group founded by Egyptian cleric Yusuf Qaradawi, a Muslim Brotherhood leader who has called for the death of Jews and Americans. A 2009 fatwa from the group barred "all forms of normalization" with Israel. Bin Bayyah also got behind a campaign to pressure the UN to pass a resolution criminalizing blasphemy. On his website, as first reported by IPT, Bin Bayyah said the Obama administration requested the meeting.
Cold War is Back, Israel on High Alert
June 27….(DEBKA) Shortly after the DEBKA aired a special video on the Syrian war's widening circle, Moscow announced Wednesday June 26, that the evacuation which had begun Friday of all military and diplomatic personnel from Syria was now complete, including the Russian naval base at Tartus. "Russia decided to withdraw its personnel because of the risks from the conflict in Syria, as well as the fear of an incident involving the Russian military that could have larger consequences," said a defense ministry official in Moscow. He stressed that a 16-ship naval task force in the eastern Mediterranean remains on post and arms shipments, including anti-air weapons, would continue to the Syrian government in keeping with former contracts.
In another sign of an impending escalation in Syria, the Israeli Golan brigade staged Wednesday an unannounced war maneuver on the Golan, attended by Prime Minister Binyamin Netanyahu and top army chiefs. In London, Prime Minister David Cameron called the government's National Security Council into session in Downing Street on Syria. Opposition leader Ed Milliband was invited to attend the meeting, a custom observed only when issues of the highest security importance are discussed.
Earlier Wednesday, Debkafile carried the following report in its special video presentation under the heading: Putin and Obama cross swords on Syrian. What Next? The sullen confrontation between Presidents Vladimir Putin and Barack Obama at the G8 Summit in Northern Ireland last week condemned Syria to five months of escalating, unresolved vicious warfare, that is until the two leaders meet again in September. For now, tempers are heating up between Washington and Moscow on Syria and other things too, notably the elusive American fugitive Edward Snowden. US and Israeli intelligence watchers see the Syrian crisis entering seven ominous phases:
1. A five-month bloodbath centering on the battle for Aleppo, a city of 2.2 million inhabitants.
The Syrian army plus allies and the fully-mobilized opposition will hurl all their manpower and weapons into winning the city. Military experts don't expect the rebels to hold out against Assad's forces beyond late August.
2. Neither side has enough manpower or game-changing weaponry for winning the war outright. That is, unless Presidents Obama or Putin steps in to retilt the balance.
3. The US and Russia are poised for more military intervention in the conflict up until a point just short of a military clash on Syrian soil, or elsewhere in the Middle East. US intelligence analysts have judged Putin ready to go all the way on Syria against the US, no holds barred. The Russian president is meanwhile deliberately goading Washington and raising temperatures by playing hide-and-seek over the former NSA contractor Edward Snowden, charged with espionage for stealing and leaking classified intelligence. At home, he is considered variously as a traitor and a brave whistleblower. For several hours Snowden vanished between Hong Kong and Moscow, until the Russian president admitted he was holed up in the transit area of Moscow airport and would not be extradited by Russia to the United States.
4. Iran, Hizballah and Iraq will likewise ratchet up their battlefield presence.
5. A violent encounter is building up between Middle East Shiites flocking to Syria to save the Assad regime alongside Russia, and the US-backed Sunni-dominated rebel forces.
It could scuttle the secret US-Iranian negotiating track on its nuclear program, which was buoyed up by the election of the pragmatic Hassan Rouhani as President of Iran.
6. The Geneva-2 Conference for a political solution for the Syrian crisis is dead in the water. Moscow and the US are divided by unbridgeable issues of principle, such whether Bashar Assad should stay or go and Iranian representation.
7. So long as the diplomatic remains stuck in the mud, the prospects of a regional war spreading out of the Syrian conflict are rising. Iran, Israel, Jordan and Lebanon may be dragged in at any moment, if they have not already, like Lebanon.
A small mistake by one of the Syrian warring parties in Syria could, for example, touch off Israeli retaliation and a wholesale spillover of violence.
Almost Half Israeli Arab Citizens Want Israel Replaced
June 26….(Times of Israel) A majority of Israeli Arabs feel they would be justified in launching an intifada, or uprising, if their situation did not improve, according to a survey conducted by Haifa University sociologist Sammy Smooha. At the same time, more than half reconcile themselves to living in a state with an Israeli-Hebrew culture. The extensive survey, called the 2012 Index of Arab-Jewish Relations in Israel, shows that compared to the first survey in 2003, Arab Israelis feel increasingly disconnected from and hostile to the state, though they desire greater integration. Jews, on the other hand, are slightly more open to the concerns of their Arab neighbors. Forty-eight percent of Arabs said they thought a Palestinian state would someday replace Israel, whereas only 19% held this opinion in 2003. Eighty-two percent blame Jews for the "Nakba," or national Palestinian catastrophe in the wake of the 1948 war.
Thirty-one percent of Arabs surveyed said they didn't believe millions of Jews were murdered in the Holocaust, compared with 28% in 2003. The survey revealed the fear Arab Israelis feel regarding their future in the state. More than two-thirds worry about a population transfer, and 62% feel they cannot trust most Jews. In general, Arabs are more likely in 2012 to view Jews negatively compared to 2003, whereas Jews are slightly less likely to hold similar stereotypes about Arabs. Almost three-quarters of respondents said the Israeli government treated them as second-class citizens. In 2003, 65% of Arabs said Israel has a right to exist as a Jewish, democratic state, but that number dropped to 47% in 2012. The report pointed to a sharp increase in Arab participation in Nakba Day ceremonies. In 2003, only 13% marked the occasion at least once in their lives, but by 2012, 48% had.
Still, Arab Israelis showed a desire to become more integrated into mainstream Israeli society. Forty-two percent said they favored living in Jewish neighborhoods, and more than one-third want their children to attend Jewish high schools. Nearly three-quarters want Arab political parties to join Israeli coalition governments. A healthy 55% said they would rather live in Israel than any other country, but the number was down from 71% in 2007.
The Index also showed a growing desire by Israeli Jews to accommodate their Arab countrymen. Three-quarters believe that Arabs should have full citizenship rights, and 56% said Israel should allow Arabs to administer their own educational, religious, and cultural institutions, up from 49% last year. More than half of the Jewish respondents said they would accept Arab parties in government coalitions. However, suspicions remain. A full 65% fear that Arabs are endangering the state because of their attempts to change its Jewish character, down from 72% in 2003, and 58% avoid Arab areas in Israel.
Friends of Syria Group Agree to give Syrian Rebels Military Aid
(Aid to be funneled through Western-backed rebel command to enable it "to counter brutal attacks" by Assad regime and its allies.)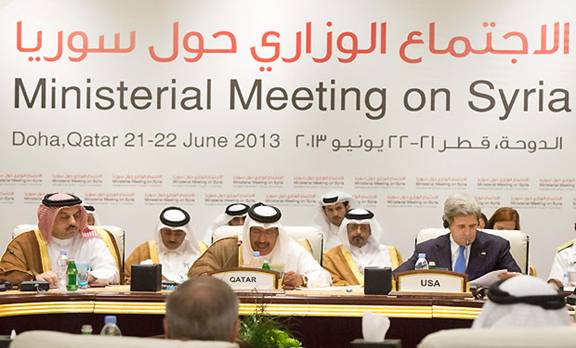 June 24….( Reuters) Western and Arab countries opposed to President Bashar Assad agreed at talks in Qatar on Saturday to give urgent military support to Syrian rebels fighting for his overthrow, and to channel it through a Western-backed rebel military command. Ministers from the 11 main countries which form the Friends of Syria group including the United States, European and regional Sunni Muslim powers, agreed "to provide urgently all the necessary materiel and equipment to the opposition on the ground, each country in its own way in order to enable them to counter brutal attacks by the regime and its allies". They also condemned "the intervention of Hezbollah militias and fighters from Iran and Iraq", demanding that they withdraw immediately.
After a series of military offensives by Assad's troops, including the Hezbollah-backed recapture of a strategic border town two weeks ago, US President Barack Obama said the United States would increase military support for the rebels. Two Gulf sources said on Saturday that Saudi Arabia, which has taken a lead role among Arab opponents of Assad, had also accelerated delivery of advanced weapons to the rebels. "In the past week there have been more arrivals of these advanced weapons. They are getting them more frequently," one source said, without giving details. Another Gulf source described them as "potentially balance-tipping" supplies.
Rebel fighters say they need anti-aircraft and anti-tank weapons to stem the fightback by Assad's forces in a civil war that has already killed 93,000 people and driven 1.6 million refugees into neighboring countries.
The increasingly sectarian dynamic of the war pits mainly Sunni Muslims against forces loyal to Assad, from the Alawite minority which is an offshoot of Shi'ite Islam, and has split the Middle East along Sunni-Shi'ite lines.
Qatar's Prime Minister Sheikh Hamad bin Jassim al-Thani, whose country has been one of the most open backers of the anti-Assad rebels, said that supplying them with weapons was the only way to resolve the conflict. "Force is necessary to achieve justice. And the provision of weapons is the only way to achieve peace in Syria's case," Sheikh Hamad told ministers at the start of the talks. "We cannot wait due to disagreement among Security Council members over finding a solution to the problem," he said. He also called on Lebanon's government to halt intervention by Lebanese factions in the neighboring conflict. Lebanese Hezbollah guerrillas led the assault by Assad's forces to recapture the town of Qusair earlier this month.
Speaking before Secretary of State John Kerry arrived in Doha, a US official said the United States wanted to ensure that "every kind of assistance" offered by the 11 countries attending the meeting go through the Supreme Military Council, led by General Salim Idriss, a former commander in Assad's army. The meeting in Qatar brings together ministers of countries that support the anti-Assad rebels, France, Germany, Egypt, Italy, Jordan, Qatar, Saudi Arabia, Turkey, United Arab Emirates, Britain and the United States. Western countries hope by channeling assistance through Idriss they can reduce the influence in the opposition ranks of radical Islamist groups such as the al-Qaida-linked Nusra Front.
The United States and Russia, which back opposing sides in the conflict, hope to bring them together for negotiations in Geneva originally scheduled for this month. But Hague said there was little prospect of that happening "in the next few weeks."
Putin Slams West for Plan to Arm Syrian Rebelss
(If US recognizes one organization as a terrorist group, how can it deliver arms to those opposition members?)
June 24….(Times of Israel) Russsian President Vladimir Putin warned the West on Friday against arming the Syrian rebels, which he said included terrorist groups, and against a hasty exit by Syrian President Bashar Assad, which would lead to a political vacuum. "If the United States recognizes one of the key Syrian opposition organizations, al-Nusra, as terrorist, how can one deliver arms to those opposition members? Where will they end up? What role will they play?" asked Putin during a press conference with German Chancellor Angela Merkel at the St. Petersburg International Economic Forum. The United States announced earlier this month that it will start directly arming the rebels, a major policy shift by the Obama administration.
Putin also defended his country's continued support for and arms sales to the embattled Syrian regime, positing that Russian supplies do not violate any international laws. He also warned that should Assad leave, a political vacuum would ensue. "If Assad goes today, a political vacuum emerges, who will fill it? Maybe those terrorist organizations. Nobody wants this, but how can it be avoided? After all, they are armed and aggressive," said Putin. The Russian president charged that the rebels have been receiving weapons and support from the West for some time and that Syria would not be in the situation it is in without outside intervention.
Putin's criticisms came hours after a report in the Los Angeles Times claiming the US has been secretly providing arms training to the Syrian opposition since late 2012, in US training bases run by CIA operatives and special operations troops in Jordan and Turkey. "The premise that Assad is using weapons against his own people can be accepted as true only with significant reservations, because those who are fighting Assad are far from being the Syrian people but are rather militants, who are perfectly trained and armed, including from abroad, through channels that include those run by terrorist organizations," said Putin.
FOJ Note: Mr. Putin is no dummy. In fact, he is asking the right questions. Who would replace Assad? My opinion is that there is no good alternative in sight there.
Franklin Graham Urges Obama to Stay Out of Syrian Conflict
June 24….(WND) In a letter to President Barack Obama, Franklin Graham, president of Samaritan's Purse, urges him to not send military aid to the rebels fighting Syrian President Bashar al-Assad, arguing that those rebels are just as evil as Assad. "Giving guns to the opposition will prolong the war; and unfortunately, the opposition is no better than the present government, in some ways it may even be worse," Graham wrote in the letter dated June 14. "Mr. President, I would strongly urge you to keep America out of the Syrian conflict. In my opinion, the best thing that we can do is to help bring both sides to the negotiating table."
The White House recently announced it would provide small arms to some of the rebel groups fighting Assad after it was discovered that Assad had used chemical weapons. Samaritan's Purse is an international aid organization. As president of that organization, Graham noted that he has been to Syria many times and worked with Christian churches there.
Graham also drew a comparison with the civil war in Sudan. In Sudan, he noted, the United States did not arm the "freedom fighters" in the South but did help negotiate a peace settlement. "Why don't we follow the same approach in Syria?" Graham asked. In Sudan, Graham wrote, the fight between the mostly Christian South and the Islamic government in the North is one that is clearly "good against evil." But in Syria, the battle lines are not that clear. "The opposition that you want to arm is guilty of atrocities not only against their fellow Muslims, but they are also guilty of atrocities against the Christian community across the country," he wrote.
Four Iranian Converts Convicted of Crime of Becoming Christians
June 24….(Worthy News) While the world's attention was focused on Iran's presidential election, four converts to Christianity were found guilty by an Iranian court of no longer being Muslims. The Revolutionary Court in Shiraz Sunday sentenced Mojtaba Seyyed-Alaedin Hossein, Mohammad-Reza Partoei, Vahid Hakkani and Homayoun Shokouhi to nearly four years in prison for attending a house church, evangelizing and contacting foreign governments, thereby threatening Iran's fragile national security.
Although the four converts were first arrested in a February raid on a house church, their initial hearing wasn't held until eight months later, according to Mohabat News. However, time is not on the side of Hakkani, who continue to suffer from GI bleeding while Iranian authorities refuse to treat his condition, which is only getting worse; unfortunately, however, political prisoners in the Ebrat ward of Iran's notorious Adel-Abad prison are routinely deprived of all their basic needs, including medical attention.
WEEK OF JUNE 16 THROUGH JUNE 22
Syrian Civil War 'Dress Rehearsal' for World War?
June 20….(Israel Today) A leading Israeli expert on the Middle East suggested last week that with all the foreign involvement in the ongoing Syrian civil war, that conflict could be the harbinger of a much wider conflagration. Prof. Itamar Rabinovich, a former Israeli ambassador to Egypt, told those attending a symposium at Tel Aviv University that in the eyes of the Arab world, the final outcome of the Arab Spring hinges on the results of the struggle in Syria. According to Prof. Rabinovich, the Syrian conflict is a Middle Eastern version of the Spanish Civil War, which was itself a dress rehearsal for World War II.
In Syria, the opposition is supported by the US and Europe, while the regime is backed by Hezbollah, Iran, and China. For Russia, the stakes are also high. Moscow sees Syria as a key to restoring Russia's status in the region, so replacing the Assad regime with one supportive of America is unacceptable to Russian President Vladimir Putin.
Still, it's Iran that probably has the most to lose in Syria. Prof. Rabinovich explained that Iran has actually invested more than Russia when it comes to Syria. Iran wants hegemony in the Middle East, and thus far it has only managed to export its Islamic Revolution to Lebanon, in the form of Hezbollah, which is today more powerful than the state itself. Iran needs to maintain Syria as a vital link to Hezbollah if it hopes to succeed anywhere else in the region. "The civil war in Syria is not being run by Assad, but rather by Iranian military commanders," Rabinovich revealed. "Hezbollah is also commanding much of the fighting with troops that entered the country from Lebanon."
Russian Marine/Air Power Head for Syria Versus Western Intervention
June 20….(DEBKA) Just one day after the G8 Summit ended in the failure of Western leaders to overcome Russian resistance to a resolution mandating President Bashar Assad's ouster, Moscow announced Wednesday June 19, the dispatch to Syria of two warships carrying 600 Russian marines. They were coming, said the official statement, "to protect the Russian citizens there." Russian Deputy Air Force Commander Maj.-Gen. Gradusov added that an air force umbrella would be provided the Russian expeditionary force if needed. Debkafile's military sources report that the pretext offered by Moscow for sending the force thinly disguised Russian President Vladimir Putin's intent to flex Russian military muscle in response to the delivery of Western heavy arms to Syrian rebels, which Debkafile first revealed Tuesday, June 18.
Putin was giving the West due warning that if they persisted in arming the rebels any further, a Russian troop landing in Syria would take place in the guise of an operation to evacuate endangered Russian nationals. Some 20,000 Russians live in Syria. In former stages of the conflict, they were given the locations of assembly points should Moscow decide to lift them out of the war-torn country. The evacuation of Russian citizens would in itself dramatically denote the expansion of the Syrian conflict.
The Russian Interfax news agency identified the warships heading for Syrian shores as the Nikolai Filchenkov Large Landing Ship and the Vice Admiral Kulakov, a Udaloy 1 class destroyer, each carrying 300 marines. Aboard the former are also 20 tanks and 15 armored troop carriers or military trucks, while the Kulakov is designed mainly for anti-submarine warfare.
Debkafile's military sources also reveal that, although Moscow described the warships are preparing to depart for Syria, they have actually been cruising in the Mediterranean since mid-May. Upon receiving their orders, they could reach Syria in just a few hours. Maj.-Gen. Gradusov was quoted as saying: "We won't abandon the Russians and will evacuate them from the conflict zone, if necessary." Asked if the Russian aircraft were intended as air cover for the Russian warships coming to Syria, he declined to answer, saying said only "They will act on orders." The Moscow communiqué does not say when the Russian forces are scheduled to reach port in Syria or in which part of the country they are to operate. Our military sources say their impending presence in the war zone and the possibility of Western-supplied weapons in Syrian rebel hands causing Russian casualties are enough to contribute three more perilous dimensions to the Syrian conflict:
1. The harming of Russian soldiers would give Moscow an excuse to pile on more military reinforcements in Syria;
2. Russian air power is on its way to Syrian airspace before any decision is taken in the West about imposing a US-led no-fly zone over Syria;
3. The presence of Russian military personnel in Syria would pour more fuel on the already highly incendiary diplomatic and military tensions between Washington and Moscow over this conflict.
US Government Lied About 1996 TWA Flight 800 Crash
June 20….(WND) The producers of an upcoming documentary on TWA Flight 800, which exploded and crashed into the waters off Long Island, NY, on July 17, 1996, killing all 230 people on board, claim to have proof that a missile caused the Paris-bound flight to crash. And six former investigators who took part in the film say there was a cover-up and want the case reopened. "There was a lack of coordination and willful denial of information," Hank Hughes, a senior accident investigator for the National Transportation Safety Board, said on Wednesday during a conference call with reporters. "There were 755 witnesses. At no time was information provided by the witnesses shared by the FBI."
Jim Speer, an accident investigator at the time of the crash for the Airline Pilots Association, who sifted through the recovered wreckage in a hangar, said he discovered holes consistent with those that would be formed by a high-energy blast in the right wing. He requested it be tested for explosives. When the test came back positive, he said, he was "physically removed" from a room by two CIA agents. The investigators would not speculate on the reasons for the alleged cover up or who would have fired the missile that they believe took down the plane. After a four-year investigation, the NTSB concluded the plane was destroyed by a center fuel tank explosion likely caused by a spark from faulty wiring. Dozens of eyewitnesses in the Long Island area "recalled seeing something resembling a flare or firework ascend and culminate in an explosion," the CIA said in a 2008 report. "Had the crash been the result of state-sponsored terrorism, it would have been considered an act of war."
Also from the report: The CIA responded to the FBI's request within 24 hours of the crash. This support consisted primarily of help from the Counter-terrorist Center in the Directorate of Operations and from a small group of analysts in the Office of Weapons, Technology and Proliferation in the Directorate of Intelligence. But after an eight-month investigation, the CIA "concluded with confidence and full substantiation that the eyewitnesses had not seen a missile."
Muslim Extremists Kill Christian Pastor in Nigeria
June 20….(Worthy News) Suspected members of Boko Haram attacked four settlements in Nigeria's Borno State, killing a pastor and torching four churches, according to All Africa Global Media. Boko Haram is a militant Islamist sect that has been active in Nigeria since 2009. The group's name translates as "Western culture is forbidden by Islam," e.g., Western ways are sinful. Haram's Islamists, who likely fled their camps in the Sambisa Games Reserve after they were destroyed by the Nigerian military, attacked the Hwa'a, Kunde, Gathahure and Gjigga settlements by night, fire bombing four churches while chanting "Allahu Akbar".
After burning the church in Hwa'a, the Rev. Jacob Kwiza of the Church of Christ in Nigeria was killed by the Islamists after he refused to renounce his faith in Christ. Tada Garuta, a resident told local media, "The gunmen threw some explosives at our church, they forced the retired Reverend to renounce Christianity and be converted to Islam, but Rev. Jacob defied the gunmen's threat of being killed." "After he refused to renounce his faith. They slit his throat with sharp objects; and stole grain and livestock before they left.
Obama Meets Putin Amid G-8 Tension Over Syria
| | |
| --- | --- |
| | (FOJ) Mr. Putin and Mr. Obama don't look very happy seated side by side in this photo at the G8. That's because Russia and Putin have thwarted the West's attempts to replace Assad in Syria. Alas Ezekiel's prophecy about Damascus looks like a tinderbox! |
June 18….(Bloomberg) President Barack Obama and his Russian counterpart, Vladimir Putin, put their escalating differences over Syria on display even as they agreed to urge both sides in the civil war there to the negotiating table. "Of course, our opinions do not coincide" on Syria, Putin said when the two went before the television cameras after meeting on the sidelines of an international summit in Northern Ireland. "We do have differing perspectives," Obama said, while adding that "we share an interest in reducing the violence." Some Western leaders publicly rebuked Putin for his support of Syrian President Bashar al-Assad as the Group of Eight summit of industrial nations began.
Obama and Putin focused on areas of agreement in remarks after the talks, their first one-on-one meeting in a year, both offering hopes that the Iranian elections would open way for progress in negotiations to that country's nuclear program and noting common efforts on counterterrorism. Obama began his comments by thanking Russia for assistance with the investigation into the Boston marathon bombings. Both said they would encourage forces they are backing in the Syrian civil war to begin talks planned in Geneva. The two powers are now openly arming opposing sides in Syria.
Chemical Weapons
The White House, declaring Assad had crossed a "red line" Obama drew by using chemical weapons against rebels, announced last week the US would begin sending direct military aid to the Syrian opposition. Russia continues to arm Assad, a long-time ally. European nations, led by France and Britain that are participating in the summit, have pressed the US to take stronger action in Syria even as Russia has thwarted efforts to sanction Assad in the United Nations. Western allies, particularly British Prime Minister David Cameron and French President Francois Hollande, will probably encourage Obama to take stronger action in support of the rebels in private conversations at the meeting, said Andrew Tabler, a Middle East analyst at the Washington Institute for Near East Policy. Obama is sending small arms while rebels seek heavy weapons.
Criticizing Putin
Hollande, on his arrival at Lough Erne, criticized Russia's backing of Assad. "How can we allow Russia to continue delivering weapons to the Assad regime when the opposition receives very few and is today massacred?" Hollande told reporters. "How can we allow that there is now proof of chemical weapons, to which extent we don't yet know, but they have been used, without there being unanimous condemnation from the international community and the G-8?"
Putin dismissed such criticism in comments yesterday after a meeting with Cameron in London. Both sides in the civil war have "blood on their hands," Putin said. "Russia supplies arms to the legitimate government of Syria according to international law," he said. "We breach nothing. And we call on our partners to act the same way." Assad warned in an interview with a German newspaper that Europe will "pay the price" for arming rebels in future terrorist attacks. The Syrian president told Germany's Frankfurter Allgemeine Zeitung in an interview in Damascus that rebels will only export "terrorists" back to Europe and America. He denied using chemical weapons to attack enemies in his country's civil war.
Military Initiative
The Syrian army, strengthened by reinforcements from Lebanon's Shiite militia Hezbollah and aid from Iran and Russia, has seized the initiative on the battlefield from opposition forces. As the international leaders met, the army was mounting an offensive to retake Aleppo, the nation's commercial center and largest city. The Syrian rebels' Supreme Military Command, headed by Major General Salim Idris, has pleaded for heavy arms that go beyond the light weapons such as machine guns and rocket-propelled grenades that the US is preparing to furnish. The Obama administration is debating whether to provide heavier weapons amid concerns that the material could fall into the hands of Islamic extremists, said a US official familiar with the discussions. The official said Obama authorized providing small arms under a classified order instructing the Central Intelligence Agency to arrange delivery.
Summit Consultation
Ben Rhodes, an Obama deputy national security adviser, speaking before the president departed Washington, said because of the "fluid situation" in Syria, the president will "consult with all the leaders" at the summit about "the types of support we're providing the opposition." Russian officials continue to question US and European assertions of proof that Assad's regime used chemical weapons against the opposition. "There are too many emotions around Syrian issue," Alexey Kvasov, a senior Kremlin official, told reporters. While agreeing that the use of chemical weapons "is not acceptable," he said there isn't sufficient proof to lay blame. Russia will work with other members of the G-8 to form a joint position on Syria, Kvasov said. Cameron told reporters today before the summit got under way that the UK hasn't yet decided whether to provide arms to the Syrian rebels and is focused on a negotiated transition.
Syrian Factions
"President Assad wants us to think that the only alternative to him is extremism and violence," Cameron said. "Yet there are millions of people in Syria who want a peaceful and democratic future. We should be on their side." Cameron said there remains "a big difference" on Syria between Russia and the West, which was laid bare in his talks with Putin in London yesterday. "There's clearly a big difference between the Russian position and the position of Britain, France and America and many others," he said. "But where there is common ground is that we all see the need for a peace conference, a peace process and a transition to a different regime in Syria." Canadian Prime Minister Stephen Harper said Putin stands alone among the G-8 members in his support of Assad. "We in the West have a very different perspective on this situation," Harper said yesterday in Dublin. "Mr. Putin and his government are supporting the thugs of the Assad regime for their own reasons that I do not think are justifiable."
Saudi Arabia Supplying European Missiles to Syria Rebels
June 18….(YNET) Saudi Arabia, a staunch opponent of President Bashar Assad since early in Syria's conflict, began supplying anti-aircraft missiles to rebels "on a small scale" about two months ago, a Gulf source said on Monday. The shoulder-fired weapons were obtained mostly from suppliers in France and Belgium, the source told Reuters. France had paid for the transport of the weapons to the region. The Gulf source said without elaborating that the kingdom had begun taking a more active role in the Syrian conflict in recent weeks due to the intensification of the conflict. Riyadh has grown increasingly concerned after the entry of Lebanese Shi'ite militia Hezbollah into the conflict and the subsequent rebel defeat in Qusair. The supplies were intended for General Salim Idriss, leader of the Supreme Military Council of the Free Syrian Army (FSA), who was still the kingdom's main "point man" in the opposition, the source said. Speaking to Reuters on Friday, Idriss urged Western allies to supply anti-aircraft and anti-tank missiles and to create a no-fly zone, saying if properly armed he could defeat Assad's army within six months. Idriss said his forces urgently needed heavier weapons in the northern city of Aleppo, where Assad's government has said its troops are preparing a massive assault.
Syria's civil war grew out of protests that swept across the Arab world in 2011, becoming by far the deadliest of those uprisings and the most difficult to resolve. Just months ago, Western countries believed Assad's days were numbered. But momentum on the battlefield has turned in his favor, making the prospect of his swift removal and an end to the bloodshed appear remote without outside intervention. The reported Saudi supplies began shortly before its main Western ally the United States announced it would likely send arms to Syrian rebels, a development long encouraged by Riyadh. Top Saudi princes have been shuttling from one ally to another in recent weeks for meetings about Syria. Saudi Arabia has led Arab opposition to Assad since early in Syria's revolution. It was the first country to cut diplomatic ties with Damascus last year and took an early lead in funding and arming the rebels and helping them logistically. However, its support has always been tempered by concerns of blowback from the more militant Islamist groups spearheading the battle against Assad, diplomatic sources in Riyadh say. Riyadh has spent years combating domestic militants who waged a bombing campaign against Saudi and US targets over the last decade.
Iran Elects New President
(elected president faces battle with Guards on nuclear issue)
June 18….(DEBKA) Hassan Rouhani, 64, will take office as President of Iran on August 3 with the endorsement of Supreme Leader Ayatollah Ali Khamenei, who Saturday congratulated him as the winner of Friday's election by 50.7 percent in the first round of voting. Rouhani garnered 18 million ballots out of the 72 percent turnout of 50 million eligible voters, with the help of "reformist' sympathizers and minority communities. With the news, spontaneous celebrations spread across Iran. The president-elect told the people that his success was "a victory of moderation over extremism." Rouhani is generally portrayed hopefully by Western and Israeli media as a moderate. But when the supreme leader struck a quiet deal with him as successor to Ahmadinejad, he knew his record as a loyal product of Iran's clerical elite who, a decade ago, served as Iran's National Security Adviser, and is at one with the Islamic Republic's missions and goals. At the same time, his style is conciliatory and subtle and he has gone out of his way to save Iran from confrontation with bigger and stronger opponents. For instance, as Iran's chief nuclear negotiator between 2003 and 2005, Rouani ordered the temporary suspension of uranium enrichment activities when the United States invaded Iraq in 2003 so as not to give the Americans a pretext for attacking Iran as well. A readiness for a more flexible approach to Iran's nuclear controversy with the West was hinted at by the supreme leader. In his message of congratulation to the new president Saturday night, Khamenei wrote: "I urge everyone to help the president-elect and his colleagues in the government, as he is the president of the whole nation."
Putin Empowered By Syrian Victories
June 18….(DEBKA) Russian President Vladimir Putin set the tone for the discussion on Syria at the G8 summit which opened in Northern Ireland Monday, June 17, when he rounded harshly on British Prime Minister David Cameron in London Sunday for supporting rebels who "kill their enemies and eat their organs." Hitting back at this week's decision by US President Barack Obama, whom he will meet privately at the summit, to give the rebels "military support," Putin asked: "Are these the people you want to supply weapons?"
The lovely lakeside venue for the two-day gathering of US, Russian, Canadian, French, German, Italian, British and Japanese leaders was worlds away from the Syrian killing fields, where 93,000 people have died, according to conservative estimates. But the Russian president will make sure that the voices of his allies, Bashar Assad, Ayatollah Ali Khamenei and Hassan Nasrallah, are heard loud and clear in the conference hall, until they are acknowledged the victors of the vicious Syrian war. If world leaders hold back, the Syrian and Hizballah armies will continue their march on Aleppo, Syria's biggest town, for their next bloodbath.
The light arms President Obama proposes to release for the Syrian rebels don't give them the smallest fighting chance against the fighter-bomber jets, heavy tanks, and unlimited ordnance supplied Bashar Assad's army by Russia and the missiles and troops coming in from Hizballah and Iran. This unbeatable preponderance makes the fall of Aleppo and Assad's victory a foregone conclusion. As matters look now, Assad's drive to recapture all of Aleppo will continue after the G8 leaders have gone home. Putin, Khamenei, Assad and Nasrallah will continue their hideous victory march and the US, West and Israel will continue to hold back from intervention that could reverse the tide.
Assad Plans to Open 'Resistance' Front in Golan
(According to Lebanese daily, Syrian president believes focusing on Israel will unify his people)
June 17….(Times of Israel) According to a Lebanese report on Friday, embattled Syrian President Bashar Assad plans to open a "resistance" front on the Golan Heights and thinks such a move could unify the various factions in Syria. Assad possesses a detailed plan for the establishment of such a front, reported the Beirut-based Al Akhbar daily, which would in practice be similar to the terrorist group Hezbollah's activities in southern Lebanon. Syrian society's involvement in the "resistance" against Israel, according to statements attributed to Assad and allegedly made to recent visitors at his presidential palace in Damascus, would unite the homefront.
Obama: Syria has Crossed 'Red Line' with Chemical Weapons
June 17….(Washington Times) The Syrian government used chemical weapons against rebel forces trying to overthrow the regime, the Obama administration said Thursday, acknowledging that President Bashar Assad has without doubt crossed the "red line" President Obama laid down for US action in the country's bloody civil war. The announcement, which confirms what the US and its allies have long suspected, ups the pressure on Obama, and key lawmakers on Capitol Hill said this means there must be deeper US military involvement in the 2-year-old civil war. Putting American boots on the ground in Syria isn't being considered, but administration officials said the US will increase the "scope and scale" of its military assistance to the Assad government's opponents, who have suffered major setbacks at the hands of government forces in recent weeks. Administration officials told The Associated Press on Thursday night that Mr. Obama has authorized sending arms directly to the rebels, but that no decisions had been made on the timing or on what kind of weaponry would be made available. Yet Obama has made no decision on US participation in establishing a no-fly zone over Syria, and questions remain about the unity of the opposition and the presence of radical Islamist elements in the coalition.
Russia Angry With US Over Syria, Rebel Arms
June 17….(In The Days) President Barack Obama on Thursday authorized the US to arm fighters against the Syrian President Bashar al-Assad's regime, reversing a policy of giving only nonlethal support to the country's opposition in the two-year-old civil war. The White House cited confirmation that Assad's regime had killed up to 150 people with chemical weapons as the reason for its about-face.
UK Prime Minister David Cameron said Friday that Britain hadn't yet decided to supply arms to the rebels alongside the US, but welcomed Washington's assessment of Syrian weapons use. The UK and France were instrumental in ending a European Union arms embargo on Syria, paving the way for increased European assistance to rebel forces. Mr. Cameron and French officials are expected to meet over the weekend with Gen. Salim Idris, who commands the coalition of moderate rebel forces, to discuss future aid including possible arms supplies, according to a French official.
The US move comes ahead of a meeting between Mr. Obama and Russian President Vladimir Putin on the sidelines of the G-8 summit in Northern Ireland that starts on Monday. Syria will be at the top of the agenda for the sidelines meeting. UN Secretary-General Ban Ki-moon said Friday that he opposed the US decision to send arms. "There is no such military solution. Only a political solution can address this issue sustainably; therefore, increasing the flow of arms to either side would not be helpful," he said. Mr. Ban also emphasized the need for Syria to allow an on-the-ground investigation to "establish the facts."
The Syrian government on Friday dismissed US charges that it used chemical weapons as "full of lies," accusing Mr. Obama of resorting to fabrications to justify his decision to arm Syrian rebels, the AP reported. Officials from Russia, which along with Iran is Assad's most prominent foreign ally, said the evidence on chemical weapons isn't rock solid. "We had a meeting with American representatives in which Americans tried to present information to us about the regime's use of chemical weapons, but frankly speaking, the evidence Americans set out looks unconvincing," Yuri Ushakov, the Kremlin's top foreign-policy aide, said Friday, according to Russian news agencies. Ushakov cited the flawed intelligence assessment from the administration of former President George W. Bush about weapons of mass destruction in the run-up to the Iraq war but said he didn't want to "draw any parallels." Other Russian officials were more direct. "The data on Assad's use of chemical weapons is fabricated just like the lies about weapons of Saddam Hussein's weapons of mass destruction," read a tweet on the feed of Alexei Pushkov, chairman of the Russian parliament's international relations committee. "Obama is going down the path of G. Bush."
The Kremlin opposes any international action against its longtime client, Assad. Russian officials have said they plan to fulfill a 2010 contract for the S-300 missiles as a way to deter potential outside military intervention in the Syrian civil war. Western powers and Israel have opposed the sale of the system. Both Moscow and the US are pushing the warring sides in Syria to enter peace talks in the coming months. But opposition forces have appealed for more weapons and support in recent weeks as they've lost ground against Assad's troops and their allies from the Iranian-backed Lebanese organization Hezbollah.
The US conclusion that Assad's regime has wielded chemical weapons was based on physical samples taken from Syria, said Ben Rhodes, the White House Deputy National Security Adviser for Strategic Communications. He said the US relied on "multiple, independent streams of information" and has "high confidence" in the assessment. He cited four dates and locations at which the US believes Assad's regime employed chemical weapons. The Syrian regime is a longtime Kremlin ally dating back to the days of the Cold War. Mr. Putin has opposed outside military intervention in the Syrian conflict, and Russia has joined China in vetoing three UN resolutions that were aimed at forcing Mr. Assad to step down. Mr. Ushakov stressed that the US and Russia aren't "competing on Syria," and are trying to find a constructive way to solve the problem in the region.
Obama Sends US Marines to Syrian Border
June 17….(The Times) The Obama Administration has sent three hundred US Marines to be deployed on the northern Jordan-Syrian border to pave the way for the West to arm Syrian rebels. A Patriot anti-aircraft missile system, designed to protect Jordanian territory from attack by Assad missiles, has also been moved into the area. The deployment, seen by The Times north of Al-Mafraq, has been put in place under cover of a military training exercise being held this week. Last week, Obama sent 3000 Marines to the Gulf of Aqaba.
Iran to Send 4,000 Troops to Aid President Assad Forces in Syria
(World Exclusive: US urges UK and France to join in supplying arms to Syrian rebels)
June 17….(The Independent) Washington's decision to arm Syria's Sunni Muslim rebels has plunged America into the great Sunni-Shia conflict of the Islamic Middle East, entering a struggle that now dwarfs the Arab revolutions which overthrew dictatorships across the region. For the first time, all of America's 'friends' in the region are Sunni Muslims and all of its enemies are Shiites. Breaking all President Barack Obama's rules of disengagement, the US is now fully engaged on the side of armed groups which include the most extreme Sunni Islamist movements in the Middle East.
The Independent on Sunday has learned that a military decision has been taken in Iran, even before last week's presidential election, to send a first contingent of 4,000 Iranian Revolutionary Guards to Syria to support President Bashar al-Assad's forces against the largely Sunni rebellion.
Iran is now fully committed to preserving Assad's regime, according to pro-Iranian sources which have been deeply involved in the Islamic Republic's security, even to the extent of proposing to open up a new 'Syrian' front on the Golan Heights against Israel.
In years to come, historians will ask how America, after its debacle in Iraq and its humiliating withdrawal from Afghanistan scheduled for 2014, could have so blithely aligned itself with one side in a titanic Islamic struggle stretching back to the seventh century death of the Prophet Mohamed. The profound effects of this great schism, between Sunnis who believe that the father of Mohamed's wife was the new caliph of the Muslim world and Shias who regard his son in law Ali as his rightful successor, a seventh century battle swamped in blood around the present-day Iraqi cities of Najaf and Kerbala, continue across the region to this day. A 17th century Archbishop of Canterbury, George Abbott, compared this Muslim conflict to that between "Papists and Protestants".
America's alliance now includes the wealthiest states of the Arab Gulf, the vast Sunni territories between Egypt and Morocco, as well as Turkey and the fragile British-created monarchy in Jordan. King Abdullah of Jordan, flooded, like so many neighbouring nations, by hundreds of thousands of Syrian refugees, may also now find himself at the fulcrum of the Syrian battle. Up to 3,000 American 'advisers' are now believed to be in Jordan, and the creation of a southern Syria 'no-fly zone,' opposed by Syrian-controlled anti-aircraft batteries, will turn a crisis into a 'hot' war. So much for America's 'friends'.
America's new enemies include the Lebanese Hizballah, the Alawite Shiite regime in Damascus and, of course, Iran. And Iraq, a largely Shiite nation which America 'liberated' from Saddam Hussein's Sunni minority in the hope of balancing the Shiite power of Iran, has, against all US predictions, itself now largely fallen under Tehran's influence and power. Iraqi Shiites as well as Hizballah members, have both fought alongside Assad's forces. Washington's excuse for its new Middle East adventure, that it must arm Assad's enemies because the Damascus regime has used sarin gas against them, convinces no-one in the Middle East. Final proof of the use of gas by either side in Syria remains almost as nebulous as President George W. Bush's claim that Saddam's Iraq possessed weapons of mass destruction.
For the real reason why America has thrown its military power behind Syria's Sunni rebels is because those same rebels are now losing their war against Assad. The Damascus regime's victory this month in the central Syrian town of Qusayr, at the cost of Hizballah lives as well as those of government forces, has thrown the Syrian revolution into turmoil, threatening to humiliate American and EU demands for Assad to abandon power. Arab dictators are supposed to be deposed, unless they are the friendly kings or emirs of the Gulf, not to be sustained. Yet Russia has given its total support to Assad, three times vetoing UN Security Council resolutions that might have allowed the West to intervene directly in the civil war.
In the Middle East, there is cynical disbelief at the American contention that it can distribute arms, almost certainly including anti-aircraft missiles, only to secular Sunni rebel forces in Syria represented by the so-called Free Syria Army. The more powerful al-Nusrah Front, allied to al-Qaeda, dominates the battlefield on the rebel side and has been blamed for atrocities including the execution of Syrian government prisoners of war and the murder of a 14-year old boy for blasphemy. They will be able to take new American weapons from their Free Syria Army comrades with little effort. From now on, therefore, every suicide bombing in Damascus, every war crime committed by the rebels, will be regarded in the region as Washington's responsibility. The very Sunni-Wahabi Islamists who killed thousands of Americans on 11th September, 2011, who are America's greatest enemies as well as Russia's, are going to be proxy allies of the Obama administration.
For the Russians, of course, the 'Middle East' is not in the 'east' at all, but to the south of Moscow. (FOJ Note: as specifically mentioned by the prophet Ezekiel) Fifteen per cent of Russians are Muslim. Six of the Soviet Union's communist republics had a Muslim majority, 90 per cent of whom were Sunni. And Sunnis around the world make up perhaps 85 per cent of all Muslims. For a Russia intent on repositioning itself across a land mass that includes most of the former Soviet Union, Sunni Islamists of the kind now fighting the Assad regime are its principal antagonists.
It is a sign of the changing historical template in the Middle East that within the framework of old Cold War rivalries between Washington and Moscow, Israel's security has taken second place to the conflict in Syria. Israel should fear an Islamist caliphate in Damascus far more than a continuation of Assad's rule. The West's support for Syrian rebels is a strategic attempt to crush Iran. But Iran is going to take the offensive. Even for the volatile Middle East, the stakes in Damascus are high stakes.
FOJ Note: The present Damascus geopolitical scenario could lead the whole world into the climactic days of the great Apocalypse!
Jordan Ready to Fight any Threat from Syrian Conflict
June 17….(YNET) Jordan's King Abdullah said on Sunday the kingdom was ready to fight to protect itself against any threat to its security from the escalating civil war in neighboring Syria. He was speaking as Jordanian and US forces proceeded with joint military exercises with the participation of 17 other countries. Diplomats say the exercises, which entered their second week, aim to send a strong message to Syrian President Bashar Assad. "If the world does not help as it should, and if the matter becomes a danger to our country, we are able at any moment to take the measures to protect the country and the interest of our people," King Abdullah told military cadets at a graduation ceremony in southern Jordan. A Pentagon spokesman said on Saturday Defense Secretary Chuck Hagel has approved a Jordanian request for American F-16s and Patriot missiles to remain in the Western-backed kingdom after the end of the military maneuvers. The decision to put Patriot batteries, an air and missile defense system in Jordan has particularly angered Russia, Assad's main international ally, which accuses the West of fanning the conflict in Syria.
Hizballah Units Placed Near Golan
(Some units receive "limited-use" chemical arms)
June 17….(DEBKA) American sources claimed Saturday, June 15, that the "military support" the Obama administration promised the Syrian opposition Friday consisted of automatic weapons, mortars and recoilless rocket grenades (RPGs) for delivery within three weeks through Turkey. Those items, say Debkafile's military sources, are no more than a mockery of the rebels' needs. Any Middle East arms trafficker can quickly lay hands on advanced anti-air and anti-tank missiles for a price running into tens of thousands of dollars, whether in Lebanon, Egyptian Sinai, the Palestinian Authority, or even in trading among the Syrian rebel militias themselves. The going prices, according to our sources, are for instance, up to $50,000 for a shoulder-borne Grail SA-7 anti-air missile and $40,000 for a T-55 tank in poor technical condition plus 40 shells.
After the US weapons arrive, the huge imbalance between the rebels' and Syrian army's arsenals will be as stark as ever. It widens constantly with the landing almost every few hours of Russian and Iranian air transports delivering military equipment to cover the ongoing war requirements of the Syrian army and Hizballah.
Friday, as Iranians elected a new president, their supreme leader Ayatollah Ali Khamenei said in a speech: "To the Americans, I say, OK, to hell with you. Any one who listens to you is a loser. The Iranian people have never attached any value to their enemies." And in Beirut, Hizballah's Hassan Nasrallah said: "Where we need to be, we will be. Where we began assuming responsibilities, we will continue to assume responsibilities" and, he added, no one in Lebanon will be allowed to interfere with this. Nasrallah, half of whose military strength is fighting for Bashar Assad in Syria, was warning Hizballah's foes at home in Lebanon, that he is still strong enough to deal with any opponents of his Syrian venture as well.
On the heels of the bravado from Tehran and Beirut, a statement heard Friday from Damascus strongly pointed to the three allies' forthcoming direction. Syrian President Bashar Assad said: "We have plans to open a resistance front on the Golan Heights," adding that "such a move could unify the various factions in Syria." This was the first time Assad had disclosed his plans to join "the resistance" against Israel as a diversion for breaking up the rebel front against his regime. He spoke after ordering the Syrian and Hizballah troops to peel off into two heads and advance simultaneously on two fronts, one, for their major offensive to recapture Aleppo, and two, the Golan, which is divided between Syria and Israel. Debkafile's military sources report that Thursday night, the first movements were detected heading toward the Syrian side of the Golan and the Jordanian border, from the Syrian and Hizballah military concentrations piling up in the last two weeks around the southwestern town of Deraa.
Senior officers in the IDF's Northern command have no doubt that Assad plans to deploy Hizballah units on the border of Israeli Golan while a Syrian back-up force will take up position on the Jordanian border. According to some intelligence sources, rudimentary "limited-use" chemical weapons have been handed out to some of the Hizballah units operating in Syria. They come in the form of plastic canisters, roughly the size of a tin of canned food, which can be fired or simply lobbed by hand. Poisonous sarin nerve gas escapes through two holes upon impact. This device was developed by Iran for the Syrian army to use on a small scale to save Assad from being accused of using a "weapon of mass destruction."
In Washington, US and Israeli officials took turns Friday night in junking their red lines for Syria. The Obama administration confirmed that the Syrian government's use of chemical weapons against the opposition on multiple occasions was "on a small scale." Israel's Defense Minister Moshe Ya'alon said in a lecture that Israel had set the Assad regime three red lines against supplying advanced weapons to Hizballah or any other terrorist group; letting them have chemical weapons or allowing Israel to be attacked from the Golan. Both the US administration and Israel have been overtaken by events. By downplaying the scale of Syrian chemical warfare and providing the rebels with nothing more than light weapons, Washington is in effect granting Assad a license to continue his "small scale" use of chemical weapons. And the Israeli defense minister chose to ignore the fact that the Syrian ruler is past trampling over Israel's red lines, safe thus far from evoking an effective response. The sense of the rest of his remarks at the Washington Institute for Near East Policy Friday are equally abstruse: "Israel will not intervene in Syrian in part because any such intervention would harm the side Israel favors," said Ya'alon. But he did not address the reverse situation which is more realistic, whereby Syria and Hizballah are preparing to "intervene" in Israel.
The impression gained from his remarks was that, just as the Obama administration has chosen to hold back from a pointed response to Assad's use of chemical weapons, so too Israel is backing away from coming to grips with the offensive build-up targeting its borders. Is Moshe Ya'alon simply toeing the line of Obama's non-intervention policy for Syria? At all events, he never mentioned by a single word the fact that Hizballah has been armed with "limited-use chemical weapons,"either before or after his meeting with Defense Secretary Chuck Hagel early Saturday.
Syria Training Troops for Assault on Israel
June 17….(DEBKA) Thousands of Syrians are currently training in Iran to serve as a force ready to storm Israel's northern Golan Heights, according to informed Middle Eastern security officials. The officials said between 3,000 and 5,000 Syrian men were being trained in the event Syrian President Bashar al-Assad decides to open a front against the Golan Heights, which borders Syria. The training is being overseen by the Al Quds Force, the elite unit of Iran's Revolutionary Guard responsible for the country's extraterritorial operations, the sources said. The officials said the camps are training Palestinian groups as well as special units connected to Assad's Baath party for operations against Israel if such actions are green-lighted by Syria in the near future. The officials said that for the time being, Russia has urged Assad against any attacks on Israel. The reports come as the UK Independent reported on a purported military strategy taken by Iran to send a first contingent of 4,000 Iranian Revolutionary Guards to Syria in support of Assad's drive to defeat the so-called rebels.
Muslim Brotherhood Denounces Shiites, Supports Jihad in Syria
June 17….(AP) Egypt's ruling Muslim Brotherhood blamed Shi'ites for creating religious strife throughout Islam's history, as the movement joined a call by Sunni clerics for jihad against the Syrian government and its Shi'ite allies. In a striking display of the religious enmity sweeping the region since Lebanon's Iran-backed Hezbollah committed its forces behind Syrian President Bashar al-Assad, a Brotherhood spokesman in Cairo told Reuters on Friday: "Throughout history, Sunnis have never been involved in starting a sectarian war."
Until recently, Egypt's new Islamist president, the Brotherhood's Mohamed Mursi, was promoting rapprochement with Iran, the bastion of Shi'ite political power and in February he hosted the first visit by an Iranian president in over 30 years. But spokesman Ahmed Aref said Hezbollah had launched a new "sectarian war" last month by joining Tehran's other key ally Assad in a fight that pits mainly Sunni rebels against a Syrian elite drawn from Assad's Alawite minority, a Shi'ite offshoot. For that reason, Aref said, the Muslim Brotherhood, which emerged from oppression after the fall of military rule two years ago to run by far the most populous Arab state, had joined a call made on Thursday by leading Sunni clerics for holy war in Syria. That statement, made at a Cairo conference of more than 70 religious organizations from across the Arab world, urged "jihad with mind, money, weapons, all forms of jihad", but stopped short of repeating an explicit call by high-profile Brotherhood-linked preacher Youssef al-Qaradawi for fighters to go to Syria.
Asked whether the Brotherhood would urge Egyptians to travel to the war, Aref said it was still considering its position and would coordinate with the other groups at the conference. Mursi would address the assembly on Saturday, he added, saying that speech may clarify the Egyptian position: "Up to now there's merely been talk," he said. An aide to Mursi said on Thursday that Egypt disapproved of external intervention in Syria, notably that by Hezbollah. It was not sending fighters but, he said, the government could not stop Egyptians from travelling and would not penalize any who went to Syria, where he said many were engaged in relief work.
Also on Friday, a leading Sunni cleric from Saudi Arabia, Mohammed al-Afifi, preached at an ancient Cairo mosque, calling for jihad in Syria "in every way possible". Some worshippers waved Syrian rebel flags and dozens of men gathered outside afterward to chant their support for bringing down Assad.
Saudi Arabia, where the monarchy espouses the strict Wahhabi school of Sunni Islam, is locked in a regional rivalry with Iran and has been arming the Syrian rebels while Egypt's leaders, who rose to power in the same wave of Arab Spring protests that began the Syrian civil war, have held back from such engagement. The 7th century rift between Sunni and Shi'ite Islam has fuelled violence across the Middle East in recent decades, including the sectarian bloodletting unleashed in Iraq since the 2003 US invasion and the Lebanese civil war of 1975 to 1990.
Rand Paul: US Tax Money Being Used Against Christians
June 17….(CNSNews.com) In a speech at the Faith and Freedom Coalition conference on Thursday, Sen. Rand Paul (R-Ky.) said he was angry over the fact that US tax money is used to support foreign regimes where Christians are killed "for blasphemy against Islam," and where "Muslims who convert to Christianity" are also put to death. "It angers me to see my tax dollars supporting regimes that put Christians to death for blasphemy against Islam, countries that put to death Muslims who convert to Christianity, and countries who imprison anyone who marries outside their religion," said Paul at the conference, held at the JW Marriott hotel in Washington, DC. "There is a war on Christianity, not just from liberal elites here at home, but worldwide," said Paul. "And your government, or more correctly, you, the taxpayer, are funding it. You are being taxed to send money to countries that are not only intolerant of Christians but openly hostile. Christians are imprisoned and threatened with death for their beliefs." Paul spent most of his speech talking about the persecution of Christians abroad and cited cases of gross injustice in Pakistan, Iraq, Egypt and Syria. "It is clear that American taxpayer dollars are being used to enable a war on Christianity in the Middle East and I believe that must end," said Paul. In concluding his speech, the senator said, "God, help us in these troubling times to make wise decisions, to make moral decisions, and to listen to the voice of God that lives and breathes and resides in us all. Amen."
WEEK OF JUNE 9 THROUGH JUNE 15
World Council of Churches Crusader Theology
June 14….(Israel Today) Last month, the World Council of Churches (WCC) convened in Lebanon and issued the following statement: "Palestine continues to be the central issue in the region. The persistence, after sixty five years, of continuing dispossession of Palestinian people, Christian and Muslim alike, from their land by Israeli occupation, continuing settlement of land inside the 1967 borders … is central to the turmoil in the region. Jerusalem today is an occupied city with a government which has adopted discriminatory policies against Christians and Muslims alike."
The WCC also took aim at Christians who dare to support Israel, the reviled "Christian Zionists": "Christians who promote 'Christian Zionism' distort the interpretation of the Word of God and the historic connection of Palestinians, Christians and Muslims, to the Holy Land, enable the manipulation of public opinion by Zionist lobbies, and damage intra-Christian relations."
The WCC is not a marginal organization that can be dismissed off hand. It represents some 500 million Christians living in 110 countries and territories around the world. It include Anglican, Baptist, Lutheran, Methodist, Reformed and Independent churches, all of which have signed on to a political-religious document that contains blatant lies that bring to mind historical anti-Jewish Christian biases. For instance, the WCC asserts that Israel, continually, for 65 years, has been dispossessing Muslims and Christians of their land. The truth is that the last time Palestinians crossed the Jordan River eastward and never returned was during the Six Day War in 1967. Wars, as can be witnessed today in Syria and elsewhere, produce refugees. Israel's only fault in this regard is that it won the war. And even during that conflict, when the entire Arab population of Hebron fled, they were asked by Israeli Defense Minister Moshe Dayan to return to their homes.
In contrast, due to intolerable conditions, there is massive Christian emigration from Palestinian-controlled Bethlehem and from Lebanon. Christians suffer discrimination not in Israel, but rather in Turkey, Egypt, Syria and any other Muslim country. The WCC also wants people to believe that "Jerusalem today is an occupied city." The WCC is not specifying "east" or "west" Jerusalem, meaning that for these Christians Jerusalem as a whole should be under the control of anyone but Israel, or, more precisely, the Jews. The fact that only "east" Jerusalem is disputed as "occupied" territory is irrelevant to the pious-minded Christians who signed this document.
The WCC's anti-Israel political stand stems from its theological position that asserts, only tacitly for fear of being labeled anti-Semites, that (Christian) "Zionism distorts the interpretation of the Word of God." Zionism is a late 19th century national movement for the return of the Jewish people to their homeland and the resumption of Jewish sovereignty in the Land of Israel. The Bible is so steeped with such a vision that it is pointless to bother with quotations. The WCC must assert therefore, like the Crusaders before, that today, the chosen "people of Israel" are not the Jews, but rather all true Christians, which is why Jerusalem should not be under Jewish sovereignty. For them, even Muslim control of Jerusalem would be better. Any honest and unbiased reader of the Bible knows otherwise, and should reject this anti-Jewish theology. Anybody, the WCC included, who singles Israel out as the sole villain that threatens world peace, who points fingers at Israel, the least troublesome element in the Middle East, is, by definition, anti-Semitic.
President Obama Strongly Objects to Christian Liberties
June 14….(In The Days) The Obama Administration "strongly objects" to a proposed amendment to the National Defense Authorization Act on Wednesday that would have protected the religious rights of soldiers, including evangelical Christian service members who are facing growing hostility towards their religion. he amendment was authored by Rep. John Fleming, R-La. It would have "required the Armed Forces to accommodate 'actions and speech' reflecting the conscience, moral, principles or religious beliefs of the member."
The Obama Administration said the amendment would have a "significant adverse effect on good order, discipline, morale, and mission accomplishment." "With its statement, the White House is now endorsing military reprimands of members who keep a Bible on their desk or express a Christian belief," Fleming told Fox News. "This administration is aggressively hostile towards religious beliefs that it deems to be politically incorrect."
Fleming introduced the amendment after a series of high-profile incidents involving attacks on religious liberty within the military- including an Air Force officer who was told to remove a Bible from his desk because it might give the impression he was endorsing a religion. He said there are other reports of Christian service members and chaplains being punished for their faith. The Air Force censored a video created by a chaplain because it include the word "God." The Air Force feared the word might offend Muslims and atheists. Tony Perkins, president of the Family Research Council, called the Obama Administration's edict a "chilling suppression of religious freedom." "The Obama administration has joined forces with those who are attacking the religious freedoms of those who serve in our Armed Services," Perkins said. "The Administration's opposition to Rep. Fleming's religious freedom amendment reveals that this administration has gone beyond accommodating the anti-Christian activists who want to remove any vestige of Christianity from the military, to aiding them by blocking this bipartisan measure."
Syrian Rebels Pledge Total Loyalty to Al-Qaeda
June 14….(USA Today) A Syrian rebel group's pledge of allegiance to al-Qaeda's replacement for Osama bin Laden suggests that the terrorist group's influence is not waning and that it may take a greater role in the Western-backed fight to topple Syrian President Bashar Assad. The pledge of allegiance by Syrian Jabhat al Nusra Front chief Abou Mohamad al-Joulani to al-Qaeda leader Sheik Ayman al-Zawahri was coupled with an announcement by the al-Qaeda affiliate in Iraq, the Islamic State of Iraq, that it would work with al Nusra as well. Lebanese Sheik Omar Bakri, a Salafist who says states must be governed by Muslim religious law, says al-Qaeda has assisted al Nusra for some time. "They provided them early on with technical, military and financial support , especially when it came to setting up networks of foreign jihadis who were brought into Syria," Bakri says. "There will certainly be greater coordination between the two groups."
In spite of these facts, the Obama administration has concluded that Syrian President Bashar Assad's government used chemical weapons against the rebels seeking to overthrow him and, in a major policy shift, President Obama has decided to supply military support to the rebels, the White House announced Thursday. "The president has made a decision about providing more support to the opposition that will involve providing direct support to the Supreme Military Council. That includes military support," Deputy National Security Adviser for Strategic Communication Ben Rhodes told reporters. President Obama has repeatedly said that the use of chemical weapons is a "red line" that, if crossed, would be a "game changer" for more US involvement in the Syrian civil war.
Rand Paul's To Evangelicals: "There is a War on Christianity"
June 14….(CBN) Senator Rand Paul, who is seriously considering running for President of the United States, told a conservative Christian audience today that, "There is a war on Christianity" being waged by "liberal elites' and "worldwide as well. Rand Paul has been actively courting the conservative Christian community for months. He took a trip to Israel which was organized by influential evangelical organizer David Lane and has been speaking to Christian audiences in key GOP Primary states. He will speak to hundreds of Iowa pastors next month in Des Moines. The Brody File also knows of plenty of private events he has done within the Christian community.
Same-Sex Marriage Continues to Divide Nation
June 14….(Fox News) A new Fox News poll shows that 46 percent of voters favor legalizing gay marriage and 47 percent oppose it. That's little changed from earlier this year when it was 46-46 percent (February 2013), or from last fall when it was 42-44 percent (October 2012). On the separate question of whether the US Constitution guarantees same-sex couples the right to marry, a slim 52-percent majority says it does, while 45 percent disagree. Even more people, 56 percent, think each state should have the power to decide whether or not to allow same-sex couples to tie the knot. Same-sex marriage is a complicated issue for many people given the moral and legal considerations. And as the poll results suggest, some people hold inconsistent views. Consider this: a third of those who think a state should be allowed to ban same-sex marriage, also believe gay marriage is a right guaranteed by the Constitution.
Views on same-sex marriage vary widely based on age and political party. For example, most people under age 35 are in favor of legalizing it (64 percent), while a majority of those over age 65 oppose it (55 percent). And most Democrats support gay marriage (65 percent), while most Republicans oppose it (69 percent). The US Supreme Court will soon announce its decisions on two same-sex marriage cases, one concerning the Defense of Marriage Act and the other California's Proposition 8.
The sharply divided views held today represent a major shift from a decade ago. In 2003, when the question was first asked on a Fox News poll, 32 percent of voters said same-sex couples should be allowed to marry legally, and 58 percent were opposed. Finally, 39 percent of voters approve of "changing the definition of the word marriage to also include same-sex couples," up from 25 percent in 2004.
Moscow Establishes Russian Golan Brigade
(Putin warns Israel Sunnis plus al Qaeda are bigger threat than Assad)
June 12….(DEBKA) Moscow is not ready to give up on getting Russian troops posted on the divided Golan as part of the UN force policing the Israeli-Syrian separation sector, even after rejections by the UN and Israel. Monday, June 10, the Russian lawmaker Aleksey Pushkov, an influential foreign relations policy adviser to the Kremlin, said: "The issue has not been yet solved, it is being considered. We must take some real action because we cannot exclude that the Syrian-Israeli topic would be involved in large-scale military action." Shortly before he spoke, the military announced in Moscow that the Russian Airborne Troops had formed a separate brigade especially designed to serve as peacekeepers "under the aegis of the United Nations or as part of the force set up by the Russian-led CSTO (Russian-Asian) security bloc for combating terrorism. Russia, Armenia, Belarus, Kazakhstan, Kyrgyzstan and Tajikistan contribute special units.
Vladimir Shamanov, commander of Russian Airborne troops, said the new brigade had been awarded the status of "a peacekeeping unit" on June 1. He did not say by whom. Debkafile's military sources disclose the Moscow proposes to give the "peacekeeping" brigade from the Russian Airborne Troops "teeth" in the form of MI-24 combat helicopters. The idea of placing Russian peacekeepers on the Golan was first voiced by President Vladimir Putin on June 7, after Austria decided to withdraw its 377-strong contingent from the area over an outbreak of fighting there between Syrian troops and rebels. The idea was quickly shot down by the United Nations and Israel on the grounds that the Israeli-Syrian 1974 ceasefire accord barred veto-wielding UN Security Council members from participation in the peacekeeping force.
On June 8, Debkafile reported exclusively that Putin was determined to override Israeli and UN objections and get Russian troops deployed on the Syrian Golan by hook or by crook. On June 9, Prime Minister Binyamin Netanyahu publicly rejected the Putin offer, saying Israel could not afford to place its security in the hands of international forces. Speaking at a Moscow press conference on Monday, MP Pushkov went on to say that it was too early to say that Vladimir Putin's suggestion of placing Russian peacekeepers on the Golan Heights lacked perspectives or could not be implemented. As though on cue, the Hizballah-controlled Lebanese Al Akhbar Monday quoted President Bashar Assad as warning that, for him, opening a front on the Golan against Israel was "a serious matter" and would not just consist of firing a few improvised rockets from time to time. This gave Pushkov the opening for his warning to Israel: That Israeli authorities would oppose this step (Putin's offer) was not surprising, he said, but he warned about possible consequences: "Assad could be replaced by radical Islamists in comparison with whom Assad would seem an angel from heaven," said the Russian lawmaker. "The people who are now offering friendship to Israel would not necessarily see Israel as their partner when they come to power, rather they would see it as an enemy," the Russian MP said, hinting at the references made by Hizballah and Syrian government spokesmen to the relations Israel had purportedly formed with certain Syrian rebel groups. Hizballah broadcasts even depicted outdated Israeli tanks and other equipment, booty captured in its 2006 war with Israel, to prove its point.
Therefore, Pushkov advised Israeli leaders to pay more attention to the possible future scenarios in Syria and take into account that Russia could play a positive and stabilizing role in the region. Debkafile notes that this was the first time any Russian official had mentioned the unmentionable: a possible future turn in the wheel of the Syrian conflict that would oust Assad and bring his foes, the Sunni Muslim Brotherhood and al Qaeda, to power in Damascus.
Hizballah, Tehran Ditch Palestinian Hamas after its Fighters Caught in Qusayr
June 12….(DEBKAfile Exclusive) Hizballah forces helping Syrian troops capture the key Syrian town of al Qusayr from rebel hands last week caught five armed members of the radical Palestinian Hamas fighting with the rebels, debkafile's intelligence sources disclose. Within hours of this discovery being reported to Hizballah chief Hassan Nasrallah, the order to shut down Hamas offices in the Shiite Dahya neighborhood in Beirut went down the Hizballah chain of command. Wafiq Safa, head of the organizations intelligence and terror wing, who commands the organization's war effort in Syria, summoned Ali Baraka, the Hamas envoy in Beirut. He was told to shut down shop forthwith and remove himself and staff from the Lebanese capital. Hamas cells in southern Lebanon were likewise expelled. Ali Baraka hurriedly moved his people over to the southern port of Sidon, which is outside Hizballah's turf. Nasrallah also suspended all military and technical assistance to the Hamas military arm, Ezz a-din al-Qassam, both in Lebanon and the Gaza Strip, after years of close cooperation between the two radical terrorist organizations. Before breaking off ties with the Palestinian group, the Hizballah high command conferred with the Iranian al Qods Brigades chief, Gen. Qassem Soleimani.
Tehran has not commented on the break-up with its Palestinian protégé, except to hold up the latest installment of Iran's financial aid to the Gaza Strip regime. Queries from Gaza elicited evasive answers from Tehran. The rupture with Hizballah and Iran has left the Hamas government in the Gaza Strip in serious financial straits. Its allocation from Qatar was sharply reduced this year; the Saudis stopped all assistance last year and Hamas's parent organization, Egypt's Muslim Brotherhood, has since assuming power in Cairo been struggling with its own government's empty coffers. In panicky conferences in Istanbul, Gaza and Cairo, Hamas leaders decided their only recourse was to send peace delegations to Tehran and Beirut in the hope that Supreme Leader Ayatollah Ali Khamenei and Nasrallah would relent and resume the flow of financial aid.
Hamas politburo member Emad al-Alami heads the delegation to Tehran and Salah al-Arouri, who runs Hamas operations on the West Bank from Istanbul, leads the delegation to Beirut. Both are still cooling their heels and waiting for appointments. The new situation has sharpened the discord within the Hamas leadership between the faction in favor of Iran and Syria, headed by strongman Mahmoud A-Zahar and the deputy commander of the Ezz a-din al-Qassam, Marwan Issa, on the one hand, and, on the other, the reinstated head of the politburo Khaled Meshaal, who sent the Hamas contingent to fight with the Syrian rebels against Bashar Assad and his Hizballah allies.
FOJ Note: One piece of prophetic scripture comes quickly to mind regarding the whole Syrian situation, and the Arab world involved there. (Genesis16:11-12 And the angel of the Lord said unto her, Behold, thou art with child, and shalt bear a son, and shalt call his name Ishmael; because the Lord hath heard thy affliction. And he will be a wild man; his hand will be against every man, and every man's hand against him; and he shall dwell in the presence of all his brethren.)
Assad: Arab World Ready to Join Fight Against Israel
June 11….(JERUSALEM POST) Syrian president says Russia committed to military deals, claims that government forces are gaining upper hand in fighting rebels. Syrian President Bashar Assad told Al-Manar TV on Thursday that "there is pressure by the people to open a new front on the Golan." "Even among the Arab world there is a clear readiness to join the fight against Israel," he added in his interview with the Hezbollah TV station.
Assad stated that Hezbollah is involved in fighting the Israeli enemy and its agents in Syria and Lebanon, according to the text of the interview on the Al-Manar website. He attributed the failure of the Syrian opposition to its dependence on outside funding and said that it failed to create a real rift in the country.
Assad also said that he sees the balance of power in Syria shifting to the government's side. And this despite the fact that the "terrorists," Assad's reference to the rebels, are smuggling fighters and weapons through all of the borders. In relation to Israel, he said, "If we respond to Israel, the response must be strategic." Earlier on Thursday, Lebanese newspaper al-Akhbar quoted Assad as saying that Syria had already received the first shipment of Russian antiaircraft S-300 rockets. Speaking about the delivery of the S-300 to Syria, Assad told Al-Manar that Russia is "committed to the deal and neither Netanyahu's visit nor the current crisis will influence the importing of arms." "The contracts with Russia are not linked to the crisis and Russia is committed to implementing these contracts," he said. "Everything we have agreed on with Russia will take place, and part of it has already taken place." More of the missiles would arrive soon, he was quoted as saying.
A source close to Russia's Defense Ministry said there had been a "bank transfer" in connection with the S-300 transaction, but that Russian banks were becoming increasingly nervous about dealing with Assad. Israel spoke with Russia on Thursday morning amid reports that Assad's forces had received a shipment of S- 300 missiles from Moscow. Jerusalem has yet to confirm the arrival of the missiles, which have a 200-km. range with the capacity to hit planes in northern Israel. It would create a no-fly zone that would make it impossible for the Israel Air Force to operate along the Syrian and Lebanese border, precisely at a moment when both countries are more volatile. Israel is investigating the report, while Channels 2 and 10 reported they did not believe the missiles had arrived. Netanyahu personally asked Russian President Vladimir Putin not to deliver the missiles when he visited Moscow earlier this month.
On Thursday morning, Strategic Affairs Minister Yuval Steinitz held a prearranged meeting with Russian Ambassador to Israel Sergey Yakovlevich and raised the issue of the S-300s. Russia has maintained that the missiles are defensive and are needed by Assad's forces in their battle against rebel groups in that country. On Wednesday, Steinitz said the missiles could also be used as offensive weapons. At the end of Steinitz's meeting with Yakovlevich, his office said that the men discussed bilateral and strategic issues in the region. They agreed that Israel and Russia would "maintain an ongoing dialogue and cooperate," his office said.
Netanyahu spoke of the dangers facing Israel from missile attacks from the Syrian, Lebanese and Gazan borders when he attended a meeting of the Emergency Economy Committee, where they discussed Tuesday's national emergency drill. "We are deep in the era of missiles that are aimed at civilian population areas," Netanyahu said. "We must prepare defensively and offensively for the new era of warfare. The State of Israel is the most threatened state in the world. Around us are tens of thousands of missiles and rockets that could hit our home front."
Jonathan Schanzer, vice president for research at the Foundation for Defense of Democracies, told The Jerusalem Post from Washington on Thursday night, "Assad would be off his rocker if he were to start a war with Israel right now and he knows it." Assad is barely containing the war in his own country and "the idea that he would add a war with Israel makes no sense," he said.
The World Council of Churches Attacks Israel and Christian Zionism
June 11….(The Balfour Post) For more than two thousand years ago historians and analysts have disagreed on the manner in which to present accounts of the past and the present. Some have sought to arouse sympathy or pity or empathy for the sufferings or difficulties of the peoples they are discussing. Others have presented a portrait, less emotional and dramatic, and one from which general lessons can be learned. It is disgraceful that the WCC has slandered fellow Christians, those Christian Zionists who have a different perception of Israel and demonstrate their sympathy for and love of the Jewish state.
It is clear that many, perhaps a majority, of those writing or speaking about the condition of the Palestinian Arabs, and the behavior of the State of Israel towards them, in the Middle East have chosen the first approach. This has recently been confirmed by the declarations of mainstream Christian bodies. On May 24, 2013 the General Assembly of the Church of Scotland adopted a committee report, "The Inheritance of Abraham?" The report was amended because the Church admitted that it had "caused worry and concern in parts of the Jewish Community in Israel and beyond." That concern was appropriately justified. Even after the supposedly more moderate passages in the changes in the document, it still included a passage, "Christians supported Israel as repentance for antisemitism and the Holocaust. Then as Israel became more controversial with their abuse of Palestinians, Christians remained silent."
The whole report was tendentious and biased in its anti-Israeli stance, even to the belief in Christian silence on Israel. Indeed, the reverse has been the case as one mainstream Christian church after another has been eager to condemn Israel for its actions or non-actions concerning the Palestinians. The most recent has been the statement issued on May 29, 2013 by the World Council of Churches (WCC) and the Middle East Council of Churches at an international and ecumenical conference held in Beirut, Lebanon. Representatives of every Christian Church in the Middle East and from Christian churches and organizations in 34 countries participated at the meeting held at Notre-Dame du Mont Monastery to discuss "Christians in the Middle East: Presence and Witness."
Yet though it did mention "Christian emigration from the region, and a generalized sense of abandonment following decades of unhelpful intervention," it did not state the real problem of Arab treatment of Christians who have been persecuted and are leaving Arab countries in large numbers. Instead, it followed the familiar and fallacious Palestinian narrative of victimhood. Disregarding the present incredible turmoil in the whole Arab world, as well as the daily reports of Palestinians fleeing from Syria, and the entrance of Hezbollah into the country supporting President Assad, this WCC defined the existing problem in incomprehensible fashion. For the WCC, "Palestine continues to be the central problem in the region." This was central to the turmoil in the region, a turmoil which was exacerbated by the duplicity of policies of the western powers, especially the United States. This turmoil was explained by the "persistence, after sixty-five years, of continual dispassion of Palestinian people, from their land by Israeli occupation, continual settlement of land inside the 1967 borders by a nation empowered by overwhelming military strength and external alliances and influence."
The WCC was specific as well as general in this wholesale assault on Israel and disregard of the fighting it might have heard from its Monastery meeting place. It asserted that Jerusalem was an "occupied city with a government which has adopted discriminatory policies against Christians and Muslims alike." The Council said nothing about discrimination against Christians in other countries or in Saudi Arabia where Christian practice is forbidden. Instead, the Council called for Jerusalem to be an open city with "careful protection" of the holy places of the three religions, ignoring the fact that Israel had been doing exactly that in its concern for freedom of religious expression.
The WCC went even further in its biased, sectarian and myopic statement. It attacked Christians who did not share its views. It asserted, "Christians who promote 'Christian Zionism' distort the interpretation of the Word of God and the historic connection of Palestinians, Christians and Muslims to the Holy Land." The WCC is apparently not only Holier than any other Christians who disagree with it in its message it derived from God, but also insinuates, in less than subtle fashion, of the world Jewish conspiracy. The WCC holds that Christian Zionists "enable the manipulation of public opinion by Zionist lobbies and damage intra-Christian relationships."
In its extremely disrespectful advice the WCC recommended, perhaps by a crusade and certainly indicating a vendetta, that it convene its academic resources and consult its ecumenical partners to address the issue of Christian Zionism, disclosing its sources, its use as a political weapon against the Palestinian people, and its effects on intra-Christian relations. It is shameful that the WCC instead of objective analysis has emulated the Palestinian perception of their situation which, in addition to genuine problems, presents the Palestinians as victims, as the international symbol of the oppressed. Those, including the WCC, who identity with the oppressed or with the supposed victims have made the cause of the Palestinians and the condemnation of Israel the main focus of their agenda of Middle Eastern affairs. The WCC, fueled by a fashionable, politically correct anti-Western ideology of collective identity with the supposed oppressed, has shifted the discussion of the disturbing problems of the Middle East from the acute ones in Syria, Lebanon, Iraq, Egypt, and Iran, to the alleged deficiencies of Israel.
It is disgraceful that the WCC has slandered fellow Christians, those Christian Zionists who have a different perception of Israel and demonstrate their sympathy for and love of the Jewish state. The WCC, and those Christian organizations and individuals, who concur with its statement ought to be aware that its assertions about Israel and Christian Zionism, which cannot be dignified as a line of reasoning, are detrimental to and handicap efforts to begin negotiations for a peaceful settlement of the Arab-Israeli conflict.
US to Transfer $1.3 Billion in Military Aid to Egypt
(For sake of 'regional interests' US to transfer controversial military aid to Egypt, despite concerns regarding Morsi.)
June 10….(YNET) Secretary of State John Kerry last month approved $1.3 billion in annual US military aid to Egypt, despite concerns over democratic progress by the country's new government, a US official said Friday. All such aid is "carefully considered," State Department spokeswoman Jen Psaki told reporters, but it was felt the funding was necessary to help "preserve important regional interests." On May 10, Kerry quietly approved the transfer of the annual aid, notifying the US Congress of his decision, she confirmed.
Despite stating in a May 9 memo that "we are not satisfied with the extent of Egypt's progress and are pressing for a more inclusive democratic process and the strengthening of key democratic institutions," Kerry said the aid should go forward. According to the May 9 memo, the US national interests served by the aid include increasing security in the Sinai, helping prevent attacks from Gaza into Israel, countering terrorism and securing transit through the Suez Canal. "A strong US security partnership with Egypt, underpinned by FMF (Foreign Military Financing), maintains a channel to Egyptian military leadership, who are key opinion makers in the country," Kerry wrote at the time. "A decision to waive restrictions on FMF to Egypt is necessary to uphold these interests as we encourage Egypt to continue its transition to democracy," he added recently.
Under US law, for the $1.3 billion to flow the secretary of state must certify that the Egyptian government "is supporting the transition to civilian government, including holding free and fair elections, implementing policies to protect freedom of expression, association and religion, and due process of law."
Psaki defended Kerry's approval of aid for the fiscal year 2013 saying it was in US national security interests and helped such things as "maintaining access to the Suez Canal and the interdiction of weapons smuggling." The move came well before Tuesday's sentencing by a Cairo court that handed down jail terms and fines on 43 Egyptian and foreign NGO workers in what Kerry has denounced as a "politically-motivated trial." The sentences were just the latest move to raise tensions between Washington and the government of Islamist President Mohamed Morsi.
In general, rights groups believe Morsi is retreating from democratic freedoms, notably in a new civil society law and in proposals for judicial reform that critics see as a way to purge judges perceived as hostile to the government. Last year, the funds were held up after the Egyptian authorities first moved against the US-funded non-governmental organizations. Kerry's predecessor Hillary Clinton finally gave the green light for the funds to be paid in March.
Putin Pushes Plan to Place Russian Troops on Golan
June 10….(Arutz) The United Nations said on Friday that Russia cannot send troops to the Golan Heights peacekeeping force, after President Vladimir Putin said he was ready to bolster the force, AFP reported. Putin offered troops after Austria decided to withdraw its 377 soldiers from the UN Disengagement Observer Force (UNDOF) between Syria and Israel because of growing spillover from the Syria conflict.
However, UN spokesman Martin Nesirky said later on Friday that Russia was banned from taking part in the force because it is one of five permanent members of the UN Security Council. "We appreciate the consideration that Russia has given to provide troops on the Golan. However, the disengagement agreement and its protocol between Syria and Israel does not allow for the participation of permanent members of the Security Council in UNDOF," Nesirky told reporters, according to AFP.
On Thursday, Austria said it was pulling its United Nations peacekeeping force from the Golan Heights. Austria accounts for about 380 of the 1,000-strong UN force monitoring the Israel-Syria ceasefire line in the Golan Heights. "Freedom of movement in the area de facto no longer exists. The uncontrolled and immediate danger to Austrian soldiers has risen to an unacceptable level," the Austrian chancellor, Werner Faymann, and his deputy, Michael Spindelegger, said in a joint statement.
Austria's decision to withdraw its troops from the UN Disengagement Observer Force (UNDOF), which has been monitoring the ceasefire line since 1974, came after Syrian rebels briefly seized the only crossing along the Israel-Syria ceasefire line on the Golan, before regime forces recaptured it using tanks. On Friday, UN peacekeeping forces said they were studying whether to pullout of the Golan Heights after Austria's withdrawal decision and two UN soldiers were injured in Syrian infighting.
The Kremlin pointedly disclosed Saturday, June 8, that President Vladimir Putin had talked by phone to Binyamin Netanyahu Friday on the Syrian question. Hence, it seems Putin is not giving up on the deployment of Russian troops on the Golan, despite the UN veto on their stepping into the shoes of the departing 377 Austrian members of the UN force policing the Golan separation zone between Israel and Syria. Hoping to circumvent this veto, Putin turned for clearance directly to Jerusalem, one of the two parties to the 1974 disengagement agreement.
WEEK OF JUNE 2 THROUGH JUNE 9
Russia Announces Permanent Mediterranean Naval Presence
June 7….(Reuters) Russia has deployed a naval unit to the Mediterranean Sea, it said on Thursday, a move President Vladimir Putin said was to defend Russian security but which comes as Moscow faces off with the West over Syria. In what is Russia's first permanent naval deployment in the Mediterranean since Soviet times, it has stationed 16 warships and three ship-based helicopters in the region, the chief of staff said. Putin said the deployment was not "saber-rattling" and not meant as a threat to any nation. Russia cooperates with NATO navies against piracy and its ships call at Western ports. But its support for President Bashar al-Assad as he fights rebels have put Moscow at odds with the West. "This is a strategically important region and we have tasks to carry out there to provide for the national security of the Russian Federation," Putin said.
Large-scale naval exercises Russia held in March and ship movements near Syria have been seen in the West as muscle-flexing by Moscow, which has sold weapons to Assad's government and shielded it from any action by the UN Security Council. Russia also has a naval maintenance and supply facility in Syria. The announcement comes days after Moscow said it planned to resume patrols by nuclear-armed submarines in the southern seas as part of a Putin's broader effort to revive Russia's military might.
Putin has stressed the importance of a strong military since returning to the presidency last May. In 13 years in power, he has often cited external threats when talking of the need for agile armed forces and Russian political unity.
Syria Gaining Momentum Against Rebels, Eye Israel Border
June 7….(Israel Hayom) Rebels seized then lost a border crossing on the demilitarized zone between Israel and Syria on Thursday, activists and the Israeli army said, as heavy clashes raged between the opposition and Syrian President Bashar al-Assad's forces at the border crossing and in "Old Quneitra" town just adjacent to the border. Israel is worried that the Golan, which it captured from Syria in 1967, will become a springboard for attacks on Israelis by jihadi fighters, who are taking part in the armed struggle against Assad. On Wednesday, Israel Hayom reported exclusively that Israel believes Hezbollah is working to open a front against Israel on the strategic plateau.
News of the fighting in Quneitra comes as Syrian troops and their Lebanese Hezbollah allies captured a strategic border town Wednesday after a grueling three-week battle, dealing a severe blow to rebels and opening the door for Assad's regime to seize back the country's central heartland.
The Assad regime's triumph in Qusair, which Assad's forces had bombarded for months without success, demonstrates the potentially game-changing role of Hezbollah in Syria's civil war. The gain could also embolden Assad to push for all-out military victory rather than participate in peace talks being promoted by the United States and Russia. The Shiite terrorist group lost dozens of fighters in the battle for Qusair, underlining its commitment to support Assad's regime and edging the fight in Syria further into a regional sectarian conflict pitting the Middle East's Iranian-backed Shiite axis against Sunnis.
Most of the armed rebels in Syria are members of the country's Sunni Muslim majority, while Assad has retained core support among the country's minorities, including his own Alawite sect, an offshoot of Shiite Islam, along with Christians and Shiite Muslims.
The White House on Wednesday night condemned the town's capture and said Hezbollah's involvement threatens Lebanon's stability. The Syrian rebels' defeat in the key town of al Qusayr, Wednesday, June 6, was also a major strategic debacle for the US, Israel and Western Europe, the price they paid for leaving allied Syrian-Hizballah troops orchestrated by Iranian officers a clear field to win the day. The Syrian-Hizballah machine is now ready to capitalize on its victory and roll into Aleppo and southern Syria to extinguish rebel resistance there too. Israel may be next in its sights.
Unnoticed by Israel, the long arm of the Syrian war has reached deep into the Gaza Strip. Its Palestinian Hamas rulers lost no time in jumping on the winning bandwagon. A delegation is already in Tehran waiting to plead for a new military cooperation pact.
Prime Minister Ismail Haniyeh and Hamas politburo chief Khaled Meshaal faced heavy pressure to turn away from their ties with Turkey and Qatar and renew the military pact Hamas signed with Iran and Hizballah in September 2012. Hamas military wing today suddenly issued a declaration of allegiance to Iran and Hizballah. The Syrian-Hizballah victory in Qusayr exposed the hollowness of the US-European-Israeli posture of non-intervention in the Syrian conflict. While all three backed away from confirming the outbreak of chemical warfare in Syria, aside from empty threats, Moscow, Tehran and Baghdad managed to repair the inroads made on Assad's military power by two and-a-quarter years of hard fighting, and fashion a combined Syrian-Hizballah fighting machine capable of crushing the Syrian uprising.
Having proved its mettle in an epic victory, the Syrian-Hizballah partnership confronts Israel, Jordan and the US forces posted there with plans to follow up in its success in two stages: First, to conquer Aleppo and southern Syria and clear them of rebels; second, to use the Golan as a jumping-off base to face Israel on the battlefield. Already, their campaign to seize the town of Quneitra on the Syrian side of Golan has begun.
PA Arabs Fete 'New Mahdi," Establishment of Calpihate
Thousands of PA Arabs participated in a mass rally in Ramallah earlier this week calling for the establishment of the Muslim Caliphate
June 6….(Arutz) Thousands of PA Arabs participated in a mass rally in Ramallah earlier this week calling for the establishment of the Muslim Caliphate, the worldwide Islamist government that will "bring the coming of the Mahdi." the Muslim messiah. The Caliphate is essentially a union of Muslim countries under the spiritual and political leadership of a single individual, the Caliph. It has been an Islamic concept since the days of Muhammad, when it was established by several of his disciples. The office of "official Caliph" has been disputed at times, with rival would-be Caliphs battling each other for the title.
The last official Caliph was Abdülmecid II, who lost the office in the aftermath of the defeat of Ottoman Turkey in World War I. The best-known Caliph in the West was Suleiman the Great, an early Ottoman sultan who, in the 16th century, conquered most of the Middle East and the Persian Gulf, even conquering parts of Europe, until he was stopped at "the Gates of Vienna."
With many Muslim states politically and religiously divided, and dependent on the West for support, radical Islamists have been pushing for the reestablishment of the Caliphate – this time to be led by the all-powerful Mahdi, who will unite all Muslims and establish Islam as the dominant religion in the world, ruling for several years before the "Day of Judgment". Although the identity of the Mahdi is a secret, many Islamists believe that he is alive now, and several individuals have claimed the title. Many Islamists were said to have believed that Osama Bin-Laden was the Mahdi, or his right-hand man, until he was killed several years ago by U.S. forces in Afghanistan.
The Ramallah rally included many students from Bir-Zeit University, the PA's most prestigious university located north of Jerusalem and a major recipient of economic funding from the EU and the United States. Marchers gathered at a large mosque in El Bireh, a suburb of Ramallah, and marched to Manara Square, a large gathering place in central Ramallah. Speakers at the rally urged believers to "have faith" in the future, to give up their Western ways, and to do more to fulfill the tenets of Islam. The rally was sponsored by izb at-Tarir (Party of Liberation), which has its own Mahdi candidate, organization leader Ata Abu Rashta, born in Mandatory Palestine and a long-time resident of a refugee camp near Hevron. Speakers at the rally said that Abu Rashta, as Mahdi, would unify Muslims and establish Sharia law in countries around the world. In addition, the speakers called for unity among all Muslims in order to ensure "victory in Syria," the "liberation of Palestine from the hated Jews," and the "freeing of mankind from the chains of capitalism."
Syrian Rebels (that Obama Supports) are Killing off Christians
June 6….(WND) A new report from a ministry worker who visited a remnant of Syria's Christian community confirms the worst: Rebels battling President Bashar al-Assad for control are imposing Islamic law, giving Christians the choice to flee or die.
Syrian Christian refugees have told how they had been attacked by the rebels fighting in Syria, where Christians had been allowed to worship and live under Assad's regime. One report comes after Republican Sen. John McCain's recent trip to Syria, where he was photographed with two men who, according to Beirut news reports, were involved in kidnapping people from Lebanon just months ago. Sen. Rand Paul, R-Ky., criticized McCain, noting that the "pro-Western people" he visited weren't well vetted. Durie said the mandate to Christians by the rebels, some of whom have been linked to Al-Qaida, is based on the Quran. "The Christian residents were offered four choices: 1. renounce the 'idolatry' of Christianity and convert to Islam; 2. pay a heavy tribute to the Muslims for the privilege of keeping their heads and their Christian faith (this tribute is known as jizya); 3. be killed; 4. flee for their lives, leaving all their belongings behind."
Durie said some Christians "were killed, some fled, some tried to pay the jizya and found it too heavy a burden to bear after the rebels kept increasing the amount they had to pay, and some were unable to flee or pay, so they converted to Islam to save themselves." "The scenario reported by Syrian refugees is a re-enactment of the historic fate of Christians across the Middle East," he said. "The Muslim historian Al-Tabari reported that when the Caliph Umar conquered Syria, he gave the following command to his armies: 'Summon the conquered people to Allah; those who respond unto your call, accept it [their conversion to Islam] from them, but those who refuse must pay the jizya out of humiliation and lowliness. If they refuse this, it is the sword without leniency.'"
Durie explained Umar was referencing the Quran, which states: "Fight against such of those who have been given the Scripture as believe not in Allah nor the Last Day, and forbid not that which Allah hath forbidden by His messenger, and follow not the Religion of Truth, until they pay the jizya readily, being brought low." Durie said the policy of subjugating Christians under the yoke of jizya taxation was also based on the teaching of Muhammad.
As with almost every Christian family in the village, they eventually flee. Their land and farms were lost. Some Christian families in many villages who were unable to escape or pay the jizya conveniently converted to Islam," Janssen said. In most cases all Christians are simply murdered in the middle of the night.
Report: Israel Believed to Have 80 Nuclear Warheads
June 4….(Israel Today) The Stockholm International Peace Research Institute (SIPRI) reports in the 2013 edition of its annual global security review that Israel possesses some 80 nuclear warheads. According to SIPRI, 50 of Israel's warheads are built for use atop medium-range ballistic missiles, while the other 30 are designed to be attached to bombs carried by aircraft. The Jewish state is also believed to have developed smaller, tactical nuclear munitions, such as artillery shells.
Israel is not a signatory to the Nuclear Non-Proliferation Treaty (NPT). While it is widely accepted that Israel possesses nuclear arms, Jerusalem maintains an official policy of ambiguity on the topic. The report went on to note that both India and Pakistan, the world's newest nuclear powers, are in possession of 90-120 warheads each, while France, the UK and China have nuclear arsenals numbering in the hundreds. Russia and the US both possess many thousands of nuclear warheads.
France, the UK, China, Russia and the US are all signatories to the NPT. Nevertheless, SIPRI notes that all five nations have demonstrated that not only do they have no intention of relinquishing their nuclear stockpiles, they are actually further developing their nuclear weapons capabilities. All told, there are believed to be 17,265 nuclear weapons in the world today, with approximately 4,400 of them classified as "operational."
Muslim Brotherhood Cleric calls for Sunni Jihad in Syria
The spiritual mentor of the worldwide Muslim Brotherhood movement has risked further inflaming sectarian tension across the Middle East by using highly charged religious rhetoric to call for a Sunni "jihad" in Syria.
June 4….(The Telegraph) Yusef al-Qaradawi, who is based in Qatar and has been a leading voice supporting the Arab Spring, warned that Iranian Shia were trying to "eat" Sunni Muslims, who are a majority in the Muslim world. He referred to Alawites, the followers of the Muslim sect to which President Bashar al-Assad of Syria belongs, as being "worse infidels than Christians or Jews". He also used the deliberately contemptuous term "Nusayris" when talking about them. He was particularly critical of the roles played by Iran, which is largely Shia, and the Lebanon Shia militia Hizbollah whose name translates as Party of God but which he called "Party of Satan", in supporting the Assad regime. "There is no common ground between the two sides because the Iranians, especially conservatives, want to eat the Sunni people," he said. The Syrian opposition is dominated, like Syria itself, by Sunni Muslims, but also includes a number of Christians, Alawites and other minorities. However, Alawite militias loyal to the Assads have been responsible for sectarian attacks on Sunni villages, while there are also increasing reports of sectarian attacks by militant Sunni jihadists, many of whom regard the Shia and Alawites as heretics.
In recent days, a number of Shia shrines have been attacked and desecrated in rebel-held territory, including the tombs of Ammar ibn Yasir in Raqqa and of Hujr bin Uday al-Kindi near Damascus. Alawite leaders have openly called for Sunni areas to be "cleansed" - coinciding with attacks by Alawite militias on civilian Sunni towns near Baniyas which killed 300 people.
The Muslim Brotherhood, though a Sunni, Islamist movement that has given birth to a number of jihadist offshoots, has been held up as a "moderating" force within Arab Spring countries with which the West "can do business". Egypt has a Muslim Brotherhood president, while the coalition government in Tunisia is led by a Brotherhood-linked organisation backed by Dr Qaradawi.
Dr Qaradawi himself, who is Egyptian by birth but has lived in Qatar for many years and is regarded as a key factor in the active role the Qatari royal family has played in backing the Arab Spring uprisings with arms and money, has a controversial record in the West. However, his latest comments, made in a mosque in Qatar on Friday, go beyond his previous political sermons. He himself acknowledged he had become more radical. "People involved in reconciliation between the sects... said that I used to be the one calling for reconciliation and doctrinal unity. They asked why I don't take up that call again. "Well, I called for reconciliation but I found it did not bring the sects closer. They benefited from it and we failed to take advantage." He also apologized for his past words in favor of Hizbollah. "The Shia deceived me," he said. "I was less mature than the Sunni scholars who were aware of the truth of that party." He said Sunni Muslims around the world should not wait for the West to help the rebel cause against the "Nusayris", the Iranians and "the party of God". "They are the party of Satan, the party of the tyrant," he said. "The party of God does not kill Muslims, and these people draw close to God by killing Muslims."
The war in Syria has split the region largely along sectarian lines, with Sunni Gulf and North African states largely supporting the rebels, and Shia Iran and Shia communities in Lebanon and Iraq supporting the regime.
The city of Tripoli in northern Lebanon has already seen fighting between Sunni and Alawite districts, while there has been a rise in sectarian violence in Iraq where many Sunnis have tribal links to Syria but the government represents the majority Shia community and is close to Iran.
Israel Readies for Syrian Missiles, US Sends Patriots to Jordan, Moscow Backs Hizballah
June 3….(DEBKA) "Syrian batteries are in a high state of operability, ready to fire at short notice," said Israel Air Force Colonel Zvika Haimovich in special briefings to international media Friday. He disclosed that Israel tracks every missile fired in the Syrian civil war, since southward launches would give Israel mere seconds to determine it was not the true target. "All it would take is a few degrees' change in the flight path to endanger us." Speaking at the Palmachim air and missile base south of Tel Aviv, Col. Haimovich explained that long-range radars feed real-time data on the barrages to the base command where officers are braced to activate Arrow II. The more threatening launches set off sirens in Palmachim. Warplanes there are also on standby to scramble.
"We are looking at all aspects, from the performance of weaponry to the way the Syrians use it," said the Israeli air force officer. "They have used everything that I am aware exists in their missile and rocket arsenal [against Syrian rebel forces]. They are improving all the time, and so are we, but we need to study and be prepared."
Another Israeli expert, speaking on condition of anonymity, described a combination of split-second analysis of the strength of the launch with up-to-date intelligence on Bashar Assad's intentions. He said Israel had beefed up its deployment to more than four nationwide batteries, to allow for repeated interception of any incoming missile. The intention is "to ensure that we have at least two opportunities to intercept. We have not yet been called into action on the northern front, but I believe that we will be," said this officer.
In Washington, Pentagon sources reported that the United States was sending Patriot missile defense systems and F-16 fighter jets to Jordan for the annual joint Eager Lion exercise between the two armies. The sources did not say whether the Patriots and fighter jets would withdraw after the two-month exercise. The US officials pointed out that the Patriots would not shield Jordan from Syrian Scuds, but were a demonstration of US support for the Hashemite kingdom. At the same time, Debkafile's military sources report a high degree of operational coordination between the US Patriot deployments in Jordan and Turkey and the Israeli Arrow 2 preparedness for a potential missile attack which could come from Iran, Syria, Lebanon or the Gaza Strip.
Another component of this missile shield is the Aegis Ballistic Missile Defense System aboard US warships in the Mediterranean.
Moscow, for its part, continues to sow confusion about the delivery of its S-300 anti-air missile batteries to Syria, but has shown its hand on another issue, by blocking a UN Security Council motion that would have condemned Hizballah. Tabled under the heading of "a declaration of alarm over Qusayr" the Council was asked to express "grave concern" over the dire events in that town since Hizballah forces fighting with the Syrian army captured most of its urban area. Our military sources report heavy fighting is raging in the northern sector of al Qusayr since the rebels brought in reinforcements for their last stand late last week. A Hizballah siege force has cut off food and water supplies for the 10,000 civilians and 2,500 opposition fighters trapped in that corner of the town. At least 1.200 wounded people are without access to medical attention. Moscow claimed it blocked a Security Council motion on al Qusayr because there was no UN condemnation when the Syrian rebels captured the town in 2012.
For Israel, the Russian UN action is of great concern because it amounts to the extension of Moscow's patronage not just to the Assad regime but also to Hizballah which spearheaded the al Qusayr offensive. This is consistent with the pledges of support Russian Deputy Foreign Minister Mikhail Bogdanov gave Hizballah leader Hassan Nasrallah during their secret conversation in Beirut on April 27. When questioned on this score, Russian diplomats were evasive, in the same way as they are ambiguous about the S-300 missiles. However Moscow's Security Council action leaves no room for doubt that Hizballah's military intervention in the Syrian war has won a powerful champion in Moscow.
Baptists Plan Exodus from Boy Scouts
June 3….(CNN) For Southern Baptist pastor Tim Reed, it was Scripture versus the Scouts. "God's word explicitly says homosexuality is a choice, a sin," said Reed, pastor of First Baptist Church of Gravel Ridge in Jacksonville, Arkansas. So when the Boy Scouts of America voted to lift its ban on openly gay youths on May 24, Reed said the church had no choice but to cut its charter with Troop 542. "It's not a hate thing here," Reed told CNN affiliate Fox 16. "It's a moral stance we must take as a Southern Baptist church." Southern Baptist leaders say Reed is not alone. Baptist churches sponsor nearly 4,000 Scout units representing more than 100,000 youths, according to the Boy Scouts of America. That number could drop precipitously.
The Southern Baptist Convention, the country's largest Protestant denomination, will soon urge its 45,000 congregations and 16 million members to cut ties with the Scouts, according to church leaders. The denomination will vote on nonbinding but influential resolutions during a convention June 11-12 in Houston. "There's a 100% chance that there will be a resolution about disaffiliation at the convention," said Richard Land, the longtime head of the Southern Baptists' Ethics & Religious Liberty Commission, "and a 100% chance that 99% of people will vote for it." "Southern Baptists are going to be leaving the Boy Scouts en masse," Land continued. Roger "Sing" Oldham, a spokesman for the Southern Baptist Convention, emphasized that local congregations make their own decision on the Scouts. But he, too, said he expects Baptist delegates, which the church calls "messengers," to voice their disagreement with the BSA's decision to allow gay youths. "With this policy change, the Boy Scouts' values are contradictory to the basic values of our local churches," Oldham said.
Several religious groups with strong Scouting ties support the new policy. "We have heard from both those who support the amended policy and those who would have preferred it would not have changed," said BSA spokesman Deron Smith. Faith-based organizations charter more than 70% of Scout chapters, providing meeting space and leadership, according to the BSA. "There have been some organizations that have decided not to renew their charters with Scouting," said Smith, "but we can't quantify the impact of the amended policy."
The National Jewish Committee on Scouting, the United Church of Christ, the Episcopal Church, the Unitarian Universalist Association and the Church of Jesus Christ of Latter-day Saints, which sponsors more Scout units than any other faith, all endorsed the change. The National Catholic Committee on Scouting, which is run with oversight from a bishop, said Thursday that allowing gay youths in the Scouts does not conflict with church teaching. Each bishop will decide whether or not to allow churches in his diocese to charter Scout units, the committee added. "We ask that Catholic Scouters and chartered organization heads not rush to judgment," said Edward Martin, chairman of the National Catholic Committee on Scouting.
John Stemberger, founder of On My Honor, a group that opposed the Scouts' change in policy, plans to convene conservatives in Louisville, Kentucky, in June to consider forming a new Scout-like group, which could be up and running by the end of 2013. "Churches and Scoutmasters are looking for leadership and direction," said Stemberg, an attorney in Orlando, Florida. A number of conservative religious denominations already sponsor their own groups. For instance, the Southern Baptists have the Royal Ambassadors, an explicitly Christian program founded in 1908 for boys in first through sixth grade. (A similar group called Challengers equips older boys in "mission education.") The name comes from the New Testament, in which the Apostle Paul tells Christians to be "ambassadors for Christ."
The estimated 31,000 Royal Ambassadors pledge to become a well-informed, responsible follower of Christ; to have a Christlike concern for all people; to learn how to carry the message of Christ around the world; to work with others in sharing Christ; and to keep myself clean and healthy in mind and body." While not as outdoorsy as the Boy Scouts, Ambassadors do camp and play sports, said Land, who was a member of the group during the 1950s. But instead of merit badges for archery and bird study, young Ambassadors earn patches for memorizing Bible verses and mission work.
Southern Baptists said they are preparing for a surge of interest in the Royal Ambassadors at their upcoming convention in Houston. "We really have an opportunity here to strengthen our RA programs," the Rev. Ernest Easley, chairman of the Southern Baptist Convention's Executive Committee, said in a sermon last Sunday, "and to get the boys in a program where they're going to be protected, where there's a high moral standard and where they will have an opportunity to learn about camping, missions, evangelism in the local church."
Lebanon Hit by 16 Rockets Fired From Syria
June 3….(Jerusalem Post) More than 16 rockets were fired from Syria into Lebanon early Saturday morning landing in the Bekaa Valley region, the Lebanese Daily Star quoted a security source as saying. There were no injuries in the attacks, according to the report, but a rocket did cause a fire to break out near the town of Sireen al-Fawqa. The Daily Star quoted Lebanese state media as reporting that four Syrians had been arrested in connection with the rocket attacks. In addition to the rocket attacks, a Shi'ite shrine in the Bekaa Valley was also shot at and damaged by armed gunmen on Saturday, the Daily Star reported.
The hostilities came as Lebanon has been increasingly pulled into Syria's civil war with several thousand Hezbollah operatives from the country backing Syrian President Bashar Assad's fight against opposition forces. On Sunday, two rockets hit a Shi'te Muslim district of southern Beirut, wounding several people. It was the first attack to apparently target Hezbollah's stronghold in the south of the Lebanese capital since the outbreak of the two-year conflict in neighboring Syria, which has sharply heightened Lebanon's own sectarian tensions. Sunday's rocket strikes came hours after Hezbollah leader Sayyed Hassan Nasrallah said his fighters were committed to backing Assad in Syria's conflict whatever the cost.
Russia Activates Nuclear Submarines in Southern Seas
June 3….(Reuters) Russia plans to resume nuclear submarine patrols in the southern seas after a hiatus of more than 20 years following the break-up of the Soviet Union, Itar-Tass news agency reported on Saturday, in another example of efforts to revive Moscow's military. The plan to send Borei-class submarines, designed to carry 16 long-range nuclear missiles, to the southern hemisphere follows President Vladimir Putin's decision in March to deploy a naval unit in the Mediterranean Sea on a permanent basis starting this year. "The revival of nuclear submarine patrols will allow us to fulfill the tasks of strategic deterrence not only across the North Pole but also the South Pole," state-run Itar-Tass cited an unnamed official in the military General Staff as saying.
Putin has stressed the importance of a strong and agile military since returning to the presidency last May. In 13 years in power, he has often cited external threats when talking of the need for a reliable armed forces and Russian political unity. Fears of a nuclear confrontation between Russia and the United States had eased in recent years, and the Cold War-era foes signed a landmark treaty in 2010 setting lower limits on the size of their long-range nuclear arsenals. But the limited numbers of warheads and delivery vehicles such as submarines that they committed to under the New START treaty are still enough to devastate the world. Putin has made clear Russia will continue to upgrade its arsenal. Russia's land-launched Intercontinental Ballistic Missiles (ICBMs) would fly over the northern part of the globe, as would those fired from submarines in the northern hemisphere.
---