WEEK OF AUGUST 25 THROUGH AUGUST 31
Obama: Sex Ed for Kindergartners 'Is the Right Thing to Do'
Aug. 31….(CNSNews.com) The Chicago Public Schools this year are mandating that the district's kindergarten classes include sex education, fulfilling a proposal President Barack Obama supported in 2003 when he served in the Illinois state senate and later defended when he ran for president in the 2008 election cycle. To further clarify Obama's position on sex ed for kindergartner's, Obama's campaign spokesman, Bill Burton, pointed MSNBC to the "curriculum for those in kindergarten" produced by the Sexuality Information and Education Council of the United States (SIECUS). This curriculum suggested discussing same-sex relationships, in non-graphic terms, with kindergartners. According to a report published yesterday by the CBS affiliate in Chicago, the new sex education program mandated in Chicago public schools will, like the SIECUS curriculum, instruct kindergartners about same-sex relationships. "Students will also take a look at the different family structures that exist in today's society," said the CBS report. The report then quoted Stephanie Whyte, the chief health officer of the Chicago Public Schools: "Whether that means there's two moms at home, everyone's home life is different, and we introduce the fact that we all have a diverse background."
Countdown On for US Striking Out on its Own on Syria
Aug. 31….(DEBKA) At a news conference in Washington Friday, US Secretary of State John Kerry delivered a ringing statement accusing Bashar Assad of responsibility for the lethal poison gas attack on Damascus suburbs on Aug. 21. His words signaled the start of the countdown for the US military strike on Syria, which debkafile's military sources estimate could be launched from Friday night until US Labor Day on Sept. 2. Kerry laid out the evidence put before congressional leaders that the Syrian government had that day fired chemical weapons at 11 separate sites in and around Damascus, launching them from regime-held areas against rebel-controlled neighborhoods. At least 1,429 Syrians died in the attack, 426 children among them. US intelligence had records of orders being given to chemical weapons teams to launch the attack three days earlier and shown making preparations wearing gas masks.
The Secretary went on to say, "With our own eyes we saw victims writhing in agony from the symptoms of poison gas. We know they were ordinary Syrian citizens who suffered these horrors. We know that the doctors and nurses didn't need to dress bloody wounds. Not a drop of blood was seen. We saw children dead from Assad's gas surrounded by parents and grand parents who were victims. The medical staff treating the wounded were themselves overcome by the poison fumes. Kerry said most of the evidence obtained by US intelligence had been released to the public.
The US secretary said that if America looks the other way and does nothing and Syria gets away with this crime against humanity, others will believe they can do what they will, including Iran with regard to its nuclear weapons and North Korea. At stake is America's position in the world and in its own eyes, as well as the security of its friends, Israel, Jordan and Turkey, all of which are physically close to Syria.
President Obama has pledged that what is done in Syria will be in the American interest and not resemble the wars in Afghanistan and Libya. "There will be no US boots on the ground; nor will the operation be open-ended. It will be limited to holding those responsible for using chemical weapons accountable, the US Secretary stressed. With regard to the UN chemical team's inspection of the affected sites, Kerry noted that its remit was not to affirm who used chemical weapons only whether they were used. "The UN can't tell us anything we don't know and have shared with the American public."
Earlier Friday, President Obama convened in national security team while White House officials spread the word that the US is prepared to act against Syria alone after the British Parliament barred UK participation in the attack.
· Meanwhile, Damascus said Friday that a US intelligence report concluding that the Syrian regime used chemical weapons in an onslaught that killed close to 1,500 people was "entirely fabricated". "What the US administration describes as irrefutable evidence is nothing but tired legends that the terrorists have been circulating for more than a week, with their share of lies and entirely fabricated stories," a foreign ministry statement read out on state television said.
· The US military, struggling after defense cuts of tens of billions of dollars, will be unable to pay for attacks on Syria from current operating funds and must seek additional money from Congress, according to congressional aides. The Obama administration during the first term cut $487 billion from defense spending and another $55 billion under congressional sequestration legislation. An additional $55 billion is slated to be cut next year. (FOJ…Our military may be broke, but we are rich enough to spend millions on sex-ed for kindergarteners.)
Al-Qaida Ready to Storm Into Syria if US Strikes?
(Thousands of Islamic fighters mobilizing on Syrian border)
Aug. 31….(WND) Thousands of jihadist fighters have mobilized in Turkey and Jordan, ready to storm into Syria if the US begins a bombing campaign, according to informed Middle Eastern security officials. The Islamic militants, fighting alongside the Syrian rebels, are being directed in part by Turkish, Saudi and Jordanian military staff, according to the security officials. Al-Qaida and its affiliated organizations are known to be within the rebel ranks. The security officials said the jihadists waiting to advance into Syria include members of the al-Qaida-affiliated Jihadiya Salafiya group. The information comes amid the increased likelihood of US military action, with both President Obama and Secretary of State John Kerry presenting the case for a US strike.
Absolute Genocide of Christians in Nigeria Taking Place
FOJ Note: While Christians all over the Muslim world are being slaughtered, there is no movement by US President Obama to act on their behalf, like he is intent to do in Syria. Why not? Apparently the systematic genocide of Christians in Africa and the Middle East doesn't rate as a humanitarian cause.
Aug. 31….(Worthy News) Instead of sectarian strife, Islamic terrorism sanctioned by state-sponsored discrimination against Christians in northern Nigeria has led to outright genocide, the general secretary of the Christian Association of Nigeria told Morning Star News. "There is no war in the North," said Rev. Musa Asake. "What we have is genocide against people of the Christian faith." Asake said that a climate of indifference has allowed Boko Haram militants and ethnic Fulani herdsmen to attack Nigeria's Christians with impunity. "There is no prosecution of those who kill and this has encouraged these Boko Haram members to continue to bomb Christian areas while Fulani herdsmen continue to attack and kill Christians in rural areas of northern part of this country with impunity … Christians in the North are under an unprecedented siege by various groups of well-armed, roundly trained and heavily funded Muslim groups bent on expressing their hate against Christians and the Christian faith through mindless, mass murder of men, women and children."
UN Security Council Divided Over Syriaa
Aug. 31….(CBS) The five permanent members of the UN Security Council failed to reach an agreement Wednesday on a British-proposed resolution that would authorize the use of military force against Syria, as the UN chief pleaded for more time for diplomacy. The draft resolution, if it were to be put to a vote, would almost certainly be vetoed by Russia and China, which have blocked past attempts to sanction President Bashar Assad's regime. Late Wednesday, Britain's mission to the UN said no decision had been made on moving forward with its resolution. After the council fell short of reaching an agreement, State Department deputy spokeswoman Marie Harf told reporters in Washington that the US sees "no avenue forward" given Russia's past opposition to action by the council on Syria. "We've consistently said that we support UN Security Council action," Harf told reporters. "Instead, what we've seen, not just today, not just last week, but over the course of many months, is the Russians at every move doing things to fail to hold the Syrian regime accountable." The US has not presented concrete proof, and UN inspectors currently in Syria to investigate alleged chemical attacks have not endorsed the allegations. The American government's assessment is based on the circumstantial evidence from videos posted on the Internet, and other intelligence, much of it still classified, ranging from intercepted Syrian communications to tests of tissue samples taken from victims.
The UN envoy to Syria, Lakhdar Brahimi, said Wednesday that evidence suggests some kind of "substance" was used that killed hundreds on Aug. 21. Falk reports that the five permanent members of the Security Council met in a closed-door, informal meeting to discuss the UK resolution Wednesday morning, with Russia and China leaving after an hour and the US, France and the UK remaining for another hour. After the ambassadors met, the draft resolution was being sent back to their governments for consultations, according to a Western diplomat, who spoke to The Associated Press on condition of anonymity because the discussions were private. The diplomat said Russia reiterated its objections to international intervention in the Syrian crisis.
Israel Sends Stern Warning to Assad Via Russian Intermediaries
(Israel issues warning through various intermediaries saying that any attempt to hurt Israel as a retaliation for a US attack would result in a strike on Damascus and the toppling of the Assad regime)
Aug. 30….(Israel Hayom) As the clock ticks down on the US-led attack on Syria, Israel has been preparing for the moment of truth. On Wednesday, a day after warning that "Israel would strike with great force should its citizens be attacked, "Prime Minister Benjamin Netanyahu convened a special Diplomatic-Security Cabinet meeting at the Defense Ministry in Tel Aviv, even as he urged Israelis to keep calm. During the meeting, Chief of General Staff Lt. Gen. Benny Gantz and senior officers in the Israel Defense Forces' briefed ministers on the latest developments in Syria. The defense officials said the likelihood of a Syrian attack on Israel was low and said Israelis should not change their daily routine. The IDF has been preparing contingency plans for various scenarios in which Israel is attacked. On Wednesday, the ministers green-lighted a limited call-up of about 1,000 reservists to boost operational readiness in specific units where specialists are required: the Israel Air Force (including the Iron Dome anti-rocket interceptor batteries), the Homefront Command, the Intelligence Corps, and various other units. For now, the IDF plans to mobilize only a few hundred people.
The IDF has also decided not to raise its alert level until the US-led attack gets underway. Although no vacation moratorium has been announced, on Thursday the IDF was to decide which units would be allowed to send soldiers on weekend leave. Troops that were stationed in the north, especially those in the Golan Heights area, would most likely have to stay on duty.
Israel's air defense disposition has not received any particular orders. As of Wednesday, three Iron Dome batteries were deployed in three different locations: Eilat, Ashkelon and the Haifa area. Two additional batteries are to be deployed in the north. After further review, the batteries could be moved to different locations. The IDF has also placed its MIM-104 Patriot anti-missile batteries on high alert.
Eilat residents said they were concerned the government would have the Iron Dome battery currently in the city redeployed to the north. Those in the tourism industry say such a decision might scare many vacationers planning to visit the Red Sea resort during the High Holy Days in September.
Meanwhile, in the Upper Galilee and the Golan Heights residents maintained their normal routine on Wednesday. "Occupancy levels for the holidays are very high," Golan Heights Regional Council Spokeswoman Dalia Amos told Israel Hayom. The IDF stressed on Wednesday that the Homefront Command had not issued any special directives and that Israelis had not been instructed to collect gas masks at the local distribution centers. Despite those statements, the centers were overwhelmed by worried citizens. The government has already said that it only had enough kits for 60 percent of the population.
A senior defense official told Israel Hayom that Israel was receiving constant updates on the US's plans and that Israel would be told of a specific American strike several hours before it commenced. According to the official, Israel has issued stern warnings through various intermediaries, including the Russians, that any attempt to hurt Israel would result in an attack on Damascus and the toppling of the Assad regime. Although the US attack was to be a punitive measure over Assad's use of chemical weapons, it could expand and spell the end of his regime if he got Israel involved, the official said.
Defense Minister Moshe Ya'alon told reporters on Wednesday that the "Syrians have crossed a red line drawn by the US, which prohibited the use of chemical weapons against civilians. These are terrible pictures, horrific pictures; human beings cannot accept such reality, but those who have to deal with it should not be us, but the West, with the US at the helm." Ya'alon stressed that "we are not trigger-happy, but those who think they can challenge us by threatening us would have to deal with our strength."
The conventional wisdom in the Israeli defense establishment is that the window of opportunity for an attack will open when the UN inspectors leave Syria on Saturday and would close when President Barack Obama meets Russian President Vladimir Putin next Wednesday.
Israel Will Hold Assad Responsible if Hezbollah Attacks
Aug. 30….(Jerusalem Post) Hezbollah fully coordinated with Assad, Iran, official indicates; Hezbollah works "hand-in-glove" with Syrian regime. The lines between Hezbollah and the Syrian regime are so blurred that Israel will hold Damascus responsible if Hezbollah bombards Israel in the coming days, Israeli officials indicated on Wednesday. Israel has made it very clear over the past two days that while it is not involved in the Syrian civil war, it will respond fiercely if Syrian President Bashar Assad decides to respond to an expected Western attack by firing missiles at Israel. This raises another question, however: What if the missiles were fired from Hezbollah in Lebanon, and not by Assad's regime in Damascus. "They cannot play the game that Hezbollah is somehow an independent actor," one official said. "We have seen over the last few months that Hezbollah is coordinated very closely with the Assad regime, and it is the Iranians that have orchestrated that close cooperation." If Israel is attacked by Hezbollah, the official made clear, "we will respond forcefully, and we won't hold by artificial differentiations." Thousands of Hezbollah men are reportedly fighting alongside Assad's troops in Syria. "Hezbollah works hand-in-glove with the Assad regime," the official said. "They are fully coordinated with the Syrian regime and with the Iranians, and they cannot pretend to be acting in a vacuum.
FOJ Note: The Wall Street Journal has confirmed what many suspected, that the West's so-called "evidence" of the latest alleged "chemical attacks" in Syria, pinned on the Syrian government are fabrications spun up from the West's own dubious intelligence agencies. Thus it might be true that the US then, and not Syria, is attempting a cover up, with fabrications in place from discredited, compromised intelligence sources. The Wall Street Journal also reiterated that the US is planning to fully sidestep the UN Security Council and proceed with its partners unilaterally. However, Western allies are getting "cold feet" in light of Russia's strong reaction. My consensus is that the Western Globalists that are working in league with oil-rich Saudi Arabia are frustrated that their New World Order is being interrupted by fellow G20 member, Russia!
Russia Sending Warships to its Syrian Ports
Aug. 30….(Yahoo News) Russia will "over the next few days" be sending an anti-submarine ship and a missile cruiser to the Mediterranean as the West prepares for possible strikes against Syria, the Interfax news agency said on Thursday. "The well-known situation shaping up in the eastern Mediterranean called for certain corrections to the make-up of the naval forces," a source in the Russian General Staff told Interfax. "A large anti-submarine ship of the Northern Fleet will join them (the existing naval forces) over the next few days. "Later it will be joined by the Moskva, a rocket cruiser of the Black Sea Fleet which is now wrapping up its tasks in the northern Atlantic and will soon begin a Transatlantic voyage towards the Strait of Gibraltar." In addition, a rocket cruiser of the Pacific Fleet, the Varyag, will join the Russian naval forces in the Mediterranean this autumn by replacing a large anti-submarine ship.
Did the Obama White House Help Plan the Syrian Chemical Attack?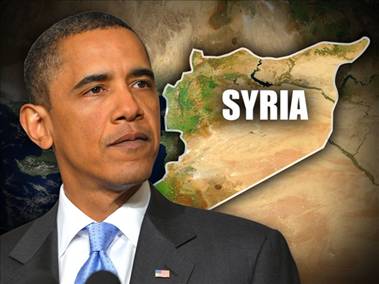 Aug. 30….(Oil Price.com) There is a growing volume of new evidence from numerous sources in the Middle East, mostly affiliated with the Syrian opposition and its sponsors and supporters, which makes a very strong case, based on solid circumstantial evidence, that the August 21, 2013, chemical strike in the Damascus suburbs was indeed a pre-meditated provocation by the Syrian opposition. The extent of US foreknowledge of this provocation needs further investigation because available data puts the "horror" of the Barack Obama White House in a different and disturbing light.
On August 13-14, 2013, Western-sponsored opposition forces in Turkey started advance preparations for a major and irregular military surge. Initial meetings between senior opposition military commanders and representatives of Qatari, Turkish, and US Intelligence ["Mukhabarat Amriki"] took place at the converted Turkish military garrison in Antakya, Hatay Province, used as the command center and headquarters of the Free Syrian Army (FSA) and their foreign sponsors. Very senior opposition commanders who had arrived from Istanbul briefed the regional commanders of an imminent escalation in the fighting due to "a war-changing development" which would, in turn, lead to a US-led bombing of Syria. The opposition forces had to quickly prepare their forces for exploiting the US-led bombing in order to march on Damascus and topple the Bashar al-Assad Government, the senior commanders explained. The Qatari and Turkish intelligence officials assured the Syrian regional commanders that they would be provided with plenty of weapons for the coming offensive.
Indeed, unprecedented weapons distribution started in all opposition camps in Hatay Province on August 21-23, 2013. In the Reyhanli area alone, opposition forces received well in excess of 400 tons of weapons, mainly anti-aircraft weaponry from shoulder-fired missiles to ammunition for light-guns and machineguns. The weapons were distributed from store-houses controlled by Qatari and Turkish Intelligence under the tight supervision of US Intelligence. These weapons were loaded on more than 20 trailer-trucks which crossed into northern Syria and distributed the weapons to several depots. Follow-up weapon shipments, also several hundred tons, took place over the weekend of August 24-25, 2013, and included mainly sophisticated anti-tank guided missiles and rockets. Opposition officials in Hatay said that these weapon shipments were "the biggest" they had received "since the beginning of the turmoil more than two years ago". The deliveries from Hatay went to all the rebel forces operating in the Idlib-to-Aleppo area, including the al-Qaida affiliated jihadists (who constitute the largest rebel forces in the area).
Several senior officials from both the Syrian opposition and sponsoring Arab states stressed that these weapon deliveries were specifically in anticipation for exploiting the impact of imminent bombing of Syria by the US and the Western allies. The latest strategy formulation and coordination meetings took place on August 26, 2013. The political coordination meeting took place in Istanbul and was attended by US Amb. Robert Ford.
More important were the military and operational coordination meetings at the Antakya garrison. Senior Turkish, Qatari, and US Intelligence officials attended in addition to the Syrian senior (opposition) commanders. The Syrians were informed that bombing would start in a few days. "The opposition was told in clear terms that action to deter further use of chemical weapons by the Assad regime could come as early as in the next few days," a Syrian participant in the meeting said. Another Syrian participant said that he was convinced US bombing was scheduled to begin on Thursday, August 29, 2013. Several participants, Syrian and Arab, stressed that the assurances of forthcoming bombing were most explicit even as formally Obama is still undecided. The descriptions of these meetings raise the question of the extent of foreknowledge of US Intelligence, and therefore, the Obama White House. All the sources consulted, both Syrian and Arab, stressed that officials of the "Mukhabarat Amriki" actively participated in the meetings and briefings in Turkey. Therefore, at the very least, they should have known that the opposition leaders were anticipating "a war-changing development": that is, a dramatic event which would provoke a US-led military intervention.
The mere fact that weapon storage sites under the tight supervision of US Intelligence were opened up and about a thousand tons of high-quality weapons were distributed to the opposition indicates that US Intelligence anticipated such a provocation and the opportunity for the Syrian opposition to exploit the impact of the ensuing US and allied bombing. Hence, even if the Obama White House did not know in advance of the chemical provocation, they should have concluded, or at the very least suspected, that the chemical attack was most likely the "war-changing development" anticipated by the opposition leaders as provocation of US-led bombing. Under such circumstances, the Obama White House should have refrained from rushing head-on to accuse Assad's Damascus and threaten retaliation, thus making the Obama White House at the very least complicit after the act.
Meanwhile, additional data from Damascus about the actual chemical attack increases the doubts about Washington's version of events. Immediately after the attack, three hospitals of Doctors Without Borders in the greater Damascus area treated more than 3,600 Syrians affected by the chemical attack, and 355 of them died. MSF performed tests on the vast majority of those treated. MSF director of operations Bart Janssens summed up the findings: "MSF can neither scientifically confirm the cause of these symptoms nor establish who is responsible for the attack. However, the reported symptoms of the patients, in addition to the epidemiological pattern of the events, characterized by the massive influx of patients in a short period of time, the origin of the patients, and the contamination of medical and first aid workers, strongly indicate mass exposure to a neurotoxic agent." Simply put, even after testing some 3,600 patients, MSF failed to confirm that sarin was the cause of the injuries. According to MSF, the cause could have been nerve agents like sarin, concentrated riot control gas, or even high-concentration pesticides. Moreover, opposition reports that there was distinct stench during the attack suggest that it could have come from the "kitchen sarin" used by jihadist groups (as distinct from the odorless military-type sarin) or improvised agents like pesticides. Some of the evidence touted by the Obama White House is questionable at best.
A small incident in Beirut raises big questions. A day after the chemical attack, Lebanese fixers working for the "Mukhabarat Amriki" succeeded to convince a Syrian male who claimed to have been injured in the chemical attack to seek medical aid in Beirut in return for a hefty sum that would effectively settle him for life. The man was put into an ambulance and transferred overnight to the Farhat Hospital in Jib Janine, Beirut. The Obama White House immediately leaked friendly media that "the Lebanese Red Cross announced that test results found traces of sarin gas in his blood." However, this was news to Lebanese intelligence and Red Cross officials. According to senior intelligence officials, "Red Cross Operations Director George Kettaneh told them that the injured Syrian fled the hospital before doctors were able to test for traces of toxic gas in his blood." Apparently, the patient declared that he had recovered from his nausea and no longer needed medical treatment. The Lebanese security forces are still searching for the Syrian patient and his honorarium. On August 24, 2013, Syrian Commando forces acted on intelligence about the possible perpetrators of the chemical attack and raided a cluster of rebel tunnels in the Damascus suburb of Jobar. Canisters of toxic material were hit in the fierce fire-fight as several Syrian soldiers suffered from suffocation and "some of the injured are in a critical condition".
The Commando eventually seized an opposition warehouse containing barrels full of chemicals required for mixing "kitchen sarin", laboratory equipment, as well as a large number of protective masks. The Syrian Commando also captured several improvised explosive devices, RPG rounds, and mortar shells. The same day, at least four HizbAllah fighters operating in Damascus near Ghouta were hit by chemical agents at the very same time the Syrian Commando unit was hit while searching a group of rebel tunnels in Jobar. Both the Syrian and the HizbAllah forces were acting on intelligence information about the real perpetrators of the chemical attack. Damascus told Moscow the Syrian troops were hit by some form of a nerve agent and sent samples (blood, tissues, and soil) and captured equipment to Russia.
Several Syrian leaders, many of whom are not Bashar al-Assad supporters and are even his sworn enemies, are now convinced that the Syrian opposition is responsible for the August 21, 2013, chemical attack in the Damascus area in order to provoke the US and the allies into bombing Assad's Syria. Most explicit and eloquent is Saleh Muslim, the head of the Kurdish Democratic Union Party (PYD) which has been fighting the Syrian Government. Saleh Muslim doubts Assad would have used chemical weapons when he was winning the civil war. "The regime in Syria has chemical weapons, but they wouldn't use them around Damascus, five km from the UN committee which is investigating chemical weapons. Of course they are not so stupid as to do so," Muslim told Reuters on August 27, 2013. He believes the attack was "aimed at framing Assad and provoking an international reaction". Muslim is convinced that "some other sides who want to blame the Syrian regime, who want to show them as guilty and then see action" is responsible for the chemical attack. The US is exploiting the attack to further its own anti-Assad policies and should the UN inspectors find evidence that the rebels were behind the attack, then "everybody would forget it", Muslim shrugged. "Who is the side who would be punished? Are they are going to punish the Emir of Qatar or the King of Saudi Arabia, or Mr. Erdogan of Turkey?"
And there remain the questions: Given the extent of the involvement of the "Mukhabarat Amriki" in opposition activities, how is that US Intelligence did not know in advance about the opposition's planned use of chemical weapons in Damascus? It is a colossal failure. And if they did know and warned the Obama White House, why then the sanctimonious rush to blame the Assad Administration? Moreover, how can the Obama Administration continue to support and seek to empower the opposition which had just intentionally killed some 1,300 innocent civilians in order to provoke a US military intervention?
Obama Says "No Decision Yet" on Strike on Syria
(Obama stalls for deal with Russia's Putin on softened strike)
Aug. 29….(DEBKAfile Exclusive Report) In the face of statements by senior US officials that the Obama administration had crossed the Rubicon on military intervention in Syria, President Barack Obama declared early Thursday, Aug. 29, that he had not yet made a decision on whether to order a military strike against Syria. Although Defense Secretary Chuck Hagel announced that US armed forces were "ready to go," Obama said he was still examining options with his security team. The US president added that he had no doubt that chemical weapons were used by the Syrian regime, not the rebels, saying that for violating international norms and human decency, Assad "should be held accountable."
At the same time, the White House suddenly appeared Wednesday night to be engaging in maneuvers for buying time and holding up military action against Syria, after the armies of the Middle East and half of Europe were already standing ready after completing massive war preparations.
One such maneuver was a leak from White House sources about a delay in releasing to America and the world the promised evidence of Assad's culpability in the use of chemical weapons against the Syrian people. It was postponed because "the report was not yet ready." Another were grumbles from the president's circle that President Obama had found himself jammed in an awkward timeline generated by his foreign travel schedule, he is due to take off next Wednesday, Sept. 4, for Sweden on his way to the G-20 summit in St. Petersburg of Sep. 5-6. This left the optimal dates for his decision to go through with the attack as Friday night, early Saturday, Aug. 31 or after Labor Day, which falls on Sept. 2.
Although Obama appeared still to be standing by that decision, Debkafile's Washington and Moscow sources disclose he has applied the brakes on the momentum for its implementation to buy time for US Secretary of State John Kerry to wind up secret negotiations with Russian Foreign Minister Sergey Lavrov and strike a deal: The US would soften its military action against the Assad regime and his army and reduce it to a token blow, after which the American and Russian presidents would announce the convening of Geneva-2 to hammer out a solution of the Syrian crisis and end the civil war. The Kerry-Lavrov back channel has not yet achieved results and so, Thursday, the fate of the US strike on Syria was still highly fluid and its timeline changeable.
Russia Angry With Saudi Arabia Over Syria
Aug. 29….(Countdown to Zero) According to leaked information, Russian President Putin became "enraged" after his early August meeting with Saudi Prince Bandar bin Sultan who warned that if Russia did not accept the defeat of Syria, Saudi Arabia would unleash Chechen terrorists under their control to cause mass death and chaos during the Winter Olympics scheduled to be held 7-23 February 2014 in Sochi, Russia. Putin was quoted as saying to officials afterwards; Who the hell do the you think you are dealing with?
In what amounts now to international blackmail, if Russia were to give in and agree now to Prince Bandar's threats it would be seen as an act of cowardice. Mr Putin known for his tough guy image who is ex KGB and was once quoted in a humorous portrayal by a western magazine to be as hard as a coffin nail has had his resolve hardened against the west because of this outrage the conclusion of this saga can only mean one thing now and that is war is now inevitable.
Lebanese newspaper As-Safir confirmed this amazing threat against Russia saying that Prince Bandar pledged to safeguard Russia's naval base in Syria if the Assad regime is toppled, but he also hinted at Chechen terrorist attacks on Russia's Winter Olympics in Sochi if there is no accord by stating: "I can give you a guarantee to protect the Winter Olympics next year. The Chechen groups that threaten the security of the games are controlled by us."
Prince Bandar went on to say that Chechens operating in Syria were a pressure tool that could be switched on an off. "These groups do not scare us. We use them in the face of the Syrian regime but they will have no role in Syria's political future."
Foreign Minister Lavrov has previously stated that Syria is not a bargaining chip in relations with the West and said: "We defend only the things that are in the basis of modern New World Order, the UN Charter principles and other international legal documents, and we insist on their fulfillment. We do not want and we will not put up with attempts to distort reached agreements, particularly the legally binding ones."
London's The Telegraph News Service further reported today that Saudi Arabia has secretly offered Russia a sweeping deal to control the global oil market and safeguardRussia's gas contracts, if the Kremlin backs away from the Assad regime in Syria, an offer Putin replied to by saying "Our stance on Assad will never change. We believe that the Syrian regime is the best speaker on behalf of the Syrian people, and not those liver eaters", and which Prince Bandar in turn warned that there can be "no escape from the military option" if Russia declines the olive branch.
With the events now spiraling out of control in Syria, and London's Independent News Service now reporting that Prince Bandar is "pushing for war," Russian foreign ministry spokesman Alexander Lukashevich further warned the West today by stating, "Attempts to bypass the Security Council, once again to create artificial groundless excuses for a military intervention in the region are fraught with new suffering in Syria and catastrophic consequences for other countries of the Middle East and North Africa."
Heedless of Russian warnings which have fallen on deaf ears, however, British Prime Minister David Cameron this morning recalled the British Parliament to vote on attacking Syria as the Obama regime abruptly cancelled their meeting with Russia scheduled for tomorrow on finding a path to peace for Syria, and the West begins its plans to attack the Syrian nation "within days."
As Syria itself has warned that should it be attacked by the West there will be "global chaos," the Western peoples themselves have not been told of the fact that on 17 May 2013, Putin ordered Russian military forces to "immediately move" from Local War to Regional War operational status and to be "fully prepared" to expand to Large-Scale War should either the US or EU enter into the Syrian Civil War, a situation they are still in at this very hour. This new ordering of massive retaliatory strikes against Saudi Arabia, means any attack on Syria is viewed by Russia as being an attack on itself. The fight over Syria, being led by Saudi Arabia and Qatar and their lap-dog Western allies, has but one single objective: To break Russia's hold on the European Union natural gas market which a pipeline through Syria would accomplish.
Russia Threatened to Bomb Qatar and Saudi Arabia Over Blackmail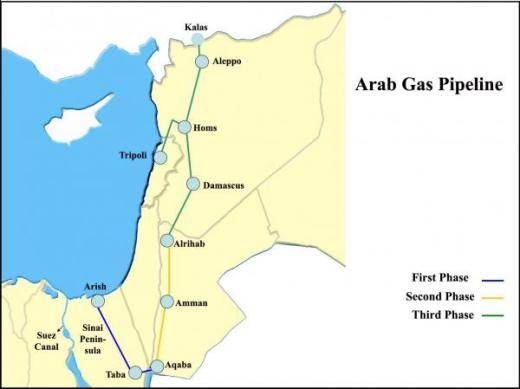 Aug. 29….(Countdown to Zero) A senior source in the Russian Air Force told to Moscow website Telegrafistthat Russia had plans to bomb Qatar and Saudi Arabia. He claims that the combat mission can be done by a unit of Su-27s, as well as by modern bombers Su-34s with extra fuel tanks, accompanied by the Su-27s. "Today, the situation is such that even in case if the Su-34s do not have enough fuel to get out of Iran's airspace on return flight, they will be able to land right there", he said, "a combat radius of the Su-27s allows fly to the capital of Qatar and Saudi Arabia and return, the Su-34s do not have such radius".
On the question when and why these plans developed, the Russian Air Force officer replied: "Saudi Arabia is a key US ally in the region, not Israel, as many suggest, namely the regime of King Abdullah who is willing to get involved where you want to please his masters, so of course the Soviet Union was preparing plans for the destruction of this regime because without it, Saudi Arabia will no longer be an integral state and Washington will get hordes of barbarians who destroy their bases by using the same US military hardware". The Russians also claimed they needed no more than 24 hours for the entire operation to destroy the ruling circles of the two monarchies from the air.
Temple Institute Preparing for 'Perpetual Offering'
Aug. 29….(Bible Prophecy) On Tuesday the 20th of August, the Temple Institute, along with various other organizations tasked with the rebuilding the Jewish Temple in Jerusalem, held a special practice drill in preparation for the reinstitution of the 'daily perpetual offering' recorded in the book of Leviticus. This is the first time such an event has taken place in over 1900 years, since the destruction of the Second Temple by the hands of the Romans in 70AD.
The Mishmeret Kehunah, the Organization for the Renewal of the Priestly Shifts, has inaugurated a new school to help train the kohanim, Jewish people belonging to the priestly tribe of Israel, on the intricacies of their role in the administration of a rebuilt Temple. Kohanim gathered in Jerusalem last week to be shown how to wear their special garments, created by the Temple Institute a few years ago according to the Biblical requirements, and how to perform the 'perpetual offering' as the Levitical priesthood did so many years ago.
On the evening of Tuesday, August 20th, 2013, the 14th day of Elul, 5773, the Temple Institute, in cooperation with Mishmeret Kehunah (the Organization for the Renewal of the Priestly Shifts) and other Temple organizations inaugurated a new school dedicated to teaching kohanim the 'lost' art of performing the daily Tamid service in the Holy Temple.
That evening, for the first time since the destruction of the Holy Temple, a historic practice drill of the daily Tamid offering was reenacted by a group of contemporary kohanim-in-training. The Temple Institute has made many preparations for the rebuilding of the Jewish Temple on Mount Moriah over the past number of years. Last year the organization performed an 'educational' passover sacrifice of a live goat in court near to the Temple Mount. Israeli police have routinely forbidden the Temple Mount Faithful from performing the sacrifice on the mount itself for fear of inciting a Muslim backlash. A few years ago the group began construction of the foundation of the altar, they have completed the manufacture of the golden censers, the laver, the golden crown, and have drawn up blueprints for a chamber for the Sanhedrin in the rebuilt Temple. The kohanim have also been actively preparing for the rebuilding of the Temple, reciting a priestly blessing on the Temple Mount in 2007 for the first time in 1900 years.
Of course the only thing that is missing in all of this is the Messiah Himself. Some Ultra-Orthodox Jewish people believe that according to the Old Testament, the Messiah will be the one to rebuild the Temple, and that this is not something that we have a right to take on ourselves. Scriptures like Amos 9:11 speak of the Lord raising up the tabernacle of David which is fallen down. On the other hand there are those who believe that the Jewish people must somehow merit the Messiah's coming by actively preparing for it. And so groups like the Temple Institute and Temple Mount Faithful urge both the Jewish people and the nations of the world to pray and contribute towards the rebuilding of the Temple. But what do the Scriptures say?
The Bible teaches us that Jerusalem is the city where God has chosen to place His name (1 Kings 11:36). The Lord also said in Isaiah 56:7 that His house, the Jewish Temple, would be called a house of prayer for all nations. So there is no doubt that this is indeed a special place in the eyes of the Lord. Following the construction of Solomon's Temple and his prayer to God, the Lord's presence filled that place (2nd Chronicles 7:2-1). The prophet Malachi also foretold of a day when the Lord Himself, the "Messenger of the Covenant", would suddenly come to His Temple. The New Testament records His arrival. The Gospels tell how that the Lord "taught daily in the temple", but adds that "the chief priests and the scribes and the chief of the people sought to destroy him," Luke 19:47. Twice during His three and a half year ministry the Lord would 'cleanse' His house, driving away the money changers from the courts, and those that made profit of the people's sacrifices to the Lord. In Matthew 21:13 the Lord states, "My house shall be called the house of prayer; but ye have made it a den of thieves". On His last visit to the Temple, before going to the cross, the Lord Jesus said to them, "Behold, your house is left unto you desolate: and verily I say unto you, Ye shall not see me, until the time come when ye shall say, Blessed is he that cometh in the name of the Lord", Luke 13:35.
Jesus Christ, Yeshua HaMashiach, is the Messenger of the New Covenant of Jeremiah 31:31. It is through His sacrifice on the cross of Calvary that we can have the forgiveness of sins and peace with God. One day Israel's Messiah will return to His Temple, and will defeat Israel's enemies, and will reign as King of Kings and Lord of Lords from Jerusalem (Zechariah 12). But as the Lord said, that day will not come until the nation of Israel is willing to recognize their rejected King and accept Him as Lord. The prophet Zechariah foresees that coming day. (And I will pour upon the house of David, and upon the inhabitants of Jerusalem, the spirit of grace and of supplications: and they shall look upon me whom they have pierced, and they shall mourn for him, as one mourneth for his only son, and shall be in bitterness for him, as one that is in bitterness for his firstborn. Zechariah 12:10).
Attack on Syria Likely to Trigger Terrorists Acts Against US and Israel
Aug. 29….(Washington Times) With the White House closer to launching a surgical military strike on Syria, questions swirl over the extent to which such an attack could trigger a wave of terrorism directed at the US and Israel. Some analysts say that Hezbollah, the Iranian-backed Lebanese militia fighting in support of embattled Syrian President Bashar Assad, likely would be inspired to ramp up operations in Iran's "shadow war" with the US and its allies.
Some Middle East analysts, meanwhile, said a US strike likely would inspire the cadre of military and intelligence officials running Syria to commission their own terrorist activities with the goal of disrupting the existing US military presence in the region and deepening instability surrounding Israel.
Joshua Landis, who heads the Center for Middle East Studies at the University of Oklahoma, suggested that the Assad government in Syria already has backed terrorist activities in Lebanon. "Assad is not powerless," Mr. Landis said. "We just saw car bombs go off in Tripoli that killed many Sunni Muslims. So he can do things like that to destabilize things and inflame sectarian tensions in Lebanon." "The reaction of the Assad regime will depend on how hard the strike is," said Mr. Landis, who added that the Assad government might respond by hiring Palestinian groups to target US military officials believed to be in Jordan.
Kerry Consulting on Israeli Peace Process with Muslim Brotherhood
Aug. 29….(Frontpage) Obama is certainly living up to his motto of "Leave no Islamist behind." Especially when it comes to stabbing Israel in the back. US Secretary of State John Kerry and US National Security Adviser Susan Rice consulted regarding the 'peace process' last week with representatives of the Islamic Society of North America. The Islamic Society of North America (ISNA) was established in July 1981 by U.S-based members of the Muslim Brotherhood with a background as leaders of the Muslim Students Association (MSA). As author and terrorism expert Steven Emerson puts it, ISNA "grew out of the Muslim Students Association, which also was founded by Brotherhood members."
One of ISNA's key founders was one of Palestinian Islamic Jihad's founding students, Sami Al-Arian, who was directly involved with the Muslim Brotherhood in 1981, the year ISNA was established.
In November 1987, the Islamic Society of North America established the ISNA Political Awareness Committee headed by Abdurahman Alamoudi, an ISNA regional representative and Muslim Brotherhood operative who in 2004 would be convicted on terrorism-related charges.
I certainly hope that Kerry remembered to consult with Al Qaeda. It would be a shame to leave them out of the process, especially since we are going to support them in attacking Syria!
Fort Hood Killer Sentenced to Death for 2009 Attacks
Aug. 29….(Reuters) A military jury on Wednesday sentenced a US Army psychiatrist to death for murdering 13 people in 2009 at Fort Hood, Texas, where he gunned down unarmed soldiers in what he later called retaliation for US wars in the Muslim world. Major Nidal Hasan shouted "Allahu Akbar" ("Allah is greatest" in Arabic) during the attack and later said he wanted to be a martyr. Now he faces death by lethal injection, pending an automatic appeal, for the rampage that also wounded 31 people.
The jury deliberated just over two hours before deciding on the death penalty for Hasan, who opened fire with a laser-sighted handgun in a medical facility at the sprawling central Texas military base just weeks before he was to be deployed to Afghanistan. Hasan showed no expression as the president of the jury read aloud the sentence that he "be put to death." He is paralyzed from being shot by police upon his arrest on November 5, 2009.
Death sentences are rare in the military, which last executed a member of the service 52 years ago. Hasan, 42, will become the sixth man on death row at the U.S. military's prison at Fort Leavenworth, Kansas. The same jury convicted him on Friday of 45 counts of premeditated murder and attempted premeditated murder. An American-born Muslim, Hasan, who acted as his own attorney, said in his opening statement on August 6 that he was the gunman and had switched sides in what he considered to be a US war on Islam.
Iran: 'Thousands of Missiles' to Rain on Israel
(Threatens massive strike if military action launched on Syria)
Aug. 29….(WND) Iran is threatening to launch a massive missile strike against Israel if the United States attacks Syria for using chemical weapons against its own people, which could touch off a full-blown war in the region. The day of reckoning is near," according to Hossein Shariatmadari, the chief editor of Keyhan newspaper, an outlet controlled by Iran's supreme leader, Ayatollah Ali Khamenei. Shariatmadari warned that the impending confrontation between the West and Syria would "provide the long-awaited opportunity for revenge against Israel and America."
Shariatmadari said that Washington, instead of open war against Syria, has been waging a proxy war against the Assad regime with the help of Turkey, Saudi Arabia, Qatar, Jordan and Egypt. He said now it is ready to directly confront Syria militarily, one of the members of the Resistance Front along with Iran and Lebanon's Hezbollah. However, despite Syrian rebels receiving financial and military support from those Middle East countries, not only has the Assad regime not been overthrown but it has opened a "new chapter for the Resistance where it formed the forces of 'defense of Homeland,' a force similar to the Basij militias (in Iran)."
Iran has long drawn a red line around the Assad regime. And Hezbollah fighters in Lebanon, Israel's neighbor, are armed with thousands of missiles. The three members of the Resistance Front have a joint war room. "Because of the failure of the intended proxy war, America and some Arab and European countries are preparing to attack Syria on the false claims that the Assad regime has used chemical weapons," the editor said. "However, America can certainly start the war but it won't be the one to end it."
Shariatmadari said that Israel is the "Achilles' heel of America and its European allies and without a doubt with the start of an attack on Syria, thousands of missiles will rain down all over the occupied lands (Israel), which will destroy its critical facilities as it was obvious that its missile defense system (the Iron Dome) could not prevent missiles reaching Tel Aviv." He also warned Saudi Arabia, Jordan, Turkey and others who support attacking Syria that they themselves will come under attack from Syria. "Muslims should welcome the news of an attack on Syria as it will provide the long-awaited opportunity for revenge, which should destroy the enemies of Islam," Shariatmadari concluded. Seyed Reza Taghavai, the head of Iran's Policy Council of Friday Prayers, hinted that Khamenei is guiding the events in Syria, Lebanon and Gaza despite Iran publicly saying that it has nothing to do with them, Fars News Agency reported Monday. "People stand tall because of (Khamenei's) guidance and in Syria where it has resisted against the unbelievers," he said. Iran's Quds Forces have long trained Shiites to fight alongside Assad's forces in Syria. Many of these fighters enter Syria through Iraq.
US May Strike Syria as Early as Thursday
Aug. 28….(NBC News) The US could hit Syria with three days of missile strikes, perhaps beginning Thursday, in an attack meant more to send a message to Syrian President Bashar al-Assad than to topple him or cripple his military, senior US officials told NBC News on Tuesday. The State Department fed the growing drumbeat around the world for a military response to Syria's suspected use of chemical weapons against rebels Aug. 21 near Damascus, saying that while the US intelligence community would release a formal assessment within the week, it was already "crystal clear" that Assad's government was responsible.
Vice President Joe Biden went even further, bluntly telling an American Legion audience in Houston: "Chemical weapons have been used." Vice President Joe Biden addresses the use of chemical weapons in Syria and the president's response in a speech to the American Legion. "No one doubts that innocent men, women and children have been the victims of chemical weapons attacks in Syria, and there's no doubt who's responsible for this heinous use of chemical weapons in Syria: the Syrian regime," Biden said. White House press secretary Jay Carney repeated Tuesday that the White House isn't considering the deliberate overthrow of Assad. "The options that we are considering are not about regime change," said during a daily briefing with reporters. "They are about responding to the clear violation of an international standard that prohibits the use of chemical weapons."
But Sen. John McCain, R-Ariz., an influential voice on military matters, pressed the administration to go further, calling for the US and its allies to provide weapons to "the resistance on the ground." "The important part of this whole situation is, is this just going to be just a retaliatory strike that has no lasting impact or something that changes the momentum on the ground in Syria?" McCain told reporters in Mesa, Ariz., after an event on immigration reform. Senior officials told NBC News that Defense Department planning had advanced to the point that three days of strikes were anticipated, after which strategists could run an assessment and target what was missed in further rounds.
Many Americans asked about the slaughter in Syria are torn as to how the US should get involved. NBC's Kevin Tibbles reports. US missile strikes would almost certainly be launched from Navy destroyers or submarines in the Mediterranean Sea. The US in recent days has moved destroyers closer to Syria, which sits on the sea's eastern edge, but that was mostly a symbolic move. US Tomahawk missiles are so precise that they can hit not just buildings but also specific windows, and they could hit Syrian targets from far farther west in the Mediterranean. Navy officials said four destroyers are lined up ready to strike: the USS Barry, the USS Mahan, the USS Ramage and the USS Gravely. Tuesday, a fifth guided-missile destroyer, the USS Stout, also entered the Mediterranean, through the Straights of Gibraltar, but officials said it wouldn't take part in any cruise missile attack. "The four destroyers now in place have more than enough cruise missiles," one official said. In Cairo, the Arab League said it held Assad responsible for the suspected attack. Qatar, Saudi Arabia and other countries condemned the use of unconventional weapons.
Support from the Arab League, even if limited, would provide crucial diplomatic cover for a Western strike on Syria. Action through the UN is unlikely because Russia, which supports the Assad regime, has a veto in the Security Council.
Some US allies, notably Britain, have signaled that a limited strike could take place without Security Council approval. But Russian Foreign Minister Sergei Lavrov said it would be a "very grave violation of international law," and China said through its government-run news service that the US must refrain from "hasty armed intervention."
In Syria, the top general in the Free Syria Army, the umbrella group comprising rebel factions, told NBC News' Richard Engel that airstrikes were necessary to stop Assad from launching even broader chemical attacks. "If there is no action, we are afraid that in the coming days, not coming weeks, Bashar will use chemical weapons and chemical materials against very wide areas and, I'm afraid, to kill maybe 20,000 or 30,000 more people," he said.
Iranian Official: Israel to Be 'First Victim' of US Attack on Syria
Aug. 28….(Washington Free Beacon) A senior Iranian lawmaker said Israel would be the first casualty of any US-led strike on Syria, according to regional media reports. Hossein Sheikholeslam, the director general of the Iranian parliament's International Affairs bureau, claimed the United States would not dare attack Syria but said that if it does, "the Zionist regime will be the first victim." "Yet, if such an incident takes place, which is impossible, the Zionist regime will be the first victim of a military attack on Syria," Sheikholeslam said in an apparent response to the Obama administration's increasingly stern rhetoric against Syria.
Iran has been one of embattled Syrian President Bashar al-Assad's chief allies. It has sent Hezbollah reinforcements to battle rebel forces and acted as Assad's chief defender in the Middle East. As the Obama administration hints that it is gearing up to intervene in Syria following the reported use of chemical weapons, Iranian officials have similarly ramped up their rhetoric. Sheikholeslam said Assad would immediately respond to a US attack by going after the Jewish state with the full force of his military. Syria can "heavily attack and raze the occupied territories," Fars reported him as saying. He said that if the Obama administration does decide to launch an attack, Moscow will support Damascus. Russia has consistently thrown its support behind Assad, providing him with advanced weapons and blocking concrete action at the United Nations.
Israel Readies Homefront for Possible Syrian Attack
Aug. 28….(Israel Hayom) With US-led military action in Syria potentially imminent, the Knesset Homefront Preparedness Subcommittee will hold a special meeting on Wednesday to examine the home-front's readiness for a Syrian attack against Israel. "The state's duty is to be ready for any scenario," MK Eli Yishai, the subcommittee chairman, said.
On Tuesday, Prime Minister Benjamin Netanyahu called a surprise meeting of the security cabinet, apparently to discuss Syria, Army Radio reported. Also on Tuesday, the Israel Defense Forces began a pre-planned two-day drill in the Golan Heights involving security and emergency forces. The IDF said area residents might hear the sounds of gunfire and explosions. In light of the situation in Syria, there has been a marked increase in demand by Israelis for gas masks. Meanwhile, Patriot anti-missile batteries in Haifa have been put on alert and aimed toward the north. During the First Gulf War in 1991, Patriot missile batteries in Israel were used to intercept Scud missiles fired by Iraq. The Patriot system is part of Israel's multi-layered aerial defense network, which also includes the Iron Dome, among other components.
Syria Crisis: Where Key Countries Stand
Aug. 28….(BBC)
Turkey
The Turkish government has been one of the most strident critics of Syrian President Bashar al-Assad since early on in the uprising. On Monday Turkish Foreign Minister Ahmet Davutoglu told Turkey's Milliyet newspaper that the country was ready to join an international coalition for action against Syria even in the absence of agreement at the UN Security Council.
Saudi Arabia and the Gulf
The monarchies of the Gulf are said to have been key in funding and supplying the rebel forces fighting against forces loyal to President Assad. Saudi Arabia has been a rival of the Syrian government for years and has been particularly active in pushing for action against Mr Assad, with former Saudi ambassador to Washington Prince Bandar bin Sultan reportedly trying in recent weeks to garner international support for further support for the rebels.
Israel
Despite initially avoiding becoming involved in the conflict, Israel has carried out three strikes on targets in Syria this year, reportedly to prevent weapons shipments reaching the Lebanese Hezbollah militia. Shelling and gunfire from Syria has also hit the Israeli-occupied Golan Heights, drawing return Israeli fire. In recent days, Israeli officials have condemned the alleged use of chemical weapons by Syrian forces and hinted at support for military action. "Our finger must always be on the pulse. Ours is a responsible finger and if necessary, it will also be on the trigger," Israeli Prime Minister Benjamin Netanyahu said on Sunday. However, Israeli officials will be aware that any Western action against Syria risks a repeat of events in the first Gulf War in 1991, when Iraq attacked Tel Aviv with Scud missiles in attempt to draw Israel into the conflict and prompt the withdrawal of Arab countries from the war. Reports say sales of gas masks in Israel have gone up in response to speculation over military action.
Lebanon
The Lebanese Foreign Minister Adana Mansour told Lebanese radio on Monday that he did not support the idea of strikes on Syria, saying: "I don't think this action would serve peace, stability and security in the region." Two bomb attacks which killed almost 60 people in Lebanon this month were linked to tensions over the Syrian conflict. The Lebanese Shia militant movement Hezbollah has openly taken part in combat in Syria on the side of the government, and there have been reports of some in the Sunni community fighting on the side of the rebels. In addition, the country is already playing host to the largest number of Syrian refugees of any country.
Iran
Iran has been Syria's main backer in the region since well before the current conflict and has been highly critical of any prospect of intervention. On Tuesday, Iran warned a top UN official visiting Tehran of "serious consequences" of any military action. Foreign ministry spokesman Abbas Araqchi also repeated claims that it was in fact rebels who used chemical weapons, AFP reports.
Outside the region
US
Following a cautious reaction to the initial reports of a chemical weapons attack, American rhetoric has hardened in recent days. Secretary of State John Kerry said the use of chemical weapons by the Syrian government was "undeniable" and a "moral obscenity". Washington has recently bolstered its naval presence in the eastern Mediterranean, prompting speculation that preparation for an attack is underway. Analysts believe the most likely US action would be sea-launched cruise missiles targeting Syrian military installations.
UK
The UK is drawing up contingency plans for military action, Prime Minster David Cameron's office has said. Any action would be "proportionate", lawful and follow agreement with international allies, a spokesman for Mr Cameron said. On Monday Foreign Secretary William Hague told the BBC that diplomatic pressure on Syria had failed and that the UK, "the United States, [and] many other countries including France, are clear that we can't allow the idea in the 21st Century that chemical weapons can be used with impunity".
France
The day after the reports of the attack near Damascus, French Foreign Minister Laurent Fabius called for "a reaction of force" if the use of chemical weapons was proven. He has also suggested that the UN Security Council could be bypassed "in certain circumstances". France has been amongst the most hawkish Western countries with regard to Syria, being the first Western power to recognise the main opposition coalition as the Syrian people's legitimate representative. In May France, along with the UK, successfully lobbied for the EU's arms embargo to be lifted so as to allow further supplies to the rebels.
Russia
Russia is one of Assad's most important international backers and has stressed the need for a political solution to be found to the crisis. It has sharply criticized any possibility of Western strikes on Syria, saying action taken outside the security council threatened "catastrophic consequences for other countries of the Middle East and Northern Africa".
China
China has joined Russia in blocking resolutions critical of Syria at the UN Security Council. It has also criticized the prospect of strikes against Syria. The official Chinese news agency, Xinhua, said Western powers were rushing to conclusions about who might have used chemical weapons in Syria before UN inspectors had completed their investigation.
Syria: Tel Aviv Will be Hit if Damascus Attacked
(Senior Assad army officer tells Iranian news agency 'Israel will also be set on fire' if war waged against Syria)
Aug. 28….(YNET) "If Damascus is attacked, Tel Aviv will become a target and a full-scale war against Syria will essentially justify an attack against Israel," a senior Syrian army official told Iranian news agency Fars on Tuesday. "If Syria is attacked, Israel will also be set on fire and such an attack will, in turn, engage Syria's neighbors," the source added. The source also warned the US and other western states that if Syria "becomes weak," certain "irresponsible" groups will be formed which will endanger Israel's security. "Thus, a US attack on Syria will herald frequent strikes and attacks on Israel, not just by Damascus and its allies in retaliation, but by extremist groups who will find a ground for staging their aspirations," he told Fars.
Also on Tuesday, the Israeli Defense Ministry held a special meeting in Tel Aviv with the participation of Prime Minister Benjamin Netanyahu, Defense Minister Moshe Ya'alon, Chief of Staff Maj. Gen. Benny Gantz and an array of top IDF officers. "The State of Israel is prepared for every scenario," Netanyahu said after the meeting. "We're not part of the Syrian civil war, but if we'll spot an attempt to harm us we'll respond with great force." "We will hit Syria HARD if they act against Israel, Netanyahu forcefully stated!
* FOJ Note: Another Syrian source stated. "Rest assured that if Syria is attacked, Israel will also be set on fire and such an attack will, in turn, engage Syria's neighbors," he added. The source also warned the US and other Western states that if Syria grows weak, certain irresponsible groups will be formed which will endanger Israel's security. "Therefore, weakening the central government in Damascus will actually start growing attacks on Israel and will create insecurity for that regime," he claimed. "Thus, a US attack on Syria will herald frequent strikes and attacks on Israel, not just by Damascus and its allies in retaliation, but by extremist groups who will find a ground for staging their aspirations," he concluded.
Western Coalition Set to Attack Syria
(Sec. Kerry's statement was unequivocal. There are 2 possible courses of action: Striking chemical weapons reserves or attacking Syrian army, regime establishments. How will Assad act against Israel, what will Russia do?)
| | |
| --- | --- |
| | (FOJ) Arab League envoys at the group's headquarters in Cairo on Tuesday voted unanimously and called for an international response to the alleged attacks in Syria. |
Aug. 28….(YNET) Secretary of State John Kerry's statement regarding Syria leaves no more room for doubt. The US is about to act, apparently with force, against the Assad regime. What is already certain is that Washington will not act alone, but in the framework of an international coalition that has already been formed. This coalition will consist of the US, Britain, France and Turkey. Germany may join at a later stage. President Obama and said countries' leaders have already agreed in principle to form the coalition, and now talks are being held to coordinate the operational aspects. The planning and coordination focus on two key areas: The first, the plan of action and the forces that will perform it, and the other, the "day after" plans. It will be a mainly American operation, but it may also affect countries that will not directly take part, such as Israel and Jordan.
Israel has already begun quietly preparing for the possibility of a Syrian response against it. Assad is well aware that Israel's involvement in the war may decide the fate of his regime and the Alawite community. In any case, the Syrians will do anything to hide their fingerprints and will attempt to conduct the shootings and attacks by proxy, for example through Hezbollah or Ahmed Jibril's organization who stand alongside Assad. As to the Iranians and Hezbollah, they will be partners and perhaps the major contractors of any terror attacks abroad.
Russia, most likely, will demand an urgent meeting of the Security Council, and together with China it will demand a resolution that orders the United States and its NATO allies to stop the attack. It may already be too late, since the attack will not take more than 24 hours, perhaps even less. But if the US will want, for example, to make sure that all of the chemical weapons stockpiles were destroyed or that the Syrian anti-missile system was wiped out, it may take more than 48 hours. It all depends on the operation's objectives and the means that will be exercised. Russia may also respond to an American strike with the transfer of S-300 missiles to Syria and with increasing its present in the Mediterranean Sea near the Syrian shore and in Tartus port.
FOJ Alert: Ezekiel's King of the South Seeks Deal With King of the North
Saudi Arabia Makes Overture to Russia
Aug. 28….(WND) Russian President Vladimir Putin and Saudi intelligence chief Prince Bandar bin Sultan held a secret meeting in July in which, sources say, the Saudi prince sought to make a deal with Putin of more oil investments and oil price stability in exchange for Russian withdrawal of support for the embattled regime of Syrian President Bashar al-Assad. Sources described the meeting as stormy, at best.
Putin and Bandar agreed, at least, that the region stretching from North Africa to Chechnya and Iran through Syria, as well as all of the Middle East, was the subject of a major US-Russian standoff. Sources say Bandar, who is paying for the Sunni uprising stretching from Syria and into Iraq, suggested that his offer of oil price stability and investments in exchange for the Russians to stand aside and let the Sunnis take over Syria by ousting Assad was in coordination with the US and its European partners.
According to sources, the four-hour meeting also discussed their roles in fighting international terrorism. Putin is very concerned about the subject because of the Sunni Islamist militants in the North Caucasus who are threatening now to launch attacks throughout Russia. Putin made it clear that Saudi financing was behind the terror efforts and suggested that any level of cooperation between the two countries can only occur if Riyadh stops such funding. "There are a lot of common values and goals that bring us together, most notably the fight against terrorism and extremism all over the world," Bandar reportedly told Putin. "Russia and the United States, the European Union and the Saudis agree on the promotion and consolidation of international peace and security," Bandar said. This was an indirect reference to the Russian backing of Iran, which is helping to prop up the Assad regime. Bandar reportedly wanted the Russians to stop backing Iran's nuclear efforts, which the Saudis find to be a major security threat to the preservation of the monarchies of Saudi Arabia and, indeed, all of the Gulf Arab countries.
Bandar reportedly went so far as to guarantee the protection of the 2014 Winter Olympics in Sochi, Russia. The offer, in effect, provided proof of Saudi backing of North Caucasus militant attacks in Russia. Chechen and other North Caucasus groups under the leadership of Dokku Umarov have threatened not only to launch renewed attacks against civilian targets inside Russia but to cause major disruptions of the 2014 games. Moscow sees the Sunni Islamist militants out of the North Caucasus as a major threat and recently has had the federal security services step up attacks against them. Moscow also is looking to Shiite Iran to help blunt the growing influence and activities of the Sunni militants from across Central Asia as they unite with the North Caucasus militants to launch attacks in Russia.
Putin also is concerned the Chechens, who are receiving battlefield experience in Syria and are financed and equipped by the Saudis, could be even more emboldened upon their return to the North Caucasus region and launch even more serious attacks.
Russia Warns US of 'Catastrophic Consequences' if Syria Hit
Aug. 27….(GSI Global Strategic Init.) Russia on Tuesday warned a military intervention in Syria could have "catastrophic consequences" for the region and called on the international community to show "prudence" over the crisis. "Attempts to bypass the Security Council, once again to create artificial groundless excuses for a military intervention in the region are fraught with new suffering in Syria and catastrophic consequences for other countries of the Middle East and North Africa," foreign ministry spokesman Alexander Lukashevich said. "We are calling on our American partners and all members of the world community to demonstrate prudence (and) strict observance of international law, especially the fundamental principles of the UN Charter," he said in a statement. Western countries led by the United States are considering their response to an alleged chemical weapons attack by Assad's regime on August 21. Russia has said it believes rebels were behind the incident and has warned any military action without UN approval would violate international law.
On Monday Russian Foreign Minister Sergei Lavrov condemned the "hysteria" over the claimed chemical attack and said the West had yet to come up with proof that Assad's regime was behind it. He also said Russia would not get involved in a military conflict in Syria.
Russian President Vladimir Putin told British Prime Minister David Cameron in a telephone call on Monday there was no evidence yet that the Syrian regime had used chemical weapons against rebels, Cameron's office said. Pro-Kremlin Russian newspaper Izvestia published Monday an interview with Assad who ridiculed as "nonsense" the idea his regime used chemical weapons and warned the United States of failure if it attacked Syria. Russian officials are now comparing the possible use of force against Syria to the 2003 US-led invasion of Iraq, which was vehemently opposed by Moscow as based on flawed intelligence that Saddam Hussein's regime possessed weapons of mass destruction.
Russia and China Vehemently Warn US About Syria
Aug. 27….(BBC) Russia and China have stepped up their warnings against military intervention in Syria, with Moscow saying any such action would have "catastrophic consequences" for the region, and that the two huge powers would oppose any such action. Russian Foreign Minister Sergei Lavrov told reporters on Monday the West had not produced any proof that President Assad's forces had used chemical weapons. He was responding to suggestions from some Western countries that military action against the Syrian government could be taken without a UN mandate. Mr Lavrov said the use of force without Security Council backing would be "a crude violation of international law".
Russian foreign ministry spokesman Alexander Lukashevich has called on the international community to show "prudence" over the crisis and observe international law. "Attempts to bypass the Security Council, once again to create artificial groundless excuses for a military intervention in the region are fraught with new suffering in Syria and catastrophic consequences for other countries of the Middle East and North Africa," he said in a statement. The official Chinese news agency, Xinhua, said Western powers were rushing to conclusions about who may have used chemical weapons in Syria before UN inspectors had completed their investigation.
Syrian Gas Attacks May Have Been Work of Anti-Assad Rebels
FOJ Note: The Syrian mess is very fraught with covert and sinister forces. The Al Qaeda infiltrated Rebels may have indeed perpetrated the "red line" attacks just to get the US involved! We need to be very careful about Damascus!
Aug. 27….(WND) As the US considers a response to what it calls a chemical weapon attack by Syria's Bashar al-Assad regime that killed hundreds of civilians, reliable Middle Eastern sources say they have evidence the culprits actually were the rebel forces trying to take over the government. With the assistance of former PLO member and native Arabic-speaker Walid Shoebat, WND has assembled evidence from various Middle Eastern sources that cast doubt on Obama administration claims the Assad government is responsible for last week's attack. A video posted on YouTube, shows Free Syrian Army, or FSA, rebel forces launching a Sarin gas attack on the Syrian villagees in question. A close-up from the Syrian television news report, seen below, shows a chemical agent identified as having been made by a "Saudi factory. Also a report from the Russian Arabic-language channel RT Arabic shows captured rebel arsenals apparently with chemical agents manufactured in Saudi Arabia and gas masks, supporting Russian claims that the rebels are the actual perpetrators of the chemical attacks.
On Aug. 23, LiveLeak.com hosted an audio recording of a phone call broadcast on Syrian TV between a terrorist affiliated with the rebel civilian militia "Shuhada al-Bayada Battalion" in Homs, Syria, and his Saudi Arabian boss, identified as "Abulbasit." The phone call indicates rebel-affiliated terrorists in Syria, not the Assad government, launched the chemical weapons attack in Deir Ballba in the Homs, Syria, countryside. The terrorist said his group, which comprises 200 terrorists escaped from al-Bayadah to al-Daar al-Kabera through a tunnel, needed to buy weapons to attack Homs.
The Saudi financier, who was in Cairo, asked the Syrian terrorists to give details about his group and how it will receive the money. The Saudi admitted his support to terrorists in Daraa and the Damascus countryside. The Syrian terrorist told him that one of the achievements of his "battalion" was the use of chemical weapons in Deir Ballba. The recorded phone call disclosed the cooperation between two terrorist groups in Syria to bring two bottles of Sarin Gas from the Barzeh neighborhood in Damascus.
Russian media sources have consistently reported Syrian military have discovered rebel warehouses containing chemical weapons agents and have documented rebel chemical weapons attacks on the Syrian civilians.
FOCUS ON JERUSALEM BULLETIN
Aug. 27….(FOJ) The dire situation that is currently developing over Syria is very, very dangerous, and has highly significant importance in Bible Prophecy. It could, depending on how events play out in the next couple of weeks, portend that the long prophesied scenario of Isaiah 17 and Jeremiah 49 concerning Damascus could explode. Ironically, these serious developments are playing out just as Israel inches closer day by day to their Rosh Hashannah and the Feast of Trumpets festivals. Fellow Christians, I alert you to the solemn potential, and I reiterate, "high potential" for this scenario quickly evolving toward the long anticipated Rapture. That is only an educated guess at this point, but for the first time in world history, all the appropriate factors and players are converging right now! We anxiously continue to watch, and pray for the peace of Jerusalem!
Syria Warns: Israel 'Will Come Under Fire' if Syria Is Attacked
(Top member of Assad's party warns 'We have strategic weapons aimed at Israel.' Russia objects to intervention, cautions against repeat of 'past mistakes')
Aug. 27….(YNET) A member of the Syrian Ba'ath national council Halef al-Muftah, until recently the Syrian propaganda minister's aide, said on Monday that Damascus views Israel as "behind the aggression and therefore it will come under fire" should Syria be attacked by the United States. In an interview for the American radio station Sawa in Arabic, President Bashar Assad's fellow party member said: "We have strategic weapons and we can retaliate. Essentially, the strategic weapons are aimed at Israel." Al-Muftah stressed that the US's threats will not influence the Syrain regime and added that "If the US or Israel err through aggression and exploit the chemical issue, the region will go up in endless flames, affecting not only the area's security, but the world's." Earlier this week the Syrian top official said that an attack of this kind will expand the circle of hostilities beyond Syria. According to him, it may bring about a world-war, the extent of which cannot be foretold. Talking to the Arabic-language Iranian channel al-Alam, al-Muftah said that the US is unable to attack Syria since Syria's retaliatory capabilities are well-known, and will be directed at Israel, according to him, the entity which pulls the Americans strings. At the same time, another senior Syrian official, Deputy Foreign Minister Faisal Mikdad, issued similar statements in an interview for AP, saying that his country will defend itself against any international attack. He added that strikes against Syria would trigger "chaos" and threaten worldwide peace and security. He said a UN team in Damascus currently investigating the alleged use of chemical weapons should be allowed to do its work, before the world makes any judgment.
UN inspectors examine wounded
US Defense Secretary Chuck Hagel said Monday the Obama administration was studying intelligence on Syria's purported use of chemical weapons and "will get the facts" before acting. Speaking with reporters after meeting with his Indonesian counterpart Hagel said, "We are analyzing the intelligence and we will get the facts and if there is any action taken it will be in concert with the international community and within the framework of a legal justification." On Monday afternoon UN inspectors arrived at the Damascus suburb were the chemical attack allegedly occurred, and examined the bodies of the disease for evidence of the banned weapons.
Meanwhile, Russia warned Western powers against any military intervention in Syria, saying the use of force without a UN mandate would be a grave violation of international law. Foreign Minister Sergei Lavrov said Moscow had no plans to be drawn into a military conflict over the civil war in Syria and that Washington and its allies would be repeating "past mistakes" if they intervened in Syria. "The use of force without the approval of the United Nations Security Council is a very grave violation of international law," Lavrov told a news conference at which he discussed accusations by rebel forces that Syrian government forces have used chemical weapons.
Russia is Syrian President Bashar Assad's key ally and one of its main arms suppliers, and a veto-wielding member of the Security Council. Expressing concern about statements suggesting NATO had the right to intervene after a chemical attack without securing the approval of the United Nations, Lavrov said the unapproved use of force would "sharply aggravate" the situation. He urged the West not to go down the "dangerous path" it had taken several times before and added: "We have no plans to go to war with anyone." If anybody thinks that bombing and destroying the Syrian military infrastructure, and leaving the battlefield for the opponents of the regime to win, would end everything - that is an illusion," Lavrov said.
'Doomsday Scenario Looming in Syria'
(With Arab support, Western nations prepare for possible military strike; Assad warns of 'chaos and instability')
Aug. 27….(Times of Israel) Days after the regime of Syrian President Bashar Assad allegedly carried out a chemical attack in a Damascus suburb that killed hundreds of people, Western nations and their Arab allies are actively planning a military strike. This would be the first show of force by an outside power since the Syrian civil war began in March 2011, all Arab dailies lead off. The Saudi-owned A-Sharq Al-Awsat, known for its hostility toward the Assad regime, reports that in the face of overwhelming international pressure, Assad came to an understanding with the United Nations that will allow an international fact-finding team to investigate the chemical attack as early as Monday. The Syrian government has publicly accused "terrorists," or rebel forces, of launching the deadly attack.
Regardless of the conclusions the fact-finding team comes to, the leaders of the United States, the United Kingdom, and France have already decided that Assad's gesture is too little too late. The Syrian regime will already have had enough time to destroy crucial evidence. "The UN must be realistic about what it can achieve," British Foreign Secretary William Haig told reporters.
The United States has already announced a re-concentrating of American warships in the eastern Mediterranean.
The Doha-based media network Al-Jazeera notes that American Joint Chiefs of Staff Chairman Martin Dempsey has already begun conducting meetings in Jordan with top generals from 10 other countries on a contingency plan for Syria. The main issues being discussed are how a strike in Syria will affect Jordan's stability, what the response will be from Iran, and whether or not a strike will be successful.
The London-based pan-Arab daily Al-Quds Al-Arabi adds that any military strike is expected to be limited and to be carried out from air or water. The main option being considered seriously is to launch rocket attacks on specific points for a period of 24-48 hours "to send a message to the Syrian regime."
Alexander Ukashevic, a spokesman for the Russian Foreign Ministry, warned that "the repercussions would be severe on the White House if Russia's red line on Syria was exceeded. . . There must be no effort to pre-impose the results of the investigation of UN experts. It must be rational because a mistake would be tragic." Despite the talk of military action against him, Assad too remains defiant, warning that "military intervention would only bring chaos and instability to the Middle East and the world."
In an exclusive interview with the Russian daily Izvestia, picked up by the London-based Al-Hayat, Assad continues to call his battle with the Syrian opposition a fight between a legitimate power and terrorists. "Syrian security forces are dealing with terrorist armies that have a radical ideology, the same as that of Al-Qaeda," Assad asserted. "These terrorists are receiving major backing from Israel. If these terrorist groups hate Israel, then why are they going to Israel's hospitals and fighting the Egyptian and Syrian states rather than opening up its operations against Israel? Let's not forget that the main supporter of the terrorists is the United States of America." "I will not turn Syria into a puppet in the hands of the West," Assad continued. "We are an independent state, we will fight terrorism, and we will build relations with those countries that want what's best for the Syrian people."
In an editorial published in A-Sharq Al-Awsat called "No politics with chemical weapons," the paper opines that military intervention in Syria is no longer an option, but a duty. "It cannot be permissible for the Assad regime to dilute the facts and disrupt an international investigation into the use of chemical weapons," the editorial emphasizes. "Any delay in dealing firmly with Assad's disregard for the lives of innocent people would cause great harm to the reputation of the international community. Silence for these crimes will destroy the chances of moderation and ignite extremism throughout the entire region.
Syrian opposition groups, for their part, may be already making the Saudi paper's prediction a reality. Also accused of committing vast human atrocities, they have already vowed to bomb Alawite villages along the Syrian coast with thousands of rockets as retaliation for the chemical attack, according to the Dubai-based media channel Al-Arabiya. The leading editorial in Al-Quds Al-Arabi states that, at this point, it is no longer important who carried out the chemical weapons attack. In a piece entitled "Doomsday scenario in Syria," the paper argues that nothing other than military action can prevent Assad from continuing to subject his people to genocide. Arab intervention is not enough to overcome the beast," the editorial reads. "It must be a total global effort."
Fearing a US Strike, Syria Warns of Global "War & Chaos"
Aug. 27….(CBS News) A senior Syrian official said Monday that his country will defend itself against any international attack and will not be an easy target as the US and other countries ramp up rhetoric in response to an alleged chemical weapons attack last week on a rebel-held neighborhood of the Syrian capital. In an interview with The Associated Press in Damascus, Syrian Deputy Foreign Minister Faisal Mikdad said airstrikes or other action against Syria would also trigger "chaos" and threaten worldwide peace and security. He spoke Monday as support for an international response was mounting if it is confirmed that President Bashar Assad's troops were responsible for the Aug. 21 attack, which activists say killed hundreds.
The Obama administration is now talking behind the scenes as if there is almost no doubt about Assad's use of chemical weapons, CBS News senior White House correspondent Major Garrett reported on "CBS This Morning." President Obama is moving toward a military strike against Syria. Any final decisions haven't been made, but senior administration officials talk of Syria now as a place where the U.S. and its allies must exact a military price for heavy use of chemical weapons. There is no longer serious debate within the administration if the Assad regime used chemical weapons last week. Secretary of State John Kerry on Monday condemned the use of chemical weapons against civilians in Syria, calling it a "moral obscenity" that could soon bring a military response during a press conference at the State Department. Kerry appeared to be outlining a justification for possible US military action. "This is about the large scale, indiscriminate use of weapons that the civilized world long ago decided must never be used at all, a conviction shared even by countries that agree on little else," Kerry said at the State Department. "There is a clear reason that the world has banned entirely the use of chemical weapons."
The UN weapons inspector team currently in Syria is not going to assign blame for any potential chemical weapons attack, instead just investigate whether one occurred, making any chance the Security Council will back international action in the two-year-old civil war even less likely. Russia has long been a firm backer of the Assad regime, and on Sunday warned the US to not turn Syria into another Iraq. Russian Foreign Minister Sergei Lavrov said Monday any intervention in Syria without a Security Council resolution would be a grave violation of international law, according to Reuters.
US Military Action on Syria Could Put Israel in Firing Line
Aug. 27….(Jerusalem Post) The strength of Israel's deterrence, based on its military prowess, will help decide whether Israel becomes the target of a retribution attack from Syria and its allies Iran and Hezbollah. Signals from the US suggesting a military response to the chemical massacre in Syria are growing louder, and Israel, it is safe to assume, is quietly making preparations to ensure it is ready for any retribution attacks. If and when Washington, together with its allies, launches a military strike on Syria, the move will not only target the Assad regime.
A US military response will challenge the belligerent axis that stands behind Syria, made up of Iran, which is sending weapons and military advisers to Syria, and Hezbollah, which sent thousands of highly trained, heavily armed fighters to help keep the Assad regime alive. This axis, also known as the Shi'ite crescent, operates under Russian diplomatic cover, and gets military support from Moscow in the form of extensive sales of sophisticated arms.
Iran, leader of the Shi'ite crescent, views Syria as its critical forward province. Now, the axis's members will be thinking about how they should respond to a US military strike. Syrian officials have, since the outbreak of the civil war, issued threats in an effort to deter US intervention. A common theme running through many of the threats is a warning that any foreign intervention will result in a "fire that will engulf the region." These threats have been echoed by Iranian officials.
Israel has been mentioned as a target for retribution, though US allies Jordan and Turkey could just as easily find themselves on the target list. Efforts to lash out at Israel could include Syrian ballistic missile attacks, rocket attacks from Hezbollah in Lebanon or in Syria, or terrorist attacks on overseas Israeli targets by global Hezbollah or Iranian operatives. Despite the threats, Hezbollah, Syria and Iran all know that any provocation against Israel could backfire badly against them. The strength of Israel's deterrence, based on its military prowess, will help determine whether Israel becomes the target of a retribution attack. The signals sent consistently in recent months and years suggest that it would be wrong to assume that Jerusalem will repeat its actions from the 1991 Gulf War, when Israel did not return fire at Iraq after coming under Scud missile fire.
Defense Minister Moshe Ya'alon and IDF Chief of Staff Lt.-Gen. Benny Gantz have made it abundantly clear that Israel will respond to any attack on its civilians. The resolve was on display last week, when the Israel Air Force bombed a terrorist site south of Beirut, in response to the firing of four rockets at northern Israeli communities. The air strike was the latest in a series of clear signals designed to demonstrate Israel's determination to respond to all attacks on it. Before that, the IDF's Northern Command responded to gunfire and shelling attacks from Syrian army units by silencing the sources of fire with guided surface-to-surface Tamuz missile strikes. Not only has Israel beefed up its deterrence with such responses, it has, according to foreign media reports, demonstrated its preemptive capabilities and the resolve to use them.
According to reports, targets of past preemptive strikes ranged from caches of Iranian guided missiles in Damascus to a jihadist terrorist cell in the Sinai Peninsula preparing to fire rockets at Israel. With the IAF able to strike more targets (near and far) than ever before, and IDF Military Intelligence keeping its many eyes on more enemy activity than ever before, those who consider attacking Israel will surely not do so lightly, if at all. Any assessment of potential retribution should factor in the possibility that Syria, Hezbollah and Iran might decide to take a calculated risk and launch a limited assault on Israel in response to a US strike, based on a prediction that Israel will refrain from responding with full force. Such a prediction would be out of tune with Israel's quiet yet unmistakable warnings.
Syria: If US Attacks Us, We'll Attack Israel
Aug. 27….(Arutz) As talk and rumors of an impending Western attack against Syria mount, a top Syrian official said Monday that if attacked, his country would react, against Israel. Speaking to an Arabic-language radio station operated by the United States, Syria's Deputy Information Minister Halaf Al-Maftah said that Israel would face not only Syria in the event that the US, Britain and France attempted to unseat Bashar al-Assad. A coalition consisting of Iran, Iraq, Lebanon, and Syria would respond to any attack against Assad with a response against Israel. In addition, terrorist groups in Syria and Lebanon would attack Israel with full force.
Al-Maftah added that Syria has "strategic weapons" that it would use in its attack on Israel. He did not specify what those weapons were. "Syria is ready to deal with all scenarios," said Al-Maftah. "We consider these declarations of a possible attack as a form of psychological warfare and pressure on Syria. We are not worried about them. We hope that those threatening us will listen closely to what we are saying. We believe that the only solution for the Syrian issue is a political one," he added. In recent days, the US has sent warships off Syria's coast, with the assumption being that they were waiting for word from the White House to attack Syria and remove Assad from power. Over the weekend, the US Navy expanded its presence in the Mediterranean Sea with a fourth cruise-missile-armed warship.
Mid-East, Israel on HIGH ALERT
(Obama's failed last-ditch bid for Syria deal with Iran increases tensions in area)
Aug. 27…..(DEBKA) Monday night, Aug. 25, saw one Middle East country after another, including Israel, going on high military alert after they learned that US President Barack Obama had failed to come to an understanding with Tehran on Syria and so avert a US-led operation against Syria over its chemical attacks.
Mr. Obama had hoped this understanding would also pave the way to direct dialogue on the nuclear issue with the new Iranian president Hasan Rouhani. Debkafile's intelligence sources report that the US president delegated two emissaries for two separate tracks. He found cause for optimism in Tehran's consent to receive Jeffrey Feltman, UN Deputy Secretary, Monday, Aug. 25, although in his former capacity as US Undersecretary of State and US ambassador to Damascus, Feltman was viewed as an adversary of Iran, Syria and Hizballah. Feltman arrived suddenly in Tehran Monday and was received by Foreign Minister Javad Zarif without delay. The other intermediary was Sultan Qaboos of Oman, who arrived in Tehran Monday for a visit with Iran's Supreme Leader Ayatollah Ali Khamenei. He too made no headway in his attempt to persuade his host that the US was amenable to a last-minute understanding on Syria for holding back an attack. Khamenei responded with a cold threat: If the Americans attack Syria, "the entire Middle East will suffer from burns," he said.
This response was the signal for orders to American military assets in the Mediterranean and Persian Gulf to go on a state of high preparedness Monday night, Debkafile's military sources report. Iran, Russia and Syria deployed their forces in readiness for a US-led attack on Syria. Syrian units were ordered to leave their bases and spread out across the country's broad open areas. The ten military chiefs meeting in Amman focused on coordination of the joint operation against Syria which is expected to begin very shortly. Participating in the meeting chaired by US chief of staff Gen. Martin Dempsey were the top commanders of Jordan, Saudi Arabia, Qatar, Turkey, Britain, France, Germany, Italy and Canada.
The powerful message coming from US Secretary of State John Kerry and the White House spokesman Jay Carney Monday night indicated that the Obama Administration is not about to back off its promise of consequences for those responsible for using chemical weapons against civilians and "shocking the world's conscience." Both bluntly accused the Assad regime of the heinous crime of chemical warfare on civilians. "Our understanding is grounded in facts and common sense," Kerry said: This regime held custody of those weapon stockpiles, had the rockets to use them and was capable of doing so. "Basic humanity is offended by this crime and even more by the attempts to cover it up. Kerry added: "We have additional information about these attacks. It is being reviewed with our partners and will be released in the coming days."
Gay' Lawmaker to Christians: 'We'll Take Your Children'
Aug. 26….(WND) Few people doubt that New Jersey Gov. Chris Christie hopes to become president in 2016. Unfortunately for him, he may have just signed away any chance of that. Christie signed A3371, a draconian piece of legislation that bars licensed therapists from helping children overcome unwanted same-sex attractions, behavior or identity. This law bans help for minors even when, as is so often the case, those same-sex attractions arise from childhood sexual abuse by the likes of a Jerry Sandusky.
This law will prohibit minors and their parents from receiving counseling they desire and will force counselors to violate ethical codes because they will not be able to help clients reach their own counseling goals. This law would enslave children, whether abused or not, to a subjectively determined sexual identity that they reject. The connection between homosexual abuse and "gay identity" is undeniable. Consider this: Researchers from the Centers for Disease Control and Prevention (CDC) have found that homosexual men are "at least three times more likely to report CSA (childhood sexual abuse)" than heterosexual men.
Moreover, the Archives of Sexual Behavior, no bastion of conservatism, determined in a 2001 study that nearly half of all gay-identified men were molested by a homosexual pedophile: "46 percent of homosexual men and 22 percent of homosexual women reported having been molested by a person of the same gender. This contrasts to only 7 percent of heterosexual men and 1 percent of heterosexual women reporting having been molested by a person of the same gender" noted the study.
For obvious reasons, this politically motivated law has been dubbed the "Jerry Sandusky Victimization Act." Liberty Counsel, one of the fastest growing civil rights law firms in the country, has stepped in to protect New Jersey children, parents and licensed therapists. We've filed suit to block the law, as we've already blocked a similar law in California. In his signing statement, Gov. Christie wrote: "Government should tread carefully into this area and I do so here reluctantly. I have scrutinized this piece of legislation with that concern in mind. However, I also believe that on issues of medical treatment for children we must look to experts in the field to determine the relative risks and rewards." Beyond the fact that Christie and the New Jersey Legislature have just violated the First Amendment rights of New Jersey parents, children and counselors, there remains another problem with his assertion. It's not true. As with any form of therapy, the "experts" are all over the board on the issue of change therapy.
For instance, both New Jersey Democrats and Christie cited the American Psychological Association, or APA, as justification for this gross infringement on the right of self-determination. Although, no doubt, the highly liberal APA supports this and similar Sandusky Laws for political reasons, the group's own task force on change therapy, led entirely by members who themselves are "gay"-identified or known political activists, has had to admit, nonetheless, that homosexuality itself "refers to feelings and self-concept." The taskforce confessed that such therapy has shown "varying degrees of satisfaction and varying perceptions of success." It acknowledged within its own skewed, very limited "study" that some people had "altered their sexual orientation. Participants had multiple endpoints, including LGB identity, ex-gay identity, no sexual orientation identity, and a unique self-identity. Individuals report a range of effects from their efforts to change their sexual orientation, including both benefits and harm."
Reports of "both benefits and harm"? Exactly what might be expected from any form of therapy. But that's for adults. Here's the kicker: The APA also acknowledged that there is no evidence whatsoever that change therapy harms minors. Mat Staver, founder and chairman of Liberty Counsel, addressed this, the most outrageous aspect of the law: "The very report that the governor cited for signing this law also admitted that there is absolutely zero research, none, regarding the effect of change therapy with minors."
Get that? Gov. Christie just signed into law a bill purporting to prevent harm to minors from change therapy, citing, as the reason, an APA report that admits there is neither research nor empirical evidence to suggest that change therapy harms minors. Is your head swimming? It should be. The governor is one of three things. He is either: 1) ill-informed, 2) politically motivated or 3) stupid. I don't know, I guess he could be 4) all of the above.
Meanwhile, there are many experts outraged over this gross overreach by Christie and other New Jersey liberals. Dr. Nicholas Cummings, former president of the APA, wrote in USA Today: "Contending that all same-sex attraction is immutable is a distortion of reality. Attempting to characterize all sexual reorientation therapy as 'unethical' violates patient choice and gives an outside party a veto over patients' goals for their own treatment. A political agenda shouldn't prevent gays and lesbians who desire to change from making their own decisions."
Dr. Cummings has testified to personally helping hundreds of formerly homosexual clients achieve the change they desired. Things get more sinister yet. On Wednesday, New Jersey Assemblyman Tim Eustace, who sponsored the bill and is openly homosexual, bombastically compared change therapy to "beating a child" and suggested that the government take children seeking change away from their parents. He told Talk Radio 1210 WPHT, "What this does is prevent things that are harmful to people. If a parent were beating their child on a regular basis we would step in and remove that child from the house. If you pay somebody to beat your child or abuse your child, what's the difference?" Mat Staver responded on the same program: "It is shocking to hear the law's sponsor threaten parents that the state will remove their children from them if they provide the counsel they need and which helps them. This is the ultimate nanny state," he said. I'll take it a step further, and I think I speak for many Christian fathers. None of my three children suffer from unwanted same-sex attraction, but if any of them did and they decided to seek change therapy to reconcile their feelings with their faith, Mr. Eustace and the rest of his Gaystapo would be extremely ill-advised to crest my front porch with designs on taking my children. Is this George Washington's America, or Joseph Stalin's Russia?
Iran Warns US Over Military Move Against Assad
(Republican Guards commander says Washington should beware of 'trespassing over the red line in Syria')
Aug. 26….(Times of Israel) An Iranian commander warned the United States Sunday over a possible military move against the Tehran-backed regime of Syrian President Bashar Assad. The semi-official Fars news agency, which has close ties to Iran's powerful Revolutionary Guard, quoted Gen. Masoud Jazayeri as warning that "trespassing over the red line in Syria will have severe consequences for the White House." Gen. Jazayeri did not provide details but said Washington is well aware of such red lines. He said the war in Syria is a product of a US plot and "regional reactionary" countries, a common reference to Saudi Arabia and Qatar.
Earlier Saturday, Washington said US naval forces are moving closer to Syria as President Barack Obama considers a military response to Assad's alleged use of chemical weapons. Hundreds of people were killed in a reported chemical attack Wednesday, prompting international calls for action against the Syrian regime. Iran is one of Syrian President Bashar Assad's strongest backers.
Egypt's Struggle Is Against Political Islam
Aug. 26….(Christian Post) While the Western world sees the ouster of Islamist President Mohamed Morsi as a military coup, the editor of Egypt's weekly Christian newspaper says it was a coup by the people of the country and an attempt to abort efforts towards political Islam. Referring to massive protests that preceded Morsi's ouster, he added, "Egyptians enormously went down to the streets, whether Christians or Muslims, saying enough is enough and we're not taking any more of the rule of Morsi. And I have to admit they were very lucky that their anger, which erupted, was sided by the Egyptian military." The editor went on to say that the vast majority of Egyptians were happy with Morsi's removal despite the recent bloodbath. "On June 30, according to most of the estimations, it was an overwhelming 30 million Egyptian people going down to the streets, both Christian and Muslim. It seems that no less than 85 or 90 percent of Egyptians are very relieved to get rid of political Islam led by the Muslim Brotherhood," he said.
WEEK OF AUGUST 18 THROUGH AUGUST 24
Obama Mulling Sending US Navy Into Syria
*FOJ Note: President Obama already has placed American trainers and a centcom center in Northern Jordan. These actions by the President are a formula for disastrous consequences for our nation. Syria is no place for America to be messing around! Mr. Obama is making all the wrong geo-political moves in Egypt, Israel, Iran, Lebanon, and now Syria. America couldn't have a worse leader, but then God gives us leadership that we deserve!
Aug. 24….(Yahoo) The Pentagon is moving naval forces closer to Syria in preparation for a possible decision by President Barack Obama to order military strikes, Defense Secretary Chuck Hagel suggested on Friday. Hagel declined to describe any specific movements of US forces. He said Obama asked that the Pentagon to prepare military options for Syria and that some of those options "requires positioning our forces."
US Navy ships are capable of a variety of military action, including launching Tomahawk cruise missiles, as they did against Libya in 2011 as part of an international action that led to the overthrow of the Libyan government. "The Defense Department has a responsibility to provide the president with options for contingencies, and that requires positioning our forces, positioning our assets, to be able to carry out different options, whatever options the president might choose," Hagel said. He said the US is coordinating with the international community to determine "what exactly did happen" in the reported use by the Syrian government of chemical weapons against civilians earlier this week. "We're still assessing that," he said. Hagel said a determination on the chemical attack should be made swiftly because "there may be another attack coming," although he added that "we don't know" whether that will happen. Hagel said that although he is scheduled to spend the next week traveling in Southeast Asia, he will remain in contact with the White House about developments in Syria and planning for potential US action.
Israeli Jets Bomb Southern Lebanon In Retaliation for Attacks
Aug. 24….(Israel Today) Israeli warplanes bombed terrorist targets just south of the Lebanese capital of Beirut early Friday morning in response to a missile attack against northern Israel a day earlier. The Israeli military confirmed the retaliatory strike, but did not provide details regarding the target. On Thursday afternoon, four missiles were fired from southern Lebanon at northern Israel. One of the missiles was intercepted by Israel's Iron Dome anti-missile system. Another narrowly landed near a residential area, narrowly missing a meeting of Holocaust survivors. Residents of towns along Israel's northern coast reported hearing air raid sirens and loud explosions. Most living in the area are aware of what to do in such a situation, and immediately took cover in the nearest bomb shelter. The missiles are believed to have originated from a Palestinian refugee camp in the Lebanese coastal city of Tyre. A terror group affiliated with Al Qaeda claimed credit for the attack, but Israel said that ultimately it holds the Lebanese government responsible.
The Abdullah Azzam Brigades, an al-Qaeda-inspired group based in Lebanon, claimed responsibility for the attack in a post on the Twitter account of Sirajuddin Zurayqat, a prominent Islamic militant leader. Zurayqat said the rockets were capable of flying 40 kilometers, or 25 miles, putting the Israeli city of Haifa in its range. The group, designated a terrorist organization by the US, has claimed responsibility for past rocket attacks on Israel.
Iranian Jihad Islamic Fired 4 Rockets at Israel From South Lebanon
Aug. 24….(DEBKA) The four rockets striking northern Israel from South Lebanon Thursday, Aug. 22, turned out to have been Grad 120mm rockets launched by the Jihad Islami from the Palestinian Burj Al-Shamali refugee camp near Tyre. This emerged after a stream of muddled and conflicting communiqués came from the IDF spokesman.
The Jihad Islamic takes its orders from Tehran and the Lebanese Hizballah. One of the rockets was intercepted by Iron Dome. None caused casualties, except for three shock victims, but they did cause damage to buildings and vehicles in Kibbutz Gesher Haziv and another unidentified location near the coastal town of Acre. The fourth rocket landed on vacant ground.
Iran, Hizballah and its Palestinian pawn were able to land a surprise attack on northern Israel. They appear to have timed it for the UN Security Council meeting scheduled for Thursday night to approve the extension of the UNIFIL mandate for Lebanon. Prime Minister Binyamin Netanyahu has labeled Syria "Iran's test site. Iran and Hizballah want UNIFIL peacekeepers out of Lebanon because their act as a buffer between their forces and the IDF and an obstacle to their latest plans for igniting the Lebanese-Israeli border.
Obama Cannot Keep Egypt's Muslim Brotherhood in Power
Aug. 24….(Israel Today) The military of Egypt is respecting the universal rights of all Egyptians by rooting out Muslim Brotherhood terrorism, the backers of Morsi's regime, finding smuggled weapon stashes and arresting Morsi's guest militias (Hamas and Al Qaeda terrorists). After more than two years of protests to bring about the removal of two dictatorships, the latter installed through fraudulent elections billed as "free and fair," Egyptian freedom-fighters backed by the army must not retreat from their chance now to expose and expunge radical terrorists who came dangerously close to dominating Egypt for the long term. This means countering the efforts of the Obama administration inside Egypt. Everything hinges upon the unthwarted dedication of the Egyptian army to continue with actions loyal to Egyptian pro-democracy freedom-fighters. So far it has done so by not heeding the call for "restraint" coming from the US White House and Department of State in wrestling with an entrenched terror group fallen from "legitimacy."
Implying that Egypt's military is sparking violence rather than dispelling it, an August 14 White House Statement by the Press Secretary on Egypt advises, "Violence will only make it more difficult to move Egypt forward on a path to lasting stability and democracy, and runs counter to the pledges by the interim government to pursue reconciliation." But has the secular, civil, pro-democracy majority movement represented by the interim government ever promised to reconcile with terrorists?
Secretary of State John Kerry mentioned "inclusion" or "inclusive" five times in his August 14 State Department press briefing on Egypt. He is referring to Muslim Brotherhood and Salafis he knows to be the only parties left out from Egypt's interim government. This makes the Obama administration seem nothing more than promoters of the ousted Muslim regime and their protesters who gathered armed forces in the streets of Al Adawyia, Cairo and other cities across Egypt.
The White House blames Egypt's military for defending the country against the aggression of Morsi defenders and Brotherhood thugs, advising reconciliation which will place Egypt's democratic future at risk. Ignoring these urgings, the interim government is speaking of combating "religious fascists" and "dissolving the Muslim Brotherhood" as a way of ensuring that democratic values prevail. In an open letter to Obama (Newsmax 8/16/13), Free Egyptians reject the arrogance, pessimism and opposition coming from the US leader in answer to their struggle for freedom in the face of terrorism. Paradoxically, the greatest democracy on earth offers the greatest resistance to Egypt's democratic goals.
The White House rightfully condemns the current violence in Egypt. But it does so at the expense of appearing neglectful and unsympathetic toward the hundreds of murderous attacks on Egypt's Christians who for the past six years have sought the support and help of a freedom-loving America and still wait. Now suffering more so at the brunt of Brotherhood Muslim madness and unleashed hatred, Christians have so far lost 83 Coptic churches looted and burned by the Muslim Brotherhood, along with Christian schools, shops and businesses.
Insisting that Egypt's answer for democracy includes the fraudulent, unscrupulous and untrustworthy Muslim Brotherhood makes the Obama administration look likewise, fraudulent, unscrupulous and untrustworthy, to the smart, genuine and brave freedom fighters of Egypt.
Russia Suggests Chemical Attacks in Syria Were A Rebel Strategy Plot
*FOJ Note: I personally thought of this possibility when I first heard of this horrible attack. Russia may be correct about this.
Aug. 24….(Russia Times) Reports by "biased regional media" about alleged chemical weapons use near Damascus might be "a provocation planned in advance," says Russian Foreign Ministry spokesman, Aleksandr Lukashevich. "It draws attention to the fact that biased regional media have immediately, as if on command, begun an aggressive information attack, laying all the responsibility on the government," Lukashevich said in a statement on Wednesday.
The Russian Foreign Ministry, citing its sources, said that a homemade rocket carrying unidentified chemical substances had been launched from an area controlled by the opposition. The Russian diplomat stated that it seems as though it was "a provocation planned in advance." The "criminal action" near Damascus coincided with the beginning of UN experts' work in Syria, which speaks in favor of such a conclusion. Lukashevich pointed out that similar reports about Syrian authorities allegedly using chemical weapons have popped up before. However, the information has never been confirmed.
In Moscow's view, the latest possible "provocation" might be the opposition's attempt to get support from the UN Security Council and undermine the Geneva peace talks on Syria. Russia believes the incident should be thoroughly investigated by professionals. It urged everyone who has influence on armed extremists to do everything possible to finally put an end to such provocations involving chemical poisonous substances.
Meanwhile, Washington said it has no independent verification about the use of chemical weapons in Syria. The US is planning to consult the UN Security Council about the allegations, Principal Deputy Press Secretary Josh Earnest told reporters, as cited by Reuters.
Bomb Blasts Erupt in Lebanon
Aug. 24….(Ha Aretz) Twin explosions outside two mosques killed at least 42 people, medical and security sources said, and wounded hundreds in apparently coordinated attacks in the northern Lebanese city of Tripoli on Friday. The blasts, the biggest and deadliest in Tripoli since the end of Lebanon's 1975-90 civil war, struck as Friday prayers ended in the largely Sunni Muslim city. The recent resurgence of sectarian violence in Lebanon has been stoked by the war in adjacent Syria, where President Bashar Assad is fighting a largely Sunni-led rebellion and Hezbollah has sent fighters into combat on his side.
At least 42 people have been killed and more than 400 wounded in two huge bomb attacks in Lebanon's northern city of Tripoli. The blasts, near mosques, are thought to be the deadliest attack in Lebanon since the end of the civil war in 1990. War in neighboring Syria has raised sectarian tensions between the city's Sunni Muslim and Alawite communities. The blasts came a week after a car bomb in a Shia district of the capital Beirut killed 27 people. Prominent Sunni Muslim cleric Sheikh Salem Rafii could have been the intended target of the latest attacks, BBC Arabic reports from Beirut. He was unharmed. Since the uprising against Syria's President Bashar al-Assad began in 2011, there has been concern that violence could spill across the border and exacerbate Lebanon's sectarian divisions. Now there is growing evidence that is happening.
The latest attacks will increase tensions in Tripoli between the Sunni Muslim majority, which supports opposition fighters in Syria, and its Alawite community that remains loyal to the Syrian president. These blasts come exactly a week after a bombing in southern Beirut killed more than 20 people. The suburbs hit in that attack were a stronghold of the Lebanese Shia militant group Hezbollah, that is also allied with the Syrian government. These are worrying times for the Lebanese. The cleric is opposed to Lebanon's militant Shia Hezbollah group and has previously urged young Lebanese men to join opposition fighters in Syria.
America Has Been De-Christianized!
Aug. 24….(Fox News) On Fox News on Wednesday evening, Mr. Buchanan expressed shock and sadness at the killing. "I think it raises a question: Where did these kids come out of? Where did they come from to get the idea that this was sort of a good thing to do and a lot of fun? I think we've got to take a look at the culture that they grew up in," he said.
Regardless, the shooting exemplifies the coarsening of America, the decay of the nation's morals and values. "Our country has been de-Christianized, and these kids have clearly been desensitized," he said, Newsmax reported. "I think what you've got here are products of the cultural, social, moral revolution that overthrew all the standards by which previous generations lived."
Persecuted Christians Forced Out of Sudan by Muslims
(FOJ Note: Name a country, almost any country over half the world, and Muslims are causing chaos and Hell on earth. And yet our President hosts Ramadan in the White House and praises Islam as a religion of peace. Where is Mr. Obama's outrage over the intolerance toward Christians in these countries? I an beginning to tend to think he would like to see Christians harassed and killed right here in America, so the US could be annexed by the Muslim Brotherhood.)
Aug. 22….(Fox News) An international relief agency plans to airlift some 3,400 Christians out of Sudan, where they face increasing persecution from the Islamist government. The Barnabas Fund has already whisked about 5,000 Christians from the embattled country, where President Omar Hassan al-Bashir has vowed to create a "a 100 percent Islamic constitution, without communism or secularism or Western influences." The Christians will be taken to South Sudan, a smaller nation formed in 2011 where religious freedom is better tolerated. "We launched this as major global initiative, and have had such a tremendous response from the Christian community," Julian Dobbs, a bishop and honorary director for the Baranbas Fund, told Fox News. "The situation for Christians who have remained behind has proven to create hardships for them, especially for women and children." The Barnabas Fund's airlifting project began in August 2012, but only recently has the organization secured funds for a second phase.
Sharia law is heavily enforced in Sudan, where nearly 98 percent of the population is now Muslim. "It has made it very difficult, if not impossible, for Christians to worship," Dobbs also said. "There is also no access for food and proper safety." Many families were also forcibly split from their loved ones as the pressure of persecution has increased due to the growth of Islam in the region. Since the South Sudan gained independence in July 2011, Christians and churches in Sudan have faced increasing aggression. Church leaders have been threatened, arrested and abducted, and many Christian buildings and house of worship destroyed. In April 2012, a church and Bible school also in Khartoum was burned to the ground by an Islamist mob, and in June another church there were bombed.
Polygamy Is Next on Agenda of Liberal Activists
Aug. 22….(Christian Institute) A British organization is suggesting that monogamy is out of date and "multiple partners' is the coming norm, says a report from The Christian Institute. Now that many nations have abandoned the Biblical concept of marriage being between one man and one woman, given formalized government support for same-sex duos in New Zealand, the United Kingdom and the United States in recent days, BBC show host Jo Fidgen openly is questioning whether there still is room for sexual fidelity in a "society where choice is everything." Several prominent individuals in those nations have warned lately that society's fast adoption of same-sex "marriage" would break down any barriers to the concept of polygamy, too.
According to Institute, the BBC program "neglects to examine the effects of polyamorous relationships on children and the show's presenter said she didn't want to 'get into a debate about what's best for society or whether we are genetically programmed to have one partner or many.'" But Fidgen said in the report, "We don't see any contradiction in loving more than one friend. No one asks us to only love one of our children. Why shouldn't it be any different with romantic love."
The BBC show, according to The Independent, was called "Monogamy and the Rules of Love," and focused on four adults, a "pair of cohabiting couples." They "use a Google calendar to plan when they have sex with each other," the report said. The program suggested opposition to "sharing lovers between an unlimited number of sexual partners could disappear with a decade." The report focuses on Charlie (a woman), Tom, Sarah and Chris (a man). Charlie and Tom are married, as are Sarah and Chris. But Charlie and Chris and Tom and Sarah also are involved with each other. As are Charlie and Sarah. Charlie states, "We use a Google calendar to keep track of date nights. Who gets the TV and who is in what bedroom."
Also quoted in the report is Esther Perel, a Belgian "sex therapist" who says monogamy's influence is quickly vanishing. Perel said such foursome relationships will be common in as soon as 10 years. "These relationship pioneers are revising the rules of love to promote sexual honesty over exclusivity," said Fidgen. "If they persuade people there's a viable model then monogamy becomes a choice rather than the default."
The Institute noted that in June, polyamorists in Canada called for the same legal status for their lifestyle choice as those in other relationships. Canada redefined marriage to include same-sex duos in 2005 and saw a major legal case involving polygamy in 2011. "The Canadian Polyamory Advocacy Association intervened in the case and now says it wants to see polyamorous relationships treated on the same legal footing as others," the Institute reported. "In May polyamorous supporters in New Zealand started calling for legal recognition just weeks after same-sex marriage was legalized in the country," the report continued. "In March the politician who masterminded the gay marriage campaign in Holland said that 'group marriage' was now being discussed in the country."
In the United States, the American Family Association is urging that voters support for a proposed amendment to the US Constitution by Rep. Tim Huelskamp, R-Kan, that would define marriage as one man and one woman. The proposal comes after a legal scholar admitted that the arguments used to justify same-sex marriage will pave the way for legalization of polygamy and incest. "We have a reached a frightening impasse," said AFA President Tim Wildmon. "I fear the day just years from now when marriage has absolutely no definition at all."
As a matter of constitutional rationale, there is indeed a slippery slope between recognizing same-sex marriages and allowing marriages among more than two people and between consenting adults who are related," says one professor of law. Wildmon said that after marriage is increasingly watered down "until it is meaningless, marriage won't be anything but a freewill agreement between any two people, or more than two people." "Since marriage is ultimately about the optimal nurturing environment for vulnerable young children, destabilizing the institution of marriage is a terrible thing to do to America's children," he said. "God gave us the responsibility to protect this sacred union, and we should resist any effort to destroy it. What God has defined, man must not redefine."
Reported Syrian Gas Attack Killing Hundreds after 1st US-Trained Rebel Incursion from Jordan
Aug. 21….(DEBKA) Syrian opposition activists report between 200 and 650 dead and hundreds more wounded in a poison gas strike by Bashar Assad's forces on rebel-held areas of eastern Damascus. They claim nerve gas canisters were dropped by Syrian Air Force fighter planes which were seen flying over the area after the attack, the most extensive reported till now. Their claim has not been verified. The regime denied the accusation, saying there was "no truth whatsoever" in reports that chemical gas was used near Damascus, and maintaining over state television that the Syrian army was conducting a conventional attack on rebel positions south and east of Damascus.
debkafile reports exclusively that Assad is acting to counter the first organized incursion of US-trained Syrian rebels from Jordan into southern Syria. The first group of 250 rebels, trained in special operations tactics by US and Jordanian instructors, entered Syria Saturday, Aug. 17, armed with weapons of Russian provenance supplied by the US and Saudi Arabia. They are fighting under US and Jordanian commanders based in the Hashemite Kingdom. A second group of 300 fighters crossed into Syria from Jordan Monday. They are linking up with local rebel groups chosen from amongst those with no ties with the jihadist Jabhat al-Nusra (Al Qaeda in Syria).
According to our military sources, the rebel units are advancing at speed along the Syrian-Israeli border. They have forced the Syrian brigades posted there into retreating from positions inside a strip of 1-25 kilometers from the border, and captured the villages of Raihaniya, Breiqa and Beer Ajam. This tactic has moved the Syrian army back from the area opposite the Israeli Golan, and started marking out a buffer zone between Israeli and Syrian forces in the Horan province.
DEBKA's military sources report that additional Syrian rebel forces are standing ready in Jordan to cross into Syria. The incoming forces will then start extending the nascent buffer zone northward towards Deraa (fountainhead of the Syrian uprising in 2011) and east toward Jabal Druze. This Jordan-based rebel offensive was launched shortly after Gen. Martin Dempsey, Chairman of the Joint US Chiefs of Staff, visited US forces in Jordan and inaugurated the underground US war room near Amman for commanding the operation in Syria.
Syrian ruler Bashar Assad has more than once declared that if the Syrian capital Damascus came under threat, he would resort to chemical warfare and the entire Middle East including Israel would go up in flames. For now, his army is fighting to keep the rebels from taking control of southern Syria.
US Military Being Used to Promote Gay Marriage
Aug. 21….(WND) The US military says it has a new benefit for same-sex couples who are in the Armed Services and want to get "married." And it's a taxpayer-funded perk available only to same-sex duos, not heterosexual couples. It's government-paid leave to travel to a state that recognizes same-sex "marriage." A Supreme Court ruling earlier this year said that the federal government must give equal treatment to same-sex couples who have legally 'married.' But now the Pentagon wants to give a special, taxpayer-funded bonus to such couples, including a benefit that is not even available to heterosexual couples.
A Department of Defense announcement on Aug. 13 that said a service member who wants to enter a same-sex "marriage," but is posted more than 100 miles from a state that allows same-sex "marriages," will be granted seven days of extra paid leave (10 days if posted outside the continental United States) just to travel to their wedding. "This special leave, only for destination weddings of homosexual couples, is above and beyond the regular annual leave granted to every service member. How much does this cost the American taxpayer? For 10 days' work, a captain (with six years' experience) earns $1,787.20 in base pay alone, that's not even accounting for benefits like housing allowance, health care, etc.," he said. "And this special taxpayer-funded leave is only available for same-sex 'weddings,' heterosexuals need not apply!" he said.
Attacks On Christians in Egypt Nothing Less Than Satanic
Aug. 20….(Christian Post) The recent barrage of attacks on Christians in Egypt, including on members and churches of the nation's Coptic denomination, are of a scale unseen in modern times and being described as satanic, according to sources living in the country. The persecution watchdog group, Open Doors USA, says Egypt is engulfed in a furnace of fire and Christians are taking on the brunt force of the attacks. "The attack against the Christians of Egypt is nothing less than a furious satanic attack that aims at terrorizing Christians, imprisoning them at their homes helplessly with no guarantee of protection so their love, peace, hope and testimony may be neutralized," stated an anonymous Christian leader, whose name is being withheld for security reasons, in a commentary obtained by The Christian Post. "We, Christians of Egypt, are facing a severe time of persecution and suffering that we may have not witnessed since the Roman times!" the source explained. News outlets are reporting that as many as 52 Coptic churches in Egypt have been attacked and some destroyed. Among those churches, the 67-year-old Virgin Mary Church in the Giza province village of Hafr Hakim was torched and looted by protesters, who the night before, chanted against Coptic Christians and called for Egypt to become an "Islamic state. The Christian leader also stated that the murder last week of the 10-year-old girl, Jessica Boulos, as she was walking back home from her Bible study class at one of Cairo's evangelical churches "by a fanatic Muslim gunman is unbearable and continues to throw it's shadows of pain on her broken family and the entire Christian community of Egypt."
The Christian leader living in Egypt also reported, "Fanatic Muslim supporters of Muslim Brotherhood, armed with all sorts of weapons from machine guns to Molotov bottles have found attacking the peaceful Christians and burning down their churches, shops and houses as an easy way not only to show their dominion on ground, but also to punish multitudes of Christians for standing against the policies of former president Morsi and his fallen regime." He adds, "In Minya, groups of armed MB supporters landed into a village street and spent the entire evening setting up fire in one Christian shop/house after another until they were done. No police or army forces were present; no one was there to offer help or provide protection."
Open Doors USA spokesperson Jerry Dykstra said, "Egypt is engulfed in a furnace of fire which continues to burn. Christians are taking the brunt force of the attacks since they are seen by the Muslim Brotherhood supporters as helping take down Mohammad Morsi as president six weeks ago. Christian churches, homes, shops, book stores, schools and pharmacies have been looted, burned down and destroyed. Christians have been killed on the streets." Dykstra adds, "Please pray for Egypt, for boldness for Christians, perseverance and protection and of course for peace."
Despite the horrific violence against them, leaders such as the Open Doors source are calling for Christians to model Christ in Egypt. "We, Christians of Egypt, need to stay focused and follow the model of our Master, Lord Jesus Christ, who when beaten and slashed did not show any hatred for His persecutors," the leader writes, "He only showed love and asked for forgiveness for them. It sounds to heavenly and far away from human reach, yet, God promised that in times of persecution He would give us strength and comfort our hearts."
New Jersey Gov. Christie to Outlaw Gay Conversion Therapy
(FOJ Note: New Jersey governor claims to know more than Almighty God about using the Gospel to encourage sinners to repent!)
Aug. 20….(Political Ticker) New Jersey will become the second state to forbid gay conversion therapy for minors when Gov. Chris Christie signs legislation into law Monday banning the highly controversial practice, CNN has learned.
Gay conversion therapy is an effort championed by people who believe that you can change a person's sexual orientation through counseling. The American Medical Association, American Psychiatric Association and American Psychological Association are just a handful of professional organizations that oppose this practice, saying it is harmful. New Jersey's decision to outlaw gay conversion therapy will not only be looked upon as another major step in gay rights, but it will also be viewed through the prism of the 2016 race for the White House. Christie, a centrist Republican, is considered a leading candidate for his party's presidential nomination, and his decision to outlaw the practice for children under the age of 18 is likely to be viewed negatively by some social conservatives..
In explaining his decision to ban gay conversion therapy for minors, Christie is expected to emphasize that while he is wary of the "government limiting parental choice on the care and treatment of their own children," on this particular issue he sided with the experts. The New Jersey senate passed the legislation in late July, but as with any legislation, it ultimately requires Christie's final approval. "The American Psychological Association has found that efforts to change sexual orientations can pose critical health risks including, but not limited to, depression, substance abuse, social withdrawal, decreased self-esteem and suicidal thoughts," Christie will say in his signing statement, according to an advanced copy provided to CNN. "I believe that exposing children to these health risks without clear evidence of benefits that outweigh these serious risks is not appropriate."
A Catholic, Christie in the past has stated his opposition to gay conversion therapy and in a June 2011 interview on CNN said he did not think homosexuality is a sin. "Well, my religion says it's a sin," Christie said on 'Piers Morgan Tonight.' "But for me, I don't. I've always believed that people are born with the predisposition to be homosexual. And so, I think if someone is born that way, it's very difficult to say then that that's a sin. But I understand that my church says that. But for me personally, I don' t look upon someone who is homosexual as a sinner."
Israel, US at Odds Over Future of Egypt
Aug. 20….(Israel Today) Israel is doing its best to stay out of Egypt's current turmoil, but Jerusalem is making no secret of the fact that it would prefer to see the army-led toppling of the Muslim Brotherhood regime succeed. And that has put it at odds with Washington, which seems to be rooting for the Islamists. In an interview with the New York Times over the weekend, an Israeli official speaking on condition of anonymity said the Jewish state was increasing behind-the-scenes efforts to convince the US and Europe to back what they see as a "military coup." At this point it is a question of supporting either "army or anarchy," according to the official. "First, save what you can, and then deal with democracy and freedom and so on."
Israel is also said to be closely coordinating with Egyptian Chief of Staff Gen. Abdel-Fattah el-Sissi, and this, according to an unnamed Western diplomat, is "undercutting" American efforts in Egypt. Last week, an Egyptian Christian leader told Israel Today that local Christians cannot figure out why America is trying to put them back under an oppressive, violent Islamist regime.
Meanwhile, Egyptian media reported on Saturday that the civilian component of the latest uprising that toppled President Mohammed Morsi is now taking aim at Egypt's peace treaty with Israel. The "Tamaroud" ("Rebels") are said to be currently circulating a petition calling for the cancellation of the Camp David Accords. The Tamaroud managed to get well over 15 million signatures demanding Morsi's resignation. The group reportedly sees the Israel-Egypt peace treaty as another example of American meddling in Egyptian affairs.
Egyptian Bloodbath Threatens Crucial Routes for Mideast Oil
Aug. 20….(Telegraph) Egypt is a key bottleneck in the global oil industry. Should the current turmoil in the North African country get any worse, a potential oil spike could damage any nascent economic recovery. After last week's bloody crackdown by the Egyptian army, fears of a disruption of oil supplies to the West have boosted the oil price. Brent crude prices were propelled to a four-month high of $111.23 on Thursday. If the turmoil gets worse, or unrest spreads to other countries, the risk premium currently factored into the price of crude is likely to increase further.
Egypt is not a major energy exporter, producing a nominal amount of the world's oil and gas. The North African country appears at number 54 on the list of the world's largest oil exporters, producing about 0.9pc of the world's oil and 1.8pc of global natural gas supply. However, Egypt plays a vital role in international energy markets through the operation of the Suez Canal and the Suez-Mediterranean (Sumed) pipeline. These are vital pieces of infrastructure in the global oil market.
Last year, about 7pc of all seaborne traded oil and 13pc of liquefied natural gas (LNG) travelled through the Suez Canal, according to data collected by the US Energy Information Administration (EIA). The Suez Canal, a 101-mile link between the Red Sea and the Mediterranean, and the 200-mile Sumed pipeline are strategic routes for Persian Gulf oil and gas shipments to Europe and North America. Closure of these two routes would add an estimated 2,700 miles of transit from Saudi Arabia to the United States around the Cape of Good Hope, increasing costs and shipping time. Hopes are high, however, that both the canal and pipeline will continue to operate as normal. Maritime insurers appear to be relaxed about the situation at the moment, but one, Skuld, has warned ships' crews not to go ashore. "Members are advised to ensure that ships and crew calling at Egyptian ports or transiting the Suez Canal remain on alert and take suitable precautions to ensure their safety," Christian Ott, Skuld's vice-president, head of claims, said. "Given the announcement of the state of emergency, and the continued situation on the ground, vessels and crew need to exercise particular caution if any crew step ashore, even for short periods of time." The rest of the country's oil industry remains relatively unaffected. Despite the worrying headlines, most oil and gas production takes place offshore and is operating relatively undisturbed.
The largest player is BP, which produces about 15pc of the country's oil and 30pc of its gas. "Operations and production are unaffected," a BP spokesman told Reuters after more than 500 people were killed last week in a security crackdown. "We are monitoring the security situation in the areas where we have offices. All our people are safe and accounted for." Royal Dutch Shell is also a major producer in the country. "To ensure the safety and security of our staff, Shell offices in Egypt are closed for business today and into the weekend, and business travel into the country has been restricted. We will continue to monitor the situation in Egypt," a Shell spokesman said on Friday.
However, perhaps the most exposed company to the country is BG Group. Egypt was the energy company's largest producing country in 2012, delivering 20pc of the company's total production. BG's production is also unaffected so far, but the group withdrew 100 expatriate staff and dependants last month. About half of the gas that Egypt produces is exported, with the rest servicing Egypt's domestic market. This is one reason why sector watchers are hopeful that disruption will be minimal. Whoever holds political power will not want the lights to go off.
The Egyptian uncertainty will continue to boost the oil price, but the situation in neighboring Libya is also a concern. Workers at ports in Libya have been on strike for a number of weeks, with the protests resulting in a drop in Libya's oil exports. "If the blockade of these oil terminals continues, the state will be obliged to use its power, and all the forces at its disposal, including the army," the Libyan prime minister, Ali Zeidan, said on Friday. "The situation in Libya is also threatening to escalate: the government appears to be running out of patience in view of the revenue losses due to strikes," Commerzbank said last week. "After striking workers at the export terminals had announced that they planned to sell the oil themselves, the government threatened to deploy the army to prevent this from happening."
Brent crude prices eased on Friday, following five straight days of gains. However, prices are likely to stay at or above $110 (£70) a barrel until there are signs of tensions easing. But if the situation in Egypt and Libya worsens, all bets could be off.
As Egypt Churches Are Torched, So is Obama's Credibilty
Aug. 20….(Newsmax) President Barack Obama's reputation among Egyptians is fast diminishing as the nation's Christians are firebombed out of their churches, a former Egyptian interior minister writes in a scathing editorial. "In the past 48 hours alone, some 57 Egyptian churches have been burned to the ground in the Nile Valley," said Youssef Ibrahim in an op-ed in the New York Sun. "It will not be lost on the Egyptians that Mr. Obama has spent the crisis playing golf at Martha's Vineyard. "Scores of Christians are being consumed in this conflagration, some burned beyond recognition defending their churches, even as Mr. Obama's much-despised envoy in Egypt, Ambassador Patterson, still tries to effect a reconciliation between the the Muslim Brotherhood conducting this devastation and the Egyptians who revolted against the Brotherhood's rule," Ibrahim added. "As church after church is put to the torch in Egypt by members of the Muslim Brotherhood and its allies, one of the things that is going up in flames is the reputation of President Obama," he said.
Ibrahim was appointed interior minister in the government of Mohammed Hussein Tantawi who served as head of state for 16 months after President Hosni Mubarek was ousted. In his New York Sun article, Ibrahim slammed the Obama Administration for trying to reconcile the Muslim Brotherhood and those who rebelled against Brotherhood rule. "Mr. Obama came out against a pastoral background to urge the Egyptian military and government to take it easy on his favored Islamists and to hint at even more sanctions if they do not," Ibrahim wrote. He said if US aid to Egypt was stopped, other Arab countries, including Saudi Arabia, Kuwait, and the United Arab Emirates would step in to fill the breach.
The Obama Administration is allying itself against those fighting for a secular Arab world, a fight that is now arising across the Arab world," the former Egyptian interior minister wrote. It is a mistake, he added, for Obama to support the Muslim Brotherhood, a group that most Arabs have rejected, and to ignore "Egypt's 14 million Christians, who have been the bridge between the Western and Arab cultures since the 17th century." "The eviction of the Christians from the Arab world, as the eviction of the Jews before them, is a loss not only for the West but mostly for Arab Muslims," Ibrahim concluded. "More importantly, it is a crime against humanity. Where is President Obama? Will his silence make him a partner in this crime?"
Former Michigan Congressman Pete Hoekstra says President Barack Obama's embrace of the Muslim Brotherhood as Egyptian President Mohammed Morsi rose to power has destroyed America's credibility in the Mideast. Hoekstra, former Chairman of the House Intelligence Committee, said the Egypt's new government, which came to power with the military's overthrow of Morsi and the Muslim Brotherhood, is by no means perfect. But, warts and all, it is superior to what was in place. "They represent the interests that were aligned with the United States for 30 years, they kept stability in Northern Africa, they protected the borders with Israel, they kept the Suez Canal open, they maintained peace and stability," Hoekstra said.
Israel Leery of Egypt Crisis, Fears Russian Military on 2nd Border After Syria
Aug. 20….(DEBKA) Saudi Arabia and the United Arab Emirates, not Israel, are lobbying the West for support of the Egyptian military. Their campaign is orchestrated by Saudi Director of Intelligence Prince Bandar Bin Sultan, not an anonymous senior Israeli official as claimed by the New York Times, Debkafile's Middle East sources report. The prince is wielding the Russian threat (Remember the Red Peril?) as his most potent weapon for pulling Washington and Brussels behind Egypt's military chief Gen. Abdel-Fattah El-Sisi and away from recriminations for his deadly crackdown on the Muslim Brotherhood. The veteran Saudi diplomat's message is blunt: Failing a radical Western about-turn in favor of the Egyptian military, Cairo will turn to Moscow. In no time, Russian arms and military experts will again be swarming over Egypt, 41 years after they were thrown out by the late president Anwar Sadat in 1972. Implied in Bandar's message is the availability of Saudi financing for Egyptian arms purchases from Moscow. Therefore, if President Barack Obama yields to pressure and cuts off military aid to post-coup Cairo, America's strategic partnership with this important Arab nation may go by the board.
It is not clear to what extent Russian President Vladimir Putin is an active party in the Saudi drive on behalf of the Egyptian military ruler. On July 31, during his four-hour meeting with Prince Bandar, he listened to a Saudi proposition for the two countries to set up an economic-military-diplomatic partnership as payment for Russian backing for Cairo. Last Friday, Aug. 16, Putin convened his elite military and intelligence chiefs for an extraordinary meeting in the Kremlin to discuss the Saudi proposition. No decisions were reported, only a suggestive quote from Putin saying that the session was called to "discuss the situation in Egypt and take the necessary steps to the put Russian military facilities at the Egyptian military disposal." He added that "Russia will arrange for joint military exercises with the Egyptian army." Both notions were left dangling without elaboration, a lure without a commitment.
The New York Times pushed an account of Israel's diplomats suggesting they were fanning out across Western capitals to urge them to support Egyptian Defense Minister Gen. El-Sisi despite his suppression of the Muslim Brotherhood, with the argument: "At this point, it's army or anarchy." This entire conception doesn't hold water. From Israel's perspective, the Bandar initiative if it takes off would lead to the undesirable consequence of a Russian military presence in Egypt as well as Syria. This would exacerbate an already fragile, if not perilous situation closing in on Israel from the south as well as from the north.
The Israeli and Egyptian armies strictly limit their cooperation to counter-terrorist action in Sinai against al Qaeda, Salafist and other terrorists threatening both countries and the Suez Canal international waterway. Even then, the IDF does not go beyond responding to Egyptian requests in cases of mutual security concern. Israel has absolutely no involvement in Gen. El-Sisi's war on the Muslim Brotherhood. On the diplomatic front, Israel's assets barely hold their own against the hostile Palestinian propaganda permeating Western capitals, least of all come up with the strength and skills for orchestrating a campaign on behalf of Egypt, as the NYT seems to believe.
Indeed, Israel has been extremely wary of any association with the Egyptian defense minister's domestic affairs out of the cold calculation. If it suited his political and domestic agenda, the general might easily turn around and accuse Israel of unwarranted meddling as his fall guy. On Saturday, Aug. 17, El-Sisi remarked "This is no time to attack the US and Israel, because our first priority is to disband the Muslim Brotherhood." Jerusalem found this remark alarming rather than comforting, noting that he made no promises about the future.
So Much for a Nuke-Free Middle East
(US helping longtime ally develop power plants, 1 step from weapons)
Aug. 19….(WND) The United States is helping Saudi Arabia develop nuclear energy, which would put the Islamic kingdom only a step away from the capability of making nuclear weapons. While the transaction may be a bonanza for the US nuclear industry, there are concerns in Congress and elsewhere over the prospect of giving the Saudis nuclear know-how.
For economic reasons, the Saudis are looking to nuclear energy as an alternative to reliance on oil for domestic consumption, due to increasing demand. Instead, they want to use the oil to acquire hard currency while they can, especially in view of the cutback in oil purchases which prominent Saudis have warned about as they argue for developing alternative industries. While the transaction may be a bonanza for the US nuclear industry, there are concerns in Congress and elsewhere over the prospect of giving the Saudis nuclear know-how.
At the same time, the Saudis see Iran working on its own nuclear development program, which the US and other Western countries believe is a cover for developing nuclear weapons. The Saudis have threatened to develop their own nuclear weapons if it turns out that Iran is heading in that direction. As WND reported, the Saudis helped finance Pakistan's nuclear weapons development program and could have Islamabad send a number of weapons for storage in the Saudi kingdom. There have been unconfirmed reports that the Pakistanis have done just that to guard against the prospect that Islamist militants could get their hands on nuclear devices.
For their part, the Iranians have denied that they are working on developing nuclear weapons and point to the fact that they are a signatory to the Nuclear Non-Proliferation Treaty, which allows for nuclear enrichment.
The Israelis, however, believe this enrichment effort is toward developing fuel for nuclear weapons. As a result, Israel has threatened to attack Iran's nuclear facilities. Right now, the Iranians are assessed to be able to enrich uranium up to 20 percent, which is suitable for nuclear medicine. Far less enrichment, some 5 percent, would be useful for refueling nuclear reactors, which Iran plans to expand with Russian help in the coming years. Unlike Iran, however, the Israelis are not a signatory to the NPT, and they are not a member of the International Atomic Energy Agency.
Ayatollah Khamenei Blames Israel and US for Egypt Turmoil
Aug. 19….(Jerusalem Post) Iranian supreme leader writes on official Twitter account that former ousted president Mubarak is a "servant to the Zionists." Iranian Supreme Leader Ayatollah Ali Khamenei is placing the blame for Egypt's political turmoil on Jerusalem and Washington. The Shi'ite religious leader took to his official Twitter account on Saturday, to attack Egypt's former leader Hosni Mubarak and his relations with Israel and the US. "Mubarak's collaboration with Israel & US made Egyptians feel humiliated so they made a revolution & Zionists have reacted against this revolution now," he tweeted. He pointed out that Egyptians acted against Israel in the past, saying "Egypt was 1st country that entered into war with the Zionists for Palestine."
Khamenei also seemed to imply a parallel between current army chief Gen. Abdel Fattah al-Sisi and Mubarak, tweeting that Mubarak "was not a freedom fighter or an anti-Zionist, but a servant to the Zionists." In another tweet earlier this month he stated that the "Zionist regime" is behind the turmoil, not only in Egypt, but in all of the Arab countries. "Muslims must beware," the tweet concluded.
Shi'ite Iran identifies with the Muslim Brotherhood and its Islamist agenda even though it is a Sunni movement. Tehran, which historically has had poor relations with Cairo, had a warm relationship with former president Morsi's government, and viewed the Muslim Brotherhood as part of the "Islamic awakening" in the region. Hundreds of Iranian students and NGO's rallied on Thursday in Tehran against the Egyptian army's crackdown.
Egyptian Military Opposing Violence and Defending Christians in Egypt
Aug. 19….(Fox News) Egyptian authorities looking to crack down on attacks on Christian churches and businesses raided the homes of Muslim Brotherhood members Sunday, detaining hundreds of mid-level officials as the group cancelled plans for marches in Cairo, claiming that snipers were positioned on rooftops along the routes. Since security forces cleared two sit-in camps filled with supporters of former President Mohammed Morsi on Wednesday, Islamists have attacked dozens of Coptic churches, along with homes and businesses owned by the Christian minority. The campaign of intimidation appears to be a warning to Christians outside Cairo to stand down from political activism. At least 300 Muslim Brotherhood officials and field operatives were detained in several cities during Sunday's raids, security officials and group statements said.
In Assiut, 200 miles south of Cairo, 163 of the group's officials and operatives were rounded up in different towns in the province, security officials said. They said those arrested face charges of instigating violence and orchestrating attacks on police stations and churches.
In the city of Suez, nine people were arrested after being caught on film attacking army vehicles, burning churches and assaulting Christian-owned stores, officials said. And in Luxor, more than 20 Brotherhood senior officials were detained, officials said. Egypt's military leader, Gen. Abdel-Fatah el-Sissi, said Sunday during a gathering of top military commanders and police chiefs that the army will not stand by silently in the face of violence. It was El-Sissi's first appearance since the deadly crackdown on Wednesday. He also said that the Army has no intention to seize power, while calling on Islamists to join the political process. "We will not stand by silently watching the destruction of the country and the people or the torching the nation and terrorizing the citizens," he said in comments quoted on state television and posted on an official military Facebook page. "We have given many chances ... to end the crisis peacefully and call for the followers of the former regime to participate in rebuilding the democratic track and integrate in the political process and the future map instead of confrontations and destroying the Egyptian state."
Christians have long suffered from discrimination and violence in Egypt, where they make up 10 percent of the population of 90 million. Attacks increased after the Islamists rose to power in the wake of the 2011 Arab Spring uprising that drove Hosni Mubarak from power, emboldening extremists. But Christians have come further under fire since Morsi was ousted on July 3, sparking a wave of Islamist anger led by the Muslim Brotherhood.
Many Morsi supporters say Christians played a disproportionately large role in mass rallies that occurred before Morsi was ousted by the military, as millions took to the streets to demand Morsi's resignation. Despite the violence, Egypt's Coptic Christian church renewed its commitment to the new political order Friday, saying in a statement that it stood by the army and the police in their fight against "the armed violent groups and black terrorism." Some Christians have also drawn closer to moderate Muslims in a few provinces, in a rare show of solidarity.
New US Centcom War Room in Amman for US Intervention in Syria
Aug. 19….(DEBKA) Gen. Martin Dempsey, Chairman of the US Joint Chiefs of Staff, was in Amman this week to inaugurate the Centcom's Forward Command in Jordan manned by 273 US officers. US media correspondents were permitted to visit the new war room for the first time on condition of non-disclosure of its location and secret facilities. debkafile's military sources report that the installation is bomb- and missile-proof against a possible Syrian attack. The US Air Force command section is in direct communication with the US, Israeli, Jordanian and Saudi Air Force headquarters ready for an order by President Barack Obama to impose a partial no-fly zone over Syrian air space.
Another section is designed to coordinate operations between US and Jordanian special forces, as well as the units trained in commando combat by US instructors in Jordan. A closed section houses CIA personnel who control the work of US agents going in and out of Syria and also a communications center.
In his briefing to US forces Thursday, Aug. 15, Gen. Dempsey commented: "Jordan lives in a very volatile region and at a very critical time in its history. They can count on us to continue to be their partner."He suggested that the operation could continue well into next year or beyond. Situated atop the underground facility is a large surface structure accommodating the American military and civilian offices dealing with Syrian issues from Jordan. It is guarded by US and Jordanian security units. There are today some 1,000 US military personnel in the Hashemite Kingdom, plus a squadron of F-16 fighters and several Patriot anti-missile batteries strung along the Jordanian-Syrian border to shield Jordanian and American bases and the capital, Amman.
Obama's final decision on US military intervention, consisting of a no fly and a buffer zone in Syria, is expected in the coming two to three weeks, depending on Dempsey's recommendations upon his return to Washington after checking out preparations in Israel and Jordan. In neither operation will US boots touch Syrian soil. The buffer zone in the south up to Damascus would be captured by 3,000 rebels trained in special operations tactics and armed by US forces in Jordan. Jordanian special forces are to spearhead the operation under US command. Assad may take the fight outside his borders by launching missiles against Israel, Jordan and maybe Turkey.
Hizballah may join in with rocket attacks on Israel. Iran will beef up its active military presence in Syria and Jordan. And Russian Rapid Intervention units are on standby for saving Assad at their Black Sea and South Caucasian bases.
Syria Warns About Al-Qaida In Palestinian Camps
(Palestinian camps taken over by jihadists)
Aug. 19….(WND) The United Nations says jihadists are entering Syria at an accelerated pace, with other observers confirming that the Palestinian camps there have become "optimal locales" for al-Qaida-affiliated groups setting up bases. "Syria's Palestinian camps have become theaters of war," said United Nations Relief and Work Agency Commissioner Filippo Grandi.
In all, there are about 10 official UN-mandated Palestinian camps, with three unofficial ones, with a total population of some 230,000 refugees. Informed observers say that seven of the camps now are under the control of Salafi jihadists, particularly the Jabhat al-Nusra, an al-Qaida offshoot group comprised of foreign fighters who have infiltrated into the Syrian opposition.
Millions of Muslims Devoted to Mary
Aug. 19….(World News) Every year, millions of Muslims, mostly women, go on pilgrimage to Marian shrines in Egypt, Syria, Portugal and Lebanon, according to Asia News.
Many pilgrimages in Egypt follow the flight of Mary's family from King Herod, and at the annual Feast of the Assumption, one million pilgrims visit various shrines, the most famous of which is at Jabal al-Tair about 200 kilometers from Cairo. During the 15-day festival, so many infants of both Abrahamic faiths are baptised that the local parish priest had to build a special baptistery for Muslims!
Beginning in 1982, reports of Marian apparitions in the Soufanieh section of Damascus continue today as Muslims and Christians pilgrimage to Syria. Many Muslimas fly from Iran to Fatima, Portugal, as well as to Harissa, Lebanon, where there is a special Marion chapel for Iranian women complete with icons, signs and prayers in Persian.
Muslims travel to these shrines because Mary is the most celebrated woman in the Quran: she is the only woman called "holy," a title usually reserved for men, and she is the only one whom the Quran claims God has chosen and preferred above all other women. Moreover, a hadith attributed to Muhammad states that every child during birth is "touched" by Satan, with the exception of both Mary and her Son. When Mary is mentioned by Muslims, "peace be upon her" is added; there is also a large collection of literature on Mary as depicted in the Quran written by both Muslims and Christians.
WEEK OF AUGUST 11 THROUGH AUGUST 17
Mideast Christians: an Endangered Species in their Ancestral Land
Aug. 17….(Israel Today) Egypt's Christians are being targeted and scapegoated for the ousting of the Muslim Brotherhood. An Egyptian human rights activist tweeted that the Virgin Mary in Minya, one of the oldest churches in Egypt, built in the 4th century, was destroyed by fire yesterday. There have also been media reports about attacks on churches in the city of Suez and other villages. Jason Isaacson, Director of Government and International Affairs for the American Jewish Committee condemned these acts: "Organized violence against Egypt's Copts, the murder of innocents and destruction of churches, is outrageous and unforgivable."
As defenseless and abandoned as Mideast Christians seem today, it is worth remembering their historical roots, and recognizing just how much the plight of Middle East Christians has deteriorated. Over 2,000 years ago, Christianity was born as a religion and spread from Jerusalem to other parts of the Levant, including territories in modern Israel, Lebanon, Syria, Iraq, Jordan, and Egypt. The Christian faith flourished as one of the major religions in the Middle East until the Muslim conquests of the 7th century.
Despite Muslim domination of the region, Christians comprised an estimated 20% of the Middle East population until the early 20th century. Today, however, Christians make up a mere 2-5% of the Middle East and their numbers are fast dwindling. Writing in the Winter 2001 issue of Middle East Quarterly, scholar Daniel Pipes estimated that Middle East Christians would "likely drop to" half of their numbers "by the year 2020" because of declining birth rates, and a pattern of "exclusion and persecution" leading to emigration.
The "Arab Spring" has only worsened conditions for the indigenous Christians of the Middle East. Like the Kurds, Middle East Christians are a stateless minority, struggling to survive in the world's toughest neighborhood. But the Kurds at least have enjoyed partial autonomy in Iraqi Kurdistan since 1991 and most of them are Sunni Muslim, making it easier for them to survive in the Muslim-dominated Middle East. Christians, on the other hand, are a religious minority that controls no territory and is entirely subject to the whims of their hosts. These host countries – with the exception of Israel – offer a grim future to Middle East Christians.
Home to one of the oldest Christian communities in the world, Egypt also has the largest Christian population in the Middle East, totaling 8-12 million people. But because Christian Copts make up only about 10-15% of Egypt's estimated 80 million people, they have for decades lived in fear as second-class citizens, subjected to attacks on churches, villages, homes, and shops; mob killings; and the abduction and forced Islamic conversion of Christian women compelled to marry Muslim men. Such abuse took place under the staunchly secular regime of Hosni Mubarak, but grew much worse under the rule of Mohammed Morsi, the jailed Muslim Brotherhood activist who succeeded Mubarak, and they are now being blamed for Morsi's ouster.
In Lebanon, Christians represent a bigger portion of the population, so their fate is for now less precarious than that of their Egyptian coreligionists, but their long-term prospects are worrisome. The Christian population is estimated to have dropped from over 50% (according to a 1932 census) to about 40%. Over the last few years, the de facto governing power in Lebanon has become Hezbollah, the radical and heavily-armed Shiite movement sponsored by Iran. With all of the spillover violence and instability produced by the Syrian civil war and Hezbollah's open involvement in it, and/or the next war that Hezbollah decides to start with Israel, the emigration of Christians out of Lebanon will probably only increase in the coming years, leaving those who stay increasingly vulnerable.
In Syria, 2.5 million Christians comprised about 10% of the population and enjoyed some protection under the secular and often brutal regimes of the Assad dynasty. But as jihadi groups fighting Assad extend their territorial control, the past protection of Christians is often the cause of their current persecution by resentful Sunnis who revile the Assad regime and seek to impose Sharia law wherever they can. Christians have been regularly targeted and killed by rebels, and the sectarian chaos and violence that will likely prevail in Assad's wake will only increase the number of Christians fleeing Syria.
In Iraq, the bloody aftermath of the 2003 invasion demonstrated how dangerous life can become for a Christian minority when a multicultural society in the Middle East explodes into sectarian violence. By 2008, half of the 800,000 Iraqi Christians were estimated to have left, rendering those remaining even more insecure. In 2010, Salafist extremists attacked a Baghdad church during Sunday Mass, killing or wounding nearly the whole congregation. Such incidents turn any communal gathering into a potential massacre, forcing Christians across the Middle East to ask the ultimate question of faith: "Am I prepared to die for Christian worship?"
The so-called "Arab Spring" threatens to exacerbate matters in much of the Middle East, as Islamists now either control the government or influence it enough to persecute Christians with impunity. As new Islamist regimes in the Middle East condone religious intolerance and introduce Sharia and blasphemy laws, the long-term trend for Christians in their ancestral lands will only grow bleaker.
The one bright spot is the state of Israel – "the only place in the Middle East [where] Christians are really safe," according to the Vicar of St George's Church in Baghdad, Canon Andrew White. Home to Christianity's holiest sites and to a colorful array of Christian denominations, Israel has the only growing Christian community in the Middle East. Because Israel is the only non-Muslim state in all of the Middle East and North Africa, it represents a small victory for religious minorities in the region, and serves as the last protector of freedom and security for Jews, Christians, Bahai, Druze, and others. Without Israel, how much more vulnerable would Christians in the Middle East become?
Saudi King Abdullah Backs Egypt's Military Ruler,
(warns against outside interference)
Aug. 17….(DEBKA) Facing condemnation at every hand from the West, Egypt's military rulers received a powerful shot in the arm from Riyadh Friday, Aug. 16, with an unprecedented public assurance from Saudi King Abdullah bin Abdel Aziz that the kingdom supports Egypt in the fight "against terrorism," the military rulers' term for Muslim Brotherhood resistance. In a statement broadcast by official Al-Ekhbariya TV, Abdullah said Egypt's stability is being targeted by "haters" and warned that anyone that interferes in Egypt's internal affairs seeks to "waken sedition." Debkafile and DEBKA Weekly have been reporting since last week that Saudi Arabia and the UAR stand firmly behind Egypt's military strongman Gen. Abdel-Fattah el-Sisi.
Debkafile reports a weak response to Brotherhood's call for millions to rally Friday to join in the protest in support of deposed president Mohamed Morsi and against the government crackdown two days ago which left more than 600 dead. No more than tens of thousands of supporters took to the streets across the country Friday. By nightfall, 50 people were reported killed in clashes across the country, in Cairo, Fayoum, Damietta and Ismailia, including 24 security personnel. An officer was killed at one of the checkpoints thrown up to block the demonstrators' access to Tahrir Square. The relatively low turnout points to the Muslim Brotherhood's hard core having decided that avoiding further deadly clashes with the Egyptian military is the better part of valor.
US-Egypt Relations Dead. El-Sisi Won't Even Accept Obama's Phone Call
Aug. 16….(DEBKAfile) When the clashes between Egyptian security forces and pro-Morsi protesters were at their peak in Cairo Wednesday, Aug. 14, 525 dead and 3,700 wounded to date - President Barack Obama put in a call to Egypt's strongman, Defense Minister Gen. Abdel-Fattah El-Sissi, debkafile's intelligence sources report. The US president wanted to give the general a dressing-down much on the lines of the call he made to former president Hosni Mubarak in February 2011 at the high point of the Arab Spring Tahrir Square demonstrations against his rule, namely: Stop repressing the protesters and firing live ammunition. Step down!
When Mubarak asked for a three or four days' grace to break up the massed rally, Obama shot back that Mubarak had to quit NOW! And indeed, on Feb. 11, the army announced the president's resignation. Realizing what was coming, Gen. El-Sissi decided not to accept President Obama's call, our sources report. The Egyptian officials who received it informed the US president politely that the right person for him to address was Egypt's interim president Adly Mansour and they would be glad to transfer the call to him. The White House callers declined. This anecdote shows that the military strongman is not only determined to avoid the pitfalls which brought Mubarak down but is equally determined to keep the US administration from interfering in his plans for driving the Muslim Brotherhood out of Egyptian politics.
Diplomatic condemnation of those plans is building up in Western capitals. Wednesday night, the Obama White House issued a statement strongly condemning "the use of violence against protesters in Egypt" and the state of emergency. Egyptian ambassadors in Paris, London and Berlin received denunciations and expressions of concern from their host governments, and Turkey demanded a UN Security Council emergency session on the situation in Egypt. Debkafile's sources report that harsh international condemnation of Gen. El-Sissi's crackdown will do more harm than good. The backlash will come in three forms:
1. The Muslim Brotherhood will be encouraged to pursue increasingly extreme measures to fight the Egyptian army in the expectation of international applause.
2. The generals will be encouraged to escalate their steps for repressing the Brotherhood.
3. The Saudis and the Gulf Emirates will redouble their support for the Egyptian general and his campaign against the Brotherhood. This will widen the rift between those Arab rulers and the Obama administration.
Our intelligence sources also disclose that, while President Obama was trying to get through to Gen. El-Sissi, the general was on the phone with Prince Bandar, Director of Saudi Intelligence. On July 31, Bandar arrived in Moscow and was immediately received by President Vladimir Putin for a conversation that lasted four hours. The Saudi prince next received an invitation to visit Washington at his earliest convenience and meet with President Obama. Bandar has still not responded to that invitation.
Clearly, the US president's problem with the Egyptian situation is a lot more complicated than pulling the army off the Muslim Brotherhood's backs. He needs to somehow snap the strategic alliance unfolding between Egypt and Saudi Arabia, and the rapport between the Egyptian general and the Saudi prince.
Morsi's Muslim Supporters Targeting Christian Churches
Aug. 16….(WND) Egyptian Islamists Target Christian Churches in Wave of Apparently Coordinated Aug. 16….(WND) Some supporters of Egypt's ousted Islamist president directed their wrath at the country's Christian minority Wednesday, in what activists described as "the worst coordinated attacks on Egypt's Coptic community in modern history." Largely eclipsed by the military's crackdown on Muslim Brotherhood protest camps in Cairo and resulting loss of life, more than 20 churches in a number of provinces were reported to have been targeted for arson and other attacks. Through the day news reports and social media posts drew attention to individual incidents and it soon became apparent that a concerted campaign of coordinated attacks was underway. Most of the targeted churches were Coptic Orthodox, but Catholic churches were also attacked as well as at least one Protestant church. Some Baptist churches were also torched!
One of the groups monitoring the situation through contacts on the ground, the Australian Coptic Movement Association (ACM), released a list of 16 churches and related sites attacked, and said the true figure could reach 40. Those it listed included six churches and the house of a parish priest in Minya province, south-west of Cairo. Three churches were torched in Sohag province further to the south, a church, convent and school were set alight in the eastern province of Suez, as were a church and Bible Society premises in Fayoum province, west of the capital. It also reported assaults at a church in Alexandria.
According to Egypt's independent Mideast Christian News service, eyewitnesses to one of the church attacks in Sohag reported seeing Muslim Brotherhood supporters hijack a fire truck to prevent it from attending the fire. "These attacks on the Copts is unprecedented in the modern era," Bishop Anba Suriel of the Coptic Orthodox Church in Melbourne, Australia, wrote on his Twitter account. "Will the world continue to standby passively amidst this injustice?" The pro-Morsi supporters and Muslim Brotherhood leaders have been inciting hatred and violence against Egypt's Coptic Christians and now we are seeing those threats acted on in an unprecedented way. "Western political leaders have also failed to take the issue of Coptic persecution seriously and seem to be more interested in protecting the rights of those who persecute Christians."
Muslim Brotherhood Plots 'Armed Struggle'
(Much of Muslim campaign is against Christians in region)(Meanwhile Obama is inactive and unconcerned about the plight of Christians)
Aug. 16….(WND) The Egyptian Muslim Brotherhood is contemplating whether to launch a protracted "armed struggle" targeting the county's political opposition and military, a top Egyptian security official told WND. The official said Muslim Brotherhood leaders are discussing how to implement a long-term civil war so the opposition does not enjoy stability if the Brotherhood is unable to return to power. According to the official, Qatar and Turkey are mediating between the Muslim Brotherhood and the international community. If those efforts to find a political solution fail, the Brotherhood could target not only the official opposition but also minority civilians, including Christians.
Churches around the country have been attacked and torched amid larger, country-wide violence that ensued after the Egyptian military cracked down on Muslim Brotherhood protests. With more than 500 people dead and more than 1,400 injured in the crackdown, President Obama is facing increasing criticism for what is being called an "incoherent" policy toward Egypt. Obama spoke out against the military's violent response, canceling upcoming joint military exercises. But he has refused to label Morsi's ouster a coup, which means that legally the US can continue to send $1.5 billion in annual aid to the Egyptian government. "While President Obama 'condemns the violence in Egypt,' his administration continues to send billions of taxpayer dollars to help pay for it," Sen. Rand Paul, R-Ky., said in a statement Thursday, Fox News reported. In brief remarks to reporters today at his vacation home in Martha's Vineyard, Obama said his administration is not taking sides in the confrontation, insisting that the US "cannot determine the future of Egypt."
Meanwhile, Egypt's Coptic Christians say supporters of the Muslim Brotherhood have carried out attacks against churches in at least four parts of the country this week. Tensions with the Muslim majority are higher than for many decades, they say. Among several casualties was a teenage girl who was reportedly shot dead leaving a Bible class in Cairo. Since Wednesday, at least nine churches have been burned, and community leaders say the number of arson attacks could be as high as 20, the London Guardian reported.
Million Muslim March Planned in DC on Anniversary of 9-11
(Muslim demonstrations of bowing to Mecca Coming to America)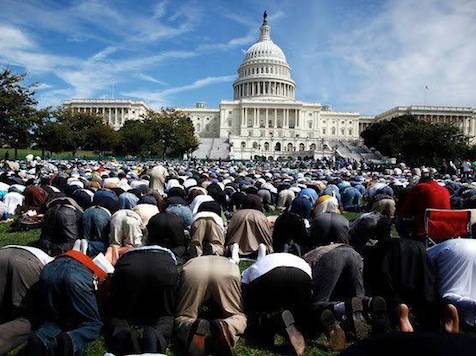 Aug. 16….(Breitbart) A group called The American Muslim Political Action Committee (AMPAC) is planning a one million Muslims march to Washington DC on September 11th. The timing of the group's march is seen by many as tasteless (to say the least) considering it is scheduled for the anniversary of the worst domestic massacre in American history perpetrated in the name of Islam. AMPAC ups the tasteless quotient by issuing "demands" for the American government: "We at AMPAC (American Political Action Committee) are planning an historic event for 9.11.13 where one million Muslims will march to Washington DC and demand that our civil rights be protected by our government. We are demanding that laws be enacted protecting our 1st amendment. We are asking President Obama to fulfill his promise from his first campaign for Presidency of a transparent government. Lastly we are asking for the release of the 9/11 Commission report to the American people.
The group seems to rationalize the date chosen for their march by claiming that the media has been lying to the American people with regard to the role Islam played in the 9/11 attacks: " On 9.11.01 our country was forever changed by the horrific events in New York. The entire country was victimized by the acts done on that day. Muslim and Non Muslim alike were traumatized but we as Muslims continue 12 years later to be victimized by being made the villains. To this day every media outlet and anti Islamic organization has committed slanderous and libel statements against us as Muslims and our religion of Islam. Yet our Government either sits idly by and does nothing to protect our freedoms or it exacerbates the problem with its constant war on terrorism in Islamic countries, congressional hearings on Islam in America, and its changes to the NDAA law. These lies told to the American population has made it impossible for us to do true Dawa. Why do we have to defend our religion while doing Dawa? Why can't we just share the perfection of the Quran and the beauty of our beloved Prophet Muhammad.
Al Qaeda Possibly Behind Bombing on South Beirut Hezbollah
Aug. 16….(Washington Post) A powerful car bomb tore through a bustling south Beirut neighborhood that is a stronghold of Hezbollah on Thursday, killing at least 18 and trapping dozens of others in an inferno of burning cars and buildings in the bloodiest attack yet on Lebanese civilians linked to Syria's civil war. The blast is the second in just over a month to hit one of the Shiite militant group's bastions of support, and the deadliest in decades. It raises the specter of a sharply divided Lebanon being pulled further into the conflict next door, which is being fought on increasingly sectarian lines pitting Sunnis against Shiites.
Syria-based Sunni rebels and militant Islamist groups fighting to topple Syria's President Bashar Assad have threatened to target Hezbollah strongholds in Lebanon in retaliation for intervening on behalf of his regime in the conflict.
Thursday's explosion ripped through a crowded, overwhelmingly Shiite area tightly controlled by Hezbollah, turning streets lined with vegetable markets, bakeries and shops into scenes of destruction. The blast appeared to be an attempt to sow fear among the group's civilian supporters and did not target any known Hezbollah facility or figure.
Syria's conflict has spilled across the border into its neighbor on multiple occasions in the past two years. Fire from Syria has hit border villages, while clashes between Lebanese factions backing different sides have left scores dead. But direct attacks against civilian targets were rare until Hezbollah stepped up its role in Syria. Since then, its support bases in southern Beirut have been targeted. Since May, rockets have been fired at suburbs controlled by the group on two occasions, wounding four people. On July 9, a car bomb exploded in the nearby Beir al-Abed district, wounding more than 50 people.
However Thursday's explosion was much deadlier than those, and was the bloodiest single attack in south Beirut since a 1985 truck bomb assassination attempt targeting top Shiite cleric Mohammed Hussein Fadlallah in Beir al-Abed left 80 people dead. It came despite rigorous security measure taken in the past few weeks by Hezbollah around its strongholds, setting up checkpoints, searching cars and sometimes using sniffer dogs to search for bombs. It also came a day before Hezbollah's leader was scheduled to give a major speech marking the end of the month-long 2006 war with Israel.
Christians Are Free Game in Syria
Aug. 16….(Worthy News) Last week's disappearance of an Italian Jesuit priest in Syria suggested foul play following the kidnappings of two other clergy in April, according to Morning Star News. The Rev. Paolo Dall'Oglio was reportedly negotiating with the Al Qaeda-linked Islamic State of Iraq for the release of hostages and peace between its militants and the Kurds. After Dall'Oglio went missing on July 29, Reuters reported that the Al Qaeda affiliate had kidnapped him. Dall'Oglio's disappearance comes three months after the kidnappings of the Greek Orthodox and Syriac Orthodox archbishops of Aleppo; Paul Yazigi and Yohanna Ibrahim were both kidnapped after gunmen intercepted their vehicle and killed its driver near Kafr Dael as the clergymen returned from a humanitarian relief mission on April 22. They are both believed to be held by Chechen jihadists.
Kidnappings of Christians in Syria are often for ransom, but as Al Qaeda-linked groups take over more territory with Christian populations, jihadists are now targeting them to either convert to Islam, or face torture and other violence, according to Ahmad Majidyar, a Middle Eastern Analyst for the American Enterprise Institute. Hundreds of Christians have been kidnapped and thousands more have fled Syria since the civil war began in 2011; many more have crossed into Lebanon and Turkey to obtain asylum Europe.
Should Al Qaeda-affiliated groups end up in control of Syria, Christians who remain will not be able to live there and practice their religion freely, said Majidyar. "They would be given three choices: convert to Islam, leave the country, or suffer heavy punishments, including death and jizya, or the Islamic tax," he said. Unlike other religious and ethnic groups in Syria, Christians do not have armed militias to protect them.
Nigerian Christian Women Are Being Kidnapped & Tortured to Convert to Islam
Aug. 16….(Worthy News) A pastor's daughter in Nigeria has been abducted by a Muslim leader who forced her to convert to Islam in a sharia court. Pastor Raymond Uzoechina of the Redeemed Christian Church of God in Abuja told Morning Star News by phone that the Emir of the Nupe in Bida, Niger state had abducted his daughter, Charity Uzoechina, when she left home to study at the Federal Polytechnic-Bida in February.
Pastor Uzoechina said he hired an attorney to bring his daughter to court to question her about what really happened, but was refused. When he contacted local police, they informed Uzoechina that the matter was already decided by the Islamic sharia court. Pastor said his daughter is being held against her wish and forced into a religion that is alien to us. Charity can never abandon the Christian faith for Islam."
Pastor Uzoechina said he has learned that other Christian women have been forcibly converted to Islam and that they too are being held captive at the Emir's home. "Apart from my daughter, there are so many other Christian girls also that have been kidnapped and are being held at the palace," he said.
Kerry Warns Egypt to Step Back
Aug. 15….(Times of Israel) Washington delivered a stern warning to Egyptian authorities Wednesday to step back from deadly violence after a day which saw hundreds killed in clashes between security forces and protesters loyal to ousted president Mohammed Morsi. Egypt's interior minister said late Thursday that 43 policemen were killed in clashes with supporters of the ousted Islamist president, raising the overall death toll for Wednesday to nearly 300. Official sources said late Wednesday that 235 protesters had been killed as Cairo and other parts of Egypt erupted in fighting following raids on two Muslim Brotherhood sit-in camps in the capital
Mohammed Ibrahim, who is in charge of the police, said Morsi supporters stormed 21 police stations and damaged or torched seven churches across the nation. Ibrahim told a televised news conference that the 43 policemen killed included two major-generals and two colonels. Bullets rang out and tear gas and smoke from fires filled the sky in Cairo for much of the day as anti-coup protesters fought with police in the capital, Alexandria and elsewhere. The Muslim Brotherhood reported that over 2,200 people were killed and thousands more injured in the fighting, though the figures were unconfirmed. The smaller camp was cleared relatively quickly, but it took hours for police to take control of the main sit-in site, which is near the Rabbah al-Adawiya Mosque that has served as the epicenter of the pro-Morsi campaign.
Several senior leaders of the Muslim Brotherhood who were wanted by police were detained after police stormed the camp near the mosque, according to security officials and state television. Among those seized were Brotherhood leaders Mohammed el-Beltagy and Essam el-Erian, and hard-line cleric Safwat Hegazy, all wanted by prosecutors to answer allegations of inciting violence and conspiring to kill anti-Morsi protesters. Police dismantled the main stage near the mosque in the eastern Cairo district of Nasr City, the official MENA news agency said. An AP reporter saw hundreds of protesters leaving the sit-in site carrying their personal belongings. Egyptian Authorities issued orders to impose a curfew on Cairo and 10 other provinces and interim president Adly Mansour declared a month-long state of emergency.
The deadly violence drew condemnations from around the world, including from the United Nations, European Union, Jordan and elsewhere. In a stern warning to Egypt's leaders, US Secretary of State John Kerry said the escalating violence throughout the country had dealt a "serious blow" to political reconciliation efforts between the military-backed interim government and Morsi supporters.
Still, Obama administration officials signaled no change in US policy toward Egypt or clear consequences for the mounting violence. The US has avoided declaring Morsi's ouster a coup, a move that would force the administration to suspend $1.3 billion in annual military aid to the strategically important nation, and officials said they continued to believe that step is not the America's interests.
Kerry, during a surprise appearance at the State Department, condemned the violence and the reinstatement of emergency rule. He urged Egypt's interim leaders to take a step back and calm the situation. "This is a pivotal moment for all Egyptians," Kerry said. "The path toward violence leads only to greater instability, economic disaster and suffering." Wednesday's assault came after days of warnings by the interim administration that replaced Morsi after he was ousted on July 3. The two sit-in camps at two major intersections on opposite sides of the Egyptian capital began in late June to show support for Morsi. Protesters, many from Morsi's Muslim Brotherhood, have demanded his reinstatement.
Egypt, Like Syria is a Complicated Islamic Mess
Aug. 15….(Jerusalem Post) Anyone who was expecting liberal democracy to sprout in Egypt following the series of revolutions, protests, elections and crackdowns since president Hosni Mubarak was overthrown in 2011 will be sorely disappointed by Wednesday's military assault on protesters and the imposition of emergency law. One thing is clear, military chief Gen. Abdel Fattah al-Sisi is the new king of Egypt. Even though the government said it would continue to follow the transition process and hold elections, it seems ever more apparent that the elections will likely not be fair and that Egyptian governments, at least in the near future, will probably rule at the pleasure of Sisi. This would be similar to Arab monarchies, where a king has overall authority but delegates governance to a prime minister and his cabinet. If things get out of hand or the government does something the king does not like, it is simply forced to carry out the king's will or is dismissed.
Wednesday's resignation of vice president Mohamed ElBaradei in reaction to the crackdown came because he preferred a negotiated solution. Perhaps others in the government agreed with him, but when the chips were down the real power was with the military. In addition, the new military-backed government has been facing a radical Islamic opposition and it saw no way out of the crisis without restoring order. The question now is if Sisi will take outright control by running in the next presidential elections or will continue overseeing things from behind the scenes, letting a president and government of technocrats run affairs.
The condemnations coming from the US and Europe fit with the countries' ongoing pressure on Egypt to include the Muslim Brotherhood in the country's politics. The Brotherhood and its supporters have been active on social media sites, calling attention to what they describe as a massacre, while the army and its supporting media claim the protesters were armed and had attacked the security forces.
Zvi Mazel, who served as Israel's sixth ambassador to Egypt and today is a fellow at The Jerusalem Center for Public Affairs and a contributor to this newspaper, told the Post that the army gave the protesters a number of weeks to leave or agree to mediation and a negotiated solution. Because the Brotherhood refused to be flexible in its demands, it became obvious this was coming, Mazel said, adding that if anyone understood the Brotherhood it was Sisi. The new Egyptian government, Mazel added, was pro-West and will have decent relations with Israel. "What is better than that?" he asked.
He added that the killings were bad, but if you compared the situation to countries like Iraq or Pakistan, the Egyptian crackdown was less severe. Asked whether the Brotherhood's strategy of martyrdom might succeed, as it likely would generate loads of support from the West, perhaps leading to stronger measures, Mazel responded that it might, although the West must understand that the army was in a fight with radical Islam.
On the significance of ElBaradei's resignation, Mazel said that he has been a shadowy character who helped Iran develop its nuclear program when he was head of the UN's nuclear watchdog, the International Atomic Energy Agency. "He defended Iran and then came to Egypt at the beginning of the revolution and was close to the Muslim Brotherhood," Mazel said, adding that ElBaradei needed to distance himself from the Brotherhood because he understood that it was the liberal camp that was for him. Now, Mazel suggested, it seems he may be heading back in the Brotherhood's direction. "The Brotherhood was building an Islamic dictatorship," he said, and it was the army that moved in to prevent that.
In Mazel's opinion, Sisi is smart and likely to go back, eventually, to his military role, letting the government run affairs. The army has more support from the people and is more organized than the Brotherhood, he asserted, predicting that there would not be a lengthy civil war and that the army would calm the situation and try to get Egypt back on its feet.
Kerry Throws Netanyahu a Curve
Aug. 14….(DEBKA) US-Israeli-Palestinian negotiations will resume today in deep confusion, senior Israeli officials report to Debkafile. They say that the US delegation chairing the negotiations "appears to be at sea on which issue to lead off." There is anger in Jerusalem over the leak from US Secretary of State John Kerry's circle of his threat that Israel would face a campaign against its legitimacy unless it gives way to pressures on West Bank settlements. "The Secretary would be better advised to focus on the hardening of the Palestinian position," said Israeli sources. They also pointed out that although Kerry had insisted on the talks being held in confidence, his own people were pouring out confidential data to the media. "This can only be explained," said the Israeli sources, "by the talks having run into crisis before they begin."
By declaring that the future Palestinian State must be cleansed of every last Jew, civilian or military, Palestinian Authority Chairman Mahmoud Abbas takes an even more extreme line than Yasser Arafat did in 2000. In the trilateral talks he held with then Israeli Prime Minister Ehud Barak, under the auspices of President Bill Clinton, the Palestinian leader accepted the right of the Israeli Defense Forces to rapidly deploy on the West Bank and Jordan Rift Valley in the event of a security crisis threatening Israel from the east. Abbas has also backed away from the Palestinians' original consent for Israeli security forces to be posted at the border crossings of the future Palestinian State.
According to Debkafile's sources, the US Secretary of State recently proposed that security arrangements along the Jordan River and the West Bank be determined by the US and Israel without Palestinian involvement. This position encouraged Abbas to take a tough line, say the sources, and for Israel it is a non-starter. "If Kerry does not recognize that a consensus on security must be embedded in the crux of any accord and accepted by all three parties, the negotiations must be considered to have run into insurmountable difficulties," said the Israel source, who preferred to stay anonymous in view of the sensitivity of the issues.
Washington sources report that the Secretary failed to win the support of American Jewish leaders when he met them at the White House on Aug. 8 along with National Security Adviser Susan Rice. They found his arguments vague, inconsistent and loaded with danger for Israel. This last week, sources in Washington and Israel report that US Special Envoy Martin Indyk is working overtime to rescue the Israel-Palestinian peace track initiated by John Kerry from foundering before it gets properly underway. Indyk met Israel's Justice Minister and senior negotiator Tzipi Livni and her aides at a restaurant in Herzlia in search of a strategy for saving the process from collapse after the first substantial round takes place Wednesday. Indyk was concerned that the Palestinian side led by Saab Erekat would kick of the session with a demand to pick up the negotiations from the point reached by former prime minister Ehud Olmert in 2008, even though the Palestinians rejected his proposals at the time. Abbas is now trying to maneuver Israel into undersigning the Olmert concessions and topping them up with more.
Israel says that in view of 50 years of failed peace talks stalled by the Palestinians, this new round must start afresh with all the issues on the table. Kerry appears to have grasped that his initiative on security arrangements and general approach were misplaced, only encouraging the Palestinians to revert to the dangerous pipe dream that they can force all parties to turn the clock back at their convenience.
America Is #1 at Something Again — Unfortunately, It's Porn Websites
Aug. 14….(The Blaze) America is once again leading the world at manufacturing something, unfortunately it's not cars, or the latest smart phones or tablet computers. We're leading the world in the hosting of internet porn websites. And we lead by a lot. The USA hosts 60 percent of all the porn websites online. That figure translates to 428 million webpages. The next closest on the porn hosting list, with 187 million pages and 26 percent of the adult content, is the Netherlands. The remaining 18 countries in the top 20 list of porn site producers represent a total of less than 80 million web pages of porn. This information came to light after a company that was looking to certify "family-friendly" websites scanned the web. Metacert is the family-friendly company Metacertfounded by Paul Walsh. His plan was to build a web browser that would protect children from online porn. Walsh surveyed hundreds of millions of websites in order to certify those deemed to be okay for all to see. In the course of reviewing all the sites, he also cataloged the porn pages based on their hosting country. The list of the top 10 says it all:
America – 428.3 million (and more than 4 million domains)
The Netherlands – 187.2 million
United Kingdom – 52.2 million
Germany – 8.2 million
France – 5.5 million
Canada – 2.3 million
Japan – 2.2 million
Australia – 1.9 million
British Virgin Islands – 1.4 million
Czech Republic – 1.4 million
It's probably not a surprise which American state leads all others in the creation of online porn. California accounts for 66 percent of all of the porn sites in the country. Based on Metacert's calculations, the Golden State would have created just over 282 million porn sites. That would be good enough for #2 on the worldwide list.
Al Qaeda Leader to US: 'Islam is Coming'
(Warns foreign fighting in Syria could battle America next)
Aug. 13….(WND) During a radio interview Sunday, a representative of al-Qaida in the Gaza Strip sent a message to the United States: "Islam is coming and there is no other choice." That sentiment was expressed by Abu Saqer, leader of Jihadiya Salafiya in the Gaza Strip, speaking on "Aaron Klein Investigative Radio" on New York's WABC Radio. Jihadiya Salafiya represents al-Qaida in the Gaza Strip.
Saqer further stated that after battling Syrian President Bashar al-Assad, the thousands of foreign jihadists currently in Syria could turn their ire on what he called the many other "enemies of Islam," including Israel and the United States. Saqer did not say the spread of Islam in the US will come through violence. "Islam is coming and there is no other choice," he told Klein about America and Europe. "Because we think Islam will come and this is something that no one can prevent," he stated. "And we will raise the Islamic flag on every point on earth where Muslims live and we will chase all the enemies of Islam wherever they are. Even in the West, in Europe and in the United States."
Asked where he thinks the thousands of foreign jihadists fighting Assad will go next, Saqer replied, "After finishing with him, there are many enemies for Islam." He continued: "At the head the Zionist enemies is the United States.
Destruction of Israel Guaranteed, Iran's Ayatollah Claims
(Iran's supreme leader promises Jewish land to Palestinians)
Aug. 13….(WND) Iran's supreme leader promises in a newly released audiotape the destruction of Israel and Palestinians' return to that land. Fars News Agency, an outlet run by the Revolutionary Guards, last week posted an audiotape of excerpts of Ayatollah Ali Khamenei's speeches to Palestinian officials and others with a title "Palestine will surely become free."
In the audiotape, which is partly in Arabic, Khamenei gives blessings to those who fight against Israel and says, "Peace be upon the children of our nation, peace be upon the brave jihadists in Palestinian and Lebanese resistance. Today the Islamic world and the whole world are witnesses to great revelations that show change in international affairs." The ayatollah promises a restructuring of the Middle East: "Palestine will be free, have no doubt in this. Palestinians will return there and there will be a Palestinian government and that is based on the truth revealed by God. A new Middle East will be an Islamic Middle East."
In promising the annihilation of Israel, the supreme leader also says, "There is no doubt that victory awaits the Palestinian people in the future, and the myth of Zionist power over this region will completely vanish, Allah willing." On Friday Khamenei called the current peace talks between Israel and the Palestinian Authority "futile" and said, "The US-brokered talks are aimed at undermining the Palestinians' resistance." He assailed the US for reviving the peace talks between the two.
Khamenei's audiotape comes on the back of a statement by Hassan Nassrallah, the secretary-general of the Lebanese terrorist group Hezbollah. "Some think that the fall and destruction of Israel is only good for Palestinians," Nassrallah said recently. "However, such an event will be good for all the countries of the region, and one cannot separate this threat [Israel] from Jordon, Egypt, Syria and Lebanon. For this reason, the annihilation of Israel is in the national interest of Jordon, Syria, Egypt and Lebanon." Nassrallah recalled a statement by the founder of the Islamic Republic: "Imam Ruhollah Khomeini provided a clear and precise definition for Israel when he called this regime [Israel] a cancerous tumor. And the only way to cure it is not to give it time, not give in to it and eradicate its roots." The clerics ruling Iran believe that Khamenei is the one named in a centuries-old hadith who will prepare for the coming of the Islamic last messiah, the Shiites' 12th Imam, Mahdi. According to the hadith, Israel is to be destroyed before Mahdi's re-appearance.
Mojtaba Zolnoor, an adviser to Ayatollah Khamenei in the Revolutionary Guards, has stated publicly that a number of the Ulama (Islamic scholars) and authoritative grand ayatollahs have announced that Khamenei is quite possibly the fabled "Seyed Khorasani." According to the Islamic hadith, Khorasani is an individual from the region who is not only a companion of the Mahdi, but also is responsible for setting the stage for Mahdi's re-emergence. Also, according to close associates of Khamenei, the supreme leader has acknowledged his role in history by telling a confidant (Mohammad Reyshahri) that Khomeini told him personally, "Dear Seyed Ali, it will be during the time of your leadership that the last Shiite Imam, Imam Mahdi, will re-appear."
A video revealed in 2011, "The Coming Is Upon Us," showed regime intentions: change in the Middle East, destruction of Israel and the coming of Mahdi. The Islamic regime, despite its public position on the destruction of Israel and despite several UN resolutions and sanctions by the US and Europe, has expanded its illicit nuclear and ballistic missile programs. Reports indicate that the regime will not only achieve capability on intercontinental ballistic missile delivery, bringing the US within its reach by next year, but also the ability to arm those missiles with nuclear warheads. The West, while concerned about the regime's nuclear program, still hopes to reach a peaceful settlement and has offered further talks over the issue with Iran's new president, Hassan Rowhani, who took office on Aug. 4. In an Aug. 5 exclusive report, WND revealed a videotape of Rowhani in which he boasted of buying time during earlier negotiations with the West for the regime to build its nuclear program.
Pope Francis Reaches out to Muslims at End of Ramadan
Aug. 13….(BBC) Pope Francis has urged Christians and Muslims to work together to promote mutual respect, particularly by educating new generations of believers. He greeted Muslims around the world during his Sunday blessing of pilgrims gathered in St Peter's Square in Rome. He said that "our brothers'' the Muslims had just concluded their holy month of Ramadan, dedicated to fasting, prayer and alms-giving. He called on Catholics and Muslims to love each other and accept each other.
Syria, Mideast Peace Talks, and "Land for War"
Aug. 12….(Israel Today) The current peace process is predicated on the conventional wisdom that if Israel just relinquishes enough territory to its enemies, peace will arrive. But on most of Israel's borders, history has revealed the naïve folly behind an idea that could just as aptly be called "land-for-war."
Consider Syria. From 1948 to 1967, the Syrians regularly fired artillery shells from their dominant positions on the Golan Heights down at Israeli border communities and Fatah used the territory to launch terrorist raids into Israel, until Israel captured it in 1967. But since the US-brokered talks between Israel and Syria began in 1999, peaceniks have posited that a full withdrawal by Israel from the strategic plateau in exchange for peace with Syria involved a risk worth taking. Their rationale was that, in an era dominated more by aerial threats (jets and missiles) than terrestrial ones, (soldiers and tanks) the territory was no longer vital to Israeli security and could be traded for a double boon: peace with Syria and elimination of Iran's greatest strategic ally.
Current events reveal the deeply flawed assumptions underpinning the land-for-peace-with-Syria paradigm. No Israeli territorial concession is needed for Iran to lose its only Arab ally; the Syrian civil war will ultimately accomplish that. Basher Assad's regime will eventually fall because the daily slaughter of one's own people (with over 100,000 dead) is unsustainable when each atrocity can be instantly uploaded to the Internet. Whoever replaces Assad will be no friend to those who armed, funded, and prolonged his massacres: Iran and Russia. Iran and its proxy Hezbollah have also been substantially involved in fighting the rebels on the ground, and thus will be distanced from post-war Syria far more than any Israeli-Syrian peace could have separated Iran and Syria.
More importantly, the land-for-peace formula with Syria would have transferred the strategic territory from Israel to an Alawite-led regime reviled by the mostly Sunni rebels who will eventually overthrow it and likely disavow its commitments, including any peace deal with Israel. Indeed, the Syrian rebels already control much of the 200 square miles comprising the Syrian side of the Golan Heights (where they recently kidnapped 21 UN peacekeepers stationed there) and have openly threatened to attack Israel next. Israel comprises about 8,000 square miles. If those same rebels were on the 500 square miles constituting the Israeli-side of the plateau thanks to an earlier "peace deal," Israel would be that much closer to the errant projectiles of Syria's civil war, and that much more exposed to whatever terrorist attacks on Israel the Syrian jihadist fighters plan after finishing Assad. Hence, Israel's tangible security asset (earned with the blood of over 2,100 IDF soldiers who died in Israel's 1967 and 1973 wars with Syria) would have been traded for "peace" with Assad, but land-for-war with Syrian Islamists is what Israel may have received just a few years later.
Indeed, "land-for-war" has a compelling record. In 2000, Israel withdrew from southern Lebanon and in 2006 was attacked from there by Hezbollah. It was only the force of Israel's military response in the war that followed, rather than any territorial concession, that prevented any subsequent cross-border attacks by Hezbollah, although the terrorist group still pursues murderous plots abroad, including in Europe (which still cowers from labeling Hezbollah a terrorist organization).
Since Israel left the Gaza Strip in 2005, Palestinian terrorists have launched about 10,000 rockets from there at Israeli civilians (including during Obama's visit to Israel, violating yet another cease-fire agreement). Since the 1993 Oslo Peace Accord requiring Israel to hand over parts of the West Bank to the Palestinian Authority, Palestinian terrorist attacks have killed over 1,000 Israelis.
The 1994 Jordan-Israel peace involved very little land (and heavily depends on survival of the Hashemite Kingdom), so the best precedent supporting the land-for-peace model is Egypt, which agreed to peace with Israel for return of the Sinai Peninsula. That cold peace has held since 1979 mostly thanks to over $60 billion of US aid to Egypt and an unpopular, secular autocrat (Hosni Mubarak). With all of the chaos plaguing Egypt now, particularly in the Sinai (from which a single, high-casualty attack on Israel could provoke an Israeli response) the future of the Egypt-Israel peace is hardly certain.
The spoils of war normally go to the victor. In 1848, the US captured much of its western territory (including California, Arizona, Nevada, and Utah) from Mexico in the Mexican-American war. Sometimes, as with Southern Lebanon, Gaza, or the 1938 Munich Agreement transferring the Sudetenland to the Nazis, land-for-peace turns out to be an illusory promise that only encourages military aggression.
Given the many more urgent (and far bloodier) problems in the Middle East that have nothing to do with Israel, why has Obama invested so much more in the Israeli-Palestinian peace process than in any other Mideast issue? And, more importantly, why is Obama so convinced that, if Israelis withdraw from the West Bank (thanks to the current peace process underway), this time they will get land-for-peace instead of land-for-war?
Next War With Hezbollah Will Hit Israeli Citizens Hard
Aug. 12….(LA Times) As tensions escalate along Israel's northern border, a senior military official warned that the next war with Hezbollah would be far more painful for Israeli citizens than any previous experience. "What we witnessed in 2006 is the very tip of the iceberg," said the official, referring to the 33-day war between Israel and the Lebanese-based Shiite militia Hezbollah. In that case, a third of the country was forced into bomb shelters for a month while rockets rained down on northern Israel.
In the 2006 Second Lebanon War, nearly 4,000 rockets were fired into Israel, killing more than 40 civilians and causing widespread devastation to property and the economy. Hezbollah is now believed to have 60,000 to 100,000 rockets that boast longer ranges, improved accuracy and larger warheads. "This will be a whole new ballgame," one official said.
Israeli officials fear that as many as 2,000 rockets a day could be released against all parts of Israel. Most of the launching sites are in southern Lebanon, where Hezbollah militants use private homes and farms in about 100 villages. Hezbollah's rocket capacity has turned Israeli civilians into the preferred front in the next conflict so public fear will put pressure on the Israeli military, the official said.
Though Israel does not have enough Iron Dome missile-interception systems to prevent a barrage of rockets from Hezbollah or others, it has focused on improving civilian defense through mock drills and emergency planning. Nevertheless, only 60% of Israelis have chemical-weapons protection kits, in part due an inter-governmental squabble over funding. Nearly one-third of Israelis don't have quick access to bomb shelters.
Israeli Jews Oppose Major West Bank Pullout
Aug. 12….(Times of Israel) Most Israeli Jews would oppose a peace agreement with the Palestinians if it included a full West Bank pullout with land swaps to let Israel retain major settlement population centers, according to a new poll that appears to contradict the conclusions of other recent surveys. The poll by the Israel Democracy Institute and Tel Aviv University, found that 63 percent of Jews in Israel oppose a withdrawal to the 1967 lines with land swaps as part of any peace arrangement with the Palestinian Authority, even if it meant Israel would hold onto the Etzion Bloc, directly south of Jerusalem; Ma'aleh Adumim, east of the capital; and Ariel in the central West Bank about 34 kilometers (21 miles) east of Tel Aviv.
Assuming Israeli retention of Ariel, Ma'aleh Adumim and other settlement blocs, 58% of Jewish respondents were opposed to the dismantling of other settlements. According to the survey, 50% of Jewish Israelis also oppose the transfer of Arab neighborhoods in Jerusalem to Palestinian Authority control with a special arrangement for Jewish holy sites.
Israeli Arabs are more optimistic than their Jewish counterparts regarding the prospects of newly resumed negotiations with the Palestinian Authority. Seventy-nine percent of Israeli Jews believe talks have a low chance of success, as opposed to 18% who believe that the chances are high. Only 41% of the Arab Israelis surveyed said the talks had a low chance of success, while 47% said they had a good chance at success.
Despite the overall pessimism among Jewish respondents, 61% said that they were in favor of the peace talks, as opposed to 33% who said they were opposed. Ninety-one percent of the Arab citizens polled said they supported the negotiations. Only 6% opposed them. Seventy-seven percent of Israeli Jews would oppose any agreement that recognized in principle a right of return for Palestinian refugees and their descendants, with a small number being allowed to come and live in Israel, and compensation for the rest. Sixty-two percent of Israeli Jews and 72% of Israeli Arabs agree that a national referendum is needed to approve any peace settlement that involves evacuating settlements and withdrawal from the West Bank. Notably, 49% of Israeli Jews said that the national referendum should not include the country's Arab citizens, as opposed to 46% who think all Israelis should have a say. In the Arab sector, the response to the question was 4% and 88%, respectively.
The majority of both Jews and Arabs surveyed, 63% of Jews and 58% of Arabs, said the Netanyahu government was sincere in its desire for negotiations with the Palestinian Authority. However, only 29% of Jews felt that the same could be said for the PA negotiators, while 85% of the Arabs said the PA was sincere in its return to the negotiating table.
WEEK OF AUGUST 4 THROUGH AUGUST 10
Syria is Ground Zero For World War III
Aug. 9….(WND) At least 6,000 jihadist rebels in Syria, many affiliated with al-Qaida, now pose a major security risk to the United States and Europe, according to Obama administration officials and Mideast experts. Most of the news coverage of the emerging threat fails to mention US and Western support, including weapons transfers, to the Syrian rebels. Al-Qaida-linked groups reportedly are prominent among the rebel ranks. On Tuesday, Michael Morell, the Central Intelligence Agency's second-in-command, warned in an interview with the Wall Street Journal that al-Qaida groups in Syria, along with the civil war itself, pose the greatest threat to US national security.
The Wall Street Journal reported Morell said there are now more foreigners flowing into Syria each month to fight with al-Qaida-affiliated groups than there were going to Iraq to fight with al-Qaida at the height of the war there. Meanwhile, according to UPI, Matthew G. Olsen, director of the National Counterterrorism Center, stated Syria "has become really the predominant jihadist battlefield in the world." "The concern going forward from a threat perspective is there are individuals traveling to Syria, becoming further radicalized, becoming trained and then returning as part of really a global jihadist movement to Western Europe and, potentially, to the United States," said Olsen. Unmentioned by CIA official Morell or the major news media reporting on the Syrian rebel threat is that the U.S. and Western countries have supplied vast sums of weapons to the Syrian rebels and earlier to the rebels in Libya who toppled Moammar Gadhafi's regime.
WND reported earlier this week that US and other Western arms shipments to jihadist-saturated Libyan and Syrian rebel groups may have contributed to al-Qaida's growing worldwide threat. Al-Qaida's resurgence may now be culminating in the terrorist group's reported plot to target US and Western interests, prompting a weeklong shutdown of US embassies across the Middle East and North Africa, WND further reported. Indeed, informed Middle Eastern security sources told WND the current al-Qaida terrorist plot against US and Western targets is a direct result of US-supported efforts currently under way to purge al-Qaida affiliates from the ranks of the Syrian rebels. The sources have specific knowledge of the terrorist threat. The sources said the US has been working with Saudi Arabia, Qatar, the United Arab Emirates and other Gulf states to support a US-armed Free Syria Army effort to cleanse al-Qaida affiliates from among the rebel ranks, including al-Nusra and other groups.
For months, the US reportedly has been providing lethal support to the Syrian rebels amid widespread fears the Western weapons could fall into the hands of al-Qaida organizations known to work alongside the Free Syria Army. Now with Syrian President Bashar al-Assad closing in on the insurgency targeting his regime, US allies in the Gulf and throughout the Middle East are deeply concerned the freshly armed al-Qaida groups could turn their efforts from Assad to destabilizing the moderate Arab regimes. To that affect, according to the Middle Eastern security sources, the US has been heavily aiding the Free Syrian Army in its efforts to disarm or eliminate the al-Qaida groups fighting as Syrian rebels. The Middle Eastern security sources said the current al-Qaida plot is an attempt to dissuade the US from further supporting the disarming efforts.
Jewish Activists Demonstrate Against Temple Mount Discrimination
(Hundreds of Jews protest prolonged closure of Temple Mount to non-Muslims; "If this passes quietly, it will get worse for the Jews.)
Aug. 8….(Arutz) In wake of Tuesday's decision by police officials in charge of the Temple Mount to ban non-Muslims entrance to the holy site, some two hundred protesters stood Wednesday morning at the foot of the Mugrabi entrance seeking to reverse their exclusion. The mass protest was prearranged following an announcement by Police Commander Avi Bitton that the Temple Mount will remain closed to Jews and tourists at least until after the end of Ramadan's closing festival of "Eid" which is to be next Sunday, the 11th of August.
During this current Ramadan, many Jews who have ascended to the Temple Mount have been inexplicably turned away or even harassed by threats from Muslim extremists. Deputy Foreign Minister of Israel, Zeev Elkin, was among a group of Jews who were chased off the Temple Mount on the eve of the day commemorating the Temples' Destruction, the 9th of Av. On the 9th of Av itself, Jews were banned completely from ascending.
Since the Mount's closure to all non-Muslim visitors, activists have decided to take action and convene at the holiest site of the Jewish people at the beginning of the Hebrew month of Elul, a month dedicated to repentance. For many of the activists, showing solidarity today was a reminder that this is in fact the holiest place for the Jewish people. "People have come far to be here early in the morning to make this statement, to make this prayer to the Almighty, as we begin this special month of repentance," said Rabbi Chaim Richman the international director of the Temple Institute. "The one place where that relationship to God is manifest is the place of the Holy Temple. Ironically this is the one place where Jews are currently prohibited from entering," he added. The hundreds of individuals who arose early to attend the prayers and vigils outside of the Temple Mount seek the same privileges as Muslim visitors, who have unrestricted access to the site.
Jewish visitors, however, are subjected to severe restrictions, including a total ban on conducting prayers or any other religious rituals, despite the site being the holiest place in Judaism. The ban on Jewish prayer has continued despite numerous court rulings that such restrictions are illegal.
Grand Wahhabi Mosque Being Built in Maryland
Aug. 7….(WND) Turkey's Islamist government is constructing a massive $100 million, 15-acre mosque in Lanham, Md., that is expected to "become the largest and most striking example of Islamic architecture in the Western hemisphere" by October 2014. In May, Turkey Prime Minister Tayyip Erdogan placed a ceremonial stone at the construction site. Now the five-building project known as the Turkish American Culture and Civilization Center is well underway in the town just outside Washington, DC, with a population of about 10,000.
As the Clarion Project explains, mosques have been springing up all over the US in recent years. As many as 80 percent of the mosques in America have been built in the last 12 years, since the 2001 terror attacks. "A large majority of mosques in the United States are led by Wahhabi clerics," the Project explains. "Wahhabism is an extreme brand of Islam practiced dominantly in Saudi Arabia. According to Muslim estimates, up to 80 percent of mosques in the US are owned, operated and led by Wahhabis. "These radical mosques often promote the installation of Sharia law, an extreme ideology that considers 'non-believers' to be infidels. According to Wahhabis, jihad or support of jihad is a Muslim duty. They believe that suicide bombers and martyrs are worthy of the highest praise and reward. And radicals are anticipating the day when an Islamic state will one day span the US As many as four studies have independently concluded that 80 percent of US mosques "were teaching jihad, Islamic supremacism, and hatred and contempt for Jews and Christians," Robert Spencer of Jihad Watch has reported.
Syrian Rebels to Assyrian Christian Refugees: 'If You Come Back, Convert to Islam, or Be Killed'
Aug. 7….(Worthy News) According to the Assyrian International News Agency, Assyrian Christians who have fled from an area of Syria called al-Thawrah, have been told by rebels, "If you want to come back, convert to Islam, or you will be killed." An AINA story monitored by the ASSIST News Service, said, "Accounts by Assyrian refugees from reveal the real face of the Islamist undercurrent within the Syrian opposition. Furthermore, these accounts serve as a stark and chilling reminder of what has already been suffered by non-Muslim communities in Iraq since 2003. "On February 11, rebel fighters from the al-Nusra Front took control of the city and its strategic dam, the largest of its kind in the country. They also seized control of the three quarters that housed dam workers, many of whom were Christian Assyrians. "Whilst they allowed the dam's original staff to remain in the city in order to continue its operation, management and upkeep, those who were not Sunni Muslim were not afforded the same privilege.
One Assyrian refugee was reported as saying, "Everything is now in Jabhat al-Nusra's hands. All the Muslims stayed there, but if any Christians want to go back they have to become Muslim or else they will be killed." The story goes on to say that Christians report their property being stolen, their homes being confiscated, and their possessions being sold on the black market in order to buy weapons and ammunition. In many of these cases, those forcefully dispossessed were not even allowed the chance to take with them any of their personal belongings.
According to the jihadist Islamist ideology espoused by such forces as the al-Nusra Front, the properties and possessions of such "infidels" are halal (fair game), and it is not a sin to plunder them.
They also threatened Christians with death if they did not comply with strict Islamic laws. "They would call and text me on my cell phone, ordering me to do as they say, or else they would kill me! Can you imagine it?" said a Christian man from al-Thawrah, who had lost all he owned, and is now internally displaced with his family. "Even though I have left they still call me from there to bother me, so I keep my phone switched off unless I really need to use it."
AINA then reported the "gruesome story" of an Assyrian man from al-Hasakah Governorate, allegedly shot by rebels in an execution-style murder just outside al-Thawrah in April 2013, which it said, "still sends shivers up the spines of those who knew him." He used to earn a living transporting people between al-Hasakah and al-Thawrah, until his car was confiscated by al-Nusra fighters. "They told him that he could buy it back from them, so he returned to his village to bring them the money," one refugee related, "He should have stayed put and thanked God that they hadn't killed him then and there, but he didn't listen to reason and left with the money they'd requested. No one ever saw him alive again. How will his wife and four children support themselves now?" "Whilst this case has been well-documented, many of the Christian refugees from al-Thawrah insisted that certain details be excluded from their testimonies since, being a small community, they were fearful of being identified and subsequently suffering the consequences. They are also too frightened to provide too much information over the phone or on the internet because they believe that these are being monitored by elements within Syria's opposition," the report continued. "For most of them, staying in Syria is no longer a viable option either. To leave for Turkey or Lebanon, on the other hand, is also fraught with its own perils."
Another Assyrian refugee who refused to disclose his location said, "All the roads are full of rebel fighters." While the head of an Assyrian household displaced from al-Thawrah, added, "It's really dangerous. We have lost everything. There is nothing for us over there now, nothing to return to. We just need help to get out of here and settle in a country that's safe."
Billy Graham Has A Warning For America
Aug. 6….(WND) "God's prophet," the famed evangelist Billy Graham, is praying America will experience another "great spiritual awakening." International evangelist Reinhard Bonnke, whose ministry records 72 million people responding to the call of salvation in Africa and elsewhere, says God told him the time has come for "a mighty wave of salvation to sweep the USA." And Harvest Crusades President Greg Laurie, a Southern California megachurch pastor who became a believer during the legendary Jesus Movement of the late 1960s and 70s, believes America's "only real hope" is national revival. At a time when many believe the midnight hour on God's prophetic clock is fast approaching, major evangelists, Billy Graham, Franklin Graham, Bonnke, Laurie, Chuck Smith, Banning Liebscher and others, are turning their attention toward America in the hope of helping ignite an end-times awakening.
Graham, the 94-year-old preacher wondered aloud what his late wife, Ruth, would think of a nation in which "self-centered indulgence, pride and a lack of shame over sin are now emblems of the American lifestyle." Graham compared America to the ancient city of Nineveh, the lone superpower of its time. When the prophet Jonah finally traveled to Nineveh and proclaimed God's warning, the people repented and escaped judgment, Graham wrote. "I think it's an apt description," Laurie said. "I think in many ways America is like Nineveh. The wickedness of Nineveh was so great that God effectively said it was recognized up in heaven, 'the sin of Nineveh has come before me,' and I believe America is at such a state." Laurie said Graham "is a prophetic voice, and to me it's like Isaiah or Jeremiah standing up and telling our nation what we need to do." "We would be wise to heed his warning and his admonitions and turn back to God, because I believe God's prophet is speaking to us," Laurie said. Believing that America, like Nineveh, also has a window of time to repent and return to God, Graham is holding the My Hope America with Billy Graham evangelistic outreach the week of Nov. 7, his 95th birthday.
There is a strong awareness among believers and Christian leaders that America is in "great spiritual danger." "The speed of its departure from God has accelerated," said Rabbi Jonathan Cahn, the senior rabbi at the nation's largest messianic congregation, the Beth Israel Worship Center in Wayne, NJ, and a descendant of Aaron, the brother of the biblical prophet Moses. "Hardly a day passes without another step in the nation's moral and spiritual descent. To anyone who is spiritually sensitive or, for that matter, who reads the Bible, the picture is clear. "We stand at a tipping point," he said.
Franklin Graham said the event couldn't come at a more important time in America's history. He says America "is in trouble." "We have turned our back morally and spiritually on God," Franklin Graham said. "Our churches are in trouble, too. We are so concerned about being relevant to the culture. God never called us to be relevant to the culture. Our Father in heaven has called us to be obedient to Him. We are to be faithful and true. But the fact this whole relativism has got a hold of our churches is troubling to me. We need to get back to what God has called us to do and that is to evangelize."
The church, he said, is "losing our country." "We are not evangelizing," he said. "We have all these religions coming into our country. We have opened up the door to Islam and Hinduism and all these other religions have come in. They are making great strides, but the church is asleep.
Critics who call the recent coup by the Egyptian army "undemocratic" are placing form over substance and forgetting that the election of Mohamed Morsi was itself arguably undemocratic. Because his Muslim Brotherhood party was the only organized political force running for office, there was little chance of meaningful political competition emerging in the mere six months between Hosni Mubarak's overthrow and Egypt's first free elections.
That fact might have mattered much less had Morsi used his presidency to promote individual freedoms and build democratic, power-sharing institutions. But Morsi reverted to the same undemocratic policies that he was elected to change. In effect, Morsi simply replaced a secular autocratic rule with an Islamist one.
Unsurprisingly, persecution of Egypt's Christian minority worsened under Morsi. According to Mideast expert Raymond Ibrahim: "the persecution of Copts [was] practically...legalized, as unprecedented numbers of Christians...[were] arrested, often receiving more than double the maximum prison sentence, under the accusation that they 'blasphemed' Islam and/or its prophet. It was also under Morsi's reign that another unprecedented scandal occurred: the St. Mark Cathedral—holiest site of Coptic Christianity and headquarters to the Pope Tawadros himself—was besieged in broad daylight by Islamic rioters. When security came, they too joined in the attack on the cathedral. And the targeting of Christian children—for abduction, ransom, rape, and/or forced conversion—has also reached unprecedented levels under Morsi."
Also under Morsi, the Egyptian currency lost more than a tenth of its value, making it harder for Egypt to import fuel and food. Morsi shunned the tough decisions needed to reform the Egyptian economy and gain the confidence of the IMF and foreign investors. No economy has prospered because of Muslim Brotherhood leadership and Morsi's ties to the group almost guaranteed economic failure, given how bad Islamist policies are for beach tourism (which needs bikinis and beer). Morsi's Islamist leanings were also bad for non-beach tourism: last month Morsi decided that the new governor of the ancient city of Luxor would be Adel Mohamed al-Khayat, a man with ties to the Islamist group that massacred around 60 tourists in that same tourist destination in 1997. That decision might have solidified Morsi's political power, but how could it possibly have benefited Egypt?
Kudos to Egypt for Mending the Morsi Mistake
Aug. 6….(Israel Today) In August 2012, when Morsi became the first Egyptian leader to host an Iranian president since the 1979 revolution imposed an Islamic theocracy on Iranians, what signal did that send to Egyptians (and the rest of the world)? When Morsi attended a June 15 rally packed with fellow Islamists calling for jihad in Syria, how could that possibly serve Egypt, which can barely stay afloat much less enter foreign wars? With so little time to solve Egypt's colossal problems, Morsi's Islamist ineptitude quickly worsened virtually everything. To the credit of Egypt's people (and army), they swiftly reclaimed the power they had given to Morsi before he could take them any further down a dangerous path that was all too familiar for its autocratic ways, but far worse for its instability and rudderless economic descent. As the most populous Arab state, Egypt's single greatest challenge has for years been employing its population (now at 85 million). That problem intensified when tourism and foreign investment dropped precipitously after 2011, when the decades-long stability of Mubarak's rule was replaced by the unknown. Unemployment for the first quarter of 2013 was an estimated 13.2%.
The country's next leader will need tremendous skill to restore the stability, security, tourism, and investor confidence needed to revive the economy. Any leader facing this daunting challenge should also realize that without better family planning policies, the country's chronic overpopulation will continue aggravating Egypt's many related problems: poverty, pollution, overcrowding, power outages, and illiteracy. To help restore domestic peace and foreign confidence in Egypt's commitment to religious freedom, full protection and equal treatment must be given to Egypt's Christians -- the largest religious minority and a vital and ancient part of Egypt. Given how important Copts are to the history of Christianity, their community and holy sites should be a source of Egyptian pride and can even help to revitalize Egyptian tourism by attracting Christian tourists, provided that the Copts' legitimate political and security concerns are adequately addressed.
The taboo of dealing with Israel should also be overcome, if only for the economic benefits that could result. Israel's successful transition from an agricultural, low-tech economy, to one based on entrepreneurial innovation can provide some guidance/inspiration and opportunities for joint ventures in tourism, textiles, cleantech, and other sectors. Scandalous as it may seem to Egyptians, their northern neighbor's 65-year democracy may even have some useful experience with separating religion and state, keeping the peace among an ethnically and religiously diverse population, protecting individual liberties, and developing democratic and power-sharing institutions. But to realize the full potential of the 1979 treaty, Egypt's media and politicians must start treating the Israeli-Egyptian peace as a blessing rather than a curse.
Unfortunately, Egypt's recent coup establishes a problematic precedent for checking presidential power: militarily topple the president before his second year in office. Egypt's problems are so deep and numerous that even the best leader will probably disappoint "the street" one year into office. But some historical perspective may be useful here: the French Revolution was sparked by a fiscal crisis and demands for individual liberties that ultimately overthrew the absolute monarchy that had ruled France for centuries. That revolution involved about a decade of turmoil and killed tens of thousands before Napolean Bonaparte assumed power in 1799. Fixing Egypt could be a long and bumpy road, but at least the repairs have started.
Millions of Muslims Venerate Mary
Aug. 6….(Worthy News) Every year, millions of Muslims, mostly women, go on pilgrimage to Marian shrines in Egypt, Syria, Portugal and Lebanon, according to Asia News. Many pilgrimages in Egypt follow the flight of Mary's family from King Herod, and at the annual Feast of the Assumption, one million pilgrims visit various shrines, the most famous of which is at Jabal al-Tair about 200 kilometers from Cairo. During the 15-day festival, so many infants of both Abrahamic faiths are baptized that the local parish priest had to build a special baptistery for Muslims!
Beginning in 1982, reports of Marian apparitions in the Soufanieh section of Damascus continue today as Muslims and Christians pilgrimage to Syria. Many Muslims fly from Iran to Fatima, Portugal, as well as to Harissa, Lebanon, where there is a special Marian chapel for Iranian women complete with icons, signs and prayers in Persian.
Muslims travel to these shrines because Mary is the most celebrated woman in the Quran: she is the only woman called "holy," a title usually reserved for men, and she is the only one whom the Quran claims God has chosen and preferred above all other women. Moreover, a hadith attributed to Muhammad states that every child during birth is "touched" by Satan, with the exception of both Mary and her Son. When Mary is mentioned by Muslims, "peace be upon her" is added; there is also a large collection of literature on Mary as depicted in the Quran written by both Muslims and Christians.
Women Missionaries Beaten in India
Aug. 6….(Religion Today) Five women in India were beaten by a man in the Andhra Pradesh region of India while sharing about the love of Jesus in a public marketplace, Charisma News reports. Amazingly spared, they retreated to safety, thanking God for the honor of suffering for His sake. The women, all leaders in the Gospel for Asia-sponsored Women's Fellowship ministry, had been sharing with store-owners and shoppers when one man demanded to know what they were doing. The assault began with a powerful slap to the face of one woman and continued to the others, one of whom was isolated and surrounded by five men. The women, Bansari, Jaladhi, Kuyil, Sunita and Viveka, were beaten on their faces, ears and heads. All reported that no bystanders came to their defense during the ordeal but they miraculously escaped from their multiple attackers and were delivered from further harm. "Jesus promised persecuting and hardships," said Daniel Punnose, vice president of GFA. "These young ladies see it worth facing the beatings in order to share the love of Christ. When we see young women publicly beaten for their faith, it tells us what the future holds in regards to persecution. Things will get worse, but the Lord is faithful in all things."
Lebanese Christian Leader Assails Hezbollah for Provoking Israel
Aug. 6….(Jerusalem Post) Lebanese Christian leader Samir Geagea reacted to Nasrallah's anti-Israel speech on Friday; accusing the Hezbolllah leader of dragging Lebanon towards war. Ethnic tensions in Lebanon are resurfacing over what some say is Hezbollah's destabilizing role in the region. In a local television interview, Samir Geagea, a prominent Lebanese Christian, accused the Iranian-backed Shi'ite militia on Sunday of "dragging the country into war against the wishes of its leaders," Israel Radio reported. "Whoever desires stability in Lebanon doesn't send aircraft to fly over Israel and doesn't launch a disastrous war against Israel that is likely to end with heavy casualties," Geagea said.
Hezbollah leader Hassan Nasrallah emerged from hiding on Friday to deliver his first major speech in years, addressing a rally in his southern Beirut stronghold in support of the Palestinian conflict against Israel. "Israel poses a danger on all people of this region...including Lebanon, and removing it is a Lebanese national interest," Nasrallah told hundreds of supporters in his half-hour speech. The charismatic Shi'ite cleric has lived mainly in the shadows, fearing assassination, since Hezbollah fought an inconclusive month-long war with Israel in 2006. His last major speech came a month after that conflict, when he declared victory in front of thousands of supporters. Since then, he has made occasional and brief public appearances, most recently last September, but no lengthy public address.
Hezbollah emerged in the 1980s as the most prominent Lebanese faction fighting Israel's occupation of south Lebanon, but in recent months has lent its military support to President Bashar Assad's battle against Syrian rebels. The militant group helped Assad's forces recapture the Syrian border town from the mainly Sunni Muslim rebels, an intervention which sharply escalated sectarian tension in Lebanon, where most Sunnis support the anti-Assad rebels.
Nasrallah said Hezbollah's enemies, including the United States, Israel and Britain, were trying to exploit the political tensions to drive a wedge between the Shi'ites and the rest of the region to marginalize their role in the Israeli-Palestinian conflict. "We want to say to every enemy and every friend...we the Shi'ites of the world will not abandon Palestine, the Palestinian people or the sacred sites in Palestine," Nasrallah said, to loud cheers of support. Security was heightened in the southern Beirut suburb where Nasrallah spoke, with gunmen stationed at intersections leading to the hall where he delivered his address. Buses were parked across the streets to prevent access to all but pedestrians. The precautions were not academic. A huge car bomb hit the same Beirut district a month ago, two blocks from where Nasrallah was speaking, wounding 53 people.
Nasrallah was speaking on the occasion of Jerusalem Day, marked each year on the last Friday of the Muslim holy month of Ramadan in accordance with a tradition established by Ayatollah Ruhollah Khomeini, the late ruler of Iran and an implacable foe of Israel. "Some might think that the elimination of Israel is a Palestinian interest," Nasrallah said. "Yes, it is a Palestinian interest but not just that. It is in the interest of the entire Islamic world, it is in the interest of the entire Arab world and it is also in the national interest for every country in the region."
Al-Qaeda Head Ordered Yemen Affiliate to Attack US Embassy
(US decided to shut down its embassies after intercepting an order by Al-Qaeda chief to attack an embassy in the Middle East.)
Aug. 6….(Arutz) The Obama administration's decision last week to close nearly two dozen diplomatic missions and issue a worldwide travel alert resulted from intercepted electronic communications in which the head of Al-Qaeda in Pakistan ordered the leader of its affiliate in Yemen to carry out an attack as early as this past Sunday, American officials told the New York Times on Monday.
According to the newspaper, the intercepted conversations last week between Ayman al-Zawahiri, who succeeded Osama bin Laden as the head of the global terrorist group, and Nasser al-Wuhayshi, the head of the Yemen-based Al-Qaeda in the Arabian Peninsula, revealed one of the most serious plots against American and other Western interests since the attacks on September 11, 2001, American intelligence officials and lawmakers have said.
It is highly unusual for senior Al-Qaeda leaders in Pakistan to discuss operational matters with the group's affiliates, so when the intercepts between the two senior leaders were collected and analyzed last week, senior officials at the C.I.A., the State Department and the White House immediately seized on their significance.
Members of Congress were quickly provided classified briefings on the matter, American officials told the New York Times.
"This was significant because it was the big guys talking, and talking about very specific timing for an attack or attacks," said one American official who had been briefed on the intelligence reports in recent days.
The identities of the two Al-Qaeda leaders whose discussions were monitored and the imminent nature of the suspected plot — in the intercepts, the terrorists mentioned Sunday as the day that the attacks were to take place — help explain why the United States, as well as other Western governments, have taken such extraordinary precautionary steps in the past few days to close embassies and consulates in the Middle East and North Africa.
But the intercepts were frustrating in that they did not reveal the specific location or target of the attacks, American officials said, according to the New York Times.
In an article posted on the Web on Friday and published on Saturday, the identities of the Al-Qaeda leaders whose conversations were intercepted were withheld by The New York Times at the request of senior American intelligence officials. The names were disclosed Sunday by McClatchy Newspapers, and after the government became aware of the article, it dropped its objections to The Times's publishing the same information.
The State Department said Sunday that it was extending the closing of 19 diplomatic posts in the Middle East and North Africa through at least next Saturday because of continued fears of an imminent attack. Several European countries have also closed embassies in the Middle East.
A State Department spokesman said that the closings were not the result of new threat intelligence, but "merely an indication of our commitment to exercise caution and take appropriate steps to protect our employees and visitors to our facilities." The embassies that will be closed include the ones in Yemen, Libya, Egypt, Saudi Arabia and the United Arab Emirates, the statement said, according to the New York Times. Administration officials and intelligence analysts said on Monday they had no new information on the terrorist threats.
FOJ Note: The Obama administration continued Monday, Aug. 5, to try and impress Americans and the world that its far-reaching still ongoing terror alert across a host of Muslim countries was serious and credible. According to one high placed US official, concern focuses on the possibility of terrorists carrying explosive devices implanted inside their bodies. Plastic explosives in the body of a would-be suicide bomber without metal components are undetectable by standard screening devices such as those used at most international airports.
It has been suspected for some years that doctors and surgeons in Yemen in the service of Al Qaeda in the Arabian Peninsula were experimenting with implanting of plastic explosive devices inside the bodies of suicide bombers or even animals. According to Western counter-terrorism sources, the surgeon would open the abdominal cavity and implant the explosive device amongst the bomber's internal organs. US agencies are concerned that just three or five suicide bombers with undetectable implanted devices would not be caught in time to prevent them form detonating their devices in a coordinated attack on three or more continents. This might set off the signal for a large wave of bombing attacks in many more countries. The sweeping warnings from the Obama administration dramatically refute its own oft-heard claims that al Qaeda is no longer a force to be reckoned with, because it has lost its compact central command and control of its component branches, which have split up into regional franchises operating autonomously. Al Qaeda, they have been saying, is no longer capable of large-scale terrorist attacks on a global scale.
Obama 'Leaking Info on Israeli Strikes in Syria
(Leaks reflect "Obama's resentment" toward Israel)
Aug. 5….(Arutz) The US intelligence community has been leaking information on Israeli air strikes in Syria, and US President Barack Obama is behind the leaks, according to a report in the World Tribune. Diplomats told the Tribune that the Obama administration has enabled the US intelligence community to disclose details of Israeli military operations against the armed forces under Syrian President Bashar Assad. These leaks include reporting Israeli air and naval strikes on advanced Iranian and Russian weapons that arrived in 2013. "This is a decision that could come only from Obama," a diplomat said. "This reflects his dismay over the Israeli operations, which the president believes could result in a regional war." "The leaks will continue because there is a lot of resentment within the US intelligence community over Israeli assessments regarding such countries as Egypt, Iran and Syria," the diplomat added.
The latest leak attributed to the US intelligence community was about a July 5 Israeli strike on a recent shipment of the P-800 Yakhont coastal defense system, at Latakia. The diplomats said the CIA disclosed the Israeli strike to the press, and later said the operation was only partly successful. "While the warehouse was destroyed, American intelligence analysts have now concluded that at least some of the Yakhont missiles had been removed from their launchers and moved from the warehouse before the attack," a US official told the New York Times on July 31. The diplomats told the World Tribune Israel has protested the US leaks, which have increased tension with Damascus. They said the leaks have strained the CIA's relations with Israel's Mossad. The CIA director is John Brennan, regarded as a confidante of Obama. "The Israelis have also been going to their friends in Congress to stop the leaks," the diplomat said.
The Five Flaws of Kerry's Mideast Peace Process
Aug. 5….(Israel Today) Here is a list of reasons why Secretary Kerry's Mideast peace process is unfairly flawed in ways that endanger Israel.
1) No Palestinian reciprocity at the outset. Israel agreed to release 104 convicted terrorists just to get the Palestinians to talk peace. Would the US agree to release 104 Guantanamo prisoners for talks with anyone? Israel will undoubtedly be blamed if negotiations fail, so it's unlikely that fair judgment by the international community motivated the release. Perhaps it was the price that Israel had to pay for a US promise to prevent Iranian nukes and/or support Israel's efforts to stop them. If so, is the US good for its word (despite Obama's repeated demonstrations that his Mideast "red lines" are meaningless)? Whatever the explanation for Israel's good-faith opening, there were plenty of ways for the Palestinians to reciprocate: removing anti-Israel incitement from their textbooks and/or official media, recognizing Israel as a Jewish state, promising to "freeze" their anti-Israel diplomatic offensives, etc. But Secretary of State John Kerry preferred to establish that Palestinian reciprocity is optional: if Israel isn't volunteering what the Palestinians demand, they need only threaten to leave the talks and Kerry will compel the Israelis to comply.
2) There is no Palestinian good faith. The Palestinians will be represented by Saeb Erekat and Mohammad Shtayyeh. Shtayyeh's Facebook page displays a map of Israel's internationally recognized borders, plus the West Bank and Gaza, all emblazoned with the Arabic letters for "Palestine." So the person entrusted with negotiating a "two-state solution" openly admits that his Mideast map has room for only a Palestinian state. Just as alarming, during a recent sermon attended by Palestinian Authority (PA) President Mahmoud Abbas and broadcast on Palestinian television, Religious Endowments Minister Mahmoud al-Habbash compared the PA's decision to negotiate with Israel to the Prophet Muhammad's Treaty of Hudaibiya (in the year 628 CE): "in less than two years, based on this treaty, the Prophet returned and conquered Mecca. This is the example. It is the model."
3) There is no religious freedom in a future Palestinian state. Palestinians insist (ironically) that "peaceful coexistence" means no Jewish settlers in their state. But, on principle, why should Jews be banned from living in a future Palestinian state, particularly when Muslims constitute over 17% of Israel's population? Will the future Palestinian State be as hostile to religious minorities as other Muslim majority states are? Unfortunately, recent history gives little reason to hope otherwise. Khaled Abu Toameh, an award-winning, Arab journalist reported the following about a year ago: According to the Greek Orthodox Church in the Gaza Strip, at least five Christians have been kidnapped and forced to convert to Islam in recent weeks. Radical Islam, and not checkpoints or a security fence, remains the main threat to defenseless Christians not only in the Palestinians territories, but in the entire Middle East as well.
While Gaza is ruled by Islamists, the PA has also shown its hostility to Christians. On March 12, 2012, Algemeiner reported that: "A week after Prime Minister Salam Fayyad told an international audience of Evangelical Protestants that his government respected the rights of its Christian minorities, PA officials informed Bethlehem pastor Rev. Naim Khoury that his church lacked the authority to function as a religious institution under the PA. A few weeks ago, Palestinians vandalized the Cave of the Patriarchs, Judaism's second holiest site. How safe will non-Muslim holy sites be if there is no more Israeli presence in the West Bank? Will a future peace agreement specifically guarantee protection of and Israeli access to Jewish holy sites? If Israel's presence in the West Bank has helped to moderate Muslim rule there, will Israel's complete departure mean that West Bank Christians can expect their persecution to worsen to Gazan levels (with abductions and forced conversions)? Palestinian insistence that their future West Bank state be "Judenrein" doesn't bode well for the indigenous Christians there.
4) There is no Palestinian mandate to negotiate peace. There are about 2.1 million Palestinian Arabs in the West Bank and 1.7 million in the Gaza Strip. But Hamas-ruled Gaza vehemently opposes peace negotiations and denies Israel's right to exist. Islamic Jihad and Hamas recently lambasted PA leaders for meeting with Israelis to talk peace. The last time that the PA announced direct talks with Israel, Hamas announced plans to launch terrorist attacks at Israel, in coordination with 12 other Gaza terrorist organizations. And it's not even clear that West Bank Palestinians favor these talks. Last Sunday, they rallied against peace until PA police violently suppressed the protest. Human Rights Watch has urged the Palestinian government to investigate the police beatings. Moreover, Abbas himself has no legal mandate, as his term of political office expired long ago yet he continues to rule with no elections in sight.
At best, the PA can deliver only half of any peace that it promises, which lets Palestinians have their cake and eat it too: the PA can extract painful territorial concessions from Israel at the negotiating table, while Hamas can continue terrorist attacks to achieve the one-state solution embraced by most Palestinians.
5) Transferring the West Bank could be Israel's geo-strategic undoing. Jordan could collapse any day from a flood of about 500,000 Syrian refugees; severe poverty; popular discontent over corruption, inequality, and lack of freedom; acute water shortages; and/or Muslim Brotherhood action to overthrow King Abdullah's monarchy. These factors make the Abdullah regime's survival increasingly uncertain. After Israel militarily withdraws from the West Bank, will Hamas topple the PA there as it did in Gaza (two years after Israel's 2005 Gaza withdrawal)? What if the Hamas-allied Muslim Brotherhood then takes over Jordan? If Jordanian-Palestinians, the largest ethnic group in Jordan, create a Palestinian state there, would Palestinians effectively have two states? The range and severity of threats to Israel from the combination of a post-Abdullah Jordan and a Palestinian West Bank state are considerable. Is it even possible to address these Israeli security concerns in a way that leaves Palestinian negotiators satisfied enough to sign a peace treaty?
With so many inherent defects in the current peace talks, why would the US push its most reliable Mideast ally (and the only Middle East democracy) into such perilous waters or inevitable blame? One explanation is the increasingly fashionable idea (promoted by Arab governments) that settlements are blocking a peace deal that would produce Mideast stability. But inconvenient facts completely contradict this idea: Syria, Lebanon, Iraq, Egypt, Bahrain, and Yemen would remain the same conflict-torn mess as they are now after any Israeli-Palestinian peace.
CIA Was Running Obama's Syria Weapons Smuggling Ops out of Benghazi
Aug. 5….(In The Days) Up to 35 CIA operatives were working in the city during the attack last September on the US consulate that resulted in the death of Ambassador Chris Stevens and three other Americans, according to CNN. The circumstances of the attack are a subject of deep division in the US with some Congressional leaders pressing for a wide-ranging investigation into suspicions that the government has withheld details of its activities in the Libyan city. The television network said that a CIA team was working in an annex near the consulate on a project to supply missiles from Libyan armouries to Syrian rebels. Sources said that more Americans were hurt in the assault spearheaded by suspected Islamic radicals than had been previously reported. CIA chiefs were actively working to ensure the real nature of its operations in the city did not get out.
Al Qaeda Terror Threat Because of Obama-Syria Backlash
Aug. 5….(WND) The current al-Qaida terrorist plot against US and Western targets is a direct result of US-supported efforts currently underway to purge al-Qaida affiliates from the ranks of the Syrian rebels, according to informed Middle Eastern security sources. The sources have specific knowledge of the terrorist threat that has prompted a worldwide travel alert and the closure of 22 US embassies. Those sources said the US has been working with Saudi Arabia, Qatar, the United Arab Emirates and other Gulf states to support a US-armed Free Syria Army effort to cleanse al-Qaida affiliates from among the rebel ranks, including al-Nusra and other groups. For months now the US has reportedly been providing lethal support to the Syrian rebels amid widespread fears the Western weapons could fall into the hands of al-Qaida organizations known to work alongside the Free Syria Army.
Now with Syrian President Bashar al-Assad closing in on the insurgency targeting his regime, US allies in the Gulf and throughout the Middle East are deeply concerned the freshly armed al-Qaida groups could turn their efforts from Assad to destabilizing the moderate Arab regimes. To that affect, according to the Middle Eastern security sources, the US has been heavily aiding the Free Syrian Army in its efforts to disarm or eliminate the al-Qaida groups fighting as Syrian rebels. The Middle Eastern security sources said the current al-Qaida plot is an attempt to dissuade the US from further supporting those disarming efforts. Yesterday, CNN reported US intelligence agencies believe the specific plot is being coordinated by al-Qaida in the Arabian Peninsula, with chatter among the group increasing in the last few days.
---