WEEK OF SEPTEMBER 29 THROUGH OCTOBER 5
Israel's Netanyahu Warns White House About Iran's New Game Plan
Sept. 30….(AP) Prime Minister Benjamin Netanyahu is taking an unpopular message to the White House and the United Nations this week: Don't be fooled by Tehran's new leadership. Netanyahu contends Iran is using conciliatory gestures as a smoke screen to conceal an unabated march toward a nuclear bomb. He will deliver those strong words of caution, and fresh intelligence, in an attempt to persuade the US to maintain tough economic sanctions and not allow the Islamic republic to develop a bomb or even move closer to becoming a nuclear threshold state.
With the White House cautiously optimistic about its dialogue with Iran, Monday's meeting between Netanyahu and President Barack Obama could be tense. "I will tell the truth in the face of the sweet talk and the onslaught of smiles," Netanyahu said before boarding his flight to the US on Sunday. "Telling the truth today is vital for the security and peace of the world and, of course, it is vital for the security of the state of Israel."
Israeli leaders watched with great dismay what they derisively call the "smiley campaign" by Iran's new president, Hassan Rouhani, last week. Rouhani delivered a conciliatory speech at the United Nations in which he repeated Iran's official position that it has no intention of building a nuclear weapon and declared his readiness for new negotiations with the West. Capping off the visit, Rouhani and Obama held a 15-minute phone call as the Iranian leader was traveling to the airport. By the end of the call, the first conversation between the nation's leaders in 34 years, Obama was suggesting that a breakthrough on the nuclear issue could portend even deeper ties between the US and Iran. US and European diplomats hailed a "very significant shift" in Iran's attitude and tone.
For Netanyahu, such sentiments are nothing short of a nightmare. For years, he has warned that Iran is steadily marching toward development of nuclear weapons, an assessment that is widely shared by the West because of Iran's continued enrichment of uranium and its run-ins with international nuclear inspectors. The Israeli prime minister contends Rouhani's outreach is a ploy to ease international sanctions and buy time. Iran says its nuclear program is for peaceful purposes only.
Israel considers a nuclear-armed Iran an unacceptable threat, given repeated Iranian assertions that the Jewish state should not exist. Israel has a long list of other grievances against Iran, citing its support for hostile Arab militant groups, its development of long-range missiles and alleged Iranian involvement in attacks on Israeli targets in Europe and Asia. Netanyahu says the new Iranian leader must be judged on his actions, not his words. In the meantime, he says sanctions and other international pressure, including the threat of military action, must be increased. He has likened Iran to North Korea, which used the guise of international negotiations to secretly develop a nuclear weapon.
Netanyahu appears to enjoy widespread domestic support for his tough approach. Israel's Channel 10 TV released the results of a poll Sunday night showing that 78 percent of respondents don't believe Iran wants to resolve the nuclear problem. Fifty-nine percent said they do not think the US will reach an agreement with Iran, while just 29 percent said they expect a resolution. The station did not say how many people were questioned or provide a margin of error.
Zalman Shoval, a former Israeli ambassador to the US who now serves as an adviser to Netanyahu, said the prime minister would present Obama with "some very hard facts" based on intelligence showing that Iranian behavior has not changed. Similarly, in his speech at the UN, "he will make it very clear that Israel and the world at large should continue to be on guard," he said.
Obama will seek to assure his Israeli counterpart that if the US reaches a deal with Iran, it will ultimately advance Israel's security interests by resolving the nuclear issue without the need for military intervention.
Militant Muslims Keep Murdering Christians in Nigeria
Sept. 30….(Fox News) Islamic terrorists dressed in Nigerian military uniforms assaulted a college inside the country Sunday, gunning down dozens of students as they slept in their dorms and shot others trying to flee, witnesses say. "They started gathering students into groups outside, then they opened fire and killed one group and then moved onto the next group and killed them. It was so terrible," one surviving student, who would only give his first name of Idris, told Reuters. As many as 50 students may have been killed in the attack, which began at about 1 a.m. in rural Gujba, Provost Molima Idi Mato of Yobe State College of Agriculture, told The Associated Press. "They attacked our students while they were sleeping in their hostels, they opened fire at them," he said. The extremists also torched classrooms.
Nigeria State Police Commissioner Sanusi Rufai told Reuters that he suspected that the terrorist group Boko Haram was behind the attack, but declined to elaborate. Boko Haram is aiming to establish an Islamic state in northern Nigeria and has intensified attacks on civilians in revenge for a Nigerian military offensive against the group. Northeastern Nigeria is under a military state of emergency to battle an Islamic uprising prosecuted by Boko Haram militants who have killed more than 1,700 people since 2010 in their quest to install an Islamic state, though half the country's 160 million citizens are Christian.
Also Thursday, police said suspected Islamic militants killed a pastor, his son and a village head and torched their Christian church in Dorawa, about 100 kilometers from Damaturu. They said the gunmen used explosives to set fire to the church and five homes. The attacks come as Nigeria prepares to celebrate 52 years of independence from Britain on Tuesday and amid political jockeying in the run up to presidential elections next year with many northern Muslim politicians saying they do not want another term for Nigerian President Goodluck Jonathan, who is from the predominantly Christian south.
Moscow, Iran and Syria Plotting Against Israeli Defense Establishment
Sept. 30….(DEBKA) Western military sources predict an upsurge of tension this week along Israel's borders with Syria and Lebanon. Moscow, Tehran and Damascus may be planning to embarrass Binyamin Netanyahu when he sits down with President Barack Obama at the White house Monday, Sept. 30, and addresses the UN General Assembly the next day, Oct. 1. They see an opportunity to push Israel further out in the cold after the Obama administration's brush-off in his rush to pursue relations with Tehran. Israel is seen as hitting a weak streak as a result of Washington's cold shoulder and its own lack of military impetus as Netanyahu arrives in America to present Israel's case to the US President and the international community.
Those sources therefore predict that Russian, Iranian and Syrian strategists may be planning to goad Israel into an ill-judged and badly-timed military response at this moment. They can then fit the Netanyahu government into the frame of the neighborhood warmonger and disrupter of the hopeful US-Russian partnership for solving the Iranian and Syrian chemical weapons issues by diplomacy. All that needs to be done is to place a shipment of advanced or chemical weapons on the road from Syria to Hizballah in Lebanon to draw forth an Israeli air strike and start a blaze in a highly explosive sector. The world would then turn round and say that Iran's president Hassan Rouhani was correct when he defamed Israel in New York last week as the sole cause of Middle East wars in the last 40 years, without encountering a single dissenting voice in America, and the only nation in possession of weapons of mass destruction.
Debkafile's sources report that, although President Obama stated last Friday, Sept. 27, that he informed America's allies, including Israel, of his landmark phone call to Rouhani, the truth is that he has kept Jerusalem in the dark on the contacts he initiated on the Iranian and Syrian issues, although Israel is most vitally affected. The US-Russian deal for the dismantling of Syria's chemical arsenal was sprung on Jerusalem from Geneva on Sept. 14 without warning, as were the Washington-Tehran exchanges and understandings on Iran's nuclear program. Saturday, Sept. 28, US Secretary John Kerry and Russian Foreign Minister Sergey Lavrov repeated their Geneva duo performance by announcing that the UN Security Council had unanimously adopted Resolution 2118 requiring the elimination of Syria's chemical stockpile. All 15 Council members present appreciated that the motion was toothless after the US and Russia had agreed to omit penalties for non-compliance. The text said: "No party in Syria should use, develop, produce, acquire, stockpile, retain or transfer chemical weapons." This wording strongly recalls Security Council Resolution 1701 which was enacted seven years ago and banned any transfer of weapons to Hizballah as the aggressor in the Second Lebanese war against Israel. This ban was never upheld. In fact, the flow of Iranian and Syrian arms shipments to Hizballah increased from that day on, providing the Shiite terrorist organization with one of the most powerful advanced rocket arsenals in the Arab world. Even before its enactment, Resolution 2112 was already heading for its first prevarications Friday with two separate steps by Washington and Moscow:
1. Two weeks after Kerry's thunderous rhetoric on the size and threat to the region of the Syrian chemical stockpile, considered the third largest in the world, US officials including the State Department told the media that since most of the stocks are "unweaponized" and exist in liquid precursors, the entire arsenal could be neutralized in a shorter period than thought, about nine months. Debkafile's sources point out that this factoid has been known for months. It doesn't address the real difficulties of locating the stocks Bashar Assad has hidden or transferred, or the difficulty of inspectors reaching them in areas under combat. At present, UN experts are not even free to move around Damascus without coming under fire.
2. Lavrov reiterated Saturday that the new resolution absolutely rules out the use of force or any application of Chapter 7 of the UN Charter. Any possible use of force in the future under Chapter 7 would require a new resolution, he said.
Moscow has offered to provide troops to "guard workers and facilities." The message is that if any foreign troops are to be allowed in Syria, they can only be Russian. As for the "transfer of chemical weapons," which is barred under the new resolution, suspicions by Western intelligence that Syrian plans to sneak part of its arsenal to Hizballah in Lebanon, or has done so already, apparently reached Beirut. Friday, President Michel Suleiman hastened to declare: "Syria's chemical weapons have not been smuggled to Lebanon and there is no evidence of their presence in the country."
WEEK OF SEPTEMBER 22 THROUGH SEPTEMBER 28
Focus on Jerusalem Prophecy Footnote
Sept. 28….(FOJ) While it may seem like the great "Syrian Crisis of 2013" has passed away into a forgotten dark corner, still the mass murder of Christians continues in Syria, as well as the multi-pronged terrorist civil war within Islam. The Syrian component has in fact led to an empowerment of Russia in the Middle East with its client states of Syria and Iran. (Ezekiel 38 portrays Russia as their Guard) Beyond that reality, Obama's former "red line" has been turned into a formula for enabling Iran to not only acquire nuclear weapons, but to shift the world's entire preoccupation with these type weapons to Israel. Amazing is it not?
It should not catch prophecy-alert Christians by surprise that these geo-political events take such turns and twists. We know that the eventual "ten kings of Daniel" of the Last Days will fashion a Global superstructure for a world to be controlled by the Antichrist. We also know that the final structure of that Global Government will wield world-wide control over not only the economy, religion, and politics, but also the world's military armaments. For this reason, we should expect a sophisticated international effort to place all nuclear (WMD's) under a mandated umbrella of authority. For it is after such a united confederation is empowered, that the Antichrist will arise, and the world will think it has finally achieved universal peace. But the Bible says: (I Thes 5:2-4 For yourselves know perfectly that the day of the Lord so cometh as a thief in the night. For when they shall say, Peace and safety; then sudden destruction cometh upon them, as travail upon a woman with child; and they shall not escape. But ye, brethren, are not in darkness, that that day should overtake you as a thief.)
It will be of utmost importance to continue to watch the Syrian dynamic, and the building world emphasis on nuclear disarmament, especially as it focuses on Israel. But be cautioned, any alliances of this type between the East, (China) West, (US / Europe) and North (Russia) and with each regions coalition of allies will be handled masterfully and deceitfully by the coming Antichrist. (Daniel 8:25 And through his policy also he shall cause craft to prosper in his hand; and he shall magnify himself in his heart, and by peace shall destroy many: he shall also stand up against the Prince of princes; but he shall be broken without hand.)
Israel is being cleverly played geo-politically into an indefensible corner, as if it was a giant game of chess, and ultimately, checkmate!
Obama Negotiates With Iranian President, Says Nuclear Deal Possible
(President Obama is willing to discuss issues with America's enemies,
but He is unwilling to speak to many of the representatives of the American people)
Sept. 28….(Fox news) President Obama and Iranian President Hassan Rouhani thawed a three-decade freeze in relations between their two countries Friday, speaking by phone in the first conversation between an American and Iranian president since 1979. The president revealed Friday afternoon that the two leaders had spoken. He said he believes the two countries can reach a "comprehensive solution" on Iran's nuclear program, and said he and Rouhani had both directed their diplomats to pursue an agreement. "I do believe there is a basis for a resolution," he said.
The call is sure to rankle some US lawmakers, as well as Israeli leaders, cautious about engaging the new Iranian president too quickly. The conversation also came amid a bruising battle on Capitol Hill over the budget, stoking complaints that Obama is ignoring Republicans while engaging America's adversaries. Kevin Smith, a spokesman for House Speaker John Boehner, tweeted: "Obama negotiates with Iran, Putin but not Congress." Why not? House Majority Leader Eric Cantor expressed skepticism about Obama's claim that Rouhani represented "new leadership" in Iran, saying in a statement, "Supreme Leader Ayatollah Khamenei remains the true ruler in Tehran, and we are only fooling ourselves when we suggest otherwise."
The Obama phone call comes after Secretary of State John Kerry met Thursday in New York with his Iranian counterpart on the sidelines of the United Nations session. The White House had apparently floated the possibility of Obama meeting, casually, with Rouhani in New York, but US officials said the Iranians nixed the idea. Senior administration officials said Friday that the Iranians later opened up to the possibility of a phone call between the two leaders. They said the call lasted roughly 15 minutes, and was cordial in tone.
President Obama's conversation came hours after Rouhani, wrapping up a trip to the US, called the United States a "great" nation, a sharp reversal from his predecessors that buoyed hopes that the two governments can stop the escalation of tensions. "I want it to be the case that this trip will be a first step, and a beginning for better and constructive relations with countries of the world as well as a first step for a better relationship between the two great nations of Iran and the United States of America," Rouhani told a news conference at a hotel near UN headquarters. The countries' disagreements are grave and plentiful. Relations have experienced few ups and countless downs since the 1979 Islamic Revolution and subsequent hostage crisis at the US Embassy in Tehran.
Obama Appeasement of Iran Kills Israel's Military Option Against Nuclear Iran or Chemical Syria
Sept. 28….(DEBKA) Thursday, Sept.26, will go down in Israel's history as the day it lost its freedom to use force either against the Iranian nuclear threat hanging over its head or Syria's chemical capacity, at least, so long as Barack Obama is president of the United States. During that time, the Iranian-Syrian-Hizballah axis, backed by active weapons of mass destruction, is safe to grow and do its worst. Ovations for the disarming strains of Iran's President Hassan Rouhani's serenade to the West and plaudits for the pragmatism of its Foreign Minister Mohammed Zarif flowed out of every window of UN Center in New York this week.
Secretary of State John Kerry, who took part in the highest-level face to face encounter with an Iranian counterpart in more than 30 years, did say that sanctions would not be removed until Tehran produced a transparent and systematic plan for dismantling its nuclear program. But then, in an interview to CBS TV, he backpedaled. Permission for international inspectors to visit the Fordo underground enrichment facility would suffice for the easing of sanctions starting in three months' time.
By these words, the US pushed back Prime Minister Binyamin Netanyahu's first demand to shutter Fordo and its equipment for enriching uranium to near-weapons grade, which he reiterated at this week's Israeli cabinet meeting in Jerusalem.
To Tehran, Kerry therefore held out the promise of a short deadline for starting to wind sanctions down, this coming December. Tehran's primary objective is therefore within reach, the easing for sanctions without having to rescind any part of its nuclear aspirations, called "nuclear rights" in Iranian parlance.
The foreign ministers of the five permanent UN Security Council members and Germany, meeting Thursday with Zarif, arranged to resume formal nuclear negotiations next month in Geneva. In another chamber of the UN building, the Americans were busy climbing all the way down from the military threat Barack Obama briefly brandished against Bashar Assad's use of chemical weapons eons ago, on August 31, before he killed it by passing the decision to the US Congress. Any suggestion of force against Assad was finally buried at the UN Security Council Thursday, when the United States accepted a formal motion requiring Syria to comply with the international ban on chemical weapons, while yielding to Moscow's insistence on dropping the penalty for non-compliance incorporated in the original US-British-French draft. The message relayed to Tehran from both wings of UN headquarters was that it was fully shielded henceforth by a Russian veto and US complaisance against the oft-vaunted "credible military option" waved by Washington. Iran and its close ally, the Syrian ruler Assad, aree both now safe from military retribution, from the United States and Israel alike, and could develop or even use their weapons of mass destruction with impunity.
Israel's Intelligence Minister Yuval Steinitz, who was on the spot, could do little but repeat his government's demands of Tehran to anyone who would listen, shouted down by the flood of conciliation pouring out for the new Iranian president. There was no escaping the conclusion that the Netanyahu government's policy, if that is what it could be called, for preventing a nuclear-armed Iran is in tatters.
Iran has, instead of facing world pressure to disarm its nuclear program, managed to turn the spotlight on Israel, requiring the world to denuclearize the entire Middle East and force Israel to join the Nuclear Proliferation Treaty. Given the atmosphere prevailing in the world body these days, it is not surprising that the speech delivered to the assembly by the Palestinian leader Mahmoud Abbas was rated moderate, even when he called the establishment of the State of Israel a "historic, unprecedented injustice which has befallen the Palestinian people in al-Nakba of 1948" and demand redress. This perversion of the UN's historic action to create a Jewish state could only go down as moderate in a climate given over wholly under John Kerry's lead to appeasing the world's most belligerent nations and forces, so long as they made the right diplomatic noises.
Assad: We Could Blind Israel in an Instant
Sept. 28….(Jerusalem Post) Hezbollah newspaper Al-Akhbar reports remarks; Assad says Syria no longer needs chemical weapons to deter Israel. "We now possess deterrent weapons that are more important and more sophisticated than chemical weapons," Syrian President Bashar Assad told visitors to his palace in Damascus on Thursday. He emphasized that he had no need for chemical weapons.
According to the report, which was carried by Hezbollah's paper Al-Akhbar, Assad said this was because the situation in Syria "has never been better," as "we created chemical weapons in the '80s as a deterrent against Israel's nuclear arsenal. Today, it is no longer a weapon of deterrence. We have weapons that are more important and more sophisticated to challenge Israel, which we can blind in an instant." "In Syria there are thousands of tons of chemical weapons that have become a burden to us since their destruction costs a great deal of money and could take years to destroy. They also create environmental challenges and others that would need solving. So UN inspectors should just come and take them," Assad said. "Getting rid of the chemical weapons is not the goal of the United States and their allies, and they never have been," he said. "They wanted to change the balance of power and to protect Israel. "We turned the tables and sent to the ball into their court. This move embarrassed them in front of the American public, in Europe and even in front of the US government," he said. Assad praised the "unprecedented collaboration with Russia," and added that "we have an agreement with Russia that they will intervene, in a big way, if Syria is attacked."
Rouhani Calls on Israel to Sign Nuclear Non-Proliferation Treaty 'Without Delay'
(In American TV interviews, Rouhani calls establishment of Israel a crime)
Sept. 28….(Jerusalem Post) Iranian President Hassan Rouhani on Thursday denounced the proliferation, use and stockpiling of nuclear weapons in his first extensive speech on the issue since assuming office. Calling for a "nuclear-free zone" in the Middle East, Rouhani told the UN High level Meeting on Nuclear Disarmament that Israel was the only country in the region that had not signed the Nuclear Non-Proliferation Treaty, and requested that it do so "without delay." "Almost four decades of international efforts to establish nuclear weapons-free zones have regrettably failed," he said. "Urgent, practical steps toward the establishment of such a zone are necessary. The international community has to redouble efforts in support of the establishment of this zone."
The developed world focuses on preventing states without nuclear weapons from acquiring them, Rouhani said, but the international community should also focus on disarming countries that have stockpiled hundreds or thousands of them since the bombings of Hiroshima and Nagasaki in 1945. "Nonproliferation derives its legitimacy from the larger objective of nuclear disarmament," he said, calling for a "high-level" conference within five years geared toward the "complete elimination" of the greatest weapons.
In a veiled reference to a Russian-brokered deal that is to rid Syria of its massive chemical weapons stockpile, Rouhani said "all weapons of mass destruction" should be eliminated in the Middle East. While the Prime Minister's Office had no direct response on Thursday night to Rouhani's call for a nuclear free zone in the region, this is an idea that is constantly aired in international forums dealing with proliferation issues.
Ten days ago Shaul Chorev, the head of the Israel Atomic Energy Commission, addressed the matter in Geneva at the International Atomic Energy Agency's general conference meeting in Geneva. Summing up the government's position on the idea, Chorev said, "Israel believes that the gloomy regional realities, together with the notorious reputation of some of the regimes in the Middle East, mandate a prudent and gradual security and arms control process. More so when it comes to an initiative to establish the region as a WMD-free zone, an idea that has never been attempted elsewhere, even in the most peaceful regions of the world."
A WMD-free zone was a goal attainable at the end of a process that brings about a change in attitudes toward Israel, not at the beginning of that process, Chorev said. "Lasting peaceful relations, reconciliation, good neighborliness, open borders and trust among the regional parties" would be "key milestones in the route to a joint regional endeavor to create a mutually verifiable zone, free of weapons of mass destruction and their means of delivery." Progress toward that goal "cannot be made without a fundamental change in regional conditions, not the least, without a significant transformation in the attitude of states in the region toward Israel," he said.
Rouhani made his first speech to the UN General Assembly on Tuesday afternoon, opening with the words "in the name of God" in aggressive remarks that chastised the West for making war in the region, while floating the prospect of a diplomatic solution to the nuclear standoff. The speech was a resounding defense of the governing model of the Islamic Republic and a forceful rebuke of its detractors, with references to the "mistaken" policies of the United States, which has sanctioned Iran punishingly for continuing to enrich uranium to weapons-grade levels. Rouhani said that all nuclear programs must be peaceful in nature and that any military element to such a program in Iran would contradict its religious convictions. But he reaffirmed his government's position that nuclear energy was Iran's inalienable right, as were the qualities of life being deprived of ordinary Iranians by "unjust" Western sanctions that are "intrinsically inhumane." "Sanctions, beyond any and all rhetoric, create belligerence, warmongering and human suffering," he said.
Rouhani called for "immediate, time-bound, results-oriented" negotiations in "full transparency," as the US and Israel continue to point to the clock on Iran's uranium program and voice skepticism of its recent "charm offensive," as one senior State Department official referred to Iran's Monday overtures. Rouhani said that his election to the presidency represented a rare "peaceful transfer of executive power" in a tumultuous region, "the realization of democracy consistent with religion." He called Iran an anchor of peace in the ocean of instability that is the Middle East. "The age of zero-sum games is over," he said, echoing US President Barack Obama's speech earlier in the day. Rouhani said Iran wanted peace with the West and the rest of the world and called the fear of Iran an "imaginary threat." "Faith-phobic, Islamophobic, Shia-phobic and Iran-phobic discourses" have reached "dangerous proportions," Rouhani told the UN General Assembly, labeling such speech as "xenophobia." "My country has been a harbinger of just peace and comprehensive security," he said.
Hours earlier, Obama laid out his own policy toward Iran and the Middle East as a whole, reiterating the threat of military force to prevent Iran from acquiring a nuclear weapons capability. But Rouhani said that "nuclear knowledge had already been domesticated" in Iran, and that its program was too far along to be disrupted by military force. He said Iran was ready to work bilaterally with responsible actors, hours after denying an offer of a bilateral encounter with Obama by the US government. "We indicated that the two leaders could have had a discussion on the margins if the opportunity presented itself," a senior administration official said. "The Iranians got back to us; it was clear that it was too complicated for them to do that at this time, given their own dynamic back home."
Mocking the philosophy of American exceptionalism, Rouhani said that the perception of superiority was unhealthy for the region. He directly and harshly criticized coercive economic and military policies as doomed and unproductive, and went through various US military operations as examples, including its support of Saddam Hussein in the 1980s, the Gulf War and Afghanistan. "Efforts to deprive regional players of their natural domains of action, containment policies, regime change from outside and efforts at redrawing political borders and frontiers is extremely dangerous and provocative," Rouhani charged.
While he did not mention Israel or refer to "the Zionist state," as his predecessor, Mahmoud Ahmedinejad, did repeatedly throughout his tenure as president, Rouhani called the plight of the Palestinian people "nothing less than structural violence." Despite a plea for peace through talks and not strength, the speech surprised many as more combative than expected from the perceived moderate, who won the Iranian election this year by a large margin.
When pressed by interviewers the Iranian president to recognize the Holocaust. While he acknowledged the mass killing of Jews at the hands of Nazis and condemned all such crimes against humanity, he said that the historic event could not be used to justify the founding of a Jewish state in the Middle East, which he also called "a crime." "This does not mean that, on the other hand, you can say, well, the Nazis committed crimes against, you know, a certain group," and "now, therefore, they must usurp the land of another group and occupy it. This, too, is an act that should be condemned, in our view," Rouhani told Amanpour.
Prime Minister Binyamin Netanyahu issued a statement following Rouhani's speech on Tuesday, saying that, "as expected," it was "a cynical speech that was full of hypocrisy." "Rouhani spoke of human rights, even as Iranian forces are participating in the large-scale slaughter of innocent civilians in Syria," he said. "He condemned terrorism, even as the Iranian regime is using terrorism in dozens of countries around the world. He spoke of a nuclear program for civilian purposes, even as an IAEA report determines that the program has military dimensions, and when any rational person understands that Iran, one of the most oil-rich nations, is not investing capital in ballistic missiles and underground nuclear facilities in order to produce electricity."
Netanyahu, slated to address the UN General Assembly on Monday and to focus on the Iranian nuclear issue, said Rouhani's speech lacked any "practical proposal" to stop Iran's military nuclear program and "any commitment to fulfill UN Security Council decisions." Tehran's strategy was to "talk and play for time" to advance its nuclear program, a strategy Rouhani deployed a decade ago when he was Iran's chief nuclear negotiator, he said. "The international community must test Iran not by its words but by its actions," he said.
Netanyahu said he instructed the Israeli delegation to absent itself from Rouhani's speech. "As the prime minister of Israel, the state of the Jewish people, I could not allow the Israeli delegation to be part of a cynical public relations ploy by a regime that denies the Holocaust and calls for our destruction," he said.
Israel Celebrates Gift of God's Word
Sept. 28….(Israel Today) From Eilat in the south to Kiryat Shemona in the north, Israelis on Thursday marked Simchat Torah, the annual rejoicing in the giving of God's Word to their ancestors. The festival brings to a conclusion the biblical High Holy Days that began with Rosh Hashanah and ran through the recently concluded Feast of Tabernacles, or Sukkot. It is fitting that the High Holy Days end in a day of rejoicing over the Torah, the cornerstone of God's Word. In the five Books of Moses, God revealed His will and determination for the nation of Israel.
This special day is celebrated with parades in which Torah scrolls are lifted up and read aloud for all to hear. The highlight of the Simchat Torah service is the reading of the final annual Torah portion, and a return to the very first chapter of Genesis to start the whole Bible-reading cycle over again.
Simchat Torah is also celebrated by Messianic and Christian congregations across Israel, though with a slightly different tone, for we also rejoice in the fact that Yeshua the Messiah has fulfilled the Torah: "Do not think that I have come to abolish the Law or the Prophets; I have not come to abolish them but to fulfill them." (Matthew 5:17)
Laos Christians Threatened with Eviction Unless they Recant Faith
Sept. 27….(Christianity Today) Christian converts in Savannakhet Province in Laos are facing eviction from their village if they refuse to renounce their Christian beliefs, according to reports from the human rights organisation Human Rights Watch for Lao Religious Freedom (HRWLRF). At a village meeting on 21 September, the Huay Village authorities in Atsaphangthong District ruled that the converts to Protestant Christianity must recant or face expulsion. The authorities accused the Christians of conducting corporate worship in their homes. The Christian villagers have rejected the order, claiming that their right to freedom of religion or belief is guaranteed under Laos' constitution.
Last month, a group of fifty Christian converts in Borikan (sometimes known as Bolikanh) District, Bolikhamsai Province were given a similar ultimatum. HRWLRF reports that the Nongdaeng Village authorities summoned representatives of the eleven families to an official meeting on 30 August, where the authorities ordered them to reconvert to their "traditional" (animist) religion. The village authorities accused the families of believing in the religion of a "foreign Western power" destructive to the Lao nation.
Information received by Christian Solidarity Worldwide (CSW) indicates that this is a common charge levelled at Christian converts. The Christians were given three days to abide by the order but they refused, insisting that Laos' constitution protects their right to freedom of religion or belief. CSW Chief Executive Mervyn Thomas said, "Sadly, the forced eviction of Christians in Laos is not a new problem. However, these cases suggest that Christians in the country are increasingly aware of their rights under the constitution, and are beginning to evoke these rights in clashes with the authorities. As a party to the International Covenant on Civil and Political Rights, Laos has an obligation to protect the right to freedom of religion or belief. We call on the government to uphold this right and protect religious minorities from violations by both state and non-state actors".
In Muslim World, It is Open Season on Christians
Sept. 27….(Fox News) Attacks on Christians and other minorities in the Muslim-majority world are increasing and an already terrible situation is worsening. The most recent attack was Sunday in Peshawar in Pakistan, where the historic All Saints Church was attacked by two suicide bombers, an attack for which the Pakistani Taliban claimed responsibility. The explosions were triggered to cause the maximum number of deaths and maimings. This comes against the background of one of the most under-reported stories in the world, al-Shabab's systematic effort to kill every Christian Somali that they can, even those in Kenya, on the grounds that they are converts from Islam. Like the Taliban, they try to identify their opponents by religion.
Even leaving aside the attacks on minorities in Syria and Iraq, and the massive killings in Nigeria, Christians in Egypt have recently suffered what my colleague Sam Tadros regards as the worst violence since 1321, under the Mamluks. On August 14-16 over a hundred Christian sites were attacked by followers of ousted President Morsi: forty-two churches were utterly razed.
In the south of Egypt, the town of Delga was occupied by Muslim Brotherhood supporters for 34 days and its Christian population brutalized. The situation is so serious that English historian Tom Holland fears that we are now seeing the extinction of Christianity and other minority faiths from the Middle East. Meanwhile, our politicians are largely silent, while extolling the virtues of Islam.
'Christians Are The No. 1 Target of Extremists and Bigots'
Sept. 27….(WND) In Pakistan, a suicide bomber kills 75 people at a Christian church. In Kenya, terrorists chase Muslims out of a shopping mall, then start killing Christians, especially those who could not give them the name of Muhammad's mother. In Egypt, Muslims abduct Christians from their homes and businesses and kill them. In Syria, Christian villagers are told to convert to Islam or they will be executed. Is there a pattern here? "I think Christians have clearly become the No. 1 target of extremists and bigots and totalitarians across the globe," David Brog, executive director of the Christians United For Israel, told WND in an interview. His organization is trying to convince Congress to create an office for a special envoy for the freedom of religious minorities in the Middle East. The plan already has passed the House of Representatives, which has approved the idea in the past. Now it is heading to the US Senate, where Majority Leader Harry Reid previously has overseen its death. "Every day that passes is another day of despair and death for Christians and other religious minorities in the Middle East." Brog calls the situation that has developed in recent years both a "human rights tragedy of the first order" and a "humanitarian emergency of the first order."
All across northern Africa and the Middle East, Christians are facing daily persecution and death. Huge populations of Christians who once lived in Iraq are scattered and gone. Christians in Iran face constant monitoring by the government and penalties for meeting. Egyptian Christians are attacked by Muslim mobs. The list goes on, analysts say. On this issue, Brog said, "The silence of the West is overwhelming. "The first order of business is to end the silence," he told WND. "We have every reason to believe if more people k now, they are Christians, fellow believers, I think they'd be outraged and end the silence." The development of an envoy to address persecution religious minorities is a first step, he said, that would bring the problem into focus and that will lead to more pressure to fix the egregious situations.
The bombings, shootings, the gas, this persecution should anger Americans," he said. "Every American should demand that any government that tolerates, lot alone promotes, this should pay a penalty." He said there does appear to be some focus already, especially following last weekend's Kenya mall terror in which Christians were singled out and killed, and the bombing at a Christian church in Pakistan. "But it's tragic that it's taking more Christian blood being spilled for people to wake up and pay attention. The volume of blood has gotten large enough no one can ignore it anymore," he said. The US, which was founded with a strong Christian influence, always has had great compassion for fighting disease, hunger, poverty and other social problems, he said. But he said it's time Christians start making sure Christians are protected. "If I am not for me, who will be?" he wondered. "If Christians don't stand up for Christians, who will?"
The US House overwhelming supported the plan for a "Special Envoy to Promote Religious Freedom of Religious Minorities in the near East and South Central Asia" with bipartisan support. "Rep. Frank Wolf's tireless advocacy on behalf of this issue is inspiring. I'm very grateful to him and his staff, and to the thousands of CUFI activists who went to Congress and lobbied on this legislation during our most recent Washington Summit," said CUFI founder and chairman Pastor John Hagee. "Now the Senate must act. We recognize that Washington is often divided, but on this issue members of the House set aside their differences and came together to stand with our Christian brothers and sisters in the Middle East. In the coming weeks CUFI will work to ensure the upper chamber does the same," he said. CUFI is the largest pro-Israel organization in the United States and one of the leading Christian grassroots movements in the world.
Deal Reached on UN Resolution on Syria Weapons?
Sept. 27….(AP) The five permanent members of the deeply divided UN Security Council reached agreement Thursday on a resolution to eliminate Syria's chemical weapons, a major step in taking the most controversial weapon off the battlefield of the world's deadliest current conflict. Senior US, Russian, British and French diplomats confirmed the agreement, which also includes China. The full 15-member Security Council met behind closed doors Thursday night, and Britain's UN Ambassador Mark Lyall Grant said he would introduce the text there.
A vote on the resolution still depends on how the full council responds to the draft, and on how soon an international group that oversees the global treaty on chemical weapons can adopt a plan for securing and destroying Syria's stockpile. Diplomats said the earliest the Security Council could vote would be late Friday. Both Lyall Grant and a senior US State Department official described the draft resolution as "binding and enforceable." But the draft resolution, seen by The Associated Press, makes clear that there is no trigger for enforcement measures if Syria fails to comply. Instead, it states that the Security Council will "impose measures under Chapter 7 of the United Nations Charter," which will require a second resolution.
Chapter 7 allows for military and nonmilitary actions to promote peace and security. Russia, Syria's most powerful ally, had opposed any reference to it. US Secretary of State John Kerry and Russian Foreign Minister Sergey Lavrov held hastily scheduled talks Thursday afternoon to resolve several last-minute disputes on the text. The Security Council has long been paralyzed in dealing with the 2 1/2-year Syrian conflict, which has killed more than 100,000 people and spilled over the country's borders, because of differences between Russia and China, who back President Bashar Assad's government, and the US, Britain and France, who support the opposition. Russia and China have vetoed three Western-backed resolutions aimed at pressuring Assad to end the violence.
The recent flurry of diplomatic activity followed the Aug. 21 poison gas attack that killed hundreds of civilians in a Damascus suburb, and by President Barack Obama's threat of US strikes in retaliation. After Kerry said Assad could avert US military action by turning over "every single bit of his chemical weapons" to international control within a week, Russia quickly agreed. Kerry and Lavrov signed an agreement in Geneva on Sept. 13 to put Syria's chemical weapons under international control for later destruction, and Assad's government accepted. Tough negotiations, primarily between Russia and the United States, followed on how Syria's stockpile would be destroyed.
While the Security Council considers the draft resolution, the Organization for the Prohibition of Chemical Weapons, the Hague-based body that will be in charge of securing and destroying the stockpile, was working on its own document to set out its exact duties. The UN resolution will include the text of the OPCW's declaration and make it legally binding, so the OPCW must act first. The OPCW said Thursday it was optimistic it could quickly schedule a meeting of its 41-nation executive council to approve its plan.
Russia's Lavrov said the draft resolution follows the language of the US-Russia agreement reached in Geneva. That agreement did not have an automatic Chapter 7 trigger for enforcement, meaning, as France's UN Ambassador Gerard Araud confirmed Thursday, that a second resolution will be needed if Syria violates the resolution's provisions. The draft resolution for the first time would make a determination that "use of chemical weapons anywhere constitutes a threat to international peace and security." It would ban Syria from possessing chemical weapons and condemn "in the strongest terms" the use of chemical weapons in the Aug. 21 attack, and any other use. It also would ban any country from obtaining chemical weapons or the technology or equipment to produce them from Syria.
The draft authorizes the UN to send an advance team to assist the OPCW's activities in Syria. It asks Secretary-General Ban Ki-moon to submit recommendations to the Security Council within 10 days of the resolution's adoption on the UN role in eliminating Syria's chemical weapons program. The council would review compliance with the OPCW's plans within 30 days, and every month after that.
Some Western countries had wanted the draft to demand that the perpetrators of chemical weapons attacks be referred to the International Criminal Court to be prosecuted for war crimes. Diplomats said this was discussed but Russia objected. As a result, the draft says only that the Security Council "expresses its strong conviction that those individuals responsible for the use of chemical weapons in the Syrian Arab Republic should be held accountable."
The draft resolution is much stronger on the call for a political transition in Syria. It endorses the roadmap for a political transition adopted last year in Geneva by key nations and calls for an international conference to be convened "as soon as possible" to implement it. It calls on "all Syrian parties to engage seriously and constructively" at a new Geneva conference and be committed "to the achievement of stability and reconciliation." The roadmap for a political transition ends with elections, but there has been no agreement on how to implement it, which would require Assad to relinquish power at some point.
Christians Part of Huge Jerusalem March Turnout
Sept. 26….(Israel Today) Over 60,000 people took part in the annual Jerusalem March held each year during the biblical festival of Sukkot, the Feast of Tabernacles. The turnout was nearly double the 32,000 that participated in the event last year. Israelis from all over the country ascended to Jerusalem for the march, as did thousands of Evangelical Christians from all over the world. The Christian delegations are always the most colorful part of the march, which winds through the streets of downtown Jerusalem, ending at the walls of the historic Old City.
Israelis are fascinated by the demonstration of support by the Christians, and announcers along the route of the march always make a point of singling out these foreign visitors both in order to express their thanks and to make fellow Israelis aware of what is happening. For the Christians, participation in the march is a precursor to the fulfillment of Zechariah 14:16-21, which foretells a time when all those remaining from the nations will be required to "go up to Jerusalem" during Sukkot.
Killing Born Babies No Different Than Abortion?
Sept. 26….(In The Days) Parents should be allowed to have their newborn babies killed because they are "morally irrelevant" and ending their lives is no different to abortion, a group of medical ethicists linked to Oxford University has argued. he article, published in the Journal of Medical Ethics, says newborn babies are not "actual persons" and do not have a "moral right to life". The academics also argue that parents should be able to have their baby killed if it turns out to be disabled when it is born.
The journal's editor, Prof Julian Savulescu, director of the Oxford Uehiro Centre for Practical Ethics, said the article's authors had received death threats since publishing the article. He said those who made abusive and threatening posts about the study were "fanatics opposed to the very values of a liberal society". The article, entitled "After-birth abortion: Why should the baby live?", was written by two of Prof Savulescu's former associates, Alberto Giubilini and Francesca Minerva. They argued: "The moral status of an infant is equivalent to that of a fetus in the sense that both lack those properties that justify the attribution of a right to life to an individual."
Rather than being "actual persons", newborns were "potential persons". They explained: "Both a fetus and a newborn certainly are human beings and potential persons, but neither is a 'person' in the sense of 'subject of a moral right to life'. "We take 'person' to mean an individual who is capable of attributing to her own existence some (at least) basic value such that being deprived of this existence represents a loss to her." As such they argued it was "not possible to damage a newborn by preventing her from developing the potentiality to become a person in the morally relevant sense".
The authors therefore concluded that "what we call 'after-birth abortion' (killing a newborn) should be permissible in all the cases where abortion is, including cases where the newborn is not disabled". They also argued that parents should be able to have the baby killed if it turned out to be disabled without their knowing before birth, for example citing that "only the 64 per cent of Down's syndrome cases" in Europe are diagnosed by prenatal testing. Once such children were born there was "no choice for the parents but to keep the child", they wrote. "To bring up such children might be an unbearable burden on the family and on society as a whole, when the state economically provides for their care." However, they did not argue that some baby killings were more justifiable than others, their fundamental point was that, morally, there was no difference to abortion as already practiced. They preferred to use the phrase "after-birth abortion" rather than "infanticide" to "emphasize that the moral status of the individual killed is comparable with that of a fetus".
Iran: Rouhani Says Israel Must Declare Its Nuclear Bombs
Sept. 26….(AP) Iranian leader Hassan Rouhani called Thursday for Israel to put its suspected nuclear arms under international control ahead of a landmark meeting between foreign ministers from Iran and western nations. Rouhani also said he believed a deal could be made on his country's nuclear drive within three to six months.
The Iranian president spoke at a UN nuclear disarmament conference ahead of a meeting between Iran's Foreign Minister Javad Mohammad Zarif with US Secretary of State John Kerry and ministers from Britain, China, France, Germany and Russia. The meeting was to discuss western accusations that Iran seeks a nuclear bomb capability. It will also be one of the highest level Iran-US encounters since the 1979 Iranian Revolution.
At the UN conference, Rouhani said Israel should join the Non-Proliferation Treaty which aims to contain the spread of nuclear weapons. Israel has never declared a nuclear bomb but is widely suspected to have several. Rouhani, speaking as current leader of the Non-Aligned Movement, highlighted the failure of attempts to organize a Middle East nuclear free zone. "Israel, the only non-party to the Non-Proliferation Treaty in this region, should join thereto without any further delay," Rouhani told the meeting. He said that "all nuclear activities in the region" would then be subject to International Atomic Energy Agency safeguards.
Iran is in conflict with the UN's atomic watchdog which says it has still not given definitive proof that its nuclear program is for peaceful purposes. "No nation should possess nuclear weapons, since there are no right hands for these wrong weapons," Rouhani told an audience including UN leader Ban Ki-moon. Rouhani told the Washington Post he wants a quick accord to end western accusations that Iran is seeking a nuclear bomb. He said he has the full backing of Iran's Supreme Leader Ayatollah Ali Khamenei to broker a deal. "The only way forward is for a timeline to be inserted into the negotiations that's short, and wrap it up," said Rouhani who is attending the UN General Assembly in New York. "That is a decision of my government, that short is necessary to settle the nuclear file," he said. "If it's three months, that would be Iran's choice, if it's six months, that's still good. It's a question of months not years."
The international powers made a new proposal to Tehran this year, before Rouhani's election, believed to offer some relief from international sanctions that have crippled Iran's economy in return for a scaling back of its uranium enrichment. "There's a sense that we never actually got a firm response or a detailed response to that," a senior US official said. For his part Zarif said on his Twitter account from New York: "We have a historic opportunity to resolve the nuclear issue," if world powers adjust to the "new Iranian approach."
The United States sought a meeting between President Barack Obama and Rouhani on the sidelines of the UN assembly. But Iran said it was too difficult. In remarks published Thursday by Iran's official news agency IRNA, Zarif said a meeting between the two presidents "would have been a good beginning." "A meeting is not an end in itself, nor is it ruled out. President Rouhani has no problem in principle" with meeting Obama, he said. He called Obama's remarks at the United Nations "more moderate" than in the past, adding: "If that is the basis of a new political will to solve misunderstandings and ease Iranian concerns, this would be more important than a meeting." Obama and Rouhani both stressed their willingness to try to resolve the nuclear issue. Rouhani said Iran poses "absolutely no threat to the world," and condemned the international sanctions against his country.
Noting that Rouhani has said Iran will "never" build a nuclear bomb, Obama said there was a basis for "a meaningful agreement." But he stressed: "To succeed, conciliatory words will have to be matched by actions that are transparent and verifiable" on the nuclear program.
Obama at UN: End Occupation of West Bank
(Obama supports Israel as 'Jewish state,' but sympathizes with Arabs over 'indignities of occupation.')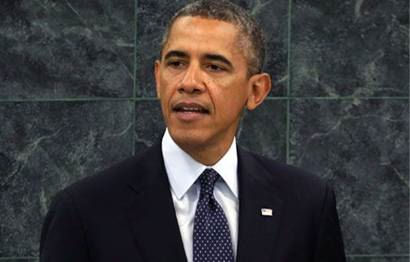 US President Barack Obama at UN chastises Israel over West Bank
Sept. 24....(Arutz) United States President Barack Obama lauded Israeli and Palestinian Authority leaders in a speech Tuesday at the United Nations. Obama spoke in support of the ongoing Israel-PA peace talks, and said he was glad to see that more young Israelis recognize that "the occupation of the West Bank" cannot continue. Young Arabs in Ramallah are "understandably cynical" regarding the talks and frustrated at "the daily indignities of occupation," he said.
The "West Bank" is the term American and other international leaders use to refer to Judea and Samaria (Shomron). The territories were settled by both Jews and Arabs until 1948, when Jordan won control of the area in a war with the fledgling Jewish state.
Israel won the territory back 19 years later, in 1967, and an estimated 600,000 Israeli Jews currently live in the region. Estimates of the number of Palestinian Authority Arabs in the region range from 1.5 million to 2.4 million.
The PA has claimed the area as Arab territory, to be used to establish a PA-led Arab state of "Palestine." PA leaders term Jews living in the region "settlers" and insist that all Jews be forced to leave. Allowing the PA to create the Arab state it seeks is the only way to peace, Obama declared. "Friends of Israel, including the United States, must realize that Israel's security… depends on the realization of the Palestinian state," he said. "Arab states must realize that security will only be realized through a two-state solution," he added. Peace between Israel and the PA "will be a powerful tool to defeat extremists throughout the region," he said.
World Sometimes Called to Act
Obama also addressed instability in Egypt and Syria. He hinted at a continued willingness to back military intervention in Syria over the use of chemical weapons. Sometimes, he said, violence against civilians becomes so bad "that the international community will be called upon to act."
Imprisoned Iranian Pastor Reportedly Leads 'Over 30 People to Christ'
Sept. 24….(The Blaze) Pastor Saeed Abedini, an American citizen imprisoned in Iran on charges that he was evangelizing in the Islamic country, has been jailed for nearly one year in the notorious Evin Prison. On Thursday, a world-wide prayer vigil will be held to commemorate this tragic anniversary. Despite his plight, which includes intense pain, suffering and mistreatment, Abedini's wife, Naghmeh, recently revealed an intriguing fact during an address she delivered at Liberty University, a tidbit that will likely enrage Iranian officials: The detained Christian has reportedly "led over 30 people to Christ." Naghmeh told students at the college that her husband has bravely stood for his faith while in prison, even risking his freedom, his health, and his life, to do so. "They've told him many times that they would free him and allow him to return to our family, the kids and I, if he would deny his Christian faith, and he's stood strong in that prison," she said. "He's led many, many, over 30 people to Christ in that prison." If Abedini is, indeed, converting his fellow prisoners to Christianity, it's likely that Iranian officials would be less-than-content to learn of this development.
Naghmeh also told the Liberty University audience that he has been tortured and abused, as captors have told him that returning to Islam is paramount. Despite the odds being stacked against him, and taking into account his poor health, Abedini continues to remain strong.
In a letter that was sent to his wife earlier this year, he shared some of the physical and mental abuse he has sustained while in captivity. According to the text, the pastor has been denied medical treatment because of his faith as well.
Syria's Christians Being Exterminated
Sept. 24….(The Blaze) While many were fixated on Russian President Vladimir Putin's recent letter to the American people, another letter from another Russian leader, this one directly addressed to the US president, was missed. On September 10, Russian Orthodox Patriarch Kirill issued a letter addressed to "His Excellency Mr. Barack Obama, President, United States." Whether one wishes to interpret this communiqué as a product of politics or sincerity, it accurately highlights the plight of Syria's Christians, especially in the broader context of a larger civilizational struggle. I repost major portions of the letter below, interspersed with my observations for added context:
Your Excellency, Dear Mr. President,
The tragic events in Syria have raised anxiety and caused pain in the Russian Orthodox Church. We receive information about the situation there not from the news reports but from living evidence coming to us from religious figures, ordinary believers and our compatriots living in that country. This is an important point: the "news reports" evaluated by the Russian church are from "living evidence coming to us from religious figures, ordinary believers and our compatriots living in that country." The fact is, outside of America's biased mainstream media, the evidence concerning what is going on in Syria, namely, that Islamic militants are committing human rights atrocities, including possibly the chemical attacks in question is overwhelming. Countless eyewitness testimonies, videos, pictures all those things that rarely make it to the US mainstream media, make this abundantly clear.
Ask the average Syrian about the current turmoil engulfing their land, and I have, as have numerous Russian Orthodox representatives in communion with Syria's ancient Christian community, as noted by Kirill, and few have any illusions as to its nature: an authoritarian, but secular, Bashar al-Assad vs. radical Islamists and jihadis. Naturally most Syrians choose Assad. Only in America, and to a lesser extent Western Europe, is the myth of "freedom fighters" trying to "liberate" Syria still being peddled.
Syria today has become an arena of the armed conflict. Engaged in it are foreign mercenaries and militants linked with international terrorist centres. The war has become an everyday golgotha for millions of civilians. To be sure, one of the most obvious indicators that this is no "civil war" in the name of "liberty" is the fact that the majority, up to 95 percent, of those fighting Assad are not even Syrian, but rather al-Qaeda linked jihadis, from Chechnya to the Philippines, trying to form an Islamic emirate in Syria as they did in the 1980s-90s in Afghanistan. Back then, foreign jihadis like Saudi Osama bin Laden and Egyptian Ayman Zawahiri, again, also supported by the US, traveled to Afghanistan, "liberated" it from the USSR, and then gave us 9/11 in return a decade later.
We were deeply alarmed to learn about the plans of the US army to strike the territory of Syria. Undoubtedly, it will bring ever greater sufferings to the Syrian people, first of all, to the civilian population. An external military intervention may result in the radical forces coming to power in Syria who will not be able and will not wish to ensure inter-confessional accord in the Syrian society.
US military intervention would undoubtedly lead to even more human rights abuses, first and foremost at the hands of al-Qaeda jihadis, who in fact are on record vowing to slaughter Christians after the US intervenes and overthrows Assad; Obama just waived a US law prohibiting the banning of terrorist organizations simply to arm and ultimately help them realize their ambitions.
Our special concern is for the fate of the Christian population of Syria, which in that case will come under the threat of total extermination or banishment. It has already happened in the regions of the country seized by militants. An attempt made by the armed groups of the Syrian opposition to seize the town of Ma'loula whose residents are predominantly Christians has become a new confirmation of our concerns. The militants keep shelling the town in which ancient Christian monasteries are located the sites of special veneration by the faithful all over the world. All absolutely true, especially "the threat of total extermination or banishment," which has been the case wherever and whenever US-backed Islamists come to power:
· Afghanistan: Under US auspices, the supposedly "moderate" Hamid Karzai government still upholds the apostasy law, persecuting those who seek to convert to Christianity, making them just as intolerant as the Taliban, and, under US auspices, destroyed the nation's last Christian church.
· Iraq: After the US "liberated" the nation from Saddam Hussein, the "chemical-weapon-using-tyrant," sound familiar? Christians are still being terrorized into extinction, with more than half leaving their homeland.
· Libya: Since US backed terrorists came to power, giving American the Benghazi consulate attack on the anniversary of 9/11, the tiny Christian community there has been persecuted, including bombed churches and threatened nuns, things unprecedented under the "tyrant" Moammar Gaddafi.
· Egypt: After coming to power, the Obama administration's Muslim Brotherhood allies enforced draconian blasphemy codes against Christians and are currently destroying countless churches and in some regions forcing Christians to pay jizya.
· Syria: Atrocities against Christians by the US-backed jihadis know no bounds, such as the recent gang rape and slaughter of a 15-year-old Christian girl by the US-supported "freedom fighters." And now in Ma'loula, Christians are being forced to choose between converting to Islam or dying and other atrocities.
The Christian hierarchs of Aleppo, Metropolitans Paul and John Ibrahim, have been held captive by militants since April 22. Nothing is known about their fate despite of the fact that a number of religious figures appealed to the leaders of their states to help to release them.
Indeed, here is yet another example of the nature of the people the US government is supporting. Paul and John Ibrahim were traveling in Syria doing "humanitarian work" when their driver was killed and they were kidnapped. Maybe John McCain can phone his al-Qaeda kidnapping allies and ask them to release them? At any rate, there is no end to the amount of Christians who have been kidnapped and/or slaughtered by the jihadis in Syria. I am deeply convinced that the countries which belong to the Christian civilization bear a special responsibility for the fate of Christians in the Middle East.
Tens of Thousands Attend Priestly Blessing in Jerusalem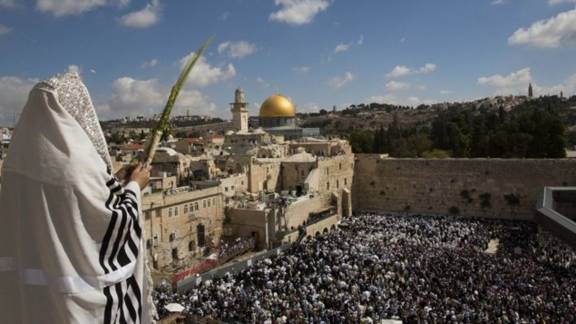 Sept. 24….(Times of Israel) The semiannual mass priestly benediction service, or Birkat Kohanim, took place Sunday morning at the Western Wall. Tens of thousands of Jewish worshippers crowded the plaza to receive the blessing from the Kohanim, descendants of Aaron who make up the priestly caste. Both new chief rabbis, David Lau and Yitzhak Yosef, participated as well. Hundreds of security personnel were on hand.
The words of the blessing, found in Numbers, Chapter 6, are considered by some to be among the most ancient in the Torah. "And the Lord spoke unto Moses saying: Speak unto Aaron and unto his sons, saying: Thus you shall bless the children of Israel. Say unto them: 'The Lord bless thee, and keep thee; The Lord make His face to shine upon thee, and be gracious unto Thee; The Lord lift up his countenance upon thee, and give thee peace.' So shall they put My name upon the children of Israel, and I will bless them."
The tradition of holding a mass event at the Western Wall began after the 1973 Yom Kippur War, an initiative of a local Hasidic rabbi, Menachem Mendel Gefner. It is usually held on the second of Sukkot's intermediate days, in order to allow Jews visiting Israel from abroad to participate, since they treat the first intermediate day as a Sabbath-like holiday. This year, however, the second intermediate day was on Saturday, the Jewish Sabbath, so it was moved to Sunday, or the third intermediate day.
Moscow Wins Obama Red Line Deal on Syrian Chemical Disarmament.
(Assad gets to keep his WMD)
Sept. 23….(DEBKA) Russian leaders finally picked apart the Kerry-Lavrov understanding for Syria's chemical disarmament, less than a week after it was unveiled in Geneva last Saturday. Thursday, Sept. 19, they slapped down a string of coordinated obstructions. One knockout blow came from President Vladimir Putin, who commented dryly that he could not be 100 percent certain that the plan for the destruction of Syria's chemical weapons would succeed. "But everything we have seen so far in recent days gives us confidence that this will happen. I hope so," he said. To dispel that hope, Defense Minister Sergey Shoigu followed up with a denial of any plans to destroy the Syrian chemical stocks on Russian soil. Then, in an interview to Fox News, Syrian President Bashar Assad, in sync with Moscow, asked mockingly: "It [the destruction of poison chemicals] is very detrimental to the environment. If the American administration is ready to pay this money and take the responsibility of bringing toxic materials to the United States, why don't they do it?" Since Russia and the US are the only countries with the industrial-scale capacity to destroy chemical munitions, and their import is banned under US law, Assad's chemical arsenal is safe. In fact, Germany alone has offered to send a small number of chemical experts to Syria, No one else is ready to oversee the complicated dismantling and removal of an estimated 1,000 tons of dangerously poisonous materials, pay for the operation or accept the materials on its soil.
US Secretary of State John Kerry, seeing his understanding with Sergey Lavrov slipping away, made a desperate attempt to save it. He called a news conference at the State Department Thursday to declare that it was essential the deal be enforced with a binding resolution and that the UN Security Council act on it next week, when the UN General Assembly holds its annual meeting in New York. Kerry did not indicate how the US administration would react if the deal fell through or whether the US military option would be revived. But it was already clear that his deal with Lavrov was going nowhere, even to the few Obama sympathizers who had hailed the president for finally managing to get Moscow on board for a solution of the Syrian war and the removal of Assad's chemical arsenal. The Syrian ruler calmly told Fox meanwhile that his government was willing to get rid of its chemical weapons but it would be a very complicated operation that would take about a year or more and cost around $1 billion. After analyzing his comments, Western intelligence experts told debkafile they had reached two conclusions:
1. That Assad drew a distinction between his operational chemical arsenal and the stockpiles of those weapons. He is apparently willing to let the first category go, but determined to keep the stocks.
2. His manner was confident verging on cocky, showing he felt certain that he would not be deprived of his chemical capabilities for coming out on top of the Syrian civil war.
He had no qualms about denying his forces were responsible for the Aug. 21 attack on districts east of Damascus, fully backed by the perseverance of Russian officials in pinning the blame on the rebels.
As excerpts of his Fox interview were aired, Assad received Deputy Foreign Minister Sergey Ryabkov in Damascus at the head of a large Russian delegation of military and intelligence officers. He used the occasion to complain that he was caught in a cruel vice between al Qaeda and US pressure and expressed the hope that Moscow would be able to "draw a new map of global balance." As the Kerry-Lavrov deal falls apart, it turns out to have been less an agreement and more a loose compilation of limited understandings on the Syrian chemical question, which left unresolved sharp, fundamental disagreements between Washington on Moscow on how it should be handled, particularly at the UN Security Council.
None of this has stopped President Obama from selling the proposition to the American public and the world that the US-Russian accord for the disposal of Syria's chemical weapons was a triumphant breakthrough for his administration's diplomacy

, which opened the door to an agreement for resolving the Iranian nuclear issue as well.
UN Votes Down Arab Push to Condemn Israeli Nuclear Policy
(Arab League move, blocked by 51-43 votes in Vienna, comes amid pressure on Israel to detail, relinquish its alleged WMD's)
Sept. 23….(Times of Israel) The United Nations nuclear watchdog on Friday narrowly voted down an Arab League resolution to single out Israel for criticism over its alleged nuclear arsenal. The bid, against which the US spoke obut this week, reflects mounting frustration in the Arab world over the deferment of an international conference on the banning of atomic arms in the region, Reuters reported Friday.
The International Atomic Energy Agency rejected the initiative by a vote of 51 to 43 at its annual meeting in Vienna. 32 nations abstained. Had the resolution been passed by the IAEA, Israel would have been called upon to sign on to the Nuclear Non-Proliferation Treaty and submit to agency scrutiny of its nuclear facilities. After the vote, Deputy Foreign Minister Zeev Elkin congratulated ministry employees and the Prime Minister's Office, who worked incessantly in recent days to make sure the resolution would fail. "I am glad that common sense prevailed and that the nations of the world rejected the proposal, which was designed to attack Israel, " he said, adding, "The whole world must understand that the main task before the IAEA and the international community is to stop the Iranian nuclear program."
Ambassador Ramzy Ezzeldin Ramzy, who heads the Arab League group at the IAEA, was quoted as saying Friday that the vote would show the world that "Israel is not playing a constructive role." The Arab initiative was part of mounting international pressure on Israel to relinquish, or at least admit to possessing, weapons of mass destruction. The heightened interest in the Jewish state's alleged nuclear, chemical and biological weapons comes amid indications from Iran that it's ready to show flexibility in nuclear talks, and in the wake of a Russian-brokered deal that would see Syrian President Bashar Assad's chemical weapons shipped off and eventually destroyed.
A similar version of the resolution was narrowly passed four years ago at the IAEA, but its implementation was postponed due to pressure from Western governments. In 2011 and 2012, Arab member states refrained from pushing the initiative fearing it would harm attempts to convene an international conference to rid the Middle East of WMD's. On Thursday, Russian President Vladimir Putin said that Assad's decision to amass chemical weapons was "in response to Israel's nuclear capabilities" and that "Israel has technological superiority and doesn't need nuclear weapons."
According to a report in the September/October issue of the Bulletin of the Atomic Scientists, Israel possesses a stockpile of 80 nuclear warheads, all of which were produced by 2004, when Israel froze all production. Israel's nuclear program has long been shrouded in secrecy, with the country maintaining a policy of ambiguity while refusing to sign the Nuclear Non-Proliferation Treaty. Previous estimates have put the number of warheads in Israel's possession at up to 400. According to foreign reports, Israel's military has the capacity to deliver a nuclear payload via a variety of methods, including ballistic missiles, aircraft, and submarine-launched cruise missiles.
Christian Pilgrims Visiting Israel for Feast of Tabernacles (Sukkot)
Sept. 23….(JNS) More than 5,000 Christian pilgrims from 100 countries will visit Israel this week as part of the International Christian Embassy Jerusalem's (ICEJ) Feast of Tabernacles (Sukkot) celebration. The festival begins Sept. 20 at the Oasis Hotel in Ein Gedi on the Dead Sea and will continue for the reminder of Sukkot at Jerusalem's International Convention Center. The weeklong celebration is expected to generate more than $16 million in revenue, and is the largest annual tourist event to Israel. "We are thrilled that thousands of Christians from all over the world will be arriving in Jerusalem this week to take part in our annual Feast gathering, despite the recent tensions in the region over the Syrian conflict," Dr. Jürgen Bühler, the ICEJ's executive director, said in a statement. "Their visit to Jerusalem is a timely message of solidarity with the people of Israel." Founded in 1980, the ICEJ is one of the largest pro-Israel Christian organizations in the world with branches in more than 140 countries.
Suicide Attack at Church in Pakistan Kills Dozens
Sept. 23….(New York Times) A suicide attack on a historic Christian church in northwestern Pakistan killed at least 78 people on Sunday in one of the deadliest attacks on the Christian minority in Pakistan in years. The attack occurred as worshipers left All Saints Church in the old quarter of the regional capital, Peshawar, after a service on Sunday morning. Up to 600 people had attended the service and were leaving to receive free food being distributed on the lawn outside when two explosions ripped through the crowd. "As soon as the service finished and the food was being distributed, all of a sudden we heard one explosion, followed by another," said Azim Ghori, a witness. Interior Minister Nisar Ali Khan, who arrived in Peshawar on Sunday evening, said that 78 people had been killed, including 34 women and 7 children. Shafqat Malik, a senior official of the bomb disposal squad, said in an interview that forensic examination of the evidence collected from the church confirmed that two suicide bombers had carried out the attack. "Each bomber carried six kilograms of explosives," Mr. Malik said.
WEEK OF SEPTEMBER 15 THROUGH SEPTEMBER 21
Netanyahu warns world against Iranian 'charm offensive'
Sept. 18….( ICEJ News) Israeli Prime Minister Benjamin Netanyahu addressed the Cabinet on Sunday morning regarding what he called the Islamic Republic's "charm offensive" to throw the world off its guard about Iran's renegade nuclear program. "The way to stop Iran's nuclear program requires four steps: Halting all uranium enrichment; removing all enriched uranium; closing [the uranium enrichment facility at] Qom; and stopping the plutonium track," Netanyahu said. "Only a combination of these four steps will constitute an actual stopping of the nuclear program, and until all four of these measures are achieved, the pressure on Iran must be increased and not relaxed, and certainly not eased."
UN REPORT CAST HEAVY SUSPICION ON ASSAD REGIME IN SYRIA
Russia says too early to 'jump to conclusions'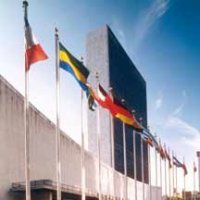 Sept. 18….( ICEJ News) A UN team sent to Syria to investigate the circumstances surrounding the 21 August chemical weapons attack in a suburb of Damascus released its report on Monday. Although the report didn't specify which side was responsible for the attack, the evidence cited strongly indicated that the Assad regime was responsible for the attack. Immediately after the report's release, different interpretations were presented by the Foreign Ministries of Russia, France and the US. The report found ample evidence of sarin gas in blood and urine samples taken from people wounded in the attack, as well as rocket impact sites and debris.
UN General Secretary Ban Ki-Moon called the use of poison gas a "war crime and grave violation of the 1925 Protocol" on chemical weapons, the "most significant confirmed use of chemical weapons against civilians since Saddam Hussein used them in Halabja [Iraq] in 1988, and the worst use of weapons of mass destruction in the 21st century" adding that "the international community has a responsibility to ensure the chemical weapons will never be used again as an instrument of warfare…those responsible should be brought to justice as soon as possible."
Russian UN envoy Vitaly Churkin dismissed assertions by Western governments that the evidence clearly showed the regime was responsible for the attack saying "we need to not jump to any conclusions." Elsewhere, Russian Foreign Minister Sergei Lavrov asserted, without revealing what he was referring to, that "we have very serious grounds to believe that this was a provocation."
However, many analysts agreed that the evidence presented by the UN report compels them to believe the regime was responsible for the attack. Regime officials responded to the position taken by Western governments on the UN report by accusing them of trying to scuttle Russian efforts at peacemaking and impose their will on the Syrian people.
SUPERPOWERS REACH AGREEMENT ON WAY FORWARD IN SYRIA
Sept. 16….( ICEJ News) US and Russian officials finalized a plan over the weekend for the accounting and destruction of the chemical weapons arsenel possesed by Syria's Assad regime and removing the threat of US strikes. Regime officials gleefully declared it a "victory" for them at the hands of their allies in Moscow. Within hours of the announcment, regime forces launched a large offensive against rebel held neighborhoods of Damascus and other cities using conventional weapons. Meanwhile, rumors are running rampant about the transfer by the regime of chemical weapons to third parties to avoid inspections.

US President Barack Obama insisted that the threat of strikes if the regime renages on the deal to destroy its stocks weaponized chemicals within nine months. But the warning was small comfort to rebel factions who had been assured by Washington that strikes were imminent in the wake of the chemical weapons attack in a rebel-held Damascus suburb, widely blamed on the regime, on 21 August.

"It's a clever proposal from Russia to prevent the attacks," one Assad supporter told Reuters. "Russia will give us new weapons that are better than chemical weapons. We are strong enough to save our power and fight the terrorists."
"Helping Syrians would mean stopping the bloodshed," a rebel supporter in Damascus told Reuters.

"They shouldn't draw a lesson [from the fact] that we haven't struck [Syria], to think we won't strike Iran," US President Barak Obama told ABC's George Stephanopoulos. "What they should draw from this lesson is that there is the potential of resolving these issues diplomatically…my view is that if you have both a credible threat of force, combined with a rigorous diplomatic effort, that, in fact you can strike a deal."
WEEK OF SEPTEMBER 8 THROUGH SEPTEMBER 14
Israel Marks Solemn, Silent Day of Atonement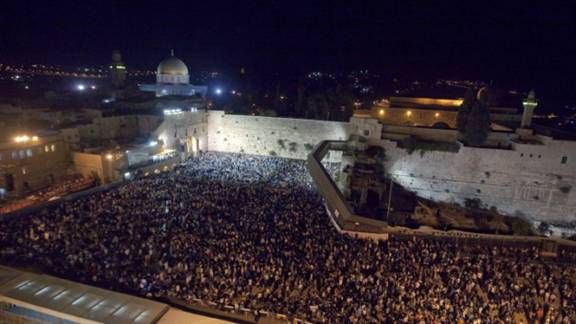 Sept. 14….(Times of Israel) Israelis prepared for the holiest day of the Jewish calendar on Friday when the entire country grinds almost to a halt for Yom Kippur, Judaism's Day of Atonement. Jews traditionally spend the solemn day fasting and asking God for forgiveness at intense prayer services in synagogues. It caps a 10-day period of soul-searching that began with Rosh Hashanah, the Jewish new year holiday. Some 500,000 people have participated in slihot prayers at the Western Wall since the beginning of the month of Elul. Throughout the month of Elul and especially in the days between Rosh Hashana and Yom Kippur, tens of thousands came to the site, individually, as families or as part of an organized group, to recite the traditional prayers said at this time of year. "This dramatic spectacle of the masses of the Jewish people thronging to the Western Wall is an impressive testimony and is an honor for the people of Israel and demonstrates its affinity to its traditions and inheritance and to the remnant of our Temple," said Rabbi Rabinowitz.
(Yom Kippur or the Day of Atonement is the most solemn and important holy day of the Jewish calendar. In the Old Testament, the Day of Atonement was the day the High Priest made an atoning sacrifice for the sins of the people. This act of atonement brought reconciliation between the people and God. After the blood sacrifice was offered to the Lord, a goat was released into the wilderness to symbolically carry away the sins of the people. This "scapegoat" was never to return. The observance of the Day of Atonement is recorded in the Old Testament book of Leviticus 16:8-34; 23:27-32.)
In Israel, the country virtually shuts down for Yom Kippur. Businesses, restaurants and offices close, and TV and radio stations go silent. Airports close and buses and trains stop running. Highways and roads become eerily quiet, devoid of vehicles. Yom Kippur is unique in Israel because it touches almost the entire country. A high portion of the secular population observes the fast, and even those who don't fast tend to refrain from eating in public, and quietly watch movies or rest at home.
This year, the holiday marks 40 years to the 1973 Arab-Israel War, which Israelis call the Yom Kippur War because of the surprise attack launched by the Egyptian and Syrian armies against Israel that year. The war is etched deep in Israel's collective psyche due to the heavy losses sustained in the fighting and because of the country's lack of preparedness. For Israelis, it is one of the most traumatic events in their history. Personal accounts of Israelis who participated in that war or who were scarred by its occurrence filled newspapers and talk shows ahead of this year's holiday.
The holiday also comes amid the crisis over reports of chemical weapons use in neighboring Syria's civil war. Israel is warily watching as the international community decides how to respond to the use of the deadly munitions that allegedly killed hundreds near Damascus last month. Washington and its allies say the Syrian regime of President Bashar Assad fired warheads in the Aug. 21 attack with a nerve agent, most likely sarin. Israel has said it doesn't want to get involved in the fighting but has also warned it will not tolerate chemical weapons reaching violent groups sworn to its destruction, such as the Iranian backed Lebanese Hezbollah group or the al-Qaida affiliates fighting in Syria against the regime.
For devout Jews, Yom Kippur is the most solemn day on the calendar where according to tradition, God weighs people's deeds and decides their fate for the next year. On Thursday night, thousands of Jews attended pre Yom Kippur prayers in Jerusalem at the Western Wall, a remnant of the biblical Jewish Temple compound and the holiest site where Jews can pray.
Kerry's Russian Counterpart Mocks Him
| | |
| --- | --- |
| | (FOJ) It's a sad state of affairs when a foreign leader has to tell our arrogant, egotistical political maniacs to get over themselves and shut up. Mr. Kerry, like so many of our self-anointed leaders just don't know how to be a straight talker. |
Sept. 14….(Washington Examiner) Secretary of State John Kerry's negotiations with the Russian Foreign Minister Sergey Lavrov got off to a rocky start Thursday, with the Russian mocking Kerry right at the outset. "They got off to a really bad start yesterday, partly because of the Putin op-ed and mostly because Kerry in the opening remarks spoke at length, and I mean at great length, compared to the unprepared few welcoming comments from the Russian counterpart. "And then the Russian minister said at the end, very tartly, 'Sometimes diplomacy demands silence.'"
President Putin, America Is Exceptional
Sept. 14….(Rand Paul) A recent op-ed by Russian President Vladimir Putin has prompted me to respond. While his position that the Syrian conflict can and should be settled through a political and diplomatic solution is correct, virtually everything else in his writing should be taken to task. So I shall. I begin with Mr. Putin's disagreement regarding the exceptionalism of the United States of America. I could not more strongly disagree with him. While he is correct that God created every human being as an equal in His eyes, clearly the results of each of our efforts on this earth, individually and collectively, are not equal.
America's exceptionalism is rooted in our founding documents and values. From the rights granted by our creator, but guaranteed by our Constitution. We should not shy away from saying so, especially when our actions are in keeping with this exceptional founding. So while I welcome the engagement of the Russians, and the dialogue Mr. Putin this week attempted to begin with our country, I remain to be convinced of the details. And I respond to him directly with the statement that yes, American is indeed exceptional. Our history has proved it so. While we all share the same Creator, we do not all share the same richness of history regarding human rights, freedom and democracy. There has been in the past 200 years a city on the hill that has shone brighter than all others. We will not be ashamed of that. May God allow us to continue to model this example to the world in these difficult times.
Al-Qaeda Chief Calls for Attacks on US
Sept. 14….(The Telegraph) In an audio message released on Friday, two days after the anniversary of September 11th, Ayman al-Zawahiri said America was not a "mythic power" and that it could be defeated even through small-scale strikes by "one brother or a few of the brothers". "We should bleed America economically by provoking it to continue in its massive expenditure on its security, for the weak point of America is its economy, which has already begun to stagger due to the military and security expenditure," he said, according to site, a jihadist monitoring group. "America is not a mythic power and the Americans, after all, are humans who can be defeated, felled and punished."
Zawahiri urged the Islamic world to "abandon the dollar and replace it with a currency of other countries that are not taking part in the aggression against us". He also said that Muslims should refuse to buy goods from America and its allies, as such spending only helped to fund US military action in Muslim lands. As well as mounting small, "disparate" assaults, Zawahiri urged fellow members of his extremist group to "watch and wait" and seize any opportunity to conduct a large strike against the US, similar to the 9/11 attack that killed almost 3000 people.
Assad Tells Obama to Stop Arming Rebels, or no Deal
FOJ Note: Mr. Assads also demands that Israel be forced to surrender its unconventional weaponry. The Syrian Crisis has morphed and twisted itself into an international forum to check all weapons of mass destruction under a Global power apparatus, with disarming such chiefly focused on Israel.
Sept. 13….(The Examiner) President Obama must promise not to arm rebel forces or Syrian dictator Bashar Assad will not hand over his chemical weapons, the embattled leader told a Russian state media outlet today while demanding that Israel also surrender its nuclear arsenal. "When we come to see that the US genuinely stands for stability in our region, stops threatening us with military intervention and stops supplying terrorists with weapons, then we will consider it possible to finalize all necessary procedures and they will become legitimate and acceptable for Syria," Assad told RIA News.
Obama asked Congress to postpone a vote authorizing use of military force in Syria after Russian President Vladimir Putin offered to broker a deal whereby the US would not attack the Assad regime if he surrendered his chemical weapons.
Assad said that the Middle East won't have peace until Israel also surrenders its weapons of mass destruction. "If we really want stability in the Middle East, all the countries in the region must honor the agreements. And the first country to do so is Israel because it possesses nuclear, chemical and biological weapons, all types of weapons of mass destruction."
Al-Qaeda Vows to Slaughter Christians After US 'Liberates' Syria
Sept. 13….(Israel Today) While US leaders continue pushing for war against the Syrian government, "Al-Qaeda-linked rebels," reports AP, "launched an assault on a regime-held Christian mountain village in the densely populated west of Syria and new clashes erupted near the capital, Damascus. In the attack on the village of Maaloula, rebels commandeered a mountaintop hotel and nearby caves and shelled the community below, said a nun, speaking by phone from a convent in the village. She spoke on condition of anonymity for fear of reprisals."
Arabic news agency Al Hadath gives more information concerning this latest terror attack on Syria's Christians, specifically how the al-Qaeda linked rebels "terrorized the Christians, threatening to be avenged on them after the triumph of the revolution." Thus al-Qaeda terrorists eagerly await US assistance against the Syrian government, so they can subjugate if not slaughter Syria's Christians, secularists, and non-Muslims, even as the Obama administration tries to justify war on Syria by absurdly evoking the "human rights" of Syrians on the one hand, and lying about al-Qaeda's presence in Syria on the other.
Pope Francis Assures Atheists: You Don't Have to Believe in God to Go to Heaven
Sept. 13….(The Independent ) In comments likely to enhance his progressive reputation, Pope Francis has written a long, open letter to the founder of La Repubblica newspaper, Eugenio Scalfari, stating that non-believers would be forgiven by God if they followed their consciences. Responding to a list of questions published in the paper by Mr. Scalfari, who is not a Roman Catholic, Francis wrote: "You ask me if the God of the Christians forgives those who don't believe and who don't seek the faith. I start by saying, and this is the fundamental thing, that God's mercy has no limits if you go to him with a sincere and contrite heart. The issue for those who do not believe in God is to obey their conscience. "Sin, even for those who have no faith, exists when people disobey their conscience."
Robert Mickens, the Vatican correspondent for the Catholic journal The Tablet, said the pontiff's comments were further evidence of his attempts to shake off the Catholic Church's fusty image, reinforced by his extremely conservative predecessor Benedict XVI. "Francis is a still a conservative," said Mr. Mickens. "But what this is all about is him seeking to have a more meaningful dialogue with the world." In a welcoming response to the letter, Mr. Scalfari said the Pope's comments were "further evidence of his ability and desire to overcome barriers in dialogue with all". In July, Francis signaled a more progressive attitude on sexuality, asking: "If someone is gay and is looking for the Lord, who am I to judge him?"
FOJ Note: I wonder what Jesus Christ would say about these statements from the Pope. Jesus said, "No man comes to the Father, except by me," and "I am the door for the sheep" and "there is salvation in none other." To minimize the effectual price paid by Jesus Christ death on the Cross, or to tolerate and teach other ideologies on the entry into Heaven is Anti-Christian. It is making a mockery of the Gospel! Thus the Pope himself is not on the pathway to Heaven!
Russia 'Will Renew Offer to Supply S-300s to Iran'
Sept. 12….(AFP) Russian President Vladimir Putin will offer to supply Iran S-300 air defence missile systems as well as build a second reactor at the Bushehr nuclear plant, the Kommersant business daily reported Wednesday. Putin will renew an old offer to supply Iran with five of the sophisticated ground-to-air missile systems at a meeting with Iranian President Hassan Rowhani on Friday, Kommersant said, quoting a souce close to the Kremlin.
Putin is set to meet Rowhani at a summit of the Shanghai Cooperation Organization held in Kyrgyzstan on Friday. Russia in 2007 signed a contract to deliver five of the advanced ground-to-air weapons, which can take out aircraft or guided missiles, to Iran at a cost of $800 million.
In 2010, then-president Dmitry Medvedev cancelled the contract after coming under strong US and Israeli pressure not to go ahead with the sale of the weapons system, drawing vehement protests from Tehran. The source told Kommersant that Russia's offer would depend on Iran's withdrawing a $4 billion lawsuit that it has lodged at an international court in Geneva against Russia's arms export agency. Kommersant wrote that Putin would offer to supply Tehran with a modified export version of the S-300 systems called S-300VM Antey-2500.
Russia has urged the West to soften sanctions against Iran after the election of Rowhani, a centrist cleric, in June. The source also said that Putin was ready to sign a deal with Iran on building a second reactor for the Bushehr nuclear plant. The source said the deal was not "particularly profitable from an economic point of view, but was rather political." Russia completed the construction of Bushehr, which is Iran's only functioning nuclear power station, despite protests from Israel and the United States.
Iran is at loggerheads with world powers over its controversial nuclear program, which the Western powers and Israel suspect is aimed at making a bomb despite repeated denials by Tehran. Putin's spokesman Dmitry Peskov confirmed to Kommersant that Putin and Rowhani were expected to discuss "working together in the nuclear energy sphere" and "questions of military technical cooperation" in talks at the summit in Bishkek.
Iran Threatens Widespread Retaliation Against US
Sept. 12….(Daily Caller) Iran is ramping up its threats to the United States even as the American effort against Iranian client state Syria has ground to a crawl. President Obama made his case to the American people and the world community Tuesday night that Syrian dictator Bashar al-Assad must not be allowed to escape the consequences of using chemical weapons on civilians as the two-year-long Syrian civil war drags on.
Iran, a staunch ally of the Assad regime, is warning that any military action against Syria will cause a military and terrorist reaction on US targets and allies. Iran says it won't sit idly by if the US attacks Syria. For now, Obama said in an East Room address Tuesday night, he will delay any proposal to Congress authorizing a punitive strike if diplomatic efforts result in Syria agreeing to verifiable destruction of its chemical weapons cache. Obama warned that to not act against Syrian atrocities would give the green light to Iran to develop nuclear weapons and terrorists to use chemical weapons.
But if diplomacy fails, unintended consequences could result from a US assault. Obama and Israeli Prime Minister Benjamin Netanyahu both should know that all options are on the table, including the destruction of Haifa and Tel Aviv, should the US attack Syria, Iran has declared. That blunt warning came in Mashregh News, the Islamic Republic's official media outlet run by the Revolutionary Guards intelligence unit, in an alarming commentary last week.
Russia's 'Carrier-Killer' Moskva Enters Mediterranean
Sept. 12….(RT) Russia's Moskva missile cruiser, dubbed a "carrier-killer" by NATO, has passed through the Straits of Gibraltar and is now heading toward the eastern Mediterranean to assume command of the Russian naval force there. The Russian Navy said in a statement that the Moskva cruiser passed through the Straits of Gibraltar on September 10. "The Black Sea flagship entered the Russian Navy's area of responsibility in the Mediterranean at 11:00 pm Moscow time yesterday," the agency reported a military source as saying. The missile-carrying cruiser is expected to join its final destination in eastern Mediterranean on September 15 or 16.
Upon arrival, the command of the Russian Navy unit in the Mediterranean, currently stationed onboard the Admiral Panteleyev anti-submarine ship, will be relocated to the Moskva. The missile cruiser, initially known to Western naval intelligence as "Slava" (Glory), was launched in 1979 and entered service in 1983. It was later renamed the "Moskva" in 1995. Designed to be carrier-killers, the cruisers of Class 1164 are equipped with 16 anti-ship launchers P-1000 Vulkan, or Volcano (SS-N-12 Sandbox anti-ship missiles, according to NATO classification). Another two vessels, the landing ship Nikolay Filchenkov and the guard ship Smetlivy, will join the Russian naval unit later. They will be pass through the Bosporus and Dardanelles straits by September 12-14 and will then head to the eastern Mediterranean.
The recent deployments are aimed at "complex monitoring" of the situation around Syria, military sources told Interfax earlier. Russia's standing naval force in the Mediterranean now involves landing craft carriers "Aleksandr Shabalin," "Admiral Nevelskoy," "Peresvet," "Novocherkassk" and "Minsk" of Russia's Black and Baltic Sea Fleets, as well as escort vessel "Neustrashimy," and the anti-submarine ship "Admiral Panteleyev."
Majority of PA Muslims Support Suicide Bombings
Sept. 12….(Arutz) As the US government pushes for peace talks between Israel and the Palestinian Authority (PA), a recently-released poll by the Pew Research Center suggests that the Obama administration's apparent optimism over the prospects for peace may be somewhat misplaced. In a survey held across 11 different nationalities with large Muslim populations, Muslim respondents were asked about their views on "Islamic extremism." n one question, those interviewed were asked whether they believed that suicide bombings can ever be justified, and were asked to select from one of the following options: "Never," "Rarely," "Sometimes," "Often" and "Don't Know."
A sizable majority (62%) of respondents from the "Palestinian Territories" (referring to Palestinian Authority-controlled Judea and Samaria, and Hamas-run Gaza) answered that suicide bombings were at least sometimes justified, nearly double that of the second-largest body of support (Lebanon, 33%).
Muslims from the "Palestinian Territories" were also way ahead of the pack when it came to the percentage of respondents who felt that suicide bombings were "often" justified: a whopping 37%. In comparison, the next highest percentage of respondents who answered the same was in Senegal, at a mere 11%.
The country with the greatest opposition to suicide bombings was Pakistan, where Al Qaeda and Taliban coordinated attacks have almost exclusively targeted other Muslims, from members of minority sects to political opponents.
Despite widespread support for suicide bombings, presumably against Israel, by Muslims in Judea, Samaria and Gaza; 64% still said that they were "concerned" about Islamic extremism, indicating that much of that support comes from the more secular camp aligned with factions considered more "moderate" by western countries, such as Mahmoud Abbas' Fatah party. Fatah-affiliated terrorists carried out scores of suicide bombings during the "Second Intifada" between 2001 and 2006.
The results should not be surprising given the widespread campaigns of incitement by both Hamas and Palestinian Authority, according to Itamar Marcus, director of Palestinian Media Watch (PMW), an NGO which monitors incitement in the Palestinian media. "The Palestinian Authority, through its religious establishments, has been presenting the killing of Jews as an Islamic imperative for many years," Marcus said, speaking to Arutz Sheva. "Just last year the Palestinian Authority-appointed Mufti of Jerusalem quoted the Hadith [Islamic teaching] which was quoted throughout the intifada period, saying that the end of days will only come when the Muslims kill the Jews. "The constant brainwashing of Palestinians by their leadership, that killing Jews in the name of Islam is a duty, has clearly influenced them."
Marcus also lamented the fact that, in his view, many media commentators and political leaders turn a blind eye to religious incitement by the PA. "People do not give enough attention to the phenomenon of incitement to religious hatred," he said. "The continued teaching that Allah wants Jews to be killed... leaves us with a situation where Israel's neighbors, the Palestinians, believe they have a religious obligation to kill Jews. "This is one of the most significant parts of the conflict, and it is completely ignored by the political establishment," he says, urging world leaders to "look around the region" to see why it is "a massive mistake" to ignore religious hatred as a factor in fueling conflict.
Obama-Putin Secret Deal On Syria May Include Iran
Sept. 12….(DEBKA) Iran, and not just Russia and Syria, is taking advantage of President Barack Obama's decision to refrain from military force against Syria to collect a shower of diplomatic and political dividends. The new Iranian president Hassan Rouhani announced Tuesday that the coming meeting of the General Assembly opening in New York later this month "may prove the perfect setting to reignite talks about the nation's nuclear program." The US Treasury Department accordingly lifted a string of sanctions restricting humanitarian and athletic exchanges between US and Iranian NGO's and environmental projects, as a counter-gesture of good will.
Washington was not put off when that comment proved to be an exercise in image-burnishing for the benefit of the West. That same day, the Iranian president declared his country would not give up "one iota of its nuclear capabilities." Debkafile's Iranian sources disclose that the posturing on all sides provided the façade for the secret exchange of messages between Washington, Tehran, Moscow and Damascus. They focused first on a Russian pledge to bring Assad's chemical arsenal under international control and destroyed. This was followed by Tehran consenting to engage in direct dialogue with Washington when the next UN General Assembly session opens in New York on September 23.
Rouhani, who has consistently refused to enter into direct talks with Washington on his government's nuclear program, said Friday, Sept. 6: "Initial steps in the future of nuclear talks may be taken in New York and then these talks will be pursued by the Group 5 + 1." Debkafile: For President Obama, the two issues, the disposal of Syria's chemical weapons and resolution of the nuclear controversy with Iran - were closely interwoven in his quiet exchanges with Vladimir Putin, which emphasized the diplomatic, non-military route.
The Russian leader appears to have assured Obama that an agreed formula for defusing the Syrian chemical weapons issue without military force would provide the key to progress in nuclear talks with Iran. Our Iranian sources report that Tehran was in on all stages of the discreet Obama-Putin discussions on Syria: High-ranking Iranian officials were present in Damascus and Moscow throughout, and points of agreement were brought to Tehran for approval. Full details of how this four-handed game was conducted and details of the deals struck between the US, Russia and Iran, will be revealed later.
In Syria: Rebels Say Convert to Islam, Or Be Beheaded
FOJ Note: Oh well, Is this why President Obama wants to support the Rebels and get rid of Assad? And where is his anger about this activity? And why doesn't he want to eradicate the Rebels for their atrocities against Christians in Syria? I guess it will take another RED LINE for that!
Sept. 12….(Brietbart) The Syrian village of Maaloula has been taken over by Syrian rebels associated with al Qaeda, who have stormed the Christian center and offered local Christians a choice: conversion or death. A resident of the town said the rebels shouted "Allahu Akhbar" as they moved through the village, and proceeded to assault Christian homes and churches. "They shot and killed people," he said. "I heard gunshots and then I saw three bodies lying in the middle of a street in the old quarters of the village. Where is President Obama to see what has befallen us?" Another witness stated, "I saw the militants grabbing five villagers and threatening them and saying, 'Either you convert to Islam, or you will be beheaded.'"
The village is located just 25 miles from Damascus, and sites within the village are dedicated as United Nations world heritage sites. Residents still speak Aramaic, the language of Jesus. The rebels who took over the city are associated with the al Nusra Front, an al Qaeda-associated Islamist group.
Obama's Red-Lines, No Lines, Redrawn Lines Policy Looks Foolish
Sept. 11….(FOJ) President Obama, in an address to the nation on Syria, said Tuesday that while he had resisted calls for military action in the country's civil war, the situation "profoundly changed" after the Assad regime "gassed to death" hundreds of people last month. The president addressed the nation a little more than a week after declaring he would seek congressional support for a military strike on Syria, in response to a chemical weapons attack on Aug. 21. But the environment changed rapidly over the past two days, forcing Obama to recalibrate his approach and walk back his "red line" threats, while still leaving open the door to military action. He is now expected to call for a pause in congressional consideration of the use of force.
The game-changer came after Secretary of State John Kerry at first casually floated the idea of Syria turning over its chemical weapons to avert a strike. The Russians then swiftly adopted the off the cuff idea as a formal proposal, which Syrian government officials now say they will accept, forcing the Obama Administration to give it a chance. The foolishness of Obama/Kerry in handling American foreign policy has made America look weak, stupid, waffling, and incoherrant. It has also strengthened the hand and influence of Mr. Putin in the entire Middle East. But on the dark side, it has angered the multi-pronged terror-infested coalition of Rebels fighting Assad in Syria. (I personally believe that Mr. Assad did not perpetrate the infamous chemical attacks, but rather the terror links in the Rebel forces seeking to gain aid from the US. No telling what they might do now.) In the long term, for prophetic importance, the whole crisis has moved the power-structure of the world' nations to seek Global controls over non-conventional weapons, which is a major geo-political component aiding the rise of the future Antichrist. In the interim, perhaps the much anticipated and much debated "Damascus scenario" of Isaiah 17 may have been pushed down the road. Then again, one event might lead to the other!
US Foreign Policy is in Shambles, & Stumbles Into Situations
Sept. 11….(Washington Post) Russia and Syria embraced Secretary of State John F. Kerry's suggestion Monday that the Syrian government could avert a US attack by placing its chemical weapons under international control, upending the Obama administration's efforts to sharpen its case for military action. US officials said Kerry's comment, made in response to a question at a news conference in London, was not intended to be a diplomatic opening. But Kerry's Russian and Syrian counterparts quickly followed up, and the idea drew immediate interest internationally and from top Democrats in Washington.
By the end of the day, President Obama conceded that the idea of monitoring and ultimately destroying Syria's arsenal "could potentially be a significant breakthrough." The Senate postponed a vote scheduled for Wednesday on whether to back a proposed punitive strike. "I think you have to take it with a grain of salt, initially," Obama said in an interview with NBC that was among several he gave Monday in pursuit of public backing for a military strike in response to an alleged Aug. 21 gas attack on Syrian civilians. "We are going to run this to ground," Obama said. "We're going to make sure that we see how serious these proposals are."
The timing of the new proposal was awkward and its apparent genesis perhaps more so. It began when Kerry was asked early Monday whether Assad could avoid a US attack. "Sure. He could turn over every bit of his weapons to the international community within the next week, without delay," Kerry responded with a shrug. "But he isn't about to." As Kerry flew back to Washington to help lobby lawmakers, he received a midair call from Russian Foreign Minister Sergei Lavrov, who said he had heard the secretary's remarks and was about to make a public announcement. The statement in Moscow came before Kerry landed. "We are calling on the Syrian authorities to not only agree on putting chemical weapons storages under international control but also for its further destruction and then joining the Organization for the Prohibition of Chemical Weapons," Lavrov said, adding, "We have passed our offer to Syrian Foreign Minister Walid al-Moualem and hope to receive a fast and positive answer."
Moualem, who was in Moscow meeting with Lavrov, followed with a statement that his government "welcomes Russia's initiative, based on the Syrian government's care about the lives of our people and security of our country." Although Syrian President Bashar al-Assad denies having a stockpile of the widely banned weapons, the idea of international control also quickly gained traction among diplomats and at least some senior Democrats whose support Obama seeks for a show of force.
The Russian announcement was met with approval by international backers and critics of a US strike. UN Secretary General Ban Ki-moon, who has said a US attack on Syria would be illegal without UN approval, signaled support, as did British Prime Minister David Cameron.
Gen. Salim Idriss, chief of staff of the rebel Free Syrian Army, described the Syrian government's acceptance of the Russian proposal as a "new lie" aimed at heading off intervention.
Israel: Proposed Syrian WMD Compromise Could Serve as Template for Iran
Sept. 11….(Jerusalem Post) Syria's readiness to consider relinquishing its stockpiles of chemical weapons in hopes of evading punitive strikes by the US military should serve as a template for the international community's strategy in confronting a nuclear-driven Iran, diplomatic sources said on Tuesday. Israeli officials are closely monitoring the latest diplomatic developments on the Syrian front, according to Israel Radio. Officials in Jerusalem told Israel Radio on Tuesday that while they were skeptical of Syria's willingness to hand over its chemical weapons stockpile in hopes of warding off a US military assault, the very proposal is proof that a real, credible military threat "gets the job done." "When the Americans deploy their warships in the Mediterranean, the Syrians get scared and say they are ready to consider placing their arsenal of unconventional weapons under international inspection, and perhaps even giving up those weapons altogether," a source told Israel Radio. "Iran, too, will change its approach on the issue of its nuclear program if there will be a real, credible threat against it," the source said.
Washington, however, appears to be holding out hope that it can solve the Iranian impasse through diplomacy. US President Barack Obama is eager to "turn a new page" in his government's relations with Iran and its newly installed president, Hassan Rouhani, it was revealed on Tuesday. According to the London-based pan-Arab daily Al-Hayat, Obama communicated his message to the Tehran regime through an emissary, the ruler of Oman, Sultan Qaboos bin Said Al Said. Washington has called on Iran to move beyond rhetoric take practical steps which demonstrate its willingness to improve ties with the West, according to Al-Hayat. Rouhani vowed that Tehran "will not give up one iota" of its nuclear rights, the Mehr news agency reported on Tuesday.
Obama Still Has Not Given us The Evidence
Sept. 11….(AP) The Associated Press ran a skeptical piece Sunday about the Obama administration's public case for military intervention in Syria in response to a reported Aug. 21 chemical attack. The AP's Zeina Karam and Kimberly Dozier wrote that "the US government insists it has the intelligence to prove it, but the public has yet to see a single piece of concrete evidence produced by US intelligence, no satellite imagery, no transcripts of Syrian military communications, connecting the government of President Bashar Assad to the alleged chemical weapons attack last month that killed hundreds of people." The Obama administration has released videos to make its case, but the AP noted that its requests for additional evidence the government claims to possess have been denied.
'Putin Shipping Assad More Weapons to Crush Rebels'
(Russia steps up supplies as part of deal for regime to place its WMD stockpiles under supervision)
Sept. 11….(Times of Israel) Russia is stepping up weapons supplies to Syria's President Bashar Assad, to help him prevail in the civil war, as part of the arrangements under which the Assad regime has agreed in principle to have its chemical weapons stockpiles placed under international supervision, Israel television reported on Tuesday night. Russian President Vladimir Putin, determined to ensure that his ally Assad not face a punitive US-led strike following Damascus's alleged use of chemical weapons in an August 21 attack that the US says killed over 1,400 Syrians, essentially ordered Assad to submit to international oversight of his chemical weapons stocks, the report said. In return, Putin promised bolstered conventional weapons shipments, "some of which are already on their way" to Syria from the Russian Black Sea port of Novorossiysk. The TV report did not specify which weaponry Putin is supplying to Assad, but noted that the Syrian regime needs more fighter planes for use to quash rebel forces, spare parts for tanks, and all kinds of other military equipment to replenish stocks depleted during the two-and-a-half years of fighting. Syria's Foreign Minister Walid Moallem, who has been in Moscow this week, was quoted Tuesday saying Syria would indeed open all relevant sites to UN inspectors, would not produce chemical weapons, and would sign all relevant treaties. "We fully support Russia's initiative concerning chemical weapons in Syria, and we are ready to cooperate. As a part of the plan, we intend to join the Chemical Weapons Convention," he said in an interview with the Lebanon-based Al-Maydeen TV. "We are ready to fulfill our obligations in compliance with this treaty, including through the provision of information about our chemical weapons. We will open our storage sites, and cease production. We are ready to open these facilities to Russia, other countries and the United Nations." "We intend to give up chemical weapons altogether," he added.
West Foolish for Pushing Democracy in Mideast
Sept. 11….(Israel Today) Israeli Defense Minister Moshe Ya'alon on Sunday ridiculed America and other Western powers for continuing to cling to the myth that Western-style democracy will ever truly take hold in the Islamic Middle East. Speaking at the annual security conference at the International Institute for Counter-Terrorism in Herzliya, Ya'alon explained that in a region where far too many value death over life, the moral base upon which Western democracy must be built is lacking.
Western, and in particular American, policy in this regard reeks of "ignorance, naivete, wishful thinking, and, no less important, patronization," added the defense minister. But from the Spanish conquistadors to the British Empire to global American economic influence, Western powers have long sought to impose their way of governance on regions where it doesn't necessarily fit. This is nothing new.
What is astonishing, in Ya'alon's assessment, is that today's Western leaders can look at the turmoil that has come in the wake of the supposedly pro-democracy "Arab Spring" and still pretend that birthing a Palestinian state will result in a stable, free and genuinely democratic entity. Ya'alon stated: "One of the most incredible things in a period when the notion of the nation state is collapsing before our eyes is that there are those who are trying to advance, in one way or another, the founding of yet another nation-state, even as it remains unclear how the people of Jenin are connected to the people of Hebron, and uncertain that there is a common denominator between those in Judea and Samaria and those in Gaza."
Syria Crisis: The View From Israel
Sept. 11….(Israel Today) Does an American military strike in Syria even make sense? That is what is currently being debated in Israel. The situation would be far more simple had US President Barack Obama not publicly threatened American intervention if Syrian dictator Bashar Assad crossed the red line of using chemical weapons. At the political level, it appears as if Israel and the Jewish Lobby in America are not only supportive of, but actively pushing Obama toward military action. By contrast, European countries are taking a more cautious approach to the situation, citing the mistakes that were made in Iraq and Afghanistan.
On the other hand, Washington feels an obligation to keep its word to Israel, just as the Russians provide Syria with cover. "If we do nothing, we make ourselves implausible to Israel," warned US Senator Robert Mendez. Jerusalem does not want war with Syria, but without an American response, the US will lose important points in its deterrence strategy in the Middle East. Washington, however, fears that a military strike now could lead to a regional war. Further complicating the issue is that the Syrian rebels are not, from an Israeli perspective, any better than the Assad regime. Other revolutions across the Middle East in recent years have brought anything but stability. So, both Washington and Jerusalem fear that Assad's fall will not necessarily lead to an optimal outcome. Even if some say Assad must go, defense experts in Jerusalem are warning Israel not to get too visibly involved so as to avoid being accused of luring America into a new war, and thereby providing a pretext for Syrian attacks on the Jewish state.
Meanwhile, Russian President Vladimir Putin is increasingly inserting his nation into the whole affair for strategic reasons. Moscow and Damascus forged a close relationship 50 years ago when the current Syrian dictator's father, Hafez al-Assad, came to power at the time of the Soviet Union. As Russia enters today's fray, the Arab media is speaking of a new Cold War between Russia and America centered on the Syrian conflict.
Moscow has established itself as a superpower in the Middle East, if nowhere else, and is intent on maintaining that position at any price. That policy encourages the so-called "axis of evil" comprised of Iran, Syria and Hezbollah, while at the same time weakening the position of America, which gambled all its political cards in Iraq and Afghanistan and now fear further perceived failure in Syria.
Arab newspapers across the region are poking fun at what they see as Obama's cowardly approach to Syria. This is especially evident in daily political cartoons (pictured above is a cartoon from the Jordanian newspaper Al-Arab Al-Yum, with caption reading: Obama is an unsuccessful fisherman in the Arab Middle East). But the situation is no laughing matter for Israel. What is known is that Syria has a massive chemical weapons arsenal. What is also known is that someone in Syria has used those weapons against their own people, and so will certainly not hesitate to use them against the hated "Zionist entity."
Sunni-Shia Split the Mideast's New Great Divide
"And he will be a wild man; his hand will be against every man, and every man's hand against him; and he shall dwell in the presence of all his brethren." Genesis 16:12
Sept. 11….(In The Days) Half of Muslim believers in the Middle East and North Africa say religious conflict is a major problem for their countries. How did it come to this? Some answers lie in the distant beginnings of Islam. In the not-so-distant past, the doomsday scenario was a cataclysmic "clash of civilizations" between Muslims and the secular West.
But the Arab Spring has brought a seismic shift in the sectarian landscape. With civil war and political chaos rippling through the region, the deadly divide now runs through the Muslim world itself.
In Syria, Lebanon, Bahrain and Iraq, Sunni and Shia Muslims are struggling for power while religious intolerance rises violently in Egypt. Meanwhile, the Sunni Gulf States are fighting proxy battles with Shia Iran for supremacy in the region, with Syria as ground zero. The Syrian war has revived a centuries-old conflict. The schism in the faith opened when the Prophet Mohammed died in 632AD: he left no will or designated male heir. Shiites opted for his cousin and son-in-law, Ali, as his anointed successor. Sunnis believed his friend and father-in-law, Abu Bakr, was a better qualified candidate. Bitterness and bloodshed followed. The seal was set on the sectarian split.
Martyrdom and sacrifice run deep in the Shia faith, along with a sense of injustice. Many Shiites believe that there were 12 Imams, and that the 12th vanished, but would eventually reappear and bring justice to the Earth. While Shiites believe their leaders, the ayatollahs, are representatives of God on Earth, Sunnis focus on the teachings of the Prophet. For centuries the religious practices have diverged, each side accusing the other of heresy or extremism.
However, Muslims managed to avoid the massive decades-long battles of Christianity, and have managed, however uneasily, to coexist and intermarry. Outside the Middle East only a minority are concerned with sectarian strife, according to the recent Pew poll. In the Arab countries, that may now be changing. But even before the Arab Spring, the US-led invasion of Iraq touched off an explosion that blew apart the relative calm that had prevailed between the region's Sunni majority and Shia minority under dictatorial regimes. "The war in Iraq institutionalized sectarianism," says Baghdad-born Abbas Ali of Indiana University of Pennsylvania. In an effort to re-balance power in a Shia-majority country that had been dominated by Saddam Hussein's largely Sunni regime, the American occupation stripped power from Sunnis, along with the livelihoods of many who had held bureaucratic and middle-class jobs. The explosion of sectarian violence that followed the invasion polarized Iraq and caused the death of tens of thousands of people in attacks that are ongoing today.
But the rise to power of Iraqi Shiites, and their links with co-religionists in Iran, also shifted the geopolitics of the region. In the Muslim world, Sunnis make up about 80 per cent of believers. Among the Middle East and North Africa's 315 million Muslims they are a significant majority, except for Iran, Iraq, tiny Bahrain and Lebanon. But in spite of their strength in numbers, Sunnis have feared Iranian-engineered Shia expansionism. Many saw the Shia victory in Iraq as a tipping point.
King Abdullah of Jordan first sounded the alarm in the Sunni Middle East by warning of a "Shiite crescent" that would draw in governments and factions from Iran to Iraq, Syria, Lebanon and the Persian Gulf. The volume rose as economic powerhouse Saudi Arabia added its voice to growing fears across the region. Anxiety was boosted by economic as well as religious issues: the struggle for oil transit and markets. But the Arab Spring changed the geopolitical landscape yet again, letting loose old and new hostilities.
In Egypt, where close to 90 per cent of the population is Sunni, and Shias a negligible presence, the Christians who make up 5-10 per cent of the population have been savagely attacked and their churches destroyed. But Shias were also assaulted and some killed in mob violence.
The war in Syria, with a Shia-linked Alawite regime battling for survival against mainly Sunni rebels, sent out new shocks in the turbulent region. Across the Arab world, says Abdo, the Shia power moment "has now been eclipsed by a growing Sunni bid for ascendency in both the religious and political realms." The Syrian civil war, she says, has given the Gulf rulers a reason to repress their own Shia populations, and to detract from the legitimate grievances of opposition members. Syrian President Bashar Assad provided the opportunity for Sunni-led governments to say 'look what the Shia are doing to Sunnis.'"
A dangerous turning point arrived when the leader of the Lebanese Shia faction Hezbollah, backed by Iran, admitted publicly that he was sending fighters to Syria. It is now seen as a defender of Shia Islam in the region, confirming the suspicions of Sunnis who see Iran's hand everywhere. But Sunni militancy has also been rising alarmingly, as Gulf money backs radical foreign groups who have streamed over the border to Syria.. The most vocal of the Middle Eastern radicals are Salafists, fundamentalist Sunnis who believe in strict adherence to the Prophet's teachings and habits, and denigrate those who disagree as non-Muslims. They officially oppose violence, but a minority have carried out violent attacks on their religious foes.
In Egypt, hardline cleric Mahmoud Shaaban called for the deaths of leading opposition figures. Some members of North African al Qaeda groups are also Salafists. But even the Muslim Brotherhood, a more moderate faction, has hardened its rhetoric. In Qatar, Brotherhood spiritual leader Yusuf al Qaradawi condemned Alawites as "infidels" and called for Sunnis "who have the ability and training to kill" to join the rebels fighting the Assad regime. "Some of the Sunni clerics have taken the war inside the mosque and framed it in sectarian terms," says Abdo.
The prospect of radicalization is most worrying in Lebanon. A car bomb recently killed 30 people in Hezbollah's heartland of southern Beirut. Earlier, a similar attack wounded more than 50 people. There have been deadly gunfights between Alawites and Sunnis in Tripoli. Lebanese people once again live in fear that the devastating civil war that laid waste to the small country for 15 years will return. Syrian spillover seems less perilous in Jordan, whose Sunni majority is almost absolute, though its already divided population is rapidly being overwhelmed by Syrian refugees, including opposition members who could be targets for Syrian revenge.
There are also worries that political instability could be contagious. Neighboring Turkey, which has accepted nearly 500,000 Syrian refugees, was torn by protests against its Islamist government. President Recep Tayyip Erdogan's crackdown opened new wounds. The anxiety is especially palpable in Turkey's lush southeastern border province of Hatay. "Ankara increasingly displays a Sunni stance in line with other Sunni axis powers such as Saudia Arabia and Qatar," local journalist Tamer Yazar told The Guardian. "People in Hatay perceive this as taking sides in this sectarian conflict." Farther from the conflict, the majority Shia population of Bahrain is struggling for rights under a royalist Sunni government backed by hardline Saudi Arabia.
What lies ahead for Muslims in the Arab lands is uncertain. And although religion is only a factor in the struggle for power that surfaced when dictatorships sank, it is one of the most potent. "The people in power are finding sectarianism an instrument for maintaining power," says Ali, adding that "things are not getting better, but worse." The historic hostilities ratcheted up by dictators and militants to divide the Arab countries may doom the future of the region, as well as its legendary past, which is disappearing into ruins.
Putin: US Must Call off Attacks on Syria
Sept. 11….(RT) Russian President Vladimir Putin said that Syria's chemical arms handover will only work if the US and its allies renounce the use of force against Damascus. "Of course, all of this will only mean anything if the United States and other nations supporting it tell us that they're giving up their plan to use force against Syria. You can't really ask Syria, or any other country, to disarm unilaterally while military action against it is being contemplated," President Putin said on Tuesday.
President Putin said that the matter of bringing Syria's chemical weapons under international control has long been a subject of discussion by experts and politicians. Putin confirmed that he and President Barack Obama had "indeed discussed" such a possibility on the sidelines of the G20 summit in St. Petersburg last week. It was agreed, Putin said, "to instruct Secretary of State John Kerry and Foreign Minister Sergey Lavrov to work together and see if they can achieve some progress in this regard." President Putin's comments came shortly after the Syrian government said it would agree to place its chemical weapons arsenal under international control.
Fatah Declares War over Temple Mount:
Sept. 11….(Arutz) While Fatah head and Palestinian Authority Chairman Mahmoud Abbas negotiates with Israel for the creation of a PA state, Fatah's armed branch, the Al-Aqsa Martyrs' Brigade, has declared war. The Brigade issued a statement Tuesday announcing that it would give the "green light" to terrorist attacks targeting Israelis beginning on Friday.
The reason given for the planned resumption of open hostilities was Jewish visits to the Temple Mount, which the group termed, "The invasion of the compound by hordes of settlers, and the harm to [Muslim] worshipers, with no intervention from the international community." Tensions have been high on the Temple Mount in recent weeks, with many Jewish visitors to the holy site reporting harassment and violence at the hands of groups of Muslims. The Temple Mount is the holiest place on earth according to Judaism. The site is currently run by the Muslim Wakf. Jews are allowed to visit only during limited hours, and are forbidden to pray on the Mount.
Muslim leaders have denounced Jewish visits to the Temple Mount, which is also the site of the Al Aqsa Mosque, and have accused Israel and Jews of attempting to harm the mosque. PA leaders, including Abbas himself, have made similar claims, insisting that Jews have no ties to the holy site and that Israel is secretly plotting to replace the mosque with a Jewish Temple.
Obama Promised Putin Not to Strike Syria
Sept. 11….(DEBKA) President Barack Obama's two climb-downs on a US strike against Syria over its use of chemical weapons are turning out to be part of a deal which he forged secretly with Russian President Vladimir Putin. Obama is presenting it as a US-Russian accord for stripping Bashar Assad of his chemical arsenal, while Putin is using it as an expedient for saving the Assad regime in Damascus. Both are ready to sacrifice the Syrian rebel movement to their détente. Debkafile's intelligence sources disclose that Moscow is pushing for more than a US pledge to back off using force against Syria, demanding that Washington also refrain from diplomatic action against the Assad regime. Washington warned it would not fall for "stalling tactics."
Moscow balked, insisting on a declaration, not a binding resolution, in support of international control for the chemical stockpiles, and no sanctions for violations. China and Iran backed the Russian motion. Addressing a Russian TV Arab broadcast Tuesday, Putin said he had urged Syria to hand over its chemical weapons for them to be destroyed. He added that the handover plan would only work if the US renounced the use of force.
Our sources disclose that in another part of his deal with the Russian president, Obama did not object to Moscow providing the Syrian army with a fresh supply of advanced weapons in substantial quantities to compensate Assad for giving up his chemical arsenal.
Friday, Sept. Moscow announced that the Nikolai Filchenko landing craft heading for the eastern Mediterranean would stop off at the Black Sea port of Novorossiisk to pick up a "special cargo" for Syria. This vessel, say our sources, was to carry the first shipment of the fresh arms supplies Moscow was sending Bashar Assad.
Assad: 'Expect Everything' in Response to Attack
Sept. 9….(AP) Syrian President Bashar Assad is warning the US of repercussions if it launches a military strike against him. "You should expect everything," Assad said in an interview, while denying that his troops used chemical weapons. "If you strike somewhere, you have to expect the repercussions somewhere else," he said. In the interview aired Monday on "CBS This Morning," Assad said the evidence about chemical weapons that Kerry is presenting amounts to a "big lie" that resembles the case for war in Iraq that Secretary of State Colin Powell made to the United Nations over a decade ago.
Assad also suggested the rebels fighting his government might be responsible for the alleged gas attack in the Damascus suburbs. Asked whether he was making a threat of direct military retaliation to any US attack, Assad was vague, saying at one point, "I am not fortune teller to tell you what's going to happen." "It's not only the government (that's) the only player in this region," he said. "You have different parties. You have different factions. You have different ideology. You have everything in this region now. So you have to expect that."
In still another interview Assad warned that the US would "pay the price" for any strike against Syria. He told US broadcaster PBS that strikes would increase instability and lead to the spread of terrorism in the region. He said there was absolutely "no evidence" that government forces had used chemical weapons against their own people. n his interview with PBS, the Syrian president said the Middle East was "on the brink of explosion". "You're going to pay the price if you're not wise with dealing with terrorists. There are going to be repercussions," he said. "You should expect everything. The government is not the only player in this region. You have different parties, different factions, different ideologies. You have everything in this decision now." Mr. Assad did not explain whether his comment was a threat that Syrian-backed groups such as Hezbollah would launch retaliation, or a warning that strikes would bolster al-Qaeda-linked groups. Mr. Assad calls the rebels "terrorists" and has often insisted that they are linked to al-Qaeda.
Russian Foreign Minister Sergei Lavrov, after talks with his Syrian counterpart Walid al-Muallem in Moscow, painted a dark picture of the consequences of US-led military action and insisted the regime was still ready for talks. In a sign of the closeness of the relationship between Moscow and Damascus, Muallem passed on Assad's personal thanks to Russian President Vladimir Putin for his support in arguing against military action at the G20 summit in Saint Petersburg. "All the more, politicians share our estimation that a military solution will lead to an outburst of terrorism both in Syria and in neighboring countries," Lavrov said after the talks.
Russia to Push Syria to Surrender Chemical Weapons
(Moscow to urge Syria to 'place chemical weapons under international control)
Sept. 9….(YNET) The Russian foreign minister said Moscow will push Syria to place its chemical weapons under international control. After talks with Syrian Foreign Minister Walid al-Moallem in Moscow, Sergei Lavrov called on Syria to "place the chemical weapons under international control and then have them destroyed." Sergey Lavrov said Monday that if such a move would help avert a possible US strike on Syria, Russia will start work "immediately" to persuade Syria to relinquish control over its chemical arsenals. According to him such a plan would help "avoid military strikes" that are being considered by the United States and its allies. Lavrov said he had already passed the proposal to al-Moallem in Moscow and hoped for a "quick and positive answer" from Syria. He added that Syria was ready for "full cooperation with Russia to remove any pretext for aggression."
Neither minister, however, offered any evidence to back their claim of rebel involvement in the chemical attack. Lavrov said that Russia will continue to promote a peaceful settlement and may try to convene a gathering of all Syrian opposition figures to join in negotiations. He added that a US attack on Syria would deal a fatal blow to peace efforts. Lavrov wouldn't say how Russia could respond to a possible US attack on Syria, saying that "we wouldn't like to proceed from a negative scenario and would primarily take efforts to prevent a military intervention."
FOJ Note: The Syrian crisis may have only reached a point serving the eventuality whereby weapons of mass destruction are internationally placed under a Global Authority. The infamous destruction of Damascus may or may not happen during the current crisis, but in any event, that prophecy will eventually occur. Prophecy students need to remember, the ten kings of Revelation 17 select the eventual Antichrist (G8+) and that He has universal control of such weapons. (Rev 13:4 And they worshipped the dragon which gave power unto the beast: and they worshipped the beast, saying, Who is like unto the beast? who is able to make war with him)
Palestinian Authority Takes $148M From US, Gives it to Terrorists
Sept. 9….(Fox News) The Palestinian Authority is doling out millions of dollars in cash grants to convicted terrorists recently released from Israeli prisons in a program announced the same day as the PA accepted $148 million in the latest round of US aid. The authority announced Aug. 18 it would disburse $15 million in so-called "Dignified Life Grants" to more than 5,000 prisoners who had served more than five years in Israeli lockups, but had been recently released as a show of good faith by the Jewish state to bolster the Middle East peace process, according to Palestinian Media Watch. The announcement came on the same day the State Department's Michael Ratney, consulate general of the US in Jerusalem, signed off on $148 million in aid to the cash-strapped Palestinian Authority, currently in the throes of a budget crisis.
Although the US funnels about $400 million per year in aid to the authority, none of the money, by law, is supposed to go to terrorists or former terrorists. Critics say there is no way to separate money from US taxpayers and the funds which go to the former prisoners. "We have a lot of funding that goes to the PA that is fungible and co-mingled and there is a lot of concern the money is going to radical causes and extremist issues," Jonathan Schanzer, vice president for research at the bipartisan think tank, Foundation for Defense of Democracy, told FoxNews.com. "There are many problematic questions concerning the way the Palestinian Authority disperses funds and especially those coming from the US. This is not unique. We've seen in the past, monies allocated from the PA's budget to the al-Aqsa Martyrs' Brigade, which is a designated terrorist organization, and all of this points to a troubling trend whereby the US has tried to get a handle on financing within the PA."
In August, The Associated Press reported that Israel published the names of 26 men to be freed before the latest peace talks between the Jewish State and the P.A. In all, 104 prisoners have been slated for release in four phases over a period of nine months that the US has set aside for negotiations. But their freedom is reportedly contingent on progress in the talks. It's not clear who exactly has applied for the "Dignified Life Grants," although Palestinian Media Watch reports that prisoners released from Israeli prisons swarmed the PA's Ministry of Prisoners' Affairs office in Gaza following the grants' announcement.
And among those Israel was slated to release was Mustafa al-Haj, convicted of killing an American-born settler hiking in the West Bank in 1989. "It's not certain our specific dollars are finding their way into terrorists' or former terrorists' pockets but, at the least it's freeing funds for the PA to do these types of things," Jim Phillips, Middle East analyst at the Heritage Foundation, a Washington, DC-based conservative think tank, told FoxNews.com. "The Palestinians will argue this money is not fungible, but the fact that they are making these grants is a sign to me that the PA has plenty of money and maybe the US should be scaling back its aid to the organization."
Andrea Lafferty, president of the Traditional Values Coalition, a national conservative organization, turned up the rhetorical heat a few degrees further, telling FoxNews.com, "The Israelis were wrong to release these murderers and Obama is wrong to pay them a bonus for their evil actions. No good can come with any cooperation with the Palestinian Authority. "These are repeat, serial terrorists and murderers that we have been funding. And the more we learn about the twisted foreign policy of the Obama Administration, the better we understand why the president is so inept to handle any issue foreign or domestic."
Is This What Obama's Syria War Really About?
(Major oil, gas interests run through Middle East nation)
Sept. 9….(WND) Is the reported willingness of Arab Gulf states to fund a US military campaign in Syria really about major oil and gas interests that run through the country? The potential for trillions of dollars of energy revenue in deals that snake through Syrian territory may be a motivating factor for the US, Russia, Turkey and Arab states in the current Syria crisis. Syria is a key energy transit route to Europe. A number of countries appear to be seeking dominance of the energy market that runs through Syria. In a hearing earlier this week, Secretary of State John Kerry said Arab counties have offered to pay for any US military intervention in Syria. Rep. Ileana Ros-Lehtinen, R-Fla., asked for an estimated amount the Arabs might contribute. Kerry replied that they offered to pay for a full invasion. "In fact, some of them have said that if the United States is prepared to go do the whole thing the way we've done it previously in other places, they'll carry that cost," Kerry said. "That's how dedicated they are at this. That's not in the cards, and nobody's talking about it, but they're talking in serious ways about getting this done."
Unmentioned are major gas and oil deals that could impact the economies of Qatar, Turkey and Saudi Arabia enormously. In 2011, Syria announced it had discovered a promising gas field in the city of Homs, which would later see some of the fiercest battles between Syrian President Bashar al-Assad's forces and the rebels. Oil Minister Sufian Allawi told the state-run SANA news agency that the first wells "were in the Homs governorate and the flow rate is 400,000 cubic meters per day." "The discovery opens new perspectives in the region of Qalamun, and the Syrian company will continue its drilling," said Allawi.
Beside the prospect of its own gas field, Syria is also one of the most strategic locations for natural gas pipelines to flow to Europe. Qatar, home to the world's largest gas field along with Iran, has proposed a gas pipeline from the Gulf to Turkey that would traverse Syria to the Mediterranean, with the gas then being shipped to Europe. However, Assad in 2009 refused to go along with the plan, instead inking deals with Russia and Iran.
Syria is site of the proposed construction of a massive underground gas pipeline that, if completed, could drastically undercut the strategic energy power of US ally Qatar and also would cut Turkey out of the pipeline flow. Dubbed the "Islamic pipeline," the project may ultimately favor Russia and Iran against Western energy interests. Set to open in 2016, Iran, Iraq and Syria signed a deal in 2010 to construct the 3,480-mile natural gas pipeline connecting Iran's South Pars field to European customers.
Iranian Deputy Oil Minister Javad Oji announced the pipeline would ultimately have the capacity to pump 3.9 billion cubic feet of natural gas per day. He told Iran's official Mehr News Agency the route would "pass through Iran, Iraq, Syria, the southern Lebanon territories and also through the Mediterranean basin," with a refinery and infrastructure to be built in Damascus. A key portion of the Islamic pipeline is concentrated on the Syrian ports, which would export directly to Europe out of the Eastern Mediterranean.
Russia has reportedly built up its naval presence along the major Syrian ports of Latakia and Tartus. The Islamic pipeline is viewed as a major threat to Turkey, which has long desired to become the main bridge for natural gas and oil between the East and the West. Turkey, however, is a key player in the Nabucco natural gas pipeline, which is being constructed to transit natural gas to Europe from the Central Asia and Caspian regions. The pipeline is set to traverse Azerbaijan, Georgia, Turkey, Bulgaria, Romania and Hungary, and end in Austria. Turkey has been a key supporter of the rebels fighting Assad's regime, while Qatar has reportedly been supplied arms and training to the rebels. If Assad can be deposed, Turkey and Qatar would like the Nabucco pipeline to run through Syria.
Perhaps in a bid to wean Russia off of the Islamic pipeline, Saudi Arabia last month presented a plan to Moscow in which Russia would reject Syria's president in return for a huge arms deal and a pledge to boost Russian influence in the Arab world. Agence France-Presse reported President Vladimir Putin refused the plan in a meeting with Saudi Arabia's intelligence chief, Prince Bandar bin Sultan. Bandar reportedly proposed that Saudi Arabia buy $15 billion of weapons from Russia and invest "considerably in the country," according to AFP. Demonstrating that oil interests are clearly at play, AFP reported: "The Saudi prince also reassured Putin that 'whatever regime comes after' Assad, it will be 'completely' in the Saudis' hands and will not sign any agreement allowing any Gulf country to transport its gas across Syria to Europe and compete with Russian gas exports."
Syria Chemical Attack Evidence Points to Rebels, Not Assad
Sept. 9….(WND) Former US intelligence analysts claim current intelligence analysts have told them Syrian President Bashar al-Assad was not responsible for the Aug. 21 poison gas attack on the outskirts of Damascus, Syria, which killed 1,429 people, of whom more than 400 where children. They claim the "growing body of evidence" reveals the incident was a pre-planned provocation by the Syrian opposition and its Saudi and Turkish supporters. "The aim is reported to have been to create the kind of incident that would bring the United States into the war," one former US intelligence analysts said. The analysts referred to a meeting a week before the Aug. 21 incident in which opposition military commanders ordered preparations for an "imminent escalation" due to a "war-changing development" that would be followed by the "US-led bombing of Syria."
In addition, the former US analysts said that Israel welcomed limited US military action but not so much that it would strengthen rebel groups, which are "increasingly dominated by Sunni jihadis." In claiming that the Aug. 21 chemical weapons incident was a provocation of the Syrian opposition, the former U.S. analysts said that the growing body of evidence came mostly from sources affiliated with the Syrian opposition and its supporters. They said that these reports revealed that canisters containing chemical agents were brought into a suburb of Damascus, where they were then opened. "We are unaware of any reliable evidence that a Syrian military rocket capable of carrying a chemical agent was fired into the area," the analysts said. "In fact, we are aware of no reliable physical evidence to support the claim that this was a result of a strike by a Syrian military unit with expertise in chemical weapons. "In addition, we have learned that on August 13-14, 2013, Western-sponsored opposition forces in Turkey started advance preparations for a major, irregular military surge," the analysts said. "Initial meetings between senior opposition military commanders and Qatari, Turkish and US intelligence officials took place at the converted Turkish military garrison in Antakya, Hatay Province, now used as the command center and headquarters of the Free Syrian Army and their foreign sponsors."
The analysts claimed that senior opposition commanders who came from Istanbul pre-briefed the regional commanders on an "imminent escalation in the fighting due to 'a war-changing development,' which, in turn, would lead to a US-led bombing of Syria." The analysts said that the opposition leaders then were ordered to prepare their forces to "exploit the US bombing" and march into Damascus to remove the al-Assad government.
The Obama administration refuses to admit that the Syrian opposition possesses or has the capability of delivering chemical weapons. As WND recently reported, a 100-page report on an investigation turned over to the UN by Russia concludes that the Syrian rebels, not the Syrian government, used the nerve agent Sarin in an attack in the Syrian city of Aleppo last March. Sources familiar with the content of the documentation said that deadly Sarin gas was manufactured in a Sunni-controlled region of Iraq and then transported to Turkey for use by the Syrian opposition, whose ranks have swelled with members of al-Qaida-affiliated groups. The documentation is said to have pointed specifically to a Saddam-era general working under the outlawed Iraqi Ba'ath party leader, Izzat Ibrahim al-Douri. Al-Douri was a top aide to Saddam Hussein before he was deposed as president.
The general, Adnan al-Dulaimi, then supplied the Sarin to Ba'ath-affiliated foreign fighters of the Sunni and Saudi Arabian-backed Jabhat al-Nusra Front in Aleppo, with Turkey's cooperation through the Turkish town of Antakya in Hatay Province.
Assad Says He Had Nothing to do With Attack
Sept. 9….(CBS) In an interview with Charlie Rose in Damascus Sunday, Syrian President Bashar Assad denied he had anything to do with last month's chemical weapons attack that killed thousands of Syrians, but would not confirm or deny his regime has chemical weapons, Rose said on CBS' "Face The Nation."
The interview, Assad's first with an American television network in nearly two years, is scheduled to air on "The Charlie Rose Show" on PBS Monday, the same day President Barack Obama is scheduled to sit down with six different television networks, including PBS, to make his case to for a US strike against Syria.
According to CBS News president David Rhodes, Rose interviewed Assad in Damascus and then traveled to Beirut where he spoke with CBS' Bob Schieffer by phone. According to Rose, Assad again suggested Syrian rebels may have had something to do with the Aug. 21 attack on the Syrian people. He denied he knew there was a chemical attack, Rose said, and added that there is not enough evidence to make a conclusion judgment. Assad, he said, told him there is "no evidence I used chemical weapons against my own people." In a statement to Yahoo News, National Security Council spokeswoman Bernadette Meehan scoffed at Assad's comments. "It doesn't surprise us that someone who would kill thousands of his own people, including hundreds of children with poison gas, would also lie about it," Meehan said.
Earlier Sunday, White House chief of staff Denis McDonough warned that if Congress refuses to back the president's plan, it would send a bad signal to the rest of the Middle East. "Everybody agrees that on August 21st, Assad used chemical weapons against his own people," McDonough said on ABC's "This Week With George Stephanopoulos." "So the question facing Congress this week is a very simple one, should there be consequences for his having used gases, chemical weapons, to kill more than 1,000 of his own people, including more than 400 children?" he continued. "The answer to that question will be followed closely in Tehran, the answer to that question will be followed closely in Damascus, the answer to that question will be followed very closely by members of Lebanese Hezbollah. So this is a big, big question and a big week for Congress to address that, uh, very fundamental national security issue."
FOJ Note: So Assad says that he didn't do it. Kerry says he did, Obama says he did. Putin says Assad didn't do it. Whom do we believe? Do we trust Mr. Kerry, a known liar from his Viet Nam days? Do we trust Mr. Obama, a known liar about many things, not to mention his birthplace and his religion? Do we trust Assad or Putin? They're just as trustworthy as Kerry and Obama, in my opinion.
Obama Plunges into High-Stakes Week on Syria
President Obama to address the nation on Tuesday night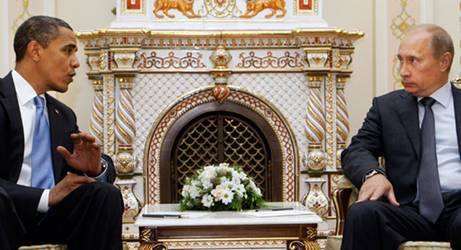 Obama and Putin facing off over Syria
(In Europe, Kerry says world facing 'Munich moment' versus Assad)
Sept. 9….(Times of Israel) President Barack Obama faces a high-stakes week of trying to convince a skeptical Congress and a war-weary American public to back a military strike against Syria. His administration came under more pressure Saturday from European officials to delay possible action until UN inspectors report their findings about an August 21 chemical attack that Obama blames on Syrian President Bashar Assad's government.
Invoking the European policy of appeasement toward Nazi Germany in the lead-up to World War II, Kerry said the international community was facing a "Munich moment" in Syria. "This is the time to pursue a targeted and limited but clear and effective response that holds dictators like Bashar Assad responsible for the atrocities which they commit," he said.
President Obama will address the nation Tuesday night from the White House to make his case for military action. On Wednesday, the first showdown Senate vote is likely over a resolution authorizing the "limited and specified use" of US armed forces against Syria for no more than 90 days and barring American ground troops from combat. A final vote in the 100-member chamber is expected at week's end. A vote in the House of Representatives is likely the week of September 16. The dirty little not-so-secret behind President Obama's much-lobbied-for, illegal and strategically incompetent war against Syria is that it's not about Syria at all. It's about Iran, and Israel. And it has been from the start. By "the start," I mean 2011, when the Obama administration gradually became convinced that it could deal Iran a mortal blow by toppling President Bashar al-Assad of Syria, a secular, Baathist strongman who is, despite all, an ally of Iran's. Since then, taking Iran down a peg has been the driving force behind Obama's Syria policy.Not coincidentally, the White House plans to scare members of Congress into supporting the ill-conceived war plan by waving the Iranian flag in their faces.
President Obama acknowledged that the US public mostly opposes a strike and that he may not persuade a majority of Americans. But without a martial response, he said, a fundamental global prohibition against chemical weapons use could unravel, emboldening other leaders with such weapons at their disposal and making the world more dangerous for years to come.
Meanwhile, the speaker of Russia's national legislature said Friday that a plan to send a parliamentary delegation to Washington to try and convince US lawmakers that a unilateral military intervention in Syria would be unwarranted and counterproductive had been cancelled. Russian President Vladimir Putin proposed the delegation meetings to Obama in Russia. In light of Obama's rebuttal, Russia's government-linked news agencies quoted senior military officials as saying two more of the country's warships were headed for the Mediterranean, near Syria's western coast. The RIA-Novosti agency said two ships from Russia's Black Sea Fleet, the frigate Smetlivyi and the landing ship Nicholai Filchenkov, an electronic surveillance vessel, were ready to head to the region, according to a high-ranking source in the defense ministry. Russian news agencies said at the end of August that the navy was dispatching an anti-submarine ship and a missile cruiser to the Mediterranean. Russia has a military base on Syria's west coast at Tartus, and has been slowly increasing its naval presence in the region, along with the US, in recent weeks.
FOJ Note: Some suggest that Israeli Prime Minister Benjamin Netanyahu of Israel would prefer that Obama enforce his red line on chemical weapons use, because he would like to see proof that Obama believes in the red lines he draws. From Netanyahu's perspective, Israel isn't unduly threatened by Assad. Syria constitutes a dangerous, but ultimately manageable, threat. Netanyahu believes, of course, that Iran, Syria's primary sponsor, poses an existential threat to his country, and so would like the Iranians to understand very clearly that Obama's red lines are, in fact, very red.
Obama Offers Assad A Secret Deal: Leave
Sept. 9….(WND) On the eve of a critical Capitol Hill discussion on Syria and two days before his address to the nation, President Obama has offered Syrian President Bashar al-Assad a way out of any US bombing campaign. Informed Middle Eastern intelligence officials tell WND the US passed a message to Assad through Russia offering a deal that would ensure against US military action if the Syrian leader agrees to the following terms:
· Serious political reforms that will result in free and fair presidential elections.
· Assad will not be allowed to run in future presidential elections and agrees to step down from power.
· An international committee will supervise control of Syria's chemical weapons arsenal.
· The international community, with US participation, will help rebuild the Syrian army and security services to guarantee participation from all factions of the population. The model for this reorganization is the so-called Dayton plan that has been overseeing the restructuring of the Palestinian Authority security organizations and militias.
The Middle Eastern security officials told WND that Russia has already objected to the term that bars Assad from running in future presidential elections. The security officials further stated the US believes Assad will likely reject the deal. The officials said Russian, North Korean and Iranian experts continue to prepare Syria's military and missile arsenal for the possibility of war, including the contingency of firing missiles at Israel, Jordan and Turkey.
As WND first reported, Iranian and North Korean experts are directing an operations room for the Syrian army ahead of a possible showdown with Western powers, according to informed Middle Eastern security officials. The Iranians and North Koreans, based inside Syria, are focusing their efforts on ensuring the viability of Syria's air defense systems while maintaining the embattled country's vast missile arsenal, the officials said. The officials said Iran has gone so far as to pledge soldiers to Syria if such mercenaries are needed in a confrontation. Russian military experts are also participating in the preparation efforts by advising the Syrian army, but Moscow has not met the expectations of Assad's regime regarding the extent of their involvement, the officials said.
The Middle Eastern security officials further told WND they have information Iran failed to convince the Hamas command in the Gaza Strip to fire rockets into the Jewish state in the event of a Western attack on Syria. The officials believe that if a Western attack against Damascus is surgical and is carried out without the goal of regime change, the Syrians may not retaliate against Israel.
John Kerry Doing the Bidding for The Arab League
Sept. 9…..(New York Times) Secretary of State John Kerry said Sunday that Saudi Arabia had agreed to support military intervention in Syria. At a news conference on the sidebar of a meeting with Arab League foreign ministers, Mr. Kerry noted that he had received Saudi assurances of support for what he called "the strike." Qatar's foreign minister, Khalid Al Attiya, who joined Mr. Kerry at the news conference, stopped short of explicitly endorsing a military strike but said his nation would back foreign intervention. Mr. Attiya said supporters of the President Bashar al-Assad of Syria had already intervened in the conflict, an allusion to Iran and Hezbollah. He called on "all countries to intervene to protect the Syrian people" and said that Qatar was looking at what it could provide to help safeguard the Syrian population.
Saudi Arabia and Qatar were among the first backers of the Syrian opposition that is fighting Assad and provided weapons for the rebels. (Saudi Arabia is even insistent upon paying for the attacks in light of the fact that America is bankrupt) Mr. Kerry has been at the forefront of the Obama administration's efforts to build international support for airstrikes against the Syrian government. The attached picture shows John Kerry consorting with his Arab League paymasters. America is loaning its own armed forces out for hire, to accomplish the policies of Saudi Arabia and other Gulf Emirates.
WEEK OF SEPTEMBER 1 THROUGH SEPTEMBER 7
Syrian People Don't Want American Intervention
Sept. 7….(Israel Today) The entire world is counting the minutes until September 9th when the US Congress is expected to reconvene in order to decide the fate of Syria, either banning or approving a US strike against Syrian government targets, following an alleged chemical attack that killed more than a thousand people.
Israel Today spoke to Yelena Gromova, a Russian journalist residing in Damascus, who presents another angle to the complicated Syrian saga. US claims about an alleged chemical attack seem suspicious. At the same time, even the supporters of Syria's President Bashar Al Assad (like Iran) acknowledge the fact. Who should people believe? The attack did take place. But it wasn't carried out by the party that the US and its allies are trying to accuse. On the first day of the attack, Russia's Foreign Ministry spokesman, Aleksander Lukashevich, announced that according to the information possessed by the Russian authorities "in the early morning of August 21st a makeshift rocket was launched from the areas occupied by the militant rebel forces."
Anyone who doesn't want to speculate on the subject knows that the chemical attack was carried out by the rebels. Other claims are no more than deceitful accusations aimed at discrediting the Syrian authorities. Those countries who are now blaming Syria have always actively supported those Islamist militants. This makes them partners in crime and therefore they should be held responsible for the blood of all those victims, including children.
It looks as if Russia is not going to interfere in the US-Syria conflict. This is despite the fact that Russia is one of Syria's main allies. What's going on? Did Russia get scared understanding that it's incapable of facing the US military? Of course, it could have acted more vigorously like the Soviet Union did at the time of the Cuban missile crisis [of 1962]. But Russia provides Syria with serious diplomatic assistance. The mere fact that no American bombs have landed on Syrian soil so far is primarily Russia's doing. Russian diplomats might be thinking that it's better not to provoke Washington right now [in order not to trigger an escalation of tensions], but if the war does eventually erupt, I am convinced that Russia will be able to find the necessary leverage to stop it.
Knowing the psychology of the Syrian people, what do you think the West can expect from them in the event of an attack? Is Syrian going to turn into another Afghanistan? The majority of the Syrian people are not scared. You can hear many Syrians saying: "We've been living in war conditions for the past two years, what else can scare us?" Furthermore, if before there were some people who believed in the righteous cause of the so-called opposition, the situation has now changed. No longer do people believe in the good intentions of the US government or the "opposition," which calls for foreign attacks on its own country. Syrians don't want the same outcome for their country as what happened in Iraq, and they loathe those who support western aggression against the Syrian government.
Some experts claim that Russia and the US are attempting to split Syria into smaller states (Alawite, Christian, etc.). How realistic are these claims? Syrians do not want the split. Even the Kurds, who generally supported the idea of separation, are now speaking against it. Of course, Western powers are interested in splitting Syria as they remain loyal to the old Roman tactics of "divide and conquer." But the Syrians say: "We have been living together for our entire lives. We are one people". It's worth mentioning that during Syria's struggle against French colonialism, France offered to divide Syria into states based on sectarian differences, creating Alawite, Druze and Sunni federations, while giving Lebanon to the Christians. Yet, the leaders of anti-colonial struggle opposed the idea and called on the people to join forces to fight for a united and free Syria.
The representative of Syria in the League of Nations, who was a Christian, rejected claims that the presence of French forces on Syrian territory would protect Christians and announced that Christians and Muslims were one people. Syrians are brought up on these values and they will do their best to prevent a split from happening.
How many people actually support President Assad and who are these rebels? When I first came to Syria in 2011 I saw tremendous rallies in support of Assad and his government. In 2014, Syria is expected to hold presidential elections. If the opposition was so sure of the people's backing, it would have proposed its candidacy and would have used political methods to obtain power, especially given the fact that the new reforms allow that. But the point is that they are afraid of elections. Their only way to assume power is with the help of American military might. The rebels neglect basic ethical principles, and call on Obama to stage a war against the Syrian people. You can imagine what they will do if they assume power. Look at Libya, where everyone fights everyone. Syrians have to do anything it takes to prevent the Libyan scenario evolving in their country.
Pope Francis Tells Putin & Obama to Back Off
Sept. 7….(AP) Pope Francis has written a letter to Russian President Vladimir Putin, host of the G-20 summit that President Obama is attending, urging world leaders to oppose a military intervention in Syria. "To the leaders present, to each and every one, I make a heartfelt appeal for them to help find ways to overcome the conflicting positions and to lay aside the futile pursuit of a military solution," the Pope urged. "Rather, let there be a renewed commitment to seek, with courage and determination, a peaceful solution through dialogue and negotiation of the parties, unanimously supported by the international community."
The move is the latest in a series of efforts by the Holy See to prevent military action in the already civil-war torn region. On Sunday, the Pope declared in his Angelus teaching that Saturday Sept. 7 would be an day of fasting and prayer for peace in Syria. The prayer rally will take place in St. Peter's Square from 7 p.m. to midnight, on the vigil of the birth of Mary, the Queen of Peace. "Let us ask Mary to help us to respond to violence, to conflict and to war, with the power of dialogue, reconciliation and love," the Pope asked people around the world. "She is our mother: may she help us to find peace; all of us are her children!"
Obama and Putin Hold Cold, Unproductive Meeting
Sept. 7….(DEBKA) The US Friday, Sept. 6, ordered the withdrawal of non-emergency workers and their families from the embassy in Beirut and the consulate general in Adana, southeast Turkey, and warned Americans against traveling to those areas amid looming threats to their security. The State Department posted these advisories after an unscheduled 20-minute one-on-one meeting between Presidents Barack and Obama and Vladimir Putin on the sidelines of the G20 at St. Petersburg. No information was released on results of their conversation, but the staff withdrawals from Beirut and Turkey pointed to the two leaders remaining at loggerheads as much as before amid a mounting buildup of Russian naval might around Syria.
Moscow announced earlier that the Nikolai Filchenkov landing ship was on its way to the Mediterranean, stressing that it would first put in at Novorossisk port on the Black Sea to pick up "a special cargo." This cargo was widely identified as advanced Russian S-300 interceptors for warding off a US attack on Syria.
Any American assault will now have to be expanded and revised to cover widely-dispersed targets distributed across large areas in view of the following developments:
1. The Syrian government has scattered the chemical units responsible for the atrocity, along with its chemical stocks in dozens of hideouts across the country to minimize damage.
2. The recommendation by Chairman of the Joint US Chiefs of Staff Gen. Martin Dempsey, cited by President Obama to justify the delay in the offensive, it could take place "tomorrow, in a week or a month," hasn't held water. The chief of US naval operations, Adm. Jonathan Greenert, commented Thursday that the four US destroyers off the coast of Syria are "fully ready" for "a vast spectrum of operations, including launching Tomahawk cruise missiles at targets in Syria and protecting themselves in the event of retaliation." And indeed, the Senate Armed Forces committee, in backing US military force in Syria, gave the president up to 90 days to finish the job.
3. The certainty voiced by some US intelligence sources that they can locate the hideouts of Syrian chemical units and weapons overstates the capabilities of even the most sophisticated spy technology at their disposal.
4. Not just the Russian leader, but Syria's Bashar Assad and Iran's Ayatollah Ali Khamenei, have bought enough time to set up military, intelligence and political ambushes for the Americans, and will be ready to pounce when the US operation goes forward.
As the G20 summiteers took their seats in St. Petersburg, three Russian warships passed through the Bosporus in their way to the Mediterranean. Debkafile's military sources identified them as the SSV-201 intelligence ship Priazovye and two landing craft, the Minsk and the Novocherkassk, which carry 200 marines and 10 amphibious tanks. All three leaders have issued a constant stream of threats to deter Washington from striking Syria:
a) They could supply Syria with highly-advanced arms capable of catching US forces by surprise;
b) Russia and China could transfer advanced cyber warfare measures to Damascus via Tehran, which Iranian cyber experts could operate in Syria and Lebanon.
c) The Russian president has indicated that if the Americans attack Syria, he might sell Iran super-weapons on the premise that the strike on Syria would be the precursor to a US attack on Iran's nuclear program.
5. The basic presumption in Washington and Jerusalem at the outset of the US plan to use military force in Syria last month was that Hizballah would stay out of it. In the interim, the Lebanese Shiite militia has begun mobilizing for defending Syria and for cross-border reprisals against Israel from Syria and Lebanon. Thursday night, Iran's National Security Council inner group held a secret meeting in Khamenei's inner sanctum on the ramifications of the forthcoming US action against Syria. Debkafile's Iranian sources report that Revolutionary Guards commanders spoke out in favor of activating the mutual defense treaty binding Iran and Syria.
Syrian Rebels Ultimately Aim to Burn Washington DC
Sept. 7….(NBC) As debate grows over the extremism of some armed factions battling to overthrow Syrian President Bashar Assad's regime, an incendiary illustration on the Facebook page of one such group leaves little doubt where its leaders envision the uprising ending, with masked Islamic fighters marching through Washington, DC, as the US Capitol burns in the background. The image is one of eight photos posted on the official Facebook page of the "Al-Aqsa Islamic Brigades," a small armed Sunni rebel faction fighting with the Free Syrian Army, the main umbrella military organization of the opposition forces. Two other photos posted on the group's page feature the widely recognized black flag of the al Qaeda in Iraq terrorist group, which operates freely in Syria.
Evan Kohlmann, a senior partner with the security firm Flashpoint Intelligence and an NBC consultant on terrorism, who discovered the image on Facebook and provided it to NBC News' investigative unit, said Al-Aqsa has not been designated as a terrorist group by the United States. But he noted that it fights alongside another Free Syrian Army force, the Tawhid Brigade, that has been linked to Jabhat al-Nusra, one of two rebel factions labeled terrorist groups by the US government. "As a group that claims affiliation to the generally pro-Western Free Syrian Army, it is difficult to reconcile the fact that it has plastered such a lurid anti-American image as the banner on its own official Facebook page," Kohlmann said. "It raises the unfortunate but inescapable fact that not every group within the Free Syrian Army is closely aligned with US interests in the region."
Such murky alliances and rivalries within the Free Syrian Army help explain the skepticism that greeted US Secretary of State John Kerry on Thursday when he told members of the House Foreign Affairs Committee that "bad guys," Islamic extremists, constitute "maybe 15 to 25 percent" of the opposition forces. Several lawmakers questioned Kerry's assertion and a senior military official told NBC News that actual percentage is "way higher than that." Defense officials estimate that al Qaeda and related extremists groups now constitute "more than 50 percent" of the rebel force, which is made up of at least 70 different factions, "and it's growing by the day," according to the official, who spoke on condition of anonymity.
While details of the Al-Aqsa Islamic Brigades leadership and goals are unclear, Kohlmann said, the group makes no secret of its Islamist orientation and general antipathy for the West. He noted, that in late February, the group issued a report lambasting "the role of Western Crusader intelligence in the Syrian revolution." Despite the group's anti-Western philosophy, al-Aqsa announced that the group was aligning itself with The Tawhid Brigade and the Free Syrian Army, the umbrella group that the US is working with.
Syrian Christians in the Crosshairs of Rebels
Sept. 7….(CNN) No one can deny that the situation in Syria is dire. Death and destruction are ever-present. And when terror and chaos emerge, minority groups often have much to fear. That's especially true for Syria's Christians, who make up about 10 percent of the nation's population. Increasingly, they're being caught in the crossfire between numerous Islamic groups.
In a recent report, CNN provided a recap of the many religious sects that have a stake in the current Syria crisis. With the vast majority of the Middle East being Islamic in both governance and personal faith allegiance, being a non-Muslim in the region can be difficult.
That in mind, the rebels, who are generally Sunnis, see Christians as supporters of President Bashar al-Assad and his government (Assad's government is part of the Alawite sect, an offshoot of Shiite Islam), the Associated Press reports. And that raises the question: If Syrian rebels take control of the country, does that mean doom for the nation's Christians? Assad's regime has been brutal in its handling of protests, but its treatment of Christians has surprisingly been seen as fair by some. Rebels, however, haven't been as polite. Under Assad, Christians had more rights than in many Middle Eastern countries, with the freedom to worship and run schools and churches. Their rights were limited however. The Syrian constitution says the president must be Muslim, for example.
According to UN reports, rebel fighters have targeted Christian communities, shooting up factories and detonating car bombs in Christian neighborhoods. In addition, many Christians, in Syria and in the United States fear the fate of Christians should Sunni fundamentalists take power in Syria.
Hezbollah Preparing to Defend Damascus
Sept. 7….(Jerusalem Post) Hezbollah is preparing to defend Damascus from an invasion by the Syrian rebels following a possible US strike, as well as preparing for retaliation against Israel if the situation in the area calls for it, Lebanese sources told Saudi newspaper Okaz on Thursday. The sources told the paper that the Shi'ite organization recruited 10,000 fighters, who were tasked to defend the Syrian capital in the event the Syrian army fails to thwart attacks on it from both the rebels and the United States. An attack on Israel, however, will only take place "after receiving a specific order [to do so] from Iran," the sources told Okaz. The sources added that Hezbollah has intentionally remained silent in recent days because "the organization's leadership understood right from the start that a military strike on Damascus is inevitable."
Lebanese newspaper Al-Akhbar reported on Tuesday that Hezbollah "called on all its officers and members to man their positions" ahead of the planned US strike on Syria. Hezbollah fighters have left their regular positions and checkpoints in southern Beirut, turning off their mobile phones so that they could not be traced, according to the witnesses. The head of the anti-Hezbollah movement Al-Mustaqbal ("Future") expressed doubt of Hezbollah's ability to respond to the impending military strike. "The masters of Hezbollah in Syria and Iran cannot respond," Moyin Marabi said. "So a criminal sect that acts as a militia and gets its instructions from its masters surely cannot respond either."
Russia's Putin Calls Kerry a Liar About al-Qaeda in Syria
FOJ Note: Mr. Putin is dead-on accurate in his appraisal of Mr. Kerry. Mr. Kerry is a bonafide liar. Albeit, Mr. Putin is not exactly honest either. In fact, most all the parties involved in the present day political climate are notorious for lying, cheating and deceiving.
(Russian president claims US secretary of state denied Islamist terrorist group's presence among rebels fighting Assad)
Sept. 6….(Times of Israel) Russian President Vladimir Putin on Wednesday called US Secretary of State John Kerry a liar, claiming he had denied that al-Qaeda was fighting with the Syrian opposition in that country's civil war. Speaking to his human rights council, Putin recalled watching a congressional debate where Kerry was asked about al-Qaeda. Putin said he had denied that it was operating in Syria, even though he was aware of the al-Qaeda-linked Jabhat al-Nusra group.
Putin said: "This was very unpleasant and surprising for me. We talk to them (the Americans) and we assume they are decent people, but he is lying and he knows that he is lying. This is sad." It was unclear exactly what Putin was referencing, but Kerry was asked Tuesday while testifying before the Senate Foreign Relations Committee if the Syrian opposition had become more infiltrated by al-Qaeda. Kerry responded that that was "basically incorrect" and that the opposition has "increasingly become more defined by its moderation." When asked if a strike would make al-Nusra and other extremist forces stronger, Kerry responded, "No, I don't believe you do (make them stronger). As a matter of fact, I think you actually make the opposition stronger. And the opposition is getting stronger by the day now."
In testimony Wednesday, Kerry said that he didn't agree that "a majority (of the opposition) are al-Qaeda and the bad guys." Extremists amount to 15 to 25 percent of the opposition, he said, including al-Nusra and many other groups that are "fighting each other, even now." Putin also repeated Russia's position that any use of military force against Syria without the approval of the UN Security Council would be an act of aggression.
Al-Qaida-Linked Rebels Attack Regime-held Christian Village
FOJ Note: On September 5, Al Qaeda-linked Syrian rebels began waging their second day of war against Christians. Yet these rebels are the same forces US Senator John McCain has demanded the US support and they are also those with whom the United States will at least tacitly ally if President Obama launches a strike against Bashar al-Assad's regime. Yet Secretary of State John Kerry told members of Congress, "I just don't believe that the rebels connected with Al Qaeda are bad guys."
Sept. 6….(AP) Al-Qaida-linked rebels launched an assault Wednesday on a regime-held Christian village in the densely populated west of Syria and new clashes erupted near the capital, Damascus, part of a brutal battle of attrition each side believes it can win despite more than two years of deadlock.
As the world focused on possible US military action against Syria, rebels commandeered a mountaintop hotel in the village of Maaloula and shelled the community below, said a nun, speaking by phone from a convent in the village. She spoke on condition of anonymity for fear of reprisals. The dawn assault on the predominantly Christian village of Maaloula was carried out by rebels from the al-Qaida-linked Jabhat al-Nusra group, according to a Syrian government official and the Syrian Observatory for Human Rights, an anti-regime group.
At the start of the attack, an al-Nusra fighter blew himself up at a regime checkpoint at the entrance to the village, said the Observatory, which collects information from a network of anti-regime activists. The suicide attack was followed by fighting between the rebels and regime forces, the Observatory and a nun in the village said. Eventually, the rebels seized the checkpoint, disabled two tanks and an armored personnel carrier and killed eight regime soldiers in fighting, the British-based group said. The nun said the rebels took over the Safir hotel atop a mountain overlooking the village and fired shells at it from there. "It's a war. It has been going from 6 a.m. in the morning," she said. Some 80 people from the village took refuge in the convent, which houses 13 nuns and 27 orphans, she said. A Syrian government official confirmed the assault and said the military was trying to repel the rebels. He spoke on condition of anonymity because he was not authorized to give official statements.
Maaloula, a mountain village some 40 miles (60 kilometers) northeast of Damascus, is home to about 2,000 residents, some of whom still speak a version of Aramaic, the ancient language of biblical times believed to have been spoken by Jesus.
The four-decade iron rule of the Assad clan over Syria has long rested on support from the country's ethnic and religious minorities, including Christians, Shiite Muslims and Kurds. The Assad family and key regime figures are Alawites, followers of an offshoot of Shiite Islam, while most rebels and their supporters are Sunni Muslims.
Russia Gave UN Report Blaming Syrian Rebels for Chemical Attack
Sept. 6….(Newsmax) Russia says a deadly March sarin attack in an Aleppo suburb was carried out by Syrian rebels, not forces loyal to President Bashar Assad, and it has delivered a 100-page report laying out its evidence to the United Nations. A statement posted on the Russian Foreign Ministry website late Wednesday said the report included detailed scientific analysis of samples that Russian technicians collected at the site of the alleged attack, Khan al Asal in northern Syria. The attack killed 26 people. A UN spokesman, Farhan Haq, confirmed that Russia delivered the report in July.
The report itself was not released. But the statement drew a pointed comparison between what it said was the scientific detail of the report and the far shorter intelligence summaries that the United States, Britain and France have released to justify their assertion that the Syrian government launched chemical weapons against Damascus suburbs on Aug. 21. The longest of those summaries, by the French, ran nine pages. Each relies primarily on circumstantial evidence to make its case, and they disagree with one another on some details, including the number of people who died in the attack.
The Russian statement warned the United States and its allies not to conduct a military strike against Syria until the United Nations had completed a similarly detailed scientific study into the Aug. 21 attack. It charged that what it called the current "hysteria" about a possible military strike in the West was similar to the false claims and poor intelligence that preceded the US invasion of Iraq in 2003. Russia said its investigation of the March 19 incident was conducted under strict protocols established by the Organization for the Prohibition of Chemical Weapons, the international agency that governs adherence to treaties prohibiting the use of chemical weapons. It said samples that Russian technicians had collected had been sent to OPCW-certified laboratories in Russia. "The Russian report is specific," the ministry statement said. "It is a scientific and technical document." The Russian statement said Russian officials had broken the Organization for the Prohibition of Chemical Weapons' code of silence on such probes only because Western nations appear to be "preparing the ground for military action" in retaliation for the Aug. 21 incident.
A UN team spent four days late last month investigating the Aug. 21 incident. The samples it collected from the site and alleged victims of the attack are currently being examined at the chemical weapons organization's labs in Europe. UN Secretary-General Ban Ki-moon has urged the United States to delay any strike until after the results of that investigation are known. But US officials have dismissed the UN probe, saying it won't tell them anything they don't already know. White House spokeswoman Caitlin Hayden said US officials were unmoved by the Russian report and held the Assad government responsible for both the Khan al Asal attack in March and the Aug. 21 attack outside Damascus.
Russia Warns Of Nuclear Disaster If Syria Is Attacked
Sept. 6….(CBSDC/AP) A Russian Foreign Ministry spokesman warned any military intervention in Syria would create a nuclear disaster. "If a warhead, by design or by chance, were to hit the Miniature Neutron Source Reactor (MSNR) near Damascus, the consequences could be catastrophic," Russian Foreign Ministry spokesman Aleksandr Lukashevich stated, according to Russia Today.
Lukashevich said if a military strike were launched without seeking approval from the United Nations Security Council that new suffering for other countries of the Middle East and North Africa would occur. He added that the region could be at risk of "contamination by highly enriched uranium and it would no longer be possible to account for nuclear material, its safety and control."He urged the United Nations International Atomic Energy Agency (IAEA) to complete a risk evaluation carrying out "an analysis of the risks linked to possible American strikes on the MNSR and other facilities in Syria."
Syria War: The Last Gasp for the Global PetroDollar?
Sept. 6….(OSNET) The entire Arab Spring movement, an ambitious disruptive project waged with foolhardy ambitions by the Globalist power structure, has turned on itself. Finally, it has moved to Syria. Syria is about the last gasp for the Petro-dollar, the emergence of energy pipeline geopolitics, the rise of the Nat Gas Co-op, the new dominance of Russian Gazprom, the eclipse of OPEC, the fall of the house of Saud, and a grand adjustment process in global commerce and banking.
Syria is about a lot of things, most of which are volatile, and many unsolvable. To be sure, the naval port of Tartus is valuable for the Russian Military, always eager to wrest a seaport. Like Lebanon, Syria is a hotbed stronghold for Hezbollah, never to be taken lightly. They are mortal enemies to Israel, whose nations have exchanged covert violence for years. Syria might have tight relations with the Shiites of Iran, even some in Iraq. However, Syria represents the crossroads of many important shifting geopolitical roadways that pertain to the global financial structure and commercial systems. Syria is the tipping point for a Grand Global Paradigm Shift. It is the last stand for the Anglo Banker world. Syria will not go easily into the Russian camp, into the Gazprom fold, into the European energy market sphere. For if it does, the entire US dollar system of commerce and the US Treasury Bond system of reserves management will fall by the wayside and open a new era with Eastern dominance. But the Western powers cannot stop it. Clouds of whatever type, do not halt pipeline flow, nor pipeline geopolitics.
Syria stands at the door to the emergence of the Eastern Alliance, the new dominant energy pipelines, a new payment system detached from the US dollar and Anglo banks. Syria stands at the door, which controls some incremental European energy supply. Syria stands at the door to Gold Trade Settlement, with a transition step that brings more importance to commodity backed currencies and proper valid systems for trade. Syria means the pipelines strangle the US dollar. Syria means the end of the US system of IOU coupons that pollute the global banking system. Syria means the status quo is coming to an abrupt end. Syria represents a clash of East versus West, which has more commercial and bank significance than anything reported by the lapdog press. Notice the direct line from Iran through Iraq to Syria. The Natgas of Iran reaches the Mediterranean Sea through Syria.
Rise of Pipeline Politics
Syria is the end port for what is called the Shiite Gas Pipeline. It begins in Iran and ends at the Mediterranean seaport in Syria. It was designed to terminate at a Shiite friendly nation. Ironically, Qatar is fighting against the Syrian Assad loyalists, but the Qatari natural gas will be directed into the same pipeline. In the last year, a giant Persian Gulf gas discovery was made in a joint Iran-Qatar project. Syria is about the last gasp for the Petro-Dollar. It represents a climax in Energy Pipeline Politics. Quietly for the last 15 to 20 years, Russia has been building crude oil pipelines and natural gas pipelines from the Mother Russian lands to points in Europe and China and the Former Soviet Republics. They have been constructing modern LNG gas port facilities. They have been forging contracts to supply energy to countless nations. The US-led plans have been more interference than constructive. They have consistently attempted to obstruct, rather than to build with some justification of common benefit.
The US news networks cannot tell why or how Syria is important relative to the US Dollar. Most Americans cannot define money, let alone conceive of a Petro-Dollar defacto standard. They do not comprehend the global banking system having practices as an extension of Saudi crude oil sales in US Dollars. They remember nothing of the Kissinger Arab Oil Surplus Recycle Pact into US Treasury Bonds and US big bank stocks. The focus should be on Pipelines and the closely related geopolitics. The focus should be on the eclipse of OPEC.
Clearly heading out is OPEC and its influence. The dirty secret for ten years has been the depletion and decline in Saudi oil reserves. And the Saudi OPEC core is precisely the foundation to the Petro-Dollar and the justification for global banking systems being based in US Treasury Bonds, and one of the main reasons that America is placating the Saudi-Gulf nations. Coming on strong is the Nat Gas Coop led by Gazprom, of Russia. And Syria is the last line of defense for the US Dollar and the exalted position of OPEC. Syria is the potential recognized debut of the new Nat Gas Coop.
Vladimir Putin Warns US Against Syria Military Action
(Russian president says it is too early to say what Russia will do but does not exclude supporting a UN resolution)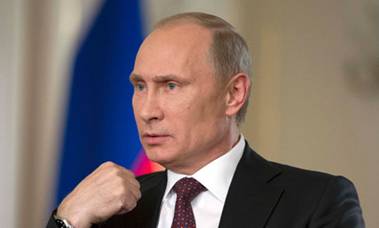 Sept. 5….(The Guardian) Vladimir Putin said Russia may approve military operation in Syria if Damascus is proven to have carried out chemical weapons attacks and UN authorizes it. Vladimir Putin warned the US against launching military action in Syria, stating that Russia has "plans" on how it would react if such a scenario unfolded. The Russian president's comments came as Barack Obama for the first time portrayed his plans for US military action as part of a broader strategy to topple Bashar al-Assad, as the White House's campaign to win over skeptics in Congress gained momentum.
In an interview with Associated Press and Russia's state Channel 1 television, Putin said it was too early to talk about what Russia would do if the US attacked Syria but added: "We have our ideas about what we will do and how we will do it in case the situation develops toward the use of force or otherwise. We have our plans too." At the same time he said Russia did not exclude supporting a UN resolution on punitive military strikes if it were proved that Damascus used poison gas on its own people. But he described the idea that Syrian government forces would use chemical weapons at a time when he said they were in the ascendancy and knowing the potential repercussions as absurd. Given his comments, and the fact that Russia has protected Syria from punitive action at the UN Security Council before, his suggestion that Russia might support a resolution on strikes is unlikely to be given much credence in the US. Russia later dispatched a missile cruiser to the eastern Mediterranean, which will arrive in about 10 days. The ship, Moskva, will take over operations from a naval unit in the region that Moscow says is needed to protect national interests. It will be joined by a destroyer from Russia's Baltic Fleet and a frigate from the Black Sea Fleet.
Putin said on Tuesday that Moscow had provided some components of the S-300 air defense missile system to Syria but has frozen further shipments. He warned: "If we see that steps are taken that violate the existing international norms, we shall think how we should act in the future, in particular regarding supplies of such sensitive weapons to certain regions of the world." The statement could be a veiled threat to revive a contract for the delivery of the S-300s to Iran, which Russia cancelled a few years ago under strong US and Israeli pressure.
In Washington, key members of Congress swung behind the administration on Tuesday. At the senate foreign relations committee, Kerry and the defense secretary, Chuck Hagel, were pressed hard to clarify the role of ground forces, but got an otherwise sympathetic reception. In the evening, details emerged of the committee's revisions to the White House's proposals for a military authorization. They set a window limited to 60 days for military action, during which Obama could order the limited, tailored strikes he has foreshadowed, while allowing for a single 30-day extension subject to conditions.
The president has long spoken of the US desire to see Assad step down, but this was the first time he has linked that policy objective to his threatened military strikes against Syria. It follows pressure on Monday, from senators John McCain and Lindsey Graham, to make such a goal more explicit. The apparent change of emphasis appeared to resolve some of the political deadlock on Capitol Hill, as House speaker John Boehner and a series of other Republican leaders announced they would back the president's call for military authorization from Congress. The endorsement of GOP leaders could be important in winning over the Republican-controlled House, where Obama has failed to win any support since his re-election in November. But even the Republican leadership has struggled to control Tea Party radicals in the House, and an anti-interventionist wing in the Senate led by Rand Paul remains a substantial challenge for the White House.
At G-8+ Summit, Obama to Seek Support for Action on Syria
Sept. 5….(Washington Post) As his administration tries to rally support in Congress for military strikes in Syria, President Obama will begin a high-stakes trip to Sweden and Russia on Wednesday that could show whether the United States has broad international backing for action.
At the Group of 20 summit in St. Petersburg, the strife in Syria and uncertainty about Obama's plans are likely to overshadow an agenda focused on economic issues. Privately, Obama will try to persuade world leaders to support US-led action in Syria, putting him at odds with the summit's host, Russian President Vladi­mir Putin, a key ally of the Syrian regime who will press his case against strikes. Obama's visit comes as the US-Russia relationship deteriorates over disagreements about Syria, Russia's new law targeting "homosexual propaganda" and the country's protection of Edward Snowden, a former National Security Agency contractor who leaked highly classified documents about US surveillance programs.
Obama had planned to meet privately with Putin in Moscow ahead of the G-20 summit but called off the meeting after Russia granted asylum to Snowden. No bilateral meeting between the two leaders has been announced for the visit, although a US official said they will "have many opportunities to engage." Anders Aslund, a Russia specialist at the Peterson Institute for International Economics, said there are major risks for Obama in attending the summit. "I think that this will be really a trap that President Obama is getting into for no good reason," Aslund said. "When there is an event like this, the Russians are in charge. The host is always in charge, and there's nothing that President Obama can accomplish in St. Petersburg. He has no support for Syria there. He will only get beaten up over it."
Obama is planning to meet with French President Francois Hollande and Chinese President Xi Jinping, US officials said. Experts said it will be difficult for him to gain support on Syria as long as the scope of possible strikes or whether Congress will authorize them remains uncertain. Putin has given Syrian President Bashar al-Assad's government critical military and economic support throughout the country's bloody civil war. He has spoken out against a US-led strike in retaliation for the Assad regime's alleged use of chemical weapons to kill hundreds of civilians. Russian officials said Putin expects to take advantage of the G-20 summit to discuss Syria with other world leaders, among them, Xi, who on Tuesday was touring the former Soviet republics of Central Asia and plans a bilateral meeting in St. Petersburg with Putin.
Hezbollah Vows to Launch Rockets at Israel from Homs
(Terrorist group says if Syria is attacked by American forces, it will launch surface-to-surface rockets at Israel from Homs, in Syrian territory, to "keep Lebanon out of the war)
Sept. 5….(Israel Hayom) The Lebanon-based terrorist organization Hezbollah has vowed to retaliate against Israel from Syrian territory should the United States attack Syria over the latter country's use of chemical weapons, a Hezbollah source told Kuwaiti newspaper Al Rai on Monday.
Following a US attack on Syria, Hezbollah would launch rockets at Israel from the Syrian city of Homs to "keep Lebanon out of the war," according to one source who coordinates activities between the Syrian army and the Shiite terrorist group. "Hezbollah controls 8,000 square kilometers [about 3,100 square miles] near Homs and won't hesitate to engage in a response by launching surface-to-surface missiles from within Syria," the source told Al Rai.
Homs is located some 322 kilometers (200 miles) from Haifa in northern Israel. Hezbollah openly entered the Syrian civil war over the summer on Syrian President Bashar Assad's side, fighting in key positions and tipping the balance in Assad's favor along the Lebanese border and in the Golan region.
John Kerry: Arabs Will Finance the Syria Campaign
Sept. 5….(Washington Post) Secretary of State John Kerry said at Wednesday's hearing that Arab counties have offered to pay for the entirety of unseating President Bashar al-Assad if the United States took the lead militarily. "With respect to Arab countries offering to bear costs and to assess, the answer is profoundly yes," Kerry said. "They have. That offer is on the table." Asked by Rep. Ileana Ros-Lehtinen (R-Fla.) about how much those countries would contribute, Kerry said they have offered to pay for all of a full invasion. "In fact, some of them have said that if the United States is prepared to go do the whole thing the way we've done it previously in other places, they'll carry that cost," Kerry said. "That's how dedicated they are at this. That's not in the cards, and nobody's talking about it, but they're talking in serious ways about getting this done.
FOJ Note: Just as I suspected, President Obama is using the military of America to fight Saudi Arabia's battles. This is an act of treason and a total betrayal to the American people, not to mention our armed forces. America doesn't loan its military out to do the dirty work of other nations! America should stay out of Syria!
Christians in Syria Will Pay If Assad Is Overthrown
Sept. 4….(Christian Post) A victory for Syria's "Islamic rebels" and an overthrow of President Assad would endanger Syrian Christians, Senator Rand Paul (R-KY) asserted on NBC's Meet the Press Sunday, speaking out against US military intervention in Syria. "I think the Islamic rebels winning is a bad idea for the Christians. All of a sudden we'll have another Islamic state where Christians are persecuted," said Rand.
Rand Paul's comments come weeks after Egyptian Coptic Christians were subject to an intense wave of violence directed at them by Islamist extremist groups scapegoating them for the overthrow of the Muslim Brotherhood's President Mohammed Morsi. Four people were killed and over 60 churches damaged or destroyed in violence targeted at Coptic Christians for their support of the movement that saw Morsi taken out of power.
Christians make up 10 percent of Syria's population and have expressed concern and fear since the Arab Spring protests began in 2011. Like many other Christian minorities in the Middle East countries like Egypt, Libya and Iraq, Syrian Christians often protected themselves by striking deals with the government, said Tamara Alrifai, the Human Rights Watch Advocacy and Communications Director for the Middle East and North Africa Division.
When these governments and their autocratic rulers were overthrown, Christians were not only left without the protection of the government, but in some instances became targets themselves for working with and at times supporting the former powers. Even though Syrian President Bashir Al-Assad is still in power, Syrian Christians have already been subjected to attacks by rebels in the country. On June 27, a suicide bombing by Islamist rebels in the Christian neighborhood of Damascus killed four people. In July, an Italian priest, who had spent most of his life in Damascus, disappeared. Currently, Al Qaeda-affiliated rebels are suspected in his killing.
America, Syria, and Russia: Opening the Gates of Hell
Sept. 4….(By Paul McGuire) The whole world is reacting to President Obama's decision for America to attack Syria over an alleged chemical attack because Assad's forces had been accused of using chemical weapons several times in the last year, including the August 21st attack in the suburbs of Damascus. However, a number of news analysts such as Pat Buchanan and Ron Paul have called this a "False Flag" attack. The Pentagon is moving a sixth warship armed with cruise missiles to the eastern Mediterranean Sea, giving the US more firepower for a possible attack on Syria in response to alleged use of chemical weapons, a US defense official said. According to reports, the guided-missile destroyer Stout will soon join four other missile-carrying US destroyers within range of Syria. Each destroyer can carry up to 90 cruise missiles which have a range of nearly 1,000 miles. Whether they will acknowledge it in public or not, the international community and the United Nations look to the American Empire to supply its massive military force to solve international conflicts.
What is happening in Syria will not only affect America, Russia, Great Britain, China, Syria, Iran, and Israel. It will affect the entire world because Syria, controlling major oil assets off its coast, occupies a critical position in the global oil economy. It is possible for oil prices to go through the roof, and that would send a tsunami across the global economy. There have been reports put out by big banks like SocGen and Goldman Sachs that oil could soar to $150 a barrel if the Syrian conflict goes hot and draws in Russia and China. According to an article by Steve Quayle in his, "V-The Guerrilla Economist Updates," "The trouble for Syria began with two things. First the discovery of natural gas in the Mediterranean right off the coast of Syria, Lebanon and Israel. Read that list again, especially Lebanon and Syria. Is the picture becoming clearer? This discovery took place about a decade ago but the thing is that there already exists in the Middle East a Liquid Natural Gas Producing power house. This is the tiny nation of Qatar."
Quayle continues, "Now here is where you need to put your thinking caps on. Qatar is floating in LNG (Liquid Natural Gas) it has over 77 Billion Tonnes in Reserve and that is with a moratorium in place. The problem is that Qatar would love to sell its LNG to the EU and the hot Mediterranean markets. The problem for Qatar in achieving this is their regional big brother Saudi Arabia. The Saudis have already said "NO" to an overland pipe cutting across the Land of Saud." The Qatar/Syria region has vast reserves of natural gas. Russia has a deal with Syria that allows it to sell this Natural Gas and Oil to Europe."
Russia now controls the oil coming out of Syria and being sold throughout Europe and China. However, there appears to be a battle for the control of that oil.
The Nabucco Agreement was signed by a handful of European nations and Turkey back in 2009. It was an agreement to run a natural gas pipeline across Turkey into Austria, bypassing Russia again with Qatar in the mix as a supplier to a feeder pipeline via the proposed Arab pipeline from Libya to Egypt to Nabucco (is the picture getting clearer?). The problem with all of this is that a Russian backed Syria stands in the way.
Qatar would love to sell its LNG to the EU and the hot Mediterranean markets. The problem for Qatar in achieving this is Saudi Arabia. The only solution for Qatar if it wants to sell its oil is to cut a deal with the US. Recently Exxon Mobile and Qatar Petroleum International have made a $10 Billion deal that allows Exxon Mobile to sell natural gas through a port in Texas to the UK and Mediterranean markets. Qatar stands to make a lot of money and the only thing standing in the way of their aspirations is Syria.
The US plays into this in that it has vast wells of natural gas, in fact the largest known supply in the world. There is a reason why natural gas prices have been suppressed for so long in the US. This is to set the stage for US involvement in the Natural Gas market in Europe while smashing the monopoly that the Russians have enjoyed for so long. What appears to be a conflict with Syria is really a conflict between the US and Russia! The main cities of turmoil and conflict in Syria right now are Damascus, Homs, and Aleppo. These are the same cities that the proposed gas pipelines happen to run through. Qatar is the biggest financier of the Syrian uprising, having spent over $3 billion so far on the conflict. The other side of the story is Saudi Arabia, which finances anti-Assad groups in Syria. The Saudis do not want to be marginalized by Qatar; thus they too want to topple Assad and implant their own puppet government, one that would sign off on a pipeline deal and charge Qatar for running their pipes through to Nabucco.
With the strong possibility of the strike from America happening, there is massive fear in the market and oil prices are surging. Now the end game is to cut Russia's lock on natural gas and oil that it supplies to Europe. If this connection is cut in any way, it will bring severe consequences to the Russian economy as well as Russia's natural gas company Gazprom.
There are two opposing factions in Syria. On one side you have the Qatari backed Muslim Brotherhood and its subsidiaries that have very close ties with the Emir of Qatar. On the other side you have the Saudi backed Wahhabi AL-Qaeda and its subsidiaries. These groups commit atrocities, like the cannibalism of the Wahabis and the "Brotherhood" slaughtering Christians. What the international bankers are not telling the American people is that the US economy is in reality crumbling and being propped up by the Federal Reserve printing money from nothing which they call Quantitive Easing. Using the pretense of spreading love and democracy throughout the Middle East, the US has already seized control of six Arab nations.
For Russia, Syria is more than just the location of a strategic port in the gas rich Middle East; it is an essential strategic area. Russia is now forced to draw a very hard line in the sand lest they lose the entire European market to Middle Eastern and Caspian Energy interests. Syria is in the heart of Eurasia and historically, the empire that controls Eurasia controls the world. Russia cannot allow that; this is why they are putting their military assets in place. China, one of the world's super powers, cannot have its natural gas flow interrupted as well, and China has sided with the Russians when it comes to Syria. If Obama attacks Syria, some analysts believe Vladimir Putin is prepared to strike Saudi Arabia. This could stop the flow of oil from the Middle East.
Obama Plans Gay Rights Push in Russia
Sept. 4….(Newsmax) With tensions between the United States and Russia already strained to the breaking point, President Barack Obama is preparing to press Russian President Vladimir Putin even more by meeting with Russian gay rights groups and human rights activists during this week's trip to St. Petersburg for the G-20 summit.
According to BuzzFeed, rights groups, including Coming Out, a St. Petersburg-based LGBT group, have been invited to meet with Obama on Thursday. Human rights activists Lev Ponomarev and Lyudmila Alexeyeva, and legal aid non-governmental organization director Pavel Chikov have also been invited. BuzzFeed also reported that the LGBT Network was also invited to the meeting at the St. Petersburg Crowne Plaza Hotel, along with Golos, a Russian election monitoring group that had received U.S. aid but was forced to disband earlier this summer under a new Russian "foreign agents" law. The meetings are scheduled during a trip that has already been billed as highly controversial, given the two nations' opposite positions on Syria and Putin's recent decision to allow former National Security Agency contractor Edward Snowden to remain in Russia for at least a year, despite U.S. efforts to take him into custody for leaking top secret information on NSA data collection programs.
Obama and Putin had been scheduled to hold a one-on-one meeting during the G-20 summit, but Obama canceled that meeting after Snowden was granted temporary asylum in Russia. The meeting with the human rights groups is not the first time President Obama has met with Russian opposition activists. He last met with non-governmental organizations representing various groups in 2009. But Thursday's meeting comes as the Russian government is cracking down on human rights groups, which it has accused of being in the pay of the US government, BuzzFeed reports.
It also comes in the wake of Russia passing a new anti-LGBT law, which prohibits the promotion or display of "untraditional sexual relations." When Obama was asked about the law during an appearance last month on the NBC's "The Tonight Show" with Jay Leno, he replied that he has "no patience for countries that try to treat gays or lesbians or transgender persons in ways that intimidate them or are harmful to them."
Obama Gets Bipartisan Support to Strike Syria
Sept. 4….(YNET) President Barack Obama said on Tuesday he was confident that Congress would vote in favor of US military action in Syria and said the United States had a broader plan to help rebels defeat President Bashar Assad's forces.
During a meeting with congressional leaders at the White House, Mr. Obama called for a prompt vote on Capitol Hill and reiterated that the US plan would be limited in scope and not repeat the long US wars in Iraq and Afghanistan. "What we are envisioning is something limited. It is something proportional. It will degrade Assad's capabilities," Obama said. "At the same time we have a broader strategy that will allow us to upgrade the capabilities of the opposition," he said. House Democratic Leader Nancy Pelosi also said they will support Obama because the US has a compelling national security interest to prevent the use of weapons of mass destruction. Pelosi stressed that Americans need to hear more of the intelligence to be convinced that a strike is necessary. "I'm hopeful that the American people are persuaded," she said. "This is behavior outside the circle of civilized human behavior and we must respond," she argued as she left the West Wing.
Republican House Speaker John Boehner emerged from a White House meeting and told reporters: "This is something that the United States, as a country, needs to do.
Senate Majority Leader Harry Reid, D-Nev., and Foreign Relations Committee Chairman Bob Menendez, D-NJ, are crafting a resolution narrower than the broad measure the administration first proposed on Saturday. Secretary of State John Kerry, Defense Secretary Chuck Hagel and Joint Chiefs Chairman Gen. Martin Dempsey also attended the meeting, and gave their ringing endorsements. As part of Obama and his aides' push to convince a skeptical Congress of the merits of attacking Syria, the White House intends on using the Israel angle to sway politicians: Iran and Hezbollah would be emboldened if Congress does not approve the strike.
US Senator John McCain said on Monday that a vote by the US Congress against President Barack Obama's proposal for using military force in Syria would be catastrophic.
Meanwhile, today Assad continued to challenge Obama and said it would have made no sense to use chemical weapons in an area where his troops were also fighting. "Those who make accusations must show evidence. We have challenged the United States and France to come up with a single piece of proof. Obama and Hollande have been incapable of doing so," said Assad.
Putin Could Prevent US Attack on Syria
Sept. 4….(Times of Israel) Russian President Vladimir Putin is the only person who can now avert a US strike on the regime of President Bashar Assad, a respected former head of the Israeli army's Military Intelligence hierarchy said Friday, speaking immediately after US Secretary of State John Kerry set out America's evidence of Assad's use of chemical weapons. Gen. (ret.) Amos Yadlin, the former IDF Military Intelligence chief, also said that President Bashar Assad has spent the past few days moving sensitive military equipment to schools and universities, and taking all precautions to ensure he and his regime survive an anticipated limited US-led strike.
Were Putin to offer to take Assad's chemical weapons out of Syria, said Yadlin in an Israeli Channel 2 news interview, "that would be an offer that could stop the attack." It would be a "genuine achievement" for President Barack Obama to have ensured the clearing out of Assad's capacity, and that would justify holding fire, said Yadlin. For Putin, such a deal would also keep the US from acting militarily in a state with which Russia is closely allied. "Any other reason for the Obama administration to now abandon a resort to force would destroy the credibility" of the US internationally, Yadlin said. "Because if he cannot act against Syria, what does that say to Iran" as it closes in on a nuclear weapons capability?
Unfortunately, however, said Yadlin, America's public indication that it is planning only a limited strike would make Assad disinclined for any such deal. Assad has utilized the past few days to ensure that the "narrow" strike Obama is publicly contemplating will do minimal damage to him and his regime. If the US indeed fires an anticipated 50 or so Tomahawk missiles, "Assad will come out of his bunker, smiling that he's survived this."
Only if it was clear to Assad that the US was ready to fire 250 or 300 missiles, and leave Assad without an air force, and with no chemical weapons industry, reducing his advantages in the civil war and drastically weakening his prospects of survival, might such a deal be potentially appealing, Yadlin said.
* FOJ Note: Ironically, President Obama and President Putin could meet in Russia this week, and negotiate some private secret deal amongst themselves, so that both can look smarter and stronger.
Obama Stopped Israeli Strike on Iran
Sept. 4….(Arutz) Former Security Council head says Netanyahu planned to hit Iran, but Obama asked him not to. Prime Minister Binyamin Netanyahu planned airstrikes targeting Iran's nuclear program, but called them off following a request from United States President Barack Obama, General (res.) Giora Eiland has reportedly revealed. The Mida website quoted statements reportedly made by Eiland, the former head of the National Security Council, in a closed conference on defense.
According to Eiland, "The Prime Minister thought that we had reached the point where a decision had to be made on Iran, and he planned an attack." "In principle, Israel does not need American authorization for military action, unless the Americans demand unequivocally that we refrain from an action," he continued. That is what happened in this case, he said. Netanyahu presented his plan to American leaders, and was told that it was not acceptable to them. This led him to shelve the plan.
According to the report, Eiland threw his support behind Netanyahu's original plan. Israel still must decide how to deal with Iran, he said, "now with less time, when the decision is between bad and worse." Mida reported that Eiland confirmed his statements in an interview with the site. In the interview, Eiland clarified what he said regarding American vetoes on Israeli missions. "Israel can act for itself regarding many, many issues. When it comes to building in Jerusalem, or strikes in Gaza, or other issues pertaining to our region, we don't need to ask the Americans, even if they don't like it," he explained. "However, if the matter pertains to American interests, we cannot go against their opinions," he stated.
Conflict Between US, Russia Playing Out in Syria
(Putin maintains staunch support for Assad as Mideast becomes stage for global struggle between Russia, US. 'If Syria falls, entire pro-Russia axis falls)
Sept. 3….(YNET) Russia continues to insist that there is no conclusive proof that President Bashar Assad used chemical weapons that killed some 1,400 civilians earlier this month; an attack that has sparked worldwide condemnation and crossed the "red-line" US President Barack Obama personally drew a year ago, prompting the military contingency plans pending Congressional approval. "If there truly is top secret information available, the veil should be lifted. This is a question of war and peace. To continue this game of secrecy is simply inappropriate," the television network Russia Today quoted Foreign Minister Sergei Lavrov as saying. "What our American, British and French partners have shown us before, as well as now, does not convince us at all. There are no supporting facts, there is only repetitive talk in the vein of 'we know for sure.' And when we ask for further clarification, we receive the following response: 'You are aware that this is classified information, therefore we cannot show it to you.' So there are still no facts."
Over the weekend, Secretary of State John Kerry said the US is convinced that Assad used sarin nerve gas, the first time the US has named the chemical agent they believe was involved. Lavrov's comments are just the latest point-counterpoint between American and Russian leaders over events in Syria. Moscow has become Syria's most outspoken ally and weapons supplier as well as the loudest voice against any potential American attack. "Russia is sticking to its guns," James Nixey, head of the Russia and Eurasia program at Chatham House, a London-based think tank, told The Media Line. "The weakening of the European position because of the vote in the British parliament (against an attack) and President Obama's delay has emboldened the Russian position and made them more determined in the rightness of their cause."
The Syrian issue has become the latest battleground between the United States and Russia. Russia has allied itself with Syria, Iran and its Lebanon-based proxy Hezbollah against the US, Israel, Saudi Arabia, Jordan, and Qatar. It is an attempt, some analysts say, for Russia to continue to remain relevant in today's world. "The Middle East is the stage for the rest of the world in the global struggle," Tzvi Magen, an expert on Russia at the Institute for National and Strategic Studies (INSS) at Tel Aviv University, told The Media Line. "If Syria falls, the entire pro-Russia axis falls and Russia will have no power in the entire region." There are also practical considerations. Russia has a naval facility in the Syrian port of Tartus – the only one outside of the former Soviet Union, which is used for repair and replenishment for the Soviet fleet in the region. Perhaps more important, Russia has been Syria's primary source of arms, having provided, among other armament, advanced fighter jets and sophisticated anti-ship cruise missiles called Yakhonts. In July, an Israeli air strike targeted a warehouse near the port city of Latakia where the Yakhonts were believed to be stored. Tensions between the US and Russia escalated after Russia offered former American spy agency contractor Edward Snowden temporary asylum. Obama cancelled a meeting with Russian President Vladimir Putin that was scheduled to be held in advance of this week's G-20 meeting in St. Petersburg, where one of the main issues on the agenda will be Syria.
Russia would like to see a diplomatic solution rather than a military one. Tzvi Magen of the INSS says Russia wants an international conference that would lead to an interim government made up of both Assad supporters and rebels that would lay the groundwork for elections. That, however, seems unlikely. Assad himself is unrepentant, threatening to respond to "any external aggression." Some analysts predict that the US will launch a limited strike on Syria's chemical weapons capability but is not pressing for regime change. They estimate that as long as Assad remains in power, Russian opposition will not go beyond angry words.
Assad: Striking Syria Could Lead to a Regional War
Syrian President challenges the world to provide proof that his regime attacked civilians with chemical weapons.
Sept. 3….(Arutz) Syrian President Bashar Al-Assad challenged the United States and France on Monday to produce proof that his regime attacked civilians with poison gas, warning in an interview that any military strikes against Syria would risk triggering a regional war. "The Middle East is a powder keg, and today the flame is coming very near. We cannot talk merely about the Syrian response, but about what might take place after the first strike. But nobody knows what will happen. Everyone will lose control of the situation when the powder keg explodes. Chaos and extremism will spread. There is a risk of regional war," Assad told the French newspaper Le Figaro. He dismissed the findings from both the United States and France, which have both said they have proof that his regime was behind an August 21 chemical attack near Damascus, which the US said killed more than 1,400 people. "It is for those who are making the accusations to provide the proof. We have challenged the United States and France to put forward a single proof. Obama and Hollande have been unable to do so, even to their own people," said Assad. "I'm not at all suggesting that the Syrian army does or does not possess such weapons. Let's suppose that our army wishes to use WMD: is it really going to do so in an area where it is actually present and where soldiers have been wounded by these weapons, as the UN inspectors found during their visit to the hospital where they were being treated? Where is the logic in that?" he said.
On Monday, French Prime Minister Jean-Marc Ayrault shared intelligence with lawmakers which he said proves the chemical attack on 21 August came from government forces. The dossier shared with the French parliament reportedly includes satellite images showing a large offensive on the Damascus neighborhood of Ghouta coming from government controlled areas to the east and west of the area held by rebel forces.
On Sunday, US Secretary of State John Kerry said that the administration had new evidence that sarin gas was used in the chemical attack. "We know that the regime ordered this attack," he said. "We know they prepared for it. We know where the rockets came from. We know where they landed. We know the damage that was done afterwards." There has been pressure on President Barack Obama to respond to the chemical attack by striking in Syria. The United States has delayed its military strike on Syria for now, with Obama announcing on Saturday that he plans to wait for Congress' approval before deciding whether to intervene in Syria.
Three Reasons Russia Backs Assad So Staunchly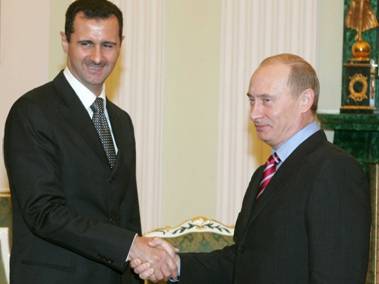 Sept. 2….(Reuters) Russia's President Vladimir Putin (R) and Syrian President Bashar al-Assad shake hands as they meet in Moscow's Kremlin December 19, 2006.
Over the course of the 29-month Syrian conflict, Russia has provided the regime of Bashar al-Assad with supplies including guns, grenades, tank parts, fighter jets, advanced anti-ship cruise missiles, long-range air defense missiles, military officers as advisors, diplomatic cover, and lots of cash. So why does the Kremlin back Assad so staunchly? There are three primary reasons, as illustrated by this report from Krishnadev Calamur of NPR.
1) Strategic: Syria's port of Tartus hosts the only remaining international military base outside of the former Soviet Union.
2) Financial: As of June 2012, Russia's economic interests in Syria total approximately $20 billion, about $5 billion of which are weapons sales.
3) Philosophical: Andranik Migranyan, director of the New York-based Institute for Democracy and Cooperation, a nongovernmental organization funded by private Russian donors that is considered close to the leadership in Moscow, told NPR's Robert Siegel: "Russia's position is very easy to understand." "First, Russia is against any regime change from outside of Syria or any other country because according to Russia, any attempt to change the regimes, they are ended up in a chaos and results are quite opposite what were the intentions," Migranyan said. "This was proved in Iraq after the invasions of Americans over there. This was proved in Libya. This was proved in Egypt. And Russia is against principally this regime changes."
Arab States Urge US Action Against Syrian Government
(FOJ Note: Remember the infamous picture of President Obama bowing to the Saudi King? That answers the question why Obama so eagerly wants to bring down Assad. He owes his allegiance to the King of Mecca.)
Sept. 2..(Reuters) Arab states on Sunday urged the international community to take action against the Syrian government over a chemical gas attack that killed hundreds of civilians. The final resolution passed by an Arab League meeting in Cairo urged the United Nations and international community to "take the deterrent and necessary measures against the culprits of this crime that the Syrian regime bears responsibility for". The League foreign ministers also said those responsible for the attack should face trial, as other "war criminals" have. Saudi Foreign Minister Saud al-Faisal said condemnation of Syria over the poison gas attack, which US officials say killed 1,429 people, was not enough. He said opposing international action on the grounds that it was "foreign intervention" was no longer acceptable. "Any opposition to any international action would only encourage Damascus to move forward with committing its crimes and using all weapons of mass destruction," said Faisal. "The time has come to call on the world community to bear its responsibility and take the deterrent measure that puts a halt to the tragedy."
The United States had seemed to be gearing up for a strike against President Bashar al-Assad's forces over an August 21 poison gas attack, but is now seeking Congressional approval first. President Barack Obama's decision to delay military action to seek Congressional support could delay a strike by at least 10 days, if it comes at all. The Arab League resolution promised to "present all forms of support" to help the Syrian people to defend themselves. Syria's neighbors Lebanon and Iraq, as well as Algeria, all declined to back the text, as they have done with similar resolutions in the past. Syria itself is suspended from the League.
The meeting highlighted divisions between Saudi Arabia and Egypt over how to approach the Syrian crisis. Egypt, which has been promised $5 billion by Saudi Arabia to bolster its dwindling reserves since the army overthrew Islamist president Mohamed Mursi, had said it was opposed to foreign military intervention in Syria, but did not vote against the resolution.
Putin Sees Chance to Rap Obama at G20
Sept. 2….(Reuters) Less than three months after Vladimir Putin was cast as a pariah over Syria at the last big meeting of world leaders, the Russian president has glimpsed a chance to turn the tables on Barack Obama. The US president's dilemma over a military response to an alleged poison gas attack in Syria means Obama is the one who is under more pressure going into a G20 summit in St Petersburg on Thursday and Friday. Obama stepped back from the brink on Saturday, delaying any imminent strike to seek approval from the US Congress. Yet at a G8 summit in Northern Ireland in June, Putin was isolated over his backing for Syrian President Bashar al-Assad and scowled his way through talks with Obama, who later likened him to a "bored kid in the back of the classroom". Putin has ignored the jibe and stood his ground over Assad, dismissing Obama's allegations that Syrian government forces carried out a chemical weapons attack on August 21.
Buoyed by growing pressure on the US, French and British leaders over Syria, the former KGB spy has also now hit back in comments referring ironically to Obama as a Nobel Peace laureate and portraying US global policy as a failure. "We need to remember what's happened in the last decade, the number of times the United States has initiated armed conflicts in various parts of the world. Has it solved a single problem?" Putin asked reporters on Saturday; "Afghanistan, Iraq where is the peace there, there is no democracy, which our partners allegedly sought," he said during a tour of Russia's far east.
Denying as "utter nonsense" the idea that Assad's forces would use chemical weapons when they were winning the civil war, Putin looked steely and confident. After months of pressure to abandon Assad, he is sending a message to the West that he is ready to do battle over Syria in St Petersburg and sees an opportunity to portray the United States as the bad boy on the block. "Of course the G20 is not a formal legal authority. It's not a substitute for the UN Security Council, it can't take decisions on the use of force. But it's a good platform to discuss the problem. Why not take advantage of this?" he said. "Is it in the United States' interests once again to destroy the international security system, the fundamentals of international law? Will it strengthen the United States' international standing? Hardly," he said. There was an element of grandstanding in Putin's first public comments on the dispute over the poison gas which killed hundreds of people in areas held by Syrian rebels. One of his aims is to deflect criticism at this week's meeting of the 20 developed and emerging powers, including all five permanent members of the Security Council, at which Syria is likely to overshadow talks on the global economy.
Putin also seems intent on taking a swipe at Obama, who pulled out of a Russia-US summit that was planned for this week after Moscow defied Washington by granting former US spy agency contractor Edward Snowden a year's asylum. Putin still risks facing criticism over a law banning "gay propaganda" at the summit, and is accused abroad of clamping down on the opposition to reassert his authority following the biggest protests since he was first elected president in 2000. But the tension over possible military strikes on Syria has ensured Obama has been the focus of world attention, rather than Putin, in the run-up to the G20 - which will consider issues such as economic growth, unemployment and financial regulation.
There has been no repeat of the sentiment expressed by Canadian Prime Minister Stephen Harper on the eve of the G8 summit. Upset by Russia's position on Syria, he said the G8 group of industrialized countries was in reality the "G7 plus one". Any hopes in the West that Russia would shift stance because of the use of chemical weapons now look to have been frustrated. Russian officials have reiterated that Moscow, an important arms supplier to Assad, has the right to deliver such weapons and that their sale does not break international law. Moscow, which has blocked earlier efforts at the United Nations Security Council to condemn Assad and tighten sanctions on his government, has also made clear it is not about to support moves against Damascus at the United Nations.
Putin says the attack may have been a provocation by rebels fighting Assad, intended to hasten US military intervention, and has used criticism of Washington over Syria to whip up anti-American sentiment and shore up support among Russian voters. "From Russian officials and certainly the Russian media, there continue to be allegations that the United States has an agenda focused on regime change (in Syria), that the United States is driving tumult in the Middle East for its own ends," a senior US administration official in Washington said. "There is also a cynical element where anti-Americanism has been successful to rally public opinion."
Putin, in fact, seems emboldened as Obama's problems pile up and some of his allies face difficulties over Syria. British Prime Minister David Cameron is under pressure after parliament refused to back military action and Obama's decision to seek Congress' approval for strikes has put French President Francois Hollande under pressure to let deputies have a say. Putin said the British parliamentary vote last Thursday was a sign that even people in countries closely allied to the United States were drawing conclusions from what he depicted as Washington's foreign policy mistakes. "Even there, there are people who are guided by national interests and common sense, people who value their sovereignty," Putin said. Any prospect of "shaming" Putin into a change of tack over Syria is also increasingly seen abroad as unlikely to work. "I don't get the sense that Russia is overly concerned about its international image in this regard," said the senior US administration official. "It takes pride in being independent, Russia is not timid or bashful when it comes to Syria support."
FOCUSON JERUSALEM BULLETIN
Sept. 2…(FOJ) The highly complex prophetic "Burden of Damascus" (Isaiah 17:1 The burden of Damascus. Behold, Damascus is taken away from being a city, and it shall be a ruinous heap.) and the timely ripening "Burden of Egypt" (Isaiah 19:1-2 The burden of Egypt. Behold, the Lord rideth upon a swift cloud, and shall come into Egypt: and the idols of Egypt shall be moved at his presence, and the heart of Egypt shall melt in the midst of it. And I will set the Egyptians against the Egyptians:) continue to dominate world headlines. FOJ continues to monitor the geo-political upheaval surrounding Damascus. As things currently stand, the highly volatile dynamics at play here are still unfolding. President Obama seems to be backtracking on an immediate attack on Syria, in lieu of an upcoming meeting with the Global governing apparatus of the G20, and stern warnings from Mr. Putin of Russia. While, no one can forecast the day of the Rapture, watchful and alert Christians can ascertain the season for the Lord's return. And we are definitely deep into that season. All the prophetic pieces and players are in place for the quick and sudden culmination of the things God has ordained for the Last Days!
(Luke 21:36 Watch ye therefore, and pray always, that ye may be accounted worthy to escape all these things that shall come to pass, and to stand before the Son of man.)
Al Qaeda Affiliate Urges Attacks on Egyptian Army
Sept. 2….(AP) One of al Qaeda-linked most militant affiliates has called on Egyptians to take up arms against their army, saying a bloody crackdown on Islamist protesters showed peaceful methods were futile, according to an Internet statement posted on Saturday. Scores of Egyptian security forces have been killed in a series of attacks by suspected Islamist militants, mostly in Egypt's Sinai Peninsula, since Islamist President Mohamed Mursi was deposed last month.
Mursi's Muslim Brotherhood renounced violence decades ago and denies any links with militants, including those in Sinai who have gained strength since President Hosni Mubarak was forced to step down in 2011. "There is nothing more right in God's religion (Islam) than those who speak of the infidelity, reneging on Islam and abandonment of religion, and call for the necessity to fight these armies, foremost of which is the Egyptian army," said Abu Mohammed al-Adnani, spokesman for the Islamic State in Iraq and the Levant (ISIL), according to the Arabic recording. "The Egyptian army is part and a mere copy of these armies which are seeking in a deadly effort to prevent God's laws from being adopted and trying hard to consecrate the principles of secularism and man-made laws," he said. Mounting insecurity in Sinai worries the United States because the area is next to Israel and the Hamas-ruled Gaza Strip, as well as the Suez Canal.
Putin Rejects Syria Chemical Weapons Accusations
Sept. 2….(AP) Russian President Vladimir Putin rejected the American evidence that Syrian forces used chemical weapons, calling the suggestion "utter nonsense." "While the Syrian army is on the offensive, saying that it is the Syrian government that used chemical weapons is utter nonsense," Putin told journalists in Vladivostok, according to Russia's Interfax news agency. He urged the United States to present its evidence to the UN Security Council and cautioned President Obama about the consequences of getting involved. "I would like to address Obama as a Nobel Peace Prize laureate: before using force in Syria, it would be good to think about future casualties," he said.
On Friday, the Obama administration published evidence it says proves the Syrian military was responsible for the attack near Damascus two weeks ago. Secretary of State John Kerry said the attack killed 1,492 people, including hundreds of children. On Saturday, the US Ambassador in Moscow Michael McFaul presented that evidence to Russia's Deputy Foreign Minister Sergei Rybakov.
According to the Russian Foreign Ministry, Rybakov urged the United States not to use the incident to justify increasing military pressure on the Assad government. He said Russia would regard Western intervention as "a flagrant violation of international law." Putin said he thinks the chemical attack was a "provocation" by Assad's opponents who wished to draw the United States and other powers into the conflict. "Common sense speaks for itself: the Syrian government forces are on the offensive, and they have encircled insurgents in some regions, and it would be utter stupidity to give up a trump card to those who have been regularly calling for military intervention. It defies any logic, especially on the day when UN monitors came there," he told reporters. Putin said he believes Western intervention is only aimed at helping the rebels, which he suggested have recently lost ground to government forces. "There is only one solution: to strike for them. If this happens, this would be extremely sad," Putin said.
Putin said he thinks the G20 summit, which Russia will host next week in St Petersburg, "is a good forum for discussing the Syria problem, so why not take advantage of this?" He also praised the British vote not to join in any strike, saying it shows there are people with "common sense there." "The British parliament's decision on Syria is an absolute surprise to me. It shows that there are people guided by common sense there," he said. Putin also said Russia was willing to take part in any international efforts to prevent the use of chemical weapons.
Syrian Rebels Admit Responsibility for Chemical Weapons Attack
Sep. 2….(Infowars) Syrian rebels in the Damascus suburb of Ghouta have admitted to Associated Press correspondent Dale Gavlak that they were responsible for last week's chemical weapons incident which western powers have blamed on Bashar Al-Assad's forces, revealing that the casualties were the result of an accident caused by rebels mishandling chemical weapons provided to them by Saudi Arabia. From numerous interviews with doctors, Ghouta residents, rebel fighters and their families,.many believe that certain rebels received chemical weapons via the Saudi intelligence chief, Prince Bandar bin Sultan, and were responsible for carrying out the deadly gas attack," writes Gavlak.
Rebels told Gavlak that they were not properly trained on how to handle the chemical weapons or even told what they were. It appears as though the weapons were initially supposed to be given to the Al-Qaeda offshoot Jabhat al-Nusra. "We were very curious about these arms. And unfortunately, some of the fighters handled the weapons improperly and set off the explosions," one militant named 'J' told Gavlak. His claims are echoed by another female fighter named 'K', who told Gavlak, "They didn't tell us what these arms were or how to use them. We didn't know they were chemical weapons. We never imagined they were chemical weapons."
Abu Abdel-Moneim, the father of an opposition rebel, also told Gavlak, "My son came to me two weeks ago asking what I thought the weapons were that he had been asked to carry," describing them as having a "tube-like structure" while others were like a "huge gas bottle." The father names the Saudi militant who provided the weapons as Abu Ayesha. According to Abdel-Moneim, the weapons exploded inside a tunnel, killing 12 rebels. "More than a dozen rebels interviewed reported that their salaries came from the Saudi government," writes Gavlak.
If accurate, this story could completely derail the United States' rush to attack Syria, which has been founded on the "undeniable" justification that Assad was behind the chemical weapons attack. Dale Gavlak's credibility is very impressive. He has been a Middle East correspondent for the Associated Press for two decades and has also worked for National Public Radio (NPR) and written articles for BBC News. The website on which the story originally appeared, Mint Press is a legitimate media organization based in Minnesota. The Minnesota Post did a profile on them last year.
Saudi Arabia's alleged role in providing rebels, whom they have vehemently backed at every turn, with chemical weapons, is no surprise given the revelations earlier this week that the Saudis threatened Russia with terror attacks at next year's Winter Olympics in Sochi unless they abandoned support for the Syrian President. "I can give you a guarantee to protect the Winter Olympics next year. The Chechen groups that threaten the security of the games are controlled by us," Prince Bandar allegedly told Vladimir Putin, the Telegraph reports.
The Obama administration has presented its intelligence findings in an effort prove that Assad's forces were behind last week's attack, despite American officials admitting to the New York Times that there is no "smoking gun" that directly links President Assad to the attack. US intelligence officials also told the Associated Press that the intelligence proving Assad's culpability is "no slam dunk." As we reported earlier this week, intercepted intelligence revealed that the Syrian Defense Ministry was making "panicked" phone calls to Syria's chemical weapons department demanding answers in the hours after the attack, suggesting that it was not ordered by Assad's forces.
---