WEEK OF NOVEMBER 24 THROUGH NOVEMBER 30
Happy Thanksgiving From FOJ
Nov. 27….(FOJ)
I Chronicles 16:8-12 Give thanks unto the LORD, call upon his name, make known his deeds among the people. Sing unto him, sing psalms unto him, talk ye of all his wondrous works. Glory ye in his holy name: let the heart of them rejoice that seek the LORD. Seek the LORD and his strength, seek his face continually. Remember his marvelous works that he hath done, his wonders, and the judgments of his mouth;
Israel Struggling to Win Friends, Influence People
Nov. 27….(Reuters) Criticized for settling occupied land and stung by its failure to shape the new world power deal with Iran, Israel must rethink its strategy if it wants to avoid severe diplomatic setbacks in the coming months. Prime Minister Benjamin Netanyahu's fury about the Iranian nuclear accord has exposed Israel's limited reach on the international stage and has coincided with growing frustration abroad over its flailing peace talks with the Palestinians. Traditionally the closest of friends, Israel and the United States now stare at each other with barely concealed mistrust.
Some of Netanyahu's allies suggest it is time for Israel to build up relations in other regions, such as Asia, to make sure that all its diplomatic eggs are not in one, American, basket. That might prove a valid long-term plan, but it will not help Israel win its short-term goal of getting Western partners to wring many more concessions from Iran in the next, decisive round of negotiations over Tehran's nuclear ambitions. And it will not help Israel dodge blame, if, as expected peace talks with the Palestinians collapse in early 2014. As an initial step to improve the mood music, megaphone diplomacy and public sniping at US President Barak Obama's administration needs to stop, some Israeli analysts argue. "If we do not change the tone of our discourse, build up the scope of our activities and confine discussion to behind closed doors, then I hate to say it, but we will become diplomatic pariahs," said Uzi Rabi, head of the Moshe Dayan Center for Middle Eastern Studies at Tel Aviv University. And while Netanyahu might lecture the UN General Assembly last month that Iran's new, moderate-sounding president was a "wolf in sheep's clothing," Israelis could learn something, Rabi said, from how Tehran used diplomatic tact to its benefit.
Barely had the ink dried on the November 24 accord with Iran, which offered the Islamic Republic limited sanctions relief in return for curbs on its nuclear activities, than an angry Netanyahu denounced what he termed a "historic mistake". His criticism put him at odds with the Obama Administration as well as France, Germany, Britain, China and Russia; all approved the deal in the face of heavy lobbying from Israel, which fears Iran will develop an arsenal of nuclear weapons. "We are the ones directly threatened by this, so we have to be the ones doing the warning," Ronen Hoffman, an academic expert on diplomacy, said of Iran's nuclear program.
Israel has repeatedly hinted that it would strike Iran if diplomacy and sanctions fail to stop its nuclear progress. It was always a tough prospect to hit distant Iran, but to do so now in defiance of the world's top powers, looks impossible. Netanyahu and his inner circle feel particularly betrayed by Obama, who they believe has repeatedly misread the Middle East. Foreign Minister Avigdor Lieberman has suggested that Israel's historic ties with the United States are weakening.
Dore Gold, a former Israeli ambassador to the United Nations and also once an adviser to Netanyahu, said he did not see the special relationship with Washington breaking, but did think it was time to broaden Israel's circle of influence. "There are civilizational ties that run very deep," he said of the United States. "But it is important for Israel to develop diversified diplomatic relationships with many countries around the world, including in the Asia Pacific."
Netanyahu visited China earlier this year, but needed to bow to tough demands just to get the invitation, according to Israeli media, indicating the difficulties that lie ahead if Israel is serious about widening its reach. Despite unanimous backing for the Iran deal by all five permanent members of the UN Security Council, Gold rejected suggestions Israel was isolated over the issue, pointing to deep discontent amongst Gulf states, including Saudi Arabia.
But any chance of a public alliance forming between Israel and Sunni Muslim leaders to counter Shi'ite Muslim Iran is rendered impossible by the unresolved Palestinian conflict, which remains a deeply emotive issue across the Arab world. US-brokered peace talks between Israel and the Palestinians resumed in July after a three-year hiatus and were meant to lead to a deal within nine months. Although both sides have acknowledged a lack of meaningful progress, neither wants to walk away for fear of being blamed for the mess. However, in a rare reprimand, US Secretary of State John Kerry condemned this month a wave of announcements of Jewish settlement-building on occupied land, indicating Israel may be deemed the guilty party in Washington in the event of failure. "I mean, does Israel want a third Intifada?" Kerry said in an interview, referring to the danger of a new Palestinian uprising to follow those that erupted in 1987 and 2000.
The confluence of the Palestinian and Iranian issues is a source of constant frustration for Israel, which sees the two questions in a very different light, the first representing a threat to its very essence as a Jewish state on biblical lands, the second a grave problem but one it can continue to manage. Yet when Israel seeks international support for its complaints that Iran is not being made to fulfil obligations to the UN Security Council to halt uranium enrichment, its critics hit back that Israel itself is ignoring UN resolutions, notably those condemning Jewish settlements.
Iran has proved that if you have skilled diplomats, you can achieve almost everything. Israel needs to understand that, or else be left behind."
US Now Indicates Iran Interim Deal Isn't Quite Finalized
(Technical details' have yet to be worked out, State Department says, meaning six-month countdown to permanent deal hasn't started and Iran isn't bound by any new terms, YET Iran already is reaping monetary rewards!)
Nov. 27….(Times of Israel) Iran is currently enjoying a "window" of time before the six-month deal signed in Geneva early Sunday goes into effect, during which it is not bound to take any credible steps toward disabling its ability to produce a nuclear weapon, the State Department acknowledged Tuesday. State Department spokeswoman Jen Psaki said that the six-month interim period, during which Iran would take steps to rein in its nuclear program in exchange for sanctions relief, has not yet begun. Furthermore, there are still a number of details to be worked out, she said, without specifying what points had yet to be finalized. Her comments created confusion as to whether the much-touted interim deal, supposedly reached by P5+1 powers and Iran in Geneva in the early hours of Sunday morning, had actually been completed as claimed. Iran on Tuesday accused the US of publishing an inaccurate account of what had been agreed to. Another field in which the deal seems not to be solidified yet is the question of how sanctions relief would be framed in response to nuclear slow-down on the part of the Iranians. Psaki said that the deal would not require Iran to complete all steps before sanctions relief is granted.
London is Mediating Secret Talks between US and Hezbollah
Nov. 27….(Jerusalem Post) The US and Hezbollah are in secret indirect talks managed by London dealing with the fight against Al-Qaida, regional stability and other Lebanese political issues. Senior British diplomatic sources, quoted in a report in Kuwaiti newspaper Al-Rai on Wednesday, said British diplomats are holding discussions with leaders of the Lebanese organization and transferring the information to the Americans. The discussions "are aimed at keeping tabs on the changes in the region and the world, and prepare for the upcoming return of Iran to the international community," according to diplomatic sources in Washington.
Because the US, unlike the UK, recognizes both the political and military wings of Hezbollah as a terrorist organization and refuses to distinguish between them, US officials cannot legally meet with any member of the party. But according to the sources, the US is willing to hear the views of the party and "warm up to a direct relationship in the future."
US Unfreezes $8 Billion in Iranian Assets
Nov. 27….(Washington Free Beacon) The United States released $8 billion in frozen assets to Iran on Sunday in a move meant to ensure Tehran's compliance with a nuclear pact signed over the weekend, according to top Iranian officials. Iranian government spokesman Mohammad Baqer Nobakht confirmed on Monday morning that the US government had unfrozen $8 billion in assets that had been previously blocked by the Obama administration. The confirmation followed multiple reports of the release on Sunday in the Arab and Iranian news outlets.
Iran will be provided with about $7 billion in sanctions relief, gold, and oil sales under a nuclear deal inked late Saturday in Geneva with Western nations. Iranian officials lauded the deal as a path to opening up greater trade relations between Iran and the world.
"The agreement will open a new path towards Iran," Alinaqi Khamoushi, the former head of Iran's Chamber of Commerce said on Sunday as he announced the release by the United States of some $8 billion in assets, according to the Islamic Republic News Agency (IRNA).
One senior GOP aide on Capitol Hill was not pleased with the reports. "It's pretty clear the White House and State Department have been lying to the American people since the beginning of this process so it wouldn't shock me to learn they are lying about how much sanctions relief they're giving Iran now," said the aide.
Additionally, Iran announced on Sunday that its nuclear work will continue despite the deal, which aimed to curb Tehran's nuclear ambitions and enrichment of uranium, the key component in a nuclear weapon. Iranian foreign minister Javad Zarif, who helped ink the deal, praised it for recognizing Iran's right to enrich uranium, a key sticking point that had delayed the deal until Saturday evening. "The nuclear program has been recognized and the Iranian people's right to use the peaceful nuclear technology based on the NPT [Non-Proliferation Treaty] and as an inalienable right has been recognized and countries are necessitated not to create any obstacle on its way," Zarif told reporters over the weekend. "The program will continue, and all the sanctions and violations against the Iranian nation under the pretext of the nuclear program will be removed gradually," he added.
Iran's most well-known nuclear sites will remain operational under the deal, according to Zarif, who presented a very different version of the agreement than that described by the White House on Saturday. Over the next six months, Iran will see "the full removal of all United Nations Security Council, unilateral and multilateral sanctions, while the country's enrichment program will be maintained," Zarif said. The Fordo and Natanz nuclear sites will also continue to run, he said. "None of the enrichment centers will be closed and Fordo and Natanz will continue their work and the Arak heavy water nuclear reactor program will continue in its present form and no material [enriched uranium stockpiles] will be taken out of the country and all the enriched materials will remain inside the country," Zarif said. "The current sanctions will move towards decrease, no sanctions will be imposed and Iran's financial resources will return."
America recognized Iran's right to enrich uranium up to 5 percent under the deal, according to both the Iranians and a White House brief on the deal. The United States agreed to suspend "certain sanctions on gold and precious metals, Iran's auto sector, and Iran's petrochemical exports, potentially providing Iran approximately $1.5 billion in revenue," according to a fact sheet provided by the White House. Iran could earn another $4.2 billion in oil revenue under the deal.
Iran: White House Lying About Details of Nuke Deal
Iranian officials say White House fact sheet is 'invalid'
Nov. 27….(Washington Free Beacon) Iranian officials say that the White House is misleading the public about the details of an interim nuclear agreement reached over the weekend in Geneva. Iran and Western nations including the United States came to an agreement on the framework for an interim deal late Saturday night in Geneva. The deal has yet to be implemented. The White House released a multi-page fact sheet containing details of the draft agreement shortly after the deal was announced.
However, Iranian foreign ministry official on Tuesday rejected the White House's version of the deal as "invalid" and accused Washington of releasing a factually inaccurate primer that misleads the American public. "What has been released by the website of the White House as a fact sheet is a one-sided interpretation of the agreed text in Geneva and some of the explanations and words in the sheet contradict the text of the Joint Plan of Action, and this fact sheet has unfortunately been translated and released in the name of the Geneva agreement by certain media, which is not true," Foreign Ministry Spokeswoman Marziyeh Afkham told the Iranian press on Tuesday. Afkham and officials said that the White House has "modified" key details of the deal and released their own version of the agreement in the fact sheet.
Iran's right to enrich uranium, the key component in a nuclear weapon, is fully recognized under the draft released by Tehran. "This comprehensive solution would enable Iran to fully enjoy its right to nuclear energy for peaceful purposes under the relevant articles of the NPT in conformity with its obligations therein," the agreement reads, according to a copy released to Iranian state-run media. "This comprehensive solution would involve a mutually defined enrichment program with practical limits and transparency measures to ensure the peaceful nature of the program," the Iranian draft reads. "This comprehensive solution would constitute an integrated whole where nothing is agreed until everything is agreed."
Iran's objection to the deal as presented in the fact sheet raises new concerns about final stage talks meant to ensure that the deal is implemented in the next few weeks. The White House confirmed to the Washington Free Beacon on Monday that the final details of the plan have yet to be worked out, meaning that Iran is not yet beholden to a six month freeze its nuclear activities. "Technical details to implement the Joint Plan of Action must be finalized before the terms of the Plan begin," a senior administration official told the Free Beacon. "The P5+1 and Iran are working on what the timeframe is." The White House could not provide additional details on the timeframe when approached by the Free Beacon on Tuesday. As the details are finalized, Iran will have the ability to continue its most controversial enrichment program. This drew criticism from proponents of tough nuclear restrictions. "The six month clock should have started early Sunday morning," said former Ambassador Mark Wallace, the CEO of United Against a Nuclear Iran (UANI). "If this is a serious agreement, the P5+1 must ensure that these negotiations do not become a tool for Iran to further increase its enrichment abilities."
Christians United for Israel (CUFI) Executive Director David Brog said he fears that the White House may have been "played by the Iranians." "This may prove to be yet another worrisome sign that the Obama Administration was played by the Iranians," Brog told the Free Beacon in a statement. "Their concessions were either illusory or meaningless, while ours will resuscitate the Iranian economy."
Israel Upset Over Latest EU Slap in the Face
Nov. 27….(Israel Today) Israeli ministers this week were hotly debating what to do about the European Union's rejection of an Israeli proposal on how the Jewish state can participate in a major upcoming research program without legitimizing the dreaded "Jewish settlements." As part of its new anti-Jewish settlement policy guidelines set to go into effect in 2014, the EU will ban cooperation with all Israeli research institutes that have a presence in Judea and Samaria, the so-called "West Bank." That means Israel won't be able to participate in the important upcoming Horizon 2020 program, which it has already poured hundreds of millions of Euros into preparing for.
Pope Francis: Islam is Holy, Many Ways to Heaven
Nov. 27….(FOJ) Pope Francis has released a new document called "Evangelii Gaudium in which he states that "Authentic Islam and the proper reading of the Quran are opposed to every form of violence." The Pope states, "Our relationship with the followers of Islam has taken on great importance, since they are now significantly present in many traditionally Christian countries, where they can freely worship and become fully a part of society. We must never forget that they 'profess to hold the faith of Abraham, and together with us they adore the one, merciful God, who will judge humanity on the last day.'" He continues, "The sacred writings of Islam have retained some Christian teachings; Jesus and Mary receive profound veneration and it is admirable to see how Muslims both young and old, men and women, make time for daily prayer and faithfully take part in religious services. He further called for "suitable training within the church" (false teaching) so they can acknowledge the values "of others" and added, "Christians should embrace with affection and respect Muslim immigrants to our countries.
As thousands of Christians across the Muslim world live in abject terror and fear kidnapping, rape and slaughter to the bloodcurdling cries of 'allahu akbar,' the Pope gives papal sanction to the savage terrorist that radical Muslims are practicing.
If his embrace of Islam were not enough, the pope also addresses the issue of unbelievers. "Non-Christians, by God's gracious initiative, when they are faithful to their own consciences, can live 'justified by the grace of God,' and thus be 'associated to the paschal mystery of Jesus Christ.'" He noted that because of the "sacramental dimension of sanctifying grace, God's working in them tends to produce signs and rites, sacred expressions which in turn bring others to a communtarian experience of journeying towards God." (Gosh, I hope we can all make it that far.)
US-West Ignores 'Largest Massacre of Christians in Syria
Nov. 26….(Israel Today) One of the worst Christian massacres, complete with mass graves, tortured-to-death women and children, and destroyed churches recently took place in Syria, at the hands of the US-supported jihadi "rebels"; and the US government and its "mainstream media" mouthpiece are, as usual, silent. The massacre took place in Sadad, an ancient Syriac Orthodox Christian habitation, so old as to be mentioned in the Old Testament. Most of the region's inhabitants are poor, as Sadad is situated in the remote desert between Homs and Damascus (desert regions, till now, apparently the only places Syria's Christians could feel secure; 600 Christian families had earlier fled there for sanctuary from the jihad, only to be followed by it).
In late October, the US supported "opposition" invaded and occupied Sadad for over a week, till ousted by the nation's military. Among other atrocities, 45 Christians, including women and children were killed, several tortured to death. Sadat's 14 churches, some ancient, were ransacked and destroyed. The jihadis even made a graphic video of those whom they massacred, while shouting Islam's victory-cry, "Allahu Akbar" (which John McCain equates to a Christian saying "thank God").
In Syria the Obama administration remains committed to supporting the rebels, ah, yes, only the "moderate" ones, like the Christian-murdering "Free Syrian Army, not "even though" the result will be the same, but precisely because it will be."
British Warn Israel Against Undermining Iran Deal
(Foreign minister William Hague tells Parliament that nuclear agreement is a 'significant step' toward advancing regional security)
Nov. 26….(Times of Israel) British Foreign Secretary William Hague on Monday cautioned Israel and other states from taking action to undermine an agreement struck with Iran a day earlier. While briefing Parliament, Hague called the agreement a "thorough and detailed first stage agreement" which he said was a "significant step towards enhancing the security of the Middle East and preventing nuclear proliferation." "We would discourage anybody in the world, including Israel, from taking any steps that would undermine this agreement and we will make that very clear to all concerned," Hague said.
The agreement signed early Sunday between Iran and six world powers rolls back some sanctions on Iran in return for limits on nuclear enrichment, the shuttering of certain sites and an agreement by Tehran to allow some international oversight. Israeli had lobbied intensively against the deal, which it says lets Iran keep enrichment capabilities. On Sunday, Prime Minister Benjamin Netanyahu called the agreement a "historic mistake."
Speaking about the particulars of the deal, Hague remarked that the "bulk of the international sanctions" in place "will not be lifted until a comprehensive settlement is reached and we will enforce them robustly." He said the still-stringent sanctions levied against the Islamic Republic are an incentive for Iran to comply with the agreement and halt its nuclear program. "The fact that we have achieved for the first time in nearly a decade an agreement that halts and rolls back Iran's nuclear program should give us heart that this work can be done and that a comprehensive agreement can be attained," he said. He warned, however, that if Iran does not abide by its agreements, it would bear "a heavy responsibility."
Hague's counterpart across the English Channel, French Foreign Minister Laurent Fabius, said Paris could lift some of the crippling sanctions against Iran within weeks. "We have agreed to ease a certain number of sanctions," Fabius was quoted by France24 saying, emphasizing that an eventual final deal with the Islamic Republic rested on mutual respect of the deal signed in Geneva on Sunday. Fabius was also quoted saying that Israel was unlikely to attempt military intervention in Iran for now, "because no one would understand" it "at this stage." Hague said the implementation of the interim agreement would take place after discussions with Iran and the IAEA, and would likely take effect at the end of January. On Monday, India indicated it would begin paying Iran some $5.3 billion it owes for oil exports as early as next week, Reuters reported.
Iran Nuclear Accord Lifts Oil Shares, Dollar
Nov. 26….(Reuters) The US dollar strengthened and world equity markets rose on Monday on expectations that the deal to curb Iran's nuclear program will ease Mideast political tensions and help lift global economic growth. The breakthrough accord reached over the weekend in Geneva halts Iran's most sensitive nuclear activities and gives it some relief from crippling sanctions, but does not allow the OPEC member to boost oil sales for six months. Brent crude later trimmed losses to settle almost flat on the view that the accord will not immediately increase world oil supplies. Oil had fallen nearly 3 percent at one point.
The interim pact, aimed at easing a decades-old stand-off between Iran and the United States, won the critical endorsement of Iranian cleric Supreme Leader Ayatollah Ali Khamenei. France, Britain, China, Russia and Germany also agreed to the accord. Despite tough work ahead to make the agreement a permanent solution, it was enough to initially ease oil supply fears. But Brent crude prices pared most losses after hitting a session low of $108.05 to settle down 5 cents at $111.00. "The deal is a step in the right direction, but it's still very early days," said Amrita Sen, chief analyst at consultants Energy Aspects in London. "That's why, after the knee-jerk reaction, the market is stabilizing. It's realizing, at least in the next few months, there's not going to be a substantial increase in oil exports."
Equity markets in Europe also pared gains, and Wall Street edged higher, after straddling the break-even mark. European airline stocks and French carmakers, in particular, received a boost from the nuclear deal with Iran, which also sent Germany's DAX .GDAXI to a record high. French car makers PSA Peugeot Citroen and Renault, which had a significant exposure to the Iranian car market before Western sanctions against Tehran were toughened, gained 5.1 percent and 1.4 percent, respectively.
The Dow Jones industrial average .DJI rose 26.78 points, or 0.17 percent, to 16,091.55. The S&P 500 .SPX gained 0.56 points, or 0.03 percent, to 1,805.32 and the Nasdaq Composite. "Less tension in the Middle East is always a positive, and any drop in gas prices will essentially act as a tax break for consumers going into the holiday shopping season," said Jeff Duncan, chief executive of Duncan Financial Management in St. Louis. "This is a real benefit for the economy." US trading is expected to be light this week, with markets closed on Thursday for the Thanksgiving holiday and closing early on Friday.
Saudi Arabia Warns it Will Strike Out on its Own
(Saudi Arabia claims they were kept in the dark by Western allies over Iran nuclear deal and says it will strike out on its own)
Nov. 26….(The Telegraph) A senior advisor to the Saudi royal family has accused its Western allies of deceiving the oil rich kingdom in striking the nuclear accord with Iran and said Riyadh would follow an independent foreign policy. Nawaf Obaid told a think tank meeting in London that Saudi Arabia was determined to pursue its own foreign and policy goals. Having in the past been reactive to events, the leading Sunni Muslim nation was determined to be pro-active in future.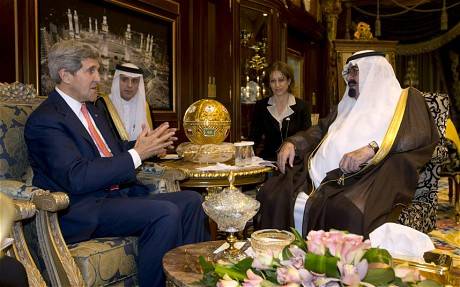 US Secretary of State John Kerry meets with Saudi Arabia's King Abdullah
Mr. Obaid said that while Saudi Arabia knew that the US was talking directly to Iran through a channel in the Gulf State of Oman, Washington had not directly briefed its ally. "We were lied to, things were hidden from us," he said. "The problem is not with the deal struck in Geneva but how it was done."
In a statement the Saudi government gave a cautious welcome to the Geneva nuclear deal. It said "good intentions" could lead to a comprehensive agreement on Tehran's atomic program. "This agreement could be a first step towards a comprehensive solution for Iran's nuclear program, if there are good intentions," the Saudi government said. But it warned that a comprehensive solution should lead to the "removal of all weapons of mass destruction, especially nuclear, from the Middle East and the Gulf".
A fellow of Harvard University's Belfer Centre and adviser to Prince Mohammad, the Saudi ambassador to London, Mr. Obaid said Saudi Arabia would continue to resist Iranian involvement in the Syrian civil war. In particular he pointed to Iranian Revolutionary Guards involvement in battles in Syria on behalf of the regime. Saudi Arabia will be there to stop them wherever they are in Arab countries," he said. "We cannot accept Revolutionary Guards running round Homs." Saudi Arabia's fury at the diplomatic detente with Iran is commonly held with Israel. While both countries are in the same position Saudi Arabia disavows any suggestion of an open alliance. Obaid said, until the Palestinians have a state, Saudi Arabia will not work with Israel.
Netanyahu: Iran Nuclear Agreement a 'Historic Mistake
(Prime minister promises that Israel will stop nuclear weapons program)
(This is a HUGE MISTAKE……..It changes everything for the WORSE)
Nov. 25….(Times of Israel) The nuclear deal reached between Iran and six world powers early Sunday morning was "a historic mistake," Prime Minister Benjamin Netanyahu said Sunday, excoriating the agreement and vowing to keep Tehran from getting a nuclear weapon. "What was accomplished last night in Geneva is not a historic agreement; it's a historic mistake," Netanyahu said at the start of Sunday morning's weekly cabinet meeting. "Today the world has become much more dangerous, because the most dangerous regime in the world took a meaningful step toward acquiring the most dangerous weapon in the world."
Netanyahu's remarks came just hours after Iranian delegates and world powers reached a first-step accord in Geneva aimed at easing Western concerns that Tehran could one day attain nuclear weapons. "For the first time the world's leading powers agreed to the enrichment of uranium in Iran, while ignoring the Security Council resolutions that they themselves championed," the prime minister said. "These sanctions have been removed for cosmetic Iranian concessions that can be canceled in weeks. This agreement and what it means threaten many countries, and including, of course, Israel. Israel is not bound by this agreement. The regime in Iran is committed to Israel's destruction and Israel has the right and responsibility to defend itself, by itself, against any threat." He added that Israel would not allow Iran to develop nuclear weapons.
In his UN General Assembly speech in September, Netanyahu blasted Iranian President Hassan Rouhani as a "wolf in sheep's clothing" and warned the US against mistaking a change in Iran's tone with an actual change in nuclear ambitions. The Israeli leader subsequently denounced the potential nuclear agreement as the "deal of the century" for Iran. President Shimon Peres released a less fiery statement Sunday saying that Israel prefers diplomacy but the deal "will be judged by results, not by words."
Addressing the Iranian people, Peres said, "You are not our enemies and we are not yours. There is a possibility to solve this issue diplomatically. It is in your hands. Reject terrorism. Stop the nuclear program. Stop the development of long-range missiles. Israel like others in the international community prefers a diplomatic solution." "The international community will not tolerate a nuclear Iran," Peres concluded. "And if the diplomatic path fails, the nuclear option will be prevented by other means. The alternative is far worse." The deal limits continued Iranian enrichment of uranium to 5 percent in exchange for eased sanctions.
A White House official said the deal included an agreement that Iran would halt progress on its nuclear program, including a plutonium reactor at the Arak facility. The deal also calls on Iran to neutralize its 20-percent-enriched uranium stockpiles. Tehran has also agreed to intrusive inspections under the terms of the deal.
US Secretary of State John Kerry, who joined the final negotiations along with the foreign ministers of Russia, China, France, Britain and Germany, said the pact will make US allies in the Middle East, including Israel, safer by reducing the threat of war.
Netanyahu's words came after a morning which saw a bevy of Israeli ministers criticize the deal, with only a handful of lawmakers backing it. Foreign Minister Avigdor Liberman said the agreement had created a "new reality in the whole Middle East, including the Saudis." When asked if this would lead to an Israeli military strike on Iran, Liberman said Israel "would need to make different decisions." Home Front Command Minister Gilad Erdan told Army Radio that it would now be more difficult for Israel to act for the duration of the six-month agreement.
Intelligence Minister Yuval Steinitz, who is responsible for monitoring Iran's nuclear program, said there was no reason for the world to be celebrating. He said the deal, reached in Geneva early Sunday, is based on "Iranian deception and Western self-delusion." "Just like the failed deal with North Korea, the current deal can actually bring Iran closer to the bomb," Steinitz said. "Israel cannot take part in the international celebrations based on Iranian deception and self-delusion."
Abject Surrender by The United States
(What does Israel do now?)
Nov. 25….(The Weekly Standard / John Bolton) Negotiations for an "interim" arrangement over Iran's nuclear weapons program finally succeeded this past weekend, as Security Council foreign ministers (plus Germany) flew to Geneva to meet their Iranian counterpart. After raising expectations of a deal by first convening on November 8-10, it would have been beyond humiliating to gather again without result. So agreement was struck despite solemn incantations earlier that "no deal is better than a bad deal."
This interim agreement is badly skewed from America's perspective. Iran retains its full capacity to enrich uranium, thus abandoning a decade of Western insistence and Security Council resolutions that Iran stop all uranium-enrichment activities. Allowing Iran to continue enriching, and despite modest (indeed, utterly inadequate) measures to prevent it from increasing its enriched-uranium stockpiles and its overall nuclear infrastructure, lays the predicate for Iran fully enjoying its "right" to enrichment in any "final" agreement. Indeed, the interim agreement itself acknowledges that a "comprehensive solution" will "involve a mutually defined enrichment program." This is not, as the Obama administration leaked before the deal became public, a "compromise" on Iran's claimed "right" to enrichment. This is abject surrender by the United States.
In exchange for superficial concessions, Iran achieved three critical breakthroughs. First, it bought time to continue all aspects of its nuclear-weapons program the agreement does not cover (centrifuge manufacturing and testing; weaponization research and fabrication; and its entire ballistic missile program). Indeed, given that the interim agreement contemplates periodic renewals, Iran may have gained all of the time it needs to achieve weaponization not of simply a handful of nuclear weapons, but of dozens or more.
Secret Direct US-Iran talks Preceded Deal in Geneva
Nov. 25….(Jerusalem Post) US official says Israeli officials were briefed on substantive conversations, while Channel 2 Israel reports Washington tried to hide secret talks from Jerusalem
A series of private, bilateral meetings between US and Iranian officials preceded public rapprochement between the two nations, Obama administration officials finally acknowledged on Saturday night. The resumption of direct talks between the two governments, after a hiatus of over three decades, led to an interim deal announced Sunday that will freeze much of the Islamic Republic's nuclear program. "We've made clear that we were open to having bilateral discussions with the Iranians," one senior US official said on a conference call with journalists. "When President Hassan Rouhani was elected and indicated a new direction, we decided to take that seriously and to test it." The senior US official said that four of the secret US-Iranian meetings took place since Rouhani's August inauguration, a sign that the United States was trying to exploit the opportunity presented by the Iranian official's ascent.
Most US-Iranian interaction had been made "quite public," the official said, and the number of talks that were kept private have been "limited." US officials briefed their Israeli counterparts on substantive conversations on an individual basis. Contrary to the statements from US officials, Channel 2 reported on Sunday evening that Washington tried to hide the talks from Jerusalem at first, but that Israeli intelligence quickly found out about them. This, according to the report, caused an outrage in the Israeli government.
According to the US official, who spoke on condition of anonymity, key Americans involved in the effort were William Burns, the US deputy secretary of state, and Jake Sullivan, the national security adviser to US Vice President Joe Biden. The two men, at times with other officials such as White House national security staff member Puneet Talwar, met Iranian officials at least five times this year, the official said. Burns, Sullivan and technical experts arrived in Muscat, Oman in March on a military plane, a way to preserve secrecy, to meet Iranians, the official added.
The United States was so eager to keep the role of Burns and Sullivan secret that it brought them to Geneva twice this month for wider talks between Iran and the major powers but left their names off the official delegation list and made them use hotel side entrances and service elevators to keep the secret.
A former Iranian official confirmed the secret talks and said they took place with the wary approval of Iran's Supreme Leader, Ayatollah Ali Khamenei, who was skeptical of the outcome but agreed to all the meetings to take place. "All the meetings with Americans had the supreme leader's blessing. The first one was the most difficult one as we had to convince our top authority about the positive outcome of such meetings," said the former senior Iranian official. "The leader gave the green light but was not optimistic about the result," he said. "We took a risk but we won."
The Oman channel itself was nurtured by US Secretary of State John Kerry, who, as chairman of the US Senate Foreign Relations Committee made an unannounced trip to the Gulf state to meet Omani officials. When Kerry became secretary of state, a job he has held since February 1, it was decided this channel would continue to help feed into the P5+1 talks, and Kerry visited Oman himself in May for talks with Omani officials.
In November, the Wall Street Journal reported on a series of meetings that had taken place in Oman over the course of the past year, leading to an historic phone call between US President Barack Obama and Iranian President Hassan Rouhani on September 28. Kerry also spoke to the Iranian foreign minister by telephone on October 25 and November 2, discussions that were not revealed by the State Department at the time. Asked if the clandestine meetings were instrumental in helping achieve Sunday's nuclear agreement between Iran and the six major powers, the senior US official replied: "Yes."
The US Department of State considers Iran the world's leading state sponsor of terrorism, and sanctions it as such. The resumption of bilateral relations this year mark the first of their kind since the Iran's Islamic revolution in 1979.
Iran's Arab neighbors, deeply uneasy about Tehran's diplomatic rehabilitation, kept their reservations quiet on Sunday after Iran reached a nuclear deal with global powers. Iran's only two Arab friends, Iraq and Syria were quick to praise the deal, as was the Palestinian Authority which welcomed it for putting pressure on Israel. Other Arab states have done little to hide their deep skepticism in recent weeks, but mostly managed to keep their wariness to themselves on Sunday, and some eventually spoke out in support.
The king of Iran's main regional rival, Saudi Arabia, and the rulers of Kuwait and Qatar, who warily view Tehran, held talks overnight but none had issued an official response by midday. Their fellow Gulf Arab states, the United Arab Emirates and Bahrain, did however welcome the deal. "The cabinet hopes this would represent a step towards a permanent agreement that preserves the stability of the region and shield it from tension and the danger of nuclear proliferation," the UAE said in a statement. Bahrain's Foreign Minister Sheikh Khalid bin Ahmed Al-Khalifa also welcomed the accord: "The agreement removes fears from us, whether from Iran or any other state."
All Arab countries apart from Syria and Iraq are ruled by Sunni Muslims who mainly regard Shi'ite Iran as a foe and have been alarmed by the prospect of any rapprochement with the West that would benefit Tehran. Arab rulers worry that the deal, under which Iran is being given relief from sanctions in return for curbs to its nuclear program, signals a thaw in the 30 years of hostility between Tehran and Washington which will give Iran more regional clout.
The Gulf states oppose Iran on countless fronts across the region, including Syria, where some states fund and arm rebels fighting against Iran's friend, President Bashar Assad. They also accuse Tehran of fomenting unrest in countries including Yemen, Bahrain, Lebanon and Iraq. Iran denies such meddling.
Israel has pointed out that the Iran accord is one of the rare issues that put many Arab leaders on the same side as the Jewish State, which lobbied hard against what Prime Minister Binyamin Netanyahu called a "bad deal".
The Palestinian Authority praised the accord, which it sees as a welcome evidence of Washington taking diplomatic action in spite of Israeli resistance. Palestinian President Mahmoud Abbas's spokesman Nabil Abu Rdaineh said it sent an "important message to Israel, to realize that peace is the only choice in the Middle East" and should galvanize world powers to push for a Palestinian-Israeli deal. He also said Palestinians want "a Middle East that is free of nuclear weapons". Israel is presumed to have the region's only nuclear arsenal, which it neither confirms nor denies.
Iraq, which has a Shi'ite-led government and is the only Arab state openly friendly with both the United States and Iran, was quick to praise the agreement. Prime Minister Nuri al-Maliki hailed "a major step for the region's security and stability."
The Syrian government of Assad, a longtime ally of Iran and a member of the Alawite sect that is an offshoot of Shi'ite Islam, also praised a deal it said proved the importance of diplomacy to resolve regional disputes.
Saudi Arabia and other Sunni-ruled countries have expressed unease in recent months over what they see as a recalibration of US policy, especially since Washington abandoned plans to strike Syria to punish it for a chemical weapons attack.
Israel Angered by America's Deal With Iran
Nov. 25….(Israel Today) Israel is fuming over the 'delusional' Iran nuke deal, threatening to review military options. Iran on Sunday hailed the nuclear deal it reached with Western powers as a victory over "the Zionists," while Israel fumed over the details of the agreement, even as US President Barack Obama insisted it would improve the security of the Jewish State. "All plots hatched by the Zionist regime to stop the nuclear agreement have failed," Iranian Foreign Minister Javad Zarif said to his nation's media from Geneva.
The deal signed on Sunday is only the first in many proposed steps. It requires Iran to temporarily freeze its nuclear program (while leaving it fully intact) in exchange for a lessening of Western sanctions. Over the coming six month, Zarif said Iran will give America and its Western allies an opportunity to prove their trustworthiness to the Islamic Republic before moving on to the second step.
Israelis officials seemed incredulous that Obama could enter, eyes fully opened, into such an arrangement. "What was agreed last night in Geneva is not a historic agreement, it is a historic mistake," said Prime Minister Benjamin Netanyahu at Sunday's cabinet meeting. "Today the world has become much more dangerous because the most dangerous regime in the world took a significant step to getting the most dangerous weapon in the world." "There is no achievement in this agreement," added Foreign Minister Avigdor Lieberman. "This is the biggest diplomatic victory Iran has known in recent years." "We awoke this morning to a new reality. A reality in which a bad deal was signed with Iran. A very bad deal," Economic Minister Naftali Bennett wrote on his Facebook page. "If a nuclear suitcase blows up five years from now in New York or Madrid, it will be because of the deal that was signed this morning." "Just like the failed deal with North Korea, the current deal can actually bring Iran closer to the bomb," said Intelligence Minister Yuval Steinitz. "Israel cannot take part in the international celebrations based on Iranian deception and self-delusion."
But celebrate appears to be precisely what the Obama Administration wants Israel, and everyone else, to do. While Obama acknowledged that Israel and the Arab Gulf states "have reason to be skeptical," US Secretary of State John Kerry insisted the deal had "made the world safer."
Israel FM Slams Deal with Iran: 'We're Entering New Era'
Nov. 25….(YNET) After weeks of an intensive campaign to dissuade Western powers from striking a deal with Iran failed to yield a result as world powers reached an agreement Sunday, Israel remained on the offensive. Sunday morning, Foreign Minister Avigdor Lieberman said "there is no achievement in the is agreement. This is the biggest diplomatic victory Iran has known in recent years, since the Khameini regime (came to power)." When asked if the deal contains any positive aspect, Lieberman replied "no, there is no such thing." The tone was echoed by a government spokesperson who said "This is a bad deal. It gives Iran exactly what it wanted, a significant reduction of sanctions while preserving the most significant part of its nuclear program," a official from Prime Minister Benjamin Netanyahu's office said. "The agreement allows Iran to continue to enrich uranium, leaves the centrifuges in place and allows it to produce fissile material for a nuclear weapon. The accord did not lead to the dismantling of the Arak plant... (while) Economic pressure on Iran could have produced a much better agreement that would have led to a dismantling of Iran's nuclear capacities," the statement added. "Israel does not see itself as bound by this bad, this very bad agreement that has been signed," Economy Minister Naftali Bennett added.
A New era
According to Lieberman, "We are entering a new era, the State of Israel will have to think things over." "It is clear that this deal acknowledges the right of Iran to enrich uranium. This very recognition brings us to a nuclear arming race. The Iranians were rewarded," the newly reinstated foreign minister said. Lieberman reminded that the UN's atomic watchdog has already reported that "Iran disregards Security Council resolutions, and has noted numerous issues with its military program." Lieberman added that "it will be very interesting to see how the Saudis and their pundits react. According to the foreign minister, "Iran is now on the verge of a nuclear bomb, and we know exactly what leadership Iran has, they continue terror activities against Jews and Israel, they're involved in Syria, Lebanon and Gaza."
Bolton: Obama Pushed Iran Deal to Prevent Israeli Airstrike
(FOJ Note: The main reason for the nuclear deal with Iran, as pushed by the Obama Administration was to inhibit Israel from attacking Iran's nuclear facilities. Iran was only too happy to oblige Mr. Obama, at this point because it insured that their nuclear weapons were safe, and it assuaged any attack from Israel for six months!)
Nov. 25….(Newsmax) The Obama administration feared an Israeli airstrike on Iran more than it feared Iran building a nuclear weapon, and that's why it pushed for a deal to reduce sanctions against Iran, former UN Ambassador John Bolton writes in The Weekly Standard. "Buying time for its own sake makes sense in some negotiating contexts, but the sub silentio objective here was to jerry-rig yet another argument to wield against Israel and its fateful decision whether or not to strike Iran," Bolton writes. "Obama, fearing that strike more than an Iranian nuclear weapon, clearly needed greater international pressure on Jerusalem."
Israel knows it was the target of the Geneva negotiations that produced the deal early Sunday morning in Europe, he said. Israeli Prime Minister Benjamin Netanyahu called the deal a "historic mistake." The six-month temporary agreement will serve only to harden international opinion against Israeli military action, Bolton said.
Israel has repeatedly maintained that Iran's nuclear goal is to obliterate the Jewish State and has vowed to take action to prevent that from happening. An Israeli airstrike in 1981 took out a nuclear reactor in Iraq, and another in 2007 destroyed a reactor in Syria.
Netanyahu has long said Israel has the right to act in its own defense, implying it is willing to launch strikes against Iran or any other hostile nation in its region attempting to build a nuclear weapon. "The Iranian regime is committed to Israel's destruction, and Israel has the right to defend itself, by itself," Netanyahu told his cabinet. "Israel won't let Iran develop military nuclear capability." Iran will continue to move forward with its nuclear program in the shadows, Bolton said. If Israel waits it will be more difficult to take effective action, he warned.
An Israeli strike now, during the six-month deal would doubtless spark outrage, Bolton said, but it would spark the same condemnation, if not more, later. He urged the Netanyahu government to not fall prey to "the psychological warfare successfully waged so far by the ayatollahs." "An Israeli military strike is the only way to avoid Tehran's otherwise inevitable march to nuclear weapons, and the proliferation that will surely follow," he writes.
Iran Deal 'Cataclysmic Error of Gigantic Proportions'
Nov. 25….(Newsmax) Harvard Law professor Alan Dershowitz said Sunday that the Obama administration was naive and had possibly made a "cataclysmic error of gigantic proportions" in its deal to ease sanctions on Iran in exchange for an opening up of the Islamic Republic's nuclear program. "I think it could turn out to be a cataclysmic error of gigantic proportions," Dershowitz said of the deal, which he described as "naive." "It could also turn out to be successful, to be the beginning of a negotiated resolution," Dershowitz told Newsmax on Sunday. "But I think the likelihood of it being the former is considerably greater."
The deal, announced late Saturday night in the United States, makes it more likely Iran will develop a nuclear bomb, likely creating the need for a future military strike by Israel or the United States, Dershowitz said. It also increases the possibility of a nuclear arms race in the Middle East with Saudi Arabia obtaining nuclear weapons as well, he said. The Harvard Law School professor thinks there is at best a 10 percent chance that the administration can change attitudes among Iran's Islamist leadership. "But when you weigh that against the 30 or 40 percent chance that they're dead wrong, nuclear bomb wrong, then it's a very bad assessment of risk and benefits," he told Newsmax. "This is first-year negotiating theory, and this administration gets a D-minus with grade inflation," Dershowitz said. "You don't let up on sanctions that are working."
Other countries, such as Russia and China, are taking the deal as a green light to do business with Iran, he said. All the nuclear experts, Iran experts and congressional experts he has spoken with oppose the deal, he said.
Israel has spoken out against the deal, and Saudi Arabia is known to be wary of Iran. But it is a mistake to think of it as a dispute between Israel and Saudi Arabia on one hand and the United States on the other, Dershowitz said. "This is a highly disputed and contested issue within the United States."
Dershowitz counts himself among the skeptics. "I think it's a bad deal for America and a bad deal for the West," he said. "The risks to world peace are far greater than the potential benefits to world peace." American negotiators used the wrong model, Dershowitz said. They used the model of Syria where the administration "accidentally backed into a good result instead of the North Korea model, which is much more parallel. "North Korea does not pose a direct threat to the United States. Iran does," Dershowitz said. "You think that we'd learn from our mistakes in North Korea."
Dershowitz said that if Iran fails to comply, he hopes Congress ratchets up the sanctions once the six months are complete. But he isn't sure that will be possible since China and other nations will be doing business with them by then. "I think we have hurt our sanction regime irretrievably by this measure," he said.
Congress should take preemptive action by passing authorization in advance to allow the president to increase sanctions and deploy the military option in the event Iran crosses a red line, Dershowitz said. That way, the president doesn't have to go to Congress after red lines are crossed. "I think that would send a powerful message to Iran that the military option is still on the table," he said.
Obama Calls Netanyahu AFTER Iran Nuke Deal Signed
FOJ Note: (The American President has used international diplomatic art and state-craft to sabotage any Israeli efforts to halt Iran's boasted talk of eradicating the oft described "Israeli cancer" from the Middle East. In short……Mr. Obama has back-stabbed Israel, and created a new era of threats against Israel that will ultimately lead to Armageddon!)
Nov. 25….(Newsmax) President Obama talked with Israel Prime Minister Benjamin Netanyahu after reaching an interim nuclear deal with Iran, vowing to work together with one of the United State's closest allies on a comprehensive solution, the White House said Sunday. Obama called Netanyahu on Sunday to discuss the deal that the US and five other world leaders reached to curb Iran's nuclear program in exchange for lifting some sanctions, amid the prime minister's outspoken concerns the agreement still allows Iran to pursue a nuclear weapon.
Officials said the president said the US and the other countries will "use the months ahead to pursue a lasting, peaceful, and comprehensive solution that would resolve the international community's concerns regarding Iran's nuclear program." They also said Obama made clear he wants the US and Israel to begin consultations immediately on efforts to negotiate a comprehensive solution and underscored his country's "firm commitment to Israel, which has good reason to be skeptical about Iran's intentions."
Obama spoke with Netanyahu just hours after the prime minister harshly condemned the international community's nuclear deal with Iran, calling it a "historic mistake" and saying he was not bound by the agreement. Speaking to his Cabinet, Prime Minister Benjamin Netanyahu said the world had become a "more dangerous place" as a result of the deal and reiterated a long-standing threat to use military action against Iran if needed, declaring that Israel "has the right and the duty to defend itself by itself." Israel believes Iran is trying to develop a nuclear weapon, and in the weeks leading up to Sunday's agreement, Netanyahu had warned the emerging deal was insufficient. He had called for increased pressure on Iran, and warned that any relief from economic sanctions would make Iran less willing to compromise during a coming, six-month period aimed at reaching a final agreement.
Netanyahu told his Cabinet that Sunday's deal gave Iran much-needed relief from the sanctions, but left most of Iran's nuclear infrastructure intact. In particular, he cited Iran's continued ability to enrich uranium, a key step in making a nuclear bomb. "What was reached last night in Geneva is not a historic agreement, it is a historic mistake," Netanyahu said. "Today the world became a much more dangerous place because the most dangerous regime in the world made a significant step in obtaining the most dangerous weapons in the world." Voicing what he called Israel's right to self-defense, he said, "I want to clarify that Israel will not let Iran develop nuclear military capability."
Earlier, Netanyahu's Cabinet minister for intelligence issues, Yuval Steinitz, said the deal was based on "Iranian deception and international self-delusion." Yet he and other officials said Israel would have to turn its focus to the outcome of the final negotiations. The exact details of Sunday's deal, hammered out in Geneva between six world powers and Iran, were not immediately known. Israel was not a participant in the talks but remained in close touch with the US and other allies during the negotiations.
In a statement, the White House called the nuclear agreement an "initial, six-month step." Over the coming six months, the world powers and Iran will try to reach a final agreement that the White House said would ensure that Iran never develops a nuclear bomb. The statement said the deal limits Iran's existing stockpiles of enriched uranium, and curbs the number and capabilities of the centrifuges used to enrich and would limit Iran's ability to produce "weapons-grade plutonium" from a reactor in the advanced stages of construction. It also said there would be "intrusive monitoring" of Iran's nuclear program. The statement also played down the extent of the relief from international sanctions, noting the "key oil, banking and financial sanctions architecture remains in place." It said any relief would be revoked if Iran did not keep its commitments.
Israel had called for far tougher measures, saying that stockpiles of enriched uranium should be removed from the country, all enrichment activity should be halted and the plutonium-producing facility should be dismantled.
Israel considers a nuclear-armed Iran a threat to its very survival, citing Iranian calls for Israel's destruction, its development of long-range missiles capable of striking Israel and Iran's support for hostile militant groups along Israel's borders. It dismisses Iranian claims that the nuclear program is for peaceful purposes.
In recent years, Israel has repeatedly threatened to carry out a military strike against Iran's nuclear facilities if it concludes international diplomacy has failed to curb the Iranian nuclear program.
But if military action was difficult before, it seems all but impossible in the current climate. "Israel doesn't have legitimacy right now to conduct an independent military option against Iranian installations," said Yoel Guzansky, a former Israeli National Security Council staffer who was responsible for monitoring the Iranian nuclear program. "How can Israel, after the entire international community sat with Iran, shook hands with Iran and signed an agreement, operate independently?" he said. "It will be seen as someone who sabotages 10 years of trying to get Iran to the table and trying to get a deal."
Bad Deal Favoring a Nuclear Iran Fraught With Loopholes
Nov. 25….(DEBKA) The first preliminary nuclear deal the six world powers (US, Russia, China, UK, France and German) signed with Iran before dawn Sunday, Nov. 24, at the end of a four-day marathon, failed to address the most questionable aspects of Iran's nuclear program, i.e. its clandestine military dimensions. The accord confined itself to aspects of uranium enrichment and stockpiles. UN inspections were expanded, but not applied, for instance, to Iran's concealed nuclear sites, or even the Parchin military base where Iran is suspected of having tested nuclear-related explosions. Israel, the Gulf States and others are therefore highly dubious of the deal's capacity for freezing Iran's nuclear program where it stands today, least of all roll it back, as President Barack Obama claimed. Debkafile's intelligence and military sources list seven of the most glaring loopholes in the first-step accord:
1. Parchin: This long-suspected facility remains out of UN oversight. President Obama and Secretary of State John Kerry boasted after the signing that daily IAEA inspections will take place at Fordo and Natanz. However, cameras are already fixed at both those facilities without an agreement, whereas Tehran's consistent denial of IAEA access to Parchin is not even addressed.
2. Secret nuclear locations: Under the heading "Possible Military Dimensions," the last IAEA report noted: "Since 2002, the Agency has become increasingly concerned about the possible existence in Iran of undisclosed nuclear related organizations, including activities related to the development of a payload for a missile." The watchdog has received information indicating activities "relevant to the development of a nuclear explosive device." This was further corroborated by new information obtained since November 2011. Tehran's non-cooperation for investigating these findings is not mentioned in the Geneva interim accord, nor was it addressed in the negotiations.
3. Dirty bombs: Iran doesn't need a full-scale nuclear bomb or missile warhead for attacking Israel. For decades, Tehran has been working on perfecting hundreds of dirty bombs as part of its nuclear program, by adding plutonium or enriched uranium to conventional bombs. These weapons are easy to make and easy to use. In the hands of Hizballah or other Shiite terrorist organizations in Syria or Iraq, for instance, they could be used to strike Israel without leaving a trail to Tehran. This peril too was ignored by the six powers in Geneva.
4. Rollback. While President Obama has presented the deal as a first step toward freezing or even rolling back "key aspects" of Iran's nuclear program. The fact remains that, so long as Iran is permitted to enrich uranium, even though this is restricted to a low 5 percent grade, it is free to produce as much fissile material as it wants, whenever it wants. This seems more like roll forward than roll back.
5. Enrichment. Obama and Kerry said the new deal does not recognize Iran's right to enrich uranium. They were contradicted by the Iranian president and senior negotiator as well as Russian Foreign Minister Sergey Lavrov. So what is the truth? If Iran won recognition for this right, it blows the bottom out of the Non-Proliferating Treaty because, in no time, all the signatories may start enriching uranium with permission from the big powers. Neither is there any point in making Iran join the NPT's Additional Protocol for snap inspections.
6. Centrifuges. Iran has undertaken not to add new centrifuges to its enrichment facilities, according to President Obama, but there is nothing to stop it from keeping up their production. In the six-month interregnum for negotiating a comprehensive nuclear deal, Tehran wins time to turn out enough centrifuges to substantially expand its production of enriched uranium.
7. A leap to breakout: Far from being static or in freeze, as the Americans claim, Iran is free to step up centrifuge production and boost its stock of 3.5 percent enriched uranium, thereby accumulating enough material to enhance its capacity for producing enough weapons-grade uranium to break through to a nuclear bomb rapidly enough to defy detection by the IAEA or Western intelligence until it is too late. The first loophole appeared hours after the new accord was signed: Iran's lead negotiator, Deputy Foreign Minister Seyed Abbas Araghchi, announced that his country's enrichment rights had been recognized in the negotiations, after which Iranian President Hassan Rouhani praised the supreme leader's guidelines for achieving world power recognition of Tehran's "nuclear rights."
However, Secretary of State John Kerry in his first appearance after the signing denied this concession had been made. He said: "The first step, let me be clear, does not say that Iran has a right to enrich uranium." Russian Foreign Minister Sergey Lavrov lined up solidly behind the Iranian version of the accord, confirming world recognition had been extended for Iran's right to peaceful nuclear energy, including the right for enrichment.
Out of step with the celebratory mood in Geneva and Washington, Prime Minister Binyamin Netanyahu warned that the deal would not impede Iran's capacity to gain a nuclear weapon. He challenged President Obama's words that the deal was a historic achievement and called it a historic mistake, which would not obligate Israel. Israel, he said stood by its right to self defense against a regime dedicated to its destruction. As prime minister, Netanyahu pledged not to allow Iran to procure a nuclear weapon.
President Obama also announced that key aspects of Iran's nuclear program will be "rolled back" against limited sanctions relief and the release of deposits (nettng Iran $6-7 billion in revenue.) He said that no new centrifuges would be activated for the enrichment process, work would stop at the Arak heavy water reactor and UN inspections expanded to daily visits at the Natanz and Fordo enrichment plants to ensure that uranium is not enriched above the 5 percent permitted by the accord.
The core sanctions architecture will remain in place, Obama promised, pending a comprehensive solution to be negotiated in the next six months, but no new sanctions would be imposed. Lavrov summed up the four-day conference by saying: "Considering the whole body of circumstance, there are no losers [in the Geneva deal], all sides are winners" a view seriously challenged by Israel, Saudi Arabia and most other Middle East governments.
Iran is Playing Obama, Says Saudi Prince
Nov. 25….(WND) Prince Alwaleed bin Talal, the Saudi royal who seems to own most everything there is to own, a chunk of Rupert Murdoch's News Corp, a piece of Twitter, all of Paris's George V Hotel, the Savoy in London, and a Boeing 747 for his personal use, was sitting in the lobby of the Four Seasons Hotel in Chicago the other evening (he and Bill Gates own most of Four Seasons Holdings), offering up the view, the view of an experienced negotiator from the Middle East, that US President Barack Obama is outmatched by the Islamic Republic of Iran. "There's no confidence in the Obama administration doing the right thing with Iran," he told me, with a directness that would make Benjamin Netanyahu blush. "We're really concerned, Israel, Saudi Arabia, the Middle East countries about this."
It is quite something for a Saudi royal to state baldly that his country is part of a tacit alliance with Israel, but Saudi leaders, like Israel's leaders, are frantic with worry that an overeager Obama will accede to Iran's desire to become a threshold state, one whose nuclear program is so advanced that it would only need several weeks to assemble a deliverable weapon. Alwaleed, like Netanyahu, the Israeli Prime Minister, believes that Iran, in its ongoing negotiations with the world's major powers, will pocket whatever sanctions relief it gets without committing to ending its nuclear program. "Why are they offering relief?" he asked. "Keep the pressure on. Sanctions are what brought about the negotiations to begin with! Why not keep the pressure up?"
Obama, Alwaleed says, is a man who is in desperate political straits and needs a victory, any victory, to right his presidency. "Obama is in so much of a rush to have a deal with Iran," he said. "He wants anything. He's so wounded. It's very scary. Look, the 2014 elections are going to begin. Within two months they're going to start campaigning. Thirty-nine members of his own party in the House have already moved away from him on Obamacare. That's scary for him."
Alwaleed believes a stronger president would have the willpower to say no to a flawed deal with Iran. Like the Israelis, the Saudis believe a flawed deal is one in which Iran isn't forced to put its nuclear program in reverse, by shuttering facilities and mothballing centrifuges. (Alwaleed is not a Saudi government official, but he often floats trial balloons on behalf of the members of his family who rule his country, and they consider him free to make impolitic statements they believe but cannot publicly endorse). "This has been going on for 30 years plus, since the Iranian revolution in 1979," he continued. "And his people bragged about the first call between President Obama and President Rouhani. But what does a call mean? It's nothing." He went on to condemn Obama for folding when confronted with proof that Syria, Iran's proxy, used chemical weapons against civilians. Obama had previously warned Syria not to cross the red line he drew on the deployment of chemical weapons. "When he put that red line out, and the red line was crossed, he blinks," he said, going on to suggest that Obama is mistaken to believe that Syria will, in fact, ship out all of its chemical weapons, as it has agreed to do. "You think the chemicals are going to come out, one hundred percent? Come on. Even if he lets them go, the same people who produced them before will produce them again." When Obama "blinked," Alwaleed suggested, the Arabs came to the conclusion that he would not stand up to Iran, either.
Alwaleed suggested that it may ultimately be the Iranian leadership itself that saves the day, by rejecting a compromise offer it sees as unacceptably tough, but one that Iran's Israeli and Arab adversaries see as unacceptably accommodating. "You and I both know that the real power is with Khamenei," Ayatollah Ali Khamenei, the Iranian supreme leader, "and not President Rouhani. There are two theories, one that that Rouhani sincerely wants to negotiate but he can't give up this program, and the second theory, which is, come on, give me a break, they don't want to do this. Either way, Khamenei is the real ruler." He went on, "We just saw Khamenei issue an announcement saying to his own negotiators that before they go and talk they shouldn't cross his own red lines."
If the negotiations don't succeed, and clearly, Alwaleed sees no chance of success, then what? Anti-proliferation by force? I asked him if he thought the Arab states would actually back an Israeli strike on Iran's nuclear facilities, if this terrible option should come to pass. "Publicly, they would be against it," he said. "Privately, they would love it." What about at the level of the so-called Arab street? "The Sunnis will love it," he said, referring to the dominant branch of Islam, to which most Arab Muslims adhere. "The Sunni Muslim is very much anti-Shiite, and very much anti-, anti-, anti-Iran," he said.
You're sure they loathe Iran more than they loathe Israel? "Look, Iran is a huge threat, historically speaking," he said. "The Persian empire was always against the Muslim Arab empire, especially against the Sunnis. The threat is from Persia, not from Israel. This was a great empire ruling the whole neighborhood. I'll tell you something, they are in Bahrain, they are in Iraq, they are in Syria, they are with Hezbollah in Lebanon and Hamas, which is Sunni, in Gaza. They are intruding into these areas. King Abdullah of Jordan had a good statement on this, he said that a Shiite crescent begins from Iran, through Iraq, Syria, Lebanon and goes down to Palestine, to Hamas."
Alwaleed, who spent much of our time together criticizing Obama, also reserved some criticism for Saudi Arabia's Jewish ally. He said that if Netanyahu would make advances in the peace process with Palestinians, he would help marginalize Iran. "If you want to weaken Iran's position in the Arab world, you should have peace with the Palestinians. This would help move Iran away from this issue. This is the heart of it. Hezbollah will not go away, but they will be weakened." This last piece of analysis made good sense to me. As for the rest of his analysis? It is easy to write-off Saudi fears of Iranian regional domination as part of an internecine Muslim struggle that is ultimately immaterial to the core national security interests of the US.
WEEK OF NOVEMBER 17 THROUGH NOVEMBER 23
Netanyahu, Putin Sharply Divided over Iran Nuclear Deal
Nov. 22….(Jerusalem Post) Significant divisions over Iran were on clear display in the Kremlin on Wednesday as Prime Minister Binyamin Netanyahu and Russian President Vladimir Putin issued statements after nearly two hours of meetings. Standing side by side in a marble pillared room, Putin said he hoped the talks between the P5+1 and Iran that began Wednesday in Geneva would succeed, while Netanyahu reiterated his position that the international community should insist upon a much better deal. "We hope in the near future a deal will be announced [that is] acceptable to all the sides," Putin said as Netanyahu, who has lobbied intensively against such a deal emerging from Geneva, looked on.
Putin, in turn, stood expressionless as Netanyahu repeated what he has been saying for weeks, that the deal on the table will not be enough to stop Iran's nuclear weapons march. "For us, for Israel, the biggest threat to us and the security of the world is Iran's attempts to gain nuclear arms," he said at a press conference that was all business, without a trace of lightness or levity.
Netanyahu said both Russia and Israel share the goal of preventing Iran from getting a bomb, and then he spelled out Israel's position without criticizing Russia's position. Israel's position, he said, was that the "international community needed to stand firmly by positions articulated in UN Security Council decisions; that is, Iran must stop all uranium enrichment, transfer out its stockpiles of enriched uranium, dismantle the centrifuges and stop building of the heavy water reactor at Arak." Rather than criticizing Putin for Russia's position on the matter, he praised the Russian leader for facilitating the accord to dismantle Syria's chemical weapons, and then said that the same formula should now be used regarding Iran."I think there is a lot to learn from the way the solution was reached in Syria," he said. "There Russia and others justifiably stood firm on the full dismantling of Syria's chemical weapons. I want to congratulate you on the important role you played in reaching that agreement, and of course we must now ensure that it is implemented."
Netanyahu said the international community would not have accepted an agreement in Syria whereby Damascus would reduce by just a little its chemical weapons arsenal, while keeping the remainder of its stockpiles in place and retaining the ability to produce more. Netanyahu said a similar situation should not be allowed to emerge in Iran, and that Israel believes "a better agreement can be reached, and that demands determination and stubbornness." Such an agreement, he said, could lead to a dismantling of the Iranian nuclear project, in the same way that it led to the dismantling of Syria's weapons of mass destruction.
The different focus of the two leaders was also apparent in the order in which they related to the Iranian issue in their remarks. Putin left the issue to the very end, after discussing everything from Israeli-Russian trade and cooperation in space, agriculture, and the arts, while Netanyahu delved into the issue higher up in his statement and devoted significantly more time to it. Netanyahu met Putin shortly after landing in Moscow Wednesday afternoon, his fifth visit since becoming prime minister for a second time in 2009.
Uncharacteristically, Netanyahu did not speak to the press on the flight over, nor did he give any statements upon leaving Tel Aviv or arriving in Moscow. Russia has the closest relationship with Iran among the P5+1 states negotiating with Tehran. Netanyahu arrived in Moscow at a time when Putin's stature in the Middle East and the international community has risen because of the deal he brokered to get Syrian President Bashar Assad to dismantle his chemical weapons. Netanyahu's visit was planned well before the Geneva talks were scheduled, but the fact that they took place on the same day gave the meeting an added urgency. Netanyahu first met with Putin and two top advisers from both sides, followed by a one-on-one discussion lasting about an hour.
Obama's Iran Moves Could Start World War III
Nov. 22….(Israel Today) According to a recent news report, President Barack Obama has for over a year secretly conducted negotiations with Iran (through his adviser Valerie Jarrett) and the Geneva talks on Iranian nukes now appear to be just a facade providing international legitimacy for Obama's secret deal with Iran. Secretary of State John Kerry's contradictory criticism of Israeli objections to that deal only suggests more bad faith by the Obama administration. Kerry claims that Israel has been kept fully apprised of the negotiations with Iran, but then argues that Israel has never seen the terms of the proposed deal with Iran and therefore shouldn't question it. The Obama administration apparently wants to present the nuclear deal as a fait accompli that Israel must simply accept as is.
In what is becoming a familiar pattern, Russia is readily moving in to the Mideast areas where US influence has waned because of Obama's many fumbles in the region. Last August, Saudi Arabia made it clear that it would happily replace US aid to Egypt (highlighting one of many issues straining US relations with yet another Mideast ally). On the issue of Iranian nukes, France has effectively replaced the US as Israel's strongest ally and as the most sober-minded advocate of caution when negotiating over the single greatest threat to global security. Incredibly, Saudi Arabia is reportedly replacing the US in providing logistical support for an Israeli strike on Iranian nukes.
Yaakov Amidror, Prime Minister Benjamin Netanyahu's former national security adviser, recently indicated that the Israeli Air Force has been preparing for a potential strike on Iran. According to Amidror, such a strike could set back Iran's nuclear program "for a very long time." So Israel can go it alone, if it must, although the results will be far messier than those produced by a stronger US approach. While the Obama administration has suggested that critics of the current Geneva deal are "on a march to war," it is that very deal, which gives Iran a nuclear breakout capacity, that will force the states most threatened by Iran to take preemptive military action.
Even if one accepts Obama's apparent view that decades-long alliances matter no more than do US assurances, there are other compelling reasons for Obama to reverse his disastrous Iran policy before its too late. Granting an Iranian nuclear weapons breakout capability will produce catastrophic consequences (many of which Obama himself acknowledged, in his March 2012 speech): The Treaty on the Non-Proliferation of Nuclear Weapons (NPT) will effectively be finished. The world's most volatile region will become even more explosive as other regional players scramble to establish their own nuclear arsenals to counter Iran's. And rogue nations will realize that by following Iran's deceptive playbook, they too can develop a nuclear capability.
* The force of UN Security Council Resolutions will be further diluted, as Iran will continue flouting six of them with impunity.
* Iran-backed terrorist organizations, including Hamas, Islamic Jihad, and Hezbollah, will grow emboldened by the nuclear umbrella of their patron.
* Terrorism could go nuclear, should Iran share some of its nuclear materials with the terrorist groups that it supports.
* US influence in the Middle East will erode even more, as Obama further damages US relationships and influence in the region.
* US credibility throughout the world will plummet. If the US cannot be trusted to provide strong leadership on the national security issue of greatest concern to the free world, where US interests are directly at stake, what does that mean for US credibility more generally?
* Global instability and oil prices will skyrocket. If Israel, with Saudi assistance, strikes Iran's nuclear program, the Iranian retaliation that follows could spark World War III. Will Iran attack Saudi oil fields or otherwise pour more fuel onto the Sunni-Shia fire in Syria? Will Iran and Iran-backed Hezbollah (estimated to have at least 45,000 missiles) launch a massive attack killing thousands of Israeli civilians? Will some of the Syrian chemical weapons held by Assad (another Iranian ally) end up hitting Israel? How would Israel respond? Is this how Armageddon happens?
US interests will be attacked. Obama may think that his policy of appeasement will shield the US from Iranian reprisals, but the opposite is true. When the US appears so weak and ready to abandon allies (as with Egypt, Israel, and Saudi Arabia), Iran has less fear of attacking the US and more reasons to do so, as a way to exacerbate US tensions with Israel. Will attacking US interests be yet another Obama "red line" that gets crossed with impunity? If so, then whatever is left of US deterrence and credibility will have been destroyed. If not, then the US will get sucked into another Mideast war but on terms dictated by the adversary, and without any first-strike advantage. The catastrophic consequences outlined above would all directly result from Obama's disastrously weak, but still reversible, policies on the Iranian nuclear threat.
The Jewish people have a long memory, and it pervades the thinking of Israeli civilians and top brass alike. Thus, Israel's brief history is replete with daring military operations to protect its security. In Netanyahu's speech at the last UN General Assembly, in what may have been Israel's final warning to the world to deal with the Iranian nuclear threat before Israel must, the Prime Minister summed up, from his personal family history, the collective experience that guides Israel on fateful decisions: "One cold day in the late 19th century, my grandfather Nathan and his younger brother Judah were standing in a railway station in the heart of Europe. They were seen by a group of anti-Semitic hoodlums who ran towards them waving clubs, screaming 'Death to the Jews.' My grandfather shouted to his younger brother to flee and save himself, and he then stood alone against the raging mob to slow it down. They beat him senseless, they left him for dead, and before he passed out, covered in his own blood, he said to himself 'What a disgrace, what a disgrace. The descendants of the Macabees lie in the mud powerless to defend themselves.' He promised himself then that if he lived, he would take his family to the Jewish homeland and help build a future for the Jewish people. I stand here today as Israel's prime minister because my grandfather kept that promise."
Obama should know by now that if he forces Israel's hand, then Israel alone will neutralize the Iranian nuclear threat, regardless of how messy the aftermath may be. Netanyahu, like any other responsible Israeli leader, would rather bring about World War III than the last Israelis.
Kerry: Muslim Brotherhood 'Stole' Egypt Revolution
FOJ Note: (Wow! For once in his life, Mr. Kerry is correct about something. I can't believe it, but how come the Obama Administration can't see this reality)
Nov. 22….(AP) Secretary of State John Kerry on Wednesday accused Egypt's well-organized Muslim Brotherhood of having "stolen" the revolution that toppled longtime autocrat Hosni Mubarak in 2011. Speaking at the State Department to leaders of multinational US firms, Kerry said the Islamist group had appropriated the revolt against Mubarak from young people who started it in large part through social media in response to what they saw of other mass protests around the Arab world. "Those kids in Tahrir Square, they were not motivated by any religion or ideology," he said. "They were motivated by what they saw through this interconnected world, and they wanted a piece of the opportunity and a chance to get an education and have a job and have a future, and not have a corrupt government that deprived them of all of that and more. And they tweeted their ways and FaceTimed their ways and talked to each other, and that's what drove that revolution. And then it got stolen by the one single-most organized entity in the state, which was the Brotherhood."
Kerry's comments are likely to raise eyebrows in Egypt where competing claims of credit for Mubarak's ouster are still a source of major division. Mubarak's ouster led to Egypt's first-ever democratically chosen president, Mohammed Morsi of the Muslim Brotherhood. Secular politicians could not get organized enough to provide a credible contest.
The Egyptian military toppled Morsi in July claiming that he and Muslim Brotherhood allies were not governing democratically. The United States has been accused by moderate and secular Egyptians of siding with the Muslim Brotherhood, an allegation that Washington denies. Egypt's military-backed government and its supporters will likely look favorably on Kerry's brief remark, while supporters of Morsi will likely be angered by it.
50th Anniversary of the Tragic Day America Began It's Steady Decline
Nov. 22….(FOJ) Like so many Americans, I have always been deeply interested in the details of the horrible day in Dallas, Texas that President Kennedy was assassinated. I was a mere eleven years old on that fateful day, and pretty naïve about the way-of-the-world. But over the years I have researched and studied a lot of the details about the assassination, autopsy, travel route, testimonies, and numerous other data. I long ago became convinced that the truth about that tragedy has been professionally covered over. I don't know what the real truth might be, but the day Kennedy died ignited the downward spiral in Americans distrust in their own government. Back then, most Americans, myself included had unswerving faith in our government. Today, I am always suspicious of everything our government does. The whole era of the early 60's began a downward spiral in everything that was good about America. Prayer and Bible reading were banned in American schools, unwed pregnancies skyrocketed, and the era of free love and the drug culture began, among many other things.
America's exceptionalism and it's Christian underpinnings slowly eroded away, and it all seemingly was connected to the day America lost it's innocence!
Why Obama Really Passed on the Gettysburg Address Commemoration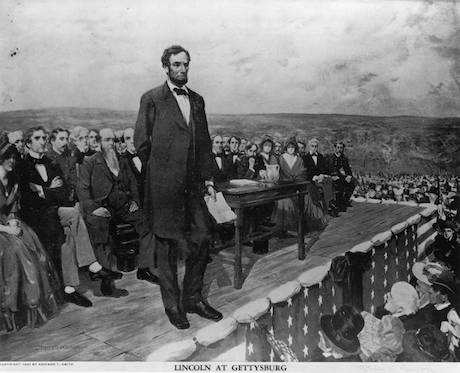 (Abraham Lincoln praised 'government of the people, by the people, for the people,' but the original words were not his. He was quoting someone before his time.)
Nov.21…(FOJ) (Daniel Hannan) Government of the people, by the people, for the people, shall not perish from the earth." Those words have been quoted ever since as the supreme vindication of representative government. Indeed, they are often quoted as proof of American exceptionalism. But the words were not Lincoln's. Most of his hearers would have recognized their source, as our generation typically does not. Those words came from the prologue to what was probably the earliest translation of the Bible into the English language: "This Bible is for the government of the people, for the people and by the people." The author was the theologian John Wycliffe, sometimes called "the Morning Star of the Reformation." Astonishingly, they had first appeared in 1384.
Wycliffe was perhaps the most arresting figure in the medieval English church. Philosopher, temperamental rebel, and heresiarch, he anticipated many of the doctrines of Protestantism. He opposed the selling of indulgences, rejected transubstantiation and emphasised salvation by faith. He thought that priests should be allowed to marry, and that they should be accountable before the civil courts like everyone else. He rejected papal authority in England, arguing that the nation was bound instead to its own Crown and institutions.
Above all, and exceptionally for his time, Wycliffe believed in the centrality of the Bible. He taught that people should read the scriptures for themselves and not rely on the interpretation of priests and prelates. In his last years, he devoted himself to translating the Bible from Latin into English.
"Government of the people, by the people, for the people" was, in Wycliffe's mind, a concept with political, religious, and educational implications. If men and women were free to make up their minds on theological questions, they would also be better suited to independence in secular affairs. We can trace the association between civil and religious liberty, which was later to become such a marked characteristic of the Anglosphere, right back to the fourteenth century.
Wycliffe's followers, a clandestine and largely lower-class movement known as the Lollards, formed an indigenous prelude to the Reformation. A Bible-based sect, they were limited by their lack of access to a printing press, the huge advantage enjoyed by the Lutherans who reached England in the 1530s. As A.G. Dickens, the historian of the English Reformation, put it, "Lollardy created an underground, and there awaited the appearance of liberators. When liberation finally came, it was compelled, like any underground resistance, to yield the leadership to regular armies with heavier and more modern equipment."
One of their ideas, though, has survived to this day, namely the notion that freedom of conscience is inseparable from civil liberty, and that personal responsibility in spiritual matters implies individualism in secular affairs. "Government of the people, by the people, for the people": in what other language would those words have been written, in what other tongue could they have been verbalized, in 1384? What was it that made English-speaking civilization so different, even six-and-a-half centuries ago?
The biggest instrument in the development of American and British exceptionalism was the printing of the Holy Bible in the English language. Thank God for His Word!
The following quotation is from a speech by Cindy Jacobs. "When we talk about God, politics, and people of faith, you have to say that politics is not neutral. Many times we think that it is a neutral thing, but it is not ideologically neutral ever. And if the people of faith don't engage, then someone will engage. But the point is, we have to say this: does the Creator have a right to say how nations are governed? Of course he does. It was John Wycliffe, in 1382 that said "the Bible is the government of the people, by the people, for the people." And many of us don't even understand that in the United States today our roots, everything we are, is based upon the Manufacturer's (Creator's) handbook. (the Bible)
President Obama intentionally snubbed the 150th Gettysburg Address ceremony because he does not believe in the address made by Mr. Lincoln way back in 1863, and neither does he revere the Holy Bible as the source of our Liberty! And that is the reason why he purposely omitted any reference to the God of the Bible in his remarks this week when he attempted to quote Mr. Lincoln. May God have mercy on a nation that forgets where it's blessings originate from.
Beirut Bombing Sees Iran Drawn Deeper into Lebanon Quagmire
Nov. 20….(Times of Israel) The double suicide bombing at the Iranian embassy in Beirut on Tuesday morning was anything but a surprise. In fact, it was almost expected given the battles in Syria between radical Sunni forces, on the one hand and Hezbollah and Iranian Revolutionary Guards forces on the other, along with the threats by al-Qaeda groups in Syria to hit Iranian targets in the area. Nonetheless, the bombings raise the confrontation between Sunnis and Shiites in Lebanon and Syria to new heights. Two suicide bombers acting in coordination, bent on harming as many Shiites as possible, may be an almost routine phenomenon in Iraq, but in Lebanon it represents an unprecedented escalation in hostilities. In similar fashion to the methods used by Hezbollah and the Revolutionary Guards against Western targets in Lebanon in the early 1980s, Tuesday's assailants, who apparently belong to an al-Qaeda offshoot, sent two bombers in a coordinated attack: The first rode his motorbike to the embassy gate and blew himself up, opening the path for the second, who drove an explosives-laden car. The result was devastating: 23 fatalities and almost 150 injured.
Hezbollah and the Revolutionary Guards have tried to take precautions against such attacks. For months ago their leaderships have been disseminating warnings to all personnel to be on the alert for suicide attacks on Shiite targets. At the same time, Hezbollah has been taking steps to boost security around potential targets. It has deployed bomb-sniffing dogs and set up surprise road blocks in Beirut to try to intercept potential bombers, and its Dahiyeh neighborhood stronghold of Beirut has become a fortress which is impossible to enter without security checks.
Evidently, however, even such stringent security precautions, introduced at potential Iranian targets as well, could not thwart Tuesday's bombings. The Iranians are themselves now learning the bitter lesson they taught Israel: the combination of explosives and a highly motivated terrorist make the suicide bomber a devastating and hard-to-stop weapon.
Tuesday's bombings were immediately condemned across the political spectrum in Lebanon. This, though, was a false and temporary display of unity; there are no signs that anything in this destabilizing country is going to change dramatically in the near future. It doesn't appear that a full-scale civil war is looming. But the stream of bombings and other attacks between Sunnis and Shiites is becoming increasingly routine. Just as extremist Sunni groups fire missiles at Shiite targets and kill people identified with Syrian President Bashar Assad from time to time, so Tuesday's two suicide bombers are unlikely to be the last to blow themselves up in this arena of the conflict. In the wake of this attack, Tehran may decide to send more weaponry and more personnel to Lebanon to help Hezbollah in its fight against the Sunni militias. If so it might be on the way to discovering something Israel came to know well: getting bogged down in the quagmire of Lebanon.
Hezbollah Part and Parcel of Iran's Islamic Revolution
Nov. 20….(Israel Today) Conventional wisdom states that Lebanon's Shiite militia Hezbollah was birthed in direct response to Israel's 1982 invasion of its northern neighbor to curb constant cross-border terrorist attacks. Even Hezbollah portrays itself as such. But the truth is that the groundwork for the group was laid long before, and that Hezbollah is actually part and parcel of Iran's Islamic Revolution. In fact, the title "Hezbollah" (Party of Allah) was first used by Ayatollah Ruhollah Khomeini's faction after it seized power in Iran in 1979. This expose by The Weekly Standard provides a detailed rundown of the various Iranian groups jockeying for position in Lebanon prior to the fall of the shah. Lebanon had long been an outpost and base of operations for Iranian Islamists. What is clear from the article is that Hezbollah is much more than just an Iranian proxy. It is a local extension of the Iranian regime and its Revolutionary Guard.
As such, the policies and behavior of Hezbollah can tell a lot about the underlying intentions of Iran, particularly when it comes to the Islamic Republic's suspected nuclear weapons program. Like Hezbollah, Iranian leader's are probably serious when they speak of the destruction of Israel as a long-term goal. And that suggests Israeli leaders are right to be over-cautious in their quest to keep out of Iran's hands the kinds of weapons that would make that goal achievable.
Obama Too Busy for Gettysburg Anniversary
Nov. 20….(FOJ) President Obama snubbed the 150th anniversary of Abraham Lincoln's Gettysburg Address. The Gettysburg Address represents a cornerstone of America's heart as a nation. President Lincoln saved our nation, and laid out plans for its recovery after a brutal civil war. More than that, he refocused the country on its true moral compass, and its exceptional foundation. For this President to skip its 150th landmark is inexcusable and downright insulting. On top of the snubbing of this hallmark occasion, he also misquoted Abraham Lincoln's address by intentionally leaving out the phrase, "that this nation under God" shall have a new birth of freedom. This omission was not a mere slip up. This President does not believe in a government of the people, by the people, nor for the people. He believes in a government that owns the people!
Beirut Bombings Self-Inflicted by Iran and Hizballah as a Diversionary Tactic
Nov. 20….(DEBKA) highly sensitive Saudi tip-off reaching Western intelligence agencies, including Israel, on Nov. 14, gave advance warning that Iran and Hizballah were plotting a major terrorist operation in Beirut as a diversionary stunt, debkafile's exclusive intelligences sources report. The warning was received three days before twin suicide bombings struck the Iranian embassy in Beirut and the Hizballah stronghold suburb of Dahya Tuesday, Nov. 19, killing 25 people and injuring nearly 150.
Saudi intelligence chief Prince Bandar al Sultan explained that Tehran and Hizballah needed a powerful diversionary stunt to draw attention away from the consignment against their will of more than 3,000 Hizballah troops who were forced to return to the Syrian battlefield in the last ten days. There is no such organization as Abdullah Azzam Brigades, which took responsibility for the twin attacks in Beirut "on behalf of al Qaeda," debkafile's counterterrorism experts report. They are a random group of terrorists hired by Hizballah for ad hoc missions like, for instance, the Grad rocket attacks from South Lebanon aimed recently against Israel targets according to a list provided by Hizballah officers.
Bashar Assad told Hizballah leader Hassan Nasrallah and his friends in Tehran that he was up against the biggest battle of the Syria war, which he could not afford to lose, in the Qalamun Mountains northwest of Damascus. Another 3,000 Hizballah fighters are standing by in Beirut ready to go across after the first batch as reinforcements. Assad depends heavily on winning this battle because of three key strategic objectives:
1) Seizure of this mountainous region will cut the Syrian rebels' supply routes of fighters and arms from Lebanon.
2) It will reopen the route from Damascus to the coastal towns of Latakia and Tartus and the Alawite concentrations of Assad loyalists in the northwest. For the Syrian ruler, the Qalamun battle is just as important as the battle of Qusayr, which his army won five months ago with the help of Hizballah forces.
3) The Syrian rebel militias defending this region are backed by Saudi intelligence with data, fighting strength and arms. Their defeat would be a serious reverse for the Saudis, generating far-reaching fallout that would also affect the balance of power in Beirut.
Al Qods Brigades Chief Gen. Qassem Soleimani, commander of non-Syrian Shiite forces taking part in this key battle, is approaching it as a personal duel with Saudi Prince Bandar.
The problem for Hizballah leader Hassan Nasrallah is that his organization is still licking the wounds of its heavy losses in the Qusayr battle, 200 dead and more than 750 injured – and its members are fiercely opposed to getting embroiled any further in what they regard as a foreign conflict which is none of their business. To rev up motivation, Iranian Al Qods strategists and Hizballah security chiefs hatched a secret plan: If Iranian and Hizballah were targeted on home ground, the involvement of Hizballah troops in the Qalamun battle could be presented as essential for defending their home bases which were under attack.
This self-inflicted attack at the cost of more than a score of lives is a rare occurrence even in the unbridled and unpredictable annals of Middle East terrorism. It is also possible that the bombers did their work too well and bringing the chickens home to roost. Certainly the Iranian cultural attaché who paid the price will be honored as a martyr.
If Tehran is capable of such atrocities merely as a diversionary tactic, then perhaps Presidents Barack Obama and Vladimir Putin ought to take a really hard look at their negotiating partner across the table before signing a major deal Wednesday, Nov. 20, which leaves Iran's nuclear program in place.
Israel Working With Saudi Arabia on Iran Strike Plan?
(Riyadh reported to give Jerusalem okay to use Saudi airspace and to cooperate on other tactical support)
Nov. 18….(Times of Israel) Israel is working on coordinating plans for a possible military strike with Saudi Arabia, with Riyadh prepared to provide tactical support to Jerusalem, a British newspaper reported early Sunday. The two countries have both united in worry that the West may come to terms with Iran, easing sanctions and allowing the Islamic Republic to continue its nuclear program.
According to the Sunday Times, Riyadh has agreed to let Israel use its airspace in a military strike on Iran and cooperate over the use of rescue helicopters, tanker planes and drones. "The Saudis are furious and are willing to give Israel all the help it needs," an unnamed diplomatic source told the paper. The report comes as Prime Minister Benjamin Netanyahu is in the midst of a blitz to lobby against a deal and cobble together an international alliance opposed to an agreement that allows Iran to continue enriching uranium.
On Sunday, Israel will welcome French President Francois Hollande, who a week earlier put the kibosh on a deal between six world powers and Iran that would ease sanctions in return for initial steps toward curbing enrichment. Netanyahu on Friday urged France to remain firm in its pressure on Iran ahead of a new round of talks on the Islamic Republic's nuclear program in Geneva, kicking off Wednesday. After meeting Hollande, Netanyahu will head to Moscow on Wednesday to meet with President Vladimir Putin and lobby against the deal.
Iran's bid for the bomb "threatens directly the future of the Jewish state," Netanyahu told CNN recently, in a short preview clip of an interview broadcast on Saturday. As the prime minister of Israel, he stressed, he had to care for "the survival of my country." CNN reported that Netanyahu also said in the interview that he would do whatever it was necessary to do in order to protect Israel. The full interview will air Sunday morning. Should a deal be reached at talks set to resume in Geneva on Wednesday, according to the diplomatic source, a military option would be back on the table. Saudi tactical support, in lieu of backup from the Pentagon, would be vital for a long-range mission targeting Iran's nuclear program.
Saudi Arabia, a Sunni Muslim country across the Persian Gulf from Iran has long been at odds with Tehran, and fears a nuclear weapon would threaten Riyadh and set off a nuclear arms race in the region.
Russia: Now is The Time to Make Deal with Iran on Nuclear Program
Nov. 18….(CNN) Russia's foreign minister said Saturday that a deal with Iran on its nuclear program is close, warning the opportunity to bring about an end to a decade-long standoff must not be passed up. The statements by Foreign Minister Sergey Lavrov broadcast on Russian TV come just days before negotiators meet in Geneva, Switzerland, to discuss details about Iran's nuclear program. "Our common impression is that there is a very good chance now which should not be missed," Lavrov said in remarks broadcast on state-run TVC. The assessment, Lavrov said, came out of recent talks with the European Union's foreign policy chairwoman, Catherine Ashton. That tone was echoed earlier in the week by the United States.
The United States and other countries are "getting close" to an interim deal with Iran that would prevent its nuclear program "from advancing, and roll it back" in key areas, a senior US administration official said Friday. Such a deal would "extend the breakout time" that Iran would need to achieve a nuclear weapon and "shorten the time to notice if they tried," the official said on condition of anonymity. The proposed deal covers every aspect of Iran's nuclear program, including uranium enrichment, uranium stockpiles and all nuclear facilities including military ones, the official said. The deal will be on the table during the next round of talks in Geneva. "I don't know if we'll reach an agreement. I think it is quite possible that we can. But there are still tough issues to negotiate," the official said.
The United States, along with the four other permanent members of the UN Security Council and Germany, the so-called P5+1, came close to a deal during talks with Iran last week in Geneva, but the discussions ended with both sides blaming each other for the lack of an agreement. The P5+1 is "completely and totally unified" on the current outlines of the proposed deal, the official said. It is widely believed that Iran harbors aspirations to produce nuclear weapons. Repeated findings by UN weapons inspectors indicate that the country appeared to be conducting nuclear weapons research.
Iran has always maintained that its nuclear program is for purely peaceful purposes. Even though Iran has denied working toward nuclear weapons, it has said it will not submit to any plan that would totally eliminate its nuclear program.
WEEK OF NOVEMBER 10 THROUGH NOVEMBER 16
Kerry to Israel: International Forces Will Protect You
(

Presses Netanyahu to sign deal with Palestinians before 2016

)
Nov. 15….(WND) During his visit here last week, Secretary of State John Kerry pressed Israeli Prime Minister Netanyahu to come to an accommodation to create a Palestinian state, with particular emphasis on current talks focusing on the strategic Jordan Valley, according to informed Israeli and Palestinian diplomats. The diplomats told WND that Kerry rejected a proposal by Netanyahu for an interim deal, instead expressing the Obama administration's goal of a final status agreement to create a state before 2016.
Netanyahu had proposed a five-year interim agreement in which Israel would give the Palestinian Authority sovereignty over one-third of what is known as Area C, territories in the West Bank currently under Israeli control, the diplomats said. Israel would still retain some security presence in those areas. Netanyahu's proposal further called for an official PA presence in Jerusalem, the diplomats added. During the five-year period, the PA would be required to take steps to remove incitement from official educational and media material and fully dismantle the terrorist apparatus in the West Bank. The Netanyahu deal also called for the PA to lead a public campaign that would clarify that a final deal would be achieved with Israel as the homeland of the Jewish people, meaning no so-called right of return, the diplomats told WND.
According to the Israeli and Palestinian diplomats, both Kerry and PA President Mahmoud Abbas rejected Netanyahu's proposal. Kerry also asked Netanyahu to not put any obstacles in the way of a US plan for the Palestinians and international forces to assume control in the Jordan Valley. Last month, WND broke the story that Kerry was pressing hard for Israel to give up the strategic Jordan Valley in a deal with the Palestinians. The current round of US-brokered talks is attempting to hash out the details of a plan for the valley. Kerry's proposal calls for international forces to maintain security control along with unarmed Palestinian police forces, the PA negotiator said. Israel would retain security posts in some strategic areas of the Jordan Valley, according to the US plan.
Previous talks incorporated an element of Jordanian authority in the Jordan Valley, but the Kingdom of Jordan is suddenly wary of participating in a future Palestinian state, the negotiator said. A Palestinian negotiator speaking to WND pointed to the insurgency in Syria and changes of leadership in Egypt as reasons for Jordanian reluctance to assume any security control over Palestinian areas.
The Jordan Valley cuts through the heart of Israel. It runs from the Tiberias River in the north to the Dead Sea in the center to the city of Aqaba in the south of the country, stretching through the biblical Arabah desert. The negotiator, meanwhile, said Kerry is urging an all-encompassing final status deal on the Jordan Valley, West Bank and sections of Jerusalem, including the Temple Mount. Israel, on the other hand, would rather have an interim deal to ensure the Palestinians keep their side of the bargain, according to informed Israeli diplomatic sources.
Temple Mount
WND reported in July the terms of the Obama administration plan in which the Palestinian Authority and Jordan would receive sovereignty over the Temple Mount while Israel would retain the land below the Western Wall, according to a senior PA negotiator. The plan remains in effect as the basis for negotiations. The Temple Mount is the holiest site in Judaism.
Israel has not agreed to the US plan for the Temple Mount, with details still open for discussion, stated the PA negotiator. The negotiator, who is one of the main Palestinian figures leading the Arab side of the talks, further divulged Kerry's proposed outline for a Palestinian state as presented orally to Israel and the PA. He said Jordan has been invited to play a key role in the discussions surrounding both the Temple Mount and Jerusalem while it will be the PA, with some Jordanian assistance, that would ultimately receive control of some of those areas.
WND was first to report in 2007 that Jordan had been quietly purchasing real estate surrounding the Temple Mount in Jerusalem hoping to gain more control over the area accessing the holy site, according to Palestinian and Israeli officials. Meanwhile, regarding the rest of Jerusalem, Kerry's plan is to rehash what is known as the Clinton parameters. The formula, pushed by President Bill Clinton during the Camp David talks in 2000, called for Jewish areas of Jerusalem to remain Israeli while the Palestinians would get sovereignty over neighborhoods that are largely Arab. Most Arab sections are located in eastern Jerusalem. WND previously reported the Palestinians are building illegally in Jewish-owned areas of Jerusalem, resulting in Arab majorities in some neighborhoods.
When it comes to the West Bank, which borders Jerusalem and is within rocket range of Israel's main population centers, Kerry's plan calls for Israel to evacuate about 90 percent of its Jewish communities in the territory. Israel would retain strategic security posts along with the West Bank's main blocs, Maale Adumin, Ariel and Gush Etzion. In return, Obama is calling for an exchange of territory with the Palestinians, with discussion being open for the Palestinians to possibly receive land in the Negev, in Israel's south.
FOJ Note: This scenario falls right in line with Bible Prophecy. If Israel believes that any international mechanism will defend them, then I have some sunny ocean front property in Antarctica to sell them.
Obama: New Iran Sanctions Will Lead to War
(Obama Administration ups efforts to prevent Congress from passing new penalties against Tehran that could put kibosh on nuclear deal)
Nov. 15….(Times of Israel) The Obama administration Tuesday stepped up lobbying against congressional action for new sanctions on Iran, with the White House warning such a move would lead to war. "The American people justifiably and understandably prefer a peaceful solution that prevents Iran from obtaining a nuclear weapon, and this agreement, if it's achieved, has the potential to do that," White House spokesman Jay Carney told reporters. "The alternative is military action."
Earlier in the day State Department spokeswoman Jen Psaki said John Kerry would use a closed door briefing with the Senate Banking Committee Wednesday to warn that passing new sanctions would be a "mistake." The intensified effort to head off any new penalties against Iran come days after a meeting between Tehran and six world powers, the US, Britain, France, China, Russia and Germany, failed to produce a deal that would see eased sanctions in return for a promise to curb nuclear activity. Another meeting is scheduled for next week. Carney told reporters that Americans did not want a "march to war," which is what new sanctions would bring, indicating that lawmakers could pay politically if diplomacy with Iran failed. Fresh from the nuclear talks, Kerry will defend the administration stance during a meeting with lawmakers Wednesday, where he will face a tough crowd.
Senator Mark Kirk (R-Illinois) said Tuesday that the administration is boxing Americans into a lose-lose situation. "The American people should not be forced to choose between military action and a bad deal that accepts a nuclear Iran," he said according to AFP. Senate Foreign Relations Committee Chairman Sen. Robert Menendez (D-NJ) warned Sunday, as details of the talks filtered out of Geneva, against a situation in which "we seem to want the deal almost more than the Iranians. And you can't want the deal more than the Iranians, especially when the Iranians are on the ropes."
Nasrallah: Failure to Strike Deal with Iran will Result in Regional War
(Hezbollah chief accuses Israel of trying to stop nuclear deal in attempt to drag Middle East into conflict.)
Nov. 15….(Jerusalem Post) Failure to strike a deal with Iran over its nuclear program would result in "war in the region," Hezbollah chief Hassan Nasrallah said on Wednesday, according to news portal Now Lebanon. "To all Arab peoples in the Gulf countries of Saudi Arabia, Kuwait, Qatar, Bahrain, UAE and Oman: What is the alternative to understanding between Iran and world leaders? It is regional war," Nasrallah said in a rare public appearance to mark the Shiite Muslim Ashura holiday in southern Beirut. Nasrallah accused Israel of trying to prevent the deal between Tehran and the P5+1 countries from being signed, in an attempt to push the Middle East into conflict. "Israel wants a war in the region, it wants the US to strike Syria and attack Iran," the Hezbollah chief accused.
Prime Minister Binyamin Netanyahu "is angry and is attempting everything in his power to prevent a deal from taking place... he even called for the help of his Arab partners," Nasrallah said, referring to repeated warnings from Netanyahu against a "very bad deal" with Iran. He also condemned Saudi Arabia and other Gulf states pushing to stop the impending deal with the Islamic Republic, accusing them of teaming up with Israel for this purpose. "Unfortunately, Netanyahu has become a spokesperson for some Arab states," he said.
Nasrallah also denied that a nuclear agreement with the West would lead Iran to abandon Hezbollah, stressing that Hezbollah has full confidence in both its Iranian and Syrian allies.
FOJ Note: Israeli Prime Minister Benjamin Netanyahu previously said that war could result from a bad deal between world powers and Iran over its nuclear program. He has been lobbying against any agreement at talks due to resume in Geneva on November 20 that would fail to strip Iran of nuclear enrichment capabilities. He has urged no let-up in international economic sanctions. "He emphatically said, "a bad deal could lead to war, an undesired option. Mr. Obama says that new sanctions will lead to war! Kerry says absence of Statehood for Palestinians will lead to war, and Kerry says the absence of an Iranian deal will lead to war! Hezbollah says no deal with Iran will lead to war. Iran says Israel is a cancer that must be eradicated by war. I guess, given all indications by all parties, there will be WAR…….
On Veterans Day: Reflection From the Son of a Veteran on Religious Freedom in the Military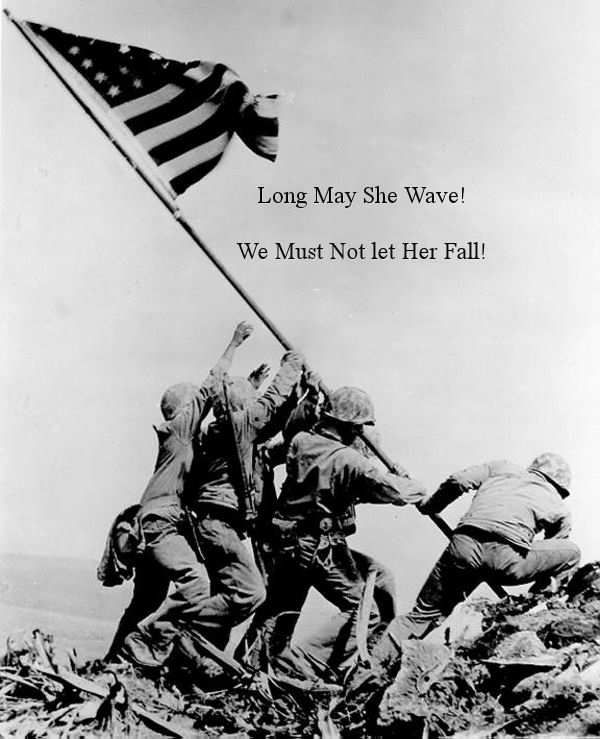 Nov. 12….(Christian Post / by Rev. Mark Creech) Last year, my father, who was a veteran, passed away. As mourners stood along with my family at his grave-side, a soldier blew the strains of "Taps." That eloquent and haunting melody drifted over his resting place as an official tribute to a fallen serviceman, a man who was a devout follower of Jesus Christ; a man who felt his family was his greatest achievement; a man who deeply loved his country. Today his tombstone proudly acknowledges his service in the United States Coast Guard.
There are times when I am glad my father cannot witness what seems to be a rapid fall in our country's Armed Forces. But then again, perhaps he does. Stephen Bleecker Luce, Rear Admiral, 1885, in the United Sates Navy, once referred to worthy seamen who exhibited the highest Christian virtues and would appear among that great cloud of heavenly witnesses the writer of Hebrews referred to in chapter 12 and verse 1. Some scholars say the text argues that heroes of the faith, people of every post who have gone on before us, like a great "cloud of witnesses" look down from heaven, watching our actions in the same manner people of ancient days would watch the races and other games from their stations above in the great coliseums.
So perhaps my father, a veteran gone on to that place of time without end, actually can see the current growing hostility to religion, more specifically the Christian religion, taking place in our nation's military. Perhaps he does see what Tony Perkins of the Family Research Council has described as a climate of intimidation that began in the Air Force bleeding over into every branch, "leading even military chaplains to wonder about their security in referencing the Bible." Perhaps my father witnessed when an Air Force Chief of Staff, Norman Schwartz, sought to squelch officers from promoting their own religious beliefs, including any support of chaplain run events. Perhaps from his unique position in the eternal realms, he has seen the way prominent Christian leaders have been snubbed and disinvited from various military-related speaking occasions. Godly men like Franklin Graham, son of renowned Christian evangelist, Billy Graham, who was disinvited from the Pentagon's National Day of Prayer after criticizing Islam.
Perhaps he witnessed a Rear Admiral's speech at a recent National Day of Prayer Event that recounted the way he felt it necessary to violate military rules just to provide a Bible to a soldier who was suicidal. Perhaps he witnessed in April when anti-Christian bigot Mickey Weinstein met with Pentagon Brass to press for the court-martial of Christian service men and women who dare share their faith in their Savior, Jesus Christ. Perhaps my father saw last month when soldiers attended a military briefing at Camp Shelby and were threatened with punishment if they supported the Christian organization, the American Family Association. They were erroneously and outrageously instructed AFA was a "hate group," no better than the likes of the Ku Klux Klan, Neo Nazis, or Fred Phelps and members of the Westboro Baptist Church.
If indeed my father can witness these things from on high, then along with him there might be even greater witnesses to these and many other disturbing attacks on faith among our country's fighting men and women.
Witnesses like the great General and Father of our Country, George Washington, whose first order to his troops called on: "Every officer and man…to live, and act, as becomes a Christian Soldier defending the Rights and Liberties of his country."
Witnesses like Confederate General Thomas Jonathan "Stonewall" Jackson who once said, "My religious belief teaches me to feel as safe in battle as in bed. God has fixed the time for my death. I do not concern myself about that, but to be always ready, no matter when it may overtake me. That is the way all men should live, and then all would be equally brave."
Witnesses like John William Jones, a chaplain in Robert E. Lee's Army of Northern Virginia who wrote in his 1887 work, "Christ in the Camp": "Any history of this army which omits an account of the wonderful influence of religion upon it, which fails to tell how the courage, discipline, and morale was influenced by the humble piety and evangelical zeal of many of its officers and men, would be incomplete and unsatisfactory."
Witnesses like General Robert E. Lee who proclaimed to the ranks under his authority: "Soldiers! Let us humble ourselves before the Lord, our God, asking through Christ, the forgiveness of our sins, beseeching the aid of the God of our forefathers in the defense of our homes and our liberties."
Witnesses like General Dwight D. Eisenhower, who after saluting his men and bowing his head in prayer for the 3000 Naval ships he had ordered into battle during World War II, turned to an officer next to him and said: "There comes a time when you've used your brains, your training, your technical skill, and the die is cast and the events are in the hands of God, and there you have to leave them." Throughout the centuries men of many faiths and diverse origins have found in the Sacred Book words of wisdom, counsel and inspiration. It is a fountain of strength and now, as always, an aid in attaining the highest aspirations of the human soul."
Of course, all of this is most speculative. But what isn't conjecture is something the 14th President of the United States, Franklin Pierce, once asserted. He said, "It must be felt that there is no national security but in the nations' humble, acknowledged dependence upon God and His overruling providence."
No Army, no Air Force, no Navy, no matter how well trained, no matter how marvelously equipped, no matter its history of victories, is strong enough to protect and save a country without God. Moreover, it is fundamentally immoral to obstruct or frustrate that which a soldier needs most for the spirit when facing the duty of being hunkered down in a fox hole. It is still only speculation. But I wonder if while standing among such a great "cloud of witnesses" my father hears from a distant corner of glory an angel starting to play the twenty-four notes of "Taps" over a final and utter future defeat of our nation's military and its fallen captains.
God forbid. We must zealously facilitate access to the Bible, the knowledge of God, and His Son, Jesus Christ, while keeping religious liberty strong for all our nation's service members. Lest we suffer the certain fate of the Psalmist who warned, "The wicked shall be turned into hell, and all the nations that forget God" (Psalm 9:17).
Netanyahu Hammers Home Message on Iran
Nov. 11….(Jerusalem Post) PM tells Jewish Federations GA he is skeptical of Iran's willingness to compromise on nuclear weapons; urges world against "pampering Palestinians"; says Western Wall is in Jerusalem, but belongs to all Jews. Prime Minister Binyamin Netanyahu stuck to his often repeated warning about Iran's nuclear ambition, telling the Jewish Federations General Assembly in Jerusalem on Sunday night that, a deal which allows Iran the possibility of becoming a nuclear state in the future was "a bad deal"
Taking the stage at the convention center, Netanyahu immediately made clear what would be the main theme of his speech. He told the audience that the Iranians had only come to negotiate in Geneva because of the crippling sanctions that had been imposed upon them and that they had no choice. But, he warned that any agreement by the international community that saw an easing of those sanctions in return for "meaningless minor concessions" would lead to disaster.
The prime minister also expressed his skepticism on the Palestinian leadership's willingness to reach a peace agreement with Israel, yet voiced hope that an agreement between the two sides would be resolved.
Netanyahu criticized the global community's dealings with the Palestinians saying it "cannot be that the Palestinians are forever pampered by the international community". "If the Palestinians expect us to recognize a Palestinian state for Palestinian people, they must recognize a Jewish state for Jewish people," he said. While reiterating his call for the Palestinian leadership to recognize Israel as a Jewish state, the premier voiced his hope that the current round of US-brokered peace talks will result in a "historic compromise" between the two sides. "Cold peace is better than hot war, but I'm hoping for warm peace," he said.
WEEK OF NOVEMBER 3 THROUGH NOVEMBER 9
Israel Accuses US of Deceit on Nuclear Deal with Iran
(Geneva talks reveal Obama betrayal of Israel)
Nov. 10….(DEBKAfile Special Report) The interim nuclear accord negotiated directly between Washington and Tehran was already secretly in the bag before the two-day talks between Iran and the Six World powers took place in Geneva Thursday and Friday. The plan was for a ceremonial signing to take place Friday, Nov. 8, after US Secretary of State John Kerry flew in from Jerusalem and the Iranian Foreign Minister confirmed "the general outline of an agreement." Half a dozen foreign ministers from across the globe flew into Geneva to add their signatures to the interim accord. But the signing did not take place and the event dragged on into Saturday, Nov. 9.
French Foreign Minister Laurent Fabius remarked: "There is an initial draft that we do not accept. I have no certainty that we can finish up." He also referred to the concerns of Iran's neighbors in the Middle East. French reservations on the accord were not, however, the main obstacle. It may be recalled that a last-minute phone call from President Barack Obama on July 31 persuaded President Francois Holland to return to their hangars the French bombers standing ready at Saudi air bases to strike Syria after its chemical attack. The French government will no doubt be won round again and give the interim deal with Iran a chance.
The US president's phone conversation with Prime Minister Binyamin Netanyahu ("This is a very, very bad deal!") early Saturday was a lot more heated. It took place after a three-day visit by John Kerry, which Debkafile's sources reported Wednesday hardly touched on the Palestinian question: Most of the time he was on the phone to the US delegation in Geneva, the White House and the Iranian Foreign Minister. From those conversations, Netanyahu learned to his dismay that the version of the accord he had received from Kerry in the first of their three conversations differed substantially from the outline prepared for signing in Geneva, especially in the key clause of sanctions relief.
This discovery precipitated the most furious row Friday ever heard by any US or Israeli official between an Israeli leader and an American official. Netanyahu angrily confronted Kerry with the charge that the Obama administration had deceived Israel every step of the way by letting Iran continue to clandestinely develop the prohibited military elements of its nuclear program, including the underground enrichment plan in Fordo; the heavy water plant for plutonium production in construction in Arak; uranium enrichment up to 20 percent purity; and now, the last straw, sanctions.
While Obama and Kerry have admitted only to lifting "a few minor reversible sanctions" and "modest' sanctions relief as part of the deal, Israel discovered a far more generous package of concessions was on offer. The Europeans would lead the way in easing sanctions to allow Washington to show clean hands, especially to Congress.
By Friday, the Iranians understood that the Obama administration was so hell-bent on signing the first ever international accord on their nuclear program, that they could afford without much risk to up the price for their signature and extort more last-minute concessions.
Netanyahu Blasts Impending US Deal With Iran
(A very unusual statement from the Israel prime minister on the eve of a possible nuclear detail between the US and Iran: "I met Secretary Kerry right before he leaves to Geneva," said Netanyhau. "I reminded him that he said that no deal is better than a bad deal. That the deal that is being discussed in Geneva right now is a bad deal. It's a very bad deal. Iran is not required to take apart even one centrifuge. But the international community is relieving sanctions on Iran for the first time after many years. Iran gets everything that it wanted at this stage and it pays nothing.)
Nov. 9….(Fox News) The Obama administration's push for a nuclear disarmament deal with Iran is mostly smoke and mirrors, Richard Perle, former chairman of the Defense Policy Board and a fellow at the American Enterprise Institute, tells Newsmax. "President Barack Obama is not prepared to take any action to stop the Iranian nuclear program," Perle told "The Steve Malzberg Show" on Newsmax TV. "So one way to avoid taking action is to reach an agreement and claim it solves the problem, whether it solves it or not." "If you define the problem correctly, it is ending the Iranian nuclear weapons program and an agreement that fails to do that may satisfy the president's requirement for an excuse to do nothing, but it isn't going to solve the problem."
It is doubtful that Iran can be trusted in any kind of deal with the United States despite the ongoing, intensive negotiations between the two countries in Geneva, Perle believes. "There are many issues between Iran and the civilized world and Iran and the United States of which their nuclear weapons ambitions are only one," he said. "There's the Iranian involvement in terrorism. They are the No. 1 sponsor of terrorism around the world. Just look at Hezbollah, for example. So we have a lot of issues with Iran."
Israeli said Friday that he "utterly rejects" the impending agreement, calling it a "bad deal." And he reiterated that Israel will do everything it needs to do to defend itself.
Netanyahu has repeatedly threatened to attack Iran, unilaterally if necessary, if he concludes that diplomatic pressure on Iran has failed. "I understand the Iranians are walking around very satisfied in Geneva as well they should because they got everything and paid nothing," Netanyahu told reporters, according to The Associated Press. "They wanted relief of sanctions after years of grueling sanctions, they got that. They paid nothing because they are not reducing in any way their nuclear enrichment capability. So Iran got the deal of the century and the international community got a bad deal," Netanyahu said. "This is a very bad deal and Israel utterly rejects it. Israel is not obliged by this agreement and Israel will do everything it needs to do to defend itself and defend the security of its people," he said. Perle said Netanyahu is right to question the deal. "I expect that the Israeli Prime Minister is looking at one question and that is, does this stop the Iranian program or not? And I'm afraid the answer is, No, it doesn't.
Tehran loses nothing in the peace deal Secretary of State John Kerry is negotiating with Europeans leaders and Iran in Geneva, Retired Lt. Col. Ralph Peters said Friday. "Based on the details we know thus far, the Iranians give up nothing. They destroy no centrifuges. They reverse no processes. They take a very brief time out, while we loosen sanctions enough to rescue their collapsing economy," Peters told Fox News "America's Newsroom." "This is an idiotic deal," Peters, a Fox News military analyst, added. "Sanctions have been working. And, we're going to throw it away."
The administration is considering the deal, because President Barack Obama needs a "win" after the disastrous Obamacare rollout, Peters indicated. "Believe it or not, there's a tie-in to Obamacare. The administration's reeling so badly from that rollout disaster, they need a win. And, this is something they can present as a win to the American people," Peters said.
Peters questioned why the administration would cater to Iran, when economic sanctions have been successful in containing Iran's nuclear capabilities. Iran's economy has faltered to the point that food and medicine are in short supply, Fox News reported. "Iran's economy is in near collapse. They need help. We are in the driver's seat. And yet, we're letting the Iranians steer," Peters said. "And, meanwhile, we've abandoned Israel."
Geneva Fallout: Iran Becomes a Nuclear Power, Thanks to Obama
(Agreement will be followed by Saudis going nuclear. Israel loses trust in Obama)
Nov. 9….(DEBKA) Israel's most painful lesson from the two-day Geneva conference on Iran's nuclear program is that the man who guaranteed to defend Israel's security, President Barack Obama, is now marching hand in hand with Tehran towards a nuclear-armed Iran. This is the reality behind the fuss and excitement surrounding the signing ceremony in Geneva Friday, Nov. 8, and the slick words gushing forth to put a convincing face on the interim deal put together between Iran and the Six Powers Thursday and Friday.
President Obama broke the news to NBC Thursday night: "There is a possibility of a phased agreement, the first part of which would stop Iran from further expanding its nuclear program. We are offering modest relief from the sanctions, but keeping the core sanctions in place, so that if it turned out during the course of the six months when we're trying to resolve some bigger issues that they're backing out of the deal or… not giving us assurances that they're not developing a nuclear weapon, we can crank that dial back up," the US president said.
Friday morning, when US Secretary of State John Kerry was heading for Geneva to join Iran's Foreign Minister Javad Zarif for the final signing stage, it was still unclear what Iran is willing to concede. This is because no one was ready to admit exactly what the agreed "freeze" applied to and how far it is from "dismantlement " Iran had in fact already achieved all the makings of a nuclear bomb and was holding them in place ready for assembly. Uranium enrichment will furthermore continue although at a low grade. At any moment, Tehran may decide to assemble those components and produce a bomb and has the capacity to do so before the US or Israel catch on to what is happening.
The accord to be signed Friday elevates Iran automatically to the rank of a nuclear power, which already holds Syria, Iraq and Lebanon under its sway. The radical alliance binding Iran's Ayatollah Ali Khamenei, Syria's Bashar Assad and Hizballah's Hassan Nasrallah has triumphed. Israel fell down badly by trusting the Obama administration to break this axis up before it spreads more violence and havoc across the region.
Before setting off for Geneva, Secretary Kerry warned Israel that the breakdown of talks with the Palestinians would result in a third "intifada." But he made no reference to the Iranian nuclear intifada now looming over Israel and the entire Middle East. Before coming to Jerusalem, the US Secretary visited Riyadh. But there was nothing much for him to discuss with King Abdullah and Foreign Minister Saud Al-Faisal, because both had accepted that there is no chance of turning the Obama administration from its chosen track which results in Iran enjoying the freedom to pursue a nuclear weapon amid progressively enhanced sanctions relief.
Some time ago, the Saudis took what they saw as appropriate preemptive action. On Jan. 1, 2013, Crown Prince Salman, deputy premier and defense minister, traveled to Islamabad and commissioned Pakistan to build nuclear weapons for a multibillion fee. Those weapons were assembled in Pakistan and held ready for transfer to Saudi Arabia at a moment's notice. Last week, former Israeli Military Intelligence (AMAN) chief Amos Yadlin told a conference in Sweden that if Iran got the bomb, "the Saudis will not wait one month. They have already paid for the bomb and will go to Pakistan and bring back what they need."
So the countdown to a nuclear Saudi Arabia begins with the signing of the "interim" Iranian nuclear deal in Geneva. Its first result will be the deployment of a Sunni Muslim Arab nuke versus a Shiite Iranian bomb. Israel's reputed nuclear program remains in its decades-old holding position.
The burgeoning nuclear standoff will inject a further unstable element in the volatile Middle East. Washington has not chosen that road out of stupidity or blindness as some dismayed Israeli officials are saying. The plan appears to be not only to present Israel with a nuclear challenge, but to put a damper on Russia's strategic and military momentum in the region.
Prime Minister Binyamin Netanyahu admitted he was stunned by the terms of the accord negotiated with Iran, calling it a "monumental, historic mistake" and "Iran's deal of the century." Tehran has conceded nothing and receives limited sanctions relief, he said. The interim agreement, said Netanyahu, buries the possibility of a peaceful final accord for dismantling Iran's nuclear program once and for all. "Israel is not obliged by this agreement and will do everything it needs to do to defend itself and defend the security of its people," he said. His words carried two messages:
1. Israel has abandoned its trust in Barack Obama ever complying with his pledge to its security and will henceforth act on its own.
2. Israel's only remaining course now is to exercise its military option against Iran's nuclear capability, whether openly or covertly. For five years, Binyamin Netanyahu has repeatedly warned the world that Israel was ready for military action to preempt a nuclear-armed Iran. Each successive repetition was received on a diminishing scale of credibility. His response to the Geneva accord is therefore anyone's guess.
Ex-Marxist Calls out Obama as 'Communist'
(Warns health-care failures are means to totalitarian ends)
Nov. 9….(WND) The disastrous launch of Obamacare could be just the beginning of a much larger and far more devastating crisis. A growing number of analysts worry the health-care program itself has so many flaws that its could lead to the meltdown of the entire American health-delivery system. And that, some have speculated, could provide just the excuse for the administration to push something called the "single-payer" system of health care as the solution for a catastrophic crisis. In the case of such a full-blown crisis, critics say, the administration could claim the only solution would be to "transition" into a single-payer system, something President Obama has frequently claimed he prefers. Obama plainly stated before he became president: "I happen to be a proponent of a single-payer, universal health care plan. Everyone in, nobody out." He admitted the country might not "get there immediately" but that it could "build off" transitional programs.
Likewise, Sen. Majority Leader Harry Reid, D-Nev., called Obamacare just a transitional step toward a single-payer system back in August, well before the health-care law had its debacle of a debut in October. What is a 'single-payer' system? Yes, what exactly is a "single-payer" system that the president has repeatedly said he really wants? It's a term unfamiliar to many Americans. The "single payer" would be the government. Private insurance companies would be eliminated.
And although groups like Physicians for a National Health Program claim it's the most efficient and clean way to administer health care, prominent conservative and author David Horowitz has another name for "single payer": Communism. Horowitz believes semantics are clouding a crucial issue: When leftists say they favor "single-payer" health insurance, what they really mean is they favor communism. And that is what President Obama really wants, he concludes. Socialist Communism'! "Why are we calling it single-payer? Single-payer means that the government has total control of your health care. That's communism. That's what it is. And that's what they're definitely driving for," Horowitz said Wednesday on Fox News while promoting his new book. "The Black Book of the American Left" describes how Horowitz inherited his radical-left politics from his parents, became a founder of the New Left, but then turned into one of its main antagonists after "three decades of second thoughts" led him to become a conservative. Horowitz said it's not difficult to figure out how the push to provide health insurance to all Americans could turn into a communist program. Americans should understand that this month's mass cancellation wave has been the president's political goal since 2008
Rand Paul Calls for Defense of Christians
(Senator cites those 'killed by followers of radical Islam')
Nov. 9….(WND) Sen. Rand Paul, R-Ky., is leading an effort by politicians and human rights groups to push the United States government to make the fight against Christian persecution a policy priority, including increased pressure on Iran to free American pastor Saeed Abedini. In a bipartisan move, 23 US senators have sent President Obama a letter asking him to step up pressure on Iran to release Abedini, held for being a Christian since September 2012. In a statement, the American Center for Law and Justice said the letter is further evidence of the Senate's commitment to Abedini's freedom. "Led by Sen. Ted Cruz, R-Texas, the letter calls Pastor Saeed's transfer a potential 'death sentence' and urges President Obama to immediately speak out for his freedom. Now nearly a quarter of the US Senate is urging action from the US government on Pastor Saeed's behalf," ACLJ said.
In a recent speech, Paul said he believes there's an all-out war against Christianity, and he wants the US government to focus on fighting against persecution. Paul told WND in an interview that people can play a major role in bringing the issue to the government's attention. He said his first goal is to raise awareness of the issue. "It's important to acknowledge that there is a problem. There have been many deaths in a couple of dozen of countries of Christians who were killed by followers of radical Islam," Paul said. "These Muslims are seeing the cause for their actions to be based on their interpretation of their religion."
Paul said 9/11 was also a negative turning point in dealing with the reality of Islam's role in persecution. "After 9/11, I think there was an effort to downplay the role of religion in these acts of terrorism. It seems to be in surveys, that 10 to 15 percent of the people in these countries believe in violence against civilians. This makes a fairly significant number of Muslims, 50 to 100 million people worldwide who believe in violence," Paul said. He also pointed to a survey done after the 2005 subway bombing in London that found some 100,000 Muslims who believed that violence against civilians was justified. "There was another 400,000 who didn't completely condone it, but they were sympathetic. That's worrisome," Paul said. "It's also something that Christians need to be concerned with and moderate members of Islam also need to speak out against this."
Paul mentioned the shooting of Malala Yousafzai, the 16-year-old girl shot by the Taliban. "She's not a Christian, but at the same time it's worrisome that their religion would try to kill a girl who simply wants to go to school," Paul said. "So yes, we do need to speak out about it as a first step." The senator said he has focused on restricting foreign aid as one way to fight persecution. "We also have some debate on money we send to foreign countries. I've tried on several occasions to have some amendments on foreign aid, to put restrictions on the foreign aid," Paul said. "We shouldn't be sending foreign aid to countries that commit persecution against Christians, to countries who say that a Christian can be put to death for blasphemy or conversion," Paul said.
He noted that as with Abedini in Iran, conversion from Islam to another religion is a major issue. "If you're a Christian who converted from Islam, the punishments are significantly more severe, more than if you were born as a Christian," Paul said. The senator, considered by many to be a rising star in the Republican Party and a potential candidate for the Oval Office in 2016, says the bipartisan letter is not the first Senate attempt to free Abedini. "We've tried adding some language to some bills to provoke President Obama into action on Pastor Saeed Abedini, who in the last couple of days has been moved to an even more severe prison in Iran," Paul said.
Saudi Arabia Said to Have Bought Nukes from Pakistan
(Warheads stand ready for delivery if and when Iran goes nuclear, report says; Riyadh has the missiles needed to launch them)
Nov. 8….(Times of Israel) Saudi Arabia may be prepared to field nuclear bombs it has purchased from Pakistan in response to Iran's alleged military nuclear program, and may already have deployed missile systems capable of delivering the bombs, the BBC reported on Wednesday. According to Mark Urban, diplomatic and defense editor for the BBC's Newsnight, there are suggestions that the Saudis have paid for a number of nuclear weapons that are ready and waiting in Pakistan. If the reports are accurate, the kingdom could have atomic weapons on its missiles even before Iran has that capability.
Urban said it was an assessment shared by the former head of the IDF's head of intelligence, Amos Yadlin, and cited comments Yadlin made to that effect at a conference in Sweden last month. "The Saudis will not wait one month," Yadlin reportedly said. "They have already paid for the bomb, they will go to Pakistan and bring what they need to bring." Another source, described as "a senior NATO decision maker," told Urban earlier this year of an intelligence report about Pakistani-made nuclear weapons ready for delivery to the kingdom.
Since 2009 Saudi Arabia has been sending clear warnings to the US that it will not sit back and let Iran go nuclear. I do think that the Saudis believe that they have some understanding with Pakistan that, in extremis," they would be able to get nuclear weapons from Pakistan, Gary Samore, who until May this year was US President Barack Obama's counter-proliferation adviser, was quoted as saying. The Saudis already have the means to deliver nuclear weapons after acquiring Chinese-made CSS-2 missiles during the 1980s. The missiles, which have a range of over 2,500 kilometers, can be armed with nuclear warheads. In addition, it has been clear for many years that Saudi Arabia was funding the Pakistani defense establishment, the report said. "What did we think the Saudis were giving us all that money for?" a senior Pakistan official was quoted as saying. "It wasn't charity."
The report did not say whether the warheads would simply be handed over to the Saudis, or if Pakistani military units would be deployed in the kingdom to oversee their use, although it suggested that Pakistani-made Shaheen (Falcon) ballistic missiles were already stationed in Saudia Arabia, minus their warheads. In an email to the BBC, Yadlin left no doubt as to his take on the gravity of the prospect of a nuclear-armed Saudi Arabia. "Unlike other potential regional threats, the Saudi one is very credible and imminent," he wrote.
Officially, both Pakistan and Saudi Arabia denied the reports. The Pakistani Foreign Ministry told the BBC in a statement that the report of nuclear bombs ready and waiting was "speculative, mischievous and baseless." "Pakistan is a responsible nuclear weapon state with robust command and control structures and comprehensive export controls," the statement said.
The Saudi Arabian embassy in London similarly rejected the suggestion and noted that the kingdom was signatory to the Nuclear Non-Proliferation Treaty. The embassy added that Saudi Arabia had rejected an offer to take a seat on the United Nations Security Council due, among other reasons, to the failure to keep the Middle East free of nuclear weapons.
Major Israel-US Rift Erupts Over Obama Plan to Let Tehran Continue Enriching Uranium & With Sanctions Relief
Nov. 8….(DEBKA) Israel announced early Thursday, Nov. 7, that it is utterly opposed to the new proposal for Iran's nuclear program which the United States plans to put before the two-day Geneva conference beginning later today . Prime Minister Binyamin Netanyahu, when he met US Secretary of State John Kerry in Jerusalem Wednesday night, bitterly accused the Obama administration of yielding to the Russian-backed Iranian position. Should Tehran renege on the deal, the US proposal leaves it with the capacity for enriching enough weapons-grade uranium in 10 days to build several nuclear weapons.
This US proposal calls for Iran to halt enrichment of uranium up to 20-percent grade (a short jump to weapons-grade) and slow construction on the Arak heavy water plant for plutonium production. In return, the US offers a start on selective sanctions relief. This proposal is likely to be approved by the six powers at the Geneva conference. Kerry was reminded of his pledge that "no deal is better than a bad deal." This deal is bad, Israel says because it leaves Iran wth all the stocks it has already built up of 20-percent enriched uranium and the ability to continue the production of low 5-percent grade unrestricted.
Debkafile's sources report that the Palestinian issue did not come up in either of the two conversations Kerry held with Netanyahu Wednesday. Both were dominated by the Iranian row and ended with differences as wide as ever. Israel accused Washington of capitulating to the plan Moscow and Tehran handed in to President Barack Obama last week. That plan, according to our sources, entails suspending the work of 10,000 centrifuges on all grades of enrichment (3, 5 and 20 percent). However, Iran has a total of 19,000 machines of which only 9,000 are active anyway. Therefore, the offer to freeze 10,000 already idle centrifuges was a subterfuge. It is nonetheless being presented by the Russians, and now by the Americans, too as a major Iranian concession.
The truth is that Iran is being allowed to keep its full stock of centrifuges intact, operational and available for use at any time. This means that if Tehran decides tomorrow to renege on its deal with Washington and the world powers, after its approval in Geneva, it will retain the capacity to restart centrifuge operations in full and within 10 days accumulate enough weapons-grade material to build several nuclear bombs or warheads. By the time Washington or the nuclear watchdog catch on, it will be too late: Iran will have The Bomb.
Last week, Moscow claimed that Iran had agreed to "restrain the weaponization processes." This admission alone belied Tehran's insistence that its entire nuclear program was peaceful and exposed as false Moscow's denials of proofs that Iran was engaged in developing nuclear arms. According to our sources, the "restraint" on offer refers only to the process of miniaturizing a nuclear bomb for use in a missile warhead or dropped from an airplane.
In sum, therefore, the US president has agreed in essence to "photograph" Iran's nuclear program and freeze it as it stands now. Tehran would place nuclear development in suspension without, however, relinquishing a single component of its program. The new American proposal broke surface Wednesday, as the seven delegations gathered in Geneva for the morrow's session. A nameless US spokesman told reporters that America was now proposing that Iran, as a first step, stop its nuclear program advancing any further and start rolling parts of it back. In return, Washington offered "very limited, temporary, reversible sanctions relief."
The spokesman said: "This phase must involve levels of Iran's uranium enrichment, its stockpiles of the material as well as international monitoring." Israel is not buying this plan.
Kerry Threatens Israel With Sanctions, While Lifting Sanctions on Iran
(Pressing Netanyahu to give up crucial land)
Nov. 8….(WND) US Secretary of State John Kerry seems to be using the threat of tougher European Union sanctions on Israel to press Prime Minister Benjamin Netanyahu into land concessions with the Palestinians? Kerry is in the Israel in an effort to advance negotiations between the Jewish state and the Palestinian Authority.
Last August, WND was first to report the Obama administration is working behind the scenes in tandem with the EU's boycott of Israeli settlements, tying the seriousness of the EU's future ban to Israel's actions during current US-brokered talks with the Palestinians, according to a senior Palestinian negotiator. The negotiator claimed at the time that if Israel does not collaborate with the current round of Palestinian talks being brokered by Kerry, the EU financial sanctions could become tougher. The threat has been communicated to Israeli officials, according to the Palestinian negotiator. Now Israel's largest newspaper, Yedioth Aharonot, has reported that Kerry is using the EU sanctions to blackmail Israel into complying with talks aimed at creating a Palestinian state that would include the West Bank and eastern Jerusalem. The newspaper claimed that Kerry "told the prime minister that he heard from his European friends that if the negotiations fail, Israel can forget about participating in the European research and development program 'Horizon 2020.' "And that will only be the beginning. More and far weightier actions to boycott Israel will follow. They are already being prepared. This will cause incalculable damage to the Israeli economy."
In July, the EU published guidelines that deny EU funds in the form of grants, prizes and financial instruments from going toward any Jewish entities in the West Bank, Gaza Strip, Golan Heights or eastern Jerusalem. The guidelines, slated to go into effect in January, further require any future Israeli-EU financial agreements to include a clause stipulating that the West Bank, eastern Jerusalem and the Golan Heights are not actually part of Israel.
Netanyahu: Proposed Iran Deal Would be 'Historic' Error
Nov. 8….(AP) Israel warned Thursday against a proposal to ease sanctions on Iran in return for the freezing of its nuclear programme, saying it would be "a mistake of historic proportions." "Israel understands that there are proposals on the table in Geneva today" which would "allow Iran to retain the capabilities to make nuclear weapons," Prime Minister Benjamin Netanyahu said at a Jerusalem conference. "Israel totally opposes these proposals. I believe that adopting them would be a mistake of historic proportions," he said.
Netanyahu's warning came as the so-called P5+1 group of Britain, China, France, Russia, the United States and Germany was meeting with Iranian officials in Geneva for the latest round of talks over its disputed nuclear program. Officials have said a long-awaited deal on curbing Iran's nuclear ambitions may be finally within reach, after years of fruitless talks were given fresh momentum by the election of Iran's new President Hassan Rouhani, seen as a relative moderate. Western powers suspect Iran's uranium enrichment may be aimed at developing nuclear weapons, a claim Tehran denies.
Israel, widely believed to be the Middle East's sole if undeclared nuclear power, has staunchly opposed easing sanctions. Ahead of this week's talks, a senior US official said Washington was willing to offer Iran limited sanctions relief if it agrees to take a "first step" to stop advancing its nuclear program. Israel's International Relations and Strategic Affairs Minister Yuval Steinitz said that, despite the world understanding Israel's concerns regarding Iran's nuclear program, the Jewish state still had reason for alarm. "In recent days, even yesterday, I spoke with some of the European representatives to the negotiations. They understand us perfectly," he said. "At the same time, we can see here and there a desire to reach a quick achievement, even at the expense of it being a (bad) deal, that would be a historic mistake," Steinitz told military radio.
The six powers have been pushing Iran to freeze its enrichment efforts, reduce stockpiles and lower its capacity to produce nuclear material. Netanyahu stressed that the crippling economic sanctions must not be eased before Iran's nuclear military abilities were abolished, and reiterated that a unilateral Israeli action remained on the table. "The sanctions regime has brought the Iranian economy to the edge of the abyss, and the P5+1 can compel Iran to fully dismantle its nuclear weapons program. This means ending all enrichment, stopping all work on the heavy water plutonium reactor," he said in remarks relayed by his office. "Anything else will make a peaceful solution less likely. Israel always reserves the right to defend itself, by itself, against any threat," Netanyahu said.
HAGEL GIVES NETANYAHU SUPPORT ON IRAN
Rumors abound regarding upcoming talks
Nov. 5….(ICEJ News) US Defense Secretary Chuck Hagel gave Israeli Prime Minister Benjamin Netanyahu some rhetorical support Monday for his repetition of warnings about the dangers from Iran's renegade nuclear program. "I think Prime Minister Netanyahu is legitimately concerned, as any prime minister of Israel has been, about the future security needs of their country," Hagel said in an interview with Bloomberg's Jeffrey Goldberg. "It's true that sanctions – not just US sanctions but UN sanctions, multilateral sanctions – have done tremendous economic damage," Hagel said. "Even many of Iran's leaders have acknowledged that. And I think that Iran is responding to the constant pressure from Israel, knowing that Israel believes them to be an existential threat. I think all of this, combined, probably brought the Iranians to where we are today. Whether the Iranians will carry forth on that, we'll see." Netanyahu used his joint press conference with visiting Polish President Bronislaw Komorowski to once again re-iterate his case on Iran. "While we are meeting here in Jerusalem, tens of thousands of people are chanting 'Death to America' in the streets of Tehran," he said. "If you want to see the true face of this regime, see it there – chants of 'Death to America.'" Meanwhile, Iranian President Hassan Rouhani backed up his boss Supreme Leader Ayatollah Ali Khamenei's pessimistic tweets on Monday, telling Iranian reporters "the government is not optimistic about the Westerners and the current negotiations. But it does not mean that we should not have hope for removing the (international sanctions.)" In related news, the Times of London reported on Monday that Western negotiators are pondering the idea of offering Iran cash inducements, in the form of unfreezing Iran's ability to sell oil to Japan, India and China, in exchange for a freeze in nuclear work while negotiations are ongoing.
Oil & Politics: Who Will Take Over from the US in the Middle East?
Nov. 5….(Wall Street Cheat Sheet) There is little doubt that politics in the Middle East are changing right before our very eyes, and with that shift in politics will unavoidably come a change in the policies of oil, as the two go hand in hand in the region where the Arab countries have learned since the October 1973 Arab-Israeli War that oil can be a very powerful weapon.
First among the major changes to occur in recent weeks has been the icing of relations between Saudi Arabia and the United States, two countries that for the longest time were the closest of friends in the Middle East, except perhaps for the relations that the U.S. had with Israel. Well, short of a miracle, the Saudi-US love affair initiated by President Franklin D. Roosevelt and King Abdulaziz ibn Saud at the close of World War II is no longer.
The differences of opinion have been brewing for a while over a number of issues, but particularly over the issue of how to handle the civil war in Syria. Saudi Arabia expected a more aggressive approach from the US, especially as a reply to the use of chemical weapons by Syrian forces against rebel held areas.
Israel Furious at Obama for Outing Syria Strike
Nov. 4….(Israel Today) Israeli officials were incredulous on Sunday that the Obama White House had once again spilled the beans about a discrete Israeli military operation in Syira. Last Wednesday, a military base on Syria's Mediterranean coast that was housing advanced missile systems was destroyed in a sudden attack from the sea. A day later, an unnamed American official casually revealed to CNN that Israel had indeed been behind the attack, and that the target had been missiles earmarked for delivery to Lebanon's Hezbollah terrorist militia. The leak "came directly from the White House," reported Israel's Channel 2 News, which noted this was not the first time the Obama Administration had "outed" secretive Israeli military actions.
Such behavior was "scandalous," especially coming from Israel's top ally, an infuriated Israeli official told Channel 10 News. Experts debating the issue on Israeli television over the weekend said it was nothing short of puzzling why Washington was allowing such dangerous leaks. They explained that American officials were doing grave harm to Israeli national security and actually moving the region much closer to full-scale war.
Said one expert on a Channel 2 News panel: "By exposing that Israel is behind the attacks, the US is bringing us nearer to the day in which Syrian president Bashar Assad will no longer be able to swallow these provocations, and he will have to respond, and if he responds then Israel will probably have to respond in kind, and then maybe, in the White House, people will clap their hands, because they have started a very large fire here."
Persian Gulf States Acting Against Syria Apart From US Leadership
Nov. 4….(Washington Post) Persian Gulf countries, led by Saudi Arabia, are moving to strengthen their military support for Syrian rebels and develop policy options independent from the United States in the wake of what they see as a failure of US leadership following President Obama's decision not to launch air-strikes against Syria, according to senior gulf officials.
Although the Saudis and others in the region have been supplying weapons to the rebels since the fighting in Syria began more than two years ago and have cooperated with a slow-starting CIA operation to train and arm the opposition, officials said they have largely given up on the United States as the leader and coordinator of their efforts.
Instead, the Saudis plan to expand training facilities they operate in Jordan and increase the firepower of arms sent to rebel groups that are fighting extremist elements among them even as they battle the Syrian government, according to gulf officials who spoke on the condition of anonymity to preserve comity with the United States. What officials described as a parallel operation independent of US efforts is being discussed by the Saudis with other countries in the region, according to officials from several governments that have been involved in the talks.
Unhappiness over Syria is only one element of what officials said are varying degrees of disenchantment in the region with much of the administration's Middle East policy, including its nuclear negotiations with Iran and criticism of Egypt's new government.
Secretary of State John F. Kerry arrives in Saudi Arabia on Sunday on a hastily arranged visit, to include his first-ever meeting with King Abdullah on Monday, that is designed to smooth increasingly frayed US relations with the kingdom. Kerry will also stop in the United Arab Emirates, Jordan and Israel, all of which have expressed concerned at what they see as a weakened US posture in the region.
Obama Is Selling Israel's Secrets
(US administration intentionally pointing finger at Israel in bid to sabotage Israeli security)
Nov. 4….(YNET) What the hell are the Americans thinking when they point at Israel as responsible for the strikes in Syria? Past experience shows that we have shared our operational activity with them so as not to embarrass and surprise, but Washington is selling our secrets cheaply. The first time it happened, people here thought it was a mistake. The defense minister looked into it, the American secretary of defense offered an explanation, and an investigation was even launched there. The second time the Americans sold us, the secretary of defense apologized and blamed some scapegoat in the Pentagon.
And what now? Now it is dangerous villainy coming out of the Obama administration intentionally, in a bid to sabotage the Israeli security policy. If the Americans hadn't marked the Israel Air Force as responsible for some of the strikes which have taken place since January in Syria, Assad would have had no direction to point the accusing finger at. The Syrian president has many reasons to be furious after the latest attack. Assad believed he had bought himself an insurance policy when he agreed to disarm Syria's chemical weapons. The Damascus regime was convinced that as long as it cooperates with the foreign inspectors destroying the chemical facilities on its land, no one will touch it.
But while the entire world is impressed by the positive Syrian approach, the transfer of weapons to Hezbollah in Lebanon continues. Indeed, the Syrians are a bit more careful than in the past, and for a certain period of time even stopped trying to transfer the problematic weapon systems as far as Israel is concerned, but the applause Assad received from the world has slightly turned his head around. Not to mention the fact that his debt to the Hezbollah organization is only growing. The heads of the Israeli defense establishment have emphatically warned the Syrians: Do not be sending weapons to Hezbollah in Lebanon!
Bolton: Israel Must Make 'Fateful Decision' on Iran Strike
(Warns Jewish state running out of time as Tehran goes nuclear)
Nov. 4….(WND) Israel does not have much time to make a "fateful decision" about whether to strike Iran's nuclear sites, former UN Ambassador John Bolton said Sunday in a radio interview. "Israel, I think, now faces the fateful decision whether it will allow Iran to get nuclear weapons, thus constituting a true existential threat to Israel," he said. "Or whether they will strike as the Israelis have done twice before against nuclear programs in the hands of hostile states," Bolton told WABC Radio's Aaron Klein. "I don't think Israel has much time," Bolton continued. "Frankly, they should have done this years ago because we all know intelligence is imperfect and Iran may have a more developed capacity than we know about, perhaps in cooperation with North Korea."
Bolton spoke amid US outreach to Iran and amid reports Iran's Revolutionary Guard announced Saturday they are committed to the slogan, "Death to America." The former UN ambassador reacted to a statement by former Defense Secretary Leon Panetta, who said Thursday the while US has "implemented unprecedented sanctions and pressure on Iran, we may very well have to use military force to back up our policy." Bolton retorted: "If there is anybody left in Israel who thinks that the US will use military force against Iran's program, they really need to seriously re-examine their basic values. It isn't going to happen under the Obama administration. I'll just say it again. It isn't going to happen."
UN Envoy: Status of Jerusalem Must be Resolved
Nov. 4….(Jerusalem Post) Robert Serry says there is "no real prospect for peace" between Israelis and Palestinians without a Jerusalem solution. There is "no real prospect for peace" between Israelis and Palestinians unless the status of Jerusalem is resolved, the top UN envoy to the peace process said on Wednesday.
Robert Serry's brief address to a conference in Jerusalem came in the middle of a tense week, which featured a prisoner release, announcement of settlement construction and the trading of fire between the IDF and terrorists in Gaza. Serry is the UN special coordinator for the Middle East peace process. "Without resolving Jerusalem, there will be no solution," he said. "The [UN] secretary general believes that a way has to be found for Jerusalem to emerge as a capital for two states."
Serry said both sides had "committed themselves" to addressing the status of Jerusalem, and he praised the involvement of the United States in jump-starting negotiations. But he warned there is pervasive apathy among Israelis and Palestinians, and he called on leaders in both communities to galvanize a public movement for peace. "Let's face it, almost nobody believes that these talks will have a positive outcome," he said. "If you yourself believe in a two-state solution, then this is indeed a time for renewed action." The conference was organized by the Peace NGO Forum with support from the European Union.
---