WEEK OF DECEMBER 29 THROUGH JANUARY 4
Franklin Graham Says God, Not Pope, Is the Judge on Homosexuality
Dec. 31….(Christian Post) Franklin Graham, the son of evangelist Billy Graham, said during a television interview aired Sunday that Pope Francis, who appears to have a more accepting view of gays, is not the judge on homosexuality, but God is and He says it's a sin. "I want to warn people: I think the pope is right when he says he's not the judge," Graham said on NBC's "Meet the Press" on Sunday. "He's not the judge. God is the judge."
Graham, president of the Billy Graham Evangelistic Association, said this after he was asked about the pope's views on homosexuality. Francis made headlines earlier this year when he said, "If a person is gay and seeks God and has goodwill, who am I to judge them?"
Graham was asked, "Would there be a shift for you?" "God would have to shift, and God doesn't. God's word is the same yesterday, today, and a million years from now. It's a sin," Graham replied. "To wink at sin, to tell somebody that it's OK? I know the consequences of what will happen one day when they have to stand before God," he added.
Obama-Kerry "Framework For Middle East Covenant of Peace

"

Dec. 31….(DEBKA) US State Department spokeswoman Marie Harf said in Washington Tuesday, Dec. 31, that Secretary John Kerry would discuss with Israeli Prime Minister Binyamin Netanyahu and Palestinian Authority Chairman Mahmoud Abbas a "proposed framework" to serve as "a guideline for addressing all core issues" in the decades-long dispute. The core issues she listed were "borders between Israel and a future Palestine, security arrangements, the fate of Palestinian refugees and conflicting claims to the holy city of Jerusalem." Kerry leaves for Israel and Ramallah on New Year's Day to continue his shuttle, after Monday night, Dec. 30, Israel released from jail 26 Palestinian terrorists serving life sentences for murder. Debkafile reported earlier that the US Secretary does not expect Israeli and Palestinian leaders to approve the proposed framework, only to contribute their comments. We also reported that Abbas had indicated to the Secretary that that Palestinians were preparing to reject his proposals by demanding their referral to the various pan-Arab forums.

DEBKA Weekly No. 616 of Dec. 20 was first to divulge the nine points of the unpublished draft Kerry planned to present to Israeli and Palestinian leaders this week. Since then, certain amendments were introduced, especially in relation to Israel's military presence in the Jordan Valley and Judea and Samaria. The document continues to be molded by Kerry's ongoing back-and-forth communications with the two parties. Nevertheless, the nine points disclosed hereunder stand as the basic guidelines of the proposed US framework: Israel hands over 92.8 pc of West Bank to Palestinians.

1. Nearly all its content draws on the proposal Ehud Olmert, then Prime Minister, submitted to Abbas on Aug. 31, 2008, which he never accepted; nor was it approved by any Israeli authority.

2. Territory: Israel will annex 6.8% of the West Bank including the four main settlement blocs of Gush Etzion with Efrata; Maale Adummim; Givat Zeev;and Ariel, as well as all of the "settlements" of East Jerusalem and Har Homa, in exchange for the equivalent of 5.5% of Israeli territory.

3. The Safe Passage: A territorial link between the Gaza Strip and the West Bank would cut through southern Israel and remain under Israeli sovereignty and Palestinian control. Our sources add that out of all other options, the American sponsors of the accord prefer to build an express railway line from Gaza to Hebron, without stops, which would be paid for by Washington. Abbas has already informed John Kerry that he wants the train to go all the way to Ramallah. There will be a special road connecting Bethlehem with Ramallah that bypasses East Jerusalem. This is mostly likely the same route currently planned to go around Maaleh Adummim. Since the safe passage will cross through Israel, accounting for 1% of its territory, this area will be deducted from the land Israel concedes, leaving 4.54% for the land swap with the Palestinians.

4. Jerusalem: East Jerusalem will be divided territorially along the lines of the Clinton Parameters with the exception of the "Holy Basin," which comprises 0.04% of the West Bank. Sovereignty over this ancient heart of Jerusalem, with its unique and historic concentration of Jewish, Christian and Muslim shrines, will pass to an international commission comprised of the US, Israel, the Palestinians, Jordan and Saudi Arabia.

5. Refugees: This issue will be addressed according to guidelines proposed by President Bill Clinton at Camp David in the year 2000, and rejected by Yasser Arafat. An International Foundation will be established to resettle the bulk of the Palestinian refugees in Canada and Australia, except for a small portion to be accepted in Israel in the framework of family reunification.

6. Security: The Olmert package made no mention of security. However the Kerry draft deals extensively with this issue and Israel's concerns. It calls for the evacuation of all 10,000 Jewish settlers from the Jordan Valley leaving behind a chain of posts along the Jordan River. Security corridors cutting through the West Bank will maintain their land and operational links with Israel. Border crossings will be set up between Palestine and Jordan with an Israeli security presence. The security section of the draft assigns the use of West Bank and Gaza airspace by Israel and the Palestinians. There will be no Israeli military presence inside the Palestinian State.

7. Taxes: The present arrangement for Israel to collect customs levies and distribute the revenues to the Palestinians will continue. (debkafile: That is about the only clause which the Palestinians accept.) Israel will carry out security checks on goods bound for Palestinian that are unloaded at Haifa and Ashdod ports, and levy customs at rates fixed by the Palestinians to be disbursed in the Palestinian state.

8. Settlements: Eighty percent of all Jewish settlers on the West Bank will be confined to the major settlement blocs as defined in point 2. The remaining 20% amounting, according to American calculations to 80,000 people, will have to decide on their own whether they prefer to stay where they are under Palestinian rule or move to Israel. Debkafile's sources report that Secretary Kerry advised the Israeli Prime Minister bluntly that he need not promise to force settlers to leave their homes, as the Sharon government did when he executed the unilateral disengagement from the Gaza Strip in 2005. Netanyahu replied that it was unacceptable for Israel to abandon the settlers to their fate. He therefore proposed that instead of forcing them to cross back into Israel, they would be absorbed in the larger settlement blocs remaining under Israeli sovereignty.

9. Timelines: Different timetables are proposed in the US framework for implementing different sections: The Palestinian leader says he is willing to give Israel three years as a transition period for relocating settlers. When he submitted the paper to the Israeli and Palestinian leaders earlier this month, the Secretary of State told them that he saw no point in the two negotiating teams holding meetings consumed by interminable debates on one point or another. He therefore asked both parties to henceforth send him their comments in writing.
Putin Orders Saudi Arabia "Destroyed" After Terror Strikes
Dec. 31….(The Watch Towers) A grim memorandum circulating in the Kremlin today written by Federal Security Services (FSB) Director Alexander Bortnikov outlining the new security measures being put into place throughout Russia ordered by President Putin a few hours ago in response to the deadly Volgograd terror attacks further warns that Russia's leader has, in effect, vowed to "destroy" Saudi Arabia as he personally is blaming them for this horrific crime against humanity. Of the terror attacks themselves, Russian Deputy Emergency Situations Minister Vladimir Stepanov is reporting to the Kremlin that the two Volgograd explosions have hurt 104 people, of which 32 were killed.
Volgograd (formerly known as Stalingrad) is located 650 kilometers (400 miles) from Sochi which is the site of the 2014 Winter Olympics, and the twin explosions hit a crowed trolleybus and train station. This FSB memo reports that the trolleybus suicide bomber has been identified as Pavel Pechyonkin, born in the Mari El region and who joined resistance forces in 2012. According to this FSB information, Pechyonkin, aged 32, is a former paramedic. In 2012, he joined the bandit underground, having left a note for his mother on his lap top computer. Pechyonkin has since communicated with his parents two or three times via the Internet. Of particular concern about Pechyonkin for Putin, this memo continues, was this suicide bombers location this past year which the FSB confirms was in Islamic rebel held territories of Syria controlled and funded by Saudi Arabia.
Critical to note, and as we had reported on in our 27 August report "Putin Orders Massive Strike Against Saudi Arabia If West Attacks Syria," Saudi Prince Bandar bin Sultan, this past August, secretly offered Russia a sweeping deal to control the global oil market and safeguard Russia's gas contracts, if the Kremlin backs away from the Assad regime in Syria. When Putin refused Prince Bander's "offer," however, and as reported by London's Telegraph News Service, this Saudi Prince stated to Putin, "I can give you a guarantee to protect the Winter Olympics next year. The Chechen groups that threaten the security of the games are controlled by us."
Barely over a fortnight ago, this FSB memo says, Prince Bandar, again, came to the Kremlin and in a secret meeting with Putin reiterated his threat to cause terror in Russia to which Putin suggested to the Saudis that they abandon "sectarian instigations and supporting terrorism, because it is a double edged sword that will rebound inside Saudi Arabia and gather momentum in a manner that you will not be able to control." Equally critical to note, and as we had, likewise, reported on in our 30 August report "Saudis Go On Full Alert As Putin War Threat Stuns Muslim World," this FSB memo warns that Putin's previous orders to the Armed Forces of the RussianFederation to prepare for a "massive military strike" against Saudi Arabia are still in effect.
This FSB memo further states that both Russia and Iran are outraged over Saudi Arabia's latest "donation" of $3 billion to the Lebanese army (twice the national military budget of Lebanon) made by Saudi King Abdullah while the Volgograd attacks were occurring and described as "a bid to cover up its bloodstained hands in violence hitting the Middle East and beyond."
To the fears of the Saudis themselves, FSB Director Bortnikov notes in his memo, was evidenced this past week by Ahmed al-Ibrahim, an adviser to some of Saudi Arabia's royals and officials, who stated: "The bond of trust between America and Saudi Arabia has been broken in the Obama years, we feel we have been stabbed in the back by Obama." And in his grim summation, Bortnikov notes that with Saudi Arabia now a "pariah nation" with both Russia and the US seeking retribution against them, Putin's angry desire to see the Saudis totally destroyed is a wish that will, indeed, come true much sooner than later.
ObamaCare Designed to Shift Aids Costs to Non-Gays
Dec. 29….(WND) The Obama administration's emphasis on enrolling the LGBT community in Obamacare strongly suggests it has an unspoken agenda of shifting to healthy citizens the extraordinary financial burden of providing services to the unique demographic, which is afflicted disproportionately by AIDS and other health issues. "The Affordable Care Act has the potential to transform the lives of countless LGBT people and improve the health and well-being of our community, for generations to come," proclaims the White House Blog in a Dec. 17 posting.
The White House Blog posting noted that since taking office, President Obama and his administration "have taken significant steps to advance equality for the lesbian, gay, bisexual, and transgender (LGBT) community." "You've probably heard of many of these accomplishments: repealing 'Don't Ask, Don't Tell,' prohibiting anti-LGBT discrimination in hospitals and in housing, promoting international LGBT human rights, standing up against DOMA (Defense of Marriage Act) and then implementing the Supreme Court's decision in United States v. Windsor.
David Kupelian's blockbuster book, "The Marketing of Evil," shows exactly when, where, how and especially why Americans bought into the lies that now threaten the future of the country. The post concludes by emphasizing the steps being taken by the Obama White House to work with the LGBT community to raise Obamacare awareness: "That's why we have been working closely with organizations like Out2Enroll, CenterLink, the Gay and Lesbian Medical Association, PFLAG, the Equality Federation, and the Gay and Lesbian Victory Institute over the last few months to raise awareness of the Affordable Care Act. And we've also been working with LGBT community centers, Pride organizations, philanthropic foundations, LGBT health centers, and HIV/AIDS service providers to empower local LGBT communities with the information and resources they need to get access to quality, affordable health care." An infogram in the blog post lists the "Top 5 Affordable Care Act Benefits for the LGBT Community":
* Plans purchased through the Marketplace can't discriminate based on sexual orientation or gender identity;
* You can't be charged a higher premium just because you're lesbian, gay, bisexual, or transgender;
* No denial of coverage because of pre-existing conditions like HIV/AIDS, cancer, or mental health diagnoses;
* Legally married same-sex couples are treated equally for same-sex couples are treated equally for financial assistance when purchasing coverage in the Health Insurance Marketplace, regardless of where they live;
* No more lifetime limits on coverage for people with chronic diseases like HIV/AIDS.
In effect, by eliminating health underwriting, Obamacare has transformed health insurance for the LGBT into a "guaranteed-issue," even if the applicant has HIV/AIDS. Under Obamacare, all health insurance providers must accept any applicant who applies and is willing to pay. The insurers are prohibited from asking applicants about their "gender identity" or sexual orientation. The message appears to be at the center of the White House public relations campaign to encourage the LGBT community to purchase health insurance through an Obamacare health-insurance exchange.
The Obamacare exchange is designed to eliminate the ability to pay as the last possible barrier to obtaining health insurance by providing low-income applicants with subsidies and/or access to Medicare/Medicaid. The White House, therefore, has configured Obamacare so that the only reason an LBGT person would not obtain some form of health insurance coverage is because the person simply does not want to have health care or otherwise refuses to apply.
The government's own statistics affirm that LGBT citizens are responsible for an enormously disproportionate share of health care costs, which now will be placed on the backs of healthy citizens under the Affordable Health Care Act, known commonly as Obamacare. The Obama administration's emphasis on enrolling the LGBT community in Obamacare strongly suggests it has an unspoken agenda of lifting the financial burden from a demographic that overwhelmingly votes Democrat.
John Kerry: US Deal Will Trade off 'Jewish' Israel for 1967 Lines
Dec. 29….(Times of Israel) US Secretary of State John Kerry will offer Israeli and Palestinian negotiators a political trade-off: Israeli recognition of the 1967 lines as a basis for the future Palestinian state, in return for Palestinian recognition of Israel as the state of the Jewish people, Palestinian sources told the Saudi daily Al-Watan on Sunday. According to the sources, the mutual recognition will constitute the core of a framework agreement to be signed by the end of January, and negotiated in greater detail during the following months. "The coming weeks will be difficult for the Palestinian and Israeli sides, since they will need to make tough decisions," a source told Al-Watan. "On the one hand, Israeli Prime Minister Benjamin Netanyahu will need to live with a text speaking of the 1967 borders, and the Palestinians, for their part, will need to live with a text speaking of Israel's Jewishness."
Kerry is to visit the region later this week and is expected to present the sides with the framework plan, which is meant to keep peace talks alive. Talks have hit a roadblock in recent months, with the sides failing to come to terms over Israel's demand to leave IDF forces in the Jordan Valley, and Palestinian demands to release Israeli citizens jailed for terrorist acts before the signing of the Oslo Accords in 1993. According to one unconfirmed Israeli report, Kerry has offered to release the American spy-for-Israel Jonathan Pollard to coax Israel into freeing the jailed Israeli terrorists.
No Israeli Arabs are to be included in the third phase of prisoner release scheduled to take place Monday, although some of those freed are from East Jerusalem and have Israeli residency rights. PA President Mahmoud Abbas and Arab foreign ministers have reportedly sent letters to US President Barack Obama and Kerry rejecting Israel's demand to recognize it as a Jewish state and refusing any Israeli military presence on the future Palestinian state. "These letters were sent so that the American administration avoids any reference to the issues rejected by Arabs and Palestinians among the ideas Kerry is going to present," a source told Al-Watan.
Meanwhile, Hamas official Moussa Abu Marzouk on Sunday warned Abbas against signing a framework agreement, which he dubbed "a second Oslo Accord." "If an agreement is reached, Netanyahu will sign it and take it to the Knesset," the deputy head of Hamas's political bureau wrote on his Facebook wall. "But where will the person signing on the Palestinian side take the agreement? The issues raised concern among all Palestinians: borders, refugees, Jerusalem, the right of return and, of course, security."
The Palestinian parliament which must ratify any agreement, Abu Marzouk noted, has not convened in years. Hamas has repeatedly rejected peace talks. "I pray that the disaster of Oslo won't repeat itself," he concluded. "Because this time the price will be recognition of the Jewishness of the state, God forbid."
Israel-Lebanon Border Heats Up
Dec. 29….(Israel Today) Terrorists operating out of southern Lebanon fired four Katyusha missiles at northern Israel early Sunday morning, prompting a fierce military and diplomatic response by the Jewish state. Two of the Lebanese missiles hit near the northern Israel town of Kiryat Shemona, which is sadly all too used to such violence. Despite the attack, schools and businesses in Kiryat Shemona opened as usual, even as local residents could hear the Israeli army's reprisals hitting just over the nearby border. srael fired heavy artillery at the source of the missiles, though sources in southern Lebanon said the Israeli shells landed on the outskirts of the towns from which the attacks originated.
Israeli Prime Minister Benjamin Netanyahu called the attack a double war crime, as whoever had fired the missiles had assaulted a civilian population and had done so from under the cover of another civilian population. Netanyahu went on to insist that Israel would not tolerate cross-border attacks, and that Israel holds the government of Lebanon directly responsible for any violence emanating from its territory. The United Nations urged restraint from both Lebanon and Israel.
US and Iran's First Joint Military Venture: Fighting Al Qaeda in Iraq
Dec. 29….(DEBKAfile) With the Geneva Nuclear Accord still far from implementation a month after it was signed in Geneva, the United States and Iran are moving into stage two of their rapprochement: They are now fighting together to crush Al Qaeda terror in Iraq, Debkafile's exclusive military sources report. Iraq is two weeks into a major offensive for cutting al Qaeda down, the first major military challenge the jihadists have faced in the past six years. Three armies are fighting alongside Iraq: the United States, Iran's Al Qods Brigades officers and Syria. Their mission is to foil Al Qaeda's drive to spread its first independent state in the Middle East across the Iraqi-Syrian frontier. Its Iraqi and Syrian branches, ISIS and the Nusra Front, have declared a holy war to this end under their commanders Abu Bakr Al-Baghdadi and Abu Mohammed al-Golani. The Anbar province of Western Iraq is the scene of he fiercest combat close to Iraq's borders with Syria and Jordan.
To counter Al Qaeda's superiority in speed and surprise, the US has sent the Iraqi army Hellfire surface-to-air missiles. They are already in use against al Qaeda camps on the Syrian border. Next, Washington is sending out small, long-endurance unmanned aerial ScanEagles. These drones are best suited to combat in Anbar's deep wadis and the halophyte thickets lining the Euphrates River.
In this topsy-turvy scenario, Washington and Tehran share another surprising motive: to save the Assad regime in Damascus from Al Qaeda's long arms. Russian Foreign Minister Sergey Lavrov noted approvingly on Dec. 26: "Attitudes are changing in Western countries; they are becoming more realistic in their approach towards the Syrian crisis. The threat of terrorism in Syria, of jihadists coming to power, of creating a caliphate with extremist laws, these are the main problems." Since the Syrian chemical issue was addressed in September, Russian-Iranian-American collaboration is going strong. The joint US-Iranian war on al Qaeda is strengthening Tehran's grip on Iraq as well Syria.
WEEK OF DECEMBER 22 THROUGH DECEMBER 28
MERRY CHRISTMAS FROM "FOCUS on JERUSALEM"
Dec. 24….(FOJ) Micah, the Jewish prophet who foretold of haMashiach's (the Messiah's) birth in Bethlehem, also prophesied, ("And you, O Tower of the Flock (in Hebrew, Migdal Eder), the stronghold of the daughter of Zion, unto you shall it come, even the first dominion; the kingdom shall come to the daughter of Jerusalem") (Micah 4:8).
Although obscure and often overlooked, Micah disclosed that the Messiah, who embodied the hope of the Kingdom, "was to be revealed from Migdal Eder, 'the Tower of the Flock'." Close by where the shepherds were camped that night, in the northern part of Bethlehem on the road to Jerusalem was the tower known as Migdal Eder, the "watch-tower of the flock." This was the station where shepherds brought their flocks destined for sacrifices in the Temple in Jerusalem. The shepherds who kept them were men who were specifically trained for this royal task. Being themselves under special rabbinical care, these priests would strictly maintain a ceremonially clean birthing place. Once birthed, the priestly shepherds would routinely place the lambs in the hewn depression of a limestone rock known as "the manger" and "wrap the newborn lambs in swaddling clothes," preventing them from thrashing about and harming themselves "until they had calmed down" so they could be inspected for the quality of being "without spot or blemish").
There was no need for the angels to give these shepherds directions to the birthplace because they already knew. These were the men who raised sacrificial lambs that were sacrificed in the Temple. When the angelic announcement came, they knew exactly where to go, as Luke 2 indicates, for the sign of the manger could only mean the manger at the base of the Tower of the Flock.
Luke 2:9-12 And, lo, the angel of the Lord came upon them, and the glory of the Lord shone round about them: and they were sore afraid. And the angel said unto them, Fear not: for, behold, I bring you good tidings of great joy, which shall be to all people. For unto you is born this day in the city of David a Savior, which is Christ the Lord. And this shall be a sign unto you; Ye shall find the babe wrapped in swaddling clothes, lying in a manger.
Have you met the "Lamb of God" which was slain from the foundation of the world, and laid in the Shepherds Manger 2000 years ago? Are you washed whole in his cleansing blood? Have you received the Greatest Gift in the world? (If you are wise, you will seek him)
Abbas: Jesus was A Palestinian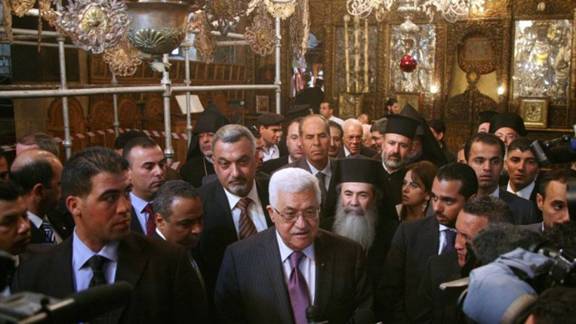 (PA president's 'outrageous rewriting of Christian history)
Dec. 24….(Times of Israel) Israeli officials reacted with bitter scorn to a Christmas message from Palestinian Authority President Mahmoud Abbas in which he called Jesus a Palestinian and suggested Israel was to blame for the exodus of Christians from the Holy Land. "He should have read the Gospel before uttering such offensive nonsense, but we will forgive him because he doesn't know what he's doing," Foreign Ministry spokesman Yigal Palmor told The Times of Israel on Monday. Abbas's statement is an "outrageous rewriting of Christian history," according to Palmor.
Earlier on Monday, Abbas published a lengthy Christmas greeting, calling Jesus "a Palestinian messenger who would become a guiding light for millions around the world." Although he expressed his commitment to the peace negotiations with Israel, he expressed harsh criticism of Israeli policies, including an accusation that Jerusalem is responsible for the plight of Christians in the Holy Land. "We celebrate Christmas in Bethlehem under occupation," Abbas wrote. "This Christmas Eve, our hearts and prayers will be with the millions who are being denied their right to worship in their homeland." He called the security barrier an "annexation Wall, which is stealing Palestinians' land and dooming their future." These rather unfriendly statements are "not exactly in the spirit of Christmas," Palmor, the Foreign Ministry spokesman, said cynically. "Maybe he needs a hug from Santa?"
Abbas also mentioned Palestinians "trapped under siege" in Gaza, and "those who are prevented from worshiping in Bethlehem. Our hearts and prayers are with the people of Al Dbayeh Refugee Camp in Beirut, along with all of our Palestinian refugees, Christians and Muslims uprooted from their hometowns in 1948 and who, since that time, have suffered the vicissitudes of a forced exile." Abbas said more Palestinians will celebrate Christmas in Western cities than will do so in the city of Jesus' birth. "To them we say that Bethlehem is their town and Palestine is their country. We will continue working tirelessly to give them the freedom to decide where to spend Christmas." An Israeli government official took offense particularly with the suggestion that Israel has caused Christians to leave the Holy Land. "The exodus of Christians from Bethlehem turned into a flood the moment the PA took control," the official said.
According to the CIA World Factbook, Christians make up 8 percent of the population in the West Bank, and 0.7% of Gaza.
Abbas: Jesus was a 'Palestinian Messenger'
(Palestinian president claims Jesus was a 'Palestinian messenger who would become a guiding light for millions' in attempt to prepare ground for papal West Bank visit)
Dec. 24….(YNET) In a Christmas message, Palestinian President Mahmoud Abbas referred to Jesus as a "Palestinian" messenger of hope. Palestinian officials said Abbas used the term in a historic context, applying to all those in the Holy Land at the time, regardless of religion. Few scholars dispute that Jesus was raised as a Jew. Abbas' emailed comments Monday appeared to be part of an effort to reach global public opinion and strengthen links between the Palestinian and Christian narratives. Abbas said Jesus was a "Palestinian messenger who would become a guiding light for millions."
A majority of Palestinians including Abbas are Muslims, but he and predecessor Yasser Arafat have called for unity of Palestinian Christians and Muslims. Abbas urged Christian pilgrims from around the world to visit the Holy Land to mark the visit of Pope Francis, set for 2014, in a Christmas message on Monday. "As we begin preparations for the visit of His Holiness Pope Francis next year, we call upon pilgrims from all over the world to come and experience Palestine and our Holy Sites," Abbas said. The pope's visit "will be a good opportunity for Christians from all over the world to become closer to their sisters and brothers in Palestine." The pontiff is to make a brief visit to Israel and the Palestinian territories from May 25, his first to the Holy Land, Yedioth Aharonoth said last week. Abbas added that he hoped the Francis would "spread the message of justice and peace for the Palestinians, as for all peoples of the world." During the visit, the pope will celebrate a high mass in Bethlehem, the traditional birthplace of Jesus, local media reported.
The trip has yet to be officially confirmed by the Vatican, although the announcement could come in the weeks after Christmas. But a Vatican spokesman has said officials from the church have made a site visit. Pope Francis was invited to visit the Holy Land by Israeli President Shimon Peres in April, and by Abbas, who met him on October 17. In a Christmas message on Wednesday, the Latin patriarch of Jerusalem, Fuad Twal, said the pontiff "cares about the Holy Land and the Middle East."
The Wrong Christmas Message
Dec. 24….(Israel Hayom) Shame on the Latin Patriarch of Jerusalem, Fouad Twal, for taking the occasion of his annual "Christmas message" to blame Israel for the plight of Christians in the Middle East. It is precisely at this juncture, when the persecution of Christians in the Muslim-Arab world is not merely increasing at a frightening rate, but is becoming more blatant and bloodier, that the chief Roman Catholic cleric in the Holy Land should be warning against the religious war being waged against his brethren. After all, churches in every Islam-dominated country are being destroyed; Christian women (including nuns) are being raped, men (including priests) are being beheaded; and the property of those who would escape this fate is being confiscated.
Meanwhile, liberal Christians in the West have been looking the other way. Fearing accusations of Islamophobia, they prefer promoting "interfaith dialogue" to protesting the abominations being perpetrated against their own. There is also an element of "out of sight, out of mind" at work. Those "other" Christians live in faraway lands and speak foreign languages. This makes it easier to forget about them and go about the business of decorating trees, shopping for gifts, stuffing stockings and singing carols. The victimization of Christians a concerted effort on the part of radical Muslims to subjugate, convert, banish or wipe out Christians.
Even Britain's Prince Charles, who has spent the last two decades trying "to build bridges between Islam and Christianity to dispel ignorance and misunderstanding," has come to grasp this. On Tuesday, at a reception for Middle East Christians at his official Clarence House residence, he said, "It seems to me that we cannot ignore the fact that Christians in the Middle East are increasingly being deliberately targeted by fundamentalist Islamist militants." Israel is the only country in the Middle East whose Christian population is growing.
Far From Happy Christmas for Christians in the Holy Land
Dec. 24….(Liberty Voice) The Christians who still live in the Holy Land face a Christmas that will be far from happy, merry or bright. They are a persecuted minority. "O Little Town of Bethlehem, how still we see thee lie…" This hymn, and dozens like it will be sung all over the world soon, as they are every Christmas. Cards depicting the scene of the holy birth will decorate millions of houses. Nativities will be set up in homes, in shopping malls, in churches. But as people prepare to celebrate the humanity of a man known as Jesus of Nazareth, his homeland is no longer a safe place to be for those who follow him.
There are 14 million Christians throughout the Holy Land but they are a rapidly dwindling minority. Many of them are so desperately vulnerable that they feel they have no choice now but to emigrate. In Iraq alone, since the fall of Saddam, a startling two-thirds have fled. Since 2003 at least a million have left. Most of them went to Syria. Now they face a second wave of displacement as they are no longer protected there. There have been reports of rape, murder and attacks directed at them and the Christian community lives in terror. When they feel they have to run for their lives they head for Turkey, Jordan and Lebanon. It is said that the ancient Syrian Armenian community has all but gone.
Egypt has seen churches being burnt and anti-Coptic rioting. In Gaza and on the West Bank, Christians are caught up in chaotic uncertainty. To be Christian in the Holy Land, the birthplace of Jesus, is to live in fear. The Vatican has confirmed as credible the estimate that 100,000 Christians are killed every year for their beliefs. Historian Tom Holland has noted how deeply ironic it is, that two Christian leaders, George W. Bush and Tony Blair, brought about, inadvertently, the final demise of Christianity in the Middle East by invading Iraq. Now the Arab Spring has proven the final knell, as Christians are all too easy targets for extremists and are living in dire jeopardy.
The major Christian celebrations are still national holidays in Syria, and this is testament to the fact that Syria has long been a sanctuary for Middle Eastern Christians. One of the oldest parts of Damascus is the Christian Quarter at Bab Touma. Islamic and Christian communities used to live side by side in such ease, that sacred spaces were shared. There was ethnic and religious tolerance, mutual respect and understanding. Now, along with so much in Syria, that harmonious co-habitation has been ripped apart.
Speaking about his deep concerns for the beleaguered Christians of the Middle East, has been HRH Prince Charles. At an inter-faith reception he said he is very troubled by what he calls the "intimidation, false accusation and organized persecution" to the Christian faith communities. It is a problem affecting Syria, Egypt, Palestine and Iraq as well as other Arab countries. The prince says it is no longer possible to turn a blind eye to the targeting of these Christians by "fundamentalist Islamic militants."
The birthplace of Jesus and the founding site of Christianity now has less than 4 percent of Christians making up the entire population of the Middle East and North Africa; a number that has dropped dramatically over the past 100 years. The profound concern of the Prince of Wales about the persecution of the remaining Christians in the Middle East has been supported by Prince Ghazi of Jordan. He has said that Christians were in the Middle East 600 years before Muslims. Indeed, he went on, "Arabs were perhaps the first non-Hebrew Christians in the world and became Christians during Jesus Christ's own lifetime."
Harris Poll: Belief in God Falling
Dec. 24….(Newsmax) Seventy-four percent of Americans believe in God, a number that has dropped from 82 percent in 2005, 2007 and 2009, a new poll finds. By contrast 47 percent of the 2,250 adult respondents in The Harris Poll also say they believe in Darwin's theory of evolution, which is up from 42 percent since the last Harris survey. Even though a large majority believe in God, only 36 percent believe in creationism, and only 29 percent believe that God actually controls what happens on earth, the survey taken Nov. 13-16 found.
The number of respondents that say they believe in miracles is also down to 72 percent from 79 percent, while 68 percent say they believe Jesus is God, down from 72 percent that felt that way during the last survey. Belief in the Virgin birth has also dropped from 60 percent to 57 percent, as well, while the number of respondents believing in the resurrection of Jesus Christ has fallen from 70 percent to 65 percent.
The Harris survey also found 64 percent of respondents believe the soul survives after death, down from 69 percent. At the same time, 68 percent believe in heaven, down from 75 percent, and 58 percent believe there is a hell and a devil, a figure that's down from 62 percent.
The same poll also found that 42 percent of respondents believe in ghosts, 36 percent believe in UFOs, 29 percent believe in astrology, 26 percent believe in witches, and 24 percent believe in reincarnation. The survey also revealed that older people are more likely to believe in God than younger folks and that while 83 percent of mature adults believe in God, only 64 percent of Millennials, or so-called Echo Boomers, say they believe. On the question of religion, 19 percent of Harris survey participants reported that they are "very" religious, while 40 percent said they are "somewhat" religious, a figure down nine points since 2007. The survey found that the number of Americans who say they are not religious at all has nearly doubled since 2007, from 12 percent to 23 percent.
Arabs Reject US-Proposed Peace Compromise With Israel
Dec. 23….(Israel Today) The Arab League has issued a flat out rejection of a security compromise proposed by US Secretary of State John Kerry as a means of moving forward the Israeli-Palestinian peace process. Meeting at the league's headquarters in Cairo, the regional body called the proposal evidence of American bias in favor of Israel.
The proposal in question would leave the Jordan Valley under Israeli control as part of a comprehensive peace agreement. It is reportedly the result of joint Israeli and Jordanian pressure on Washington. Israel insists it cannot return to the indefensible pre–1967 borders, and Jordan is keen to avoid a repeat of the 1970–1971 Palestinian attempt to seize control of the Hashemite Kingdom.
While the Arab League failed to address the Jordanian position at its meeting on Saturday, it completely dismissed Israel's security concerns, labeling the Jordan Valley proposal an "expansionist" scheme.
In related news, formerly declassified documents returned to the spotlight last week reveal that the American position 40 years ago was that Israel should remain in control of the majority of the so-called "West Bank," especially the central high ground.
Arab League Rejects Kerry Security Plan for West Bank
(Arabs say US proposal skewed in favor of Israel and prolongs its military presence on territory of future Palestinian state)
Dec. 23….(Times of Israel) The Arab League on Saturday rejected a security plan put forth by US Secretary of State John Kerry which would have allowed a limited presence of IDF troops within the borders of a future Palestinian state under a peace agreement between Israel and the Palestinians. At an emergency meeting on Saturday, called by Palestinian Authority President Mahmoud Abbas, the league's secretary-general, Nabil al-Araby said that not one Israeli soldier could remain in the West Bank.
The US proposals "achieved Israeli security expansionist demands, and guaranteed (Israel's) continued control of (the Jordan Valley) on the security pretext," read an Arab League statement, according to Reuters. Aides to Abbas have criticized the plan. One aide, speaking on condition of anonymity because he was not authorized to discuss the negotiations, said Saturday the Palestinians were trying to soften the proposal to shorten the span of any Israeli withdrawal.
Among its key elements, the US security plan reportedly provides for a series of border crossings along the Jordan Valley border between the West Bank and Jordan which would be jointly controlled by Israel and the PA. The entire border itself, however, would remain under full Israeli control, with the IDF joined only by a symbolic Palestinian security presence. These arrangements would hold for many years, but not necessarily permanently, the implication being that in a future new era of stability and mutual confidence, Israel might transfer more authority to the Palestinians.
The US, under the proposal, would provide an additional security "envelope," which would utilize drones and other high-tech equipment to provide real-time intelligence on any terrorist threats and other unlawful border activity. The Palestinian Authority had reportedly rejected the plan earlier this month. Although it subsequently denied this, the PA is firmly opposed to any ongoing Israeli military presence in the Jordan Valley or elsewhere in its intended state.
The plan's layout stated that "Greater Jerusalem," which would include the city's adjacent towns and villages, would be divided, according to a report on Channel 10 News. The eastern side of the city would serve as the Palestinian state capital, the report said, while the western part would continue serving as Israel's capital. It is not clear how Jerusalem's Old City, at the heart of the conflict, would be administered under the plan. Kerry has been pushing for a "framework agreement," which would outline particulars of a permanent status accord, by the end of January 2014.
Under heavy US pressure, Israel and the Palestinians resumed negotiations in August after a three-year hiatus. The sides have reportedly met more than 20 times since and Kerry has traveled to the region no fewer than nine times in recent months to further talks.
More Duck Dynasty Quacking
Dec. 23….(Washington Times) For a few hours, it looked like Americans would quietly accept the suspension of popular "Duck Dynasty" star Phil Robertson for his unfiltered opinions about sin, sex, gays and blacks in a magazine interview. But then, as if on cue, hundreds of thousands of fans of the openly Christian, duck-hunting businessman took to social networks and started their backlash. The family itself is backing Mr. Robertson and implied Thursday evening that the show may be canceled, or at a minimum moved off the A&E Network unless he can return. "We are disappointed that Phil has been placed on hiatus for expressing his faith, which is his constitutionally protected right. We have had a successful working relationship with A&E but, as a family, we cannot imagine the show going forward without our patriarch at the helm," the Robertsons wrote on their website, duckcommander.com. "We are in discussions with A&E to see what that means for the future of 'Duck Dynasty.' Again, thank you for your continued support of our family," they concluded.
Some Republican politicians, Sen. Ted Cruz of Texas, former vice presidential nominee Sarah Palin and Louisiana Gov. Bobby Jindal, spoke in defense of Mr. Robertson, and traditional values groups added their voices to the cultural moment. "Don't apologize for what the Bible calls a sin.
The backlash started when Mr. Robertson answered a GQ magazine reporter's question about "what, in your mind, is sinful?" "Start with homosexual behavior and just morph out from there. Bestiality, sleeping around with this woman and that woman and that woman and those men," Mr. Robertson replied in the GQ article, released Wednesday. Then, paraphrasing Paul's First Letter to the Corinthians on sin, Mr. Robertson said, "Don't be deceived. Neither the adulterers, the idolaters, the male prostitutes, the homosexual offenders, the greedy, the drunkards, the slanderers, the swindlers, they won't inherit the kingdom of God. Don't deceive yourself. It's not right."
Mr. Robertson also issued a statement, referencing his sinful past and how his "mission today is to go forth and tell people about why I follow Christ and also what the Bible teaches, and part of that teaching is that women and men are meant to be together." "However, I would never treat anyone with disrespect just because they are different from me. We are all created by the Almighty and like Him, I love all of humanity. We would all be better off if we loved God and loved each other," Mr. Robertson said.
Attorney Doug Lapier of Alliance Defending Freedom says the situation with Robertson should be a wakeup call for the American Christian community. Christians, says the attorney, have been taking punch after punch and not fighting back. "One federal judge recently said tolerance is a two-way street, but what we see in the mainstream media, in the public square is that it's a one-way street," he relates. "You either agree with us or we will punish you and people need to understand how important it is. "The first thing that goes with our liberties is the right to voice our opinions. Once free speech and the right to express differing views and the right to dissent goes away, America's freedoms and liberties are lost." Lapier is hopeful that while there has been an outcry against A&E and for Robertson, it's a signal that Christians need to get into action now to fight for their constitutional rights and stop "taking it on the chin."
Al-Qaeda in Syria Claims they are Winning Civil War
Dec. 23….(The Telegraph) The head of al-Qaeda's official franchise in Syria claims it is winning the civil war and says that it will reject any outcome of next month's peace talks. In his first-ever interview, the man known only as Abu Mohammed al-Golani said victory would come "in a matter of days". "The battle is almost over, we have covered about 70 per cent of it, and what's left is small," he told al-Jazeera, the Qatar-based television channel. "We will achieve victory soon. We pray to God to culminate these efforts with victory."
As President Bashar al-Assad's regime prepares for a peace conference in Switzerland with western governments and Russia, Golani said it would "push the country back 50 or 100 years" into dictatorship. "We will not recognise any results that come out of the Geneva 2 Conference, nor will the children or women of Syria," he said. "Those taking part in the conference do not represent the people who sacrificed and shed blood. Besides, who has authorized them to represent the people?" Golani, who comes from Golan, on the border with Israel, has remained anonymous ever since he emerged in early 2012 as the leader of a new group, Jabhat Al-Nusra. It declared allegiance to al-Qaeda and deployed its methods, including suicide bombing.
However, the group has since split, with a second al-Qaeda faction, Islamic State of Iraq and al-Shams, becoming perhaps the strongest and certainly the most feared group in parts of northern Syria. In his interview, Golani, who continues to wear a scarf covering his face to preserve his anonymity throughout, does not explain why he has decided to speak now but it may be to regain some of the international attention from ISIS.
In it, he appears to make an almost open appeal for support from Saudi Arabia and other Gulf states. He describes the group's battles in overtly sectarian terms, saying that the war is against Shia Iran and Iranian expansion, one of the main reasons Saudi Arabia, which fears Iranian influence over its own Shia minority, has been so keen to overthrow Iran's ally President Bashar al-Assad. "If the Assad regime remained in power, which is in the interest of the superpowers and the Safavids, then the next target will be the Arabian Peninsula, now known as Saudi Arabia," he said. The Safavids were the Persian dynasty that conquered large parts of the Muslim world in the 16th and 17th Century, and the term has been increasingly used by Sunni jihadis derogatively for Iran.
WEEK OF DECEMBER 15 THROUGH DECEMBER 21
Secularists Winning in War on Christmas
Dec. 21….(RNS) Nine in 10 Americans will celebrate Christmas this year, but a new poll shows that increasing numbers see the holiday as more tinsel than gospel truth. This year more than ever, Americans prefer that stores and businesses welcome them with the more generic "Happy Holidays" or "Season's Greetings" than "Merry Christmas," according to a survey released Tuesday (Dec. 17) by the Public Religion Research Institute in partnership with Religion News Service. And for one in four American adults (26 percent), Dec. 25 is simply a cultural holiday, not a religious holy day. "The trend is in that direction, for sure," said Robert Jones, CEO of PRRI.
The percentage of people who say the Bible's Christmas story is historically accurate has fallen more than 17 percentage points since a 2004 survey reported by Newsweek. Even so, almost half (49 percent) of those who do celebrate Christmas (including 80 percent of white evangelicals) believe that the Virgin birth is historically accurate, and that three wise men truly visited baby Jesus in a manger.
Why the shift toward a more secular Christmas? One reason, Jones said, is that a decade ago, many more people identified themselves as evangelicals, who take the holiday most seriously. Today, they are 18 percent of Americans who count themselves as evangelical, outnumbered by the 20 percent who say they have no religious identity, Jones said. The new survey finds the "Merry Christmas" greeting, perhaps the most contested cultural turf in the so-called "War on Christmas," is a marker of someone's religion, politics, and age: Nearly half of Americans (49 percent) say they choose a non-religious December greeting "out of respect for people of all faiths," up from 44 percent in a 2010 survey by PRRI. Nearly two in three evangelicals (62 percent) prefer a "Merry Christmas" greeting, while most people with no religious identity (58 percent) like a non-religious greeting.
Most Americans (79 percent) will watch Christmas movies such as "It's a Wonderful Life," or "A Christmas Story," or "Home Alone", but a smaller number (59 percent) expect to attend religious services on Christmas Eve or Christmas Day. People are equally unlikely (36 percent) to read the Christmas story from the Bible, as they are to read "'Twas the Night Before Christmas." The reading of the Christmas story from the Bible is a rarity anymore in American society.
Dead On Truth By Duck Dynasty Star
Dec. 20….(FOJ) Well, of course, the big news of the day is the cultural firestorm that has been created from comments made by Duck Dynasty star Phil Robertson about homosexuality. Mr. Robertson's "plain and direct" style about issues is well known. His quoted comments in his interview about homosexuality, lesbianism, and sleeping around were in fact the proper teaching of the Holy Scripture. He should be commended for his frankness and direct talk. God does not compromise with sinners, and sinful lifestyles. God does love sinners, but He does not condone sinful behavior. God requires repentance for sins! This corrective action of course is an affront to atheists, humanists, and other self serving powers of social decadence and immorality. Mr. Robertson's reference about the fate of unrepentant sinners is factual, and he should be applauded by Christians world-wide. It is high time that Christians boldly stood up against the demonic onslaught of the dark forces waging cultural warfare against Biblical Christianity in America, before it is too late!
Ironically, at the same time the "Duck Dynasty" flack hit the air-waves, news came along that a Methodist pastor, Rev. Frank Schaefer of Lebanon, Pennsylvania, performed a same-sex marriage for his son. And in performing the ritual, he thoroughly thrashed and denounced the traditional interpretation of the Bible on the topic of same-sex lifestyles.
It should be apparent to spiritually discerning Christians that there is a spiritual war going on in America over this one particular sinful lifestyle. Our nation is quickly crossing the point the Bible describes as the "point of being incurably wounded." (Jeremiah 30:15 Why criest thou for thine affliction? thy sorrow is incurable for the multitude of thine iniquity: because thy sins were increased, I have done these things unto thee.)
In summation, I like the quotes from Louisiana governor Bobby Jindal, "It is a messed up situation in America when Miley Cyrus gets a laugh for twerking, and Phil Robertson gets suspended for speaking the truth." Amen!
Goal of Arab Spring Was to Wipe Out Christians
Dec. 19….(Israel Today) Dr. Ashraf Ramelah, an Egyptian Christian activist and founder of Voice of the Copts, said in a recent interview with Arab media that the new constitution being discussed in Egypt is further evidence that the so-called "Arab Spring" was nothing more than a front for a revitalization of the Islamic agenda. Ramelah told The Arab Daily News that Christians in the Middle East are far worse off today than prior to the Arab Spring. Proof of that can be found in the fact that it is necessary to consider special clauses pertaining to Christians in the new Egyptian constitution. "Copts (native Egyptian Christians) are citizens of Egypt. They do not need to have special rights. In a democratic country all citizens are equal under the law," noted Ramelah. But, that is precisely the point Ramelah and others have been trying to make since America and its Western buddies got on the "Arab Spring" bandwagon. The purportedly "pro-democracy" uprisings were anything but. "'Arab Spring' is a deceptive label created by Western leftists as a misnomer for the Islamic revival in Arab countries," he explained. "Arab Spring was a massive project instigated by the Muslim Brotherhood in a series of countries with the Islamic Caliphate as its ultimate goal." And there has been no greater victim than the region's Christian community. "Christians, like the Jews before them, are meant to be purged from each country," said Ramelah, recalling that most notorious of Muslim chants, "First the Saturday people, then the Sunday people." Indeed, attacks on Christians have increased exponentially in recent years, not only in Egypt, but even more so in Syria and Iraq. In Syria's ongoing civil war, Christians have essentially become "target practice" for the Islamists trying to seize control of that country.
EU Warns Israel over Settlement Construction, Failure to Make Peace
(EU will blame Israel if its settlement policy leads to failure of talks with Palestinians)
Dec. 18….(I-24 news) Senior European Union members warned Israel Monday that it will be held responsible for the failure of peace talks with the Palestinians if it announces the construction of new settlement housing. The warning was prompted by concern that in order to appease hard-liners at home, Israel will announce new construction in conjunction with the planned release of dozens of Palestinians prisoners at the end of the month.
The carrot in the EU's carrot-and-stick policy toward Israel came earlier in the day when foreign ministers meeting in Brussels announced the organization would provide "unprecedented support" to Israel and the Palestinians if the two sides reach a final agreement. After the announcement, the ambassadors to Israel of Britain, Germany, France, Italy and Spain requested to meet with Nissim Ben-Shitrit, the acting director-general of the Israeli Foreign Ministry, according to Haaretz. "We gave you an offer which is truly unprecedented. We are really serious about the offer, and we ask that you don't underestimate it. We are ready to discuss with you right now how the future of EU-Israel relations might look if there is movement toward peace," the ambassadors told Ben-Shitrit.
The ambassadors expressed their concerns that Israel would announce plans for more settlement construction in the West Bank after releasing Palestinian prisoners at the end of the month, in keeping with its commitment to the Palestinian Authority, something Israel did after the previous two rounds of prisoner releases earlier this year. "New announcements of settlement activity after the third round of prisoner releases at the end of the month might be a fatal blow for the peace process," the ambassadors said.
The stern warning by the major EU powers was coordinated with US Secretary of State John Kerry, who has played an integral part in negotiations between Israel and the Palestinians over the past few months. As part of the historic package announced earlier in the day, the EU will provide European political, economic and security support to both parties in the context of a final status agreement. "In the event of a final peace agreement the European Union will offer Israel and the future state of Palestine a Special Privileged Partnership including increased access to the European markets, closer cultural and scientific links, facilitation of trade and investments as well as promotion of business to business relations," a statement from the council read.
The EU would also offer both states "enhanced political dialogue and security cooperation," the foreign minister declared. The council conclusions state that the EU is ready to "contribute substantially to post-conflict arrangements for ensuring the sustainability of a peace agreement." The EU "will work on concrete proposals, including by building on previous work undertaken on EU contributions to Palestinian state-building, regional issues, refugees, security and Jerusalem," the foreign ministers stated.
EU Offers 'Unprecedented' Aid to Israel, Palestinians for Peace Deal
(28 EU FMs offer "package of European political, economic, security support to both parties in context of a final status agreement".)
Dec. 18….(Jerusalem Post) EU foreign ministers, who often fill their periodic conclusions on the "Middle East peace process" with vinegar toward Israel, decided this month to add some honey, promising unparalleled support for Israel and the Palestinians if a peace accord is signed. "The EU will provide an unprecedented package of European political, economic and security support to both parties in the context of a final status agreement," the conclusions read at the end of Monday's monthly meeting of 28 EU foreign ministers in Brussels.
In the event of a final peace agreement, the statement said, "the EU will offer Israel and the future state of Palestine a Special Privileged Partnership, including increased access to the European markets, closer cultural and scientific links, facilitation of trade and investments as well as promotion of business to business relations. Enhanced political dialogue and security cooperation will also be offered to both states."
While diplomatic officials in Jerusalem said this was "better than another round" of European denunciations of Israel, "no one knows what it really means." "They say they will dangle some carrots, but what kind of carrots, what size, how many, is not determined," one source said.
At a speech in Tel Aviv in 2004, then Spanish foreign minister Miguel Moratinos said the EU should offer Israel a "privileged partnership," which would include the benefits of EU partnership without participation in EU institutions. The same type of arrangement was offered to Turkey by German Chancellor Angela Merkel in 2004, but turned down by Turkish Prime Minister Recep Tayyip Erdogan.
The promise for closer scientific and cultural links comes just weeks after the bruising battle over Israel's entrance into the EU's flagship Horizon 2020 R&D project, because of EU's settlement guidelines prohibiting cooperation with Israeli entities beyond the Green Line. After months of negotiations, the two sides finally agreed to a formula that would enable Israel's involvement, and satisfy the EU that none of the benefits would go beyond the Green Line, including to east Jerusalem and the Golan Heights. One diplomatic official said that the EU foreign ministers' statement, markedly different in tone from the conclusions they issued last December, indicated that they were interested in giving the US-led Israeli-Palestinian negotiations a chance to succeed. The statement said the EU fully supported the efforts of the parties, and praised the "tireless engagement" of US Secretary of State John Kerry, and the leadership shown by "PA President Mahmoud Abbas and Prime Minister Binyamin] Netanyahu."
Israeli officials have said in the past it was important for the EU to come out unequivocally behind Kerry's efforts, so as not to give the Palestinians the impression that if these efforts do not succeed, they would be able to hold out for a better deal through the Europeans.
The statement said the EU would also "contribute substantially to post-conflict arrangements for ensuring the sustainability of a peace agreement." This would include EU contributions to "Palestinian state-building, regional issues, refugees, security and Jerusalem." The conclusions, however, were not without their sharp criticisms of Israeli policy. Saying that the EU warned against actions that undermine the negotiations, the statement said the EU "deplores Israel's continuous expansion of settlements, which are illegal under international law and constitute an obstacle to peace."
US Plan Gives Jerusalem Holy Sites to Vatican
(International mandate to control sections of Israel's capital)
*FOJ Note: This developing scenario is very much conducive to the parameters of the "covenant of peace" that Israel will eventually form with the Antichrist)
Dec. 16….(WND) Secretary of State John Kerry quietly presented a US plan for eastern Jerusalem that calls for an international administrative mandate to control holy sites in the area, according to informed Palestinian and Israeli diplomatic sources. The exact composition of the international mandate is up for discussion, the sources said, but Kerry's plan recommended a coalition that includes the Vatican, together with a group of Muslim countries such as Turkey and Saudi Arabia. The international arrangement is being proposed as a temporary solution for about two to three years while security arrangements in Jerusalem between Israelis and Palestinians are finalized, said the sources.
Israel, the sources said, was not receptive to the particulars of Kerry's plan, especially the concept of Turkish participation in Jerusalem. Kerry told the Israelis he would hold talks with the Kingdom of Jordan about its playing a leading role in the proposal in the place of Turkey, the sources added. Kerry was in Jerusalem on Friday as part of an Obama Administration effort to reach a deal for a Palestinian state by April, a timeline that is still on track, Kerry told reporters. "We are working on an approach that both guarantees Israel's security and fully respects Palestinian sovereignty," Kerry added.
According to the Israeli and Palestinian diplomatic sources speaking to WND, Kerry's trip this time around focused specifically on the particulars of security arrangements for the strategic Jordan Valley following a deal. In October, WND exclusively reported Kerry was strongly urging Israel to give up the Jordan Valley in closed-door talks with the Palestinian Authority. The current round of US-brokered talks is attempting to hash out the details of a plan for the valley.
The Jordan Valley cuts through the heart of Israel. It runs from the Tiberias River in the north to the Dead Sea in the center to the city of Aqaba at the south of the country, stretching through the biblical Arabah desert.
The US proposal calls for international forces to maintain security control along with unarmed Palestinian police forces, a senior Palestinian Authority negotiator told WND in October. Israel will retain security posts in some strategic areas of the Jordan Valley, according to the US plan. Previous talks incorporated an element of Jordanian authority in the Jordan Valley, but the Kingdom of Jordan is wary of participating in a future Palestinian state, the negotiator said. The Palestinian negotiator pointed to the insurgency in Syria and changes of leadership in Egypt as reasons for Jordanian reluctance to assume any security control over Palestinian areas.
Obama Now Allying With Islamist Rebels, & Assad to Fight al Qaeda
Dec. 16….(DEBKAfile Special Report) The Obama administration is again doubling back on its Syrian war policy, this time engaging in a secret approach to the Islamic Front, the most powerful force now battling the Assad regime. Recently set up by six Muslim militias with 40-50,000 fighting men, the new front is led by Hassan Aboud Abu Abdullah al-Hamawi and his Ahrar al Sham militia. Debkafile's counter-terrorism forces report that, although its Salafist members aspire to impose Sharia law on Syria, in common with Al Qaeda, they are against its methods of warfare. On Dec. 11, fighters of the Islamic Front seized Free Syrian Army headquarters, the Syrian Military Council, and weapons warehouses, as well as the Bab al-Hawa crossing from northwestern Syria into Turkey. This was a devastating setback for FSA, once the leading rebel force against Bashar Assad, and virtually extinguished the group as an effective fighting force after its recent setbacks. It was bad enough for its commander, Brig. Gen. Salim Idris, to flee to Qatar. Despite protestations to the contrary, he is unlikely to return to Syria in the hurry. Announcing the cut-off of "non-lethal assistance to the opposition in northern Syria," Washington more or less turned its back on the FSA and launched an approach to its vanquisher.
Robert Ford, former ambassador to Syria through whom the US has maintained contact with Syrian rebel militias, was dispatched to Turkey to start talks with the Islamist Front leader Al Hamawi. Our Washington sources report that Ambassador Ford's most urgent task is to hold together the pieces of the Obama Administration's disintegrating position in Syria after the FSA was wiped out. The administration is examining three hard options:
1. The Islamic Front is backed, funded, armed and supplied with intelligence by Saudi Arabia. By beating the FSA, the Front has awarded Riyadh high Syrian points against Washington. However, the Obama administration is deeply committed to joint steps in Syria with Moscow and Tehran, the sequel to the six-power nuclear accord forged in Geneva last month, to which Saudi Arabia is flatly opposed. President Barack Obama would therefore prefer to ignore the Saudi success in Syria.
2. For the second option, Ambassador Ford was empowered all the same to offer the Islamist Front a seat at Geneva II, the conference on a political solution of the Syrian civil conflict taking place in Montreux on Jan. 22. American military and financial assistance would also be on tap. This would be a bitter pill for the Washington to swallow, since the Islamic Front is led by commanders who quit other militias in protest against US failure to deliver promised arms.
3. The third option would be to heed voices rising now in Washington to start talking to the Syrian ruler Bashar Assad and admit that the US and the West fell down badly in underestimating his durability and military edge in the course of the three-year civil war. Ryan Crocker, former US ambassador to Baghdad and an eminent influence on US Middle East policy in the past decade, was the first prominent voice to advocate this course: "We need to start talking to the Assad regime again," he wrote in an article. " It will have to be done very, very quietly. But bad as Assad is, he is not as bad as the jihadis who would take over in his absence." He was echoed by former CIA and NSA director Adm. Michael Hayden, who said: "The sectarian bloodbath in Syria is such a threat to regional security that a victory for Bashar al-Assad's regime could be the best outcome to hope for."
Talking to the annual Jamestown Foundation conference of terror experts on Dec. 11, Hayden said that a rebel win was not one of the three possible outcomes he foresees for the conflict: "Option three is Assad wins. And I must tell you at the moment, as ugly as it sounds, I'm kind of trending toward option three as the best out of three very, very ugly possible outcomes." Those voices present Robert Ford with his second big challenge, which is not just to bring the Islamic Front to the conference in Montreux, but steer it towards an understanding with Assad for generating a military coalition for saving Syria from Al Qaeda. To this end, the Obama administration will also have to start talking to the Syrian ruler.
Al Qaida 'Armies' Growing in Syria Pose Threat to Region
Dec. 16….(World Tribune) Al Qaida is said to have formed armies that could spread throughout the Middle East. "The most important danger coming out from the Syrian conflict for Iraq and the region is the mushrooming of terrorist groups in Syria," Zebari said. "We are not talking about hundreds, or a few individuals. We are talking about thousands." In an address on Dec. 7 to the Manama Dialogue, Zebari said Al Qaida armies consisted of both Middle East and European nationals. The foreign minister said Al Qaida was trying to establish what he termed emirates in countries throughout the Levant. "These are armies of recruits of international dimensions; they are not just Syrians," Zebari said. "They are Europeans. Some have come from as far as Australia. This is really toxic. The day will come when we have another Islamic emirate outside of international control."
This was one of the most specific warnings by Iraq of the Al Qaida threat from Syria. Baghdad has reported the influx of nearly 300,000 Syrians amid the nearly three-year civil war in Syria. "This conflict on our doorstep will definitely have a devastating impact," Zebari said. "We are already suffering a great deal from the spillover of this conflict on our borders." Zebari envisioned that Al Qaida would feel free to employ chemical weapons as had the regime of Syrian President Bashar Assad. The Iraqi minister said the Middle East did not envision that Assad would go unpunished for his non-conventional attacks. "When Assad used chemical weapons and there was no action there was a great deal of frustration that we were now living in a new world, a different world, where such actions go unpunished," Zebari said. "Who could have imagined five or six years ago that a regime would use chemical weapons and we would stand by?" Zebari's counterpart in Qatar agreed. Qatar's Foreign Minister Khalid Bin Mohammed Al Attiyah said the Syrian war proved the failure of military solutions.
WEEK OF DECEMBER 8 THROUGH DECEMBER 14
Obama's Magical Thinking and The Doom of Nations
FOJ Note: The following article is very insightful, and it does not come from a "ole Bible prophecy preacher," but from a highly placed expert on National Security. (Article by Dr. Peter Vincent Pry is Executive Director of the Task Force on National and Homeland Security and Director of the US Nuclear Strategy Forum)
Dec. 13….(Arutz) Western democracies have a long history of indulging themselves in escapist fantasies when confronted with an existential threat. But what is the real reason that Iran agreed to cooperate? During the Iraq-Iran War (1980-1988), the Iranian Revolutionary Guard used children armed with nothing but the Koran to clear minefields and as human shields. Why would the Mullahs who sanctioned such sacrifices now buckle because they have a lousy rating in Standard and Poor's? After just five days of negotiation, Secretary of State John Kerry claimed to have an agreement to stop Iran's march toward an Islamic Bomb, his historic diplomatic triumph announced on Saturday night, just in time to headline the Sunday morning talk shows, that had focused for weeks on the failures of ObamaCare.
Iran will destroy its stockpile of uranium enriched to 20 percent, halt further uranium enrichment, halt work on the Arak nuclear reactor, and allow daily United Nations inspections, in exchange for a partial and temporary suspension of economic sanctions. According to Secretary Kerry, a permanent agreement is to be negotiated over the next 6 months to prevent Iran from ever building the Islamic Bomb, and that will return Iran to the fold of "normal nations."
At least the above is the strong impression created by Kerry and White House spokesmen on the Iran deal during the Sunday talk shows. By Tuesday, even the leftwing New Republic noticed that the "achievements" of the Iran nuclear deal are not exactly what had been trumpeted on Sunday. In fact, under the terms of the interim agreement, Iran will not destroy its uranium stockpile enriched to 20 percent, which can be quickly enriched to 90 percent and turned into nuclear weapons. Iran will retain control of this near nuclear weapons grade uranium, but has promised to convert it into a different chemical compound and enrich no more uranium to the 20 percent level over the next 6 months. Both of these steps are so easily reversible as to be virtually meaningless as impediments to Iran becoming a nuclear weapons state.
In fact, under the interim agreement, Iran is not required to halt construction of the Arak nuclear reactor. Tehran has agreed not to install fuel rods. This step Iran almost certainly will be unprepared to do over the next 6 months anyway, as fuel rod installation is done during the final phase of reactor construction. So Iran will continue to build the Arak nuclear reactor, that will provide an additional pathway to nuclear weapons by breeding plutonium.
In fact, under the interim agreement, United Nations inspectors will be allowed only at the few facilities already known to be part of Iran's nuclear program. The UN will not be allowed free ranging inspections or access to several huge and highly suspicious facilities, like the Quds underground complex. More than likely, the largest part of Iran's nuclear weapons program will continue at Quds and elsewhere.
So has the Obama Administration once again lied to the American people, as they apparently did about the virtues of ObamaCare, misrepresenting the Iran nuclear deal as rescuing America and the world from the terrors of an Islamic Bomb? The situation for the American people, Israel and our other allies may be far more perilous than having a liar in the White House. We have survived great prevaricators before. And perhaps it is simple naivete, and just as President Obama and his Administration genuinely believe in the virtues of ObamaCare, so too they probably genuinely believe in their nuclear deal with Iran, though both are dangerously misguided fantasies. Can we survive a White House and an Administration so ideological, so enamored of their own ideas, that they are blind to reality and rationalize all facts to fit their fantasy world? "Magical thinking may lead people to believe that their thoughts by themselves can bring about effects in the world or that thinking something corresponds to doing it," according to a textbook on clinical psychology. Western democracies have a long history of indulging themselves in escapist fantasies when confronted with an existential threat.
In 1910, Norman Angell's theory that European economic interdependence had rendered war obsolete was widely believed, including by progressive elites in Britain, France, and the Benelux countries, who were nearly defeated by Imperial Germany at the outbreak of World War I. Over 16 million deaths in "the war to end all wars" belied the "no more war" fantasy.
In 1938, British Prime Minister Neville Chamberlain's promise that he had negotiated "Peace for Our Time" with Adolph Hitler contributed to the unpreparedness and near defeat of the Allies by Nazi Germany during World War II. Over 60 million died for Chamberlain's fantasy.
In 1994, President William Jefferson Clinton had his "Peace for Our Time" moment when he negotiated his Agreed Framework that would supposedly denuclearize North Korea. Pyongyang exploded this fantasy with a series of nuclear tests culminating in a credible threat to make nuclear missile strikes on South Korea, Japan, and the United States in March 2013.
Today, the American people, Israel, Saudi Arabia and our other allies are asked to believe that, after making enormous sacrifices to develop nuclear weapons over a quarter-century, and being only months away from an Islamic Bomb, Iran has now surrendered. Economic sanctions had broken the Mullahs, or so the narrative goes. Western elites who calculate almost everything in terms of dollars and cents have no problem believing this fantasy. But the Mullahs have never cared much about dollars and cents, and have been willing to make far more terrible sacrifices than those imposed upon the Iranian people by sanctions. During the Iraq-Iran War (1980-1988), the Iranian Revolutionary Guard used children armed with nothing but the Koran to clear minefields and as human shields. Hundreds of thousands of Iranians were sacrificed against a technologically superior Iraqi Army that used poison gas to kill, blind and ulcerate casualties in numbers not seen since World War I. Would the Mullahs who sanctioned such sacrifices now buckle because they have a lousy rating in Standard and Poor's? If sanctions have not broken the Mullahs, then what is happening?
The Islamic Bomb
Maybe Iran already has the bomb. The United States during its Manhattan Project in World War II developed the first atomic bombs, using 1940s era technology, in only three years. Iran has the advantage of modern technology, copious unclassified information on nuclear weapons design, help from North Korea and others, and has been working on the bomb for 25 years. If Iran already has the bomb, then they can afford to slow or even stop enriching uranium and allow inspections at known facilities, because they now have nuclear weapons, and the capability to build more at secret facilities, just as happened in North Korea. Unreported or underreported in the press are the following facts:
*General Yuri Baluyevski, then Deputy Chief of the General Staff and Russia's second highest ranking military officer, stated in June 2002 that Iran has tactical nuclear weapons: "Iran already does have nuclear weapons. These are non-strategic nuclear weapons."
*Reza Kahlili, the only CIA operative to penetrate the scientific wing of the Iranian Revolutionary Guard, now a journalist, has reported that Iran has Russian tactical nuclear weapons and is building nuclear warheads. Kahlili, by the way, based on his sources inside Iran, reported months ago the Obama Administration's secret nuclear negotiations with Tehran, that are today such a surprise to the mainstream media.
Israeli scientists warned that Iran already has its Islamic Bomb in an article published in Maariv in September. Ignored by the mainstream press are statements that Iran might already have the bomb by Dr. William Graham (President Reagan's Science Advisor), Fritz Ermarth (former Chairman of the National Intelligence Council), Vice Admiral Robert Monroe (former Director of the Defense Nuclear Agency), Ambassador Henry Cooper (former Director of the Strategic Defense Initiative) and others. Readers might want to visit Kahlili's website to see satellite imagery of Iran's Quds ("Jerusalem") underground facility, that is surrounded by missile launchers, and structures that look suspiciously like nuclear warhead storage casernes.
Why does Iran want the bomb?
The Mullahs too engage in magical thinking. The Mullahs dwell not in the world of money or in the sphere of geopolitics, but in the transcendental realm of religious eschatology. Nuclear electromagnetic pulse (EMP) attacks can collapse the critical infrastructures that sustain the West and exterminate the Infidels, slain by our very dependency on the false God technology as if by divine justice, thus paving the way for the return of the 12th Imam, and the worldwide triumph of Islam. "In the context of the final battle, all of the planes and satellites will fall, computers will fail, other equipment will be made useless and the Earth will be shaken by nuclear war," prophesy Abdallah and Shayk Muhammed an-Naqshbandi in 1994 and 2005, "Technology will stop or turn against the Americans."
The Congressional EMP Commission estimates that, given the Nation's current unpreparedness, a nuclear EMP attack that blacks-out the electric grid and other critical infrastructures for a year could kill 9 of 10 Americans by starvation, disease and societal collapse.US allies in Europe and Asia are similarly vulnerable. Russia and China, however, have hardened their critical infrastructures against EMP attack. Is it possible that Russia and China have not supported US efforts to denuclearize Iran and North Korea because they want them to be nuclear weapon states, perhaps to wage nuclear war by proxy for Moscow or Beijing, should this ever become necessary?
Our fantasy that we can negotiate our way to peace with the Mullahs and talk away their nuclear threat may be more dangerous magical thinking than theirs. The greatest danger from the Iran nuclear deal is that the White House and their allies in the mainstream media will ignore all evidence of its failure, insist that negotiations can eventually achieve Iran's denuclearization and peaceful co-existence--"Peace for Our Time." This is precisely how we arrived at a nuclear armed North Korea. President Obama still cannot bring himself to acknowledge the reality that North Korea is a nuclear weapons state, despite assessments by his own Defense Intelligence Agency and others that North Korea has nuclear missiles. Washington can talk all it wants, but the Mullahs will not give up the bomb just because sanctions have made the Rial worthless. The theocracy that celebrates the use of children as suicide bombers has a calling and a mission beyond this Earth that the Mullahs will never betray by surrendering their duty to redeem the world by Nuclear Jihad.
Muslim Brotherhood Faction Reconnects with Iran
(Financial backing from Tehran expected to resume to Hamas)
Dec. 12….(WND) With the recent election of Iranian President Hasan Rouhani, the Muslim Brotherhood-linked Hamas in the Gaza Strip has renewed its ties with the Islamic Republic. Iran's relations with Hamas had been significantly limited after Tehran backed the government of Syrian President Bashar al-Assad in the ongoing three-year Syrian civil war. But now senior Hamas official Mahmoud Zahar says the relationship has been restored, signifying that the financial assistance cut off after the break will once again begin to flow. At the same time, Zahar said Hamas also will continue economic ties with Egypt, even though its military regime ousted Muslim Brotherhood President Mohamed Morsi earlier this year.
While the interim Egyptian military regime has severed many of the supply lines from Egypt into Gaza, Zahar said Gaza will need to continue relying on Egypt for goods and fuel. However, the Egyptian regime, he said, isn't interested in diplomatic relations with Hamas. Zahar, in a statement, added that Palestinian Authority President Mahmoud Abbas in the West Bank doesn't represent the Palestinian people. He said that any agreement coming out of what he called Oslo 2 would not apply to all Palestinians, since the PA is "compromising on Jerusalem, refugees and borders in cooperation with the American government and the Israeli occupation."
In renewing ties with Hamas, Shiite Iran also will maintain close ties to the Egyptian Muslim Brotherhood which it also helped finance, resulting in Morsi's election there two years ago. Shiite Iran for years has given backing to Sunni Hamas since it opposes Israel, their common enemy. Despite Hamas' disagreement with Iran over Syria, Zahar said that their ties never were completely severed. "Our relations with Iran were not cut, and we don't wish to cut ties with any Arab countries, either, even those that are fighting against us," he said. That was a reference to Egypt, which took a hard line against the Palestinian group following Morsi's ouster in July.
Once headquartered in Damascus, Hamas received substantial funding from Iran, which also worked with the Muslim Brotherhood for years to create conditions that led to the successful election of one of its prominent members, Morsi, to the Egyptian presidency in 2011. Hamas had decided to take advantage of the Arab Spring Sunni uprising, including the conflict that evolved in Syria. Hamas believed that the developments throughout the Middle East would increase its strategic depth and give it an opportunity to bolster its power and reconstruct its position in the region.
With the fall of Egyptian President Hosni Mubarak in 2012, Brotherhood-affiliated Morsi came to power, giving strength to Hamas' dream of extending its influence. But that dream lasted only a year before Morsi was toppled and Hamas receded, as the Brotherhood in Egypt became the whipping boy of the Egyptian military. Hamas then turned to Qatar and Turkey, but Qatar had issues with the Brotherhood because the country is a monarchy, which the Brotherhood opposes. Turkey, which backed the Brotherhood, was going through its own domestic crisis. Now, Hamas has turned back to Iran. Sources believe that because Tehran supports the Palestinian movement, it won't turn its back on Hamas. And if the Syrian leadership issue is resolved in favor of Assad, then the past animosities also will go by the wayside, since Syria and Iran are strategic partners. "Hamas has played a vital role in the Palestinian resistance movement in the past and will continue to play the same role in the future," according to Middle East expert Mohammad Ali Sobhani, who also was an Iranian ambassador to Lebanon and Jordan.
Obama-Kerry: American Citizens Unimportant in Dealing With Iran
Dec. 12….(WND) Rep. Christopher Smith, R-N.J., wanted to know why the Obama Administration did not even ask for the release of pastor Saeed Abedini, the American imprisoned in Iran, while negotiating a nuclear deal. "He would become pawns to the process and it could prolong it, it could make it more risky or dangerous," said Kerry.
The 33-year-old pastor was sentenced in January to eight years in prison for spreading Christianity in Iran. He was convicted of attempting to undermine the government and endangering national security by persuading youth to leave Islam. Kerry's State Department had told Abedini's wife, Naghmeh, "there was nothing that could be done," leaving her "shocked and dismayed." Naghmeh Abedini will testify before his subcommittee Thursday that she "was devastated to learn that the Obama administration didn't even ask for my husband's release when directly seated across the table from the leaders of the government that hold him captive."
Smith asked Sec. Kerry, "So my first question would be, is that true? Did we raise Abedini's case directly with the Iranians in the negotiations on the nuclear issue?" Befitting a diplomat, Kerry answered both yes and no. "The answer is that I personally raised the issue with Foreign Minister Zarif when I first met him, the very first time," he began. But then the secretary seemed to contradict himself by confirming that the release of the pastor was not one of the Americans' conditions for a deal. "We have not linked it directly to the nuclear issue, because we believe that prejudices them, and it also prejudices the negotiation. Smith was troubled, saying that raised "even more serious questions" about US credibility "when an American is being tortured and we're conducting a negotiation" and he's not even a part of the deal.
Apparently, one of the decisions of the Obama Administration was not to press for the release of an American Christian pastor tortured in an Iranian jail during negotiations with one of the most tyrannical and dangerous regimes in the world, even though its leaders were desperate to gain Western approval for their drive to become a nuclear power.
Obama's Four-State Solution
Dec. 11….(Jerusalem Post/oped By Caroline Glick) Israel has no reason to withdraw from Judea and Samaria. Absorbing the areas into sovereign Israel will not endanger the country demographically. Inadvertently, President Barack Obama just made an important contribution to our understanding of the Palestinian conflict with Israel.
Since Hamas ousted all PLO forces from the Gaza Strip in 2007, Gaza has operated as a separate political entity from Judea and Samaria. Indeed, it has been a de facto independent Palestinian state, controlled by Hamas. Gaza's only connection to Judea and Samaria has been financial. Every month, the PLO-controlled Palestinian Authority in Judea and Samaria transfers tens of millions of dollars in US and other international donor funds to Gaza to finance the terror state.
Despite the clear distinction between the two areas, the US and the rest of the world have continued to insist that an Israeli-PLO peace deal will cover Gaza as well as Judea and Samaria. Obama always insisted that a future Palestinian state must be "territorially contiguous," meaning in a final deal Israel will be required to cut itself in half in order to give the Palestinians a land corridor connecting Gaza with Judea and Samaria.
But during his remarks at the Saban Forum on Saturday, Obama let the cat out of the bag. Gaza, he admitted, is a separate entity. A peace deal, he explained, "is going to have to happen in stages." As he sees it, a peace deal will involve an Israeli withdrawal from Judea and Samaria. A post-Israel Judea and Samaria will be so wonderful that the Gazans will decide to join it. Obama explained, "If there is a model where young Palestinians in Gaza are looking and seeing that in the West Bank Palestinians are able to live in dignity, with self-determination, and suddenly their economy is booming and trade is taking place because they have created an environment in which Israel is confident about its security and a lot of the old barriers to commerce and educational exchange and all that has begun to break down, that's something that the young people of Gaza are going to want. And the pressure that will be placed for the residents of Gaza to experience that same future is something that is going to be I think overwhelmingly appealing."
Before considering whether Gazans will likely behave as Obama expects them to, we need to consider the implications of his assertion that Gaza will not be automatically included in a peace deal. Israelis and Palestinians engage one another for different reasons. Israelis are told we need to engage the Palestinians because they pose a demographic threat to our continued viability as a Jewish State. In his remarks at the Saban Forum, Secretary of State John Kerry claimed that the Palestinian "demographic time bomb" is an existential threat on the level of Iran's nuclear weapons program. If we don't vacate Judea and Samaria as we vacated Gaza, he warned, we will be doomed as a Jewish nation state.
For the Palestinians, the peace process is supposed to lead to a satisfaction of their assumed yearning for self-determination as a nation. Israeli demographics and Palestinian nationalism have been the basic assumptions upon which the peace process has been based. But the Obama-recognized fact that Gaza is a separate political entity demonstrates the emptiness of both. The truth is that the "demographic time bomb" is a PLO-concocted lie. In its 1997 census, the PLO falsified its data and inflated the number of Palestinians by 50 percent. They then projected natural growth and immigration rates that bore no relation whatsoever to reality.
In truth, demography is one of Israel's strongest advantages, not an existential threat. Were Israel to absorb the Palestinian populations of Gaza and Judea and Samaria tomorrow, Israel's Jewish majority would be reduced from 78% to well over 50%. While Israel's Jewish identity would not be in doubt, it would be weakened. On the other hand, without Gaza, there is no demographic threat to Israel's Jewish majority. If Israel applies its sovereignty over Judea and Samaria and offers a path to citizenship to its Palestinian residents, Israel would still retain a two-thirds Jewish majority. And if current fertility and immigration rates hold, within 15 to 20 years, Jews could well restore their 80 percent majority overall.
Then there is the Palestinian nationalism issue. Obama's acknowledgement that Gazans will have to be convinced to join a Palestinian state in Judea and Samaria exposes the lie at the heart of it. Since the League of Nations assigned both sides of the Jordan River to the Jewish people in 1922, the international community has insisted that the path to peace will be forged by taking land from the Jews and giving it to the Arabs.
First we had a two-state solution when Jordan, with its overwhelming Palestinian majority, was carved out of the Jewish territory. For the past 20 years, we have been told that we need a three-state solution with another Palestinian state in Judea, Samaria and Gaza. Since the Israeli withdrawal from Gaza, we have had two Palestinian states, in Gaza and Jordan. And yet, the Gazans who we are told are motivated by nationalist aspirations have refused to declare an independent Palestinian state in Gaza. And now Obama is talking about a four-state solution, three Palestines and one rump Israel.
The Palestinians' refusal to ever view the areas under their control as the focus of their nationalist aspirations indicates that there is something awry in the international community's assumption that the Palestinians are motivated by nationalist aspirations. And that brings us to Obama's projection that once the Gazans see how great things are in post-Israel Judea and Samaria, they will join the peace train. We've been told things like this before.
In 1993 we were told that the Palestinians as a whole would embrace peace once Israel recognized the PLO and allowed it to set up an autonomous government in Judea, Samaria and Gaza. In the event, the Palestinians became more violent and radicalized and anti-Jewish under PLO rule, until in 2006 they elected Hamas to lead them.
In 2005 we were told that once Israel vacated Gaza, the Gazans would abandon their war against Israel and use their energies to transform Gaza into a Middle Eastern Singapore. Instead they transformed it into a Middle Eastern Afghanistan.
In 2007, after Hamas ousted the PLO from Gaza, we were told that the international community would pour so much money into the PLO-run PA in Judea and Samaria that the Gazans would decide that they want the PLO back. Instead, Hamas has grown more popular in Judea and Samaria.In other words, there is no reason to think Obama's sunny projection is correct. Clearly without meaning to, Obama told us the truth. There is no demographic time bomb. Israel has no reason to withdraw from Judea and Samaria. Absorbing the areas into sovereign Israel will not endanger the country demographically. And the fact that the Gazans do not see themselves as part of a Palestinian state in Judea and Samaria, (or in Jordan), shows that the Palestinian national movement is not what it has been billed as. Obama's four-state solution is not about demography or Palestinian nationalism. It is about making up reasons to force Israel to surrender its strategic and historic heartland.
Obama's America, (Socialist Relativism) Going the Way of Rome
(Barack Obama is a creature of relativism, even though, without logical consistency, this "post-American" president exalts Islam.)
Dec. 11….(Arutz) The longest chapter in Machiavelli's "Prince" is devoted to conspiracy. No conspiracy, if it may be called that, is more significant than the one enfolding in the United States under its "post-American" president, Barack Hussein Obama. Let us try to place Obama in historical context. The context is one of contradiction. Obama is the creature of rootless modernity and a ruthless Islam. The two have a single enemy, Judaism, the religion of reason. The primary target of modernity, beginning with Machiavelli, was the Bible of Israel. For without the Bible, and its Creator, and his law, there is only tyranny and chaos.
European philosophy via relativism has undermined the cherished beliefs and values of America for decades. At its core, relativism rejects the semi-classical and semi-Jewish concept of the "Laws of Nature and of Nature's God" affirmed in the American Declaration of Independence. Therein is the source from which was derived our rights to Life, Liberty, and the pursuit of Happiness. The protection of these rights necessitates limitations on the powers of the State. Ignore those limitations and you get "Statism." Statism can take the form of fascism, socialism, or the "Nanny" State of "entitlements." Health care, social security, etc., has been evolving in American society in tandem with the university-bred doctrine of moral relativism.
Barack Obama is a creature of this relativism, even though, without a stitch of logical consistency, this "post-American" president praises and exalts Islam. Obama has taken up the mantle the Socialists vision of "Change," which was the mantra of Obama's first presidential campaign. Obama attracts alienated youth, knee-jerk liberals, and people who see only the self-aggrandizing side of Capitalism, but who therefore disregard its creativity and contribution to America wealth. This wealth liberated countess men and women from toil and tribulation. But the wealth produced by Capitalism has made America the home of countless immigrants, a land of opportunity for the talents of oppressed mankind. America is the universalistic nation par excellence. Obama calls himself a "cosmopolitan." Devoid of the learning required to be a genuine cosmopolitan, Obama is really a man without a country. He is ignorant of the blessings of individualism for which America stands; he is ignorant of America's unequalled contribution to human freedom as well.
Like his pastor Jeremiah Wright, Obama harbors a deep racial hatred of America. Steeped in racial resentment, and influenced by half-educated left-wing intellectuals, Obama wants to unravel America, which is rooted in the Bible of Israel. It's hard to say whether Obama is merely a fool or a fraud or a person devoid of any cultural depth or spiritual identity. One thing is quite clear: he hates American supremacy, just as he hated white supremacy. But given his ego-enhancing Arabic middle name, which means handsome, magnified by the arrogance of his unlearned mind, Obama is oblivious of the arrogance underlying Islamic supremacism. It was Islamic supremacism that incited the genocides Islam committed against the race with which Obama identifies.
It will not be easy to undo his "Obamanation" of America. His relativism is entrenched in his appointments to the Supreme Court; and his left-wing party has tens of millions of rootless supporters and immigrants, voters who live on the handouts of his "nanny" state.
If America could rightly be called a Judeo-Christian civilization, it is undergoing the fate of Rome.
FOJ Note: The nation that "forgets God," (abandons his law) shall be turned into Hell. America, under Obama is reaping just what he has sown for decades!
Palestinians Reject US Proposal for IDF Presence in Jordan Valley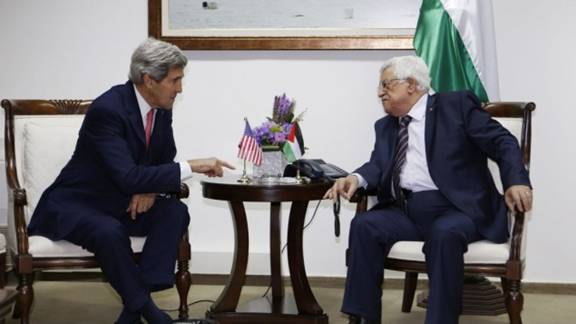 Dec. 11….(Times of Israel) An American proposal that Israel station IDF soldiers in the Jordan Valley for the first 10 years after the signing of a peace deal with the Palestinians has garnered angry reactions from Palestinian leaders. The proposal was made by US Secretary of State John Kerry in a meeting last week in Ramallah with Palestinian Authority President Mahmoud Abbas, the official Palestinian daily Al-Ayyam reported. A senior Palestinian official was quoted in the report to the effect that after Kerry made the suggestion, the meeting between him and Abbas turned to "worse than bad."
According to the official, Palestinian leaders saw Kerry reneging on security proposals presented earlier in the current round of US-brokered peace talks by Jim Jones, the former Obama administration national security adviser who serves as the State Department special envoy for Middle East security. Jones had reportedly suggested that a NATO force, led by the US, be stationed in the Jordan Valley.
According to Kerry's proposal, the Israeli military presence in the Jordan Valley would include an "invisible" Israeli presence in the border crossings between the West Bank and Jordan and Israeli early warning stations on the eastward slopes of the West Bank highlands, the official said. The 10-year period of Israeli military deployment would be used to train Palestinian forces to take over responsibility for the border, Kerry had said, according to Al-Ayyam.
On Sunday, Abbas met with the American consul general in Jerusalem, Michael Ratney, and formally rejected the proposal, saying that the Palestinian position was "unequivocal": no Israeli presence, though the Palestinians would tolerate a third-party military presence.
Agree: Israel Should Control Jordan Valley
Dec. 11….(Israel Today) The Obama Administration and the Hashemite Kingdom of Jordan have both reportedly sided with Israel in its demand to retain control over the Jordan Valley in any future peace agreement with the Palestinians. In a new proposal to both Israel and the Palestinian Authority last week, US Secretary of State John Kerry is said to have suggested that the Jewish state be permitted to maintain a military presence in the strategic Jordan Valley. The new American position on that matter could be the result of reported Jordanian pressure. According to Israeli newspaper Ma'ariv, Jordan coordinated with Jerusalem to convince Kerry of the crucial importance of continued Israeli army control of the border region.
Israel has long insisted that, even if it surrenders the bulk of Judea and Samaria (the so-called "West Bank"), it must retain control of the Jordan Valley as a buffer against future external threats, and as a deterrent and protection against Palestinian aggression. Jordan wants Israel in the Jordan Valley to prevent further influx of Palestinian Arabs into the Hashemite Kingdom. Jordan's Palestinian majority has threatened the Bedouin-backed Hashemite monarchy in the past, including in the 1970-1971 Jordanian Civil War. As expected, the Palestinian Authority responded to the news with outrage.
FOJ Note: Even King Abdullah knows that with any other military defenses in the Jordan River Valley than Israeli or American, that the valley would turn into a haven for terrorists and foreign intrigue, most notably from Iran, thus destabilizing the Hashemite kingdom.
Christians Are Being Burned Alive, Beheaded, Crucified, & Tortured To Death all Around the World Today
Dec. 11….(Alternative News Headlines) The "coming persecution of Christians" has already begun. It is already here. So why is the mainstream media in the United States almost totally silent about this phenomenon? When some politician somewhere around the globe inadvertently offends homosexuals or Muslims, it instantly makes headline news. But very few Americans are even aware that it has been estimated that 100 million Christians are currently facing persecution and that approximately 100,000 Christians die for their faith each year. As you are about to see, Christians all over the world are being burned alive, beheaded, crucified, tortured to death and imprisoned in metal shipping containers just because of what they believe. This persecution goes on year after year and it is steadily intensifying. But the governments of the western world and the mainstream media are almost entirely ignoring what is happening.
For the moment, things like this are not happening in the United States. But you would have to be extremely naive to think that it never could happen here. Animosity toward Christians is rapidly rising in this country. Anyone that spends much time cruising around the Internet can see that very clearly. In fact, some bloggers recently suggested the castration and murder of Christians here in the United States. It might seem easy to dismiss those remarks as the ramblings of a few deranged individuals, but the truth is that our own government is now labeling Christians as "extremists" and "potential terrorists. All over the planet, the persecution of Christians is growing. And our own government is now demonizing us and characterizing us as a "threat". The years ahead are going to be very challenging for those who choose to be Christians. If you are a Christian, I hope that you are getting emotionally and spiritually prepared for that.
Way To Go Candace Cameron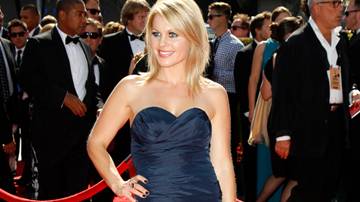 ('I'm not going to get naked, and I'm not going to have sex scenes')
Dec. 10….(Fox News) Full House" may be long gone, but Candace Cameron Bure has held on to her squeaky clean image. The now 37-year-old mother of three explained how she picks and chooses what roles are too racy for her to take on. "What's very important to me is that it's family-friendly programming or there is some positive message, or something of value to take away from watching it," she said. "I have boundaries that my husband and I talked about and are both comfortable with. If you watch anything I do, you'll see I don't go beyond kissing someone. I'm not going to get naked, and I'm not going to have sex scenes." She said her religion has helped maintain such a strong marriage. The actress has been married to hockey player Valeri Bure for 17 years. "The best advice I've ever been given is being handed a Bible. That's the blueprint for marriage that we go by, and that's what our marriage is grounded in," she explained.
FOJ Note: Why aren't classy young ladies like Candace esteemed in America anymore? Praise God for young women and girls that have character, morals, and principles like Candace. She should be the rule in our society, and not the rare exception. Why isn't an all-American girl like Candace not idolized and promoted over the likes of a Kim Kardashian? Why does our modern society promote and glamorize whoredom and sluts? It is because we have become a culture given over to debauchery! And that is just another Cultural Sign of the Latter days.
Israelis Don't Believe in 2-State Solution

(A Palestinian State would divide Israel in half)
Dec. 9….(Israel Today) Middle East expert Dr. Mordechai Kedar of the Begin-Sadat Center for Strategic Studies says Israelis have almost totally lost their faith in the two-state solution to the Israeli-Arab conflict. Whereas a decade or two ago a majority of Israelis viewed the internationally-backed diplomatic effort as a harbinger of peace after 50 years of war, the number of Israelis who still feel that way can "fit in two telephone booths," Kedar told Israeli radio station Arutz Sheva. What happened in the intervening years to change most Israelis' minds? In a word, Gaza.
In 2005, Israel "disengaged" from Gaza, uprooting 21 Jewish communities with a combined population of some 10,000 people. It was a gut-wrenching move for the Jewish state, but it was also the first major test of whether or not the Palestinians were serious about living in peace if they were given the lands they demanded. "We gave land, they fired rockets into Israel," noted Kedar. Since Israel pulled out of Gaza, nearly 10,000 rockets have been fired into southern Israel from the coastal enclave.
Kedar explained that Israelis aren't about to let the same thing happen in Judea and Samaria (the so-called "West Bank"), from which terrorist rockets could easily hit Israel's largest population centers and its only major international airport. Kedar is currently promoting a peace plan that would grant the Palestinians increased autonomy in their own cities, but would stop far short of the independent, sovereign control over Judea and Samaria that the current negotiations are aimed at achieving.
WEEK OF DECEMBER 01 THROUGH DECEMBER 07
US State Dept. Spent Tons on Booze Right Before the Gov't Shutdown
(Political officials didn't want to get caught without plenty of booze)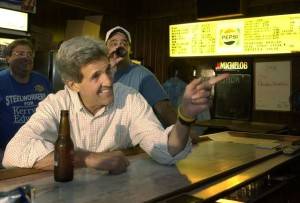 US Secretary of State John Kerry having his beer
Dec. 5….(The Blaze) The US State Department reportedly spent roughly $180,000 on alcohol in the days leading up to the 16-day partial government shutdown. Yes, the State Dept. spent six Figures on Booze Right Before the Govt Shutdown. And that figure is just for September, the final month of the federal government's fiscal year. The US government spent approximately $400,000 on alcohol in FY2013. This is roughly three times what was spent on alcohol in 2008, the Washington Times reported. The government shut down, which lasted from Oct. 1 to Oct. 16, was supposedly caused by Republican efforts to defund the Affordable Care Act, President Barack Obama's signature health care law. The State Department's September booze orders were placed for US embassies around the world and, as the Times notes, it looks like they were "urgent last-minute pre-shutdown splurges."
An estimated $5,625 was spent on "gratuity wine" for the embassy in Rio de Janeiro on Sept. 29. This order was followed by a $5,925 order for "gratuity whiskey" on Oct. 1, the day the supposedly disastrous shutdown began. Government officials spent an additional $22,416 on wine for the embassy in Tokyo as well as $15,900 on whiskey for the embassy in Moscow.
It's not unusual for US embassies to keep a supply of alcohol on hand. Indeed, many administrations, both Republican and Democratic, have allowed the State Department to include alcohol in its annual budget for US embassies, mostly for entertainment purposes. But as the Washington Times notes, spending on alcohol has risen precipitously in the past five years. The State Department purchased approximately $415,000 worth of alcohol in 2012, a 25 percent increase from 2011 and more than triple the amount that was spent in 2008, the Times reported, citing federal government's procurement database.
Considering the apocalyptic rhetoric that was used throughout the government shutdown, and taking the national debt into consideration, perhaps it wouldn't be a bad idea if government officials looked for ways to cut their spending, even if it is a few hundred thousand dollars. "This is what taxpayers don't understand," Dave Williams, president of the nonprofit Taxpayers Protection Alliance, told the Washington Times. "You have a looming government shutdown but then you have a 'use-it-or-lose-it' mentality where someone is spending tens of thousands of dollars because they have to. "If you're a family or a business and you're getting ready for a potential loss of revenue, the first thing you do is get rid of the extravagant parties," he said.
FOJ Note: the government chose to shutdown America's parks, and blockade the WWII monument from veterans for lack of funds, but yet government leaders sure made sure they had plenty of money for free liquor. No wonder America is bankrupt!
Chief Rabbis Reimpose Ban on Jews Visiting Temple Mount
Dec. 4….(Jerusalem Post) Chief rabbis David Lau and Yitzhak Yosef have signed a declaration reiterating the Chief Rabbinate's opposition to Jews visiting the Temple Mount. The Chief Rabbinate has, since its inception under Rabbi Avraham Yitzhak Hacohen Kook in 1921, banned Jews from visiting the site out of a concern they may inadvertently step into an area which, in Jewish law, it is forbidden to enter unless one is ritually pure. It is not possible to perform the purification ceremony today for various halachic reasons.
In their signed declaration, Lau and Yosef said they were repeating the prohibition first issued by Kook against going up to the Temple Mount. "In light of those neglecting this ruling, we once again warn that nothing has changed and this strict prohibition remains in effect for the entire area of the Temple Mount," the chief rabbis wrote. The declaration, which was promoted and advanced by senior national-religious leader Rabbi Shlomo Aviner, was also signed by several other leading rabbis, including former chief rabbis Shlomo Amar and Bakshi Doron, Rabbi Tzvi Tau, dean of the haredi-Zionist Yeshiva Har Hamor, and others.
In recent years, increasing numbers of religious people have ascended to the site, largely due to the activities of several religious organizations, which promote Jewish rights and Israeli sovereignty over the Temple Mount complex. Their activities have been given religious sanction by several leading national-religious rabbis, who rule that it is possible to visit the Temple Mount without entering the prohibited areas.
Rabbi Dov Lior, the chief rabbi of Kiryat Shmona and Hebron, and one of the most respected national-religious authorities in Jewish law, reiterated his position recently in the Shabbat pamphlet Gilui Da'at that it is halachically permissible to visit the Temple Mount. The increasing number of people visiting the site and the increasingly vocal campaign insisting on the right of Jews to visit and pray there have led to increased tensions at the Temple Mount and intense political opposition from Arab MKs.
In a Knesset committee hearing on the issue in November, MK Jamal Zahalka of Balad accused Bayit Yehudi lawmakers who are supportive of Jewish rights on the Temple Mount of being "pyromaniacs," telling them "you're playing with fire and you're starting an inferno."
Jewish Activists Want to Pray on Jerusalem's Temple Mount, Raising Alarm in Muslim World
Dec. 4….(The Telegraph) A small but growing movement by Jewish activists demanding the right to pray at the site of their destroyed temple, in the heart of this disputed capital's Old City, is creating a potentially explosive clash with the Muslim world, which considers the spot holy and bans Jews from public worship there. Each week, hundreds of Jews ascend the creaky wooden ramp built above the Western Wall and enter what is often called the most contested real estate on Earth. Many then embark upon a game of hide-and-seek with their police escorts, whispering forbidden prayers while pretending to talk into cell-phones, and getting in quick but banned bows by dropping coins and then bending to pick them up. Their proposals, long dismissed as extremist, are now being debated in the Israeli parliament and embraced by an expansionist wing in the ruling coalition government of Prime Minister Benjamin Netanyahu.
These political leaders, many in Netanyahu's party, want Israel to assert more, not less, control over the West Bank, East Jerusalem and the Old City, including the place known to Jews as the Temple Mount and to Muslims as Haram al-Sharif, or the Noble Sanctuary. "We're looking for it to be divided between Jews and Muslims," said Aviad Visoli, chairman of the Temple Mount Organizations, which claims 27 groups under its umbrella. "Today, Jews realize the Western Wall is not enough. They want to go to the real thing."
Two millenniums ago, this place was the site of the Jews' Second Temple, destroyed in AD70 by Roman legions under Titus, who cast the Jews into exile. The Western Wall, visited by 10 million people a year, is part of the remaining rampart built around the raised temple complex. Together, the wall and the site of the destroyed temple are the holiest landmarks in Judaism. The same courtyard is home to al-Aqsa mosque, one of the oldest in Islam, and the Dome of the Rock, the golden landmark where tradition says the prophet Mohammad made his night journey to heaven.
For Palestinians and much of the Muslim world, any mention of changing the status quo at the site, the third-holiest in Islam, is incendiary. Protecting al-Aqsa has been a rallying cry for generations. "This place belongs to the Muslim people, and no others have the right to pray here," said Sheik Azzam al-Khatib, director of the Waqf, the Islamic trust that administers the site. Khatib said the mosque is a unifying symbol for the world's 1.2 billion Muslims. "If they try to take over the mosque, this will be the end of time," Khatib warned. "This will create rage and anger not only in the West Bank but all over the Islamic world, and only God knows what will happen."
The site, like all of Jerusalem's Old City, was under Jordanian control until 1967, when it was captured by Israel during the Six-Day War. The Waqf administers and protects the site. Israeli police also patrol the area and accompany Jewish visitors while they visit.
Non-Muslim tourists are welcome to wander freely around the grounds. But non-Muslim prayer is forbidden. Jews in religious garb are taken aside at the entrance by Israeli security officers, screened more closely and sternly warned not to pray, bow, sing, tear their clothes in mourning or display any religious items.
Israel's Chief Rabbinate has ruled that Jews should not enter the Temple Mount esplanade, for fear they will accidentally walk upon ground that is part of the Holy of Holies, the inner sanctum of the temple, where the Ark of the Covenant was kept and only the high priest was permitted to enter. But political leaders are urging that this stance be reexamined. Rabbi Eli Ben-Dahan, deputy minister of religious affairs, has proposed giving Jews an hour a day to pray there. "There is a growing reality among sectors of the population who want to go up there and pray, and there are rabbis who are encouraging their followers to do so," Ben-Dahan said at a November committee hearing on the matter in the Knesset, Israel's parliament. "The rabbinate needs to recognize this reality.''
The hearing quickly devolved into a shouting match. "Every citizen of Israel should have the right to pray at their holy sites without harassment or being attacked," said Miri Regev , the committee chairwoman. "If Jews want to go up to the Temple Mount to pray, they should have that right." "There is no such thing as the Temple Mount!'' interrupted an Arab Israeli parliamentarian, Jamal Zahalka. "It does not exist. It is not there." Legislators hurled shouts of "Barbarian!" and "Fascist!" Arab Israeli lawmakers stormed out in protest. "Because of your games at the al-Aqsa mosque, a third intifada could erupt," Ahmad Tibi, deputy speaker of the Knesset and leader of the Arab political party Ta'al, told Regev. "You are a dangerous woman, to yourself, your children and all of us. Enough of playing with fire!"
In 2000, in the aftermath of failed peace negotiations mediated by President Bill Clinton, Israeli politician Ariel Sharon, campaigning to become prime minister, visited the Temple Mount with an escort of 1,000 police officers. Some analysts say the visit sparked the second Palestinian uprising, often referred to as the al-Aqsa Intifada. Others claim that Palestine Liberation Organization leader Yasser Arafat was looking for an excuse to unleash the uprising and found one in Sharon's action. In a report by former US senator and peace negotiator George P. Mitchell, Sharon's visit was called "poorly timed" and "provocative." But the report said Israel's use of lethal force against rioters in subsequent demonstrations had a greater negative effect.
Today, as yet another round of US-brokered Israeli-Palestinian peace talks are underway, Khatib and other Islamic clerics warn that proposals to grant "time and space" to Jews looking to pray on the Temple Mount could ignite a holy war. The clerics say they have pleaded with Israeli police to limit the number of Jews allowed to visit the site and warned that Jewish extremists are trying to change a delicate status quo and create new facts on the ground. Uri Ariel, Israel's minister of construction and housing, told reporters after a recent visit: "The Temple Mount is ours, and it cannot be argued about or negotiated. It must be open for prayer at every hour, to every Jew."
Obama Simply Let Iran Go Nuclear
| | |
| --- | --- |
| | (FOJ) President Obama's nuclear deal with Iran is nothing more than a total capitulation to allowing Iran to develop a nuclear bomb. It has a two pronged effect, in that it also boxes Israel into a corner with regard to its need to preempt the threat of a nuclear attack! |
Dec. 3….(Israel Today) Former Israeli and American intelligence chiefs this week said the deal US President Barack Obama and other Western leaders struck with Iran last week in Geneva had essentially allowed the Islamic Republic to become a "nuclear threshold state."
More accurately, former Israeli military intelligence chief Amos Yadlin said that the West had failed for decades to adequately confront the Iranian nuclear threat, and so had finally given up and signed a bad deal. "The fact that Iran is a nuclear threshold state does not derive from this agreement, but because the Iranians have developed capabilities for years, and no one can stop them," Yadlin said at the Institute for National Security Studies in Tel Aviv. "Iran is on the verge of producing a bomb. It's sad, but it's a fact."
Attending the same conference, Israeli lawmaker MK Tzachi Hanegbi (Likud) lamented the nuclear deal: "If this is not moral defeat, what is moral defeat? If this is not surrender, what is surrender?" The Israelis were not alone in viewing the nuclear deal as what Prime Minister Benjamin Netanyahu last week said was a "historic mistake."
Former CIA and NSA director Gen. Michael Hayden told Fox News that Obama had clearly "accepted Iranian uranium enrichment. There's no question about that. That's a different red line than we used to have." Hayden noted that the deal agreed to in Geneva speaks of a mutual understanding regarding Iranian uranium enrichment, whereas previous UN resolutions insisted the Islamic Republic had no right to enrich at all. "At the end of the day, Iran's going to be a nuclear state," he continued. "What we have to do is push that threshold back as far as possible. Right now, the Iranians are far too close to a nuclear weapon."
Meanwhile, Iran's nuclear chief, Ali Akbar Salehi, told his country's state-run news agency IRNA that the time had come to build even more nuclear plants. Salehi spoke of the plants for use in producing electricity, but Israel and other critics have argued that as a major oil producer, Iran has no real need for civilian nuclear power.
Iran is a Nuclear Threshold State and can no Longer be Stopped
Dec. 3….(DEBKAfile Special) The former heads of two of the most powerful intelligence agencies in the world, speaking Sunday, Dec. 1, in different parts of the world, were of the same opinion: Iran has reached the point of a nuclear threshold state and can build several nuclear bombs in a matter of weeks. By this diagnosis, Gen. Michael Hayden, former director of the CIA and NSA, and ex-general Amos Yadlin, ex-chief of AMAN, Israeli military intelligence indicted their respective governments of the US and Israeli for their failure to stop this happening.
Asked in a FoxNews interview in New York about the interim accord the six powers reached with Iran in Geneva, Gen. Hayden was terse: "Iran is a nuclear threshold nation and we can't stop this," he said. America has moved its red lines and "all but conceded Iran has the right to enrich uranium." He went on to voice the hope that "We have hit the pause button. Now we've got to negotiate hitting the delete button." Yadlin, who heads a national security think tank, had this to say: "Iran is approaching breakout point to a nuclear bomb." On the Geneva accord, he commented: "this is only a first step, not a final agreement, although it contains elements which predetermine the final accord."
Speaking in Tel Aviv, Yadlin said: "The fact that Iran is a nuclear threshold state is not the fault of this agreement. Iran spent many years developing this capability and no one managed to stop it. Iran is a step before breakout to a bomb. This is unfortunate but true." It was the first time that a former high-ranking Israeli intelligence officer had admitted the responsibility of successive Israeli governments, defense ministers and heads of its various intelligence agencies for the failure to pre-empt Iran's drive for a nuclear weapon.
MK Tzahi Hanegbi, a senior lawmaker who has the ear of Prime Minister Binyamin Netanyahu, expressed concern that the interim deal with Iran would be left standing as the final accord, and so leave the Islamic Republic in place as a nuclear threshold state with the capability to assemble a bomb within six to seven weeks.
In Rome, Netanyahu was heard to say for the umpteenth time that Israel would not allow Iran to attain a nuclear bomb. He seemed to have forgotten the diagram he exhibited to the UN General Assembly in September 2012 accompanied by a resounding pledge not to let Iran accumulate enough enriched uranium for a weapon. Hanegbi, in his comments Sunday, put the record straight: Iran has built a uranium stockpile of 7.2 tons, enough for several bombs."
Former Prime Minister Ehud Olmert, after criticizing his successor for daring to argue with US President Obama, was of the opinion that Israel would not attack Iran's nuclear facilities. He was saying that Israel has decided to accept a nuclear-armed Iran.
Catholic Mobs Attack Evangelical Christians & Church in Mexico
Dec. 3….(Worthy News) Catholics assaulted a congregation of evangelical Christians with rods and stones in Oaxaca, Mexico last week, according to Morning Star News. The evangelicals were part of a mission from an independent Pentecostal Church. The Catholics also attacked the congregation's unfinished church with sledgehammers and pick-axes; the attacks were reportedly in response to the congregation's failure to support local Catholic festivals, according to the National Commission on Human Rights. Still following the Roman doctrines and teachings practiced prior to the Vatican II reforms, Traditionalist Catholics living in the more remote regions of Mexico have used that country's "Law of Uses and Customs," a law originally crafted to protect the religious rights of indigenous communities, to force their religious rites upon minority faiths.
The battle between the Uses and Customs law and freedom of religion, as laid out in Mexico's Constitution, has allowed some local authorities to violate the rights of other religious communities with impunity, according to Christian Solidarity Worldwide.
Christian Pastor's Transfer to Iran's Rajai Shahr Prison a "Death Sentence"
Dec. 3….(Worthy News) International Christian Concern has just learned of the abrupt transfer of American Pastor Saeed Abedini from Iran's Evin Prison to a single cell with five death row inmates in Rajai Shahr Prison. The American Center for Law and Justice described conditions at Rajai Shahr as horrific and believes that Abedini's imprisonment there is tantamount to a death sentence. "Prisoners are routinely executed, or murdered by other prisoners," said Jordan Sekulow, Chief Counsel for the ACLJ. "He is not allowed any visitors and he is under quarantine. "He is in Ward Nine, which is the murders' ward, he's sharing a 10 x 10 cell with five people who have been convicted of violent crimes: these are people who are basically on death row. So, unlike being in a prison that is horrendous, you are now imprisoned with people who are just as violent as maybe those prison guards."
Diplomatic talks with Iran's new president had offered hope for Abedini's freedom, but ICC now reports that individuals close to Abedini's case said that despite its new leader, things haven't really changed in Iran. Abedini has been imprisoned in Iran, one of the world's foremost persecutors of Christians, since January when he began serving an eight-year sentence for "undermining state security" by creating a network of underground churches in private Iranian homes.
FOJ Note: Ironically, President Obama never even attempted to negotiate the Pastor's release when he capitulated to allowing Iran to acquire a nuclear bomb!
Muslim Terrorists Slaughter Christians in Nigeria
Dec. 3….(Worthy News) Muslim herdsmen are suspected to have slaughtered Christians like cattle in coordinated attacks on four Plateau state villages in central Nigeria early Tuesday morning, according to Morning Star News. In their attacks on the predominantly Christian villages, ethnic Fulani herdsmen killed 37 and injured many more, according to a press release by Special Task Force spokesman Salisu Mustapha. Mustapha also confirmed the identity of the attackers by phone to Morning Star while his forces were still fighting them.
Church leaders suspect that Islamic extremists are inciting Fulani Muslims to attack Christians in Plateau state as well as in Kaduna, Bauchi, Nasarawa and Benue states. The herdsmen are working together to take Christian lands for grazing their cattle and to expand Islamic influence into predominantly Christian regions. Felicia Anselem, spokesperson for the Plateau State Command of the Nigeria Police, confirmed that the attacks were coordinated. "The attacks were carried out at about 1 a.m. this morning (Nov. 26) in the villages of Rawuru, Tasu, Foron and Gurabok. The attackers attacked the villages at the same time, having gone there in groups."
The Rev. Soja Bewarang, president of the Church of Christ in Nigeria, said Christians are acutely aware that God has the final say on the persecution the church is now facing in Nigeria. "Even as we are looking at these issues, we need not forget that God has the final say on man and his security concerns," he said. "Therefore, we must always surrender our security concerns to the Lord, because the Watchman watches in vain if the Lord does not watch alongside with him."
---