WEEK OF MARCH 31 THROUGH APRIL5
World Leaders All Wear Pyramid Symbols at The Hague, Why?
March 31, 2014 (WND) During the Nuclear Security Summit, which was held on March 24th and 25th in the Netherlands, Reuters captured video of All-Seeing-Eye-300x300 presidents and Prime Ministers from all over the world wearing a very peculiar pyramid-shaped pin. The Nuclear Security Summit in The Hague formed the backdrop for an emergency meeting of Group of Seven leaders on Russia's annexation of Crimea.
Those that have studied secret societies and the occult know that the unholy pyramid is a very dark symbol that represents some of the deepest secrets of the elite. When it shows up in a very public forum like an international summit meeting, it is usually not by accident. When I first watched that video, it reminded me of a really bad apocalyptic movie. Except that it was real. And I find it interesting that at this same summit, Barack Obama, Chinese President Xi Jinping and most of the rest of the world leaders played a "nuclear war game."
Of course the cover story is that all of these world leaders were wearing pyramids to support "nuclear security", kind of like if you want to support breast cancer you pin a little pink ribbon to your jacket. And you never know, perhaps that is all that this was. But when I watched this video for the first time my jaw just about hit the floor. But, world leaders including President Obama, UK Prime Minister David Cameron and Chinese President Xi Jinping played a "nuclear war game" designed to test how they would respond to a global terrorist attack at a high-level meeting, the Telegraph reported Tuesday. The leaders also included German Chancellor Angela Merkel, who according to the Telegraph was unhappy and did not want to play the game. The game took place at the nuclear summit at The Hague and included dozens of other heads of state.
The game required leaders to respond to the scenario of a terrorist attack with a "dirty bomb" in a big Western city. Leaders had to answer a series of questions on how they would respond to the attack as the game progressed and new challenges arose. Let's hope that game does not foreshadow any real events. So what is the big deal about wearing pyramids?
US President Obama, upon leaving The Hague, went to visit the Pope in Rome, and from there on to visit the Saudi Arabian King in Riyadh. One can only wonder about all these secretive organizations and meetings.
WEEK OF MARCH 23 THROUGH MARCH 29
Obama Warns Putin About Invading Ukraine
March 28….(CBS) President Obama, in an interview in Rome with "CBS Evening News" anchor and managing editor Scott Pelley, said Russia must take steps now to reduce tensions over Ukraine. "It's well known and well acknowledged that you've seen a range of troops massing along that border under the guise of military exercises. But these are not what Russia would normally be doing. And, you know, it may simply be an effort to intimidate Ukraine or it may be that they've got additional plans," Obama said. To resolve and de-escalate the situation right now, Obama said Russia needs "to move back those troops and to begin negotiations directly with the Ukrainian government, as well as the international community."
Mr. Obama said Russian President Vladimir Putin has been "willing to show a deeply held grievance about what he considers to be the loss of the Soviet Union." "You would have thought that after a couple of decades that there'd be an awareness on the part of any Russian leader that the path forward is not to revert back to the kinds of practices that, you know, were so prevalent during the Cold War but, in fact, to move forward with further integration with the world economy and to be a responsible international citizen." Mr. Obama said Putin considers the breakup of the Soviet Union to be "tragic." "There's a strong sense of Russian nationalism and a sense that somehow the West has taken advantage of Russia in the past and that he wants to, in some fashion, reverse that or make up for that. "What I have repeatedly said is that he may be entirely misreading the West," Obama continued. "He's certainly misreading American foreign policy. We have no interest in encircling Russia and we have no interest in Ukraine beyond letting the Ukrainian people make their own decisions about their own lives." He continued, "And it is true that we reject the notion that there is a sphere of influence along the Russian border that then justifies Russia invading other countries. Certainly they're going to have influence because of trade and tradition and language and heritage with Ukraine. Everybody acknowledges that. But there's a difference between that and sending in troops, and because you're bigger and stronger taking a piece of the country, that is not how international law and international norms are observed in the 21st century."
Asked about the North Atlantic Treaty Organization's response and whether NATO is a hollowed-out force, Obama made the point that it is up to all of the NATO allies to contribute, including Germany, Britain and others, in order to have a credible force as a counterweight against Putin's Russia, according to Pelley. Eighty-five percent of US forces have been removed from Europe since 1989. The US formerly had 400,000 troops there, and now only about 50,000 troops remain. Obama wouldn't be specific about what the US would do if Russia pushed further into Ukraine, but he did say that there would be more economic sanctions brought to bear, not just by the US but by the world community.
The latest CBS News poll shows that 46 percent of Americans disapprove of the way President Obama is handling the Ukraine situation, compared with 38 percent who approve. Fifty-six percent of American approve of the sanctions leveled against Russia by the US and other European countries, but 65 percent don't think the US should provide military aid and weapons to Ukraine. In addition, 57 percent of Americans think the situation in Crimea is beyond the control of the US
However, Pelley noted on "CBS This Morning" that broad international condemnation of Russia's invasion of Crimea has buoyed the presidents hopes of resolving the conflict. "On Thursday, a vote at the United Nations and 100 countries to 11 voted in favor of a resolution that condemned the invasion of Crimea, so the president really feels he has the backing of the rest of the world, and he hopes that these economic sanctions will be enough to deter Putin."
Sailors Leaving Navy over Stress on Social Issues
March 28….(In The Days) US Navy Cmdr. Guy Snodgrass, until recently a Pentagon speech writer for the chief of naval operations, Adm. Jonathan Greenert, said sailors are becoming fed-up with the constant emphasis on social issues, an apparent reference to gays in the military, women in combat and ending sexual harassment. "Sailors continue to cite the over-focus on social issues by senior leadership, above and beyond discussions on war fighting, a fact that demoralizes junior and mid-grade officers alike," Cmdr. Snodgrass wrote this month on the US Naval Institute website, an independent forum for active and retired sailors and Marines. It is a remarkably frank assessment from an upwardly mobile fighter pilot who is due to become the executive officer of a F-18 unit in Japan. He says one troubling sign already has emerged: a drop in applications to the US Naval Academy in Annapolis last year. "The US Navy has a looming officer retention problem," Cmdr. Snodgrass writes, adding there is an "erosion of trust in senior leadership." He says retention racked up its "worst year in history" for the special warfare community, including Navy SEALs, with a record number of lieutenants declining to stay.
The aviation side had a goal of 45 percent "take rate" on retention bonuses, but got only 36 percent. "Unfortunately," Cmdr. Snodgrass says in his 24-page study, "the fact that a growing number of quality officers have already left the service or are planning to head for the doors seems to be going undetected by senior leadership." He lists long wartime deployments as a leading retention negative.
He also tackles a touchier issue, what some sailors have referred to as "political correctness," such as the banning of uniform patches that might offend someone. Cmdr. Snodgrass writes of "a recent shift within the Navy to eradicate behavior that is, by its every nature, ineradicable." "Put simply, there is no dollar amount that can be spent, or amount of training that can be conducted, that will completely eradicate complex issues such as suicide, sexual assault, or commanding officer relief for cause, yet we continue to expend immense resources in this pursuit," he says. "Sailors are bombarded with annual online training regarding sexual orientation sensitivity.
Obama to Kill America's Tomahawk, Hellfire Missile Programs
(Cornerstone of US Naval power eliminated under Obama budget)
March 26….(Washington Free Beacon) President Barack Obama is seeking to abolish two highly successful missile programs that experts say have helped the US Navy maintain military superiority for the past several decades. The Tomahawk missile program, known as "the world's most advanced cruise missile," is set to be cut by $128 million under Obama's fiscal year 2015 budget proposal and completely eliminated by fiscal year 2016, according to budget documents released by the Navy. In addition to the monetary cuts to the program, the number of actual Tomahawk missiles acquired by the United States would drop significantly, from 196 last year to just 100 in 2015. The number will then drop to zero in 2016.
The Navy will also be forced to cancel its acquisition of the well-regarded and highly effective Hellfire missiles in 2015, according to Obama's proposal. The proposed elimination of these missile programs came as a shock to lawmakers and military experts, who warned ending cutting these missiles would significantly erode America's ability to deter enemy forces. "The administration's proposed budget dramatically under-resources our investments in munitions and leaves the Defense Department with dangerous gaps in key areas, like Tomahawk and Hellfire missiles," said Rep. Randy Forbes (R., Va.), a member of House Armed Services Committee. "Increasing our investment in munitions and retaining our technological edge in research and development should be a key component of any serious defense strategy," he said.
The US Navy relied heavily on them during the 2011 military incursion into Libya, where some 220 Tomahawks were used during the fight. Nearly 100 of these missiles are used each year on average, meaning that the sharp cuts will cause the Tomahawk stock to be completely depleted by around 2018. This is particularly concerning to defense experts because the Pentagon does not have a replacement missile ready to take the Tomahawk's place. "It doesn't make sense," said Seth Cropsey, director of the Hudson Institute's Center for American Seapower. "This really moves the US away from a position of influence and military dominance."
Cropsey said that if someone were trying to "reduce the US ability to shape events" in the world, "they couldn't find a better way than depriving the US fleet of Tomahawks. It's breathtaking." The Navy has used various incarnations of the Tomahawk with great success over the past 30 years, employing them during Desert Storm and its battle zones from Iraq and Afghanistan to the Balkans. While the military as a whole is seeing its budgets reduced and equipment scaled back, the Tomahawk cuts do not appear to be due to a lack of funds. The administration seems to be taking the millions typically spent on the Tomahawk program and investing it in an experimental missile program that experts say will not be battle ready for at least 10 years. "It is definitely short-sighted given the value of the Tomahawk as a workhorse," said Mackenzie Eaglen, a former Pentagon staffer who analyzes military readiness. "The opening days of the US lead-from-behind, 'no-fly zone' operation over Libya showcased how important this inventory of weapons is still today."
Overall, the Navy has essentially cut in half its weapons procurement plan, impacting a wide range of tactical weapons and missiles. Navy experts and retired officials fear that the elimination of the Tomahawk and Hellfire systems, and the lack of a battle-ready replacement will jeopardize the US Navy's supremacy as it faces increasingly advanced militaries from North Korea to the Middle East. The cuts are "like running a white flag up on a very tall flag pole and saying, 'We are ready to be walked on,'" Cropsey said. Retired Army Lt. Col. Steve Russell called the cuts to the Tomahawk program devastating for multiple reasons. "We run a huge risk because so much of our national policy for immediate response is contingent on our national security team threatening with Tomahawk missiles," said Russell. "If our national policy is contingent on an immediate response with these missiles and we're not replacing them, then what are we going do?" Russell asked.
---
FOJ Note:
It can be tough trying to build a One World Order, and attempting to fashion a Global government. All of these events exemplified in the news below are affecting the structuring of an economic global union, and merely highlight the fact that even after the Globalists succeed in organizing a superstructure for the eventual Antichrist, there will still be some alienation amongst the final Ten members. Old Testament prophets Daniel and Ezekiel reveal that Russia and the Kings of the East will ultimately oppose the Antichrist and His World Kingdom, and counter his moves in the Middle East, especially in Israel.
---
US, Allies Kick Russia Out of G-8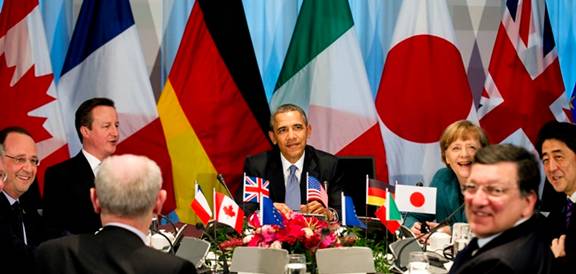 March 25….(Newsmax) The world's leading industrial powers threatened further sanctions to deter the Kremlin from invading other parts of Ukraine and boycotted what was to be a Group of Eight summit hosted by President Vladimir Putin. Meeting for the first time since last week's annexation of Crimea by Russia, Group of Seven leaders said they won't attend the planned G-8 meeting which was to have to been held in Sochi, site of the Winter Olympics, and will instead hold their own summit in June in Brussels. "We remain ready to intensify actions including coordinated sectoral sanctions that will have an increasingly significant impact on the Russian economy, if Russia continues to escalate this situation," the G-7 said in a statement e- mailed after a meeting in The Hague today.
Both sides in Ukraine's crisis spent the day calculating what to do next, with Russia consolidating its control over Crimea and massing forces along the border with Ukraine in the most serious confrontation between Moscow and the US and its allies since the demise of the Soviet Union. "We're united in imposing a cost on Russia for its actions so far," President Barack Obama told reporters in Amsterdam earlier today at the start of a six-day trip that includes a nuclear-security summit in The Hague and a meeting with the heads of European Union institutions in Brussels.
Putin's Absence
The G-7, the US, Germany, the UK, France, Italy, Canada and Japan, went back to its Cold War-era format, suspending what became the G-8 in 1998 when Russia was welcomed in. The group was all smiles around a Putin-less conference table in a photo posted on Twitter by European Commission President Jose Barroso, who attended along with EU President Herman Van Rompuy. "It's Russia that needs to change course," UK Prime Minister David Cameron told reporters.
US and European warnings focused on potential military moves by the Kremlin into Russian-speaking areas of eastern and southern Ukraine, leaving open whether the West hopes to dislodge Putin's forces from Crimea, a Black Sea peninsula dominated by Russia since the 18th century. The US has imposed asset freezes and visa bans on 31 Russian and Ukrainian political and business figures close to Putin and barred Bank Rossiya. The 28-nation EU has put 51 on the blacklist, including some on the US list, while stopping short of punishing businesspeople. "The current sanctions are still too little to matter, but that's not by accident, it's by design," said Fredrik Erixon, director of the European Centre for International Political Economy in Brussels. "The EU and US are sitting on weapons of mass destruction when it comes to Russia's economy. The US and EU are laying out possible step-by-step economic sanctions that will start rolling into place if Putin doesn't behave." US and European officials said sanctions are already biting. Russia's Micex stock index has plunged 14 percent this year, faring worse than the 5 percent decline of the MSCI Emerging Markets Index. The ruble has dropped 8.9 percent, making it the second-worst performer against the dollar among 24 developing-market currencies tracked by Bloomberg. "As long as Russia is flagrantly violating international law and the order the G-7 has helped to build since the end of the Cold War, there's no need for the G-7 to engage with Russia," Deputy US National Security Adviser Ben Rhodes told reporters.
Russia wants Ukraine to adopt a federal constitution that guarantees political and military neutrality, grants powers to Ukrainian regions and makes Russian a second official language. In a nod to those concerns, the G-7 urged Ukraine to undertake "broad-based constitutional reform, free and fair presidential elections in May, promotion of human rights and respect of national minorities." Putin didn't show his hand today, instead using a public appearance in Moscow to tout Russia's sporting prowess, urge more support for slopestyle and halfpipe snowboarding, and announce that the Sochi Olympics came in under budget. Putin sent Foreign Minister Sergei Lavrov to The Hague for a 53-nation summit on the security of the world's stockpiles of nuclear fuel. Lavrov told reporters that Russia isn't "clinging" to the G-8 format, viewing the wider Group of 20 as the best forum for discussing global issues.
Defiant Russia: G-8 May Have Outlived Usefulness
March 25….(Newsmax) Russian Foreign Minister Sergei Lavrov suggested on Monday that the Group of Eight industrialised nations may have outlived its purpose, sounding a defiant note after some G8 leaders said the gathering's next meeting in Russia should be cancelled. "If our Western partners believe the format has exhausted itself, we don't cling to this format. We don't believe it will be a big problem if it doesn't convene," Lavrov told reporters in The Hague, where G7 leaders are meeting without Russian President Vladimir Putin to discuss the crisis in Ukraine.
Following Russia's annexation of the Ukrainian peninsula of Crimea, the G7 has suspended preparations for a G8 summit that had been scheduled to be held in Russia's Black Sea resort of Sochi in June. Britain and Germany have also warned that Russia could face permanent exclusion from the G8 if the Kremlin took further steps against Ukraine.
Lavrov said many of the world's main diplomatic and economic crises were already addressed through other formats, citing among others the quartet of Middle East negotiators that has tried to work towards peace between Israel and the Palestinians, and six-power talks with Iran over its contested nuclear program in which Russia participates. "Many issues are discussed at that platform (G8) but by and large there are many other platforms," he said. "The G8 is an informal club. No one hands out membership cards and no one can be kicked out of it," he said. Lavrov accused G7 leaders of grandstanding for domestic audiences when discussing excluding Russia from the group. "It is about joint work, not about someone capitalizing on someone else when needed or ignoring someone when they want to make a public gesture for the sake of some domestic political considerations of theirs," he said.
Malaysia Says Jet Crashed in Sea; China Demands Evidence
March 25….(Newsmax) Malaysia said on Monday that a missing jetliner had crashed into the Indian Ocean, an announcement that was greeted with hysteria by Chinese relatives of those on board and a demand by China that Kuala Lumpur share all the evidence it had on the incident. Citing groundbreaking satellite-data analysis by the British company Inmarsat, Malaysian Prime Minister Najib Razak said that Malaysia Airlines Flight MH370, which vanished more than a fortnight ago while flying to Beijing from Kuala Lumpur, had crashed thousands of miles away in the southern Indian Ocean. His statement may go some way toward tamping down some of the more fevered speculation about the plane's fate, including one theory some grief-stricken relatives had seized on: that the plane had been hijacked and forced to land somewhere. All 239 people on board were presumed dead, airline officials said on Monday.
Najib's announcement opens the way for what could be one of the most costly and challenging air crash investigations in history. The launch of an official air crash investigation would give Malaysia power to coordinate and sift evidence, but it may still face critics, especially China, which had more than 150 citizens on board the missing plane and has criticized Malaysia over the progress of the search. The Inmarsat data showed the Boeing 777's last position was in the Indian Ocean west of Perth, Australia, Najib said in a statement. "This is a remote location, far from any possible landing sites," he said. "It is therefore, with deep sadness and regret, that I must inform you that, according to this new data, Flight MH370 ended in the southern Indian Ocean."
Chinese Deputy Foreign Minister Xie Hangsheng immediately demanded all relevant satellite-data analysis from Malaysia that demonstrated how Malaysia had reached its conclusion about the fate of the jet. None of the parties involved in the multinational search for the plane, Chinese, Australian or Malaysian, was yet willing to offer an explanation for how the doomed flight came to be in the place where it went down
Russia Solidifying its Middle East Powerbase
March 24….(WND) Arab countries in the Middle East widely expect Syrian President Bashar al-Assad to win the rebel-led insurgency that has been targeting his regime for the last three years, thereby strengthening Russia's presence in the region. The anticipated victory will further solidify the position of the large Russian Navy fleet docked at Syria's Tartus port. That position is more strategic now that Russia has seized the Ukrainian naval headquarters located in Sevastopol, where Moscow stationed its Black Sea Fleet. Control of both the Tartus and Sevastopol ports provides Russia, under President Vladimir Putin, with open access to the Mediterranean, the Indian Ocean and beyond for both military and energy needs.
Russia and Iran have been the biggest state backers of Assad, while the US and moderate Arab countries worked to aid the rebels fighting to topple the Syrian president. Ahead of the Arab summit in Kuwait this week, Sunni Arab countries are operating under the working assumption that Assad's regime is no longer in danger and that the Syrian president will be able to quell the rebellion, Egyptian security officials told WND. In a major blow to the rebels, the security officials said Qatar has made a dramatic about face and is now ready to help Assad with finances to reconstruct Syria. Qatar previously worked with Saudi Arabia, Turkey and the United Arab Emirates to arm and aid the Syrian rebels.
According to reports, Assad already rid Damascus of rebels and has retaken scores of rebel strongholds. His victories were aided by instances of infighting within the rebel ranks, including the open rebellion of several rebel factions allied with al-Qaida. The Egyptian security officials said Assad still faces pockets of resistance, particularly in the city of Daraa near the Jordanian border and in the north toward the Syrian border with Turkey. These locations contain important supply roads for arms transports to the rebels. Another rebel stronghold is located near the Syrian border with Israel, the scene of clashes in recent days.
The Ukraine Crisis and Russia's Resistance to Global Government
March 24….(Global Research) The Ukrainian crisis? It is basically the opposite of what the media and politicians keep repeating both in the US and Europe. They say that the so-called International community has isolated Russia and Vladimir Putin. In fact it is the real sponsors of the coup d'état and the violence in Ukraine who are isolated not only morally but also strategically. And it is Putin, the first leader who resisted and defeated the strategy of world domination, that is enjoying the enthusiastic support of his people and the growing admiration of the world. The well financed media and politicians do not want to hear this, but this is the reality. Without exaggeration, one can compare this resistance to that against Napoleon and Hitler. Only few know precisely how dangerous the situation has been. How close to a real war.
The incompetent representatives of the 'international community' lost any sense of reality and deployed the weapons of social destabilization, armed insurrection, assassination by snipers, a fascist March on Kiev reminiscent of Mussolini's March on Rome, targeting of the Russian population. They intended to give Russia the Libya treatment, and they did not make a secret of it.
After the assurances given by George H W Bush to Mikhail Gorbachev that NATO couldn't be used for a push toward East, successive US governments did exactly that. Their objective was to surround Russia.
The fascist armed insurrection and the Kiev coup were not simply a war against Russia, they were also a war against Europe. Not the EU bureaucracy in Brussels, whose loyalty lies with the big financial institutions, but the Europe of the various countries reduced to misery and despair by austerity measures and the economic looting of Wall Street and the city of London. Ukraine has been destabilized in order to make sure that Europe would be in a perennial war with Russia.
In fact, both, the interests of Europe and that of Russia, lie in a common economic plan for the development of the whole area. This is what was proposed by Putin and by several leaders such as former German chancellors Helmut Kohl and Gerhard Schroeder. The most important point to understand is that this war and looting policy is not in the interest of the Europeans or even of the Americans.
This is the big secret that now cannot be covered over anymore. The governments of the US and the European countries are NOT independent entities, they are not sovereign. They do not have the will or even the ability to act on behalf of their people. They are controlled by powerful banking interests. They have been taken over by two financial centers that do not care for the real economy. They pursue only speculation and looting. In response on March 4th the economic adviser to Putin, Sergey Glazyev declared openly that if the financial vultures persisted, Russia would create on the spot an independent financial system which is separate from that of the US Dollar.
Russia has a different plan from the Globalists. They are building a way to eliminate any dependence on the US but also profit from these sanctions. If sanctions are applied against Russia's state structures, they will have to move into other currencies and create their own settlement system. They will be forced to recognize the impossibility of repayment of the loans that the US banks gave to Russian state structures. Indeed, sanctions are a double-edged weapon, and if the US chooses to freeze assets, then their equities and liabilities in dollars will also be frozen.' This strategy is known as the Financial Nuclear Option. It could lead to the end of the predatory looting system of Wall Street..
The 'Southern and Eastern partners' Russia is talking about are clearly the members of the BRICS, Brazil, Russia, India, China, South Africa, the sane part of the world economy, the future. And it is exactly what the official spokesman of the Kremlin, Dmitry Peskov indicated in an interview to the BBC: "Sanctions against Russia could be the final trigger that will force many countries to create a new independent financial system based on the real economy. The world is changing rapidly. How many civilizations grew and died in the course of history? Who will be able to resist the pressure of dying systems and indicate to the people the road toward the future?" The possibility of a new financial system independent from the collapsing dollar empire, as consequence of anti Russia sanctions was also emphasized by an authoritative the Russian media including RT. Western sanctions might push Russia to deepen cooperation with BRICS states, in particular, to strengthen its ties with China, which will possibly turn out to be a big catastrophe for the US and the EU some time later.
On March 18, the spokesperson for the Kremlin, Dmitry Peskov, stated that Russia would switch to new partners in case of economic sanctions being imposed by the European Union and the United States. He highlighted that the modern world isn't unipolar and Russia has strong ties with other states as well, though Russia wants to remain in good relations with its Western partners, especially with the EU due to the volume of trade and joint projects. Those "new partners" are not really new since Russia has been closely interconnected with them for almost 13 years. This is all about the so-called BRICS organization, consisting of Brazil, Russia, India, China and South Africa. BRICS represents 42 percent of the world's population and about a quarter of the world's economy, which means that this bloc of states is an important global actor.
The BRICS countries are like-minded in regard to supporting the principles of international law, the central role of the UN Security Council and the principles of the non-use of force in international relations; this is why they are so actively performing in the sphere of settling regional conflicts. However, the cooperation between Brazil, Russia, India, China and South Africa goes beyond political aspects and is also demonstrated by dynamic trade and multiple projects in different areas.
Today, in total, there are more than 20 formats of cooperation within the BRICS which are being developing. For example, in February the member-states came to an agreement about 11 possible projects of scientific and technical cooperation, from aeronautics to bio-and nanotechnology.
In order to modernize the global economic system, at the center of which stand the US and the EU, the leaders of Brazil, Russia, India, China and South Africa have created the BRICS Stock Alliance and are creating their own development bank to finance large infrastructure projects. On the whole, despite fierce criticism of BRICS as an organization with no future, it is developing and increasing cooperation with its members and, in fact, BRICS is showing pretty good results. With the suspension of Russia's participation in G8, the West seeks to hit Russia hard, but it is important to notice that Russia is ready to switch to other markets, including BRICS, with a view to expanding its trade.
WEEK OF MARCH 16 THROUGH MARCH 22
Abbas Repeats The Usual '3 No's' to Obama on Core Peace Issues,
March 22….(Times of Israel) In his trip to Washington last week, Palestinian Authority President Mahmoud Abbas rejected US Secretary of State John Kerry's framework document for continued peace talks with Israel, and issued "three no's" on core issues, leaving the negotiations heading for an explosive collapse, an Israeli TV report said Friday. Specifically, the report said, Abbas rejected Prime Minister Benjamin Netanyahu's demand that he recognize Israel as a Jewish state. He also refused to abandon the Palestinian demand for a "right of return" for millions of Palestinians and their descendants, a demand that, if implemented, would drastically alter Israel's demographic balance and which no conceivable Israeli government would accept. And finally, he refused to commit to an "end of conflict," under which a peace deal would represent the termination of any further Palestinian demands of Israel. Abbas returned on Thursday from the US, having held talks with Obama on Monday, and was met at his Ramallah compound by hundreds of cheering supporters. "We carried the deposit, and we are guarding the deposit," Abbas told those supporters somewhat cryptically. "You know all the conditions and circumstances, and I say to you that capitulating is not a possibility." Abbas did not specify what he meant by the "deposit." During Monday's meeting in Washington, Obama told Abbas that he would have to make tough political decisions and take "risks" for peace, as would Netanyahu. Abbas, for his part, reiterated his rejection of Israel's demand that its status as a Jewish state be enshrined in a future peace accord, asserting that previous Palestinian recognition of Israel was sufficient. "Everyone understands the outlines of what a peace deal would look like," Obama said, describing an agreement that reflected the pre-1967 lines with agreed land swaps.
Sitting next to the president, Abbas spoke through a translator, thanking Obama for the opportunity to come to the White House and for the "economic and political support the US is extending to the Palestinian state so it can stand on its own feet." He outlined the Palestinian positions for negotiations, including "working for a solution that is based on international legitimacy and also the borders, the 1967 borders, so that the Palestinians can have their own independent state with East Jerusalem as its capital and so that we can find a fair and lasting solution to the refugee problem."
The Palestinian Foreign Ministry notified Abbas that it is prepared to apply for full membership in international institutions if Israel fails to complete the fourth and final release of Palestinian prisoners jailed before the signing of the Oslo Accords, scheduled for March 29. Israel agreed to release 104 such prisoners in four stages over the nine-month negotiating period, in return for a Palestinian commitment not to apply for membership in international bodies.
Obama and Family Lavishly Spending Taxpayer Money on Vacations
March 22….(WND) There always have been a few voices raising concerns over wildly lavish travel expenses for the Barack Obama, and sometimes his family, while they are not in residence in the people's house in Washington. The vacation by Michelle Obama, her mother and her daughters to China, going on right now, has sparked the latest round of questions. The Washington watchdog Judicial Watch, for example, has watched the dollars fly out since 2009. And WND reported only months ago on estimates that the family's African vacation tab was no less than $60 million, and possibly as high as $100 million. For what mostly was a vacation.
There have been reports that the Obamas spent more than $7 million for Just travel for JUST three trips in late 2012 and early 2013, including more than $4 million to go to a Hawaiian vacation at Christmas, more than $2.1 million for a trip to California and back for Barack Obama to "dine with high-dollar fundraiser Jeffrey Katzenberg and appear on the 'Tonight Show' with Jay Leno" and nearly another $1.2 million for an "Obama family August vacation" to Martha's Vineyard."
Just this week there's a report that Michelle Obama, her girls and her mom have been staying in a suite costing $8,350 per night in China, where a "well-placed hotel staffer" told the MailOnline that the staff is "fed up."
The dollar figures that are available have been compiled by Judicial Watch, including $98,135.79 for Obama's President's Day 2013 golf trip, $81,523.64 for Michelle Obama's President's Day 2013 ski trip, $1,092,844.01 for Michelle Obama's Africa trip, $115,500.87 for Malia Obama's spring break in Mexico, $83,182.99 for Michelle Obama's President's Day 2012 ski trip, $467,585 for Michelle Obama's trip to Spain, $467,175 for the Obamas' Copenhagen Olympic bid, and $11,648.17 for the Obama's to go to New York City for a date night.
The 2012-2013 Christmas vacation cost taxpayers, for travel alone, nearly $4.1 million. Those expenses for Obama's trip to be on the Leno show, $2.1 million, and the Martha's Vineyard trip, $1.1 million. "The Obamas are abusing the public trust and the taxpayers with unnecessary luxurious vacations and travel," Judicial Watch President Tom Fitton has said. "These staggering costs show why these documents were covered up and we had to sue in federal court to get them. Another transparency fail for the Obama gang."
The lavish travel hasn't always been only by the Obamas. WND reported numerous times on then-House Speaker Nancy Pelosi's commuting in an Air Force jet to her California home. At one point it was documented that she cost taxpayers $101,000 for in-flight food and alcohol over a period in 2008 and 2009. At one point she instructed the Air Force to provide chocolate-covered strawberries for a snack, since it was her birthday.
And The Daily Mail in the United Kingdom has highlighted the $10 million in public money Michelle Obama has spent on her "vacations." That report said the family vacation in Hawaii over Christmas 2011 cost taxpayers millions of dollars. Among some of the categories that made up the estimated more than $4.1 million for the family vacation were: $3.2 million in flight time to carry the Obamas back and forth, a Marine contingent for security at $258,000, $21,600 for each of seven houses rented for 18 days for security officers to be housed, another hotel bill for $72,000, overtime for local police of $250,000 and others. Sasha and Malia Obama even have been listed as "Senior Staff" when they travel at taxpayer expense. That happened on the family's African safari.
Malaysia Airlines Plane, and the Rapture
('Glimpse of Things to Come?)
March 22….(The Christian Post) Anne Graham Lotz, daughter of Christian evangelist Billy Graham, recently drew a connection between the missing Malaysia Airlines Flight MH370 and the Rapture, as described in Thessalonians 4:16-17. Lotz, founder of AnGeL Ministries, made the connection on her personal blog just after the plane went missing. Lotz suggested that the feeling of unknowingness and helplessness that has affected the world since the flight disappeared on March 8 will be the same feeling experienced by mankind when the Rapture happens and God comes back to Earth to claim His followers for heaven. Nonbelievers will be left to wonder: "Where have all the people gone?" "I can't help but wonder. Is this worldwide sense of shock and helplessness, of questions and confusion, of fear and grief, a glimpse of things to come? Is this a small snapshot of what the entire world will experience the day after the rapture of the church?" Lotz posed. "Because the Bible is clear. There is coming a moment in time when Jesus will come back to gather to Himself all those-dead and alive, who have put their trust in Him. And on that day, the world will be asking, Where have all the people gone? Not just 239 of us, but millions of us."
Russia Warns the West it May Side with Iran on Nukes
(In clearest threat to US, Russia warns it will take advantage of nuclear talks with Iran to 'raise stakes' in response to actions taken by US and EU in wake of Crimea annexation)
March 21….(YNET) Deputy Foreign Minister Sergei Ryabkov was quoted Wednesday as saying by the Interfax news agency that Russia didn't want to use the Iranian nuclear talks to "raise stakes," but may have to do so in response to the actions by the United States and the European Union. The statement is the most serious threat of retaliation by Moscow after the US and the EU announced sanctions against Russia over the Ukrainian crisis. World powers have not seen any impact so far from tension with Russia over the Ukrainian region of Crimea on nuclear talks with Iran, a spokesman for the European Union's foreign policy chief said on Tuesday. The powers - the United States, Russia, China, France, Britain and Germany - adjourned a new round of nuclear talks described as "substantive and useful" Wednesday, only two day after Washington and the EU imposed sanctions on Russian officials. Talks are set to resume April 7 in Vienna.
The two sides spoke at the end of two days of negotiations focused on curbing Tehran's atomic activities in exchange for full sanctions relief. Their joint statement was read by EU foreign policy chief Catherine Ashton, who speaks for the six countries negotiating with Iran, and Iranian Foreign Minister Mohammed Javad Zarif. "I haven't seen any negative effect," spokesman Michael Mann told reporters on Tuesday while talks were still in full swing. "We continue our work in a unified fashion".
The talks ended in deadlock with the two sides at odds over Iran's Arak nuclear reactor, which Western powers fear could yield weapons-grade plutonium. "It's a gap (on enrichment) that's going to take some hard work to get to a place where we can find some agreement," a senior US administration official said after the latest round of negotiations on Iran's atomic program in Vienna. However, Tehran's foreign minister voiced optimism that their July 20 deadline for a deal is within reach.
Do Israeli Strikes on Syria Portend a Simmering War with Hezbollah
March 21….(Christian Science Monitor) A spate of attacks against Israeli military targets in the Golan Heights has raised fears that Hezbollah is opening a new conflict with Israel after a hiatus of nearly eight years. Israel's retaliatory air strikes on Syrian military targets Tuesday night indicates that it holds the Syrian regime responsible for the suspected actions of Hezbollah, its military ally. Hezbollah has sent thousands of its fighters to Syria to help President Bashar al-Assad and are together presently clawing back a strategic belt of territory north of Damascus. Given that it is both fighting in Syria and attempting to contain a backlash in Lebanon, where suicide bombers have targeted Shiite areas in recent months, Hezbollah has no interest in a serious flare-up with Israel. And Israel has been clear that it does not want an open conflict with the Shiite militant group. Therefore, the Golan Heights, seized from Syria in 1967 and annexed by Israel in 1981, is a conveniently ambiguous area from which Hezbollah can launch anonymous attacks, leaving Israel uncertain of the perpetrator. The latest of the unclaimed attacks occurred Tuesday, when a roadside bomb packed with anti-personnel steel balls exploded beside several Israeli soldiers just south of Majdal Shams at the security fence marking Israel's eastern perimeter in the Golan. Four soldiers were wounded in the blast, one of them seriously.
In response, Israeli jets attacked several Syrian military bases around Quneitra, eight miles south, overnight. The Israeli military said the targeted sites included a Syrian military headquarters, artillery batteries and a training base "which enabled and aided in the carrying out of [Tuesday's] terror attacks." Moshe Yaalon, Israel's defense minister, said Israel held the Assad regime responsible for the attack and warned that "if it continues to collaborate with terrorists striving to hurt Israel then we will keep on exacting a heavy price from it and make it regret its actions."
The Syrian military said that one soldier was killed and seven wounded in the Israeli air strikes and condemned the attack. "Repeating such hostile acts (airstrikes) would endanger the security and stability of the region and make it open to all possibilities," a Syrian military statement said.
The Israeli security fence winds through steep hills south of Majdal Shams, allowing militants to approach without being detected. Israel suspects Hezbollah because it has years of experience using improvised explosive devices against Israeli troops in south Lebanon. And, while anti-Assad rebel forces are present in much of the Golan Heights, this area is controlled by the Syrian Army, a battlefield ally of Hezbollah. "I can't tell you for sure, but let's say I'm going to be really surprised if it's going to be somebody else other than Hezbollah," said Brig. Gen. Amnon Sofrin, a former director of Israel's Mossad Intelligence Directorate, in comments made to a group of reporters in Jerusalem.
If Hezbollah were responsible for yesterday's bombing and other recent attacks against the Israeli military, it marks a departure from the dormancy of the past eight years.
For 2000 to 2006, after Israel's withdrawal from Lebanon, Hezbollah staged periodic attacks against Israeli forces in the Shebaa Farms, an Israeli-occupied mountainside along the border. In July 2006, Lebanese militants fought the Israeli army to a standstill during a month of fighting in south Lebanon. Since then, the Shiite group has been careful to avoid overt military action in the Shebaa Farms or elsewhere along the border. The threat of a more destructive war than 2006 has served as a deterrence not only to Hezbollah, but also to Israel. However, Feb. 24 may have broken that period of mutual deterrence. That night, Israeli jets struck a Hezbollah target near the village of Janta on Lebanon's eastern border with Syria. The target of the attack, the first by Israel on Lebanese territory since 2006, reportedly was a consignment of advanced anti-aircraft missiles.
In the past year Israel has staged at least six attacks against Syrian military sites, reportedly hitting air defense systems as well as long-range rockets and anti-ship missiles that could have been destined for Hezbollah in Lebanon. Hezbollah admitted that one of its facilities had been targeted and vowed to "choose the appropriate time, place and method of response." Four days later, two Grad rockets fired from inside Syria landed near an Israeli military outpost on Mount Hermon. On March 5, Israeli troops spotted and opened fire at three men attempting to plant a roadside bomb beside the Israeli security fence in the Golan Heights. The Israeli military said the three men were "affiliated with Hezbollah" and that the planned bomb ambush was thwarted.
The most significant incident occurred March 13, when two roadside bombs exploded against an Israeli military patrol deep inside the Shebaa Farms. There were no casualties in the attack, but it was the first in the Shebaa Farms since the 2006 war and only the second deep penetration roadside bomb ambush in the area since 2000. Hezbollah has not formally commented on any of the attacks or attempted ambushes in the Golan Heights and Shebaa Farms. There have been several incidents of small arms fire and mortar rounds falling on the Israeli-occupied Golan in the past two years, usually interpreted by the Israelis as unintentional spillover from clashes between the Syrian Army and rebel forces. However, there was only one previous roadside bomb attack against Israeli troops in December near the location of Tuesday's bombing. Like the more recent attacks in the Golan, there was no claim of responsibility, but the December bombing came three days after the assassination of Hassan Laqqis, a top Hezbollah commander, in Beirut, suggesting that it too was carried out by the Shiite organization.
The difficulty for Israel is how to retaliate without sparking a fresh conflict with Hezbollah. "We don't have any intention of escalating the situation with Hezbollah and go into another war right now," says Brig. Gen. Sofrin. "Therefore, if Israel chooses to react, it's going to be something very specific, very limited, accompanied with the right message, 'Ok, we've had enough in this round'." The question now is whether Tuesday's roadside bomb ambush, if carried out by Hezbollah, is considered by the group sufficient retaliation for last month's air strike on Janta or whether more attacks will follow.
Top US General: Look for Missing Jet in Pakistan
('It's possible the US knows much more than it's saying')
March 20….(WND) Retired Lt. Gen. Thomas McInerney, the recipient of the Distinguished Flying Cross, Bronze Star, Air Medal with 17 oak-leaf clusters, Distinguished Service Medal and other honors, is suggesting searchers looking for the missing Malaysia Airlines Boeing 777 take a look at possible landing spots in Taliban-controlled Pakistan. In an interview with Sean Hannity of Fox News, McInerney, now a contributor to the network, said his recommendation was based on information from sources he was unwilling to disclose on television as well as the analysis of an intelligence service called LIGNET.
McInerney said the free world needs to be worried until the location of the jet, which disappeared March 8 on a flight from Kuala Lumpur to Beijing, is determined. "My concern is if this airplane could be used as a bearer of a weapon of mass destruction or even conventional munitions that could attack a carrier, Israel, our allies," he said. "We have to be very alert until we know exactly where this airplane is." Investigators believe the airplane changed course shortly after takeoff and headed West for as long as seven hours. They are looking into the politics of the pilot, who had a Boeing 777 simulator set up in his own home from which data recently had been deleted.
McInerney said there are at least three bases in Taliban-controlled areas of western Pakistan that could handle the jet. His theory is consistent with reports that the last "ping" heard from the jet's Rolls Royce engines was about seven hours after takeoff in Malaysia. LIGNET, the Langley Intelligence Group Network, provides global intelligence and forecasting by former CIA officers and others. The LIGNET report McInerney cited noted that the Malaysian government "reportedly is investigating the possibility that missing Malaysia Airlines Flight MH370 avoided radar detection and landed in Pakistan near the Afghanistan border inside Taliban-controlled territory, according to the UK Independent."
The Malaysian foreign minister told reporters that Malaysia asked several Asian countries for assistance in its investigation, including Pakistan. "Pakistan dismissed the idea that a Boeing 777 could land undetected inside the country but promised to work with the Malaysian government in its search for the missing plane," the report said. A LIGNET analyst, however, "received information from a source at Boeing that the company believes the plane did land in Pakistan."
Israel, consequently, is mobilizing air defenses and scrutinizing approaching civilian aircraft, according to the Times of Israel.A Boeing 777, LIGNET noted, requires a 7,500-foot runway, which are available in Pakistan, "meaning Flight 370 could conceivably be hidden in a hangar inside the country." "US surveillance of the area may be able to shed light on the theory through satellite imagery or signals intelligence."
The general, who spent 35 years as a pilot, commander and strategic planner in the US Air Force and later founded Government Reform Through Technology, said the US Navy had a reason for halting its search in the Indian Ocean. In addition, the Israel Defense Forces "must know something" that would prompt them to increase their defense alert.
Putin Annexes Crimea Into Russian Federation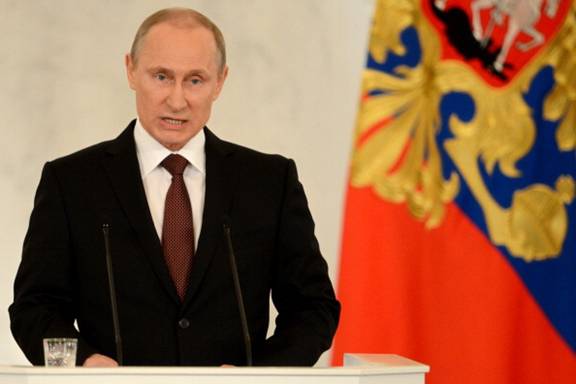 March 19….(Reuters) Defying Ukrainian protests and Western sanctions, Russian President Vladimir Putin signed a treaty in Moscow on Tuesday making Crimea part of Russia again but said he did not plan to seize any other regions of Ukraine. In a fiercely patriotic address to a joint session of parliament in the Kremlin, punctuated by standing ovations, cheers and tears, Putin said Crimea's disputed referendum vote on Sunday, held under Russian military occupation, had shown the overwhelming will of the people to be reunited with Russia.
As the Russian national anthem played, Putin and Crimean leaders signed a treaty to make Ukraine's region part of the Russian Federation, declaring: "In the hearts and minds of people, Crimea has always been and remains an inseparable part of Russia." Parliament is expected to begin ratifying the treaty within days. Putin later told a flag-waving rally in Red Square beneath the walls of the Kremlin, near where Soviet politburo leaders once took the salute at communist May Day parades, that Crimea has returned to "home port".
Russian forces took control of the Black Sea peninsula in late February following the toppling of Moscow-backed Ukrainian President Viktor Yanukovich by protests provoked by his decision to spurn a trade deal with the European Union last November and seek closer ties with Russia. People in Crimea voted overwhelmingly in the weekend referendum to join Russia.
Putin's speech drew immediate hostile reaction in Kiev and the West. US Vice President Joe Biden called Moscow's action a "land grab" and on a visit to Poland stressed Washington's commitment to defending the security of NATO allies on Russian borders. Polish Prime Minister Donald Tusk said Russia's move was unacceptable to the international community, while Britain suspended military cooperation with Russia. "It is completely unacceptable for Russia to use force to change borders, on the basis of a sham referendum held at the barrel of a Russian gun," British Prime Minister David Cameron said, threatening Putin with "more serious consequences".
In his speech, the Russian leader lambasted Western nations for what he called hypocrisy, saying they had endorsed Kosovo's right to self-determination and independence from Serbia but now denied Crimeans the same rights. "You cannot call the same thing black today and white tomorrow," Putin declared, saying that while he did not seek conflict with the West, Western partners had "crossed the line" over Ukraine and behaved "irresponsibly". Ukrainian and Russian troops have avoided violent confrontations, with Kiev anxious to avoid giving Moscow a reason for overrunning its bases in Crimea.
Russian President Vladimir Putin accused the United States on Monday of being guided in its foreign policy not by international law but by the "rule of the gun." "Our Western partners headed by the United States prefer not to be guided by international law in their practical policies, but by the rule of the gun," he told a joint session of parliament. "They have come to believe in their exceptionalism and their sense of being the chosen ones. That they can decide the destinies of the world, that it is only them who can be right."
Christians Being Burned & Hacked to Death in Nigeria
March 19….(The Christian Post) Three Christian villages were burned down in an attack Friday night in Nigeria's Kaduna state, with reports stating that more than 100 people were "hacked and burned to death," allegedly by Muslim gunmen. "We are still picking bodies out of the bush, but so far there are more than 100 killed," said Daniel Anyip, vice chairman of the Kaura local government authority, according to Reuters.
Chenshyi village chief Nuhu Moses revealed that the entire village was burned down, with gunmen having killed more than 50 people. "The unfortunate attack on our communities has led to killing of more than 100 Christians," the Rev. Yakubu Gandu Nkut, chairman of the Zankan area chapter of the Christian Association of Nigeria, told Morning Star News. "The wife of one of our pastors, Mrs. Jummai Likita Riku, and her three children, from the ECWA (Evangelical Church Winning All) church, Ugwar Sankwai, were killed in the attack."
While the attackers have not yet been officially identified, The Associated Press noted that thousands of people have lost their lives in recent years in competition for land and water between Muslim Fulani herdsmen and Christian farmers. One resident of Ugwar Sankwai village, who managed to escape alongside his wife and 22 children and grandchildren, but lost his brother, said he saw Fulani gunmen pouring fuel on his house and setting it on fire. "I thank God no one was killed in my household. My brother was not so lucky. They burned him and 40 people hiding in his house alive," said 49-year-old Bulus Mallam.
Human Rights Watch said in December that over 3,000 people have lost their lives in the central region of Nigeria since 2010, and has criticized the Nigerian government for not doing more to try and stop the escalating violence. Nigeria, largely divided between Christians and Muslims, has been locked in intense religious and ethnic strife, with Islamic terrorist organization Boko Haram waging a war on Christians and the Nigerian government, bombing and gunning down churches, congregations, schools and government buildings in its mission to establish Islamic rule.
Israel Defense Minister: America Under Obama is Weak
March 19….(In The Days) In a wide-ranging discussion reported in the Israeli newspaper Ha'aretz, Israel's plain-speaking defense minister Moshe Ya'alon said Monday that Tehran has the upper hand in nuclear negotiations, and dismissed the idea of Israeli dependence on the United States to lead an action against Iran's nuclear program, saying that Israel can only rely on itself. "We had thought the ones who should lead the campaign against Iran would be the United States," said Ya'alon, speaking during an event at Tel Aviv University. "But at some stage the United States entered into negotiations with them, and unhappily, when it comes to negotiating at a Persian bazaar, the Iranians were better."
If Israel had ever expected the United States to take out Iran's nuclear weapons capability, that is not about to happen, Ya'alon said: "Therefore, on this matter, we have to behave as though we have nobody to look out for us but ourselves." Ya'alon issued a sharp critique of Washington's attitude toward Iran, suggesting President Barack Obama would prefer to delay any confrontation until it could be passed on to his successor. "People know that Iran cheats," Ya'alon said. "But comfortable Westerners prefer to put off confrontation, if possible, to next year, or the next president. But in the end, it will blow up."
Iran went from being "on its knees" due to economic pressure, sanctions, diplomatic isolation, fear of an internal eruption and worry over military threats, to averting all crises through a clever "smile offensive," Ya'alon said. "There have been delays in the nuclear program, but the interim agreement signed between Iran and the superpowers in Geneva is very convenient for the Iranians," Ya'alon said. "They're settling down at the threshold and can decide when to make the breakthrough to a nuclear bomb."
Ya'alon's criticism of Obama's foreign policy went beyond Iran. The defense minister alluded several times during his speech to Washington showing weakness in the world. "The moderate Sunni camp in the area expected the United States to support it, and to be firm, like Russia's support for the Shi'ite axis," Ya'alon said. "I heard voices of disappointment in the region. I was in Singapore and heard disappointment about China getting stronger and the US getting weaker. Look what's happening in Ukraine, where the United States is demonstrating weakness, unfortunately." An image of "feebleness" and weakness can only damage America's own national security, Ya'alon said. "If you sit and wait at home, the terrorism will come again," he said. "Even if you hunker down, it will come," he added. "I hope the United States comes to its senses. If it doesn't, it will challenge the world order, and the United States is the one that will suffer."
Putin Accepts & Recognizes Crimean Independence
March 18….(AP) Ignoring the toughest sanctions against Moscow since the end of the Cold War, Russian President Vladimir Putin recognized Ukraine's Crimean Peninsula as an "independent and sovereign country" on Monday, a bold challenge to Washington that escalates one of Europe's worst security crises in years. The brief decree posted on the Kremlin's website came just hours after the United States and the European Union announced asset freezes and other sanctions against Russian and Ukrainian officials involved in the Crimean crisis. President Barack Obama warned that more would come if Russia didn't stop interfering in Ukraine, and Putin's move clearly forces his hand.
The West has struggled to find leverage to force Moscow to back off in the Ukraine turmoil, of which Crimea is only a part, and analysts saw Monday's sanctions as mostly ineffectual.
Moscow showed no signs of flinching in the dispute that has roiled Ukraine since Russian troops took effective control of the strategic Black Sea peninsula last month and supported the Sunday referendum that overwhelmingly called for annexation by Russia. Recognizing Crimea as independent would be an interim step in absorbing the region.
Crimea had been part of Russia since the 18th century, until Soviet leader Nikita Khrushchev transferred it to Ukraine in 1954 and both Russians and Crimea's majority ethnic Russian population see annexation as correcting a historic insult. Russia, like Yanukovych himself, characterizes his ouster as a coup, and alleges the new authorities are fascist-minded and likely to crack down on Ukraine's ethnic Russian population. Pro-Russia demonstrations have broken out in several cities in eastern Ukraine near the Russian border, where the Kremlin has been massing troops.
Fearing that Russia is prepared to risk violence to make a land-grab, the West has consistently spoken out against Russia's actions but has run into a wall of resistance from Moscow. Reacting to Monday's sanctions, Russian Deputy Foreign Minister Sergei Ryabkov declared that they were "a reflection of a pathological unwillingness to acknowledge reality and a desire to impose on everyone one-sided and unbalanced approaches that absolutely ignore reality." "I think the decree of the president of the United States was written by some joker," Russian Deputy Prime Minister Dmitry Rogozin, one of the individuals hit by the sanctions, said on his Twitter account. The White House imposed asset freezes on seven Russian officials, including Putin's close ally Valentina Matvienko, who is speaker of the upper house of parliament, and Vladislav Surkov, one of Putin's top ideological aides. The Treasury Department also targeted Yanukovych, Crimean leader Sergei Aksyonov and two other top figures. The EU's foreign ministers slapped travel bans and asset freezes against 21 officials from Russia and Ukraine.
Despite Obama's vow of tougher measures, stock markets in Russia and Europe rose sharply, reflecting relief that trade and business ties were spared. "I guess the market view is that Russia forced their case in Crimea, pushed through the referendum, and the Western reaction was muted, so that this opens the way for future Russian intervention in Ukraine," said Tim Ash, an analyst who follows Ukraine at Standard Bank PLC.
In the Crimean capital of Simferopol, ethnic Russians applauded Sunday's referendum that overwhelmingly called for secession and for joining Russia. Masked men in body armor blocked access for most journalists to the parliament session that declared independence, but the city otherwise appeared to go about its business normally. The Crimean parliament declared that all Ukrainian state property on the peninsula will be nationalized and become the property of the Crimean Republic. It gave no further details. Lawmakers also asked the United Nations and other nations to recognize it and began work on setting up a central bank with $30 million in support from Russia.
Moscow, meanwhile, called on Ukraine to become a federal state as a way of resolving the polarization between Ukraine's western regions, which favor closer ties with the 28-nation EU, and its eastern areas, which have long ties to Russia. Russia's Foreign Ministry urged Ukraine's parliament to call a constitutional assembly that could draft a new constitution to make the country federal, handing more power to its regions. It also said the country should adopt a "neutral political and military status," a demand reflecting Moscow's concern that Ukraine might join NATO and establish closer political and economic ties with the EU.
Ukrainian Foreign Minister Andriy Deshchytsya visited NATO headquarters in Brussels to request technical equipment to deal with the secession of Crimea and the Russian incursion there. NATO said in a statement that the alliance was determined to boost its cooperation with Ukraine, including "increased ties with Ukraine's political and military leadership."
Iran Likely Involved in MH 370 Plane Mystery
March 17….(Times of Israel) A former security chief for El Al said that the disappearance of Malaysia Airlines Flight 370 points directly to Iran. Isaac Yeffet, who served as head of global security for Israel's national carrier in the 1980s and now works as an aviation security consultant in New Jersey, said investigators were correct in honing in on the two fake-passport carrying Iranian passengers on the doomed flight, and they have wasted valuable time by exploring other leads. "What happened to this aircraft, nobody knows. My guess is based upon the stolen passports, and I believe Iran was involved," he said. "They hijacked the aircraft and they landed it in a place that nobody can see or find it."
In the immediate aftermath of the aircraft's disappearance, which occurred last week during a standard night flight from Kuala Lumpur to Beijing, Malaysian officials and the media were fixated on the story of two Iranians who had made it onto the plane with stolen passports. As the days wore on and the investigation uncovered new and confusing details, with officials admitting that the plane could have traveled for as long as seven hours without radio contact, and that its potential location could be anywhere from northern Kyrgyzstan to the southern Indian Ocean, attention has shifted to the pilots and to far-flung conspiracy theories. This is a misstep, said Yeffet, and one that would not have happened in Israel. "This would never have happened on an Israeli plane," says Yeffet. "An El Al aircraft was hijacked for the first and last time in 1968. Since then, there has not been a single flight where security did not check every single name."
However, it would have taken more than just a pair of Iranians with forged documents, Yeffet said, to pull off such an astonishing crime. "I can't believe for a second that if these people planned to hijack the aircraft, it was just them," he said. But based upon the tried-and-true Israeli intelligence strategy of profiling, the pilots, he said, are unlikely suspects. "We are talking about a captain who is 53 years old, who has worked for Malaysia Airlines for 30 years, and suddenly he became a terrorist? He wanted to commit suicide? If he committed suicide, where is the debris?"
Adding that the captain in question, Zaharie Ahmad Shah, was known to be happily married and comfortably well-off, Yeffet said the profile simply does not fit. "From the United States to China to Japan, everybody is searching for this aircraft or piece of it. And there is no sign. So in my opinion, the aircraft was hijacked. And it was an excellent plan from the terrorists, to land in a place where they can hide the plane and no one can find it."
US, Russian, Chinese military satellites hunt MH370 over Central Asia
(Is it now being readied for a terrorist attack?)
March 17….(DEBKA) The US, Russia and China Sunday, March 16 contributed their military satellites to the search for the Malaysian Boeing 777, missing without a trace for nine days with 239 people aboard. US drones have also been diverted from the Afghanistan war to the hunt, which is focusing increasingly on the former Soviet republics of Central Asia. The backgrounds of the pilot and co-pilot and the rest of the crew are under rigorous investigation for leads. Scrutiny of the passengers, 153 of whom are Chinese, is slow since not all the foreign governments have come up with answers to questions about their nationals. The multinational investigation is looking closely at a number of conjectures:
1. The contents of the plane's cargo: Did it contain some illicit freight that would have given one or more hijackers a motive to seize control of the plane, force it to land at a remote spot and vanish with their prize? That scenario would leave the fate of the passengers and crew up in the air. They may still be alive and marooned in some wild corner of the world.
2. Many parts of the Silk Road nations of Kirgizstan, Kazakhstan, Turkmenistan, Tajikistan and Uzbekistan are broad desert wastelands. They all have abandoned derelict military and air bases left over from the defunct Soviet empire. Military satellites and drones manned by experts have the best chance of pinpointing MH370 in this sort of country. It is now believed that the last contact with MH370 was beamed from the ground, meaning that the plane had not spent hours aloft but somewhere on land, which is why the Malaysian transport minister disclosed Sunday that the search now covered "areas of land in 11 countries."
3. The cockpit is being painstakingly searched for clues. One theory is that the hijackers lurked in the plane before the passengers boarded after they were smuggled in through the cargo hold. They may have belonged to the East Turkestan Liberation Organization-ETLO, the Uyghur separatist movement of the northwest Chinese province of Xinjiang. This conjecture opens up more complex potentials, such as the possible refueling of the airliner for use by the hijackers as an instrument of deadly massacre, echoing the 9/11 atrocities perpetrated by al Qaeda against New York and Washington. Speculation on those lines has brought the US, Russia and China into the heart of the search and the investigation.
4. Another possibility under consideration is a sudden cyber attack on the plane. These methods are advanced enough these days to control, navigate and bring a large aircraft 75 meters long with a 61-meter wing span like the Boeing 777 down to earth almost intact at a preset location.
Iran, apparently with Chinese expert assistance, managed to bring down the RQ-170 Sentinel, America's most secret UAV, by this method. The Israeli army downed an Iranian drone launched from Lebanon by an Iranian Revolutionary Guards cyber team in October, 2012. Loth to expose its advanced cyber capabilities, Israel held to the story that the Iranian drone was shot down by its fighter jets. If the Malaysian airliner was indeed commandeered by this means, the attackers may not have intended to go all the way and were forced to think fast and decide how to end the episode without leaving incriminating leads behind them. Dumping the plane in a remote place would answer this need.
5. US intelligence and security investigators were focusing Sunday on the two pilots, Zaharie Ahmad Shah, 53, who has logged 18,000 flying hrs. on similar aircraft, and co-pilot Fariq Abdul Hamid, 27, for answers to the key conundrums of the mystery. Both their homes in Kuala Lumpur have been searched. The flight simulator found in the captain's home is being carefully checked for telltale flight routes. Any possibly links in the backgrounds of the pilots to potential hijackers or terrorists would help solve the mystery of the vanished Malaysian airliner and provide a lead to its fate.
Obama Administration Secretly Working to Unseat Netanyahu
FOJ Note: The Obama Administration's secret activities amount to an effort to sabotage an American ally, while effecting an agreement that would render that ally defenseless. Furthermore, the current Kerry proposal (as revealed in this article) seeks to coerce a peace settlement on Israel that would serve as a basis for a permanent solution about 42 months later. Does that 42 months ring a bell with prophecy scholars? (first half of Tribulation)
March 17….(WND) In recent weeks, representatives for the Obama Administration have held meetings with a senior Israeli politician in which the US delegates brought up the possibility of replacing Benjamin Netanyahu as prime minister, according to an informed Jerusalem diplomatic source.
The meetings were held with Israel's popular finance minister, Yair Lapid, founder and leader of the Yesh Atid Party, which became the second-largest party in the Knesset winning 19 seats in the last election. The diplomatic source said the Obama administration identified Lapid as a moderate who could be helpful in pushing the Israeli government into accepting the framework to create a future Palestinian state. According to the source, the talks included the possibility of Lapid bolting Netanyahu's government if the prime minister rejects the US-brokered regional talks. Lapid, however, is unlikely to abandon his government post over talks the Palestinians themselves have been less than enthusiastic about.
If Lapid and his 19 Knesset seats did abandon Netanyahu's government, the move could put the prime minister's coalition in crisis, especially if other parties were to follow suit. Netanyahu must maintain a plurality of the Knesset's 120 Knesset seats in his governing coalition or he would have to face early elections.
Meanwhile, the Palestinian Authority has received a pledge from the US that by the end of 2014, the Obama Administration will issue an official written declaration presenting general highlights of a future Palestinian state, according to a senior Palestinian negotiator. The negotiator further said the goal is to have the general framework for a deal ironed out by April. As part of the written declaration, the US is set to officially recognize Palestinian rights in eastern sections of Jerusalem, without defining the exact territories that would be eventually handed to the PA. The US will declare on paper that the Jordan Valley territory is "occupied" by Israel and that Palestinians have rights there, the negotiator said.
Secretary Kerry is asking for the international community to administer Jerusalem's holy sites in the eastern section of the city, while details are still being discussed about whether Palestinians will have some symbolic presence in the area. WND in December was first to report Kerry's plan calling for an international administrative mandate to control holy sites in eastern Jerusalem. The exact composition of the international mandate is up for discussion, but Kerry's plan recommended a coalition that includes the Vatican and a group of Muslim countries such as Turkey and Saudi Arabia. The international arrangement is being proposed as a temporary solution for about two to three years while security arrangements in Jerusalem between Israelis and Palestinians are finalized, said Israeli and Palestinian diplomatic sources.
Crimeans Vote to Quit Ukraine for Russia
March 17….(Reuters) Russian state media said Crimeans voted overwhelmingly to break with Ukraine and join Russia on Sunday, as Kiev accused Moscow of pouring forces into the peninsula and warned separatist leaders "the ground will burn under their feet". With over half the votes counted, 95.5 percent had chosen the option of annexation by Moscow, the head of the referendum commission, Mikhail Malyshev, said two hours after polls closed. Turnout was 83 percent, he added, a high figure given that many who opposed the move had said they would boycott the vote. Western powers and leaders in Kiev denounced it as a sham.
US Secretary of State John Kerry told Moscow that Washington would not accept the outcome of the vote in the region, which has an ethnic Russian majority and was transferred to Ukraine by Soviet rulers only 60 years ago. The White House also warned Moscow to expect sanctions while foreign ministers from the European Union, which has major trade ties with Russia, will decide on possible similar action in Brussels on Monday.
In Kiev, Prime Minister Arseny Yatseniuk threatened dire consequences for the Crimean politicians who had called the vote, saying separatist "ringleaders" wanted to destroy Ukrainian independence "under the cover of Russian troops". "We will find all of them, if it takes one year, two years. and bring them to justice and try them in Ukrainian and international courts. The ground will burn under their feet," he told a cabinet meeting. Yatseniuk had just returned from a US trip where he won expressions of moral support but no offers of weapons. Kiev's pro-European rulers, who took power after last month's fall of Moscow-backed President Viktor Yanukovich to popular unrest, have been as powerless as Western governments to prevent the referendum or buildup of Russian forces on Ukrainian territory.
WEEK OF MARCH 9 THROUGH MARCH 15
Malaysian PM: Plane Flew 6-7 Hours After Last Trace
March 15….(AP) The Malaysian jetliner missing for more than a week was deliberately diverted and continued flying for more than six hours after severing contact with the ground, meaning it could have gone as far northwest as Kazakhstan or into the Indian Ocean's southern reaches, Malaysia's leader said Saturday.
Prime Minister Najib Razak's statement confirmed days of mounting speculation that the disappearance of Malaysia Airlines Flight 370 to Beijing was not accidental. It also refocused the investigation into the flight's 12-person crew and 227 passengers, and underlined the complicated task for searchers who already have been scouring vast areas of ocean. "Clearly the search for MH370 has entered a new phase," Najib said at a televised news conference.
Najib stressed that investigators were looking into all possibilities as to why the Boeing 777 deviated so drastically from its original flight path, saying authorities could not confirm whether it was a hijacking. Earlier Saturday, a Malaysian official said the plane had been hijacked, though he added that no motive had been established and no demands had been made known. "In view of this latest development, the Malaysian authorities have refocused their investigation into the crew and passengers on board," Najib told reporters, reading from a written statement but not taking any questions.
Police on Saturday went to the Kuala Lumpur homes of both the pilot and co-pilot of the missing plane, according to a guard and several local reporters. Authorities have said they will investigate the pilots as part of their probe, but have released no information about how they are progressing. Experts have previously said that whoever disabled the plane's communication systems and then flew the jet must have had a high degree of technical knowledge and flying experience.
The plane departed for an overnight flight from Kuala Lumpur to Beijing at 12:40 a.m. on March 8. Its communications with civilian air controllers were severed at about 1:20 a.m., and the jet went missing, heralding one of the most puzzling mysteries in modern aviation history.
China, where the bulk of the passengers were from, expressed irritation over what it described as Malaysia's foot-dragging in releasing information about the search. Investigators now have a high degree of certainty that one of the plane's communications systems, the Aircraft and Communications Addressing and Reporting System, was disabled before the aircraft reached the east coast of Malaysia, Najib said. Shortly afterward, someone on board switched off the aircraft's transponder, which communicates with civilian air traffic controllers.
Najib confirmed that Malaysian air force defense radar picked up traces of the plane turning back westward, crossing over Peninsular Malaysia into the northern stretches of the Strait of Malacca. Authorities previously had said this radar data could not be verified. "These movements are consistent with deliberate action by someone on the plane," Najib said. Although the aircraft was flying virtually blind to air traffic controllers at this point, onboard equipment continued to send "pings" to satellites.
The prime minister said the last confirmed signal between the plane and a satellite came at 8:11 am, 7 hours and 31 minutes after takeoff. This was more than five hours later than the previous time given by Malaysian authorities as the possible last contact. Airline officials have said the plane had enough fuel to fly for up to about eight hours. "The investigations team is making further calculations which will indicate how far the aircraft may have flown after this last point of contact," Najib said. He said authorities had determined that the plane's last communication with a satellite was in one of two possible arcs, or "corridors," a northern one from northern Thailand through to the border of the Central Asian countries Kazakhstan and Turkmenistan, and a southern one from Indonesia to the southern Indian Ocean.
The northern route might theoretically have taken the plane through China, India, Pakistan, Afghanistan, which hosts US military bases, and Central Asia, and it is unclear how it might have gone undetected. The region is also home to extremist Islamist groups, unstable governments and remote, sparsely populated areas. Flying south would have put the plane over the Indian Ocean, with an average depth of 3,890 meters (12,762 feet) and thousands of kilometers (miles) from the nearest land mass. Najib said search efforts in the South China Sea, where the plane first lost contact, had ended.
Two-thirds of the plane's passengers were Chinese, and China's government has been under pressure to give relatives firm news of the aircraft's fate. In a stinging commentary on Saturday, the Chinese government's Xinhua News Agency said the Malaysian information was "painfully belated," resulting in wasted efforts and straining the nerves of relatives. "Given today's technology, the delay smacks of either dereliction of duty or reluctance to share information in a full and timely manner," Xinhua said. "That would be intolerable."
Kerry Issues Ultimatum to Russia
March 14….(Washington Examiner) Secretary of State John Kerry warned of serious repercussions for Russia on Monday if last-ditch talks over the weekend to resolve the crisis in Ukraine failed to persuade Moscow to soften its stance. Kerry will travel to London for a Friday meeting with Russian Foreign Minister Sergey Lavrov ahead of a Sunday referendum vote in the Crimea region to secede from Ukraine and join the Russian Federation.
US and European officials argue that Moscow is orchestrating the referendum and waging an intimidation campaign with thousands of Russian troops controlling the region. If Russian-backed lawmakers in Crimea go through with the Sunday referendum, Kerry said the US and its European allies will not recognize it as legitimate under international law.
The US and Europe on Monday would then unite to impose sanctions on Russia, Kerry told a Senate Appropriations subcommittee Thursday during a hearing on the State Department's budget. "There will be a response of some kind to the referendum itself," Kerry said. "If there is no sign from Russia of any capacity to respond to this issue ... there will be a very serious series of steps on Monday." "Our hope is to have Russia join in respecting international law. There is no justification, no legality to this referendum that is taking place," he said.
Russia Massing Troops on Ukraine Border
March 14….(New York Times) With a referendum on secession looming in Crimea, Russia massed troops and armored vehicles in at least three regions along Ukraine's eastern border on Thursday, alarming the interim Ukraine government about a possible invasion and significantly escalating tensions in the crisis between the Kremlin and the West. The announcement of the troop buildup by Russia's Defense Ministry was met with an unusually sharp rebuke from Chancellor Angela Merkel of Germany, who warned that the Russian government must abandon what she called the politics of the 19th and 20th centuries or face diplomatic and economic retaliation from a united Europe. "Ladies and gentlemen, if Russia continues on its course of the past weeks, it will not only be a catastrophe for Ukraine," she said in a speech to the German Parliament. "We, also as neighbors of Russia, would not only see it as a threat. And it would not only change the European Union's relationship with Russia.
Until Thursday, the Russian military actions had been largely confined to asserting control over the Crimean peninsula, the largely Russian-populated area in southern Ukraine that took steps a week ago to secede and join Russia following the ouster of the pro-Kremlin government in Ukraine last month. A Crimean referendum, which Ukraine, the United States and the European Union have called illegal, is set to ratify that decision on Sunday. But the buildup on Ukraine's eastern border with Russia signaled possible further moves by the Kremlin to reassert authority by force over territory, also heavily populated by Russians, forfeited in the Soviet Union breakup two decades ago.
In a further sign of a military buildup, Russian news agencies said the Defense Ministry had ordered six Sukhoi-27 fighter jets and three transport planes to Belarus, a Russian ally, to fend off what the Belarus president, Aleksandr Lukashenko, called a potential NATO threat. The Belarus deployment came after NATO sent 12 F-16 fighters to Poland last week. Oleksandr V. Turchynov, Ukraine's acting president, said in a statement on his official website that he believed Russian forces massed near the border were "ready to intervene in Ukraine at anytime," and that he hoped diplomatic efforts by Ukraine and sympathetic nations would "stop the aggression."
American NSA May Have Misled American Public; About 9-11 Planes
FOJ Note: As the drama over the missing Malaysian plane plays out over the airwaves in coming months, it may be well to reflect on the fact that governments often LIE about some of these types of events. (New York City/TWA Flight800) The striking idea that mysterious Iranian players may have utilized stolen passports is cause for special alarm, especially in light of the possibility that the plane may have been hijacked or simply stolen for a future assault somewhere. In this instance, we will have to watch, and search for facts, but suspicious things are definitely present in this case.
March 14….(YNET) At the National Security Agency (NSA) headquarters in Fort Meade, the American intelligence kept extremely classified information about the connection between Iranian intelligence and al-Qaeda, starting from the 1990s to the eve of the 9/11 attacks. Within these piles of materials were 75 intelligence documents defined as "critical" for understanding the connection between Tehran and Osama bin Laden, including proof that Iran was responsible for planning the journeys of at least eight of the 10 Saudi terrorists in the months before 9/11.
The commission members didn't know what to do: On the one hand, they discovered a completely new lead; on the other hand, there was no way that anyone could process all this material within several days. On the background, the Bush administration was breathing down their necks. The US Army had been deep inside Iraq for more than a year, as a response to the terror offensive. If the commission were to discover that it was the wrong target, Iran was to blame, rather than Iraq, what would the president tell his voters, the bereaved families, the coalition countries, the Iraqi people? Oops, sorry, we made a mistake? In the end they reached a compromise: They squeezed part of the information into three pages (p. 240-242 of the report), which were written in extreme haste, raising serious suspicions that Iran was responsible for planning the journeys of at least eight of the 10 Saudi terrorists in the months before the terror attacks, and called for a further thorough investigation by the administration.
Such an investigation was likely never conducted, because the American administration, as all administrations, was afraid of trapping itself by determining Iran's involvement in one of the most significant events in the history of the United States, which would have required an immediate military response against the ayatollah regime. Later on, the families of the World Trade Center attack's victims succeeded in presenting the New York court with sufficient evidence, some of it from Israeli intelligence sources, that Iran had been involved in helping to form and create al-Qaeda and in providing the abilities which led the organization to carry out the dreadful attack.
The Malaysian plane's disappearance has been casting a heavy shadow in recent days on the headlines of Asia's economic newspapers, and not just on them. The economic boom in this part of the planet is conditioned and depends on air traffic. Some 50 million people pass through Hong Kong's airport, the financial gate to China, every year, mostly businesspeople. Damaging the freedom or safety of their passage may lead to serious economic outcomes.
What caused this aviation disaster? Obviously, it's much too early to say. It will take many months, maybe years, before the circumstances of the incident are figured out, if they ever are. Nonetheless, the fact that the plane disappeared at once, without sending distress signals or reporting a malfunction, raises the fear that it was a terror attack. On Tuesday, Malaysian sources reported that an Iranian businessman had purchased the plane tickets for the passengers who got on the flight, which ended in the depth of the ocean, with fake passports. It would be surprising if it turns out that Iran, especially these days, took the risk and got directly involved in such an operation. Yet the Iranian regime is not of one piece, including the state's intelligence and security organizations, and there is a possibility that a certain militia would see it fit to cooperate with radical Islamic groups.
Iran maintains relations of affinity-hatred with global jihad groups. On the one hand, the jihad members are Sunnis (mostly Salafis) with a religious worldview which rejects the Shia. On the other hand, both sides are demonstrating pragmatism and cooperating in certain arenas in different circumstances. Like with the preparations for the 9/11 attacks, the Iranians or an Iranian group may not necessarily be aware of full plans, but are providing the jihad groups with general aid, both logistic and financial, which helps them execute their plans.
Iran's direct or indirect involvement in numerous attacks has either not been investigated like in the 9/11 case or has been investigated, but the countries holding the evidence for this involvement, including the US, are avoiding presenting it. Those in favor of continuing this policy in Tehran can go on uninterrupted.
US Investigators Suspect Missing Malaysian Plane Was Commandered
March 14….(YNET) US investigators suspect that Malaysia Airlines Flight 370 stayed in the air for about four hours past the time it reached its last confirmed location, the Wall Street Journal reported, citing two people familiar with the details. The report comes as authorities remain uncertain about which ocean to search for the jetliner that went missing on Saturday after taking off from Kuala Lumpur. The latest disclosure led US investigators to explore the possibility that someone deliberately turned off the transponder and diverted the plane to another location, the newspaper reported. It raises the possibility that the plane, and the 239 people on board, could have flown on for additional distance of about 2,200 miles (3,500 km), potentially reaching the border of Pakistan or as far as destinations in the Indian Ocean or Arabian Sea, the paper said. The last definitive sighting of the aircraft on civilian radar screens came shortly before 1:30 am on Saturday, less than an hour after taking off from Kuala Lumpur, as it flew northeast across the mouth of the Gulf of Thailand bound for Beijing.
Aviation investigators and national security officials believe the plane flew for a total of five hours based on data automatically downloaded and sent to the ground from the Boeing Co 777's engines as part of a standard monitoring program, the Journal said. One person told the paper that, as part of a maintenance agreement, the Malaysia Airlines plane was able to transmit engine data live to Rolls-Royce for analysis. The system sends data from the Boeing 777's two Trent 800 engines, giving details such as altitude and speed of the jet.
US counter-terrorism officials are pursuing the possibility that a pilot or someone else on board the plane may have diverted it toward an undisclosed location after intentionally turning off the jetliner's transponders to avoid radar detection, the newspaper reported, citing one person tracking the probe.
A senior Malaysia Airlines executive said on Wednesday that the airline has "no reason to believe" that any actions by the crew caused the disappearance of a jetliner. At one briefing, US officials were told investigators are actively pursuing the notion that the plane was diverted "with the intention of using it later for another purpose," the Journal said.
Kerry: No Need for Recognition of Jewish State
March 14….(Arutz) US Secretary of State John Kerry thinks it is a "mistake" for Israel to demand that the Palestinian Authority (PA) recognize it as a Jewish state in order to achieve peace. "I think it's a mistake for some people to be raising it again and again as the decider of their attitude towards the possibility of a state and peace, and we've obviously made that clear," Kerry told the House Committee on Foreign Affairs on Thursday, when asked to clarify the official position of the Obama administration on the issue, according to the Breitbart website. He further said that the issue was resolved in 1947, when UN Resolution 181, which divided Palestine into a Jewish state and an Arab state, was passed. This resolution, said Kerry, referred to "Jewish State" several times. Kerry also said that former PA Chairman Yasser Arafat explicitly recognized Israel's right to exist as a Jewish state.
Prime Minister Binyamin Netanyahu has insisted that the PA recognize Israel as a Jewish state in order to reach a peace agreement, explaining that the Arabs' refusal to recognize Israel stands at the heart of the conflict.
PA Chairman Mahmoud Abbas has repeatedly insisted that the PA would not recognize Israel as a Jewish state and has also stressed that the future Palestinian state would not include the presence of a single Israeli, civilian or soldier. He stood his ground last Friday, saying during a meeting with Fatah youth activists that that there is "no way" he will recognize Israel as a Jewish state and accept a Palestinian capital in just a portion of eastern Jerusalem. On Sunday, he was backed by members of his Fatah party, who unanimously endorsed his rejection of demands to recognize Israel as a Jewish state. On Saturday, Kerry's spokeswoman Jen Psaki said that the United States believes there is no need for the PA to recognize Israel as a Jewish state as part of a peace agreement.
PA: 'Allah Will Gather Israelis So We Can Kill Them All'
March 14….(Arutz) A senior Palestinian Authority (PA) official appeared on PA TV on Wednesday, where he called Israelis "an advanced instrument of evil," claiming "Allah will gather them so that we can kill them." The official, Abbas Zaki, further opined Israelis "have no belief, no principles." He is a close associate of PA Chairman Mahmoud Abbas; last October he reportedly went to Syria as Abbas's personal representative, and he has spoken at public events representing Abbas's Fatah movement. The PA TV host speaking with Zaki claimed Prime Minister Binyamin Netanyahu had "failed in his attempt to stir up the media," referencing his exposure of the seized Iranian shipment of arms to Gaza on Monday.
According to the host's theory, Netanyahu's "disappointment" in low world concern over the transfer of weapons to the terror group Hamas caused him to turn "to the option of bloodshed," a reference to the Tuesday IAF strike on Islamic Jihad terrorists in Gaza after they fired mortars at IDF soldiers. Zaki responded by saying Netanyahu "provoked an uproar," blaming Israel for the barrage of nearly 100 rockets fired from Gaza starting Wednesday and into Thursday. "Don't tell anyone, we want to destroy Israel"
This is not the first bombshell comment made by Zaki. In February he said on TV "none of us, especially in Fatah, has ruled out the military options" against Israel. Back in January, the Fatah man revealed on Syrian TV that any agreement Abbas reaches with Israel will merely be the "first stage" in destroying Israel.
Zaki similarly revealed the not-so-secret intentions of the PA back in 2011, when he said "if Israel withdraws from Jerusalem, evacuates the 650,000 settlers, and dismantles the wall, what will become of Israel? It will come to an end." "If we say that we want to wipe Israel out, come on, it's too difficult. It's not acceptable policy to say so. Don't say these things to the world," he warned. "Keep it to yourself."
Gaza Islamic Jihad (Iranian Proxy) Launches Attacks on South Israel
March 13….(DEBKA) The pro-Iranian Palestinian Jihad Islami terror group rained Wednesday, March 12 a heavy, continuous missile barrage against Israel, just two days after the Israeli presentation in Eilat of the illicit cargo of Iranian arms destined for terrorists aboard the Klos C, which Israeli commandos captured on the Red Sea last week. The presentation included 60 M302 short-range missiles made in Syria and flown to Iran for shipment to Gaza and Sinai via Sudan.
The Jihad Islamic took advantage of the heavy cloud and rain over the region, conditions which impede Israeli air force action, to release a heavy barrage of Qassam and Grade rockets against Israeli towns and villages. By nightfall, at least 50 rockets had been fired at the towns of Sderot and Netivot and the regions of Shear Hanegev, Eshkol and Bnei Shimon.
Iron Dome missile interceptors were activated against the barrage. No casualties or damage have been so far reported. Red alert signals sent hundreds of thousands of citizens running for shelter.
Debkafile's military sources note that the Palestinian Jihad Islami operates under the direct command of the Iranian Al Qods Brigades commander Gen. Qassem Soleimani, who was given charge by Tehran last month of Middle East areas of conflict in which Iran has an interest, including the Palestinian-Israeli sector. His modus operandi is known to be never to let an Israeli strike against Iran or any of its allies go unanswered.
The massive rocket attack from the Gaza Strip is seen his payback for Israel's interception of the Iranian missile ship, just as Iran's Lebanese proxy, Hizballah, may be expected to hit back for Israel's aerial bombardment of its missiles on the Syrian-Lebanese border and more attacks to come from Gaza.
New Push Against Syria Being Planned by Saudi Arabia?
March 13….(The Guardian) After months of battlefield stalemate in Syria, a flurry of reports from Washington, Jerusalem, Amman and the Gulf suggests a major new clandestine effort is under way to open up a "southern front" against the regime of Bashar al-Assad. Central to the mooted plan is a renewed push to provide Syria's badly divided and often ineffectual moderate, secular rebel groups with additional funding, upgraded weapons and intelligence support. What use they may make of such support, if indeed it fully materializes, remains to be seen. The initiative, as reported in the region, is set against a backdrop of secret talks in the US last month between Susan Rice, Barack Obama's national security adviser, and Prince Mohammed bin Nayef, the Saudi interior minister in charge of covert action programs in Syria.
According to the usually well informed Washington Post columnist David Ignatius, spy chiefs from Jordan, Turkey, Qatar and other regional countries also attended the discussions, focused on making a "stronger effort" to help the rebels. This meeting has been linked in turn to last month's launching by the Free Syrian Army (FSA) of what they termed a spring offensive in the south of Syria. The offensive began days after they received new US weapons funding that may eventually total $31.4m (£18.9m), rebel commanders said. After holding back for months owing to fears that new arms might fall into the hands of al-Qaida affiliates, unidentified American officials said Congress had given closed-door approval in January for renewed cash for light weapons intended for the moderate, secular opposition in the south. The new US funding supposedly augments a fresh push by Gulf states to finance rebel operations in the southern region of Syria, which are ultimately aimed at Damascus. More than $1billion has been disbursed since last summer, much of it for weapons purchases in eastern Europe, according to Gulf government sources quoted by regional media.
According to various reports mostly based on rebel statements or official or semi-official leaks, the aim of the offensive is to push back government forces in the Daraa, Quneitra and As-Suwayda governorates in south-west Syria, so opening the road to Damascus. The offensive has been dubbed Geneva Horan, a reference to the plains near the Jordanian border and Israeli frontier. This new emphasis on military action along the southern front follows well documented concern that the predominance in northern and eastern Syria of jihadis belonging to the al-Nusra Front, which is linked to al-Qaida, and rival groups such as the Islamic State in Iraq and the Levant has become both destructive and counterproductive. Detailed media reports claim the operational plans, supply routes and tactics for the new push are being overseen by a secret international operations command center in Amman staffed by military officials from 14 countries, including the US, Britain, Israel and Arab states opposed to the Assad regime.
Jordan denies the existence of the center and of reportedly CIA-run rebel training facilities in northern Jordan. None of the western or Arab states that have intelligence and military staff working at the center, the Military Operations Command (MOC), has publicly acknowledged it, but the center's existence has become an open secret, the National claimed. Whatever the accuracy of such reports, there is little doubt that Jordan's officially neutral stance over the Syrian war is threatened by the increasing importance of the southern front as the conflict enters its fourth year. Despite Amman's denials, it is known to have close links with western intelligence agencies. It is also widely believed that its territory is being used by western and Arab backers of the moderate secular opposition to assist and direct anti-Assad operations.
Although President Obama says the US continues to pursue a diplomatic solution, the suggestion of increased covert US support for military action in southern Syria is plausible. There is much anger in Washington at the failure of the Geneva peace talks to make progress, in part because of Russia, Assad's most powerful ally. These developments, if confirmed, also indicate a tentative rapprochement between the US and Saudi Arabia, the Syrian opposition's biggest regional backer, after a period when the two countries could not agree on tactics. In a landmark visit, Obama will travel to Riyadh later this month for talks that will focus on Syria and Iran. In other recent meetings designed to coordinate policy, Obama discussed the Syrian crisis with Jordan's King Abdullah and Israel's prime minister, Binyamin Netanyahu.
Nigeria Upholds Islamic Law for Killing Converts to Christianity
March 13….(Virtue on Line) Muhammad commanded: Whoever changed his Islamic religion, then kill him" (Bukhari 9.84.57). This is still the position of all the schools of Islamic jurisprudence, both Sunni and Shi'ite. Sheikh Yusuf al-Qaradawi, the most renowned and prominent Muslim cleric in the world, has stated: "The Muslim jurists are unanimous that apostates must be punished, yet they differ as to determining the kind of punishment to be inflicted upon them. The majority of them, including the four main schools of jurisprudence (Hanafi, Maliki, Shafi'i, and Hanbali) as well as the other four schools of jurisprudence (the four Shiite schools of Az-Zaidiyyah, Al-Ithna-'ashriyyah, Al-Ja'fariyyah, and Az-Zaheriyyah) agree that apostates must be executed." There is only disagreement over whether the law applies only to men, or to women also, some authorities hold that apostate women should not be killed, but only imprisoned in their houses until death.
Cairo's Al-Azhar University, the most prestigious and influential institution in the Sunni world, certifies as a reliable guide to the practice and faith of the orthodox Sunni Muslim community a manual of Islamic law that states: "When a person who has reached puberty and is sane, and voluntarily apostatizes from Islam, he deserves to be killed". Although the right to kill an apostate is reserved in Islamic law to the leader of the community and other Muslims can theoretically be punished for taking this duty upon themselves, in practice a Muslim who kills an apostate needs to pay no indemnity and perform no expiatory acts (as he must in other kinds of murder cases under classic Islamic law). This accommodation is made because killing an apostate "is killing someone who deserves to die"
IRGC Commander: Iran's Finger on Trigger to Destroy Zionist Regime
March 12….(FARS) Lieutenant Commander of the Islamic Revolution Guards Corps (IRGC) Brigadier General Hossein Salami underlined that Iranian military commanders are prepared to attack and destroy the Zionist regime of Israel as soon as they receive such an order. "Today, we can destroy every spot which is under the Zionist regime's control with any volume of fire power (that we want) right from here," Salami said, addressing a conference in Tehran on Tuesday dubbed 'the Islamic World's Role in the Geometry of the World Power'. "Islam has given us this wish, capacity and power to destroy the Zionist regime so that our hands will remain on the trigger from 1,400km away for the day when such an incident (confrontation with Israel) takes place," he added.
Salami reminded that Iran is not the only country which enjoys such a capability, as even the artilleries of a number of other (Muslim) countries can also target and attack the Zionist regime today.
In relevant remarks in November, Supreme Leader of the Islamic Revolution Ayatollah Seyed Ali Khamenei warned Iran's enemies to avoid even thinking of any aggressive move against the country, stressing that the Iranian Armed Forces are ready to give such a crushing response to any threat that aggressors will never forget. Addressing 50,000 Basij (volunteer force) commanders in Tehran, Ayatollah Khamenei pointed to the preparedness of Iran's military forces, and said, "The response of the Iranian nation to any foreign aggression will be regrettable for the enemy."
The Supreme Leader underlined that the increasing threats by the enemy show that the US-led western sanctions have not been effective and they have understood it themselves. Addressing the arrogant powers, Ayatollah Khamenei said, "Instead of threatening other countries, go and deal with your wretched economic conditions and think of you debts." The Supreme Leader underlined that the Zionist regime has been imposed on the region, "Anything that is gained with force will not last long and this regime will not last either."
Also in December, Commander of the Islamic Revolution Guards Corps (IRGC) Major General Mohammad Ali Jafari underlined that Iran will give a crushing response to any possible aggressor. Major General Jafari deplored the US president's repeated rhetoric of "military option against Iran is on the table, as "ludicrous" and said, "Repetition of such an absurd sentence by the officials of the US and the fake and evil Zionist regime of Israel sounds funny to the Iranian nation."
The IRGC commander went on to say that the US or Israeli officials are totally incapable of taking any military action against Iran, but at the same time affirmed that any "stupid measure" by the enemies would compel Iran to consider the options it has on the table. "Lots of options are on the table for Iran, and they (enemies) will receive crushing responses, one of which would be elimination of the Zionist regime," he warned.
Netanyahu: "Iran May be Hiding Nuclear Suitcases Bought Years ago from Ukraine
March 11….(DEBKAfile Exclusive Report) Prime Minister Binyamin Netanyahu warned Monday, March 10, that because the world chooses to slide over Iran's concealed nuclear program, the next Klos C ship may not carry missiles but "nuclear suitcases." They would not only reach an Israeli port, he said, but any port in the world. He spoke at Israel's naval base in Eilat at the presentation of the 60 missiles, 181 mortar shells and hundreds of bullets unloaded from the Klos C that was apprehended by Israeli commandos on the Red Sea opposite Sudan last week. Present too were defense minister Moshe Ya'alan, chief of staff Lt. Gen. Benny Gantz and top generals. Netanyahu did not elaborate on his reference to nuclear suitcases. debkafile's military and intelligence sources link it to a shipment of 6-10 "nuclear suitcases" that were part of an illegal Ukraine delivery to Iran in 2003 or 2004 of half a dozen nuclear-capable X-55 cruise missiles (NATO codenamed AS-15) whose 2000-km range covers every part of Israel.
These nuclear suitcases were believed at the time by Western and Middle East intelligence sources to be an original development of Russian nuclear agencies. In 2005, Ukraine president Viktor Yushchenko confirmed the sale of the X-55 missiles to Iran and China, by his predecessor. But never referred to the nuclear suitcases; nor were they confirmed by Russia or the US.S.
Nuclear suitcases were designed as a mobile weapon of mass destruction for the easy transfer of tactical nuclear weapons or dirty bombs from place to place. It was therefore perfect for terrorists.s.
As for the missiles, Israel intelligence estimated that they were sold to Iran without nuclear warheads but with attached diagrams and specifications, so providing the technology whichr jumped Iran forward in its quest for a nuclear weapon. The nuclear suitcases, too, were apparently sold without nuclear explosives. All this means that Iran secretly possessed nuclear-capable, long-range missiles almost a decade ago. The illicit Ukrainian transaction, hinted at by the prime minister, had additional murky and serpentine features. It is presumed that China which bought the same number of missiles as Iran footed the bill for both. To disguise the sale, Ukraine and Iran cooked the sales and shipping documents to show that the end-users of the weapons were Russian. The forging of documents is clearly a common Iranian trick of concealment up to the present day. Along with the inventory of weapons unloaded from the Klos C, Israel displayed Monday fake Iranian shipping manifests designed to conceal the ship's route from Bandar Abbas in Iran to Port Sudan en route for Sinai and the Gaza Strip.
The Prime minister implicitly rebuked EU Foreign Police Executive Catherine Ashton for failing to raise the Iranian weapons ship in her talks in Tehran Monday, when he said, "There is a shrill chorus of international condemnation when we build a balcony in Jerusalem, but scarcely a word when Iran tries to smuggle missiles into Gaza." IDF officers at the Eilat presentation pointed to four types of M-302 missiles shipped from Iran with ranges of 90, 120, 140 and 160 km, which could cover the distance from the Gaza Strip to Haifa. Invited to the presentation were also foreign diplomats and correspondents, although few of the latter attended
Arab League FM's Reject Jewish State Recognition Demand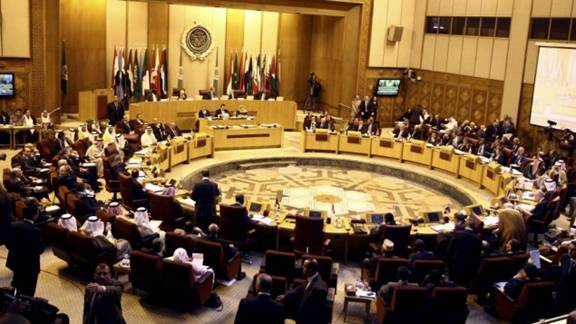 (Arab Foreign Ministers meet at the Arab League building in Cairo…"We reject Israel")
March 10….(Times of Israel) Arab foreign ministers on Sunday rejected Israel's demands that the Palestinians recognize it as a Jewish state, saying such a move would undermine the rights of Palestinian refugees. In a resolution released at the headquarters of the Arab League in Cairo, the foreign ministers called the issue of Palestinian refugees an integral part of a comprehensive and just peace. It blamed Israel for the floundering of peace negotiations. The Arab statement offers strong backing to Palestinian leader Mahmoud Abbas, who said publicly last week he will never recognize Israel as a Jewish state despite facing strong international pressure. Abbas did not identify who is pressuring him.
Prime Minister Benjamin Netanyahu said last week the Palestinians must recognize Israel as a Jewish state to show they are serious about peace. It was the latest sign that despite seven months of mediation efforts by US Secretary of State John Kerry, wide gaps remain between the two sides. Abbas is due to meet US President Barack Obama in Washington on March 17, as part of US efforts to press both sides. He has said that the Palestine Liberation Organization recognized the state of Israel in 1993 and that this is sufficient.
The current round of talks began in late July, but was plagued from the start by disagreement between Abbas and Netanyahu on the ground rules. The Palestinians want a state in the West Bank, Gaza Strip and east Jerusalem, lands Israel captured in 1967, and say talks about that state should use the 1967 border as a starting point. That position is backed by the US but rejected by Netanyahu.
The seven-page Arab resolution on the Palestinian issue said it rejects "the demand by Israel and some international parties to identify Israel as a Jewish state, which aims to annul the right of return and compensation for Palestinian refugees." It also called for efforts to convene an international conference to address the Palestinian issue, and a reevaluation of the role of international mediators known as the Quartet, in light of their "failure to make any achievement in realizing just and comprehensive peace."
Arab League chief Nabil Elaraby urged Arab countries during the opening session of the meeting to take a "firm stand" against the Israeli demand, calling it a deviation from an agreed-upon framework for peace talks. Elaraby described the demand as an Israeli attempt to foil the talks, calling for a reevaluation of the negotiation track. "This is a deviation from the international resolutions agreed upon as a basis for the Palestinian-Israeli negotiations, which requires a firm Arab stand to reevaluate the negotiation track as a whole, and to strongly express definite Arab rejection of this serious turn," he told the opening session of the meeting. The issue is to be followed up at an upcoming Arab leaders' summit in Kuwait in the final week of March. Following the meeting, Palestinian Foreign Minister Riyad Maliki told reporters that the resolution boosts Abbas' position ahead of his visit to Washington, where he is expected to come under more pressure. "The foreign ministers issued the resolution "to tell Abbas, go to Washington and speak in all our names," he said.
Arab League Upset About Israel's Quest for A Temple Mount Presence
March 10….(Israel Today) The Palestinian Authority's mission to the United Nations last week filed an official complaint over a growing Jewish presence on and claims to Jerusalem's Temple Mount. Riyad Mansour, the PA's observer at the UN, said that regular visits to the Temple Mount by Jewish worshippers and Israeli officials were "provocative" and could further enrage the entire Muslim Arab world. Mansour took special exception to the Israeli Knesset's recent discussions about fully extending Israeli sovereignty over the Temple Mount, which is Judaism's holiest site. The Palestinian official insisted that such action would violate all international laws and norms, and would destabilize the region. The Palestinian position has been backed up by the Arab League, which labeled the recent Knesset debates over the Temple Mount as an "Israeli attack" on what they see as an exclusively Muslim shrine.
WEEK OF MARCH 2 THROUGH MARCH 8
Putin Rebuffs Obama as Ukraine Crisis Escalates
March 7….(Reuters) President Vladimir Putin rebuffed a warning from US President Barack Obama over Moscow's military intervention in Crimea, saying on Friday that Russia could not ignore calls for help from Russian speakers in Ukraine. After an hour-long telephone call, Putin said in a statement that Moscow and Washington were still far apart on the situation in the former Soviet republic, where he said the new authorities had taken "absolutely illegitimate decisions on the eastern, southeastern and Crimea regions. "Russia cannot ignore calls for help and it acts accordingly, in full compliance with international law," Putin said.
Ukraine's border guards said Moscow had poured troops into the southern peninsula where Russian forces have seized control. Serhiy Astakhov, an aide to the border guards' commander, said there were now 30,000 Russian soldiers in Crimea, compared to the 11,000 permanently based with the Russian Black Sea fleet in the port of Sevastopol before the crisis. Putin denies that the forces with no national insignia that are surrounding Ukrainian troops in their bases are under Moscow's command, although their vehicles have Russian military plates. The West has ridiculed his assertion.
The most serious east-west confrontation since the end of the Cold War, resulting from the overthrow last month of President Viktor Yanukovich after violent protests in Kiev, escalated on Thursday when Crimea's parliament, dominated by ethnic Russians, voted to join Russia. The region's government set a referendum for March 16, in just nine days' time. European Union leaders and Obama denounced the referendum as illegitimate, saying it would violate Ukraine's constitution. The head of Russia's upper house of parliament said after meeting visiting Crimean lawmakers on Friday that Crimea had a right to self-determination, and ruled out any risk of war between "the two brotherly nations".
Obama announced the first sanctions against Russia on Thursday since the start of the crisis, ordering visa bans and asset freezes against so far unidentified people deemed responsible for threatening Ukraine's sovereignty. Russia warned that it would retaliate against any sanctions.
Japan endorsed the Western position that the actions of Russia, whose forces have seized control of the Crimean peninsula, constitute "a threat to international peace and security", after Obama spoke to Prime Minister Shinzo Abe.
China, often a Russian ally in blocking Western moves in the UN Security Council, was more cautious, saying that economic sanctions were not the best way to solve the crisis and avoiding comment on the legality of a Crimean referendum on secession. The EU, Russia's biggest economic partner and energy customer, adopted a three-stage plan to try to force a negotiated solution but stopped short of immediate sanctions.
Meanwhile, Russia said Ukraine must pay off almost $2 billion owed for natural gas by today and signaled supplies may otherwise be cut, ratcheting up the pressure on its cash-strapped neighbor as the two nations scrap over the future of the Black Sea Crimea region. Ukraine hasn't made its February fuel payment and owes Russia $1.89 billion, according to gas export monopoly OAO Gazprom (OGZD), which halted supplies to Ukraine five years ago amid a pricing dispute, curbing flows to Europe.
Abbas: 'No way' We'll Recognize Israel any Jewish State
(PA President adamantly refuses to acknowledge Israel's core request)
March 7….(YNET) The Palestinian president says there's "no way" he'll recognize Israel as a Jewish state and accept just a portion of Israeli-annexed east Jerusalem as the Palestinian capital. US Secretary of State John Kerry is to present ideas for the contours of a deal to Abbas and Israeli Prime Minister Benjamin Netanyahu. Gaps between the sides remain wide after seven months of Kerry's mediation, and a framework by an April 29 deadline appears elusive.
Moscow and US Face-Off in Ukraine
March 7….(DEBKA) Amid spiraling tensions between Moscow and the West over the fate of Crimea, Russia has mobilized its air and coastal defenses and more than 1,000 missile and tank units for a month-long drill in Kapustin Yar, around 450 km from the Ukraine border in the Astrakhan district. Debkafile's military sources report that this facility is home to one of Russia's biggest missile bases. The exercise covers the whole of March and early April, including the March 16 Crimean referendum on secession and its aftermath. It will conclude with live-firing drills and the deployment of air defense systems in early April, when Moscow calculates they may be needed to thwart any Ukrainian or Western attempt to disrupt Crimea's expected application to join the Russian Federation.
The referendum, put forward by two weeks to March 16, will ask roughly three million Crimean citizens for a straight "yes" or "no" on whether to remain part of Ukraine or secede to Russia. Since around 65 percent of the voters are ethnic Russians, the region's future is not hard to predict. The Russian parliament announced voting on a bill enabling annexation of Crimea to the Russian Federation at the request of a majority would take place on March 21.
President Barack Obama, in an hour-long phone call to President Vladimir Putin early Friday, March 7, declared the referendum was a violation of international law, echoing European Union leaders. After imposing sanctions on individuals abetting Crimea's breakaway from Ukraine, Obama urged the Russian leader to cancel the referendum and return his forces to the bases Russia holds on lease in Crimea. Putin replied that the regime in Kiev and its decisions were "absolutely illegitimate." He said he appreciated the importance of the Russian-American relationship to global security, and maintained that bilateral ties "should not be sacrificed for individual, albeit rather important, international issues."
Col. Oleg Kochetkov of the Kapustin Yar district command described the new Russian deployment as "the largest-ever exercise held by air defense units of the Western Military District." He added: "It is for the first time that all air defense units from the district, including coastal defenses of the Northern Fleet, have gathered in one place." Taking part in the exercise are S-300 long-range surface-to-air missiles, Buk-M1 medium-range missiles and Strela-10 short-range missiles.
Debkafile's military sources report that Kapustin Yar is home to one of Russia's biggest missile bases. From there, the army tested on March 3 its new anti-air missile system S-500, followed the next day by the test-launch of an RT-2PM Topol (NATO codenamed SS-25 Sickle) IBCM. This flurry of Russian military momentum is partly in response to the military steps announced by the Pentagon in the last 48 hours:
Friday, March 7, the USS Truxtun guided-missile destroyer crossed the Bosporus into the Black Sea to join the fleets of NATO allies Rumania and Bulgaria in a naval exercise, the day after the Pentagon unveiled plans to put another six US F-15 fighters on an air patrol mission over the Baltic states of Estonia, Latvia and Lithuania. Twelve US F-16 fighter bombers and 300 military personnel are to be transferred to Poland over the weekend and more US military exercises are planned in areas around the Russia starting Sunday.
Crimea Votes to Join Russia
March 6….(Reuters) Crimea's parliament voted to join Russia on Thursday and its Moscow-backed government set a referendum within 10 days on the decision in a dramatic escalation of the crisis over the Ukrainian Black Sea peninsula. The sudden acceleration of moves to bring Crimea, which has an ethnic Russian majority and has effectively been seized by Russian forces, formally under Moscow's rule came as European Union leaders gathered for an emergency summit to find ways to pressure Russia to back down.
US President Barack Obama took steps to punish those involved in threatening the sovereignty and territorial integrity of Ukraine, ordering the freezing of their US assets and a ban on travel into the United States. The US Navy announced a guided-missile destroyer, the USS Truxton, was heading to the Black Sea in what it said was a long-planned training exercise and not a show of force.
The Crimean parliament voted unanimously "to enter into the Russian Federation with the rights of a subject of the Russian Federation". The vice premier of Crimea, home to Russia's Black Sea military base in Sevastopol, said a referendum on the status would take place on March 16. He said all state property would be "nationalized," the Russian ruble could be adopted and Ukrainian troops would be treated as occupiers and be forced to surrender or leave.
The announcement, which diplomats said could not have been made without Russian President Vladimir Putin's approval, raised the stakes in the most serious east-west confrontation since the end of the Cold War. Russia stocks fell and the ruble weakened further after the news. Moody's ratings agency said the stand-off was negative for Russia's sovereign creditworthiness. Russia said it would make it easier to give passports to native Russian speakers who have lived in Russia or the former Soviet Union. Putin has cited the threat to Russian citizens to justify military action in Georgia in 2008 and now in Ukraine. Far from seeking a diplomatic way out of the crisis, Putin appears to have chosen to create facts on the ground before the West can agree on more than token action against him.
EU leaders had been set to warn but not sanction Russia over its military intervention after Moscow rebuffed Western diplomatic efforts to persuade it to pull forces in Crimea, with a population of about 2 million, back to their bases. It was not immediately clear what impact the Crimean moves would have.
Israel Intercepts Iranian Weapons Shipment to Gaza
March 6….(Times of Israel) IDF special forces on Wednesday intercepted a ship in the Red Sea carrying an Iranian arms shipment headed for the Gaza Strip, Israel's military said. The army said soldiers carried out a preliminary inspection of the ship and found several dozen advanced Syrian M-302 missiles, with a range of up to 200 kilometers (125 miles) and a payload of up to 170 kilograms (375 pounds). The missiles were hidden in shipping containers also carrying sacks of concrete. The incident took place 1,500 kilometers (930 miles) from Israel's coast, in the Red Sea, off the Sudanese-Eritrean border. Israel had been tailing the ship for several days before the operation was launched. The ship had a crew of 17, who were being interrogated by Israeli security forces. Defense Minister Moshe Ya'alon said crew members were apparently unaware of the ship's secret cargo.
The vessel had reportedly set sail from Iran 10 days ago and was set to reach Sudan on Thursday. From there, the weaponry would have been smuggled into Gaza. "As it conducts talks with [world] powers, as Iran smiles and utters pleasantries, the same Iran is sending lethal weapons to terror organizations, via an intricate network of clandestine global operations, in order to hurt innocent civilians," he added. Prime Minister Netanyahu said, "This is the real Iran and this country must not be allowed to have nuclear weapons.
Hamas said the interception was a "silly joke," Reuters reported. "This is a new Israeli lie aimed to justify and prolong the blockade of Gaza," Taher Al-Nono, an adviser of Hamas Prime Minister Ismail Haniyeh, told the news agency. Ya'alon said the intercepted shipment proved Iran was exporting terror "with the express purpose of destabilizing the Middle East." "This Iranian attempt to transfer weapons to the Gaza Strip is additional evidence that Gaza is a terrorist entity under Iranian auspices preparing to strike deep into Israel," he added.
US May Have Assisted Israel in Ship Apprehension
March 6….(DEBKA) In an unusually frank disclosure, White House spokesman Jay Carney said Wednesday night, March 5, that US intelligence services and military had worked with Israel to track the Iranian Panama-flagged ship KLOS C, which was apprehended by Israeli naval commandos on the Red Sea earlier that day carrying missiles for Gaza via Sudan. The ship was boarded by the Israeli elite Shayetet 13 (Flotilla 13) and found to be carrying dozens of 302mm rockets made in Syria with a range of 150 km made in Syria. It is now on its way to Eilat. The White House spokesman said that Washington worked with Israeli through intelligence and military channels, and at the national security adviser level, as soon as it knew the shipment was on the move. He said that President Barack Obama also directed the US military to work out contingencies in case it became necessary to intercept the vessel. "Our Israeli counterparts ultimately chose to take the lead in interdicting the shipment of illicit arms," Jay Carney said.
Debkafile reports that this was the first time in four years that the US and Israel have collaborated in an operation against Iran, ever since the Stuxnet virus attack in 2010 on Iran's nuclear facilities. Until now, the Obama administration steadfastly refused to act against Iran for fear of jeopardizing the international diplomatic track for curbing its nuclear program.
Israel's elite Shayetet 13 boarded an Iranian Panama-registered cargo vessel KLOS C. Concealed in its hold under sacks of cement were dozens of 302mm rockets with a range of 150 kms, manufactured in Syria and destined by Iran for the Gaza Strip after being offloaded in Sudan. The Israeli commandos seized the vessel in open sea on the maritime border of Sudan and Eritrea, 1500 south of Israel, and have set it on course for Eilat. Sudan has been revealed by Debkafile's military sources as having been transformed in the last two years into a major Iranian weapons manufacturing and logistic depot, which supplies Syria, HIzballah and Hamas. Port Sudan is also the hub for the smuggling of Iranian arms to various Middle East locations.
The IDF said the Iranian missile cargo was destined for the Palestinian Hamas which rules the Gaza Strip. If this is so, it would mean that Iran had gone back to arming Hamas with missiles and rockets after a two-year pause during which the Palestinian extremists were cold-shouldered by Tehran for their animosity to Syria's Bashar Assad. By the same token, it is hard to believe the Assad would consent to relay Syrian-made missiles to this antagonist. Some Middle East military sources believe the shipment as not destined for Palestinian terrorists for use against Israel, but rather for Muslim Brotherhood activists fighting the Egyptian army from their forward base in the Gaza Strip. They don't rule out the possibility of Al Qaeda affiliates fighting in Sinai as being the address. Western intelligence has recorded instances of Iran entering into ad hoc operational collaboration with al Qaeda elements when it suits Tehran's book.
The apprehension operation was carried out under an air umbrella by hundreds of naval commandos without casualties. It was directly commanded by the IDF Chief of Staff Lt. Gen. Benny Gantz from high command headquarters and the Navy Chief Maj. Gen Ram Rottberg from a floating command post at sea. The rockets were flown from Syria to Iran, then loaded on a ship where they were concealed under sacks of cement inside containers. From the Iranian port of Bandar Abbas, the ship headed into the Red Sea bound for Sudan where it was intercepted by Israeli commandos. The Iranian arms ship's progress was tracked all the way.
In congratulating the IDF forces which seized the shipment, Prime Minister Binyamin Netanyahu commented that this episode showed Iran's true colors, in contrast to its diplomatic posture in nuclear negotiations with the West. Defense Minister Moshe Ya'alon said that Iran is again exposed as the biggest arms exporter in the world to terrorist organizations.
Syria's Assad is Winning on Two Fronts
March 6….(The Fiscal Times) As the eyes of the world and the media turn to Ukraine, Syrian President Bashar al Assad has quietly been making momentous gains in his three-year civil war with rebels that all but assure he will leave office on his own terms. Assad's army has taken Yabroud, the last major town held by Sunni Muslim rebels, located near the Lebanese border. On Tuesday, with support from Hezbollah fighters and local paramilitary groups, Assad's forces bombarded the town until the rebels retreated. Taking Yabroud is an important victory for Assad, who has been fighting for months to control the surrounding region.. He has now effectively cut off rebel supply lines from Lebanon.
The victory also comes as Syria continues to delay plans to destroy its chemical weapons. The Organization for the Prohibition of Chemical Weapons says Syria has now submitted one-third of its chemical weapons for destruction, far behind the schedule set in negotiations with the United States and its allies last fall. Under that agreement, Syria was supposed to have handed over all of its deadliest agents by Jan. 1, with the rest of the weapons gone by Feb. 6. Syria blamed the delay on the ongoing civil war, an argument that western officials have dismissed. "Every indication we have is that there is no legitimate reason why that (removal) is not happening now," Secretary of State John Kerry said when the delays were announced. "We want the Syrian regime to live up to its obligations and it is critical that very rapidly all those chemical weapons are moved from their 12 or so sites to the one site in the port (of Latakia) to be prepared for shipment out of Syria." Assad's victory, his continued slaughter of those who oppose him, his repeated human rights violations, his failure to live up to the terms of the deal, and his undermining of the peace talks amount to a stunning defeat of American diplomacy. Nearly 50,000 people have died since the United States confirmed the use of chemical weapons last summer, bringing the total number of casualties to more than 140,000.
Taken together, this also represents a clear victory for Bashar al Assad. He has accomplished every goal he had when the United States and its partners ignored the so-called "red line" and allowed the war to continue without intervention. He has defeated the rebels, splitting them into warring factions. He still has the majority of his chemical weapons. He is still in power, and with negotiations stalled, it's unlikely he'll be removed. In short, he's won. "You have one Al Qaeda faction fighting another Al Qaeda faction. That's how fractured this is. One sharp sliver fighting another sharp sliver. I bring no good news to you tonight about Syria. The Syrian opposition itself has done a miserable job distinguishing itself from the Al Qaeda elements. There are some really bad people in Syria right now,
Netantanyahu Lectures Obama on Peace Stalemate
March 5….(Jerusalem Post) Prime Minister Binyamin Netanyahu met with US President Barack Obama in the Oval Office on Monday, pushing back against pressure from the White House to swiftly cut a deal with the Palestinians as the president warned time was running out for peace. "Israel has been doing its part, and I regret to say that the Palestinians haven't," Netanyahu said to Obama, in front of the press. "The people of Israel know that it's the case." "What we want is peace, not a piece of paper," he said.
Netanyahu called for a "real peace, based on mutual recognition," and chided his Palestinian counterparts for promoting "incessant violence" against the Jewish State. "Israel, the Jewish state, is the realization of the Jewish people's right to self-determination," Netanyahu said. "I think it's about time they recognized a nation state for the Jewish people. We've only been here for about 4,000 years." Netanyahu is the first Israeli prime minister to formally call on the Palestinians to recognize Israel as the Jewish homeland, what he has called the "minimal requirement" for peace. "The only peace that will endure is a peace that we can defend," he added.
US Secretary of State John Kerry and Vice President Joe Biden stood in the room as the two leaders spoke. Netanyahu thanked Kerry for his efforts over the past several months, which he called "tireless." "When I say tireless," he quipped, "I mean tireless." Negotiations have been led by Kerry, who planned a major address to the American Israel Public Affairs Committee for Tuesday night.
US officials said Kerry delayed a strategically pivotal trip to Kiev, Ukraine's capital, to make sure he was in Washington for the speech. AIPAC officials expect him to make a forceful case for a two-state accord, and said he would "flesh out" comments he made recently on the fallout Israel would face should peace talks fail with the Palestinians. A nine-month deadline on talks set by the US will expire next month, unless all parties agree to extend negotiations. The prime minister held meetings on Capitol Hill after sitting with Obama, Biden and members of the president's national security team at the White House. Netanyahu, too, is scheduled to address AIPAC on Wednesday morning.
Obama praised Netanyahu for participating in "very lengthy, painstaking negotiations" over the course of eight months, and recognized that Israel would not accept a peace accord that failed to recognize its strategic security needs. "It's my belief that ultimately it is still possible to create two states, a Jewish state of Israel and a state of Palestine in which people are living side by side in peace and security. But it's difficult and it requires compromise on all sides. And I just want to publicly again commend the prime minister for the seriousness with which he's taken these discussions," said Obama. "The time frame that we have set up for completing these negotiations is coming near and some tough decisions are going to have to be made. But I know that, regardless of the outcome, the prime minister will make those decisions based on his absolute commitment to Israel's security and his recognition that ultimately Israel's security will be enhanced by peace with his neighbors."
The meeting came as the White House found itself consumed by a rare conflict outside the Middle East. The leaders both expressed concern with developments in Ukraine, though Netanyahu was hesitant to remark publicly on the crisis. Russian military officials pressured their Ukrainian counterparts in the occupied region of Crimea on Tuesday to stand down their forces, threatening a military storm and full Russian annexation of the territory.
NATO Issues Warning to Russia
March 4….(In The Days) Ukraine has mobilized for war amid warnings from NATO that Russia's annexation of Crimea "threatens peace and security in Europe". With tension nearing boiling point, Anders Fogh Rasmussen, the NATO Secretary General, vowed the organization would stand by Ukraine, a nation of 46 million which occupies a vital strategic position between Europe and Russia. Speaking before he chaired an emergency meeting of ambassadors from the 28 Nato member states, he said: "Russia must stop its military activities and its threats."
The United States dramatically intensified pressure on Moscow, threatening to remove Russia from the G8 club of developed economies. John Kerry, the US Secretary of State, condemned Russia for what he called an "incredible act of aggression" and threatened "very serious repercussions", including Russia's possible expulsion from the G8. "You don't just, in the 21st century, behave in 19th century fashion by invading another country on a completely trumped-up pretext," he said.
Mr. Kerry announced a surprise trip to Kiev this week in a show of support for the embattled leadership, as Washington and its allies strongly criticized Moscow for violating Ukraine's sovereignty. In what is Moscow's biggest confrontation with the West since the Cold War, Russian troops on Sunday tightened their grip on Crimea, the Ukrainian territory which has historic links to Russia and is home to Russia's Black Sea fleet. "Russia chose this brazen act of aggression. If Russia wants to be a G8 country, it needs to behave like a G8 country," he continued. "Putin may find himself with asset freezes on Russian business, American business may pull back, there may be a further tumble of the ruble," added Kerry. He said that Moscow still had a "right set of choices" to defuse the crisis. Otherwise, G8 countries and other nations were prepared to "to go to the hilt to isolate Russia".
Russia And China 'In Agreement' Over Ukraine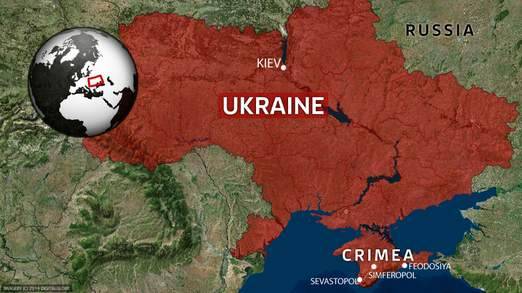 March 4….(Sky News) Russian troops and their local allies have already largely taken control of Crimea, a restive province of Ukraine that belonged to Russia until 1954 and remains predominantly pro-Russian. Russia is in "operational control" of Crimea as its soldiers surround Ukrainian troops and seized a ferry port. Speaking at the UN Human Rights Council in Geneva later, Mr. Lavrov said Russian troops were necessary in Ukraine "until the normalization of the political situation" and dismissed threats of sanctions and boycotts. He added: "We call for a responsible approach, to put aside geopolitical calculations, and above all to put the interests of the Ukrainian people first."
Chinese foreign ministry spokesman Qin Gang said: "China has always upheld the principles of diplomacy and the fundamental norms of international relations. "At the same time we also take into consideration the history and the current complexities of the Ukrainian issue."
Ukrainian prime minister Arseny Yatseniuk has insisted his country "will never give up Crimea to anyone" and urged Russian forces to withdraw. Mr Yatseniuk said: "I was and am a supporter of a diplomatic solution to the crisis, as a conflict would destroy the foundations for stability in the whole region."
In an interview with Sky News, Foreign Secretary William Hague said the crisis is likely to take some time to resolve. He said: "I think we probably are looking at a long period of very active diplomacy and looking for solutions to this since there is no sign of a change in the Russian position on this. As the tense stand-off continues, the other seven nations of the G8 urged Moscow to hold talks with Kiev. "We, the leaders of Canada, France, Germany, Italy, Japan, the United Kingdom and the United States and the President of the European Council and President of the European Commission, join together today to condemn the Russian Federation's clear violation of the sovereignty and territorial integrity of Ukraine," they said in a statement. "We have decided for the time being to suspend our participation in activities associated with the preparation of the scheduled G8 Summit in Sochi in June."
British Foreign Secretary William Hague, who is in Kiev for talks on the crisis, said Russia has taken operational control of Crimea. He described Russia's intervention in Ukraine as the biggest crisis in Europe in the 21st century. At a news conference with Mr. Yatseniuk, Mr Hague said: "If this situation cannot resolve itself, if Russia cannot be persuaded to respect the sovereignty and territorial integrity of Ukraine, there will have to be other consequences and other costs." Hague added: "The UK is not discussion military action, our concentration is on diplomatic and economic pressure."
Prime Minister David Cameron will later chair a meeting of the National Security Council on the "British and international response to the grave situation in Ukraine", where he will press for a European summit on the crisis. European foreign ministers are holding an emergency meeting on Ukraine in Brussels to table a joint response to the military incursion.
Mr. Yatseniuk heads a pro-Western government that took power in the former Soviet republic when its Moscow-backed president, Viktor Yanukovych, was ousted last week. In Moscow, Russian lawmakers also asked Mr. Putin to recall the country's ambassador to the US. Russia's fleet has ordered Ukraine's forces in the disputed Crimea Peninsula to surrender by 5 a.m. local time or face "a real assault," according to a statement from a Navy commander. "If they do not surrender before 5am tomorrow, a real assault will be started against units and divisions of the armed forces across Crimea," Russia's Black Sea Fleet Commander Alexander Vitko told the Interfax news agency Monday
Putin Spurns Obama's Call to De-escalate In Ukraine, With fallout on Mid East
March 3….(DEBKA) It took US President Barack Obama 90 minutes of intense dialogue with the Russian president to grasp that Vladimir Putin is unshakably fixed on the course he has set for Ukraine and has no intention of withdrawing the Russian troops he has positioned in the Crimean peninsula. In fact, behind the diplomatic verbiage, Putin was clearly on the offensive. Putin let it be understood that unless the US and Europe rid Kiev of the "fascist gangs," which had taken over, Moscow would move forces into additional parts of Ukraine to uphold its interests and "protect the Russian citizens and compatriots living there" for as long as the interim regime remained in Kiev. Not a shot has so far been fired in the Russian military takeover of Crimea. This could change very rapidly and deteriorate into a head-on clash between Russian and anti-Russian elements on Ukraine soil. Putin was not impressed by Obama's accusation of being in "clear violation of Ukrainian sovereignty and territorial integrity." Neither was he deterred by the US president's threat of "international political and diplomatic isolation," or even a Western boycott of the G8 summer summit in Sochi.
After all, he stood alone at the opening and closing ceremonies of the Sochi Olympic Winter Games, unattended by a single Western leader. After that experience, he is not afraid to stand alone on Ukraine as well, regardless of US and EU efforts to force him to abandon what he views as an imminent strategic threat on Russia's doorstep. So the West would be more productively served by leaning hard on the group of assorted protesters who seized power in Kiev and get them to step aside, or else seek an understanding with Moscow. Military brinkmanship will get them nowhere.
The basis of an understanding already exists. It was signed and sealed on Feb. 21, the day before the pro-Western coup in Kiev, in a deal with Viktor Yanukovich, brokered by the German, French and Polish foreign ministers, for a unity government, an early election and a new constitution curbing the president's authority. That deal was endorsed by Moscow as well as Washington. However, as time goes and the escalation continues, that deal will fade, along with the chances of a non-violent resolution of the Ukraine conflict.
Therefore, the US-EU tactic of turning the heat on Moscow is not just an exercise in futility; it is proving to be a major strategic blunder stemming from weakness, which now threatens to promote real violence and bloodshed. The Interim government's security council chief Sunday, March 2 announced a general mobilization of Ukraine's 1 million reservists after placing the army on a combat footing. This step was virtually useless in practical terms while providing Putin with further impetus to continue his military expansion. He knows that the Kiev administration is broke, so how can it feed, equip, arm and provide transport for hundreds of thousands of troops? And does anyone know how many are loyal to the new regime? Belatedly, the interim government appealed to the West for help
This grossly uneven confrontation takes place under the critical gaze 2,000 km away in the eastern Mediterranean and 3,500 km away in the Persian Gulf of the leaders of Israel, Saudi Arabia, Egypt, Iran, Syria, and Hizballah in Lebanon. They may be said to share four significant conclusions:
1. President Obama is seen, once again backing off a commitment to US allies for the second time in eight months. They remember his U-turn last August on US military intervention for the removal of Syrian President Bashar Assad for using chemical weapons. They also see Washington shying off from Russia's use of military force and therefore not a reliable partner for safeguarding their national security.
2. The Middle East governments which opted to range with Vladimir Putin, Damascus, Tehran, Hizballah and, up to an initial point, Egypt, are ending up on the strong side of the regional equation. The pro-American camp keeps falling back.
3. American weakness and lack of leadership on the global front has strengthened the Iranian-Syrian bloc and its ties with Hizballah.
4. Putin standing foursquare behind Iran is an insurmountable obstacle to a negotiated and acceptable comprehensive agreement with Iran, just as the international bid for a political resolution of the Syrian conflict foundered last month.
With the Ukraine crisis looming ever larger, Israel's Prime Minister Binyamin Netanyahu's scheduled meeting Monday with President Obama at the White House is unlikely to be more than an exchange of polite platitudes.
Obama's To Netanyahu: Israel Faces Bleak Future If Talks Fail
March 3….(YNET) The American ability to protect Israel against global isolation is waning, US President Barack Obama said in an interview published Sunday, in particular if the Palestinians decide that there is no chance for them to achieve statehood. "If Palestinians come to believe that the possibility of a contiguous sovereign Palestinian state is no longer within reach, then our ability to manage the international fallout is going to be limited," Obama told Jeffrey Goldberg on Thursday in an hour-long Oval Office meeting.
Obama said that he would warn Prime Minister Benjamin Netanyahu in their meeting Monday that time is running out for Israel as a democracy with a Jewish majority, and would make the case that Netanyahu alone "has the strength and political credibility to lead his people away from the precipice."
Netanyahu left Israel on Sunday for a five-day trip to the US. On Monday, he will meet with Obama at the White House, and on Tuesday he will deliver a keynote speech at the annual policy conference of pro-Israel lobby AIPAC, also in Washington DC. The president touched on the issue of Israel's settlement construction, which has long been labeled by the Palestinians as key to the success or failure of peace talks; for years the US has attempted to slow down or even freeze the pace of Israeli construction in the West Bank and East Jerusalem. The Netanyahu government insists that the construction has no real impact on the peace talks, but Obama made clear that he disagreed. We have seen more aggressive settlement construction over the last couple years than we've seen in a very long time," Obama said.
The US is the driving force behind the current negotiations between Israel and the Palestinians, with Secretary of State John Kerry taking the lead. Obama took a caustic tone when he referred to the Israeli leadership's perceived antipathy over the talks. Obama's comments to Goldberg were almost an echo of remarks by Kerry in recent weeks, which elicited a furious reaction from some of Netanyahu's most senior ministers.
If Netanyahu "does not believe that a peace deal with the Palestinians is the right thing to do for Israel", Obama said, "then he needs to articulate an alternative approach (and) It's hard to come up with one that's plausible."
Obama continuously pointed to issue of time "there comes a point where you can't manage this anymore, and then you start having to make very difficult choices," Obama said. "Do you resign yourself to what amounts to a permanent occupation of the West Bank?" he posited. "Is that the character of Israel as a state for a long period of time? Do you perpetuate, over the course of a decade or two decades, more and more restrictive policies in terms of Palestinian movement? Do you place restrictions on Arab-Israelis in ways that run counter to Israel's traditions?" The president even quoted Jewish sage Rabbi Hillel, saying that he intends to tell Netanyahu that: "If not now, when? And if not you, Mr. Prime Minister, then who?"
'Gay' US Soldiers Sing, Dance in Drag
(Sellout crowd attends LGBT fundraiser on military base)
March 3….(WND) Almost seven decades after being the scene of one of the most ferocious and protracted battles of World War II, a site of legendary valor and sacrifice on the part of American soldiers, some US service personnel stationed in Okinawa today are treating the world to another kind of display: "Gay" and lesbian service personnel performing in drag, to raise funds for their activities, to a sellout audience. As reported Sunday, openly homosexual service members at Okinawa's Kadena Air Base took to the stage and performed as "drag queens" and "drag kings" Saturday "on a military installation in support of lesbian, gay, bisexual and transgender troops."
According to the story by Stars and Stripes, which has published news for the military community continuously since WWII, "six service members, gay, lesbian and straight, donned heavy makeup to dance and lip sync songs such as 'I Wanna Dance with Somebody' for a raucous capacity crowd at the Rocker NCO Club at Kadena Air Base. The event was a fundraiser for the recently formed Okinawa chapter of OutServe-SLDN, which is the largest nonprofit advocate for the military's LGBT community." Participants and audience alike were reportedly surprised at the huge response to the event. Navy Lt. Marissa Greene, co-chapter leader of OutServe Okinawa, said, "We didn't think there was much of a desire for an event like this on the island but it has actually blown up," according to the report. Though anticipating selling only about 75 tickets, "We ended up selling 400 tickets in 10 days," she added. Commenting on the radical culture shift within the military, Stars and Stripes observed that "just a few years ago, gay and lesbian drag performances on a military base would have been unthinkable and potentially a cause for dismissal from the service." It added, "The repeals of Don't Ask, Don't Tell, as well as the Defense of Marriage Act, the law barring the federal government from recognizing same-sex marriages, have allowed gays and lesbians in the military to be open with their sexuality for the first time." In September 2011, on the implementation of the repeal of the Clinton-era Don't Ask, Don't Tell policy, President Obama said: "I was proud to sign the Repeal Act into law last December because I knew that it would enhance our national security, increase our military readiness, and bring us closer to the principles of equality and fairness that define us as Americans."
However, latest reports are that the rate of sexual assaults, and especially male-on-male sexual assaults, in the US military has skyrocketed. "So we've got a male-on-male problem here," says Elaine Donnelly, president of the Center for Military Readiness. However, the Department of Defense doesn't want to comment on this new problem in the ranks.
FOJ Note: After destroying our Christian based heritage, our moral-based society, and changing our republican form of government into a Socialist State, the leftist liberals and anti-God social engineers are effeminizing and defanging our military. Our once proud nation is primed for a fall. Our National Security is being compromised for the sake of the rights of debauchery!
---