WEEK OF APRIL 27 THROUGH MAY 4
Bill Clinton: Israel offered Temple Mount to Palestinians in 2000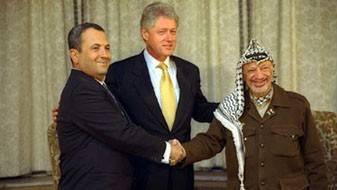 (Deal failed because Arafat also wanted control of area leading to tunnels, where 'you could do mayhem to the ruins of the temples')
May 3….(Times of Israel) Former US president Bill Clinton said Wednesday that the Palestinians were offered the Temple Mount at the Camp David Summit in 2000, but the agreement fell through over a sliver of land near the Western Wall. In an address at Georgetown University in Washington DC, where he has agreed to deliver a series of lectures, Clinton spoke on a variety of domestic issues, while also touching on the foreign policy challenges his administration had encountered, chiefly, the Israeli-Palestinian conflict and the 2000 summit he brokered between then-prime minister Ehud Barak and the late Palestinian Authority leader Yasser Arafat.
Clinton's remarks revealed that a breakthrough in talks between Israel and the Palestinians, particularly on the controversial issue of the division of Jerusalem, was closer at hand in 2000, at the summit he called a "roaring success," than previously thought. Israel, he said, agreed to hand the Palestinians control of the Temple Mount, the holiest site in Judaism and the compound where al-Aqsa Mosque is situated, on the condition that the area around the Western Wall remain under Israel's control. Arafat agreed to leave Israel with control over the Western Wall, as well as over the Jewish neighborhoods in East Jerusalem, but insisted on keeping 16 meters, or 50 feet, of land leading up to an entrance to the Western Wall tunnels under Palestinian control.
Israel refused, on the grounds that the tunnel granted access to remains of the Jewish temples. In retrospect, Clinton said, Israel was probably justified in its refusal, as "if you got in, you could do mayhem to the ruins of the temples." The parties ultimately failed to reach agreement on Jerusalem and the Temple Mount, along with a slew of other critical issues.
Reflecting on his Middle East negotiation efforts as president immediately preceding the Second Intifada, Clinton asked, "Did we fail? You tell me, In the four years after I left office, three times as many Palestinians and Israelis were killed in violent acts than in the eight years I was there. We always need to get caught trying, fewer people will die." "Somehow you have to find a way to establish trust among adversaries," Clinton said of the 2000 summit. "Agreement is not nearly as important as trust."
Clinton also spoke of his involvement in the signing of the 1995 Oslo II Accords, which divided the West Bank into three administrative divisions. He said the experience could be seen as an example for negotiators and mediators. In a conflict situation, he said, the two sides must learn to work together and trust each other rather than rely on outside mediation. He said that mere weeks after that agreement was signed, former prime minister Yitzhak Rabin, whose word Arafat said he valued more than a peace of paper, was assassinated by an "angry settler" who, the former president added, is still revered in the West Bank today. He was referring to Rabin's assassin, Yigal Amir, who was not a resident of a West Bank settlement. It's been "thirteen years and counting," Clinton said, since Arafat urged him to facilitate a peace agreement with Israel, thirteen years in which political changes occurred in both Israel and the Palestinian Authority, and the minutiae of a potential peace deal, including security arrangements in the West Bank and the division of the Old City of Jerusalem, were discussed in "excruciating detail" and for the most part "pretty much agreed on." However, Clinton said, no agreement was reached under his aegis because although Israel, under Barak, agreed to give up 96 percent of the West Bank, the Palestinians, under Arafat, "never said yes."
Obama Flat Out LIED to the American People About Benghazi
May 1….(Newsmax) The existence of emails confirming the White House fabricated linkage of the 2012 Benghazi attack to an anti-Muslim video in an attempt to aid President Barack Obama's re-election bid is enough to warrant impeachment proceedings, says retired US Army Gen. Paul Vallely.
On Tuesday, emails obtained by conservative watchdog group Judicial Watch revealed that Ben Rhodes, assistant to the president and deputy national security adviser for strategic communication and speechwriting, outlined "goals" for then-UN Ambassador Susan Rice to meet in explaining the attack and protests occurring across the Middle East.
One goal was "to underscore that these protests are rooted in an Internet video and not a broader failure of policy," and another was "to reinforce the president and administration's strength and steadiness in dealing with difficult challenges." Vallely, chairman of Stand Up America and a member of the Citizens Commission on Benghazi, told JD Hayworth on "America's Forum" on Newsmax TV that everyone involved in the cover-up, including the president, must go. "We knew in some way that this would go back to the White House," Vallely said. "We needed the proof of it, now we have it. What we have now basically is an invitation to seriously defraud the voting public, which in my opinion is just another indication that we need to impeach President Obama and we need to demand the resignation of Vice President Joe Biden and others who were involved in this," he said Wednesday.
Vallely pointed to the fact that Rhodes' brother David is the president of CBS News, and accused the major networks of being just as culpable in the cover-up. "From that standpoint, there is collusion with ABC, CBS, NBC," Vallely said. "They all need to be taken to task for collusion with the cover-up. How can you lie to the American people, put politics before the truth? That to me is an offense to be reckoned with by the American people, by the House of Representatives and our Senate."
Vallely was again critical of Speaker of the House John Boehner for his unwillingness to commission a special committee to investigate the attack on the US consulate in Libya, which left four Americans dead, including Ambassador Chris Stevens. "It's up to Boehner to move, to do the select committee," Vallely said. "He has over 189 signatories within the House of Representatives to do this. He refuses to do it. I spoke with Pete Hoekstra yesterday. He agrees Boehner should either resign and we should put somebody with responsibility in the House of Representatives, to do the job. Boehner is no longer doing his job."
Hoekstra, former chairman of the House Intelligence Committee, told Hayworth on a later "America's Forum" segment that Boehner has no more excuses to delay a House investigation. "It was clear that this administration wanted to do everything that they could to make sure that this didn't evolve from a video to actually being a discussion about the president's foreign policy because the president's foreign policy in Libya, in Egypt and with Iran clearly was in tatters," Hoekstra said. "He didn't want to have that debate. That's why they brought up the whole topic of the video. "The House is the only way we can do an effective investigation. They've got to get off their heels, they've got to go aggressively after this. At one time, Speaker Boehner said, if there's any indication that that this leads to the White House, you know we're going to go after this. The big lie leads directly to the White House.
ObamaCare Website ReFix to Cost Taxpayers Another $121 Million
May 1….(Newsmax) House Republican leaders have denounced the escalating expenses of Obamacare websites as the new contractor hired to fix the federal exchange revealed that it will cost the government $121 million for repairs and renovation, $27 million more than it cost to build it. Accenture Federal Service was brought in on an emergency basis to remedy HealthCare.gov after the system's original builder, CGI Federal, was fired in February following a series of glitches that delayed or prevented millions of Americans from getting insurance coverage, according to The Washington Times. The business management and technology company revealed the contract on its website Tuesday, and said it includes the repair work and the creation of new features such as "enhancing the back-end capabilities to improve issuer payments." The original cost to the government of building HealthCare.gov was $93.7 million while the $121 million fix fee for one year's work is $30 million more than the government estimated a few months ago, according to the Times. "There doesn't seem to be a light at the end of the tunnel for Obamacare website expenses," House Oversight Committee Chairman Darrell Issa, a California Republican, told the Times. "Developers are still being brought in to finish building HealthCare.gov, some states are abandoning their own failed sites, and federal taxpayers are still being handed the bills for it all." Rep. Michael Burgess, who wants to repeal and replace Obamacare, also slammed the Accenture contract, declaring, "This thing just stinks from top to bottom."
When Will US Start Acting Like A Superpower Again?
May 1….(YNET) Despite the headlines Kerry continues to issue, in the coming days the American administration will likely begin to analyze the failure of his efforts to reach a permanent agreement at the end of the nine-month negotiations, which officially conclude Wednesday. And not just in America: The reasons for the complete failure of the diplomatic initiative he led are already being pointed out in Israel too. So what happened in the past nine months? Prime Minister Benjamin Netanyahu and Palestinian President Mahmoud Abbas didn't even meet once. According to their associates, the reason is clear: The fear that a meeting would lead to a halt in the talks.
Aides to Justice Minister Tzipi Livni, who is in charge of the negotiations, mention two interesting phenomena which took place. The first: Netanyahu made serious progress towards the outline the Americans had discussed. The second: Housing Minister Uri Ariel's frequent announcements about planned construction in the territories forced the Palestinian side to withdraw from an agreement for fear that it would be accused of treason. Throughout the negotiations, Netanyahu and Abbas sought to satisfy the American mediator. This fact is enough, senior state official believe, to convince Kerry and his friends in the State Department not to quit and throw in the towel on the continuation of the talks.
So what are we in for? Well, many people are suggesting that the US invite the Israelis and the Palestinians to Washington as soon as possible and present them with the document setting the basic principles of the permanent agreement: Borders will be based on the 1967 lines with land swaps, east Jerusalem will be the capital of the Palestinian state, and Israel will maintain its presence in the Jordan Valley. The Israeli side expects the Obama administration to take this initiative and demand that the sides commit to it, and stop their evasion tricks in order to avoid making tough decisions.
The most important decision in light of the failure of the negotiations has to do with the issue of meeting the timetable: In the future, the sides will have to avoid setting target dates. Because at the end of the day, an agreement will only be reached with deep American involvement, under one condition: That the US will start acting like a world power again and prove to officials in Jerusalem and Ramallah that it is irreplaceable.
Saudis Parade Nuclear Missiles for the First Time
, Going Nuclear
May 1….(DEBKA) Saudi Arabia became the first Middle East nation to publicly exhibit its nuclear-capable missiles. The long-range, liquid propellant DF-3 ballistic missile (NATO designated CSS-2), purchased from China 27 years ago, was displayed for the first time at a Saudi military parade Tuesday, April 29, in the eastern military town of Hafar Al-Batin, at the junction of the Saudi-Kuwaiti-Iraqi borders. The DF-3 has a range of 2,650 km and carries a payload of 2,150 kg. It is equipped with a single nuclear warhead with a 1-3 MT yield. Watched by a wide array of Saudi defense and military dignitaries, headed by Crown Prince and Deputy Prime Minister Salman bin Abdulaziz, the parade marked the end of the large-scale "Abdullah's Sword" military war game. Conspicuous on the saluting stand was the Pakistani Chief of Staff Gen. Raheel Sharif alongside eminent visitors, including King Hamad of Bahrain and Sheikh Muhammad bin Zayed, the crown prince of Abu Dhabi.
Debkafile's military and intelligence sources report the event was deliberately loaded with highly-significant messages, the foremost of which was that the Middle East is now in the throes of a nuclear arms race in the wake of the Iranian program.
1. The oil kingdom was saying loud and clear that it has obtained nuclear missiles and is ready to use them in the event of an armed conflict with Iran.
2. The message for Washington was that Riyadh adheres to its adamant objections to the comprehensive accord for resolving the Iranian nuclear question which is racing toward its finale with the six world powers led by the US. The Saudis share Israel's conviction that this pact, far from dismantling Iran's nuclear capacity, will seal the Islamic Republic's elevation to the status of pre-nuclear power. The result will be a Middle East war in which the Saudis will take part.
3. The participation of the nuclear DF-3 missiles in the "Abdullah's Sword" exercise signified Riyadh's estimate that the coming conflict will see the use of nuclear weapons.
4. By showing off their ageing Chinese missiles, the Saudis intimated that they had acquired the more advanced generation of this weapon, which they are keeping under wraps. Debkafile's intelligence sources report that in recent visits to Beijing, high-ranking Saudi officials negotiated the purchase of Dong-Feng 21 (DF-21), whose range is shorter, 1,700 km, but more precise and effective in view of its terminal radar guidance system. The West has no information about when the new Chinese missiles were delivered to Saudi Arabia.
5. The presence of the top Pakistani soldier at the parade of military and nuclear hardware was meant as corroboration of Islamabad's active role as the source of the Saudi nuclear arsenal.
6. The Saudis no longer rely on the American nuclear umbrella. They are developing their own nuclear strike force with the help of China and Pakistan.
Mr. Obama: Remove Kerry From Office
FOJ Note: ('Our secretary of state has effectively cursed Israel', just as he cursed America in the 60's. He is a traitor to his own country, so how could any sensible President ever ascertain that he would have been food in foreign policy)
May 1….(WND) In a speech on the floor of the US House of Representatives, Rep. Louie Gohmert, R-Texas, blasted Secretary of State John Kerry for saying that Jewish people of Israel are risking guilt for the crime of apartheid by not agreeing to Kerry's two-state solution.
In the heated speech, Gohmert said Kerry should "stand down or be removed from office," because he "stands for those who support Israel's destruction." "It is Israel that has fought against such racism and hatred. He said that about Israeli Jews who the UN unanimously provided a nation after the worst genocide in world history. Secretary Kerry is ignorant of both history and the offense of apartheid. Our secretary of state has effectively cursed Israel," said Gohmert, the vice chairman of the Judiciary Subcommittee on Crime, Terrorism and Homeland Security.
Gohmert cited history to illustrate his point that Jewish Israelis fight against racism and hatred. "It is not Israel who sent suicide bombers against Palestinians, nor denied the right of Palestinians to work in Israel. It was not Israel who advocated for completely wiping others off the map nor taught children in their textbooks to vilely hate others as rats and vermin. It was not Israel who named landmarks and holidays for murderers using suicide bombs to kill innocents nor launched rockets every day hoping to terrorize and kill innocent people," he said.
Kerry issued a statement Monday expressing regret for the politically charged comments he made during a meeting with influential world leaders Friday. Kerry's apartheid remark was seen as particularly insensitive by many Jewish and world leaders because it came at a critical time, Holocaust Remembrance Day, that honors the memory of millions of Jewish people who were killed in the Holocaust.
Christians United for Israel executive director David Brog told WND his group is pleased that Kerry apologized. "But while it's good that he's revisited this offensive choice of words, it does not seem that he's revisited his fundamental assumptions," Brog said. "The real issue is whether Israel needs to be persuaded to seek peace and whether Israel is an obstacle to peace. We believe that the answer to both questions is no. The administration still seems to think that the answer to both questions is yes." The use of "apartheid" immediately takes listeners to the decades-long policy of racial separation and inequality in South Africa. The understood implication in Kerry's comments is that Palestinians living in disputed territories controlled by Israel would suffer from prejudice, persecution and inequality if a two-state solution is not achieved.
FOJ NOTE: America has the absolute stupidest leaders in the world. We couldn't search the whole country over and come up with any worse leadership that what we have today, from top to bottom. America needs a spiritual awakening FAST!
HS Students Say Pledge In Arabic: '
One Nation Under Allah'
May 1….(The Daily Dose) The principal at Rocky Mountain High School in Fort Collins, Colorado, is facing a hailstorm of criticism from some very angry parents and residents. The school recites the Pledge of Allegiance weekly, on Mondays. Last Monday, a member of their "Cultural Arms Club" led the student body in an Arabic version of the pledge, replacing the words "under God" with "under Allah."
Principal Tom Lopez denies any attempt to push an Islamic agenda, saying, "These students love this country. They were not being un-American in trying to do this. They believed they were accentuating the meaning of the words as spoken regularly in English."
Principal Lopez doesn't make any sense. Speaking unintelligible words in Arabic in some way accentuates their meaning? That is an extremely weak argument in defense of an ill-advised decision. He said the cultural clubs seeks to "destroy the barriers, embrace the cultures" that exist within the high school. That would translate into "destroy the barriers to Islam and embrace it," correct, Mr. Lopez? Given their youth, the high school students might understandably not recognize the problems with proclaiming America as "one nation under Allah." The grownups should and they ought to be controlling the activity.
The Muslim Brotherhood front group CAIR chimed in saying, "Obviously in Arabic, you would use the word Allah, but Christian Arabs would use the word Allah." Their spokesperson, Ibrahim Hooper, claimed use of the word Allah is "not necessarily specific to Islam and Muslims." From an American point of view, it is, whether he is technically correct or not, to Americans, in America, it's a specific Muslim and Islamic reference. As if to reinforce the idiocy of reciting the pledge in another language, Clark said she did not hear the pledge and does not speak Arabic so she could not confirm exactly what words were used. Lopez said he has been getting a variety of accusations leveled at him, including being called a traitor. He said, "They claim they are outraged, that this is blaspheming a real major tenet of our patriotism, which in their mind the Pledge of Allegiance is only in English." He said he's also been accused of "pushing a Muslim Brotherhood agenda – to push Islam into the school." He denies that was behind the decision.
CAIR representative Hooper told Fox News he was dumbfounded by complaints about the Arabic version of the pledge. "How on earth is it un-American to recite the Pledge of Allegiance in another language," Hooper asked. "It doesn't make sense unless the people complaining are anti-Muslim or anti-middle eastern bigots." It just might be that Americans recognize the Islamic agenda, Mr. Hooper, and are tired of having it forced upon them.
Obama Plans to Include Lebanon, Syria Deal in Iran Nuclear Pact
April 29….(DEBKA) Palestinian leader Mahmoud Abbas' initiation of a unity pact with the Hamas extremists last week did not come out of the blue. It was prompted by the direct contacts the Obama administration has secretly established with the Lebanese Hizballah. Abbas reasoned that if Washington can start a dialogue with a terrorist organization, so too can his own PLO and Fatah.
Debkafile's Washington sources report that the Obama administration appears to have carried over to Lebanon the doctrine set out by the late Richard Holbrooke for Afghanistan, whereby dialogue with Taliban should be made the centerpiece of Washington's strategy for US troop withdrawal. Holbrooke's influence on Secretary of State John Kerry dated back to his run for the presidency in 2004.
In Lebanese terms, Hizballah's Hassan Nasrallah has become the equivalent of Taliban's Mullah Mohammad. Hizballah has scored high in the Syrian war. Its military intervention on the side of Bashar Assad in the last year is credited with turning the Syrian army's fortunes around from near defeat in 2013 to partial triumph in key areas of Syria this year. Nasrallah is able to boast that his movement's commitment to the Syrian conflict is its central mission and will remain so until rebel and al Qaeda forces are finally vanquished.
What the Hizballah leader is trying to put across, in terms of the Holbrooke doctrine, is that like Mullah Omar in Afghanistan, he, Nasrallah, holds the key to resolving the Syrian civil war. The Obama administration bought this premise and decided to apply it to broadening the rapidly progressing dialogue with Tehran to related areas. The plan developed in Washington was to seize the momentum of the nuclear track and ride it to a broad US-Iranian understanding that embraces a comprehensive nuclear accord with Tehran as well as understandings for resolving the Syrian and Lebanese questions. Administration officials figure that Nasrallah heeds no one but the ayatollahs in Tehran. He may talk big but he knows that his fate is in the hands of his Iranian masters. If Iran decides it is time for him to go, it will be curtains for him. His involvement in the Syrian war is considered to be contingent on the strategic decisions of Iran's leaders. (He was a lot less confident in the winter of 2013 when Hizballah's home bases were being smashed in lethal suicide bombings.)
Iran also determines which weapons are supplied to the Hizballah units fighting in Syria, in which sectors they fight and how to respond to his pleas for reinforcements. In Washington's view, Hizballah's involvement in the Syrian war has increased its leader's dependence on Tehran. He accordingly has little room for maneuver in contacts with US representatives and if he turns difficult, they are sure they can turn to Tehran to force him in line. It is also believed in administration circles that the secret Saudi exchanges with Tehran will eventually produce Riyadh's acceptance of Hizballah as a dominant factor in Syria and Lebanon.
However, many Middle East experts find the US take on Hizballah to be naïve and simplistic and strongly doubt that the path it has chosen will bring Nasrallah, or Tehran, around to serving America's will or purposes. They draw a parallel with the underlying US assumptions which ultimately led the Palestinians-Israeli talks off track. But expectations of the Hizballah track are high and strongly guide the actions of President Obama, John Kerry, National Security Advisor Susan Rice and CIA Director John Brennan. And so, in early March, the first secret rendezvous took place in Cyprus between CIA officers and Hizballah intelligence and security operatives. According to a number of Mid East intelligence sources, two such meetings have since been conducted and initial US-Hizballah understandings reached relating to the volatile situations in Syria and Lebanon. Our intelligence sources add that US Ambassador to Beirut David Hale has been in charge of preparing these meetings and implementing the understandings reached.
Kerry Inserts Foot: Makes A Fool of Himself Again, Sides With PLO
April 29….(WND) When President Jimmy Carter, 24 years after leaving office, accused Israel of carrying out "apartheid" policies in the West Bank even worse than the pre-1994 South African government, he was fiercely criticized by figures from both left and right.
Indeed, US officials, including President Obama, have avoided making the provocative comparison to the institutional racism of the old South African regime until Secretary of State John Kerry warned Friday that Israel could become an "apartheid state" if it fails to negotiate a two-state solution with the Palestinians. While Kerry didn't say Israel currently employs apartheid policies, his utterance of the term evokes the position of Palestinian leaders and allies in academia and the United Nations who have used it to brand Israel as a racist government whose policies are motivated not by self-defense against an existential threat, but by racism.
In one of countless instances since the early 1990s, Palestinian President Mahmoud Abbas used the term in his 2011 address to the UN General Assembly. "Our people will continue their popular peaceful resistance to the Israeli occupation and its settlement and apartheid policies and its construction of the racist annexation Wall," Abbas said, referring to the barrier Israel constructed to prevent terrorist attacks.
As Middle East talks collapsed in recent days, after Palestinian President Mahmoud Abbas publicly reunited with the terrorist group Hamas and triggered Israel's exit from further negotiations. Critics of US policy are also furious at Secretary of State John Kerry for suggesting that Israel's failure to embrace a two-state solution with the Palestinians could leave the only Middle East democracy branded as "an apartheid state." The Daily Beast reports Kerry made the comments in a closed-door meeting with "influential world leaders." The term immediately takes listeners to the decades-long policy of racial separation and inequality in South Africa. The understood implication in Kerry's comments is that Palestinians living in disputed territories controlled by Israel would suffer from prejudice, persecution and inequality if a two-state solution is not achieved.
As WND reported, while Kerry didn't say Israel currently employs apartheid policies, his utterance of the term evokes the position of Palestinian leaders and allies in academia and the United Nations who have used it to brand Israel as a racist government whose policies are motivated not by self-defense against an existential threat, but by racism. In one of countless instances since the early 1990s, Palestinian President Mahmoud Abbas used the term in his 2011 address to the UN General Assembly.
Dr. Mike Evans is a Middle East expert and a longtime personal friend of Israeli Prime Minister Benjamin Netanyahu. He said the U.S. and the Palestinians are demanding that Israel made concessions in the full knowledge that the Palestinians want to exterminate them. "What this is about is terror strategy. It works like this: 'Israel, you give us what we want, or we kill you. We'll kill you.' Therefore, (Abbas is) going back to full-blown terror. They've done it many times before, and they're doing it again," Evans said. "So what does John Kerry do? Instead of condemning them, he goes after Israel.
Meanwhile, many Palestinian Authority officials have acknowledged to Arabic-language audiences that while they can't reveal it to the world, their ongoing strategy is to eliminate the Jewish state "in stages" through terrorism and diplomacy. A senior Palestinian Authority official, Fatah Central Committee member Abbas Zaki, told Syrian TV in January that any agreement will simply be the "first stage" in eradicating Israel. Zaki explained in a 2011 interview with Al Jazeera that "it is impossible to realize the inspiring idea, or the great goal (of eliminating the Jewish state) in one stroke." "If I say that I want to remove it from existence, this will be great, great, but it is hard. This is not a [stated] policy. You can't say it to the world. You can say it to yourself." On Palestinian Authority TV last month, Zaki expressed his belief, regarding the Israelis, that "Allah will gather them so we can kill them."
The charter or covenant of Hamas, which governs the Gaza Strip and has a joint agreement with Abbas and Fatah, restates the parent Muslim Brotherhood's slogan of "Allah is its goal, the prophet is the model, the Quran its constitution, jihad its path, and death for the sake of Allah its most sublime belief." It says Israel "will rise and will remain erect until Islam eliminates it as it had eliminated its predecessors."
Abbas' Fatah has praised Hamas vows to destroy Israel, and the constitution of the Palestinian Liberation Organization still calls for the elimination of Israel.
'Hamas Denies Holocaust While Trying to Facilitate Another One'
April 28….(YNET) "This evening we will mark Holocaust Remembrance Day and the State of Israel will remember the six million victims of the Holocaust," Prime Minister Benjamin Netanyahu said Sunday at the weekly cabinet meeting, stressing that "the main difference between the Jews' helplessness during the Holocaust and their situation now, is that we now have a sovereign state with a strong military that protects us from those who seek to harm us. "Iran is at the top of the list of those who seek to destroy us," Netanyahu said. "Aside from its own nuclear ambitions, Iran finances, arms and trains Hamas and the other terror groups lurking on our borders. Hamas denies the Holocaust while trying to facilitate another one by destroying the State of Israel. "This is the Hamas Abu Mazen [Palestinian Authority President Mahmoud Abbas] has chosen to align himself with last week. Instead of making statements meant to appease the international community, Abu Mazen has to choose between his pact with Hamas, a terror group that urges the destruction of Israel and denies the holocaust, and true peace with Israel. We hope he resumes the path of true peace," Netanyahu said.
Sunday's cabinet meeting also addressed a recent report by the Foundation for the Benefit of Holocaust Victims in Israel, which found that some 50,000 survivors living in Israel experience dire financial hardship. The ministers approved a plan proposed by the Finance Ministry to appropriate some 1 billion shekels ($288 million) to the welfare of Holocaust survivors. Some 200 million shekels ($57.6 million) are expected to come from the budgets of the Education and Welfare ministries. The measures approved include allocating a NIS 3,600 ($1,036) stipend to Holocaust survivors who meet certain criteria, as well as making Holocaust survivors eligible to receive various services and drugs included in the health basket for free.
Other measures include increasing the benefits paid to victims of Nazi persecution to a minimum of NIS 2,200 ($633) a month; making survivors who immigrated to Israel after Oct. 1, 1953 eligible for full benefits; paying the spouses of Holocaust survivors who passed away special death benefits; and offering Holocaust survivors who do not receive special benefits mental healthcare. The government also approved the transfer of NIS 20 million ($5.75 million) from the Finance Ministry in favor of welfare projects catering to Holocaust survivors' needs.
The state ceremony marking Holocaust Remembrance Day is scheduled to be held at 8 p.m. at the Yad Vashem Holocaust Museum in Jerusalem. President Shimon Peres and Prime Minister Benjamin Netanyahu are expected to speak at the ceremony. This year's ceremonies' theme has been named "1944: Between Elimination and Liberation, Jews on the Borderline." The traditional March of the Living will be held in Poland on Monday. Thousands of Jews from Israel and around the world, including hundreds of teenagers, will participate in the march from Auschwitz to Birkenau, the largest Nazi concentration camp complex built during World War II.
Lavrov Accuses West of Attempted Takeover of Ukraine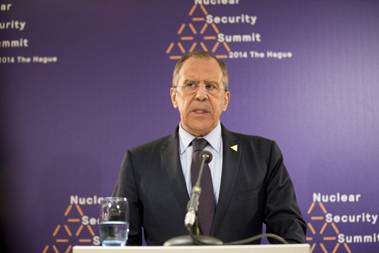 April 28….(Fox News) Accusing the West of plotting to control Ukraine, Russian Foreign Minister Sergey Lavrov declared Friday that the pro-Russia insurgents in eastern Ukraine will only lay down their arms if the Ukrainian government clears out the Maidan protest camp in Kiev. "The West wants, and this is how it all began, to seize control of Ukraine because of their own political ambitions, not in the interests of the Ukrainian people," Lavrov said. He added the pro-Russia insurgents will disarm and vacate buildings "only if Kiev authorities get down to implementing the Geneva accords, clear out that shameful Maidan and liberate the buildings that have been illegally seized." "The world has not yet forgotten the second World War, but Russia is already keen on starting a third world war," acting Prime Minister Arseniy Yatsenyuk retorted.
President Barack Obama, speaking to reporters in Seoul, said he will call key European leaders later Friday to discuss what's happened since a deal was reached last week in Geneva to try to de-escalate Ukraine's worst security crisis since the 1991 Soviet collapse.
The West, meanwhile, has accused Russia of fueling the unrest in Ukraine's east and failing to use its influence on the pro-Russia insurgents. "For seven days, Russia has refused to take a single concrete step in the right direction," US Secretary of State John Kerry said Thursday. "Not a single Russian official, not one, has publicly gone on television in Ukraine and called on the separatists to support the Geneva agreement, to support the stand-down, to give up their weapons and get out of the Ukrainian buildings." At issue is who is adhering to the Geneva deal and what is an illegal occupation. In Geneva, Russia and Ukraine agreed that all illegal groups in Ukraine should be disarmed and all illegally occupied public buildings and spaces should be vacated.
Pro-Russia militia have seized and been occupying government buildings in more than 10 cities in eastern Ukraine. In the capital of Kiev, pro-Ukrainian demonstrators continue to operate a tent camp on the city's main square, known as the Maidan, and occupy several buildings nearby, including city hall. Yulia Torhovets, spokeswoman for the Kiev city government, said Ukrainian nationalists have promised to free city hall by the end of this week. Ukraine authorities, however, say the Kiev occupations are at least tacitly legal because authorities have allowed them. "Without a doubt, they have all the rights to do this," Viktoriya Syumar, a deputy head of Ukraine's Security and Defense Council, told The Associated Press.
Elsewhere, there were scattered reports of violence Friday. Ukraine's Defense Ministry said a grenade fired from a launcher caused an explosion in a helicopter at an airfield outside the eastern city of Kramatorsk that injured a pilot. In southern Ukraine, seven people were injured by a blast at a checkpoint set up by local authorities and pro-Ukraine activists outside the Black Sea port of Odessa. Police spokesman Volodymyr Shablienko said unknown men had thrown a grenade at the checkpoint.
Moscow in March took control of Ukraine's Black Sea peninsula of Crimea and annexed it weeks later with the blessing of residents, attracting condemnation of the West as well as sanctions targeting individuals. Russia's economy is hurting from its involvement in Ukraine.
The Standard & Poor's credit agency on Friday cut Russia's credit rating for the first time in more than five years, citing the flight of capital and the risk to investment in Russia since the Ukraine crisis blew up late last year. Credit ratings are important because they determine the cost of borrowing on international markets. But Russian Economic Development Minister Alexei Ulyukayev sought to play down the downgrade, calling it "partly politically motivated
Putin Halts All Talks With Obama White House!
April 28….(The Daily Beast) As new US sanctions against Russia loom, the Kremlin has shut down high level communications between top US and Russian officials. Since the invasion of Crimea, President Vladimir Putin and President Barack Obama have had regular phone calls in an often half-hearted attempt to deescalate the ongoing crisis inside Ukraine. But as the US and EU prepare to unveil new sanctions against Russia, Putin has decided the interactions should stop. The Kremlin has ended high-level contact with the Obama administration, according to diplomatic officials and sources close to the Russian leadership. The move signals an end to the diplomacy, for now. "Putin will not talk to Obama under pressure," said Igor Yurgens, Chairman of the Institute for Contemporary Development, a prominent Moscow think tank, and a close associate of Russian Prime Minister Dmitry Medvedev. "It does not mean forever."
Obama and Putin last spoke over the phone on April 14, a call that the White House said was initiated at Moscow's request. Obama urged Putin in the call to end Kremlin support for armed, pro-Russian activists creating unrest in eastern Ukraine. Obama also warned that the US would impose more "costs" on Russia if Putin continued his current course. According to the Kremlin's readout of the call, Putin denied Russian interference in eastern Ukraine and said "that such speculations are based on inaccurate information." Obama and Putin have spoken to each other about Ukraine regularly over the past weeks, including calls on March 28, March 16, and March 6. But that these calls are now on hold for the indefinite future, due to their lack of progress and frustration on both sides.
On Friday, Kerry warned that new round of American financial assaults on Russia were on the way. "We are putting in more sanctions, they will probably come Monday at the latest," he said in a private meeting in Washington, according to an attendee. Russian businesses and individuals close to Putin would be on the sanctions list, he added. Diplomatic sources close to the process confirmed that Putin is not interested in speaking with Obama again in the current environment.
Meanwhile, a Russian intelligence-gathering ship has been operating off the US East Coast and near the Gulf of Mexico for the past month, the Pentagon said Thursday. The Leonov is an intelligence gathering ship outfitted with high-tech electronic spying gear. The Chiker is an ocean-going naval tug that has been accompanying the spy ship on its mission. Pentagon officials suspect the ships were part of a spying operation since March against the US nuclear missile submarine base at Kings Bay, Ga. and other US military facilities. Both ships were detected operating off the coast of Florida near the US Naval Station Mayport, Fla., which is south of the Naval Submarine Base Kings Bay. The Russian intelligence gathering coincides with heightened tensions between the United States and Russia over Moscow's recent military annexation of Ukraine's Crimea.
China Flexing It's Muscles and Scaring the US
April 28….(Washington Post) President Obama's ongoing tour through four Asian countries is a sign, we're told, of Washington's renewed effort to "pivot" or "rebalance" toward Asia. Far from conflict hot spots in the Middle East and now Eastern Europe, the Asia-Pacific is home to some of the world's most dynamic, exciting economies. As Obama's former national security adviser Tom Donilon wrote this week in The Washington Post, the administration is keen to move beyond the wars and occupations that "dominated US national security policy and resources for the past decade" in favor of "a shift toward the region that presents the most significant opportunity for the United States."
But Asia is hardly a space free of contest. Obama's swing through Japan, South Korea, Malaysia and the Philippines, four democracies with warm ties to the US, is a visit to allies who are, to varying degrees, wary of the rise of budding superpower China. Though US officials repeatedly disavow claims that the US seeks to "contain" China, Beijing appears to believe it and so do many scholarly observers. Here are three ways the specter of China looms large during Obama's Asia trip.
Balance of power in the Pacific:
For decades, a Pax Americana, underpinned by US naval supremacy, has authored the status quo in Asia. American military dominance is still a fact, but China's aggressive military expansion over the past two decades, its defense budget grew more than 12 percent this year alone, calls into question the long-term balance of power. Last year, China commissioned 17 new warships, more than any other nation. It aims to have four aircraft carriers by 2020 and has developed a considerable fleet of nuclear submarines. In the next few decades, China's ability to project naval power will extend deep into the South Pacific and Indian Oceans. (The Obama administration, in a thinly-veiled response, has committed to an expanded military presence in Australia and will work on a new security deal with the Philippines when in Manila next week.)
China's build-up comes alongside an increasing number of diplomatic spats between China and its neighbors over disputed territories, particularly islands in the South China Sea and East China Sea. Tensions with the nationalist government of Japanese Prime Minister Shinzo Abe over the Senkaku islands, known by the Chinese as the Diaoyu Islands, have flared dangerously in the past year, with Japanese and Chinese aircraft and vessels engaging in dangerously provocative maneuvers.
It's no secret US-Russia relations are in a bad place, with the West struggling to deal with Moscow's power play in Ukraine. Sanctions on Russian officials have been imposed and new rounds threatened as the Ukraine crisis worsens. But China, Russia's frequent collaborator on the UN Security Council, presents Russia with something of an escape. Recent reports suggest that the two countries may be close on a long-mooted natural gas deal worth billions of dollars. It's a deal that makes sense, especially if Russia wants to thumb its nose at Europe, currently the chief importer of Russian natural gas.
Russia and China are finding more reasons to deepen their political and economic ties, expanding trade and military links. For American strategists, they present a troubling axis of illiberal, authoritarian states that has already stymied US objectives over a host of issues at the UN, including the drive for tough action on Syria and Iran.
Popes John XXIII and John Paul II Proclaimed Saints
April 28….(Newsmax) An overcast and drizzly morning gave way to bright skies at the very moment that Pope Francis proclaimed Popes John XXIII and John Paul II saints at the Vatican Sunday. Speaking in Latin at the canonization Mass in St. Peter's Square for the two popes, Francis confirmed they were in heaven with the words: "We declare and define Blessed John XXIII and John Paul II be saints and we enroll them among the saints, decreeing that they are to be venerated as such by the whole church."
FOJ Note: The action of canonization is of itself a mockery of God's word. Supposedly, now, the two former Popes have left off purgatory, and all the other false byways, and entered into Heaven. This is a false gospel. A person, once he is saved (and repented of his sins) by the shed blood of the Lamb of God is immediately a Saint, and need not wait on accreditation from any church organization.
WEEK OF APRIL 20 THROUGH APRIL 26
US Senators Accuse Obama of Endangering American Consitution
April 26….(Breitbart) On Thursday, 22 Republican senators, including even Senate Minority Leader Mitch McConnell (R-KY), denounced President Barack Obama in a scathing letter for threatening America's "entire constitutional system" with his immigration "enforcement review" that threatens to "nullify" the nation's immigration laws. "Your actions demonstrate an astonishing disregard for the Constitution, the rule of law, and the rights of American citizens and legal residents," the senators wrote in a letter to Obama. "Our entire constitutional system is threatened when the Executive Branch suspends the law at its whim and our nation's sovereignty is imperiled when the commander-in-chief refuses to defend the integrity of its borders."
After intense pressure from pro-amnesty groups who fear that amnesty legislation will not pass this year, Obama's Homeland Security Secretary Jeh Johnson met with advocacy groups last month to reportedly consider administrative actions, such as granting more forms of amnesty, not deporting illegal immigrants who have not committed "major" crimes, and allowing bond hearings for illegal immigrants, to further erode the nation's laws. The senators said they had "grave concerns" with these potential actions because they "would represent a near complete abandonment of basic immigration enforcement and discard the rule of law and the notion that the United States has enforceable borders." "These policies have operated as an effective repeal of duly enacted federal immigration laws and exceed the bounds of the Executive Branch's prosecutorial discretion," the senators wrote. "It is not the province of the Executive to nullify the laws that the people of the United States, through their elected representatives, have chosen to enact. Congress has not passed laws permitting people to illegally enter the country or to ignore their visa expiration dates, so long as they do not have a felony conviction or other severe offense on their record."
Sen. Jeff Sessions (R-AL), who also signed the letter and has relentlessly debunked the notion that Obama is the so-called "deporter in chief," told Breitbart News that Obama's immigration policies also further hollow out the Middle Class that has been found to no longer be the world's wealthiest and hurt Americans at the bottom of the economic ladder Obama claims he wants to help. "The Administration's immigration policies are widening the income gap the White House claims it wishes to narrow," Sessions told Breitbart News. "American workers have a right to the protections our immigration laws afford, but the Administration has nullified those protections while simultaneously pushing to double the flow of future guest workers into the United States. These policies make it more difficult for the working poor of all backgrounds to rise into the middle class." He also said that even though "evidence proves that the Administration has collapsed immigration enforcement," with the result that "millions of struggling Americans have been deprived of their jobs and incomes," Congressional Democrats "continue to empower the illegality and stonewall all efforts to stop it." "Congress must work to end the lawlessness and restore constitutional order," he said.
The letter also cites figures from the administration's Immigration and Customs Enforcement revealing that in 2013, "nearly all individuals removed from the United States were convicted criminals and recent border crossers." It also mentions a Los Angeles Times report that found that "since 2009, there has been a 40% decline in removals of individuals living and working in the interior of the country." The senators also cited the testimony to Congress from Chris Crane, President of the National ICE Council, who said the Obama administration is not only handcuffing ICE agents but also taking "disciplinary actions against its own officers for making lawful arrests, it appears clear that Federal law enforcement officers are the enemy and not those that break our Nation's laws."
Sessions also noted to Breitbart News that net immigration levels have quadrupled over the last 40 years and cited Harvard Professor Dr. George Borjas, who has found high levels illegal and legal immigration from 1980–2000 have "resulted in a 7.4% wage reduction for American workers without a high school diploma." "Currently, more than 1 in 4 Americans without a high school diploma is unemployed, underemployed, or marginally attached to the workforce," he said. "Research from Dr. Borjas also demonstrates that American workers competing each year with immigrant labor lose approximately $400 billion in wages."
The senators wrote that the Obama should not look for new ways to weaken immigration laws, especially since his administration has since 2009:
...issued policy directives and memoranda incrementally nullifying immigration enforcement in the interior of the United States, to the point that unless individuals in the country illegally are apprehended, tried, and convicted for a felony or other serious offense, they are free to live and work in the country. "You swore an oath to preserve, protect and defend the Constitution of the United States," they wrote. "We therefore ask you to uphold that oath and to carry out the duties required by the Constitution and entrusted to you by the American people."
Netanyahu: Peace Process is Dead
April 26….(Fox News) Israeli Prime Minister Benjamin Netanyahu declared Thursday that a new agreement between rival Palestinian factions Hamas and Fatah is "killing peace," even as US Secretary of State John Kerry voiced hope that talks could be salvaged. The Israeli leader spoke with Fox News shortly after the Israeli government cut off Mideast peace talks. The Israelis halted negotiations over the announcement that terror group Hamas and Fatah would seek reconciliation.
In an interview with Fox News' Bret Baier, Netanyahu stated that peace talks are "essentially buried" if Palestinian Authority President Mahmoud Abbas forges ahead with the agreement. "It's a blow to Israel; it's a blow to peace," he said. "It's a terrible blow to the Palestinian people, because they must choose, too, whether they want to go forward or go backward. Yesterday, with the pact with Hamas, the Palestinian people went, took a huge step backward, away from peace, away from a good future for themselves."
The grim comments seemed at odds with the tone taken in Washington by Kerry. He said the US, even now, isn't ready to write off Mideast peace negotiations. "There is always a way forward," Kerry told reporters in brief remarks at the State Department. He noted Israeli and Palestinian leaders need to make necessary compromises, without which peace "becomes very elusive."
But the "blow" to peace talks comes ahead of an April 29 deadline, and Netanyahu described the Fatah-Hamas unity agreement as a deal-breaker. The pact is undoubtedly a major setback for Kerry, who tried anew to restart the peace process after taking the reins at the State Department. "If Abbas continues with the pact with Hamas, he's essentially buried it," Netanyahu told Fox News, calling Hamas "one of the preeminent terrorist organizations of our time."
The Hamas-Fatah unity plan is meant to end a seven-year rift between the rival factions. But Israel objects to any participation in Palestinian politics by Hamas, an Islamic militant group sworn to Israel's destruction. The group has killed hundreds of Israelis in suicide bombings and other attacks over the past two decades.
Netanyahu, in the interview with Fox News, stressed that history when asked about Palestinian statements that he is using the pact as an excuse to back out of peace talks. "They can do intellectual somersaults from here to eternity, but it doesn't change the fact that they chose to make a pact with the people committed to our destruction, and that doesn't square away with peace," Netanyahu said. He said Hamas has "not relented one bit on their terror activities." Over the last month, both sides in the troubled talks have each taken unhelpful steps and caused setbacks that have signaled an impending collapse of the negotiations. That has forced Kerry to divert focus from crises across the world, including in Ukraine and Syria, in his quest to shepherd through a Mideast peace agreement that has foiled US diplomats for years.
State Department spokeswoman Jen Psaki said Kerry spoke privately with Abbas and expressed his disapproval of the plans to create a reconciliation government with Hamas, which is considered a terrorist organization by the US, European Union and other nations. The negotiating period had been scheduled to expire next Tuesday. After nine months of fruitless talks, the sides had been meeting in recent weeks in hopes of extending the negotiations. It was not immediately clear how long the US is now prepared to let the latest impasse continue. US negotiators will remain in the region for the time being, Psaki said.
In Washington, Sen. Lindsey Graham, R-SC, blasted the Palestinian Authority as well as the Obama administration over the developments. "The decision by the Palestinian Authority to align with Hamas makes any future peace negotiations with Israel impossible," he said. "This is a provocative act by the Palestinian Authority which runs counter to serious peace negotiations with Israel. It clearly demonstrates the Palestinians have little fear or respect for the Obama Administration."
Israel already halted transferring tax and customs money it collects on the Palestinians behalf, worth some $100 million a month. Those funds help keep Abbas' self-rule government afloat. Abbas won assurances in recent Arab League meetings that Arab countries would pay $100 million to the Palestinian Authority if Israel freezes the monthly transfers. However, some of the Arab donor countries have in the past not met their aid commitments. Saeb Erekat, the chief Palestinian peace negotiator, said Palestinian reconciliation is an internal matter. "Israel had no right to interfere in this issue," he said. He condemned any possible Israeli sanctions as "piracy," saying the tax revenues are Palestinian money.
In the interview with Fox News, Netanyahu also reacted to Iran recently winning a seat on a human rights committee of the United Nations. "I suppose I could imagine a greater farce but I'm not sure I'm able to do that," Netanyahu said. "I think Iran and human rights are, it's an oxymoron."
FOJ Note: In essence, for the past 20 years, the US has been paying a diplomatic BRIBE to the Palestinian terrorist infrastructure to play along in the peace process with Israel. The "Process," which was begun in its last phase after the Persian Gulf War has been nothing more than a Trojan Horse ploy by the Arab League. Now that "peace talks" are apparently dead, could war be far away? We all need to keep watch!
Hamas and Fatah Agree to Unity Government in Historic Deal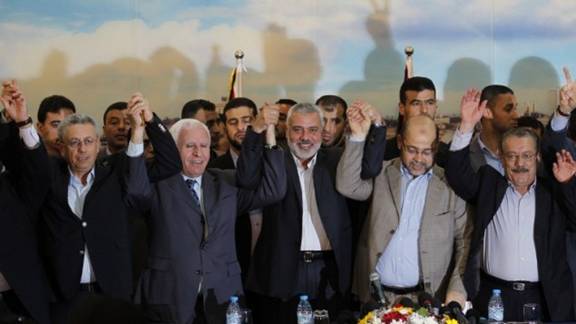 (Sides announce pact in Gaza; new government to take form in 5 weeks, new elections within 6 months)
(From left: Palestinian legislator Mustafa Barghouti, Palestinian Fatah delegation chief Azzam al-Ahmed, Hamas prime minister in the Gaza Strip Ismail Haniyeh, Hamas deputy leader Musa Abu Marzuk, and secretary-general of the Palestinian Arab Front Jameel Shehadeh, pose for a picture in Gaza on April 23, 2014 after announcing a unity deal.)
April 24….(Times of Israel) A seven-year-old rift between rival Palestinian factions seemingly ended Wednesday as officials from the Palestine Liberation Organization and Hamas agreed to form a unity government and call for new elections. Members of both organizations announced the deal at a press conference in Gaza following two days of negotiations. The news came as Israeli jets reportedly targeted Gaza from the air.
PLO official Azzam al-Ahmad, a senior figure in Palestinian Authority President Mahmoud Abbas's Fatah party, said he hoped the deal would be "a true beginning and a true partnership." "We have made this Palestinian dream a reality whereby the rift has come to an end and we are reunited," he said. The deal calls for a unity government to be formed within five weeks and for presidential, parliamentary and provincial elections to be called within six months of the coalition taking form, Hamas prime minister Ismail Haniyeh said. "This has become a national responsibility and a duty," he said, referring to the reconciliation. The sides will also exchange prisoners as part of the deal.
The news was met with celebrations on the streets in Gaza, though some analysts were skeptical the deal would hold any better than previous attempts. Hamas and the Fatah-dominated PLO have been at loggerheads since 2007, when the Islamic militant Hamas organization seized Gaza from Abbas in 2007, leaving him with only parts of the West Bank. Both sides have become entrenched in their territories, with Hamas using Gaza to fire thousands of rockets at Israel over the years, drawing two large scale Israeli offensives.
Israeli politicians slammed the agreement as putting Abbas, seen as a moderate, on the same footing as the hard-line Hamas terror group. "From now on every Kassam rocket is sent from Abbas," MK Ayelet Shaked from the hawkish Jewish Home party said. Earlier in the day, Prime Minister Benjamin Netanyahu said Abbas had to choose between peace with Israel and peace with Hamas. "Instead of moving into peace with Israel, he's moving into peace with Hamas," Netanyahu said.
Foreign Minister Avigdor Liberman said the signing of a unity agreement would spell the end of already teetering peace talks. "The signing of an agreement for a unity government between Fatah and Hamas is a signature on the end of negotiations between Israel and the Palestinian Authority," he said. It is not the first time that a national unity government has been announced by the rival factions, and on several previous occasions attempts to form an administration have collapsed.
Fatah, the PLO's main component, and Hamas signed a reconciliation accord in Cairo in 2011 aimed at ending the political divide between Gaza and the Palestinian Authority-ruled West Bank. But deadlines have come and gone without any progress in implementing provisions of the accord. "People have heard the same thing over and over again and each time the agreement had been broken by either Fatah or Hamas," said Samir Awad, politics professor at Birzeit University in the West Bank. Analyst Hani al-Masri said he believed the reconciliation could collapse at any moment and had "hardly any substance on the ground." "Reconciliation (between the Palestinian factions) and negotiations with Israel are now just tactics, each side has its own calculations."
US Troops Arrive in Poland Amid Ukraine Crisis
April 24….(Fox News) US Army paratroopers are arriving in Poland on Wednesday as part of a wave of US troops heading to shore up America's Eastern European allies in the face of Russian meddling in Ukraine. Pentagon press secretary Rear Adm. John Kirby said an initial contingent of about 600 troops will head to four countries across Eastern Europe for military exercises over the next month. First, about 150 soldiers from the 173rd Airborne Brigade Combat Team based in Vicenza, Italy, are arriving in Poland.
Additional Army companies will head to Estonia, Latvia and Lithuania and are expected to arrive by Monday for similar land-based exercises in those countries. The show of strength comes as the United States, European allies and Ukraine try to ease tensions with Russia and pro-Russian separatists in eastern Ukraine. All sides struck a diplomatic agreement last week, but it remains unclear whether pro-Russian demonstrators, who took over a series of government buildings in the wake of Russia's annexation of Crimea, will back down.
Under the current plan, US troops would rotate in and out of the four Eastern European countries for additional exercises on a recurring basis. "We're looking at trying to keep this rotational presence persistent throughout the rest of this year," Kirby told reporters, adding that over time the exercises could expand to other countries. The exercises are part of an effort announced last week by Defense Secretary Chuck Hagel aimed at reassuring NATO allies of America's commitment to the region's defense.
Netanyahu Breaks off Peace Talks With Palestinians: US to Suspend PLO Recognition
April 24….(DEBKA) Prime Minister Binyamin Netanyahu announced Wednesday night, April 23, that Israel is breaking off peace talks with the Palestinians after Mahmoud Abbas's Fatah signed a unity pact with Hamas in Gaza City. The United States informed Abbas that if Hamas and Jihad Islami, both listed as terrorist organizations, were co-opted to the Palestinian Liberation Organization, Washington would discontinue its annual recognition of the PLO.
Fatah PLO members from the West Bank, headed by Azzam al-Ahmad, and Hamas, led by Gaza prime minister Ismail Haniya and deputy party leader Mussa Abu Marzuq, signed a pact in Gaza City Wednesday, April 23, to establish a unity government "within five weeks" and hold presidential and parliamentary elections in six months. They carefully sidestepped the tough issues, such as the choice of prime minister, Hamas's missile arsenal and the united government's political strategy. This is not the first power-sharing pact Fatah and Hamas have signed and is unlikely to be the last.
Netanyahu and Foreign Minister Avigdor Lieberman warned Mahmoud Abbas (Abu Mazen) in advance that he must choose between peace negotiations with Israel and a unity accord with the radical Hamas, which is totally opposed to negotiations with Israel and refuses to renounce force. Yet Netanyahu did nothing to prevent a Fatah delegation traveling from Ramallah to Gaza City through Israel. Neither did he follow through on his threat of sanctions against high-ranking Palestinian officials for their unilateral application to UN bodies in violation of their pledges to Israel and their peace broker, US Secretary of State John Kerry. Application of the travel sanction, for instance, would have stopped Assam al Ahmad from reaching Gaza City.
These questions, put by Debkafile, betray the ridiculous state of the current Middle East peace process and the muddled, illogical steps pursued by Abbas, who seems to be firing frenziedly in all directions. Two months ago, after posting Palestinian membership applications to 15 UN bodies, Abbas sent one of his trusties, Jibril Rajoub, to Tehran to start a dialogue between the Palestinian Authority and Iran. He came back with a fresh assortment of gems: "If the Palestinians had a nuclear bomb they would drop it on Israel," he remarked." Yet he continued to travel around Israel on a VIP pass and was invited to speak on Israeli television and radio where he disseminated a message of moderation and tolerance in the name of his master.
In Gaza City, meanwhile, his Fatah and the rival Hamas celebrated their umpteenth unity pact in nine years, although not a single clause of any of the foregoing documents was ever implemented. This one is different in one critical sense. Leaving aside its deleterious impact on the peace process with Israel, it means that Abu Mazen has publicly allied himself and his party with the fundamentalist Hamas, whose Gaza domain is under Egyptian army siege for abetting and hiding fugitive Muslim Brotherhood activists. Gaza's Hamas rulers have granted the Brothers a base for running terrorist networks in Cairo and other Egyptian cities.
As an integral part of the Muslim Brotherhood, Hamas is also condemned as a foe by Saudi Arabia and the United Arab Emirates. How to explain the logic of Mahmoud Abbas's resort to such dangerous lengths to avoid peace talks with Israel by placing the entire Palestinian movement in opposition to the leading Arab governments?
Russia Threatens Military Invasion of Ukraine
April 24….(WND) Russia appears to be under-whelmed by the deployment of American troops to Poland, on Ukraine's border, as Russia's foreign minister has threatened to respond as Moscow did in 2008 when it invaded the Republic of Georgia, claiming ethnic Russians were in danger.
Russian Foreign Minister Sergey Lavrov issued the warning despite the US announcement that it was deploying an initial 600 troops for military exercises in Poland and in the Baltic states of Latvia, Estonia and Lithuania, where there are large concentrations of ethnic Russians. The four nations all belong to NATO, the North Atlantic Treaty Organization. If attacked, Article 5 of the North Atlantic Treaty would be implemented, requiring all NATO members to come to their assistance. Defense Secretary Chuck Hagel has said that as many as 10,000 US troops could be deployed in Poland. Signaling a change in overall strategic defense policy, Hagel said the US needs to "re-pivot back to Europe from Asia to confront "Russian aggression" in Ukraine.
Meanwhile, Lavrov insists Russia is merely protecting its interests. "If we are attacked, we would certainly respond," he said. Lavrov also accused the United States of controlling the actions of the pro-West Ukrainian government, saying that Washington was not "running the show" in Kiev. "There is no reason not to believe that the Americans are running the show in the most direct way," Lavrov said. Relations between the US and Russia seriously deteriorated following the February ouster of pro-Russian Ukrainian President Viktor Yanukovych, which Moscow has declared to be an illegal takeover.
US: Dissolution of PA Would Have 'Grave Implications'
April 23….(Times of Israel) The US described the dissolution of the Palestinian Authority, as reportedly threatened by President Mahmoud Abbas and other top Palestinian officials, as an "extreme step" that could fundamentally alter relations between Washington and Ramallah. State Department Spokesperson Jen Psaki told reporters Monday that she was aware of reports that Abbas was considering canceling the 1993 Oslo Accords, disbanding his security forces and transferring responsibility of the Palestinian population in the West Bank to Israel, saying the move would have "grave implications." "A great deal of effort has gone into building Palestinian institutions by Palestinians as well as the international community, and it would certainly not be in the interests of the Palestinian people for all of that to be lost. We, the United States have put millions of dollars into this effort. It would obviously have very serious implications for our relationship, including our assistance going forward," she said. Psaki emphasized that the US was focused on extending negotiations between the parties, which have all but collapsed in recent weeks. She had no comment on reconciliation efforts between the PA and Hamas, said to be in full swing once again.
A senior Hamas leader based in Egypt was in Gaza earlier Monday for talks aimed at reaching a reconciliation agreement between the two rival Palestinian groups. Moussa Abu Marzouk met with Hamas leaders in the Strip ahead of a visit by Fatah officials on Tuesday. Hamas freed 10 Fatah prisoners before the meetings as a good-will gesture.
Prime Minister Benjamin Netanyahu cynically referred to the renewed Palestinian reconciliation efforts during holiday festivities in Or Akiva, just north of Netanya, where he was participating in a traditional Maimouna. "Today we see the Palestinian Authority, which yesterday spoke about disbanding, talking with Hamas about unity. They should decide whether they want to disband or have unity, and when they want peace, they should let us know," he said. Netanyahu added, "on our holiday today, our enemies fired missiles at our communities and our policy is clear, to respond quickly and strongly. We strike at whoever comes to attack us. This is what we have done and this is what we will do."
America Threatens Sanctions Against Palestinian Authority
April 23….(Israel Today) The Obama Administration threatened what could be described as diplomatic and economic sanctions against the Palestinians if their leader, Mahmoud Abbas, goes through with his own threat to dismantle the Palestinian Authority. Abbas hinted at such a move in an interview last week with Egyptian media, complaining that Israel's unwillingness to meet 100 percent of Palestinian demands meant a two-state solution was increasingly unlikely.
Over the weekend, Palestinian officials told Israeli media that Abbas and his senior aides were considering canceling the "Oslo Accords" and dismantling the Palestinian Authority, a move that would make Israel directly responsible for all Palestinian Arabs and dangerously tip local demographic figures. It is not the first time Abbas has threatened to shut down the PA and cancel existing peace agreements with Israel. "Of course the PA disbanding will have serious consequences," US State Department spokesperson Jen Psaki told reporters. "Obviously, this is not in the interest of the Palestinian people, and all that has been achieved will be lost." Psaki continued by noting that "a great deal of effort has gone into building Palestinian institutions by Palestinians as well as the international community, and it would certainly not be in the interests of the Palestinian people for all of that to be lost. The United States has put millions of dollars into this effort. It would obviously have very serious implications for our relationship, including our assistance going forward."
Veteran Palestinian politician Qadura Fares told Israel's Army Radio that the Palestinian Authority was largely unconcerned by the American threat. But a day later, senior Palestinian negotiator Saeb Erekat belied that notion, insisting that reports of the PA's imminent demise were an "Israeli ploy." "No Palestinian is speaking of an initiative to dismantle the Palestinian Authority," Erekat claimed in remarks to the AFP.
Netanyahu, meanwhile, took the opportunity to criticize the Palestinian leadership, saying that threats to quit the peace process were indicative of the true intentions of the Palestinian Authority. "Today, we saw the Palestinian Authority speak of dismantling itself and also talking about unity with Hamas," Netanyahu told attendees at a post-Passover celebration. "They should decide - either dissolve, or enter into a union with Hamas. When they want peace, they should let us know. Because we want a genuine peace." With only seven days to go until the April 29 deadline for the current US-brokered peace talks, Psaki said that her boss, US Secretary of State John Kerry, has no plans for yet another last-minute mission to the region to save the failing negotiations.
At Every Turn, the Gay and Lesbian Agenda is Being Pushed by The Obama Administration
April 21….(CNS News) President Barack Obama, his administration, and many people in Congress are pushing "a gay and lesbian agenda" and, like Russian President Vladimir Putin, our Congress "needs to do more in protecting our nation's children" from exploitation, said Rev. Franklin Graham, son of the world-renowned evangelist Billy Graham. Graham added that gays and lesbians biologically cannot have children but they can "recruit," and he believes in "protecting children, okay, from exploitation, all exploitations." "Gays and lesbians cannot have children. Biologically, it's impossible," said Graham. The reporter then said, "Right, they can adopt," and Graham answered, "Yes, they can recruit."
When asked the difference between recruit and adopt, Rev. Graham said, "Well, you can adopt a child into a marriage but you can also recruit children into your cause. I believe in protecting children, okay, from exploitation, all exploitations. So that's all this is about."
Graham then referred to actions taken by the Russian government and President Vladimir Putin last year to outlaw the "propaganda" or promotion of homosexuality to children. "I think I agreed with Putin, I think protecting his nation's children I think was probably a pretty smart thing to do," said Graham. "I was very clear, I supported Putin in his decision to protect his nation's children, and I think our Congress needs to do more in protecting our nation's children." Graham continued, "Our Congress, our president, and others are going forward with an agenda, a gay and lesbian agenda and many in the Congress are following them." When asked what that agenda entails, Graham said, "Well, just look at where we are today. At every turn, the gay and lesbian agenda is being pushed by this administration." Asked whether he meant "on marriage, for example," and Graham said: "Sure, of course it is."
During the 2008 presidential campaign and his first three years in the White House, President Obama said he opposed gay "marriage," but he changed his position in May 2012. His administration pushed to end the "Don't Ask, Don't Tell" policy in the US military, opposed the Defense of Marriage Act, and made it an official element of US foreign policy to promote lesbian, gay, bisexual, and transgender (LGBT) issues. There is a White House website dedicated to promoting the gay and lesbian agenda. It is called "President Obama and the LGBT Community" and can be viewed here. As it states, "This site is a tool for you to learn about how President Obama and his team are working to win the future for LGBT Americans."
In his interview with the Charlotte Observer, Rev. Graham also said, "As far as persecution, I'm attacked all the time because of my religious beliefs, what I believe, what I say. There are people who are very quick to demonize you if you disagree with them: the left, the gay-lesbian movement." "If I disagree with a gay person, then you're a 'homophobic,' you're 'intolerant,'" said Graham. "It's not that I'm a homophobe, I'm not afraid of them. I'm not intolerant. I just have a different opinion, a different view. And it's the same thing with anybody that disagrees with them. They demonize you."
WEEK OF APRIL 13 THROUGH APRIL 19
Happy Resurrection Day
(FOJ) Matthew 28:5-6 And the angel answered and said unto the women, Fear not ye: for I know that ye seek Jesus, which was crucified. He is not here: for he is risen, as he said. Come, see the place where the Lord lay.
I Corinthians 15:12-14 Now if Christ be preached that he rose from the dead, how say some among you that there is no resurrection of the dead? But if there be no resurrection of the dead, then is Christ not risen: And if Christ be not risen, then is our preaching vain, and your faith is also vain.
Ukrainian Jews Seek Extra Security After Anti-Semitic Incident
April 19….(In The Days) A leaflet distributed in Donetsk, Ukraine calling for all Jews over 16 years old to register as Jews marred the Jewish community's Passover festivities Monday (Passover eve), replacing them with feelings of concern. The leaflet demanded the city's Jews supply a detailed list of all the property they own, or else have their citizenship revoked, face deportion and see their assets confiscated
Donetsk, a Ukraine province with 4.3 million people, 10 percent of Ukraine's population, and 17,000 Jews, is home to much of the country's heavy industry, and is thus the biggest prize of the eastern regions where pro-Russian separatists have captured government buildings in the past week. The leaflet, signed by Chairman of Donetsk's temporary government Denis Pushilin, was distrbiuted to Jews near the Donetsk synagogue and later in other areas of the city where pro-Russians activists have declared Donetsk as an independent "people's republic", defying an ultimatum from Kiev to surrender. The leaflet was written in Russian and had Russia's national symbol on it, as well as the Donetsk People's Republic insignia. "Dear Ukraine citizens of Jewish nationality," the flyer began, "due to the fact that the leaders of the Jewish community of Ukraine supported Bendery Junta," a reference to Stepan Bandera, the leader of the Ukrainian nationalist movement which fought for Ukrainian independence at the end of World War II, "and oppose the pro-Slavic People's Republic of Donetsk, (the interim government) has decided that all citizens of Jewish descent, over 16 years of age and residing within the republic's territory are required to report to the Commissioner for Nationalities in the Donetsk Regional Administration building and register."
The leaflet detailed what type of documents the Jewish citizens would need to supply: "ID and passport are required to register your Jewish religion, religious documents of family members, as well as documents establishing the rights to all real estate property that belongs to you, including vehicles." If the message was not made clear enough, the leaflet further stipulated the consequences that would come to those who failed to abide by the new demands: "Evasion of registration will result in citizenship revoke and you will be forced outside the country with a confiscation of property." To add insult to injury, the leaflet demanded the Jews pay a registration fee of $50.
Persecution of Christians Occurs Abroad and in US
April 19….(Newsmax) Christians are under attack not just abroad, but also here in the U.S., says Franklin Graham. "We are seeing it across the globe, no question about it and it's frightening. We see the anti-Christian position in this country; we see so much of it coming out of the entertainment industry, especially in certain segments of the news media," Graham, the president and CEO of Billy Graham Evangelistic Association and son of Billy Graham, told John Bachman and J.D. Hayworth on Good Friday on "America's Forum" on Newsmax TV. "Christians are being attacked and it's just part of it and we see it now in Europe, anti-Semitism, no question, it's there. We are living in a world that is changing and it is frightening to see how quickly the world is changing and we're going to see real persecution of Christians and Jews in the years to come.
Franklin said that Christians should not suppress their spiritual beliefs even in the face of growing religious apathy. "I would encourage Christians not to back down, to stand firm, to share your faith, to stand for your faith, not to be afraid of the secularists who will scoff at you. You know, we live in a world where we want to be politically correct, we live in a world where people want to be accepted and standing for Jesus Christ, you're not going to be accepted in some circles and you just have to be willing to accept that," he said. "But don't be afraid. I would encourage Christians to stand and be proud of your faith and not to be shy, to tell others about what God has done for you, what Christ did when he died on the cross and rose from the grave, let people know that. That's extremely important."
Recovering Tocqueville's Vision of American Exceptionalism
(By returning to Christian roots, the nation can achieve greatness once again)
April 17…. (Ben Carson) In 1831, Alexis de Tocqueville, the famous French historian, came to America to study our nation. Europeans and others were fascinated by the success of the fledgling nation, then barely 50 years old and already competing on the world stage. Such a thing had never before occurred, and Tocqueville was determined to discover the secret. He was duly impressed by our governmental structure, including the separation of powers, but he was in awe of the public educational system, which rendered its recipients completely literate by the completion of second grade. This depth of education was generally only found among the aristocracy in Europe.
Let's put aside the diversionary arguments about lack of educational access for all, which was a huge mistake, and concentrate on the tremendous advantage afforded our predecessors by education. Early settlers not only mastered reading, writing and arithmetic, but, shared practical skills, all of which enabled them to traverse and tame a rugged and frequently hostile terrain from sea to shining sea.
As isolated communities sprang up throughout the nation, they were able to thrive through innovation, industry and compassion. The "can-do" attitude involved hard labor, but also included a sense of responsibility for those, who through injury or other hardships, could no longer care for themselves. The spirit of caring, although diminished, remains an important part of who we are today.
Tocqueville was impressed by the fiery sermons that emphasized the word of God and not the social mores of the day. He concluded his American analysis by saying, "America is great, because America is good. If America ever ceases to be good, she will cease to be great." America was different because we openly acknowledged the role of God in our lives.
Some will say, "Carson is a religious fanatic because he believes in God and the Bible." Interestingly, the very same people are quick to invoke the name of God and recommend prayer at times of national and personal tragedy. Hypocrisy is their frequent companion. Some will say America can never make claims of "goodness" owing it her history of slavery. Although it was by far the worst atrocity in our history, we paid a horrendous price in lives lost or destroyed in a Civil War that all but incapacitated a young nation. The guilt, shame and humility that resulted from this dark American episode will teach us and stigmatize us well into the future. Learning from mistakes is a sign of wisdom and goodness.
What is disturbing in the pursuit of goodness is the turning of a blind eye toward corruption, much like the Romans did before the fall of their empire. Episodes such as the Internal Revenue Service scandal should alarm all Americans, regardless of political affiliation. The fact that one party has characterized it as a "phony scandal" tells you a great deal about the loss of honesty in our society.
The fact that one party is willing to use its majority status to cram a health care bill down the throats of the minority party and the American people, and then refuses to acknowledge the obvious illegitimacy of a bill largely passed on the basis of false information provides a barometer on the lack of importance placed on virtue in our society today. How can such a society in any way claim to be good?
How can a society that kills millions of innocent unborn babies and then labels anyone opposing the practice as "anti-woman" claim even a modicum of goodness? How can a nation that uses its news media to subtly trash traditional families, promote a drug-filled lifestyle, and ridicule faith in God claim the mantle of righteousness?
I could go on pointing out how far we have strayed from our Judeo-Christian roots. For some, such a departure cannot come soon or dramatically enough. However, I believe the majority of Americans understand that we are different from everyone else, and that difference had a great deal to do with our rapid rise to the pinnacle of world power and wealth.
As we depart from our former values of decency, honesty, compassion and fairness, our status as a blessed nation will also be diminished. Our decline is not necessary if we can learn from the mistakes of others and reclaim the values upon which our nation was built. I am not advocating for a national religion, but I do think we should seriously consider the words of John Adams, who said, "Our Constitution was made only for a moral and religious people. It is wholly inadequate for the government of any other."
America can be great, but it requires real courage and conviction to resist the urge to be "cool." None of this means we should impose Judeo-Christian values on those who wish to adopt a different kind of lifestyle, but it does mean that we should not allow an alternative lifestyle to be imposed upon us. Fairness is a two-way street, and so is tolerance. If the majority refuses to fight for its rights while a vocal minority uses a compliant media to try to fundamentally change America, we will have only ourselves to blame.
Al Qaeda Claims it is Coming After Christian America
April 17….(CNN) A new video shows what looks like the largest and most dangerous gathering of al Qaeda in years. And the CIA and the Pentagon either didn't know about it or couldn't get a drone there in time to strike. US officials won't comment on that, but every frame of the video is now being analyzed by the United States. In the middle of the clip, the man known as al Qaeda's crown prince, Nasir al-Wuhayshi, appears brazenly out in the open, greeting followers in Yemen. Al-Wuhayshi, the No. 2 leader of al Qaeda globally and the head of al Qaeda in the Arabian Peninsula, has said he wants to attack the United States. The video shows al-Wuhayshi addressing more than 100 fighters somewhere within Yemen, Cruickshank said, a restive nation on the southwestern portion of the Arabian Peninsula. The al Qaeda leader, he said, is "taking a big risk in doing this." But he doesn't mince words about his mission.
In a speech to the group, al-Wuhayshi makes it clear that he's going after the United States, saying "We must eliminate the cross! The bearer of the cross is America!" Al Qaeda in the Arabian Peninsula, also known as AQAP, is considered the most dangerous al Qaeda affiliate. The terror group leader's goal is clear, Cruickshank said. "His message to the United States," Cruickshank said, "was very much the same as (former al Qaeda leader Osama) bin Laden's: 'We're coming after you.' "
Carter Claims Israel has Stockpile of over 300 Nuclear Bombs
(Former US president says US should not attack Iran even if Iran develops a nuclear bomb)
April 16….(Israel Hayom) The United States should not attack Iran, even if Iran develops nuclear weapons, former US President Jimmy Carter said. In a recent interview with MSNBC, Carter not only declared his absolute opposition to any attack on Iran, he also said that Israel had a stock of nuclear weapons of its own. "Israel has, what, 300 or more, nobody knows exactly how many," Carter said. "And I know that every Iranian realizes that if they should try to use a nuclear weapon, Iran would be wiped off the face of the earth, which I think is so ridiculous, a self-destructive decision, that they would not do it." Carter expressed doubt about Israel's ability to attack Iran. "I never have felt that Israel had a capability militarily to go 1,200 miles or more and bomb Iran effectively and then return back to Israel," he said. "The only country on earth that has that capability would be the United States, and I don't believe it's appropriate for the United States to bomb Iran over this issue."
Carter, who ushered in the 1979 peace treaty between Israel and Egypt, addressed the current diplomatic process between Israel and the Palestinians and criticized Prime Minister Benjamin Netanyahu's insistence that Israel be recognized as a Jewish state. "I don't think that any Arab country can agree to that. And this is something, as you know, that's been resurrected by Netanyahu. This never was an issue when I was in office and trying to negotiate peace," he said.
Carter praised US Secretary of State John Kerry, saying he believed Kerry had "done a heroic job" trying to bring an end to the Israeli-Palestinian conflict. However, it appeared that Carter had his doubts about President Barack Obama's relatively small role in the peace process, saying that Kerry needed "more overt help overt from the White House." "I don't think we'll have ever a peace agreement there unless the president of the United States is the leading character in mediating between the two," Carter said.
FOJ Note: I don't know why I even bother posting news reports quoting former President Carter. I guess it just helps my mojo to show people what a fool looks and sounds like. And to think, we have a bigger fool as president now!
Russia Tests Multi-Warhead ICBM, in Showdown With US
April 16….(Washington Free Beacon) Russia's military carried out a flight test of a new multi-warhead intercontinental ballistic missile on Monday amid growing tensions with the United States over the crisis in Ukraine. The SS-27 Mod 2 road-mobile ICBM was launched around 2:40 a.m. EST from Russia's Plesetsk launch facility, located about 500 miles north of Moscow. "The main purpose of the launch is to validate the reliability of a batch of this class of missiles made at the Votkinsk Plant," Defense Ministry spokesman Igor Yegorov told state-run Interfax-AVN. An unspecified number of simulated nuclear warheads landed at an impact range on the Kura test range on the Kamchatka Peninsula, in the Russian Far East, Yegorov said. The distance is around 3,500 miles. The SS-27 Mod 2 is Russia's newest ICBM and has been touted by Russian officials as designed specifically to defeat US missile defenses.
The missile test launch followed an incident Saturday when a Russian Su-24 jet conducted a dozen low-altitude passes over a US warship in the Black Sea. The Pentagon called the maneuver "provocative." "The aircraft did not respond to multiple queries and warnings from USS Donald Cook, and the event ended without incident after approximately 90 minutes," Army Col. Steven Warren said. "The Donald Cook is more than capable of defending itself against two Su-24s," the colonel said. Warren said the aircraft appeared to be authorized to make the low passes. "We've seen the Russians conduct themselves unprofessionally and in violation of international norms in Ukraine for several months, and these continued acts of provocation and unprofessionalism do nothing to de-escalate the situation in Ukraine, which we called on the Russians to do," he said. The warship has been in the Black Sea in a show-of-strength deployment. It is currently making a port visit to Constanta, Romania.
The Russian ICBM, which Moscow calls the RS-24 Yars missile, will replace older Topol mobile ICBMs. The United States currently has no comparable road-mobile ICBM. The mobility makes the missiles very difficult to detect and target.
Mike Huckabee Calls Out Obama's 'Christian Convictions' On Gay Marriage
April 14….(Politics) Former Arkansas Gov. Mike Huckabee went after President Barack Obama's views on gay marriage Friday, questioning the commander-in-chief's changes in his "Christian convictions." In an interview with Fox News' "The O'Reilly Factor," guest host Laura Ingraham asked Huckabee if there was a concerted effort out there to tar conservatives as anti-gay. Huckabee said that his views were no different than those of Obama's in 2008, shifting the focus to how the president has changed his stance. "He said it was because of his Christian convictions," Huckabee said of Obama. "Does he have them or does he not? If one has them, they don't change depending on what the culture does. You don't take an opinion poll to come up with a new point of view."
Shortly after Obama announced his backing of gay marriage in May 2012, PolitiFact ran a test on the president's remarks, finding that he had made a full flop from his previous views: Obama, a consistent supporter of civil rights for gay couples, nevertheless said as early as 2004 and through 2008 that he didn't support same-sex marriage. He had written that he believed "that American society can choose to carve out a special place for the union of a man and a woman." In 2010, he said he wasn't prepared to reverse himself. This week, the president said he thinks same-sex couples should be able to get married. On the Flip-O-Meter, he earns a Full Flop.
Huckabee's remarks come a few days after delivering the keynote speech to the Iowa Faith & Freedom Coalition, where he denied being a "hater" or "homophobic" because of his views toward gay marriage. When it comes to homosexuality, Huckabee said scripture has traditional marriage on "the right side of the Bible." "When people say, 'Why don't you just kind of get on the right side of history?' I said, 'You've got to understand, this for me is not about the right side or the wrong side of history, this is the right side of the Bible, and unless God rewrites it, edits it, sends it down with his signature on it, it's not my book to change.' Folks, that's why I stand where I stand," Huckabee told the crowd.
Blood Moons Week: "We Shall See What We Shall See"
FOJ Note: Pastor Hagee has put himself squarely in the eyeball of an astounding and speculative prediction. Much too often, good men have gone "a little too far" when analyzing the prophetic word, and making predictions. His analysis is interesting, but the facts will begin to show themselves soon, and we shall see what we see.
April 14….(New York Daily News) The heavens are putting on a celestial show next week, and one Christian pastor is convinced it's a sign from God. Bestselling author and televangelist Pastor John Hagee claims the four blood moons that will soon appear in the skies over America are evidence of a future "world-shaking event." The blood moons are part of a tetrad, a set of complete and consecutive lunar eclipses that will begin on April 15 and continue in roughly six-month intervals until October 2015.
According to NASA, seeing four complete lunar eclipses in a row is very rare. The skies were tetrad-free from 1600 to 1900. But in the 21st century, there will be many. What's even stranger is that Americans have a front row seat. "The most unique thing about the 2014-2015 tetrad is that all of them are visible for all or parts of the USA," NASA eclipse expert Fred Espenak told CNN. Hagee, founder of Texas' Cornerstone Church, thinks this is no coincidence. For him, it's a sign of the end times.
Pastor John Hagee points to Acts 2:19-20, which reads, "And I will show wonders in Heaven above and signs in the Earth beneath, the sun shall be turned into darkness and the moon into blood before the coming of the great and awesome day of the Lord." In sermons to his flock, Hagee said that each of the blood moons happens on a religiously significant day.
The April 15 event happens during Passover. On Oct. 8, the blood moon will occur during the Feast of Tabernacles. Another blood moon will occur during Passover on April 4, 2015. The last will happen on Sept. 28, 2015, another Feast of the Tabernacles.
For proof of his theory, Hagee finds connections between past tetrads and important events in the life of the Jewish people. In 1493, a tetrad occurred while the Jews were being expelled from Spain. Another tetrad occurred in 1949, soon after the state of Israel was founded. The last tetrad happened in 1967, during the Six-Day War between Arabs and Israelis.
WEEK OF APRIL 6 THROUGH APRIL 12
Israeli Institute Prepares Priests for Jerusalem's Third Temple
(The movement to rebuild Jerusalem's third temple expands)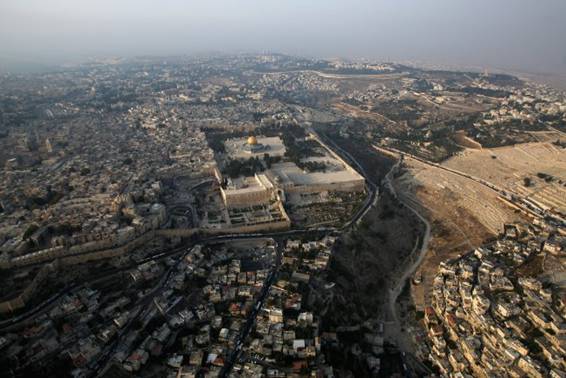 April 11….(US News) On April 10, at 5 p.m., hundreds of Jews will gather at the Maimonides rabbinical institution plaza in the Kiryat Moshe neighborhood in Jerusalem and start learning the Jewish laws of Passover. Rabbis and experts, including Rabbi Yisrael Ariel, the head of the Temple Institute in the Old City of Jerusalem, the leading body preparing for the establishment of the third temple, will teach the audience the laws of the Passover sacrifice. Alongside Ariel, the ritual slaughterer (shohet) Rabbi Yehudah Giatt will teach the audience about the unique elements of the slaughter of the Passover sacrifice. After the lessons, the real thing will start: the simulation of the Passover sacrifice.
The timing of the gathering isn't coincidental: This was the date on which the people of Israel were commanded to take a lamb and sacrifice it, before the exodus from Egypt. The ceremony on Thursday will be, in Israel Defense Forces (IDF) lingo, "practice with live fire." Slaughtering lambs, sprinkling their blood on the altar by priests dressed in kosher priestly garments and roasting the lambs, with their heads, legs and innards. Just as God intended. This isn't the first time that the "Association of Temple Organizations" will hold this activity, but this year the practice drill and re-enactment of the Passover sacrifice will be carried out by the students of the school for priests, Nezer Ha-kodesh, which started operating this year.
The priest school intends to train the hundreds of priests that would be needed to work at the third temple; many Jews endeavor for its establishment in Israel today. Ten students, who got to the priests school by word of mouth, paid 1,000 shekels (some $290), a relatively small sum, for twice-weekly lessons, three hours each, that teach "how to be priests." The director of the school, Rabbi Yehoshua Friedman, hopes that the school will be more properly publicized next year and that more students will arrive. "The rabbis say that the minimum necessary is 13 priests in the temple to carry out the mandatory sacrifices. If you're talking about a fully operating temple, where people bring their own sacrifices, it's a place where hundreds of priests work daily," he says. "In the days of old, a father and grandfather would teach the grandson and son how to be a priest, the commandments and laws. Today, they have to take a course. The prayer to establish the temple has no meaning if we don't actually prepare for it. Think what would happen if tomorrow you got a functioning temple and don't have priests."
There are a great many laws for the temple, some of which have been forgotten and faded over the years: how to use incense, how to light the holy menorah, how to sanctify hands and feet, and of course, how to sacrifice. "The priests themselves come with requests to learn one topic or another. We are also learning as we go how the course should look. The students are very practical and focused," explains Friedman.
At the Temple Institute, researchers are working hard to relearn the laws as well as study the architecture, location and necessary tools. "One of the unique elements of the course," says Friedman, "is the actual practice. In my course, they learned how to sacrifice birds, so we brought stuffed doves, so that the priests would learn how to hold them, how to execute the specific moves. We work on standing in front of the altar to demonstrate the action, so that it'll become natural to them."
For the temple people, the priests' course is an advanced stage that follows the completion of quite a few steps. First of all is the level of consciousness. For many years, say those working to establish the third temple, religious Zionism and the State of Israel worked to focus Jewish longing on the Western Wall.
China's Military Chiefs Lecture the Visiting US Defense Secretary
April 11….(Bloomberg) US Defense Secretary Chuck Hagel is visiting Beijing, and yesterday he got an earful about China's favorite bête noir: Japanese Prime Minister Shinzo Abe. The Chinese are waging rhetorical war against Japan's nationalist leader, who spent much of last year traveling around the region and courting support from other Asian countries that feel threatened by China's rise. Now Hagel enters the scene after having dared to express support for Japan, and criticism of China, shortly before arriving in Beijing. That evidently was too much for some Chinese military officials. After meeting the Pentagon boss, Chinese Defense Minister Chang Wanquan made sure to emphasize China's determination to stick to a hard line in the dispute with its longtime rival. "We will not compromise, nor concede, nor trade on territory and sovereignty," he said, according to a report in the official China Daily newspaper.
Hagel may have been hoping for some sign of flexibility from the Chinese in their dispute over a collection of deserted rocks in the East China Sea, but Chang said he shouldn't bother. "We will not tolerate these being infringed upon," the Chinese defense chief declared, "even the least bit." And Chang wasn't the only official souring Hagel's welcome. Fan Changlong, one of the country's top military officials, reprimanded Hagel for criticizing China's unilateral declaration of an air defense identification zone in the East China Sea. "I can tell you, frankly," the vice chairman of the Central Military Commission told Hagel, "the Chinese people, including myself, are dissatisfied with such remarks."
The men running the People's Liberation Army have good reason to be in a testy mood. China has territorial disputes with many of its neighbors, some of which are treaty allies of the US, and as China attempts to throw its weight around its backyard, the US is there to backstop these rivals. And it's not just US support for Japan that irks Chinese leaders. The Philippines, one of several Southeast Asian countries with territorial disputes with China, is another American ally. President Benigno Aquino's government took to the United Nations Permanent Court of Arbitration on March 30 to challenge Chinese claims in the South China Sea. The response from Beijing was to dismiss the court's authority to hear the case in the first place.
That plays into the hands of Japan's Abe, who wants other Asian countries to join Japan in standing up to China. The rejection of the Court of Arbitration's authority feeds the impression that a country that decides to annex the entire South China Sea and declare an air-defense zone in the East China Sea just wants to play by its own rules. "China's refusal to join the arbitration will cost it both from a legal standpoint and public-opinion view," Ramon Casiple, executive director of the Institute for Political & Electoral Reform in Manila, told Bloomberg News. "It will be viewed by the global community as a rogue state that doesn't recognize international law."
Egypt Demands Compensation for 10 Plagues
(After more than 3,000 years, Egypt displays old hatred)
April 11….(Israel Today) "We demand that the State of Israel pay compensation for the ten plagues that our forefathers in Egypt suffered thousands of years ago as a result of the curses of the Jewish forefathers." So wrote prominent Egyptian columnist Ahmad Al-Gamal shortly before the Jewish Passover, causing a great stir. "What is written in the Torah is that Pharaoh discriminated against the children of Israel. What have we to do with it? We therefore need not suffer!" exclaimed Al-Gamal, drawing a clear difference between the Egyptian kingdom of the Pharaohs and Islamic Egypt of today. Islam accepts the biblical narrative as historical evidence. The columnist suggested that the government in Cairo press charges against Israel: "The Jews caused the land to be stricken with locusts and all agriculture destroyed, turned the Nile red with blood so that one could drink its waters, sent darkness, frogs and killed the firstborn."
Al-Gamal continued: "During 40 years of wandering in the desert, the Children of Israel enjoyed our goods, which they stole before abandoning us." He also recommended that Egypt bring charges against France, Great Britain and Turkey for those nations' historical conquests of Egypt.
The Egyptian column was picked up by the Israeli press, especially religious news outlets, which readily acknowledged all that Al-Gamal wrote as historical fact. Some Israeli columnists retorted that Egypt need first compensate Israel for keeping the Jewish forefathers as slaves and for killing all male Jewish babies in the generation prior to the Exodus.
Bill Clinton: An Alien Invasion May Be The Only Way To Unite This Increasingly Divided World
April 11….(Alt Headlines) Would contact with a race of aliens be enough to fully unite humanity? Would it cause all of us to drop our bitter quarrels and come together as one? That is apparently what former president Bill Clinton believes. On Jimmy Kimmel Live the other night, Clinton said that an alien invasion "may be the only way to unite this increasingly divided world of ours". He also said that "if we were visited someday, I wouldn't be surprised". So does he know something that the rest of us don't? And why is he sharing this now? In recent years, the general public has been primed for the possibility of contact with aliens. There has been an endless barrage of books, movies, television shows and video games that portray human contact with extraterrestrials. It has gotten to the point where even some of the most hardcore skeptics in our society seem quite eager to embrace the possibility of extraterrestrial contact. Is this a good thing, or could the truth be that we are being set up for a great deception of historic proportions?
So it seemed odd that Jimmy Kimmel would ask Bill Clinton about UFOs. Is that something that Clinton actually wanted to talk about? When Kimmel asked his questions, Clinton seemed quite prepared with his answers. Among other things, he told Kimmel that "the differences among people of Earth would seem small" if we were to be suddenly confronted with contact by extraterrestrials. The former president said on "Jimmy Kimmel Live" Wednesday that an invasion by extraterrestrials might be the best way to unite the fractious countries of our war-wracked planet. "It may be the only way to unite this increasingly divided world of ours, think about all the differences among people of Earth would seem small if we feel threatened by a space invader. That's the whole theory of 'Independence Day,'" he said, referring to the hit 1996 sci-fi disaster flick. "Everybody gets together and makes nice."
Back in 1987, President Ronald Reagan made a similar statement. He told the United Nations General Assembly the following. "I occasionally think how quickly our differences worldwide would vanish if we were facing an alien threat from outside of this world." At that time, a belief in "aliens" was usually ridiculed. Just think how much has happened since that time to help prepare humanity for alien contact. Not only have we been primed to think that it could happen someday, we have been primed to expect that it will happen someday.
In fact, according to a survey conducted by National Geographic, 77 percent of all Americans already "believe there are signs that aliens have visited Earth". But only 68 percent of all Americans believe that Jesus is God or the Son of God. That means that more Americans believe that UFOs have visited us than believe what the Bible has to say about Jesus Christ.
At this point, even the most hardcore "skeptics" in our society seem absolutely primed for extraterrestrial contact. Just consider celebrity atheist Neil deGrasse Tyson, the host of the new Fox series "Cosmos" A Spacetime Odyssey". He appears very open to the possibility that aliens have visited us or may visit us in the future. In fact, he has joked that aliens may be avoiding open contact with us because they can't detect any sign of intelligent life on this planet. "I wonder if, in fact, we have been observed by aliens and upon close examination of human conduct and human behavior they have concluded that there is no sign of intelligent life on Earth". And celebrity atheist Richard Dawkins seems very open to the possibility that life on earth may have been "intelligently designed" by aliens.
Alternatively, the Vatican also appears to be extremely interested in the search for extraterrestrial life. Vatican astronomers speak excitedly about the possibility of contact with "brother extraterrestrial", and one has even suggested that aliens could "be the Saviors of humankind". It seems like almost everyone is looking up at the stars, hoping for contact with other life-forms.
Most people out there seem to have the hope that when we do make contact with aliens, that they will come in peace. And there are many people, including Bill Clinton, that seem to believe that contact with extraterrestrial life will finally be the moment that unites the entire world.
FOJ Note: Could this subject be the basis of the "strong delusion" mentioned by Paul in his letter to the Thessalonians? I seriously think it could be! It would certainly fit into the "great Deceiver's scheme for world control. (II Th 2:8-11 And then shall that Wicked be revealed, whom the Lord shall consume with the spirit of his mouth, and shall destroy with the brightness of his coming: Even him, whose coming is after the working of Satan with all power and signs and lying wonders, And with all deceivableness of unrighteousness in them that perish; because they received not the love of the truth, that they might be saved. And for this cause God shall send them strong delusion, that they should believe a lieJ
Assad Using Large Syrian-Hizballah-Iraqi Force to Recover Golan Position On Israel Border
April 10….(DEBKA) The Syrian army's 90th Brigade's loss of its forward Golan position at Tel Al-Ahmar to rebel forces including al Qaeda's Nusra Front was Bashar Assad's most humiliating military setback in the past year. Situated on the Israeli border, it is the key to the Golan town of Quneitra which faces Israeli army positions on the other side. To recover this strategic position, Assad has mustered a combined Syrian-Hizballah-Iraqi Shiite expeditionary force, the recipe for most of his victories against rebel forces in the past year.
Debkafile military sources also disclose that for the capture of Tel Al-Ahmar, the rebels for the first time deployed units the size of battalions, drawing 350 fighters from ten local militias from southern Syria and elements of al Qaeda's Jabhat al Nusra. Among them too were local Syrian fighters trained by American instructors at a camp deep in the desert of southern Jordan. This was the trainees' first taste of combat inside Syria.
Our military sources add that the battle for the Golan key point was the first rebel operations that was professionally planned, organized and executed. They used heavy 120mm mortars to pound their target into submission. Iraqi Shiite fighters are pouring into Syria in a swelling stream to join Assad's expeditionary force for the Golan. Most are believed to be members of the Asaib Ahl al-Haq under the command of Abu Mahdi Mohandes, the deputy of the Iranian Al Qods Brigades chief Gen. Qassem Soleimani.
In his speech on Friday April 4, Hassan Nasrallah said that henceforth his Hizballah fighters would strike Israel from their positions on the Syrian Golan. This confronts Damascus with a difficulty. The Syrian army is legally constrained from deploying tanks and armored vehicles for operations against the rebels under the Syrian-Israeli 1974 ceasefire agreement which ended the war of attrition following the Yom Kippur war. This agreement restored 5 percent of the plateau to Syrian control provided it was incorporated in a demilitarized zone to the east and policed by UN peacekeepers. But on Tuesday evening, April 8, the Syrian air force bombarded the rebels holding Tel al-Ahmar, with Iranian-made explosives in breach of that agreement. The response to that violation poses Israeli Defense Minister Moshe Ya'alon and IDF Chief of Staff Lt. Gen. Benny Gantz with some major decisions:
1. Should the Syrian Army be allowed to drive the rebels from Tel al-Ahmar?
2. To achieve this, Syrian forces would have to use heavy weaponry, a further violation of the Syrian ceasefire agreement with Israel. How many violations can the IDF tolerate?
3. Should Israel permit hostile foreign troops, such as the Lebanese Hizballah and the Iraqi Shiites,to take up positions on its northern border?
4. How will the IDF deal with the almost inevitably spillover of battles, explosions and bombardments taking place in this tiny area into Israel?
5. Will Israel continue to provide medical care for wounded rebels in the battle for Tel al-Ahmar? If so, Israeli medical teams and hospitals may find they are treating jihadis associated with Al Qaeda.
Netanyahu Orders No More Talks With Palestinians
April 10….(Israel Hayom) Prime Minister Benjamin Netanyahu on Wednesday ordered Israeli government ministries to cut off high-level contacts with the Palestinian Authority on non-security related issues. The Prime Minister's Office said the move was a response to the recent Palestinian decision to submit applications to join 15 international organizations and conventions. Israel and the Palestinian Authority have hurled accusations at one another in recent days over the crisis in the peace talks, but on Tuesday, US Secretary of State John Kerry described the circumstances leading to the impasse and hinted that it was Israel's fault.
Kerry was scheduled to meet Wednesday in Washington with Foreign Minister Avigdor Lieberman, currently in the US trying to salvage the negotiations. Despite the content of the meeting being held under wraps, it was clear to all sides, namely the Americans, that the meeting was crucial in determining their degree of involvement in the continuation of the diplomatic process. Lieberman told Israel Radio on Tuesday that Abbas would have to withdraw the applications to international organizations and conventions in order for the prisoner release to be re-addressed. He also suggested the negotiating format may have to be altered to include direct meetings between Netanyahu and Palestinian Authority President Mahmoud Abbas. Kerry's comments before the Senate, meanwhile, infuriated Israeli officials.
Economy and Trade Minister Naftali Bennett issued a swift response to Kerry. "Israel will never apologize for building in Jerusalem," Bennett said. "I heard that someone (Kerry) has decided building in Jerusalem is the reason for the breakdown in the talks with the Palestinians. For many years people have tried to prevent us from living in the eternal capital of the Jewish people. This won't happen. Building in Jerusalem is not a 'poof.' Building in Jerusalem is Zionism."
Speaking on Israel Radio, Lieberman said, "The truth must be told, the Palestinians in general and Abbas in particular are not interested in reaching an agreement. Yalon said, "Every time, the Palestinians run away from the peace process, they try to blame us." On Passover, we need to free ourselves from mental enslavement to irrelevant concepts on the Israeli-Palestinian matter."
What Kerry Forgot When He Blamed Israel
April 10….(Israel Today) Israel was stunned on Wednesday, as attested to by the morning newspaper headlines, that US Secretary of State John Kerry had effectively "thrown it under the bus" by apportioning the lion's share of the blame for failed peace talks to the Jewish state. Kerry was referring to Israel's initial postponement of the fourth of four prisoner releases agreed to as a condition for the Palestinian leadership joining the negotiations in the first place.
What Kerry left out is that Israel was prepared to carry out the release, just as it had the previous three, but was fully aware that no agreement was going to be reached by the end of the nine-month timeframe the Americans had put on the current talks. As such, Israel wanted a guarantee that the talks would be extended, that it wasn't releasing jailed killers for nothing. The Palestinians refused to provided such a guarantee, strongly suggesting that they had no real intention of reaching a compromise peace settlement. In referring to "700 units in Jerusalem," Kerry was partially blaming the collapse of talks on Israel's issuing tenders for the construction of new apartments in the southern Jerusalem neighborhood of Gilo, which the Palestinians claim is a "settlement" and must be part of a future Palestinian state.
What Kerry left out is that the issuing of such tenders is routine in large neighborhoods like Gilo, and, more importantly, that Israel has officially annexed the whole of Jerusalem and never committed to not building in its own capital.
What Kerry left out is that the "unhelpful" step taken by the Palestinian leadership not only threw a wrench in current negotiations, but was a fundamental violation of all signed agreements between Israel and the Palestinians going back to 1993.
As chief Israeli negotiator Tzipi Livni pointed out, when Palestinian leader Mahmoud Abbas signed 15 treaties with international organizations and conventions, he reneged on the Palestinians' promise to only seek independence and sovereignty via a bilateral agreement with Israel. In response to Abbas' maneuvering, Prime Minister Benjamin Netanyahu on Wednesday ordered his government to suspend all ties and cooperation with the Palestinian Authority.
As things currently stand, an overwhelming 92 percent majority of Israelis do not believe negotiations can lead to a final status peace agreement, according to a survey conducted by the Israel Democracy Institute and Tel Aviv University. Even 87 percent of left-wing Israelis said peace with the current Palestinian leadership is beyond reach.
Earth's Birth Pains Increasing? Earthquakes In Diverse Places
April 10….(Prophecy News Watch) The first week of April was a shaky one, with earthquakes reported in San Francisco, Los Angeles, Wyoming, and Chile. Over the past month, a wave of earthquakes has captured people's attention ;a magnitude 6.9 off of Eureka, north of San Francisco, a pair of magnitude 4-5 earthquakes in the Los Angeles basin, a magnitude 4.8 near the Yellowstone Caldera in Wyoming, and then, a massive magnitude 8.2 off the coast of Chile that even generated a tsunami.
Each year, there are many thousands of earthquakes felt around the world. According to the US Geological Survey, using data going back to 1900, there are over 20,000 earthquakes of magnitude 4 or greater every year. That works out to be, on average, approximately 50 per day. Even large earthquakes (magnitude 6 or greater) occur, on average, over 150 times per year. The 8.2 earthquake that shook northern Chile and surrounding countries late Tuesday night was one of a string of recent earthquakes along what is known as the "Ring of Fire," a circle of quake-prone areas on the Pacific Rim.
On Monday, March 31st, parts of Wyoming-Montana were shaken by a 4.8 magnitude earthquake in the Yellowstone National Park area. In the days following this trembler, bison and other animals were seen fleeing the area. Bloggers in the region have theorized that the animals are fleeing an impending eruption of the Yellowstone Park's Caldera supervolcano. "Whether I believe this, or whether I don't believe the story or not, I don't know. I can tell you this story I saw this morning about the buffaloes running the street whether or not it's because of any activity in Yellowstone or not, I don't know," stated blogger Jay Lee/
Seismic activity at Yellowstone isn't unusual. The land boasts the world's largest collection of geysers, formed by volcanic activity. Ton Lupshu reported seeing "herds of bison running for their lives on the public roadways, running right past a filming crew." A survivalist and search and rescue expert, Lupshu believes the animals are running for their lives and "the Yellowstone Supervolcano is the only thing that fits the bill."
Monday's seismic activity was the largest in 34 years and the latest in a flurry that began last week, with more than 25 smaller quakes reported by the University of Utah's seismographs. A team of researchers, including Dr. Bob Smith of the University of Utah, recently discovered that the supervolcano is approximately 2.5 times bigger than previously thought with a cavern stretching more than 55 miles! "We've been working there for a long time, and we've always thought it would be bigger, but this is astounding," Smith told the BBC.
So what, if anything, do all these recent quakes have in common? Earthquakes do tend to occur in clusters. These" seismic clusters" result when a big earthquake puts further strain on the surrounding faults, which are likely to rupture soon after. Earthquakes therefore can trigger one another. A large number of earthquakes and volcanic eruptions occur around the "Ring of Fire". In fact, 90% of Earth's quakes happen in this area. Not surprisingly, due to the natural beauty of the Pacific Rim area, this is a highly populated region. This high level of population and subsequent development makes this region particularly susceptible to loss of life and property damage.
Of note, March 27th marked the 50th anniversary of the largest earthquake in US history: Alaska's 9.2 magnitude spawned a deadly tsunami, massive landslides, damage from Canada to Hawaii and ultimately killed 131 people. Interestingly, this was the second most powerful earthquake ever recorded.
Nearly 2000 years ago, as a part of His Olivet discourse, Jesus listed "earthquakes in divers places" as a "beginning of sorrows" that would occur before His 2nd coming. The term "diverse" is an archaic spelling of diverse, meaning many and varied. So we should expect to see many earthquakes of differing intensities, happening in various places throughout the Earth, prior to the return of Jesus Christ.
According to the US Geological Survey, from 1973 until 2011, there have been 8 years that have exceeded the yearly average number of major earthquakes, 7.0 or greater. Those years were, 1976,1990,1995,1999,2007,2009,2010, and 2011.
The Bible reveals that there will be several major earthquakes during the last 7 year period on earth, often called "The Tribulation Period". One of those earthquakes will directly affect Jerusalem: (Revelation 11:13 "At that very hour there was a severe earthquake and a tenth of the city collapsed. Seven thousand people were killed in the earthquake, and the survivors were terrified and gave glory to the God of heaven".)
During last October five tremors shook the northern region of Israel in a span of one week, prompting Israeli officials to issue a general alert to citizens to update their knowledge about emergency measures during quakes. Seismologists in Israel agree that a major earthquake is only a matter of time. The last Big One was in 1837, magnitude 7.0 and with an epicenter in northern Israel's Hula Valley. It devastated the town of Safed, killing some 4,000 people.
According to Ata Elias, an assistant professor of geology at the American University in Beirut, "We know from historical records that at least twice in the last millennium along the entire fault line form the Red Sea up to Turkey there were a major series of earthquakes in the 3rd to 6th century and then again between the 11th and 13th century. Apparently the faults in the area have a cycle of 8–10 centuries, so we're due for another one."
In many areas of the Middle East, homes are built very closely together, often on sandy soil or clay, rather than on solid rock. The cost of constructing new buildings in accordance with earthquake codes adds an estimated three to five percent to the total price tag. Making existing buildings safe is very expensive and governments do not seem to want to invest these sums of money. Israeli seismologist Ephraim Laor says that in Israel, new fault lines have been discovered in heavily populated areas. He says Israel is not prepared for an earthquake, "you can't even dream of what a big earthquake would be like here".
While we have not yet entered that seven year period of time described in the Bible it seems inevitable that we are going to experience much more shaking in the days ahead. The great and final earthquake that appears to change the very topography of the earth is described in the Book of Revelation in such a way that one is reminded of the language used to describe Noah's flood:
Kerry Blames Israel for Failed Peace Talks
April 9….(Times of Israel) US Secretary of State John Kerry said Tuesday that both Israelis and Palestinians were responsible for the current crisis in peace talks, but appeared to allocate the lion's share of the blame to Jerusalem. At the same time, he expressed hope that the two sides would continue to negotiate, but also warned that there was a "limit" to how much effort the US government could invest in the process if the two parties weren't serious about negotiating a pact. Kerry said at a hearing of the Senate Committee on Foreign Relations, delineating what he said led to the current impasse. "The prisoners were not released by Israel on the day they were supposed to be released and then another day passed and another day, and then 700 units were approved in Jerusalem and then poof, that was sort of the moment," Kerry said.
The secretary of state was referring to the planned fourth release of Palestinian security prisoners, which was originally slated for March 29. Israel did not proceed with the release on time, with Jerusalem saying that it was delayed because the Palestinian Authority had demanded that Israeli Arabs be among those freed and was unwilling to commit to extend peace talks beyond their April 29 deadline. He also said that Palestinians recognition of Israel as a Jewish state should be part of a final peace agreement, but added that the step would likely only be achieved at the very end of the process and not at the outset. Prime Minister Benjamin Netanyahu has in recent months elevated the demand for such Palestinian recognition to that of a core issue. Despite his evident frustration, Kerry said it was still possible for the two sides to find a way to extend the talks and return to "substantive discussion." Senator John McCain told Kerry that "talks, even though you might drag them out for a bit, are finished
Moscow and Ramallah: The New Alliance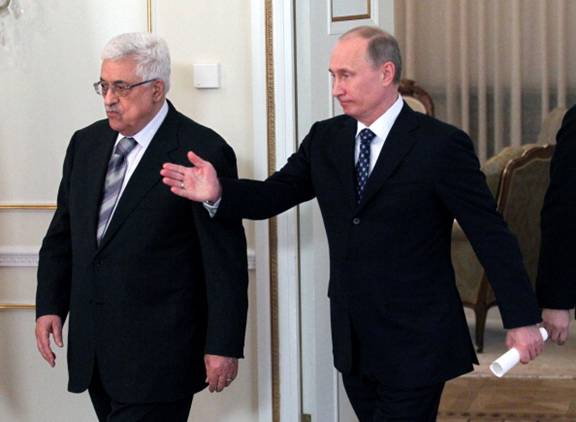 April 8….(YNET) Last week, the Palestinian Authority halted (until further notice) the talks with Israel and the United States. Basically, the Palestinians have more or less spit in America's face. (thank you for the billions of dollars, but, get lost) The Palestinians are going to take a look in Russia's direction. Under these circumstances, it's only natural that the Kremlin is interested in expanding its (very limited) global circle of friends, and that the Palestinians are interested in an alternative patronage, in a strong, reliable friend with deep pockets. The Russian-Palestinian strategic alliance appears, therefore, to be a self-evident political and diplomatic move, which serves both sides very well.
From a Russian strategic point of view, the Palestinian Authority is perceived as an ideal bridgehead to the Arab world and as a fighter against the radical and fanatic Islam, which Russia sees as an enemy too. Some of the PLO's leaders studied in Soviet universities, understand Russian and share Putin's opinion that the dissolution of the Soviet Union was "the greatest political disaster of the 20th century."
From a Palestinian point of view, Russia's credibility as a world power which does not abandon its protégés has been clearly proven in its attitude towards the Assad regime in Syria. Ramallah officials are certain that Russia can, within hours, approve emergency economic aid at a volume which the US is incapable of approving under any circumstances. Russia's representative at the UN will vote in favor of upgrading Palestine in the organization, while the US representative will object. The "Duma" (Russian assembly) in Moscow sympathizes with them, while the Congress in Washington is hostile towards them. The shift away from a US led process to Russia by the Palestinians could change the balance of power in the region.
US Warns China About Expansionism in Pacific
April 8….(AP) Pentagon chief Chuck Hagel on Sunday warned China against unilateral action to resolve territorial disputes with its neighbors, drawing a parallel with Russia's incursion in Ukraine as he announced two more warships would be sent to Japan. Seeking to reassure Washington's longtime ally Japan, Hagel's remarks and promise of more missile defense ships came as Tokyo faces a tense row with Beijing over islands in the East China Sea. "All nations deserve respect, no matter how large or how small," Hagel said during a visit to Tokyo. "I think we're seeing some clear evidence of a lack of respect, and coercion and intimidation with ... what the Russians have done in Ukraine," he told a news conference with his Japanese counterpart, Itsunori Onodera. Countries had to speak up and reject such a blatant violation of international law, said Hagel, referring to Russia's annexation of Ukraine's Crimean peninsula.
And in a veiled reference to China and its territorial arguments with Asian neighbors, Hagel said smaller countries had the same sovereign rights as larger states. "You cannot go around and redefine boundaries, violate territorial integrity and sovereignty of nations by force, coercion and intimidation, whether it's in small islands in the Pacific, or large nations in Europe," Hagel said. "So I want to talk to our Chinese friends about this," said the defense secretary, who departs for Beijing on Monday. His comments underscored a tougher line by the US government on China's approach to territorial claims in the South China Sea and the East China Sea, after some Southeast Asian countries accused Beijing of intimidatory tactics. A topic Hagel plans to raise with the Chinese this week is "respect for their neighbors," he said. "Coercion, intimidation is a very deadly thing. It leads only to conflict," he said.
In Tokyo, Hagel unveiled plans to send two more Aegis missile defence warships to Japan by 2017, citing "Pyongyang's pattern of provocative and destabilizing actions."
The US ships would join five missile defense vessels already stationed in the area, and were part of an American strategic "rebalance" to the Asia-Pacific, officials said. Japan has deployed its own Aegis missile defense ship to the Sea of Japan (East Sea) in recent days, after North Korea last month test fired two medium-range ballistic missiles.
Tokyo has reportedly ordered its forces to destroy any North Korean ballistic missiles that pass through its airspace. Tokyo scrambled military aircraft last month after three Chinese planes flew near Japanese airspace, the latest confrontation in the East China Sea dispute.
The islands are administered by Japan, which calls them Senkaku Islands, but are referred to as the Diaoyu Islands by China. Chinese ships and planes have been seen off the disputed islands numerous times since Japan nationalized them in September 2012, sometimes within the 12 nautical-mile territorial zone.
Palestinians Ready to Seek Global Recognition Bid
April 8….(YNET) The Palestinians are ready to sign up a "state of Palestine" for additional international agencies and treaties, a step Israel views as highly provocative, if US peace efforts collapse after an April 29 deadline for a deal, a senior official said Monday. The warning by Mohammed Ishtayeh, an aide to Palestinian Authority President Mahmoud Abbas, came as US mediators tried to defuse the worst crisis in the negotiations since Secretary of State John Kerry persuaded the two sides last summer to resume talks for nine months. Kerry originally hoped for a peace deal by April 29. He lowered his sights after months without progress, saying he sought a framework deal by that date. In recent weeks, negotiations focused on reaching agreement on extending the talks into 2015. Ishtayeh said the Palestinians "are keeping the door open for any serious talks" until April 29, but that gaps on almost all issues have only widened and that Israel isn't negotiating in good faith.
Israel has also accused the Palestinians of not being serious about reaching a deal. Ishtayeh said the Palestinians won't agree to an extension unless Israel first agrees to release the final group of prisoners. If it becomes apparent by April 29 that Kerry's efforts have collapsed, the Palestinians are set to resume the recognition campaign, Ishtayeh said, without giving a timeline. The 63 agencies, treaties and conventions have been divided into four groups, he said, adding that, "the second tranche of UN organizations is ready for signing."
Asked about possible Israeli retaliation, Ishtayeh said he believes the Palestinians can count on continued financial aid from Europe and the Arab world. Israel could face increasing international isolation if the Palestinian campaign for wider recognition succeeds. Israel has argued that it's a means of sidestepping negotiations.
Obama Administration Supplies Syrian Rebels
April 8….(DEBKA) Syrian rebel militias judged moderate in Washington have in the last few days taken delivery and begun using, the first advanced US weapon to be deployed in more than three years of civil war, Debkafile's military sources reveal. It is the heavy anti-tank, optically-tracked, wire-guided BGM-71 TOW, which is capable of piercing 50mm thickness of Syrian tank armor and Syrian fortifications at a range of 4 kilometers. Armed with this weapon now are Brig-Gen. Abdul-Hila al Bashir, the new commander of the rebel Free Syrian Army, which is headquartered at the Golan town of Quneitra, and Jamal Maarouf, head of the rebel Syrian Revolutionary Front fighting in the north. The appearance of this advanced missile radically alters the balance of strength on the Syrian battlefield. It also denotes a striking change in Obama administration policy, which hitherto flatly resisted every demand to provide Syrian rebel groups with the heavy arms essential for them to have any chance of standing up to Bashar Assad's superior military strength. Our sources report that in the last few days, the new weapons are being airlifted in through two routes: the southeastern Turkish town of Diyarbakir on the Tigris, and the giant northern Saudi King Faisal Air Base at Tabuk near the Jordanian border.
US Gen. Martin Dempsey, Chairman of the Joint Chiefs, arranged during his visit to Israel last week for the Netanyahu government to waive a standing agreement between the US, Saudi Arabia and Israel, whereby Saudi Air Force F-15 fighters are not stationed in Tabuk given its proximity to Israeli air space. Dempsey explained that they were needed as air cover for the American transports flying the new weapons in via Saudi, and the convoys ferrying them onward from the Saudi base to their destination in southern Syria through Jordan.
Washington is still confronted with its next decision about whether to give the rebels sophisticated anti-aircraft weapons as well. According to our sources in Washington and Moscow, Russian Foreign Minister Sergey Lavrov obtained from US Secretary of State John Kerry a commitment, when they met in Paris last week, not to supply the rebels with hand held anti-aircraft missiles.
The Pope's Anti-Semitic Plan for Jerusalem
April 7….(Arutz) On his trip to the Middle East, the Pope is going to make obvious his support for the PA and antagonism for Israel. The Pope will be received by "the President of the State of Palestine" (words taken from the Vatican official note). Thus, Pope Francis' visit in the "holy land" will be a kind of final solution for the Jewish sovereignty over Jerusalem. Then the Pope will be received in the "Phoenix Center of the Dhaisheh refugee camp". He will endorse the "inalienabile right" of millions of descendants of Palestinian Arab refugees to repossess the homes and villages that their grandparents and great-grandparents had lost in 1948, an act which would dismember the modern state of Israel.
The Vatican has always presented the 1948 war as the source of an "injustice" committed by Israel when it "pushed away" the Palestinian Arabs. Pope Francis will talk with the people in charge of the Ibdaa camp, whose main goal today is to educate Palestinian Arabs about the 1948 Nakba (catastrophe).
Does the Pope know that Dehaisheh has also been a notable breeding ground of suicide bombers? Will the Pope see the graffiti and poster glorifying the Arab terrorists who dismembered Jewish babies and mothers?
Pope Francis will join the Grand Mufti of Jerusalem "in the building of the Great Council on the Esplanade of the Mosques". It will be an implicit recognition of Muslim hegemony over the Temple Mount, Judaism's most sacred site in the world. The Pope's visit is taken to mean that Islam and Christianity superseded the Jewish religion and have the right to "inherit" its holy places.
When the pontiff John Paul II ascended to the Temple Mount in 2000, he wasn't welcomed by any Israeli official, but by representatives of the Palestinian Authority, and the holy complex was bedecked in Arab flags. A few months later, the Intifada broke out leaving 1,600 dead and maimed Jews. Does Pope Francis know that Sheikh Muhammad Ahmad Hussein, who will join the Pope, last year declared that "the Hour of Resurrection will not come until you fight the Jews"?
Does Pope Francis know that Jerusalem's Mufti at funeral ceremonies for terrorists promoted terror against Israel, saying that the terrorists' souls "tell us to follow in their path"? Does Pope Francis know that this Sheikh denied the existence of the Jewish Temples?
Pope Francis will also celebrate a mass "in the room of the Cenacle in Jerusalem". Are Jews aware of the immense symbolism of this event? The Cenacle lies on Mount Zion, where David and Solomon, Jewish kings of Judea, are considered by some researchers, to also be buried. The Pope's mass will be the culmination of a long campaign by the Catholic Church to regain religious stewardship over the place where Jesus is supposed to have broken bread and drunk wine with his disciples on the eve of his crucifixion.
The Pope will also visit Yad Vashem memorial. It is not a gesture of empathy for the Jewish people, but of perfidy, because the Holocaust has become for the Church the counterweight to the recognition of the Jewish condition in politics and history, the recognition of Jews as a people, along with Israel and Zionism.
The Pope will have a tepid moment of prayer at the Wailing Wall and will spend a few hours mourning for the Holocaust's Jews. But for the rest of the time, the Pope will be there for the Muslims, in order to recognize their genocidal "right of return" and their apocalyptic right to get control over Jewish holy sites.
Options For Middle East Peace, Now That Kerry Has Failed
April 7….(DEBKA) Palestinian leader Mahmoud Abbas, nearing 80, has proved time and again in the last two decades that he will never put pen to paper on an accord for ending the dispute with Israel. If he really wanted an independent Palestinian state, he could at any time have followed the path to self-determination chosen by David Ben Gurion, when he declared Israeli statehood on May 14, 1948 in Tel Aviv. Had Abbas (known mostly as Abu Mazen) formally convened an assembly of Palestinian community and institutional leaders at the Palestinian parliament building in Ramallah and proclaimed statehood, there would have been very little Israel could have done. But that is not his way and never has been, because for him Palestinian independence is no more than an abstract slogan which must never come to earth.
In 1995, Abbas and the dovish Israeli politician Yossie Bailin jointly drafted a document, which later carried their names, offering a formula for resolving the Palestinian-Israeli dispute, except that he never signed it. He couldn't bring himself to this commitment, because it conflicted with his fundamental principles and put his political survival at risk. Today, too, the rise of a Palestinian state would end Abbas's career as Palestinian leader. He holds sway over the six West Bank towns which passed to Palestinian Authority control without a legal mandate. The last Palestinian elections in 2006 gave his Fatah party only 48 seats compared with 76 netted by the rival Hamas.
Israel, the United States and Europe therefore respect as their legitimate Palestinian partner for peace negotiations a figure who is unelected and whose rule is buttressed by seven Palestinian security battalions, which America and Europe agreed to bankroll to the tune of $2 billion, after the cutoff of Arab aid. Another three battalions are due to be added to the force. So Abu Mazen keeps up the masquerade of striving for Palestinian independence and staying in the talking shop for two purposes: It keeps him in power by dint of international recognition, and donations continue to roll in to feed his corrupt regime and cover the payroll of his security force. Not much is left to trickle down to the ordinary Palestinian family. To buy a small measure of street credibility, Abbas must show the people that he is the only leader able to force Israel to release Palestinians from long prison sentences. He achieves this by making this his price for not walking away from the table
So as long as the money flows in and Palestinians are sprung from Israeli jails, no voices are raised in circles that count in Ramallah against the corrupt practices eating away at the regime. Abbas therefore ranted and raved when Israel's cancelled the fourth batch of 26 Palestinian prisoners due to be released March 30, to punish him for sending applications to 15 UN agencies and conventions for membership to bypass the negotiations. Israel also hit back at Abbas with a threat of sanctions, some directed against his personal business interests.
US Secretary of State John Kerry's hard work as would-be peacemaker was not just thrown back in his face but drew criticism at home from his colleagues in the White House and State Department. He tried Thursday to speak to both Israeli and Palestinian leaders in what was described as a desperate bid to bring the two sides back to the negotiating table. The US Secretary rebuked both the two leaders equally for engaging in "tit-for-tat" tactics, but he knew exactly which side had caused the rupture. Kerry must by now realize that Abu Mazen's history of withdrawing from any fruitful dialogue for peace made this outcome inevitable. Had he gone for interim accords, which he never considered, rather than final solutions, he might have bought a few years' lull in the dispute, although this too would have come apart over the same Palestinian dynamic.
In the past, Abu Mazen had to contend with only one effective dissenting voice. It came from his bitter rival, Mohammed Dahlan, who ended up quitting his comfortable berth on Palestinian Authority and Fatah councils in Ramallah and going into exile. There, too, he landed on his feet. Some 30 years younger that Abbas, Dahlan has been a persona non grata for Israel as former Gaza strongman and innovative terrorist. He is problematic on at least three more counts:
1. Seven years ago, he extracted from the US government a huge sum, estimated at $1 billion, for promising to rid the Gaza Strip of Hamas rule. He never delivered and refused to refund the money. That is one US count against him. In addition, he has thrown in his lot with Saudi Arabia and the United Arab Emirates and their offensive against Obama administration Middle East policies.
2. Because of his unbridled criticism of Mahmoud Abbas and calls for his removal, Dahlan is on the run from his enemies who have sworn to destroy him.
3. Dahlan has managed to win the sympathy and patronage of powerful Gulf rulers. With their help, he established himself three months ago in Cairo within the Egyptian strongman Abdel-Fatteh El-Sisi's inner circle of advisers on the Palestinian question. This explains why Abbas gives Cairo a wide berth. The Palestinian renegade gained this position through the influence of UAE Crown Prince Mohammed Bin Zayed Bin Sultan Al Nahyan, who is one of El-Sisi's most generous bankers and who stands at the forefront of the Saudi-UAE life-and-death campaign against the Muslim Brotherhood.
The talk of Ramallah this week was not the breakdown of talks, which surprised no one there, but interest in the way the Palestinian fate could be profitably drawn into the Saudi-UAE-Egyptian war on the Muslim Brotherhood and its offspring Hamas, away from the American ken. Abbas's rival Dahlan is shaping up as facilitator.
This trend appears to have been picked by some Israeli government and intelligence circles, judging by a comment heard from Foreign Minister Avigdor Lieberman Wednesday, April 2, during an office party on Passover Eve. He remarked that the ball is now in the Palestinian court. "Irrespective of the negotiations, Israel has found an attractive political horizon in such places as the Arab oil emirates and Saudi Arabia," he said, adding: "If Abu Mazen is willing to follow us in that direction, fine. If not, we don't need him." This comment suggested that Israel has thoughts of linking up with the emerging Saudi-Egyptian-UAR bloc and bringing the Palestinian issue on board. Whether or not these thoughts crystallize into hard policy, they hint at an alternative Israeli approach to the Palestinian question.
WEEK OF MARCH 31 THROUGH APRIL5
Obama to Military Brass: Agree With Me on Gay Policy or Get Out
April 2….(Newsmax) President Barack Obama told the nation's military leaders to either back his efforts to end their controversial "Don't Ask, Don't Tell" policy or resign, BuzzFeed reported. In a video obtained by the news website, Coast Guard Commandant Adm. Robert Papp says Obama refused to compromise with the nation's five service leaders during a meeting in 2010. "We were called into the Oval Office and President Obama looked all five service chiefs in the eye and said, 'This is what I want to do,"' Papp says on the video. "I cannot divulge everything he said to us, that's private communications within the Oval Office, but if we didn't agree with it, if any of us didn't agree with it, we all had the opportunity to resign our commissions and go do other things."
Papp's remarks came during a meeting with US Coast Guard Academy cadets, when he was asked how officers should deal with policies they disagree with, but must abide by. "If I disagree morally with a policy, it's my obligation to voice that, regardless of the risk it might give my career'' Papp says on the video. "I've been in those situations. I've been fortunate to have good leaders that have appreciated that." Papp also said he believed abolishing "Don't Ask Don't Tell" was a proper decision. "Don't Ask, Don't Tell," an official US policy adopted by the Clinton administration in 1994, prohibited gays and bisexuals from disclosing their sexual orientation while serving in the military. The policy also banned those who demonstrated a "propensity or intent" to engage in gay behavior from serving, because it would "create an unacceptable risk to the high standards of morale, good order and discipline, and unit cohesion that are the essence of military capability." The policy was ended in 2011.
Abbas Douses Another US-led Peace Effort, Kerry Ready to Give Up
April 2….(DEBKA) Palestinian leader Mahmoud Abbas did not announce his walkout from the negotiations with Israel or directly turn down the package of far-reaching Israeli concessions which US Secretary of State John Kerry assembled with Binyamin Netanyahu early Wednesday, April 1. He simply turned his back on the commitment he made ahead of the talks to refrain from unilateral applications to UN bodies while they were in progress. As soon as the US Secretary flew off to Brussels, he sent out applications for "the independent Palestinian State" to join 12 UN agencies as members.
This was after the Palestinian leader upped his price for meeting Kerry's request to extend peace diplomacy from April up until the end of the year. He demanded that Israel raise the number of 26 Palestinians due to be released from jail this weekend, to 1,000. They must also include Israeli Arabs. He was not satisfied with Israel's offer to free another 400 terrorists and accept a partial settlement freeze; Israel must release the same number as it traded for Gilead Shalit, the Israeli hostage held by Hamas, he said.
Abbas further insisted on top Palestinian terrorist operatives serving sentences for multiple murder be on the list of released prisoners, including the notorious Marwan Barghouti (who is serving six life sentences for six murders), Ahmad Saadat, (who plotted the assassination of the Israeli cabinet minister Rehavam Zeevi) and the return to their homes of terrorists exiled as too dangerous to leave at large in the Palestinian territories.
Prime Minister Binyamin Netanyahu tried to calm the anger in his cabinet and the Israeli public over the bottomless Palestinian capacity for extortion. His associates said that he shared John Kerry's belief that buying another nine months for the negotiations would give the US-led peace track a good shot at running full course. However, Mahmoud Abbas placed deliberate obstacles in their path by holding the diplomatic process hostage to continual Israeli concessions.
Debkafile's sources report that the US Secretary's plan to visit Ramallah and Jerusalem Wednesday, April 2, to tie up the last ends of his new package, is now up in the air, the subject of frantic consultations in Washington. The prospect has faded for the Israeli spy Jonathan Pollard's early release after serving 30 years of a life sentence. President Barack Obama, unwilling to be associated with the imminent collapse of yet another US-sponsored Middle East peace effort, made it clear that he has not made up his mind about Pollard's release.
Later Tuesday, informed US sources said that it would be a long time before Secretary Kerry agreed to return to the region. This finale followed a rapid succession of somersaults in the fate of the Middle East peace talks during Wednesday, as Debkafile reported earlier: US Secretary of State John Kerry flew to Brussels Tuesday morning, April 1, after two rounds of talks with Israeli Prime Minister Binyamin Netanyahu in Jerusalem, and missing out on a meeting with Palestinian leader Mahmoud Abbas. US officials reported that Kerry is now aiming for a major breakthrough in the stalled Israeli-Palestinian peace talks by holding out to Israel the ultimate prize of Jonathan Pollard's early release. It was not clear what he had achieved before he left.
When he landed in Israel Monday night, Kerry brought Israel the fresh Palestinian demand for a tenfold increase in the number of Palestinian security prisoners listed for the fourth round of releases, 420 instead of the original 30, to include also Israeli Arabs, which a large number of ministers oppose. Israel was also required to accept a freeze on settlement construction on the West Bank as well as Jerusalem. These concessions were the Palestinians' price for accepting the extension of talks up until the end of this year.
Kerry agreed to put the squeeze on Prime Minister Binyamin Netanyahu yet again. He even dangled the ultimate inducement of the possible release (no promises) of Jonathan Pollard, who has served 30 years of a life sentence in a US jail for spying for Israel. Netanyahu has been fighting for Pollard's freedom for more than 16 years, hoping that repeated US-initiated peace negotiations with the Palestinians would provide an opening. He came close to success in 1998 when President Bill Clinton promised to release him, but then recanted in the face of furious CIA objections. Netanyahu explained that this US concession would provide his only hope of saving his government coalition and standing up to popular resentment for surrendering to Palestinian extortion beyond accepted bounds.
Administrations sources in Washington confirmed that the Pollard case would be open to discussion on certain conditions, i.e. further and bigger concessions to the Palestinians. The convicted spy, now 59, they said, would be eligible for a reprieve in November 2015. This had somewhat tempered the US intelligence agency's resistance to his early release.
Appreciating the high value of the Pollard card, the US Secretary tried using it as a lever to extract a really major Israel concession, beyond even the latest Palestinians demands. He pushed Netanyahu hard for a far-reaching step capable of generating a dramatic breakthrough for the US peace effort he is leading. He turned to Netanyahu because Abbas is frozen immovably in demand mode. So instead of shuttling back and forth between Jerusalem and Ramallah, Kerry spent most of Monday night and again Tuesday morning leaning heavily on Netanyahu for an ultimate concession for the ultimate prize of a freed Pollard. He faced two major obstacles: If he caved in to the US Secretary's wishes, Netanyahu knew he couldn't prevent the fall of his government, even if Pollard was thrown into the mix (which is still a big if). This was one cabinet crisis he could not be sure of weathering even after surviving into his third term as head of a coalition government. The other stumbling block was that the Palestinians, fully conscious of Kerry's objective and his pressure on Netanyahu, saw their chance to continually up their stipulations for more Israeli concessions as the price for keeping the talks afloat.
Those obstacles were still in force when the US Secretary flew out to Brussels Tuesday morning after a second round of talks with Netanyahu. What he managed to do was to shift the focus of US-Israeli-Palestinian negotiations to new terrain, American. President Barack Obama will be asked to consider making a contribution to the peace track on whose success his secretary of state has gambled heavily, by signing the papers for Jonathan Pollard's release and then preparing it for consumption in America. Netanyahu will also be asked for some fast explaining about the price Israel is paying for him in Palestinian currency. Pollard now has his first real chance of freedom. But this is far from glad tidings for Israeli-Palestinian diplomacy. Kerry's peace effort has demonstrated the truism established by all its forerunners that it is only kept alive by successful Palestinian blackmail. In all former cases, this formula has brought peace diplomacy to demise.
Iranian Christians: 'It was Important For us to Suffer'
April 2….(WND-David Limbaugh) On Sunday, two remarkable Christian women, Maryam Rostampour and Marziyeh Amirizadeh, spoke at our church, describing their harrowing tale of imprisonment by the Iranian regime because of their Christian faith. Both were raised in Muslim homes in Iran but never embraced Islam. As young adults, they became Christians and met each other while studying theology in Turkey in 2005. When they returned to Iran, they began evangelizing together for several years, covertly distributing Bibles to some 20,000 people and starting two secret house churches. In March 2009, they were arrested in Tehran for promoting Christianity, which is punishable by death. The regime officially charged them with apostasy, anti-government activity and blasphemy, and they were sentenced to execution by hanging. Before being cleared of all charges and released in 2009 as a result of worldwide prayer and international pressure, they endured 259 days in Evin prison. Thereafter, they moved to the United States and wrote a book together describing their horrendous experiences, "Captive in Iran."
In Evin, which is notorious "for torturing, raping and executing innocent people," they experienced brutal and humiliating treatment, poisoning and illness. They each endured solitary confinement and were interrogated once a week for eight or nine hours at a time. All the while, whether together or separated, they prayed for each other. The first week, they were horrified, and prayed to be released. But soon, they came to see their presence in prison as an opportunity to witness to other prisoners, many of whom were prostitutes and addicts and "so hopeless and sad." Maryam and Marziyeh prayed for them and saw God work in their lives as they cried and confessed their sins. It became "like a church for us," said Marziyeh.
Maryam said there was only one day out of the 259 during which she couldn't feel the presence of God. "That was the worst experience I ever had in my life," she said. "I was so sad. I didn't know what to do." She was in a cell with a Muslim woman, a political prisoner, in a building where no loud noises were allowed. But she heard a voice inside her telling her to start singing. "I wanted to sing, but I couldn't find the words. So I started singing very loudly, and the woman in the cell with me was so scared she told me to quit singing, but I continued singing, and after one hour, I could feel the presence of the Holy Spirit all around me and in my cell." She said that her Muslim cellmate could also feel the presence of God and asked whether they could sing together in Farsi. "So I taught her some worship songs, and we started singing with each other, and after two hours, I could really feel the peace and joy, and God told me, 'I am with you every day, even if you don't feel my presence.'"
At any time, they could have secured their own release by simply renouncing their Christian faith, but they each emphatically refused, saying, "We will never renounce our faith." Marziyeh told one Muslim prisoner who said they were "silly" for not renouncing their faith: "Our insistence on our faith is not out of stubbornness. I have lived with God for many years. He is my all. We are inseparable. My life has no value without him. I love God so much that denying him would be denying my own existence. How could I ever deny something that is in every cell of my body? I would rather spend the rest of my life in prison if that is what it takes to stay close to him. I would rather be killed than kill the spirit of Christ within me."
Maryam and Marziyeh feel they were ultimately released from prison because of God's grace. I find it moving that they were ambivalent about being released. Marziyeh related in their book: "Though my body was free, my soul and spirit were still with our precious friends suffering terrible injustice inside Evin Prison. This thought made it impossible for me to enjoy our new situation. I felt strangely indifferent to our liberation." They consider it an honor to have experienced a little of Christ's suffering by being imprisoned in his name. "It was important for us to suffer," they said.
They closed their book with this: "We had no idea what the Lord had in mind for us. For all the heartache we have experienced on this journey, we wouldn't have missed it for anything. It has been our honor to serve Christ in this way, to take up our cross and follow Him faithfully anywhere He leads us." They promised their friends in prison that they would pray for them and be a voice for them. So they've devoted their lives to be "a voice for the voiceless." What a different place this world would be if the rest of us had just half the faith of these courageous, devoted women.
World Leaders All Wear Pyramid Symbols at The Hague, Why?
March 31, 2014 (WND) During the Nuclear Security Summit, which was held on March 24th and 25th in the Netherlands, Reuters captured video of All-Seeing-Eye-300x300 presidents and Prime Ministers from all over the world wearing a very peculiar pyramid-shaped pin. The Nuclear Security Summit in The Hague formed the backdrop for an emergency meeting of Group of Seven leaders on Russia's annexation of Crimea.
Those that have studied secret societies and the occult know that the unholy pyramid is a very dark symbol that represents some of the deepest secrets of the elite. When it shows up in a very public forum like an international summit meeting, it is usually not by accident. When I first watched that video, it reminded me of a really bad apocalyptic movie. Except that it was real. And I find it interesting that at this same summit, Barack Obama, Chinese President Xi Jinping and most of the rest of the world leaders played a "nuclear war game."
Of course the cover story is that all of these world leaders were wearing pyramids to support "nuclear security", kind of like if you want to support breast cancer you pin a little pink ribbon to your jacket. And you never know, perhaps that is all that this was. But when I watched this video for the first time my jaw just about hit the floor. But, world leaders including President Obama, UK Prime Minister David Cameron and Chinese President Xi Jinping played a "nuclear war game" designed to test how they would respond to a global terrorist attack at a high-level meeting, the Telegraph reported Tuesday. The leaders also included German Chancellor Angela Merkel, who according to the Telegraph was unhappy and did not want to play the game. The game took place at the nuclear summit at The Hague and included dozens of other heads of state.
The game required leaders to respond to the scenario of a terrorist attack with a "dirty bomb" in a big Western city. Leaders had to answer a series of questions on how they would respond to the attack as the game progressed and new challenges arose. Let's hope that game does not foreshadow any real events. So what is the big deal about wearing pyramids?
US President Obama, upon leaving The Hague, went to visit the Pope in Rome, and from there on to visit the Saudi Arabian King in Riyadh. One can only wonder about all these secretive organizations and meetings.
---