WEEK OF MAY 25 THROUGH MAY 31
Iran Threatens to Annihilate Israel if US Attacks
(Senior Iranian commander says that any American attack on Iran will result in "the annihilation of the Israeli regime".)
May 31….(Israel National News) A senior Iranian commander threatened on Friday that any American attack on Iran will result in "the annihilation of the Israeli regime." "They know that aggression against the Islamic Republic of Iran would mean annihilation of Tel Aviv and spread of war into the United States," the commander, Massoud Jazayeri, was quoted by the Fars news agency as having said. His remarks came after US President Barack Obama said on Wednesday that there is an opportunity to resolve disputes over Iran's nuclear energy program but reiterated that Washington reserves "all options" against Iran, alluding to military action. Jazayeri described Obama's remarks as "childish dreams which may not come true". "Had the US and its allies the capability to attack Iran they would not hesitate a moment to carry out their barbaric act; and, of course, it is surprising that Obama is not embarrassed to rehash his empty words," he said. The Iranian commander said that the era of global hegemony has ended, adding that the "empire of money and weapons" will soon collapse.
Over the years, Iran has threatened Israel and the United States on more than one occasion. In March, a senior commander in Iran's Revolutionary Guards said that Iran is keeping its finger on the trigger and is ready to destroy Israel. The commander, Brigadier General Hossein Salami, said that Iranian military commanders are prepared to attack and destroy "the Zionist regime of Israel" as soon as they receive such an order. Previously, Salami said that Iran "could minimize the breathing room of the US and the West until the Zionist regime would no longer have room to breathe."
Iran's Supreme Leader, Ayatollah Ali Khamenei, has in the past threatened to "annihilate" the Israeli cities of Tel Aviv and Haifa. In February, the official site of the Iranian Revolutionary Guards warned the US that its warships in the Persian Gulf were in range of their Karrar combat drones, as well as their Kowsar anti-ship missiles, both domestically produced. Several weeks ago, the commander of the Iranian Navy stated that his forces were trained to destroy US warships.
The Slow Humiliating Death of the US Dollar
May 31….(Jerry Robinson) Since the creation of the Federal Reserve in 1913, the value of the US dollar has plummeted by over 90%. And based upon global economic developments, it is not a stretch to say that we are now witnessing the "beginning of the end" for the US dollar. Although I have been proclaiming this message of the dollar's demise for many years, it has never appeared more inevitable than now.
The new financial and banking integration that is taking hold between the governments and economies of Russia and China is the most serious challenge to face the US dollar since it officially became the world's reserve currency in 1944 at the signing of the Bretton Woods agreement. In the post-World War II era, the US economy became great through the exorbitant privilege of holding the world's reserve currency.
America's economic hegemony was severely tested in the late-1960's and the early 1970's as foreign leaders grew anxious over Washington's reckless overspending, and thus, its devaluation of its own currency. By the summer of 1971, the Bretton Woods system had completely broken down. Fortunately for America, the Nixon administration had a "PLAN B," which would become known as the petrodollar system. Despite the wild success of this global "dollars for oil" system, the unsustainability of this system is becoming increasingly apparent. Throughout history, world reserve currencies tend to die slow and painful deaths. For example, as America's economy rose to eclipse that of the British Empire, the pain was not just financial, but also emotional. British pride faded as the torch of empire was passed from Great Britain to America.
So too, the American Empire has entered its twilight years. Rising superpowers across Asia, and throughout Europe, are not satisfied to simply level the playing field of the global economy. Like all rational economic actors, they desire "the scales to be tipped in their favor." I have stated my belief that the world is heading quickly towards a time of cataclysmic warfare. My view is rooted in America's own history of launching wars in an effort to force its economic will upon other nations. Put simply, the US will use all of its strength to prevent the dollar from being diminished in global trade. But America's resistance to the evolving global economy is futile. Empires rise and empires fall. And the greater the empire, the greater its fall. In America's case, the fall will be particularly great due to its sheer size and influence.
Today, a growing list of nations has grown impatient with Washington's economic shenanigans and its aggressive military posture. In addition, many nations are growing increasingly agitated by America's snooping operations and intrusive surveillance methods.
Our nation is in deep trouble...
Our economy is in shambles...
Our currency is overinflated...
Our leaders are weak and indecisive...
Our "allies" are questioning our reliability...
And "enemies" are plotting our economic demise...
VA Scandal: This Is What ObamaCare Death Panels Look Like
May 31….(By Matthew Vadum) The Veterans Administration hospital scandal that has claimed the lives of at least 40 US military veterans continues to expand, adding to the image of a president who neither knows nor cares what happens to those who shed their blood on the battlefield for their fellow Americans. With a little under six months before the crucial midterm elections, it is a helpful reminder to voters of the horrors that are not glitches, but essential features, of government-provided health care. The problems at the VA are omens, sneak previews of what the delivery of all health care in America will look like under Obamacare, and so it is fortuitous that the scandal should surface now.
President Obama is predictably, perfunctorily, outraged about these bad things that have been happening in the government he controls. He acts shocked and promises to get to the bottom of the issue and do better in the future. The happenings at the VA are also more evidence, Obama critics say, that the president despises the military. Obama has been moving to reduce soldier pay and benefits and hollow out the military to mid-century staff levels. He has also been going on a human resources rampage, firing flag officers at a rate that alarms military observers. And like any good leftist, Obama believes that the only good American soldier is one who is functioning as a social worker, not a war-fighter.
Meanwhile, Obama and VA officials have been working overtime covering up the various waiting list atrocities that have been popping up cross the country. A whistleblower who exposed the waiting list scandal in Fort Collins, Colorado, says she was suspended after she refused to falsify records. Lisa Lee, who was employed at that clinic, said she was placed on two weeks of unpaid leave for not following a directive that involved "cooking the books" on scheduling medical appointments to create the false impression that appointments were made closer to the time veterans requested. "Why are they throwing me under the bus when I'm trying to say what the problem is?" At least 40 US veterans have died waiting for appointments at the Phoenix, Ariz., Veterans Affairs Health Care system, CNN reported April 30. Many of the dead had been put on a secret waiting list. That list was reportedly part of an elaborate scheme designed by Veterans Administration officials who were attempting to conceal the fact that between 1,400 and 1,600 sick veterans were forced to wait months to see a physician.
The VA requires its hospitals to provide care to patients in a timely manner, usually within 14 to 30 days, according to Dr. Sam Foote who just retired after working at the Phoenix facility for 24 years. He said officials destroyed evidence to cover up the existence of the bogus waiting list. VA officials "wouldn't take you off that secret list until you had an appointment time that was less than 14 days so it would give the appearance that they were improving greatly the waiting times, when in fact they were not," Foote said. Foote said the waiting times in Phoenix that were reported to VA headquarters in Washington were make-believe. "So then when they did that, they would report to Washington, 'Oh yeah. We're makin' our appointments within 10 days, within the 14-day frame,' when in reality it had been six, nine, in some cases 21 months," he said.
Like the Benghazi scandal and the IRS targeting of conservative and Tea Party nonprofits, the VA scandal has legs. Yet President Obama, who nowadays seems barely aware of what his administration is doing, claimed through a spokesman that he learned about this controversy that is rocking his administration from news reports. It cannot be true. In fact Obama's team was briefed on the long-running problems at the VA by the outgoing Bush administration during the transition process in 2008. The Washington Times obtained government documents under the Freedom of Information Act (FoIA) that showed that the "Obama administration received clear notice more than five years ago that VA medical facilities were reporting inaccurate waiting times and experiencing scheduling failures that threatened to deny veterans timely health care." VA officials told the Obama-Biden transition team in the weeks following Obama's election that the agency should not rely on the waiting times that VA facilities were reporting. "This is not only a data integrity issue in which Veterans Health Administration reports unreliable performance data; it affects quality of care by delaying, and potentially denying, deserving veterans timely care," the officials wrote.
Of course, if the Obama administration had simply failed to do anything about the problem, that would be one thing, but Obama officials doctored government records to airbrush the problem away. This is why patient advocates and lawmakers are demanding the head of the guy in charge, the hapless Veterans Affairs secretary, Eric Shinseki. Shinseki be terminated. A lapdog and a yes man for the Obama White House, Shinseki has retired from the armed forces. But there was no need for him to step down from the Pentagon. Shinseki is the ideal Obama general: left-wing, incompetent, obedient to the point of servility, and a member of an identifiable minority group. History shows pretty conclusively that governments are very, very bad at providing health care services and the Veterans Administration has a long, inglorious history of patient abuse and neglect that has stretched out over decades. The VA system is outdated and doomed. It cannot work. Like Obamacare, it is based on the insane notion that medical services can be provided effectively outside of markets.
Obamacare, as people seem to be realizing, is just like the VA system and government-run systems abroad. These lethal queues are an everyday occurrence in United Kingdom and Canada where news headlines about the failings of socialized medicine keep teams of reporters busy. Politicians in those countries are continually outraged by government health care failures. They tell voters they will fix the problems. Yet somehow the problems never get fixed. Everyone is just a number. Those who are honest about what happens in those countries acknowledge that those individuals and groups with political clout get the best treatment; those without, suffer and die prematurely. If your medical malady lacks political sex appeal, too bad for you.
The provision of health care inevitably degenerates into interest group warfare among epidemiological lobbies. It is useful to think of a variation of the old tax collector's adage, that one about getting the greatest amount of feathers with the least amount of squawking. In this case, politicians and bureaucrats, instead of consumers and providers, function as health care allocators. Their task, whether they are aware of it or not, becomes taking away the greatest amount of benefits so that it results in the least amount of squawking from patients. This is the essence of the Obamacare-mandated "death panels" about which Sarah Palin wisely cautioned her countrymen. The Veterans Administration scandal is a dire warning to the American public about what awaits them if the Obamacare train is not soon derailed.
America Moving Towards Homosexuality as Normal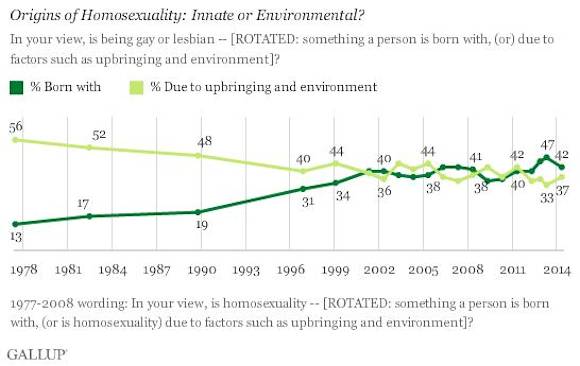 May 30….(AP) Same-sex marriage has been rapidly gaining support in the United States, and yet Americans have been divided for the last decade on whether they think people can be born gay, a new Gallup poll shows. Forty-two percent of Americans say people can be born gay, down slightly from 2013, when 47 percent said the same, the survey found. Meanwhile, more than a third of Americans (37 percent) attribute homosexuality to external factors, such as a person's upbringing and environment.
Gallup first polled Americans about the origins of homosexual orientation in 1977. At that time, 56 percent thought being gay or lesbian was the result of a person's environment or upbringing, while only 13 percent believed people could be gay at birth, though that doesn't mean they have same-sex attractions at the very moment they are born. By 2001, this gap closed, but Americans have remained roughly divided on the issue since then.
Gallup officials said the contention surrounding the question of sexual orientation might reflect "a lack of input from the scientific community, which historically has not shied away from offering its opinion on lesbian, gay, bisexual or transgender (LGBT) issues and questions."
The American Psychological Association (APA) stopped classifying homosexuality as a disorder in 1973. According to the APA today, there is little scientific consensus about the exact factors that cause a person to be gay, but most people don't experience a choice about their sexual orientation. Evidence is mounting that homosexuality is at least partly genetic and biological. For instance, a review of studies, published in 2001, found that identical twins, who have matching genes, are much more likely to be of the same sexual orientation than fraternal twins, who share about half of their genes with each other. Another study, detailed in 2006 in the journal Human Genetics, revealed a mother's X chromosome can affect whether she has a gay son. Epigenetics, a process that turns genes on and off, could also play a role in homosexuality, according to a study published in the journal The Quarterly Review of Biology in 2012. Other research has suggested hormone exposure in the womb can shape a person's sexual orientation. Regardless of these studies, the new Gallup poll revealed divisions of opinion largely along demographic, political and religious lines. College grads, whites, females, liberals, Democrats, high-income earners and people who aren't churchgoers are most likely to think people can be born gay. (Surprise, surprise!)
The poll was conducted May 8-11, 2014, through phone interviews with a random sample of 1,028 adults in all 50 states and the District of Columbia. The results are weighted to be nationally representative and have a sampling error of plus or minus 4 percent. Gallup released results from a separate survey this month that found support for gay marriage had reached a new high, with 55 percent of Americans now saying they are in favor of same-sex marriage. In 1996, the first time Gallup asked about same-sex marriage in a survey, 68 percent of Americans said they were opposed.
Pope Francis Will Hold Special Prayers for Middle East Peace
May 30….(Vatican Radio) The head of the Press Office of the Holy See, Jesuit Father Federico Lombardi has confirmed that the invitation to pray together for peace in the Vatican, Pope Francis extended during his Apostolic Journey to the Holy Land to both the President of Israel, Shimon Peres, (not PM Netanyahu….umm!) and of Palestine, Mahmoud Abbas, has been accepted and will take place in the afternoon of Sunday June 8, 2014.
The invitation of Pope Francis came after the recitation of the Regina Coeli following the celebration of Mass in Manger Square, Bethlehem, on the morning of Sunday May 25, 2014. On this occasion Pope Francis said: "I offer my home in the Vatican as a place for this encounter of prayer. In this, the birthplace of the Prince of Peace I wish to invite you, President Mahmoud Abbas, together with President Shimon Peres, to join me in heartfelt prayer to God for the gift of peace. All of us want peace. Many people build it day by day through small gestures and acts; many of them are suffering, yet patiently persevere in their efforts to be peacemakers. All of us, especially those placed at the service of their respective peoples, have the duty to become instruments and artisans of peace, especially by our prayers. Building peace is difficult, but living without peace is a constant torment. The men and women of these lands, and of the entire world, all of them, ask us to bring before God their fervent hopes for peace.
Plenty of skeptics have already dismissed the prayer summit meeting as a public relations stunt with no political import, particularly because Israel will be represented by President Shimon Peres, who is set to leave his largely ceremonial post in July, rather than by Prime Minister Benjamin Netanyahu, who controls Israeli policy toward the Palestinians.
The pope said he planned to have a rabbi and an Islamic leader alongside him to facilitate the prayer meeting.
Abbas taps Hamdallah to Form Fatah-Hamas Unity Government
May 30….(Jerusalem Post) Move comes as Abbas receives message from Obama affirming US support for the establishment of a Palestinian state next to Israel. Fatah and Hamas on Thursday moved a step close toward implementing the reconciliation agreement they signed last month as Palestinian Authority President Mahmoud Abbas asked his prime minister in the West Bank to head a Palestinian unity government. Abbas entrusted Prime Minister Rami Hamdallah with forming a national consensus government, according to a Palestinian official in Ramallah.
The official said that Abbas asked Hamdallah to form a new transitional government and wished him success in his mission. The move came as Abbas received a message from US President Barack Obama affirming US support for the establishment of a Palestinian state next to Israel. The Ma'an news agency quoted Obama as stressing Washington's commitment to the Israeli-Palestinian peace talks.
A Palestinian source in Ramallah said that the new unity government could be announced next week. Abbas was supposed to announce the new government on Thursday, but differences between Fatah and Hamas led to the postponement of the announcement, the source said. On Thursday, representatives of the two rival parties held discussions and consultations in a bid to remove the obstacles facing the proposed unity government. The two sides have yet to reach agreement on the Foreign Affairs and Interior portfolios in the unity government, the source added.
Moreover, Abbas's insistence on keeping Minister for Religious Affairs Mahmoud Habbash in the government has prevented the two sides from reaching agreement on the make-up of the government. Abbas's decision to entrust Hamdallah with the task of forming a unity government is seen as a way to avoid the crisis with Hamas over the line-up.
In Gaza City, Hamas Prime Minister Ismail Haniyeh said that the reconciliation with Fatah would not become an alternative to "resistance" against Israel. Haniyeh said that the deal would allow Hamas to hold on to its weapons "and defend the unity of our people in the face of occupation." Haniyeh told reporters that the "resistance that liberated the Gaza Strip is also capable of liberating the West Bank, Jerusalem and the rest of our land."
First Ever "American Suicide Bomber" Explodes in Syria
May 30….(New York Times) A United States citizen working in Syria with a militant group backed by Al Qaeda conducted a suicide bombing there Sunday, in what is believed to be the first time an American has been involved in such an attack, American officials said Wednesday. The suicide attack first surfaced on Tuesday in Twitter messages from the Nusra Front, an Islamist extremist group in Syria aligned with Al Qaeda in the fight against the government of President Bashar al-Assad of Syria.
American officials, speaking on the condition of anonymity because intelligence matters were involved, declined to identify the American or provide any information about him. NBC News first reported that American government officials had confirmed the bomber was an American. Syrian activists and jihadist social media sites reported that the American went by the name Abu Huraira al-Amriki and carried out the suicide truck bombing in the northern province of Idlib.
Islamic extremist groups in Syria with ties to Al Qaeda have been trying to identify, recruit and train Americans and other Westerners who have traveled there to get them to carry out attacks when they return home, according to senior American intelligence and counter-terrorism officials. These efforts, which the officials say are in the early stages, are the latest challenge that the conflict in Syria has created, not just for Europe but for the United States. The civil war has become a magnet for Westerners seeking to fight with the rebels against the Assad government. American intelligence and counter-terrorism officials say more than 70 Americans have traveled to Syria, mainly to fight for one of the hundreds of rebel groups combating the Assad government. The FBI, CIA, National Counter-terrorism Center and Homeland Security Department recently created a special team of analysts to try to prevent the American jihadists from returning home undetected.
American officials say their concerns about the recruitment and training of Americans are based on intelligence gathered from passenger travel records, human sources on the ground in Syria, intercepted electronic communications, social media postings and surveillance of Americans overseas who have expressed interest in traveling to Syria. "The recent flood of militants into the country poses a serious challenge, as these individuals could be trained to plan and carry out attacks around the world," Mark F. Giuliano, the deputy FBI director, said in prepared remarks in Washington on Wednesday. "It indicates that Americans are honing their ability to conduct terrorist attacks," Mr. Jones said, and could eventually be used inside the United States.
Is the Vatican Hoarding Second Temple Treasures?
May 30….(Worthy News) The Vatican is evading questions on whether or not it is holding religious artifacts from the Second Temple, Rabbi Yonatan Shtenzel said on Wednesday, in what he calls "diplomatic evasion." Talmudic sources, including passages from Rabbi Elazar and Rabbi Yossi, note that several of the holy vessels from the Second Temple ended up in the Vatican's hands, Rabbi Shtenzel said. Artifacts said to be transferred to the religious city-state via the Roman Emperor include the shulchan (Showbread table), the menorah (candelabra), several priestly garments, and others. More than just an 1800 year-old report, there is recent evidence that the Vatican still has these vessels in its possession, he argued, citing the testimony of several 19th and twentieth century Rabbis.
The Truth About Post-Christian America
May 29….(Christian Post) We knew this day would arrive. The 'slippery slope' of morality has now become a proverbial landslide of moral morass. What seemed to be a slow decline has now exponentially accelerated. The parading and applauding of all things unbiblical and immoral has reached its zenith on the shoulders of the autonomous self, where me, myself, and I are the arbiters of all things truthful and spiritual. Gone is any reference to transcendent authority.
But fear not, dear Christian. Like an athlete out of shape in the off-season layoff, it may take awhile for American Christians to awaken from our 'most-favored-religion-status' we have come to assume in this great country of ours, but I believe we're up to the task. We're not the first Christians to live 'behind enemy lines' nor will we be the last.
How does one live as a Christian in an era where same-sex marriage is now the norm, where homosexuality is openly celebrated, where hypocrisy in the church is consistently exposed, where atheism is not just an alternative intellectual option, but a hostile enemy, where Christianity is viewed as the enemy and not the founder and friend of America, and where the "spiritual shallowness" of many Christians, especially evangelical Christians, is being exposed for what it is, an Americanized version of cultural Christianity that is not authentic, genuine, or biblically orthodox? The answer is that we learn from our brothers and sisters in other nations who have lived "behind enemy lines," quite successfully, but sacrificially, I might add, for many years. What do they know that we must know in order to bear witness for the gospel of Jesus Christ? Here's my list of things we must know and live.
1. How sovereign God is. God is aware of our situation, always directing, even designing, and continually undergirding His children through difficult times.
2. How precious and powerful the Word of God is, inspired, sufficient, inerrant, infallible, efficient, and indispensable.
3. How dangerous the gospel is. Our great power is not in politics, but in preaching and living out with joy the gospel of Jesus Christ.
4. How important fellowship is. We need each other for prayer, support, and encouragement.
5. How necessary suffering is. We will demonstrate our faith through our suffering, not absent of it.
6. How miraculous and meaningful the person of the Holy Spirit is, comforter, truth-teller, guide.
7. How important stewardship is, resources "behind enemy lines" will be needed, generosity required, sacrifice demanded.
8. How sweet communion with Jesus is. We will learn that He is not just our Savior, but a friend to the oppressed and suffering.
9. How indispensable prayer is. War-time prayer is like a General communicating with his troops in the midst of the battle, it's essential.
10. How sustaining faith in God is . We will need to choose to believe all over again.
11. How effective and essential preaching and teaching is. Believers will need to rediscover the truth of God's Word through the constant reading of, study of, meditation on, and application of Scripture.
12. How much joy is called for. The joy of knowing that God is with us and that, in the end, this world is not our home; we have a home in another place.
13. How God-glorifying and powerful persecution is. Persecution will move from being an anomaly to normality.
14. How indestructible the church is. She will stand triumphant in the end.
15. How God will be glorified in all things.
Jewish Women Recreating Temple Veil
May 29….(Israel Today) For more than two years a small group of women have been attempting to recreate the veil that separated the Holy Place from the Holy of Holies in the Temple in Jerusalem. "The women of the veil chamber," as they call themselves, have founded a little workshop in the biblical Samarian community of Shiloh that is filled with weaving devices and wool. Their attempt to weave the veil is in accordance with the commandment: "you shall make a veil woven of blue, purple, and scarlet thread, and fine woven linen. It shall be woven with an artistic design of cherubim" (Ex. 26:31). Learning how to weave the veil is another way of preparing for the day the Temple will be rebuilt.
But the task is almost beyond reach. Everything needs to be learned from scratch. The weaving techniques and the special six-cord threads required by the biblical text, the production of the correct blue, purple and scarlet dyes, all of these are lost arts. The size of the veil itself, a single rag-like object measuring 20 meters high, 10 meters wide and 10 centimeters thick, is a project of immense complexity in and of itself. The making of the veil is therefore going to be a long learning process of trial and error.
One of the more unique challenges is to weave the faces of the cherubim so that it is an eagle face on one side of the veil and a bull's face on the other side. Another is the aforementioned production of the exotic colors needed for the veil. The scarlet is assumed to be made out of an oak aphid; the blue out of a special sea snail. The purple was also produced from animals, though no one knows for certain what animal. While the project is beset by seemingly insurmountable obstacles already in its infancy, the women believe they will be able to produce a veil that will pass the scrutiny of the rabbis. In addition to the "the women of the veil chamber," there is another group of women who for four years already have been producing the priestly garments needed for Temple worship, including special trousers, tunics, sashes and hats.
The making of the priest's clothing also required a learning process, but unlike the veil, these were fairly simple to produce. Since according the Jewish law a priest can perform his duties only if he is wearing his special priestly clothes, some who would fill this role are already acquiring the required garments and keeping them safely in their homes. These garments, which have to be tailor-made for each person, are sold at affordable prices to encourage as many Jews of priestly lineage as possible to buy them. Some may see such activities as provocative. Others may see it as delusional. The weavers themselves believe that by getting involved in such a holy activity they are hastening the time of Israel's redemption. Whatever the case, at the very least one cannot but admire the desire to revive a lost enchanting art that for one reason or another continues to excite millions around the world.
Rebuilding God's Temple From the Inside Out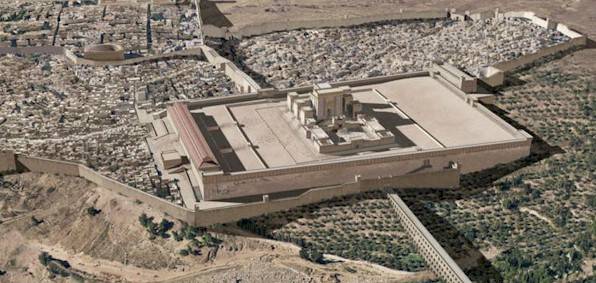 A depiction of first-century Jerusalem
May 29….(WND) If the Jewish Temple is ever to be rebuilt in Jerusalem, the massive curtain, 66 feet high by 33 feet wide and 2 inches thick, that once hung in the Second Temple and was consumed by fire in A.D. 70, will need to be recreated. That task is already underway in the Jewish community of Shiloh, located in biblical Samaria about 40 minutes north of Jerusalem, reports Israel Today.
For more than two years women from the community have been working to assemble the materials and learn the techniques needed to weave the veil that will hang between, and separate, the Holy Place and the Holy of Holies. While the command given to Moses at Sinai, "You shall make a veil woven of blue, purple, and scarlet thread, and fine woven linen, with an artistic design of cherubim" (Exodus 26:31) may have been clear to the people of Israel in the mid-15th century BC, the techniques for weaving the required six-cord threads and the proper way to recreate the needed dyes are unknown today. The scarlet is believed to have been made out of an oak aphid, reported Israel Today, and the blue from a special sea snail. The purple was also animal-derived, but which animals is unknown.
In some ways Shiloh as the place for "the women of the veil chamber" to pursue their task is a natural one. Ancient Israel's Tabernacle, precursor to the First Temple built in Jerusalem by King Solomon, stood in Shiloh for over 300 years. It was to Shiloh that the tribes of Israel came for annual festivals. One of those occasions is the biblical setting for the begining of the ministry of the Prophet Samuel (1 Samuel 1). It was from here the Ark of the Covenant was sent into battle against Israel's arch enemy, the Philistines, and captured (1 Samuel 4). Some 300 years later, in the time of the Prophet Jeremiah, the city was in ruins.
In 2013, archaeologists announced they had found the site at Shiloh where the Tabernacle had stood. Hewn holes that once supported wooden beams, large stoves not meant for home use, structures dating to the period between Joshua and King David and proximity to the city gate led to their identification. Past findings in the surrounding hills include what researchers say are the bones of sacrificed animals that were eaten during those times when thousands of Israelites would assemble at Shiloh, reported Israel National News. The bones have been dated to the same biblical period.
The Jewish historian Josephus was eyewitness to the destruction of the Second Temple and the period following Jesus' ministry. His "Complete Works" are key to understanding the period. The synagogue of the modern community of Shiloh is designed as a replica of the Tabernacle. The veil project mirrors another that has been underway for four years, recreating the priestly garments needed for Temple worship. Some Jews who claim priestly lineage have already purchased the special clothing. The weavers of the veil see their work as a "holy activity" that hastens the time of Israel's redemption.
The Gospel of Matthew records that upon Jesus death, the great veil of the Temple "was torn in two from top to bottom; and the earth quaked, and the rocks were split." (Matthew 27:51)
Pope Calls Muslims 'Brothers' at Dome of the Rock
May 27….(AP) Pope Francis on Monday urged his "brother" Muslims to never abuse God's name through violence as he opened the third and final day of his Mideast pilgrimage with a visit to the Dome of the Rock, the iconic shrine located at the third-holiest spot in Islam. Pope Francis took off his shoes to step into the gold-topped dome, which enshrines the rock where Muslims believe the Prophet Mohammad ascended to heaven. The mosque complex, known to Muslims as the Noble Sanctuary and to Jews as the Temple Mount, is at the heart of the territorial and religious disputes between Israel and its Arab neighbors.
Speaking to the grand mufti of Jerusalem and other Muslim authorities, Pope Francis deviated from his prepared remarks to refer not just to his "dear friends" but "dear brothers." "May we respect and love one another as brothers and sisters," he said, and added, "May we learn to understand the suffering of others! May no one abuse the name of God through violence!" After the brief visit, Francis headed to the Western Wall, the only remains of the biblical Second Temple and the holiest place where Jews can pray.
FOJ Note: Last week Pope Francis castigated millions of non-Catholic Christians when he said, "no one can be a Christian outside the Catholic church," yet he insists that Muslims are Brothers! What a farce!
Iran's Supreme Leader: Jihad Will Continue Until America is No More
May 26….(AP) Iran's supreme leader, Ayatollah Ali Khamenei, all but said on Sunday that negotiations over the country's illicit nuclear program are over and that the Islamic Republic's ideals include destroying America. "Those (Iranians) who want to promote negotiation and surrender to the oppressors and blame the Islamic Republic as a warmonger in reality commit treason," Khamenei told a meeting of members of parliament, according to the regime's Fars News Agency.
Khamenei emphasized that without a combative mindset, the regime cannot reach its higher Islamic role against the "oppressors' front." "The reason for continuation of this battle is not the warmongering of the Islamic Republic. Logic and reason command that for Iran, in order to pass through a region full of pirates, needs to arm itself and must have the capability to defend itself," he said. "Today's world is full of thieves and plunderers of human honor, dignity and morality who are equipped with knowledge, wealth and power, and under the pretence of humanity easily commit crimes and betray human ideals and start wars in different parts of the world."
In response to a question by a parliamentarian on how long this battle will continue, Khamenei said,"Battle and jihad are endless because evil and its front continue to exist. This battle will only end when the society can get rid of the oppressors' front with America at the head of it, which has expanded its claws on human mind, body and thought. This requires a difficult and lengthy struggle and need for great strides." Khamenei cited the scientific advancement of the country. "The accelerated scientific advancement of the last 12 years cannot stop under any circumstances," he said, referring to the strides the regime has made toward becoming a nuclear power.
As reported on May 19 on The Daily Caller, Iran has put up new roadblocks to reaching a deal with the P5+1 world powers over its illicit nuclear program. The powers are the permanent members of the UN Security Council, plus Germany. Three days of negotiations in the fourth round of Geneva meetings ended recently without concrete results when the Iranian team presented the country's new "red lines," diminishing any hope by the Obama administration to claim victory in its approach to Iran's nuclear ambitions, according to reports from Iran.
The Obama administration had hoped that with Iranian President Hassan Rouhani and Foreign Minister Javad Zarif showing an eagerness to solve the nuclear issue and address the West's concerns, there would be a possibility for a negotiated solution. An interim agreement penned last November in Geneva was touted as a "historic nuclear deal." Under that agreement, Iran, in return for billions of dollars in sanctions relief, limited its enrichment activity to the 5 percent level with a current stockpile of over 10 tons (enough for six nuclear bombs), converted much of its 20 percent enriched stock to harmless oxide and agreed to allow more intrusive inspections of its nuclear plants by the International Atomic Energy Agency, whose inspections were limited to only agreed-upon facilities. The Iranian delegation last week presented new red lines that could not be crossed, including the expansion of the country's research and development for its nuclear program, the need of the country to continue enrichment, and the fact that the country's ballistic missile program, despite UN sanctions is not up for negotiation.
At the same time, IAEA officials met again with their Iranian counterparts last week in Tehran to discuss information on the work on detonators and needed collaboration by the regime to clear outstanding issues on its nuclear program as part of seven transparency steps Iran had agreed to fulfill by May 15, which has yet to take place.
Pope Francis Gives Palestinian Statehood a Boost of Support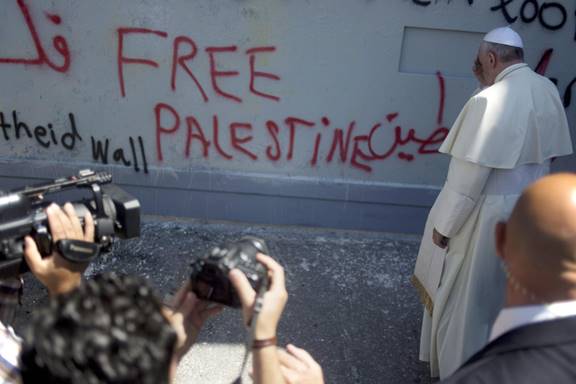 May 26….(AP) Pope Francis delivered a powerful boost of support to the Palestinians during a Holy Land pilgrimage Sunday, repeatedly backing their statehood aspirations, praying solemnly at Israel's controversial separation barrier and calling the stalemate in peace efforts "unacceptable." In an unscripted move, Pope Francis arranged a meeting between the Israeli and Palestinian presidents at the Vatican next month. The meeting, while largely symbolic, shows how the pope has sought to transform his immensely popular appeal into a moral force for peace.
On the second day of a three-day swing through the region, the pope arrived in Bethlehem, the birthplace of Christianity, before heading to Israel for the final leg of his visit. While Francis mingled warmly with his Israeli hosts, his trip to Bethlehem included the day's most powerful images as he expressed sympathy and solidarity with the Palestinians. "I am with you," he told a group of Palestinian children at a stop in Bethlehem's Deheishe refugee camp. He also held a private lunch with five Palestinian families who say they have been harmed by Israeli policies.
Even the pope's arrival in Bethlehem, by helicopter straight from Jordan, carried important symbolic significance. Past papal visits to the West Bank have come through Israel, which captured the territory in the 1967 Mideast war. Palestinian officials hailed Francis' decision to refer to the "state of Palestine." In its official program, the Vatican referred to President Mahmoud Abbas as the president of the "state of Palestine," and his Bethlehem office as the "presidential palace." He pointedly called Abbas a "man of peace."
Jubilant Palestinians cheered Francis as he arrived in Bethlehem's Manger Square, shouting "Viva al-Baba!" or "Long live the pope!" Giant Palestinian flags in red, white, green and black and the Vatican's yellow-and-white flags decorated the square, which is home to the Church of the Nativity, built over the grotto where tradition says Jesus was born. "Coming to Bethlehem and flying to Bethlehem from Jordan shows solidarity with the Palestinian people, which is wonderful. We need that," said Samar Sakkakin, a 52-year-old Palestinian American from Canton, Michigan.
In November 2012, the UN General Assembly overwhelmingly recognized a "state of Palestine" in the West Bank, Gaza and east Jerusalem, lands Israel captured in the 1967 war, as a non-member observer. Israel objects to the Palestinian campaign, saying it is an attempt to bypass negotiations.
Pope Francis' arrival came weeks after the latest round of US-backed peace talks collapsed. During nine months of negotiations, little if any progress was made, and there are no signs of talks resuming anytime soon. Standing alongside Abbas at a welcome ceremony, Francis declared: "The time has come to put an end to this situation, which has become increasingly unacceptable." He said both sides needed to make sacrifices to create two states, with internationally recognized borders, based on mutual security and rights for everyone. He urged both sides to refrain from any actions that would derail peace.
In his remarks, Abbas voiced his concerns about the recent breakdown in peace efforts and lamented the difficult conditions facing the Palestinians. Abbas said he would welcome papal intervention. "We welcome any initiative from you to make peace a reality in the Holy Land," Abbas said.
After the meeting, the pope's open-roof vehicle stopped at a section of the West Bank separation barrier, which encircles Bethlehem on three sides. Israel says the structure is a security measure. The Palestinians say it has gobbled up their land and stifled their economy. Pope Francis stood up, put a hand on the wall, bowed his head and said a short prayer alongside a section on which "Free Palestine" is scribbled in graffiti. In another unscripted move, Francis issued a surprise joint invitation for Abbas and Israeli President Shimon Peres to come to the Vatican to pray for peace together. "I offer my home in the Vatican as a place for this encounter of prayer," he said. The offices of the Israeli and Palestinian presidents quickly confirmed their acceptance, with the Palestinians saying the meeting would take place June 6. The invitation, and the acceptances, were unexpected given Francis' insistence that his three-day visit was "strictly religious" pilgrimage to commemorate a Catholic-Orthodox anniversary.
Israeli Prime Minister Netanyahu has expressed anger with politicians that have reached out to Abbas at a time when the Palestinian leader is reconciling with the Islamic militant group Hamas. Israel considers Hamas a terrorist group. Isaac Herzog, Israel's opposition leader, said the Pope, a close friend of Israel, had sent a clear message to Netanyahu through the invitation. Speaking on Channel 2 TV, Herzog said the pope was essentially saying, "Do something. It can't go on like this."
Pope Francis flew to Israel's Ben-Gurion International Airport in Tel Aviv, where he was warmly greeted by an honor guard. With trumpets blaring, the country's top officials lined up to shake his hand as he walked a red carpet. He also condemned the Holocaust as the "enduring symbol of the depths to which human evil can sink." Francis is to visit Israel's national Holocaust memorial, Yad Vashem, on Monday. But the Pope also lamented the dire state of Mideast peace efforts, saying the holy city of Jerusalem "remains deeply troubled." He called for a "just and lasting solution" so that Israelis and Palestinians may live in peace. He said Israel deserves peace and security "within internationally recognized borders," while the Palestinians have a "right to live with dignity and with freedom of movement" in their own homeland.
In the run-up to Francis' arrival, Israel experienced a string of vandalism attacks on churches and Vatican properties, presumably by Jewish extremists. Earlier Sunday, Israeli police arrested 26 Israeli hard-liners protesting outside a contested holy site revered by Catholics as the site of Jesus' Last Supper and by devout Jews as the burial site of the biblical King David. Israeli extremists have spread rumors in recent weeks that Israel plans on turning the site over to Vatican control. Pope Francis made no mention of these incidents, but expressed hope that "this blessed land may be one which has no place for those who, by exploiting and absolutizing the value of their own religious tradition, prove intolerant and violent towards those of others."
Pope Francis Pleads Palestinian Case with Unscheduled Visit to Israel's Security Wall
FOJ Note: The security wall, often called the "apartheid wall" by many Arabs and disillusioned westerners has provided Israeli citizens a long era of protection from Palestinian terrorists. Of course, Israel's many enemies want this wall dismantled, so the terrorism can continue. The Pope, by his visit to the wall lends powerful images intended to portray Israel as the problem, and not the Muslim terrorists.

May 26….(DEBKA) Palestinian leader Mahmoud Abbas poured a litany of mostly unfounded anti-Israel grievances and propaganda in the ear of Pope Francis Sunday, May 25, taking advantage of his decision to visit Palestinian-controlled Bethlehem before spending a day in Israel. Abbas accused Israel of expelling Christians, complained about settlement construction and the plight of Palestinian prisoners and most of all, the "ugly wall" Israel had built. Abbas "forgot" to mention that the barrier finally put an end to years of Palestinian suicidal terrorist outrages in Israeli towns, schools, markets and restaurants. These atrocities also targeted West Bank Christians, especially in Bethlehem, and accounted for their dwindling numbers. Ignoring this piece of history, the pope was persuaded to visit the West Bank barrier. He was also presented with a crucifix filled with stones from the "Wall."

Standing alongside Abbas, the Pope delivered an even-handed statement, which called on "both sides to make sacrifices to create two states" and end the "unacceptable" Israeli-Palestinian stalemate. He then conducted a Mass in Bethlehem's Manger Square next to the Church of the Nativity, built over Jesus' traditional birthplace, and was greeted by jubilant Palestinian Christians waving giant Palestinian and Vatican flags. The Mass was superimposed by the muezzin's call to prayer over a loudspeaker from a Bethlehem mosque. The Christian congregation reacted with whistles and stamped feet and the choir accompanying the Pope raised their voices higher. In the official program, the Vatican referred to Abbas as the president of the State of Palestine.

The pope's schedule includes a visit to Temple Mount and the Western Wall, Herzl's Tomb and the Yad Vashem Holocaust Memorial Center. It also includes a meeting on Temple Mount with the Grand Mufti of Jerusalem, Muhammad Ahmad Hussein, who is notorious for endorsing Jewish genocide. In a Palestinian TV broadcast in 2012, Hussein declared: "The hour of resurrection will not come until you fight the Jews. The Jew will hide behind stones or trees. The stones or trees will call: 'Oh Muslim, servant of Allah, there is a Jew behind me, come and kill him.'" Not surprisingly, Muslim prayers on the mount are frequently the occasion for worshippers to hurl rocks at the Jews praying at the Western Wall below, an experience from which heavy Israeli police guards will be there to protect Pope Francis.
Russia Ramping up its War on the US Dollar
May 26….(WND) Russia over the last year has sold off one-third of its US Treasury holdings, according to records released by the Treasury Department and the Federal Reserve Board. In March 2013, Moscow had US Treasury holdings of $153 billion. By March 2014, the figure had been reduced to $100.4 billion. In March alone, Russia sold off nearly $26 billion of US Treasuries,.
International financial analysts widely interpreted the move as Russia's response to economic sanctions the Obama administration imposed as punishment for taking over Crimea and threatening military intervention in Ukraine. The war on the petrodollar that WND first reported April 12 appears to be gaining momentum. The Voice of Russia reported May 13 that Russia's Ministry of Finance is ready to give a green light to a plan to increase radically the role of the Russian ruble in export operations while reducing the share of Russia's dollar-denominated transactions. The Voice of Russia report detailed a "de-dollarization meeting" chaired by First Deputy Prime Minister of the Russian Federation Igor Shuvalov, involving top level experts from Russia's energy sector, banks and governmental agencies. The report speculated that Russia could begin implementing the policy to move away from the petrodollar by working more closely with Iran and China, with Vladimir Putin in Beijing May 20 preparing to sign pending oil and gas contracts
Reuters reported Thursday that Russia plans to sign a contract with Iran this year to build two more nuclear reactors at Iran's Bushehr power plant as part of a larger deal in which Russia proposes to build up to eight reactors in the Islamic nation. On Wednesday, the Financial Times in London reported Russian President Vladimir Putin and Chinese President Xi Jinping signed a $400 billion deal in which Russia's Gazprom agreed to supply China's largest oil company, China National Petroleum Corp., with up to 38 billion cubic meters of natural gas annually for 30 years, beginning in 2018. While the Financial Times did not report details of the energy agreement, Forbes interpreted the timing of the conclusion of 10 years of negotiation between Russia and China to be an indication Moscow intends to look increasingly to Beijing for international financing to replace Western money withheld in the US-imposed economic sanctions.
RT reported the deal Russia and China signed in Shanghai Wednesday included some 40 separate business contracts. One specified that Russia's second largest bank, VTB, had agreed with the Bank of China to bypass the dollar and pay each other in domestic currencies. The side agreement could mean, as has been widely speculated in the Russian press, that the $400 billion energy deal between the two countries would be denominated not in dollars but in the domestic currencies of the two nations.
WND reported in April economist Peter Koenig, a former staff member of the World Bank, warned Russia was in the process of abandoning the "petro-dollar" as the trading unit for oil and gas transactions, with Russian hydrocarbon trade estimated at approximately a trillion dollars per year. "The main supporters of this plan are Sergey Glaziev, the economic aide of the Russian president, and Igor Sechin, the CEO of Rosneft, the biggest Russian oil company and a close ally of Vladimir Putin," noted Voice of Russia radio on April 4. "Both have been very vocal in their quest to replace the dollar with the Russian ruble. Now, several top Russian officials are pushing the plan forward."
On March 21, in advance of the deal reached Wednesday in Shanghai, Reuters reported Russia and China were close to finalizing a "Holy Grail" deal in which the Russian state-owned gas firm Gazprom plans to pump 38 billion cubic meters of natural gas per year to China starting in 2018. The gas will be pumped the first pipeline between the world's largest supplier of natural gas to the world's largest user of natural gas. The transactions will be valued in rubles, Russia's currency, and remnimbi, China's international currency, or possibly in gold.
Belgium: an Odd mystery buyer of US Treasuries
As Russia has begun dumping US Treasuries, Belgium has stepped up as a mystery buyer. According to the records released May 15 by the Treasury Department and the Federal Reserve Board, Belgium has moved to become the third largest foreign national purchaser of US Treasuries, behind communist China and Japan, with Belgium increasing its holdings of US Treasuries from $188.4 billion in March 2013 to $381.4 billion a year later, in March 2014. A close examination of the Treasury Department/Federal Reserve table makes clear that Belgium's holdings of US Treasuries had been relatively stable, in the range of $188 billion, until Belgium began stepping up purchases of US Treasuries in November 2013. As 2014 began, Belgium for the first time held over $300 billion of US Treasuries, with January recorded at $310.3 billion. The widely followed Zero Hedge blog observing that at the end of 2013 Belgium had a Gross Domestic Product, or GDP, of just over 100 billion Euros. "And somehow the Treasury expects us to believe that Belgium, the center of the doomed Eurozone which is all to busy running a debt ponzi scheme of its own, bought in two months nearly as much US Treasuries as its entire GDP? However we are not that naïve. So our question is: just who is Belgium being used as a front for?" Zero Hedge reminded readers that for years, the "UK" designation on the US Treasury holdings report generated by Treasury and the Federal Reserve was a designation used to mask offshore accounts transacted on behalf of China. Equally baffled was the Wall Street Journal's Market Watch, which reported April 15 that Belgium accounted for 80 percent of the total increase in foreign holdings of Treasury debt in 2013, according to Stone & McCarthy Research Associates.
While the consensus among experienced watchers of international finance was that Belgium was being used to create custodial holdings of Treasury debt, the agent behind the transactions remained a mystery. What is not a mystery is that Russia, as it engages in selling off US Treasuries, has stepped up buying gold. On May 21, Goldcore reported that Russia's central bank bought 900,000 ounces of gold worth $1.17 billion in April. Goldcore, citing Bloomberg data on central bank reserves, demonstrates Russia's gold reserves rose to 34.4 million troy ounces in April, from 33.5 million troy ounces in March. The value of Russia's central bank gold holdings rose to $44.30 billion as of May 1, compared with $43.36 billion a month earlier. Gold as a percentage of overall Russian reserves is now 10 percent, historically high for Russia, but still below gold holdings as a percentage of major central banks such as the Bundesbank, Bank of France and the Federal Reserve, which fall in the range of 65 percent for gold holdings as a percentage of overall reserves.
WNBA (womens pro basketball) Goes ALL-Out in Lesbian Promotions
May 26….(forwarded to FOJ by Tom Miller) The Women's National Basketball Association (WNBA) tipped off WNBA Pride presented by Covergirl, a new national platform celebrating inclusion and equality, while combating anti-LGBT (lesbian, gay, bisexual and transgender) bias, it was announced today by WNBA President Laurel J. Richie. "The WNBA welcomes all fans, athletes, and partners to our game," said Richie. "These beliefs unite the 12 teams of the WNBA and we are very excited to introduce the WNBA lesbian Pride platform which celebrates acceptance and inclusion. The WNBA takes great pride in working with extraordinary partners who share these values, and we are so grateful to our presenting partner Covergirl along with ESPN, GLSEN and GLAAD for joining the WNBA on this important initiative."
The WNBA will be the first professional sports league to establish an integrated marketing, media, grassroots and social responsibility program for the LGBT community including a new special site, WNBA.com/pride where league and team Pride content, events and schedules will be posted throughout the season. Information will also be shared on the league's social media channels.
In addition, WNBA teams will host Gay-Pride-themed games throughout June where players will wear commemorative Pride shooting shirts. WNBA Pride T-shirts designed by Adidas, the league's official on-court uniform and apparel provider, will be available for purchase on WNBASTORE.com and NBA Store on Fifth Avenue in New York City. Proceeds will benefit GLSEN, a long-time WNBA partner.
With this initiative, the league also becomes the first to celebrate LGBT Pride on national television when the Tulsa Shock takes on the Chicago Sky on Sunday, June 22 at 1 p.m. ET on ESPN2. During the national game telecast, WNBA Pride will have a major presence, including the new WNBA Pride logo appearing in courtside signage and in-game promotions. "We applaud our WNBA partners for creating and launching such an important initiative. The Walt Disney Company and ESPN have a long history of encouraging a welcoming environment for diverse communities, including the LGBT community, and we are proud to showcase the WNBA Pride platform to our national audience," said John Skipper, ESPN President, Co-Chairman of Disney Media Networks.
As presenting partner, Covergirl will activate within the Pride game aired on ESPN2, on WNBA.com and on WNBA social media. "Covergirl has always supported the strength and diversity of women. We believe every woman is a covergirl, and that Covergirls rock the world," says Esi Eggleston Bracey, VP and General Manager, covergirl. "The WNBA campaign is being established to help women overcome boundaries (come-out as lesbians) to break barriers, including in the pursuit of a career where women are currently under-represented, like professional sports. We are proud partners of the WNBA."
In addition, the WNBA will continue to work with a number of leading LGBT community-based organizations, including GLSEN, GLAAD, and Athlete Ally to raise awareness of inclusion through grassroots events, public service campaigns and other local activities. "GLSEN and our chapters are proud to continue our partnership with the WNBA during LGBT Pride Month," said GLSEN Executive Director Eliza Byard. "The WNBA is a sports leader in creating diverse and inclusive environments for all players and fans, and the league's commitment to supporting the LGBT community is sending a powerful message of respect to youth across the country." GLAAD President & CEO Sarah Kate Ellis says, "the WNBA Pride platform will raise the bar in helping to end anti-LGBT bias in sports, while also celebrating the tremendous value LGBT athletes and fans bring to the game." "Every day in the news we see that inclusion is the new standard for our society, and every day we see more and more people reject prejudice and anything that would divide us," said Phoenix Mercury Center Brittney Griner. "I'm proud to be a part of the WNBA and NBA family that has chosen to embrace the LGBT community, not just for the out athletes like me, but also the allies and fans who love them.
FOJ Note: I did not wish to run this news story at first, because I don't want to lend additional publicity and promotion to this Sinful behavior and lifestyle. Yet, I think it is important to make people aware of the sly and clever schemes of Satan. The Old Destroyer is very clever, and he is sneaky at how he promotes his entrapments. In our modern society, he makes it appear that anyone that points out Sinful behavior (as defined by God) is somehow against civil rights, and therefore some kind of monstrous bigot. Nothing could be further from the truth. As Christians, we must point out SIN where it arises, but at the same time, we must also demonstrate God's love for Sinners. As we attempt to show that love however, God's Truth does not change, and the sin of same sex partnering (lesbianism, homosexuality, etc.) is a particularly evil and grave sin in God's eyes. And the mere fact that our nation is feeling more and more comfortable with and accepting as a normal thing this type of SIN, is simply evidence of a whole nation about to go under! Yes, we can all express our individual rights to practice SIN, but in the end, we will all reap a whirlwind of God's wrath.
WEEK OF MAY 18 THROUGH MAY 24
Israel, the Cornerstone of the Western World
May 24….(Israel National News) Is Israel the cause of instability in the Middle East? Is Israel not worth the $3 billion that the US gives it every year? Or, is Israel the cause of stability in the Middle East, and the West's first, and last line of defense against an Iranian/Islamic tidal wave which would smash into Southern Europe? People who claim that "Israel is the cause of Middle East instability" don't just claim that Israel is the "core of instability since 1967;" they say "Israel has been the whole problem. Would you rather have 7 million resourceful Israelis deal with the 1.6m Palestinian Arabs in the 'West Bank' as best as the Israelis reasonably see fit? Is Israel really the cause of instability since 1948."
Let's examine what would happen if the Israel-haters' dream came true, in theory. Let's, in theory, excise Israel from the Eastern-Med strategic balance. (That is, if you call 11m Greeks vs. 370m Muslims "balance." For starters, this means the 1m people of Cyprus don't have the Israeli Army and Israeli Air Force to protect them, and to share the tens of billions of natural gas in the Levant Basin that lies between Israel and Cyprus. All the big EU banks have taken these very same Cypriot Natural Gas fields as collateral security, for the massive loans the EU banks extended to Cyprus when Cyprus had to get a National-Bank Bailout. All of these Big EU Bank Cyprus-loans will go up in flames the second, Israel is harmed. Cyprus is not a NATO-protected country. So, Turkey, with 74m to the north already occupies Cyprus' north and, Egypt with its 83m to the south needs the gas for itself. Turkey and Egypt together have standing armies, larger than the entire population of Cyprus. In short, Turkey and Egypt would crush Cyprus.
Next on the Muslim/Iranian hit-parade-list is Greece. Iran has a score to settle with Greece dating back to 331BC, when Alexander the Great defeated the Persians at the Battle of Gaugamela. But, Greece is a NATO country. So, in reality, Israel is really protecting NATO's southern flank. Without Israel, NATO and the EU are "indefensible." And Congress would have to budget an extra $70-100 billion dollars each year in the out-years 2-10 in the US Defense budget to fund a US defense of the core-NATO country called Greece against a 370m strong nuclear-armed Iran/Muslim attack. So, the entire question really boils down to a simple choice: Would you rather have 7 million resourceful Israelis deal with the 1.6m Palestinian Arabs in the 'West Bank' as best as the Israelis reasonably see fit? Or, would you rather have 370m Muslims/Iranians deal with the 11 million Greeks as the 370m Muslims/Iranians will see fit? And, have US troops die trying to defend Greece against a nuclear-armed Iranian/Muslim attack.
How about Russia, with only about 142m Christians? Without Israel, immediately to Russia's south, Russia would face a 370M strong Iranian/Muslim nuclear-superpower, with 65% of the world's oil and gas reserves, an area that Russia had first armed with nuclear weapons. In fact, in 2015, Russia had armed Iran with the exact nuclear weapons that Russia would be facing from its entire south-east.
So, the cold, hard reality is that Israel is protecting all of NATO, Western Europe, America, and Russia from an Iranian/Muslim nuclear-armed Colossus that could overrun them all before The Morning's Call to Prayer. Therefore, Israel is NATO's, the US', the EU's, and Russia's first, and last, line-of-defense against an Iranian/Muslim 370m man-strong nuclear-armed Oil-rich Colossus.
In conclusion, a safe and secure Israel is not the cause of world instability, and conflict, but the cornerstone of world peace, and security. And it is a light of democracy and of freedom unto the nations of the world.
Hamas Returns to the Iranian Fold
May 24….DEBKAfile Exclusive Report) The Palestinian Hamas terrorist group has been restored to the Iranian fold and won the promise of an annual allowance of $200 million per year, military assistance and advanced weapons on a par with the hardware supplied to Jihad Islami. debkafile's sources report that this deal was secretly sealed in Doha on Thursday, May 22, at a meeting between Iran's Deputy Foreign Minister Hossein Amir-Abdollahian and Hamas's politburo head Khaled Mashaal.
It culminated a month of intense Hamas-Tehran negotiations, which were conducted quietly in parallel with Hamas's unity talks with the rival Palestinian Authority Chairman Mahmoud Abbas. Hamas is now reinstated as a member of the radical Iran-Syrian-Hizballah Middle Eastern bloc, with all the accoutrements of an ally which it forfeited by turning its back on Bashar Assad at a low moment in the civil war. Tehran has promised to restore the flow of cash and advanced weapons, and go back to training Hamas operatives at courses run by the Revolutionary Guards.
US Secretary of State John Kerry knew this was going on when he met Abbas in London on May 14, but preferred not to raise the issue. Israel's Justice Minister and negotiator, Tzipi Livni, likewise ignored the Hamas-Tehran pact when she talked to Abbas the next day.
Before clinching the deal, Iran required Meshaal to publicly endorse Iran's policy in Syria and his support for Bashar Assad. The Hamas politburo chief accordingly stated in Doha Thursday night that he "welcomed the position of Tehran toward Syria," adding: "We will never forget Syrian President Bashar Al- Assad's support for the Palestinian nation." Meshaal was fully backed by his own movement. Shortly before the Kerry-Abbas interview in London, the Hamas Shura Council, its supreme forum for policy and military decisions, carried three resolutions:
1. Hamas would strive to restore its ties with Tehran.
2. Khaled Meshaal would travel to Tehran to discuss the military and financial aspects entailed in the restoration of ties.
3. The revived pact with Iran should not interfere with the steps towards uniting the two Palestinian territories, the Gaza Strip and West Bank, and reconciling their rulers, Hamas and Fatah.
Debkafile's military sources add that Hamas was not only desperate for an influx of funds to its empty coffers, but extremely worried by Iran's massive investment in building up another terrorist organization, Jihad Islamic, as its senior military arm in Gaza. It was taking shape as a modern army, larger and better equipped and trained than Hamas' own military wing, Ezz e-Din al-Qassam. In recent months, hundreds of Jihad fighters were returning home from Iran, after training at Revolutionary Guards courses for commanders and taking instruction as military engineers and technicians for handling the new weapons. Iran was spending large sums on high-quality arms in Libya and getting them smuggled through Egypt into Gaza for Jihad.
Hamas leaders feared that if they did not move fast to repair their ties with Tehran, the Jihad Islamic would soon take their place as the dominant military force in the territory. The deal struck Thursday in Doha confronts Israel with Iran about to be ensconced solidly, not just in Syria and Lebanon, but also on the Gaza Strip to the south. Tehran's most radical surrogate forces, like Hizballah on Israel's northern border, are being armed to the teeth with the most sophisticated tools of war.
Putin Takes a Potshot at Obama
May 24….(NBC) Russian President Vladimir Putin trained his pugnacious rhetoric on President Barack Obama on Friday, answering an allegation that he has lied about Ukraine with the jab: "Who is he to judge?"
In an extensive interview with CNBC at an economic conference in St. Petersburg, the Russian leader insisted that he hopes for a peaceful outcome to the crisis in Ukraine and will support the presidential election there on Sunday. He flashed anger when he was asked about the American president's claim that he has lied about Russia's role in stoking conflict in Ukraine. "Who is he to judge?" Putin said, according to an interpreter. "Who is he to judge, seriously? If he wants to judge people, why doesn't he get a job in court. The Russian leader acknowledged that U.S.-led sanctions have hurt Russia, but he said that Russian is not "trying to fence ourselves out from the world." "You can't force people to like you, as we say in Russia," Putin said. "But we hope that common sense, good sense and national interest, will push our European and American partners to continue cooperation."
Asked about Edward Snowden, the former American government security contractor who has leaked details of National Security Agency spying programs, Putin suggested he wasn't Russia's problem. Russia has granted Snowden temporary asylum. "He turned up on our territory because of nonprofessional actions of the Americans themselves, who tried to catch him," Putin said. "I used to work for special services. Why did they scare the entire world? They downed the planes with presidents on board, and the plane with Snowden on board they could down anywhere." On the Ukraine election, Putin said that his country will "have respect for the choice that the Ukrainian people make."
The likely winner is Petro Poroshenko, a political pragmatist who may be able to work with both Russia and the West. The world is watching to see whether the separatists will disrupt the vote. "Of course, we will cooperate with the newly elected head of state," Putin told CNBC. "I'm not kidding, and I'm not being ironic," he added. "What we want for Ukraine is peace and calm. We want this country to recover from crisis." He said that "we will watch very closely what will happen" and said, as he has before, that Viktor Yanukovych, the pro-Russian president of Ukraine who was overthrown in February, is still the legitimate president.
The United States and Europe have imposed sanctions on well-placed Russians to punish the country for intervening in Ukraine, and they have threatened sanctions against whole Russian industries if Russia disrupts the election. "What happened now is chaos," Putin said of the instability in east Ukraine, which the West has accused him of stoking. "The country is sliding into chaos." Putin conceded that the sanctions have hurt Russia. He suggested that the United States was trying to gain a competitive business advantage over Europe. "The sanctions were imposed," he said. "Now they're trying to make us to blame for something else."
Netanyahu: We Have No Real Peace Partners in The Palestinian Arena
May 24….(Times of Israel) The Palestinian leadership is unwilling to make compromises for peace, calling into question the efficacy of diplomatic negotiations, Prime Minister Benjamin Netanyahu said in an interview published Thursday. Netanyahu laid blame for the collapse of peace talks on Palestinian Authority President Mahmoud Abbas and hinted that Israel may have to consider taking unilateral steps with regard to the West Bank. Netanyahu also backed the Obama administration's decision not to strike Syria last August, calling the ensuing removal of chemical weapons "one ray of light in a very dark region."
In Netanyahu's first comments to the press since peace talks broke down late last month, the prime minister struck a pessimistic tone regarding the possibility of restarting negotiations. "Negotiations are always preferable. But six prime ministers since Oslo have failed in their pursuit of a negotiated settlement," he said. "They've always thought we were on the verge of success, and then Yasser Arafat backed off, Mahmoud Abbas backed off, because they can't conclude these negotiations. We don't have a Palestinian leadership that is willing to do that. The minimal set of conditions that any Israeli government would need cannot be met by the Palestinians."
Asked about the possibility of a unilateral withdrawal from the West Bank, Netanyahu acknowledged that the idea was gaining traction across the political spectrum, but warned that Israel could not risk another Gaza, which was taken over by Hamas after Israeli unilaterally disengaged. "Many Israelis are asking themselves if there are certain unilateral steps that could theoretically make sense. But people also recognize that the unilateral withdrawal from Gaza didn't improve the situation or advance peace," he said. Negotiations collapsed after nine months in April amid mutual recriminations that each side refused to live up to its pre-talks commitments.
While Netanyahu backed efforts by Secretary of State John Kerry to bring the sides to the table, he blamed Abbas for not taking the Americans seriously. "What has Abbas done? Nothing. He's refused to entertain Kerry's efforts to try and lock horns on the core issues. He internationalized the conflict," he said, referring to the Palestinian leader's decision to apply to 15 international treaties, which Jerusalem said broke a Palestinian commitment not to apply for statehood to the UN.
Asked about Palestinian attitudes to Israel, Netanyahu said: "I think Palestinian society is divided into two. The first half openly calls for Israel's destruction. And the second half refuses to confront this and refuses to confront the demons inside their own camp. In Israel, there is a vigorous debate about what compromise would entail. There is no such debate in the Palestinian Authority. I'm not talking about Hamas. I'm talking about the so-called moderates who will not talk about the minimal conditions that are necessary for peace from the point of view of any Israeli government and just about any Israeli. They expect us to just leave, shut our eyes, tear out the settlements. Well, been there, done that. We did it in Gaza. And what we got was not peace, but rocket fire."
Netanyahu also ruled out a settlement freeze: "I don't think it would work," he said. "Having tried once, I saw that it doesn't work. The Americans said the only way Abbas is going to come into negotiations is either you release prisoners or freeze settlements: Choose. We chose to release prisoners. We made it very clear to the US and to the Palestinians exactly how much we would build, including in Jerusalem. We built exactly what we said we would build in every one of the tranches. It wasn't that we surprised anyone with extra construction."
Netanyahu stressed a desire to resolve the Palestinian conflict: "I hope we resolve it, for our sake. I hope we resolve it because I don't want a bi-national state. I hope we resolve it because I'd like to have broader and more open relations with the Arab world, and I hope to resolve it in order to remove the unjustified attacks on Israel. But we are proceeding ahead despite this. We don't mortgage our future to the maturation of Palestinian politics."
On Syria, Netanyahu said he supported US President Barack Obama's decision not to strike Damascus after a devastating chemical attack, saying he "appreciated the effort" to instead force Syrian president Bashar Assad to give up his chemical stockpile. However, he noted that Assad had not relinquished all his arms, worrying Israel. "We are concerned that they may not have declared all of their capacity. But what has been removed has been removed. We're talking about 90 percent," he said.
Netanyahu highlighted differences of opinion with the Obama administration on how to tackle Iran's nuclear program, he reiterated that Iran must be denied a nuclear weapons capability, with the dismantling of its enrichment capacity, while the US says only that Iran must be denied a nuclear weapon.
Pope to Meet Palestinian Leader Who Endorsed Extermination of Jews
May 23….(Newsmax) During his tour of the Holy Land, which starts Saturday, Pope Francis is scheduled to meet with a leader from the Palestinian Authority who once called for the extermination of Jews.
According to the Jewish & Israel News source, Algemeiner.com, the Pope will meet Mufti Sheikh Muhammad Hussein, the most senior religious figure in the Palestinian Authority, who is described by Palestinian Media Watch as having "an ongoing record of vicious anti-Semitic hate speech, which has been condemned internationally." The Pope will also meet with Israel's two chief rabbis, according to the report.
PMW said that in 2012 the Mufti preached that it is Muslims destiny to exterminate Jews as part of a Muslim holy war. On another occasion, in the Al-Aqsa Mosque, he said that Jews were "enemies of Allah," and in another speech he said that the souls of suicide bombers "tell us to follow in their path," Algemeiner.com reported.
Mufti has also rejected Christian teachings, according to PMW, saying that Jesus was not a Judean, but a Palestinian who preached Islam. He also called Jesus "a Palestinian par excellence" and claimed that Jesus and his mother, Mary, were Palestinians, not Jews.
FOJ Note: Why in the world would a "supposed Christian leader" meet with a man that preaches death to Israel?
VA Scandal Shows Perils of Socialized Medicine
May 23….(Newsmax) The scandal rocking the Veterans Health Administration should serve as a warning as to what can happen under the Affordable Care Act, renowned economist and syndicated columnist Larry Kudlow says. This is not simply a management problem," Kudlow, author of the CNBC blog "Kudlow's Corner,'' told "The Steve Malzberg Show" on Newsmax TV. "This is about a pocket of government-run socialized medicine with rationing and price controls and the usual bureaucratic inefficiencies. That's the problem with the VA.''
The VA is under fire for allegedly keeping chronically-ill patients on a secret-waiting list, resulting in the deaths of at least 40 veterans. Additionally, there are allegations of false record-keeping to cover up the scandal. "It is not a money problem. The money going to the VA has exploded in recent years. In fact, from 2000 to 2013, budget outlays tripled while the veterans' population being served has actually declined by four million,'' Kudlow said. "There's a problem with government-run healthcare and [this] should be a lesson to all of us about the dangers of Obamacare and single-payer insurance and so forth and so on."
Vatican Says Pope Will Demand
'Sovereign Palestine

'

(Vatican's Secretary of State says pope during visit will talk about 'Palestinian right to sovereign, independent homeland.' )

May 23….(Arutz) The Vatican's Secretary of State made a dramatic revelation ahead of Pope Francis's visit to Israel next Sunday and Monday, declaring that the Pope will talk about the "Palestinian people's right to have a homeland, sovereign and independent." Cardinal Pietro Parolin holds a role in the Vatican City State, located in the Italian capital of Rome, equivalent to that of a prime minister. Speaking to Vatican television on Thursday, he said "we know that the Pope is going to a particularly suffering land," reports AFP. "I really hope that the fruit will be to help politicians and all people of good will take courageous decisions on the path to peace," Parolin stated. When asked what the pope particularly intends to talk about during the visit, Parolin revealed he would talk about "on the one hand, Israel's right to exist in peace and security within internationally recognized boundaries." On the other side, the Pope would talk about "the Palestinian people's right to have a homeland, sovereign and independent, the right to move around freely, the right to live in dignity," according to Parolin.

In fact, the Vatican recognized the "State of Palestine" in 2012 amid the United Nations (UN) vote to confer "Palestine" non-member observer state status, a status until then only held by the Vatican. Despite the pope's insistence that his visit is "religious not political," his decision to begin his trip from Jordan directly by helicopter with a stop in Palestinian Authority (PA) controlled Bethlehem has been greeted by Arab sources as a move to "recognize Palestine" and help "end the occupation."

Pope Will 'Recognize Palestine, Call to End Occupation During Visit'

May 22….(Arutz) Palestinian Authority (PA) and Arab Christian sources are already celebrating Pope Francis's visit to Israel starting next Sunday, saying his choice to begin the trip directly in PA-held Bethlehem is meant to "recognize Palestine" and "oppose the occupation." "He is taking a helicopter directly from Jordan to Palestine - to Bethlehem. It's a kind of sign of recognizing Palestine," Father Jamal Khader of the Latin patriarchate in Jerusalem told AFP.

The claims that his trip will begin in a "recognition of Palestine" comes amid reports from February by Rabbi Sergio Bergman, a member of the Argentinian parliament and close friend of Pope Francis, who said that the pope intends to define himself as the "Che Guevera of the Palestinians" and support their "struggle and rights" during his visit. In Bethlehem the pope is to travel in an open-top car and meet with PA Chairman Mahmoud Abbas, holding "mass" prayer services there instead of in Jerusalem in what has been called a show of support for the PA. It has been noted that the pope has been remarkably tight-lipped over the violent persecution of Christians in Bethlehem, instead choosing to condemn alleged Jewish "price tag" vandalism. After the "mass" services, the pope is to visit a nearby "refugee camp." "Knowing who he is, and his sensitivity for all those who suffer, I am sure that he will say something defending all those who are suffering, including the Palestinians who live under occupation," Khader said.

The political aspects of the visit were highlighted by Hind Khoury, a former PA minister for Jerusalem affairs, who said "everything will be highly charged politically." "This visit will help us in supporting our struggle to end the longest occupation in history," said Ziyyad Bandak, Abbas's adviser for Christian affairs. Bandak noted that the pope "will have a lunch with Palestinians, with families suffering from the occupation...then he will visit Dheishe refugee camp to witness the suffering of Palestinian refugees."

The fact that "the pope will begin his visit in Palestine and not Israel," as Bandak put it, was meant as a slight to the Jewish state according to the PA official, who added "I know that Israeli officials are not happy with this decision." "We welcome this visit and consider it as support for the Palestinian people, and confirmation from the Vatican of the need to end the occupation," concluded Bandak.

On the other hand, an Israeli official speaking to AFP on condition of anonymity said "the very fact of the visit is a success," noting the Tourism Ministry had reported an anticipated 10% rise in Christian tourism over the coming year thanks to the visit. However, a great portion of the pope's time spent not under PA-controlled areas is reportedly planned to be spent in largely Arab-populated neighborhoods of eastern Jerusalem. The pope is set to meet Prime Minister Binyamin Netanyahu at the Vatican-owned Notre Dame complex located on the "seam" between Jewish and Arab neighborhoods. In the meeting "we shall be able to explain to him, from our point of view, what's happening politically in the region," an Israeli official said. The official did not specifically note that those explanations would include a counter to the narrative of "occupation," pushed so strongly by the Arab sources speaking about the visit, instead saying simply "we shall explain to him the Iranian threat." At least one Jerusalem official does not plan to greet the pope. Councilman Aryeh King announced he would not attend an official welcoming of the pope unless he "will bring in his suitcase the treasures of the Jewish people that were stolen by his predecessors, treasures that today are located in the Vatican's basement."
Graham: 'True Followers of Jesus Cannot Endorse Same-Sex Marriage'
May 22….(CNS) Rev. Franklin Graham, son of world-renowned evangelist Billy Graham, said that "true followers" of Jesus "cannot endorse same-sex marriage" regardless of what President Barack Obama, the Congress, the Supreme Court, or the media say about the issue, adding that marriage was "settled by God Himself" and cannot be modified by man. "True followers of Jesus Christ, whose salvation is based entirely upon God's Word, cannot endorse same-sex marriage, regardless of what our President, the Congress, the Supreme Court, the media or the latest Gallup poll says about the matter," said Rev. Graham in his May 2014 column for Decision magazine. "This moral issue has been settled by God Himself and is not subject to man-made revisions or modifications," he said. "In the end, I would rather be on the wrong side of public opinion than on the wrong side of Almighty God who established the standard of living for the world He created. Marriage is a biblically moral issue, not a political or theological one."
Rev. Graham made those remarks after first discussing how "pressure from the LGBT (lesbian, gay, bisexual, transgender) community" on the A&E cable channel had tried to force Duck Dynasty off the air last year because its patriarch, Phil Robertson, had expressed his "biblically based convictions." Graham also noted how the restaurant and country store chain Cracker Barrel had initially given in to LGBT pressure and pulled all its Duck Dynasty products from its shelves, only to reverse itself after an uproar by millions of Americans who support the show. "In both cases, the LGBT lost," said Rev. Graham. "While many in the liberal and progressive media have deceived the public into thinking that this group makes up a large portion of our nation's population, surveys support the fact that this small but boisterous movement consists of less than 2 percent of society."
Rev. Graham went on to discuss how the international Christian aid group, World Vision, had also apparently given in to pressure in March, announcing that it would hire people in same-sex marriages. That decision also caused an uproar from donors and other evangelical groups, and World Vision subsequently reversed its decision within two days. At the time, Rev. Graham, who is head of the international Christian aid group Samaritan's Purse, said, "In our country today, there is tremendous pressure on Christians, churches, and Christian organizations to lower our moral standards. God is clear in His Word, and His standards never change. I'm thankful that Christians across the country urged World Vision to reverse their decision, and prayed fervently that they would do so. Three cheers."
After commenting on Duck Dynasty and the World Vision scandal, Rev. Graham said he was grateful about how things concluded but hoped the fundamental issue would "cause a depth of soul-searching" because, as he understands it, there is no compromise on marriage. "This debate is ultimately about something much more important than the question of same-sex marriage," said Rev. Graham. "It is about the great compromise, calling into question the authority of Scripture. If Christians do not agree concerning the authority of Scripture, we will eventually disagree about all sorts of things." He continued, "The church is on dangerous ground when it departs from the teaching of Christ and attempts to redefine His commands and compromise His truth. There are many things in Scripture that Christians disagree on, but the Bible is crystal clear about the sanctity of life and marriage. It is also clear that homosexuality is spelled out as sin, there are no ifs, ands or buts."
Rev. Graham ended his commentary by telling those in "the LGBT community" that God "loves you and will forgive you," and that God "is eager to forgive all sinners," including Graham himself.
Cultural Double Standard: Michael Sam, Tim Tebow
May 20….(Cal Thomas) Once, Social Security was the "third rail" of politics. Touch it and face political death. Now it is homosexuality. Criticize anything gay people do and you risk ostracism, fines, suspension or loss of your livelihood.
Michael Sam, the first openly gay player to be drafted by a National Football League team, the St. Louis Rams picked him 249th in the last round, is being treated by the media and those in the gay rights movement as the equivalent of an early American pioneer. Miami Dolphins safety Don Jones, apparently, didn't get the memo. Jones tweeted "OMG" and "horrible" after he saw Sam and his boyfriend kiss each other live on ESPN. His tweet was quickly taken down, but the political correctness police swooped in anyway. Jones has been fined and suspended. He's also being forced to attend "educational training" to get his "mind right," to borrow a phrase from the film "Cool Hand Luke." This sounds like the old communist "re-education" camps. Dolphins Coach Joe Philbin called Jones' comment "inappropriate and unacceptable." Jones issued a statement that read like it had been written by a lawyer, apologizing for his "inappropriate" tweet and taking "full responsibility" for his comment.
How quickly things have changed from the recent experiences of Tim Tebow. When the quarterback heroically led the Denver Broncos to a playoff victory in 2012 and dropped to one knee, as he often did to express gratitude to God (a move that quickly became known as "Tebowing," which spawned countless YouTube parodies), he was widely ridiculed by many of the same entities that now defend Michael Sam, including some NFL players and even "Saturday Night Live," which in a skit had "Jesus" offering Tebow advice while sitting next to him on a locker room bench.
When the Broncos released Tebow, he was mocked again, not only for his faith, but for claiming to be a virgin who wanted to save himself for marriage. In an increasingly secular and licentious culture this sort of thinking and expression, apparently, must be silenced. During Tebow's brief professional career, TV ratings spiked, jerseys and other gear with Tebow's name on it sold well and, according to Ad Age, "In terms of influence, Mr. Tebow is now in the top 40 of 3,000 celebs ... on par with Tom Hanks, Lady Gaga, Taylor Swift, Jennifer Aniston and Steven Spielberg."
Yet, Tebow endured a sometimes silent and often shouted campaign to brand him in a negative way. He was called "polarizing." It was said he had "baggage," though his "bags" were considerably lighter than many other professional athletes who have had drug and alcohol problems, incidents with guns at strip clubs and numerous out-of-wedlock children.
The Nation's Dave Zirin revealed the secular left's real problem with Tebow when he wrote, "(Tebow) is a religious figure in a country that is uncomfortable talking (about) religion." Really? I would venture to guess there are probably more people attending church on Sunday mornings than attend NFL football games on Sunday afternoon. Such is the bias of those who hold disdain for people of strong faith because it apparently exposes flaws in themselves they prefer not to see. After the Broncos cut Tebow, haters took to the comment page of The Huffington Post:
"Awwwww. I bet this makes the Baby Jesus weep. Tim should have prayed more."
"Hey Tim, are you getting the message now? Nothing fails like prayer."
"We're all going to hell and we're excited about it. Don't be jealous."
"Where is your God now, Tebow?"
NFL players who joined in the mockery were not fined, disciplined or forced into education training camp. Such is the cultural double standard between the way Michael Sam is being treated and the experience of Tim Tebow. But what should one expect these days when anything goes, except for free speech critical of the LGBT crowd?
Western Leaders Warned: Islam Demands Subjugation
('Persecution of Christians is increasing in many areas of our world')
May 20….(WND) Western leaders are unwilling to recognize that Islamic jihadists want to subjugate the world and apply Islamic law to everyone, including them, according to several researchers.
Raymond Ibrahim, a researcher, translator and author, said that because Muslim persecution of Christians and others is "grounded in the theology of Islam, very few politicians are willing to address the root source of it." "And of course if you cannot ascertain a problem, you cannot fix it," he said. He said politicians and others "can speak openly about, say, the persecution of Christians in Korea, because its source is one man, one regime, who can be demonized or lambasted at will." "Moreover, if this one man goes, so does the persecution go with him since it is not based on anything intrinsic to North Korean culture," Ibrahim said, noting the vibrancy of Christianity in South Korea as evidence. "But because the subjugation and oppression of Christians is actually mandated in Islamic law, and because it is all but anathema for any Western politician to say anything negative about Islam itself, we are in a position where the root source behind the endemic persecution of Christians all around the Islamic world is rarely if ever addressed by Western leaders and authorities, which will only assure that it continues unabated," he said.
In Egypt, Pakistan and Syria, Christian women have been kidnapped, raped and forced to convert to Islam. The issue is rarely reported in the media, and the butchery is mostly unknown to Western Christians. Lela Gilbert, an American journalist living in Israel, sees a widening war against Christians. "Christian persecution continues to be the most widespread abuse of religious freedom in the world. And, sadly, even those of us who follow this issue closely only see the proverbial tip of the iceberg," she said.
She said that after writing about the kidnapping of Christian girls by the Nigerian group Boko Haram, she received an email from a friend in Egypt. She said it contained evidence that as many as 500 Coptic girls, often barely past puberty, have been kidnapped, forcibly converted to Islam and married off to men sometimes 30-40 years older over the past three years. "Meanwhile, just last week I learned that 15 minutes from my Jerusalem home, an attack on St. George's Orthodox Church took place in Bethlehem, during which Muslim youths threw stones at Christian worshipers and terrified a crowd that had gathered for a holiday celebration," she said.
In the Bethlehem attack, one man was stabbed and another victim has had to undergo two facial surgeries to repair injuries. "Near and far, deadly or simply terrifying, the attacks happen every day," Gilbert said. "Bombs in Iraq and Syria, kidnappings in Egypt, false accusations of blasphemy in Pakistan and Sudan. Arrests in Iran. Although there are other terrible incidents in places like North Korea, China and Cuba, far and away the worst abusers of Christians (and often Jews) in these troubled times are radical Muslims. "And the world is, all too often, strangely silent," she said.
Randy Hurst, world missions communications director for the Assemblies of God, is directly involved in efforts to protect Christians, including missionaries. "AG World Missions provides missionaries with thorough training on how to minimize risks and how to respond if they should find themselves in dangerous situations," he said. "We are thankful that for many years we have witnessed an umbrella of our Lord's protection over our overseas personnel." Hurst also appeals to spiritual solutions to the threat. "Tragically, persecution of Christian believers is increasing in many areas of our world," he said. "Jesus said that His followers would suffer hardship as they live under His lordship. But we are also instructed to pray for those who suffer. "We must accelerate and intensify our prayers for fellow believers throughout the world who are suffering for Christ's name," he said. "We stand in unity with followers of Christ everywhere and will speak out on their behalf, and in every way we can we will appeal to those in authority for their freedom and fair treatment."
FOJ Question: Does anybody really believe that there are any Western political leaders today who would DEFEND Christianity against any enemy? No, in fact most western political leaders would leap at the chance to destroy Christianity!
Pope Francis: Without the Church, You Are Not a Christian
May 19….(Christian Post) Pope Francis said that people cannot be Christians without the Church, explaining that Christian identity is rooted in it and that believers cannot stand alone. "Our Christian identity is belonging to a people: the Church. Without this, we are not Christians. We entered the Church through baptism: there we are Christians," Francis said during Mass on Thursday, Vatican Radio reported. "A Christian without a church is something purely idealistic, it is not real," the Roman Catholic Church leader argued. He said that one cannot "understand a Christian alone" any more than "Jesus Christ alone" can be understood. "Jesus Christ did not fall from the sky like a superhero who comes to save us. No. Jesus Christ has a history. And we can say, and it is true, that God has a history because He wanted to walk with us. And you cannot understand Jesus Christ without His history. So a Christian without history, without a Christian nation, a Christian without the Church is incomprehensible. It is a thing of the laboratory, an artificial thing, a thing that cannot give life," Francis said. He added that the "grace of hope" is also necessary for Christian identity, explaining that he does not mean optimism, but "something else." "Ask for the grace to renew the covenant with the Lord who has called us every day," Francis said.
During Mass on Monday, Francis also theorized about alien life forms, and suggested that even Martians should be welcomed to be baptized as well. "If, for example, tomorrow an expedition of Martians came, and some of them came to us, here, Martians, right? Green, with that long nose and big ears, just like children paint them, and one says, 'But I want to be baptized!' What would happen?" Pope Francis remarked, and told the audience that baptism is open to everyone. He also recalled the words of Peter: "If then God gave them the same gift He gave to us when we came to believe in the Lord Jesus Christ, who was I to be able to hinder God?"
FOJ Note: The Pope, like on so many other issues with Bible doctrine, is simply wrong. And this Pope continues to suggest that people of the "protestant" persuasions are not Christians simply because they do not submit to the Roman church dictatorship. When I read the Bible, I am persuaded that "whosoever believes in the Son of God and his sacrifice for sins, the same shall be called the Sons of God." (Acts 2:21, John 3:15-16, I John 5:1, and Rev. 22:17.) (Rev 22:17And the Spirit and the bride say, Come. And let him that heareth say, Come. And let him that is athirst come. And whosoever will, let him take the water of life freely.) The Pope not only confuses the truth of salvation, but commits a greater sin by obstructing the news of the free gift of God that cannot be parceled out by men or institutions calling themselves, Father, or church! The Pope is an Apostate! Yes, you read that correctly, "an apostate"!
A Visit to the Temple Mount
(Op-ed: How long can we expect to survive as a sovereign nation in our own land if we turn our backs on the place that represents the Jewish people's true center and heart?)
May 19….(YNET) While within one is located, according to Judaism, the holiest spot in the world, the literal meeting place between heaven and earth, the other is a museum dedicated to the six million victims of the Nazi beast. Moreover, while from the former we hope that one day God's light and wisdom will go forth to heal a fractured and troubled humanity, from the latter we merely hope to prevent future holocausts.
Finally, while millions of Jews and non-Jews, from Israeli high school students to visiting presidents and prime ministers, flock to Yad Vashem, hardly anyone, especially amongst Jews, ever pays a visit to the Temple Mount. Although it's true that any Jew who wishes to visit the Temple Mount needs to be aware of a few halachic issues and restrictions, the fact is there are many rabbis today willing to give proper guidance in order to facilitate such a visit. Moreover, the rabbinical position that forbids all Jews from ascending to the Temple Mount is a strict opinion that is not shared by all rabbis.
Ironically, this current "forbidden mindset" didn't prevent Maimonides, one of the greatest codifiers ever of Jewish law, from visiting and praying on the Temple Mount. The truth is that the whole Temple Mount issue, given the confusion regarding the so-called halachic ban together with the reality of nearly complete Islamic control of the site, is something that most Jews simply prefer to ignore.
Moreover, who wants to put themselves in the humiliating position of being removed from the Temple Mount simply for committing the unthinkable crime of saying a prayer or reciting a few verses from the Book of Psalms? Or who wants to experience the demeaning feeling of being closely followed and watched by members of the Jordanian Waqf, the non-Israeli entity that essentially controls the Temple Mount in the heart of Jerusalem?
Although it's true that Israeli policemen are also on the Temple Mount, from firsthand experience they appear to be much more sympathetic to their friends in the Waqf than to the Jewish visitors that they're helping to escort. Of course for a Jew to have the pleasure of being subject to any of these uncomfortable situations, he must first receive police permission to enter the Temple Mount, something that should not be taken for granted. For instance, if a Jew is wearing a T-shirt or baseball hat with a picture of the Israeli flag, there's a good chance that such a "provocation" will cause the police to deny him access to the Temple Mount.
This is the current situation, no matter how preposterous it might sound. This being the case, how can we remain silent in the face of such injustice? Likewise and in spite of all of the above, how long can we expect to survive as a sovereign nation in our own land if we simply turn our backs on the place that represents the true center and heart of the Jewish people?
Although the Western Wall is nice, and we should be happy that we can freely visit and pray there, we need to understand that it is not the Temple Mount. Finally, by avoiding this touchy issue we are essentially stifling an integral part of our national identity. If so, then what does this say about us as a people, or as a country, and what are the ramifications of this for our future?
Poll: Israel's Jews Abandoning Temple
(Survey conducted ahead of Tisha B'Av shows 66% of Israeli public see Western Wall as Jewish people's holiest site, while only 29% give title to Temple Mount. About half of public believes Mount is under Waqf's sovereignty, nearly 60% want site divided between Jews and Muslims)
May 19….(YNET) The majority of the Israeli public is in favor of freedom of religion for Jews on the Temple Mount but is against building a synagogue or the Temple itself at the holy site, according to a survey conducted ahead of the annual Jewish fast day of Tisha B'Av, which takes place Tuesday. The poll, commissioned by the Israel Independence Fund and the Joint Forum of Temple Mount Organizations, was conducted by the Maagar Mochot research institute in honor of the period of mourning commemorating the destruction of the first and second Jewish Temples. The survey included 523 respondents, a representative sample of the adult Jewish population in Israel. The maximum sampling error was 4.5%. Although the Western Wall draws its sacredness from the Temple Mount, 66% of respondents said it was the holiest place in the Land of Israel, while only 29% favored the Temple's location itself. Two percent mentioned the Cave of the Patriarchs in Hebron, another 2% chose the tomb of Rabbi Shimon bar Yochai in Meron, and 1% - Rachel's Tomb in Bethlehem.
A breakdown of the responses according to religious affiliation reveals that the secular and traditional public sees the Western Wall as the holiest site (67%), while the national-religious and ultra-Orthodox chose the Temple Mount (49-54%). Secular and traditional Jews, by the way, visit the Western Wall once every few years (44%) while religious and haredi Jews arrive at the site several times a year (53-54%).
55% interested in visiting Temple Mount
As opposed to the Western Wall, there appears to be an inverse proportion between the affinity to the Temple Mount and respondents' level of religiousness: The higher their conservatism, the more distant they feel from the Temple site. This stems from the halachic prohibition to get too close to holiness, which deters them from going up to the Mount. Forty-nine percent of respondents believe it is important for Jews to visit the Temple Mount (including 45% of secular-traditional Jews and 78% of national-religious Jews), but 40% view it as unimportant (65% of haredim and those defined in the survey as "hardalim," religious Zionist Jews inclines significantly toward haredi ideology). Among those in favor, 57% said it should only be done according to the rules of Halacha.
The survey participants were asked, "Will you be interested in visiting the Temple Mount as part of a tour of Jerusalem?" Fifty-five percent said yes (60% of secular-traditional Jews and 68% of national-religious Jews), and 38% said no (75% of haredim-hardalim). Yet 58% would not say a prayer even if it were possible (61% of secular-traditional and 70% of haredim-hardalim), and 34% would pray (including 73% of national-religious Jews).
What about the establishment of a prayer house (or actual synagogue) on the Mount? Forty-nine percent are against the idea (47% of secular-traditional Jews and 85% of haredim), and 30% are in favor (52% of national-religious). "May the Temple be built soon in our lifetime?" Only 30% are in favor of rebuilding the Temple today (43% of national-religious), while 45% are against it (45% of secular-traditional Jews and 62% of haredim).
Forty-nine percent of the public believes the Temple Mount is under the sovereignty of the Muslim Waqf, and only 19% think the State of Israel controls the site (others mentioned Jordan and the Palestinian Authority as well). Among those who claim there is no Israeli sovereignty, 47% said the State must take control of the holy site and 11% would put it in the hands of a Jewish religious authority.
59% Say Divide Mount between Jews, Muslims
According to 48% of respondents (58% who had an opinion), the State must guarantee freedom of access and ritual on the Temple Mount for Jews as well, as required by the Protection of Holy Places Law (48% of secular-traditional Jews and 70% of national-religious Jews believe so). On the other hand, 35% agree with the ban on Jewish prayer on the Temple Mount (52% of haredim-hardalim).
Forty percent said that by allowing the current situation, in which there is no freedom of religion for Jews, the police were surrendering to violence and threats on the part of Muslims (64% of national-religious, 54% of haredim-hardalim and 34% of secular-traditional Jews said so), while 36% believe that the law enforcement authorities are simply maintaining law and order (39% of secular-traditional Jews).
So what is the solution? Fifty-nine percent are in favor of an arrangement dividing the Temple Mount between Jews and Muslims according to defined areas and times, as is the custom at the Cave of the Patriarchs (60% of secular-traditional, 65% of national-religious and 46% of haredim-hardalim). Twenty-three percent are against this proposal.
Jews: Temple Mount (not) in Our Hands
(Op-ed: Jerusalem holy site, once a source of national pride, now viewed by Israeli decision-makers as a national problem and a powder-keg ready to explode!)
May 19….(YNET) "The Temple Mount is in our hands," Lieutenant General Mordechai 'Motta' Gur called out upon entering the plaza beneath the golden mosque during the Six Day War. Gur, who was secular, was referring to secular sovereignty, the kind that can plant a flag, rule and fight. In a way, Gur's declaration symbolized the connection between Judaism and Zionism. Without Judaism the Jews would not have necessarily chosen to come to Zion. Without Zionism they would not have built a state, conquered a capital and fought for territory and sovereignty. Rabbi Goren, the shofar and the prayers symbolized the return of the religious divine presence (shechina) to the Temple Mount. The paratroopers, Gur and the calls over the radio symbolized the secular divine presence that took over the Temple Mount.
Since those days in June of 1967, the secular divine presence has departed from the Temple Mount. The Israelis' excitement upon hearing recordings of Gur's famous words and seeing the Israeli flag being waved at the Temple Mount faded. All that remained was the religious presence. The Temple Mount, once a source of national pride, has become a national problem in the eyes of the decision-makers, a "powder keg." The slogan Gur repeated three times is now viewed by Israel Police as "incitement." The only ones who seemed to be unnerved by this were members of the religious-Zionist movement, religious parties and right-wing activists. Israel did not shake, and the press was not particularly interested.
Despite its historic importance, the evolution of the Temple Mount has led to a situation whereby the only people who care about it today belong to the school of the religious divine presence. Their ambitions are religious, as is their reasoning. Unfortunately, secular Zionism has yet to produce a successor to Motta Gur, a successor with secular divine presence who will speak of the meaning of the slogan "The Temple Mount is in our hands."
The State of Israel repeatedly declares its sovereignty over the Temple Mount, and no ruling party has ever called publicly to transfer control over the site to another entity. But in practice, 45 years on, in modern Israel, there is no sovereignty over the Temple Mount. The waqf is the sole ruler and it decides what is permitted and what is forbidden. A state within a state.
During the battle for the Old City, Gur asked soldiers who had entered the Rockefeller Archaeological Museum to be careful not to damage anything, to preserve history. Today, in the same place that he conquered, infrastructure work is destroying archeological treasures.
There is no supervision by the Israel Antiquities Authority or police. There is no preservation of history. Moreover, freedom of worship, a cornerstone of any liberal and democratic country, is non-existent on the Temple Mount when it comes to Jews who wish to pray there. The waqf decides, the potentially explosive situation dictates. And so, when the Bnei Akiva members wanted to convey a message, police preferred calm. It is not the fault of Israel Police. Its actions are a product of Israel's policy, or rather the continued lack of policy vis-à-vis the Temple Mount.
Sudanese Woman Sentenced to Death for Crime of being a Christian
May 19….(AP) A pregnant Sudanese woman who married a Christian man was sentenced to death Thursday after she refused to recant her Christian faith, her lawyer said. Meriam Ibrahim, whose father was Muslim but mother was an Orthodox Christian from Ethiopia, was convicted of "apostasy" on Sunday and given four days to repent and escape death, said lawyer Al-Shareef Ali al-Shareef Mohammed. The 26 year old, who is eight months pregnant, was sentenced after that grace period expired, Mohammed said.
Amnesty International immediately condemned the sentence, calling it "abhorrent." The US State Department said it was "deeply disturbed" by the sentencing and called on the government to respect the right to freedom of religion. Ibrahim was married in a formal church ceremony in 2011 and has a son, 18-month-old Martin, who is with her in jail.
Sudan's penal code criminalizes the conversion of Muslims into other religions, which is punishable by death. As in many Muslim nations, Muslim women in Sudan are prohibited from marrying non-Muslims, though Muslim men can marry outside their faith. By law, children must follow their father's religion. Sudan introduced Islamic Shariah laws in the early 1980s under the rule of autocrat Jaafar Nimeiri, a move that contributed to the resumption of an insurgency in the mostly animist and Christian south of Sudan. An earlier round of civil war lasted 17 years and ended in 1972. The south seceded in 2011 to become the world's newest nation, South Sudan. Sudanese President Omar Bashir, an Islamist who seized power in a 1989 military coup, says his country will implement Islam more strictly now that the non-Muslim south is gone.
A number of Sudanese have been convicted of apostasy in recent years, but they all escaped execution by recanting their new faith. The court in the capital, Khartoum, also ordered that Ibrahim be given 100 lashes for having what it considers sexual relations with her husband, Daniel Wani, a Christian from southern Sudan who has US citizenship, according to the lawyer and judicial officials who spoke on condition of anonymity in line with regulations. Wani was acquitted of a charge of harboring an apostate, according to another defense lawyer, Eman Abdul-Rahim. Wani fled to the United States as a child to escape the civil war in southern Sudan but later returned, she said.
WEEK OF MAY 11 THROUGH MAY 17
Russia Scores Massive Gas Pipeline Deal With China
May 16….(Business Insider) China and Russia are set to cement their energy alliance next week with an expected agreement to build a natural gas pipeline between the two nations that would secure a huge new market for the world's largest energy producer and provide a guaranteed energy supply for China's growing economy as both nations face confrontations with the West. The deal, which the two countries negotiated over the last decade, is expected to be signed when Russian President Vladimir Putin visits Beijing next week. The deal between Russia's Gazprom and China's state-owned energy giant CNPC was confirmed by sources in the Russian energy sector, according to a note from the Eurasia Group, a consultancy.
Current geopolitical conditions resulting from Russia's ongoing crisis in Ukraine appear to have aligned the two super powers in such a manner favorable to finally concluding the deal. "As the Ukraine crisis threatens Russian access to Western credit in the short term, while likely eroding Russia's European gas market share over the next decade, Moscow is keen to secure a major new gas export market in Asia, as well as to demonstrate to the West that it has energy consumer options," the Eurasia note said.
Escalating tensions in Ukraine have led developed nations, including the US, Canada, the European Union and Japan, to impose sanctions on a number of high-profile Russian companies close to the Putin. Experts expect the agreement to include a 30-year delivery contract between Gazprom and CNPC for 38 billion cubic meters of natural gas per year, with the potential to expand the annual capacity to 61 billion cubic meters. If the deal can be inked next week, construction for the pipeline will likely begin by the end of the year, and with operations beginning in 2018. The price tag for the deal has not been announced, but Russia is expected to offer some concessions in lieu of prepayment from CNPC to help fund construction.
Unlike Western nations, China has steadily deepened economic ties with Russia in recent months. Chinese companies have been involved in building a bridge from Russia to Crimea and invested in a $27 billion liquid natural gas project with Russia's second-largest natural gas producer, Novatek. The latest deal, if successfully concluded, "would mark a crucial advancement in the growing Russia-China bilateral energy relationship, advance China's environmental agenda and perpetuate the push to erode Gazprom's gas pipeline export monopoly," the Eurasia Group said.
Russia Is On The Verge Of Dealing A Massive Blow To The Petrodollar
May 15….(Economic Collapse/ Michael Snyder) Is the petrodollar monopoly about to be shattered? When US politicians started slapping economic sanctions on Russia, they probably never even imagined that there might be serious consequences for the United States. But now the Russian media is reporting that the Russian Ministry of Finance is getting ready to pull the trigger on a "de-dollarization" plan. For decades, virtually all oil and natural gas around the world has been bought and sold for US dollars. As I will explain below, this has been a massive advantage for the US economy. In recent years, there have been rumblings by nations such as Russia and China about the need to change to a new system, but nobody has really had a big reason to upset the status quo. However, that has now changed. The struggle over Ukraine has caused Russia to completely reevaluate the financial relationship that it has with the United States. If it starts trading a lot of oil and natural gas for currencies other than the US dollar, that will be a massive blow for the petrodollar, and it could end up dramatically changing the global economic landscape.
The fact that the Russian government has held a meeting to discuss "getting rid of the US dollar in Russian export operations" should be front page news on every mainstream news website in the United States. That is how big this is. But instead, we have heard nothing from the big mainstream news networks about this so far. Instead, we have only heard about this from Russian news sources such as the Voice of Russia. Russian press reports that the country's Ministry of Finance is ready to greenlight a plan to radically increase the role of the Russian ruble in export operations while reducing the share of dollar-denominated transactions. Governmental sources believe that the Russian banking sector is "ready to handle the increased number of ruble-denominated transactions".
According to the Prime news agency, on April 24th the government organized a special meeting dedicated to finding a solution for getting rid of the US dollar in Russian export operations. Top level experts from the energy sector, banks and governmental agencies were summoned and a number of measures were proposed as a response for American sanctions against Russia.
The "de-dollarization meeting" was chaired by First Deputy Prime Minister of the Russian Federation Igor Shuvalov, proving that Moscow is very serious in its intention to stop using the dollar. So will Russia go through with this? After all, this wouldn't just be a slap in the face. This would essentially be like slamming an economic fist into our nose. You see, Russia is not just a small player when it comes to trading oil and natural gas. The truth is that Russia is the largest exporter of natural gas and the second largest exporter of oil in the world. If Russia starts asking for payment in currencies other than the US dollar, that will essentially end the monopoly of the petrodollar.
In order to do this, Russia will need trading partners willing to go along. In the article quoted above, the Voice of Russia listed Iran and China as two nations that would potentially be willing to make the switch. Of course, the success of Moscow's campaign to switch its trading to rubles or other regional currencies will depend on the willingness of its trading partners to get rid of the dollar. Sources cited by Politonline.ru mentioned two countries who would be willing to support Russia: Iran and China. Given that Vladimir Putin will visit Beijing on May 20, it can be speculated that the gas and oil contracts that are going to be signed between Russia and China will be denominated in rubles and yuan, not dollars. And the reality of the matter is that China has seemed ready to move away from the US dollar for quite some time. In a previous article, I included a quote from a French news source that discussed how China's official news agency has even called for a "new international reserve currency, to replace the dominant US dollar".
For decades the US has benefited to the tune of trillions of dollars-worth of free credit from the greenback's role as the default global reserve unit. But as the global economy trembled before the prospect of a US default last month, only averted when Washington reached a deal to raise its debt ceiling, China's official Xinhua news agency called for a "de-Americanised" world. It also urged the creation of a "new international reserve currency... to replace the dominant US dollar".
So why is the petrodollar so important? Well, it creates a tremendous amount of demand for the US dollar all over the globe. Since everyone has needed it to trade with one another, that has created an endless global appetite for the currency. That has kept the value of the dollar artificially high, and it has enabled us to import trillions of dollars of super cheap products from other countries. If other nations stopped using the dollar to trade with one another, the value of the dollar would plummet dramatically and we would have to pay much, much more for the trinkets that we buy at the dollar store and Wal-Mart.
In addition, since the US dollar is essentially the de facto global currency, this has also increased demand for our debt. Major exporting nations such as China and Saudi Arabia end up with giant piles of our dollars. Instead of just letting them sit there and do nothing, those nations often reinvest their dollars into securities that can rapidly be changed back into dollars if needed. One of the most popular ways to do this has been to invest those dollars in US Treasuries. This has driven down interest rates on US debt over the years and has enabled the US government to borrow trillions upon trillions of dollars for next to nothing. But if the rest of the world starts moving away from the US dollar, all of this could change.
In order for our current standard of living to continue, it is absolutely imperative that everyone else around the globe continues to use our currency. So if Russia really does pull the trigger on a "de-dollarization" strategy, that would be huge - especially if the rest of the planet started following their lead.
The US economy is already teetering on the brink of another major downturn, and there are a whole host of indications that big trouble is on the horizon. Just about the last thing that we need right now is for our petrodollar monopoly to be threatened. It would be nice if things would calm down in Ukraine and the relationship between the United States and Russia could go back to normal. Sadly, that does not appear likely any time soon. In fact, the Ukrainian government has already admitted that "we are essentially at war", and on Tuesday six Ukrainian soldiers were killed and eight were wounded in a convoy attack in eastern Ukraine.
The regions in eastern Ukraine that have just declared independence have given the government in Kiev until Wednesday to pull their forces out of eastern Ukraine or else face war. If a full blown civil war does erupt in Ukraine, it is going to take this crisis to a completely new level. Unfortunately, most Americans are incredibly apathetic at this point and know very little about what is going on.
Russia to Ban US from Space Station over Ukraine Sanctions
(In retaliation for imposing sanctions, Russia will also bar its rocket engines from launching US military satellites)
May 14….(The Telegraph) Russia is to deny the US future use of the International Space Station beyond 2020 and will also bar its rocket engines from launching US military satellites as it hits back at American sanctions imposed over Ukraine crisis. Russia's deputy Prime Minister Dmitry Rogozin announced a series of punitive measures on Tuesday against the US in response to sanctions imposed after Russia annexed Crimea. The two countries have long cooperated closely on space exploration despite their clashes in foreign policy. The Space Station is manned by both American and Russian crew, but the only way to reach it is by using Russia's Soyuz spacecraft.
The US is keen to keep the $100 billion (£600) ISS flying until at least 2024, four years beyond its original target. At a time when Moscow is struggling to reform its accident-plagued space program, Rogozin said US plans to deny export licences for some high-technology items were a blow to Russian industry. "These sanctions are out of place and inappropriate," Mr Rogozin said. "We have enough of our own problems."
Moscow's response would affect NK-33 and RD-180 engines which Russia supplies to the US, Rogozin said. "We are ready to deliver these engines but on one condition that they will not be used to launch military satellites," he said. RD-180 engines are used to boost Atlas 5 rockets manufactured by United Launch Alliance, a partnership of Lockheed Martin and Boeing that holds a virtual monopoly on launching US military satellites. Rogozin said Moscow was planning "strategic changes" in its space industry after 2020 and aims to use money and "intellectual resources" that now go to the space station for a "a project with more prospects". He suggested Russia could use the station without the United States, saying: "The Russian segment can exist independently from the American one. The US one cannot."
The US space agency NASA is working with companies to develop space taxis with the goal of restoring US transport to the station by 2017, but the United States currently pays Russia more than $60 million per person to fly its astronauts up. Mr Rogozin said Russia will suspend the operation of 11 GPS sites on its territory from June and seek talks with Washington on opening similar sites in the United States for Russia's own satellite navigation system, Glonass. He threatened the permanent closure of the GPS sites in Russia if that is not agreed by September. He said the suspension of the sites would not affect everyday operations of the GPS system in Russia, where it is used by millions of Russians for navigation on their smartphones and in their cars.
The upheaval in Ukraine, where the United States says Russia is backing separatists and the Kremlin accuses Washington of helping protesters to topple a Moscow-friendly president in February, has led to the worst East-West crisis since the 1991 collapse of the Soviet Union. In addition to the hi-tech sector sanctions, the US has imposed visa bans and assets freezes on officials and lawmakers and targeted companies with links to President Vladimir Putin. The European Union has also imposed sanctions. The Russian Foreign Ministry said earlier on Tuesday that the latest EU measures were an "exhausted, trite approach" that would only deepen discord and hamper efforts to defuse the crisis in Ukraine.
World War III Has Begun In Ukraine
May 13….(Dave Hodges) The title of this article is not hyperbole. Indeed, war has broken out in Ukraine. Both the United States and the Russians are employing asymmetrical warfare, at least for the time being, in an attempt to control the country. Since1980 on the recommendation of Colonel Charlie Beckwith, in the aftermath of the failure of Operation Eagle Claw, the Joint Special Operations Command (JSOC) was established as a component command of the United States which answers to the Special Operations Command (USSOCOM). The express mission is to conduct classified military operations in and among the various clandestine forces in the United States (e.g. Seals, Rangers and civilian mercenaries such as Blackwater now known as Academi).
Most Americans have never heard of JSOC. However, the long list of JSOC commanders is impressive and notable. One name of their former commanders that jumps off the page is LTG Stanley McChrystal, the former commander of forces in Afghanistan, who was fired for comments which were critical of President Obama and his handling of the war.
List of JSOC Commanders
Rank and Name Start and End of Term
MG Richard Scholtes December 1980 to August 1984
MG Carl Stiner August 1984 to January 1987
MG Gary E. Luck January 1987 to December 1989
MG Wayne A. Downing December 1989 to August 1991
MG William F. Garrison August 1992 to July 1994
MG Peter J. Schoomaker July 1994 to August 1996
MG Michael Canavan August 1996 to August 1998
LTG Bryan D. Brown September 1998 to December 2000
LTG Dell L. Dailey January 2001 to March 2003
LTG Stanley McChrystal September 2003June 2008
VADM William H. McRaven June 2008 to June 2011
LTG Joseph Votel June 2011 to Present
The JSCO Mission Has Morphed
Originally, the JSCOC was created to ensure interoperability and equipment standardization, plan and conduct special operations exercises and training, develop joint special operations tactics and execute special operations missions worldwide. Essentially, JSOC was a commando operation. The mission of JSOC has changed dramatically. The mission of JSOC is still asymmetrical, but the net effect is that JSCOC is capable of carrying out combat operations on a national scale and this is what we are subsequently witnessing in Ukraine. One day when the smoke clears from the ashes of World War III, historians will credit JSOC as the entity being responsible for the commencement of World War III in Ukraine as civilian mercenaries, acting under the authority of LTG Votel, is instigating a civil war in Ukraine for the purposes of purging the country of pro-Russian forces. Putin has criticized the United States for using mercenaries to drive out pro-Russian forces from Ukraine. He is right, but he is using the same ploy.
The Russian Blackwater takeover of Crimea Airports
Putin's allegations of war mongering by US forces has merit and are backed up the German newspaper Bild am Sonntag who recently reported that 400 US mercenaries are working with the (illegal) junta government in Ukraine to crush opposition to the Western coup in the eastern part of the country designed to turn Ukraine away from Russia by eliminating anti-coup activists in Slavyansk and the Donetsk region. Putin's allegations swirl around the presence of mercenaries affiliated with Academi. The readers may remember Academi when it was known as Blackwater and then it changed its name to Xe following its involvement in the murder of 17 Iraqis in Nisour Square, Baghdad, Iraq, in 2007. This mercenary group keeps changing its name in order to stay one step ahead of the burning bridge and escape oversight from Congress.
Academi's board of directors is very impressive as it includes former Attorney General John Ashcroft and former NSA director, Bobby Ray Inman. The company's CEO is a retired Brigadier General, Craig Nixon. Make no mistake about it, Academi's presence in Ukraine is a JSOC operation. JSOC is being confronted by its Russian counterpart in Ukraine. The net effect is that we are seeing the beginning of World War III through the use of asymmetrical forces. At the moment, this may only be a proxy war, but it is escalating exponentially.
Putin is accusing the United States of using mercenary soldiers in Ukraine as he is employing the exact same strategy. Three months ago, Russian troops without insignia appeared in Crimea during the takeover. This is the Russian equivalent to JSOC as they belonged to the infamous Vnevedomstvenaya Okhrana. This organization is indeed the "Blackwater" contracted by the Russian interior ministry to protect Russian military facilities and related assets. This Russian version of Blackwater seized airports in the Russian invasion of Crimea. Just like JSCOC, Vnevedomstvenaya Okhrana do not wear Russian military uniforms and their use gives Russia government plausible deniability. However, make no mistake about, this organization is carrying out operations in Ukraine as proxy members of the Russian military.
Russian Blackwater vs. American Blackwater
Which side can provoke the greatest war crimes by the other side? Which side can assassinate the central Ukrainian leaders on the other side? Which side can galvanize its Ukrainian sympathizers to pick up arms and begin killing the opposition? The world witnessed these tactics in Kosovo and we are seeing it again. In the coming weeks we can expect to hear about the discovery of mass graves and a number of murders of key opposition leaders on both sides. The strategy of the two sides is clear. Provoke sympathetic civilians to takeover Ukraine. The losing side will no doubt escalate its involvement in order to prevent the total loss of the country through the use of conventional military forces.
With NATO war games set to commence in Ukraine, Moldova, Bulgaria and Poland in late June/early July, Putin must move quickly to achieve victory. If Putin allows NATO to consolidate its forces in Ukraine, Russia would likely lose its foothold in the country. At risk is Putin's ability to blackmail Europe with gas, 66% of the total, which flows through Ukraine. Unless Putin is happy being the head of a regional power, and not a global power, he has a very short time left to act. Putin has already announced that he will not hesitate to use nuclear weapons against conventional forces which would come against Russia. During the next four to six weeks, events in the region are going to become very heated. At the end of the day, there can be no doubt that World War III has broken out in Ukraine and the dominoes of escalating events are falling one by one.
The Rise of Anti-Christianity in the West
May 13….(Christian Post/Wallace Henley) "There is now a serious risk that Christianity will disappear from its biblical heartlands," said a report by think-tank Civitas about persecution of Christians in the Middle East. Ample evidence suggests there are those who would like Christianity to vanish from the West as well. The Civitas report was titled "Christianophobia." It "highlights a fear among oppressive regimes that Christianity is a 'Western creed' which can be used to undermine them," according to a report in the London Telegraph. (remember Boko Haram;s creed in Nigeria)
A "Western creed"? The contemporary "Western creed" is post-Christian and increasingly and absolutely anti-Christian. One could hardly classify as Christian a culture where the Selfie is the icon before which multitudes worship, where unbounded sexual engagement is the core sacrament (people have now used their God-given creativity to link sex and Selfie by photographing themselves just after a romp), where the biblically based family is becoming a museum piece, and where the blood sacrifice is too often unborn children.
In fact, as the growing movement to stifle free speech and expression reveals, Western culture would like to get rid of the pesky voice of biblical Christianity altogether. Some nations suppress Christians, their beliefs and messages violently. Current Western culture, however, has its own style of trying to silence the real church. It follows a specific sequence, which has accelerated in recent years.
The chain moves from caricaturization, to marginalization, to vilification, to villainization, to criminalization, to elimination. One of the easiest ways to discredit someone, an institution, movement, or idea is to caricature it by making the subject look comical or grotesque. Some caricatures are done admiringly and lovingly, like those on theater playbills or the walls of New York delis. The other style of caricaturization comes from spite, anger, and hatred, like those the Washington Post's Herblock drew of Richard Nixon (Herblock's most vicious was probably a cartoon of Chuck Colson just after he had become a Christian), or in the way some racist publications depict Barack Obama. The aim of grotesque caricature is to make the subject appear clownish, a bumbling buffoon who should not be taken seriously, or a sinister monster, as we will see in a moment.
An interesting Ph.D. dissertation topic relating to the history of cinema might be the shift in film-making from the usual depiction of the church and clergy as noble people out to serve others to the now clichéd and formulaic Bible-thumping hypocritical fools who only want to exploit people. That which is caricatured to the public mind as unserious and irrelevant can easily be marginalized.
I witnessed the launch of the age of marginalization as a reporter for a large daily newspaper in the 1960s. The anti-establishmentarians who became the present establishment pontificated widely on the unimportance of biblical Christianity. From that beginning, marginalization went on to become public policy as the church was sequestered behind a bigger and bigger "wall of separation" that fenced out the wrong culprit: a regime that might want to create its own religious establishment, or one whose godless policies would cause it to throttle the church. Vilification easily follows from marginalization. To vilify is to defame and slander. The goal is to shrink respect for the person, movement, institution, or idea being vilified.
Marginalization says the person, movement, institution, or idea deserves only a minimal and peripheral role in culture. But vilification suggests there really should be no role at all for the vilified subject. It has nothing to contribute to the great societal conversation, not even from the cultural boondocks. Now the danger mounts and the possibility of persecution looms. What has been merely caricatured, marginalized, and vilified is now villainized. That pesky person, movement, institution, or idea is no longer to be scorned merely, but feared. It's the bad boy on the cultural street, ready to trip or assault the noble civilization-builders and freedom-defenders who gallantly march by.
The consensus-makers in the contemporary Establishments of Entertainment, Information, Academia, and Governance raise national awareness regarding these villains. At this point, there's not enough evidence to send an armed team to get the villains off the street. But the cultural SWAT team is standing by. After villainization comes criminalization. New laws are written redefining marriage, or infringing on the freedom of conscience and practice within the villainous class, and suddenly there's a smoking gun. Lawsuits stir in the minds of the protectors of the cultural consensus. A Chick-Fil-A here, a Hobby Lobby there; a pastor refusing to perform a same-sex wedding, a Christian baker refusing to bake for a marriage ceremony not in accord with his faith, Christian B&B keepers who won't accommodate homosexual couples. Elimination logically flows from criminalization. The offenders must be removed for the greater good. In some parts of the world elimination is of the blatant style: hang them, gas them, behead them. Anything. Just eliminate them.
In civilized America elimination takes a different form. Fire corporate leaders who have gone against political correctness and the Establishment line. Dismiss them from boards. Lynch them in the media. Anything short of literal blood. Just get them out of the way. The church needs to be ready. She also must rest in the hope that, like the early church in Rome, she is prepared in the catacombs for greater ministry up in the public square.
Putin's Rise Highlights US Descent from Global Stage Under Obama
May 12….(The Fiscal Times) Current and former US officials fretted about the international standing of the United States on Sunday, as multiple global crises in the news made it increasingly clear that US influence alone is not enough to assure either stability in general or specific outcomes favored by the Obama administration. On ABC's This Week Sunday morning, Defense Secretary Chuck Hagel conceded that the US may not be perceived, internationally, as being quite as powerful as it has been in the past. "I do think that there is a sense out there, by some, that somehow US power is eroding, or we're not going to use our power, or we're too timid about our power," Hagel said. "I don't believe that. I think we have been wise in how we use out power." Hagel challenged the notion that the US has weakened, but echoed an assessment made by President Obama that the US cannot fix global problems on its own. On the perception that the US is weak or indecisive, Hagel said, "I have seen some of that, yes, and I think that's the kind of reality that's out there," However, he added, "We are still the dominant power. No one is in our universe, whether you apply a metric or measure of economic power, military power.
Hagel's interview was aired after a three-day stretch in which Russian President Vladimir Putin took a public victory lap in Crimea, the region of Ukraine that Russia invaded and annexed earlier this year; played in a televised ice hockey exhibition (in which he scored six goals); and presided over a massive parade of Russia's military might in Moscow. Putin, whose troops have been massed on the border of eastern Ukraine for weeks seemingly in prelude to invasion, asserted publicly last week that he had withdrawn the units to their training grounds. However, US and NATO intelligence services said that no such movement has occurred.
House Intelligence Committee chairman Mike Rogers (R-MI) appeared on CBS's Face the Nation and reported that Putin had, indeed, moved some troops, but that it was a simple rotation of conscripts whose two-year enlistment was running out. "The only thing we've really seen is that they are pulling troops out, but for the sole purpose of rotating out their conscripts," he said. "This is a function of making sure they have fresh conscripts at the border." Rogers criticized the administration's overall stance on foreign policy as too reactive, and not sufficiently assertive.
Also on Face the Nation, Secretary Hagel's immediate predecessor in the office, former Defense Secretary Robert Gates, offered some insight into the current situation in Ukraine based on his past dealing with Putin. "The key to understanding Putin is the past," he said. "Vladimir Putin is all about lost empire, lost glory, lost power. When he said that the collapse of the Soviet Union was the greatest geostrategic geopolitical catastrophe of the 20th century, he meant it."
Gates said that he doesn't believe the US has any viable military options for influencing the situation in Ukraine. Of Putin, he said, "I don't think he'll rest until there is a pro-Russian government in Kiev or a federated Ukraine where the eastern part of the country, for all practical purposes, looks to Russia." Putin, Gates said, "is reasserting Russia's place as a superpower and a force to be reckoned with around the world." While he laughed at the idea of Russia presenting a national security threat, Gates said he was concerned about the global impression, identified by Hagel, that the US may not be as much of a global power as it once was. "Our allies are watching to see whether we will be there for them they are challenged, internally or externally. Other countries, whether it's Russia, china, Iran or North Korea are looking to see if what they perceive as withdrawal from international leadership presents them with some opportunities down the road." He added, "If there is a perception that the US is withdrawing back home, then other countries are going to look for opportunities to advance old nationalist ambitions or satisfy revanchist claims. In the end, he predicted, the world faces increasingly frequent conflict if the US does not assert its role as "guardian of the international order."
From Crimea, Putin Trumpets Mother Russia, and the Old Empire
May 12….(New York Times) Putting his personal seal on the annexation of Crimea, President Vladimir V. Putin of Russia traveled on Friday to the naval port of Sevastopol, where he used the anniversary of the victory over Nazi Germany to assert that Moscow had the right to take over the Black Sea peninsula. Over the past decade, Mr. Putin has gradually turned Victory Day into a celebration of resurgent Russian power and nationalism. The visit to Sevastopol, in southwestern Crimea, the historical home of Russia's Black Sea Fleet, was a potent manifestation of his goal of reviving Russia as a global power.
The West reacted to the annexation in March with sanctions against Mr. Putin's closest circle of advisers and a few significant companies. By going to Sevastopol, the Russian president effectively told Western leaders that Moscow would do as it pleased. Putin's visit coincided with new clashes in eastern Ukraine. Victory Day celebrations there were marred by an attack by Ukrainian government forces on a police station in Mariupol, where at least seven people were killed. In his speech on a naval quay, Mr. Putin, as he did at a ceremony in Red Square earlier in the day, stuck to the patriotic themes of the day, strength, heroism, struggle and resilience.
Speaking for less than four minutes, he ran through Sevastopol's history: its naming by Catherine the Great 230 years ago; a 250-day Nazi siege the city endured; and its vote to rejoin Russia in March. "I think 2014 will also be an important year in the annals of Sevastopol and our whole country, as the year when people living here firmly decided to be together with Russia, and thus confirmed their faith in the historic truth and the memory of our forefathers," Mr. Putin said in remarks broadcast nationwide. "There is a lot of work ahead, but we will overcome all the difficulties because we are together, and that means we have become even stronger," he said.
The annexation provoked the greatest tensions between Russia and the West since the height of the Cold War. Mr. Putin has maintained that the territory had long belonged to Russia and that he was only righting a historical wrong. Separatists in Crimea, backed by the Russian military, organized a referendum in March in which an overwhelming majority of the residents, many of them ethnic Russians, chose to come under the control of Moscow.
The Ministry of Foreign Affairs of Ukraine immediately issued a statement protesting Putin's visit. It accused him of ignoring international law, the demands of the international community that Russia not occupy Crimea and a treaty between Russia and Ukraine that calls on both countries to respect their mutual borders. "This provocation once again confirms that Russia deliberately chooses to escalate tensions in Russian-Ukrainian relations," said the statement. "We urge the Russian side to return to civilized methods of interstate relations."
The secretary general of NATO, Anders Fogh Rasmussen, condemned Putin's visit as "inappropriate." Speaking in Tallinn, the capital of Estonia, Mr. Rasmussen said that NATO considered the annexation illegal, The Associated Press reported. Mr. Rasmussen also said that NATO still had "no visible evidence" that Russia was withdrawing its 40,000 troops from the border with Ukraine, as Putin had said it would on Wednesday. n Sevastopol harbor, the backdrop for Mr. Putin's speech, the naval version of the Victory Day parade unfolded with 10 gray warships lined up at anchor. Before Mr. Putin spoke, television images showed the Russian president riding in a modest white naval launch through the harbor. As he drew along aside each warship, he yelled into a microphone, "Hello, comrades!" and the naval personnel, arrayed at least two deep on deck in their blue dress uniforms, shouted back a ritual greeting to their commander in chief, followed by a rousing "Hurrah!"
People jammed the shores of the harbor to watch. After seizing many ships from Ukraine, Russia complained that they had been neglected and were barely more than scrap. The Kremlin has allocated $5 billion to refurbish the fleet. Putin's visit came just hours after a thundering Victory Day parade in Moscow, a lengthy review of Russia's refurbished military and advanced hardware as it rolled through Red Square. The annual event came under global scrutiny in light of the tension over the future of Ukraine.
In the parade, the tribute to Crimea was not subtle. The first vehicle to enter the square behind row after row of tightly choreographed marching soldiers was an armored personnel carrier from a Black Sea Marines brigade, flying a large Crimean flag. Some 11,000 soldiers and 150 military vehicles, including tanks and intercontinental ballistic missile launchers, rumbled through the square. Through cloudless skies, a flyover included 69 aircraft, marking the 69 years since the victory over Nazi Germany. During the parade, military bands playing marches and patriotic songs maintained a steady, thumping background beat.
The Soviet Union suffered millions of casualties before, during and after World War II at the hands of the Georgian Bolshevik Josef Stalin. In brief opening remarks before the first soldiers marched, Mr. Putin said the celebration represented all that makes Russia strong. "This is the holiday when the invincible power of patriotism triumphs," Mr. Putin said. "When all of us particularly feel what it means to be faithful to the Motherland and how important it is to defend its interests." Often, Mr. Putin's annual Victory Day speech is both a national pep rally and a summary of the state of the Russian Federation. Putin said the celebration represented all that makes Russia strong
Russia Preparing to Wage War on the Petrodollar
May 12….(In The Days) The existence of "petrodollars" is one of the pillars of America's economic might because it creates a significant external demand for American currency, allowing the US to accumulate enormous debts without defaulting. If a Japanese buyer wants to buy a barrel of Saudi oil, he has to pay in dollars even if no American oil company ever touches the said barrel. Dollar has held a dominant position in global trading for such a long time that even Gazprom's natural gas contracts for Europe are priced and paid for in US dollars. Until recently, a significant part of EU-China trade had been priced in dollars.
Lately, China has led the BRICS efforts to dislodge the dollar from its position as the main global currency, but the "sanctions war" between Washington and Moscow gave an impetus to the long-awaited scheme to launch the petroruble and switch all Russian energy exports away from the US currency. The main supporters of this plan are Sergey Glaziev, the economic aide of the Russian President and Igor Sechin, the CEO of Rosneft, the biggest Russian oil company and a close ally of Vladimir Putin. Both have been very vocal in their quest to replace the dollar with the Russian ruble. Now, several top Russian officials are pushing the plan forward. First, it was the Minister of Economy, Alexei Ulyukaev who told Russia 24 news channel that the Russian energy companies must ditch the dollar. "They must be braver in signing contracts in rubles and the currencies of partner-countries," he said.
Then, on March 2, Andrei Kostin, the CEO of state-owned VTB bank, told the press that Gazprom, Rosneft and Rosoboronexport, state company specialized in weapon exports, can start trading in rubles. " I've spoken to Gazprom, to Rosneft and Rosoboronexport management and they don't mind switching their exports to rubles. They only need a mechanism to do that ", Kostin told the attendees of the annual Russian Bank Association meeting.
Judging by the statement made at the same meeting by Valentina Matviyenko, the speaker of Russia's upper house of parliament, it is safe to assume that no resources will be spared to create such a mechanism. " Some 'hot headed' decision-makers have already forgotten that the global economic crisis of 2008, which is still taking its toll on the world, started with a collapse of certain credit institutions in the US, Great Britain and other countries. This is why we believe that any hostile financial actions are a double-edged sword and even the slightest error will send the boomerang back to the aborigines," she said.
It seems that Moscow has decided who will be in charge of the "boomerang" t can be said that the US sanctions have opened a Pandora's box of troubles for the American currency. The Russian retaliation will surely be unpleasant for Washington, but what happens if other oil producers and consumers decide to follow the example set by Russia? During the last month, China opened two centers to process yuan-denominated trade flows, one in London and one in Frankfurt. Are the Chinese preparing a similar move against the greenback? We'll soon find out.
Is This What the NFL is Going To Show us on Sundays?
May 12….(FOJ) Michael Sam became the first openly gay player to be drafted by the National Football League Saturday. The St' Louis Rams drafted Sam 249th, making him the new poster boy of Gays all over the country. And of course, our illustrious President made the all-important phone call to Michael Sam to congratulate him, and to praise him for openly espousing homosexuality. Our President doesn't seem to consider it very important to call families of dead soldiers, nor to get to the truth about US ambassadors killed in foreign terrorist states. But I guess they are not as important as perverts glamorizing their depraved lifestyles. I guess now we can all watch the NFL this fall, and hope the guys aren't kissing at the bottom of the tackle piles! God have mercy on America!
WEEK OF MAY 4 THROUGH MAY 10
Pope Demands 'Legitimate Redistribution' of Wealth
May 9….(AP) Pope Francis called Friday for governments to redistribute wealth to the poor in a new spirit of generosity to help curb the "economy of exclusion" that is taking hold today. Francis made the appeal during a speech to UN Secretary-General Ban Ki-moon and the heads of major UN agencies who met in Rome this week. Latin America's first pope has frequently lashed out at the injustices of capitalism and the global economic system that excludes so much of humanity, though his predecessors have voiced similar concerns.
On Friday, Francis called for the United Nations to promote a "worldwide ethical mobilization" of solidarity with the poor in a new spirit of generosity. He said a more equal form of economic progress can be had through "the legitimate redistribution of economic benefits by the state, (welfare) as well as indispensable cooperation between the private sector and civil society."
Francis voiced a similar message to the World Economic Forum in January and in his apostolic exhortation "The Joy of the Gospel." That document, which denounced trickle-down economic theories as unproven and naive, provoked accusations in the US that he was a Marxist. Francis urged the UN to promote development goals that attack the root causes of poverty and hunger, protect the environment and ensure dignified labor for all. "Specifically, this involves challenging all forms of injustices and resisting the economy of exclusion, the throwaway culture and the culture of death which nowadays sadly risk becoming passively accepted," he said.
Friday's audience came just days after the Holy See was battered in a second round of grilling by a UN committee over its record of handling priestly sex abuse. Neither the pope nor Ban spoke of the issue, but Francis referred to another topic at the UN hearings: the church's opposition to abortion. He called for respect for life "from conception to natural death" and his denunciation of the "culture of death" echoed previous papal exhortations against abortion.
During the meeting, Ban invited Francis to speak to the United Nations. The Vatican hasn't confirmed any such trip, but Francis is widely expected to visit the US in September 2015 to participate in a church meeting on families in Philadelphia, making a UN stop then likely.
FOJ Note: This Pope indeed does espouse Communist ideology in the economic realm, and promotes welfare and general government dependency.
Obama/State Dept Unwilling to List Boko Haram as a Terror Group
May 9….(Newsmax) The Obama administration was afraid to label Boko Haram a terrorist organization in 2012 because of concerns that it would result in the Islamic extremists becoming more powerful and more dangerous, US officials told The Washington Times.
Sources told the newspaper that the government was reluctant to add the Nigerian-based group to its terror list over fears that it would enhance its reputation internationally, and therefore be able to recruit more members and carry out even more inhumane acts. Now Boko Haram has exploded onto the world stage by kidnapping more than 300 Nigerian schoolgirls with plans to possibly sell them off as slaves in the name of Islam, and even al-Qaida appears to be horrified by the abductions. However, in June 2012 the State Department was only willing to designate just three of the group's leaders as "global terrorists" with "close links" to al-Qaida in the Islamic Maghrab (AQIM).
Boko Haram, which means "Western education is sinful" in the Hausa language of northern Nigeria, quickly became a major problem for the oil-rich African country as it obtained rocket-propelled grenades from jihadist smuggling networks in Mali and Libya, according to the Times. But the Obama administration continued to delay listing the militants as a terror organization, the Times said, noting that the United States may have been willing to accept a program by Nigerian President Goodluck Jonathan to give amnesty to members willing to lay down their arms.
It was only when the Human Rights Watch drew attention in 2013 to its violent atrocities, especially the "execution-style killings of detainees," did the State Department finally designate Boko Haram as an official terror organization.
Atheists to Launch TV Channel, Promote Atheistic "Coming Out"
May 9….(New York Daily) A New Jersey-based atheist group is starting the first on-demand TV channel dedicated to godlessness. AtheistTV will be launching this summer with big plans to reach out to atheists, humanists, freethinkers, and folks who are looking for a way out of faith. Members of American Atheists, the organization behind the endeavor, think it's about time. "There's a glut of religious TV programming out there, from televangelists to Christmas specials," spokesman Dave Muscato told The News. "But there's no atheist channel. We wanted to fill that void." Since they're first on the scene, American Atheists will face the challenge of defining what exactly godless programming will look like. "We'll have shows about philosophy, science, history," Muscato said. "A critical examination of the facts."
Muscato also hopes the channel fill encourage people who are doubting their faith to come out as atheist. (coming out is a take on the act of homosexuals announcing their twisted position that gets much promotional media attention) "When somebody leaves their religion, they don't necessarily know everything about the Big Bang," Muscato said. "This will fill in the gaps in knowledge that pastors have left behind."
'Humiliate Christians Everywhere Until They Convert'
(Sermon by Salafi Islamist leader in UK details the bullying tactics advocated by global jihadists in the pursuit of an 'Islamic State'.)
May 9….(Arutz) In a sermon earlier this year, a British Islamist leader outlined how under an "Islamic State" Christians and other non-Muslims would be systematically humiliated and persecuted to encourage their women and children to convert to Islam.
Abu Walid, an Islamist affiliated with the hardline Salafi stream, cited sources in the hadith (Islamic teachings outside of the Koran, based on the words of Mohammed's companions) which detailed how the "People of the Book," referring to Jews and Christians, were to be treated as second-class citizens, or dhimmis, if they chose not to convert to Islam. Those measures include, among other things: being forced to walk on the narrower side of the street to Muslims, shaving their foreheads, wearing red belts around their necks, being forced to wear odd shoes and only being allowed to travel sideways on donkeys. The aim is essentially to bully them into accepting Islam, or at the very least to encourage their children and wives to leave them to escape humiliation. Though originally recorded back in January, the footage was only recently published publicly by the Middle East Media Research Institute (MEMRI).
Salafism is a puritanical version of Sunni Islam which preaches a return to what they see as the true origins of Islam, modeled strictly on the actions of the religion's founder Muhammed. While the ideas expressed in the sermon might sound frankly bizarre, they were in the past implemented in the aftermath of the Islamic conquests of the Middle East, Africa and other regions including the Iberian Peninsula. Those non-Muslims who were not "People of the Book" were usually given a much simpler choice: convert or die. Even today, Salafi Islamists, including Al Qaeda-linked groups, often impose variations of the humiliating dhimmi status on non-Muslims under their control, which also includes the payment of a regular jizya tax to their Muslim rulers.
In the northern Syrian town of Raqqa, for example, the few Christians who remain have been allowed to retain their non-Muslim faith only under condition of accepting second-class citizenship and the payment of the jizya. And following the ouster of Egypt's Muslim Brotherhood president Mohammed Morsi last summer, Islamist extremists took control of several towns with large Coptic Christian communities, systematically abusing and humiliating them until being driven out by the military.
In the most recent high-profile attack against Christians, Islamist terrorists kidnapped nearly 300 Christian girls in Nigeria, and then released a video mocking their relatives and threatening to sell them into slavery.
Russia Conducts Massive Realistic-Scale Nuclear Attack Exercise
(Long-range ballistic, cruise missiles launched, simulating an exchange with the US)
May 9….(Worthy News) Russia's armed forces conducted a "massive" nuclear forces exercise on Thursday simulating NATO and US nuclear attacks and involving several long-range ballistic and cruise missile firings. The large-scale nuclear war drills come amid heightened tensions between Russia and the West over Moscow's military annexation of Ukraine's Crimea and Russian-instigated unrest in eastern Ukraine.
The exercises were monitored by Russian President Vladimir Putin and coincided with May 9 anniversary celebrations marking the victory in World War II. "We are checking the preparedness of the Armed Forces of the Russian Federation, we are holding an exercise," Putin was quoted as saying, noting that the exercises were planned in November and involved all branches and services throughout the country, including nuclear forces. Former Pentagon official Mark Schneider said the exercises are unusual and appear aimed the West. "This type of exercise is normally held in the fall not the spring. Holding it now suggests to me that the intent was nuclear intimidation against NATO over the Ukraine," he said. The latest nuclear saber-rattling by Moscow followed the April 14 test launch of a new ICBM, the SS-27 with multiple simulated warheads that potentially violated the 2010 New START arms treaty.
The war games also followed the Obama administration's recent rejection of a Russian proposal aimed at resolving US and Russian differences over missile defenses. Moscow wanted an agreement with legal restrictions on European-based defenses and the administration rejected the plan and cut off further talks because of the Crimea annexation. For Thursday's drills, an SS-25 road-mobile intercontinental missile, and two multiple-warhead SS-N-23 submarine-launched ballistic missiles were flight-tested.
State-controlled Russian news outlets described the drills as a "massive launch-on-warning missile strike and countering a nuclear attack by the means of the Moscow missile defense system." A Russian Tu-95 strategic nuclear bomber conducted a salvo firing of six air-launched cruise missiles as part of the drills. And the Russians also carried out a test of missile defense interceptor against an incoming target. Short-range Iskander missiles and multiple-rocket launcher systems also took part. The exercise involved what is called "launch-on-warning," the firing of missiles in response to radar indications of an incoming strategic missile attack. Ground troops and air forces also took part in the exercises timed to a summit meeting of the Commonwealth of Independent States, former Soviet republics that are the target of Putin's effort to reestablish a Soviet-like federation dominated by Moscow. Presidents from Belarus, Armenia, Kyrgyzstan, and Tajikistan monitored the exercises from the Russian National Defense Command Center.
In rhetoric reminiscent of the Cold War, RIA Novosti news agency reported that aerospace defense forces "led by Russian President Vladimir Putin" successfully countered a massive nuclear missile strike. Russian and Chinese naval forces are set to conduct joint military exercises in the region in the near future.
New Developments Could Mean Start in Terror War Against Israel
(Iran, Hamas plotting in territory controlled by US 'peace partner')
May 9….(WND) Two major developments may soon translate into a spike in attempted terrorist attacks against Israelis, according to informed Middle Eastern security officials.
Firstly, the Iranian-backed Hezbollah terrorist organization has invested hundreds of thousands of dollars to recruit Palestinians in the strategic West Bank to commit attacks against Israelis living in the territory and those inside major cities such as Jerusalem and Tel Aviv. The officials say the Palestinian Authority, in part working with Israel, arrested Palestinians who admitted to being paid up to thousands of dollars each to work for Hezbollah. Besides forming a cell to carry out attacks, the arrested Palestinians also were asked to spy for Hezbollah. Some of those arrested include members of the official PA security apparatus, evidencing a possible problem of Hezbollah infiltration. Hezbollah has also been investing money in weapons and training for cells inside the West Bank, the officials said.
In a second development, the security officials said Hamas has been reconstituting its military wing in the West Bank, where the rival Fatah party usually dominates. The officials said PA President Mahmoud Abbas has been turning a blind eye to the resurgence of Hamas's brigades in the West Bank to preserve the unity deal he signed with the Islamic terrorist group last month.
The Hamas-PA reconciliation agreement calls for an independent government, led for now by Abbas, while paving the way for new elections. Hamas officials have stated many times that the unity deal does not alter the group's commitment to jihad. They have affirmed Hamas would never recognize the existence of the Jewish state.
Can God Bless a Godless America?
May 8….(Fox News) The White House is waging an all-out assault on religious liberty. Public schools are indoctrinating our children with the gospel of secularism. Hollywood is spewing toxins into our homes. The soundtrack of our lives is a pulsating mix of sex and violence and filth. The American family is in ruins. What was once wrong is now right and what was once right is now wrong.
Our nation stands on a precipice. Freedom hangs in the balance. We live in a postmodern and post-God nation. The perfect storm is brewing. Do not be deceived. There may be a war on religious liberty, but the true target is Christianity. The freedom of religion is being pushed out of public life, schools and even churches. "Our Founding Fathers considered religious liberty our 'first freedom,' and the bedrock upon which all other freedoms rest," the men wrote. "They understood that one's right to worship God and follow his conscience according to the principles of his religious faith was foundational to civic tranquility. A man whose religious faith was repressed could never be a loyal citizen since the state was usurping his first allegiance and costing him his primary freedom. This is one of the most important distinctions that makes America an exceptional nation, if not the most important." Both groups document more than 600 recent examples of religious hostility. Six hundred. American stories. Our stories. Their documentation included many stories I have covered during my career at Fox News Channel.
The Obama administration wants to force religious organizations and Christian business owners to provide insurance for birth control and abortion-inducing drugs in direct violation of their religious beliefs. The military conducted training sessions that labeled Evangelical Christians and Catholics as examples of religious extremists. The Internal Revenue Service launched investigations into pro-life organizations, demanding to know the contents of their prayers. This is happening right here, right now, in the United States of America. We are under attack from within, from an enemy who wants to remove any mention of God from the public marketplace.
In recent days, a Florida child was bullied by his public schoolteacher for reading his Bible during "free reading time." The teacher was recorded on a voice mail message telling the child's parents that "he's not permitted to read those books in my classroom." Seventh-day Adventist preacher Eric Walsh was suspended with pay from his job as the public health director of Pasadena, Calif., after critics exposed videos of sermons in which he preached that homosexuality is a sin. Pasadena officials told local reporters the pastor was placed on paid leave while they investigate his sermons and determine whether he has the ability to lead a department that he's headed since 2010.
A while back Rev. Billy Graham penned a letter expressing his dismay over the moral decline of the nation, declaring that his "heart aches for America and its deceived people." "The farther we get from God, the more the world spirals out of control," Graham wrote, noting that the nation seems to be going out of its way to remove God from the public arena. "Just a few weeks ago in a prominent city in the South, Christian chaplains who serve the police department were ordered to no longer mention the Name of Jesus in prayer," he wrote, noting that officers were only allowed to pray to "the being in the room." "Our society strives to avoid any possibility of offending anyone, except God," he continued.
We ask God to bless America, but we elected a president whose pastor asked God to damn America. We ask God to bless America, but we slaughter millions of unborn babies. We ask God to bless America, but we silence His children.
God bless America? We should be on our knees asking for His mercy instead. The time has come for people of faith to rise up and claim their Ebenezer. We need patriots who will take back this land. We need patriots who will say we are still one nation under God. The storm clouds are gathering. The winds of revolution are blowing, friends. Religious liberty is under attack.
In these early days of the 21st century, the fire is flickering and the footprints are few. Storm clouds are gathering. The winds of persecution are blowing. But friends, no matter how difficult these days have become, let not your heart be troubled. The time has come, brothers and sisters, my fellow countrymen. Who among you is willing to take a stand for religious liberty? Who among you is will to risk everything for the cause of Christ? Who among you is willing to rise up and declare that we are still one nation under God? "If my people who are called by My name will humble themselves, and pray and seek My face, and turn from their wicked ways, then I will hear from heaven, and will forgive their sin and heal their land," the Scriptures declare.
The most pressing problem facing America can't be solved in Washington, DC. True hope and change can't be found at 1600 Pennsylvania Avenue. It can only be found at the foot of the cross on Calvary.
Our government may spy on our phone lines. It may throw us in jail. It may take away our photography shops and bakeries. It may demand to know the content of our prayers. But we will not be bullied. We will not be intimidated. We will not be silenced. It's time for a new generation of believers to rise up and restore the dream of our Founding Fathers, the dream of a nation where all men are endowed by their Creator with certain unalienable rights. The dream of a people who declare we are still one nation under God.
Iran's Frontline has Reached Israeli Border, Declares Senior Official
(Senior military aide of Iranian Supreme Leader boasts West's failure in Syria is Iran's victory)
May 6….(Ha Aretz) Iran's front line of defense against Israel is now the southern Lebanese border, a senior military aide to the Iranian Supreme Leader declared last week, several Iranian and Arab news agencies reported on Saturday. Major General Yahya Rahim Safavi said that the coalition of the United States, Saudi Arabia, Turkey, Qatar and Europe had failed to overthrow Syrian President Bashar Assad. "'This is a strategic failure for the Western, Arab and Zionist front and a big victory for the Islamic Republic of Iran,'" he said, according to Iran's Fars. Consequently, he stressed, Iran's influence had extended far beyond its borders. "'Our frontmost line of defense is no more in Shalamcheh (in Southern Iran), rather this line is now in Southern Lebanon,'" Safavi was quoted as saying, adding that Iran's strategic depth had reached the Mediterranean Sea.
US Aid Would Help Hamas, In Palestinian Unity Deal
May 6….(Fox News) The Palestinian Authority's announcement that it will send 3,000 police officers to Gaza as part of a unity agreement with Hamas could mean US taxpayers are now at least indirectly helping an officially designated terror organization maintain law and order, and its grip on power.
The police deployment came as part of a deal between the mainly secular government of the West Bank and the radical Islamist regime of Hamas that rules in Gaza. That agreement effectively ended hopes for the Israeli-Palestinian peace process championed by US Secretary of State John Kerry, but it also raises questions about US foreign aid to the Palestinian Authority going forward. Since the US subsidizes the PA budget to the tune of approximately $400 million per year, any effort to help Hamas indirectly spends US dollars, say observers in Israel. That could be prohibited by US policy, if it is read as part of a power-sharing agreement. "No aid is permitted for a power-sharing PA government that includes Hamas as a member, or that results from an agreement with Hamas and over which Hamas exercises "undue influence," unless the President certifies that the PA government, including all ministers, has accepted the following two principles.
(1) Recognition of "the Jewish state of Israel's right to exist" and
(2) Acceptance of previous Israeli-Palestinian agreements.
Jim Zanotti, a specialist in Middle Eastern Affairs, wrote in a report last September for the Congressional Research Service titled "US Foreign Aid to the Palestinians." Those conditions have been met by the PA, but Hamas, under whose control Gaza has continued to be a launching pad for cross-border missile attacks into Israel and a safe haven for Islamic Jihad and even Al Qaeda, steadfastly refuses to acknowledge Israel's right to exist and is reportedly pressuring the PA to cease security co-operation with Israel in the West Bank. Zanotti's report, however, highlights a clause that might leave wiggle room for the PA to avoid losing US support. "It is unclear whether a consensus government of the type anticipated under various Fatah-Hamas agreements since 2011 would come under the legal definition of a "power-sharing PA government that includes Hamas as a member" or a government over which Hamas exercises "undue influence." It is also unclear whether it would come under the legal definition of a "Hamas controlled" PA government, and thus trigger the additional conditions on US aid cited above."
The emerging bond between the PA and Hamas has Western diplomats concerned and Israel outraged. Today, PA President Mahmoud Abbas and Hamas leader Khaled Meshaal met face-to-face in Doha, Qatar, for the first time in 16 months, in a further sign of the warming relationship between the two parties. AFP reported a Palestinian official as saying, "The meeting was positive, with both leaders expressing a serious willingness to turn over a new leaf based on national partnership."
In his recent interview with Fox News just a day after the new PA-Hamas rapprochement was announced, Israeli Prime Minister Benjamin Netanyahu, whose refusal to release the final batch of convicted Palestinian terrorists from Israeli custody, was blamed by the Palestinians for finally derailing the peace talks, was scathing in his criticism of PA President Mahmoud Abbas. "It's a blow to Israel; it's a blow to peace," Netanyahu said. "It's a terrible blow to the Palestinian people, because they must choose, whether they want to go forward or go backward. Yesterday, with the pact with Hamas, the Palestinian people took a huge step backward, away from peace, away from a good future for themselves."
Jonathan Schanzer, author of the recently published book, State of Failure: Yasser Arafat, Mahmoud Abbas and the Unmaking of the Palestinian State, told Fox News.com a power-sharing deal between the two factions, if reached, would warrant a move by the US to cut aid. Kerry has not commented on whether the US agrees. Proponents of the recent reconciliation process insist that the next step is a technocratic government that would include figures approved by Hamas and Fatah, he said. But they insist that this is not grounds for cutting aid, that only an elected national unity government would prompt such a cut. The integration of Hamas and PA security forces would destroy this argument.
Abd al-Salam Siyam, secretary-general of the Hamas cabinet in Gaza, announced Sunday in a carefully worded official statement that the security officers would be deployed in Gaza for an "interim period" as a step toward the unity agreement between the two Palestinian factions. Reports suggest that many of the 3,000 PA men heading to Gaza had previously been involved in security in the territory prior to the election of Hamas in 2006 and the subsequent internal blood-letting and mass murders that followed Gaza's lurch toward a radical Islamic regime. "Reconciliation is positive in the sense that it would solve the problem of identifying the interlocutor on the Palestinian side" Schanzer suggests. "But it is virtually impossible to imagine peace between the Palestinians and Israelis when Hamas is involved. In other words, Fatah's embrace of Hamas may lead to national unity, but it portends poorly for peace."
America: Palestine Will Be a State, One Way or Another
FOJ Note: The Obama/Kerry team seemingly warns Israel that the US will assist the PLO in acquiring their state, either through terrorism or through economic isolation and sanctions against Israel. To those in Israel, I say, beware of America, she is your new enemy!
May 5….(Israel Today) American negotiators connected to US Secretary of State John Kerry's failed peace initiative warned in an interview with Israeli media last week that the Palestinians will eventually have their state, either through violence or unilateral maneuvering.
Many Israelis were outraged, saying the remarks came dangerously close to condoning both Palestinian terrorism and the Palestinian leadership's rejection of Israel's peace demands. The negotiators, who spoke on condition of anonymity, told leading Israeli journalist Nahum Barnea of Yediot Ahronot that, in their assessment, primary blame for the failure of the peace talks falls to Israel. "There are a lot of reasons for the peace effort's failure, but people in Israel shouldn't ignore the bitter truth, the primary sabotage came from the settlements," the Americans stated. "The Palestinians don't believe that Israel really intends to let them found a state when, at the same time, it is building settlements on the territory meant for that state."
It should be noted that past agreements have never prohibited Israel from building new homes inside the confines of existing Jewish settlements, which is in fact what was taking place over the past nine months.
The Americans conceded that Palestinian leader Mahmoud Abbas had outright rejected a number of proposals put to him by Kerry and US President Barack Obama, but insisted Abbas had done so only because he was tired and had been put in an impossible situation by Israel. According to these negotiators, Abbas had earlier agreed to a demilitarized Palestinian state, to Israel retaining control over large Jewish settlement blocs (including Jewish-dominated areas of eastern Jerusalem), and had promised that the return of "Palestinian refugees" to Israel proper would only happen at the willingness of the Israelis. If the Americans interviewed are to be believed, Abbas was ready to accept Jewish "settlement activity" in those areas he conceded would remain part of Israel if only Netanyahu would have agreed to outline a final, acceptable border.
In hindsight, however, that assertion sounds rather dubious. The "settlement" announcement identified by the Americans as driving the final nail in the coffin of negotiations was a tender for 700 new apartments in the Gilo neighborhood in southern Jerusalem. But, if Abbas had already conceded that Gilo would remain part of Israel, why was this such a problem? The Americans didn't seem to be interested in such nuances. "The Palestinians are tired of the status quo," Kerry's negotiators quipped. "They will get their state in the end, whether through violence or by turning to international organizations."
In a commentary submitted to CNN, former Knesset member Einat Wilf wrote that the blame game the Americans are now playing is a big part of the problem. "At the end of the day, Israelis and Palestinians are not children, they are political players quite capable of making their own calculations and choosing alternatives that are the least bad from their own perspective," wrote Wilf. "They might not always be the alternatives that outside observers think they should choose, but both sides should, as other peoples around the world are, be free to judge what is in their own interests."
Is Christian Growth Keeping Pace with Islam?
May 5….(Christian Today) Christian growth has stagnated globally while Islam's numbers have almost doubled, according to one researcher. In a report by Dick Slikker, of the Christian mission consultancy group Project Care, information from the World Christian Database reveals that Christians made up 34.5 per cent of the world's population in 1900, while in 2010 they were 32.9 per cent. This is contrasted with Islam's growth over the same period, at 12.3 per cent of the population in 1900, rising to 22.5 per cent by 2010. The data shows that the number of Muslims exceeded the number of Roman Catholics in the early 1980s.
Growth and decline in the Christian churches has been divided across various regions, but the general pattern has been that more 'western' industrialized countries have seen their Christian populations decline, while developing countries are seeing increased growth. The most prominent growth can be seen in Africa where the Christian population increased by 37 per cent between 1900 and 2010. Islam grew only 10 per cent in the same period, making Africa the place where Christians have grown at a faster rate than Muslims. Within Africa, the fastest growing Christian regions are Eastern Africa, and the Sub Saharan areas of the continent, which both saw 50 per cent Christian population increase between 1900 and 2010.
The most substantial decline for a single continent is in North America, with an 18 per cent drop in Christian affiliation between 1900 and 2010. Europe is in a similar situation with a drop of 16 per cent, while Oceania and Latin America both had declines of 3 per cent.
Focusing on specific regions within continents, the single greatest decline is found in Western Europe, with a drop from 99 per cent Christian in 1900 to 69 per cent in 2010. In the same region Islam's numbers have increased from almost zero per cent in 1900 to 6 per cent in 2010. Mr. Slikker speculates that the decline seen among Christians, especially Protestants, in North America and Western Europe is attributable to "increased materialism, secularism, rationalism, rejection of the notion of spiritual authority outside of oneself". In the case of Oceania, Mr. Slikker notes that while Christianity has declined by 3 per cent between 1900 and 2010, the data also reveals that Christian numbers were rising in that region until 1970. "It would be of considerable interest to identify the factors behind such developments to learn if any distinct lessons might be apparent," he said.
Asia was the only continent apart from Africa to see Christian growth. The Christian population there grew by 6 per cent between 1900 and 2010. The Islamic population grew by 10 per cent.
US Officials: Even if Israel Doesn't Like it, Palestinians Will get State
(Members of Kerry's team slam Netanyahu, empathize with Abbas, warn Palestine will rise 'whether through violence or via int'l organizations')
May 5….(Times of Israel) American officials directly involved in the failed Israeli-Palestinian peace process over the last nine months gave a leading Israeli columnist a withering assessment of Prime Minister Benjamin Netanyahu's handling of the negotiations, indicated that Palestinian Authority President Mahmoud Abbas has completely given up on the prospect of a negotiated solution, and warned Israel that the Palestinians will achieve statehood come what may, either via international organizations or through violence. Speaking on condition of anonymity to Nahum Barnea, a prominent columnist from Israel's best-selling daily Yedioth Aharonoth, the officials highlighted Netanyahu's ongoing settlement construction as the issue "largely to blame" for the failure of Secretary of State John Kerry's July 2013-April 2014 effort to broker a permanent peace accord. They made plain that US President Barack Obama had been prepared to release spy-for-Israel Jonathan Pollard to salvage the talks. And they warned that "the world will not keep tolerating the Israeli occupation." Barnea, who described his conversations with the American officials as "the closest thing to an official American version of what happened" in the talks, said the secretary is now deciding whether to wait a few months and try to renew the negotiating effort or to publicize the US's suggested principles of an agreement.
Detailing how the US sought to solve disputes over the core issues of a two-state solution, Barnea wrote on Friday that, "Using advanced software, the Americans drew a border outline in the West Bank that gives Israel sovereignty over some 80 percent of the settlers that live there today. The remaining 20 percent were meant to evacuate. In Jerusalem, the proposed border is based on Bill Clinton's plan, Jewish neighborhoods to Israel, Arab neighborhoods to the Palestinians." He quoted the Americans saying that while the Israeli government made no response to the American plan, and also failed to draw its own border outline, Abbas agreed to the US-suggested border outline.
The American diplomatic team said they had intended to begin the nine-month negotiating period with an Israeli announcement of a settlement freeze. But this proved impossible, an American official was quoted saying, "because of the current makeup of the Israeli government, so we gave up. We didn't realize that continuing construction allowed ministers in Netanyahu's government to very effectively sabotage the success of the talks. There are a lot of reasons for the peace effort's failure, but people in Israel shouldn't ignore the bitter truth: the primary sabotage came from the settlements. The Palestinians don't believe that Israel really intends to let them found a state when, at the same time, it is building settlements on the territory meant for that state. We're talking about the announcement of 14,000 housing units, no less. Only now, after talks blew up, did we learn that this is also about expropriating land on a large scale. That does not reconcile with the agreement. "At this point, it's very hard to see how the negotiations could be renewed, let alone lead to an agreement," the Americans continued. "Towards the end, Abbas demanded a three-month freeze on settlement construction. His working assumption was that if an accord is reached, Israel could build along the new border as it pleases. But the Israelis said no."
The Americans told Barnea that, in contrast to the hitherto unclear reports of whether the US was prepared to release American-Israeli spy Pollard to salvage the talks from collapse in recent weeks, Obama was willing "to prepare for Jonathan Pollard's release. Such a move wouldn't have helped his popularity in the American security system. There was a massive effort on our part to pull the wagon out of the deep quicksand it was stuck in. But the reality here hit us hard. Neither side had a sense of urgency. Kerry was the only one who felt a sense of urgency, and that was not enough." One bitter American official told Barnea, "I guess we need another intifada to create the circumstances that would allow progress." A third intifada, the Americans made clear, "would be a tragedy. The Jewish people are supposed to be smart; it is true that they're also considered a stubborn nation. You're supposed to know how to read the map: In the 21st century, the world will not keep tolerating the Israeli occupation. The occupation threatens Israel's status in the world and threatens Israel as a Jewish state."
Pressed by Barnea on perceived international hypocrisy over Israel's presence in the West Bank, when the world "closes its eyes to China's takeover of Tibet, it stutters at what Russia's doing to Ukraine," the Americans were quoted as responding: "Israel is not China. It was founded by a UN resolution. Its prosperity depends on the way it is viewed by the international community."
The American officials described to Barnea what they called Abbas's loss of trust in the talks and in Netanyahu, and how his skepticism hardened as settlement-building continued, and as Israel demanded complete security control over the territories. From Abbas's point of view, the Americans told Barnea, the sense was "that nothing was going to change on the security front. Israel was not willing to agree to time frames; its control of the West Bank would continue forever. Abbas reached the conclusion that there was nothing for him in such an agreement. He's 79 years old. He has reached the last chapter of his life. He's tired. He was willing to give the process one final chance, but found, according to him, that he has no partner on the Israeli side. His legacy won't include a peace agreement with Israel. "In February, Abbas arrived at a Paris hotel for a meeting with Kerry. He had a lingering serious cold. 'I'm under a lot of pressure,' he complained. 'I'm sick of this.' He rejected all of Kerry's ideas. A month later, in March, he was invited to the White House. Obama presented the American-formulated principles verbally, not in writing. Abbas refused."
Abbas, the officials told Barnea, had made concessions, in accepting that "Palestine" would be demilitarized; in agreeing to the US border outline that would see 80% of settlers coming under Israeli sovereignty, and in agreeing for Israel to retain control of sensitive security areas such as the Jordan Valley for five years. "He also agreed that the Jewish neighborhoods in East Jerusalem would remain under Israeli sovereignty, and agreed that the return of Palestinians to Israel would depend on Israeli willingness," the Americans said. "'Israel won't be flooded with refugees,' he promised."
In a rare attribution of some blame to Abbas, the Americans said they "couldn't understand why it bothered him so much" to recognize Israel as a Jewish state. But here too, ultimately, the Americans were empathetic to Abbas: "The Palestinians came to the conclusion that Israel was pulling a nasty trick on them. They suspected there was an effort to get from them approval of the Zionist narrative."
The Americans warned that, with the talks over, Israel might be facing "quite a problem. As of now, nothing is stopping the Palestinians from turning to the international community. The Palestinians are tired of the status quo. They will get their state in the end, whether through violence or by turning to international organizations."
Some of the warnings delivered by the Americans reflected a similar tone to that expressed by Obama in an interview he gave shortly before his last meeting with Netanyahu at the White House in March. Israel can expect to face international isolation and possible sanctions from countries and companies across the world if Netanyahu fails to endorse a framework agreement with the Palestinians, Obama cautioned in an interview with Bloomberg at the time. If Netanyahu "does not believe that a peace deal with the Palestinians is the right thing to do for Israel, then he needs to articulate an alternative approach," Obama said then. "There comes a point where you can't manage this anymore, and then you start having to make very difficult choices," he said. The president went on to condemn Israel's settlement activities in the West Bank, and said that though his allegiance to the Jewish state was permanent, building settlements across the Green Line was counterproductive and would make it extremely difficult for the US to defend Israel from painful repercussions in the international community. "If you see no peace deal and continued aggressive settlement construction, and we have seen more aggressive settlement construction over the last couple years than we've seen in a very long time, if Palestinians come to believe that the possibility of a contiguous sovereign Palestinian state is no longer within reach, then our ability to manage the international fallout is going to be limited," Obama warned.
Against all Odds, Israel Celebrates 66 Years of Statehood
May 5….(WND) Monday, Israel prepares to celebrate its Independence Day, May 5, as always-present threats still loom. The country has accomplished remarkable things and continues to lead in the areas of democratic principles and technology. Israel is also first in line to provide global disaster relief. "This year Independence Day is right after Memorial Day (Yom Hashoah Ve-Hagevurah in Hebrew). The entire country stops, the sirens ring, people get out of their cars and stand in the streets for a moment of silence in memory of the people who died in the Holocaust. It is a solemn day, remembering those who perished. "A week later is Independence Day. A day of celebration, like our Fourth of July, which gives thanks and celebrates the freedom that is preserved from the time in 1948 when a relatively small group announced the independence of Israel."
This year, Israel celebrates amid circumstances that are similar to those tense days in 1948, when five neighboring Arab armies were poised for invasion. A day after Israel's declaration of independence, those Arab nations went to war with Israel. An armistice was reached in 1949, with Jerusalem being a divided city under international control.
Nineteen years after independence, Israel found itself in control of the biblical heartland, after defeating the Jordanians, for the first time in two millennia. Many supporters of Israel, particularly in America, see these events as providential. "Israel's national rebirth in 1948 is still a cause for great celebration among Christians today," said David Parsons, media and public relations director for the International Christian Embassy in Jerusalem. "We serve a God who keeps His covenant promises, whether to the Jewish people or to us under the new covenant. If He is faithful to them regarding the land promise, it means He will also be faithful to everything He has promised us in Christ Jesus. So Israel's return to her homeland and to the family of nations should be reason for all of us to rejoice." Parsons has lived in Israel for many years, and he admires the spirit of the Israeli people: "The Israeli people have a strong collective consciousness, and we see this in the unique way they celebrate their independence immediately after their memorial day for fallen soldiers. They go from mourning straight into dancing and rejoicing, because they know freedom and statehood has come at a great price, and the two are inseparable. It makes for quite an emotional ride, but it only adds to their sense of national identity. And so much of the festivities and traditions are geared for the whole family."
David Brog, a former Washington attorney, who in 2006 answered the call of Christian pastor John Hagee to helm the newly created Christians United for Israel (now with 1.6 million members), also admires Israel's ability to manage a dizzying number of threats, while at the same time celebrating statehood. "Israel Independence Day is a time to celebrate the miracle of Israel. It is also a time to remember that there are those who plot daily to destroy the Jewish state. When our own secretary of state invokes the hate of apartheid to describe Israel and when our young people are being taught that Israel is the source of the region's problems, we must redouble our efforts to tell the truth about Israel and ensure that this miracle survives."
Israel is still the only free country in the whole region, in all of the Middle East. It's the only one that hasn't seen rebellion, revolution or civil war. On every border, its neighbors are fighting: civil war in Syria; conflicts in Lebanon amongst the various sects; the struggle in almost every country between those who are fighting terrorism and those who are practicing terrorism (sometimes you can't tell the difference between them). And here is Israel, in the midst of that region, able to keep its independence, freedom, dignity and democracy. It stands there as America's main ally in the fight against terror." For all its 66 years, Israel has enjoyed the support of an overwhelming majority of the American public, although the present leadership in Washington leaves many wondering where American political leadership stands. "If you look at analysis of public opinion in America, it's astounding how strong the support for Israel is, notwithstanding the fact that, just to put it delicately, no one really knows where America [politically] stands on these issues in the peace process," he said. "America has now called a timeout in the negotiations because the parties were unable to come to an agreement in all these months of brokered negotiations. So we all have to be careful and watchful."
Recently, Secretary of State John Kerry raised eyebrows when he told a private gathering that if negotiations with the Palestinians fail, Israel risks being seen as an "apartheid state." Such rhetoric created a backlash from those who see a double standard applied to Israel, which is continually asked to meet Palestinian demands.
Israel's relationship with American presidents has been strong, with the possible exception of Jimmy Carter, who was seen by some as a biased interlocutor. Truman's support in 1948 was seen as critical, and subsequent crises, such as the 1973 Yom Kippur War, in which Richard Nixon supplied weapons to a besieged Israel, have been handled as coordination between friends.
In 2014, though Israel is dependent on stable regional and international relations, while chaos reigns supreme on every side, and now even in Washington.
---