WEEK OF DECEMBER 28 THROUGH JANUARY 3
The Failed Palestinian Effort at the UN
Jan. 1….(Dore Gold) The Palestinian draft resolution that was voted down by the UN Security Council was unacceptable to Israel for two essential reasons. First, all Israeli governments have insisted that any solution to the Israeli-Palestinian conflict must be reached through direct negotiations between the parties.
That principle was enshrined in the Oslo Agreements in the 1990s. The 1995 Interim Agreement, signed at the White House by Prime Minister Yitzhak Rabin and PLO leader Yasser Arafat, in fact stated that negotiations were the only way to alter the status of the West Bank and the Gaza Strip. The Interim Agreement was not only witnessed and signed by the United States, but also by the European Union, a fact that makes the French vote in the Security Council for the draft resolution very puzzling.
In substance, the draft resolution also sought to prejudge the outcome of any future negotiations. How can you have a Security Council resolution that decides Israel's future borders on the basis of the 1967 lines and in the same breath assert that you are going to have a negotiation over borders? What is there left to negotiate? UN Security Council Resolution 242, adopted in the aftermath of the 1967 Six-Day War, did not require Israel to fully withdraw from the territories it captured in a war of self-defense.
It is often forgotten that Resolution 242 was the basis of all Arab-Israeli agreements from the 1979 Egyptian-Israeli Treaty of Peace to the 1993 Oslo Declaration of Principles to the 1994 Jordanian-Israeli Treaty of Peace. It was also the basis of the 1991 Madrid Peace Conference that launched the peace process. True, the latest draft resolution mentions Resolution 242 in its preamble. But, by demanding a nearly full withdrawal by Israel in its operative section, the draft resolution essentially contradicts 242 in substance.
Finally, the draft resolution that was rejected exposes the strategy adopted by Mahmoud Abbas, the Palestinian Authority president. He does not want to negotiate with Israel. Instead, he seeks to use international institutions in order to impose a solution on Israel. That is a course of action that no Israeli government can accept and the international community should not give it any support if it wants to see the Israeli-Palestinian conflict resolved.
Obama Funding New Iraqi Army – Dominated by Iran's Rev Guards
Jan. 1….(DEBKA) President Barack Obama's New Year gift to Israel and the Middle East is a multibillion fund for establishing an Iraqi army as a division of the Iranian Revolutionary Guards (IRGC). Wednesday, the last day of 2014, two defense ministers, Iran's Brig. Gen. Hossein Dehqani and Iraq's Khallid al-Obeidi, signed a pact whereby Iran i.e. the Revolutionary Guards, will "continue to train new Iraqi military units" for replacing the army that crumbled under the onslaught launched by the Islamic State of Iraq and Levant since last June. "We do not see any other option than cooperation and being on the same side as Iran to uproot the terrorists," said the Iraqi general. But he carefully avoided mentioning the 1,850 US soldiers posted to Baghdad, Kurdistan's Irbil and the Al Asad air base in the western province of Anbar, or the 1,300 addition American combat troops, including paratroops of the elite 82nd Airborne Division's 3rd Brigade Combat Team. The 3,150 US troops currently serving in Iraq are therefore sharing the task of rebuilding Iraqi military units with Iran's Revolutionary Guards! Two other key points glossed over by the two defense ministers are revealed here by Debkafile's exclusive military and intelligence sources: The sources of financing and recruits.
On the quiet, President Obama has promised Tehran and Baghdad to put up the funding for the new Iraqi army. It is to come out of the US budgetary allocation for the war on terror, a truly ironic gesture considering the missions of the Revolutionary Guards Corps's pro-active arm, its Al Qods Brigades, which are primarily to orchestrate external terrorism.
The source of the new manpower was disclosed by Deputy Commander of the IRGC Brig. Gen. Hossein Salami, when he announced this week that Iran was assembling a mighty army from the various Shiite militias fighting in Syria and Iraq. "This force will be larger even than the Lebanese Hizballah," he boasted. All those militias are under the direct command of the Guards. Therefore, the Obama administration has committed the United States to forging a strong military bond with Tehran and providing military and financial assistance for the creation of a strong regional Shiite armed force that will elevate Iran to the standing of leading military power in the Middle East.
US-Iranian cooperation in the war on ISIS is already in full swing in Iraq between the US officers and troops posted there and the headquarters of Iranian Al Qods Brigades Commander, Gen. Qassem Soleimani. Iraq's Shiite Prime Minister Haider al-Abadi provides liaison. So closely are the two forces aligned, that no Iraqi Shiite operation goes forward without first being cleared with the US command.
FOJ Note: Our President is a fool. He is financing and building an army for Iran. (a theocratic-dictatorship that calls America the great Satan) Also, the dilapidated status of the Iraqi army came about as a result of his hasty withdrawal from Iraq. So, in essence, Mr. Obama threw away the American victory in Iraq, (won with American blood) and opened the doors for Iran to take over. So, Mr. Obama has decided that we need not only to pay for victory in Iraq, but also surrender.
Israel's Population Stands at 8.3 Million
Dec. 31….(Jerusalem Post) Israel's population has reached 8,296,000 on the eve of 2015, representing a 2 percent increase over 2014, according to a year-end report by the Central Bureau of Statistics. Of new citizens, 176,600 were newborns, while another 23,000 were new immigrants, representing around 11% of the population increase. Three-fourths of the population, some 6.218 million people, were Jewish. The next largest group, 1.719 million Arabs, accounted for 20.7% of the population. The remaining 4.3%, some 359,000 people, were non-Arab Christians and others whose religion isn't classified in the population registry. The figures did not include an additional 190,000 foreign workers residing in Israel, nor those who entered the country illegally.
UN Rejects PLO Resolution
Dec. 31….(Koenig International) Even if the draft had received the minimum nine votes in favor, it would have been defeated by Washington's vote against it. The United States is one of the five veto-wielding permanent members. There were eight votes in favor, two against and five abstentions. Australia joined the United States in voting against the measure.
US Ambassador to the United Nations Samantha Power defended Washington's position against the draft in a speech to the 15-nation council by saying it was not a vote against peace between Israeli and the Palestinians. "The United States every day searches for new ways to take constructive steps to support the parties in making progress toward achieving a negotiated settlement," she said. "The Security Council resolution put before us today is not one of those constructive steps." "It is deeply imbalanced and contains many elements that are not conducive to negotiations between the parties, including unconstructive deadlines that take no account of Israel's legitimate security concerns," she said, adding that it "was put to a vote without a discussion or due consideration among council members.
NATO Ally Being Encouraged to Liberate Jerusalem
Dec. 31….(WND) Turkish and Palestinian flags fluttered like angry birds in a crowd of thousands of people chanting "Allahu Akbar!" and "Down with Israel!" The chants grew more exuberant as the hulking, bearded man on the speaker's platform assured them that "God willing, we will liberate Jerusalem together."
The speaker was Hamas leader Khaled Meshaal and his audience was Turkey's ruling Justice and Development Party, gathered for its annual meeting Dec. 27 at a convention hall in Konya, the hometown of Turkish Prime Minister Ahmet Davutoglu. The Turkish prime minister introduced the Hamas leader and then took a seat in the front row, cheering and clapping for the radical Islamist statements being made by Meshaal. "As Turkey for centuries was the main defender of Jerusalem and Al-Aqsa Mosque, likewise with you are the center of the Muslim Umma (Muslim nation) which will carry on the mission of liberating Jerusalem and al-Aqsa Mosque," Meshaal told the crowd in an address that received almost no major media coverage. "Know this, that strong Turkey is the strength of Palestine and of Jerusalem. Turkey is the strength that represents all Muslims."
Hamas, which leads nearly 2 million Palestinians in Israel's Gaza Strip, remains a designated terrorist organization by the US State Department and functions as an affiliate of the Muslim Brotherhood. So when the Hamas leader appears, unannounced, as the keynote speak at an official political event in Turkey, a member of NATO and an important US ally, that's a big deal. "Essentially Hamas is playing to the nationalistic fervor in Turkey and Turkey is using Hamas to gain favor throughout the Islamic world so it really is a mutually beneficial relationship," says Joel Richardson, author of the New York Times-best-selling "Islamic Antichrist".
Opinions are mixed among Middle East analysts as to whether Turkey's top leaders, President Recep Tayyip Erdogan and Prime Minister Davutoglu, are true Islamists or just using the rhetoric of radical Islamism to gain influence throughout an increasingly radicalized region. Turkey broke off its once-friendly relationship with Israel in 2010 and then Erdogan turned on his former ally, Syrian President Bashar al-Assad. WND has reported a series of stories documenting Turkey's double-edged policy toward ISIS as it plays both sides of the war against the Islamic State. Erdogan also supported the Muslim Brotherhood takeover of Egypt, a move that eventually backfired as the Brotherhood was later tossed out of power by Egypt's military.
Erdogan has gradually steered the country closer to Islamic values and away from the West. This represented a break with Turkey's more secular past, but Erdogan's changes still did not attract anywhere near the amount of media attention that was seen in Egypt, Libya or Tunisia, the revolutions of the so-called "Arab Spring." Turkey was touted in the West as the model for other regimes in the Middle East seeking a "middle ground" between Islamism and Western secularism. But the convention held Dec. 27, with thousands of Turks shouting Islamic slogans in support of Meshaal, leader of a terrorist organization, is just the latest evidence that a wake-up call might be in order for Western policy makers in Washington and Europe, Richardson said. In light of the fact that everyone starts shouting 'Allahu Akbar' in Turkey, which is fairly rare and you would only hear that from devout Muslims, it would seem there really is some strong Islamist tendencies going on," he said. "But the bottom line is everyone should be concerned. While the changes taking place in Turkey may not have captured the attention of major TV networks like those in Iran following the 1979 "student" revolution or Egypt's Cairo demonstrations, they are no less profound, Richardson said. "The world looks on and they see the leaders of Iran after the Islamic revolution of 1979 and everyone says 'well that's a radical regime' that needs to be marginalized and put under sanctions, but the revolution in Turkey and its ramifications are no less dramatic and we're only now beginning to realize it was a soft revolution and it crept in and it's to the point now where the prime minister of the nation is shouting 'Allahu Akbar' (to Hamas)," he said.
But it seems the US is slow to react to fundamental changes in the Middle East, even slower perhaps when the changes are taking place within the culture and society of one of its own allies. "Turkey is a member of NATO, so imagine if Great Britain was saying 'we're going to lead an invasion of Israel.' If that's the case it's time for the West to rise up and kick Turkey out of the NATO," Richardson said. "We might as well just allow ISIS to join NATO."
Also complicating the relationship is that Turkey, with the help of the West, has built the largest and perhaps best-equipped army in the Middle East. When Vice President Joe Biden suggested several months ago that Turkey was aiding ISIS, Erdogan became furious, prompting Biden to quickly back up from his statement and offer an apology. The fact that Biden apologized for suggesting in a statement that Turkey was supporting ISIS, this administration is clearly scared of Turkey."
Richardson led a film crew that covered an Erdogan rally in Ankara last spring, and he experienced some of the same chilling mixture of raw nationalism and Islamic fervor as seen in Konya on Dec. 27. "It truly felt like a Nazi rally," Richardson said. "I took a whole segment to interview different leaders that highlight the Islamist takeover of Turkey and that was one of the big news stories that the West is barely paying attention to but needs to understand. "The prime minister is the number-two man and he's shouting 'Allahu Akbar' to the idea of them leading an invasion of Israel and taking Jerusalem," Richardson added. "Now, if anyone is doubting an Islamic takeover and Turkey is now emerging as a radical Islamic nation and they have the largest army in the region then they have their head in the sand. Richardson said the fact that Turkey is emerging as the champion of Hamas is profound. "It has the largest army in the region and Hamas is simply the Palestinian branch of the Muslim Brotherhood, so Turkey is setting itself up as the head of the radical Sunni Muslim world with ideological and financial support from Saudi Arabia. But now Turkey is emerging as the champion, the ones to take Hamas and the Muslim Brotherhood across the goal line and fulfill their dream of a regional caliphate in the Middle East."
Many believe Turkey is using ISIS as a proxy to take out Assad in Syria and the Kurds in northern Iraq, clearing the way for the re-emergence of a Turkish-led caliphate in the region. Religious leaders in Turkey have long dreamed of a resuscitated Ottoman Empire.
US in an Oil War with Russia and OPEC
Dec. 31….(Yahoo News) Oil prices have tanked this year. Oversupply and diminishing consumption have resulted in oil falling to its cheapest price since May of 2009. "It's a three-way oil war between OPEC, Russia and North American shale," says Marin Katusa, author of "The Colder War," and chief energy investment strategist at Casey Research.
Katusa doesn't see production slowing in 2015: "We know that OPEC will not be cutting back production. They're going to increase it. Russia has increased production to all-time highs." With Russia and OPEC refusing to give up market share how will the shale industry compete? Katusa thinks the longevity and staying power of the shale industry will keep it viable and profitable. "The versatility and the survivability of a lot of these shale producers will surprise people. I don't see that the shale sector is going to collapse over night," he says. Shale sweet spots like North Dakota's Bakken region and Texas' Eagle Ford area will help keep production levels up and output steady.
Obama: Israel Among Top Most "Unacceptable" Countries
Dec. 31….(Israel Today) The US State Department in 2014 condemned Israel as one of the most "unacceptable" countries in the world, just behind North Korea. According to an article published last week by Foreign Policy, over the past year the Obama Administration State Department cited Israel for "unacceptable behavior" more times than Pakistan, Russia, Egypt, China, Afghanistan and Iraq. The article examined how many times a country's actions were condemned as "unacceptable," and Israel came in fourth, right after Syria, Iran and North Korea.
Most of the State Department's criticisms came in response to Israeli announcements for plans to build housing in Jerusalem. The study also found that the US government panned out unprecedented amounts of condemnation towards Israel for civilian casualties during the summer war in Gaza.
The absurd and arbitrary way in which the United States condemns her allies more that her enemies only serves to render Washington's pronouncements meaningless in the eyes of most Israelis. How can building homes in Jerusalem be condemned on par with the actions of nations repeatedly engaged in aggressive and murderous violence towards their own civilian populations with absolutely no regard for human rights?
As journalist Micah Zenko pointed out in the Foreign Policy article, US officials regularly condemn actions as unacceptable "but then do very little in response to prevent or deter those actions from reoccurring." The fact that these ongoing condemnations are hollow does not prevent the US State Department and others from regularly castigating Israel in the international diplomatic arena. Israel's Ynet news portal found that UN Secretary-General Ban Ki-moon used the word "concerned" 140 times in 2014 in statements about world events, and Israel was the most "concerning" country of all.
The US government just keeps on pretending that their shameful condemnations of Israel are useful, clueless to the fact that no one is listening. Is it any wonder that Israel refuses to heed to the onslaught of mumbo-jumbo condemnations emanating from the White House and the UN?
Indeed, it would be foolish for Israel to even respond to the endless and empty pronouncements of American and international discontent. King Solomon understood long ago that it is utter folly to answer absurd and silly arguments as if you were dealing with a sensible person.
Peace on Earth, Far From It
Dec. 30….(Canada Free Press) Around the world millions of Christians joined together to celebrate the birth of Jesus and to pray for "peace on Earth, good will toward men." The 2015 World Almanac puts the number of Christians (all denominations) in the world at 2,347,171,000, by far the largest group sharing the same spiritual beliefs. It puts the number of Muslims at 1,633,173,000. Of the seven billion residents of planet Earth, more than six billion identify themselves as part of one of the many different faiths, to include Hindu, Buddhist, and others.
As it has for 1,400 years, Islam continues to pose the greatest threat to peace on Earth and is not displaying much good will even toward other Muslims. A website, TheReligionofPeace.com maintains an on-going, virtually daily record of those slaughtered around the world in the name of Islam and Allah. The killing is daily, but earlier this month, Canon Andrew White, a clergyman known as the 'vicar of Baghdad', reported that Islamic State militant Islamists had beheaded four Iraqi Christian children, all under the age of 15, for refusing to convert to Islam. The barbarity of the ISIS killings and the numbers of others by Islamists add up to a record of atrocities that rival any in history. The silence from Muslims condemns this so-called religion.
The Jewish genocide of the last century is being matched by the Christian genocide that is continuing in this century. The human price paid for the Islamic fascism currently adds up to more than 57 million displaced refugees in 22 countries. The human price paid for the Islamic fascism currently adds up to more than 57 million displaced refugees in 22 countries, a humanitarian disaster equal to the entire population of Great Britain. The UN's emergency aid chief is asking for $16 billion in funding to address the crisis of the conflicts in Syria, Iraq, and South Sudan, in addition to places like the Central African Republic, Somalia, and Ukraine.
There are other events that undermine the prospect of peace. One need only watch as Western nations attempt to negotiate a deal to stop Iran from making nuclear weapons. It is an exercise in futility. Iran is tempting an attack from those nations that understand the enormity of the threat that represents. The Obama administration seems oblivious to it.
Europe is concerned about the threat that the Russian Federation poses with its intent to split eastern Ukraine off from its western half. Former Soviet satellite nations are also concerned about Russian nationalism and the desire to reclaim its former empire. While not overtly aggressive, the West and Asian nations in China's sphere of influence worry about its intentions too and, as always, North Korea continues to threaten its neighbors.
All this is happening as the residents of planet Earth are gaining the increasing ability to communicate with one another via the Internet, to learn about the events affecting their lives and others, and, as in the case of the "Arab Spring", to come together to overthrow dictators in an effort to establish governments that provide more freedom and justice. It transformed Egypt, Libya, and Tunisia to name just three nations affected by it. In Egypt the Muslim Brotherhood was ousted from power, outlawed, and is under attack these days in the Sinai.
In the United States there has been a dramatic political shift from the progressive policies of the Obama administration to a growing conservatism opposing ObamaCare, amnesty, and attacks on the nation's energy sector. When right-wing Republican and left-wing Democrats joined together to oppose elements of the $1.1 budget, something significant is occurring. As 2015 dawns, a Congress controlled by the Republican Party will have to demonstrate that it reflects the will of the people who put it in power.
What has caught many Americans by surprise is the utter contempt with which they were held by the Obama administration and its leaders, from the President on down, who deliberately lied to voters and regarded them as "stupid." Politics in America does not generate peace even within the two parties, but this exercise in democracy is a worldwide phenomenon except in nations still rule by despots and monarchs. It is a healthy republic in which issues are vigorously debated.
Peace on Earth is a noble aspiration and one for which I suspect the vast population of the Earth yearns. It is threatened by the vanity, greed, and desire for power that too often defines the leaders of large bodies of people who are themselves threatened by such men. Peace needs to be pursued because the alternative is Hell on Earth.
Giuliani: Obama Uses Sharpton to Wage War on America's Police
Dec. 30….(Breitbart) Sunday on CBS's "Face The Nation," former New York Mayor Rudy Giuliani said President Barack Obama's close relationship with Al Sharpton makes it clear to law enforcement across America he doesn't understand them. "He has had Al Sharpton to the White House 85 times," Giuliani said. "Often when he's talking abut police issues, he has Al Sharpton sitting next to him. If we would like to have a poster boy for hating the police, it's Al Sharpton. To make him an adviser you turn the police in America against you. You're going to tell the police in America we don't understand you. I saw this man help cause riots in New York. I've heard his anti-police invective first hand. To have a man who hasn't paid $4 million in taxes, to have a man who spent his career creating riots, phony stories about police, to have that man sitting next to you, speaks volumes. You know actions speak louder than words. You put Al Sharpton next to you, you just told everyone I'm against the police."
FOJ Note: Duhh……Most Americans figured this out a long time ago!
The Religious Cleansing of Middle East Christians
Dec. 30….(Jerusalem Post) The fate of struggling Christians in Muslim-majority countries in the Islamic heartland has shifted from persecution to an existential struggle. Anti-Christian violence in 2014 saw a transformation from under-told news coverage, to routine reports of radical Islamists seeking to obliterate Christianity's presence.
Religious freedom experts captured the dire situation of Middle Eastern Christians in comments on Friday to The Jerusalem Post. "Persecution no longer adequately describes the treatment of Christians in a growing number of Muslim areas. Religious cleansing, a type of cultural genocide, which is a crime against humanity, is the more accurate description. This is now occurring in Iraq, Syria, parts of Nigeria, Egypt, Sudan, Somalia and Pakistan.
A goal of Islamic extremists is total Islamization and this has nearly been achieved in Iraq, which a decade ago was home to one of the four most robust Christian communities in the Arab world," said Nina Shea, director of the Washington- based Hudson Institute's Center for Religious Freedom. Shea, who has written extensively about the lack of Christian religious freedom, said "Now, the overwhelming majority of Iraq's Christian community, formerly numbering 1.4 million, are immigrants in the West, refugees in the region, or internally displaced persons in Iraqi Kurdistan.
Since Christians are the largest non-Muslim minority there and the smaller Yazidi, Mandean and Jewish communities have also been driven out or killed. Iraq is for the first time in history becoming entirely Islamic. Over the millennia, its minorities were influential and their absence will have geopolitical implications." A snapshot of news headlines during the Christmas period signifies a rapidly deteriorating situation for the Middle East's Christians. The Irish Times wrote, "Christians most persecuted and discriminated against worldwide: Most violations of religious freedom occur in Muslim countries." The New York Daily News editorial noted: A war on Christians rages around the world. "Lack of help for Iraqi Christians from international community," headlined the BBC for a video interview. "A jailed Iranian Pastor's Christmas Prayer," read a Wall Street Journal opinion article headline.
The case of Iran is part and parcel of a deceptive strategy to court the West while incarcerating Iranian Christians. Iran's president Hassan Rouhani tweeted on Christmas; "May Jesus Christ, Prophet of peace & love, bless us all on this day. Wishing Merry Christmas to those celebrating, especially Iranian Christians." Tell that to the Christian pastors languishing in Iran's prisons.
Pastor Farshid Fathi experienced four Christmases in prison for practicing his faith. American-Iranian pastor Saeed Abedini spent his third Christmas in prison for his Christian work. UN human rights reports have documented severe oppression of Christian Iranians, which Iran's so-called moderate president shows no appetite for curtailing. According to Open Doors USA, an organization that seeks to prevent Christian persecution, the Islamic Republic of Iran, Syria, Iraq, Saudi Arabia, Yemen are in the top 10 violators of Christianity. In terms of global persecution of Christians, Open Doors noted 322 Christians are murdered each month for simply being Christian, 214 Christian properties are destroyed and violence affects 772.
The Islamic State presents the most immediate danger to Christians in Iraq and Syria because of its ideology to rapidly eliminate Christianity. Dexter Van Zile, a Christian Media Analyst for the Committee for Accuracy in Middle East Reporting in America, said "we need to devote the resources necessary to defeat ISIS [Islamic State] and make it perfectly clear that the people responsible for murdering Christians, Yazidis and other minorities will face justice. We simply cannot let them get away with it. "The efforts to help the Christians in the Middle East will look a lot like the choices the West was faced with when the Jews were being murdered in Europe. We'll have to get serious about providing permanent refuge to Christians from the region in our own countries, which ominously enough, did not happen with the Jews. I hope and pray we make a different choice this time. These people need homes, permanent homes in the West," said Van Zile. He added, "we'll have to think about providing a safe haven for them in the region.
Christians in Iraq have called for the creation of a special province for minorities in Iraq, the Nineveh Plains proposal, which has largely been ignored by policy makers in the West." Analyzing Israel's role in the region can help in grasping the larger context, according to academic experts.
Dr. Richard Landes, director and co-founder of the Center for Millennial Studies at Boston University said, "in the old days [Yishuv days], when the Muslims rioted and massacred Jews, they'd say, 'first the Saturday people, then the Sunday people.' Now that the Jews have a state and can defend themselves, they've moved on to the Sunday people, and the only place Christians are safe is where the Saturday people have sovereignty." He added, "The really sick part of this picture is that the Christians in the west not only won't come to the defense of the Sunday people in the Muslim world, but rather, seem fixated on not letting the Saturday people defend either themselves or the Sunday people who live among them. With their western enemies behaving so self-destructively, it's a good time to be a jihadi."
Melancholy, frustration, outrage, deep pessimism, shock and exasperation seem to be the dominant themes when experts discuss the plight of Christians in the Middle East. Western policy makers and politicians have failed to mobilize the raw energy of their capitalist economies to stop jihadi attempts to wipe out Christians. "I'm not very hopeful that things will get much better.
Iran Increasing Efforts to Deepen Terrorist Activities in West Bank
Dec. 29….(Jerusalem Post) Iran is increasing its efforts to deepen its terrorist activities in the West Bank, Prime Minister Benjamin Netanyahu told the cabinet at its weekly meeting on Sunday. "None other than the Palestinian Authority's ambassador in Tehran said that he was enthused by Iranian ruler Ali Khamenei's instructions to send weapons to the West Bank," Netanyahu said.
The prime minister quoted the Palestinian envoy as saying, "The Zionist entity is an aggressor and cancerous tumor which should be annihilated sooner or later." Netanyahu emphasized that these were not the words of a Hamas representative but, rather, of the PA's official in Iran. "Now what does the UN do in response?" Netanyahu asked. "Instead of dealing with this incitement, it gives it a place of honor, the same incitement that leads in the end to the terror acts that we have experienced lately." Netanyahu was referring to an interview that the Palestinian envoy in Tehran, Salah al-Zawawi, gave to the Tehran Times last week in which, according to the paper, he "underlined his countrymen's enthusiasm for the materialization of the instructions" given by Khamenei to send arms to the West Bank to intensify its fight against Israel.
According to the report, Zawawi said that "arming the West Bank is of high priority." Meanwhile, a Twitter account affiliated with the Islamic Revolutionary Guards has recently bragged on Twitter that its soldiers in Lebanon "are at the border of occupied Palestine." The tweet included photos of soldiers with their faces obscured.
According to a report by MEMRI, the Middle East Media Research Institute, which brought the tweet to wider attention, on December 17 a blog affiliated with the Iranian Army published the same photos with the soldiers' faces unobstructed. The blog also posted a number of other pictures, saying they were taken in southern Lebanon and in the Bekaa valley and Baalbek region. The blog post was titled: "We are arriving... near the Mother of Corruption, the accursed Israel; soon we will pass over their bodies, Allah willing." According to MEMRI, Iranian officials have for months been indicating that it has a presence in southern Lebanon.
WEEK OF DECEMBER 21 THROUGH DECEMBER 27
Merry Christmas From Focus On Jerusalem
The Bible does not instruct us to observe Christmas, nor does it even convey any information about celebrating the birth of Jesus, or allude to his actual birthday. Sadly, many of today's Christmas customs and traditions are rooted in ancient pagan rituals. Personally, I don't even like the word "christmas" because it is transliterated from the Catholic mass of the Eucharist, which is built around the mystical worship of Nimrod/Tammuz. I think this is one of the reasons that God never elaborated in detail anything about recognizing the birthdate of Jesus, because He knows the conspiracies of Satan.
The Bible does however instruct us to remember and observe Jesus death and resurrection. That was the event that completed Christ first visitation to this world. Jesus came to earth to become the "Lamb of God' to enable God's free gift of salvation to all mankind. Yet, we still are thankful for the gift that was the "babe wrapped and laid in the manger" 2000 years ago. For without the birth of Jesus Christ, the Gospel would be incomplete. Jesus is the "horn of salvation" that God gave to the world. (see Luke 1:68-69) Jesus is coming back someday, and will complete his Divine mission, and that is to establish his righteous kingdom, which shall never end.
Isaiah 9:6-7 For unto us a child is born, unto us a son is given: and the government shall be upon his shoulder: and his name shall be called Wonderful, Counselor, The mighty God, The everlasting Father, The Prince of Peace. Of the increase of his government and peace there shall be no end, upon the throne of David, and upon his kingdom, to order it, and to establish it with judgment and with justice from henceforth even forever. The zeal of the Lord of hosts will perform this.
America's Traditional' Families Disappearing
Dec. 24….(Washington Examiner) Norman Rockwell wouldn't recognize today's American families. The latest Pew Research Center survey on families, finds that just 46 percent of children younger than 18 live in "traditional" families headed by two heterosexual parents in their first marriage. In 1960, it was 73 percent. "Rapid changes in American family structure have altered the image of who's gathering for the holidays. While the old 'ideal' involved couples marrying young, then starting a family, and staying married till 'death do they part,' the family has become more complex, and less 'traditional,' " said Pew. And, they added, while families have changed radically, so have when children are born. Some 41 percent of children are born outside of marriage, up from must 5 percent in 1960. The details:
• 15 percent of children are living with two parents who are in a remarriage.
• 6 percent of all children are living with a stepparent.
• 34 percent of children today are living with an unmarried parent, up from just 9 percent in 1960.
• 4 percent are living with two cohabiting parents.
• 5 percent of children are not living with either parent. In most of these cases, they are living with a grandparent.
Those in same sex marriages were not counted and Pew said: "Because of concerns about the quality of the new 2013 ACS data on same-sex marriage, we do not separate out the very small number of children whose parents are identified as in this type of union, but instead fold them into this single parent category, as well."
ISIS Closing in on Israel from the North and the South
Dec. 24….(The Fiscal Times) The war against ISIS is taking a dangerous, perhaps inevitable turn. The terror organization has been keen to expand to southern Syria and the Syrian capital of Damascus. Now it says it has recruited three Syrian rebel groups operating in the south of the country in an area bordering the Israeli occupied Golan Heights, that have switched their loyalties to ISIS. This switch means that Israel, the US's closest ally in the Middle East, could be threatened from the southwest by the Egyptian ISIS group of Ansar Bait al-Maqdis in Sinai and by ISIS in southern Syria.
The ISIS war is not going well at all for the US-led alliance in Syria. ISIS and al-Nusra Front, al-Qaeda's branch in Syria, are still the dominant rebel groups in the country. The U.S.-backed Free Syrian Army is still not a reliable fighting force. The three rebel groups that just joined ISIS could make that situation even worse. Two of the groups are small in number, but the Yarmouk Martyrs Brigade has hundreds of fighters. The Yarmouk Brigades has been at odds with al-Nusra Front and switched now to join what leaders of all thrwee groups believe is the future of Islam. "If Israel was attacked by ISIS, America would expect a proportionate response by Israel, which is militarily capable of defending itself," said Geoffrey Levin, a professor at New York University. "America would counsel against sustained Israeli involvement because it could threaten the tacit alliance between America, Iran, Turkey, and several Arab states against ISIS." "More recent reports indicated a closer alliance with [the Islamic State] due to tensions with JN [al-Nusra Front]," said Jasmine Opperman, a researcher at Terrorism Research & Analysis Consortium (TRAC). She said al-Nusra attacked the headquarters of the Yarmouk Brigade in southern Syria in early December 2014 following clashes between the two groups.
Al-Yarmuk Martyrs Brigade controlled an area near the Jordan-Israel border in March 2013. That same month, the brigade took as hostages some of the United Nations peacekeeping mission soldiers. Even so, Israel reportedly allowed the brigade to have its wounded fighters treated in Israeli hospitals.
ISIS has been known for launching surprise attacks and opening new battlefronts when it seems to be losing. ISIS also has been criticized by many Arabs and Muslims for not taking its fight to Israel and instead fighting fellow Arabs and Muslims. An attack aimed at Israel may boost ISIS's popularity in the Arab world and refresh its recruitment and funding efforts. On the other hand, some of ISIS's top military commanders were former officers in Saddam Hussein's army, and they may resort to what Saddam did in the 1991 Gulf War when he attacked Israel with mid-range rockets, hoping to drag the Israelis into a conflict that he was losing. An Israeli retaliation in 1991 could have jeopardized the US led coalition that then included Arab countries like Egypt, Syria and Saudi Arabia. The same is true now.
Despite some recent tensions between the countries, Israel remains America's closest ally in the Middle East. Attacks on Israel by ISIS or affiliated groups could further escalate war in the region, or they could further strain ties between the Obama administration and the Israeli government. "It would be more likely a sign of desperation, as were Saddam's attempts to lure Israel into the 1991 war as a way of breaking the Arab coalition against him," said NYU's Levin. At that time, continuous pressure from the first Bush administration and the installation of the Patriot anti-rocket system convinced the Israelis to refrain from reacting to Saddam's attack.
Israel could launch a preemptive attack to destroy or significantly damage these ISIS-affiliated units whether by air or by ground forces. Israel used its advanced air force to launch attacks in Syria several times since the beginning of Syrian civil war in 2011. Meanwhile, Israel has recently boosted its defenses in the Golan Heights, saying its main concern was to prevent any major weapon transfer from Syria to Hezbollah, the Lebanese guerrilla organization that has engaged in several rounds of war with the Israelis since the 1980s.
Iran Accelerates Arming of Hizbullah and Hamas for Possible Clash With Israel
Dec. 23….(Jerusalem Center for Public Affairs) Even as it engages in nuclear negotiations, Iran continues to arm and train Hizbullah, Hamas, and Palestinian Islamic Jihad.
q Central to the Iranian effort are rockets and missiles (surface-to-surface), as well as UAVs and advanced anti-aircraft weapons, mainly for Hizbullah, intended to constrict the Israeli Air Force's maneuvering room in Lebanon.
q According to Supreme Leader Khamenei, "All Palestinian areas have to become armed…. We looked at our main goal and we offered help. We managed to strengthen the fists of our Palestinian brothers in Gaza and by Allah's favor we will continue to do that. I announced that the West Bank should be armed like Gaza and be prepared for defense."
q Under Khamenei's direction, Iran views the Palestinians in Gaza and the West Bank as a single unit under the leadership of Hamas. Iran seeks to encircle Israel from the north (Hizbullah), the south (Gaza), and the east (the West Bank) and to turn the rocket threat into an unbroken ring around Israeli territory.
Iran views itself as setting the stage, on the propaganda, ideological, and military levels for an inevitable confrontation with Israel and the West. In recent months, parallel to the key stages of the nuclear negotiations, Iran has completely removed the secrecy surrounding its provision of rockets and missiles to anti-Israeli terror organizations. Today, Iran frequently and publicly acknowledges this assistance, with no fear of the West's reaction.
In Iran's eyes, Operation Protective Edge, the latest round of fighting between Israel and Hamas and the other Gaza-based Palestinian organizations, provided further proof that its long-term investment in supplying rockets and know-how for their manufacture to Hizbullah and Palestinian organizations is bearing fruit. As the end of the time allotted for the nuclear talks drew near (before it was decided to extend them again to June 2015), Supreme Leader Ali Khamenei and other senior Iranian officials made threatening statements about Iran's rocket and missile capabilities and those of the organizations it supplies, indicating that in light the possible outcomes of the nuclear talks, Iran's fears of an Israeli attack had grown.
Iran does not obscure its security concept but rather gives it public expression. Lebanon, Gaza, and the West Bank form inseparable components of this doctrine, which Iran updates from time to time. In Iran's view, the steadily developing rocket capabilities of both Hizbullah and the Palestinians, capabilities that Iran, with Khamenei's encouragement, is striving to extend to the West Bank as well, constitute a main element of the deterrence against Israel that Iran seeks to develop. The aim is to deter Israel from attacking Iran's nuclear facilities, or, if Israel nonetheless decides to attack, to use these rocket capabilities as a key part of its retaliatory response.
In this context, under Khamenei's direction, Iran views the Palestinians in Gaza and the West Bank as a single unit under Hamas' leadership. Consequently, Iran is gradually improving its relations with Hamas after they hit a nadir with the eruption of the Arab Spring in Syria and the removal of Hamas's headquarters from Damascus. Iran now hopes that Hamas will rule the West Bank as well as Gaza, and will develop similar capabilities in the West Bank to threaten Israel. From a broader perspective, Iran, as statements by its senior officials suggest, is working to encircle Israel from the north (Hizbullah), the south (Gaza), and the east (the West Bank) and to turn the rocket threat into an unbroken ring around Israeli territory.
This Iranian activity is incessant, and it includes persistent smuggling of weapons into Gaza as well as shipments and convoys to Hizbullah via Syria. Iran, Russia, and Hizbullah have a common interest, the survival of Bashar Assad. To that end Hizbullah is paying with hundreds of casualties on Syrian soil, but it is also gaining greater access to advanced weapons from Iran and Russia, some of which it is trying to transfer to Lebanon. Khalid Mashal, Head of Hamas political bureau, will visit Tehran soon. Al Sudani said that Iran regards Hamas as the "first line of defense" in confronting Israel and supporting Hamas is one of Iran's revolution key principals. "Destroying Israel will only be possible by arming Palestinians, including in the occupied West Bank.
Iran's Supreme Leader Khamenei continued to express support publicly for "all who fight against Israel" in general and for the Palestinians in particular. We will strengthen the fists of our Palestinian brothers in Gaza and by Allah's favor we will definitely arm them in the West Bank as well.
Israel Boosting Golan Heights Forces in Response to Rising ISIS Threats
Dec. 23….(Algemeiner) The Israeli Army is boosting and regrouping its forces in the Golan Heights in light of ISIS terrorists overtaking more and more border areas, according to the London-based A-Sharq Al-Awsat and Lebanese media. A senior Israeli officer said that the army has regrouped and reinforced its forces in the Golan Heights after three divisions of insurgents operating near the Israeli and Jordanian borders in the southern Golan recently declared their loyalty to ISIS, the pan-Arab newspaper said.
Militants with the Yarmouk Martyrs Brigade of the so-called Free Syrian Army (FSA) were among those who recently switched allegiance to ISIS, according to Israel's Ch. 2 News. The senior officer said the IDF muscle-flexing was intended to deter ISIS from hostile moves towards Israel, and that any show of weakness in the face of the terrorist organization's advances could cost the lives of Israeli civilians. "Israel cannot stand by while red lines which endanger its security are being crossed," Defense Minister Moshe Ya'alon stated recently. "This year, we find ourselves facing radical Islamic terrorism, which lurks in every Middle Eastern corner, seeking to destroy us only for who we are. The relentless terrorism is activated by cruel organizations which are not picky about their methods, and will do everything to try and sabotage our existence here in Israel."
To that end, the Israeli army's Combat Intelligence Collection Corps "Vulture" battalion held week-long maneuvers in the Golan Heights in late Nov., over concerns that Syria's internal carnage could involve Israel. The army, anxiously following events on the other side of the hostile border, held the exercise in light of six months of sporadic cross-border gunfire, mortar shelling and two foiled infiltrations by hostile aircraft, one an armed bomber on a run against rebel forces close to Israeli territory.
In a telephone call between Ya'alon and outgoing US Defense Secretary, Chuck Hagel on Dec. 12th, the sides discussed "efforts by the United States and the coalition partners to counter the Islamic State of Iraq and the Levant, and they reaffirmed the strength of the US-Israel security relationship," according to the Defense Department.
Meanwhile, Lebanon-based NOW Media recently reported that that country's military forces are bracing for an ISIS onslaught via Mt. Qalamoun to attack units of the Lebanon-based Hezbollah terror group which are aligned with the forces of Syria's Assad. "Al-Nusra Front and ISIS's plan warns of a black winter and bad days ahead in Baalbek and Hermel," sources told the outlet, referring to two threatened border areas. Both terrorist groups have clashed repeatedly in recent months, in attempts to wrestle control of the strategic hilltop which overlooks Lebanese territory, as well as in several other areas along the border between the two countries. On Dec. 6th, Jordanian monarch King Abdullah told CBS News that battling the Islamic State of Iraq and Syria and other terrorist groups is "our third world war."
Is Russia Plotting to Start A War on Israel
(Moscow plan includes shipping missiles to terrorist groups)
Dec. 22….(WND) Russia is preparing a contingency plan to prompt Hezbollah and possibly the regime of Syrian President Bashar al-Assad into a direct military conflict with Israel, according to a French official who has been apprised of the situation. The official, who spoke on condition of anonymity, said the contingency was meant to be used as a card against the West, particularly the US and European Union, which has been engaged in efforts to isolate Moscow.
This past week, the US and EU adapted tighter sanctions on the Russian economy, including restrictions on investments in the Crimea, with emphasis on Russian Black Sea oil and gas exploration and tourism. The official said there is information Russia in recent weeks successfully shipped to Hezbollah a large convoy of Iskandar ballistic missiles and surface-to-air missiles. The missiles were received, despite Israel's alleged airstrikes in Syria targeting Russian-shipped weapons earlier this month, the official said. The official said Russia has not made any decision about agitating a Hezbollah attack on Israel, but views a possible conflict in the Mideast as a card it can play in its confrontation with the West, particularly in Ukraine.
Earlier this month, Syrian Foreign Minister Walid al-Moualem traveled to Russia to meet with the country's president, Vladimir Putin, and Russian Foreign Minister Sergei Lavrov at Russia's Black Sea resort of Sochi. WND reported at the time that according to a source in Assad's regime, Putin and Lavrov assured Moualem that Russia "won't stand for" any Western attack on Assad and that the Russians pledged "support" and "protection" to the Assad regime.That pledge came amid pressure from Turkey and Saudi Arabia on the Obama administration to expand the fight against ISIS in Syria to also target Assad's forces.
Former NYPD Cop Blames Race 'Hustlers' for Slaying
(Calls out Sharpton, de Blasio & Obama for inciting violence against police)
Dec. 22….(WND) As a former New York City police officer, he kept the streets safe from international terror. As a former Secret Service agent, he guarded President Obama's life with his own. But now former lawman Dan Bongino is blasting both New York City Mayor Bill de Blasio and Obama, along with activist Al Sharpton and Attorney General Eric Holder, as race "hustlers" who are partly to blame for the assassination of two NYPD patrol officers on Saturday. As widely reported, Ismaaiyl Brinsley, 28, opened fire on a patrol car, killing NYPD Officers Rafael Ramos and Wenjian Liu to avenge the publicized deaths of black Americans Michael Brown and Eric Garner at the hands of police. Brinsley also shot his former girlfriend earlier Saturday morning, and killed himself after shooting the officers.
Like many current and former police officers, Bongino is critical of de Blasio for expressing sympathy for the waves of protesters charging police with racism after the deaths of Brown and Garner. Asked on "Fox & Friends" if leaders like Sharpton, Holder and even Obama share some of the responsibility for the shooting of Officers Ramos and Liu, Bongino said, "They do." "The people who have made their careers off of political division and implying racism where it doesn't exist, No. 1., have really destroyed credibility in actual cases of racism that should be investigated, should be pursued to every extent legally possible, and then secondly, they've incited people," Bongino said. "Yes, I do put some of this on them." He continued, "Mayor de Blasio talking about historical examples of racism in the country, which yes, he's absolutely correct, but in the context of a police-involved incident, the Garner incident, there's zero evidence whatsoever that that incident had any element of racism in it at all. "Oddly enough, he's implying that all police officers, all, were judging people on the color of their skin, and then he's telling people to go out and judge police officers on the color of their uniform?" Bongino asked. "I mean, this is not leadership, these people have no credibility any more."
WEEK OF DECEMBER 14 THROUGH DECEMBER 21
Palestinians Fear Their Own Rulers
Dec. 18….(Israel Today) Two-thirds of the Palestinian population in Judea and Samaria are afraid to criticize Palestinian President Mahmoud Abbas, according to a survey conducted by the Palestinian Center for Policy and Survey Research in Ramallah. The results of the poll come in the wake of Abbas arresting the leader of the strongest union in the Palestinian-controlled territories.
If two-thirds of Palestinians fear Abbas, how much more does the radical Hamas instill terror in the hearts of the residents of Gaza? Abroad, Abbas' Fatah-ruled Palestinian Authority is often depicted as a pragmatic counterpart to Hamas, and as a genuine partner for peace with Israel.
In Bethlehem, Palestinian church leaders and other Christian institutions assert that they enjoy broad freedom in so-called "Palestine." They talk proudly of freedom of speech and of the press under Palestinian Authority rule. Especially during the Christmas season these Christians preach about harmonious coexistence with the Muslims.
Either the results of the above survey are false and Palestinians in general do not really fear their government, or the Christians leaders in question are concealing the truth for fear of being punished by their Muslim rulers. Welcome to the "democratic" Palestinian state everyone is so eager to establish.
Obama Normalizes Relations With Communist Cuba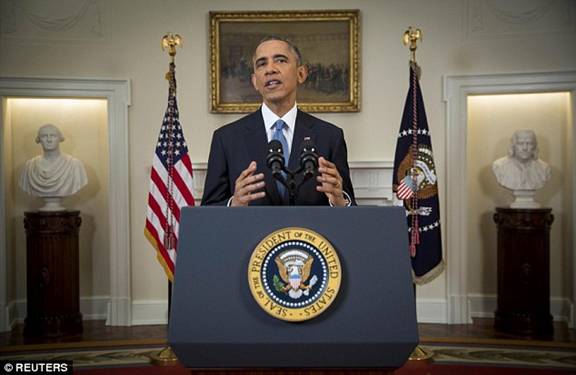 Dec. 18….(Mail On Line) President Barack Obama declared the end of America's 'outdated approach' to Cuba Wednesday, announcing the re-establishment of diplomatic relations as well as economic and travel ties with the communist island, a historic shift in US policy that aims to bring an end to a half-century of Cold War enmity. 'Isolation has not worked,' Obama said in remarks from the White House. 'It's time for a new approach.' 'We will begin to normalize relations' between the US and Cuba, he added. 'We will end an outdated approach that, for decades, has failed to advance our interests.'
As Obama spoke, Cuban President Raul Castro was addressing his own nation from Havana. Obama and Castro spoke by phone for more than 45 minutes Tuesday, the first substantive presidential-level discussion between the US and Cuba since 1961. Wednesday's announcement followed more than a year of secret talks between the US and Cuba. The re-establishment of diplomatic ties was accompanied by Cuba's release of American Alan Gross and the swap of a US spy held in Cuba for three Cubans jailed in Florida.
As part of resuming diplomatic relations with Cuba, the US will soon reopen an embassy in the capital of Havana and carry out high-level exchanges and visits between the governments. The US is also easing travel bans to Cuba, including for family visits, official US government business and educational activities. Tourist travel remains banned. Licensed American travelers to Cuba will now be able to return to the US with $400 in Cuban goods, including tobacco and alcohol products worth less than $100 combined. This means the long-standing ban on importing Cuban cigars is over, although there are still limits.
Although negotiations had been brewing for some time, the first face-to-face meeting between Cuban and American officials took place in Canada in June 2013. Many of the ensuing meetings took place in Canada, but senior administration officials said that the Vatican played an important role in bringing the sides together as well. When Obama visited the Vatican in March, he and Pope Francis discussed the issue, and the Pope sent Obama and Castro personal letters to encourage them to press forward with negotiations. The Vatican released a statement later Wednesday congratulating the governments of the US and Cuba.
A personal appeal by Pope Francis played a key role in finalizing a deal to open relations between the United States and Cuba for the first time in 53 years. The pope wrote a personal letter to President Obama this fall, something he'd never done before, and a separate letter to Cuban President Raúl Castro. The letter invited the leaders to "resolve humanitarian questions of common interest, including the situation of certain prisoners," according to a Vatican statement congratulating the two countries Wednesday. The Vatican said it received delegations from both countries in October and helped facilitate a dialogue.
Aside from President Obama and the Cuban president, the pontiff was the only other foreign leader directly involved in the talks, the official said. Pope Francis' support was particularly important given Cuba's historical and cultural Catholic identity, the official said, and his election as the first-ever pope from Latin America gave him credibility. Before he was Pope Francis, the Argentinian served as Bishop of Buenos Aires, where he was a prominent member of the Episcopal Conferences of Latin America. That group, along with the Vatican and US Conference of Catholic Bishops, has long advocated for normalized relations between the United States and Cuba.
American-Trained Syrian Rebel Yarmouk Brigades Defect to ISIS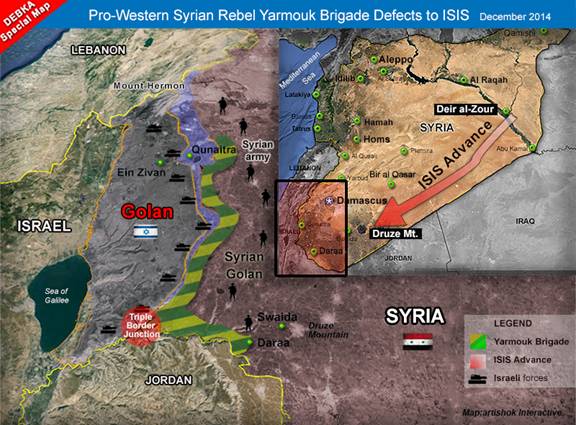 Dec. 18….(DEBKA) The Syrian rebel militia Al Yarmouk Shuhada Brigades, backed and trained for two years by US officers, mostly CIA experts, in Jordan, and supported by the Israeli army, has abruptly dumped these sponsors and joined up with the Islamic State in Iraq and Syria, debkafile's exclusive military and counter-terrorism sources reveal.
The sudden defection of this 2,000-strong anti-Assad force leaves IDF defense formations on the Golan, US and Jordanian deployments in the northern part of the kingdom, and pro-Western rebel conquests in southern Syria in danger of collapse.
The Brigades' jump into the radical jihadi camp was negotiated in the last two weeks by its commander Mousab Ali Qarfan, who also goes by the name of Mousab Zaytouneh. He was in direct contact with ISIS chief Abu Baqr Al-Baghdadi, whom our sources report has recently relocated from Iraq to his northern Syrian headquarters at al-Raqqa. Unlike the Sinai Islamists, Ansar Beit al Maqdis, the Yarmouk Brigades did not pledge allegiance to ISIS. The ir pact was forged as an operational alliance, which is just as grave a peril for the rebel militias' abandoned allies. For Israel, in particular, the new development is fraught with three dangers:
1. The Yarmouk Brigades are strung out along Israel's Golan border with Syria, from the UN peacekeepers camp opposite Kibbutz Ein Zivan (see map) in the north, down to the Israeli-Syrian-Jordanian border junction in the south. The Brigades therefore sit along 45 of the total 76 kilometers of the Syrian-Israeli border. This means that a long stretch of Israel's Golan border with Syria has fallen under the control of the Islamic State.
2. This militia also commands sections of the Syrian-Jordanian border, as well as districts of the southern Syrian town of Deraa. Therefore, the link between Jordan and southern Syria, which served American strategic interests, is now under military threat.
3. Islamic State forces are preparing to take advantage of their new asset with a buildup near the Druze Mountains (see map) for a rapid push south towards the town of Deraa, where they will join forces with their new ally.
Obama Ready for an About-Face to Recognize Assad?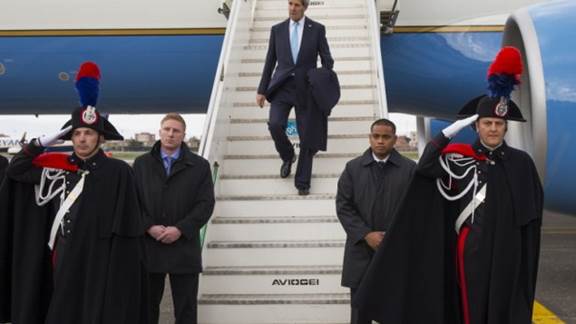 (FOJ Note: US Secretary of State John Kerry arrived in Rome on Sunday for a flurry of meetings about a looming showdown at the United Nations amid a European-led drive to push moves towards Palestinian statehood. Kerry was first to meet with Russian Foreign Minister Sergei Lavrov on Sunday, before talks on Monday with Prime Minister Benjamin Netanyahu. In a hastily-arranged pre-Christmas diplomatic whirlwind, the top US diplomat will also meet for a few hours Monday in Paris with French, German and British foreign ministers and the new EU foreign policy chief Federica Mogherini.)
Dec. 15….(DEBKA) High expectations based on unconfirmed reports swirled around Arab capitals Sunday, Dec. 14, that US President Barack Obama, in league with Moscow and Tehran, had turned his longstanding anti-Assad policy on its head. He was said to be willing to accept Bashar Assad's rule and deem the Syrian army the backbone of the coalition force battling the Islamic State in Iraq and the Levant. If these expectations are borne out by the Obama administration, the Middle East would face another strategic upheaval: The US and Russia would be on the same side, a step toward mending the fences between them after the profound rupture over Ukraine, and the Washington-Tehran rapprochement would be expanded. The Lebanese Hizballah and its leader, Hassan Nasrallah would be vindicated in the key role they played in buttressing President Assad in power.
But for Saudi Arabia and Israel, an Obama turnaround on Assad would be a smack in the face. The Saudis along with most of the Gulf emirates staked massive monetary and intelligence resources in the revolution to topple the Syrian ruler.
Israel never went all-out in its support for the Syrian uprising, but focused on creating a military buffer zone under rebel rule in southern Syria, in order to keep the hostile Syrian army, Hizballah and elements of the Iranian Revolutionary Guard Corps fighting for Assad at a distance from its northern borders with Syria and Lebanon.
If Obama goes through with accepting the Assad regime, Israel will have to write off most of its military investment in Syria. In any case, Israel's intelligence agencies misjudged the Syrian situation from the first; until a year ago they kept on insisting that Assad's days were numbered. Debkafile's Arab sources single out major pointers to the approach of a reversal of Syrian policy in Washington:
1. The resignation of Chuck Hagel as defense secretary last month. Hagel was adamant in advocating Assad's ouster.
2. No more than one sentence was devoted to the Syrian conflict in the Gulf Cooperation Council's (GCC) summit's resolutions in Doha last week, despite its centrality to inter-Arab affairs: the summit called for "a political solution" of the Syrian issue that would "ensure Syria's security, stability and territorial integrity." There was not a word on Assad's removal from power.
3. Debkafile's Washington and Moscow sources report that the Syrian issue was destined to figure large in the Rome talks between US Secretary of State John Kerry and Russian Foreign Minister Sergey Lavrov Sunday, Dec. 14. The Kremlin is making US acceptance of its plan for ending the Syrian conflict the condition for joining the US-European line on the Palestinian demand that next week's UN Security Council session set a two-year deadline for Palestinian statehood within 1967 border. The text calls for Israeli "occupation of Palestinian territory captured in the 1967 war" to end by November 2016.
France, Britain and Germany are in efforts to draft a resolution of their own. So any deal Kerry and Lavrov are able to finalize for a tradeoff between the Palestinian and Syria issues will be put before Israeli Prime Minister Binyamin Netanyahu when he meets the US secretary in Rome Monday, Dec. 15.
Netanyahu will ask Washington to exercise its veto against the Palestinian motion. But the Obama administration would rather not, since it supports the Palestinians in principle. Israel may therefore find itself this time ranged against a united US-Russian front on the Palestinian issue, Moscow's reward for Washington lining up behind its plan for Syria.
Moscow proposes that the Syrian opposition throw in the towel and both sides accept a truce, especially in the long battle for Aleppo, for the re-convening of the Geneva 2 peace conference in Moscow, with America's support and participation. Provincial elections would then take place in Syria to bring the Assad government and opposition elements into collaborating in the various ruling institutions. Russian Deputy Foreign Minister Mikhail Bogdanov spent two days in Damascus last week to work on the details of this blueprint with Bashar Assad, after which he commented tellingly that he was "in contact with our American partners." Russian officials then elaborated on their plan before Hizballah and opposition representatives in Turkey.
Even the US Senate bill calling for fresh sanctions against Moscow and the supply of $350 million worth of military aid to Ukraine under the Ukraine Freedom Support Act is unlikely to rock the Kerry-Lavrov Middle East boat.
President Obama is unlikely to affix his signature to the bill and President Vladimir Putin will take it in his stride if he sees progress in reaching an agreement with the United States on Syria. Even the American threat to station medium-range nuclear missiles in Europe following Moscow's refusal to endorse the Intermediate-Range Nuclear Forces Treaty failed to cast a cloud over the Kerry-Lavrov encounter. The two top diplomats have a solid history of progress in forging diplomatic accords on thorny international issues (e.g. Iran's nuclear program and Syria's chemical weapons). If they fail this time, Netanyahu's talks with Kerry will be lighter and smoother. But if a Syria-Palestinian tradeoff is forged between the two powers, Israel may for the first time find itself on a collision course with a joint US-Russian front on the Palestinian issue.
Netanyahu told a cabinet meeting in Jerusalem Sunday, Dec. 14, that Israel would "rebuff any UN moves to set a timetable for withdrawal from territory." He said Israel now faced a possible diplomatic offensive "to force upon us" such a withdrawal within two years. Therefore, the Israeli air strikes against a shipment of Russian missiles for Syria for Hizballah last Monday, Dec. 8, may be seen as an act of defiance against this nascent big-power partnership. Our sources reveal that Moscow was not alone in demanding "explanations" for Israel's "aggressive," so too did Washington.
Saudi Arabia's Oil War Against Iran and Russia
Dec. 15….(New York Post) This week, oil fell through the price floor of $60 a barrel and gas at my local filling station was $2.26 a gallon. That's great news for commuters and almost every business, but wonderfully bad news for our ugliest enemies. If oil prices remain low through next year, the effect on rogue governments, from the Russian Federation to Venezuela, will go from damaging to devastating. But Western economies (and China's) stand to benefit, with cheap oil possibly tickling Europe's snoozing markets awake. Even most underdeveloped states will get a welcome break. This price plunge has been driven by Saudi Arabia, OPEC's dominant power. While it's true that part of Riyadh's actions respond to the energy renaissance in North America, the greater motivation is breaking Iran's will.
The Saudis believe they can no longer rely on the US to contain Tehran's imminent nuclear threat, so they're out to do what our lukewarm sanctions couldn't. There's no love lost between the Saudis and the Russians, either. The Saudis want the Assad regime in Syria to go. Moscow props it up. The Saudis aren't doing any of this to help us, but it helps us just the same. Now the key issue is: How long will prices stay low?
Markets can be unpredictable, but an emerging global glut of oil, decreasing demand and greater efficiencies suggest that petroleum products should remain relatively cheap, with fluctuations for the next few years. That's good news for democracies and free markets, but a nightmare for dictators everywhere. Here are the key losers and winners.
Saudi Targeted Loser: Iran
Tehran had learned to live with Western sanctions. But oil has been its lifeline. And to balance the books, oil has to sell between $135 and $140 dollars per barrel. Good luck with that, Supreme Leader! With the barrel price at barely 40 percent of Iran's requirement, the economy's going to hemorrhage. Iran's leaders will be under far greater pressure to compromise on the nuclear weapons, unless we keep easing sanctions for nothing in return. This is the last chance for negotiations to bring results. The fascinating angle here is that Saudi Arabia's doing more for Israel's security than the Obama administration's been willing to do. Common enemies generate unexpected, if unadmitted, alliances.
Saudi Targeted Loser: Russia
The price collapse could not have come at a worse time for Bad Vlad Putin. The Russian president needs an oil price around $100 a barrel to prop up what's become a wartime economy. Oil and gas provide up to a third of budget revenue and compose two-thirds of exports. Sanctions imposed over Putin's aggression have gnawed at Russia's economy, but this price drop bites deep: The ruble has crashed, Russian bonds are pathetic, and foreign reserves are bleeding. While Russians will put up with harder times than Westerners will, Putin's made extravagant commitments.
The world's 'fav' bare-chested bully had embarked on a massive arms buildup, with a hi-tech $5 billion command center just unveiled. But Putin's visions of military resurgence are becoming unaffordable. He also made election promises to improve Russia's wretched health-care system. Instead, he's firing health-care workers and shuttering hospitals. He promised higher living standards, but now the average Ivan's feeling squeezed. And Putin faces enormous costs in Crimea and eastern Ukraine, two booby-prize welfare states, with the latter shot to ruins. Putin's popularity remains high. For now. The gravest worry is that, with his back to the wall, he'll play the Mother Russia card and attack again.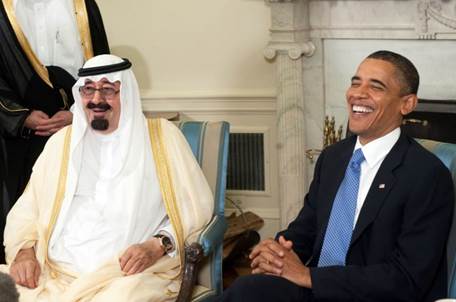 Saudi Target: Iraq
Iraq has nothing to offer the world but oil. And Baghdad needs to fund a survival struggle against Islamic State militants. The Saudis don't like the Islamic State caliphate claims, but they have no sympathy with Baghdad's Shia-dominated, Iran-aligned government, either. Don't expect price rises for Iraq's sake. The problem is that we'll end up paying more of the battle bill for Baghdad's pretense (and our State Department's fetish) that Iraq can be kept intact. The conquests made by Islamic State terrorists aren't the cause of Iraq's troubles, just one more symptom.
Affects on America
Although some energy players will suffer from lower prices and we'll see a wave of corporate consolidation, the oil-price drop's great news for American consumers, businesses and even, in the longer term, our military. An economy that had begun to recover, despite Washington, is getting another vitamin shot, while working-family budgets get a break.
The Saudi strategy also aims to hurt our burgeoning energy industry, such as the shale oil extraction in North Dakota.
WEEK OF DECEMBER 7 THROUGH DECEMBER 13
UN Sending Thousands of Muslims to America
(Muslim resettlement program will cost billions of dollars to US taxpayer)
Dec. 13….(WND) The federal government is preparing for another "surge" in refugees and this time they won't be coming illegally from Central America. The US State Department announced this week that the first major contingent of Syrian refugees, 9,000 of them, have been hand-selected by the United Nations for resettlement into communities across the United States. The announcement came Tuesday on the State Department's website.
WND reported in September that Syrians would make up the next big wave of Muslim refugees coming to the US, as resettlement agencies were lobbying for the US to accept at least 75,000 Syrian refugees over the next five years. Until now, the US had accepted only 300 of the more than 3.2 million refugees created by the Syrian civil war in which ISIS, El Nusra and other Sunni Muslim jihadist rebels are locked in a protracted battle with the Shiite regime of Bashar al-Assad.
But the US government has been the most active of all nations in accepting Islamic refugees from other war-torn countries, such as Iraq, Somalia and the Democratic Republic of Congo. Now, the Syrians will be added to the mix. They are cleared for refugee status by the UN high commissioner on refugees (UNHCR), who assigns them to various countries. Once granted refugee status by the U.N. they are screened by the US Department of Homeland Security for any ties to terrorist organizations.
The State Department announcement makes it clear that the 9,000 refugees represent just the beginning of an extended program to accept more Syrians. "The United States accepts the majority of all UNHCR referrals from around the world. Last year, we reached our goal of resettling nearly 70,000 refugees from nearly 70 countries. And we plan to lead in resettling Syrians as well," the statement reads. "We are reviewing some 9,000 recent UNHCR referrals from Syria. We are receiving roughly a thousand new ones each month, and we expect admissions from Syria to surge in 2015 and beyond."
The United States, with its commitment to accepting another 70,000 displaced people a year, absorbs more refugees than all other countries combined. This number is understated, however, as once refugees get to the United States they are placed on a fast track to citizenship and are able to get their extended families to join them in the states under the government's Refuge Family Reunification program. The State Department works to place refugees in 180 cities across 49 states. Despite the large numbers, the US has come under criticism from aid groups for its pace in taking in refugees from the Syrian war, which is by far the largest refugee crisis of recent years, reported Ann Corcoran of Refugee Resettlement Watch. US officials say the resettlement program has moved slowly because the United Nations refugee agency, which they look to for referrals, didn't begin making recommendations until late last year. And the United States takes 18 to 24 months on average to carefully vet each applicant to make sure he or she poses no security risk.
Muslim countries in the Middle East have so far not stepped up to permanently take in their Islamic brothers and sisters although the temporary refugee camps to which the Syrians have fled are in Jordan, Turkey and Lebanon. The United States has accepted nearly 2 million refugees from Muslim countries since 1992, WND previously reported. The authority for the resettlement program is the Refugee Act of 1980, signed into law by President Jimmy Carter. Most of the resettlement work done by the UN scheme for relocation and the US network of agencies is taxpayer funded through various grants distributed by the US Department of Health and Human Services' Refugee Resettlement Program. The cost of resettling 70,000 refugees comes to just over $1 billion per year to the US taxpayers. The $1 billion figure does not include the cost of the unaccompanied alien children program, supplying food stamps, subsidized housing, interpreters, Medicaid, WIC, temporary assistance to needy families (TANF) and educating the children, much of which falls to states and localities. Taken in total, the cost of the US refugee resettlement program could run as high as $10 billion per year.
Is Obama Secretly Working to Replace Netanyahu?
(A dispassionate look at the sequence of events shows that the Obama administration has generated an unprecedented crisis in US-Israeli relations.)
Dec. 13….(Jerusalem Post) Nurtured in the Saul Alinsky-style, ACORN-esque tactics of organizing revolution under the banner of "social change," Barack Obama, as a young community organizer in Chicago in the 1980s understood early on the importance of a crisis and how to ride the waves of an emergency to effect the fundamental transformation of society.
As the nation's chief executive, President Obama has demonstrated a particular specialty in the use and perpetuation of crises to push through policies that the public otherwise might not willingly accept, including the wildly unpopular healthcare law, immigration reform, and the first-term "stimulus" legislation. It is therefore unsurprising to detect the international export of the Obama's "crisis" game plan to the Israeli-Palestinian conflict. A dispassionate look at the sequence of events shows that the Obama administration has generated an unprecedented crisis in US-Israeli relations, a crisis utilized at every twist and turn by Prime Minister Benjamin Netanyahu's political rivals, most notably those within his coalition, to try to shake up the country's leadership. There is more than a hint of White House interference in helping to agitate the coalition drama that provoked Netanyahu's hesitant decision last Tuesday to dissolve parliament and schedule early elections that could potentially see the prime minister unseated.
Before divining the Obama administration's fingerprints on the events that led to Netanyahu's predicament, the immediate question is just what about the Israeli premier makes him so problematic for this White House. The answer is fraught with policy implications that cut to the very heart of Obama's dangerously myopic, academic view of the world and America's place among friend and foe. Unforgivable to the US president is Bibi's stubborn refusal to acquiesce to the concept of a sweeping, final deal with Iran that many experts believe will leave the mullahs perpetually within months of a nuclear weapon. Never mind that Iran has numerous times threatened to wipe Israel off the map and is a main state sponsor of the Palestinian terrorist organizations Hamas and Islamic Jihad.
Obama is more than annoyed at Netanyahu's Congressional activism of lobbying for tougher sanctions on Tehran at precisely the same time the US administration is working with European allies to extend sanctions relief until next June 30, as the deadline for nuclear talks was yet again postponed until that date. Netanyahu has repeatedly accused Iran of using the drawn-out negotiations as a smokescreen to develop an illicit nuclear infrastructure.
Also problematic for the White House is the breakdown of Israeli-Palestinian "peace" talks, with rhetoric from the Obama administration indicating that the US largely blames Netanyahu for the collapse of the negotiations. In the Alice's looking-glass lens through which Obama views the Middle East, the sturdy legs of the bargaining table broke because of Netanyahu's decision to build Jewish homes in sections of Jerusalem that will most likely remain under Israeli sovereignty in any future deal. Also, like every other prime minister before him who engaged in these kinds of negotiations, Netanyahu had dared to insist that the Palestinians recognize Israel as a Jewish state, an understanding that Israelis see as central to peaceful co-existence. Never mind that Netanyahu took the unprecedented step of freezing Jewish construction in the West Bank and sections of Jerusalem and even released Palestinian terrorists as "good will gestures" to help jumpstart talks with an intransigent Palestinian leadership.
Using a different lens on Palestinian complacency, the White House is blind to such infractions as Abbas's decision to walk away from the talks and instead seek unilateral recognition at the United Nations; the near daily anti-Israel and anti-Jewish incitement in the official Palestinian media; the role of Abbas's Fatah organization in helping to guide riots currently rocking Jerusalem; the question of whether or not Abbas, amid Hamas gains in Gaza and the West Bank, even represents the Palestinian people; and of course the Palestinians' long history of walking away from every other major international attempt to broker peace.
The Obama White House has singled out Netanyahu as standing in the way of Obama's utopian vision for a new Middle East and Persian Gulf. What better way to bypass this obstacle than aiding in Netanyahu's removal from office? Let's look at the clues. Netanyahu's decision last week to disband his coalition came when he dismissed his finance minister, Yair Lapid, and his justice minister, Tzipi Livni, both of whom have not disguised their ambitions for the country's highest office. Tellingly, both took advantage of the steady stream of US criticism toward Netanyahu by leading an escalating public campaign in which they repeatedly accused Netanyahu of causing this dangerous rift in relations with Israel's most important ally. Case in point. In October, Israel's Ynet news website reported that a request by Defense Minister Moshe Ya'alon to meet with US Vice President Joe Biden, Secretary of State John Kerry and National Security Adviser Susan Rice during his visit to Washington had been denied by the White House. This reported move is highly unusual, and was a nearly unprecedented snub of Netanyahu's government. It helped to set off a firestorm against Netanyahu in Israel, particularly among the center and the left, with Livni and Lapid leading the charge.
Also in October, in what can only be viewed as an orchestrated campaign, the US espoused uncharacteristically harsh language to oppose a plan for Israel to build 2,610 new homes on empty lots in Givat Hamatos, a Jerusalem neighborhood in the eastern section of the city where Palestinians want to build a future state.
Immediately following a meeting between Netanyahu and President Obama in October, State Department spokeswoman Jen Psaki and White House spokesman Josh Earnest took the Israeli leader's delegation by surprise when they released nearly identical statements slamming the Jerusalem construction. They warned the housing plans could distance Israel from its "closest allies," a clear euphemism for the US, and questioned whether Netanyahu was interested in peace. Netanyahu for his part said at the time that he was "baffled" by the US criticism, stating the American position "doesn't really reflect American values."
As if on queue, Lapid and Livni raced to endorse the US condemnation and accuse Netanyahu once again of damaging US-Israeli relations. That month, Lapid took further issue with Netanyahu's plan to build roughly 400 homes in Har Homa and about 600 in Ramat Shlomo. "This plan will lead to a serious crisis in Israel-US relations and will harm Israel's standing in the world," Lapid said.
In another seemingly orchestrated development, The Atlantic's Jeffrey Goldberg in October described relations between the US and Israel as a "full-blown crisis" and reported that senior Obama administration officials had called Netanyahu "chickenshit" on matters related to the so-called peace process. Goldberg gratuitously added that Bibi is a "coward" on the issue of Iran's nuclear threat. This level of speech in a diplomatic confrontation between putative allies is close to unprecedented. The Atlantic published a comically ruder exchange, but it was between enemies. Lapid jumped on the puerile and vulgar remarks to release a vaguely nuanced criticism of Netanyahu: "I said only a few days ago that there is a real crisis in the relations and it needs to be dealt with responsibly," he said, while faux-lecturing US and Israeli officials on the "need to tackle the crisis behind the scenes."
Adding more fuel to the anti-Bibi firestorm, Ha'aretz reported last week the Obama administration had held a classified discussion a few weeks earlier about possibly taking more proactive measures against the "settlements," including mulling sanctions or punishing Israel at the United Nations. While the State Department dismissed the claims as "unfounded and completely without merit," the Ha'aretz article is already providing more fodder to target Bibi.
Here's the kicker. In March, an informed diplomatic source in Jerusalem told me that representatives of the Obama administration held meetings with Lapid to check him out politically and to discuss the kind of prime minister he would make if he won elections in the future. The diplomatic source said the Obama administration identified Lapid as a moderate who would support Israeli-Palestinian talks. While the alleged meeting might have been as innocent as getting to know the powerful finance minister, the claim does fuel the perception of Obama administration tentacles working surreptitiously to change the political order in the Jewish state.
At the end of the day, this political interference could backfire monumentally. Obama's support among the Israeli populace is dismal. Just last week, The Jerusalem Post reported on a poll that showed the number of Israelis who believe Obama had either a "positive" or a "neutral" view of Israel has fallen sharply. Israelis largely see Iran as their single greatest existential threat and seem to react positively to Netanyahu's tough stance against the US-led negotiations. And remarkably, Netanyahu has the quiet support of the Egyptian and Saudi governments for his regional policies. It remains to be seen if Israelis are ready to entrust their security to a relative political newcomer like Lapid or the perpetually evolving Livni in the face of mounting threats that even now engulf the Jewish state in all directions.
Russia Warns Israel (US) About Attacking Inside Syria
Dec. 9….(DEBKA) High-ranking American military sources revealed Monday, Dec. 8, that Israel's air strikes near Damascus the day before wiped out newly-arrived Russian hardware including missiles that were dispatched post haste to help Syria and Hizballah frustrate a US plan for a no-fly zone over northern Syria.
The advanced weapons were sent to Damascus, as Debkafile reported exclusively Sunday, after Russian President Vladimir Putin learned that the Obama administration and the Erdogan government were close to a final draft on a joint effort to activate a no-fly zone that would bar Syrian air force traffic over northern Syria.
The Kremlin has repeatedly warned, of late in strong messages through back channels that the establishment of a no-fly or buffer zone in any part of Syria would be treated as direct American intervention in the Syria war and result in Russian military intervention for defending the Assad regime.
According to the US-Turkish draft, American warplanes would be allowed to take off from the Turkish airbase of Incirlik in the south for operations against Syrian warplanes, assault helicopters or drones entering the no-go zone. Thus far, Ankara has only permitted US surveillance aircraft and drones the use of Incirlik for tracking the movements of Islamic State fighters in northern Syria.
The Obama administration was long deterred from implementing a no-fly zone plan by the wish to avoid riling Moscow or facing the hazards of Syria's world-class air defense system. But Washington was recently won over to the plan by a tacit deal with Damascus for American jets to be allowed entry to help Kurdish fighters defend their northern Syrian enclave of Kobani against capture by al Qaeda's IS invaders. However, the US administration turned down a Turkish demand to extend the no-fly zone from their border as far as Aleppo, Syria's largest city, over which Syrian army forces are battling rebels and advancing slowly into the town.
The no-fly zone planned by US strategists would be narrow, between a kilometer and half a kilometer deep inside Syria. However Moscow is standing fast against any such plan and objects to US planes making free of Syrian airspace, a freedom they are now afforded over Kobani. To drive this point home, the Russians delivered a supply of advanced anti-air missiles and radar, whose use by the Syrian army and transfer to Hizballah in Lebanon were thwarted by the Israeli air strikes Sunday.
Moscow reacted swiftly and angrily with a note to the United Nations Monday accusing Israel of "aggressive action" and demanding "that such attacks should not happen again. Moscow is deeply worried by this dangerous development, the circumstances of which demand an explanation."
The Assad regime has held back from reacting to past Israeli air raids for preventing advanced weaponry from reaching Hizballah. This time, spokesmen in Damascus warned that their government's response would be clandestine and cause Israel "unimaginable harm."
Israel Strikes Against Syrian Targets
(IAF hits Russian top-line air defense missiles sent to Syria & Hizballah)
Dec. 8….(DEBKA) Israel's air strikes near Damascus international air port and the Syrian-Lebanese border Sunday, Dec. 7, are depicted by Middle East military and intelligence sources as Israel's first overt military clash with Russia in the course of the more than three-year Syrian war. Those sources assert that the strikes demolished components of Russian SA-25 or other types of top-line anti air missile systems that Moscow had destined for Syria and the Lebanese Hizballah terrorist group.
Russian transport planes are said to have shipped these consignments in the last few days to the military section of Damascus international airport. It was pointed out that the Israeli air strikes occurred less than 24 hours after Deputy Russian Foreign Minister Mikhail Bogdanov, the Kremlin's point man for the Syrian war, met with Hizballah leader Hassan Nasrallah Saturday in Beirut. The Russians for the first time insisted on widely circulating photos of the two officials shaking hands.
Israeli military and intelligence sources have not confirmed this account. However, Debkafile's sources have learned that Moscow has been looking for a reckoning with the US and Israel over the fall in the last week of October of the large Russian intelligence post at Tel a-Hara in southern Syria to Syrian rebel units. One of the most highly sophisticated Russian intelligence bases outside its borders, the secret site was located strategically close to the junction of Syria's borders with Jordan and Israel. The prized hi-tech apparatus, much of it unfamiliar to Western spy agencies, was quickly shipped out of Syria for examination in the West.
Other Israeli air force targets struck near Damascus airport in Sunday's raid were the 103rd brigade of the 4th Division, which is the Syrian president's republican guard, and the same division's logistic rear base at Dimas near the Lebanese border. The fact that Israel conducted air strikes against two facilities of the same Syrian army division along the route to Lebanon indicates that the targeted weapons were on their way from Syria to Hizballah strongholds in Lebanon.
Syrian TV and Hizballah sources accused Israel Sunday evening, Dec. 7 of carrying out air strikes against two government-held areas, near the Syrian capital's international airport and Dimas, a town near the Lebanese border. Hizballah sources also reported that Israel jets attacked military targets close to the Lebanese border and the old Damascus-Beirut highway. Both claimed that there were no casualties. Israel military sources declined to comment on these reports. One target is said to have been a warehouse at Damascus airport which Israel has bombed in the past to demolish advanced weapons consignments bound for the Lebanese Hizballah. The site at Dimas was a military position. Whether it was manned by Syrian or Hizballah troops is unknown. Syrian and Lebanese sources claim Israeli planes launched at least 10 strikes. The last Israeli air raid took place in March against military positions in the Quneitra region on the Syrian side of the Golan.
WEEK OF NOVEMBER 30 THROUGH DECEMBER 6
Putin Vows to Punish West Over Sanctions & Oil Plunge
Dec. 5….(Bloomberg) President Vladimir Putin vowed to punish speculators attacking the ruble with "harsh" measures in a defiant speech that reached into Russian history to defend his annexation of Crimea and compared his international opponents with Adolf Hitler. "The authorities know who these speculators are and the instruments we can use to influence them," Putin said today in his annual address to parliament regarding efforts to defend the country's currency, which is trading near a record low. "The time has come to use these instruments."
Putin, who did not comment on the tailspin in oil prices in his 70-minute speech, also announced plans for an amnesty for those returning capital to Russia. The president said he'll eliminate unnecessary bureaucracy as he works to reassure a nation threatened by a spiraling economic crisis. The data show a Russian economy reeling from an oil-price plunge this year of more than a third and sanctions imposed by the US and its allies over the conflict in Ukraine. The Economy Ministry acknowledged this week that gross domestic product in the world's biggest energy exporter may shrink in 2015 for the first year in six. Inflation last month accelerated more than economists predicted, reaching the fastest pace since June 2011.
Putin, speaking in a chandeliered hall of the Grand Kremlin Palace in Moscow, promised to repel any effort to force Russia to back down over Ukraine as he recalled how his country fought off the Nazis in World War II, which is known in Russia as the Great Patriotic War and is an emotional rallying point for the population. More than 27 million citizens of the Soviet Union died in the conflict after Hitler invaded the country in 1941, violating a non-aggression pact. "Hitler, with his humanity hating ideas, was going to destroy Russia and throw us back behind the Urals," Putin said. "Everyone should remember how this ended. Next year we will commemorate the 70th anniversary of the victory in the Great Patriotic War. Our army overcame the enemy, freed Europe."
The ruble has lost a third of its value since Putin started his incursion into the Ukraine's Crimean peninsula in March, the most among 24 developing countries Bloomberg tracks. The ruble slid 1.1 percent to 53.77 per dollar following Putin's comments, erasing gains earlier in the day. Putin's anti-West rhetoric during the speech was "one degree higher than usual" as the Russian leader tried to use it to rally support, said Gleb Pavlovsky, a former Kremlin adviser. "The historical part of the speech was very strange. Putin is in a conspiracy mode."
White House spokesman Josh Earnest said Putin had presented a "revisionist narrative on the crisis in Ukraine" that was "deeply troubling but utterly unconvincing." "Western" allies are seeking to weaken Russia with sanctions and attacks on the ruble and oil price, Mikhail Fradkov, the head of Russia's foreign intelligence service and a former prime minister, told Bloomberg News after Putin's annual address. The drop in the oil price is partially caused by US actions and foreign investment funds are "taking part" in ruble speculation via intermediaries, Fradkov said.
The Bank of Russia today reduced the rate it charges banks to borrow foreign currency in a bid to slow the ruble's slide and ease a dollar shortage. The ruble has "substantially" deviated from its fundamental value, creating risks for financial stability and spurring expectations of inflation and depreciation, the central bank said in a statement on its website, reiterating its readiness to intervene without limits.
Barack Obama Seeking to Unseat Israel's Benjamin Netanyahu
Dec. 5….(DEBKA) President Barack Obama and his White House National Security team headed by Susan Rice have decided to seize on the political crisis besetting the Israeli government and the upcoming general election on March 17 for action to bar Binyamin Netanyahu's reelection to a fourth term as prime minister. This decision reverberated through Future party leader Yair Lapid's assertion Wednesday night, Dec. 3, after he was sacked as finance minister, that Binyamin Netanyahu would not be next prime minister. He laid claim to the premiership himself. The Obama administration has maintained close ties with Lapid during the foreshortened 22 month-life of the departing Israeli government.
The White House is still working on a detailed plan of action, but has lost no time in setting up appointments for the president to receive heads of the parties sworn to overthrow Netanyahu, among others, ex-minister Lapid, opposition leader Yitzhak Herzog of Labor and Tzipi Livni (The Movement), who was fired this week as Justice Minister along with Lapid. They will be accorded attractive photo-ops with Obama and joint communiqués designed to signify to the Israeli voter that the US president would favor their election to the future government and the country as a whole would gain tangibly from a different government to the incumbent one. This White House campaign would be accompanied by leaks from Washington for putting Netanyahu and his policies in a derogatory light. Messages to this effect were transmitted to a number of serving political figures as an incentive to jump the Likud-led ship to opposition ranks. The US administration has begun hinting that it may emulate the Europeans by turning the screws on Israel as punishment for the prime minister's signature policy of developing West Bank and Jerusalem development construction.
Accounts reaching Debkafile speak of an outburst of joy in the White House over news of the Netanyahu government's breakup. It was seen as an opportunity to finally get rid of Binyamin Netanyahu and a golden opportunity to bring Israel back to negotiations with the Palestinians with the Obama administration finally chalking up a success.
At the same time, some senior sources in the US capital confided to Debkafile that administration joy over political developments in Israel could quickly prove premature, either in view of another round of violence overtaking the Middle East, or by once again misreading Israel's political map before stepping in and so failing in its object. But for now the circles around the US president are "highly optimistic" about their chances of forcing Netanyahu's exit, comparing them to the former success of the first President George Bush in forcing the ouster of the late Yitzhak Shamir as Israeli prime minister in the 90s.
Meanwhile, on Wednesday night, Dec. 3, US Congress passed the US.-Israel Strategic Partnership Act that raises by $200 million the value of emergency US weapons stocked in Israel to a total of $1.8 billion, and guarantees Israel's qualitative military edge over its neighbors and foes. The motion, passed by a voice vote in the House after clearing the Senate unanimously last September, also promotes closer links in energy, water, homeland security, alternative fuel technology and cyber-security. The bill now goes to President Obama for his signature.
ISIS Beheads Kids For Being Christians
(These Christian children from Mosul, Iraq, who fled with their families from violence in their country, found safety in Jordan, unlike the brave young martyrs in Iraq who refused to renounce Jesus even at the point of a sword.)
Dec. 5….(Charisma News) Some of the bravest martyrs this generation may ever know are teenagers, and perhaps even younger. When Islamic State militants threatened four children in Iraq, all under the age of 15, with death if they did not promise to follow Islam's "prophet" Muhammad, they defiantly stated, "No. We love Yasua (Jesus). We have always followed Yasua."
Andrew White, an Anglican priest known as the "Vicar of Baghdad," has seen violence and persecution against Christians unprecedented in recent decades. In a CBN News video embedded on this site, he recounts the story of the Iraqi Christian children who were told by ISIS militants to convert to Islam or be beheaded. "ISIS turned up and they said to the children, 'You say the words that you will follow Muhammad,'" White says on the video. "The children, all under 15, four of them, they said, 'No, we love Yasua. We have always loved Yasua. We have always followed Yasua. (This spelling is similar to the Hebrew name, Yeshua, which is translated "Jesus" in English and Spanish.) Yasua has always been with us,'" White recounted. "[The militants] said, 'Say the words!' [The children] said, 'No, we can't do that.' "They chopped all their heads off."
White's account does not make clear whether he personally witnessed the children's martyrdom, nor does it say where in Iraq this occurred. "How do you respond to that?" he asked rhetorically. "You just cry. They are my children. That is what we have been going through. That is what we are going through." "Militants say to one man, an adult, 'You say the words of conversion or we will kill all of your children.' He was desperate. He said the words. Then he phoned me and said 'Father I said the words, does that mean Yasua doesn't love me anymore? I have always loved Yasua. I said those words because I couldn't see my children be killed.' I said, 'Jesus still loves you. He will always love you.'"
Anti-Israel Obama Considering Sanctions on Israel
Dec. 5….(Washington Free Beacon) The Obama administration is refusing to discuss reports that emerged early Thursday claiming that the White House is considering imposing sanctions on Israel for continuing construction on Jewish homes in Jerusalem. State Department spokeswoman Marie Harf dodged several questions on Thursday when confronted with reports that the administration had held secret internal meetings to discuss taking action against Israel for its ongoing building in East Jerusalem. The classified meetings were reportedly held several weeks ago and included officials from both the State Department and White House, according to the Israeli daily Ha'aretz, which first reported on the meetings.
The possibility of sanctioning Israel for its ongoing construction sends a signal that the Obama administration is willing to go further in its denunciations of Israel then any previous White House. At the same time, the White House is vigorously pushing Congress against passing new sanctions on Iran.
News of the supposed meeting leaked to the press though Israeli officials who were apparently apprised of the discussion. Senior Israeli officials told Haaretz "that White House officials held a classified discussion a few weeks ago about the possibility of taking active measures against the settlements," according to the report. The discussion about levying sanctions on Israel reportedly began after Israeli Prime Minister Benjamin Netanyahu's October meeting at the White House and the subsequent battle between Washington and Jerusalem over settlement construction.
The thought of the White House leveling sanctions on Israel as it works to lessen those already imposed on Iran prompted consternation on Capitol Hill and throughout the pro-Israel world. One senior congressional aide who works on the issue of Israel expressed shock that a White House could even discuss such action. "If these reports are true, this would mark a new era of unprecedented hostility from the White House against our strongest ally in the Middle East," the source said. "It's impossible not to notice the irony of the administration mulling sanctions on Israel while threatening to veto new sanctions against Iran." The aide added: "The president should be forewarned that taking such action against Israel would yield tremendous pushback from Congress." Those in the pro-Israel world expressed a similar view when reached for comment. "Even this administration, which has been historically hostile to our Israeli allies, even as they worked overtime to bomb the enemies of Iranian proxies across the Middle East, could not possibly be so aggressively committed to undermining our alliances as to levy sanctions against Israel at the same time they're lifting them on Iran," said one senior official with a pro-Israel organization who agreed to speak only on background.
Others took a more critical view. "The Obama administration is against sanctions on Iran, but for them on Israel," said Noah Pollak, executive director of the pro-Israel organization Emergency Committee for Israel.
Jordan King Abdullah Warns Israel over Temple Mount
Dec. 3….(Jerusalem Post) The Jordanian government sent an official letter to Israel warning against making any changes to the status quo in Jerusalem. The letter called on the government of Prime Minister Benjamin Netanyahu to carry out its duty to prevent "attacks" by "the herds of extremists and settlers" on al-Aksa Mosque, a Jordanian newspaper reported on Monday. This message accompanied parallel contacts Jordan made with the US administration on the same subject, according to a report in Al-Arab Al-Yawm.
Meanwhile, King Abdullah of Jordan returned home on Sunday from Egypt after discussing the issue with its president, Abdel Fattah al-Sisi. The talks dealt mainly with international and regional efforts to combat terrorism, The Jordan Times reported. The two leaders also discussed reviving peace talks between the Palestinians and Israelis in order to achieve a two-state solution. The Jordanian king raised the issue of Jerusalem and briefed Sisi on his country's efforts to "defend" the holy sites there and counter Israeli acts of "targeting" al-Aksa Mosque, said the report.
A Jordanian MP said in a discussion regarding parliament's moment of silence and reading verses from the Koran for the two Palestinian terrorists who murdered five Israelis and injured others in an attack at a Jerusalem synagogue: "Our people in Palestine expect us to support them, and to recite Koranic verses for the souls of their martyrs," the Middle East Media Research Institute (MEMRI) reported. "This is the very least we can do for the sake of those heroes, who defend the honor of the Arab nation," said MP Khalil Attieh in an interview on Jordanian Roya TV that aired last week. "By Allah, it is an honor to incite against the Jews. It is a great accomplishment to provoke and incense them." "Hating the Jews is a great honor for me and it makes me walk with my head high, because they are worthy of hatred," said the Jordanian MP.
Separately, in front of parliament on Sunday, Jordanian activists protested against signing a gas deal with Israel, The Jordan Times reported. The protesters also submitted a petition to lawmakers. "We are here to say no to buying gas from the enemy. We reject that the government buys gas from the occupation and supports its economy," Hisham al-Bustani, a representative of the Jordanian Coordination Committee against Importing Gas from Israel, told The Jordan Times at the protest. Jordan and Israel intend to finalize a 15-year gas deal worth $15 billion.
UN Approves Arab-Backed Call for Israel to Renounce Nukes
(UN General Assembly votes 161-5 for non-binding resolution urging Israel to open facilities to international oversight)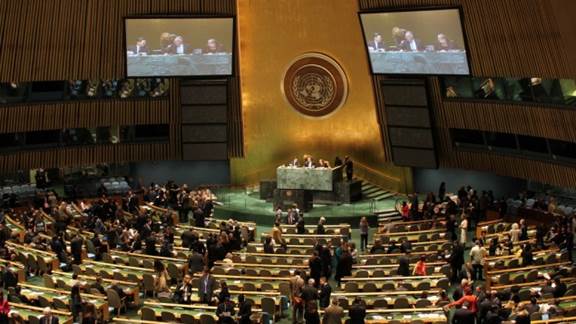 Dec. 3….(Times of Israel) The UN General Assembly overwhelmingly approved an Arab-backed resolution Tuesday calling on Israel to renounce possession of nuclear weapons and put its nuclear facilities under international oversight. The resolution, adopted in a 161-5 vote, noted that Israel is the only Middle Eastern country that is not party to the Treaty on the Non-Proliferation of Nuclear Weapons. It called on Israel to "accede to that treaty without further delay, not to develop, produce test or otherwise acquire nuclear weapons, to renounce possession of nuclear weapons" and put its nuclear facilities under the safeguard of the UN's International Atomic Energy Agency. The United States and Canada were among four countries that joined Israel in opposing the measure, while 18 countries abstained. Israel is widely considered to possess nuclear arms but declines to confirm it.
The resolution, introduced by Egypt, echoed a similar Arab-backed effort that failed to gain approval in September at the Vienna-based IAEA. At the time, Israel criticized Arab countries for undermining dialogue in the region by repeatedly singling out the Jewish state in international arenas. Israel's UN Mission did not immediately return a request for comment Tuesday.
The UN resolution, titled "The risk of nuclear proliferation in the Middle East," pushed for the establishment of a nuclear weapons-free zone in the Middle East and lamented that US-backed efforts to convene talks were abandoned in 2012.
Israel has long argued that a full Palestinian-Israeli peace plan must precede any creation of a Mideast zone free of weapons of mass destruction. The country also argues that Iran's alleged work on nuclear arms is the real regional threat. Iran denies pursuing such weapons. General Assembly resolutions are not legally binding but they carry moral weight because it is the only body where all 193 UN member states are represented.
French Parliament Votes to Recognize Palestinian State
(Israel laments symbolic vote, which sees lawmakers urge government to recognize Palestine, with 339 in favor and 151 against)
Dec. 3….(Times of Israel) French lawmakers voted on Tuesday in favor of recognizing Palestine as a state, following similar moves in Britain and Spain as European countries try to restart the stalled Middle East peace process. The highly symbolic vote in the lower house National Assembly is not binding on French government policy but sparked criticism from Israel, whose Prime Minister Benjamin Netanyahu has warned it would be a "grave mistake." "Israel believes the vote in the National Assembly, which supports recognition of the state of Palestine, will only distance the chances of reaching an agreement between Israel and the Palestinians," said the spokesperson of Israel's Foreign Ministry, Emmanuel Nahshon. "Such decisions will only make the Palestinian positions more extreme and sends the wrong message to the leaders and peoples of this region," he said. A solution to the conflict will only be found through direct negotiations between the two parties and not through unilateral actions, Nahshon added.
MPs voted 339 to 151 in favor of the motion, which invites Paris to recognize the state of Palestine "as an instrument to gain a definitive resolution of the conflict." "France today chose the wrong partner and I fear repercussions in relations with Israel, the only democracy in the region," said Meyer Habib, a center-right lawmaker who also holds Israeli citizenship and is close to Netanyahu. "While radical jihad killed citizens of France and other parts of the free world, legitimization is given to the establishment of a state run my corrupt people and terrorists," he said in a statement published minutes after the vote.
Palestinians are seeking to achieve statehood in Gaza and the Israeli-held West Bank, with East Jerusalem as its capital. With little progress on reaching a settlement, they have been lobbying foreign powers for international recognition. During a debate on the issue Friday, Foreign Minister Laurent Fabius stressed that Paris would recognize Palestine if diplomatic efforts failed again and urged a resolution to the Middle East conflict within two years.
France is spearheading a drive at the United Nations to unfreeze the moribund peace process, and the Palestinian envoy to the UN said earlier Tuesday a draft resolution could be submitted to the Security Council by mid-December. Riyad Mansour told AFP the text was set to lay out a time-frame for negotiations on a final peace deal and possibly a deadline for Palestinian statehood. It would also pave the way for a last-ditch international conference that France has offered to host. This European initiative was expected to be discussed in Brussels when US Secretary of State John Kerry holds talks with European ministers during a NATO meeting.
Russia Intercepts Details of US-Saudi talks About Assad's Demise
(Putin has assured Syria it 'won't stand for' any Western attack)
Dec. 3….(WND) The United States and Saudi Arabia are holding discussions about the possibility of targeting the regime of Syrian President Basher al-Assad, according to a top source in Assad's regime. The source said the information was intercepted by Russia. The discussion about targeting Assad was at the heart of the visit to Russia last week by Syrian Foreign Minister Walid al-Moualem, the source said. Moualem met with Russian President Vladimir Putin and Russian Foreign Minister Sergei Lavrov at Russia's Black Sea resort of Sochi. Kremlin spokesman Dmitry Peskov told reporters the leaders were discussing "bilateral relations," but he declined to further comment on the matter of Moualem's visit.
The Assad-regime source said Moualem's meetings in Russia centered on "urgent" information intercepted by Moscow that the Saudis were discussing with the U.S. and other Western allies the possibility of striking Assad's forces during a planned counter-attack against ISIS positions in Syria. The source told WND that Putin and Lavrov assured Moualem that Russia "won't stand for" any Western attack on Assad and that the Russians pledged "support" and "protection" to the Assad regime.
WND reported last week that, according to informed Middle Eastern security officials, Turkey and Saudi Arabia sought to base their cooperation in the fight against ISIS on a US agreement to also target Assad's forces. The sources said the US did not agree to expand the battle beyond ISIS to target the Syrian regime. The Obama administration seems unlikely to acquiesce to any requests to target Assad's forces as part of the fight against ISIS. According to reports, Chuck Hagel's departure as defense secretary may have come amid disagreements over whether to target Assad. Hagel reportedly raised concerns that the US strategy against ISIS did not fully address the issue of the Syrian regime.
Last month, Hagel refused to confirm reports he had sent a letter to National Security Adviser Susan Rice documenting his concerns about the lack of a strategy on Assad. He did tell Pentagon reporters at a briefing that Assad "derives some benefits" from the US-led coalition's exclusive focus on ISIS. Earlier this month, Hagel told the House Armed Services Committee there is "no change and there is no different direction" regarding the decision not to target Assad's regime.
Meanwhile, the Middle Eastern defense officials described a planned "big counter attack" against ISIS by the end of this year or the beginning of 2015. The officials said the strategy includes more likely coalition air strikes against ISIS plus an increased number of deployed US and Western advisers to train the Iraqi Army and Kurdish fighters. The officials described numerous US and Western requests to Turkey and Saudi Arabia to help train and direct thousands of rebels to fight ISIS.
The Palestinians Big Lie
Dec. 3….(Myths and Facts) The artificiality of a Palestinian identity is reflected in the attitudes and actions of neighboring Arab nations who never established a Palestinian state themselves. The rhetoric by Arab leaders on behalf of the Palestinians rings hollow. Arabs in neighboring states, who control about 97 percent of the Middle East land, have never recognized a Palestinian entity. They have always considered Palestine and its inhabitants part of the great Arab nation, historically and politically as an integral part of Greater Syria, a designation that extended to both sides of the Jordan River. In the 1950s, Jordan simply annexed the West Bank since the population there was viewed as the brethren of the Jordanians.
The Arabs never established a Palestinian state when the UN in 1947 recommended to partition Palestine, and to establish an Arab and a Jewish state, not a Palestinian state, it should be noted]. Nor did the Arabs recognize or establish a Palestinian state during the 19 years prior to the Six-Day War when Judea and Samaria, known also as the West Bank, were under Jordanian control and the Gaza Strip was under Egyptian control; nor did the Palestinian Arabs themselves clamor for autonomy or independence during those years.
And as for Jerusalem: Only twice in the city's history has it served as a national capital. First as the capital of the two Jewish Commonwealths during the First and Second Temple periods, as described in the Bible, reinforced by archaeological evidence and numerous ancient documents. And again in modern times as the capital of the State of Israel. It has never served as an Arab capital for the simple reason that there has never been a Palestinian Arab state.
Abbas Presents 'Plan of Attack' for Palestinian State
(Details of Abbas's speech to the Arab League reveal full-fledged scheme to bypass Oslo Accords and declare Palestinian state.)
Dec. 2….(Arutz) More details have been released regarding Palestinian Authority (PA) Chairman Mahmoud Abbas's speech to the Arab League on Saturday revealing that Abbas has concocted a comprehensive plan to flatten Israel politically and bypass the need for bilateral negotiations to establish a Palestinian state. Abbas's plan includes approaching the UN Security Council with a draft resolution to establish the state in Judea and Samaria, over 1949 Armistice lines, as he has threatened to do before. However, the details of the plan include a specific "plan of attack" against Israel, as follows:
· To turn to the UN Security Council with the draft resolution for a Palestinian state, with its capital in Jerusalem.
· To add the "State of Palestine" to international bodies and organizations, including the International Criminal Court (ICC), and file charges against Israel. Abbas noted here that Israel has preceded him in this regard, a reference to litigation filed against him by rights group Shurat Hadin over war crimes he and the Palestinian Authority perpetuated during Operation Protective Edge in Gaza, by virtue of the PA's unity pact with Hamas.
· Preparation of an international meeting in Geneva to officially declare a Palestinian State on 1949 Armistice Line borders.
· Calls on countries who have not yet recognized the PA-Hamas government as the country "Palestine" to do so. This aspect of the plan follows the recent declaration by three separate Western countries (Sweden, the UK, and Spain) whose parliaments have recognized "Palestine," and ahead of a controversial vote on the issue by a fourth (France).
Abbas is indeed moving forward with plans to turn to the Security Council with a resolution setting a deadline for Israel to "end the occupation", a unilateral move that is in violation of the Oslo Accords. The move has been accompanied by public threats, with Abbas having recently threatened to cut ties with Israel if his latest unilateral move at the UN fails. However, this may be the first time that Abbas has revealed the full extent of his scheme to play the political system in the PA's favor and flaunt his ability to do so regardless of the Oslo Accords and other tenets of international law.
Abbas justified this in Cairo Saturday by noting at the end of his speech that, in his opinion, Israel "is no longer a peace partner" and that he intends to internationalize the Palestinian "cause" in accordance with his political action plan. He further said that he demanded that the United States and its Secretary of State John Kerry work together with him to not only pressure Israel to stop "settlement construction" via the UN resolution, but also to schedule the fourth release of Palestinian terrorists, withdraw the IDF from "islands" of Jewish communities in Judea-Samaria, and restart peace talks to legitimize the PA's seizure of land Israel liberated in the Six-Day War. He added that if the Security Council does not approve the draft resolution to be submitted soon about setting a date for the establishment of a Palestinian state, the Palestinians intend to redefine their relations with Israel, and in this context to halt security coordination and transfer the responsibility for control of Judea and Samaria to Israel as "an occupying power." Abbas then took the time to praise all Palestinians who "struggle against the Occupation," including terrorists, who he praised as "the pure martyrs" and "wounded heroes." The Arab League applauded Abbas's speech, and declared their support for his agenda at the end of his address.
France Calls for International Israeli-Palestinian Peace Conference
Dec. 1….(Times of Israel) French President Francois Hollande said Thursday that France has a role to play in renewing stalled Israeli-Palestinian peace talks and was seeking to organize an international peace conference for the purpose. "France must take the initiative to find a diplomatic solution" to the ongoing Israeli-Palestinian conflict "that has been going on for decades," the French president said in a joint interview to France 24, TV5 Monde and RFI.
The French president said that a solution must be found of the basis of the two-state model, a Palestinian state neighboring an Israeli state with security guarantees. France's expected vote follows Britain, Spain and Ireland, whose lawmakers have largely opted to recognize a Palestinian state, albeit symbolically. On October 30, Sweden's government became the first Western European nation in the EU to officially recognize Palestinian statehood.
Abbas: Palestinians will Never Recognize Israel as Jewish State
Dec. 1….(Times of Israel) Palestinian Authority President Mahmoud Abbas said Saturday that the Palestinians would never recognize Israel as a Jewish state, and accused Israel of establishing an apartheid government. The Palestinian leader was speaking in Cairo at an emergency session of the Arab League with foreign ministers from around the Arab world. His remarks came following a week of intense debate among Israeli politicians about a Knesset bill which would enshrine Israel's status as a Jewish state in law. "We will never recognize the Jewishness of the state of Israel," Abbas was quoted by Channel 10 saying. The news outlet also reported that Abbas threatened to terminate all security cooperation between Israel and the Palestinian Authority in the West Bank unless peace negotiations are revived. Talks collapsed in April, and Israel will not resume them so long as Abbas is partnered with the Hamas terror group in a Palestinian unity government.
Abbas charged that instead of advancing the peace process, Israel was working to set up an apartheid state, including Jews-only buses, establishment of Israeli legal sovereignty over West Bank settlements, the proposed "Jewish State" law, and requirements of declarations of loyalty by citizens. "Return to negotiations is possible if Israel agrees to a full freeze of settlement construction, including Jerusalem, release of the fourth group of long-term prisoners, and setting a timetable for negotiations which will begin with setting borders," Abbas said.
Israel agreed to release four groups of Palestinian prisoners as a precondition for the American-mediated negotiations that began last year, but refused to free the final batch in March in a dispute over Palestinian demands that Israeli Arab prisoners be included, and having failed to secure Abbas's agreement that the talks would continue beyond the original April deadline. Abbas said Saturday that the Palestinians weren't willing to wait any longer for progress and were determined to petition the United Nations Security Council to demand a timetable for the end to Israel's occupation of the Palestinian territories. "It's impossible for us to wait any longer, because Israel continues its aggression and expropriation of lands and setting facts on the ground by continuing to build settlements," Abbas was quoted saying. "The government of Israel doesn't want, for internal reasons, to define its borders and we can't continue with this situation." Abbas was expected to receive Arab League approval to lodge the UN petition in the coming days, but did not say when he would do so.
According to Channel 10, Abbas said he asked US Secretary of State John Kerry to cooperate in drafting the Security Council proposal, in order to put pressure on Israel to cease settlement construction. The resolution is likely, but not certain, to fail, either because it falls short of the needed votes or because the US will veto it. But it will likely add momentum to international backing for Palestinian statehood. Abbas warned that the Palestinians could take other steps, including joining the International Criminal Court, if the Security Council rejects the resolution.
The PA president said he would take these steps unless Israel "takes responsibility for the situation." "The situations in the West Bank is dangerous, and can't continue," Abbas said. "All signs point to the fact that the American mediation of peace talks failed with the end of negotiations."
---