WEEK OF JANUARY 25 THROUGH JANUARY 31
Hezbollah Attacks Northern Israel
(Israeli forces respond by shelling southern Lebanon)
Jan. 29….(WND) The Iranian-backed Hezbollah terrorist organization claimed responsibility today for a series of attacks on northern Israel as the Israel Defense Forces responded with artillery fire, shelling targets inside southern Lebanon. "In response to Hezbollah attacks today, the IDF responded with combined aerial and ground strikes at Hezbollah operational positions," an IDF spokesman told WND.
The IDF reported mortars hit a military position on Israel's Mount Hermon, which houses a military base as well as a civilian ski site. "The IDF is evacuating civilians from the site and closing the site," the army stated.
In another attack at about the same time, an anti-tank missile hit an IDF vehicle in the Har Dov area near the Lebanon border, killing two soldiers and wounding an additional seven, two of them moderately, the IDF told WND. The attacks prompted an IDF response. There are reports a Spanish UNIFIL (United Nations Interim Forces in Lebanon) soldier was killed in the ensuing shelling in southern Lebanon. It was not immediately clear whether the UNIFIL soldier was killed by Hezbollah fire or return IDF assaults. UNIFIL said it was investigating the incident. Another one of Hezbollah's mortars fired from Lebanon fell short and struck a home in Ghajar, a village that straddles the border, Israel's Haaretz reported.
Indicating the Hezbollah attack was premeditated, Turkey's Anatolia news agency reported Hezbollah had evacuated its facilities along the border last night, apparently expecting Israeli retribution. Foreign Minister Avigdor Lieberman told reporters Israel should react in a "forceful and disproportionate manner" to the Hezbollah attacks. He was speaking from Beijing, where he was meeting with China's foreign minister. Lieberman argued China would similarly not stand for such attacks without a major response.
IDF spokesman Moti Almoz said the military holds Hezbollah accountable for the attacks and announced the IDF's shelling of targets in south Lebanon "would not necessarily be the final response to this incident." Israel has been on alert and anticipating retaliation after an Israeli official took the unusual step of acknowleding his country was responsible for a strike 10 days ago on a Hezbollah convoy near the Israeli side of the Golan Heights. The attack killed Iranian Revolutionary Guard Gen. Mohammed Allahdadi as well as a Hezbollah commander and the son of the group's late military leader, Imad Muughniyeh. Hezbollah said six of its members died in the strike.
Iran Seeking to Open Front Against Israel on Golan Heights
Jan. 29….(Jerusalem Post) Iran is seeking to open a new front against Israel from the Syrian Golan Heights, Defense Minister Moshe Ya'alon said Monday during a visit to Israel Aerospace Industries (IAI) to mark Space Week. Speaking a little more than a week after an air strike, attributed by international media reports to Israel, that struck and killed 12 Iranian Revolutionary Guard Corps and Hezbollah operatives in Quneitra, Syria, near the Israeli border, Ya'alon appeared to link the air strike to Iran's activities in Syria.
Two IDF soldiers were killed and seven were injured in a multi-pronged attack carried out by Hezbollah from Lebanon on Wednesday. IDF Spokesman Brig-Gen. Moti Almoz described two incidents that unfolded. In the first, an anti-tank missile fired from southern Lebanon struck an IDF vehicle traveling with other military vehicles, resulting in a number of injures among IDF soldiers.
Israel deployed artillery and aircraft to hit back at Hizballah and allied targets in South Lebanon and a broad military clash ensued lasting more than 90 minutes. The Iranian proxy claimed the attack as retaliation for the Jan. 18 attack which killed 6 of its fighters and an Iranian general.
A broad military clash between Iran-backed Hizballah and Israel erupted on Israel's northern borders. Residents of Metula and other border locations were ordered to stay indoors and keep their doors and windows shut; tourists warned to stay out of the region and road traffic halted. Israeli massed military strength in border areas after moving figures on the Lebanese side were feared preparing to cross the border for terrorist attacks on abductions under cover of fire.
Ya'alon, who visited the defense company's missile and satellites plant in Yehud together with Prime Minister Benjamin Netanyahu, said IAI allows Israel to be one of the few countries that are members of the limited club with satellites in space for both security and civilian needs. "One can understand, in light of the challenges we face today, the importance of our space capability when we talk about long-range threats and, particularly, as we see, Iran, which continues to be a source of Middle East instability. The Islamic State is a phenomenon that has to be dealt with, and what we are seeing in the past 30 years is that Iran is turning into a source of instability in the Middle East. "This is true with regard to the need to prevent Iran from having a military nuclear capability, and it's true regarding the need to prevent it from attacking us, whether from Lebanon with Hezbollah or from Gaza, with Hamas and Islamic Jihad, or whether it's what we saw last Sunday, an Iranian arm that is beginning to develop, to open a front against us on the Golan Heights," he said.
Iran's tentacles also reach into Afghanistan, Iraq, Yemen and other places. Hence, the place we are in now is so important in terms of our ability in space to deal with these distant challenges, he said.
Obama Secretly Working to Unseat Netanyahu
Jan. 28….(Frontpage) When the media whines about how Netanyahu is undermining Obama, remember that Obama's people are running a direct anti-Netanyahu election campaign in Israel. Exactly the way that Clinton's people did. Haaretz reporter Roy (Chicky) Arad revealed in an article in the Hebrew edition today that the foreign funded organization, "One Voice", is bankrolling the V-2015 campaign to defeat Binyamin Netanyahu's national camp in the March 2015 Knesset Elections.
One indication of the generous financing is that it has now flown in a team of five American campaign experts (including Jeremy Bird, the Obama campaign's national field director) who will run the campaign out of offices taking up the ground floor of a Tel Aviv office building.
V-2015 is careful not to support a specific party, rather "just not Bibi". As such, the foreign funds pouring into the campaign are not subject to Israel's campaign finance laws. Jeremy Bird is as Obama as it gets. He's a Harvard trained community organizer who was Obama's Deputy National Field Director in '08 and his National Field Director in '12. He was the Deputy Director of Organizing for America and is now working for Ready for Hillary. One Voice's partners include the State Department and the European Commission.
With the help of American money and a former campaign adviser to President Barack Obama, V15 is trying to replace Israel's government. The money and organization comes from V15's partnership with OneVoice. OneVoice is expected to merge with V15 before the March 17 election. The groups have a common goal: To recruit tens of thousands of volunteers for house-to-house canvassing, knocking on anywhere between 150,000 and 1 million doors, a method that was effective in Obama's first presidential campaign, in particular. Their secret campaign weapon is Jeremy Bird, a 36-year-old American political strategist who works for Obama.
Obama Sends Campaign Army' to Tel Aviv to Topple Netanyahu
(After White House snubbed PM to 'avoid influencing election')
Jan. 28….(WND) A consulting firm almost entirely composed of former staffers of President Obama's re-election campaign has been hired to run an election effort in Israel aimed at defeating Prime Minister Benjamin Netanyahu. The conservative blogosphere is reporting Jeremy Bird, national field director for Obama's 2012 campaign, is now working for a new non-profit group, V15, that is running an effort to defeat Netanyahu in the upcoming election. A closer look at Bird's consulting firm as well as its working relationship with the Israeli groups finds he is just one of scores of former senior Obama election campaign staffers now working on the anti-Netanyahu effort.
Last week, the Obama White House rejected an opportunity to meet with Netanyahu in March when he is in Washington to address a joint meeting of Congress, saying it didn't want to influence the Israeli elections. The White House criticized House Speaker John Boehner for inviting Netanyahu, accusing him of "breaking protocol."
The left-leaning Haaretz daily in Israel reported V15 is "trying to replace Israel's government" and cause "nothing less than an electoral upset" in elections here in March. Haaretz reporter Roy Arad writes that he directly asked V15 founder Nimrod Dweck whether his group's goal was "anyone but Bibi," referring to Netanyahu by his popular nickname. Dreck replied: "We say 'replace the government,' it's not directed at specific individuals. There have been many years of right-wing governments during which little happened, it's time to change course and give people hope."
V15, or "Victory 2015" is backed by a US-UK group called "One Voice," whose official Tel Aviv offices are adjacent to those of V15. One Voice bills itself as an "international grassroots movement that amplifies the voice of mainstream Israelis and Palestinians." It has a clearly leftist tone. One Voice put out a press release Tuesday that was decidedly anti-Netanyahu.
Most of the former Obama staffers comprise the senior posts at the firm. Others worked for the Democratic Party, the Democratic National Committee or grassroots groups involved in progressive efforts, including a group to enroll Americans in Obamacare. Besides Bird, the 270 Strategies team includes the following former Obama staffers:
Mitch Steward, a 270 Strategies founding partner who helped the Obama campaign build what the UK Guardian called "a historic ground operation that will provide the model for political campaigns in America and around the world for years to come."
Mark Beatty, a founding partner who served as deputy battleground states director for the Obama campaign. He had primary responsibility for Obama's election plans for the battleground states.
Marlon Marshall, a founding partner at 270 Strategies who joins the team after holding several key positions in national Democratic politics, most recently as deputy national field director for the 2012 Obama campaign.
Betsy Hoover, a founding partner who served as director of digital organizing on the Obama campaign.
Meg Ansara, who served as national regional director for Obama for America where she was responsible for overseeing the 2012 programs in the Midwest and southern states.
Bridget Halligan, who served as the engagement program manager on the digital team of the 2012 Obama campaign.
Kate Catherall, who served as Florida deputy field director for Obama's re-election campaign.
Alex Lofton, who most recently served as the GOTV director of Cleveland, Ohio, for the 2012 Obama campaign.
Martha Patzer, the firm's vice president who served as deputy email director at Obama for America.
Jesse Boateng, who served as the Florida voter registration director for Obama's re-election campaign.
Ashley Bryant, who served most recently as the Ohio digital director for the 2012 Obama campaign.
Max Clermont, who formerly served as a regional field director in Florida for Obama's re-election campaign.
Max Wood, who served as a deputy data director in Florida for the 2012 Obama campaign.
World Marks 70 Years Since Auschwitz's Liberation
Jan. 28….(Jerusalem Post) Holocaust survivors from around the world concentrated in the Polish city of Krakow on Monday in anticipation of a ceremony marking the 70th anniversary of the liberation of the Auschwitz concentration camp in nearby Oswiecim, in what will possibly be the last such gathering of the rapidly aging former prisoners.
Survivors, journalists and heads of state are slated to make their way to what survivor Mordechai Ronen called "one of the biggest cemeteries in the world." "I came to say a prayer for my father, mother and two sisters who went to the crematorium without being able to say good-bye," he told The Jerusalem Post, his shoulders heaving as he sobbed. Ronen said he returned to Auschwitz to tell the world what happened here and that while he hopes that there will never be a recurrence, "today, unfortunately, there are those who denied it even happened." His ability to relate his story, however, makes him a victor, Ronen added.
The theme of remembrance and the responsibility to maintain a chain of memory was a major leitmotif Monday evening, as speaker after speaker addressed the gathered survivors at a hotel in downtown Krakow. The frailty of the returnees was underscored by the presence of medical teams circulating throughout the event. "You are witnesses. You serve as our eyes and memory to what happened here," said World Jewish Congress president Ronald Lauder.
The survivors, he asserted, represent the victory of light over darkness, and while those who were not part of the Holocaust cannot understand what its victims endured, "we do know [that] the way you lived your lives after you were liberated teaches us an important lesson in human dignity."
Recalling having learned to count through reading the numbers tattooed on the arms of survivors, filmmaker Steven Spielberg, whose USC Shoah Foundation-The Institute for Visual History and Education has collected over 50,000 videotaped survivor testimonials, explained that their stories are key in fighting against resurgent hate. "We are once again facing the perennial demons of intolerance" at the hands of "anti-Semites, extremists and religious fanatics" who want to strip you of your past story and identity again, he told the survivors.
The best way to combat "growing efforts to banish Jews from Europe" is to "call on each other to do what the survivors have already done [and] to remember and not forget.... Ours is a just cause and we will make sure lessons of the past will remain with us in the present, and we will find humanitarian ways to fight inhumanity." "It is painful to come back," Israel Arbeiter told the Post. "It brings back bad memories."
Having survived Auschwitz when his entire family had been wiped out, he said that his experiences are "impossible to tell and impossible to believe," but that he felt that coming here now was still of great importance.
Bringing so many aging survivors to Auschwitz at the same time represents "the closing of the slaughterhouses of the Jewish people," he said.
Baruch Gross, who was shipped to Auschwitz in 1944 as a 16-year-old, said that he felt that his presence at the camp would be "emotionally helpful," but that coming here had brought up memories upon which he would normally not dwell. "It's like opening a wound," he said.
Today there is a lack of knowledge and interest in what happened, he mourned. "I'm very disturbed by the fact.
We should never forget what the Germans and other anti-Semites did to us. It is incumbent upon us to pass on the teachings and history of the Holocaust for later generations."
Both Lauder and officials of the Auschwitz-Birkenau State Museum stressed the importance of both preserving the survivors' stories and the physical infrastructure of the camp itself.
In a prerecorded video, famed novelist and Holocaust chronicler Eli Wiesel told those gathered that while he has never found answers to the question of "what made human beings so cruel to other human beings," he knows that to forget or to distort cannot possibly be the solution.
Speaking to reporters, Lauder questioned why the allied armies during the Second World War did not bomb the death camps and save countless lives. Keeping to the theme of indifference, Lauder asserted that the Nazis were emboldened in their treatment of the Jews by the silence with which the world greeted their actions on Kristallnacht.
"We must ask ourselves, did we learn a lesson?" Lauder said, adding that while millions marched in France after the slaughter of the staff of satirical newspaper Charlie Hebdo and the murder of four Jews at a kosher supermarket, "had there been just the four Jews killed, there would have been no march and no reaction."
Lauder blasted the international community for standing by while Christians are being killed throughout the Middle East, comparing the situation to the 1940s. "What happened in Nazi Germany is that the world did not react, and once again we see the world not reacting," he said, imploring the press to speak to the survivors and see their tears and hear their voices. "Auschwitz is more than a place. It's a symbol of people's indifference to what's happening."
Faith of Christians in Niger Grows, Despite Muslim Persecution
Jan. 27….(Christian Headlines) Christians in Niger are joyfully meeting in homes under police protection as they plan to rebuild church buildings and houses after attacks last weekend that were unprecedented in scale. "Nothing of this magnitude has ever happened in this nation," wrote one missionary couple in the capital, Niamey. "Nearly every church in the capital city of Niamey was burned or looted, along with some schools and orphanages and several other churches and Christian homes throughout the nation."
Muslims protesting the depiction of the prophet of Islam in the French satirical magazine Charlie Hebdo destroyed 72 church buildings and killed at least 10 people in attacks that began in Zinder on Jan. 16 and hit Niamey the next day, according to Christian support organization Open Doors. A church leader today put the total of ruined church structures at 68, and a final count remained uncertain.
Analysts suspect a growing amount of Islamic extremist preaching, coupled with political rivals fanning flames of furor over Niger President Mahamadou Issoufou participating in a unity march in Paris against the terrorist attack on Charlie Hebdo offices, contributed to the scale of the attacks. More than 170 people were reported to have been injured. "Last night the church members met for prayer as the pastor, who lost everything, encouraged them by flashlight to not only stand strong, but to move forward and to know that this attack will grow the church," wrote the missionary couple to concerned partners. "The room was dark on the outside but illuminated by the fire in the hearts of His people, even as stones were being thrown on the roof."
Christians in Niger praise God in spite of church building gutted in attacks in Niamey. In spite of the violence, so many present at the church meeting were eager to share testimonies of God's faithfulness during the attacks that they were asked to wait until Sunday, they added. "Our two churches in Niamey, along with the pastors' homes, were destroyed," they wrote. "We also have three Bible schools that sustained various amounts of destruction. The overall damage was extensive, and there is much loss. Now begins the process of rebuilding and restoring what was lost."
The Rev. Mai'aki Kadaidai, president of the Evangelical Church in the Niger Republic, told Morning Star News by phone that attacks on Christians and churches were spread across five regions and the capital. "This is the first time we are witnessing violence of this magnitude against the church and Christians," Kadaidai said. "In all, 68 churches were destroyed across five regions of Agadez, Damagaram, Diffa, Maradi, Zinder, and in our country's capital city of Niamey. The Muslim rioters destroyed five of our EERN churches, destroyed four homes of our pastors and many of our members were adversely affected."
Abubakar Shekau, leader of extremist group Boko Haram in neighboring Nigeria, released a video after the unrest saying attacks in Niger, Nigeria, Chad and Cameroon would continue. Native Christian workers in Niger aided by Christian Aid Mission, which assists ministries based in the country, said there were signs that more attacks could follow. "There have been rumors of Muslims going around marking Christians' houses for further attacks.
A Christian leader in Niamey said 46 Protestant church buildings and 15 Catholic worship sites in the capital were burned, according to Christian Aid Mission. At least three Christians killed in the attacks were trapped inside church buildings. Attacks began on Jan. 16 in Zinder with the destruction of several church buildings and Christian-owned homes. Several other towns suffered damages as the violence spread to the capital by the next day, with angry Muslims also looting shops, attacking police stations, bars and hotels, and ransacking businesses that were either of French origin or owned by non-Muslims.
Muslims make up about 98 percent of Niger's population and have lived in relative peace with the country's miniscule (0.3 percent) Christian minority. In spite of growing Islamic extremist elements within the country, few in Niger expected to hear the chants of "Kill the infidels, kill the Christians," as protestors ransacked the nation. Niger was unranked on Open Doors' 2015 World Watch List of the worst persecutors of Christians.
The president of Niger called several Christian leaders together to give him counsel on how to restore calm after the devastation, pastors said. The amount of damages has yet to be calculated, but the missionary couple said rough initial estimates of repairs needed for their ministries would total more than $45,300. "Our first priority is to take care of the needs of our pastors and their families," they wrote. "They both lost almost everything." Preliminary estimates of damages to their pastors' properties were $23,000; church properties, $16,000; and Bible school property, $6,300. Further building repairs were yet to be determined. "The estimates are still coming in, and in a country considered one of the poorest in the world, the rebuilding task seems insurmountable," they wrote. "But Jesus told us that nothing is impossible to him who believes."
Iran's Occupation of Syria
Jan. 27….(By Joseph Puder) Most people immersed in Middle Eastern affairs have heard the charge, ad-nauseam, "Israeli occupation" of the West Bank. The United Nations (UN) agencies, the European Union (EU), large segments of the American and European media, and many of the so called human rights watchdogs have been critical of Israel's "occupation," albeit the Jewish state has attempted to make peace with the Arab states and the Palestinians all along. Moreover, UN Security Council Resolution 242 considered the West Bank "disputed territory." What one does not hear from the shrill chorus of the aforementioned voices is criticism of the Iranian occupation of Syria. There are no UN resolutions demanding Iranian withdrawal from Syria, or a firm US government statement to that effect. This amounts to sheer hypocrisy and a double standard.
The current fighting in the Syrian civil war is being directed, fought, and funded by the Islamic republic of Iran. It employs the Iranian Revolutionary Guards (IRG) and Lebanese Hezbollah in the fighting, as well as other non-Syrian Shiite militias (essentially Iraqis). They were moved to Syria with Iranian funds. The Alawi-led (Alawi's are a breakaway sect of Shiite Islam) Assad regime would not have survived without the direct intervention of the Iranian regime. Whereas prior to the March, 2011 civil war in Syria, Tehran and Damascus have had a mutually beneficial alliance, which has now become one where Iran is the dominant force in the territories still controlled by the Assad regime.
Shiar Youssef, head of the Naame Shaam's Research and Advocacy Team had this to say about the Iranian involvement, "The Syrian regime is little more than a puppet in the hands of the Sepah Pasdaran (IRG), Qassem Soleimani is the de facto ruler of Iranian occupied Syria." Naame Shaam is an independent campaign group focusing on the Iranian regime's role in Syria. It is a source of independent news commentary on the Syrian revolution and the Iranian regime's role in suppressing it. The group is comprised of Iranian, Syrian and Lebanese activists and citizen-journalists. The group's Campaign Director is Fouad Hamdan from Lebanon, and Shiar Youssef from Syria. According to Naame Shaam, there is a legal case for treating the war in Syria as an international conflict that involves a foreign occupation by the Iranian regime and its militias, and a liberation struggle by Syrian people against this foreign occupation, as defined by the 1907 Hague Regulations and the Fourth Geneva Convention of 1949. Youssef charged that, "The war in Syria should be regarded as an international conflict that warrants the application of the four Geneva conventions. Regime-held areas in Syria should be considered, in the strict legal sense of the word, territory occupied by Iran."
Saudi Arabia's Foreign Minister Prince Saud al-Faisal, at a meeting with German Foreign Minister Frank-Walter Steinmeier in the Red Sea city of Jeddah on October 13, 2014, pointed out, "Iran must withdraw its occupying forces from Syria to help resolve the country's conflict." He added, "In many conflicts, Iran is part of the problem, not the solution. In this case, we can say that Iranian forces in Syria are occupying forces aiding President Bashar al-Assad who is an 'illegitimate' leader."
While Steinmeier viewed the Islamic State (IS) as a "threat to the entire world," he failed to note that Iran is no less of a threat, and by all measures a much greater threat. Writing for the Australian Strategic Policy Institute, Andrew Nikolic asserted that "Admittedly ISIL (also known as ISIS and IS) cast a long and fearful shadow, but there are potentially worse threats lurking, which demand urgent attention. They include the maverick trifecta of Iran, Russia and North Korea. Unlike ISIL, each of those international 'problem-states' comes disproportionately better armed, including ready-made or emerging nuclear capability, accompanied by an unpredictable senior leadership." Nikolic added, "Replace the ghastly spectre of ISIL's severed heads and slain thousands with an Iranian nuclear device used somewhere in the Middle East, and the mind is concentrated wonderfully about the broader potential for a worse crisis."
It is not only the threat of a nuclear Iran that should frighten the free world. Iran's sponsorship of worldwide terror, and it meddling throughout the Middle East, in its hegemonic drive to control the region and the world if possible, should cause free people everywhere sleepless nights. Addressing the UN last September, Israel's Prime Minister Benjamin Netanyahu said, "Make no mistake, ISIL must be defeated, but to defeat ISIL and leave Iran as a threshold nuclear power is to win the battle and lose the war." Ron Dermer, Israel's ambassador to the US stated that "(Iranians) are not a partner, they were not a partner, and they never will be a partner. Iran as a nuclear power is a thousand times more dangerous than ISIS." Dermer was referring to President Obama's suggestion of cooperating with Iran on defeating ISIS.
US President Barack Obama has been silent about Iran's occupation of Syria. His inaction with regards to the Iranian/Assad atrocities against Syrian civilians is deafening. The Obama administration did nothing as the Syrian regime with Iranian and Hezbollah's help destroyed Syria's famed cities of Aleppo and Homs, long before the emergence of ISIS and the al-Qaeda affiliated Nusra Front. Obama's red-line against Assad's use of chemical weapons poisoning Syrian civilians was embarrassingly shelved. Recent moves by the Obama administration reveal that it has exploited the US led military campaign against IS in order to increase cooperation with Iran in matters of regional security. The Obama administration, as expected, dismisses allegations of "coordination" with Iran. Yet, President Obama is pursuing Iran's Supreme Leader Ayatollah Ali Khamenei with letters offering cooperation, only to be dismissed. Khamenei keeps bashing the US, which refuses to get the message that Iran feels superior to the weak US president and the morally rotting West.
Iran today controls Assad's Syria and its IRG runs the show. Iran is also the dominant power in three other Arab capitals; Baghdad, Beirut, and Sanaa (Yemen). The Obama administration has increasingly acquiesced to the new Middle Eastern regional strategic balance. In fact, President Obama has stated that "Iran has influence over Shiites, both in Syria and Iraq, and we have a shared enemy in ISIL "
The International community led by the US should demand the withdrawal of IRG and Hezbollah forces from Syria, while at the same time arming the Syrian opposition and combatting ISIL. There should be no lifting of economic sanctions on Iran if the Iranian regime fails to provide basic human rights. Nuclear negotiations with Iran should not be extended, allowing it to buy time in order to consolidate its dominance in Iraq, Lebanon, Syria, and Yemen as well as complete its nuclear weapons program. And finally, the US, its European allies, and the media, must clearly acknowledge and protest Iran's occupation of Syria, and end their hypocritical singular focus on Israeli withdrawal.
Iran Vows to Attack Israel From West Bank
(Deputy head of Revolutionary Guards says Tehran to 'open new fronts' in response to strike that killed Iranian general)
Jan. 26….(Times of Israel) ran has threatened to attack Israel from the West Bank, in retaliation for an alleged Israeli airstrike in Syria on Sunday that left 12 Iranian and Hezbollah operatives dead. The airstrike has been attributed to Israel and though Jerusalem has not officially confirmed it, anonymous government sources have admitted as much.
Deputy head of Iran's Revolutionary Guards Lt.-Gen. Hossein Salami vowed Saturday to "open new fronts against Israel and change the balance of power." In an excerpt of an interview with Salami, the IRGC's number two said that Iran and Hezbollah would provide a "special reprisal" to the strike, according to the Tasnim News Agency, adding that opening a new front in the West Bank was in the works. "Opening up a new front across the West Bank, which is a major section of our dear Palestine, will be certainly on the agenda, and this is part of a new reality that will gradually emerge," Salami said in the inteview with Iran's Arabic-language news channel al-Alam.
Iran and Hezbollah have issued a series of threats since the strike earlier this week, warning of a "crushing response," and "destructive thunderbolts." The dead included an Iranian general and senior Hezbollah commanders, Muhammad Issa and Jihad Mughniyeh, son of slain terror mastermind Imad Mughniyeh. There have been conflicting reports as to whether Israel knew that Iranian general Mohammed Allahdadi was in the convoy.
Israeli officials have told Moscow that Israel viewed the strike as an act of self-defense, and that Hezbollah had forced Israel's hand by building an offensive infrastructure on its border. Jerusalem stressed it did not want the situation to deteriorate into a regional conflict. Russian leaders conveyed this message to Beirut and Tehran. A report on Channel 2 Friday said the strike targeted the leaders of a substantial new Hezbollah terror hierarchy that was set to attempt kidnappings, rocket attacks and other assaults on military and civilian targets in northern Israel.
The new terror unit involved Mughniyeh, who was coordinating with the commander of the Quds Force of Iran's Revolutionary Guards, Qasem Soleimani, the Channel 2 report said. There was no suggestion in the report that Soleimani, a key figure in supporting Syrian President Bashar Assad and Hezbollah, was in the area at the time. The terrorist hierarchy included recruitment and intelligence departments, and was set to begin operations targeting Israel from the Syrian Golan, including "kidnappings, firing rockets and mortar shells, and using anti-tank weapons against Israeli residential areas." The unit was set up "with Iranian sponsorship," the report said. Israel's targeting of some of its members underlined that "a red line was crossed that Israel would not tolerate."
The TV report said Israel was braced for a response. If that response targeted Israeli civilians, however, subsequent Israeli retaliation would endanger the Assad regime in Syria, Channel 2's military commentator Roni Daniel said. He did not state a source for that assertion.
Iran: Our Goal Remains Israel's Full Obliteration
Jan. 26….(Israel Today) A top Iranian general last week reiterated that one of the Islamic Republic's chief military goals remains the "full obliteration" of the Jewish State of Israel, according to Iran's state-run PRESSTV.
Iranian forces "will continue and deepen support for the Muslim combatants and fighters in the region until full removal of this very epitome of evil from the geopolitics of the region," said the chief of Iran's Islamic Revolution Guards Corps, Maj.-Gen. Mohammad Ali Jafari (pictured), in reference to Israel. Jafari was responding to last week's assassination of another Iranian general, Mohammad Ali Allahdadi, who was killed when Israel targeted Hezbollah field commander Jihad Mughniyeh near the border of the Golan Heights. Iran has long supported, facilitated and directed Hezbollah terrorism against Israel.
FOJ Note: Imagine any state claiming that it intends to obliterate another. Then try to imagine the main allies of that hated state negotiating/chatting with the aggressor nation tin a farce of diplomatic display to enable them time to accomplish their stated goal. The Obama Administration is enabling Iran to surround America's allies in the Middle East, and permit them to threaten Israel.
US-Saudi Summit in Riyadh to Deal with Oil Prices, Iran and Yemen
Jan. 26….(DEBKA) President Barack Obama, having decided to cut short the third day of his India visit, will arrive in Riyadh Tuesday, Jan. 27 with the First Lady, to offer US condolences on the death of King Abdullah and hold critical talks with his successor, King Salman Bin Abdulaziz. He will want to clear the air most urgently on three controversial items of burning interest to both leaders: Riyadh's flat opposition to the multilateral nuclear deal with Iran and skepticism in the face of Obama's conviction that a comprehensive accord will curtail the Islamic Republic's drive for a nuclear weapon.
Next, the US leader will try and persuade the new Saudi ruler to slow down oil production in order to put the brakes on plunging prices, an example which other OPEC members are sure to follow.
Finally, Obama and Salman must decide how to handle the fall of Yemen into the hands of Shiite Houthi rebels, who have seized the capital Sanaa with Iranian support and brought down the US-Saudi-sponsored president Abed Rabbo Mansour Hadi.
Two secondary issues will be the struggle against the Islamic State of Iraq and the Levant in the oil kingdom's back yard, in which the US and Saudi Arabia are coalition partners; and the situation in the Syrian conflict.
Since this is an outsize agenda for one meeting, Debkafile's sources in Washington and the Gulf expect Obama to focus in his initial encounter with Salman on the broad lines of the nuclear Iran dispute and oil prices. Detailed discussions on these and other issues will be set aside for US and Saudi officials of lower rank to hammer out in the coming weeks, as the new king begins to take hold of the reins of government.
A number of Middle East leaders will be following the outcome of this Riyadh summit with bated breath. Many are worried that Obama may persuade the new monarch to play ball with his Middle East policies, so effecting a radical reversal of the late Abdullah's stance of flat opposition to Obama's tactics in the region, aside from isolated cases.
A decision by Salman to accept America's lead on the Iranian nuclear question and oil prices would be a serious blow for the anti-US Arab front, spearheaded hitherto by Saudi Arabia, Egypt and some of the Gulf emirates. It would also be a setback for Israeli Prime Minister Binyamin Netanyahu's fight against Obama's nuclear diplomacy for Iran. This policy was underpinned by the Saudi-Egyptian political and military partnership that aimed at stalling the deal crafted by Washington, which purported to lay to rest the nuclear controversy with Iran.
WEEK OF JANUARY 18 THROUGH JANUARY 24
FOJ Note: I have been hospitalized for a week, and postings had been delayed in my absence.
Yemeni Crisis Bolsters Iran
(Fall of Yemen threatens US counter-terrorism after Obama declared Yemen a 'success')
Jan. 23….(WND) The resignation of Yemeni President Abed Rabbo Mansour Hadi and the takeover by Iranian-backed Houthi Shiite rebels helps extend Iran's influence into Yemen but doesn't necessarily give Tehan control of the entire country, which also is home to al-Qaida in the Arabian Peninsula, or AQAP, according to analysts.
The Houthi takeover of the Yemeni capital of Sanaa could splinter the country, placing neighboring Saudi Arabia in greater jeopardy not only from threats from AQAP and ISIS but also by igniting more rebellion in Saudi Arabia's eastern province. The province, which is predominantly Shiite, is in the region of the Saudi kingdom's oil production.
Iran gains the most from the two developments, said Liz Cheney, one-time Republican candidate for the US Senate and the daughter of former Vice President Dick Cheney, in a brief Fox News interview. While the Houthis are against AQAP, they also are anti-American. "(The Houthis) hate al-Qaida," one former US official told the London Daily Mail, "but they also hate the United States." Cheney said that as Iran now extends its influence well into Iraq, Syria and Lebanon, the Obama administration is suffering further loss with the development in Yemen as well as the death of Saudi King Abdullah.
Mathew Levitt, director of the Washington Institute's Stein Program on Counterterrorism and Intelligence, said the current crisis in Yemen adversely affects US counter-terrorism efforts. "The country has become a safe haven for both sides of extremists," Levitt said. "Sunni extremists could control the southern part of the country while Shiite extremists could control the north," he said. Levitt said there is a proxy war between Iran and Saudi Arabia as well as a sectarian conflict going on at the same time. "While this is happening in other places, Yemen just happens to be the most recent country where this is occurring," he said.
The death of Saudi King Abdullah also may stop the flow of financing to Yemen that until now has propped up the Hadi government and helped US counter-terrorism efforts, which also could be in jeopardy. The fall of the Hadi government comes just months after President Obama declared US-Yemeni counter-terrorism efforts "sucessful," even though AQAP has taken over more areas in the country and ISIS also has begun to make inroads.
Sen. John McCain, R-Ariz., asserted Obama's pronouncement of Yemen as a success reflects a "misguided" US policy and shows that the president "is either delusional or misinformed."
While Hadi submitted his resignation, the Yemeni parliament rejected it, meaning that under Article 115 of the Yemeni constitution, the president needs to wait three months before submitting a second resignation, which the parliament cannot reject. As a result, Hadi would remain in power until April 22 if he were to resubmit his resignation. While the Houthis control the Yemeni capital, one Middle East analyst speculated the Shiite group wasn't necessarily seeking the overthrow of the government but was pushing for a political settlement that would give the group more autonomy in parts of the country.
The Yemeni parliament that remains in place is set to discuss further the prospect of a political settlement with the Houthis, who initially were offered some concessions but not enough. Abu al-Malek Yousef al-Fishi, an ideologue of the Houthis, proposed setting up a presidential council that would include the Houthi-led groups, the army and some political parties.
With Hadi's resignation, the head of the Yemeni parliament now takes charge of the country. Just after Hadi resigned, Yemeni Prime Minister Khalid Bahah also resigned, saying he didn't want to be part of the country's collapse. That left the head of the Yemeni parliament, Yahya al-Rayi, temporarily in charge. Analysts say Rayi, who has the backing of the former Yemeni president, Ali Abdullah Saleh, tends to be pro-Houthi.
If the government in Sanaa were to totally collapse, however, analysts say AQAP stands to benefit the most, since it gives the jihadist group that claimed responsibility for the Jan. 7 Paris terrorist attack even more areas to operate.
Saudi King Abdullah Dies, New Ruler is Salman
(Successor, 79, has been crown prince and defense minister since 2012)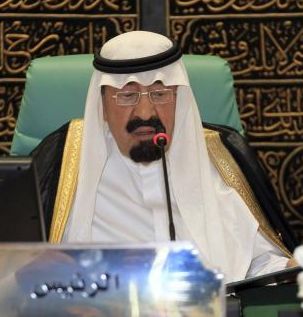 Jan. 23….(WND) Saudi Arabia's King Abdullah died early on Friday and his brother Salman became king, the royal court in the world's top oil exporter and birthplace of Islam said in a statement carried by state television. King Salman has named his half-brother Muqrin as his crown prince and heir. "His Highness Salman bin Abdulaziz Al Saud and all members of the family and the nation mourn the Custodian of the Two Holy Mosques King Abdullah bin Abdulaziz, who passed away at exactly 1 a.m. this morning," said the statement.
Abdullah, thought to have been born in 1923, had ruled Saudi Arabia as king since 2006, but had run the country as de facto regent for a decade before that after his predecessor King Fahd suffered a debilitating stroke. At stake with the appointment of Salman as king is the future direction of the United States' most important Arab ally and self-appointed champion of Sunni Islam at a moment of unprecedented turmoil across the Middle East.
Abdullah played a guiding role in Saudi Arabia's support for Egypt's government after the military intervened in 2012, and drove his country's support for Syria's rebellion against President Bashar al-Assad.
King Salman, thought to be 79, has been crown prince and defense minister since 2012. He was governor of Riyadh province for five decades before that. By immediately appointing Muqrin as his heir, subject to the approval of a family Allegiance Council, Salman has moved to avert widespread speculation about the immediate path of the royal succession in the world's top oil exporter.
Abdullah pushed cautious changes in the conservative Islamic kingdom including increased women's rights and economic deregulation, but made no moves towards democracy and was a hawk on policy towards rival Iran.
King Salman has been part of the ruling clique of princes for decades and is thought likely to continue the main thrusts of Saudi strategic policy, including maintaining the alliance with the United States and working towards energy market stability. During his five decades as Riyadh governor he was reputedly adept at managing the delicate balance of clerical, tribal and princely interests that determine Saudi policy, while maintaining good relations with the West. In the long term Saudi rulers have to manage the needs of a rapidly growing population plagued by structural unemployment, and an economy that remains overly dependent on oil revenue and undermined by lavish subsidies.
Saudi Arabia, which holds more than a fifth of the world's crude oil, also exerts some influence over the world's 1.6 billion Muslims through its guardianship of Mecca and Medina, Islam's holiest sites.
Yemen Chaos, Saudi King's Death Pose Defeats for Obama/US
Jan. 23….(Fox News) The collapse of the Yemeni government, coupled with the death early Friday of Saudi Arabia's King Abdullah, have in an instant thrown the future of America's fight against Islamist extremists in the volatile region into question, while potentially giving Iran more sway. The Obama administration is still assessing the political earthquakes in the Arabian Peninsula, and for the near-term says the top priority in Yemen is the security of US personnel. The State Department said it has reduced the number of personnel at the US Embassy in the capital city of Sanaa. But when the sands settle, a new government, or no government at all, in Yemen could complicate one of the administration's most active counter-terror drone programs in the world. And the new leadership in Saudi Arabia raises questions about the country's future involvement in fighting the Islamic State and other pressing issues.
Further, a former US diplomat close to the Saudi royal family told Fox News the two developments, which occurred within hours of each other, represent a "worst-case scenario" for the US in terms of Iran's ability to extend its influence. With the collapse of Yemen's government, the former diplomat said Tehran's influence is now seen in at least four Middle Eastern capitals – Sanaa in Yemen, Baghdad in Iraq, Damascus in Syria, and to a lesser extent Beirut in Lebanon.
Saudi Arabia has long been a key US ally, and a bulwark against Iran's reach. Given the line of succession, the king's half-brother Salman bin Abdul-Aziz Al Saud has replaced him, the former diplomat did not expect major policy changes in the short-term. But the source added the Saudi policy on Yemen has not been clear since 2009, and the diplomat even anticipated a softer stance from the Kingdom on Syria, where the late king committed Saudi airpower to fighting the Islamic State.
King Abdullah's death may also open up a bigger power vacuum in Riyadh than first believed. The Wall Street Journal reported that US officials do not consider the 79-year-old Salman to be a strong or healthy ruler in his own right, which raises the possibility that others in the royal family could come to the forefront.
Most immediately, the Obama administration faces a critical challenge in Yemen, where President Abed Rabbo Mansour Hadi, a US ally, resigned Thursday after being held captive by Houthi rebels. Yemen has allowed the United States to wage one of its most robust counter-terror drone strike operations in the world, largely targeting Al Qaeda in the Arabian Peninsula operatives, the same group that claimed credit for the Paris terror attacks.
Last September, when he spoke about his strategy to fight the Islamic State, President Obama cited counter-terror programs in Yemen and Somalia as success stories. In his State of the Union address on Tuesday, he said, "We're partnering with nations from South Asia to North Africa to deny safe haven to terrorists who threaten America." But the Yemen partnership is now in question. A former Pentagon official said the unraveling of security conditions in Yemen was well-understood within the intelligence community and there were strong indicators as early as September that the country was on an accelerated downward spiral. The official indicated there are no guarantees a Yemen government under new control would honor the agreements made with the US government which allow for the CIA and military to launch drone strikes. He also claimed it's not clear that Iran is "exerting any kind of command and control" over the rebels in Yemen, despite their ties.
As for Saudi Arabia, Obama hopes to speak with the new king in the coming days and expects a "strong relationship will endure under the leadership of the new king."
Abdullah, a Sunni Arab, made one of the main priorities of his rule countering mainly Shiite Iran whenever it tried to make advances in the region. He also backed Sunni factions against Tehran's allies in several countries, but in Lebanon, for example, the policy failed to stop Iranian-backed Hezbollah from gaining the upper hand.
Citing Saudi officials, the paper reports that King Abdullah became less fond of the US in the final years (Obama) of his reign. The king repeatedly pushed Obama to lend stronger backing to the rebels against Syrian President Bashar al-Assad, against whom he bore a personal animus, and was reportedly furious when airstrikes threatened against Damascus by Obama in the summer of 2013 did not come to pass. The officials also said that the late king took a dim view of ongoing talks between the US and Iran over the latter nation's nascent nuclear program, seeing it as a sign that Washington was more than willing to work behind its ally's back.
Among the other decisions facing Salman is whether he will continue the country's ongoing strategy of increased levels of oil production. The country produced 9.6 million barrels a day in January, according to Platts, the energy information division of McGraw Hill. That's enough to satisfy 11 percent of global demand, despite a global price drop of nearly 60 percent since June. The price of US crude was up 88 cents, or 1.9 percent, to $47.19 a barrel in after-hours trading Thursday.
A Saudi Palace Coup
Jan. 23….(Huffington Post) King Abdullah's writ lasted all of 12 hours. Within that period the Sudairis, a rich and politically powerful clan within the House of Saud, which had been weakened by the late king, burst back into prominence. They produced a palace coup in all but name. Salman moved swiftly to undo the work of his half-brother. He decided not to change his crown prince Megren, who was picked by King Abdullah for him, but he may choose to deal with him later. However, he swiftly appointed another leading figure from the Sudairi clan. Mohammed Bin Nayef, the interior minister is to be his deputy crown prince. It is no secret that Abdullah wanted his son Meteb for that position, but now he is out.
More significantly, Salman, himself a Sudairi, attempted to secure the second generation by giving his 35- year old son Mohammed the powerful fiefdom of the defense ministry. The second post Mohammed got was arguably more important. He is now general secretary of the Royal Court. All these changes were announced before Abdullah was even buried. The general secretaryship was the position held by the Cardinal Richelieu of Abdullah's royal court, Khalid al-Tuwaijri. It was a lucrative business handed down from father to son and started by Abdul Aziz al Tuwaijri. The Tuwaijris became the king's gatekeepers and no royal audience could be held without their permission, involvement, or knowledge. Tuwaijri was the key player in foreign intrigues -- to subvert the Egyptian revolution, to send in the troops to crush the uprising in Bahrain, to finance ISIL in Syria in the early stages of the civil war along his previous ally Prince Bandar bin Sultan.
The link between Tuwaijri and the Gulf region's fellow neo-con Mohammed bin Zayed, the crown prince of Abu Dhabi, was close. Tuwaijri is now out, and his long list of foreign clients, starting with the Egyptian President Abdel Fattah el-Sisi may well feel a cooler wind blowing from Riyadh. Sisi failed to attend the funeral on Friday. Just a question of bad weather?
Salman's state of health is cause for concern, which is why the power he has given his son is more significant than other appointments announced. Aged 79, Salman is known to have Alzheimers, but the exact state of his dementia is a source of speculation. He is known to have held cogent conversations as recently as last October. But he can also forget what he said minutes ago, or faces he has known all his life, according to other witnesses. This is typical of the disease. I understand the number of hospital visits in the last few months has increased, and that he did not walk around, as he did before. So his ability to steer the ship of state, in a centralized country where no institutions, political parties or even national politics exist, is open to question. But one indication of a change of direction may lie in two attempts recently to establish links with Egyptian opposition figures.
We are told that senior advisers to Salman approached an Egyptian liberal opposition politician and had a separate meeting with a lawyer. Neither of them are members of the Muslim Brotherhood but have working contacts with it. Talks were held in Saudi Arabia in the last two months about how reconciliation could be managed. No initiative was agreed, but the talks themselves were an indication of a more pragmatic, or less belligerent, approach by Salman and his advisers. It was understood that these meetings were preparatory to a possible initiative Salman may announce once he was in power.
The policy of the late King was to declare the Brotherhood terrorist organization on a par with the Islamic State and al Qaeda.
Even before the Sudairis made their move, a power struggle within the House of Saud was apparent. Early on Thursday evening, rumors on Twitter that the king was dead flooded the Internet, which is the primary source of political information in the kingdom. There were official denials, when a Saudi journalist on al Watan newspaper tweeted the information. The palace's hand was forced when two emirs tweeted that the king was dead. MBC TV network cut broadcasting and put the Koran on screen, a sign of mourning, while national television kept on with normal programming. This was a sign that one clan in the royal family wanted the news out quickly and the other clan was stalling for more negotiations. The need for a change of course is all too apparent. On the very night in which the royal drama was taking place, a political earthquake was underway in Saudi Arabia's backyard, Yemen. President Abd Rabbu Mansour Hadi, his prime minister and government resigned after days of virtual house arrest by Houthi militia. Hadi's resignation leaves two forces in control of the country both of them armed to the teeth: an Iranian backed militia which gets its training from Hezbollah, and al Qaeda, posing as the defender of Sunni muslims.
It is a disaster for Saudi Arabia and what is left of the ability of the Gulf Cooperation Council to make any deal stick. Their foreign ministers met only the day before. Yemen's former strongman Ali Abdullah Saleh, who was levered out of power three years ago and who according to leaked telephone calls, advised the Houthis on how to grab power, is now calling for fresh elections, and there were already calls on Thursday night for the south to split away from the North. Yemen, in other words, has officially become the Middle East's fourth failed state.
The meteoric rise of the Houthis in Yemen was not the result of spontaneous combustion. It was planned and plotted months ago by Saleh and the United Arab Emirates. Saleh's son, the Yemeni ambassador to the UAE, was a key figure in this foreign intrigue, and as reported before, he met an Iranian delegation in Rome. This was picked by US intelligence and communicated to Hadi. The year before, the then Saudi intelligence chief Prince Bandar flew a leading member of the Houthi delegation via London for a meeting. Incredible as it seemed, the Saudis were re-opening contact with an Iranian backed Zaydi or Shia sect with whom they had once fought bitter wars.
The Saudi/Emirati plan was to use the Houthis to engage and destroy their real target, which was Islah, the Islamist party and chief representative of the Sunni tribes in Yemen. As elsewhere in the Arab world, the entire focus of Abdullah foreign policy after 2011, was to stop the Arab spring in its tracks in Tunisia and Egypt and crush all forces capable of mounting an effective opposition in the Gulf States. Everything else, including the rise of Saudi's foremost regional rival Iran, became subservient to that paramount aim to crush democratic political Islam. The Yemen plan backfired when Islah refused to take up arms to resist the Houthi advance. As a result, the Houthis took more control than they were expected to, and the result is that Yemen stands on the brink of civil war. Al Qaeda's claim to be the only fighters prepared to defend Sunni tribesmen, has just been given a major boost.
It is too early to tell whether King Salman is capable of, or even is aware of the need for changing course. All one can say with any confidence is that some of the key figures who stage-managed the Kingdom's disastrous foreign intrigues are now out. Meteb's influence is limited, while Tuwaijiri is out.
It is in no-one's interests for chaos to spread into the Kingdom itself. Maybe it is just coincidence that Abdullah died almost on the eve of the anniversary of the January 25 revolution in Egypt. But the timing of his death is a symbol. The royal family should learn that the mood of change, that started on January 25 is unstoppable. The best defense against revolution is to lead genuine tangible political reform within the Kingdom. Allow it to modernize, to build national politics, political parties, real competitive elections, to let Saudis take a greater share of power, to free political prisoners.
There are two theories about the slow train crash which the Middle East has become. One is that dictatorship, autocracy, and occupation are the bulwarks against the swirling chaos of civil war and population displacement. The other is that dictators are the cause of instability and extremism. Abdullah was evidence in chief for the second theory. His reign left Saudi Arabia weaker internally and surrounded by enemies as never before. Can Salman make a difference ? It's a big task, but there may be people around him who see the need for a fundamental change in course. It will be the only way a Saudi King will get the backing of his people. He may in the process turn himself into a figurehead, a constitutional monarch, but he will generate stability in the kingdom and the region.
WEEK OF JANUARY 11 THROUGH JANUARY 17
Syria Building Nuclear Facility With Help From Iran, North Korea
Jan. 13….(Israel Hayom) Syrian President Bashar Assad has apparently not given up on his nuclear ambitions, despite the Syrian civil war which has been raging in his country for nearly four years. According to a Friday report by the German magazine Der Spiegel, Syria is building a secret nuclear facility in the mountains near the Lebanese border, with Iranian and North Korean assistance. Syria's previous nuclear reactor in the northeastern Deir ez-Zor region was destroyed in 2007 in what foreign media reports alleged was an Israeli air strike.
Citing Western intelligence reports, Der Spiegel said that Israel was unaware of the secret facility. Analysts believe that Syria had continued working on its nuclear program after the 2007 strike, using top-secret underground compounds. The facility, believed to be located near the town of Qusair, some 2 kilometers (1.2 miles) away from the Syria-Lebanon border, reportedly holds 8,000 fuel rods, and is also believed to house an enrichment facility or nuclear reactor as well. The report further cited an International Atomic Energy Agency report saying Syria "possesses up to 50 tons of natural uranium, enough material for three to five nuclear bombs once the enrichment procedure is completed."
Recent satellite imagery shows six different sites in the area: One is a guard house, and three of the other five structures have entrances to what is believed to be a series of underground facilities. The site has special access to electricity and water. The magazine cited intercepted conversations between an operative from the Lebanese Shiite terrorist group Hezbollah and Syrian Atomic Energy Commission head Ibrahim Othman, in which the former refers to the site as the "atomic factory," and mentions Qusair.
Iranian Revolutionary Guard experts had contributed to the construction of the site, and according to the report "experts believe that the new nuclear facility could never have been built without North Korean know-how. The workmanship exhibited by the fuel rods likewise hints at North Korean involvement."
According to Der Spiegel, part of the secret Syrian uranium stockpile was hidden in the Marj as-Sultan facility 15 kilometers (9 miles) north of Damascus, a site which the IAEA had wanted to investigate and found it suspicious.
As the Syrian Civil War raged on and Syrian rebels attacked a regime base near the Marj as-Sultan, it was decided to evacuate the facility and transport its contents, with close aid from Hezbollah fighters. The site fell to the rebels short afterwards, and the material was moved to the new location near Qusair. Western intelligence first believed the Qusair site was a Hezbollah weapons depot. But close observation led to the conclusion that a nuclear site was being built there secretly since 2009.
Dog Won't Leave Graveside after Burying Puppy
| | |
| --- | --- |
| | (FOJ) I just had to run this story. As a dog lover, it breaks my heart, but also shows the wonderful creatures they can be. If only human beings could learn a lesson from some dogs! |
Jan. 12….(Savannah Now) When 15-year-old photographer Hunter Cone went on a personal photo assignment to find a monument in Laurel Grove North Cemetery in Savannah several days ago, he had no idea that another photo would bring him so much attention. "I was walking through Laurel Grove cemetery," he said. "I looked over and saw a dog. I thought it was a statue because it was so still." Hunter soon realized why the dog was perched in that spot. "I looked closer and saw a dead puppy and realized it was a mom mourning the loss of her puppy," Hunter said.
Hunter said he and his mother, Jennifer Cone, tried to get food and water to the mourning stray, but the dog would not let anyone approach her. Hunter said he and his mother will go to the cemetery every day until they can rescue the dog. "The dog ran off (Wednesday), we found it (Thursday), and saw she had buried the pup under a bush and she was sitting near the puppy still." Hunter maintains the mother won't leave the deceased puppy's side. "I've seen before how mothers treat their puppies, but this is different. She is sticking around, which leads me to believe it must be her last puppy," he said.
Millions Unite Against Terrorism in Historic French Marches
Jan. 12….(AP) Millions marched against terrorism Sunday in the largest protests France has ever seen, led by world leaders in Paris uniting in tribute to the victims of Islamist attacks as the crowd cried "Not Afraid". World leaders, including Israeli Prime Minister Benjamin Netanyahu, linked arms as they marched 1.9 miles through France's capital from Place de la Republique to Place de la Nation. Many of the family members of the victims led the march alongside the world leaders. A minute of silence was held before that march began for the 17 victims murdered over the past 3 days.
The presence of PA President Mahmoud Abbas was out of place at an anti-terrorism rally, considering Abbas's role in the Munich Massacre, his decision to name streets and plazas in the Palestinian Authority after terrorists, and his paying salaries to terrorists in jail.
More than 40 European leaders and almost every French official turned out for the massive unity rally in Paris Sunday, but there was no sign of US President Obama or Vice President Biden, or Secretary of State John Kerry, or any other American diplomat. Apparently, Mr. Obama is still golfing somewhere between Washington and Hawaii, while running up another multi-hundred million dollars bill for the American taxpayer.
Meanwhile, (that defeated and on the run terror network) Al Qaeda's branch in Yemen said it directed the attack in Paris last week by two brothers against a newspaper that lampooned Islam and other religions, and the gunman in the hostage-taking at a kosher market is seen in a new video pledging allegiance to the Islamic State group.
Both Jews and Arabs Proud to be Israeli
Jan. 12….(Israel Today) An annual "state of the nation" survey conducted by the Israel Democracy Institute last week found that a firm majority of both Jews and Arabs are proud to call themselves Israeli. Unsurprisingly, 86 percent of Jewish respondents had no problem identifying with their nationality. But those who often characterize Israel as a racist state might be surprised to learn that 65 percent of Arabs, too, are proud to be Israeli.
The survey also asked respondents to rate national institutions as either trustworthy or not. Amongst Jews, the most trusted were the IDF (88%), the president (71%) and the Supreme Court (62%). Surprisingly, the response from Arab participants was very similar, with most trusting the Supreme Court (60%), the police (57%), the president (56%) and the IDF (51%).
WEEK OF JANUARY 4 THROUGH JANUARY 10
Iran-Backed Militias Are Getting US Weapons
Jan. 10….(Bloomberg) US weapons intended for Iraq's beleaguered military are winding up in the possession of the country's Shiite militias, according to US lawmakers and senior officials in the Barack Obama administration. These sources say that the Baghdad government, which was granted $1.2 billion in training and equipment aid in the omnibus spending bill passed last month, is turning hardware over to Shiite militias that are heavily influenced by Iran and have been guilty of gross human-rights violations.
One senior administration official told us that the US government is aware of this, but is caught in a dilemma. The flawed Iraqi security forces are unable to fight Islamic State without the aid of the militias, who are often trained and sometimes commanded by officers from Iran's Revolutionary Guard Corps. And yet, if the US stopped sending arms to the Iraqi military, things would get even worse, with IS overrunning more of the country and committing human-rights horrors on a broader scale. The risk of not aiding them was greater than the risk of aiding them, the official said, adding that this didn't mean the administration was unconcerned about the risks involved.
The official added that while the government in Baghdad under new Prime Minister Haidar al-Abadi has been more responsive to US concerns about weapons transfers than the previous government of Nouri al-Maliki, it has not been vigilant enough. On Facebook, members of Iraqi Shiite militias proudly display American arms, such as this photo from October of an M1A1 Abrams tank draped in a Hezbollah flag: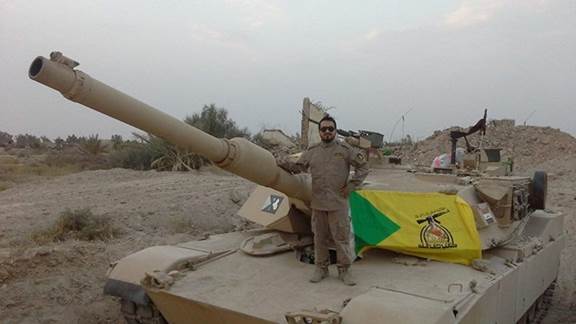 Senator John McCain, the new chairman of the Senate Armed Services Committee, traveled to Baghdad last week and met with senior Americans and Iraqis, including Abadi. He told us that officials from both countries informed him that the Iraqi government was handing over American weapons to Shiite militias connected to Iran. "The Iraqi military is a long way from being prepared to act in an impactful fashion, meanwhile the vacuum is being filled by Shia militias that are Iranian backed. And I was told, that some of those arms came from the United States of America," McCain said. "The Iranians are now, to a large degree, through the Shia militias, in the absence of a capable Iraqi military, doing most of the fighting against ISIS. That cannot be in the US interest." McCain and other US officials said it's difficult to track the exact weapons the Iraqi government is giving the Shiite militias, and it is also unknown whether the militias are receiving weapons that the US gave Iraq long ago or have been sent to since the US re-engaged in fighting in Iraq over last summer.
Ambassador Jim Jeffrey, who was the US envoy to Baghdad from 2010 to 2012, said that the Iraqi government has been transferring weapons to Shiite militias for years, an inevitability given the chaotic nature of the Iraq war. Since the US joined the Iraqi government in its fight against IS over the summer, it and other allied governments have provided a wide array of military assistance, training and arms to the Iraqi security forces, some of which was supposed to be disbursed to other fighting groups such as the Kurdish peshmerga forces. The Kurds allege that Baghdad hasn't given them most of the weapons Washington wanted them to have.
US weapons aren't supposed to be transferred to the Shiite militias, which not only have a long track record of human-rights violations, but of killing US forces during America's occupation of Iraq. Human rights groups are concerned. In a letter to Secretary of State John Kerry, Amnesty International called on the Obama Administration to drastically increase its monitoring and assessments of groups it is arming in Iraq and Syria. "No arms transfers should be authorized until such robust risk assessments are completed. It must first be determined that there is no substantial risk of any further arms supplies being used to commit or facilitate serious violations of international human rights or humanitarian law," it reads.
A big question for the Obama administration is whether Abadi is really doing all he can to rein in the Shiite militias and reach out to the Sunni leaders. During a meeting with Defense Secretary Chuck Hagel last month, Abadi both asked for huge new weapons transfers and also expressed doubt that a long-term reconciliation with the Sunnis is even possible. Two administration officials told us that there is roiling debate inside the Obama national security team about whether Abadi is willing or able unite his nation's religious groups. Some inside the administration are advocating for a tougher approach toward Abadi that uses more sticks and fewer carrots. Yet there is concern that pushing away from Abadi will only lead to less influence in Baghdad for Washington, and more for Tehran. What's clear, for now, is that US policy will continue to involve giving the Iraqi government the help it requests, even if some of that assistance ends up aiding militias that in the past have battled US soldiers and committed atrocities against Iraq's Sunni population.
President Obama Says His Job is to Promote Islam
Jan. 10….(Breitbart) On Thursday, White House press secretary Josh Earnest announced that the Obama administration would prioritize fighting Islamophobia in the aftermath of the terrorist attack on Charlie Hebdo in France. The real problem, according to the Obama administration, is lack of leadership in defending Islam: There are some individuals that are using a peaceful religion and grossly distorting it, and trying to use its tenets to inspire people around the globe to carry out acts of violence. And we have enjoyed significant success in enlisting leaders in the Muslim community, like I said, both in the United States and around the world to condemn that kind of messaging, to condemn those efforts to radicalize individuals, and to be clear about what the tenets of Islam actually are. And we're going to redouble those efforts in the days and weeks ahead.
This, of course, is not the first time the Obama administration has discovered a duty to illuminate the inherent beauty and wonder of Islam. Over and over again, the Obama administration, in high culturally imperialist dudgeon, has attempted to explain to the world the true meaning of Islam. Here are some other examples:
President Obama, 2009: Immediately upon taking office, Obama did an interview with Al-Arabiya in which he explained that his job as president encompassed apologizing to the Muslim world for evil America, and explaining to Americans that Muslims are the cream of the religious crop: My job is to communicate to the American people that the Muslim world is filled with extraordinary people who simply want to live their lives and see their children live better lives. My job to the Muslim world is to communicate that the Americans are not your enemy.
If you forgot the provision of Article II of the Constitution that gives the president the authority to do outreach on behalf of Islam in the United States, that's because it doesn't exist. But don't worry: Obama's on the job.
President Obama, 2009: In speaking about Islam at Cairo University on June 4, 2009, a speech to which the Obama administration invited the then-banned Muslim Brotherhood, Obama stated: So I have known Islam on three continents before coming to the region where it was first revealed. That experience guides my conviction that partnership between America and Islam must be based on what Islam is, not what it isn't. And I consider it part of my responsibility as President of the United States to fight against negative stereotypes of Islam wherever they appear.
If you forgot the provision of Article II of the Constitution that places responsibility for fighting negative stereotypes of Islam in the hands of the executive branch, that's because it doesn't exist. But don't worry: Obama's on the job.
President Obama, 2012: In the aftermath of the murder of four Americans in Benghazi, Libya, President Obama took to the podium of the United Nations to condemn a YouTube filmmaker in the United States exercising freedom of speech: A crude and disgusting video sparked outrage throughout the Muslim world. Now, I have made it clear that the United States government had nothing to do with this video, and I believe its message must be rejected by all who respect our common humanity. It is an insult not only to Muslims, but to America as well, for as the city outside these walls makes clear, we are a country that has welcomed people of every race and every faith. We are home to Muslims who worship across our country. We not only respect the freedom of religion, we have laws that protect individuals from being harmed because of how they look or what they believe. We understand why people take offense to this video because millions of our citizens are among them. The future must not belong to those who slander the prophet of Islam.
If you forgot the provision of the First Amendment to the Constitution that gives the president of the United States the authority to officially criticize exercise of First Amendment rights under color of authority, that's because it doesn't exist. But don't worry: Obama's on the job.
Secretary of State John Kerry, 2014: Last year, as ISIS released video after video of the beheadings of Westerners, Secretary of State Kerry explained that his mission was to promote true Islam, which makes perfect sense, given his status as imam of Martha's Vineyard: Our effort has to start major efforts to delegitimize ISIS's claim to some religious foundation for what it's doing and begin to put real Islam out there and draw lines throughout the region.
If you forgot the provision of Article II that lends authority to the State Department to "begin to put real Islam out there," presumably in violation of the separation of church and state, that's because it doesn't exist. But don't worry: Obama's on the job.
Even as the Obama administration pretends to push "true Islam," the Obama administration completely ignored the words of Egyptian leader General Abdel Fatah al-Sisi, who just days ago called for a "religious revolution" in the Muslim world. Al-Sisi explained: I say and repeat, again, that we are in need of a religious revolution. You imams are responsible before Allah. The entire world is waiting on you. The entire world is waiting for your word, because the Islamic world is being torn, it is being destroyed, it is being lost. And it is being lost by our own hands. It's inconceivable that the thinking that we hold most sacred should cause the entire Islamic world to be a source of anxiety, danger, killing and destruction for the rest of the world. This is antagonizing the entire world. Al-Sisi seems significantly more qualified to lead an educational effort about Islam than Barack Obama. But for the Obama administration to recognize the truth of al-Sisi's statement would suggest that their own ignorance about Islam has prevented them from effecting change for the past six years. And that is an admission that President Obama and his lackeys refuse to make, given their deeply held belief that Islam isn't the problem in any way.
Paris Islamic Terror Attack Exposes Obama's Weakness
(Analyst: US cannot fight 'what we will not name')
Jan. 10….(WND) The jihadist terrorist attack on the French satirical newspaper Charlie Hebdo in Paris leaving 12 people dead has underscored concerns that the Obama administration is in retreat and displaying weakness of US leadership in combating the jihadist threat. Now vice president for research and analysis at the Washington-based Center for Security Policy, Lopez said President Obama and his entire administration "have withdrawn US military forces, withdrawn US power and influence from critical regions, abandoned former allies, Gadhafi, Mubarak, Israel, in order to favor jihadists, whether al-Qaida or the Muslim Brotherhood in Libya, Egypt, Iran, Iraq, Syria." She said the administration refuses to use terminology that correctly identifies the enemy, which she identified as "forces of Islamic jihad and Shariah, Muslim terrorism, Islamic jihad, some combination of these that demonstrates we know that authoritative, mainstream, orthodox Islamic doctrine drives and justifies what Islamic terrorists do." She said that the United States cannot fight "what we will not name." Lopez said there is an unwillingness of those under attack in the "Dar al-Harb," Arabic for territory of war to admit openly what is occurring. She said what the West is facing isn't "extreme" or "radical," since, she said, these words denote deviation from the norm. "But jihad is the norm in Islam," Lopez said. "History shows that it has been for over 1,300 years, and we must acknowledge and confront that if we wish to preserve Western civilization for our children and children's children." "Jihad resurgent, Islamic Jihad by definition is 'warfare against non-Muslims to spread Islam,'" she said, citing a definition from the Umdat al-Salik, Arabic for "Reliance of the Traveler," in the classic Manual of Sacred Islamic Law. She said jihad is in "resurgence" since forces that previously contained it have been removed. Colonialism, the world wars of the 20th century and the Cold War all have ended. "The West appears to the enemy to have lost its appreciation for itself and its own principles and willingness to defend them," Lopez said. "We need to prove them wrong on this, as soon as possible."
The Top 50 Countries Where It's Most Difficult To Be A Christian
Jan. 9….(Christianity Today) New research reveals one more reason to remember 2014: for the greatest number of religious freedom violations against Christians worldwide in recent memory, even in Christian-majority countries. Of the worst 50 nations, 4 out of 5 share the same primary cause. And, while the number of martyrdoms did double from 2013, the main driver of persecution in 2014 wasn't violence.
Open Doors released today its latest World Watch List (WWL). The annual list ranks the top 50 countries "where Christians face the most persecution," aiming to create "effective anger" on believers' behalf. "This year, the threshold was higher for a country to make the list, indicating that worldwide levels of persecution have increased," stated Open Doors in announcing its analysis of the "significant trends" in 2014 that drove persecution higher worldwide, "even in places where it has not been reported in the past."
Overall in 2014, pressure on Christians increased in 29 countries, decreased in 11, and remained stable in 7. Three countries, Mexico, Turkey, and Azerbaijan were added to the watch list this year.
Open Doors researchers measure persecution by "the degree of freedom a Christian has to live out his or her faith in five spheres of life (private, family, community, national, and church life)," as well as by tallying acts of violence.
Researchers calculate that 4,344 Christians were "killed for faith-related reasons" in 2014, which is "more than double the 2,123 killed in 2013, and more than triple the 1,201 killed the year before that," reports World Watch Monitor (WWM). (Measuring martyrdoms has drawn debate in recent years, and Open Doors is usually on the conservative end of estimates.) By far the largest number of deaths occurred in Nigeria, where 2,484 Christians were killed; the next deadliest country for Christians was the Central African Republic (CAR), with 1,088 deaths. The remaining three deadliest countries were Syria (271 deaths), Kenya (119 deaths), and North Korea (100 deaths).
In addition, 1,062 churches were "attacked for faith-related reasons" in 2014. The majority of attacks took place in five countries: China (258 churches), Vietnam (116 churches), Nigeria (108 churches), Syria (107 churches), and the Central African Republic (100 churches). Last year's highest-profile incident: a government campaign to "de-Christianize" the skyline of one of China's most Christian cities. (The Pew Research Center also recently tallied the countries with the most government destruction of religious property.) But it wasn't increased violence that primarily drove persecution to record levels in 2014, but rather increased "cultural marginalization," according to Open Doors. In other words, the "more subtle 'squeeze' dimensions of persecution" which make "daily life ... harder and harder" for Christians. A substantial study by the Pew Research Center found that nearly 75 percent of the world's population now lives in countries with high levels of social hostility involving religion. [CT compared how both groups rank the world's worst persecutors.] "Even Christian-majority states are experiencing unprecedented levels of exclusion, discrimination, and violence," said David Curry, president and CEO of Open Doors USA. "The 2015 World Watch List reveals that a staggering number of Christians are becoming victims of intolerance and violence because of their faith. They are being forced to be more secretive about their faith."
One of those Christian-majority countries is Kenya, which made the biggest leap on the list, from No. 43 on last year's list to No. 19, even though about 83 percent of Kenyans are Christians. A rash of religious violence over the summer spiked tensions and left 100 dead. And in Nigeria, where approximately half the population is Christian, murders and kidnappings by the militant group Boko Haram (most notably of 165 Christian schoolgirls) helped the West African nation reach the top 10 for the first time, rising from No. 14 last year to No. 10 this year. (CT noted how Boko Haram's terrorism is changing Nigeria's churches.)
African countries saw the largest increase in persecution in 2014. Along with Kenya in the 2015 report, Mali and the Central African Republic saw the highest increases in persecution in the 2013 and 2014 reports, respectively. This year, Djibouti, Tanzania, Somalia, and Comoros all rose more than seven spots on the list. "Many other countries in this region are boiling below the top 50 also, and may feature in the future," noted Open Doors.
The primary culprit in Africa and worldwide: "Islamic extremism," which was the "main persecution engine" in 40 of the 50 countries on the 2015 watch list, including 18 of the top 20 countries (only 6 of which are in the Middle East). The No. 2 driver of persecution was "dictatorial paranoia," or "where leaders seek to control religious expression," noted Open Doors. "It is the main persecution engine in 10 countries, including North Korea, and shows up as a secondary persecution engine in 16 more countries." And while "organized corruption"' is the main driver of persecution in only Colombia and Mexico, it is No. 3 (after "Islamic extremism" and "dictatorial paranoia") "when its status as a secondary engine is taken into account," noted Open Doors. "Christians increasingly have to pay a heavy economic price to remain faithful to Christ."
Overall, persecution increased more rapidly in Sub-Saharan Africa than anywhere else in the world, according to Open Doors. Djibouti moved from No. 46 in 2014 to No. 24 this year, the second-biggest leap after Kenya. Tanzania jumped 16 spots to No. 33, and the island nation of Comoros rose 10 spots to No. 32. Eritrea rose from No. 12 to No. 9, and Sudan, where Meriam Ibrahim was imprisoned and sentenced to death for her faith, but was later released and gained asylum in the United States, rose from No. 11 to No. 6.
The top five rankings remained virtually the same as last year, with North Korea at No. 1, followed by Somalia, Iraq, Syria, and Afghanistan. The "biggest surprise" of the year: Malaysia, especially the fight over Allah Bibles. Three of the top five countries are in the Middle East, where targeted attacks have emptied many regions of Christians, reports Open Doors. Many fled from the advance of the Islamic State in 2014; in fact, more than 70 percent of Christians have left Iraq since 2003, and more than 700,000 Christians have fled from Syria since 2011, according to Open Doors. Only a remnant remain.
Holding steady for the 13th year as the worst place for Christians to live is North Korea, where Open Doors reports up to 70,000 Christians are held in prison camps for their faith. The country garnered media attention in 2014 with the November release of American missionary Kenneth Bae after two years in prison, the detainment of American Jeffrey Fowles for leaving behind a Bible, and the arrest and release of 75-year-old Australian missionary John Short. (South Korean Baptist missionary Kim Jong-Uk is still imprisoned after receiving a life sentence in June for allegedly working with underground churches.)
Overall in Asia, Open Doors had been "reporting improving conditions for Christians in the Far East in recent years," noted WWM, but "the trend reversed course in 2014, when every country on the list but Laos and Sri Lanka received a higher persecution score. China, India and Malaysia registered the largest increases. Twelve countries from East Asia and the Far East are among the top 50."
Persecution in India, which rose to its highest ranking ever (No. 21), has ramped up since Narendra Modi, a Hindu nationalist and the only politician ever banned from the US for religious freedom violations, was elected as prime minister in May.
Boyd-McMillan noted: "As Li Tien En, a famous house church Christian in China used to say, 'Persecution is two parts opportunity, one part crisis, God always brings opportunities out of a crisis.' There is a new unity occurring among ancient communities of faith, and we may see again that an exodus is not always bad for the spread of the Gospel."
CT also noted how the State Department and USCIRF disagree on which countries deserves censure for mistreating religious minorities. The State Department's list of "countries of particular concern" includes: Burma, China, Eritrea, Iran, North Korea, Saudi Arabia, Sudan, and Uzbekistan. In April 2014, USCIRF recommended the addition of Egypt, Iraq, Nigeria, Pakistan, Syria, Tajikistan, Turkmenistan, and Vietnam.
Erekat: There's No Difference Between Israel and ISIS
(PA chief negotiator says Israel's construction in Judea and Samaria is like the terrorism carried out by the Islamic State)
Jan. 9….(Arutz) The Palestinian Authority's chief negotiator, Saeb Erekat, on Wednesday compared Israel's construction of homes in Judea and Samaria to the actions of the Islamic State (ISIS) terrorist group. "There is no difference between the terrorism practiced by the group led by Abu Bakr al-Baghdadi and Israel's terrorism," Erekat said, according to the Ma'an news agency, referencing the leader of ISIS. He added that "ending settlement activities is a prerequisite for eliminating terrorism."
Erekat also slammed Israel's decision to withhold the PA's tax revenues over its applying to join the International Criminal Court (ICC), saying that Israeli threats would not deter the Palestinian leadership and the Palestinian people from holding firm to their inalienable rights, including the establishment of an independent state whose capital is Jerusalem.
Erekat's remarks follow a threat he made earlier this week in an interview on Army Radio, when he threatened that the PA will dismantle itself and "hand the keys" back to Israel. "Next week or next month," he threatened, "there will not be a Palestinian Authority. Israel will find itself responsible from the river Jordan to the Mediterranean, and you will find our kids running after your kids in refugee camps, as you did in 1992. That's what it means."
The comparison to ISIS is certainly not the first time that Israel has been compared to the murderous terrorist group. In October, the speaker of the Jordanian Parliament made a similar comparison between Israel's construction in Jerusalem and the terrorist attacks of the Islamic State. The speaker, Atef Tarawneh, said that Israel's "aggression" against the Palestinians is "no less than ISIS actions."
Obama Refuses to Call Paris Attack 'Islamic'
(Attackers shouted 'the prophet has been avenged,' 'Allahu akbar')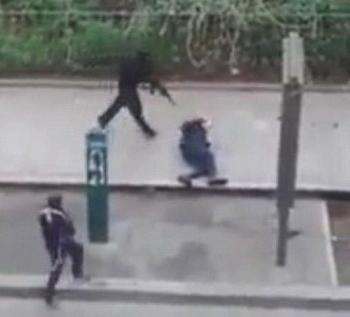 Jan. 9….(WND) In response to the attack on the Paris magazine that published editorial cartoons mocking Islam, President Obama reluctantly classified it as an act of terrorism while refusing to associate it with Islam. "I strongly condemn the horrific shooting at the offices of Charlie Hebdo magazine in Paris that has reportedly killed 12 people," Obama said in a carefully worded statement released by the White House press office. "Our thoughts and prayers are with the victims of this terrorist attack and the people of France at this difficult time. France is America's oldest ally and has stood shoulder to shoulder with the United States in the fight against terrorists who threaten our shared security and the world."
Speaking in both French and English, Secretary of State John Kerry expressed US solidarity with France against the "extremism" reflected in the terrorist attack on Charlie Hebdo. He also took care to characterize the attack as terrorism without specifically characterizing it as "Islamic terrorism."
Andy McCarthy, the former assistant US attorney for the Southern District of New York who led the 1995 prosecution of Sheik Omar Abdel Rahman, known as the "Blind Sheik," and eleven others for the 1993 bombing of the World Trade Center, was quick to criticize those hesitating to associate the attack with Islam. "The media have adopted the absurd Obama reasoning that a) terrorism is unrelated to Islam, b) groups that happen to self-identify as Muslims are 'violent extremists' who do not represent the true Islam (that's why we can no longer call them 'jihadists'); and c) only violent extremists commit terrorism," McCarthy explained in an email to WND. "Therefore, d) when an atrocity happens, we must not call it 'terrorism' unless and until it has been linked to a 'violent extremist' group we have recognized as such (e.g., al Qaeda, ISIS)," he continued. "Consequently, (e) if we cannot link it to a violent extremist group, we deny that the act is terror and refer to it as 'workplace violence,' 'lone-wolf attack,' 'militant extremism' (as long as we're careful to avoid saying what they're being extreme about)."
After the beheading of journalist James Foley by ISIS in September, Obama declared ISIS is "not Islamic," insisting "no religion condones the killing of innocents."
In Paris, there appears to be no doubt the attack was perpetrated by well-trained Islamic terrorists.
Egypt's Sissi Issues an Ambitious call for Reform in Islam
Jan. 9….(AP) Egypt's president opened the new year with a dramatic call for a "revolution" in Islam to reform interpretations of the faith entrenched for hundreds of years, which he said have made the Muslim world a source of "destruction" and pitted it against the rest of the world. The speech was Abdel-Fattah el-Sissi's boldest effort yet to position himself as a modernizer of Islam. His professed goal is to purge the religion of extremist ideas of intolerance and violence that fuel groups like al-Qaida and the Islamic State, and that appear to have motivated Wednesday's attack in Paris on a French satirical newspaper that killed 12 people.
In his Jan. 1 speech at al-Azhar addressing Muslim clerics, held to mark the Prophet Muhammad's birthday, el-Sissi called on them to promote a reading of Islamic texts in a "truly enlightened" manner to reconsider concepts "that have been made sacred over hundreds of years." By such thinking, the Islamic world is "making enemies of the whole world. So 1.6 billion people (in the Muslim world) will kill the entire world of 7 billion? That's impossible. We need a religious revolution." Radicals, and el-Sissi's Islamist political opponents who have wide religious followings, angrily denounced el-Sissi, saying he was trying to corrupt the religion. Even secularists, who would normally promote a more modern interpretation of Islam, frowned at el-Sissi's statist approach to such a complicated issue
Islamic Leader Urges Muslims to Visit Temple Mount
(Saudi secretary general of the Organization of Islamic Cooperation visits al-Aqsa Mosque, calling it 'a right for every Muslim')
Jan. 8….(YNET) The head of the world's largest Islamic organization on Monday paid a rare visit to Jerusalem's al-Aqsa Mosque, urging Muslims to follow suit and come to the city in a bid to strengthen Palestinian claims to the holy site. The visit by Iyad Madani, secretary general of the 57-nation Organization of Islamic Cooperation, came at a sensitive time following months of tensions and violence surrounding the site in Jerusalem's Old City. The hilltop compound is revered by both Jews and Muslims and is a frequent flashpoint of violence.
Madani is a citizen of Saudi Arabia, an Arab country that does not have diplomatic relations with Israel and which serves as the guardian of Islam's most important sites. Al-Aqsa is Islam's third-holiest site, after the cities of Mecca and Medina in Saudi Arabia. "Coming to the mosque is a right for me as well as every Muslim," Madani said. "It is our right to come here and to pray here. No occupation authority should take this right from us."
The hilltop compound housing Al-Aqsa lies at the heart of the dispute over Jerusalem. Known to Jews as the Temple Mount, it is the most sacred place in Judaism, revered as the home to the ancient Hebrew temples. The conflicting claims to the site have often spilled over into violence, most recently late last year as visits to the compound by nationalist Jews fueled rumors that Israel was plotting to take over the site. Israel angrily denied the claims, but the tensions led to violent protests by Palestinians, Israeli restrictions on Muslim access and a wave of Palestinian attacks that killed 11 people. While Madani's predecessor, a Turk, also visited Jerusalem, visits by Saudi dignitaries are rare and need to be coordinated with Israel.
Islamic Leader Urges Muslims to Visit Temple Mount
(Saudi secretary general of the Organization of Islamic Cooperation visits al-Aqsa Mosque, calling it 'a right for every Muslim')
Jan. 7….(YNET) The head of the world's largest Islamic organization on Monday paid a rare visit to Jerusalem's al-Aqsa Mosque, urging Muslims to follow suit and come to the city in a bid to strengthen Palestinian claims to the holy site. The visit by Iyad Madani, secretary general of the 57-nation Organization of Islamic Cooperation, came at a sensitive time following months of tensions and violence surrounding the site in Jerusalem's Old City. The hilltop compound is revered by both Jews and Muslims and is a frequent flashpoint of violence.
Madani is a citizen of Saudi Arabia, an Arab country that does not have diplomatic relations with Israel and which serves as the guardian of Islam's most important sites. Al-Aqsa is Islam's third-holiest site, after the cities of Mecca and Medina in Saudi Arabia. "Coming to the mosque is a right for me as well as every Muslim," Madani said. "It is our right to come here and to pray here. No occupation authority should take this right from us."
The hilltop compound housing Al-Aqsa lies at the heart of the dispute over Jerusalem. Known to Jews as the Temple Mount, it is the most sacred place in Judaism, revered as the home to the ancient Hebrew temples. The conflicting claims to the site have often spilled over into violence, most recently late last year as visits to the compound by nationalist Jews fueled rumors that Israel was plotting to take over the site. Israel angrily denied the claims, but the tensions led to violent protests by Palestinians, Israeli restrictions on Muslim access and a wave of Palestinian attacks that killed 11 people. While Madani's predecessor, a Turk, also visited Jerusalem, visits by Saudi dignitaries are rare and need to be coordinated with Israel.
ISIS Strikes at Saudi Kingdom's Border, As King Nears Death
Jan. 6….(DEBKA) Abdullah bin Abdulaziz, 91, the Saudi monarch who worked tirelessly to inch his hidebound, ultra-conservative kingdom into modern times, is gravely ill and reported by Debkafile's sources ready to abdicate. He hands the reins of government of the world's biggest exporting nation to two successors. Conscious of his failing health, Abdullah spent the past year organizing an orderly succession to maintain regime stability. He lined up his half-brother, Crown Prince Salman, 78, to sit on the throne. However, since he is believed to suffer from dementia, the next crown prince Muqirin, 69-70, will rule the realm in practice. Announcement of the abdication may be delayed by princely disputes, causing a political crisis which the ailing king labored to avert.
Coinciding with the news of the impending changeover, three Saudi guards, including Gen. Odah al-Balawi, commander of the northern border guard, were killed Monday, Jan. 5, by ISIS terrorists, two wearing bomb belts, who were attempting to infiltrate the kingdom. The attackers, apparently armed with intelligence on the general's movements, caught him in ambush. Four attackers were killed in the clash, two by suicide. This incident underlined one of the dangers besetting the oil kingdom, the Islamic State and its advantage of local tactical intelligence.
According to Gulf sources, the king is critically ill with cancer of the lungs. Two American specialists have been rushed over to treat him. In March 2014, he arranged to have Prince Muqrin promoted to third in line to the throne, in the face of rival factions in the royal house. But earlier, in May 2013, he elevated his own son, Muteb bin Abdullah, 62, to Minister of the powerful National Guard. The king also blocked the path of Crown Prince Salman's son Prince Mohammad, to deputy defense minister, which was to have been a springboard to the top post when his father ascended the throne.
In terms of its security, the crisis catches the Kingdom of Saudi Arabia in one of the most perilous periods of its short history. Riyadh has been watching Iran's acquisition of nuclear weapons with extreme alarm and no faith at all in US-led international diplomacy to contain its plans. The Saudis see Tehran as a regional menace which is in the process of trampling their closest neighbors by means of allies and surrogates, Syrian ruler Bashar Assad, to the north; Hizballah in Lebanon and the Huthis of Yemen to the south.
The Islamic State of Iraq and Levant and its leader Abu Bakr al-Baghdadi has not only invaded Iraq and Syria but is also eyeing Saudi Arabia. Seen from Riyadh, the oil kingdom is beleaguered at every hand. At home too, the Saudis share the concerns of Western countries that jihadists returning home from fighting with ISIS will unleash violence to overthrow the royal house. Since the "Arab Spring", the Saudis have regarded the Muslim Brotherhood and its Palestinian offspring, Hamas, as enemies.
One of Abdullah's key innovations, in addition to the small steps he introduced toward improving the status of women, was the transparency of the monarch's state of health. This openness was unheard off in previous reigns. His abdication, when it takes place, will also break with tradition. Former kings relinquished the throne only when they died.
Record Number of North American Jews Emigrate to Israel
Jan. 5….(Newsmax) A record number of Jewish immigrants from North America arrived in Israel in 2014, the Jewish Agency for Israel and the Ministry of Immigrant Absorption reported, calling the wave a 10-year high. More than 3,700 Jews from the US and Canada as well as 525 from the United Kingdom, moved to Israel over the last year, a 7 percent increase in those arriving from North America and a 32 percent increase overall. About 20,000 immigrants arrived in 2013. Last year also saw a first with immigrants from France topping the list of countries of origin with 7,000 in 2014. That figure is double the number from 2013, Ynet said of the "aliyah."
The news outlet said lone soldiers coming to Israel without family members to serve as soldiers in the IDF increased by 10 percent in 2014, with 350 "young Jews from North America" enlisting last year. "2014 was a year of record-breaking Aliyah. This year also saw a historic shift: for the first time in Israel's history, the number of immigrants who came to Israel from the free world is greater than that of immigrants fleeing countries in distress," Natan Sharansky, chairman of the Executive of The Jewish Agency told The Yeshiva World. "This trend is evidence of Israel's attractiveness as a place where it's good to live, as well as of the success of our joint efforts to promote Aliyah and strengthen connections between Jews around the world and the State of Israel," Sharansky said. "As we forecast further increases in Aliyah from around the world, I very much hope the next government continues to join The Jewish Agency in maintaining Aliyah encouragement and immigrant absorption as top priorities." Added Minister of Absorption Sofa Landver: "I am excited to see the fruits of our many efforts to encourage aliyah, but we have not yet reached our goal. Our ministry continues to work together with all relevant parties to promote the ingathering of the exiles, a vision that has accompanied the people of Israel since the state's establishment. We expect that some 10,000 new immigrants will come from France alone next year, and we will surpass 30,000 immigrants from around the world, and even more."
Ukraine came in second behind France with 5,840 immigrants fleeing "the Russian backed civil war and economic collapse" that led to the loss of President Viktor Yanukovich, The Jerusalem Post noted, calling it a 190 percent increase over 2013.
Pope Francis: Lets Bring All Religions Together
Jan. 5….(Inquisitor) Pope Francis recently delivered a powerful message to ring in the new year at St. Peter's Basilica's Roman Catholic Church's World Day of Peace. In his message, which served as an introductory for this year's theme, he discussed the positive aspects of unity among religions and cultures.
According to the Huffington Post, he urged all religions to come together and join in the fight against modern slavery and human trafficking. The powerful message was quite befitting for this year's theme, "No Longer Slaves, but Brothers and Sisters." "All of us are called (by God) to be free, all are called to be sons and daughters, and each, according to his or her own responsibilities, is called to combat modern forms of enslavement. From every people, culture and religion, let us join our forces."
Saudi Royal Court says King, Abdullah, 90, Has Pneumonia
Jan. 5….(AP) Saudi Arabia's King Abdullah is being treated for pneumonia and his condition has stabilized with the help of a breathing tube, according to a Royal Court statement issued Friday. The statement, which was released by Saudi state media, said the monarch, 90, had been transferred Thursday to a military hospital after experiencing shortness of breath and back pain. The Saudi Royal Court said medical tests showed the king had a respiratory infection.
After spending a little more than week at his royal encampment in Rawdat Khuraim, a green oasis about 62 miles (100 kilometers) north of Riyadh, the king returned to the capital on Wednesday and was admitted initially to a National Guard hospital for medical tests.
The health of the monarch is of extreme importance in the kingdom, where Abdullah holds absolute powers to enact laws and appoint ministers. His condition is also watched internationally largely due to the country's role as one of the world's largest oil exporters, as well as regionally where the kingdom has used its influence to counter the Islamist Muslim Brotherhood group and Shiite Iran.
Abdullah officially assumed the throne in 2005, but has largely been seen as the de facto ruler of Saudi Arabia since the mid-1990s. He reportedly underwent back surgeries in 2010 in New York City, and in October 2011 and November 2012 in Saudi Arabia. The aging monarch met President Barack Obama in March and appeared before the press wearing an oxygen tube. Official photographs of the king have also shown him in a wheelchair. His successor is 79-year-old half-brother Crown Prince Salman. Abdullah has outlived two other half-brothers who held the crown prince post.In an effort to assuage concerns about continuity and stability in the kingdom, 69 year-old Prince Muqrin was appointed deputy crown prince and second-in-line to the throne last year. He is the youngest surviving son of Saudi Arabia's founder, King Abdulaziz Al Saud.
WEEK OF DECEMBER 28 THROUGH JANUARY 3
The Failed Palestinian Effort at the UN
Jan. 1….(Dore Gold) The Palestinian draft resolution that was voted down by the UN Security Council was unacceptable to Israel for two essential reasons. First, all Israeli governments have insisted that any solution to the Israeli-Palestinian conflict must be reached through direct negotiations between the parties.
That principle was enshrined in the Oslo Agreements in the 1990s. The 1995 Interim Agreement, signed at the White House by Prime Minister Yitzhak Rabin and PLO leader Yasser Arafat, in fact stated that negotiations were the only way to alter the status of the West Bank and the Gaza Strip. The Interim Agreement was not only witnessed and signed by the United States, but also by the European Union, a fact that makes the French vote in the Security Council for the draft resolution very puzzling.
In substance, the draft resolution also sought to prejudge the outcome of any future negotiations. How can you have a Security Council resolution that decides Israel's future borders on the basis of the 1967 lines and in the same breath assert that you are going to have a negotiation over borders? What is there left to negotiate? UN Security Council Resolution 242, adopted in the aftermath of the 1967 Six-Day War, did not require Israel to fully withdraw from the territories it captured in a war of self-defense.
It is often forgotten that Resolution 242 was the basis of all Arab-Israeli agreements from the 1979 Egyptian-Israeli Treaty of Peace to the 1993 Oslo Declaration of Principles to the 1994 Jordanian-Israeli Treaty of Peace. It was also the basis of the 1991 Madrid Peace Conference that launched the peace process. True, the latest draft resolution mentions Resolution 242 in its preamble. But, by demanding a nearly full withdrawal by Israel in its operative section, the draft resolution essentially contradicts 242 in substance.
Finally, the draft resolution that was rejected exposes the strategy adopted by Mahmoud Abbas, the Palestinian Authority president. He does not want to negotiate with Israel. Instead, he seeks to use international institutions in order to impose a solution on Israel. That is a course of action that no Israeli government can accept and the international community should not give it any support if it wants to see the Israeli-Palestinian conflict resolved.
Obama Funding New Iraqi Army – Dominated by Iran's Rev Guards
Jan. 1….(DEBKA) President Barack Obama's New Year gift to Israel and the Middle East is a multibillion fund for establishing an Iraqi army as a division of the Iranian Revolutionary Guards (IRGC). Wednesday, the last day of 2014, two defense ministers, Iran's Brig. Gen. Hossein Dehqani and Iraq's Khallid al-Obeidi, signed a pact whereby Iran i.e. the Revolutionary Guards, will "continue to train new Iraqi military units" for replacing the army that crumbled under the onslaught launched by the Islamic State of Iraq and Levant since last June. "We do not see any other option than cooperation and being on the same side as Iran to uproot the terrorists," said the Iraqi general. But he carefully avoided mentioning the 1,850 US soldiers posted to Baghdad, Kurdistan's Irbil and the Al Asad air base in the western province of Anbar, or the 1,300 addition American combat troops, including paratroops of the elite 82nd Airborne Division's 3rd Brigade Combat Team. The 3,150 US troops currently serving in Iraq are therefore sharing the task of rebuilding Iraqi military units with Iran's Revolutionary Guards! Two other key points glossed over by the two defense ministers are revealed here by Debkafile's exclusive military and intelligence sources: The sources of financing and recruits.

On the quiet, President Obama has promised Tehran and Baghdad to put up the funding for the new Iraqi army. It is to come out of the US budgetary allocation for the war on terror, a truly ironic gesture considering the missions of the Revolutionary Guards Corps's pro-active arm, its Al Qods Brigades, which are primarily to orchestrate external terrorism.

The source of the new manpower was disclosed by Deputy Commander of the IRGC Brig. Gen. Hossein Salami, when he announced this week that Iran was assembling a mighty army from the various Shiite militias fighting in Syria and Iraq. "This force will be larger even than the Lebanese Hizballah," he boasted. All those militias are under the direct command of the Guards. Therefore, the Obama administration has committed the United States to forging a strong military bond with Tehran and providing military and financial assistance for the creation of a strong regional Shiite armed force that will elevate Iran to the standing of leading military power in the Middle East.

US-Iranian cooperation in the war on ISIS is already in full swing in Iraq between the US officers and troops posted there and the headquarters of Iranian Al Qods Brigades Commander, Gen. Qassem Soleimani. Iraq's Shiite Prime Minister Haider al-Abadi provides liaison. So closely are the two forces aligned, that no Iraqi Shiite operation goes forward without first being cleared with the US command.

FOJ Note: Our President is a fool. He is financing and building an army for Iran. (a theocratic-dictatorship that calls America the great Satan) Also, the dilapidated status of the Iraqi army came about as a result of his hasty withdrawal from Iraq. So, in essence, Mr. Obama threw away the American victory in Iraq, (won with American blood) and opened the doors for Iran to take over. So, Mr. Obama has decided that we need not only to pay for victory in Iraq, but also surrender.

e are here to say no to buying gas from the enemy. We reject that the government buys gas from the occupation and supports its economy," Hisham al-Bustani, a representative of the Jordanian Coordination Committee against Importing Gas from Israel, told The Jordan Times at the protest. Jordan and Israel intend to finalize a 15-year gas deal worth $15 billion.
---