WEEK OF MARCH 29 THROUGH APRIL 4
Iran, Six World Powers Reach Understanding over Nuke Program
April 3….(Ha Aretz) Iran and six world powers have reached an understanding in the talks in Lausanne, Switzerland over Iran's nuclear program and the parties are now busy writing the joint announcement to be released later this evening, a Western diplomat told Haaretz. The foreign ministers of Iran, the European Union, and the six powers are holding a meeting, before a joint statement will be made by European Union foreign policy chief Federica Mogherini and Iranian Foreign Minister Mohammad Javad Zarif at 8PM Israel time. US Secretary of State John Kerry will hold a press conference after the joint statement.
Obama Touts 'Historic' Iran Nuclear Deal
US President Barack Obama made a public address at the White House on Thursday after Iranian and world negotiators announced that a framework deal had been reached over the Islamic regime's nuclear program. According to the president his negotiating team, led by US Secretary of State John Kerry, "has reached an historic understanding with Iran which, if fully implemented, will prevent it from a nuclear weapon." "I am convinced that if this framework leads to a final comprehensive deal it will make our country, our allies and our world safer," he asserted. The Iran negotiations have "succeeded exactly as intended," Obama said at the White House as soon as the broad terms were released. "It is a good deal."
Obama dismissed the option, advocated by Israel, among others, of ramping up sanctions to increase pressure on Iran to capitulate. "Every time we have done so Iran has not capitulated but instead advanced its program," he insisted. "Iran isn't going to simply dismantle its program because we demand it to do so," he claimed in brushing aside the military or sanctions options. Addressing the Iranian people, he called for engagement on the basis of mutual interest and mutual respect. "Iran's Supreme Leader issued a fatwa (Islamic ruling) against the development of nuclear weapons," said Obama, calling this an "opportunity" to verify that the program is peaceful. If Netanyahu is looking for the most effective way to ensure Iran doesn't get a nuclear weapon "this is the best option," claimed Obama. The parameters outlined of the agreement would be as follows:
• Iran's enrichment capacity and stockpile would be limited, and Iran's sole enrichment facility would be at the Natanz nuclear facility. Other nuclear facilities would be converted to other uses.
• The nuclear facility at Fordo would be converted to a nuclear physics and technology center and the facility at Arak would be redesigned as a heavy-water research reactor that will not produce weapons-grade plutonium.
• The European Union would terminate all nuclear-related economic and financial sanctions against Iran, and the United States would do the same once Iran's implementation of the agreement is confirmed.
• The United Nations would terminate all previous resolutions sanctioning Iran, and would incorporate other restrictions for an agreed-upon period.
The Most Important Quote from Obama's Iran Deal Speech
April 3….(VOX) There is one quote, buried in the middle of Obama's Thursday address on the new Iran nuclear deal, that really captures his approach to what has become one of his key foreign policy priorities. It explains both why Obama wants this deal so badly, and how he's planning to tackle the inevitable political fallout now that a basic framework for an agreement has been struck. Here's the passage: When you hear the inevitable critics of the deal sound off, ask them a simple question: do you really think that this verifiable deal, if fully implemented backed by the world's powers, is a worse option than the risk of another war in the Middle East?
The question, for Obama, isn't whether this deal is perfect (though he clearly thinks it's pretty good). It's whether there are any alternatives that might be better. And the president, quite fundamentally, believes there aren't. As he said in the speech, Obama thinks there are only two possible alternatives to the deal that's shaping up if the US wants to prevent Iran from getting a nuclear bomb. Either America could go to war with Iran, or it could withdraw from negotiations and hope sanctions would force Tehran to give up its hopes for a bomb.
The second option hasn't worked so far. "Is a deal worse than doing what we've done for almost two decades with Iran moving with its nuclear program and without robust inspections?" he asked. "I think the answer will be clear."
That leaves only one real alternative: war. Obama (along with most military experts) believes that war would delay Iran's nuclear program at best. He believes, deeply and in his bones, that international inspections are a more effective way of stopping Iran from getting nukes, and that the consequences of war would be severe. This is, after all, a president who was elected on the basis of his opposition to the Iraq War.
This argument, that all of the alternatives to the deal are worse, also explains how Obama plans to handle the political challenges to the deal. At home, Republicans will vociferously oppose the deal. Israeli Prime Minister Benjamin Netanyahu, the leader of America's closest ally in the Middle East, will do the same. Both believe Iran can't be trusted, and appear to believe that terms of this agreement aren't enough to ensure Iran won't get a nuclear weapon. Netanyahu and the Republicans are perhaps the most important of the "inevitable critics" Obama mentioned in his speech. His response to them is clear: what do you have that's better? What is the credible alternative to what I'm doing, and how, specifically, could it prevent Iran from getting a bomb without taking us to war? Or is it war you want?
FOJ Note: Mr. Obama's theory on securing a deal with Iran is miscalculated, and foolhearty. How so, you may ask? When you are dealing with a terrorist state, TRUST cannot be substantiated. (certainly not via the UN) The DEAL only serves Iran's interest, in enabling them to acquire a Nuclear Bomb. And then what happens? Time will be LOST, (deterrence will be lost) and they (IRAN) will be the ones ready for and wanting WAR.
Obama's great fear, war, is inevitable, and his deal is only guaranteeing that the coming war with Iran is going to be much more catastrophic!
Netanyahu: Outraged that Nuclear Talks go on While Iran Vows to Destroy Israel
April 2….(Times of Israel) Prime Minister Benjamin Netanyahu on Wednesday excoriated world powers over their dogged pursuit of a nuclear deal with Iran, pointing to recent statements by officials in Tehran, notably their calls to eliminate Israel, as evidence of the Islamic Republic's unwillingness to compromise on its nuclear ambitions and campaign of "terror, subjugation and conquest.
In tones of moral outrage, he issued a brief, infuriated statement to camera, protesting that the talks were continuing in Lausanne even as Iran reiterated its insistent goal of destroying the Jewish state. "Yesterday an Iranian general brazenly declared, and I quote, 'Israel's destruction is nonnegotiable,'" Netanyahu began, referring to a statement by Mohammad Reza Naqd, the commander of the Basij militia of Iran's Revolutionary Guards. "But evidently, giving Iran's murderous regime a clear path to the bomb is negotiable," he said. "This is unconscionable."
Netanyahu's comments came as diplomats from Iran and a group of six world powers, led by the United States, resumed negotiations over the terms of a nuclear deal, hours after a deadline for such a deal elapsed. He charged that Iran's actions and ongoing "aggression" across the Middle East proved it did not intend to give up its nuclear and regional ambitions. "I agree with those who have said that Iran's claim that its nuclear program is only for peaceful purposes doesn't square with Iran's insistence on keeping underground nuclear facilities, advanced centrifuges, and a heavy water reactor," he said. "Nor does it square with Iran's insistence on developing ICBMs [Intercontinental Ballistic Missiles], and its refusal to come clean with the International Atomic Energy Agency on its past weaponization efforts. "At the same time, Iran is accelerating its campaign of terror, subjugation and conquest throughout the region, most recently in Yemen," he continued.
Netanyahu's reference to "those who have said" Iran does not require such capabilities marked the second time in two days that he has obliquely referred to comments made by President Barack Obama at the Saban Conference in December 2013, without citing Obama by name. The two leaders are bitterly at odds over strategies for thwarting Iran.
The prime minister claimed that "the concessions offered to Iran in Lausanne would ensure a bad deal that would endanger Israel, the Middle East and the peace of the world. He called on world powers to ensure that Iran "stop its aggression in the region, stop its terrorism throughout the world, and stop its threats to annihilate Israel." "That should be nonnegotiable. And that's the deal that the world powers must insist upon," he concluded.
FOJ Note: Why would any conscientious freedom loving nation cooperate with an endless negotiating game with a known and proven terrorist sponsoring rogue regime that boldly claims that it intends to use its newly acquired nuclear weapons to annihilate another? When Iran says that the "destruction of Israel" is non-negotiable, negotiations should end, and war declared on that nation!
Iran is Placing Guided Warheads on Hezbollah Rockets
April 1….(Jerusalem Post) Iran is placing guided warheads on its rockets and smuggling them to Hezbollah in Lebanon, a senior Defense Ministry official said Tuesday. Speaking at the Israel Air and Missile Defense Conference in Herzliya, Col. Aviram Hasson, who is involved in preparing IDF air defenses, said Iran was converting Zilzal unguided rockets into accurate, guided M-600 projectiles by upgrading their warheads.
Hasson, who is in charge of upper-tier missile defenses at HOMA, part of the Defense Ministry's Administration for the Development of Weapons and Technological Infrastructure, described Iran as a "train engine that is not stopping for a moment. It is manufacturing new and advanced ballistic missiles and cruise missiles. It is turning unguided rockets that had an accuracy range of kilometers into weapons that are accurate to within meters." Hezbollah, he continued, "is getting a lot of accurate weapons from Iran. It is in a very different place compared to the Second Lebanon War in 2006."
For Israel, the "ultimate defense is a combination of counter-attack, active defenses, and passive defense [civilian compliance with Home Front Command safety instructions]," he argued.
Riki Ellison, founder and chairman of the US Missile Defense Advocacy Alliance, also spoke at the conference, which was organized by the IHLS defense website and the Israel Missile Defense Association. The alliance is a nonprofit organization advocating for the deployment and development of missile defenses. Ellison said the US always kept at least one warship in the Mediterranean with an Aegis naval missile defense system to ensure that Israel was protected against long-range Iranian ballistic missiles. "It can stand off the coast and shoot long-shots coming in from Iran," he said.
The US is keen to see Israel complete its multi-layered blanket of missile defenses, which would enable it to defend against Iranian missiles without the Aegis and thereby free up the US Navy's ships for deployment elsewhere, he added. Ellison told the delegates that the US remained firmly committed to Israel's security, irrespective of recent disagreements between President Barack Obama and Prime Minister Benjamin Netanyahu. He added that the US could deploy its Terminal High Altitude Area Defense (THAAD) batteries "if necessary, to come into Israel to support your country's defense." America is "fully supportive" of Israel getting fully capable Arrow 3 and David's Sling defense systems, Ellison said.
Iran Sends its Navy to Red Sea in Support of Yemeni Rebels
(strategic positioning of Iranian Navy pits Iran squarely against Saudi-Egyptian Forces)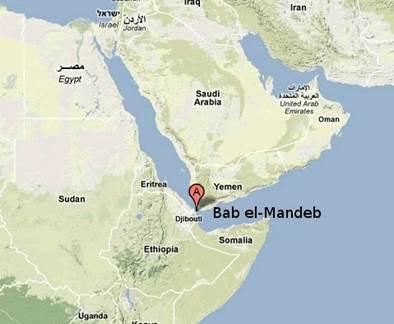 April 1….(DEBKA) Control of the Red Sea Bab el-Mandeb Straits passed Tuesday, March 31 to pro-Iranian Yemeni forces when the Yemeni Army's 117th Brigade loyal to the former Yemeni President Ali Saleh handed positions guarding the waterway to two Houthi commando battalions trained by Iranian Revolutionary Guards. This is revealed by debkafile's military and intelligence sources.
In another development Tuesday involving Iran's spreading tentacles, debkafile's military sources reveal that unidentified aircraft bombed Burak, a small military base in the Fezzan province of southwestern Libya, which serves Iran as a transit store for arms purchased in Sudan for the Palestinian Hamas.
The weapons, which recently reached the Libyan base through Chad, were destroyed. They were scheduled to be smuggled through Egypt and Sinai and onto Gaza. Western military sources attributed responsibility for the bombardment to the Egyptian or Israeli air forces. Both Israel and Egypt have declined to comment on the report.
To strengthen Iran's grip on the key Red Sea gateway, Iran's supreme leader Ayatollah Ali Khamenei has ordered two naval task forces to sail to the Red Sea. They are to fend off a Saudi-Egyptian offensive to dislodge the Houthi battalions now holding a point linking the Red Sea and the Indian Ocean and Persian Gulf. The naval task forces are being sent to draw a sea shield around the Houthi forces to defend them against Saudi-Egyptian assaults. This maneuver was orchestrated by the Al Qods Brigades chief Gen. Qassem Soleimani.
Iran Nuclear Talks Extended by One Day

(Kerry / Obama are literally begging Iran to make a deal)
April 1….(Arutz) United States confirms that nuclear talks with Iran and will continue beyond the self-imposed Tuesday night deadline. The United States has confirmed that nuclear talks between Iran and six world powers will continue beyond the self-imposed Tuesday night deadline and will be extended by at least a day. Officials had said earlier they are ready to extend the talks in Lausanne, Switzerland, if needed. State Department spokeswoman Marie Harf said enough progress had been made to warrant an extension, although there still were "several difficult issues" to bridge, The Associated Press (AP) reported. Secretary of State John Kerry who had planned to leave the talks on Tuesday will remain until Wednesday, she said. An Iranian negotiator, meanwhile, said his team could stay "as long as necessary" to clear the remaining hurdles, according to AP.
In Washington, White House press secretary Josh Earnest suggested that talks meant to produce an outline that would allow the sides to continue negotiations until the June 30 final deadline had not bridged all gaps. But he said that the sides were working to produce a text with few specifics, accompanied by documents outlining areas where further talks were needed. "If it's necessary, and, when I say if it's necessary I mean if it's midnight and a deal has not been reached but the conversations continue to be productive, we'll be prepared to continue the talks into tomorrow," he was quoted as having told reporters. "If we are making progress toward the finish line, than we should keep going."
It has been charged that President Barack Obama is "desperate" to seal a deal and score a foreign policy "achievement," even as Israel and other sources warn the deal threatens to leave the Islamic regime with the ability to rapidly produce a nuclear arsenal at the time of its choosing.
Israeli Prime Minister Benjamin Netanyahu said on Tuesday the framework Iranian nuclear agreement being sought by international negotiators will leave Iran with the capability to develop a nuclear weapon in under a year. For nearly a week, the United States, Britain, France, Germany, Russia and China have been trying to break an impasse in talks aimed at keeping Iran from just that in exchange for easing international sanctions that are crippling its economy. "It appears the deal being formed in Lausanne will leave Iran with underground facilities, the nuclear reactor in Arak and with advanced centrifuges," Netanyahu said at a parliamentary ceremony. "The breakout time for Iran to obtain fissile material for nuclear bombs will not take years as was said at the beginning, in our estimation it will be reduced to under a year and perhaps far less than that," he said.
Israel, believed to have the Middle East's only nuclear arsenal and which has in the past threatened Iran with military attack, sees a nuclear-armed Iran as an existential threat.
UN Says Israel, Not Iran, North Korea or Syria Worst Violator of Human Rights In the World
March 30….(Fox News) What country deserves more condemnation for violating human rights than any other nation on earth? According to the UN's top human rights body, that would be Israel. Last week, Israel was the UN's number one women's rights violator. This week it is the UN's all-round human rights villain.
The UN Human Rights Council wrapped up its latest session in Geneva on Friday, March 27 by adopting four resolutions condemning Israel. That's four times more than any of the other 192 UN member states.
There were four resolutions on Israel. And one on North Korea, a country that is home to government policies of torture, starvation, enslavement, rape, disappearances, and murder, to name just some of its crimes against humanity. Four resolutions on Israel. And one on Syria. Where the death toll of four years of war is 100,000 civilians, ten million people are displaced, and barrel bombs containing chemical agents like chlorine gas are back in action.
Four resolutions on Israel. And only one on Iran, where there is no rule of law, no free elections, no freedom of speech, corruption is endemic, protestors are jailed and tortured, religious minorities are persecuted, and pedophilia is state-run. At last count, in 2012 Iranian courts ordered more than 30,000 girls ages 14 and under to be "married." And what did that one resolution on Iran say? Co-sponsored by the United States, it was labeled a "short procedural text," consisting of just three operative paragraphs that contained not a single condemnation of Iran.
The Israel resolutions, on the other hand, were full of "demands," "condemns," "expresses grave concern," and "deplores," along with orders to "cease immediately" a long list of alleged human rights violations.
Ninety percent of states, inhabited by 6.6 billion people, got no mention at all. Countries like China, Qatar, Russia, and Saudi Arabia. For the UN, there was not one human rights violation worthy of mention by any of these human rights horror shows. Why not? For starters, China, Qatar, Russia and Saudi Arabia are all members of the UN Human Rights Council. Actually protecting human rights is not a condition of being elected to the Council, and thereby transforming into a UN authority on what counts as a human rights violation. As a result, what counts fast becomes unrecognizable. Subverting human rights principles for all turns out to be the other side of the coin from subverting human rights for Jews.
Thus at this session, "death to America" an Iran sponsored Council resolution of same name, called "Enhancement of international cooperation in the field of human rights." It was adopted by consensus, and with US blessing.
The Cubans successfully engineered a Council resolution on protecting "cultural rights," minus any free expression.
The Palestinians, whose unity government includes the terrorist group Hamas, co-sponsored the resolution "effects of terrorism on the enjoyment of human rights, and yet do not allow any rights to its citizens."
The Organization of Islamic Cooperation, representing states where converting to Christianity is subject to the death penalty, sponsored a resolution called "combating intolerance of persons based on religion or belief."
Playing at caring about human rights is the UN game. And no state does it better than Iran. Iran's human rights record happened to come up at the March session in the context of what the Council calls a "universal periodic review" (UPR). Touted as its leading human rights innovation, the same process is applied to every state every four years. That means Iran and Syria get treated the same way as, say, the United States and Canada. At the end of the UPR, a report is summarily adopted containing a bunch of recommendations that the former cast of characters summarily dismiss. It was suggested to Iran, for instance, that it stop peddling little girls as sex slaves for old men. The recommendation received this reply: "in light of Islamic teachings, a person that has reached the age of maturity and is of sound mind has the possibility of marrying."
The Council created a human rights investigator on Iran, but Iran has never let him into the country. Recommendations made to Iran during the UPR that it cooperate, were simply ignored. On March 19, 2014, the US representative mustered all her courage and countered with this: "we note with disappointment that Iran has not addressed the issue of allowing the Special Rapporteur on the situation of human rights in Iran to visit the country."
There is an alternative conclusion. We note with disappointment that the United States legitimizes this travesty and empowers the real enemies of human rights, and sides with all those nations in condemning Israel. The UN is a travesty!
Israeli Prime Minister Benjamin Netanyahu issued a dire warning Sunday about a possible nuclear accord with Iran as talks in Switzerland towards the outline of a deal intensified days before a deadline. "The dangerous accord which is being negotiated in Lausanne confirms our concerns and even worse," Netanyahu said in remarks broadcast on public radio. He said the "Iran-Lausanne-Yemen axis" was "dangerous for all of humanity" and that combined with Tehran's regional influence, a nuclear deal could allow Iran to "conquer" the Middle East. "After the Beirut-Damascus-Baghdad axis, Iran is maneuvering from the south to take over the entire Middle East," Netanyahu said at a cabinet meeting, one of the last for his outgoing government. "The Iran-Lausanne-Yemen axis is dangerous for mankind and must be stopped."
Netanyahu told ministers that he had spoken with Republican leaders in the US Senate and "conveyed our serious concern regarding the arrangement with Iran at the nuclear talks. This agreement confirms all our fears and exceeds them. "While world powers convene to sign this deal, Iran's proxies in Yemen are conquering large swaths of land in an effort to overtake the Bab al-Mandab straits, so that they can change the balance of power in shipping oil," he said, referring to recent unrest in Yemen. If, God forbid, it happens, Israel will also be required to reassess the whole resulting security situation."
Intelligence Minister Yuval Steinitz, a confidant of Netanyahu, said that the deal was "full of holes," and that he hoped US President Barack Obama would keep to his word that "no deal is better than a bad deal." Israel, widely assumed to have nuclear weapons itself, is concerned that a deal that six powers are trying to agree the contours of by midnight on March 31 will fail to stop Iran from getting the bomb. Ironically, last week President Obama leaked to the world secret information regarding Israel's nuke program.
Meanwhile, an Iranian journalist writing about the nuclear negotiations between the United States and Iran has defected. In an interview Amir Hossein Motaghi, had some harsh words for his native Iran. He also had a damning indictment of America's role in the nuclear negotiations. "The US negotiating team are mainly there to work on Iran's behalf with other members of the 5+1 countries and convince them of a deal," Motaghi told a TV station after just defecting from the Iranian delegation while abroad for the nuclear talks. The P 5 + 1 is made up of United States, United Kingdom, Russia, China, France, plus Germany.
A close media aide to Hassan Rouhani, the Iranian president, has sought political asylum in Switzerland after travelling to Lausanne to cover the nuclear talks between Tehran and the West. Amir Hossein Motaghi, who managed public relations for Mr Rouhani during his 2013 election campaign, was said by Iranian news agencies to have quit his job at the Iran Student Correspondents Association (ISCA).
He then appeared on an opposition television channel based in London to say he no longer saw any "sense" in his profession as a journalist as he could only write what he was told. There are a number of people attending on the Iranian side at the negotiations who are said to be journalists reporting on the negotiations," he told Irane Farda television. "But they are not journalists and their main job is to make sure that all the news fed back to Iran goes through their channels. "My conscience would not allow me to carry out my profession in this manner any more."
Arab Leaders Agree to Form Joint Military Force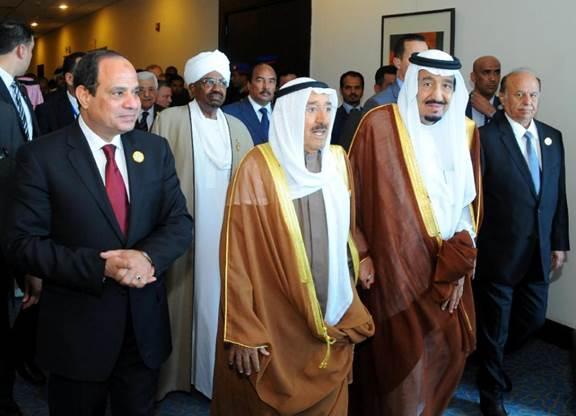 March 30….(AFP) Arab leaders agreed on Sunday to form a joint military force after a summit dominated by a Saudi-led offensive on Shiite rebels in Yemen and the threat from Islamist extremism. Arab representatives will meet over the next month to study the creation of the force and present their findings to defence ministers within four months, according to the resolution adopted by the leaders. "Assuming the great responsibility imposed by the great challenges facing our Arab nation and threatening its capabilities, the Arab leaders had decided to agree on the principle of a joint Arab military force," Egyptian President Abdel Fattah al-Sisi told the summit in the resort town of Sharm el-Sheikh.
The decision was mostly aimed at fighting jihadists who have overrun swathes of Iraq and Syria and secured a foothold in Libya, Arab League chief Nabil al-Arabi said ahead of the summit. On Sunday, Arabi told the meeting the region was threatened by a "destructive" force that threatened "ethnic and religious diversity", in an apparent reference to the Islamic State group. "What is important is that today there is an important decision, in light of the tumult afflicting the Arab world," he said. Egypt had pushed for the creation of the rapid response force to fight militants, and the matter gained urgency this week after Saudi Arabia and Arab allies launched air strikes on Huthi rebels in Yemen. Arabi, reading a statement at the conclusion of the summit, said on Sunday the offensive would continue until the Huthis withdraw from regions they have overrun and surrender their weapons.
Several Arab states including Egypt are taking part in the military campaign, which Saudi King Salman said on Saturday would continue until the Yemeni people "enjoy security". emeni President Abedrabbo Mansour Hadi at the start of the summit called for the offensive to end only when the Huthis "surrender", calling the rebel leader an Iranian "puppet".
Putin Letter to Arab Summit Triggers Strong Saudi Rebuke
(Saudi Foreign Minister accuses Russian president of hypocrisy for urging peaceful resolution in Mideast while supporting Syria's Assad.)
March 30….(YNET) Saudi Arabia accused Russian President Vladimir Putin of hypocrisy on Sunday, telling an Arab summit that he should not express support for the Middle East while fuelling instability by supporting Syrian leader Bashar Assad. In a rare move, Egyptian President Abdel Fattah Sisi announced that a letter from Putin would be read out to the gathering in Egypt, where Arab leaders discussed an array of regional crises, including conflicts in Syria, Yemen and Libya. "We support the Arabs' aspirations for a prosperous future and for the resolution of all the problems the Arab world faces through peaceful means, without any external interference," Putin said in the letter.
His comments triggered a sharp attack from Saudi Foreign Minister Prince Saud Faisal. "He speaks about the problems in the Middle East as though Russia is not influencing these problems," he told the summit right after the letter was read out. Relations between Saudi Arabia and Russia have been cool over Moscow's support for Assad, whom Riyadh opposes. The civil war between Assad's forces and rebels has cost more than 200,000 lives in four years.
The Saudi rebuke may have been awkward for summit host Egypt, which depends heavily on billions of dollars in support from Saudi Arabia and other Gulf Arab allies, but has also improved ties with Moscow. In February, Putin received a grand welcome in Egypt, signalling a rapprochement. "They speak about tragedies in Syria while they are an essential part of the tragedies befalling the Syrian people, by arming the Syrian regime above and beyond what it needs to fight its own people," Prince Saud said. "I hope that the Russian president corrects this so that the Arab world's relations with Russia can be at their best level."
Obama/Kerry Surrender

on Breakout Time to a Bomb Leads to a

Nuclear Iran

March 30….(DEBKA) President Barack Obama and John Kerry promised that the nuclear deal to be signed with Iran in Switzerland this week will give the world powers a year's warning after the Islamic Republic's breakout up to an operational weapon. debkafile's intelligence sources disclose that, to clinch the framework deal in Lausanne, even this concession, which imperils Israel, the Gulf and the Middle East at large, was not enough. In a further surrender, the president authorized the US delegation to fall back again on the space granted the world powers for reacting to breakthrough, dropping it from a year to six or seven months: Our nuclear experts explain why even that grim arithmetic does not do full justice to the advantages Iran has gained for its push to a nuke:

1. Because Iran is permitted to continue running up to 6,500 elderly IR-1 centrifuges for enriching uranium to a low 3.5 percent grade, even if it is permitted to keep only 500 kilos of its stock of 7.5-8 –tons, Tehran would still be able to build a bomb in 7-8 months, i.e. a lot faster than Obama and Kerry have promised.

2. But if Tehran activates secret facilities undetected by US intelligence, it can produce a larger quantity of enriched uranium and so shrink the time between breakout and bomb to three, at most, four months, totally insufficient for the world powers to detect, step in and abort the bomb's manufacture, in view of the following considerations: To obtain proof that Iran is cheating on its accord with the world powers, "environmental" samples would have to be obtained and tested in laboratories outside Iran. Results would be available only after two months, further slashing the time line for stopping Iran building a weapon. But that is not all. If Iran is shown by the first round of tests to be in violation of the accord and enriching uranium to a higher grade than 3.5, a second batch of "environmental" samples must be collected to analyze the exact quantities of uranium illicitly enriched and grade of purity. There goes another month of valuable time for action, cutting it down to 10-12 weeks.

3. And, finally, the US President, Secretary of State and International Atomic Energy leaders have affirmed Iran's faithful compliance with the first interim nuclear accord, known as the Joint Plan of Action, JPOA that was signed in Geneva November 2013. That information is equally false. It is a fact which is known to intelligence agencies that Iran never complied with its commitment to reduce its UF6 stocks below 7.5 tons and convert added amounts to harmless oxides. Indeed, they estimate that Iran has enlarged its approved amount of stock to 8.5 tons or more, by means of the "creep-out" strategyit has repeatedly pursued in the past to conceal its nefarious nuclear activities.

3. A final concession which Iran has managed to wring out of the six world powers led by Washington allows Tehran to keep an extra 9,000 IR-1 centrifuges Tehran idle, though not dismantled, and permission to continue research and development on high-speed IR-8 or IR-5 centrifuges. This mans that the Islamic Republic will not only keep its nuclear infrastructure under the accord the six powers plan to sign, but add improvements along with the freedom to shorten at will the critical time lapse between breakout and bomb. The tons of spoken and printed verbiage poured out on the Iranian nuclear issue and ongoing diplomacy year after year have exposed, rather than disguised, President Obama's willingness to sign a nuclear deal with Iran, however bad and whatever the price.

The inescapable conclusion is that the US president has come around to accepting the reality of a nuclear-armed Iran. As seen from Washington, America never stopped India, Pakistan and North Korea from becoming nuclear powers, and has therefore decided it can live with a fourth - Iran.

Today, 25% of Americans Don't Believe in God

(Lack of Trust in Local Churches Cited as a Reason Why Adults Are Leaving the Faith)

March 30….(Christian Post) Barna Group has released its 2015 study on the state of atheism in America, and has revealed that one in four unchurched adults in the country now identify as atheists or agnostics. The study also found that rejection of the Bible and lack of trust in the church are two main reasons why people are turning away from faith.

The study was focused on those who have not attended church within the past six months, and found that the majority of such people identify as non-practicing Christians. One in four, or 25 percent, however, were classed as skeptics, which Barna defines as people who "either do not believe God exists (atheists) or are not sure God exists, but are open to the possibility (agnostics)." Of that number, nearly one-third said that they have never attended a Christian church service in their lives.

Barna found that the three main reasons people decide not to believe in God stem from rejection of the Bible; lack of trust in the local church; and the "cultural reinforcement of a secular worldview." "Skeptics dismiss the idea that the Bible is Holy or supernatural in any way. Two-thirds contend that it is simply a book of well-known stories and advice, written by humans and containing the same degree of authority and wisdom as any other self-help book," the report said. It added that the other one-third believe that the Bible is either a historical document that contains "the unique but not God-inspired accounts of events that happened in the past," or do not really know what to make of the Bible.

David Kinnaman, president of Barna Group, said: "The data show that some cities, and younger generations, are more Gospel-resistant than others. It is increasingly common among millennials to dismiss religion, God, churches, authority and tradition. For years, some observers have claimed colleges and universities are a breeding ground for anti-God sentiment. The data does lend support to the notion that college campuses are comfortable places for young people to abandon God and assume control of their own lives." The group explained that today's skeptics, much like their counterparts two decades ago, are defined by their denial and doubts about God's existence. Their demographics have been changing considerably, however. As other studies have also found, younger people are more likely to be skeptics than older people. Barna says that today, 34 percent of all skeptics are younger than 30. The statistics also showed that half of all skeptics have a college degree, and that many more women today are joining their ranks, only 16 percent of skeptics in 1993 were women, but by 2013 that number grew to 43 percent.

Kinnaman added in his statement: "Figuring out how to effectively engage skeptics is difficult. One of the unexpected results we uncovered is the limited influence of personal relationships on skeptics. They are considerably less relational and less engaged in social activities than the average American. Christians for whom 'ministry is about relationships' may be disappointed when they find that many skeptics are not as enamored of relational bonds as are those who are already a part of church life." "But in giving his followers the Great Commission, Jesus didn't mention anything about doing what is easy. New levels of courage and clarity will be required to connect beyond the Christianized majority."

Other polls, such as the 2014 General Social Survey conducted by NORC and the University of Chicago, which was released in March, also found that the number of Americans leaving organized religion is at a record high, at 21 percent.
As Obama Lets Yemen Fall, Israeli Ire Pales Next to Arab Fury
(Jerusalem is worried by the Iran-backed Houthi takeover of Aden, but Saudi Arabia is burning with anger, and not at Tehran, but at the US)
March 30….(Times of Israel) A few months ago, when Yemen's Houthi uprising was still in its infancy, Israel was already worriedly watching over the progress of rebel forces making advances in the peninsula. It's little surprise the group got Jerusalem's attention. In almost every demonstration held by Houthis in recent months, the slogans heard may as well have been taken straight out of the 1979 Islamic Revolution in Iran: "Death to America, death to Israel, curse the Jews, victory to Islam."
The Houthi Zaidiyyahs belong to a Shia school of Islamic thought which is distinct from the beliefs held by Shiites in Iran, but they act in accordance with the regime in Tehran, which supplies the Yemenite rebels with advanced equipment that allows them to wage battle on the forces of President Abed Rabbo Mansour Hadi.
As the rebels have managed to sack much of the port town of Aden, pushing Hadi out of his home Wednesday and sparking Saudi-led airstrikes, the concerns on the Israeli side are clear. Firstly, an Iranian takeover of the strategic Bab el Mandeb Strait and the possibility of a Israeli ships coming under fire with no one officially taking responsibility for such attacks would not bode well for the Jewish state. But aside from the threat of assaults on ships, the Iranian-Houthi takeover of Yemen raises another serious concern for Israel, namely, the potential rising influence of Iran in the region, which will allow the Islamic Republic to improve its position during negotiations on the country's nuclear program.
As Iran's involvement in countries such as Iraq, Syria and Yemen grows, so it increases its ability to bargain with the Americans and the Europeans on the number of centrifuges it may possess and the nature of inspections by UN officials at its nuclear facilities. Decision makers in Israel have come to an understanding that the Americans have no intention of imposing demands on Iran with regards to halting military operations and even terrorist attacks in other countries as part of the agreement over Tehran's nuclear program. But Israel's concerns regarding the Houthi takeover of Yemen are nothing compared to the profound discontent of Riyadh and other Arab countries, in light of Iran's rampage throughout the Middle East and the blatant inaction on the part of the US.
The outcome of the Saudi military operation may not be decisive, but reflects much Saudi, Jordanian and Egyptian frustration. The anger of these regimes is not directed at Iran, which is more or less engaged in the kind of hostile activity expected of it, but mainly at Washington. It is slightly hard to believe, but at a time when the White House is intensively negotiating with Iran in an attempt to reach an agreement on the nation's nuclear program withing the next five days, the Shiites in Tehran have helped topple a majority Sunni regime and made significant territorial advances. Yemen is a state with a long and unmanned border with Saudi Arabia, Iran's number one regional rival. Yet Washington remains silent.
Yes, Saudi Arabia and the US claimed the overnight operation in Yemen was carried out with intelligence assistance by the Americans, but Arab leaders and decision makers in Israel are still struggling with the White House's insistence on demonstrating exceptional weakness in its ongoing talks with Tehran.
The expectation by Sunni Arabs and Israel is that the world's major powers will at least try to pressure Tehran to halt its military operations in a variety of destinations in the Middle East, as part of any future agreement on Iran's nuclear program. Such pressure against Tehran over its involvement in Yemen or Iraq, such as leaving economic sanctions in place, could inspire the ayatollahs to reconsider their advances in the region. But for now, under the White House's zero action policy, Iran can continue doing whatever it wants without having to miss a beat.
For its part, Saudi Arabia is issuing statements that could have been written in Jerusalem. "Iran is an aggressive state that is intervening and operating forces in the Arab world," Saudi Foreign Minister Saud al-Faisal said this week at a joint press conference with his British counterpart, Philip Hammond. "Its nuclear weapons are a threat to the Gulf and the entire world." He then went on to convey a message to the Obama administration, saying: "Striking a deal that Iran doesn't deserve is not right. Think, too, about the dangerous ramifications of the Iranians' 'second plan.'" This "second plan", about which Israeli intelligence officials have been warning for the past five years, involves Iran's desire for Shiite control over the Arab world, with the ultimate objective being control over the Muslim holy sites in Saudi Arabia.
Obama-Iran Nuke Deal Prompts Arabs to Create Regional Force
(Saudi Arabia concluding it can no longer rely on Washington, and even acquire nuclear weapons as entire Middle East descends into a giant Islamic civil war)
March 30….(WND) With the Obama administration holding out for a nuclear deal with Iran, Saudi-led air strikes by 10 coalition members against Iranian-backed al-Houthi targets in neighboring Yemen have won broad US congressional backing as Arab leaders move closer to creating a joint Arab military force. The Saudis want to intervene more aggressively against ISIS jihadist fighters and the spread of Iranian influence in the region.
Creation of a joint force, which has been discussed in recent years but never implemented, comes as the Saudis and close ally Egypt sees the United States moving toward a nuclear deal with Iran. The imminent deal has caused Riyadh to conclude it can no longer rely on US security guarantees and must take the security initiative. Broad bipartisan congressional backing of the Saudi initiative comes as prospects rise over Sunni Saudi Arabia and Shiite Iran becoming increasingly engaged in a proxy sectarian conflict, such as in Syria, Bahrain, Iraq and now Yemen.
Egypt's President Abdel Fattah Sisi endorsed the creation of a joint military force to defend Arab nations. Sisi said the Arab world was at a critical crossroads and facing unprecedented difficulties.
In addition to Saudi Arabia and Egypt, the other Sunni countries willing to participate in the joint military force are Kuwait, Bahrain, Qatar, United Arab Emirates, Jordan, Morocco, Sudan and Pakistan.Oman, which borders Yemen, is in a quandary since it also has a close relationship with Iran. Sources say its preference is to stay out of the fight and remain, as it has been recently, a back channel for talks between the US and Iran.
Over the weekend, foreign ministers assembled in Egypt's Sharm el-Sheikh at an Arab League conference to come up with a plan for such a joint force. From this joint force, the airstrikes now occurring in Yemen against the Iranian-backed Houthis could be followed for the first time by ground troops assembled from some 10 Sunni countries, including Gulf Arab nations. The intention of the ground forces will be to compel the Houthis to negotiate a resolution of the Yemeni crisis. The joint force would be headquartered either in Cairo, Egypt, or the Saudi capital o Riyadh and would be comprised on an initial 40,000 elite troops. The force would be backed up by jet fighters, warships and light armor. "The resolution sends a clear message that Arab nations can agree on a plan to defend themselves," Arab League head Nabil Elaraby said in Sharm el-Sheikh. Egyptian Foreign Minister Sameh Shukri said the proposed joint force would undertake "quick and effective missions."
The Egyptians recently took it upon themselves to attack Islamic State positions in Libya following the mass beheadings of 21 Coptic Christian Egyptians. Similarly, the Jordanians initiated combat missions against ISIS positions in Syria following the execution of a Jordanian pilot. In addition, Egypt and the Gulf Arab countries have held joint war games over the past year leading to closer coordination of command and control of military forces of their armed forces. These events have led to the decision that any future actions can be carried out under the auspices of the Arab League.
Bomb Iran Before It Gets the Bomb
March 30….(Newsmax) There is only one way to block the Iranians from building a nuclear bomb, according to former ambassador John Bolton: Bomb them first. "The inescapable conclusion is that Iran will not negotiate away its nuclear program," Bolton wrote in an opinion piece for The New York Times on Thursday. "Nor will sanctions block its building a broad and deep weapons infrastructure."
The "inconvenient truth," Bolton insists, is that "only military action like Israel's 1981 attack on Saddam Hussein's Osirak reactor in Iraq or its 2007 destruction of a Syrian reactor, designed and built by North Korea, can accomplish what is required. Time is terribly short, but a strike can still succeed." Such an attack would not need to destroy Iran's entire nuclear infrastructure, but instead, Bolton said, would break key links in the nuclear fuel cycle and set back Iran's program by at least three to five years. "Rendering inoperable the Natanz and Fordow uranium-enrichment installations and the Arak heavy-water production facility and reactor would be priorities," said Bolton. "So, too, would be the little-noticed but critical uranium-conversion facility at Isfahan."
The United States could thoroughly destroy the targets, he said, but Israel, acting alone, could also take the necessary steps. He also called for the action to combine with US support for regime change in Iran. Meanwhile, Bolton said, President Barack Obama's fascination with striking a nuclear deal with Iran could trigger a wave of nuclear programs throughout the Middle East. "The president's biggest legacy could be a thoroughly nuclear-weaponized Middle East," said Bolton.
Experts have been worried for years that it would happen, said Bolton. As in other cases such as India, Pakistan and North Korea, the West should have been vigilant, he says, "but failing to act in the past is no excuse for making the same mistakes now." Obama, like his predecessors, inherited the effects of past presidents' decisions, but is responsible for what is happening on his watch, Bolton said, and his "approach on Iran has brought a bad situation to the brink of catastrophe."
Meanwhile, comprehensive international sanctions have crippled Iran somewhat but have not stopped the nuclear program's progress. "Even absent palpable proof, like a nuclear test, Iran's steady progress toward nuclear weapons has long been evident," said Bolton. "Now, the arms race has begun." He noted that Saudi Arabia is expected to move first, as "no way would the Sunni Saudis allow the Shiite Persians to outpace them in the quest for dominance." Analysts believe that Saudi Arabia is able to get nuclear weapons from Pakistan, and Bolton said Egypt or Turkey would not be far behind. Israel's nuclear capability, though, is mainly seen as a deterrent, not as an offensive measure, and has not brought on an arms race, but Iran is different.
The evidence is mounting that Saudi Arabia, Egypt and Turkey are quickening their pace for nuclear weapons of their own, said Bolton. "Saudi Arabia has signed nuclear cooperation agreements with South Korea, China, France and Argentina, aiming to build a total of 16 reactors by 2030," said Bolton. Western intelligence agencies believe that the Saudi monarchy paid for up to 60% of Pakistan's nuclear program in return for the ability to buy warheads for itself at short notice.
Was Mass-Murdering Co-pilot Andreas Lubitz a Muslim?
March 30….(Now the End Begins) Just as the horror of that thought was settling in, reporters began to question what the religion of Lubitz was. Yes, he was German by nationality, but that does not mean he was a Christian. In Germany live many non-Christians such as Jews and Muslims. Germany, in recent years has experienced a huge spike in Islamic extremism and in Muslim immigration. Is it possible that Lubitz had been radicalized at some point in the past few years? Internet chat rooms burned up today discussing it, and experts in Germany say it's quite possible.
Back in January, German Chancellor Angela Merkel said that German citizens "must accept Islam" or pay the price. The chancellor used unusually direct words in her New Year's speech for the rallies organized by a group calling itself Patriotic Europeans against the Islamization of the West, or PEGIDA which have been attended by thousands. When the protesters chant "we are the people," they actually mean to say "you don't belong, because of your religion or your skin color," Merkel said.
When a reporter asked French Prosecutor Brice Robin of Marseille, during a news conference Thursday, whether he knew Lubitz's religion, Robin said he did not know and added, "I don't think that's where the answer to this lies." The question suggested that Lubitz's religious background was relevant to the investigation behind the pilot's alleged deliberate downing of Germanwings Flight 9525 on Tuesday. Robin said the crash did not show any signs of terrorism. Some were appalled by the reporter's inquiry.
Prosecutor Brice Robin gave a disturbing account of the data extracted from black box which records sounds in the cockpit. He said Lubitz locked his captain out after the senior officer left the flight deck. At that point, Lubitz used the flight managing system to put the plane into a descent, something that can only be done manually – and deliberately. He said: 'The intention was to destroy the plane. Death was instant. The plane hit the mountain at 430 mph. 'I don't think that the passengers realized what was happening until the last moments because on the recording you only hear the screams in the final seconds'. This is what we know for sure at this point:
The co-pilot intentionally crashed the plane

He was very calm in the moments preceding the crash

He killed all 150 passengers on board

He committed this mass murder with an airplane

His religion remains unknown at the time of this publication

Muslim terrorism cannot be ruled out. We will keep you updated as more is learned.
Obama Administration Flooding America With Muslim Immigrants
March 30….(WND) Muslim immigration from dangerous nations is dramatically higher in recent years, and government assurances that immigrants are being properly screened is "a farce," according to accomplished author and columnist Paul Sperry. "It's a huge surge under Obama. In the last three years, he's averaged 100,000 new immigrants from Muslim nations a year. That is very alarming. It's more than we're importing both from Central America and Mexico combined. This is a big shift in immigration flows," said Sperry, who is the author of "Infiltration: How Muslim Spies and Subversives Have Penetrated Washington" and co-author of "Muslim Mafia: Inside the Secret Underworld That's Conspiring to Islamize America." "It's really insane what we're doing. No one's really talking about it, but this mass immigration from Muslim countries poses a serious national security threat," said Sperry, who is also a Hoover Institution media fellow and former Washington bureau chief of WND. Sperry frequently writes for the New York Post and Investor's Business Daily. The stated reason for the influx in recent years is the rise in refugees from war-torn nations like Syria and Iraq. The number of people accepted from Syria in particular baffles Sperry, who said there is a long standing policy of keeping Syrians at bay. "Syria has always been on our terrorist list," he said. "We have had very strict restrictions on Syrian immigration. Since Syria's become a failed state, Obama's increased the number of refugees. By the time he leaves office, we will be importing over 10,000 Syrians into this country. This is a concern because Iraq and Syria are now controlled by the Islamic State." "We have no idea if they're going to come into this country to escape terrorism or to carry out terrorism. We have no idea, and they admit as much. For all we know, they could be joining a sleeper cell here," said Sperry, who noted that Obama has also greatly increased the number of Saudis in the US on student visas.
According to Sperry, the US should be feverishly dialing back its acceptance of Muslims from questionable nations. He said Western Europe is a glaring example of what happens when more scrutiny is not paid to who enters the country. Sperry cites recent terror attacks and plots in Paris, Copenhagen and Brussels as proof that liberal immigration standards and refusal to demand assimilation is a breeding ground for disaster. "They opened the floodgates for North African Muslims," he said. "Now they regret it, of course, but it's too late. Europe regrets doing what we're doing now. We're the ones who are rolling out the welcome mat for Muslims from these hostile nations."
Sperry said it's time to stop pretending America is not at war and take concrete measures to keep out people from suspect nations. He believes there's an obvious place to start. "They have a list of Muslim countries who are most hostile to the US and the West," Sperry said. "They rank them. We can start with those countries for a moratorium, putting some curbs on immigration from these countries."
Kerry and Iran Close on Nuclear Deal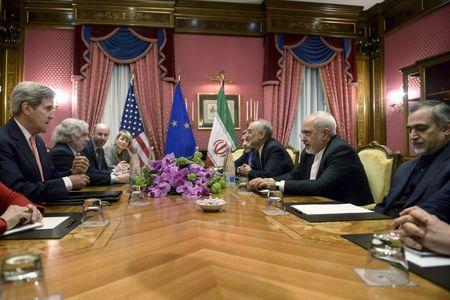 March 30….(Reuters) Iran and major powers are close to agreeing a two- or three-page accord with specific numbers as the basis of a resolution of a 12-year standoff over Tehran's nuclear ambitions. Kerry and Zarif have been in Lausanne for days to try to reach an outline agreement by a self-imposed deadline of March 31 between Iran on the one hand and the United States, Britain, France, Germany, Russia and China on the other. "The sides are very, very close to the final step and it could be signed or agreed and announced verbally," a senior Iranian official familiar with the talks told Reuters on condition of anonymity. Other officials echoed the remarks while warning that several crucial issues were still being hotly debated.
The negotiations, under way for nearly 18 months, aim to hammer out an accord under which Iran, which denies any ambition to build nuclear weapons, halts sensitive nuclear work in exchange for the lifting of sanctions, with the ultimate aim of reducing the risk of a war in the Middle East. Ahead of another meeting with Zarif on Saturday, Kerry said he expected the discussions to run late. Zarif added that the meetings would run through "evening, night, midnight, and morning".
WEEK OF MARCH 22 THROUGH MARCH 28
Obama Declassifies Document Revealing Israel's Nuclear Program
(Obama's revenge for Netanyahu's Congress talk? 1987 report on Israel's top secret nuclear program released in unprecedented move.)
March 27….(Arutz) In a development that has largely been missed by mainstream media, the Pentagon early last month quietly declassified a Department of Defense top-secret document detailing Israel's nuclear program, a highly covert topic that Israel has never formally announced to avoid a regional nuclear arms race, and which the US until now has respected by remaining silent.
But by publishing the declassified document from 1987, Obama has breached the silent agreement to keep quiet on Israel's nuclear powers for the first time ever, detailing the nuclear program in great depth.
The timing of the revelation is highly suspect, given that it came as tensions spiraled out of control between Prime Minister Binyamin Netanyahu and US President Barack Obama ahead of Netanyahu's March 3 address in Congress, in which he warned against the dangers of Iran's nuclear program and how the deal being formed on that program leaves the Islamic regime with nuclear breakout capabilities.
Another highly suspicious aspect of the document is that while the Pentagon saw fit to declassify sections on Israel's sensitive nuclear program, it kept sections on Italy, France, West Germany and other NATO countries classified, with those sections blocked out in the document. The 386-page report entitled "Critical Technological Assessment in Israel and NATO Nations" gives a detailed description of how Israel advanced its military technology and developed its nuclear infrastructure and research in the 1970s and 1980s. Israel is "developing the kind of codes which will enable them to make hydrogen bombs. That is, codes which detail fission and fusion processes on a microscopic and macroscopic level," reveals the report, stating that in the 1980s Israelis were reaching the ability to create bombs considered a thousand times more powerful than atom bombs.
The revelation marks a first in which the US published in a document a description of how Israel attained hydrogen bombs. The report also notes research laboratories in Israel "are equivalent to our Los Alamos, Lawrence Livermore and Oak Ridge National Laboratories," the key labs in developing America's nuclear arsenal. Israel's nuclear infrastructure is "an almost exact parallel of the capability currently existing at our National Laboratories," it adds. "As far as nuclear technology is concerned the Israelis are roughly where the US was in the fission weapon field in about 1955 to 1960," the report reveals, noting a time frame just after America tested its first hydrogen bomb. Institute for Defense Analysis, a federally funded agency operating under the Pentagon, penned the report back in 1987.
Aside from nuclear capabilities, the report revealed Israel at the time had "a totally integrated effort in systems development throughout the nation," with electronic combat all in one "integrated system, not separated systems for the Army, Navy and Air Force." It even acknowledged that in some cases, Israeli military technology "is more advanced than in the US."
Declassifying the report comes at a sensitive timing as noted above, and given that the process to have it published was started three years ago, that timing is seen as having been the choice of the Obama government. US journalist Grant Smith petitioned to have the report published based on the Freedom of Information Act. Initially the Pentagon took its time answering, leading Smith to sue, and a District Court judge to order the Pentagon to respond to the request. Smith, who heads the Institute for Research: Middle East Policy, reportedly said he thinks this is the first time the US government has officially confirmed that Israel is a nuclear power, a status that Israel has long been widely known to have despite being undeclared.
Obama's 'jihad against Jews' spills Israel's nuke secretss
White House declassifies details of Middle East democracy's defenses
March 27….(WND) In a move blasted by commentators as part of President Obama's "jihad against Jews," the White House has abruptly declassified details of Israel's nuclear program. ccording to Israel National News, the Obama administration declassified a Department of Defense top-secret document with details of Israel's assets, "a highly covert topic that Israel has never formally announced to avoid a regional nuclear arms race." The report said until now, the US has respected that effort by remaining silent. "But by publishing the declassified document from 1987, the US reportedly breached the silent agreement to keep quiet on Israel's nuclear powers for the first time ever, detailing the nuclear program in great depth," the report said. It openly questioned, "Obama revenge for Netanyahu's Congress talk," and other commentators were more direct.
At Shoebat.com, started by a former Muslim terrorist turned Christian, was the blunt headline "Obama's evil revenge on Netanyahu continues." Pamela Geller, on her Atlas Shrugs blog, called it "Obama's jihad against the Jews." "Obama is sick, sick with Jew-hatred, unbalanced, unhinged, a danger to this this country, our allies, the world. Israel's nuclear program, whatever it may be, is purely existential insurance. If they have a nuclear weapon, they have had it for 50 years and have never used it, despite the decades-long Muslim wars against the Jews," she wrote. "Israel has shared its secrets with the US for decades. They never imagined a jihadist in the White House."
Israel National News said the "timing of the revelation is highly suspect, given that it came as tensions spiraled out of control between Prime Minister Benjamin Netanyahu and US President Barack Obama ahead of Netanyahu's March 3 address in Congress, in which he warned against the dangers of Iran's nuclear program and how the deal being formed on that program leaves the Islamic regime with nuclear breakout capabilities." The speech to Congress was at the invitation of Congress, and Obama reportedly went, according to one published headline, into a "pout" because he was not consulted on the plans. Obama's relations with Israel's elected leader have never been better than rocky during his White House tenure..
Obama later publicly said he didn't pay much attention to the speech and insisted there was nothing new in it. Just days later, Netanyahu won a sweeping victory in a national election, despite the reported organized opposition from the Obama administration. WND reported extensively on a non-profit that had been given US taxpayer money to defeat Netanyahu. The OneVoice Movement at one point featured and promoted a link to the State Department and featured its logo, which later was removed. OneVoice is a US-UK non-profit sponsoring V15, a new Israeli political action group that led a get-out-the-vote-organizing drive aimed at replacing Netanyahu's government with a center-left coalition.OneVoice's offices in Tel Aviv were used as the campaign headquarters for V15′s anti-Netanyahu effort, as WND was first to report. It was OneVoice that reportedly hired 270 Strategies, a consulting firm whose senior leadership is comprised mostly of former top staffers for President Obama's 2012 re-election campaign. 270 Strategies has been consulting in V15′s campaign. When the links were revealed, Fox News quoted a source saying a bipartisan US Senate committee with subpoena powers had started investigating the possibility the Obama administration may have aided OneVoice's efforts to defeat Netanyahu via grants from the State Department. OneVoice received a State Department grant for $350,000.
Israel National News noted another "suspicious aspect" of the US government's decision was that "while the Pentagon saw fit to declassify sections on Israel's sensitive nuclear program, it kept sections on Italy, France, West Germany and other NATO countries classified, with those sections blocked out in the document." The report, called the "Critical Technological Assessment in Israel and NATO Nations," describes how Israel advanced its technology and obtained a "nuclear infrastructure and research in the 1970s and 1980s.""
INN said the revelation "marks a first in which the US published in a document a description of how Israel attained hydrogen bombs." The report describes Israel's facilities that "are equivalent to our Los Alamos, Lawrence Livermore and Oak Ridge National Laboratories," where the US developed its nuclear program. According to INN, the report by the Institute for Defense Analysis in 1987, said that "as far as nuclear technology is concerned the Israelis are roughly where the US was in the fission weapon field in about 1955 to 1960."
Egypt Seizes Bab el Mandeb Ahead of Iran. Saudis Bomb Iran-backed Yemeni Houthis,
While US launches Helps Iran Take Over Tikrit
March 27….(DEBKA) In a surprise step, Egyptian marine naval and marine forces seized control of the strategic Bab El-Mandeb Straits to foil Tehran's plans to grab this important energy shipping gateway between the Red Sea, the Gulf of Aden and the Suez Canal, Debkafile's military sources report from the Gulf. Egypt disguised the raid as a counter-piracy operation. It rounded off the Saudi-led air strikes launched the same morning against Iran-backed Houthi rebels in Yemen. These operations signaled the start of a major Sunni Arab revolt against Iran's approaching takeover of Yemen, through its Houthi proxy, and advances in other strategic positions in the Middle East, with Washington's support.
Meanwhile, the US launched its first air strikes against Islamic State positions in the Iraqi city of Tikrit, rallying to the aid of the Iranian-commanded Iraqi operation, which had failed to dislodge the jihadis in two weeks of fighting. The separate operations in Yemen and Iraq attested to the widening breach between the Sunni Arab camp and the Obama administration and the former's resolve to thwart US strategy for buying a nuclear deal with Tehran by empowering Iran to attain the rank of leading Middle East power.
Iran's Revolutionary Guards (IRGC) are now leading war action in four Mid East arenas: Syria, Iraq, Yemen and Lebanon, while building Shiite "popular" armies deferring to Tehran in three: Syria, Iraq and Yemen. The formal announcements coming from Riyadh and Washington attempted to gloss over the open breach. The Saudis Wednesday indicated that their military buildup on the Yemeni was "purely defensive," while Washington subsequently declared support for the Saudi-Gulf-Egyptian air strikes after they began..
According to our Washington sources, President Obama decided Wednesday to accede to the Iraqi premier Haider al-Abadi's request for air support to de-stall the Tikrit operation against ISIS. Iran's Al Qods Brigades chief, Gen. Qassem Soleimani, who commanded the operation from the start has departed the scene. Nothing has been said to indicate whether the Iranian forces, including Revolutionary Guards officers, remain in the area. It appears that the Obama administration prefers as little as possible to be mentioned about US-Iranian battlefield coordination in Iraq versus the Islamists, especially since it was not exactly a big success. At the same time, US air strikes launched to support ground forces are bound to be coordinated with their commanders, who in this case happen to be mostly Iranian. In the last two weeks of the Tikrit operation, liaison between the US and Iranian military in Iraq was routed through the office of the Iraqi Prime Minister in Baghdad.
Early Thursday, Riyadh reported that the Saudi Royal Air Force had taken out Houthi air defenses, destroyed numerous Houthi fighter planes and were imposing a wide no-fly zone over Yemen. Egypt is providing political and military support for Saudi-GCC operation against Houthi fighters in Yemen, the Egyptian state news agency said Thursday. Egypt's Foreign Ministry was quoted as saying this support could involve Egyptian air, naval and ground forces, if necessary.
Debkafile's military sources add: The Saudis declared Yemeni air space a no-fly zone to achieve to goals: (1) To deny the Yemeni forces advancing on the key port city of Aden access to air cover which would undoubtedly have been forthcoming from mutinous elements of the Yemeni air force. Without it, the rebel advance would be severely hobbled, and, (2) to prevent Iranian warplanes from landing at Yemeni air bases with deliveries of military equipment and ammunition their Houthi proxies. Gulf sources disclose that Saudi Arabia has placed 100 warplanes and 150,000 troops with heavy weapons at the disposal of the operation against Iran's Yemeni proxy, the Zaydi Houthis, as well as pressing into service Pakistani, Moroccan and Jordanian military units. This force is a sign that Riyadh intends of following up its air action with a ground invasion across the border into Yemen to crush the revolt in its backyard.
Obama Caves to Key Iranian Demands as Nuke Deal Comes Togetherr
(Limited options for Congress as Obama seeks to bypass lawmakers)
March 27….(Free Beacon) The Obama administration is giving in to all Iranian demands about the scope of its nuclear program as negotiators work to finalize a framework agreement in the coming days, according to sources familiar with the administration's position in the negotiations.
US negotiators are said to have given up ground on demands that Iran be forced to disclose the full range of its nuclear activities at the outset of a nuclear deal, a concession experts say would gut the verification the Obama administration has vowed would stand as the crux of a deal with Iran. Until recently, the Obama administration had maintained that it would guarantee oversight on Tehran's program well into the future, and that it would take the necessary steps to ensure that oversight would be effective. The issue has now emerged as a key sticking point in the talks.
Concern from sources familiar with US concessions in the talks comes amid reports that Iran could be permitted to continue running nuclear centrifuges at an underground site once suspected of housing illicit activities. This type of concession would allow Iran to continue work related to its nuclear weapons program, even under the eye of international inspectors. If Iran removes inspectors, as it has in the past, it would be left with a nuclear infrastructure immune from a strike by Western forces. "Once again, in the face of Iran's intransigence, the US is leading an effort to cave even more toward Iran, this time by whitewashing Tehran's decades of lying about nuclear weapons work and current lack of cooperation with the International Atomic Energy Agency," said one Western source briefed on the talks but who was not permitted to speak on record.
With the White House pressing to finalize a deal, US diplomats have moved further away from their demands that Iran be subjected to oversight over its nuclear infrastructure. "Instead of ensuring that Iran answers all the outstanding questions about the past and current military dimensions of their nuclear work in order to obtain sanctions relief, the US is now revising down what they need to do," said the source. "That is a terrible mistake, if we don't have a baseline to judge their past work, we can't tell if they are cheating in the future, and if they won't answer now, before getting rewarded, why would they come clean in the future?"
The United States is now willing to let Iran keep many of its most controversial military sites closed to inspectors until international sanctions pressure has been lifted, according to sources. This scenario has been criticized by nuclear experts, including David Albright, founder and president of the Institute for Science and International Security. Albright told Congress in November that "a prerequisite for any comprehensive agreement is for the IAEA to know when Iran sought nuclear weapons, how far it got, what types it sought to develop, and how and where it did this work." "The IAEA needs a good baseline of Iran's military nuclear activities, including the manufacturing of equipment for the program and any weaponization related studies, equipment, and locations," Albright said.
One policy expert familiar with the concessions told the Washington Free Beacon that it would be difficult for the administration to justify greater concessions given the centrality of this issue in the broader debate. "The Obama administration has gone all-in on the importance of verification," said the source, who asked for anonymity because the administration has been known to retaliate against critics in the policy community. "But without knowing what the Iranians have it's impossible for the IAEA to verify that they've given it up." A lesser emphasis is also being placed on Iran coming clean about its past efforts to build nuclear weapons. The Islamic Republic continues to stall United Nations efforts to determine the extent of its past weapons work, according to the Wall Street Journal.
By placing disclosure of Iran's past military efforts on the back burner, the administration could harm the ability of outside inspectors to take full inventory of Iran's nuclear know-how, according to sources familiar with the situation. It also could jeopardize efforts to keep Iran at least one year away from building a bomb, sources said. On the diplomatic front, greater concessions are fueling fears among US allies that Iran will emerge from the negations as a stronger regional power.
The Coming Iranian Nuclear Bomb
(The Islamic regime could produce a nuke in a matter of months)
March 25….(Washington Times) It has been known in the nuclear arms community for the last six years that the Iranians had secured enough enriched U-235 for the creation of a first-generation implosion bomb. Further to this point, the construction of an actual bomb small enough to be dropped from a transport plane, or carried by a fishing trawler or small freighter, has been judged to be available since 2010.
Using International Atomic Energy Agency (IAEA) reports, the Wisconsin Project on Nuclear Arms Control tracked the availability of Iran having nearly 8,000 kilograms of weapons-grade uranium through February 2015. This figure points to the ability to create seven original implosion-type bombs if the enrichment was brought to 90 percent. The usual time element for such enrichment is calculated at three to 12 months. There is no reason to believe this minimal time element has not been accomplished.
This information is not hard to obtain, so what is the real mission that Secretary of State John Kerry is so steadfastly pursuing and to which President Obama is so committed as a March 31 deadline for an agreement looms? It's been obvious for some time that the Iranians have invested billions in cash and materiel in building a string of heavily protected nuclear development facilities. It is accepted internationally that these variously clandestine installations are, among other tasks, capable of enriching U-235 to weapons-grade and marrying the detonation mechanism appropriately reduced in size with an intercontinental missile capability. Tehran has already announced it has succeeded in creating such intercontinental missile hardware, as indeed so have their grateful friends, the oil-needy North Koreans.
US government nuclear strategists have long agreed that Iran's use of nuclear material to fuel its powerful electricity producing power plant at Bushehr has in no way hindered the accumulation of uranium hexafluoride (UF6) enriched to 3.5 percent U-235. Adding to this information is the last IAEA report that at just the Natanz fuel enrichment plant, 9,000 first-generation IR-1 centrifuges were "being fed with UF6." Theoretical estimates have been made that this means only 1.7 months would be necessary "to produce enough enriched uranium for one bomb," Valerie Lincy and Gary Milhollin of the Wisconsin Project on Nuclear Arms Control wrote on Feb. 24 in "Iran's Nuclear Timetable."
Apparently, the White House is willing to overlook these obvious and publicly available facts in order to arrive at some form of entente with the leadership in Tehran. The Persian proclivity for calculated prevarication has been well reviewed previously in discussion of the Shia concept of "taqiyah," defined as "dissembling for the protection and extension of the faith."
Somehow Mr. Obama and his national security team have lost sight of the basic elements of intelligence analysis in order to seek a treaty with a country under radical Islamic clerical control. For an American administration to say that it seeks a broad-ranging accord that "will prevent Iran from obtaining a nuclear weapon" borders on the absurd. The rest of the world knows well the substantial extent to which Tehran already has gone in order to acquire that capability. The question, therefore, arises: What exactly is the Obama White House's aim?
Obama Kept Netanyahu in The Dark About Iran Nuke Talks
March 25….(DEBKA) Yet another Obama administration thrust in its campaign to stigmatize Binyamin Netanyahu and the newly elected Israeli government came Tuesday, March 24, in the form of a pejorative leak to The Wall Street Journal. "Israeli intelligence was eavesdropping on closed-door nuclear negotiations between Iran and the US and other world powers, then passing the classified information along to the US Congress to try and preemptively scuttle the deal, The WSJ reported, adding from its unnamed sources: "It's one thing for the US and Israel to spy on each other. It is another thing for Israel to steal US secrets and play them back to US legislators to undermine US diplomacy."
Citing the spy-versus-spy rivalry often operating behind the scenes of US-Israel relations, the paper reports that, in fact, the White House discovered Israel had an inside track on the talks by snooping on communications among Israeli officials. "They carried details the US believed could have come only from access to the confidential talks." "These allegations are utterly false," a senior official in the Israeli Prime Minister's office said. "The state of Israel does not directly conduct espionage against the United States or its other allies."
Debkafile's sources say that the WSJ "allegation" was timed for the trip to Paris by Israel's Intelligence Minister Yuval Steinitz's and national security adviser Yossie Cohen with a warning to France and later other European leaders that the nuclear deal shaping up between the US and Iran enables Iran to preserve its capabilities and remain a threshold nuclear state. Monday, they met the senior French negotiator, National Security Adviser Jacques Audibert. They were able to hand him information at variance with the data the US had given out including how far the bilateral talks with Iran had progressed. The WSJ story raises three points.
1. The Obama administration repeatedly promised to keep Israel informed on the content of the Six Power negotiations with Iran led by the United States and make them "transparent." The WSJ story demonstrates that Washington violated this commitment, by revealing that Israel needed to activate its spies to get at the facts. It is also possible alternatively that the data from the closed door sessions was leaked to Israel by other participants such as Russia, France, Germany or the UK, who too were aghast at the extent of American concessions to Iran for a deal.
2. Did the Obama administration seriously expect Israel to sit back and wait calmly for its diplomats to make concession after concession to the Iranians, knowing that Iran was being allowed to come closer step by step to a nuclear threshold state to the peril of Israel, its Gulf neighbors and Middle East security at large?
3. Why did Israel need to snoop on the talks when Israel, Saudi Arabia and Egypt, all of which strongly oppose the deal taking shape, believed they should have been partners to talks that determined their fate, alongside the six external world powers? If Iran objected, the Middle East nations most concerned might have been given a role on the sidelines, instead of being left out of decision-making in the way that the old Colonial powers determined the boundaries of the region among themselves.
In this regard, Debkafile notes that the Obama administration continues its vendetta against Binyamin Netanyahu day by day, as though he was not elected in far and honest elections which permitted every Israeli citizen to make his or her will known through the ballot box. This campaign is strongly echoed by the left-wing camp which lost the election and refuses to accept its outcome, as though nothing has changed.
Obama Warns Netanyahu that 'Occupation Must End'
March 25….(AFP) The Obama White House on Monday bluntly warned Israel that its occupation of Palestinian land must end, dismissing Prime Minister Benjamin Netanyahu's efforts to take back controversial campaign pledges. In unusually tough language that underscores the fracture in relations between Washington and Israel, White House Chief of Staff Denis McDonough said "an occupation that has lasted for almost 50 years must end." McDonough criticized Netanyahu's pre-election pledge to block the creation of a Palestinian state, the supposed end goal of decades of fruitless peace talks, and he questioned Netanyahu's efforts to undo the damage. "We cannot simply pretend that those comments were never made, or that they don't raise questions about the Prime Minister's commitment to achieving peace through direct negotiations," he said. "The Palestinian people must have the right to live in and govern themselves in their own sovereign state," he added. McDonough is one of President Barack Obama's closest advisors, and his speech to the liberal pro-Israel lobby group J Street was followed closely in Washington.
Netanyahu's pledge deepened a long-running disagreement with Obama but his top aide said, the row was not based on "personal pique." "America's commitment to a two-state solution is fundamental to US foreign policy," McDonough said. "It's been the goal of both Republican and Democratic presidents, and it remains our goal today." On Monday, Netanyahu apologized for election day comments claiming Arabs were voting in "droves," comments which also brought US criticism. He has also tried to downplay his pledge to oppose a two-state solution, insisting Israel's policy has not changed.
Obama left PM 'with Impression US Will Abandon Israel at UN'
March 25….(Times of Israel) President Barack Obama's supposed congratulatory call to Prime Minister Benjamin Netanyahu on Thursday, two days after the Likud leader triumphed in Israel's elections, was actually a bitter 30-minute conversation, Israel's two main TV news stations reported Friday night.
Quoting unnamed Israeli sources, they said the president made clear he didn't believe Netanyahu was genuinely supportive of a two-state solution to the Palestinian conflict, and that he (Obama) indicated that the US would no longer automatically support Israel at the United Nations. ccording to a Channel 10 read out on the call, indeed, Obama left Netanyahu with "the impression that he intends to abandon Israel at the UN."
The United States has actually been considering a reevaluation of ties with Israel, including its automatic support for the Jewish state at the United Nations Security Council, for at least four months, the Israeli sources also told Channel 2. Although the White House claims the reassessment was prompted by Netanyahu's remarks on Monday in which he rejected the establishment of a Palestinian state, and which he walked back Thursday, that is not the case, according to the officials. The threat to reassess relations was reported widely this week and, according to the TV reports, was issued directly to Netanyahu on Thursday by Obama in the call.
During the 30-minute conversation, described as "difficult" by Channel 2, Obama made clear to the prime minister that the US was reconsidering its support for Israel at the UN as well as its approach to Israeli-Palestinian peace in light of Netanyahu's pre-election comments rejecting the establishment of a Palestinian state. Channel 10 also said Netanyahu was adamant about keeping his ambassador to the US, Ron Dermer, in the job despite heavy American criticism. The president's skepticism and criticism were clearly evident during the Obama-Netanyahu conversation, according to Channel 2. Obama told Netanyahu the US was reconsidering its policies because Netanyahu had changed his position on Palestinian statehood. Netanyahu retorted that he hadn't changed his position, still supporting a two state solution, but that the Middle East realities had changed in recent years. Obama responded that his clarification was insufficient, according to Channel 2.
The Channel 2 report said the US, in the least drastic scenario, might now refrain from vetoing resolutions relating to settlement building and Palestinian statehood. In a more drastic scenario, it might engage in drafting and support resolutions setting out the parameters for a Palestinian state, based on the 1967 lines and with a divided Jerusalem. In a still worse scenario, deemed unlikely, it might support sanctions against Israel for failure to comply with such resolutions.
Obama: Chances of Peace Under Netanyahu Slim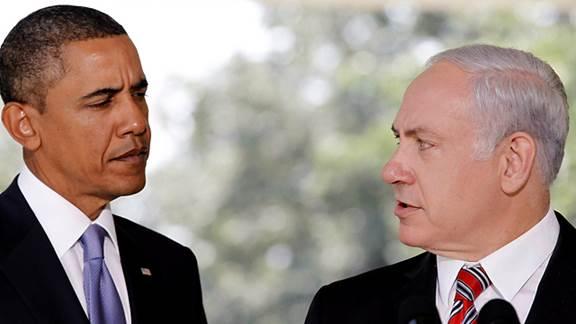 (US president says his disagreements with Israeli leader 'can't be redacted)
March 25….(YNET) US President Barack Obama said Tuesday that his disagreement with Israel's Prime Minister Binyamin Netanyahu over how to pursue a Middle East peace deal was substantive. President Obama also said the US will work to keep Israel safe, but reiterated his intention to reassess US policy on Israeli-Palestinian negotiations after Prime Minister Netanyahu questioned the two-state solution during his election campaign. Mr. Obama further said he won't be commenting on reports that Israel spied on closed-door negotiations over Iran's nuclear program, but offered assurances that Israel and other partners in the region have been briefed about progress in the negotiations.
Following Binyamin Netanyahu's election victory last week, Obama raised eyebrows by being the last world leader to congratulate him. But while Obama was apparently reluctant to congratulate Netanyahu, he wasted no time criticizing him over comments he made rejecting the possibility of the establishment of a Palestinian Arab state given the current turmoil in the region. In an interview with the Huffington Post, Obama even hinted the US could reconsider defending Israel from the Palestinian Authority's hostile moves at the UN.
Obama said the world's goal is to give Palestinians hope for a secure state adjoining Israel. "It's hard to envision how that happens based on the prime minister's statements," he said. "With respect to Israel's relations with the Palestinians, I think it's important to understand that the issue here is not what I believe, but it's what the Palestinians and the parties in the negotiations and believe is possible. That's the most important issue," he added.
Obama Acting Like a Child Because He Couldn't Get Rid of Netanyahu
(FOJ) As usual, the UN human rights forum met in New York City on Monday during its annual debate on so-called violations committed by Israel in the Palestinian territories.

The US usually defends Israel at the UN, but today (thanks to Obama) the US didn't bother to even put in an appearance.
March 24….(Israel Today) Former Israeli Ambassador to the US Danny Ayalon this week said that President Barack Obama's hostile response to Israel's reelection of Prime Minister Benjamin Netanyahu was both harmful and childish.
Obama's apparent desire for some kind of "revenge" against Netanyahu and a majority of Israel's voting public began to manifest itself on Monday when the White House decided to skip an annual pro-Palestinian event at the main UN human rights forum. Until now, the US has always made a point of attending the event in order to defend Israel against unfair and unbalanced condemnation. "Following the elections, Netanyahu reached out to Obama in interviews with American media in which he reiterated his commitment to a two-state solution," noted Ayalon in an interview with Israel's NRG online news service. "But what did Barack Obama do?" "Instead of acting in a measured way with an understanding that there is mutual interest in maintaining good relations, Obama gave Netanyahu a slap in the face. This is inappropriate and unprecedented in international relations."
In short, Ayalon accused Obama of "behaving childishly, instead of as the leader of a great power. This will harm the US itself, as well as further destabilize the Middle East. And all out of a personal desire for revenge against Netanyahu." A similar assessment was offered on Sunday by US Senator and former presidential candidate John McCain, who told CNN that Obama needs to "get over his temper tantrum" following Netanyahu's strong electoral victory.
As Obama Slobbers Over the Mullahs, Ayatollah Calls on US Youth to Join Jihad
March 24….(Canada Free Press) Last Friday, President Barack Obama slobbered all over himself to come to the aide of the Iranian Mullahs, mostly to spite our Israeli allies. But on the very same day Obama gave the Mullahs his undying love, the Ayatollah urged our own kids to join the world wide movement of violent, Islamist jihad. Obama disgorged a "holiday" statement telling the Mullahs that he was celebrating the Muslim holiday of Nowruz. During the statement Obama slobbered all over the wonderfulness of the Mullahs and treated them as America's true friend.
Yeah, these are the same people who kidnapped the American hostages in 1979, the same people famed for their "death to America" rallies, the same people who have exported terrorism all around the world and helped our enemies killing hundreds of American soldiers in Iraq. These are the people Obama says are his friends. I say his friends, because these Islamist terrorists are not America's friends. Obama sure may love them, but they don't love us. And they never, ever will. Anyway, even as Obama made such a fool of himself on this wunnerful, wunnerful Nowruz day, the very Ayatollah that Obama said is our fast friend issued a statement of his own. In his statement, the Ayatollah called for our children to join violent jihad and kill Americans.
Iran's Islamic Jihad Gaining Strength in the West Bank
March 24….(Jerusalem Post) Palestinian Islamic Jihad is gaining strength in Judea and Samaria, representing a new terrorist threat. Senior IDF officials from the Central territorial command consider Islamic Jihad to be a small yet highly focused entity, making it a dangerous and disturbing addition to the plethora of actors in the territories. Islamic Jihad's central base is in the Gaza Strip, and it has been a loyal Iranian proxy for many years, depending on Tehran for funds, training, and weapons.
Iran, for its part, has attempted to get money into the West Bank to spread its influence, so far with very limited success, due to Israeli security efforts and the Palestinian Authority's resistance to Iranian sponsorship. Meanwhile, Hamas in Gaza together with operatives from its headquarters in Turkey continue their efforts to try and orchestrate terrorism in the West Bank. These efforts are wide in scope, and getting wider with time. Hamas is forging growing operational ties among West Bank Palestinians and seeking to construct new networks that can carry out attacks.
Every night, the IDF and the Shin Bet successfully thwart these efforts, by gathering accurate intelligence and quickly converting it into arrest operations. These efforts by security forces prevent deadly terrorism on a daily basis.
In Judea and Samaria, Hamas can take more than one form. In addition to cells remotely set up and controlled from Gaza, localized Hamas cells, made up mainly of local operatives continue to pose a threat. Such cells leave a lower intelligence signature, making them harder for Israeli intelligence to detect.
The IDF's Central Command continues to prepare for the possibility of a security escalation. Although the current situation on the ground is relatively stable, security officials assess that the diplomatic confrontation raging between Ramallah and Jerusalem could rapidly spill over into a wave of violence.
Obama Continues His Diplomatic War on Leader of Israel
March 23….(Fox News) President Obama, in his first extensive post-Israel election comments, leveled tough criticism at Benjamin Netanyahu over comments the Israeli prime minister made in the run up to his election victory, underscoring the deepening tensions between the two men.
In an interview published Saturday in The Huffington Post, Obama said he told Netanyahu in a phone call Thursday, "it is going to be hard to find a path where people are seriously believing that negotiations are possible," after the Israeli leader rejected the idea of a Palestinian state during the elections. Critics say Netanyahu made a last-ditch attempt to spur his supporters to the polls Tuesday, after he also warned that Arab citizens were voting "in droves" and endangering years of rule by his Likud Party. The comments drew accusations of racism from Israeli Arabs and a White House rebuke. "We indicated that that kind of rhetoric was contrary to what is the best of Israel's traditions. That although Israel was founded based on the historic Jewish homeland and the need to have a Jewish homeland, Israeli democracy has been premised on everybody in the country being treated equally and fairly," Obama told The Huffington Post. "And I think that that is what's best about Israeli democracy. If that is lost, then I think that not only does it give ammunition to folks who don't believe in a Jewish state, but it also I think starts to erode the meaning of democracy in the country."
After the election, Netanyahu appeared to walk back his comments about a Palestinian state, and indicated he could support a two-state solution if conditions improve. Obama, however, told the website that he will treat the situation as though Netanyahu is not interested in the creation of a Palestinian state. "We take him at his word when he said that it wouldn't happen during his prime ministership, and so that's why we've got to evaluate what other options are available to make sure that we don't see a chaotic situation in the region," Obama said. The president reportedly declined to comment on wether the US would prevent a Palestinian effort for statehood though the United Nations.
Netanyahu appeared on Fox News' "The Kelly File," and defended his comments. He said, "the conditions are that we would vacate territory instead of getting the two state solution, we could end up with a no state solution. That is a solution that would threaten the very survival in the state of Israel. I said we have to change the terms. Because right now we have to get the Palestinians to go back to the negotiating table, break their pact with Hamas and accept the idea of a Jewish state. And I think that's what the international community should be focused on."
Republicans and pro-Israel groups have criticized the White House for its tough stance on Netanyahu after his victory and for focusing only on his pre-election remarks denouncing a Palestinian state, as opposed to his post-election comments walking it back. The American Israel Public Affairs Committee, in a statement earlier this week, voiced concern that the Obama administration is now rebuffing Netanyahu's efforts to mend ties. "In contrast to their comments, we urge the administration to further strengthen ties with America's most reliable and only truly democratic ally in the Middle East."
EU Urges Sanctions Against Israel
March 23….(Jeruslaem Post) The European Union has produced an explosive report recommending sanctions against Israel over its construction policies and security measures in Jerusalem, the British daily Guardian reported on its website on Friday. The leaked report describes the capital as a city gripped by the worst "polarization and violence" since the second intifada of a decade ago. The document, which is an amalgamation of recommendations prepared by European diplomats stationed in the region, accuses the government of exacerbating tensions in the city by accelerating construction in the eastern part of the capital.
According to The Guardian, the city has been beset by a "vicious cycle of violence, increasingly threatening the viability of the two-state solution." The report goes on to say that Israel's "systematic" construction of housing in "sensitive areas" has compounded the problem.
The EU report takes Israel to task for what it describes as "heavy-handed policing and punitive measures" against Arabs in the city, "including eviction and home demolitions by Israeli forces." More significantly, the document prescribes a series of measures aimed at curbing the distribution and sale of products manufactured beyond the Green Line. The report urges restrictions against "known violent settlers and those calling for acts of violence as regards immigration regulations in EU member states." European government are encouraged to label settler products, while warning EU businesses of the perils of engaging in trade with Israeli firms located in the territories. News of the report emerged just days after Prime Minister Benjamin Netanyahu's election victiory.
The prime minister's reelection has brought with it a flurry of speculation regarding the international community's anticipated response to his government's refusal to halt construction in disputed areas as well as its stance on negotiations with the Palestinians. Jerusalem is "one of the most emotive and problematic issues," the report says, adding, "The tensions, mistrust, and violence which have accompanied developments in the city in the course of the year have reached extremely high levels." "These developments are increasingly threatening the viability of the two-state solution and, in turn, risk precipitating further levels of polarization and violence." The capital recently witnessed a spate of terrorist incidents in which Arabs rammed vehicles into Jewish passersby. There was also tension surrounding access of Jews to the Temple Mount, which the EU blames on extremist agitation on both sides.
Nuclear Talks Collapse as Iranian Delegation Walks Out
March 23….(DEBKA) Debkafile's exclusive Iranian sources report that the delegation to the nuclear talks taking place in Lausanne received orders from Tehran Friday, March 20, to break off negotiations and return home for consultations. Foreign Minister Mohammed Jawad Zarif and Iran's national security chief Ali Akhbar Salehi used the funeral of President Hassan Rouhani's 90-year-old mother as a pretext for packing their bags and leaving the deadlocked talks behind them in Lausanne. This followed the sixth round of talks in the Swiss city with US Secretary of State John Kerry that failed to break the impasse on a nuclear accord.
The Iranians said they would return to resume the talks next week but set no date, although other sources mentioned Wednesday, March 25. Another sign of a crisis was the cancellation of briefing Friday in Brussels of British, German, French and European Union leaders on progress in the negotiations that was supposed to reflect progress toward a deal by the March 31 deadline. An hour before France, Britain and Germany were to join the talks in Lausanne, the Iranians announced they were about to leave. It was announced subsequently that Kerry would hold the cancelled Brussels briefing in France Saturday for officials rather than top leaders.
Speaking to Western news agencies Friday, Western and Iranian officials admitted that all the sides were very far apart. "We are not close to anything resembling a draft agreement," said a European negotiator. Russian Deputy Foreign Minister Sergei Ryabkov said the length of an agreement, the pace of sanctions relief and international monitoring remain points of contention. No draft would be circulated until closer to the June 30 deadline for technical annexes, said the Russian official. In other words, the March 31 deadline for a framework accord appeared to have gone by the board.
Meanwhile;
Khamenei Chants '
Death to America

' as Kerry Begs Progress on Nuke Deal

March 23….(Times of Israel) Iran's Supreme leader Ali Khamenei called for "Death to America" on Saturday, a day after President Barack Obama appealed to Iran to seize a "historic opportunity" for a nuclear deal and a better future, and as US Secretary of State John Kerry claimed substantial progress toward an accord. Khamenei told a crowd in Tehran that Iran would not capitulate to Western demands. When the crowd started shouting, "Death to America," the ayatollah responded: "Of course yes, death to America, because America is the original source of this pressure. "They insist on putting pressure on our dear people's economy," he said, referring to economic sanctions aimed at halting Iran's nuclear program. When the crowd started shouting, "Death to America," the ayatollah responded: "Of course yes, death to America, because America is the original source of this pressure. They insist on putting pressure on our dear people's economy," he said, referring to economic sanctions aimed at halting Iran's nuclear program. "What is their goal? Their goal is to put the people against the system," he said. "The politics of America is to create insecurity," he added, referring both to US pressure on Iran and elsewhere in the region.

Khamenei's comments contrasted with those of Iranian President Hassan Rohani, who said "achieving a deal is possible" by the March 31 target date for a preliminary accord.

John Kerry was more circumspect, as he spoke to reporters after six days of negotiations in the Swiss city of Lausanne. The talks, made "substantial progress," he said, but "important gaps remain.

FOJ Note: Well Mr. Kerry I should think clamoring for "Death to America" should be considered a little more than an important gap. Maybe I am just a little stupid Mr. Kerry, but I don't think America should be enabling Iran to have nuclear capabilities of any kind when they routinely call for our annihilation.
Angry at Netanyahu, Obama Administration May Start Sabotaging Israel at UN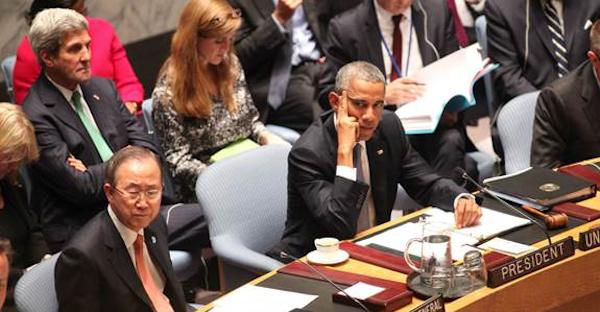 March 23….(The Daily Signal) Obama administration officials indicated that the president was considering a fundamental shift in US policy. Instead of using its veto to block United Nations Security Council pressure on Israel in peace negotiations with the Palestinians, the administration is now reportedly considering endorsing this effort. It is hard to overstate the seriousness of such a policy change. For decades, the US has used its veto in the UN Security Council to shield Israel from undue pressure from the world body, which has historically exhibited bias against Israel.
As affirmed by UN Ambassador Samantha Power a few weeks ago, "It is bitterly unjust that the United Nations—an institution founded upon the idea that all nations should be treated equally, is so often used cynically by Member-States to treat Israel unequally. These attacks on Israel's legitimacy are biased. They are ugly. And the United States of America will not rest until they stop."
Indeed, according to UN records, the US has used its veto in the Security Council 79 times. Forty-two of those vetoes were cast to block resolutions deemed to be biased against Israel or harmful to the Israeli-Palestinian peace process. In fact, America's most recent veto was cast by the Obama administration in 2011 to block a resolution condemning Israeli settlements.
In sum, over half of the times that the US has used its veto, it has been in the defense of Israel. Now, in response to Prime Minister Benjamin Netanyahu's victory this week in the Israeli elections and his comments that cast doubt on his commitment to a two-state solution, the Obama administration is poised to reverse this longstanding policy position.
The Obama administration appears so vexed at Netanyahu, whom it undoubtedly hoped would lose Tuesday's election, that it is willing to consider the very imbalanced and biased approach that it condemned only three months ago. Netanyahu later clarified that he wanted a two-state solution but believed that it was "not achievable" today because terrorists could occupy any territory Israel withdraws from, and the Palestinians were unwilling to compromise on key issues, such as accepting Israel as a Jewish state. Despite this realistic assessment, the Obama administration appeared eager to pressure Israel in the Security Council.
For decades, the United States has advocated and facilitated efforts to resolve the Israeli–Palestinian issue through a negotiated peace agreement as called for in Security Council Resolution 242 and the United Nations–sponsored Road Map for Peace. These and other documents outline the parameters of a peaceful resolution of the situation. Multiple Israeli governments have offered concessions in pursuit of peace only to see them rejected by the Palestinians and a return to violence. In effect, Palestinian intransigence has resulted in increasing pressure on Israel. Sadly, the recent statements by Obama administration officials that implicitly place blame for the failure of negotiations solely at the feet of Israel mirror the very bias so often demonstrated at the UN.
Instead of threatening that the US would "reassess" aspects of its relationship with Israel, Obama should place blame where it belongs and demand that the Palestinian Authority halt its incitement campaign against Israel, fully meet its commitment to fight terrorism, abandon its diplomatic effort to gain unilateral statehood through the UN and return to negotiating directly with Israel.
Focus on Jerusalem Prophecy Ministry Note
For all Focus on Jerusalem's Newsroom visitors, the Newsroom will be idle next week.
Please check back in another week!
WEEK OF MARCH 8 THROUGH MARCH 14
ISIS Orders Assyrian Christian Hostages to Convert to Islam, but All Boldly Refuse to Deny Jesus Christ
March 12….(Christian Post) Two of the 200-plus Assyrian hostages kidnapped by the Islamic State during an assault on Christian villages along Syria's Khabur River in February have provided insight into their abduction in recent interviews where one revealed that the ISIS militants tried to force the Christian hostages to convert to Islam, but the captives boldly refused.
On Feb. 23, the terrorist group raided approximately 35 different Christian villages in the Hasakah province and abducted somewhere between 263 to 373 men, women and children, according to the Assyrian International News Agency. But about a week after the raids, ISIS released a handful of hostages on March 1. A released hostage going by the name of "Robert" told AINA that he was abducted from his village of Tel Goran, which is on the south bank of the Khabur River, along with 16 other men and four women. He explained that the terrorists corralled everybody who was left in the village and placed them all into a small room, where they waited until the fighting subsided between the ISIS fighters and the Kurdish forces, who were stationed on the north side of the river.
Robert further explained that the fighting subsided about three hours after being placed in the room, and said the militants got upset when the local church's bell rang in the quiet of the night. Then, the Assyrian captives were transported to the Abdul Aziz Mountain, where they were placed into two rooms and spent the night. Two of the 200-plus Assyrian hostages kidnapped by the Islamic State during an assault on Christian villages along Syria's Khabur River in February have provided insight into their abduction in recent interviews where one revealed that the ISIS militants tried to force the Christian hostages to convert to Islam, but the captives boldly refused.
Iraqi Christians say they have no intention of leaving the country despite the recent abduction of over 100 Assyrian Christians by the Islamic State. While staying at the mountain, Robert recalls that the first thing the militants did was demand that the hostages convert to Islam. "They asked us to convert to Islam. "Many bearded people spoke to us, and everyone asked us to convert to Islam." Although they were in a new location, the militants' goal was still to get the hostages to convert to Islam. "They kept pressuring us to convert to Islam. It was their constant focus. "We said we would not convert. They said you must then pay the jizya [a Christian poll tax] or leave the country. That was the option given to us. We said we would pay the jizya but we would not convert."
Although the hostages were told they would have to pay, Robert said the militants uncharacteristically released them without forcing them to pay the tax. "They said this time they would not collect the jizya because we had not fought against them. They said that they would release use on one condition, that we not return to our village," Robert added. "They said if we returned and they captured us again they would kill us without any other option; they would behead the men and enslave the women."
Another released hostage from Tel Goran, going by the name "Peter," told The Times he and the other hostages were tried in Shariah court, but it was ruled that they were non-combatants. The Times reports that a Sunni tribal leader helped negotiate their release.
Graeme Wood, a writer with The Atlantic who covers the Islamic State, told CNN that ISIS' willingness to release the hostages by order of Shariah courts is an attempt to build more religious credibility. As ISIS has seized many of the region's villages, Robert said he and many other Assyrians in the region are planning to flee to Lebanon. Even though Robert, Peter and the rest of the hostages they were with from Tel Goran were released, over 200 Assyrians remain in ISIS captivity after more than two weeks. Other reports have indicated that ISIS may have executed 15 other Christian hostages.
Black Pastors Coalition Leader: Obama's Comparison of Civil Rights and Gay Marriage Struggles a 'Disgrace to the Black Community'
March 12….(Breitbart) The president of a black pastors coalition has expressed his anger that President Barack Obama compared the civil rights movement to that for same-sex marriage at the 50th anniversary of the "Bloody Sunday" march, when black American citizens were beaten while demanding voting rights they were being denied. "Ask your gay friend if it's easier to be out and proud in America now than it was 30 years ago," Obama said in Selma, Alabama, on Saturday, as he characterized the movement for same-sex marriage as another civil rights struggle. "I marched with many people back in those days and I have reached out to some of my friends who marched with me, and all of them are shocked," Rev. William Owens of the Coalition of African American Pastors (CAAP) told Breitbart News. "They never thought they would see the day that gay rights would be equated with civil rights. Not one agreed with this comparison."
In February of 2014, CAAP issued a press release in which it announced a campaign to call for the impeachment of Attorney General Eric Holder on the basis that he has violated his oath of office by "attempting to impose same-sex 'marriage' throughout the nation." "President Obama is a disgrace to the black community," Owens said. "He is rewriting history. We didn't suffer and die for gay marriage. We marched for opportunity, equality, justice, and freedom from oppression. We are the true heirs of the civil rights movement.
CAAP has launched a new initiative called RISE, a grassroots network that unites "people of every race, creed, culture, and background," to focus on defending faith, family, and justice. "The LGBT community hijacked our movement, a movement they know nothing about," Owens asserted. "President Obama is delusional to compare our struggle with the struggle for marriage equality. "President Obama has benefited from those of us who did march, but for Obama to say we marched so that gays would have the right to marry today, is a disgrace and a lie."
Netanyahu: There is a Worldwide Effort to Topple Likud
(FOJ Note: Prime Minister Benjamin Netanyahu warned of what he called a foreign-funded election plot to mobilize Israeli Arab voters in a bid to replace him at next week's polls. Even President Obama has directed a State Department-financed nonprofit based in Israel to be engaged in a major effort to get young Arab citizens to the voting booths in the upcoming Israeli elections to oust Netanyahu).
March 11….(Jerusalem Post) Prime Minister Benjamin Netanyahu suggested Monday to a meeting of Likud activists in Kiryat Gat that there is an international effort to remove him from power. In a recording of the meeting obtained by Army Radio and aired on Tuesday, Netanyahu is heard saying of the current election campaign, "This a very close battle. Nothing is ensured because there is a great, worldwide effort to topple Likud rule."
Netanyahu and the Likud have suggested throughout the run-up to the March 17 election that groups such as V15, an organization advertising to remove Netanyahu from power, are being funded by millions of shekels pouring in from abroad.
Last month, the Likud asked State Attorney Shai Nitzan to probe whether V15 was breaking laws prohibiting raising too much money for parties and raising money for parties from people who are not Israeli citizens. But Nitzan did not find a connection between V15, which has raised huge sums abroad for its effort to unseat Netanyahu, and any particular party.
The Likud held a much-publicized press conference in early February, in which four MKs, including two deputy ministers, compared V15's fund-raising to the 1999 non-profit organizations scandal that involved current Zionist Union leader Isaac Herzog.
V15 released a statement mocking the Likud press conference after Nitzan's decision not to prosecute. "The state comptroller, attorney- general, Central Elections Committee and district court took the air out of the Likud's spin and made a mockery out of the brown-nosing sycophants from the delusional press conference," V15 said in a statement. The latest Jerusalem Post poll, released Friday, found that if the March 17 election were held now, the Zionist Union would beat the Likud, 24 Knesset seats to 22.
Franklin Graham Warns Christians in America 'Persecution Is Coming'
March 11….(Christian Post) The Rev. Franklin Graham gave an ominous warning to Christians living in the United States Sunday, as he expounded on how religious freedoms are being eroded stateside while believers are being persecuted throughout the world. Graham also expressed his concerns about the Obama administration's foreign policy, which has been to rebuke the nation's allies, such as Israel, while countries known to be hostile to the US are attempting to shape policy by gaining influence in the Democratic Party and by giving large donations to entities such as The Clinton Foundation. "I believe we're going to see persecution in this country," Graham said during an interview on "Fox and Friends Weekend" on Sunday. "We've already seen many laws that have been passed that restrict our freedom as Christians. I believe it's going to get worse, and we see no question gaining influence in Washington by those that represent the Islamic faith. We do have a problem in this country and we are losing our religious freedom and we're losing it a little bit day by day." "I believe we're going to see persecution in this country," Graham said during an interview on "Fox and Friends Weekend" on Sunday. "We've already seen many laws that have been passed that restrict our freedom as Christians. I believe it's going to get worse, and there is a growing influence in Washington by those that represent the Islamic faith. We do have a problem in this country and we are losing our religious freedom and we're losing it a little bit day by day."
It's not the first time that Graham, the son of renowned evangelist Billy Graham, has issued a warning for Christian Americans. He previously warned that America's morality was crumbling because President Obama "defends Islam and chastises Christians, rebukes our allies and befriends our enemies, and fully supports gay marriage and abortion but denies the religious freedoms of those who don't agree," in a post on Facebook.
He has been outspoken in his critique of Obama's leadership and that of nearly everyone in Washington, especially when it comes to the battle against ISIS. Graham also encouraged Christians to get involved in politics and run for office in order to do God's will. "Who says we can't be in politics?" he asked in January at the Oklahoma State Evangelism Conference. "The gays and lesbians are in politics, I can tell you that. All the anti-God people are in politics. They're there. Why shouldn't the church be there? Who says we can't speak up? Who says our voice can' be heard? Get involved. I'm here to tell you that the only way, the only hope is not a Republican, it's not a Democrat or whoever. The only hope is that this country repents of its sins and turns once again to the God of our fathers and to His Son, the Lord Jesus Christ — otherwise, there is no hope."
His comments on "Fox and Friends Weekend" reiterated his call for Christians to be involved in politics and spread the message of God's love and forgiveness. When host Tucker Carlson asked what Christians can do to right the wrongs or correct the direction the country is headed, Graham said that everyone needs to pray and then actively participate in politics."We have a problem in Washington, and we have become so greedy, we have become so bitter, and we fight with one another. But we need Christian Democrats and Christian Republicans running for office. And we need to get God back in Washington," Graham explained.
Egypt Faces 'Existential Threat' from ISIS
March 11….(WND) Egyptian President Abdel al-Sisis is in Washington seeking help in the war against ISIS and AlQaeda. The Egyptian president's call for increased US military aid this week is in direct response to information regarding plans for a major Islamic insurgency aimed at toppling Abdel Fattah al-Sisi's secular regime. A senior Egyptian intelligence official told WND there is information ISIS has united with other jihadist groups and is planning an unprecedented surge inside Egypt to possibly begin as soon as next month. The official said Cairo estimates the Sisi regime could face an existential threat from the planned insurgency. He warned that if the moderate Sisi regime is toppled, the Middle East will become far less stable.
Intelligence reports reveal that thousands of foreign jihadists are infiltrating into Egypt, with plans of a coming destabilization campaign akin to the insurgency in Syria, according to informed Middle Eastern security officials. Officials have warned of a troubling development taking place among the al-Qaida-linked organizations already inside Egypt. They said there is information the militant groups are forming a de facto chain of command, with alarming coordination between the various jihadist factions embedded around the country.
The terrorist infrastructure is being set up beyond the Islamist stronghold of the Sinai Peninsula. The officials said al-Qaida-linked groups in Egypt have been forming divisions replete with leadership and assignments to specific territories, including in the Sinai, Suez regions, outside Cairo and along the Delta. Now Sisi is appealing to the Obama administration and international community for help in battling the insurgency.
Sisi said, "It is very important for the United States to understand that our need for the weapons and for the equipment is dire, especially at the time when the Egyptians feel they are fighting terrorism and they would like to feel the United States is standing by them in that fight against terrorism," he said.
FOJ Note: President Obama has long been objectionable to Mr. Sisi as president of Egypt. Obama favors the Muslim Brotherhood in Egypt. America should be supporting Mr. Sisi completely.
Arabs to Propose New Resolution to 'End (so-called) Israeli Occupation'
(Arab League to propose new resolution calling for end to "Israel's occupation" and plans to later bring it before the UN)
March 10….(Arutz) The Arab League will on Monday propose a new resolution calling for bringing an end to "Israel's occupation of Palestinian territories", the Turkish Anadolu news agency reported Sunday. The Arab League said it plans present the resolution to the United Nations Security Council later, according to the report. "Just and comprehensive peace is a strategic option," the League wrote in the draft resolution, describing Arab-Israeli peace as an "indivisible" and "comprehensive endeavor." It added that peace would not be achieved without full Israeli withdrawal from all "occupied Palestinian and Arab territories", including the Golan Heights, according to Anadolu. The potential resolution also calls for withdrawal from territories in southern Lebanon, the Arab League said.
At the end of December, the Palestinian Authority (PA) tried to pass a resolution, backed by the Arab League, calling on Israel to withdraw from Judea and Samaria by 2017. The resolution was put to a vote in the UN Security Council, but failed to secure enough votes in favor to pass. PA Chairman Mahmoud Abbas later said he would go to the UN again, and has continued his unilateral efforts against Israel by applying to join the International Criminal Court (ICC) and threatening to file complaints of war crimes against Israel.
In December's vote at the UN, the PA's resolution received eight votes in favor, one short of the number required to pass it. Reports said that it was Nigeria which made the difference in the resolution failing to pass, as it had been expected to vote in favor but then decided to abstain. The PA responded to Nigeria's move with anger and called its abstention a "big disappointment".
Palestinians Being Abused by Their Own Government
March 10….(Israel Today) Hidden Injustices" remains the title of a groundbreaking and now updated report uncovering the extensive, atrocious and "hidden" abuses of human rights by the Palestinian Authority. Palestinian censorship and threats of retribution have traditionally prevented most human rights organizations and governments from revealing the full-blown picture of the suffering of the Palestinian people by their own leadership.
Researchers at the Jerusalem Institute of Justice spent hundreds of hours documenting the PA's state sponsored abuse of human rights of the Palestinian people. "Sadly the Palestinian people have been (and remain) subject to numerous, severe violations of basic human rights, not primarily at the hands of Israelis, but from their own leaders," concludes the bold and extensive report subtitled, "Palestinian Authority and Hamas Human Rights Violations in the West Bank and Gaza."
Headed by Adv. Calev Myers, an Israeli human rights lawyer who has done much to defend the local Messianic Jewish community, the JIJ hopes the 57-page account of Palestinian human rights violations and an accompanying 32-page review dealing with the lack of religious freedom will convince the US Congress and the European Parliament that the billions given each year to support the PA must stop and be contingent on "their long-term commitment to better human rights conditions for their own people."
(FOJ) This photo is not from another ISIS atrocity. It is a snapshot of Palestinian citizens being rounded up for torture and execution in the same manner as ISIS does in Syria and Iraq. Yet the US sends these thugs money in the form of foreign aid to the corrupt PA.


And oh Yeah, we work to give these guys need their own state!
In spite of the atrocious way in which the PA and Hamas treat their own people, "the Palestinians received aid exceeding 15 times the amount per person granted by the US Marshall Plan for the post-World War II reconstruction of Europe," notes the JIJ report.
Here are a few examples taken from the report detailing Palestinian human rights abuses in the following categories:
1. Arbitrary imprisonment: In 2012, the Independent Commission for Human Rights (ICHR) received complaints of 1,000 arrests in the West Bank and more than 750 in Gaza. Most of these are political arrests of reporters, teachers, university professors, students, mosque imams and others who opposed the reigning government.
2. Extrajudicial killings: In 2014, after the August 21st Israeli airstrike on three top Hamas militants in Gaza, Hamas quickly retaliated against its own people by carrying out 25 summary executions against alleged "collaborators." The killings were performed by masked gunmen in-or-near public parks and squares.
3. Torture and inhumane treatment: 'Suspects' of crimes against the government are beaten with sticks or electric cables; their arms are forced behind their back and their bodies suspended in mid-air until their shoulders are dislocated
4. Excessive force against peaceful protestors: Beatings with batons, punching, and breaking journalist's equipment have been reported as commonplace at what are described as peaceful demonstrations, while plain-clothes policemen target women demonstrators for punitive, gender-specific violence.
5. Freedom of religion and the rights of minorities: Hamas members set fire to many bookstores belonging to the Bible Society and kidnapped the storeowners in the middle of the night. Their bodies are later found mutilated and dumped in a nearby fields.
6. Women's rights: A wide range of human rights abuses are committed against women for such offenses as immodest dress, sex outside marriage or taking initiative to marry or divorce. These abuses include the so-called honor killings of women caught in adultery.
7. Children's rights: Teaching children to violently blow themselves to pieces, to become child soldiers or to act as human shields, through their school textbooks, radio, television and print media, by religious clerics, schoolteachers and by their political leaders, is the main contributor to the manufacturing of terrorism. Such practices are a most egregious form of child abuse akin to mass infanticide.
White Christians Are Becoming a Minority In Many States
March 9….(RNS) The notion of America as a mostly white, mostly Christian country is rapidly becoming a fact for the history books. "The US religious landscape is undergoing a dramatic transformation that is fundamentally reshaping American politics and culture," said Dan Cox, research director for Public Religion Research Institute.
Last week, PRRI released the American Values Atlas, an interactive online tool that compiles data about Americans' opinions, identities, and values. One of the biggest takeaways of this years' study was that, for the first time ever, America is not a majority Protestant nation. Part of this shift is due to the growing number of religiously unaffiliated Americans, now at 22 percent nationally and 34 percent of young people.
The study also revealed that in 19 states, white Christians are now a minority. The list of states where this is the case includes a few surprises. Several Bible Belt states such as Georgia (No. 16) made the list; Texas (No. 7) had the same population of white Christians as New York (No. 5). While one might want to blame these shifts on "secularism," one force at work seems to be America's increasing ethnic diversity. According to PRRI, Hispanic Catholics are a growing proportion of Catholics and evangelical Protestants are becoming less white.
The Next Phase in the Israel-Hezbollah War is Unfolding in Southern Syria
March 9….(Brig. Gen. Michael Herzog / Business Insider) While strikes against ISIS are capturing the headlines, the United States and its international partners risk overlooking the potential strategic significance of developments in Syria's south.
In early February, an alliance of Iran, the Syrian regime, and Hezbollah launched a major military offensive against rebel groups in Syria's south, close to the borders of Israel and Jordan. This campaign bears potential strategic consequences for Israel and the Syrian theater, and calls for close US and international attention. Some 4,000-5,000 troops have been massed for the offensive, which focuses on the provinces of Deraa, bordering Jordan, and Quneitra, bordering the Israel-controlled Golan Heights. Combatants include units from the Syrian army; the National Defense Forces, a government militia; an estimated 2,000 Hezbollah fighters, constituting a sizable portion of the group's forces in Syria; and, notably, Iranian military elements including advisors and senior officers.
As for this campaign's context, southern Syria has seen constant clashes since the war began in 2011. Unlike in other parts of the country, local rebel groups, both Islamist and non-Islamist, have managed to work together to push back the Syrian army. Stretched thin and worn out, Assad's army was forced to gradually give ground. Following a series of offensives in late 2014, this rebel coalition established control in large parts of the Deraa and Quneitra provinces, including the city of Quneitra and the Quneitra crossing bordering Israel-controlled territory. Even as the old UN-administered status quo crumbled, the border with Israel remained relatively quiet.
While Jabhat al-Nusra, the Syrian franchise of al-Qaeda, established a notable presence around the city of Deraa and in the southern Golan Heights, it remained focused on fighting regime forces and has shied away from challenging Israel. No doubt, the war in Syria provides major incentives for the recent offensive. Rebel successes in southern Syria threaten Damascus, the city of Deraa is less than a hundred kilometers south of the capital, and the strategic Beirut-Damascus and Damascus-Deraa roads.
Pushing back against rebel gains is meant to deter Jordanian involvement in the war and block the influx of weapons and anti-regime fighters from Jordanian territory, undercut the consolidation of rebel forces in the south, help block the flow of jihadists from Syria to Lebanon, and relieve the pressure on Damascus. Yet this offensive should be regarded not merely as another battle in the Syrian regime's protracted war against the opposition. It represents a strategic decision by the Iran-led "Axis of Resistance" to establish a foothold in the vital area of southern Syria, with its proximity to Israel and Jordan. Hezbollah has no interest in large-scale escalation with Israel. It is focused on consolidating its position in Lebanon, challenged by Sunni jihadist groups. A series of airstrikes in Syria attributed to Israel, targeting caches and convoys of strategic arms destined for Hezbollah, took place at a time when Hezbollah could not afford escalatory retaliation.
Beginning in mid-2013, Hezbollah started responding to perceived Israeli strikes with rocket and mortar fire as well as roadside bombs from the Syrian side of the Golan, or in the Shebaa Farms region between Syria, Lebanon, and Israel, which it could frame as disputed territory. It undertook such attacks first through proxies and without assuming responsibility and later escalated to direct, open action. Generally, for Hezbollah and its patrons, establishing an active front with Israel in southern Syria affords valuable options in confronting Israel, while providing better chances for containing any escalation within Lebanon. Syria, which had for years used Hezbollah to confront Israel, is now being used by the group for the same purpose.
According to Israeli intelligence, Iran and Hezbollah have been striving to establish operational infrastructure near the Israel-Syria border for months, to be used against Israel in times of tension and war. Plans include recruiting activists in local villages, deploying rockets and explosive charges, and designing operational attack plans. Apparently, such activities were part of the mission of the convoy hit on January 18. Now Iran and Hezbollah are on track toward gaining a permanent, contiguous foothold on the Israeli border. Hezbollah secretary-general Hassan Nasrallah even boasted of a single front with Israel stretching from the border point Ras Naqoura-Rosh Hanikra, on the Mediterranean coast, to the Golan. Establishing an active front in southern Syria serves both Iran and Hezbollah in additional ways.
On this new front, Hezbollah can, in addition to fighting Sunni jihadists alongside Iran, recharge its emptied "batteries" of legitimacy in Lebanon and the Arab world, reclaiming the mantle of resistance against Israel. It could also help attract Palestinian armed factions to the Axis, including Hamas, which is under duress and eager to mend fences with Tehran. And it could help advance Iran's strategic ambitions of encircling Israel on numerous fronts while negotiating a nuclear deal.
Israel views these new developments in southern Syria and the strategic aims driving them with alarm. All along, Israel has carefully avoided being drawn into the war in Syria and intervened only in cases of immediate threats to its security. As the war turned predominantly into a conflict between the Syrian regime and its supporters on the one hand and jihadists on the other, Israelis concluded that it was best to let the two camps, both extremely hostile to Israel, fight each other. But if the encroachment on its northern border gains momentum, Israel is unlikely to sit idly by.
While Israel is concerned about the Islamic State of Iraq and al-Sham (ISIS) and the jihadist threat, the Iran-led axis is the more immediate and significant menace to Israeli security. It is, after all, headed by a major regional power with nuclear ambitions and deploys the strongest nonstate actor, Hezbollah, on Israel's northern border, with more than a hundred thousand rockets in Lebanon.
Israel is concerned that the US and international community's focus on securing a nuclear deal with Tehran and fighting ISIS, also known as the Islamic State, will give Tehran a pass to pursue destabilizing policies in the region. So far, this scenario seems to be playing out.
As Iran and its proxies increase their presence along Israel's border with Syria, the prospects of miscalculation and escalation also increase. The risks are clear for Israel, for Jordan, and for the outcome in Syria, and the United States should weigh them carefully against its inclination to accommodate Iranian interests in Syria. A broader view on Syria demands a proactive strategy to stop and deter the Iran-led axis from approaching the Israeli and Jordanian borders.
Obama Planning to Pressure Israel After Elections?
March 9….(Jerusalem Post) Amid reports that US President Barack Obama plans to utilize the final 20 months of his term in office to push through a major diplomatic initiative in the Israeli-Palestinian sphere, officials in Prime Minister Benjamin Netanyahu's ruling Likud party on Friday privately expressed glee over the prospect.
Likud officials reacted to a report in the liberal daily Haaretz which cited White House sources as saying that Obama has every intention of revisiting the issue after a new government is formed in Jerusalem. "We would like to see the formation of the new government and a new Prime Minister in Israel and its attitude to this issue," a US official told Haaretz. "But in the year and a half to two years that Obama has left in the White House, we will have to deal with this issue because time is working against us."
WEEK OF MARCH 1 THROUGH MARCH 7
Report: Iran's Supreme Leader Hospitalized in Critical Condition
(FOJ) Ironically, Iran's radical Shiite leader, Ayatollah Khameneni has often called Israel a cancer in the Middle East that needs to be exterminated.

Ironically, he also is the person in position to ratify any deals with the UN and Western diplomats regarding Iran's quest for nuclear weapons.
March 6….(Arutz) According to Arab media reports cited by Israel Hayom, Khamenei was urgently brought to a hospital in Tehran after several of his bodily systems had already failed. The reports add that the 76-year-old supreme leader of the Islamic regime has undergone surgery and remains in critical condition.
Recently it has been reported that he was suffering from prostate cancer which had spread to additional parts of his body, and due to his poor health condition he had largely ceased taking part in public events.
The hospitalization comes just days after Prime Minister Binyamin Netanyahu addressed Congress on Tuesday to warn of the existential threat to Israel and the world that Iran poses, urging America to avoid the deal being formed on Iran's nuclear deal ahead of a March 31 deadline for talks. Lending some credence to the reports is the fact that Khamenei's official Twitter account hasn't been updated since Netanyahu's speech on Tuesday, when he wrote the "US is now facing a dilemma. It should either stop unlimited services to Israel or they'll lose more face in the world."
Khamenei has threatened Israel with destruction numerous times in the past; last October he used his annual message to Hajj pilgrims heading to Mecca to call for Muslim unity to bring Israel's "annihilation." And last November he launched a series of anti-Israel Tweets, writing in one "This barbaric, wolflike and infanticidal regime of Israel which spares no crime has no cure but to be annihilated."
Khamenei has demanded Iran be allowed to increase to 190,000 centrifuges in the deal being formulated, an amount that would allow it to produce a nuclear arsenal within weeks. And yet it was revealed last November that US President Barack Obama had sent secret letters to Khamenei in an overture looking for an alliance and cooperation in the fight against Islamic State (ISIS) terrorists in Iraq and Syria. Iran is the largest state sponsor of terrorism, and as Netanyahu noted in his speech, has seized influence in Yemen through the Houthis, Lebanon through Hezbollah, Iraq by taking a lead role in the ISIS fight, and Syria by propping up President Bashar al-Assad militarily.
Iran's Supreme Leader has Terminal Cancer
March 6….(Business Insider) Arabic media outlets reported Wednesday that Iranian Supreme Leader Ali Khamenei was hospitalized in critical condition, days after a different report indicated doctors had given the ayatollah only two years to live.
The Israel Hayom daily on Thursday reported that the supreme leader was rushed to the hospital and has undergone surgery, citing "Arab media reports." He is said to be in serious condition. The reports could not be immediately confirmed. The French paper Le Figaro cited Western intelligence over the weekend that the 76-year-old was suffering from stage four prostate cancer that spread to other parts of his body, with doctors assessing he has, at most, two years to live. Khamenei has been rumored to be ill for years. He had prostate surgery in September, with his official Twitter account maintaining that it was successful. The reports come as Iran and the Western powers race to formulate a nuclear deal before the end of the month, a deal Khamenei will have to sign off on for it to pass.
Rebutting Obama, PM Says He Offered 'Real Alternatives' to Iran Deal
March 5….(Times of Israel) Prime Minister Benjamin Netanyahu said Wednesday that he offered a "practical alternative" to the prospective nuclear agreement between six world powers and Iran, rebutting criticism from the White House that his speech in Congress did not offer any new practical policy proposals on how to thwart Tehran's nuclear ambitions. He also said that his controversial address helped US lawmakers from both sides of the aisle better understand why the agreement currently under discussion is deeply flawed. "The response I received from both Democrats and Republicans was very supportive," Netanyahu said upon landing at Israel's Ben-Gurion airport after a three-day trip to Washington. "I got the impression that they better understand that the current proposal would lead to a bad deal and that the alternative is a better deal."
Netanyahu said he presented "a practical alternative" to the deal six world powers under American leadership, the so-called P5+1, are currently discussing with the Islamic Republic by imposing tougher restrictions on its nuclear program. He said he called for the extension "by years" of Iran's breakout time, or the time it would need to amass enough enriched uranium for a nuclear bomb to several years, in case Iran were to violate the agreement. "I also called on the P5+1 to insist on a deal that would link the lifting of those restrictions to Iran's ceasing its sponsorship of terrorism around the world, its aggression against its neighbors and its calls for Israel's destruction," he said.
On Tuesday, US President Barack Obama said Netanyahu's speech had offered "nothing new" and suggested no viable alternatives to the plan were discussed. "We don't yet have a deal. But if we are successful, this will be the best deal possible with Iran to prevent Iran from having a nuclear weapon," Obama told reporters after having read a transcript of Netanyahu's speech. "On the core issue, which is how do we prevent Iran from obtaining a nuclear weapon, which would make it far more dangerous and would give it scope for even greater action in the region, the prime minister didn't offer any viable alternatives."
During his speech Tuesday, Netanyahu called on the P5+1 to drop the current deal and strive to attain a better one by increasing pressure on Iran. He denied the often-made claim that a breakdown of the current negotiations would make a diplomatic solution of the nuclear standoff impossible. "Now we're being told that the only alternative to this bad deal is war. That's just not true," he said. "The alternative to this bad deal is a much better deal: a better deal that doesn't leave Iran with a vast nuclear infrastructure and such a short breakout time; a better deal that keeps the restrictions on Iran's nuclear program in place until Iran's aggression ends; a better deal that won't give Iran an easy path to the bomb; a better deal that Israel and its neighbors may not like, but with which we could live, literally."
Iran's nuclear program can be rolled back "well-beyond the current proposal" by maintaining pressure on Iran, Netanyahu said, describing Tehran as a "very vulnerable regime, especially given the recent collapse in the price of oil." While in Washington, Netanyahu said he proposed placing "two new parameters on any deal with Iran." One, to place tougher restrictions and increase the breakout time; two, to only list those restrictions when Iran "ceases promoting terrorism, ends its aggression against its neighbors, and stops threatening to destroy the State of Israel."
Obama's Iran-Nuclear Strategy is Also Allowing Iran a Toehold in Syria, Near Israeli Border
March 5….(DEBKA) US President Barack Obama's plans for Iran, which were spectacularly challenged by Binyamin Netanyahu in his Congress speech Tuesday, March 3, were manifested 10,000 kilometers from Washington in the firestorm over Tikrit, the important Sunni town north of Baghdad. There, Iranian-led Iraqi troops are on the offensive against the Islamic State in the biggest ground battle fought in Iraq since the Iraqi army fell apart and scattered last June against the conquering Islamist march through western and central Iraq. For four reasons, this battle is loaded with ramifications for Obama's Iran policy and the Islamic Republic's drive for recognition as the leading Middle East power:
1. For Tehran it is a high-stake gamble for prestige, Its top military strategist, Al Qods Brigades chief Gen. Qassem Soleimani, was thrown into the Tikrit operation, to become the first high-ranking general Iran has ever placed publicly up front in direct command of a key battle as a guarantee of its success.
2. However, three days after the offensive was launched on Sunday, March 1, the 25,000 Iranian and Iraqi troops, backed by Iraqi Shiite militias, were still fighting outside its gates, upsetting the high hopes of a swift victory and breakthrough into the city. Islamist forces slowed their advance by strewing hundreds of mines and roadside bombs on all the roads leading to Tikrit, while teams of suicide bombers jumped out and blew themselves up amidst the invading army, a tactic seen before in the battle for the Syrian Kurdish town of Kobani. ISIS boasted that one of the suicide bombers was an American citizen whom they dubbed "Abu Dawoud al-Amriki."
3. The United States has no military input in the battle, neither US advisers on the ground nor aerial bombardment. On Tuesday, March 3, while Netanyahu was advising Congress in reference to the relative merits of radical Iran and ISIS that "the enemy of your enemy is the enemy," Gen. Martin Dempsey, Chairman of the US Joint Chiefs of Staff, revealed some of the Obama administration's thinking on the subject. He said Iran and its allies (Iraqi Shiite militias) had taken part in the Iraq war ever since 2004. "But the Tikrit campaign signals a new level of involvement," he said. "This is the most overt conduct of Iranian support in the form of artillery and other things" and "could turn out to be a positive thing." These comments corroborated Debkafile's disclosures on the US-led war on ISIS, which defined America as confining itself to air strikes over Iraq and Syria and assigning the brunt of the ground war to Iran's Revolutionary Guards forces, a division of labor, which Israeli military chiefs watch with increasing concern as it brings the Iranian peril closer than ever to Israel, Debkafile's military sources report. The Iraq format is replicated in southern Syria, where the same Gen. Soleimani, joined by a group of fellow Iranian generals, is leading an operation to seize that part of the country from Syrian rebel hands, including the Golan town of Quneitra.
4. The role Obama has assigned Iran in the two embattled Middle East countries bears directly on the scope of his concessions in the bargaining for a comprehensive nuclear deal.
As An Ally, 'Obama Should be Satisfying (Israel) Netanyahu's Concerns in the Nuke Talks
FOJ Note: America's leaders should be firmly and clearly arguing on Israel's behalf in the Iranian nuke discussions, after all, Israel's survival is at stake!
March 5….(Israel Today) While not taking a side in the debate over whether or not Israeli Prime Minister Benjamin Netanyahu was right to address the US Congress in defiance of the White House, The Washington Post on Wednesday said President Barack Obama must nevertheless provide real answers to the Israeli leader's "legitimate questions" regarding the Iran nuclear threat.
In his much-anticipated speech, Netanyahu noted that the deal the Obama Administration is currently negotiating with Iran would leave the latter in possession of a massive nuclear infrastructure and would put a time limit on any punitive sanctions should Tehran fail to comply. Given those conditions, and the International Atomic Energy Agency's (IAEA) confirmation that Iran has concealed significant portions of its nuclear program, Netanyahu argued convincingly that Washington was in effect "paving Iran's path to the bomb." What's more, Israel fears Obama could spark a Middle East nuclear arms race by tacitly accepting Iran as a nuclear power. "Rather than continuing its political attacks on Mr. Netanyahu, the Obama administration ought to explain why the deal it is contemplating is justified, or reconsider it," the Post recommended.
Unsurprisingly, Obama tried to downplay what many called a "historic" speech by Netanyahu, pointing out in an interview with Reuters that "as far as I can tell, there was nothing new," and criticizing the Israeli leader for failing to "offer any viable alternatives" to the deal he is negotiating. US House Democratic leader Nancy Pelosi was even more aggressive in her rebuttal, labeling Netanyahu's speech "an insult to the intelligence of the United States." Pelosi claimed to have almost cried over the perceived "condescension toward our knowledge of the threat posed by Iran." But the position taken by Obama and Pelosi appears to have been shared by very few outside of Iran, which likewise dismissed the Israeli leader's address as "boring and repetitive."
During the speech itself, Netanyahu received no fewer than 26 standing ovations, despite saying "nothing new." And in addition to widespread accolades in the US, Netanyahu found unlikely support from the Arab press. "Despite this being perhaps the only thing that brings together Arabs and Israelis (as it threatens them all), the only stakeholder that seems not to realize the danger of the situation is President Obama, who is now infamous for being the latest pen-pal of the Supreme Leader of the World's biggest terrorist regime: Ayottallah Ali Khamenei," wrote Faisal J. Abbas, editor-in-chief of the English-language website of pan-Arab news agency Al Arabiya.
A day before the speech, a leading columnist for the Saudi daily newspaper Al Jazirah said someone had to take a bold stand against "the foolish behavior of one of the worst American presidents," and insisted that Netanyahu's appearance before the US Congress was beneficial for all peace-loving people of the Middle East.
Netanyahu Warns Congress 'Bad' Deal 'Paves Path' to Iranian Nukes
(Netanyahu evokes upcoming holiday of Purim in accusing Tehran of seeking to annihilate the Jewish people; Congress responds with enthusiastic applause)
March 4….(Times of Israel) Israeli Minister Benjamin Netanyahu warned Tuesday in a landmark address to the joint houses of Congress that a nuclear deal taking shape between Iran and Western powers "paves the path for Iran" to a nuclear arsenal, rather than blocking it, and urged American leaders to walk away from what he called "a very bad deal." The emerging agreement, he told the assembled congress people and senators, would leave Tehran with "a vast nuclear infrastructure" that placed it dangerously close to the ability to break out to a nuclear bomb. It "will not prevent Iran from developing nuclear weapons. It will all but guarantee that Iran will get nuclear weapons and a lot of them." "Iran has proven time and again that it cannot be trusted," no matter what it says about permitting verification of the terms of any accord designed to prevent it from getting such weapons, he said. "This is a bad deal, it's a very bad deal. We're better off without it."
Netanyahu spoke shortly after Secretary of US State John Kerry met for more than two hours in Switzerland with Iranian Foreign Minister Mohammad Javad Zarif in the hopes of completing an international framework agreement later this month to curb Tehran's nuclear ambitions. But Netanyahu said that while the emerging agreement did place certain limitations on Iran's nuclear program, they would not be enough to prevent a nuclear breakout within "about a year by US assessment, a bit shorter by Israel's." He further criticized the reported clause that would see many of the limitations placed on Iran lifted after a period of 10 years. A decade, he said, was "a blink of an eye" for a nation.
Netanyahu also dismissed the effectiveness of United Nations inspections on Iran's nuclear sites, saying, "Inspectors document violations, they don't stop them. Inspectors knew when North Korea broke out to the bomb but that didn't stop (the North Koreans)." "The greatest danger facing our world is the marriage of militant Islam with nuclear weapons," he said. He predicted that the agreement, as it stands, would change the region for the worse, create a nuclear arms race and turn the Middle East into a "nuclear tinderbox."
In the two years since the P5+1 nations began their negotiations with Tehran, Netanyahu claimed, Tehran had not moderated but had in fact been emboldened and radicalized. While negotiating, Iran was backing terrorism against Israel as well as threatening American interests throughout the Middle East. He said that with the concessions the United States was prepared to make, Iran would not only gain nuclear weapons, but also eventually become free of international economic sanctions. As a result, he said, it would be emboldened to finance even more terrorism around the Middle East and the world. The result for Iran, he said, would be "aggression abroad and prosperity at home."
The world should insist "Iran change its behavior," Netanyahu pleaded. "If Iran wants to be treated like a normal country, let it act like a normal country." The US, the prime minister insisted, must keep up pressure "on a very vulnerable regime," particularly given dropping oil prices. If Iranians walk away from the negotiations, he said, they'll come back, "because they need the deal a lot more than you do." "History has placed us at a fateful crossroads," Netanyahu said. The world, he asserted, must choose between a path that will lead to "a nuclear-armed Iran whose unbridled aggression will inevitably lead to war" and a more difficult path that will, in the long run, prevent Tehran from becoming a regional aggressor. He stressed that the alternative to a bad deal was not war: "It's a much better deal." Instead, he called for a deal that would keep restrictions in place "until Iran's aggression ends," that wouldn't "give Iran an easy path to the bomb." He called for a deal that Israel may not love, "but with which we can live — literally." Before lifting sanctions, he said, the world should demand Iran cease its attacks against other countries in the region, stop supporting terrorism around the world, and "stop threatening to annihilate my country, Israel, the one and only Jewish state."
Evoking the holiday of Purim, which commemorates the Jewish people's survival of a Persian plot to destroy them, the prime minister said: "Today the Jewish people face another attempt by yet another Persian potentate to destroy it. Iran's supreme leader Ayatollah Khamenei spews the oldest hatred of anti-Semitism with new technology. He tweets in English that Israel must be destroyed." Netanyahu likened the Iranian threat to that posed by Islamic State and warned that Iran's actions against IS (also known as ISIS) did not make it an ally of the US. "Don't be fooled. The battle between Iran and ISIS doesn't turn Iran into a friend of America," he said. Both, he maintained, were competing to be the flag-bearers of radical Islam. "The difference is that ISIS is armed with butcher knives, captured weapons and YouTube while Iran may soon be armed with intercontinental ballistic missiles armed with nuclear warheads," he declared. "When it comes to Iran and ISIS, the enemy of your enemy is your enemy."
Netanyahu took great pains to express his gratitude to Obama for his continued support to Israel. He said he was "deeply humbled" by the opportunity to speak for a third time to "the most important legislative body in the world," and thanked it for its support of Israel "year after year, decade after decade." "I know that no matter on which side of the aisle you sit, you stand with Israel," he said. The "remarkable alliance" between the US and Israel "has always been above politics, and it must always remain above politics." "It was never his intention" that his address to Congress would be conceived as political, Netanyahu said. But he believed he had "a profound obligation" to come, because he felt the Iranian nuclear program could threaten the Jewish state.
Netanyahu received a decidedly warm reception from the assembled members of Congress. The prime minister was greeted with a roaring welcome as he walked down the same center aisle of the House chamber that presidents tread before their annual State of the Union speeches. Republicans applauded Netanyahu's remarks frequently, rising to their feet. Democratic lawmakers were far more restrained, although they cheered the Israeli leader's praise for Obama. In all, he received 25 standing ovations.
Despite the Obama-Democratic boycott, the chamber and galleries were filled to capacity. Netanyahu singled out Holocaust Survivor Elie Wiesel, a world-renowned author, academic and activist. "I wish I could promise you, Elie, that the lessons of history have been learned," he said, to cheers. A few moments later, he added, the applause swelling, "The days when the Jewish people remained passive in the face of genocidal enemies are over." "Even if Israel has to stand alone, Israel will stand," he vowed, although he quickly added: "I know that Israel does not stand alone. I know that America stands with Israel. I know that you stand with Israel."
Obama is a Disgrace: America Needs a Leader Like Netanyahu
March 4….(FOJ) Instead of coddling our enemies like President Obama, and refusing to identify them for what they are, America needs a leader with some courage and backbone. Instead of empowering our enemies and cutting the throats of allies, we need a leader with an understanding that we live in an evil-infested world, and it does not pay to appease evil doers. In short, we need a President like Benjamin Netanyahu. In his speech to the US Congress, Israeli Prime Minister Netanyahu listed Iran's aggressive march "to devour its neighbors," citing Lebanon, Golan, Iraq and Yemen, in line the tenets of jihad enshrined in the Islamic Republic's revolutionary constitution. He called Iran the world's foremost sponsor of state terrorism. The nuclear deal on the table, said the prime minister, should be improved by making Iran submit to three provisos:
(1) to forego aggression against its neighbors and the Middle East at large,
(2) to forego state-sponsored terrorism worldwide, and
(3) to stop threatening Israel, the one and only Jewish state, with annihilation.
The nuclear deal on the table between six world powers and Iran will, if it is not strengthened, serve to "whet the regime's appetite to devour more countries," he said. If it goes through, not a single nuclear facility will be destroyed. Tehran will keep its vast nuclear infrastructure intact and have just a year for breakout to a bomb. The deal taking shape in negotiations will not prevent Iran gaining nuclear weapons, said the Israeli leader, but clear its path to a bomb and intercontinental nuclear-capable missiles able to reach any point on earth including the United States. This will not mark a farewell to arms, but farewell to arms control and a potential nuclear nightmare.
The whole Iran-terrorist nexus bespeaks of apocalyptic scenarios. And America needs a leader who has some Biblical knowledge on this subject, or at least has a sense of history. Added to the Iran-Syria-Hezbollah-ISIS theatre is the aspect that these forces are intent on bringing about the apocalypse by design, and thus their quest for a nuclear weapon. They will not deviate from that course, because they believe Allah has commanded them in this direction in order to set up their world wide empire under the Mahdi.
The last persons America needs in leadership positions these days in Obama/Kerry and company. They are either blind, stupid, or they are working with other powers to establish a Global world government, because they certainly do not have America, nor Israel's best interest in view.
Ex-UN Nuke Inspector Hails Netanyahu Speech
(Acknowledges Iran not being honest about program)
March 4….(WND) A former deputy director of the UN's International Atomic Energy Agency hailed Israeli Prime Minister Benjamin Netanayahu's speech to Congress Tuesday as an "important message" to the world regarding the unknowns surrounding Iran's nuclear program and the West's pending deal with Tehran. Olli Heinonen previously served as head of the Department of Safeguards for the IAEA, the UN's nuclear watchdog.
In a special podcast edition Tuesday of "Aaron Klein Investigative Radio," Heinonen was asked what he thought of Netanyahu's address. "I think it was an important message," Heinonen replied. "I don't go through the politics, you know, why he's speaking there and who is attending. Let's put that aside. Let's look at where we are today, and this is a crucial time to decide what kind of nuclear program Iran will have in years to come, what kinds of restraints are put there, what we know about Iran's nuclear program."
Heinonen stated Netanyahu raised a number of "important issues" regarding the hidden nature of both Iran's nuclear program and the contents of the Western deal being negotiated with Tehran. "You don't want to have a so-called blind date here. You need to know actually what will be the commitment here (in the Western deal with Iran). And I think to that end he raised a number of important issues. And to make sure that the agreement which will be negotiated is good enough." He added: "You don't need to do a deal at this second if you are uncomfortable with the terms. I think this is also what he wanted to convey."
Heinonen told Klein that Netanyahu is rightly concerned with the prospect of Iran keeping some of its nuclear program away from IAEA inspectors. He said his former agency, the IAEA, "has not been able to do a verification of the completeness of Iran's declaration." That means, he said, "we are not sure whether all the nuclear installations in Iran have been declared to the IAEA and whether all the nuclear material has been submitted under IAEA safeguards." Heinonen further warned Iran has "shortcomings" in its history of being honest with IAEA.
As noted by Netanyahu during his speech, just Monday, the IAEA's chief, Yukiya Amano, announced Iran has still not provided key information needed by the U.N. agency to assess Tehran's nuclear program. "Iran has yet to provide explanations that enable the agency to clarify two outstanding practical measures," Amano told the IAEA's Board of Governors in Vienna, according to Reuters.
Amono said the missing data relates to alleged explosive tests and military nuclear research. He said the missing information was supposed to have been handed over by Iran by last August. "The agency is not in a position to provide credible assurance about the absence of undeclared nuclear material and activities in Iran and therefore to conclude that all nuclear material in Iran is in peaceful activities," Amano was quoted by Reuters as saying.
Iran's Khamenei: 'Global Hatred of Israel is a Sign of Divine Help'
| | |
| --- | --- |
| | (FOJ) The Iranian cleric, Ayatollah Khamenei is a demon possessed individual. He very clearly is twisted in his thinking. The so-called "divine help" that he is sensing in his hatred of Israel comes not from the One true Creator God, but from Satan himself. Satan is marshaling his demonic hordes across the world for a showdown with Jesus Christ, and the sovereignty over Jerusalem. Mr. Khamenei is a force from Hell. |
March 4….(Jerusalem Post) Iranian Supreme Leader Ayatollah Ali Khamenei has claimed that heightened anti-Israel sentiments across the globe serve as a sign of "divine help" in the Islamic Republic's fight against its arch enemy. "The day when Western ppl realize that their problems result from #Zionism's hegemony over govts they will make an inescapable #hell for them," Khamenei said on Twitter. According to Khamenei, Israel has also exerted its control over American officials, "obliging" them to "flatter" the government in Jerusalem. "Increasing global hatred of #Israel is a sign of divine help," he wrote late Monday on Twitter.
Obama is Negotiating Israel's Ultimate Destruction
March 4….(Canada Free Press) The strangest thing about Obama's efforts to achieve friendly relations with Iran, something he has tried to do since he first took office in 2009, is that Iran has made it abundantly clear since its Islamic revolution in 1979 that it hates America and, in tandem, Israel as well.
In an Iranian naval drill on February 25, Iran blew up a mock U.S. aircraft carrier near the entrance of the Persian Gulf. It was a full-size replica of the USS Nimitz. This is the antithesis of friendship, but just to make their position clear, Iranian Rear Adm. Ali Fadavi, commander of its naval forces, let it be known that "We have the most advanced sea mines which cannot be imagined by the Americans." But the Americans, in this case the President of the United States and his negotiators, have been making every concession they can to get an agreement that would limit Iran's ability to produce its own nuclear weapons. Dr. Norman Bailey, an adjunct professor of economic statecraft at the Institute of World Politics, Washington, DC, recently wrote that "The US looks set to present its allies with a dangerous fait accompli on Iran's nuclear program." "The most recent deadline of March 24th means only one thing," Dr. Bailey wrote in a World Tribune commentary. "A deal has been reached between the US and Iran, which will be announced to the other five participants when the Obama administration decides it is convenient to do so." The other five obviously have nothing to say regarding the negotiations. At one point, the French foreign minister stormed out of the initial meeting proclaiming "This is a fool's deal."
It's worse than a fool's deal. It is a deal that is predicated on the nuclear destruction of Israel and, after that, the US is next. One might think that Obama knows this and one might be right. People like Mayor Rudy Giuliani have long noticed that Obama doesn't seem to like America very much.
A commentary by Lawrence Sellin, PhD, a retired colonel with 29 years of service in the US Army Reserve, and tours of service in Afghanistan and Iraq, and Major General Paul E. Vallely, US Army, retired, noted that the nuclear agreement did not include measures that would prevent any cooperation between Iran and North Korea or other rogue states. This has not gone unnoticed by the Israelis. Intelligence Minister, Yuval Steinitz, has noted that "We all know that Iran, Syria and North Korea are very close to each other."
North Korea has its own nuclear weapons program and, as Dr. Sellin and Maj. Gen. Vallely, warned, "Unless specifically prohibited and enforced within the terms and conditions" of the deal, "Tehran may attempt to sidestep the protocols by 'outsourcing' parts of the bomb production process to North Korea, Iran's long-term partner on everything from launch missiles to guidance systems to nuclear war head technology and other required components."
Iran's Foreign Minister Javad Zarif, a party to the negotiations with Secretary John Kerry, met with a visiting North Korean deputy foreign minister, Ri Gil Song, shortly after February 2014 Vienna discussions. Fars News reported that their meetings were devoted to "bolstering and reinvigorating the two countries' bilateral ties." Anyone recall George W. Bush's "Axis of Evil"? It was Iran, North Korea, and Iraq.
In case you are less than confident of Iran's intentions, in 2013 before the previous nuclear negotiations were concluded, according to the Fars News Agency, the regimes' outlet run by the Iranian Revolutionary Guards, Gen. Massoud Jazayeri, the deputy chief of staff of Iran's armed forces, said "America's interests and all of Israel are within the range of the Islamic Republic and there is not the slightest doubt among Iran's armed forces to confront the American government and the Zionists (Israel)."
The Prime Minister of Israel, Benjamin Netanyahu will address a joint session of Congress on Tuesday. On September 29, 2014, he addressed the United Nations. The message will be the same. Any deal with Iran will be a bad deal for Israel which has been in the crosshairs of the Iranians since they came to power in 1979. This isn't an "existential" threat. It is a threat that can and will destroy Israel if permitted to occur. Obama's negotiations will leave Israel no other option than to attack Iran's nuclear facilities.
If the US Congress has the means to deter and render Obama's negotiations null and void, they had better do so. On September 26, 2007, the US Senate passed legislation by a vote of 76-22 designating the Iranian Revolutionary Guards as a terrorist organization. The long record of Iran and its state-sponsored terrorism can be found by visiting Wikipedia.
What we are witnessing is a level of insane appeasement comparable to that of the 1930s when European nations refused to acknowledge Nazi Germany's clear intention to conquer them. Iran's intentions are known to Obama and no doubt to our Congress. They are surely known to Israel and the Gulf nations. If history is any guide, these negotiations will put the world on the path to a cataclysm that defies the imagination.
Bibi Lists Other Times Israel Defied US to Act in Self Defense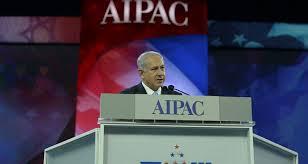 March 3…. (Weekly Standard) Israel prime minister Benjamin Netanyahu used a portion of his AIPAC speech today to list the times when Israel has defied US warnings to act in its self defense. "America and Israel have had some serious disagreements over the course of our nearly 70-year-old friendship," said Netanyahu from the annual AIPAC policy conference. "That started with the beginning.
"In 1948, Secretary of State George Marshall opposed David Ben-Gurion's intention to declare statehood. That's an understatement, he vehemently opposed it. But, Ben-Gurion, understanding what was at stake, went ahead and declared Israel's independence. In 1967, as an Arab noose was tightening around Israel's neck, the United States warned [the prime minister] that if Israel acted alone, it would be alone. But Israel did act, and acted alone, to defend itself. In 1981, under the leadership of Prime Minister Menachem Begin, Israel destroyed a nuclear reactor at Osirak. The United States criticized Israel and suspended arms-transfers for three months. And in 2002, after the worst wave of Palestinian terror attacks in Israel's history, Prime Minister Sharon launched Operation Defensive Shield. The United States demanded that Israel withdraw its troops immediately but Sharon continued until the operation was completed. "There's a reason I mention all of these. I mention them to make a point. Despite occasional disagreements, the friendship between America and Israel grew stronger and stronger, decade after decade. And our friendship will weather the current disagreements as well to grow even stronger in the future." Netanyahu is scheduled to address a joint session of Congress tomorrow.
Obama, Israel's Netanyahu Clash over Iran Diplomacy
March 3….(Reuters) President Barack Obama and Benjamin Netanyahu clashed over Iran nuclear diplomacy on Monday on the eve of the Israeli prime minister's hotly disputed address to Congress, underscoring the severity of US-Israeli strains over the issue. Even as the two leaders professed their commitment to a strong partnership and sought to play down the diplomatic row, they delivered dueling messages, Netanyahu in a speech to pro-Israeli supporters and Obama in an interview with Reuters, that hammered home their differences on Iran's nuclear ambitions. Neither gave any ground ahead of Netanyahu's speech to Congress on Tuesday when he plans to detail his objections to ongoing talks between Iran and world powers that he says will inevitably allow Tehran to become a nuclear-armed state.
Netanyahu opened his high-profile visit to Washington on Monday with a stark warning to the Obama administration that the deal being negotiated with Tehran could threaten Israel's survival, saying he had a "moral obligation" to sound the alarm about the dangers. He insisted he meant no disrespect for Obama, with whom he has a history of testy encounters, and appreciated US military and diplomatic support for Israel.
Just hours after Netanyahu's speech to AIPAC, the largest US pro-Israel lobby, Obama told Reuters that Iran should commit to a verifiable freeze of at least 10 years on its most sensitive nuclear activity for a landmark atomic deal to be reached. But with negotiators facing an end-of-March deadline for a framework accord, he said the odds were still against sealing a final agreement.
Obama used his interview to try to preemptively blunt the impact of Netanyahu's closely watched address to Congress. Previewing his coming appearance on Capitol Hill, Netanyahu told a cheering audience at the annual conference of the American Israel Public Affairs Committee (AIPAC): "As prime minister of Israel, I have a moral obligation to speak up in the face of these dangers while there's still time to avert them." At the same time, Netanyahu said the relationship between his country and the United States was "stronger than ever" and not in crisis.
Obama has refused to even meet Netanyahu during the visit, on the grounds that doing so could be seen as interference on the cusp of Israel's March 17 elections when the prime minister is seeking re-election against a tough center-left challenger. On Monday, the president said he would be willing to meet Netanyahu if the Israeli leader wins re-election. But he said Netanyahu's US visit gave the impression of "politicizing" the two countries' normally close partnership and of going outside the normal channels of US foreign policy in which the president holds greatest sway. Netanyahu's planned speech has driven a wedge between Israel and congressional Democrats. Forty two Democrats plan to boycott the address, according to The Hill, a political newspaper.
Netanyahu, who was given rousing bipartisan welcomes in his two previous addresses to Congress, is expected to press US lawmakers to block a deal with Iran that he contends would endanger Israel's existence but which Obama's aides believe could be a signature foreign policy achievement. The invitation to Netanyahu was orchestrated by Republican congressional leaders with the Israeli ambassador without advance word to the White House, a breach of protocol that infuriated the Obama administration and the president's fellow Democrats. The partisan nature of this dispute has turned it into the worst rift in decades between the United States and Israel, which normally navigates carefully between Republicans and Democrats in Washington.
Netanyahu wants Iran to be completely barred from enriching uranium, which puts him at odds with Obama's view that a deal should allow Tehran to engage in limited enrichment for peaceful purposes but under close international inspection.
Obama said a final deal must create a one-year "breakout period" for Iran, which means it would take at least a year for Tehran to get a nuclear weapon if it decides to develop one, thereby giving time for military action to prevent it.
Netanyahu has said such a deal would allow Iran to become a "threshold" nuclear weapons state, that it would inevitably cheat on any agreement and that the lifting of nuclear restrictions in as little of 10 years would be an untenable risk to Israel. He has hinted at the prospect for Israeli military strikes on Iranian nuclear facilities as a last resort, though he made no such threat in his AIPAC speech on Monday.
A Bad Agreement with Iran Will Undermine Middle East Stability
March 3….(Jerusalem Center for Public Affairs) The main players in the Middle East continue to focus on the nuclear talks between Iran and the leading powers, primarily the United States. The results of these talks, especially if they ultimately lead to a "bad agreement" between the United States and Iran that makes the latter a nuclear-threshold state, will likely have a decisive effect on the dramatic, formative processes reshaping the Middle East that will eventually affect US and European national security.
The national security strategy that the White House published in February states, among other things, that "We are currently testing whether it is possible to achieve a comprehensive resolution to assure the international community that Iran's nuclear program is peaceful, while the Joint Plan of Action has halted the progress of Iran's program." The document describes the sanctions regime and its achievements in stymieing the Iranian nuclear program. This document goes on to assert that "Stability and peace in the Middle East and North Africa also requires reducing the underlying causes of conflict. America will therefore continue to work with allies and partners toward a comprehensive agreement with Iran that resolves the world's concerns with the Iranian nuclear program."1
In actuality, the signing of an agreement that affords Iran a threshold capability to produce nuclear weapons will probably mean the continuation of the worrisome trend of Iran's conquest of strategic locations in the Arab domain from the Persian Gulf to North Africa, and the continued undermining of stability in these areas. Meanwhile, Iran will keep exploiting the weakness of US foreign policy in the region and the divisions prevailing in the Arab world since the outbreak of the Arab Spring.
The signing of an agreement that affords Iran a threshold capability to produce nuclear weapons will probably mean the continuation of Iran's conquest of strategic locations in the Arab domain. Iran already holds sway over four Arab states: Yemen, Iraq, Syria, and Lebanon.
· Within the talks themselves, Iran has been able to create a separation between the nuclear issue and its ongoing, untrammeled buildup of long-range missiles that can carry a nuclear warhead, support for terror, subversion and aid to Islamic groups that pose the Arab regimes, subversive activity in South America, and continued gross human rights violations.
· Iran regards itself as spearheading a redress of historical injustices that relegated the Shiites to a minor status in the Arab and Islamic world. As it works to encircle Israel, Iran is also working to encircle the Arab and Sunni world and to hit it in its soft underbelly, namely, the Shiite populations that exist in large and strategic concentrations in Saudi Arabia and Bahrain.
· The big winner of the international coalition's war on Islamic State is Iran. The war is not only weakening a bitter enemy of Shiite Iran, but also strengthening Iran's main ally in the region, Syria, as well as Hizbullah.
· The agreement will also likely have negative repercussions for the possibility of advancing a diplomatic process with the Palestinians. Iran, which is staunchly against any diplomatic process, will step up its support for the Palestinian terror organizations, particularly Hamas and Islamic Jihad. Moreover, Iran's Supreme Leader Ali Khamenei increasingly calls to arm the Palestinians in the West Bank.
· The Iranian regime will not change in nature. The subversion outside of Iran and the push to expand its influence will continue and even intensify. While some in the West speculate that the regime will moderate over time, it is just as likely that the Revolutionary Guards will keep gaining power and complete their takeover of the Iranian Revolution
The main players in the Middle East continue to focus on the nuclear talks between Iran and the leading powers, primarily the United States. The results of these talks, especially if they ultimately lead to a "bad agreement" between the United States and Iran that makes the latter a nuclear-threshold state, will likely have a decisive effect on the dramatic, formative processes reshaping the Middle East that will eventually affect US and European national security.
The national security strategy that the White House published in February states, among other things, that "We are currently testing whether it is possible to achieve a comprehensive resolution to assure the international community that Iran's nuclear program is peaceful, while the Joint Plan of Action has halted the progress of Iran's program." The document describes the sanctions regime and its achievements in stymieing the Iranian nuclear program. This document goes on to assert that "Stability and peace in the Middle East and North Africa also requires reducing the underlying causes of conflict. America will therefore continue to work with allies and partners toward a comprehensive agreement with Iran that resolves the world's concerns with the Iranian nuclear program."
In actuality, the signing of an agreement that affords Iran a threshold capability to produce nuclear weapons will probably mean the continuation of the worrisome trend of Iran's conquest of strategic locations in the Arab domain from the Persian Gulf to North Africa, and the continued undermining of stability in these areas. Meanwhile, Iran will keep exploiting the weakness of US foreign policy in the region and the divisions prevailing in the Arab world since the outbreak of the Arab Spring.
In the context of more than a decade of futile nuclear talks, Iran, an island of stability in the chaos that has emerged in the Middle East, keeps deceiving the international community. Along with its successes, within the talks themselves, in maintaining its crucial nuclear capabilities (thousands of centrifuges and ongoing R&D) and regional status, it has been able to create a separation between the nuclear issue, which enjoys the spotlight, and its ongoing, untrammeled buildup of long-range missiles that can carry a nuclear warhead, support for terror (including providing Hamas and Hizbullah with rockets and the know-how to manufacture them), subversion and aid to Islamic groups that oppose the moderate Arab regimes, subversive activity in South America, and continued gross human rights violations (including the arrest of journalists and bloggers, the infringement of political rights and women's rights, and so on).
On the ground, Iran already holds sway over four Arab states. They include Yemen where the Houthis recently completed their takeover, which will give Iran access and control over the Bab el-Mandeb Strait leading into the Red Sea; Iraq; Syria; and Lebanon. The latter three give Iran a "Shiite arc" from Iran itself to the shores of the Mediterranean Sea. From a historical viewpoint, which puts the struggle between Shiite Iran and the Sunni Arab states in sharper relief, Iran symbolically controls both Baghdad (founded in 762 CE by Mansur, the second Abbasid Caliph, on the ruins of the previous capital of the Sassanid Persians, Ctesiphon) and Damascus (which was the capital of the Islamic empire during the Umayyad dynasty).
Iran now regards itself as spearheading a redress of historical injustices that relegated the Shiites to a minor status in the Arab and Islamic world. As it works to encircle Israel, Iran is also working to encircle the Arab and Sunni world and to hit it in its soft underbelly, namely, the Shiite populations that exist in large and strategic concentrations in Saudi Arabia (in the oil-rich eastern part of the kingdom) and in Bahrain (where a Shiite majority is ruled by Sunnis). Bahrain serves as a base for the US Fifth Fleet, which operates in the Persian Gulf, and is also a constant focal point of Iranian subversion and aid to opposition elements.
Iran's takeover of Yemen, by means of the Houthi rebels, affords it an opportunity to expand its subversion via the common border of Yemen and Saudi Arabia. Moreover, it is seriously undermining the US war against terrorism, since Yemen has served as a vital partner in the fight against al-Qaeda. This goes hand-in-hand with its activities along the Saudi border via the border with Iraq. Iran is thereby succeeding to encircle Saudi Arabia, its main rival in the Arab domain. The two states are also waging an ongoing struggle in the Iraqi, Syrian, and Lebanese theaters. Thus, Iran has been able to surround Saudi Arabia from the east and the south. Its control of the Yemeni ports allows it to transfer weapons to the Shiites in Saudi Arabia and also to Sudan, from whence they proceed to Egypt and the Gaza Strip. In this regard, as part of its naval power projection in the Persian Gulf and beyond, and while negotiating a nuclear agreement, the Revolutionary Guards navy (IRGCN) held exercises near the strategic Straits of Hormuz, sinking a mock-up of the USS Nimitz, an American aircraft carrier.
Against this backdrop, a number of Arab governments, led by Saudi Arabia, have expressed great concern about the emerging agreement between the United States and Iran, which will leave Tehran with threshold nuclear capabilities and enable it, under the nuclear umbrella, to continue its subversive activity undisturbed. It should again be emphasized that the issue of Iran's detrimental involvement in the internal affairs of Middle Eastern states, along with its terror activity, is not being raised at all in the nuclear talks, Iran having adamantly opposed this in all stages of these talks.
Israel and Arab states, Saudi Arabia, the Gulf states, and Egypt, fear that the nuclear agreement with Iran will leave it with major capabilities in the nuclear field, particularly regarding uranium enrichment, and indeed will enable it, if its leadership decides, to produce nuclear weapons. Meanwhile, the tight sanctions regime against Iran, which was achieved with great effort and diplomatic activity that took years, will gradually erode and end. The latest report of the International Atomic Energy Agency (IAEA) notes that, while Iran has cooperated with the IAEA on a number of issues, it still has not provided an answer about the components of its nuclear program suspected to be military in nature. "These measures related to the initiation of high explosives and to neutron transport calculations." The Arab states, with Saudi Arabia at the forefront, would rather see the nuclear talks collapse than the signing of a bad agreement that enables Iran to advance its nuclear program and expand its regional influence. These states also warn that such an agreement stands to heat up the Middle Eastern nuclear and conventional arms races (with probable Russian arm sales) in an effort to contend with Iran's growing military and political might.
In the eyes of Arab states, the United States' irresolute policy in the Middle East is facilitating the spread of Iran's regional hegemony. The United States abandons old allies (such as Egypt and Saudi Arabia) while portraying the agreement with Iran as the Obama administration's crowning achievement in the foreign policy sphere. Meanwhile, Washington winks at Iran in the context of the war against Islamic State, while grooming Iran as its partner and as a legitimate international actor. The United States thereby grants an imprimatur to Iran's de facto takeover of Iraq, from which it casts its gaze further on toward Syria, Lebanon, and more recently, Yemen.
Currently, the big winner of the regional-international coalition's war on Islamic State is Iran. The war is not only weakening a bitter enemy of Shiite Iran, but also strengthening Iran's main ally in the region, Syria, as well as Hizbullah indirectly. The "moderate" Arab states, for their part, have pushed for the overthrow of Syrian President Bashar Assad and the weakening of Hizbullah, and were disappointed by the irresolution that the US president showed after Assad crossed the red line of using chemical weapons.
The agreement will also likely have negative repercussions for the other components of US policy in the Middle East, and particularly for the possibility of advancing a diplomatic process with the Palestinians. Iran, which opposes Israel's existence, calls for its destruction, and is staunchly against any diplomatic process, will step up its support for the Palestinian terror organizations, particularly Hamas and Islamic Jihad. Meanwhile, Iran's growing entrenchment in the Syrian-Lebanese domain"from Quneitra to Rosh Hanikra" (i.e., all along Israel's northern border) will likely make that border one of tension and confrontation between Iran and Israel. At present, Iran possesses (almost) all of the components and the know-how needed to produce nuclear weapons.
In sum, a nuclear agreement with Iran stands to be signed precisely when the Middle East is at a critical juncture. The struggle over the remolding of the region has not yet been decided. It is being waged between the proponents of change, such as Islamic State, Al-Qaeda, the Muslim Brotherhood and Iran; and the proponents of stability, the moderate Arab states including Egypt, Saudi Arabia, the Gulf states, and Tunisia, along with Israel. The nuclear agreement will likely give Iran a tailwind and plunge the Middle East, in the medium to long term, into a nuclear arms race, intensify Iranian subversion and terror, and create a dangerous security reality for Israel.
Obama Threatened to Shoot Down any Israeli Jets Attacking Iran
(America's First anti-Israel President) Can God's Curse on America be far behind?
America today, thanks to Mr. Obama stands in the crosshairs of God's wrath!
March 2….(Newsmax) President Barack Obama threatened to shoot down Israeli planes in 2014 if they were sent to bomb Iranian nuclear facilities, according to reports attributed to a Kuwaiti newspaper. According to the website Israel National News, the Bethlehem-based news agency Ma'an cites Kuwaiti newspaper Al-Jarida. Al-Jarida reports that the alleged threat from the White House forced Israeli Prime Minister Benjamin Netanyahu to cancel the planned attack.
An Israeli minister on good relations with the Obama administration reportedly tipped Secretary of State John Kerry to the plan and that Obama vowed to shoot down the planes when they crossed over US-controlled airspace in Iraq. Al-Jarida quoted "well-placed" sources saying that Netanyahu, Minister of Defense Moshe Ya'alon and then-Foreign Minister Avigdor Lieberman made the plans for airstrikes after consulting top commanders.
In addition to the attacks, Netanyahu and his ministers decided to try to thwart any nuclear deal between the United States and Iran over fears that a nuclear Iran is a threat to Israel's existence, the newspaper said. Israeli pilots reportedly trained for weeks on the mission and even were able to fly into Iranian airspace without being detected by radar.
Israel's fears of nuclear attack are not new. In 2007, an Israeli airstrike took out a suspected nuclear site in Syria. A 1981 airstrike took out a suspected nuclear reactor in Iraq.
Israel National News quoted a Daily Beast interview from 2009 in which former President Jimmy Carter's national security adviser Zbigniew Brzezinski urged Obama to take on any threat to Iran from Israel. "They have to fly over our airspace in Iraq. Are we just going to sit there and watch?" Brzezinski said. "We have to be serious about denying them that right. That means a denial where you aren't just saying it. If they fly over, you go up and confront them. They have the choice of turning back or not." Brzezinski even suggested, "No one wishes for this but it could be a Liberty in reverse." That was an allusion to an incident in the 1967 Six Day War in which Israeli jets and torpedo boats attacked the USS Liberty in international waters. Israel later called the attack an incident of "friendly fire."
Netanyahu is set to address a joint session of Congress on Tuesday over the Iranian nuclear threat. Most Democrats have said they will not attend (boycott) and Obama has said he will not meet with the Israeli Prime Minister since the talk will occur two weeks from Israeli elections.
Obama - More Concerned About Silencing Israel than Protecting it
March 2….(Jerusalem Post) Barack Obama is running scared. In advance of Prime Minister Benjamin Netanyahu's address to Congress next week about the growing threat of a nuclear Iran, the normally placid president of the United States is suddenly breaking out into a political sweat. One by one, Obama has been dispatching his minions to deride, denounce and disparage a speech that hasn't even been given yet. Indeed, President Obama is doing everything in his power to attack the message and the messenger in an attempt to salvage a possible deal with the Iranian ayatollahs. But in doing so, he runs the risk of stirring up a menace no less frightful: the demon of anti-Semitism. After all, the harshness of Obama's response could very well lead some Americans down the well-trod path of anti-Zionism and Jew-hatred.
Take for example the remarks made by National Security Advisor Susan Rice. Speaking to journalist Charlie Rose on Tuesday night, Rice declared that Netanyahu's acceptance of the invitation to Congress is "destructive of the fabric of the relationship" between Israel and the US. Rice's comment is far more revealing than perhaps she intended, for by employing such extreme language, she inadvertently disclosed just how nervous the White House is about the possible impact of the premier's speech. Moreover, Rice's remarks are in direct contradiction to those made just one month ago by White House chief of staff Denis McDonough, who told NBC's Meet the Press on January 25 that the US relationship with Israel is "focused on a shared series of threats, but also on a shared series of values that one particular incident is not going to inform overwhelmingly."
This is a sure sign that not only does the Obama administration lack message discipline, but can barely conceal its unmitigated hostility toward the Jewish state and the man who leads it. Indeed, to decry a speech by a close US ally to the elected representatives of the American people as "destructive" is not only offensive, but it crosses the lines of diplomatic decency. It is the kind of remark that Israel's enemies will be more than happy to exploit in an effort to paint the Jewish state, and Jews themselves, as undermining America.
The Obama administration's enmity against Israel was further on display when Secretary of State John Kerry took part in a congressional hearing on Tuesday regarding the State Department budget, where he made some thinly-veiled remarks that were sharply critical of Netanyahu. "Anyone running around right now," Kerry said, "jumping to say we don't like the deal, or this or that, doesn't know what the deal is. There is no deal yet." Even for someone who once boasted that "I actually did vote for the $87 billion [in funding for US troops] before I voted against it," this latest statement is remarkably obtuse. In effect, Kerry is saying that Netanyahu shouldn't criticize a deal with Iran until it is complete, neglecting to mention that at that point it would be too late. But the comment also has a potentially chilling undertone to it. Does Kerry mean to suggest that American Jewry and pro-Israel organizations should keep silent and not decry the reported terms of the potential nuclear deal with Iran? Fortunately, the Obama administration's full-court press against Netanyahu's appearance in Congress doesn't seem to be working, at least for now. In a poll conducted last week by McLaughlin & Associates, 59 percent of Americans surveyed said they support Netanyahu speaking to Congress, while just 23% oppose it. This demonstrates that a vast majority of the American public is not taking Obama's bait, and wants to hear what the Israeli premier has to say.
Nonetheless, it is heartbreaking to see an American administration that is more concerned about silencing Israel than protecting it. Heartbreaking, but also deeply worrisome, because the tactics that Obama has been employing, from leaking information to embarrass Israel to bitterly censuring the head of government of the Jewish state, could easily open the door to a resurgence of anti-Semitism.
Christians Need to Stand Up to 'Reclaim America's Judeo-Christian Heritage'
March 2….(Christian Post) Speaking at Westminster Theological Seminary's second-ever "Real State of the Union" conference last Saturday, three Christian scholars stressed to attendees that it is time for Christians to faithfully stand up in the public square and reclaim America's Judeo-Christian heritage from what has become a prominently secular society. "I am calling on all believers to have a recommitment to the truth of Christ to speak the truth and love, to be who we are and to engage in justice by being committed to justice and seeing to it by speaking in the public square," Westminster Theological Seminary President Peter Lillback said. "We are not forcing ourselves into a place that we don't belong. This public square was created by this Judeo-Christian heritage that we are speaking about."
Lillback set the tone for the day-long conference, which was held at First Presbyterian Church in Bonita Springs, Florida, with an event-opening speech providing a rundown of how America has transformed from a country that was discovered and founded on Christian values to a society that now largely mocks and ridicules Christians who act in accordance to their religious beliefs. "We are now in a day that was much like what first century Christians faced in a pluralistic world that was antagonistic to their Christian values," Lillback told The Christian Post. "We aren't even beginning to pay the price that our forefathers did for their faith." "Yes, we will be persecuted. Yes, we will be criticized. Yes, we will be assaulted. But Jesus said, 'Be glad and rejoice for that is what they did to the prophets before you.
Lillback points out that the Founding Fathers specifically included four references to God in the Declaration of Independence and opines that they are indications that more trust needs to be put into God when it comes to leading and governing a nation that is supposed to be free of tyranny. "So its been observed that the four references to God actually reflect the very form of government that the Constitution will eventually create," Lillback said. "There are lawgivers. God is a giver of law. There are judges. God is the supreme judge. There are executives. God is the executor of his will through providence."
Lillback added that God is also present in the Constitution, although others might disagree. Things such as the president having the option to take Sundays for sabbath and the president having to swear on the Bible when he takes his oath of office are clear reminders of how the Founding Fathers intended for the light of God to help drive the success of the nation, and protect it from human imperfection. "Some people have said that the Constitution is a godless constitution, but it's actually remarkably Christian in many ways," Lillback asserted. "The most Christian element of all the Constitution is the lack of trust in human nature. All the ways in which there are checks and balances and there are different branches of government and the severance of power. Those are a recognition that man has basically corrupted and he will be even more corrupted when he has power."
Lillback further explained that Christianity was a crucial part of public education and helped fuel the country's Judeo-Christian morals up until the 1890s, as half of the boards of public universities were comprised of clergymen. "When you get to the 1890s with the Holy Trinity case, you get to the highwater mark for Judeo-Christian value structure. But at this point, this is where we begin to see the movement from the very highest levels beginning to de-christianize the Universities," Lillback said. "They began to push theological and seminary studies out of the universities and replaced it with the study of religions. Over time, it becomes more and more committed, not to deism but ultimately a form of practical atheism to where atheism became the prevailing view of our universities. That begins to take hold in the progressive era in the early 1900s." Secular viewpoints became dominant in America in the later half of the 20th century and now 21st century pluralistic and post-modern culture has created hostility towards the same morals and values that America was founded on.
Obama Will Veto Any Bill Letting Congress Weigh in on Iran Deal
March 2….(Reuters) President Barack Obama would veto a bill recently introduced in the US Senate allowing Congress to weigh in on any deal the United States and other negotiating countries reach with Iran on its nuclear capabilities, the White House said on Saturday. "The president has been clear that now is not the time for Congress to pass additional legislation on Iran. If this bill is sent to the president, he will veto it," said Bernadette Meehan, a spokeswoman for the White House's National Security Council.
The United States and five other major powers are seeking to negotiate an agreement with Iran to curb its nuclear program in exchange for relief from economic sanctions.
The Iran Nuclear Agreement Review Act would require to submit to Congress the text of any agreement within five days of concluding a final deal with Iran. The bill would also prohibit Obama from suspending or waiving sanctions on Iran passed by Congress for 60 days after a deal.
Negotiations between the United States, Russia, China, France, Germany, Britain and Iran have reached a crucial stage, with a basic framework agreement due by the end of March. Republican Senator Bob Corker, one of the bipartisan group of sponsors of the bill, said it was "disappointing that the president feels he is the only one who speaks for the citizens of our country."
Netanyahu's Speech is a Last Ditch Effort to Defeat Obama Empowerment of Iran as America's Most Favored Mid East Ally
March 2….(DEBKA) President Barack Obama's Middle East record in relation to Israel's during his six years in the White House is abysmal, and a record of sabotage. It took time to catch on to Obama's two-faced policy towards Israel because it was handled with subtlety. On the one hand, he made sure Israel was well supplied with all its material security needs. This enabled him to boast that no US president or administration before him had done as much to safeguard Israel's security.
But behind this façade, Obama made sure that Israel's security stayed firmly in the technical-material-financial realm and never crossed the line into a strategic relationship. That was because he needed to keep his hands free for the objective of transferring the role of foremost US ally in the Middle East from Israel to Iran, a process that took into account the ayatollahs' nuclear aspirations. This process unfolding over recent years has left Israel face to face with a nakedly hostile Iran empowered by the Barack Hussein Obama.
Tehran is not letting its oft-repeated threat to wipe Israel off the map hang fire until its nuclear aspirations are assured of consummation under the negotiations continuing later this week in the Swiss town of Montreux between US Secretary John Kerry and Iranian Foreign Minsiter Mohammed Javad Zarif. In the meantime, without President Obama lifting a finger in defense of "Israel's security," Iran's Revolutionary Guards Corps officers are drawing Israel into a military stranglehold on the ground.
Netanyahu's political rivals, while slamming him day by day, turn their gaze away from the encroaching Iranian forces taking up forward positions in Iraq, Syria and Lebanon, where they are busy fashioning a Shiite Crescent that encircles Sunni Arab states as well as Israel. It must be obvious that to bolster its rising status as the leading regional power, Iran must be able to reach the nuclear threshold, at the very least, if not nuclear armaments proper, or else how will Tehran be able to expand its territorial holdings and defend its lebensraum.
This is not something that Barack Obama or his National Security Adviser Susan Rice are prepared to admit. They are not about to confirm intelligence reports, which expose the military collaboration between the Obama administration and Iran's supreme leader Aytatollah Ali Khamenei as being piped through the office of Iraq's Shiite Prime Minister Haider al-Abadi. Washington denies that there is any such collaboration, or any suggestion that the White House had reviewed recommendations and assessments of an option for the Iranian Revolutionary Guards' Al Qods Brigades to take over the ground war on the Islamic State in Iraq and Syria as American contractors. Al Qods chief Gen. Qassem Soleimani is frequently spotted these days flitting between Baghdad, Damascus and Beirut, while his intelligence and liaison officers file reports to the Obama administration, through the Iraqi prime minister's office, on their forthcoming military steps and wait for Washington's approval.
America understandably lacks the will to have its ground forces embroiled in another Middle East war. Washington is therefore not about to turn away a regional power offering to undertake this task, even though it may be unleashing a bloody conflagration between Shiite and Sunni Muslims that would be hard to extinguish
Egypt, Saudi Arabia, the rest of the Gulf are as dismayed as Israel by Obama's regional strategy, which, stripped of its diplomatic veneer, boils down to a straight trade: The US will allow Iran to reach the status of a pre-nuclear power and regional hegemon, while Tehran, in return, will send its officers and ground troops to fight in Iraq, Syria and even Afghanistan.
Many diplomats and politicians are right when they argue that Israel's bond with the US presidency is too valuable to jeopardize. But in truth, it is the Obama White House which is trifling with that bond, not Netanyahu, whose mission in Washington is no more than a tardy attempt to check Iran's malignant machinations which go forward without restraint, and reveals Obama's strategy to empower Iran over Israel.
FOJ Note: President Obama should be impeached. He is a traitor and a deceiver, and an antagonizer of America's long trusted, and truest allies. He is very anti-Israel, and this fact probably stems from his Muslim roots, and his quest for self exaltation.
John Kerry: Israel's Security Will be Assured by interim Iran Deal
March 2….(WND) Secretary of State John Kerry said on Sunday that an interim nuclear deal with Iran has strengthened Israel's national security. "Israel is safer today because of the interim agreement we created," Kerry said on ABC's This Week. "It is to guarantee that we will know that Iran cannot develop a nuclear weapon under the procedure that we're putting in place." Kerry's comments come amid grave concerns in Israel over Tehran's nuclear ambitions.
Israeli Prime Minister Benjamin Netanyahu landed in Washington, DC on Sunday and will address the issue before a joint session of Congress on Tuesday. "My responsibility is to worry not only about the state of Israel, but also the future of the Jewish people," Netanyahu said on Saturday. "And for that reason, we are strongly opposed to the agreement being formulated between the world powers and Iran that could endanger Israel's very existence."
FOJ Note: Saturday Mr. Kerry said there was no deal, and that Netanyahu was just over reacting. Now today he says there is a deal, and that Israel is safer. Funny, the Israeli's don't seem to agree. But of course Mr. Kerry has a long record of betrayal, even to his own country.
---