Follow Focus on Jerusalem on 'Twitter'
(FOJ note) You can actively follow hourly news, comments and articles on the Twitter link posted above.
The Newsroom will continue as always, but the Twitter link provides quick hot-button alerts.
WEEK OF JULY 27 THROUGH AUGUST 2
Elites And Courts Push America Into A Post-Christian Era
July 31….(Forbes) "My country 'tis of Thee, sweet land of Secularity" will be our new national hymn as America enters the uncharted territory of a post-Christian era. Long known as "a Christian nation," the U.S. has turned sharply in a secular direction, thanks to the trickle-down influence of elites and handed-down dictates from courts. This historic shift will affect everything from elections to education to ethics and beyond.
How can a nation be Christian (or post-Christian) in the first place? America has never been a theocracy, following the direct rule of God in the manner of the Islamic Republic of Iran or the Vatican (or Israel in Old Testament times). Rather America has been referred to as a Christian nation because of the core beliefs and world view of a majority of its people and an acknowledgement of God by its public leaders and symbols. But as Americans, especially the young, move away from faith in large numbers, and courts systematically dismantle religious symbols and influences, the post-Christian era has arrived.
Recent polls confirm the increasing secularization of our people, especially the young. A poll by the Pew Foundation shows that the number of Americans describing themselves as Christian has declined by about 10% between 2007-2014. Meanwhile, those professing no religion grew by 50% in that same time frame. Fewer than 6 in 10 millennials (ages 18-33) affiliate with any branch of Christianity. A recent survey by the Public Religion Research Institute shows that 66% of those age 65 and over believe being Christian is an important part of being American, while only 35% of those ages18-29 agree. These numbers are changing remarkably quickly as Americans are seemingly losing their faith and becoming more like secular Europeans.
Another lens into post-Christian America is the declining impact of traditional Christian teaching on social mores. The sexual revolution continues to redefine the nature of sex, relationships and the family away from orthodox Christian teaching. Young people increasingly see science as a challenge to the teachings of the Bible. The rise of tolerance as the ultimate value in society sometimes clashes with religious notions of absolute truth. In short, a new and more liberal orthodoxy is tipping the scales of public dialogue and conventional wisdom away from the narrower views of traditional religion.
Finally, the courts have begun to chip away at religious influence and symbolism in the public square. I mean, when the Oklahoma Supreme Court votes 7-2 that a monument of the Ten Commandments must be removed from the state Capitol, as it did recently, you know times are changing. It probably will not be long before "one nation under God" in the pledge and "in God we trust" on the currency will be ruled unconstitutional by courts. Of greater significance was the Obergefell v. Hodges decision about same sex marriage, in which the traditional Christian understanding of marriage received so little attention and support that the justices could only uphold Christians "teaching" and "advocating" their views, rather than quoting the more muscular language of the First Amendment about "free exercise." In his dissenting opinion, Justice Samuel Alito warned that the court's opinion "will be used to vilify Americans who are unwilling to assent to the new orthodoxy."
In one sense, Christians need not despair. Christianity has survived governments and societies of all kinds throughout the ages. But the losers in this may be less the Christians than the larger society. The Founders consistently warned that in order for a free republic to work, a virtuous people would be needed, and the source of that virtue, in their experience, was religion. So the question we must answer in post-Christian America is this: What will be the sources of our virtues and values? My own uneasiness about this was reflected on a bumper sticker I saw on a Los Angeles freeway: "THERE IS NO HOPE (but I could be wrong)."
Temple Institute Releases Plans for Third Temple
July 28….(Worthy News) The Temple Institute has released a modern three-dimensional architectural rendition of the future Third Holy Temple on Tisha B'Av, utilizing the latest building material and techniques.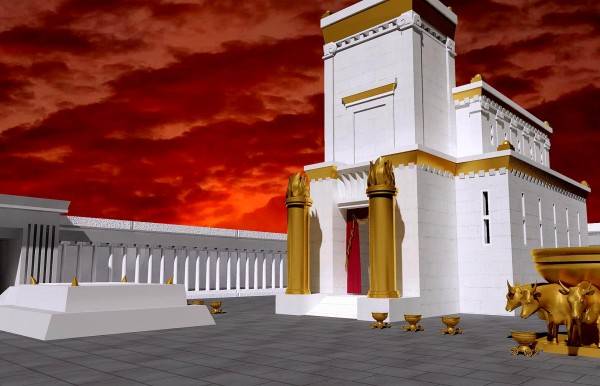 Bible Scholars Warn the Next Temple Built Will Be Utilized by Anti-Christ
However, Bible scholars warn that the next temple to appear will be the temple of the Antichrist. As the Bible warns, "Let no one deceive you by any means; for that Day will not come unless the falling away comes first, and the man of sin is revealed, the son of perdition, who opposes and exalts himself above all that is called God or that is worshiped, so that he sits as God in the temple of God, showing himself that he is God." [2 Thessalonians 2:3-4] Finally, Bible scholars remind Christians of Jesus' warning as He told his followers to watch for the sign of the 'abomination of desolation.' [Matthew 24:15] Experts warn that the 'abomination of desolation' will be a picture of the Antichrist sitting in the temple proclaiming himself as "God."
WEEK OF JULY 19 THROUGH JULY 25
Jordan Launches War on ISIS in Iraq, Turkish Warplanes Hit ISIS in Syria
July 24….(DEBKAfile Special Report) The Middle East woke up Friday, July 24, to two new full-fledged wars launched by Jordan and Turkey for cutting down the Islamic State of Iraq and the Levant as is forces advanced on their borders. The United States and Israel are involved in both campaigns. Jordanian armored, commando and air forces are already operating deep inside Iraq, while Friday morning, Turkey conducted its first cross-border air strike against ISIS targets in Syria. Clashes between Turkish troops and Islamic fighters erupted at several points along the border. Both governments also conducted mass arrests of suspected Islamists. The Jordanian police picked up ISIS adherents, while 5,000 Turkish police detained 250 Islamist and outlawed Kurdish PKK suspects in Istanbul, Ankara, Izmir and Saniurta. Jordan Friday shut down its only border crossing with Iraq.
Earlier this week, Turkey permitted US warplanes to us the Incirlik air base in the south for bombing missions against ISIS, and Israel handed over to Jordan 16 Cobra combat helicopters and assured Jordan of air force cover for its anti-ISIS operation. Read more about this new chapter in the war on ISIS in the debkafile report of Thursday, July 23. In the first publicized Israeli military hardware transaction with an Arab nation, Israel has handed over "around 16 Cobra" combat helicopters in support of Jordan's war on the Islamic State. This was confirmed Thursday, July 23, by a US official close to the transfer. It was also the first time US-Jordanian-Israeli military cooperation in the struggle against ISIS was publicly disclosed. "These choppers are for border security," said the unnamed US official. debkafile's military and counter-terror sources disclose that the Cobras are needed for a large-scale Jordanian aerial-commando operation launched in the western Iraqi province of Anbar, which borders on the Hashemite Kingdom. This operation is designed to carve out a security belt tens of kilometers deep inside Iraq as a barrier against Islamic State's encroachment.
Amman approached Washington for combat helicopters to back the operation and was told that the US is short of these items and would turn Israel to pitch in. The US first provided mechanical overhauls for the aircraft before they were incorporated free of charge in Jordan's existing Cobra fleet. The transfer was announced while US Defense Secretary Ashton Carter was touring the Middle East. He arrived in Amman Tuesday, July 21,after talks in Israel, and visited Baghdad unannounced Thursday, July 23 for an update on the war on ISIS. The mounting Islamist threat to Jordan is coming now from two directions – the Iraqi province of Anbar and Syria. ISIS forces have grabbed positions in southern Syria near the intersection of the Jordanian, Iraqi and Syrian borders. They have also moved up to the eastern Syrian town of Abu Kamal on the Iraqi border and, since mid-May, have gradually detached small groups from the captured central Syrian town of Palmyra and quietly built up positions in the south near Jabal Druze. This buildup has been tracked by US, Jordanian and Israeli surveillance.
The Islamist domestic threat to the Hashemite Kingdom is no less acute. Jihadist sleeper cells have been planted in Jordan ready to strike strategic targets for a reign of terror to coincide with the onset of external Islamic State attacks staged from Iraq and Syria. Our military sources report that US-Israeli-Jordanian cooperation is channeled through the US Central Command Forward-Jordan from its headquarters north of Amman. It is staffed by US, British, Jordanian, Saudi and Israeli officers working together to defeat ISIS.
UN Security Council Unanimously Approves Iran Deal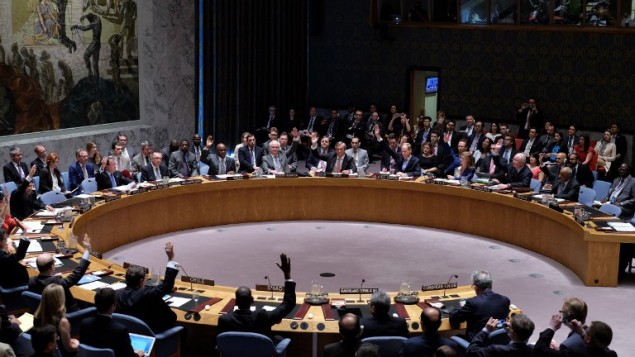 July 20….(Times of Israel) The UN Security Council on Monday unanimously adopted a resolution endorsing the Iran nuclear deal and paving the way to lifting longstanding sanctions on the Islamic Republic. The 15-0 approval of the Iran nuclear deal clears one of the largest hurdles for the landmark pact, which will now go before the US Congress where it may face an uphill battle for confirmation.
The UN vote came shortly after the European Union approved the nuclear deal, okaying the pact between the five permanent members of the Security Council plus Germany and Iran that lifts punishing economic sanctions on Tehran in exchange for temporary curbs on nuclear activity. Ambassadors from the so-called P5+1 touted the deal in a Security Council debate following the vote.
WEEK OF JULY 12 THROUGH JULY 19
UN Set to Adopt Iran Nuke Deal Monday i
n

Obama Blitzkrieg

(Quick vote to be held under a procedure that will expose Israel to isolation if it speaks out against adopting the Iran deal)

July 17….(Koenig International) In a diplomatic blitzkrieg, the Obama Administration has set this coming Monday at 9am EST for a vote at the UN Security Council (UNSC) in New York on the adoption of the Iran nuclear deal, which was announced by the world's leading powers and the Islamic Republic of Iran in Vienna on Tuesday. A terse announcement by the New Zealand delegation which assumed the monthly rotating UNSC's Presidency for July revealed the vote session. "The Iran JCPOA (Joint Comprehensive Plan of Action) resolution is now under silence and its adoption has been scheduled for Monday 20 July at 9am," read the announcement on the Iran deal vote.

From the New Zealand statement's use of the diplomatic jargon of "under silence," it appears the UNSC may employ a rarely used "under silence" procedure in such an important vote at the UNSC. In an "under silence" adoption procedure, instead of the UNSC holding a normal positive vote, the motion that is set for adoption "under silence" is deemed automatically adopted unless a party specifically objects to the motion. This "under silence" procedure would put the onus on Israel to be the first, and possibly the only, objector to the UNSC's adoption of the Iran deal.

In the established handbook on diplomacy, GR Berridge's "Diplomacy: Theory and Practice," the "under silence" procedure is described as being used by the majority where "a proposal with strong support is deemed to have been agreed unless any member raises an objection to it before a precise deadline: silence signifies assent, or, at least, acquiescence. This procedure relies on a member in a minority fearing that raising an objection will expose it to the charge of obstructiveness and, thereby, the perils of isolation."

So, applying Berridge's analysis to the "under silence" adoption of the JCPOA at the UNSC, the Obama Administration's use of the "under silence" procedure would appear to be an attempt to scare Israel into "fearing that raising an objection to the Iranian nuclear deal will expose it Israel to the charge of obstructiveness and perils of isolation." Contrariwise, Israel's failure to raise an objection would be seen as "assent, or, at least, acquiescence." To make matters worse for Israel, with Israel's objection, the UN Security Council would likely then unanimously vote 15-0 for the Iranian deal.

Given Iranian leaders' chorus of threatening to "wipe Israel off the map," it would appear Israel will likely run the gauntlet of President Obama's "under silence" anyway, and forcefully speak out against the measure. And for history's sake, it would be important to have the 15 members of the UN Security Council go on record as having voted for what many have called a modern-day 1938 Munich Appeasement of the Nazis, in a comparison to the Islamic regime's calls to destroy Israel while reportedly building a nuclear arsenal.

US Will Teach Iran to Thwart Nuke Threats (from Israel)

July 17….(Washington Free Beacon) The United States and other world powers will help to teach Iran how to thwart and detect threats to its nuclear program, (Israel) according to the parameters of a deal reached Tuesday to rein in Iran's contested nuclear program. Under the terms of a deal that provides Iran billions of dollars in sanctions relief, Iran and global powers will cooperate to help teach Iran how to manage its nuclear infrastructure, which will largely remain in tact under the deal.

Senior Iranian officials, including the country's president, celebrated the deal as a victory for the country. Iran's state controlled media quoted President Hassan Rouhani as saying that the deal will "remove all sanctions while maintaining Tehran's nuclear program and nuclear progress."

In what is being viewed as a new development, European countries and potentially the United States agreed to "cooperate with Iran on the implementation of nuclear security guidelines and best practices," according to a copy of the agreement furnished by both the Russians and Iranians. This will include "training courses and workshops to strengthen Iran's ability to prevent, protect and respond to nuclear security threats to nuclear facilities and systems as well as to enable effective and sustainable nuclear security and physical protection systems," according to the text. Additional "training and workshops" would work to "strengthen Iran's ability to protect against, and respond to nuclear security threats, including sabotage, as well as to enable effective and sustainable nuclear security and physical protection systems," the text states. The language was viewed as disturbing by analysts and experts who said such cooperation could help protect Iran against efforts by the Israelis or other countries to sabotage the Islamic Republic's nuclear program in the future. "The United States and its partners have just become the international protectors of the Iranian nuclear program. Instead of rolling back the Iranian nuclear program, we're now legally obligated to help the Iranians build it up and protect it," said one Western source present in Vienna and who is apprised of the details of the deal.

In addition to teaching Iran how to protect its nuclear infrastructure, world powers pledge in the agreement to help Iran construct next-generation centrifuges, the machines that enrich uranium, at its once-secret nuclear site in Fordow, where Iran has been suspected of housing a weapons program. Fordow is an underground and fortified military site that is largely immune from air strikes by those seeking to eradicate Iran's nuclear infrastructure. While Iran will not be permitted to enrich nuclear material with these centrifuges, the know-how gained from operating these advanced centrifuges could help it advance clandestine nuclear weapons work, experts say.

The Obama administration had once vowed that Iran would have to fully dismantle its centrifuge program. However, this demand was walked back as the Iranians demanded greater concessions over the past months. "Now the international community will be actively sponsoring the development of Iranian nuclear technology," Omri Ceren, an analyst from the Israel Project (TIP), wrote in an email to reporters. "And since the work will be overseen by a great power, it will be off-limits to the kind of sabotage that has kept the Iranian nuclear program in check until now."

Meanwhile, Iranian President Rouhani celebrated the deal in a speech that detailed how the country received everything it was looking for from the United States. This includes the full rollback on sanctions on Iran's financial, energy, and banking sectors, as well as others, and the suspension of international resolutions banning the sale of arms to Tehran.

Iran will also move forward with work on its advanced centrifuges and also "continue its nuclear research and development," according to Rouhani's comments. "All our goals materialized under the deal," Rouhani said, according to Fars.

Iran's nuclear reactors in Arak, which could provide with a second pathway to a nuclear weapon, also will continue to operate under the deal. It will continue in conjunction with the nuclear enrichment plants located in Fordow and Natanz. Rouhani went on to say that Iran "will scrutinize implementation of the agreement" to ensure that the United States and other world powers uphold their end of the bargain.
Obama and Kerry Are Traitors
July 17….(Jewish Press) The last time a feeble leader of a fading nation came bearing "Peace in our time", a pugnacious controversial right-winger retorted, "You were given the choice between war and dishonor. You chose dishonor, and you will have war." That right-winger went on to lead the United Kingdom against Hitler.
The latest worthless agreement with a murderous dictatorship is being brandished by John Kerry, a man who instinctively seeks out dishonor the way a pig roots for truffles. John Kerry betrayed his uniform and his nation so many times that it became his career. He illegally met with the representatives of the North Vietnamese enemy in Paris and then next year headed to Washington DC where he blasted the American soldiers being murdered by his new friends as rapists and murderers "reminiscent of Genghis Khan".
Even before being elected, Kerry was already spewing Communist propaganda in the Senate. Once in the Senate, Kerry flew to support the Sandinista Marxist killers in Nicaragua. Just as Iran's leader calling for "Death to America" didn't slow down Kerry, neither did the Sandinista cries of "Here or There, Yankees Will Die Everywhere." Kerry revolted even liberals with his gushing over Syria's Assad. Now he's playing the useful idiot for Assad's bosses in Tehran.
For almost fifty years, John Kerry has been selling out American interests to the enemy. Iran is his biggest success. The dirty Iran nuke deal is the culmination of his life's many treasons. It turns America from an opponent of Iran's expansionism, terrorism and nuclear weapons program into a key supporter. The international coalition built to stop Iran's nukes will instead protect its program. And none of this would have happened without Obama.
Obama began his rise by pandering to radical leftists on removing Saddam. He urged them to take on Egypt instead, and that's what he did once in office, orchestrating the takeover of the Muslim Brotherhood in Egypt and across the region. The Muslim Brotherhood was overthrown by popular uprisings in Egypt and Tunisia, but Obama had preserved the Iranian regime when it was faced with the Green Revolution. Now Iran is his last best Islamist hope for stopping America in the Middle East.
Obama and Kerry had both voted against designating Iran's IRGC terrorist ringleaders who were organizing the murder of American soldiers as a terrorist organization while in the Senate. Today they have turned our planes into the Air Force of the IRGC's Shiite Islamist militias in Iraq. Throughout the process they chanted, "No deal is better than a bad deal." But their deal isn't just bad. It's treason.
Obama isn't Chamberlain. He doesn't mean well. Kerry isn't making honest mistakes. They negotiated ineptly with Iran because they are throwing the game. They meant for America to lose all along.
When Obama negotiates with Republicans, he extracts maximum concessions for the barest minimum. Kerry did the same thing with Israel during the failed attempt at restarting peace negotiations with the PLO. That's how they treat those they consider their enemies. This is how they treat their friends. A bad deal wasn't just better than no deal, it was better than a good deal.
Obama did not go into this to stop Iran from going nuclear. He did it to turn Iran into the axis of the Middle East. After his failures in the rest of the region, this is his final act of spite. With the fall of the Muslim Brotherhood and the decline of Islamists in Turkey, supporting Iran is his way of blocking the power of his successors in the White House to pursue a more pro-American foreign policy.
Netanyahu: Iran Nuclear Agreement "Mistake of Historic Proportions"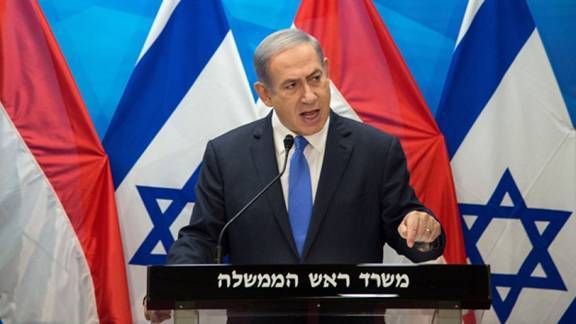 July 14….(Fox News) Israeli Prime Minister Benjamin Netanyahu said Tuesday that a nuclear deal between Iran and six world powers, led by the United States, was "a bad mistake of historic proportions." Netanyahu gave his thoughts on the agreement prior to the start of a meeting with Dutch Foreign Minister Bert Koenders in Jerusalem and vowed to continue efforts to block Tehran from obtaining a nuclear weapon. "Iran is going to receive a sure path to nuclear weapons. Many of the restrictions that were supposed to prevent it from getting there will be lifted," Netanyahu said. "Iran will get a jackpot, a cash bonanza of hundreds of billions of dollars, which will enable it to continue to pursue its aggression and terror in the region and in the world." "One cannot prevent an agreement when the negotiators are willing to make more and more concessions to those who, even during the talks, keep chanting: 'Death to America,"' Netanyahu added. "We knew very well that the desire to sign an agreement was stronger than anything, and therefore we did not commit to preventing an agreement. We did commit to preventing Iran from acquiring nuclear weapons, and this commitment still stands."
Culture and sports minister Miri Regev, a former military spokeswoman, said the deal gave Tehran a "license to kill." Regev also described the pact as "bad for the free world (and) bad for humanity." She called for further lobbying against the deal and said that the US Congress could still block it. Meanwhile, Israeli Deputy Foreign Minister Tzipi Hotovely tweeted her displeasure with the deal, calling it "a capitulation of historic proportions by the West to the Iran-led axis of evil." She added Israel "will employ all diplomatic means to prevent confirmation of the agreement."
Netanyahu's coalition partners angrily criticized Wednesday's agreement. Education Minister Naftali Bennett, who heads the hawkish Jewish Home party, said July 14 will be remembered a "dark day for the free world." Cabinet Minister Miri Regev said the agreement gave Iran a "license to kill." The cascade of criticism crossed party lines, reflecting the widespread opposition to the deal in Israel. "This is a regime based in deceit, and now they are going to do what they did for the last 20 years, which is trying to get themselves nuclear weapons behind the back of the world," Yair Lapid, the head of the opposition Yesh Atid Party, told The Associated Press. "Now they are going to do it with the help of the international community."
In the past, Israel has threatened to carry out a military strike against Iran's nuclear installations. But that option appeared to fade as the US-led group of powers engaged in diplomacy with Iran.
Israel's first course of action looks to be an intense lobbying effort in the US Congress to oppose the deal. Netanyahu spoke against the emerging deal before a joint session of Congress in March. Yet despite strong support among Republicans in Congress, there is little that can be done now.
The Senate can weigh in on the agreement but can't kill it, because Obama doesn't need congressional approval for a multinational deal that is not designated a treaty. Lawmakers have 60 days to review the agreement, during which Obama can't ease penalties on Iran. Only if lawmakers were to build a veto-proof majority behind new legislation enacting new sanctions or preventing Obama from suspending existing ones, the administration would be prevented from living up to the accord.
Obama Urges Iran to End Calls to Eradicate Israel
(Saying he shares Israel's concerns over Iranian terrorism, president declares 'an Iran armed with a nuclear weapon would be far more destabilizing and far more dangerous to our friends')
July 14….(Times of Israel) Hailing American diplomacy and asserting that the deal struck with Iran cuts off "all of Iran's pathways to a nuclear weapon," President Barack Obama also sought to address Israel's concerns over the accord. He said the US shares the concerns of Israel and other regional allies over Iran's support for terrorism, "but that is precisely why we are taking this step: Because an Iran armed with a nuclear weapon would be far more destabilizing and far more dangerous to our friends and to the world." "We will continue our unprecedented efforts to strengthen Israel's security, efforts that go beyond what any American administration has done before," Obama vowed in early morning remarks from the White House.
He said it was incumbent on the US to "continue to test whether this region, which has known so much suffering, so much bloodshed, can move in a different direction." "It is possible to change," he said, castigating Iran's hardline stance to date, including its threats to "attack your neighbors or eradicate Israel." This approach, he said, was "a dead end." What was needed from Iran, he said, is a "different path. This is an opportunity, and we should seize it." Obama said the deal "is not built on trust, it is built on verification."
All of Iran's pathways to a nuclear weapon are cut off under the terms of the agreement, he said, noting that Iran will remove two-thirds of its installed centrifuges and get rid of 98 percent of its stockpile of uranium. In exchange, the president said Iran will receive phased sanctions relief as it fulfills the provisions in the deal.
Obama threatened to veto any congressional legislation that would seek to block implementation of the agreement. He said that no deal "means a greater chance of more war" in the Middle East. "No deal means a greater chance of more war in the Middle East," Obama said.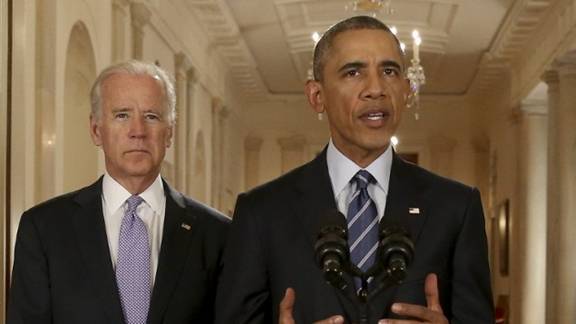 Obama, accompanied by Vice President Joe Biden, spoke shortly after negotiators in Vienna announced the landmark deal aimed at curbing Iran's nuclear program for more than a decade in exchange for billions of dollars in international sanctions relief. The president said the agreement, hammered out through nearly two years of negotiations, would cut off all of Iran's pathways to a bomb and give the international community unprecedented access to the country's nuclear facilities.
Even with the world powers in agreement, Obama now must sell the virtues of the deal to skeptical lawmakers on Capitol Hill. Congress has 60 days to assess the accord and decide whether to pursue legislation imposing new sanctions on Iran or prevent Obama from suspending existing ones.
The president renewed his vow to veto any such legislation and urged lawmakers to consider the repercussions of their actions. He painted a grim scenario in which the rest of the world struck its own nuclear deals with Iran, leaving the US isolated. And without the limitations and verifications included in the deal announced Tuesday, Obama said he or a future US president would be more likely to face a decision about using US military action to prevent Iran from building a bomb.
Iran Crowned as Top Regional, Nuclear-Threshold Power. Win for Obama, Fiasco for Netanyahu
July 14…(DEBKA) In broad lines, the final nuclear deal, reached Tuesday, July 14, between six world powers and Iran, after a decade of on-and-off negotiations and repeated hold-ups, grants Tehran sanctions relief in exchange for curbs on its nuclear program. How quickly the sanctions are lifted and the exact nature of the curbs is detailed in the final version of the nuclear accord when it is released.
In the view of Debkafile's analysts, the accord is a major milestone in President Barack Obama's drive to orient US foreign policy on a rapprochement with Iran (followed by Cuba), while turning a cold shoulder to America's two traditional Middle East allies, Israel and Saudi Arabia. It anoints Tehran as the region's leading power standing on the threshold of a nuclear weapon.
The foreign ministers of the United States, Britain, China, France, Germany and Russia met for an hour after midnight for a last push to get the final text agreed. The last sticking points were Iran's last-minute conditions for a deal: the immediate lifting of the UN Security Council embargo on Iran's buying and receiving arms and the ban on its ballistic missile program. Lifting the embargo would permit Iran to freely arm US-designated terrorist groups like Hizballah and Hamas, as well as Yemeni rebels. Russia and China, as arms suppliers to Tehran, backed Iran on this issue. The agreement reportedly imposed a 10-year limit on Iran's nuclear work and was calculated to delay nuclear breakout by one year.
A diplomatic source told Reuters that a UN Security Council resolution would be sought this month to confirm Iranian curbs on its nuclear program and relief from sanctions to be implemented in the first half of 2016. The source said Iran and the International Atomic Energy Agency had agreed on a plan for addressing unanswered questions about the suspected military dimensions of past Iranian nuclear activity by the end of 2015. He said that some sanctions relief was conditional on Tehran resolving this issue.
According to one of the last drafts of the accord, Iran has agreed to one visit to the Parchin military complex, where Iran is suspected of nuclear detonation testing, and possible interviews with Iranian nuclear scientists. Iran's supreme leader Ayatollah Ali Khamenei has strongly banned both those steps. It is not clear how that issue was finessed in the final text. The agreement now goes before the legislatures of the signatories. US Congress has 60 days to review the deal, with President Barack Obama faced with a hard sell in the Senate of am accord which he and Secretary of State John Kerry have fought for without quarter, and which many US lawmakers like Israel's prime minister Binyamin Netanyahu have denounced as "a bad deal."
The Iranians will keep the US on the hot plate even after the signing celebration. The Majlis in Tehran will be asked to enact a law requiring the accord to be reviewed every few months and the power to annul it if the US does not pass the Iranian lawmakers' test of compliance. Khamenei this week denounced America as the "embodiment of global arrogance, "disregarding months of the close collaboration of Iran's wars in Iraq, Syria and Yemen with the Obama administration.
Indeed, American officers are running the war on the Islamic State in Iraq in close sync with Iranian Revolutionary Guards commanders. Washington moreover withholds large-scale arms from Syrian rebels out of consideration for Tehran's ally Bashar Assad. When Saudi civilians are put to flight by Yemen's Iran-backed Houthi rebel missiles, the Obama administration looks the o ther way. The situation in these war arenas poses an even greater threat than the deal signed in Vienna Tuesday.
Even if Iran does give way on inspections at Parchin and even if every last sanction is lifted by 2016, the deal pales in comparison to the turmoil in the region largely instigated by Tehran and Iran's promotion on the world stage. Anyway, many of the sanctions have been quietly lifted to win Iran's acquiescence to the talks. Iran has never interrupted its development of intercontinental ballistic missiles.
For Obama, this is a big win, just as it is a major fiasco for Binyamin Netanyahu. The US president's maneuvers for six years managed to hold off Israeli military action to cripple Iran's nuclear weapons capacity. Now, after the conclusion of an international accord that leaves Iran's nuclear program intact, the military option is a non-starter, at least for the near future.
Iran Wins $18 Billion in Sanctions Relief
(Obama 'just lit a fuse for a nuclear arms race')
July 14….(WND) The United States, Iran and other world powers reached a historic nuclear deal early Tuesday, putting to end an 18-day spate of intense negotiations as well as months of talks, discussions and debates marked by missed deadlines and criticisms from Israel. President Obama in a 7am news conference, during which he looked directly into the lens of the cameras, said: "This deal demonstrates that American diplomacy can bring about real and immediate change. Today, because America negotiated from a position of strength and principle, we have stopped the spread of nuclear weapons in this region." He said the forged deal is a win-win, and assured "every pathway to nuclear weapon is cut off."
Among its specifics he cited: Iran is halted from producing highly enriched, nuclear grade plutonium; Iran will have to remove two-thirds of its centrifuges and store them under constant supervision; Iran can't use its centrifuges for the next ten years; and Iran will have to modify its reactor in Iraq so it can't produce weapons grade plutonium."
Obama also guaranteed UN weapons inspectors would have access to visit Iran's military sites and check for compliance with the deal. "This deal is not built on trust," Obama said. "It is built on verification. Inspectors will have 24-hour access to Iran's key nuclear buildings."But a senior nuclear official said if IAEA inspectors must first petition Iran for permission to visit the sites 14 days in advance. In return, Iran gets $18 billion in international sanctions' relief. Obama said the sanctions' relief will be phased in, as verification of compliance with the accord is achieved. The deal also includes a caveat that if Iran fails to disable its centrifuge machines within 65 days, the sanctions go back in place. What's sure to be a controversial sticking point on Capitol Hill and in Israel especially is the facet of the deal that allows for Iran to stall IAEA inspectors from accessing suspected sites.
Critics are already lining up, saying the $18 billion gives Iran an open door to continue its terror activities around the world. And Sen. Ben Sasse, R-Nebraska, called the accord a path for Iran to develop nuclear weapons. "Sadly the administration just lit a fuse for a nuclear arms race in the Middle East," he said in a statement. "It allows for controlled nuclear proliferation." Iran has already positioned itself to take advantage of the sanctions relief. In the hours leading up to the announced deal with the six world powers, Tehran's biggest oil-shipping company was already prepping to hit the European and international markets, as WND previously reported.
Obama said the deal will be solidified with a US Security Council resolution, after Congress and the American people have a chance to review it. He also issued a warning, telling Congress that while he welcomes members' input and discussion, a failure to approve the plan would leave the world in peril. "Consider what happens in a world without this deal," he said. "No deal means a greater chance for more war in the Middle East. It would be irresponsible to walk away from this deal. I welcome robust debate in Congress on this issue but I veto any legislation that prevents the successful implementation of this deal."
Secretary of State John Kerry, speaking from Vienna, Austria, assured the deal would clamp Iran's ability to enrich uranium well below the level needed to manufacture a weapons. He also said Iran's Fordow site will be "transformed into a nuclear physics and technology center" that will be "subject to daily inspection." Kerry, like Obama, also spoke of the verification benefits and confirmed the sanctions' relief only starts when Tehran meets key conditions of the accord. "This agreement has no sunset," Kerry said. "Inspectors will be able to gain access to any [facility] the IAEA deem suspicious."
Bolton: Deal With Iran 'an American Munich'
(Ex-ambassador slams Obama agreement as path to multiple nuclear states)
July 14….(WND) John Bolton, former US ambassador to the United Nations, slammed the Obama administration's nuclear agreement with Iran as an "American Munich," warning the deal will not only make Iran a nuclear state but will result in "half a dozen nuclear weapons states" across the Middle East. "This deal is an American Munich," Bolton told WND, comparing the pact with the ill-fated Munich Agreement which sought to appease Nazi Germany by annexing portions of Czechoslovakia.
Bolton continued: "Barack Obama is trying to appease the mullahs in Tehran by making one concession after another. The result will be not just a nuclear Iran, but half a dozen nuclear weapons states in the world's most volatile and dangerous region." Bolton was responding to the historic nuclear accord announced early Tuesday between the United States, Iran and other world powers. The former ambassador's comments about a nuclear arms race stand in stark contrast to President Obama's own remarks at an early morning news conference following the conclusion of the deal.
Stated Obama: "This deal demonstrates that American diplomacy can bring about real and immediate change. Today, because America negotiated from a position of strength and principle, we have stopped the spread of nuclear weapons in this region."
However, there are already signs moderate regimes like Saudi Arabia, Jordan, Egypt, Turkey and others are seeking a legal nuclear program.
In an interview with CNN in March, the Saudi Ambassador to the United States refused to rule out the possibility of the Saudis building a nuclear weapon to counterbalance Iran's nuclear program. "This is not something we would discuss publicly," stated Ambassador Adel Al-Jubeir. Later, when pressed again by CNN host Wolf Blitzer, Jubeir said, "This is not something that I can comment on, nor would I comment on." "But the kingdom of Saudi Arabia will take whatever measures are necessary in order to protect its security," he added. "There are two things over which we do not negotiate: Our faith and our security."
Also in March, Russia inked a $10 billion deal to build Jordan's first nuclear power plant. In February, Russia signed a preliminary agreement to jointly build Egypt's first nuclear power plant.
The United Arab Emirates in 2009 signed a $20 billion deal with Korea Electric Power Corporation for the country's nuclear power plan which is currently under construction.
Lavrov: Russia Expects US to Abandon Europe AMD Plans After Iran Deal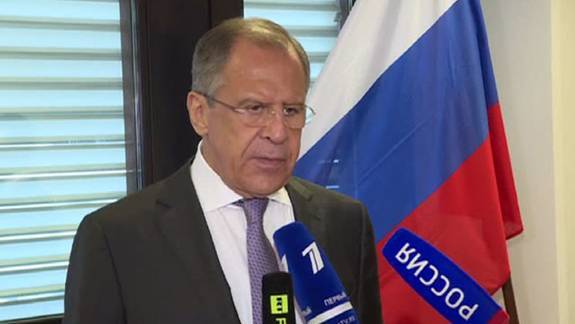 July 14….(Foreign Reports) Moscow hopes the US will fulfill its promise not to develop a system of missile defense in Europe after a deal with Iran has been reached, Russian Foreign Minister Sergey Lavrov said in Vienna on Tuesday. "We all probably remember that in April 2009 in Prague US President Barack Obama said that if the Iran nuclear program issue is sorted out, then the task of creating the European segment of the missile defense system will disappear," Lavrov said at press conference in Vienna. He said that Tehran and the P5+1 powers (the United States, the UK, France, Germany, Russia and China) have agreed on "joint all-inclusive plan of actions, which consists of the main document and five very detailed technical appendices."
A draft of UN Security Council resolution has also been agreed upon which all participants of the talks will present as co-authors in New York in the next few days, Lavrov said, adding that the resolution will be considered by the UN SC and voted on. "We believe, it will be unanimously approved," he added. The IAEA will have new serious checking functions with the participation of the Russian side to control the fulfillment of the deal, said Lavrov.
A special commission will be created for this purpose which will include all the participants of the talks, P5+1 powers, the EU and Iran. This commission will review "all problems and concerns of the sides over how the other parties to the agreement fulfill their liabilities."
Russia will take an active part in practical activities which are aimed at realization of the nuclear agreement with Tehran reached on Tuesday, Lavrov said, which concerns two issues directly mentioned in the documents. They are "the removal of low-enriched uranium to Russia in exchange for the delivery of natural uranium to Iran, and the re-purposing of the Fordow former enrichment facility into an isotope production facility for medicinal and industrial purposes."
Lavrov reminded that it was Russia that suggested the concepts of consistency and mutuality that later played an important role in all stages of work on the Iranian nuclear deal. These concepts made sure that every step from Iran towards the demands of the global community was accompanied by counter steps from P5+1 and from UN on weakening the sanction burden towards the eventual lifting of the sanctions.
Lavrov revealed that the arms embargo towards Iran will last for five years, but weapons supplies will be possible if Tehran passes verification procedures via the UNSC. "The compromise has been reached between Iranians and Western colleagues, which we Russia and China supported taking into account that Iran agreed on it, five years, but during this period arms supplies to Iran will be possible if they pass the corresponding procedure of verification via the UN Security Council."
WEEK OF JULY 5 THROUGH JULY 11
Obama's Iran Deal Will 'Bring Disequilibrium to the Middle East'
July 10….(Algemeiner) The nuclear deal pursued by the Obama administration will bring "dis-equilibrium to the Middle East," a senior research fellow at the Hudson Institute and former US defense official told the House Committee on Foreign Affairs on Tuesday. Doran said the Obama administration's pursuit of the deal has convinced the US's traditional Middle East allies that the US has backed off from its role as a regional "security guarantor."
Speaking during a hearing examining the consequences of a nuclear deal, Doran noted Israeli Prime Minister Benjamin Netanyahu's "uniquely vocal" warning against signing a bad deal with Iran. He said Gulf countries were showing more restraint publicly, but privately were stepping up efforts to confront Iran, such as the recent Saudi-led offensive against Iranian-backed Houti rebels in Yemen.
Kenneth Pollack, a senior research fellow at the Brookings Institute, said many in the region may perceive the US's deal with Iran as a "get out of Middle East card." He said the default response by Gulf countries is to "get in Iran's face," such as has been shown by the Yemen campaign. Still, Pollack warned that Gulf countries may not possess the logistical know-how or military might to confront Iran while simultaneously maintaining stability in their own countries.
Dr. Michael Makovsky, the CEO of JISNA, warned against the arms race the nuclear deal would set off in the region, which could ultimately lead to a Middle East "nuclear contagion." "We don't want the Saudis to have nuclear weapons," he said, adding that the ramifications of a military strike against Iran's nuclear sites would be far more containable than a nuclear arms race "and a really serious conflict involving nuclear powers."
Obama Wants Israel to Give up Nukes
July 8….(WND) The president of a think tank that arranged a conference call Monday between the White House and progressive activist organizations in which participants discussed how to coordinate public defense of President Obama's pending Iran deal has another ultimate target in mind. Joseph Cirincione, president of the Ploughshares Fund, wants Israel to give up its nuclear weapons, arguing such a move will ensure Iran halts its illicit nuclear program and will help to create a Mideast nuclear-free zone.
On Monday, White House officials held a private strategy conference call with progressive organizations to discuss ways of convincing lawmakers to support a deal with Iran being brokered by the Obama administration. The conference call organized by Ploughshares Fund, an anti-nuclear weapons advocacy group, had about 100 participants. Cirincione previously advised Barack Obama's 2008 presidential campaign on nuclear issues. The Ploughshares president outlined in his 2008 book, "Bomb Scare: The History and Future of Nuclear Weapons," that he favors Israel giving up its nuclear weapons to ensure Iran doesn't obtain nukes. He presented his position in a March 2005 opinion article for The Globalist, "Iran and Israel's Nuclear Weapons."
In the piece, Cirincione stated, "Now is the time to put US muscle behind long-standing US policy of seeking a nuclear-free Middle East region" with specific focus on Israel's nuclear weapons. He called for an "even-handed policy that views all nonconventional weapons in the Middle East as threats to regional peace and stability." "Everyone already knows about Israel's bombs in the closet," Cirincione wrote. "Bringing them out into the open and putting them on the table as part of a regional deal may be the only way to prevent others from building their own bombs in their basements." For Cirincione, targeting Israel's nuclear program is a long-term policy aim. "It will not be easy and will likely take years to fashion such an agreement. That is why there is no time to lose."
Israel is widely believed to possess nuclear weapons, yet, as a policy, the government does not acknowledge it. Israel is said to have launched its nuclear program as early as the late 1940s and early 1950s. In March, at about the same time Prime Minister Benjamin Netanyahu addressed a joint session of Congress, the Obama administration approved a Freedom of Information Act request that resulted in the release of an extensive Pentagon report discussing Israel's nuclear weapon capabilities.
End of 'Christian America' Has Arrived
July 6….(FOJ) Due to the "Great Falling Away" or the apostasy, (departure from sound doctrine) which has engulfed America and the whole world for decades now, America is no longer the Christian Republic which our founders established 239 years ago. We have entered a season of fast-tracking toward the soon return of Jesus Christ. Since the SCOTUS decision on SSM, we have witnessed the attacks of the ACLU on numerous county clerks around the nation. The Ten Commandments were trashed again in Oklahoma. And a Christian bakery in Oregon has been fines $135,000 and hit with a court issued gag order to shut up about their Christian faith in their business.
Christianity is being forced into the closet, and if we don't like the closet, well there's the jail. I witnessed the hideous display by President Obama of illuminating the White House in Gay Pride Rainbow colors last weekend. I watched patiently for him to at least illuminate it this past weekend in red, white and blue, but He didn't see any need for that. Our Court's decision likely hammers the last nail in America's coffin!
The previous 5 nails were; (1.) denying the existence of the Creator, and replacing him with evolution in school. (1927) (2.) manufacturing a separation of church and state, which effectively pushed our Christian Republic precepts out of the public arena. (1947) (3.) Devaluing God's law and his word by eradicating it from schools, courthouses, etc. (1963) (4.) sanctioning the murder of innocent unborn via abortion. (1973) (5.) SCOTUS decision to redefine marriage as most anything except what God defined it to be. (2015) (6.) whoring after other gods, tolerating other gods and promoting the religions of heathen nations (aka, Islam, Ramadan, Atheism, Humanism, Socialism)
God has blessed America beyond anything ever witnessed in the course of human civilization. He did so because our founding fathers elected to establish on this continent a nation predicated upon the laws of nature, and natures God. (Ten Commandments & teachings of Jesus Christ) We have abandoned our roots, and CHANGED God's truth into a Lie.
Israel, a nation chosen, and separated by God, and given the Decalogue, serves as our example of what God will do to a nation that forgets him! Blessed is the nation whose God is the Lord, but beware the nation that forgets him!
Islam's Tenuous Connection to Jerusalem
July 6….(Eli E. Hertz) Despite 1,300 years of Muslim Arab rule, Jerusalem was never the capital of an Arab entity. Oddly, the PLO's National Covenant, written in 1964, never mentioned Jerusalem. Only after Israel regained control of the entire city did the PLO "update" its Covenant to include Jerusalem. Overall, the role of Jerusalem in Islam is best understood as the outcome of political pressure impacting on religious belief.
Mohammed, who founded Islam in 622 CE, was born and raised in present-day Saudi Arabia; he never set foot in Jerusalem. His connection to the city came years after his death when the Dome of the Rock shrine and the al-Aqsa mosque were built in 688 and 691, respectively; their construction spurred by political and religious rivalries. In 638 CE, the Caliph (or successor to Mohammed) Omar and his invading armies captured Jerusalem from the Byzantine Empire. One reason they wanted to erect a holy structure in Jerusalem was to proclaim Islam's supremacy over Christianity and its most important shrine, the Church of the Holy Sepulcher.
More important was the power struggle within Islam itself. The Damascus-based Umayyad Caliphs who controlled Jerusalem wanted to establish an alternative holy site if their rivals blocked access to Mecca. That was important because the Hajj or pilgrimage to Mecca was (and remains today) one of the Five Pillars of Islam. As a result, they built what became known as the Dome of the Rock shrine and the adjacent mosque.
To enhance the prestige of the "substitute Mecca," the Jerusalem mosque was named "al-Aqsa." It means "the furthest mosque" in Arabic, but has far broader implications, since it is the same phrase used in a key passage of the Quran called "The Night Journey." In that passage, Mohammed arrives at "al-Aqsa" on a winged steed accompanied by the Archangel Gabriel; from there they ascend into heaven for a divine meeting with Allah, after which Mohammed returns to Mecca. Naming the Jerusalem mosque "al-Aqsa" was an attempt to say the Dome of the Rock was the very spot from which Mohammed ascended to heaven, thus tying Jerusalem to divine revelation in Islamic belief. The problem however is, that Mohammed died in the year 632, nearly 50 years before the first construction of the "al-Aqsa" Mosque was completed. Jerusalem never replaced the importance of Mecca in the Islamic world. When the Umayyad dynasty fell in 750, Jerusalem also fell into n ear obscurity for 350 years, until the Crusades. During those centuries, many Islamic sites in Jerusalem fell into disrepair and in 1016 the Dome of the Rock collapsed.
Still, for 1,300 years, various Islamic dynasties (Syrian, Egyptian, and Turkish) continued to govern Jerusalem as part of their overall control of the Land of Israel, disrupted only by the Crusaders. What is amazing is that over that period, not one Islamic dynasty ever made Jerusalem its capital. By the 19th century, Jerusalem had been so neglected by Islamic rulers that several prominent Western writers who visited Jerusalem were moved to write about it. French writer Gustav Flaubert, for example, found "ruins everywhere" during his visit in 1850 when it was part of the Turkish Empire (1516-1917). Seventeen years later Mark Twain wrote that Jerusalem had "become a pauper village. Indeed, Jerusalem's importance in the Islamic world only appears evident when non-Muslims (including the Crusaders, the British, and the Jews) control or capture the city. Only at those points in history did Islamic leaders claim Jerusalem as their third mos t holy city after Mecca and Medina. That was again the case in 1967, when Israel captured Jordanian-controlled East Jerusalem (and the Old City) during the 1967 Six-Day War.
US CONGRESS, July 4, 1776
When armed conflict between bands of American colonists and British soldiers began in April 1775, the Americans were ostensibly fighting only for their rights as subjects of the British crown. By the following summer, with the Revolutionary War in full swing, the movement for independence from Britain had grown, and delegates of the Continental Congress were faced with a vote on the issue. In mid-June 1776, a five-man committee including Thomas Jefferson, John Adams and Benjamin Franklin was tasked with drafting a formal statement of the colonies' intentions. The Congress formally adopted the Declaration of Independence–in Philadelphia on July 4, a date now celebrated as the birth of American independence.
When in the Course of human events, it becomes necessary for one people to dissolve the political bands which have connected them with another, and to assume among the powers of the earth, the separate and equal station to which the Laws of Nature and of Nature's God entitle them, a decent respect to the opinions of mankind requires that they should declare the causes which impel them to the separation.
We hold these truths to be self-evident, that all men are created equal, that they are endowed by their Creator with certain unalienable Rights, that among these are Life, Liberty and the pursuit of Happiness. That to secure these rights, Governments are instituted among Men, deriving their just powers from the consent of the governed, That whenever any Form of Government becomes destructive of these ends, it is the Right of the People to alter or to abolish it, and to institute new Government, laying its foundation on such principles and organizing its powers in such form, as to them shall seem most likely to effect their Safety and Happiness. Prudence, indeed, will dictate that Governments long established should not be changed for light and transient causes; and accordingly all experience hath shewn, that mankind are more disposed to suffer, while evils are sufferable, than to right themselves by abolishing the forms to which they are accustomed. But when a long train of abuses and usurpations, pursuing invariably the same Object evinces a design to reduce them under absolute Despotism, it is their right, it is their duty, to throw off such Government, and to provide new Guards for their future security. Such has been the patient sufferance of these Colonies; and such is now the necessity which constrains them to alter their former Systems of Government. The history of the present King of Great Britain is a history of repeated injuries and usurpations, all having in direct object the establishment of an absolute Tyranny over these States.
So when we say "God Bless America", we are beseeching our Creator to bestow his loving kindness and mercy on our nation, as He alone can bless or curse our nation!
---