Follow Focus on Jerusalem on 'Twitter'
(FOJ note) You can actively follow hourly news, comments and articles on the Twitter link posted above.
The Newsroom will continue as always, but the Twitter link provides quick hot-button alerts.
WEEK OF SEPTEMBER 20 THROUGH SEPTEMBER 26
Syrian Army Bolstering Iranian Terrorism, Netanyahu tells Putin
(PM in Moscow to 'clarify' Israeli policy amid Russian buildup;
Kremlin leader says Damascus too busy to bother with fighting Israel as both)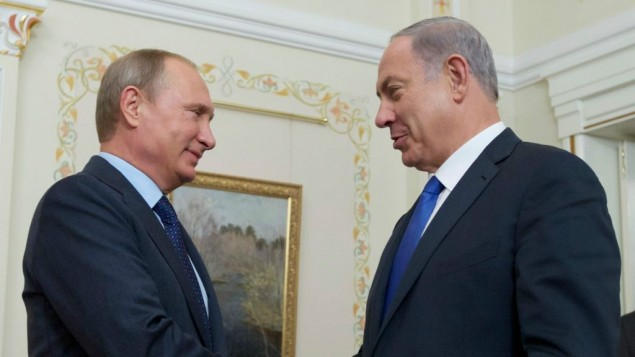 Sept. 21….(Times of Israel) The Syrian army is aiding Iran and Hezbollah in building an anti-Israel terror network on the Golan Heights, Prime Minister Benjamin Netanyahu told Russian President Vladimir Putin Monday, with the Kremlin strongman responding that Damascus has no time to worry about fighting Israel. Netanyahu's three-hour meeting with Putin during a lightning trip to the Kremlin Monday came amid reports that Moscow is building up militarily in Syria, and Israeli concerns of a possible clash with Russian forces, which are bolstering embattled Syrian President Bashar Assad. "Israel and Russia have a shared interest to ensure stability in the Middle East," Netanyahu told Putin at the start of the meeting, according to an account from the Israeli Prime Minister's Office. "And I am here because of the security situation, which is becoming more complex on our northern border. As you know, in recent years, and increasingly in recent months, Iran and Syria are arming the extremist Muslim terror group Hezbollah with advanced weaponry, which is pointed at us and has already been fired at us over the years, thousands of missiles and rockets on our cities." Syria's military, Netanyahu added, was giving cover to Iranian efforts to open a new front against Israel.
The West has been concerned over Russia's military buildup in Syria, which Moscow has said is aimed to help the Syrian government fight the Islamic State group. Russia, Syria's long-standing ally, has denied that it helps Syria militarily to support the Assad regime. Earlier this week, new satellite imagery showed the recent arrival of Russian tanks, armored personnel carriers and other military equipment at an air base in Syria's coastal Latakia province, confirming reports by US, Israeli and other officials of a Russian military buildup.
Israel has long expressed concerns that Iranian and Hezbollah agents have used the fighting in Syria as cover to build up forces along the Golan heights to carry out attacks against Israel. A number of airstrikes over the last several years, reportedly targeting Iranian backed cells and weapons shipments, have been assigned to Israel. "Iran, under the auspices of the Syrian army, is trying to build a second terror front against us from the Golan. Our policy is to prevent these weapons transfers, and to prevent the formation of a terror front and attacks against us from the territory of the Golan. In these circumstances, I thought it was very important that I come here, both to clarify our policy and to make sure there are no misunderstandings between our forces," Netanyahu told Putin.
Putin welcomed Netanyahu's visit, but expressed skepticism over the latter's Syria warnings. "All Russia's actions in the region were always very responsible. We are aware of the issue of bombardments of Israel [with rockets] and reject all such bombardments. To my knowledge, these bombardments are carried out by homemade systems," he said. "As for Syria, We know that the Syrian army and Syria as a whole are in such a state that they have no time for a second front. They need to save their own state. Our main goal is to defend the Syrian state. With that, I understand your concern, and I'm very happy you came here so we could discuss all these issues in detail."
The visit to Moscow comes a week before Netanyahu is scheduled to fly to the US to speak at the United Nations and meet with American officials, ahead of a White House visit in November. Jerusalem has tried to maintain friendly ties with Russia, shying away from taking a position on fighting in Ukraine or other issues that the Kremlin and Washington have clashed over recently. Putin also praised Israel, which is home to some million Russian-speakers. "We never forget that a great many expats from the former Soviet Union live in the State of Israel, and that has a special impact on relations between the countries."
Putin's Slippery Evasions for Netanyahu's Concerns about Iran
Sept. 21….(DEBKA) According to initial reports, Prime Minister Binyamin Netanyahu and President Vladimir Putin talked mostly at cross-purposes when they met in the presidential residence outside Moscow Monday, Sept. 21. According to debkafile's sources, Netanyahu, who brought with him an impressive party of top Israeli generals, presented his host with intelligence evidence to demonstrate that Iran – under the cover of the Syrian army, is trying to "build a second terrorist front against us from the Golan Heights." He indicated that Israel would be forced to resort to military action to counter this front and asked to see Putin in order to avert collisions between Israeli and Russian forces on Syrian soil.
Putin greeted these words with slippery evasions. Syria is in no state to open up an additional front, he said, and Moscow's main goal in its involvement in Syria is to defend that country. The point the Israeli prime minister tried to make was that Israel's security was at stake here, not Syria's. He stressed that Iran and Syria were arming the radical Islamic terrorist organization Hizballah with "advanced weaponry that is directed at us, and has already been fired at us." But Putin sidestepped this too, remarking that that he is aware that Israel has been fired upon from Syria, and has condemned that, but added that those weapons were "locally produced."
While the two leaders were still talking, US officials disclosed that Russia had started drone surveillance missions in Syria. On Sept. 16, Debkafile's sources warned that, like US President Barack Obama, who never tires of pledging his commitment to Israel's security, yet turns his back on Iran's pursuit of its ambition to destroy Israel, Putin too would have little time for Israel's fundamental security concerns. Debkafile reported before the meeting: On Saturday, Sept. 19, just two days before Israeli Prime Minister Binyamin Netanyahu's summit with Russian President Vladimir Putin at the presidential dacha outside Moscow, troops at the Russian base outside the coastal Syrian city of Latakia were seen preparing to deploy batteries of advanced S-300 anti-aircraft missiles. Their presence in Syria will raise major questions, one of which is this: against which air power are they deployed, given the fact that the Islamic State has no air force. Their deployment therefore poses troubling ramifications for the ongoing Syrian civil war as well as the region as a whole. For Israel, the placement of S-300 missiles in Syria is problematic for three reasons:
1. They seriously reduce the Israeli Air Force's freedom of action in Lebanese and Syrian airspace.
2. Following a spate of contradictory and muddled statements about Moscow's intentions to withhold the S-300s from Syria and Iran, an apparent smoke screen, it turns out that they are coming to Syria after all.
3. The Russians say they are building up military strength in Syria to fight ISIS. But neither ISIS nor any other regional power poses an air threat to the Russian deployment. So the state-of-the-art air defense missile delivered to Syria, to which Iran too has access, does pose a threat to Israel's security.
Its deployment in Syria appears to signal that Putin has a long game for his military buildup in Syria, more far-reaching that it would appear. Each day brings news of more Russian forces arriving in Syria. At first, reports said several hundred marines were being deployed, but now preparations are being made for 2,000 of them. A similar process is occurring with the deployment of anti-aircraft missiles. Initially, reports said that Moscow was providing Syria with the SA-22, known as the Pantsir-S1, but those missiles never arrived. Now, it appears that the S-300 is to be deployed instead. The arrival of four advanced multi-role Sukhoi 30SM (Flanker) tactical jets in Latakia on Sept. 18 has also raised eyebrows. It came just hours after US Defense Secretary Ashton Carter met with Russian Defense Minister Sergei Shoigu in an effort to prevent collisions between US and Russian forces operating in Syria. As those jets are intended for air-to-air combat, observers wonder which forces are to be targeted. The same question hangs over the half a dozen MiG-31 interceptors, which landed in Damascus earlier this month. So what is Putin's real game in Syria?
In another development that was only noticed in very few circles in the West and Israel, Iranian Gen. Yahya Rahim Safavi, military advisor of Iran's supreme leader Ayatollah Ali Khamenei, said on 'Friday, Sept. 18: "Russia moves in coordination with Iran in some regional issues including Syria." In other words, the US and Israel, which are attempting to coordinate their military steps with those of Russia, have already fallen behind. Reports in Israel over the last few days have claimed that Putin was keen on holding the summit even more than Netanyahu, and that the Israeli Air Force had started setting up a mechanism for liaison with the Russian Air Force in order to prevent inadvertent collisions. But these plans have been overtaken by events, There is no doubt that Netanyahu is making a bold statement by bringing to the Kremlin meeting the IDF chief of staff Lt. Gen. Gady Eisenkot and the head of military intelligence, Maj. Gen. Hertzi Halevi. This is the first time such high-ranking military officers have participated in a meeting of the Israeli and Russian leaders.
Debkafile's sources in Moscow report that Putin will be attended by his national security advisor, Nikolai Patrushev. This is the Russian president's way of indicating that, for him, the talks will focus on a general assessment of the Syrian situation, whereas Israel is seeking a discussion on the military aspects of the growing Russian intervention. In this context, it should be mentioned that, when the commander of Iran's Al-Qods brigades, Gen. Qassem Soleimani, visited Moscow 10 days ago, the most senior Russian official he met was Patrushev.
WEEK OF SEPTEMBER 13 THROUGH SEPTEMBER 19
Israel Worried About Russian Presence in Syria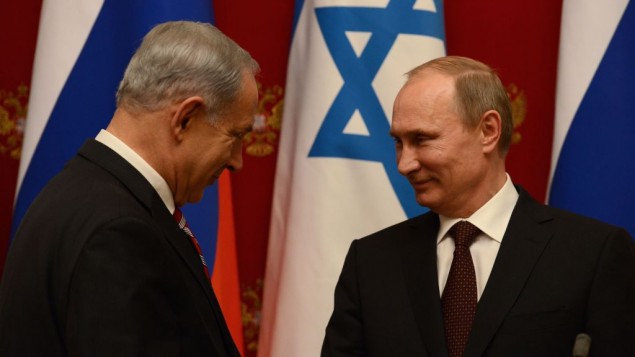 Sept. 17….(Times of Israel) A key element of Prime Minister Benjamin Netanyahu's upcoming brief visit to Moscow will be to prevent a scenario in which the Israeli army and Russian forces deployed in Syria fire at each other. Netanyahu is scheduled to meet with Russian President Vladimir Putin next Monday during a trip that will span just a few hours before he returns to Israel. The prime minister hopes to hear from Putin about the purpose of a recent Russian military buildup in Syria, which borders northeastern Israel, how extensive it will be, and how long it will continue, the Hebrew-language Haaretz newspaper reported Thursday, citing sources in Jerusalem. Netanyahu will discuss the dangers Israel faces if Lebanese -based Hezbollah and other terror groups obtain Russian advanced weapons shipments, his office said. Channel 2 reported that Netanyahu is particularly concerned by Russian and Iranian efforts to shore up the embattled regime of Syrian President Bashar Assad, who is fighting a four-year insurgency that has torn the country into competing militia groups. There are already hundreds of Iranian military personnel on the Syrian Golan Heights on Israel's northern border and many more are on their way, Israeli officials say.
Israel is also worried about the kind of weapons that the Russians are bringing with them. In addition to the six tanks and dozens of armored personnel carriers Moscow has already deployed in the area of Latakia, an Assad military stronghold, it is also believed to be sending batteries of advanced SA-22 anti-aircraft systems that could pose a serious threat to ongoing Israeli Air Force activities in the region. Russian forces are reportedly preparing the ground for a much larger contingent that could also include combat aircraft. A number of airstrikes inside Syria attributed to Israel over the past several years were apparently aimed at keeping advanced weaponry from being transferred to Hezbollah, but the presence of the Russian forces could hamper such operations or even lead to a clash.
Hezbollah, a powerful Lebanese militia against which Israel fought a devastating war in 2006, is a staunch ally of Assad and Iran and has sent thousands of fighters to support his forces. Relations between Israel and Russia have been negatively affected by Moscow's willingness to sell advanced military equipment to Iran, whose leaders often voice a desire to see the State of Israel destroyed. The shadowy commander of the Iranian Revolutionary Guards' al-Quds force, Major General Qasem Soleimani, was also reported to have made a second visit to Moscow recently to coordinate Russian and Iranian support for Assad.
Israel has also expressed fears that the nuclear deal reached in July between six world powers, among them Russia, and Iran could see money freed up with the removal of sanctions flowing to Hezbollah and other terror groups. Netanyahu last traveled to Moscow in 2013 to lobby Putin to cancel the sale of advanced S-300 air defense system to Iran. Those missiles are now en route to Tehran, recent reports say.
The US has also expressed its concern to Russia regarding an alleged recent increase in military buildup in Syria, including apparent moves to set up an airbase near Latakia, where Russia once maintained a naval base. Moscow, however, denied the reports as false and said its aid to the Syrian government was nothing out of the ordinary. Netanyahu's entourage for the quick visit, which was announced on Wednesday, was to include just a handful of advisers and Immigration Minister Ze'ev Elkin, who will also act as a translator between the two leaders when they meet, Haaretz reported.
Students Forced to Recite 'Allah is the Only God'
'Imagine the outcry if a study guide states Jesus is the Son of God'
Sept. 14….(WND) Amid a new report of Islamic indoctrination in public schools, the American Center for Law and Justice is fighting back with a petition drive that already has garnered 120,000 signatures. Earlier this year, public-school students in Madison, Wisconsin, were given an assignment to "pretend you are Muslim," while students in Florida were instructed to "recite the Five Pillars of Islam as a prayer, make Islamic prayer rugs and perform other Muslim rituals," ACLJ said Monday. Now, parents of public-school students in Tennessee are protesting assignments that include writing a declaration that Allah is supreme and textbooks that recount Islamic doctrines as facts instead of beliefs. Nearly 120,000 people have signed ACLJ's petition demanding a halt to such teaching. "What if your child or grandchild's public school forced them to write out the Shahada, the Islamic conversion creed, while having skipped Christianity?"
In "Stop the Islamization of America: A Practical Guide to the Resistance," renowned activist Pamela Geller provides the answer, offering proven, practical guidance on how freedom lovers can stop jihadist initiatives in local communities. "What if your child's study guide had a section called 'Origins of Islam' that included statements such as, 'Around the age of 40, the angel Gabriel told Muhammad that he was to be a prophet of Allah.' "Stated as fact, not belief," the ACLJ said.
The Columbia Daily Herald in Middle Tennessee reported details of the allegations. In the Maury County school district, the paper reported parent Brandee Porterfield said her daughter "brought home school materials containing the Five Pillars of Islam." But the school skipped the textbook's section on Christianity. School officials explained, she told the Herald, that Christianity was not part of the state's standards, so it wasn't covered. "I have a big problem with that. From a historical point of view, that's a lot of history these kids are missing," Porterfield told the newspaper. "Also, for them to spend three weeks on Islam after having skipped Christianity, it seems to be that they are making a choice about which religion to discuss." She said her concerns were about her seventh-grade daughter being taught the "Shahada," the profession of Islamic faith. "From a religion point of view, if the schools are going to be teaching religion in history, they need to teach them all equally," she said.
The ACLJ reported called it "Islamic indoctrination right here in our schools." The organization said Maury County school officials admitted they were addressing "some sensitive topics" in class and there appeared to be some "confusion." "That's outrageous," ACLJ said. "The indoctrination of students with the precepts of converting to Islam and forcing them to recite 'Allah is the only god' aren't 'sensitive topics'; it's unconstitutional. "Imagine the outcry from the ACLU, Freedom From Religion Foundation (FFRF), and other leftist and angry atheist organizations if a study guide states, 'Jesus is the Son of God,' and forced children to recite the Lord's Prayer." Now, Sekulow's organization said it is taking action. "We're in direct contact with a number of parents and concerned citizens, we're taking on new clients, and preparing critical demand letters and open records requests to these schools and school districts," the group said. "It is a clear constitutional principle that public education may not indoctrinate young minds into a religion. Teachers and schools may teach what different faith traditions believe and how that has affected world history and geography. But a school cannot censor Christianity and promote Islam."
The Daily Herald reported Jan Hanvey, a middle school supervisor for Maury County Public Schools, said the curriculum has covered the subject for decades, and Buddhism and Hinuism also are covered. She told the newspaper the chapter on Christianity was not skipped but was being delayed. The newspaper cited state advisories that called for seventh-grade social studies to begin with the Islamic world and then move to Africa. The "Age of Exploration" follows, which continues into eighth grade. Hanvey told the newspaper Christianity is discussed in the "Age of Exploration," partly because religious persecution is one of the reasons for a search for a new world.
Fox News reported Maury County Director of Schools Chris Marczak said his teachers "work together to make sure that our students are learning what is expected through the Tennessee academic standards." "For this last section on the Islamic World this past week, our educators had students complete an assignment that had an emphasis on Islamic faith," he said. "The assignment covered some sensitive topics that are of importance to Islamic religion and caused some confusion around whether we are asking students to believe in or simply understand the religion."
WND reported earlier this year teachers and administrators at a Pennsylvania school district attended a training session on Islam and Arabic culture at taxpayer expense. The workshop in the town of Lebanon was led by a former district Arabic translator, Mohamed Omar, who took time off from his Department of Human Services job in Philadelphia "to share his knowledge of Islam with the staff," the Lebanon Daily News reported. "I think this is the first time ever in the United States that a school district goes to a mosque," mosque founder Hamid Housni told the Daily News. "Usually a representative of a mosque goes somewhere. We don't have words to explain to you how we appreciate that. This is very, very special."
In "Stop the Islamization of America: A Practical Guide to the Resistance," renowned activist Pamela Geller provides the answer, offering proven, practical guidance on how freedom lovers can stop jihadist initiatives in local communities. In 2006, WND reported students in Nyssa, Oregon, were learning Muslim prayers and dressing as Muslims. Another assignment was to learn the "Five Pillars" of Islam, study the Muslim holiday of Ramadan and listen to guest speakers, including an American Muslim who came dressed in her religious costume to talk about her Quran.
'Strategic Attraction': Russia Cozies up to Iran
(US general: Putin 'sees a weakness in US foreign policy')
Sept. 14….(WND) Russia is aggressively stepping up its military presence in Syria, and a decorated retired U.S. Air Force general says the plan is not just to prop up the Assad regime but to pursue closer ties with Iran to dominate the region and boost its sputtering economy. Major tank shipments and other weapons have arrived in Syria in recent days, and some of that arsenal is already headed out to confront ISIS. Still, Russian Foreign Minister Sergei Lavrov says nothing out of the ordinary is happening. "We have always been frank regarding the presence of our military experts in Syria who help the Syrian army in training and learning how to use the equipment," Lavrov said last week. "And if further steps are needed, we will stand ready to fully undertake those steps."
Retired US Air Force Lt. Gen. Tom McInerney told WND and Radio America that's just not true. He said there are clear short-term and long-term goals behind the Russian commitment. The immediate priority is to end the stalemate in the Syrian civil war in favor of its longtime ally. "There's no question that the Russians are in for the full count to support Bashar al-Assad," McInerney said. "Their first challenge is to defeat ISIS, but also to defeat al-Nusra, which is a spin-off of al-Qaida there, and any other adversaries that try to take Bashar al-Assad down." But McInerney believes that's only the prologue. "He's got something much larger in mind," McInerney said. "He sees that Iran is going to be the hegemon as a result of this nuclear agreement that the Obama administration has come up with. Russian President Vladimir Putin wants to have his chips on the side of the hegemon." He added, "This is not just a temporary move on his part. This is a very important strategic move. He sees a weakness in the US foreign policy and weakness in this administration's desire to support historical allies that the United States has supported. It has both a tactical and a strategic purpose behind it."
The Russian-Iranian nexus appears to be an odd coupling. Iran is the world's largest sponsor of terrorism, and Russia remains strongly committed to stamping out radical Islamic threats in Chechnya, Dagestan and elsewhere. Yet, Russia has led the way in supplying materials for the Iranian nuclear program. McInerney calls it a "strategic attraction." "Clearly, they can sell a lot of weapons to the Iranians," he said. "They need the port in Syria because it is the only Mediterranean port that they have. That's very important for the presence in NATO's southern flank. Finally, they need a counter to the United States in the Middle East. If Iran's the hegemon, and it's closely allied with Russia, they benefit greatly."
Sanctions relief is also a major consideration for the Russians, according to McInerney. Just as the nuclear talks lifted the fiscal choke hold for Tehran, the general believes Putin is smarting from sanctions targeting Moscow over its conduct in Ukraine. "The difficulty is the sanctions that we have put on Russia and NATO has and the European Union because of the Ukraine are really driving the Russian economy down," McInerney explained. "They need to have allies to the south. That could be a strong economic boost to the Russian economy."
So what is the proper US response to Russia's maneuvers? McInerney said Congress is embroiled in that right now. "First, I would terminate the Iranian nuclear agreement. That is the most dangerous thing that is going on now. Is it surprising that Russia and China, who are members of the P5+1, strongly supported that agreement?" McInerney asked. "This president will not do that, so what we are left with are tactical issues on what we can do on defeating ISIS, which helps Bashar al-Assad stay in power," he added. That being said, McInerney agrees that ISIS presents a far more immediate threat than the Assad regime staying in power and strengthening troubling alliances. "We've lived with Bashar al-Assad for a long time," he said. "He was on our side in Desert Storm when we went against Saddam Hussein. ISIS must be defeated, and that evil ideology of radical Islam must defeated first in the Middle East." McInerney said the Middle East is getting more and more difficult to handle, and this latest confluence of trouble stems from poor US leadership in the region. "This president has not left himself with many options that in the long run benefit the United States and our allies, like Egypt, Jordan, Saudi Arabia, the UAE, Bahrain, in the Middle East," he said. "He has given his successor a very difficult hand."
WEEK OF SEPTEMBER 6 THROUGH SEPTEMBER 12
Pope Francis Apeals to Europe to Settle Syrians
Sept. 7….(Washington Post) Issuing a broad appeal to Europe's Catholics, Pope Francis on Sunday called on "every" parish, religious community, monastery and sanctuary to take in one refugee family, an appeal that, if honored, would offer shelter to the thousands.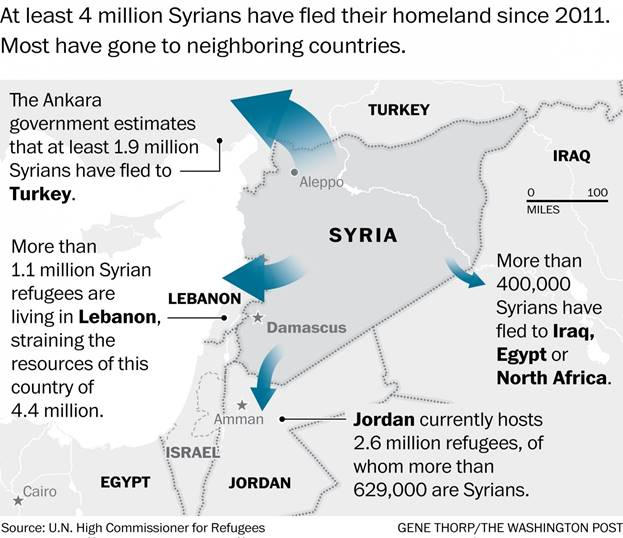 Pope Francis delivered his call as thousands of migrants blocked for days in Hungary continued streaming into Germany and Austria, and as a small but rising number of people are offering to take refugees in. Addressing a crowd Sunday in Vatican City's St. Peter's Square, the pope's call brought a rousing round of applause. The appeal also amounted to interfaith outreach, something Francis has been known for, because the majority of the refugees are Muslims from Syria, Iraq and other parts of the Middle East, Asia and Africa. The first Latin American pope already had put the plight of refugees at the core of his papacy, making a 2013 trip to the Italian island of Lampedusa, a major entry point for migrants, where he denounced a culture of "indifference" and called for a "reawakening of conscience." Francis is also credited with inspiring Italian authorities to launch a temporary but highly effective humanitarian operation to rescue migrants at sea. The pope said refugee families would soon be offered shelter inside the two parishes within the jurisdiction of Vatican City. His comments came as the refugee crisis in Europe appeared only to be deepening. Thousands of people fleeing war and poverty reached Austria and Germany from Hungary on Sunday, an extraordinary column of asylum-seekers that showed little sign of abating. A fresh rush of migrants was gathering at Europe's borders.
Austrian authorities said that 2,000 new asylum-seekers had arrived at their border overnight, a day after trains took more than 11,000 people onward to Germany, where they were welcomed with blankets, food and shelter after enduring squalid conditions in Hungary. On the other side of Hungary, hundreds more crossed the border from Serbia on Sunday, as security officials watched but did not block their way. The asylum-seekers were trying to make it to Budapest, from which they wanted to move on to Austria and Germany. With the continent's failure to come up with a unified political plan to handle the influx, a growing number individuals were trying to fill the gap, an effort that was likely to be spurred by the pope's call. On Sunday morning, a caravan of 150 Austrian drivers set off for the border with Hungary to ferry arriving asylum-seekers to Vienna. The head of the Scottish government said she would take a refugee into her own home. But the gestures were sure to fall far short of the expected surge of asylum-seekers, propelled by the war in Syria.
Russia is Building Military Base in Syria
(American officials express concern about latest intelligence suggesting Moscow is preparing to send hundreds of personnel to prop up Assad regime)
Sept. 6…(Telegraph) Russia is building a military base in Syrian president Bashar al-Assad's heartland, according to American intelligence officials, in the clearest indication yet of deepening Russian support for the embattled regime of Bashar al-Assad. The anonymous officials say Russia has set up an air traffic control tower and transported prefabricated housing units for up to 1,000 personnel to an airfield serving the Syrian port city of Latakia. Russia has also requested the rights to fly over neighbouring countries with military cargo aircraft during September, according to the reports. The claims, which will raise fears that Russia is planning to expand its role in the country's civil war, will ratchet up tensions between Moscow and Washington over the future of Syria and its brutal ruler.
Mr Obama on Friday met King Salman of Saudi Arabia to repeat their demand that any lasting settlement in Syria would require an end to the Assad regime. It leaves the US and Russia implacably opposed in their visions for Syria. John Kerry, Secretary of State, telephoned his Russian counterpart to express US concerns on Saturday. "The secretary made clear that if such reports were accurate, these actions could further escalate the conflict, lead to greater loss of innocent life, increase refugee flows and risk confrontation with the anti-Isil coalition operating in Syria," the department said. The new US details came in the week that Vladimir Putin gave his strongest admission yet that Russia was already providing some military and logistical support to Syria. "We are already giving Syria quite serious help with equipment and training soldiers, with our weapons," he said during an economic forum in Vladivostok on Friday, according to the state-owned RIA Novosti news agency.
Until now, Russia's backing has included financial support, intelligence, advisers, weapons and spare parts. Mr Putin insisted it was "premature" to talk of a direct intervention. Syrian state television showed images of an advanced Russian-built armoured personnel carrier, the BTR-82a, in combat. Videos also began circulating in which troops shouted orders to one another in Russian. Last week the Israeli daily Yedioth Ahronoth cited Western diplomatic sources saying that Russia was on the verge of deploying "thousands" of troops to Syria to establish an airbase from which the Russian air force would fly combat sorties against Isil. Those details appear to be backed by satellite images of a Russian base under construction near Latakia, according to anonymous intelligence officials quoted by several American newspapers. "If they're moving people in to help the Syrian government fight their own fight, that's one thing," one told the Los Angeles Times. "But if they're moving in ground forces and dropping bombs on populated areas, that's an entirely different matter." Moscow increasingly justifies its support for the Assad regime by pointing to the rise of violent jihadists in Syria.
The Islamic State of Iraq and the Levant (Isil) has captured a swath of territory since Arab Spring protests in 2011 provoked a heavy-handed regime crackdown. The conflict is one of the key drivers for the wave of refugees arriving in Europe. It was from Kobane that Aylan Kurdi and his family set out for Europe. The discovery of three-year-old's body on a Turkish beach this week has provoked a change of attitudes towards migrants.
Judge Who Jailed Rowan Clerk Had History of Homosexual Agenda
Sept. 6….(Canada Free Press) The federal judge who held Rowan County Clerk Kim Davis in contempt and ordered her to jail for refusing to sign marriage licenses has on two occasions denied Christian students in Kentucky public schools their First Amendment rights by ordering them to undergo re-education training promoting the homosexual lifestyle against their religious objections.
In 2003, Federal District Judge David Bunning ordered Boyd County education officials to implement training, which mandated school staff and students undergo diversity education principally "devoted to issues of sexual orientation and gender harassment." A number of students objected to being forced to watch a gaystapo propaganda video denouncing Christian views that opposed homosexuality as wrongheaded and proclaiming homosexuality as a safe, healthy, and fixed lifestyle that cannot be changed. When it was discovered that students would be punished if they didn't undergo the training their parents brought in the Alliance Defending Freedom (ADF) legal organization, which sued the Boyd County Board of Education.
In 2006, the gaystapo tool was back at it. Once again he tried to force Christian students to watch a gaystapo propaganda video promoting the homosexual lifestyle, and denying Christian students the ability to opt out of the indoctrination training. Bunning ruled that an opt-out was unnecessary because the training didn't mean that students would have to change their religious beliefs. Bunning's decision was overturned in October 2007 by the Sixth Circuit Court of Appeals. The Court ruled that a Christian student could seek damages from the school district because the training Bunning imposed had "chilled" the student's ability to express his Christian beliefs about homosexuality to his fellow students.
WEEK OF AUGUST 31 THROUGH SEPTEMBER 05
Cheney: Iran Deal Will Lead to First use of Nuclear Weapon Since WWII
Aug. 31….(Jerusalem Post) In an op-ed written for The Wall Street Journal entitled, "Restoring American Exceptionalism," former Vice President Dick Cheny together with his daughter Liz, accused President Barak Obama of agreeing to a deal with Iran that will likely lead to "the first use of a nuclear weapon since Hiroshima and Nagasaki." Stating that America has "guaranteed freedom, security and peace for a larger share of humanity than any other nation in all of history," they accused Obama of weakening the fundamental pillars that make the United States great.
They claim President Obama has departed from the "75-year, largely bipartisan tradition of ensuring America's pre-eminence and strength," they wrote. "He has advocated cutting our nuclear force in the naive hope that this will persuade rogue regimes to do the same. He has imposed limits on our ability to modernize and maintain nuclear weapons. He has reduced the nation's missile-defense capabilities," they continued. They accused Obama of gutting the Nuclear Non-Proliferation Treaty, "arguably the single most effective multilateral arms-control agreement in history," with the Iran deal.
Obama's claims that the agreement will prevent Iran from obtaining nuclear weapons is entirely false, as is everything else he has said about the deal, they claimed. "President Obama told us he would never accept a deal based on trust. Instead, the Obama deal provides the Iranians with months to delay inspections and fails to address past clandestine work at military sites," they wrote. They rebuffed Obama's claim that the Iranian deal is the only way to prevent war. They said that this deal will accelerate the production of nuclear weapons across the Middle East as well as give Iranians billions of dollars thanks to the sanctions relief which will likely be funneled to fund terror.
The Cheneys implored the US Congress to reject the deal and to reimpose the sanctions that have been lifted from Iran. "It is possible to prevent Iran from attaining a nuclear weapon, but only if the US negotiates from a position of strength, refuses to concede fundamental points and recognizes that the use of military force will be required if diplomacy fails to convince Iran to abandon its quest for nuclear weapons," they wrote. They called on the American people to consider carefully the next person who will enter the White House to take the place of Obama. "The right person in the Oval Office can restore America's strength and alliances, defeat our enemies, and keep us safe. The peace and security of the world and the survival of our freedom depend on it. We must choose wisely."
Sheriff Clarke Charges President Obama with Starting 'War on Police'
Aug. 31….(Independent Journal) Sheriff David Clarke is not one to mince words, and now he's blaming a lack of presidential leadership for creating an atmosphere where protesters can openly call for the murder of police officers without comment from the White House. On Judge Jeanine Pirro's show on Fox News, the sheriff directly charged the president for an "open season" on police officers. Clarke's comments follow upon the "execution-style" murder of Deputy Dan Goforth at a Chevron gas station in Texas.
Sheriff Clarke made it clear he was "too pissed off" to sugarcoat what he thought of the situation, saying he was not going to "be diplomatic about what's going on" and he's "not going to stick his head in the sand about it." Clarke charged the White House for creating an environment for over-the-top rhetoric and violence against police officers: "I said last December that war had been declared against the American police officer, led by some high-profile people. One of them coming out of the White House, another one coming out of the US Department of Justice. And it's open season right now, no doubt about it." Later in the interview, the sheriff pointed his finger at the president himself: Clark commented after a question on the lack of leadership facing the issue of attacks on police: "That's why I said the President of the United States started this 'war on police.'"
Others have raised questions about the president seizing on opportunities to politicize acts of violence against black Americans, while remaining silent on high-profile cases when police officers or non-minority individuals are murdered. The shooting at WDBJ in Roanoke, Virginia by a disgruntled former employee that had made accusations of racial discrimination against his colleagues has led to widespread national discussion of whether or not the murderer Vester Flanagan (also known on-air as Bryce Williams) should be charged with a hate crime. "You want a race war? BRING IT THEN YOU WHITE…(deleted)!!!" Flanagan wrote in response to the Charleston shooting carried out by white supremacist Dylann Roof, as was reported by ABC News. Roof was investigated at a federal level for "hate crime" charges in the racially motivated shooting, yet any such case against Flanagan has gone unpursued. Now, some on Twitter are asking where the White House's response is on Deputy Goforth's shooting!
Russian Jets Take Action in Syrian Skies
(Russia has begun its military intervention in Syria, deploying an aerial contingent to a permanent Syrian base, in order to launch attacks against ISIS and Islamist rebels; US stays silent.)
Aug. 31….(YNET) Russian fighter pilots are expected to begin arriving in Syria in the coming days, and will fly their Russian air force fighter jets and attack helicopters against ISIS and rebel-aligned targets within the failing state. According to Western diplomats, a Russian expeditionary force has already arrived in Syria and set up camp in an Assad-controlled airbase. The base is said to be in area surrounding Damascus, and will serve, for all intents and purposes, as a Russian forward operating base.
In the coming weeks thousands of Russian military personnel are set to touch down in Syria, including advisors, instructors, logistics personnel, technical personnel, members of the aerial protection division, and the pilots who will operate the aircraft. Past reports have stated that the Russians were in talks to sell the Syrians a package of MiG-29 fighter jets, and Yak-130 trainer jets (which can also serve as attack aircraft.) The current makeup of the expeditionary force is still unknown, but there is no doubt that Russian pilots flying combat missions in Syrian skies will definitely change the existing dynamics in the Middle East.
The Russians do not harbor offensive intentions towards Israel or other sovereign states in the area, and their main stated goal is battling ISIS and preserving Assad's rule. However, their presence will represent a challenge to the Israeli Air Force's freedom of operation in the skies above the Middle East.
Western diplomatic sources recently reported that a series of negotiations had been held between the Russians and the Iranians, mainly focusing on ISIS and the threat it poses to the Assad regime. The infamous Iranian Quds Force commander Major General Qasem Soleimani recently visited Moscow in the framework of these talks. As a result the Russians and the Iranians reached a strategic decision: Make any effort necessary to preserve Assad's seat of power, so that Syria may act as a barrier, and prevent the spread of ISIS and Islamist backed militias into the former Soviet Islamic republics.
The Russians are not the only ones coordinating their Middle East policy with the Iranians; The US has also jumped aboard that train. American government officials have been holding intensive consultations with representatives of the Iranian regime concerning a stronger joint effort against ISIS in Iraq. It seems that the US government currently views Iran as a central and necessary force in the campaign against ISIS within Iraq.
The Iranian-American cooperation is focused on two focal points: The first being Anbar province, where the Iraqis have thus far failed to expel ISIS; and the second Mosul, where the Iraqis have yet to come up with a feasible plan to recapture the city. Western diplomatic sources have emphasized that the Obama administration is fully aware of the Russian intent to intervene directly in Syria, but has yet to issue any reaction. The absence of a vocal opposition from the Obama administration is compounded by its cessation of calls for the dissolution of Assad's murderous regime. This and more: The Iranians and the Russians- with the US well aware- have begun the struggle to reequip the Syrian army, which has been left in tatters by the civil war. They intend not only to train Assad's army, but to also equip it. During the entire duration of the civil war, the Russians have consistently sent a weapons supply ship to the Russian held port of Tartus in Syria on a weekly basis. The ships would bring missiles, replacement parts, and different types of ammunition for the Syrian army.
Arab media outlets have recently published reports that Syria and Russia were looking for an additional port on the Syrian coast, which will serve the Russians in their mission to hasten the pace of the Syrian rearmament. In the meantime, Assad's army is in full scale retreat in the strategic province of Idlib. Mere days ago, a force from the Jaesh Al Fatah (A coalition or rebel groups including Jabhat al-Nusra) advanced on the Abu Duhur military airfield in southwestern Syria's Iblib province, which borders on Latika. Alwaite and Christian residents of the area have fled to the last remaining Alawite Bantustans along the country's coastline.
Even Turkey, which has so far avoided any action which would strengthen Assad, has had to come to terms with the Russian-Iranian move and the resulting American silence, leading it to launch its own bombing campaign against ISIS in Syria. During a recent trip to Qatar, Erdogan reached understandings with the Qataris and the Saudis regarding a program to arm Muslim Brotherhood backed rebels who are fighting against ISIS, de-facto fighting both Assad and ISIS.