Follow Focus on Jerusalem on 'Twitter'
(FOJ note) You can actively follow hourly news, comments and articles on the Twitter link posted above.
The Newsroom will continue as always, but the Twitter link provides quick hot-button alerts.
WEEK OF OCTOBER 25 THROUGH OCTOBER 31
Jerusalem Mufti Denies Temple Mount Ever Housed Jewish Shrine
(Sheikh Muhammad Ahmad Hussein says Al-Aqsa Mosque has been atop controversial holy site 'since creation of the world')
Oct. 25….(Times of Israel) The grand mufti of Jerusalem, the Muslim cleric in charge of the Al-Aqsa Mosque, said Sunday that there's never been a Jewish temple atop the Temple Mount, and that the site has been home to a mosque "since the creation of the world." Sheikh Muhammad Ahmad Hussein said in an Arabic interview with Israel's Channel 2 that the site, considered the third holiest in Islam and the holiest to Jews, was a mosque "3,000 years ago, and 30,000 years ago" and has been "since the creation of the world." "This is the Al-Aqsa Mosque that Adam, peace be upon him, or during his time, the angels built," the mufti said of the 8th-century structure commissioned by Caliph Abd al-Malik ibn Marwan. He vehemently denied that there has ever been a Jewish shrine atop the Temple Mount, despite rich archaeological and textual evidence to the contrary, including from Muslim sources. The 10th-century Muslim historian Muḥammad ibn Aḥmad Shams al-Din al-Muqaddasi wrote in his description of Syria and Palestine that "in Jerusalem is the oratory of David and his gate; here are the wonders of Solomon and his cities," and that the foundations of the Al-Aqsa Mosque "were laid by David." A guide to the Haram al-Sharif, as the Temple Mount is known in Arabic, published by the Muslim Waqf in 1924 mentioned the presence of two Jewish temples atop the Jerusalem compound in antiquity.
At least four inscriptions from Herod's Temple, destroyed by the Romans in 70 CE, attest to the presence of a Jewish temple atop the 37-acre platform he had engineered over 2,000 years ago. One of Hussein's predecessors as chief custodian of the Jerusalem holy site, Hajj Amin al-Husseini, made headlines recently after Prime Minister Benjamin Netanyahu charged in a speech that the Palestinian Muslim leader inspired Adolf Hitler's Final Solution of exterminating the Jews. Netanyahu took flak from Holocaust scholars, politicians, and even the German government, who pointed out that the extermination of Europe's Jews was already in full swing when Husseini met Hitler in 1941, and that there was no concrete evidence to support that charge.
The Jerusalem holy site has been the focus of recent violent clashes between Israeli security officers and Palestinian rioters. While Jewish visitors are allowed to enter the site, Jewish worship is banned. Israel and Jordan agreed Saturday to placing CCTV cameras on the Temple Mount in a bid to calm tensions and monitor possible violations of the status quo, a move rejected by Palestinian leaders.
Kerry: Israel Okays 24-hour Video Cameras on Temple Mount
Oct. 25….(Times of Israel) After talks with Abbas and Abdullah, secretary of state says new security measures also planned to calm tensions over holy site. US Secretary of State John Kerry said Saturday that Israel and Jordan have agreed on steps aimed at reducing tensions at the Temple Mount in Jerusalem that have fanned Israeli-Palestinian violence. The steps include round-the-clock video monitoring and Israel reaffirming Jordan's special and historic role as custodian of the site, known to Muslims as Haram al-Sharif or the Noble Sanctuary, Kerry said.
Prime Minister Benjamin Netanyahu was to announce details of the measures later Saturday, Kerry said after meeting Jordan's King Abdullah. The secretary said that the prime minister had agreed to "an excellent suggestion by King Abdullah to provide 24-hour video coverage of all sites" in the compound. "This will provide comprehensive visibility and transparency and that could really be a game changer in discouraging anybody from disturbing the sanctity of the holy site." He said Israel is pledging to maintain the rules of worship at the site, the site holy to Jews and Muslims that is a key factor in the current tensions, and that Israeli and Jordanian authorities will meet about bolstering security.
Kerry made the announcement after meeting in Amman with Palestinian Authority President Mahmoud Abbas and Jordan's King Abdullah II. An Israeli political source said following the announcement that the security cameras would prove Israel was not behind the escalation in tensions on the mount, the Ynet news website reported. "Israel has an interest in this in order to negate the claims that [it] is changing the status quo, and will show that the provocation is not coming from the Israeli side," the source said. "Israel has reiterated its commitment to preserving the status quo and expects greater effort from the Waqf in maintaining order inside the mosques" on the mount, he said. The Jerusalem Islamic Waqf oversees the administration of the Muslim holy sites on the Temple Mount.
Abbas told Kerry on Saturday that Israel must commit to maintaining the status quo on the Temple Mount and prevent Jewish extremists from ascending to the contested site, according to the Palestinian leader's spokesman. The top American diplomat's visit to the region is part of efforts to reduce the weeks-long cycle of violence between Israel and Palestinians. Kerry, Abbas and the king were exploring ideas, first raised during a Thursday meeting in Berlin between the American diplomat and Netanyahu, on how to defuse the situation. Following his meeting with Netanyahu, Kerry said he was cautiously optimistic about calming the situation. He has also said he would like to see clarity in the rules governing access to the Temple Mount. The Palestinians claim that Israel is seeking to change the status quo on the Mount, referring to the decades-long arrangement at the Jerusalem hilltop, the holiest place in Judaism, which allows Jews to visit but not pray. The mount houses the Al-Aqsa Mosque, the third holiest site in Islam, and is the location of the two biblical Jewish Temples. Israel has vehemently denied that it is planning to make any changes to the status quo, and Netanyahu has accused Abbas of incitement for making such claims.
Speaking to reporters after the Abbas-Kerry meeting, chief Palestinian negotiator Saeb Erekat said Saturday that Netanyahu had "changed the status of the Al-Aqsa Mosque, that's why we and Jordan are asking the American side to re-establish the situation." "The king has guardianship over Al-Aqsa Mosque and the holy places and will not allow this manipulation by Netanyahu," he said. Kerry, his Russian counterpart Sergei Lavrov, EU foreign policy chief Federica Mogherini and UN Secretary General Ban Ki-moon, members of the Middle East peacemaking Quartet, appealed for "maximum restraint" after talks on Friday in Vienna. They also issued a call for Israel to work with Jordan as historic steward of the Al-Aqsa Mosque. Ten Israelis have been killed and dozens injured in a string of Palestinian terror attacks since the beginning of the month. At least 50 Palestinians have also died, many while carrying out stabbing attacks on Israelis, and others in clashes with security forces.
Israel Must Maintain Temple Mount Status Quo, Abbas tells Kerry
(In Amman meeting, PA president says Jerusalem needs to prevent 'confrontational settlers' from accessing the flashpoint site)
Oct. 25….(Times of Israel) Israel must commit to maintaining the status quo on the Temple Mount and prevent Jewish extremists from ascending to the contested site, Palestinian Authority President Mahmoud Abbas told US Secretary John Kerry in Amman Saturday at a meeting aimed at exploring ideas on how to restore calm after weeks of near-daily Palestinian terror attacks and Israeli-Palestinian clashes. "Keeping the status quo and stopping confrontational settlers from accessing the site are among the first steps Israel should take" to ease tensions, Abbas told Kerry, according to PA spokesman Nabil Abu Rudeineh. Rudeineh said Abbas emphasized that the ball was in Israel's court and that the Palestinians would "have to see what steps Israel takes before any move on our part." The meeting with Kerry was also attended by chief Palestinian negotiator Saeb Erekat and Palestinian Intelligence chief Majed Faraj.
The Temple Mount is a frequent flashpoint and its fate is a core issue at the heart of the Israeli-Palestinian conflict. It is the holiest site in Judaism, revered by Jews as the Temple Mount, once home to the biblical Temples. Muslims call it the Noble Sanctuary and believe it is the spot where the Prophet Muhammad ascended to heaven. It is the third holiest site in Islam and houses the Al-Aqsa and Dome of the Rock mosques.
The Palestinians have charged that Israel is trying to change long-standing understandings, in place since 1967, under which Jews are allowed to visit, but not pray, at the site. Those fears have also been fueled by a rise in visits by Jewish activists demanding prayer rights, including by some members of Netanyahu's coalition government. Israel has repeatedly and vehemently denied Palestinian allegations that it is trying to change the status quo and has accused Palestinian political and religious leaders of lying and inciting to violence. The site is managed by an Islamic foundation under the auspices of Jordan, the Waqf, but Israel, which captured the area in the 1967 war, controls access.
Before their meeting, Kerry and Abbas expressed hope that a solution could be found in brief comments to reporters. After seeing Abbas, Kerry met the Jordanian monarch. Neither spoke to reporters as they began their talks. On Thursday, Kerry met with Prime Minister Benjamin Netanyahu in Berlin to discuss ways to defuse tensions. Kerry will later Saturday fly to Saudi Arabia for talks with Saudi King Salman to discuss the Temple Mount.
Prime Minister Benjamin Netanyahu on Saturday restated a pledge to retain intact the custom of not permitting non-Muslim prayer on Jerusalem's Temple Mount, which has been at the center of a recent spike in unrest. "Israel reaffirms its commitment to upholding unchanged the status quo of the Temple Mount, in word and in practice," he said in a statement. The compound, which houses the Al-Aqsa Mosque and the Dome of the Rock, was the site of two ancient Jewish temples and is sacred to both Jews and Muslims. It was captured by Israel during the 1967 Six Day War. "Israel will continue to enforce its longstanding policy: Muslims pray on the Temple Mount; non-Muslims visit the Temple Mount," he said, following up on comments earlier by US Secretary of State John Kerry after meetings in Amman with Jordan's King Abdullah II and Palestinian Authority President Mahmoud Abbas.
WEEK OF OCTOBER 11 THROUGH OCTOBER 17
Gaza Muslim Cleric Calls on Palestinians to Stab Jews
(Sheikh Muhammad Sallah, brandishing knife during Friday sermon, urges young men in West Bank to form 'stabbing squads')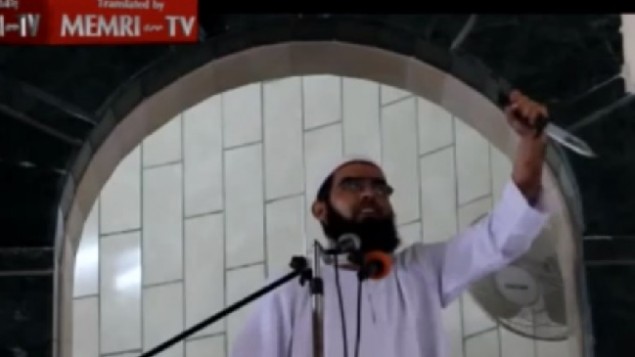 Oct. 12….(Times of Israel) Gaza-based cleric gave a sermon at a Rafah mosque this past Friday encouraging Palestinians to stab Jews amid a surging wave of terror that has seen near-daily stabbing attacks against Israelis since the beginning of this month. Brandishing a knife of his own during the speech at the Al-Abrar Mosque, Sheikh Muhammad Sallah called on Palestinians in East Jerusalem and the West Bank to "attack in threes and fours" and "cut them into body parts." "My brother in the West Bank: Stab! My brother is the West Bank: Stab the myths of the Talmud in their minds! My brother in the West Bank: Stab the myths about the temple in their hearts!" Sallah cries out while wielding the knife and making stabbing motions, according to a translation made available by the Middle East Media Research Institute which also provided a video of the sermon.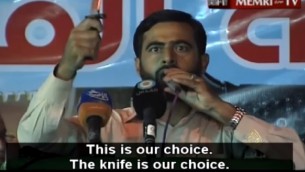 Seemingly delighted with the recent surge in stabbing attacks which have killed 4 Israelis and injured 31 in 17 separate assaults, Sallah encouraged the formation of "stabbing quads." "We don't want just a single stabber. Oh young men of the West Bank: Attack in threes and fours. Some should restrain the victim, while others attack him with axes and butcher knives, he said. "Do not fear what will be said about you. Oh men of the West Bank, next time, attack in a group of three, four, or five. Attack them in groups. Cut them into body parts," he went on.
Meanwhile, a Hamas spokesman in Gaza and a member of parliament called on all Palestinian factions to join the "Jerusalem intifada." In a Friday speech broadcast on the Qatar-based al-Jazeera network and picked up by MEMRI, Mushir Al-Masri is seen also brandishing a knife and shouting: "This is our choice, the knife is our choice!"
Obama's Ex-Pastor: Israel is Apartheid State, 'Jesus was a Palestinian'
Oct. 12….(Jerusalem Post) Jeremiah Wright, President Barack Obama's former pastor, called Israel an apartheid state and said "Jesus was a Palestinian" at a rally in Washington hosted by the Rev. Louis Farrakhan. At an hours-long event Saturday on the National Mall titled "Justice or Else," Wright said that African-Americans, Native Americans and Palestinians have suffered under the "three-headed demon" of "racism, militarism and capitalism." "The same issue is being fought today and has been fought since 1948, and historians are carried back to the 19th century, when the original people, the Palestinians, and please remember, Jesus was a Palestinian, the Palestinian people had the Europeans come and take their country," Wright said, The Hill reported. "The youth in Ferguson and the youth in Palestine have united together to remind us that the dots need to be connected," Wright also said. "And what Dr. King said, injustice anywhere is a threat to justice everywhere, has implications for us as we stand beside our Palestinian brothers and sisters, who have been done one of the most egregious injustices in the 20th and 21st centuries."
The rally marked the 20th anniversary of the Million Man March, a mass gathering of black men spearheaded by Farrakhan, who has a long history of anti-Semitic remarks. Wright, who retired in 2008 as pastor of Chicago's Trinity United Church of Christ, which Obama attended from 1988 to 2008, also called Israel an apartheid state. "As we sit here, there is an apartheid wall being built twice the size of the Berlin Wall in height, keeping Palestinians off of illegally occupied territories, where the Europeans have claimed that land as their own," Wright said. He concluded: "We are grateful to God to be able to be here and to speak a word on behalf of Palestinian justice. Palestinians are saying 'Palestinian lives matter.' We stand with you, we support you, we say God bless you."
Farrakhan said at Saturday's rally that blacks were too forgiving of their abusers. "Find me a Jew who forgives Hitler," the Nation of Islam leader said. "And they say they're the children of God, and they don't have no forgiveness in them."
WEEK OF OCTOBER 4 THROUGH OCTOBER 10
Russia Enforces No Fly Zone Near, Places Missiles Near Israeli Border
OCT. 5….(DEBKA) Russia's military intervention in Syria has expanded radically in two directions. debkafile's military and intelligence sources report that China sent word to Moscow Friday, Oct. 2, that J-15 fighter bombers would shortly join the Russian air campaign that was launched Wednesday, Sept. 30. Baghdad has moreover offered Moscow an air base for targeting the Islamic State now occupying large swathes of Iraqi territory.
Russia's military intervention in Syria has five additional participants: China, Iran, Iraq, Syria and Hizballah. The J-15 warplanes will take off from the Chinese Liaoning-CV-16 aircraft carrier, which reached Syrian shores on Sept. 26 (as debkafile exclusively reported at the time). This will be a landmark event for Beijing: its first military operation in the Middle East as well the carrier's first taste of action in conditions of real combat. Thursday night, China's foreign minister Wang Yi, made this comment on the Syrian crisis at a UN Security Council session in New York: "The world cannot afford to stand by and look on with folded arms, but must also not arbitrarily interfere (in the crisis)." A no less significant development occurred at about the same time when Iraqi Prime Minister Haider al-Abadi, speaking to the US PBS NewsHour, said he would welcome a deployment of Russian troops to Iraq to fight ISIS forces in his country too. As an added incentive, he noted that this would also give Moscow the chance to deal with the 2,500 Chechen Muslims whom, he said, are fighting with ISIS in Iraq. Debkafile's military sources add that Al-Abadi's words came against the backdrop of two events closely related to Russia's expanding role in the war arena:
1. A joint Russian-Iranian-Syrian-Iraqi war room has been working since last week out of the Iraqi Defense Ministry and military staff headquarters in Baghdad to coordinate the passage of Russian and Iranian airlifts to Syria and also Russian air raids. This command center is also organizing the transfer of Iranian and pro-Iranian Shiite forces into Syria.
2. Baghdad and Moscow have just concluded a deal for the Russian air force to start using the Al Taqaddum Air Base at Habbaniyah, 74 km west of Baghdad, both as a way station for the Russian air corridor to Syria and as a launching-pad for bombing missions against ISIS forces and infrastructure in northern Iraq and northern Syria.
Russia has thus gained a military enclave in Iraq, just as it has in Syria, where it has taken over a base outside Latakia on the western coast of Syria. At the same time, the Habbaniyah air base also serves US forces operating in Iraq, which number an estimated 5,000.
Moscow Posts 64 S-300 Ship-to-Air Missiles off Syria, N. Israel
Oct. 5….(DEBKA) Russia's deputy chief of staff, Gen. Nikolay Bogdanovsky, accompanied by a large military delegation, arrives in Israel for a two-day visit on Tuesday, Oct. 6, to discuss increased coordination between the two militaries. However, Moscow seems to be sending Jerusalem an altogether different message: Friday, Oct. 2, the Russian Defense Ministry announced the surprise deployment of Navy cruiser, the Moskva, armed with 64 advanced anti-aircraft missiles S-300 ship-to-air missiles opposite the Syrian coastal town of Latakia. Debkafile's military sources point out that Russia, without saying so publicly, has thus created an effective no-fly zone over most of Syria, most of northern Israel, including the Golan, as well as southern Turkey, for US aircraft based there for air strikes in Syria; Cyprus, the site of British air force bases; and Jordan. Since 2012, The Obama administration has been discussing the possibility of establishing no-fly zones in northern and southern Syria on a number of occasions, but has shelved the plan whenever a decision was imminent. Now, with one move, Moscow has imposed a no-fly zone over Syria. The presence of the wide-ranging S-300s means that the Turkish, British, Israeli and Jordanian air forces will need to coordinate their aerial operations in Syrian or Lebanese airspace with Russia, or face the risk of their planes being shot down.
In the view of Debkafile's military sources, the only aircraft capable of evading those advanced missiles are stealth planes. Neither the Israeli, British, Jordanian or Turkish air forces, nor the US squadron in Turkey consisting of F-16 fighters, have such aircraft at their disposal. The S-300 has a range of 150 kilometers and can shoot down any type of missile, including cruise missiles, as well as planes. If US President Obama truly wanted to deal effectively with Moscow's military moves in Syria, besides saying that Russia is bound to fail, he would have ordered the deployment of US stealth fighters to Turkey and Israel. However,may have been held back from this step by fear of antagonizing Iran, which has so far delayed sealing the nuclear agreement with the world powers by putting it to vote in parliament.
The presence of Moskva off the shores of Syria and close to northern Israel creates a new situation that will very likely be discussed in the talks that start Tuesday in Tel Aviv between Russia's deputy chief of staff and his Israeli counterpart, IDF Gen. Yair Golan. Although Russian President Vladimir Putin promised Israeli Prime Minister Binyamin Netanyahu during their summit in Moscow on September 21 not to allow S-300 missiles reach the hands of the Syrian military, he made no promises about positioning them on a Russian warship in the Mediterranean facing Syria and northern Israel. Our military sources point out that Russian air strikes have not been confined to any single area so far, but the injection of S-300s into the war arena widens the Russian air force's options.
In an interview with CNN on October 4, Prime Minister Netanyahu described how the Russian operation in Syria had affected relations with Moscow. "We don't want to go back to the days when, you know, Russia and Israel were in an adversarial position," he said. "I think we've changed the relationship. And it's, on the whole, good." He added that Israel's close relations with the US were in a completely different and special category. When asked whether he thought Russia's intervention would cause instability in the region, he seemed to avoid giving a detailed response, only saying, "I don't know. I think time will tell". However, on the topic of the transfer of advanced weaponry to Hizballah, the prime minister was very clear. "If anybody wants to use Syrian territory to transfer nuclear weapons to Hezbollah, we'll take action," he said. It marked the first time for an Israeli prime minister to speak publicly on the possibility that the terrorist organization could acquire atomic weapons.
Syrian Rebel Groups Unite to Fight Russian 'Occupiers'
(The 41 opposition factions say 'new reality' requires widespread cooperation against 'Russian-Iranian alliance')
Oct. 5….(Times of Israel) More than 40 Syrian insurgent groups vowed to attack Russian forces in retaliation for Moscow's air campaign in a show of unity among the usually fragmented rebels against what they called the "occupiers" of Syria. The 41 groups, which included powerful factions such as Ahrar al-Sham, Islam Army and the Levant Front, said Russia joined the war in Syria after President Bashar Assad's forces were on the verge "of a crushing defeat."
Russia launched its air campaign on Wednesday and claims it is targeting the Islamic State group and al-Qaeda's Syrian affiliate, the al-Nusra Front. But many of the strikes appear to have hit Western-backed rebel factions. The Russian attacks have largely focused on the northwestern and central provinces, the gateways to the heartland of Assad's powerbase in the capital, Damascus, and on the Mediterranean coast.
The Russian intervention was widely criticized by Syrian opposition groups and activists especially since Moscow once played the role of a mediator hosting rounds of talks between the Syrian government and its opponents. "This new reality requires the region's countries and the allies in specific to hasten in forming a regional alliance to face the Russian-Iranian alliance that occupies Syria," the 41 factions said in a statement released by Ahrar al-Sham. It was apparently referring to backers of the opposition such as Turkey and Saudi Arabia.
A Syrian military official was quoted by state media as saying that Russian airstrikes on Monday hit in the central province of Homs and Idlib in the northwest. The Britain-based Syrian Observatory for Human rights said warplanes believed to be Russian have targeted the northern town of Al-Bab that is a stronghold of the Islamic State group. It said the airstrike left "a large number" of casualties. A Facebook page used by IS posted photos of wounded people being treated in a clinic and another of what appeared to be a burned body being pulled out of a charred car. The Facebook page said dozens of people were killed or wounded in the airstrikes. The Syrian militant and rebel factions, including the US-backed Division 101 and Tajammu Alezza, said "the Russian military aggression on Syria is considered a blatant occupation of the country even if some claim it was done with the official request of the Assad regime. Those who lost legitimacy can't offer it." "All Syrian armed revolutionary factions must realize we are in a war to push an aggressor, a war that makes unifying ranks and word a duty on all brothers," the factions said in the two-page statement posted online. "Any occupation force to our beloved country is a legitimate target." Earlier in the day militant websites report that Syria's Muslim Brotherhood declared that jihad against the "sheer Russian occupation of Syria" is a legitimate duty for everyone capable of carrying weapons. The Brotherhood's media chief Omar Mushawah was quoted as saying that "we as Muslim Brotherhood group confirm that we are witnessing a sheer and clear Russian occupation" and that "resisting the occupier is a legitimate duty." Meanwhile, Syria's foreign minister says Russian airstrikes and its new military "steps" in Syria took months of preparations.
WEEK OF SEPTEMBER 27 THROUGH OCTOBER 3
Chinese Aircraft Carrier in Tartus to Support Russian-Iranian Military Buildup
Sept. 27….(DEBKAfile Exclusive Report) As US President Barack Obama welcomed Chinese President Xi Jinping to the White House on Friday, Sept. 25, and spoke of the friendship between the two countries, the Chinese aircraft carrier Liaoning-CV-16 docked at the Syrian port of Tartus, accompanied by a guided missile cruiser. This is revealed exclusively by Debkafile.
Beijing is not finding it hard to dance at two weddings, wooing the US for better relations, while at the same time backing Russia in its military intervention in Syria. Coupled with the warm smiles and handshakes exchanged at the lavish reception on the White House lawn, Beijing was clearly bent on showing muscle – not just in the South China Sea, but by allying itself with the Russian-Iranian political and military buildup in support of Syrian President Bashar Assad and his regime. Debkafile's military sources report that the Chinese aircraft carrier passed through the Suez Canal on Sept. 22, one day after the summit in Moscow between Russian President Vladimir Putin and Israeli Prime Minister Binyamin Netanyahu. When they talked, Putin made no mention of the Chinese warship entering the eastern Mediterranean or its destination. Its arrival has upended the entire strategic situation surrounding the Syrian conflict, adding a new global dimension to Moscow and Tehran's military support for Assad.d.d.
This was grasped at length by US Secretary of State John Kerry. On Sept. 25, he sent Under Secretary of State Wendy Sherman, who also led the US negotiating team for the nuclear talks with Iran, to announce that the Obama administration is ready for dialogue with Iran about the situation in Syria, and this topic would be raised when Kerry's met Iranian Foreign Minister Muhammad Jawad Zarif in New York on Sept. 26. But if the top US diplomat hoped to bypass the Russian initiative in Syria by going straight to Tehran, he was too late. Iran is already moving forward fast to augment its military presence in the war-torn country, buttressed by the ground, air and sea support of two world powers, Russia and China.
This turn of events has a highly detrimental effect on Israel's strategic and military position. It also strengthens Iran's supreme leader Ayatollah Ali Khamenei in his determination to turn the nuclear deal concluded in July into a tool for isolating the US politically, militarily and economically in the Middle East, rather than a milestone on the road to a breakthrough in ties with Iran, as the Obama administration had hopeded. Our military sources find evidence that the Chinese forces are digging in for a prolonged stay in Syria. The carrier put into Tartus minus its aircraft contingent. The warplanes and helicopters should be in place on its decks by mid-November - flying in directly from China via Iran or transported by giant Russian transports from China through Iranian and Iraqi airspace. This explains the urgency of establishing a Russian-Syria-Iranian "military coordination cell" in Baghdad in the last couple of days. This mechanism, plus the Russian officers sighted in Baghdad, indicates that the Russian military presence is not limited to Syria but is beginning to spill over into Iraq as well. The coordination cell, or war room, was presented as necessary to begin working with Iranian-backed Shiite militias fighting the Islamic State in both places. But more immediately, it is urgently needed to control the heavy traffic of Russian, Iranian and Chinese military flights transiting Iraqi air space. Our sources report that the Chinese will be sending out to Syria a squadron of J-15 Flying Shark fighters, some for takeoff positions on the carrier's decks, the rest to be stationed at the Russian airbase near Latakia. The Chinese will also deploy Z-18F anti-submarine helicopters and Z-18J airborne early warning helicopters. In addition, Beijing will consign at least 1,000 marines to fight alongside their counterparts from Russia and Iran against terrorist groups, including ISIS.
Debkafile's counterterrorism sources point out that just as Russian marines will be instructed to single out rebel militias with recruits from Chechnya and the Caucasus, the Chinese marines will seek out and destroy Uighur fighters from the northern predominantly Muslim Chinese province of Xinjiang. In the same way that Putin has no wish to see the Chechen fighters back in Russia, so too Chinese President Xi wants to prevent the Uighurs from returning home from the Syrian battlefields.
WEEK OF SEPTEMBER 20 THROUGH SEPTEMBER 26
Syrian Army Bolstering Iranian Terrorism, Netanyahu tells Putin
(PM in Moscow to 'clarify' Israeli policy amid Russian buildup;
Kremlin leader says Damascus too busy to bother with fighting Israel as both)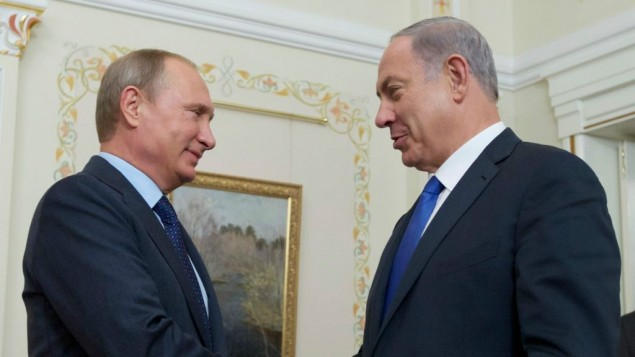 Sept. 21….(Times of Israel) The Syrian army is aiding Iran and Hezbollah in building an anti-Israel terror network on the Golan Heights, Prime Minister Benjamin Netanyahu told Russian President Vladimir Putin Monday, with the Kremlin strongman responding that Damascus has no time to worry about fighting Israel. Netanyahu's three-hour meeting with Putin during a lightning trip to the Kremlin Monday came amid reports that Moscow is building up militarily in Syria, and Israeli concerns of a possible clash with Russian forces, which are bolstering embattled Syrian President Bashar Assad. "Israel and Russia have a shared interest to ensure stability in the Middle East," Netanyahu told Putin at the start of the meeting, according to an account from the Israeli Prime Minister's Office. "And I am here because of the security situation, which is becoming more complex on our northern border. As you know, in recent years, and increasingly in recent months, Iran and Syria are arming the extremist Muslim terror group Hezbollah with advanced weaponry, which is pointed at us and has already been fired at us over the years, thousands of missiles and rockets on our cities." Syria's military, Netanyahu added, was giving cover to Iranian efforts to open a new front against Israel.
The West has been concerned over Russia's military buildup in Syria, which Moscow has said is aimed to help the Syrian government fight the Islamic State group. Russia, Syria's long-standing ally, has denied that it helps Syria militarily to support the Assad regime. Earlier this week, new satellite imagery showed the recent arrival of Russian tanks, armored personnel carriers and other military equipment at an air base in Syria's coastal Latakia province, confirming reports by US, Israeli and other officials of a Russian military buildup.
Israel has long expressed concerns that Iranian and Hezbollah agents have used the fighting in Syria as cover to build up forces along the Golan heights to carry out attacks against Israel. A number of airstrikes over the last several years, reportedly targeting Iranian backed cells and weapons shipments, have been assigned to Israel. "Iran, under the auspices of the Syrian army, is trying to build a second terror front against us from the Golan. Our policy is to prevent these weapons transfers, and to prevent the formation of a terror front and attacks against us from the territory of the Golan. In these circumstances, I thought it was very important that I come here, both to clarify our policy and to make sure there are no misunderstandings between our forces," Netanyahu told Putin.
Putin welcomed Netanyahu's visit, but expressed skepticism over the latter's Syria warnings. "All Russia's actions in the region were always very responsible. We are aware of the issue of bombardments of Israel [with rockets] and reject all such bombardments. To my knowledge, these bombardments are carried out by homemade systems," he said. "As for Syria, We know that the Syrian army and Syria as a whole are in such a state that they have no time for a second front. They need to save their own state. Our main goal is to defend the Syrian state. With that, I understand your concern, and I'm very happy you came here so we could discuss all these issues in detail."
The visit to Moscow comes a week before Netanyahu is scheduled to fly to the US to speak at the United Nations and meet with American officials, ahead of a White House visit in November. Jerusalem has tried to maintain friendly ties with Russia, shying away from taking a position on fighting in Ukraine or other issues that the Kremlin and Washington have clashed over recently. Putin also praised Israel, which is home to some million Russian-speakers. "We never forget that a great many expats from the former Soviet Union live in the State of Israel, and that has a special impact on relations between the countries."
Putin's Slippery Evasions for Netanyahu's Concerns about Iran
Sept. 21….(DEBKA) According to initial reports, Prime Minister Binyamin Netanyahu and President Vladimir Putin talked mostly at cross-purposes when they met in the presidential residence outside Moscow Monday, Sept. 21. According to debkafile's sources, Netanyahu, who brought with him an impressive party of top Israeli generals, presented his host with intelligence evidence to demonstrate that Iran – under the cover of the Syrian army, is trying to "build a second terrorist front against us from the Golan Heights." He indicated that Israel would be forced to resort to military action to counter this front and asked to see Putin in order to avert collisions between Israeli and Russian forces on Syrian soil.
Putin greeted these words with slippery evasions. Syria is in no state to open up an additional front, he said, and Moscow's main goal in its involvement in Syria is to defend that country. The point the Israeli prime minister tried to make was that Israel's security was at stake here, not Syria's. He stressed that Iran and Syria were arming the radical Islamic terrorist organization Hizballah with "advanced weaponry that is directed at us, and has already been fired at us." But Putin sidestepped this too, remarking that that he is aware that Israel has been fired upon from Syria, and has condemned that, but added that those weapons were "locally produced."
While the two leaders were still talking, US officials disclosed that Russia had started drone surveillance missions in Syria. On Sept. 16, Debkafile's sources warned that, like US President Barack Obama, who never tires of pledging his commitment to Israel's security, yet turns his back on Iran's pursuit of its ambition to destroy Israel, Putin too would have little time for Israel's fundamental security concerns. Debkafile reported before the meeting: On Saturday, Sept. 19, just two days before Israeli Prime Minister Binyamin Netanyahu's summit with Russian President Vladimir Putin at the presidential dacha outside Moscow, troops at the Russian base outside the coastal Syrian city of Latakia were seen preparing to deploy batteries of advanced S-300 anti-aircraft missiles. Their presence in Syria will raise major questions, one of which is this: against which air power are they deployed, given the fact that the Islamic State has no air force. Their deployment therefore poses troubling ramifications for the ongoing Syrian civil war as well as the region as a whole. For Israel, the placement of S-300 missiles in Syria is problematic for three reasons:
1. They seriously reduce the Israeli Air Force's freedom of action in Lebanese and Syrian airspace.
2. Following a spate of contradictory and muddled statements about Moscow's intentions to withhold the S-300s from Syria and Iran, an apparent smoke screen, it turns out that they are coming to Syria after all.
3. The Russians say they are building up military strength in Syria to fight ISIS. But neither ISIS nor any other regional power poses an air threat to the Russian deployment. So the state-of-the-art air defense missile delivered to Syria, to which Iran too has access, does pose a threat to Israel's security.
Its deployment in Syria appears to signal that Putin has a long game for his military buildup in Syria, more far-reaching that it would appear. Each day brings news of more Russian forces arriving in Syria. At first, reports said several hundred marines were being deployed, but now preparations are being made for 2,000 of them. A similar process is occurring with the deployment of anti-aircraft missiles. Initially, reports said that Moscow was providing Syria with the SA-22, known as the Pantsir-S1, but those missiles never arrived. Now, it appears that the S-300 is to be deployed instead. The arrival of four advanced multi-role Sukhoi 30SM (Flanker) tactical jets in Latakia on Sept. 18 has also raised eyebrows. It came just hours after US Defense Secretary Ashton Carter met with Russian Defense Minister Sergei Shoigu in an effort to prevent collisions between US and Russian forces operating in Syria. As those jets are intended for air-to-air combat, observers wonder which forces are to be targeted. The same question hangs over the half a dozen MiG-31 interceptors, which landed in Damascus earlier this month. So what is Putin's real game in Syria?
In another development that was only noticed in very few circles in the West and Israel, Iranian Gen. Yahya Rahim Safavi, military advisor of Iran's supreme leader Ayatollah Ali Khamenei, said on 'Friday, Sept. 18: "Russia moves in coordination with Iran in some regional issues including Syria." In other words, the US and Israel, which are attempting to coordinate their military steps with those of Russia, have already fallen behind. Reports in Israel over the last few days have claimed that Putin was keen on holding the summit even more than Netanyahu, and that the Israeli Air Force had started setting up a mechanism for liaison with the Russian Air Force in order to prevent inadvertent collisions. But these plans have been overtaken by events, There is no doubt that Netanyahu is making a bold statement by bringing to the Kremlin meeting the IDF chief of staff Lt. Gen. Gady Eisenkot and the head of military intelligence, Maj. Gen. Hertzi Halevi. This is the first time such high-ranking military officers have participated in a meeting of the Israeli and Russian leaders.
Debkafile's sources in Moscow report that Putin will be attended by his national security advisor, Nikolai Patrushev. This is the Russian president's way of indicating that, for him, the talks will focus on a general assessment of the Syrian situation, whereas Israel is seeking a discussion on the military aspects of the growing Russian intervention. In this context, it should be mentioned that, when the commander of Iran's Al-Qods brigades, Gen. Qassem Soleimani, visited Moscow 10 days ago, the most senior Russian official he met was Patrushev.