Follow Focus on Jerusalem on 'Twitter'
(FOJ note) You can actively follow hourly news, comments and articles on the Twitter link posted above.
The Newsroom will continue as always, but the Twitter link provides quick hot-button alerts.
WEEK OF NOVEMBER 22 THROUGH NOVEMBER 28
Iranian Fighter Jets Join Russian Fighters Over Syria
Nov. 23….(DEBKA) A series of videos apparently leaked by the Russian Defense Ministry reveal the presence of Iranian F-14 and MiG -29 fighters in Syrian skies for the first time. They were shown by "The Aviationist," Italian magazine, escorting heavy Russian bombers, including the Tupolev TU-160, the heaviest, fastest and most destructive bomber ever built, on missions no more than 150 km from Israel's northern border.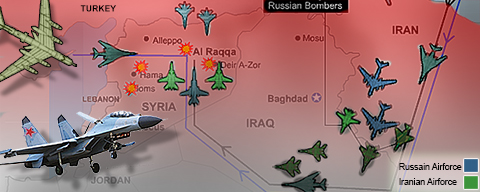 The ageing F-14s, built in the 1970s by American aviation giant Grumman, were originally sold to Iran when the Shah was in power and taken over by the reorganized Iranian air force after the 1979 Islamic revolution. Upgraded many times, the F-14s now feature state-of-the-art avionics, weapons and navigation systems, procured byTehran despite the strict UN embargo on their sale to the Islamic Republic. Dozens of these upgraded warplanes, upgraded with intelligence-collection and tracking systems, have begun operating in Syrian air space near the Israeli border, under the pretense of escorting the Russian bombers. Iranian eyes in the sky are therefore studying the frontier area and gather valuable intelligence on Israel's air defenses. Normally, if Iranian warplanes had turned up in Syrian air space, the Israeli Air Force would have fought them off and shot them down, but by flying alongside Russian bombers they are protecting themselves against Israeli action.
As debkafile reported on Saturday, November 21, Russian air and missile attacks are systematically destroying Raqqa, the ISIS capital in Syria, without consideration of civilian casualties. The Russian general staff is now gearing up to embark on an unprecedented assault on rebel and ISIS strongholds, a blitz involving hundreds of simultaneous sorties by warplanes and bombers, as well as cruise missile attacks from planes and warships in the Mediterranean and the Caspian Seas. High-altitude surveillance planes as well as low-altitude drones, fitted with imaging and targeting systems that will send live video and images to the command center in Moscow, will provide an umbrella for the attack. Russian President Vladimir Putin will personally manage the multilayered military coordination between Russia and Iran when he visits Tehran on Nov. 23, accompanied by top military officers.
Iran Trains for War @ Capture of Jerusalem's Al-Aqsa
Nov. 23….(Times of Israel) Thousands of paramilitary forces from Iran's powerful Revolutionary Guards on Friday held war games simulating the capture of the Al-Aqsa Mosque from Israeli control, the Iranian media reported. The reports said the forces stormed and liberated a replica of the mosque. They said that 120 brigades of Basij, the paramilitary unit of the Guards, occupied hypothetical enemy positions during Friday's exercise in the holy city of Qom in central Iran. The mosque is situated on the Temple Mount in Jerusalem, the most holy place to Jews as the site of the Biblical temples, and the third-holiest to Muslims. The Palestinians claim that Israel intends to change the decades-long status quo at the site, where non-Muslims can visit but not pray. Israel has repeatedly and vehemently denied the accusation, and accused Palestinian Authority President Mahmoud Abbas of incitement for making such comments. The symbolic operations were backed up by Guards helicopters, drones and Tucano planes that bombed hypothetical enemy positions before ground troops captured the replica of the mosque set up at the top of a mountain.
In a common mistake, the Guards set up a replica of the gold-topped Dome of the Rock instead of the nearby mosque. Official photos showed one of the troops going to the top of the dome and waving an Iranian flag and a red-colored flag, a symbol of martyrdom. Gen. Amir Ali Hajizadeh, who heads the Guards' aerospace division, said his force deployed Shahed-129, or Witness-129, drones during the war games. The drone, unveiled in 2013, has a range of 1,700 kilometers (1,050 miles), a 24-hour nonstop flight capability and can carry eight bombs or missiles. Even so, the exercise appeared to be largely for show. Iranian commanders have not said how they would be able to deploy large numbers of forces against Israel, located 1,600 kilometers (1,000 miles) away, or overcome the powerful and technologically advanced Israel Defense Forces.
Israel and Jordan agreed last month to install cameras on the Mount to monitor activities by Jewish and Muslim visitors to the holy site, known to Muslims as the Noble Sanctuary, in a bid to calm tensions that have helped drive the recent escalation in Palestinian attacks on Israeli civilians and soldiers. The 37-acre (15-hectare) compound in Jerusalem's Old City is a frequent flash point and its fate is a core issue at the heart of the Israeli-Palestinian conflict. It is the holiest site in Judaism, and was the home to the two biblical Jewish Temples. Muslims believe the site, the third holiest in Islam, is where the Prophet Muhammad ascended to heaven. Iran, Israel's archenemy, frequently expresses solidarity with the Palestinians and holds an annual "al-Quds (Jerusalem) Day" each year on the last Friday of the fasting month of Ramadan.
Catholic Church Facilitates Foreign Immigrant Invasion
Nov. 23….(Accuracy in the Media) In the face of President Obama's veto threat, members of Congress may not be able to pass legislation suspending or upgrading the program permitting refugees from Syria, the Middle East and North Africa to settle in the U.S. But the Republican Congress certainly has the power to hold hearings into the millions of taxpayer dollars being funneled through Catholic and other church groups to bring them here. Many Catholics and non-Catholics alike would like to know how "religious compassion," using federal money, is increasing the potential terrorist threat to America. You may recall that Pope Francis promoted the Obama administration's pro-immigration policies during his visit to the US. Left unsaid was the fact that the American branch of the Roman Catholic Church is getting millions of taxpayer dollars to settle refugees. According to their financial statement for 2014, the latest year for which figures are available, the United States Conference of Catholic Bishops received over $79 million in government grants to provide benefits to refugees. Simply stated, Congress can expose how the money is being spent and cut it off.
Some of the refugees being settled are Catholics from Latin America who join the church in the US But others are from the Middle East. Ironically, the Catholic Bishops are bringing Muslims in, while closing down Catholic churches inside the US. Ann Corcoran's Refugee Resettlement Watch website notes that Holy Trinity Roman Catholic Church in Syracuse, New York, was closed down by the Catholic Church and has been leased to an Islamic society which renamed it Mosque Of Jesus The Son Of Mary. "There are slim copper crescents where, for 100 years, there had been crosses," reports Marnie Eisenstadt of the Syracuse Post-Standard and Syracuse.com. She adds, "The six crosses were removed and replaced at the end of June. Four of them were massive: 600 pounds of concrete each, and more than 4 feet tall. The step was the last, and most visible, in the building's change from church to mosque."
The situation is even worse in Europe, where Islam is replacing Christianity as the dominant religion. The Catholic News Agency reports that only 2.9 percent of the French population actually practice the Catholic faith. That compares to 3.8 percent of the population that practice Islam. It is reported that as many as 150 new mosques currently are under construction in France. Nevertheless, in response to the recent wave of Muslims fleeing the Middle East, Pope Francis has appealed to Europe's Catholics, calling on "every" parish, religious community, monastery and sanctuary to take in one refugee family.
The Catholic Church in America would clearly prefer to bring immigrants into the US from Latin America, where Catholicism is still strong, and have them join Catholic churches in the US The Catholic Center for Applied Research in the Apostolate reports that 40 percent of all growth in registered parishioners in Catholic parishes between 2005 and 2010 was from Hispanic or Latino Catholics. But even with the massive immigration from Latin America, Catholic churches around the US are still being closed down. A group called Future Church reports that hundreds of parishes have been merged or closed in New York City, Philadelphia, Boston, Cleveland and many other urban and rural places. "Recently," the group reported, "the Archdiocese of New York merged or closed more than 70 parishes, often in the face of staunch opposition by committed parishioners. Pope Francis, during his US visit, stopped at Our Lady Queen of Angels School in East Harlem, where the Archdiocese closed the parish in 2007." Corcoran has recorded a popular video, sponsored by the Center for Security Policy, explaining the history of resettlement refugee policies and their connections to Muslim groups and the United Nations.
James Simpson's book, The Red-Green Axis: Refugees, Immigration and the Agenda to Erase America, notes that the Catholic Church has been a major component of the open borders movement. Many Catholic groups are proud of the federal dollars they receive, for purposes that go far beyond refugee resettlement. Overall, reports Network, the self-described Catholic Social Justice Lobby, "…the Obama administration has actually increased funding for Catholic nonprofit organizations and programs. In fact, more than $1.5 billion went to Catholic organizations over the past two years." These figures include an increase from just over $440 million (2008) to more than $554 million (2010) to Catholic Charities USA. In addition to direct federal grants to help refugees, government at various levels provide subsidized housing, healthcare, food stamps, other cash assistance, and free education. There is also a cost to the criminal justice system of taking care of the criminals among them.
It's the Catholic role, in collaboration with the federal government, in bringing refugees to the US that caused Corcoran to leave the church. She told Accuracy in Media, "In 2002, having been raised in a protestant faith, I became a Catholic. For a few years I loved being a Catholic. All of that changed beginning in 2007 when I learned that another church group began resettling mostly Muslim refugees to my rural county in Western Maryland. I learned that the church group was largely funded and directed by the US State Department to place the refugees in our county with no local input." She added, "But that is not everything I learned. My research led me to the US Conference of Catholic Bishops' acceptance of over $70 million a year of taxpayer dollars to similarly resettle thousands of impoverished third-worlders, many from Muslim countries, in other unsuspecting towns and cities. Catholic Charities throughout the US get many millions more to do the work as well." She says this kind of work by the Catholic and other churches is not Christian charity. "As harsh as it sounds," she says, "I look on it as thievery when a supposedly non-profit 'religious charity' helps itself to the US Treasury and then pats itself on the back for doing good works. And then lobbies Congress for more money for itself to boot!" Corcoran said she has found reporters reluctant to investigate the federal dollars going to the Catholic Church. "When talking with a reporter recently I was told by the reporter that he would never even have dreamed to look into where the US Bishops were getting their millions of dollars for their 'migration fund,' presuming it was from the personal charitable donations of good and generous Catholics in hundreds of parishes across the country," she said. "I suspect all those good Catholics never think to ask the question either, where are the millions coming from?" "Why aren't more reporters exposing the US Bishops deep pockets?" she asks. "And, why are our 'leaders,' even our budget hawks, in Washington not speaking up?"
WEEK OF NOVEMBER 15 THROUGH NOVEMBER 22
Who's fighting whom in Syria? Explained in 90 seconds
There has been an intense wave of Russian air strikes in two areas of Syria, activists say. Moscow says it is targeting jihadist groups like Islamic State in co-ordination with Syria's government. But Nato is worried some of the attacks are hitting rebel groups opposed to President Bashar al-Assad - some of whom are backed by the West. So just who is fighting whom in Syria? Jonathan Marcus explains.
Video produced by Mohamed Madi
Islamic State Threatens Attack on Washington
Nov. 16….(Reuters) Islamic State warned in a new video on Monday that countries taking part in air strikes against Syria would suffer the same fate as France, and threatened to attack in Washington. The video, which appeared on a site used by Islamic State to post its messages, begins with news footage of the aftermath of Friday's Paris shootings in which at least 129 people were killed. The message to countries involved in what it called the "crusader campaign" was delivered by a man dressed in fatigues and a turban, and identified in subtitles as Al Ghareeb the Algerian. "We say to the states that take part in the crusader campaign that, by God, you will have a day, God willing, like France's and by God, as we struck France in the center of its abode in Paris, then we swear that we will strike America at its center in Washington," the man said. It was not immediately possible to verify the authenticity of the video, which purports to be the work of Islamic State fighters in the Iraqi province of Salahuddine, north of Baghdad.
The French government has called the Paris attacks an act of war and said it would not end its air strikes against Islamic State in Syria and Iraq. French fighter jets launched their biggest raids in Syria to date on Sunday targeting the Islamic State's stronghold in the city of Raqqa. The operation was carried out in coordination with US forces. Police raided homes of suspected Islamist militants across France overnight following the Paris attacks. "Al Ghareeb the Algerian" also warned Europe in the video that more attacks were coming. "I say to the European countries that we are coming, coming with booby traps and explosives, coming with explosive belts and (gun) silencers and you will be unable to stop us because today we are much stronger than before," he said. Apparently referring to international talks to end the Syrian war, another man identified in the video as Al Karrar the Iraqi tells French President Francois Hollande "we have decided to negotiate with you in the trenches and not in the hotels."
Putin Told Assad 'Go or You'll be Made to Go
Nov. 16….(Times of Israel) Russian President Vladimir Putin has told his embattled Syrian counterpart Bashar Assad to either leave office and make room for a transitional government or be forced out, Israeli officials say. Putin delivered his ultimatum at a meeting between the two in Moscow on October 20, and comes as Russia joins other world powers in setting a timetable for a new Syrian government after nearly five years of civil war. Senior Israeli officials told The Times of Israel that Assad received a markedly chilly reception in Moscow, his first trip abroad since the insurgency broke out in February 2011, tearing Syria apart, killing more than 200,000 people and turning millions into refugees. Putin demanded that Assad and his associates enter negotiations with moderate elements in Syria on instituting a temporary government that would stay in place for about a year and a half until general elections can be held, the officials said. The meeting preceded this week's talks in Vienna between Arab and Western states on a possible political solution for war-torn Syria. One major point of contention concerns Assad's immediate future. The Iranians are demanding that Assad remain as Syrian president in any scenario, including during the period of a transitional government. But the Russians, who have historically backed Assad and have begun carrying out airstrikes in support of the regime, do not favor that idea and are prepared to see Assad being out during the 18-month transitional government.
The US, in contrast, at first demanded Assad's immediate resignation. But due to the current pressing need for intensive action against Islamic State in Syria, it is now prepared to see him gradually transfer powers to a transitional government and retire. One question that does need answering is who will be able to vote when elections are held in Syria. Will it be only the country's current residents, or will the millions of refugees in Jordan, Lebanon, Iraq, and even Europe be allowed to cast their ballot?
Assad's possible participation in future elections also poses a difficulty. As long as he insists of being a presidential candidate, the Americans and Saudis are opposed to elections. The Russians would agree to his participation but only if Assad first resigns as president during the period of the transitional government. The rocky dispute over Assad's future is complicating ties between Tehran and Moscow, despite the apparent coordination on Syria. While the Iranians are interested in a continuation of the air cover Moscow is providing for their actions on the ground, they don't want an increase of Russian control in the arena.
WEEK OF NOVEMBER 8 THROUGH NOVEMBER 14
Obama Demands Israeli Moves For PA State
Nov. 9….(Middle East Newsline) President Barack Obama, in a reassessment of policy, plans to press Israel to take unilateral and significant measures toward a Palestinian state. Aides said the president has discounted the prospect of renewed negotiations between Israel and the Palestinian Authority in 2016. They said Obama wants Israel to take measures on such issues as withdrawal from the West Bank, Palestinian control over Jerusalem and a Jewish housing freeze that could prepare for an eventual Palestinian state. "We've been doing a lot of work internally to try to think about, if we are in a period without negotiations, how we can still generate some direction and progress and hope that there is a pathway and steps that can be taken on the ground to reinforce that pathway toward a two-state solution even if negotiations will have to wait for some later period," US ambassador to Israel, Daniel Shapiro said.
In a conference call on Dec. 6, Shapiro and senior administration officials outlined the agenda of the Nov. 9 meeting between Obama and Israeli Prime Minister Binyamin Netanyahu. The White House officials said, Obama no longer expected a formal Israeli-PA agreement on a Palestinian state, and instead would press Netanyahu to take measures that would preserve the option. "There will not be a comprehensive final status agreement in the remainder of his [Obama's] term, and there likely may not even be meaningful negotiations between the two sides," National Security Council coordinator for the Middle East, Robert Malley, said. "Given that reality, which is a new one, how does the prime minister himself see Israel going forward, given its own interests in stabilizing the situation in preventing the emergence of a one-state solution." "So what ideas is he going to be putting through to the president so they can discuss what can be done in the absence of negotiations between the parties to help stabilize the situation on the ground and to signal, both Palestinians and Israelis to signal, that they are still committed to and moving towards a two-state solution even if they're not in a position today to talk to one another about it," Malley said.
WEEK OF NOVEMBER 1 THROUGH NOVEMBER 7
Knife-Wielding Muslim ID'd in campus attack
Nov. 5….(WND) An engineering student who went off on a stabbing spree Wednesday, wounding four people on the campus of U.C.-Merced before being shot and killed by police, has been identified as Faisal Mohammad. Mohammad was a freshman student residing in Santa Clara. Police have released almost no information about what appears to be a case of a Muslim attacker who tried to kill two students, a student counselor and a construction worker Wednesday morning. The attack occurred around 8 a.m. on the bustling college campus in the San Joaquin Valley about 120 miles south of Sacramento. Merced County Sheriff Vern Warnke confirmed the identity of the 18-year-old computer-science and engineering major who went on a stabbing rampage with a large hunting knife.
Police said they couldn't decipher a motive but Robert Spencer, an Islam expert and author of the JihadWatch blog, said it was pretty clear to him. "The Islamic State (ISIS) has been calling for jihad attacks by individual Muslims against individual infidels in the US," Spencer told WND. "Their claim to be the caliphate has been compelling enough for 30,000 young Muslims from around the world to travel to Iraq and Syria to join them, and for many others in Western countries to heed their calls for violence. Faisal Mohammad fits the profile of a young Muslim who would find that caliphate claim attractive and be willing to act upon ISIS' marching orders."
Mohammad was shot and killed by campus police as he ran from the two-story classroom building where police said his stabbing spree began. "He had a smile on his face, he was having fun," a construction worker who helped stop the attack told CBS 47. Police detonated his backpack and are testing a substance inside, KGO reports. The four victims are expected to survive. Warnke told the Merced Sun-Star that investigators, including the FBI, were "still trying to determine the motive" for Mohammad's attack.
But Pamela Geller, who survived an attack on a Muhammad cartoon drawing event earlier this year, said the motive should be obvious for anyone willing to cut through the political correctness of the day. Mohammad was armed with a hunting knife 8-10 inches long when he entered a second-floor classroom as class was starting Wednesday and struggled with a male student, stabbing him. "The knife jihad comes to America — like the knife attacks on Jews in Israel, and on hundreds of Chinese commuters by Chinese Muslims (Uighurs), secular bloggers and writers in Bangladesh, yesterday's knife attack on tourists in Morocco," Geller wrote at her blog, PamelaGeller.com. "It is a new wave of terror. It is worldwide. And it is all motivated by the same thing, the single motive that the West ignores: Islamic jihad," she added. "Smiling while stabbing."
The US has unfortunately seen yet another incident of 'individual jihad' said Clare Lopez, vice president for research and analysis for the Center for Security Policy. "A doctrinal obligation for all Muslims, the duty to attack infidels wherever they are becomes mandatory whenever 'infidels' 'occupy' so-called 'Muslim lands' anywhere in the world," she said. "Both al-Qaeda and the Islamic State repeatedly have urged faithful Muslims to use whatever weapons are at hand, knives, vehicles, or items from the kitchen to attack non-Muslims." Lopez also saw a possible connection with the barrage of knife attacks on Israelis in Jerusalem recently. "Perhaps in imitation of Muslim Arabs who've been attacking Israelis in recent weeks, the young Mohammed was one of those who heard and obeyed the call to kill," she said. "As the authorities quickly removed the young Muslim's social media pages from the Internet to obscure from public view what motivated him, it will fall to investigative reporters to seek out the influences from family, friends, imams, or his local mosque that impelled him to attempt murder," Lopez continued.
Right after the attack the dorm where Mohammad lived was evacuated and searched by the local bomb squad, reports the school newspaper, the Prodigy. One student who knew Mohammad's room mate said the suspect was "rarely ever in the room." Speaking to ABC Fresno, that room mate, identified as Andrew Velasquez, said Mohammad "didn't talk much and kept to himself." He added, "Every time I would try and say something he would just ignore it." The wounded included two students along with a female student advisor and a construction worker who was part of a remodeling detail. It was this construction worker, 31-year-old Byron Price, who is being described as taking heroic action to stop further carnage. He was working in a nearby room and heard a commotion, then intervened. Price told CBS 47, "It was a really big knife and he was swinging it down so I figured if I was on the ground and my feet were at him, he could get my legs and not my body." If it had not been for Price, "the first victim could have been a lot worse off, or even dead," Warnke said. "The cops on campus, oh my gosh, praise them because they stopped a threat, but this first guy, he stopped a death." Price drew the suspect's attention and was slashed around the waist during the confrontation. Price's co-workers drove him to Mercy Medical Center where he was treated and later released.
Detectives believe Mohammad then left the building and stabbed another male student outside. Warnke said the suspect ran out of the room after attacking the construction worker and ran down two flights of stairs to the outside. He then found the student adviser sitting on a bench and stabbed her twice, officials said. The suspect fled the building. He was shot and killed by pursuing campus police on a nearby foot bridge. All the victims were conscious when paramedics reached them, Assistant Vice Chancellor Patti Waid said. Lensy Maravilla, 19, a first-year student, said she was in a biology class on the second floor of the same building, when a female student ran in. Maravilla said the student "was crying hysterically and came in and said that she had seen somebody get stabbed, or slashed, in the throat and she ran."
Two university police officers chased Mohammad to a bridge on the campus, where he was shot and killed. The identities of those officers have not been released. One of the officers was placed on an automatic three-day leave from the department, a standard protocol in officer-involved shootings. One student remained hospitalized Thursday but was expected to recover and the other student was released after being treated, according to a statement from university spokeswoman Lorena Anderson. The student adviser, a member of the U.C. Merced staff, suffered a collapsed lung and was recovering Thursday after successful surgery, she said. The FBI and US Department of Homeland Security are involved in the investigation.