Follow Focus on Jerusalem on 'Twitter'
(FOJ note) You can actively follow hourly news, comments and articles on the Twitter link posted above.
The Newsroom will continue as always, but the Twitter link provides quick hot-button alerts.
WEEK OF JANUARY 24 THROUGH JANUARY 30
The Saudi secret kept by US Treasury for 41 years
Jan. 25….(Salt Lake Tribune) It's a secret of the vast US Treasury market, a holdover from an age of oil shortages and mighty petrodollars: Just how much of America's debt does Saudi Arabia own? But now that question, unanswered since the 1970s, under an unusual blackout by the US Treasury Department, has come to the fore as Saudi Arabia is pressured by plunging oil prices and costly wars in the Middle East. In the past year alone, Saudi Arabia burned through about $100 billion of foreign-exchange reserves to plug its biggest budget shortfall in a quarter-century. For the first time, it's also considering selling a piece of its crown jewel, state oil company Saudi Aramco. The signs of strain are prompting concern over Saudi Arabia's outsize position in the world's largest and most important bond market. A big risk is that the kingdom is selling some of its Treasury holdings, believed to be among the largest in the world, to raise needed dollars. Or could it be buying, looking for a port in the latest financial storm?
As a matter of policy, the Treasury has never disclosed the holdings of Saudi Arabia, long a key ally in the volatile Middle East, and instead groups it with 14 other mostly OPEC nations including Kuwait, the United Arab Emirates and Nigeria. For more than a hundred other countries, from China to the Vatican, the Treasury provides a detailed breakdown of how much US debt each holds. "It's mind-boggling they haven't undone it," said Edwin Truman, the former Treasury assistant secretary for international affairs during the late 1990s, and now a senior fellow at the Peterson Institute for International Economics in Washington.
Because relations were rocky and the US needed their oil, the Treasury "didn't want to offend OPEC. It's hard to justify this special treatment for OPEC at this point." For its part, the Treasury "aggregates data where more detailed reporting might disclose the positions of individual holders," spokeswoman Whitney Smith said in an email. While that position is consistent with the International Investment and Trade in Services Survey Act, which governs disclosures of investments made by foreign persons and governments, and shields individuals in countries where Treasuries are narrowly held, it hasn't kept the Treasury from disclosing figures for a whole host of other countries, large and small. They range from the $3 million stake held by the island nation of the Seychelles, to the $69.7 billion investment from the oil-producing economy of Norway, and those of China and Japan, which are both in excess of $1 trillion. Representatives for the Saudi Arabian Monetary Agency, known as SAMA, and the nation's finance ministry declined to comment.
Apart from the kingdom itself, only a handful of Treasury officials, and those at the Federal Reserve who compile the data on their behalf, have a clear picture of Saudi Arabia's US debt holdings and whether they're rising or falling. For everyone else, it's a guessing game. The special arrangement, born out of the 1973 oil shock following the Arab embargo, is just one small concession among many that successive US administrations have made over the years to maintain America's strategic relationship with the Saudi royal family, and its access to the kingdom's deep reserves of oil.
The exception extends to 12 other countries in the Treasury's oil-exporter group, all from the Middle East or Africa. Based on aggregate data released this week, that group has trimmed its stakes by a few billion dollars since March and held $289 billion as of November. Because its holdings are believed to be the largest, Saudi Arabia's moves have drawn scrutiny, particularly as other central banks in emerging markets sell Treasuries to raise cash in defense of their currencies. (The Treasury doesn't break out private and public holdings, but its disclosures say about two- thirds of foreign holdings are held by official institutions such as central banks.)
WEEK OF JANUARY 17 THROUGH JANUARY 23
Iran and the Nukes of Hazard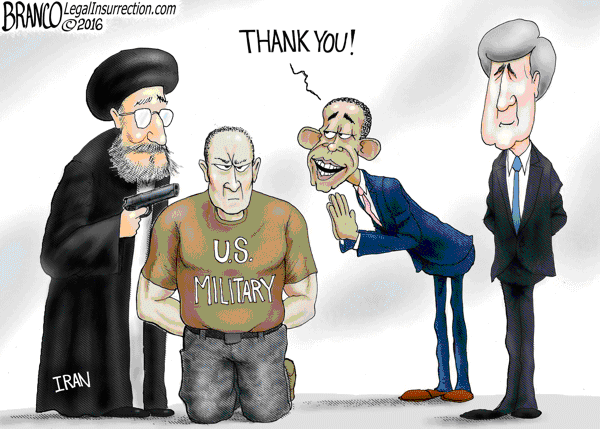 Jan. 20….(Tony Perkins)
While the president painted a rosy picture of national security at last night's speech, the headlines were doing anything but. On the same day that President Obama blamed conservatives for their "over-the-top" claims about America's terrorist threat, 10 Navy sailors were captured by Iranian forces and their ships searched. Even as the president spoke about the "political hot
air" of over
seas tension, the Iranian regime was exposing how foolish his assessment is. Not once did the president mention the incident, which Iranian Major General Hassan Firouzabadi vowed should be a "lesson to troublemakers in the US Congress."
Instead, as our own troops were in the custody of a murderous regime, the president rebuffed the notion that "our enemies are getting stronger and America is getting weaker." Fortunately, Iran wisely released the sailors, setting up an even more interesting backdrop to the House debate over sanctions, which the president's dangerous deal could lift as early as next Monday. Meanwhile, Speaker Paul Ryan (R-Wisc.) is working on the House's response to the agreement with quick action on the Iran Terror Finance Transparency Act. Under the measure, which passed out of the chamber 191-106 today, Congress would have more oversight over the nuclear deal. Essentially, it would keep frozen the US assets of certain people and financial groups until the administration certifies that they aren't involved in Iran's missile program or have terrorist ties. President Obama has bitterly decried the bill, saying it could destroy the unpopular deal with Iran. Congressmen Ed Royce (R-Calif.) certainly hopes so. "We're all relieved to learn this morning that the sailors have been released," Royce said. "I'm sure it's occurred to many of us, that if Iran behaves this way now, in a few days when it gets its hands on this bankroll, what other actions are we going to see?" We all shudder to think - which is why Americans should be contacting their congressional members and encouraging them to support this bill!
Iran Sanctions: Middle East Stock Crash Wipes £27bn off Markets as Tehran Enters Oil War
(Prospect of the Islamic Republic pumping an additional 500,000 barrels a day sends stock markets in Dubai and Saudi Arabia into tailspin)
Jan. 18….(Telegraph) Stock markets across the Middle East saw more than £27bn wiped off their value as the lifting of economic sanctions against Iran threatened to unleash a fresh wave of oil onto global markets that are already drowning in excess supply. All seven stock markets in the Gulf states tumbled as panic gripped traders. London shares are now braced for a second wave of crisis to hit when they open on Monday morning after contagion from China sent the FTSE 100 to its worst start in history last week.
Dubai's DFM General Index closed down 4.65pc to 2,684.9, while Saudi Arabia's Tadawul All Share Index, the largest Arab market, collapsed by 7pc intraday, before recovering to end down 5.44pc at 5,520.41, its lowest level in almost five years. The Qatar stock exchange, fell 7.2pc to close at 8,527.75, and the Abu Dhabi Securities Exchange shed 4.24pc to finish at 3,787.4. The Kuwait market returned to levels not seen since May 2004 as it slid 3.2pc lower, while smaller markets in Oman and Bahrain dropped 3.2pc and 0.4pc respectively. The Iranian stock index gained 1pc, making it one of the best performing markets in the world with gains of 6pc since the start of the year.
The dramatic moves came following the historic report from the UN nuclear watchdog, which showed that Iran has met its obligations under the nuclear deal, clearing the way for the lifting of sanctions. The Vienna-based International Atomic Energy Agency issued the landmark document late on Saturday evening, sparking mayhem as markets opened on Sunday, the first day of trading in the Middle East. The stock markets in Dubai and Saudi Arabia have been plunged into a painful bear market, losing 42pc and 38pc respectively, ever since Saudi Arabia decided to ramp up oil production in November 2014. Oil prices fell below $30 for the third time last week as traders prepared for the prospect of Iranian oil flooding global markets.
The Islamic Republic has vowed to return its oil production to pre-sanction levels that stood above 3m barrels a day. "The oil ministry, by ordering companies to boost production and oil terminals to be ready, kicked off today the plan to increase Iran's crude exports by 500,000 barrels," the official Islamic Republic News Agency reported on Sunday, citing Amir Hossein Zamaninia, deputy oil minister. Fears that the Islamic Republic could quickly ramp up production sent Brent crude falling by 3.3pc to $29.43 on Friday, matching lows last seen in 2004.
West Texas Intermediate also slipped back to $29.60, a decline of 4.5pc. Standard Chartered became the latest bank to raise fears over the oil price by downgrading its outlook to $10, following the likes of Goldman Sachs, RBS and Morgan Stanley.
WEEK OF JANUARY 10 THROUGH JANUARY 16
Jan. 11….(DEBKA) Russian air raids over Syria were seen to have tapered off in the first 10 days of the New Year to their lowest level since the onset of Moscow's major intervention in Syria in late September, intelligence sources report. The slowdown was not officially reported or explained. But our sources point to three likely causes:
1. The Russian Air Force conducted an exceptionally intensive series of aerial strikes over northern and southern Syria in the course of December. This may have caused too many technical problems for the overtaxed ground crews to keep up with the necessary maintenance work.
2. Winter conditions in the region are subject to extreme and rapid change, often swinging between snow storms and warm air currents in the space of a few hours. Russian air and ground crews alike are finding it hard to adjust to Middle East weather.
3. The first days of January are Russia's traditional holiday season. The Eastern churches celebrate Christmas on Jan. 7. Air crews may have decided to take a break from combat missions.
In case the slowdown was misinterpreted in the West, the Russian high command published a set of statistics Monday, Jan. 11 that painted a picture of intense activity. In the first ten days of 2016, the Russian Air Force was said to have conducted 311 air strikes against 1097 targets.
The communiqué also noted that the first Syrian Air Force MidG-23 fighter plane was able to land at Hama air base. This central Syrian facility had been inactive for months because it was under rebel artillery fire and was now restored to full operation, thanks to Russian air bombardments of rebel forces. From Hama, the Syrian army is now back in command of the Rte 5 highway linking Aleppo to Damascus, opening up for Syrian, Hizballah and pro-Iranian militia armies their only road link and supply route between central and northern Syria.
The recovery of Hama also provides a shield for defending Latakia, President Bashar Assad's main power base. Western intelligence experts estimate that the air strike statistics offered by Moscow are exaggerated. They tie the operation for the relief of the Hama air base with a project about to be launched by the Russian command from its base outside Latakia, namely, the transfer of Russian air force and special operations officers and forces teams to the Palmyra area, in readiness for an offensive to seize all the Syrian air facilities to the west of the town from ISIS control.
Russian tacticians in Syria appear to be focusing now on pushing rebel and Islamic State forces out of all the airfields they have captured, in order to get the Syrian Air Force flying and bombing again, and so ease the burden on the Russian flight crews in Syria.
---