Follow Focus on Jerusalem on 'Twitter'
(FOJ note) You can actively follow hourly news, comments and articles on the Twitter link posted above.
The Newsroom will continue as always, but the Twitter link provides quick hot-button alerts.
WEEK OF
FEBRUARY 21 THROUGH FEBRUARY 27
Netanyahu Might Not Have Easier Time With 'President' Hillary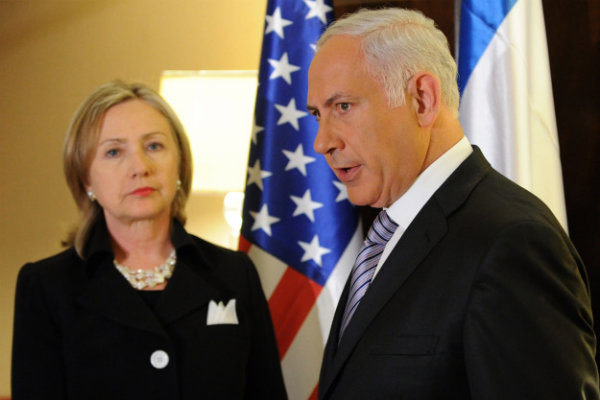 Feb. 22….(Israel Today) There has been muted hope in Israel that no matter who wins the upcoming US presidential election, the result will surely be healthier relations that those with the Obama White House. But the latest publication of emails written by Hillary Clinton during her time as Secretary of State suggests, again, that should she win, the present hostility from Washington toward the Netanyahu government could persist. The email that most caught Israel's attention was a transcript of a telephone conversation between Clinton and Netanyahu. The subject line reads "Very rough," but after the initial greetings, the entire conversation is redacted and marked as classified. Another email references the ouster of former Israeli National Security Adviser Uzi Arad, and his claims in the Hebrew press that he was forced out amid allegations that he had leaked sensitive information to foreign powers. Apparently eager to give Netanyahu a black eye, Clinton instructed one of her aides: "You should get whole, translated article. US press should report asap." The aide noted to Clinton that Netanyahu had attempted to sweep the story under the rug with "a story published by the Jerusalem Post, right-wing Likud organ," before exclaiming, "Holy Moly! What more can you find out about this and why Arad had to resign?"
Franklin Graham: World Events Reflect That Jesus is Coming SOON
Feb. 22….(Christian Post) Evangelical preacher the Rev. Franklin Graham has said that international news headlines indicate the world is unraveling, and urged people to trust Jesus Christ, who is going to one day "wipe the slate clean." "While the United States is focused on its own politics, the world is unraveling. The danger signals are everywhere. Beheadings, rapes, murders, bombings are taking place every day across North Africa through the Middle East, all the way to the borders of India," Graham wrote. "The US military is deploying fighter aircraft to Finland to counter Russia's moves in that region; China is deploying missiles on an artificial island they have built in the south China sea over the objections of the international community; and North Korea has successfully test fired a long-range missile that has the potential of eventually reaching America with a nuclear bomb," he noted of some of the international news developments in recent times.
The son of famous evangelist Billy Graham, who heads Christian relief organization Samaritan's Purse, said that all of the global political and economic instability shows that the only hope for the world is "Almighty God."
"One day He is going to wipe the slate clean and 'create new heavens and a new earth: and the former shall not be remembered, nor come into mind,' (Isaiah 65:17). For those who have trusted His Son Jesus Christ by faith, there is an eternal future with Him to look forward to," he continued.
Graham has been outspoken
about world issues
, such as the ongoing persecution and genocide of Christians in the Middle East at the hands of the Islamic State terror group, and has urged President Obama to recognize the severity of the issue. "Mass murder, crucifixions, beheadings, enslavement, rape, destruction of churches, theft of lands and wealth, and forcible conversion to Islam, all are horrors that Christians in the Middle East are experiencing," Graham said back in December, insisting that Obama officially recognize the treatment of Christians as a genocide. "ISIS doesn't want to co-exist with Christians, it wants to eliminate them," he added. "This is genocide against Christians, and their lives do matter." Graham has been highly vocal about the 2016 presidential elections as well. While Graham has not endorsed a candidate, he has warned Christians that they might
"lose this country"
unless they get out and vote.
America is being stripped of biblical heritage
," Graham said last week while speaking at the State House in Columbia, South Carolina, encouraging believers to "vote for candidates who stand for biblical truth and biblical principles, and are willing to live them." "I want to get to as many Christians as I can to vote in the next election," he added, speaking of his Decision America Tour. "Our country is going in the wrong direction. And I think some of the politicians that are running have tapped into the anger and the frustration in this country. And I want Christians to know that their vote does count and we've taken God out of government, schools and everything else and we need to get God back into it," Graham insisted.
Assassination Attempt on Netanyahu Averted
Feb. 22….(Israel News) A
Hamas
terror cell operating out of Jerusalem had been planning a
mass casualty attack
with the added goal of
assassinating
Prime Minister
Benjamin Netanyahu
, Hebrew-language news site

Walla!

reported

Sunday

. Although indictments were filed last month in the case, the details were only recently cleared for publication. The cell consisted of six members, with direct support from operatives in Gaza. Cell leader Ahmed Azzam, originally from Kfar Yussuf but living in Abu Dis, revealed during interrogation that the group had planned to detonate a bomb at Jerusalem's Great Synagogue or Payis Arena during a speech by Israel's leader.
According to the website, the cell had already secured a safe house in Abu Dis, a Palestinian town within Jerusalem, and amassed chemicals needed to build the explosive, such as potassium, hydrogen peroxide and fertilizer. Under interrogation, Azzam revealed that he had first become interested in conducting a terror attack on behalf of Hamas while in an Israeli jail. In August, he established contact with one Abu Omer, a Hamas representative in Gaza, who provided support and direction. In November, he
recruited
22-year-old Hizzam Sanduka, nicknamed "The Mechanic" for his knowledge of vehicles. Sanduka was responsible for the bomb placement. It was also he who selected Netanyahu as a potential target. Working with a partner, he obtained the necessary components from Jerusalem-area nurseries and pharmacies. As a resident of Jerusalem's Old City, he was able to use a car with yellow Israeli license plates, which made it easier to get around without arousing suspicions, but Sanduka told investigators he still drove to Jaffa after purchasing his supplies to verify whether or not he was being followed.
Sanduka had also worked as a guard in an Israeli security company, and had been stationed in the past at the Arena, and thus intended to use his connections to gain access to the final target. Since he had been part of the team which built the stage in the Arena, he had considered it an ideal opportunity to plant the bomb, with the intention of taking out the Israeli leader and those closest to him. He told investigators the only reason he had not planted explosives at the time was that he did not have the knowledge or means to prepare them.
Sanduka also recruited Fahdi Abu Kia'an,19, a Bedouin from southern Israel, known to be a supporter of the

Islamic State (ISIS). The cell debated a variety of terror methods, including kidnappings and

suicide bombings. At one point, Azzam asked Sanduka to obtain a larger vehicle in order to smuggle more supplies, as well as potential suicide bombers, into Israel. The cell members also considered different targets, such as Malcha Mall or the port in Jaffa, where the carnage would be highest. Indictments have been handed down against Sanduka and Kia'an so far, and another one was filed by the military prosecutor against 25-year-old Azzam.
WEEK OF
FEBRUARY 7 THROUGH FEBRUARY 14
Obama Backtracks on Israel Defense Package Promised to Counter Iran Nuclear Deal
Feb. 8….(DEBKA) US President Barack Obama has retracted on his pledge of an extra defense package to compensate Israel for the damage caused its security by the nuclear deal concluded with Iran last year. This flat refusal, reported here by debkafile's Washington sources, confronted Israeli officials when they met last week with heads of the National Security Council at the White House. Asked to define its new requirements, Israel asked the administration for an additional $1.9 billion, which would have upped the total to $5 billion per annum for the next five years. The officials explained that Israel's defense bill had been inflated substantially by the new perils looming from the current Middle East wars, and the windfall Iran had gained from the lifting of sanctions for its advanced ballistic missiles programs and for enhancing its allies' aggressive capacity, especially that of Hizballah.
Israel is now beset additionally by adverse Russian military operations in southern Syria and looming ISIS threats on multiple fronts, at a time that the Arab states are stuffing their armories with advanced weapons from Russia and China.
The US officials explained that, because of cutbacks in US defense spending, it would not be possible to add a single dollar to Israel's regular $3.1 billion appropriation. After notifying Prime Minister Binyamin Netanyahu and Defense Minister Moshe Ya'alon of this refusal, the Israeli delegation was advised to reduce its application to $900 million. This too was refused. The standing $3.1 billion annual US assistance program for Israel expires at the end of 2016. The negotiations taking place currently were to have covered its extension for ten years. That too is in doubt.
In his report to the cabinet meeting
Sunday, Jan. 7
, the prime minister said that if Israel's security needs were not met, he would not sign a deal and would prefer to wait for the next US president to take office in January 2017. Although Netanyahu did not say so explicitly, this issue will no doubt play into the election campaign for the next American president. The prime minister hopes that the leading candidates, whether Democrats or Republicans, will be more forthcoming about Israel's defense needs.
US officials reacted angrily to Netanyahu's comment, warning that the US budgetary situation would not improve and that Israel would not find a president more committed to its security than Barack Obama. This is the line customarily taken by the president and Secretary of State John Kerry when issues come up with the Netanyahu government.
Moshe Ya'alon is due to visit Washington in March for talks with Defense Secretary Ashton Carter and will no doubt try to soften the US refusal. Our sources report that the Secretary has been advised by the White House not to make any concessions. Towards the end of March, Netanyahu had arranged to attend the conference of the pro-Israeli lobby AIPAC. That is no longer certain. And even if he does go to Washington, there is no telling if he will ask to see the president for a last-ditch bid for the extra military assistance.
WEEK OF FEBRUARY 1 THROUGH FEBRUARY 7
Oba

ma Will

Visit a US Mosque Wednesday
Feb. 01….(Daily Caller) President Obama will make the first visit during his presidency to a US mosque, the White House announced Saturday, part of the administration's push to promote religious tolerance at a time when rhetoric linking Islam with terrorism is growing. On Wednesday, the president will visit the Islamic Society of Baltimore, a sprawling community center in the city's western suburbs that serves thousands of people with a place of worship, a housing complex and schools. It is one of the Mid-Atlantic region's largest Muslim centers and describes itself as aspiring "to be the anchor of a growing Muslim community with diverse backgrounds, democratically governed, relating to one another with inclusiveness and tolerance, and interacting with neighbors in an Islamic exemplary manner."
The president is making the visit "to celebrate the contributions Muslim Americans make to our nation and reaffirm the importance of religious freedom to our way of life," a White House official wrote in an email Saturday. "The President believes that one of our nation's greatest strengths is our rich diversity and the very idea that Americans of different faiths and backgrounds can thrive together, that we're all part of the same American family. As the President has said, Muslim Americans are our friends, and neighbors; our co-workers, and sports heroes, and our men and women in uniform defending our country."
At the Islamic Society, the president will hold a roundtable discussion with community members, the official said. The visit will be part of the tightrope-walking Obama has done during his presidency around Islam. For years, Muslim Americans have lobbied him to visit a mosque, citing Islamophobia. At the same time, a segment of Obama's critics have said since he took office that he is a Muslim pretending to be Christian, and that he plays down the religious aspect of Muslim extremism. Recent polls show that 29 percent of Americans and nearly 45 percent of Republicans think he is a Muslim. The visit comes in the last year of his presidency.
Mr. Obama has increasingly spoken out against the anti-Muslim rhetoric. "When politicians insult Muslims, whether abroad or our fellow citizens, when a mosque is vandalized, or a kid bullied, that doesn't make us safer," he said during his State of the Union address this month. "That's not telling it like it is. It's just wrong. It diminishes us
in the
eyes of the world. It makes it harder to achieve our goals. It betrays who we are as a country."
The president is making the visit "to celebrate the contributions Muslim Americans have made to our nation
and reaffirm the importance of religious freedom to our way of life," a White House official wrote in an email Saturday. "As the President has said, Muslim Americans are our friends, and neighbors; our co-workers, and sports heroes — and our men and women in uniform defending our country."
The Baltimore mosque President Obama has chosen as the first US

-based mosq

ue to visit during his presidency has deep ties to extremist elemen

ts, includin

g to the Muslim Brotherhood.
The White House announced on Saturday that Obama will visit the Islamic Society of Baltimore (ISB) on Wednesday. He has visited several mosques overseas as president but has resisted visiting one in the homeland. The purpose of the trip, according to the White House, is to "celebrate the contributions Muslim Americans make to our nation and reaffirm the importance of religious freedom to our way of life."
But ISB is a curious choice for Obama's first domestic visit.
The mosque is a member of a network of mosques controlled by the Islamic Society of North America (ISNA), a Muslim civil rights group named as an unindicted co-conspirator in the 2008 Holy Land Foundation terror case. Several executives with that organization were convicted of sending money to aid the terrorist group Hamas.
An imam who served at ISB for a total of 15 years has also been a leading member of the Muslim Brotherhood network and has worked for an Islamic relief group that was designated as a terrorist organization by the Treasury Department in 2004. Mohammad Adam el-Sheikh, who served two stints as ISB's imam, from 1983 to 1989 and from 1994 to 2003, was a member of the Muslim Brotherhood in Sudan in the 1970s. He also co-founded the Muslim American Society, a Falls Church, Va.-based group that is controlled by the Muslim Brotherhood. While in Baltimore, el-Sheikh served as a regional director for the Islamic American Relief Agency. That group's parent organization is the Islamic African Relief Agency, which
the Treasury Department says
provided funds to Osama bin Laden, al-Qaeda, Hamas and other terrorist organizations. After leaving Baltimore, el-Sheikh served as imam at the infamous Dar al-Hijrah Islamic Center in Falls Church. That mosque has a lengthy roster of known terrorists and terrorist sympathizers. Its imam during much of the 1990s was Mohammed al-Hanooti. He was named an unindicted co-conspirator in the 1993 World Trade Center bombing, which killed six people.
Dar al-Hijrah came under the control of Anwar al-Awlaki in 2001. He's the American al-Qaeda recruiter who was killed in a US drone strike in 2011. Nidal Hasan, the US Army major who killed 13 people at Fort Hood in Nov. 2009, is said to have attended the Virginia mosque when al-Awlaki served there. The pair also reportedly exchanged emails. Two of the 9/11 hijackers also attended Dar al-Hijrah during al-Awlaki's tenure.
El-Sheikh took over at Dar al-Hijrah in Aug. 2003, a little over a year after al-Awlaki left.
While there he defended Palestianian suicide bombings against Israel.
---