Follow Focus on Jerusalem on 'Twitter'
(FOJ note) You can actively follow hourly news, comments and articles on the Twitter link posted above.
The Newsroom will continue as always, but the Twitter link provides quick hot-button alerts.
WEEK OF JULY 24 THROUGH JULY 31
Palestinians to Sue Britain Over 1917 Balfour Declaration
July 26….(Jerusalem Post)
The Palestinians have called on the Arab League to help them prepare a legal file against the British government for issuing the
Balfour Declaration
almost 100 years ago. Palestinian Authority Foreign Minister Riyad al-Maliki spoke of the impact of that 1917 document, the first to formally recognize the Jewish right to a homeland, in a speech he delivered on behalf of PA President Mahmoud Abbas at the 27th Arab League Summit in Nouakchott, Mauritania
on Monday
evening. "With the coming of this painful anniversary, the passing of approximately 100 years since the historic massacre of our land and our people's fates, and with the continuation of this catastrophe without a resolution, we call on the secretariat general of the Arab League to support us in preparing a legal file to raise against the British government for issuing the Balfour Declaration and thereafter implementing it as a mandatory authority," Maliki said.
Maliki then proceeded to thank Arab countries and other states, who have supported the Palestinian issue. "Our people will not forget the good countries and peoples, especially our Arab brothers and many other friendly countries, who extended and still extend their hands in supporting, standing beside, and embracing our people in its trials and tribulations," he said. In a separate context, Maliki affirmed that Arab states should not normalize relations with Israel before the establishment of a Palestinian state. "We warn Arab states of the concept of 'regional cooperation and security', which is aimed at creating regional security cooperation between Arab countries and Israel and normalizing relations before the end of the Israeli occupation," he stated.
Maliki also said that the Palestinian leadership supports an independent Palestinian state along 1967 borders. "The time has come, before its too late, to galvanize Arab and international support to enable our people to achieve its freedom and independence, establishing an independent Palestinian state along June 4, 1967 borders," he said. Since the failure of the last round of negotiations in May 2014, the Palestinian leadership renewed a international campaign to achieve statehood.
Russian Arms
for Hizballah Cross Israel's Red Line
Russian Forpost UAV asrd on Israel's Searcher drone
July 25…..(DEBKA) President Vladimir Putin turns aside all Israel's complaints about Russian arms supplies to Iran's Lebanese proxy, Hizballah, whenever he talks to Prime Minister Binyamin Netanyahu,

roughly every week-to-ten days. The issue is also raised without results by Israeli officials on trips to Moscow, including the visit by Yossi Cohen, Director of the Mossad, to the Russian capital on July 1.
Nonetheless, Netanyahu persisted in complaining again about the Russian arms reaching the Lebanese terrorist group in his latest phone conversation with Putin on Saturday, July 23. He made the call,

debkafile

military sources say, primarily to raise another topic at issue, the UAV (Unmanned Aerial Vehicle) flights from Syria into Israeli airspace on July 17. After their conversation, the Kremlin issued a bland statement saying that the two leaders discussed issues related to the war on terrorism, and that both agreed to continue the ties between the countries at "various levels."
Our military sources report that the conviction gaining ground now among IDF intelligence (AMAN) and Air Force chiefs is that the drone was not Iranian or Hizballah's but Russian. They take a grave view of the episode - especially when the unmanned aircraft, which hovered for some hours over the Golan and northern Israel, appears to have been a "Searcher," the reconnaissance drone developed by Israel and manufactured by Russia as "Forpost" under Israeli license.
Moscow is making use of the sophisticated Forpost UAV for surveillance and intelligence-gathering in Syria, Ukraine and terrorist targets in the Caucasian mountains.
If IDF chiefs are correct, then a Russian drone developed by Israel was used to spy on Israel after it was launched from an Iranian or Hizballah base in the Syrian Qalamun Mountains.
This action crossed more than one Israeli red line. Adding insult to injury, the drone's electronic jamming devices were activated to disarm the missiles and aircraft Israel scrambled to intercept it.
.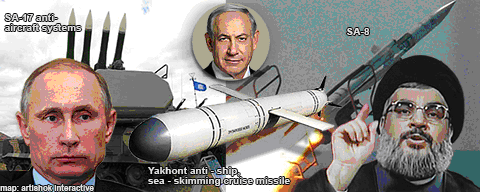 This issue is a further irritant on top of the Russian arms supplies to Hizballah, which elude Israel's efforts to interrupt them by two covert tactics:
1. Russian weapons consignments to the Syrian army are in excess of the recipient's requirements; the surplus is secretly diverted to the Hizballah. Israeli air strikes only smash the Iranian and Syrian weapons convoys known to be heading out of Syria to Lebanon on the strength of data provided by Israeli military intelligence (Aman). But the traffic missed by Aman goes through to its destination. By this tactic, our military sources report, Hizballah has succeeded in basing most of its fighting units, not only in Syria, but also in Lebanon, on Russian weaponry, last year, at a battalion level; by June 2016, including company level. Their hardware is not limited to personal side-arms from Russia, but also anti-aircraft and anti-tanks missiles.
2. The Russian military industry is the main supplier of raw materials for Syria's arms manufacture, including missiles. Without this assistance, the Assad regime would not have been able to manufacture the Scud C mid-range ground-to-ground missiles or the Fateh-110 missiles. Some of these made-in-Syria missiles are quietly consigned to the Hizballah. Our sources have found that Putin habitually acts surprised and feigns ignorance whenever Netanyahu raises the issue of the Russian weapon supply to the Hizballah. He then promises to look into Israel's complaint and get back to him with an answer. Weeks go by and the Russian president informs the prime minister that the thorough examination he ordered found no evidence of any Russian military or civilian body supplying Hizballah with weapons.
Netanyahu shows his disbelief and continues to raise the issue each time he speaks with Putin.Meanwhile, the Russian arms supply to Hizballah goes on with Israel constrained from interfering.
Debkafile:
These occurrences demonstrate that the military and intelligence relations between Israel and Russia are in fact a far cry from the
entente cordiale
presumed in Israel and Western capitals. Indeed, working relations are handicapped by the effect of such incidents to erode even the limited understanding the two leaders reached to coordinate military intelligence and air force operations in the Syrian arena.
WEEK OF

JULY 17 THROUGH JULY 23
In Turkey, Erdogan Locks Up US Airmen, Nuclear Arms in Incirlik
July 21….(DEBKA) Some 1,500 US airmen and their families have been locked in the southern Turkish air base of Incirlik together with a stock if tactical nuclear bombs since President Reccep Erdogan crushed an attempted coup on Saturday, July 16. In the four days up until Wednesday, July 20, therefore, no air strikes against ISIS in Syria and Iraq have been staged that Turkish base.
This extraordinary situation, reported here by

debkafile's military sources, whereby a large group of American military personnel are held virtual captive by an allied government, was almost certainly raised in the phone call that took place

Tuesday

between President Barack Obama and Erdogan. But the most outlandish aspect of this affair is that no American official has raised it in public, nor even by the administrations most vocal critics at the Republican convention which nominated Donald Trump as presidential candidate.
The situation only rated a brief mention in some Russian publications under the heading: "Turkish investigators enter & search Incirlik air base where US nukes are housed." Our military sources report that deep bunkers located near the base's running strips house B61 tactical nuclear gravity bombs.
In the course of the massive sweep-cum-purge Erdogan is conducting in every corner of the country, hundreds of police officers accompanied by Ministry of Justice and Attorney General Office investigators are the only people permitted to enter the strategic air base, and only emergency cases may leave, after coordinating with the Turkish authorities.
The base is under virtual siege by large police contingents, cut off from electric power for several days except for local generators which will soon run out of fuel. This pressure appears to be Erdogan's method of turning hundreds of Americans on the base into hostages to force Washington into extraditing Fethullah Gulen, whom he accuses of orchestrating the failed coup from his place of asylum in Pennsylvania.
The victims of Erdogan's strategy of extortion are several US units deployed in Incirlik under squadron command. They include engineering, communication, logistics, air control, a military hospital with medical and operational facilities, air transportation and more.
The Turkish squadron and base commander, Brigadier Gen. Bekir Ercan, is under arrest, suspected of a senior role in planning and executing the coup, by assigning the aircraft and helicopters to support it, responsibility for the disappearance of a large number of aircraft and aiding the defection of air crews to Greece.
He is one of the more than 6,000 military personnel including fellow generals arrested on suspicion of active complicity in the coup plot.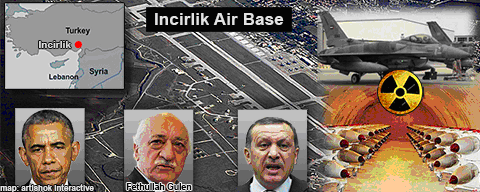 By Wednesday more than 50,000 people had been rounded up, sacked or suspended from their jobs by Turkey's government in the wake of last week's failed coup, including 9,000 police officers, the suspension of about 3,000 judges and widening

Tuesday

to include teachers, university deans and the media who are accused of links with Gulen.
However, fears for the fate of the US airmen trapped in Incirlik and the tactical nukes were exacerbated by the comments of two top officials of the Erdogan regime

Tuesday

.
Turkish Prime Minister Binali Yildirim insinuated that the Americans may be viewed as partners, at least passive ones, in the conspiracy, in view of the use the plotters made of Incirlik for sending aircraft based there and arming them for the missions of intercepting the President's airplane (which was never realized) and bombing the Parliament building in Ankara (which was).
The Turkish Labor Minister, Süleyman Soylu, was more explicit: "This coup has America behind," he twitted in his Twitter account. The Obama administration's caution over the scary Incirlik impasse appears to derive from trepidation, shared by Riyadh, Cairo and Jerusalem, that the autocratic Turkish ruler's Stalinist purge reaching into all branches of government and all walks of Turkish society is part and parcel of a comprehensive Muslim revolution underway in Turkey. An incautious word from Washington may quicken the process.
WEEK OF

JULY 10 THROUGH JULY 16
July 15

….(Israel Today)
US Republican presidential candidate Donald Trump
on Wednesday
declared on Twitter that the party's platform is now more pro-Israel than it has ever been. Indeed, the Republican Party's Platform Committee did make surprising policy changes that no previous candidate would or could have represented.
The new platform erases all reference to a "two-state solution" and utterly rejects "the false notion that Israel is an occupier." It further states that Jerusalem is the "indivisible" capital of the Jewish state. "Our party is proud to stand with Israel now and always," that portion of the Republican platform concludes. The changes must still be approved by the full Republican National Convention. Hours later, Trump again took to Twitter to ask, "Is President Obama trying to destroy Israel with all his bad moves?"
It remains surprising to most (at least those who don't read the Bible) how such a small country embroiled in a relatively minor conflict could be such an important plank in the platforms of the two parties contesting the most influential job in the world.
---