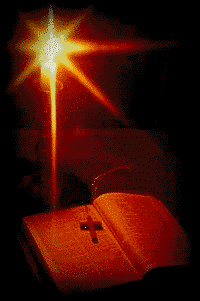 THE SUBTLY DECEIVED CHURCH IS A CHURCH THAT HAS FALLEN AWAY FROM EVEN THE MOST BASIC, FUNDAMENTAL TRUTHS, ROOTED IN ABSOLUTE UNCHANGEABLE AND ESSENTIAL DOCTRINES OF THE CHRISTIAN FAITH, WHEREBY THE FALLING AWAY FROM THESE STANDARDS DENOTE A CHURCH HEADING ULTIMATELY INTO APOSTASY.
LIST OF ESSENTIAL BIBLE DOCTRINES FOR CHRISTIANITY
1. THE ABSOLUTE HOLY SPIRIT INSPIRED REVEALING
AND PRESERVATION OF GOD'S UNCHANGING WORD
2. THE BIBLICAL ACCOUNT OF CREATION
3. THE FALL OF MANKIND
4. THE VIRGIN BIRTH
5. THE RESURRECTION
6. THE FREE GIFT OF SALVATION, BEING NOT OF WORKS
7. THE ABSOLUTE DEITY OF CHRIST
8. THE LITERAL SECOND COMING OF CHRIST
POPE JOHN PAUL II HAS FORMALLY PROCLAIMED THAT THE BIBLICAL ACCOUNT OF CREATION AND THE THEORY OF THEISTIC EVOLUTION ARE IN COMPATIBILTY. THEISTIC EVOLUTION TEACHES THAT GOD MERELY INNIATED THE SUBSTANCES FOR LIFE, AND THAT HE SIMPLY OVERSAW THEIR GRADUAL EVOLUTION. HEBEWS 11:33 AND PSALMS 33:6 WOULD INDICATE THAT THE INFALLIBLE POPE IS IN ERROR! ANY CHURCH TEACHING THEISTIC EVOLUTION IS SUBTLY DECEIVED.
ARCHBISHOP OF CANTERBURY GEORGE CAREY PROCLAIMED IN AUGUST OF 1999 THAT THE RESURRECTION OF JESUS COULD NOT BE PROVEN AND THAT IT WAS IRRELEVANT TO THE RELIGION OF CHRISTIANITY. THE RESURRECTION OF JESUS IS IN FACT A MOST ESSENTIAL DOCTRINE OF BIBLICAL CHRISTIANITY.
( THE SCRIBES AND PAHRISEES SAID THE SAME THING )
( SEE MARK 12:18 AND MATT. 22:23 )
PAUL PREACHED A LITERAL RESURRECTION ( ACTS 17:18 & I COR 15:12 ) ISAIAH 40:22 INDICATES THAT THE OLD PROPHET KNEW THE EARTH WAS ROUND 2,700 YEARS BEFORE NASA CAME ALONG AND VERIFIED IT, AND 2,100 YEARS BEFORE AN INFALLIBLE POPE EXCOMMUNICATED GALILEO FOR MAKING SUCH A SUGGESTION. COLUMBUS USED THIS SCRIPTURE TO USE HIS FAITH TO REACH EAST BY SAILING WESTWARD.
JOB 26:7 RECORDS THAT THE EARTH WAS SUSPENDED IN SPACE.
ISAIAH 44:12 SHOWS THAT IT WAS GOD THAT STRETCHED OUT THE COSMOS
ECCLESIASTES 1:7 PORTRAYS THE HYDROLOGICAL CYCLE THOUSANDS OF YEARS BEFORE IT WAS DISCOVERED BY SCIENCE.
THE DEFENDABILITY OF THE BIBLE IS AN EXACT SCIENCE
IT SEEMS THAT MODERN MAN IS EVER LEARNING AND YET NEVER ABLE TO COME TO THE KNOWLEDGE OF THE TRUTH. SADLY, THE CHURCH FEELS COMPELLED TO BELIEVE SCIENCE AND MYTH OVER THE DOCTRINAL TRUTHS OF THE BIBLE. SUCH COMPLICITY WITH WORLD PERCEPTION ONLY LEADS TO A CHURCH BEING SUBTLY DECEIVED!
Back to main article. . .center>