The Blessed (Hope) Confidence
By: Darrell G. Young
April, 2004
Nothing stirs my soul like Jesus. He is more important than anything else in the whole world. Ever since I met Jesus and discovered his unimaginable love for me, and saw what he had done for me by paying such a terrible price to redeem me from human depravity, it has changed everything. I simply cannot imagine trying to live in this world without him. He and His word are the foundations that shape my entire worldview!
Still, it is an easy thing for me to commiserate with the Disciples, seeing as how they must have felt thoroughly sad as they beheld Jesus as he ascended up into the clouds into Heaven 2000 years ago. The Bible says that they looked "steadfastly toward heaven" as Jesus was lifted up and left the world. If I had been there with them, and been close to Jesus as they had, I rather imagine that my eyes would have been steadfastly transfixed on him also. I too would likely have wondered if I would ever see my Lord again. They must have wondered if they would ever see him again. They surely turned to one another and sensed in each other's eyes the same agonizing question; "Are we left here without any hope?"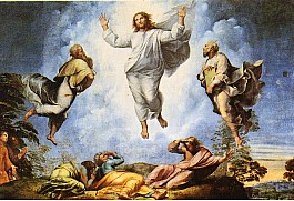 Acts 1:9-11
And when he had spoken these things, while they beheld, he was taken up; and a cloud received him out of their sight. And while they looked steadfastly toward heaven as he went up, behold, two men stood by them in white apparel; Which also said, Ye men of Galilee, why stand ye gazing up into heaven? this same Jesus, which is taken up from you into heaven, shall so come in like manner as ye have seen him go into heaven.
The Bible informs us in I Corinthians 13:13 that the greatest spiritual gifts that the Lord left with us are faith, hope and charity. Unfortunately many people associate the word hope with negative connotations. For instance, we often think of the word hope in relationship to our basic perception of luck or chance. (I hope it doesn't rain, or I hope that we win the game, etc.) Another perceived aspect about the word hope is that it is merely something that we wish for, realizing that the odds for it becoming a reality are very small. But these common perceptions about the word hope as it is utilized in the Bible are the very opposite of the intended message.
Ask any person what his hope in this world is and you will receive a plethora of responses. The average church-goer may say that salvation is his hope, or another may say that he hopes to make it to heaven when he dies. But to relegate the Lord's spiritual gift of hope to something merely being only a "future state of happiness" is to relegate it to the same perception of a non-believer, or the heathen. But, the Lord gave us a hope that is beyond normal human rationale.
The Living Hope
For instance Peter referred to a "Living Hope" that dwells inside every believer. This hope is a life-giving mechanism. It is not a beating heart, but rather it is the very breath of life. It is a God-breathed spirit.
1 Peter 1:3-8 Blessed be the God and Father of our Lord Jesus Christ, which according to his abundant mercy hath begotten us again unto a lively hope by the resurrection of Jesus Christ from the dead, To an inheritance incorruptible, and undefiled, and that fadeth not away, reserved in heaven for you, Who are kept by the power of God through faith unto salvation ready to be revealed in the last time. Wherein ye greatly rejoice, though now for a season, if need be, ye are in heaviness through manifold temptations: That the trial of your faith, being much more precious than of gold that perisheth, though it be tried with fire, might be found unto praise and honour and glory at the appearing of Jesus Christ: Whom having not seen, ye love; in whom, though now ye see him not, yet believing, ye rejoice with joy unspeakable and full of glory:
All believers in Christ have a hope within them. That hope is not a mere wish, or a pie in the sky pipe-dream. It is a living spirit that empowers them to live righteously and soberly in this present evil world every single day. It is an assurance that enables the child of God to live confidently while in this alien world, and to gain sustenance from a firm expectation that Jesus Christ will keep all of his promises. There is a constant governor churning within each believer giving testimony to that reality, and that governor is the Holy Spirit. (Genesis 2:7 records that God breathed the breath of life into Adam and he became a living soul.) Jesus came that we might be born again, of the spirit.
I John 3:2-3 Beloved, now are we the sons of God, and it doth not yet appear what we shall be: but we know that, when he shall appear, we shall be like him; for we shall see him as he is. And every man that hath this hope in him purifieth himself, even as he is pure.
Eternal life is a precious gift that every single believer possesses, and for him there is absolutely no possibility of future condemnation, especially in the sense of having to endure God's wrath. God's wrath is being stored up for the Day of the Lord, and for the Day of Judgment.
What is the New Testament Definition of Hope
The word "hope" is as common in the New Testament as the two beautiful and precious words, faith and love. The terminal use of the word hope in the New Testament is conveyed in Titus 2:13. It is in reference to the resident hope of every believer, and includes an anthem of exhortation and comfort.
Titus 2:13 Looking for that blessed hope, and the glorious appearing of the great God and our Savior Jesus Christ;
The English word hope as translated from the Greek is "elpis" which means to possess a confident expectation. Therefore, every Christian can possess a confident expectation that the Lord will not only fulfill every single promise that he has made, but also that He will appear at the end of the age to gather his own unto himself before the Day of the Lord. This residing spirit of confident trust stems from the omnipresence of the Lord.
Throughout all the ages of God's Divine dispensations, God has set before his people a hope that has always provided a reason to center on Christ. In the Garden of Eden, for example, God set before Adam and his descendants the "promised hope" of a seed that would establish the constitution of redemptive fulfillment. Abraham looked forward with a "confident expectation" that God would indeed send His blessed seed, and it was accounted unto him as righteousness. (see Romans 4)
Have you ever thought of God as being the architect of hope? Jesus is the embodiment of the hope of God.
Romans 15:12-13 And again, Esaias saith, There shall be a root of Jesse, (the seed that was manifest in Jesus) and he that shall rise to reign over the Gentiles; in him shall the Gentiles trust. Now the God of hope fill you with all joy and peace in believing, that ye may abound in hope, through the power of the Holy Ghost.
Salvation is not a mere Wish (hope), It is a Certainty
The New Testament word "salvation" has a threefold scope in history with regard to our blessed hope. (past, present, future) In each respective age, salvation has reference to our deliverance from the penalty, power, and stain of sin. Yet salvation throughout the ages was never relegated to the concept of a "wished-for-thing," or as something that is left subject to some measure of uncertainty. Unfortunately, many church people too often possess a vague and unsure hope about their salvation. Many people say, "I hope that I am saved, or say that they are doing their best to be good and hope that is enough to get into Heaven."
This typical response reveals that they do not possess a "confident expectation," or the blessed hope that is founded solely in the promises of God. Nowhere in the scriptures does the Bible depict salvation presented as being a hoped for or wishful thing. Rather, it is an absolute certainty, a certainty that imputes assurance within anyone who places faith in Christ's propitiatory work of grace.
Albeit, the restitution of our bodies is future, for it will not be until our Savior's return that he will change our vile bodies into one that is fashioned like unto his glorious body.
(Philippians 3:21) But the salvation of the soul and the deliverance from the wrath that is to come is an accomplished fact for everyone that has accepted Jesus Christ as their personal Savior. Salvation is not way off in the distance, or something to be attained later when we approach the gates of Heaven.
It is recorded in Titus 1:2 and Hebrews 6:10 that God cannot lie. Mankind could only possess such a confident expectation (hope) in somebody that had absolute 100% perfect credibility.
Romans 5:1-5 Therefore being justified by faith, we have peace with God through our Lord Jesus Christ: By whom also we have access by faith into this grace wherein we stand, and rejoice in hope of the glory of God. And not only so, but we glory in tribulations also: knowing that tribulation worketh patience; And patience, experience; and experience, hope: And hope maketh not ashamed; because the love of God is shed abroad in our hearts by the Holy Ghost which is given unto us.
Romans 8:24-25 For we are saved by hope: but hope that is seen is not hope: for what a man seeth, why doth he yet hope for? But if we hope for that we see not, then do we with patience wait for it.
II Thessalonians 2:15-17 Therefore, brethren, stand fast, and hold the traditions which ye have been taught, whether by word, or our epistle. Now our Lord Jesus Christ himself, and God, even our Father, which hath loved us, and hath given us everlasting consolation and good hope through grace, Comfort your hearts, and stablish you in every good word and work.
Hebrews 6:18-19 That by two immutable things, in which it was impossible for God to lie, we might have a strong consolation, who have fled for refuge to lay hold upon the hope set before us: Which hope we have as an anchor of the soul, both sure and stedfast, and which entereth into that within the veil;
So then, the hope of our salvation is an immutable fact! The living hope provides every believer an immutable hope for eternal life even as he nears physical death. If salvation is the living hope, what then is the aforementioned blessed hope?
Titus 2:13 Looking for that blessed hope, and the glorious appearing of the great God and our Savior Jesus Christ;
The Blessed Hope Relates to the Future
Whereas the death of a believer is certainly a cause for sadness and sorrow for those of us who are left behind when a loved one passes in death, we do not sorrow as one who has no hope. (1Thessalonians 4:13-14 But I would not have you to be ignorant, brethren, concerning them which are asleep, that ye sorrow not, even as others which have no hope. For if we believe that Jesus died and rose again, even so them also which sleep in Jesus will God bring with him.)
Therefore the blessed hope is something that is always connected to a special residing confidence as we look towards the future. In writing about the order of things in I Corinthians chapter 15, Paul also explains that there will be some living (remain alive unto the Day of the Lord) when Christ comes that shall not taste death. (1 Corinthians 15:51 Behold, I shew you a mystery; We shall not all sleep, but we shall all be changed,) Now, whether we live till Christ comes or die before his coming, the end in all is still Jesus Christ. He is our hope!
Man was not made for the present, and the present was not made to satisfy man. Time on this earth is but a mere transition. Time is simply a dimension, a space for man to prepare for eternity. It is for the future that man was created, not the present. There is a song I love to sing, and part of it goes like this; (this world is not my home,…I'm just a passing through,… my treasures are laid up somewhere beyond the blue,… the angels beckon me to Heavens open door,….. and I can't feel at home in this world anymore,)
The hope of every believer is to be with Jesus, in our new home, and in our new bodies that he has prepared for us. Our hope is to be taken out of sin's dominion, to a place where there is no more suffering and sorrow, nor pain. The humanists and the atheists call this blessed hope an escapist mentality. But in truth, this escape clause is part and partial of God's Divine plan, and is a component of his Last Days promises to a particular generation.
It is thus scripturally sound to yearn to be among those that are "caught up" (raptured) to be joined together with all those that meet the Lord in the air. Not only is it a sound doctrine, but for a select and fortunate generation, that begins to witness certain signs pertaining to Christ's return, it is something we are encouraged to be anxiously anticipating. In fact, the blessed hope watchfulness is something that is designed to bring added comfort to the heart of end-time believers as they see the day approaching!
James 5:7-8 Be patient therefore, brethren, unto the coming of the Lord. Behold, the husbandman waiteth for the precious fruit of the earth, and hath long patience for it, until he receive the early and latter rain. Be ye also patient; stablish your hearts: for the coming of the Lord draweth nigh.
1 Thessalonians 4:16-18 For the Lord himself shall descend from heaven with a shout, with the voice of the archangel, and with the trump of God: and the dead in Christ shall rise first: Then we which are alive and remain shall be caught up together with them in the clouds, to meet the Lord in the air: and so shall we ever be with the Lord. Wherefore comfort one another with these words.
I John 2:28 And now, little children, abide in him; that, when he shall appear, we may have confidence, and not be ashamed before him at his coming.
Psalms 27:1-3 The Lord is my light and my salvation; whom shall I fear? the Lord is the strength of my life; of whom shall I be afraid? When the wicked, even mine enemies and my foes, came upon me to eat up my flesh, they stumbled and fell. Though an host should encamp against me, my heart shall not fear: though war should rise against me, in this will I be confident.
Jesus is Our Only Hope
The living Hope and the Blessed Hope are our only hope in this world as all else in the world is vanity and failure. Mankinds hope in philosophy has failed. Greek and Roman philosophers once set out to solve the riddles of our universe and explain by human rationale answers and theorems to all the problems that beset mankind. Philosophers have proposed remedies for every societal ailment known to man only to end in an abysmal failure, as did the very empires from which they sprang.
The human experiment with government and legislation has also proven to be a fiasco. Various societies and cultures have tried everything from democracy, republicanism, monarchies, dictatorships, socialism, capitalism, and communism, down to isolationism, and nothing has offered any hope for man-kinds survival.
The insufficiency and failure of human civilizations and hopes serves only to highlight the fact that mankind is incapable of perfecting government and solving the plague that his own nature—sin. Our failure as a civilization cries out for help, and there is only one source for help that can offer true hope—Jesus Christ. In fact, Jesus was born into the world for this very purpose.
Isaiah 9:6-7 For unto us a child is born, unto us a son is given: and the government shall be upon his shoulder: and his name shall be called Wonderful, Counsellor, The mighty God, The everlasting Father, The Prince of Peace. Of the increase of his government and peace there shall be no end, upon the throne of David, and upon his kingdom, to order it, and to establish it with judgment and with justice from henceforth even forever. The zeal of the Lord of hosts will perform this.
The Imminent Blessed Hope
Elsewhere in the Focus on Jerusalem commentaries, I have pointed out the fact that only 60 years after the Lord's ascension into Heaven to join his Father, Jesus sent his angel to the beloved John on the isle of Patmos to convey the final declaration of his word. (John 16:12--The Disciples could not bear that burden in 32AD) The Revelation of Jesus Christ begins with an assertion that the time of the end is near and ends with an intimate appeal, "Surely, I come quickly." This is our Lord's last promise to his people, and given as an exclamation to be continually occupied with the thought of his imminent return. As Paul referenced in I Corinthians 15:52-58, the quick return of the Lord can be emphatically superimposed upon on single moment in earth's time, and it is an event that when it takes place will happen quicker than the time it takes for a mere twinkling of one's eye. It is the Rapture! And it is the hope of the Last Days believer.
Why is the Blessed Hope a Blessing?
The blessings of the Abrahamic Covenant will become universal. Israel's future blessings wait for the return of their Messiah. Upon his first visitation to Israel, he was despised and rejected by his own brethren, but when he comes back to this earth, they shall welcome him as a conquering hero, and worship as the true Messiah. The real triumphal entry of Christ is yet future. He came before as a Lamb led to slaughter, but he is returning as the Lion of the tribe of Judah, and will inherit the throne of his father David. Then it shall come to pass that Zion's King shall come to Israel, having salvation and Israel will marvel at his grace and his excellency, and the city of Jerusalem shall be exalted and re-inhabited by Jehovah. Only then can the rest of the nations of the earth realize the blessings of the Abraham Covenant.
· During this present dispensation, God is merely calling out a people for his name, and grafting them into the (Romans 11) the natural tree-branch of the Covenant of Abraham, Israel. Israel has not fallen in spiritual blindness to be uprooted from blessing, but rather Israel's fall has merely served to take that root-blessing to the Gentiles. Israel is not languishing in an indefinite prolongation of blindness and suffering. Israel is slated by God to be restored physically and thereafter to be restored spiritually. The "completed rebirth" of Israel will constitute the fulfillment of God's promises to Israel.
· The Divine dispensation transition from the Gentile Church Age era into the Millennial Kingdom Age of Israel reflects the ultimate fact that righteousness and justice will prevail. Just as apostate Judaism was judged by Christ at his first coming, so likewise also apostate Christianity in the Last Days will be judged by Christ at his Second Coming, and Christ will then conjoin the blessings of Abraham upon reborn Israel and the reborn of the called out Church. The combined blessings of Israel and the Bride of Christ will produce an age comparable to paradise. The "times for the restitution" of all things will be fulfilled. (Acts 3:19-21 And he shall send Jesus Christ, which before was preached unto you: Whom the heaven must receive until the times of restitution of all things, which God hath spoken by the mouth of all his holy prophets since the world began.) The times of refreshing can only fall from the presence of the Lord being back on the earth, whereas presently he is received only in Heaven. Then will the Lord reign from Mt. Zion and all nations shall flow into Jerusalem to praise the King of Israel.
· Israel is not hopelessly locked into an endless cycle of worldly pograms, holocausts, and series after series of anti-Semitic persecutions. Israel's 20th century restoration signals that God is about to return his plan for Israel. In the decades since the reclamation of Israel (1948) began, Israel has been enduring the birth-pangs of her prophesied travail. (Micah 4, Jeremiah 30: 6-7, Revelation 12:5-6, 13) Israel's redeemer, the only hope of Israel is nigh.
Psalms 98:1-6 O sing unto the Lord a new song; for he hath done marvellous things: his right hand, and his holy arm, hath gotten him the victory. The Lord hath made known his salvation: his righteousness hath he openly shewed in the sight of the heathen. He hath remembered his mercy and his truth toward the house of Israel: all the ends of the earth have seen the salvation of our God. Make a joyful noise unto the Lord, all the earth: make a loud noise, and rejoice, and sing praise. Sing unto the Lord with the harp; with the harp, and the voice of a psalm. With trumpets and sound of cornet make a joyful noise before the Lord, the King.
Truly it is that, then and only then can it be accomplished that the saying of Isaiah will come to pass that the earth will be full of the knowledge of the glory of the Lord like as the waters cover the sea. (Isaiah 11:9)
· The Hope of the Church lies in the future. Jesus forewarned the Church that it would endure tribulation while it is in the world. This is the present portion with which the believer must daily contend. In light of the ever increasing hatred the world has for the Christian, it may be surprising to some, that believers can have hope while being persecuted. Afterall, the Church is not conquering this world. Having drank of the water of life (living hope) the believer is actually an alien ambassador in this world, and this world is engaged in open warfare against our King. While we as a Christian still living in this present world have assurance of eternal life, we have not yet begun to enjoy the full and unhindered enjoyment of our inheritance. That realization will come at the appointed time when we shall be united with our King. In truth, our Lord himself is yearning for that day! For nearly two thousand years, Jesus has patiently awaited for the last soul to be added to the body of the Church. It was for this joy that he endured the old rugged cross. It was for this one pearl which he so mightily esteemed that Jesus paid the awful blood price that was prophesied in Isaiah. For we are his good pleasure!
Isaiah 53:10-12 Yet it pleased the Lord to bruise him; he hath put him to grief: when thou shalt make his soul an offering for sin, he shall see his seed, he shall prolong his days, and the pleasure of the Lord shall prosper in his hand. He shall see of the travail of his soul, and shall be satisfied: by his knowledge shall my righteous servant justify many; for he shall bear their iniquities. Therefore will I divide him a portion with the great, and he shall divide the spoil with the strong; because he hath poured out his soul unto death: and he was numbered with the transgressors; and he bare the sin of many, and made intercession for the transgressors.
Jesus & The Disciples Spoke of a Watchful, Imminent Hope
In the Olivet Discourse, Jesus spoke to the inquiries of his Disciples regarding the sign of his coming and of the end of the age. Jesus specifically advised them thusly; "Watch therefore, for ye know not what hour your Lord doth come, but know this, if the goodman of the house had known in what watch the thief would come, he would have watched, and would not have suffered his house to be broken up. A brief analysis of the above scripture from Matthew 24 reveals that although we may not know the hour of his return, we are instructed to keep a vigilant attitude of confident expectation concerning our blessed hope, as we see the signs of his imminent coming tick off one after the other. The signs of his coming are like landmarks along a highway. They inform the earthly traveler of the nearness on our horizon of the coming of the Lord. As we are able to observe each passing prophetic landmark, it inflames the spiritual awareness of the watchful servant to a life of confidence in this ever darkening present world. Jesus further exhorted the believers of the final days to be like a faithful servant, standing on the threshold of evil, with his loins girded and his lamp lighted, peering out through the darkness to catch the first visual sighting of our returning master. (Luke 12:34-37 For where your treasure is, there will your heart be also. Let your loins be girded about, and your lights burning; And ye yourselves like unto men that wait for their lord, when he will return from the wedding; that when he cometh and knocketh, they may open unto him immediately. Blessed are those servants, whom the lord when he cometh shall find watching;)
As believers, we should be confidently expecting a speedy conclusion to the present economy of this world and the soon introduction of a new order of things. The Lord is set to take upon his shoulders the government of this world, but as we approach that day, the apostle John forewarned that before Christ actually came, that the time for Antichrist would come first. The Last Days refer to the closing decades of the present dispensation, which will allow for the Antichrist to emerge. This time is known in scripture as the last hour, or the little season, (short space) before which, Christ will appear to rescue his faithful bride.
Quite often Christian people will respond to me when they discover that I am a prophecy author/speaker that they do not want the Lord to come just yet. They usually relate that they would prefer to see their children or grandchildren grow up and so forth. I have to remind them that our affections should always be focused on things above. With our affections focused in the right direction, it is more likely that we will be successful in recruiting our loved ones to accept Jesus, so that they can also focus on the Lord and Heaven.
Colossians 3:1-4 If ye then be risen with Christ, seek those things which are above, where Christ sitteth on the right hand of God. Set your affection on things above, not on things on the earth. For ye are dead, and your life is hid with Christ in God. When Christ, who is our life, shall appear, then shall ye also appear with him in glory.
Come Lord Jesus, Come!
Let not my eyes with tears be dim,
Let joy their upward glance illume,
Look up, and watch, and wait for Him;
Soon, soon the Lord will come.
Soon will that star-paved milky-way,
Soon will that beauteous azure dome,
Glories ne'er yet conceived display;
Soon, soon, the Lord will come.
Changed in the twinkling of an eye,
Invested with immortal bloom,
I shall behold Him enthroned on high,
And sing; The Lord is come!
One beam from his all glorious face,
These mortal garments will consume,
Each sinful blemish will efface,
Lord Jesus, quickly come!
What will it be with thee to dwell,
Thyself my everlasting home!
Oh blissful joy, joy ineffable,
Lord Jesus, Come, Come!
(author unknown)
The Blessed Hope is a Purifying Hope
Upon first glance it may appear odd that Jesus did not reveal the precise time for his appearing since he has made known to us so things pertaining to the nearness of his coming. For a truth it is that he has revealed many details concerning the Blessed Hope in his word, and made known many thins which will transpire at his second advent. With so much detail given by the Lord, and remembering the fact that the Lord is all-knowing, it is clear that the Lord must have purposely designed the Biblical record pertaining to his return just as it is. It is obvious that the Lord wished to permanently transfix the believer's mindset on that great historical event that the world is moving toward.
The absolute fact of our redeemer's return might have gone completely unrecorded at all, but had that been the case, the most powerful dynamic to godly living would have been withheld from the Church. The imminency factor regarding the Lord's return was revealed as an incentive to watchfulness and preparedness. Had the Lord not utilized the imminency factor throughout the New Testament as something which might occur at any time, but instead as an event that had been expressly postponed or fixed to occur at some particular point in future centuries, then all believers who have lived in the past would have been robbed of the comforting hope which is found in the assurance that Christ could return in their immediate lifetimes. Also it would have robbed every believer of the spiritual earth-life purifying effects that such a prospect was designed to produce.
The imminent return of Jesus is a practical hope. It is the commanding motive of the New Testament. The Holy Spirit has linked it with every precept and practice of Christian character and conduct. The blessed hope arms, strengthens, arouses, encourages and quickens the affections and zeal of every believer.
The imminent hope of our Lords return produces loyalty and faithfulness to Christ. In our vigil of watching for the Lord, our fidelity intensifies, whereas unwatchfulness tends to result in a worldliness of heart, and carelessness as we live in this world. The blessed hope helps us to build our desire to be separated from the world.
Some Blessed Hope Mechanisms for Life
· It is designed to instill the grace of patience
· It is designed to alleviate the natural tendency to worry
· It is designed to stimulate sobriety
· It is designed to comfort the bereaved
· It is designed to encourage a godly walk
· It is designed to lend motivation to brotherly love
· It is designed to create a sense of urgency in the believer to be busy
I John 3:1-3 Behold, what manner of love the Father hath bestowed upon us, that we should be called the sons of God: therefore the world knoweth us not, because it knew him not. Beloved, now are we the sons of God, and it doth not yet appear what we shall be: but we know that, when he shall appear, we shall be like him; for we shall see him as he is. And every man that hath this hope in him purifieth himself, even as he is pure.
The Blessed Hope Compels Us toward the Fullness of Time (times of refreshing)
Why has our Lord left armed us with this blessed hope for such a protracted interval since the time of his departure and his promise to return? First, it is because God is longsuffering and patient, not willing that our brothers perish. God is granting fallen mankind the full opportunity to fully develop his evil schemes and thereby demonstrate the world's need of a competent ruler!
When Jesus appears one day soon, man will not be able to lodge any complaints that God did not allow him time to experiment and test his free will that was so lovingly granted unto man in the Garden of Eden. Man has been permitted to do his utmost in ruling and regenerating this world. God gave man dominion over this entire planet, including its government, and mankind has conclusively shown that he is incapable of governing himself. Mankind has shown, and continues to show even in our modern age that he is completely incapable of grappling with the forces of evil.
The Blessed Hope demonstrates that God has delayed his Son's return for just the right moment in human civilization. God calls this blessed moment the point at which the "fullness of time," or the "times of refreshing" will at long last arrive.
The gathering together in one all things in Christ, both which are in Heaven, and which are on earth (last days generation) points to the uniting of Heaven and earth's interests under His blessed reign. Then shall we see Heaven opened and the angels of God ascending and descending upon the Son of Man, for then will be perfect communication established between God and man. Just as the Creator prepared the earth for man, so all of history points to the Blessed Hope, for all those who have believed!
Ephesians 1:3-10 Blessed be the God and Father of our Lord Jesus Christ, who hath blessed us with all spiritual blessings in heavenly places in Christ: According as he hath chosen us in him before the foundation of the world, that we should be holy and without blame before him in love: Having predestinated us unto the adoption of children by Jesus Christ to himself, according to the good pleasure of his will, To the praise of the glory of his grace, wherein he hath made us accepted in the beloved. In whom we have redemption through his blood, the forgiveness of sins, according to the riches of his grace; Wherein he hath abounded toward us in all wisdom and prudence; Having made known unto us the mystery of his will, according to his good pleasure which he hath purposed in himself: That in the dispensation of the fulness of times he might gather together in one all things in Christ, both which are in heaven, and which are on earth; even in him:
Acts 3:18-20 But those things, which God before had shewed by the mouth of all his prophets, that Christ should suffer, he hath so fulfilled. Repent ye therefore, and be converted, that your sins may be blotted out, when the times of refreshing shall come from the presence of the Lord; And he shall send Jesus Christ, which before was preached unto you:
Focus on Jerusalem Prophecy Ministry
By: Darrell G. Young
April, 2004
Blessed Assurance
1.------Blessed assurance Jesus is mine ! Oh what a foretaste of glory divine! Heir of salvation, purchase of God, born of his spirit, washed in his blood.
2.------Perfect submission, perfect delight, visions of rapture now burst on my sight, angels descending, bring from above, echoes of mercy, whispers of love.
3.------Perfect submission, all is at rest, I in my savior, am happy and blest, watching and waiting, looking above, filled with his goodness, lost in his love.
Chorus: This is my story, this is my song, praising my savior all the day long, this is my story, this is my song, praising my savior all the day long.