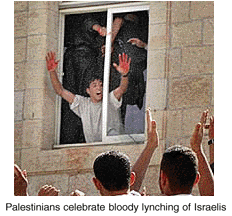 &nbsp In recent weeks as I have been watching the ever ongoing violence between Israel and the Palestinian Shabbiba paramilitary youth, I couldn't help but think about the fact that the young Palestinian kids resort to hurling stones at the heavily armed Israeli defense forces manning the established checkpoints.
&nbsp My mind hearkened back to the outbreak of the so-called Temple Mount Intifada when Ariel Sharon visited the Temple Mount. That event set in motion the throwing of stones at Jewish worshippers praying at the Wailing Wall below the Temple Mount. Ever since, we have been shown a steady diet of Palestinian youth throwing stones at Israeli's. It dawned on me that Jesus was in the that very same vicinity on the Temple Mount 2000 years ago when a young woman was brought before him that had been caught in an act of adultery. That passage is found in John 8:1-11:
&nbsp Jesus responded to that crowd of stone throwers by responding; "He that is without sin among you; let him first cast a stone at Her"!
&nbsp That entire crowd of stone-throwers dropped all of their stones and departed from the woman after being convicted by their own conscience. Jesus being left alone with the Woman then asked; woman where are thine accusers? She was left un-condemned of course! All of her accuser had fled from the searing pointedness of Jesus question. The whole scene of course was an entrapment for JESUS, not necessarily the woman.
&nbsp With that story as background, my mind quickly raced back to Hosea and Gomer. God utilized the story of Hosea-Gomer to illustrate the reality of the relationship of Israel with God. Israel, much like the woman brought before Jesus; has been found guilty of adultery, ( whoring after other Gods ) and yet God will someday duplicate Hosea's action of purchasing back his wife, then culminating with him finding absolutely no sin within her. ( Israel-church )
&nbsp But beyond that wonderful story; I am reminded that Israel has indeed played the historic analogy of a harlot woman in this world. Yet God has not "stoned her" nor cast her off forever! Israel is prophetically type- cast as "The Woman" in the 12th chapter of John's vision in the book of the Revelation!
&nbsp Revelation 12:1 And there appeared a great wonder in Heaven; a "Woman" clothed with the sun, and the moon under her feet, and upon her head a crown of twelve stars.
&nbsp This woman in view is indeed Israel! Revelation 12:3-4 portrays the Great Red Dragon hotly in pursuit of that woman. And let there be no misunderstanding about this matter; Satan has been hurling not only stones at Israel, but he has also thrown his cadre of historic hate-mongers after Israel's very throat for centuries now! He will continue to do so!
&nbsp Israel is accustomed to being stoned! Her accusers have never searched their consciences to determine if they themselves are
without sin, so as to cast that first stone; which Jesus suggested to that crowd of stone holders and throwers two thousand years ago!
&nbsp They all threw down their stones and left Jesus alone with the Woman. At least they had the good sense to realize that they were sinners too. And it is my contention that Palestinian stone-throwers of today need to renounce the maniacal preaching of Woman-haters ( Islam vs. Israel ) and search their heart and souls and come to the realization of the wisdom of Jesus Christ. Otherwise they will sooner or later become victims of Satan's Perpetual Hatred of Israel.
&nbsp That reminds me of another stone. The precious corner stone, the sure foundation; the tried stone, the cornerstone which was layed as a sure foundation in Jerusalem 2000 years ago. The stone which the builders rejected, yet is become the chief head of the corner, or the rock with which all hate is destroyed!
&nbsp The Palestinian youths hurl stones at Israel, stones that come from the promised land. Yet they can't find the Rock of Promise that came to Israel to save them from their sins! Why do they throw those stones?
&nbsp The Perpetual Haters of Israel can't defeat Israel in outright battle. They have failed miserably upon the stony fields of conventional warfare to destroy Israel, so they resort to sending unarmed teenaged boys into the streets to confront Israel's soldiers. It is their desire to shape world public opinion into the notion that Israel is the real perpetrator of hate in this region; by utilizing their mighty army against poor little old poverty stricken Palestinian kids.
&nbsp But, just as Jesus stooped down to the ground 2000 years ago and began to write with his finger upon the stony ground; when the scribes and Pharisees brought the adulterous woman unto him; he once again soon will undertake a mission to stoop down to the earth and take up a rod and chastise all the accusers of Israel that surround her today. He yet again will say; "Woman, neither do I condemn you, do now believe in me and go sin no more".
&nbsp So, as I watch the flying stones being hurled at Israel; by the many haters of that woman; I cannot help but think about Jesus being the salvation stone that all the throwers need to pick up.
&nbsp Romans 9:33 As it is written, Behold I lay in Zion a stumbling stone and rock of offense: and whosoever believeth on him shall not be ashamed.
&nbsp Jesus is the stumbling stone to all that hate God, and his chosen nation, ( the woman-Israel ) while Jerusalem is the burdensome stone to all those who hate the Woman, and seek to steal it away from Israel, and her coming King!
Darrell G. Young

Copyright©2000