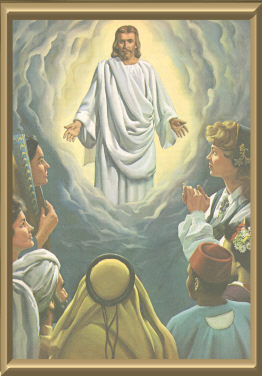 II Timothy 4:7-8 I have fought a good fight, I have finished my course, I have kept the faith; Henceforth there is laid up for me a crown of righteousness, which the Lord, the righteous judge shall give me at that day; but not to me only, but to ALL THAT LOVE HIS APPEARING! Loving his appearing is the causation for the act of Watching for his coming! Could it be that 80% of American Christians do not watch for the coming of the Lord because they would not particularly love his appearing?
If that be so, what a blessing they are missing out on as they try to live as aliens in this world. Our citizenship is afterall in Heaven, not here in this world.
Luke 18:8 asks this question with regard to the watchfulness for the Lord; "When the Son of Man cometh, shall he find faith on the earth? Evidence the fallen away condition of the Last Days church and the scornful attitude of II Peter 3:4 where we find the church of the Last Days asking; "Where is the promise of his coming"; it seems most apparent that many modern church goers dismiss the event of the second coming altogether. Luke 12:38 Blessed are those servants, whom the Lord when He cometh shall find "Watching".
Luke 12:42 continues on to say that the wise and faithful servant shall be blessed for his watchfulness. Watching begats wisdom. The wise steward is aware of the approaching day and is busy in preparing his household. Jesus says; "I will make my wise servants to be rulers, while those that persist in the attitude of believing that the Lord delayeth his coming shall fall victim to unscupulous teachings. Jesus commanded his disciples to keep watch for him when he was in the garden of Gethsemane. At the very first hour of the Watch, he came back only to find his disciples fast asleep. Even while Jesus was contemplating making it possible for us to enter the the majestic portals of Heaven, the disciples could not keep watch. Throughout the night; the disciples slept. Though Jesus returned unto them on three occasions, they could not withstand the heavy sleep in their eyes.
Jesus remarked to them; "Can ye not watch for me even for one hour"? Undoubetly Jesus was able to peer all the way down the centuries of history to the day when he would come back for his church; and reflected on the fact that fleshly beings have a hard time keeping watch.
Mark 14:38 says: Watch and pray, lest ye enter into temptation. The spirit is willing, but the flesh is weak.
Jesus disciples complaint of having heavy eyes and needing to sleep during the "Night" personifies the condition that we all confront while we are in these old fleshly bodies. We constantly need the eyesalve of spiritual sight; as we who are children of the day struggle in this world of darkness.
Just as Judas came during the darkness of night to betray Jesus; so also will the Son of Perdition come during the night ( day of man ). Shall we be like the disciples and sleep while the Antichrist plots his evil against our Lord?
The quotation of Jesus in Mark 14:41 must have haunted the disciples. "Sleep on now; the hour now is come; the Son of Man is betrayed". Jesus demand for us to watch carries the hope of Blessing because the act of sacrifice for which he prayed that night in the garden is now complete, and our heavenly home for which he departed to prepare places for us is in my sights; and I will not sleep; for I can see my new home on the horizon of the signs of time!
Also, not only is my home within view; my new body is awaiting. One reason to keep watch for the appearing of Jesus, and to love his appearing is for the following reason:
I John 3:2-3 Beloved, now are we the sons of God; and it doth not yet appear what WE shall be: but we know that when HE shall appear, we shall be LIKE HIM; for we shall SEE HIM AS HE IS!
And every man that hath "THIS HOPE" in him purifieth himself, even as he is pure!
That song went like; "I'm all cleaned up, waiting for my Jesus; all cleaned up whiter than snow; Yes I'm all cleaned up waiting for my Jesus; I am all cleaned up and I,m ready to go"! ( Yeah! )
The word "Blessed" in the Greek is makarios. It means to be supremely blessed, fortunate, prosperous and contented in heart!
All too often in today's culture, Christianity and living as a Christian do not seem to be in vogue. Watching for the return of Jesus is abhorred in our society, and even in churches about as much as the Bible, the ten commandments and prayer are in a public venue. Keeping Watch for Jesus and utilizing the wisdom of the prophetic Word are a necessary tool in these days of combating the wiles of devilish lifestyles and perversion.
I Peter 1:6-7 Wherein ye greatly rejoice, though now for a season , if need be, ye are in heaviness through manifold temptations:
That the trial of your faith, being much more precious than gold that perisheth, though it be tried in fire, might be found unto praise and honor and glory at the appearing of Jesus Christ:
My heart is not troubled today. Even amidst the demonic storm of societal hatred of God's Words; and hatred for anything of Christianity, I keep my eyes open to the prophetic fullfillment of his word, and succinctly realize that the Blessed time of his return to this world to take me home to be with him is close at hand.
Romans 13:11 And that, knowing the time, that now it is "High Time" to awake out of sleep: for now is our salvation nearer than when we first believed.
Psalms 90:4 compares the entire church age as a mere Watch in the Night. Christians have kept watch for Jesus for two thousand years now. I can imagine Jesus returning today in the third watch; and repeating his statement made to the disciples; "Sleep on if you will with your heavy eyes ".
Only this time; Jesus will not be delivered to his enemies, those that sleep will be delivered unto the time of temptation. Then shall they run to acquire oil for their lamps like the foolish virgins. Then will they say; "Why did we not keep watch"?
Revelation 16:15 Behold, I ( Jesus ) come as a thief, "Blessed is he that Watcheth", and keep his garments, lest he walk Naked, and they see his shame. Let me encourage all Christians to keep up the Watch for Jesus return. He is coming! I can vividly see him embarking out throught the portals of our heavenly home even now!