Reason # 5

Israel will receive all of their Promised Land! God promised Abraham all the land from the Nile River in Egypt, eastward unto the Euphrates River in Iraq. Deuteronomy 4:1, 8:1, 11:8-9 reveal the fact that Israel needed to keep God's statutes and laws if she wished to possess the land entirely, and continually. Yet, Israel did not keep God's law, thus Israel never has known the full land blessing of its promise.
And even today, Israel has returned to only a tiny portion of the promised land. Also, Israel is finding it virtually impossible to exercise its right to possess even a fraction of the land, due to the world resolve against the God of Israel. When Israel learns to trust in God, it will acquire all of the promised land.
Ezekiel 37:26 And they shall dwell in the land that I have given unto Jacob my servant, wherein your father's have dwelt; and they shall dwell therein, even they, and their own children forever: and my servant David shall be their prince forever. Ezekiel 36:28 And ye shall dwell in the land that I gave to your father's; and ye shall be my people, and I will be your God.
Though all the world today is attempting to deny Israel its God-given land, I am yearning for the day when Israel will acquire its kingdom, and Jesus shall indeed be their King!
Reason # 6
All nations will be blessed through Israel!
God promised in Genesis 12:3 and again in Genesis 26:4, 28:14; that all nations of the whole earth would receive blessing through Israel, and its King. The 2nd coming of Jesus will finally bring peace to the world.
Isaiah 2:4 And he shall judge among the nations, and shall rebuke many people: and they shall beat their swords into plowshares, and their spears into pruning hooks; nation shall not lift up sword against nation, neither shall they learn war anymore.
Micah 4 indicates that the nations shall follow the laws of God, and seek to walk in his paths. Imagine the whole world desiring to worship the Lord, and to live according to his law. Again, that is something I am yearning to see!
All of us owe a debt of gratitude to Israel, and of course in particular, the King of Israel; for the great gift of the Bible and its message of salvation. But, it is only after Israel's King returns to them that all of the nations will praise Israel. ( see Zephaniah 3:20 )
Reason # 7
We shall become kings and priests and shall reign with the King!
Revelation 1:6 And hath made us kings and priests unto God and his Father; to him be glory and dominion forever.
Revelation 5:10 And hast made us unto our God kings and priests; and we shall reign on the earth.
We shall also have angels in our command, as we duly organize and govern the universe in the service of our King and Lord.
1 Corinthians 2:2-3 Do ye not know that the saints shall judge the world: and; Know ye not that we shall judge even the angels?
Romans 8:17 and Hebrews 1:13-14 reveal that we as Christians are joint-heirs with Christ.
Reason # 8
All of creation shall be restored! Listen to some of the following verses:
Romans 8:22-23 For we know that the whole creation groaneth and travaileth in pain together until now.
And not only they, but ourselves also, which have the first fruits of the Spirit, even we ourselves groan within ourselves, waiting for the adoption, to wit, the redemption of our body.
We shall all have new incorruptible bodies. We will be like him, when we see him! ( I Cor. 15:52-53 and II Cor. 5:1-4 and I John 3:2 )
Acts 3:21 speaks about the restitution of all things, including the animal world, the earth itself, even the entire galactical cosmos.
Isaiah 27:6 indicates that Israel shall bud and bring forth blossom filling the world with fruit.
Isaiah 35:1-10 declares that the blinded eye shall be opened; the deaf ear shall hear; the lame shall walk; the speechless shall speak; there will be streams full of water in desert places; the animal kingdom shall cease to be ravenous; there shall be no sorrow; much joy and gladness will abound!
Isaiah 11:6-9 describes the lion and the lamb lying peacefully in the same abode; and that a knowledge of the Lord will cover the whole earth.
Isaiah 65:20-25 portray a world without the curse of toiling and laboring; and a life expectancy of nearly 1000 years as it was in Eden; and if a man dies 120 years of age, he would be considered a mere baby.
Imagine, no need for hospitals, no need for police, no need for insurance policies, no shortages, and even no more crooked politicians!
I am yearning, yearning, yearning for all of these!
Reason # 9: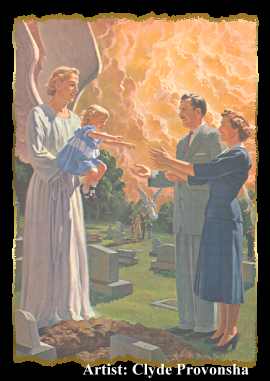 All of those who have died in Christ shall return with King Jesus to be united with those of us who shall remain unto that day. ( I Thess. 4:14 )
Most of the Bride of Christ is already in Heaven, and many of that number includes some of our own departed loved ones: family, friends, etc.
The second coming of the King shall be a time of great reunion and rejoicing for all Christians. Seeing those we have been separated from by death will be an unfathomable scene. And to top it all off, we will never be separated again. I yearn to see someone that that death has separated me from. I can't wait for that occasion. I personally have one daughter that I have never even had an opportunity to have anything with; but when Jesus comes back; he will bring her with him, and my heart yearns for that day!
Reason # 10
All the martyred saints of all ages will be avenged!
There have been many Godly saints down through history that have been subjected to many unspeakable atrocities. The devil like a roaring lion has strutted about the stage of human history devouring many of God's stalwart soldiers. But vengeance belongs to the Lord:
Romans 12:19 Dearly beloved, avenge not yourselves, but rather give place unto wrath; for it is written, Vengeance is mine; I will repay saith the Lord!
II Thessalonians 1:7-8 And to you who are troubled rest with us, when the Lord Jesus shall be revealed from Heaven with his mighty angels;
In flaming fire taking vengeance on them that know not God, and our Lord Jesus Christ.
The question and prayer of Revelation 6:10; How long O Lord, holy and True, dost thou not judge and avenge our blood on them that dwell on earth; will finally be resolved.
And then to all those who suffer persecution in their daily lives for the witness of the Lord; there is the hope of I Peter 1:6-7 and I Peter 4:13 that promises praise, honor, reward, glory at the blessed appearing of our King!
Reason # 11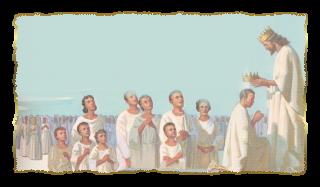 We shall receive crowns and rewards and glorious commendational praise from our heavenly Father! Won't it be a wonderful sound to hear God speaking the quote from Matthew 25:23; "Well done good and faithful servant":
Colossians 3-24 Knowing that of the Lord ye shall receive the reward of the inheritance; for ye serve the Lord.
Isaiah 40:10 Behold, the lord God will come with strong hand, and his arm shall rule for him: behold, his reward is with him, and his work before him.
I Peter 5:4 And when the chief Shepherd shall appear, ye shall receive a crown of glory that fadeth not away.
All Christians should take anxious notice from the promise of II Timothy 4:8 which states:
Henceforth there is laid up for me a crown of righteousness which the Lord, the righteous judge shall give me at that day: but not to me only, but unto all that Love his Appearing!
The appearance of the Lord is something to yearn for, as we shall receive numerous rewards on the day that he appears, not the least of which is eternal life and an inheritance of all things. ( Rev. 21:7 )
Continue...page 3