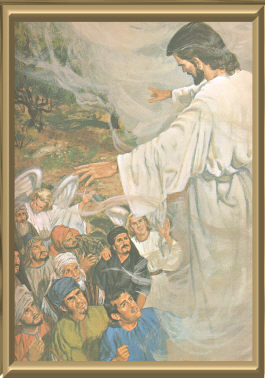 Those Christians will still be taken, but they live without the innate blessing that comes from watching, and thereby being able to discern the signs of the impending cry at midnight to come out to meet the bridegroom.
I Thessalonians 5:4-9 admonishes Christians to watch:
But ye, brethern, are not in darkness (ignorance), that that day ( his coming ) should overtake you as a thief. Ye are all children of the day; (truth) we are not of the night, nor of darkness.
Therefore let us (Christians) not sleep ( slumber-5 foolish virgins ) as do others; but let us "WATCH" and be sober. For they that sleep sleep in the night (midnight hour); and they that be drunken are drunken ( fools ) in the night. But let us, who are of the day, be sober ( watching ), and put on the breastplate of faith and love, and for an helmet, the hope of salvation.
Jesus wants his as many people as possible included amongst the crowd that has put on the breastplate of faith and love and accepted his free gift of salvation and to be watching for him when he comes. Jesus does not want anyone to be left behind when he does come. Hence the command to watch.
Jesus remarks to the church of Sardis are words of alarm to those who feel that watching is unimportant and pointless. In this evaluation of the Sardis church, Jesus exposes what complacency with regard to things of doctrine and Biblical teaching could culminate in Revelation 3:3 Remember therefore how thou hast received and heard, and hold fast, and repent. If therefore thou shalt not "WATCH", I will come upon thee as a thief and thou shalt not know what hour I will come upon thee.
Notice the similarity to the predicament the five foolish virgins found themselves in at the midnight hour? They were without oil for lighting their lamps when the bridegroom came. Likewise, the church of Sardis had so laxed in their resolve to maintain the discipline of true Biblical doctrine, that they too risked the voidance of oil for their lampstand. This church ran the risk of being left behind much like the Laodicean Church, which represents the Fallen Away church of the last days!
The exhortation for which this months newsletter is based upon is found in a post-rapture statement conveyed to John the Revelator by our Lord; Jesus Christ himself. Read this verse carefully:
Revelation 16:15 Behold, I ( Jesus ) come as a thief, "Blessed is he that Watcheth", and keep his garments, lest he walk Naked, and they see his shame.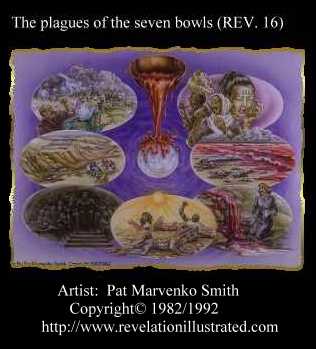 I have often read through the dynamic chapters of the Revelation dealing with its epic detail of the Tribulational era, and the unveiling of the seals, the trumpets, and bowl judgements. I have always been fully cognizant of the pre-tribulational rapture, and therefore somewhat perplexed as to specifically why this verse about WATCHING is placed here just in front of the only verse in the Bible that makes any mention of the place called Armageddon. Seemed to me like this verse was out of place. But at long last I find that this was the perfect place to include such a verse! God finally let me know it!

The description of Jesus coming as a thief in the night is once again included here. It is only the ones that have been clothed with a garment of the Lord's righteousness that are gathered unto the Lord in his coming like a thief in the night. All others shall then be exposed, as one that is naked, before that evil one which is coming upon the world. The utilization of the word, "they", which is used in this verse directly connects to the usage of the same word, "they", used in connection to the unclean spirits, the antichrist, and the false prophet with all the legion of demonic spirits unleashed from the bottomless pit alluded to in the preceding two verses ( verses 13-14 ).

John says in these verses that unclean spirits like frogs came out of the mouths of the Antichrist and the False Prophet, and that, "they", were the spirits of devils, working miracles, going unto all those that are exposed as naked, ( lacking God's seal ) and thus will be subjected to the shame of their judgement.

"Blessed is he that WATCHETH", so that he does not have to endure the terrible era of the Tribulation that is coming upon this Christ rejecting world.

Jesus stated in Luke 21: 35-36 this hopeful watch: For as a snare shall it come on all them that dwell on the face of the whole earth.

Watch therefore, and pray always, that ye may be so accounted worthy to escape all these things that shall come to pass, ( tribulational events ) and to stand before the Son of Man.

There is only one way of course to stand before the Son of Man ( Jesus ), and that is to be clothed in the righteous garment of Salvation!

Isaiah 61:10 I will greatly rejoice in the Lord, my soul shall be joyful in my God; for he hath clothed me with the garments of Salvation, he hath covered me with a robe of righteousness, as a "Bridegroom" decketh himself with ornaments, and as a Bride adorneth herself with jewels.

You no doubt will remember that Adam saw his nakedness after the original sin, and hid himself from God. Likewise during the Great Tribulation all the Christ rejectors will hide themselves among the rocks and mountains and plead for them to cover their exposed nakedness from the wrath of God.

All Christians can live with an assurance that they have been so clothed and will escape the time of the Lord's wrath. The promise to the faithful church of Philadelphia carries just that assurance. So Watching therefore is not an endeavor which is without a hope. Watching instills a blessing to all that keep watch.

God's promise to the church of Philadelphia was to keep her from the hour of temptation that shall come upon the world. The admonition to keep your garment, lest ye walk naked, is the blessed assurance that the clothed individual shall never have to endure the onslaught of the Great Tribulation, and be left as one naked, and have the shame of being seduced by the maniacal spirits of devils.

Revelation 19:7-8 Let us be glad and rejoice, and give honor to him; for the marriage of the Lamb is come, and his wife hath made herself ready.

And to her was granted that she should be arrayed in fine linen ( garment ), clean and white: for the fine linen is the righteousness of saints.

And he said unto me, write, "Blessed are they which are called unto the marriage supper of the Lamb".

Many shall endure the Great Tribulation because they do not have such clothing; but many will find that clothing amidst the onslaught of Wrath. They're not so blessed as to miss the workings of devils, but shall find their white robes through martyrdom.

Revelation 7:13-14 And one of the elders answered, saying unto me, Who are these which are arrayed in white robes? and whence came they?

And I said unto him, Sir thou knowest. And he said to me, These are they which came out of Great Tribulation, and have washed their robes, and made them white in the blood of the Lamb.

Revelation 3:4-5 states that the church of Sardis had a few people that hadn't defiled their garments and further declares that all that should overcometh shall be clothed in white raiment. Contrastly to the church of Laodicea, the Lord literally chastises that church for being destined to be among the peoples who shall walk naked in the day of shame.

Notice the similarity in Revelation 3:18 compared to the quote in Revelation 16:15.

Behold, I ( Jesus ) come as a thief, "Blessed is he that Watcheth", and keep his garments, lest he walk Naked, and they see his shame.

Revelation 3:18 I counsel thee to buy of me gold tried in the fire, that thou mayest be rich; and white raiment; that thou mayest be Clothed, and that the Shame of thy nakedness do not appear;

Blessed is he that Watcheth and buys of Jesus, the gold tried in the fire; and is given fine white linen as a covering for his nakedness; so that he shall not endure tribulation; but shall enjoy the Blessed Hope of his appearance, and to be caught away from the Wrath that is to come, forever to be with the Lord!

Lamentations 3:25 The Lord is good unto them that wait for him, to the soul that seeketh him.

Watching for the Lord's return is a blessing that is beyond all description. It compels Christians to be ready to leave this world at a moments notice! Also it exhorts us to keep our garments a spotlessly white spic and span clean and primed for our immediate entry into the portals of Heaven to be seated down at a great marriage feast with our Bridegroom!

Jesus compared his return to this world as a like a man taking a far journey. I once heard a story of a man that was going on a distant buisness trip, and as he departed upon his journey; he brought his two little daughters together to say goodbye. He said to them as he left, you girls help your mother while I am away by keeping your dresses clean. When I get back, if you meet me in those clean dresses, we will take you to buy some ice cream.

Well, the father did not tell them when he would return, so the little girls had to daily make sure her dress was clean just in case their Father returned on that particular day.

Well, you can imagine the persistant efforts those little girls made to keep their dresses clean so they could please their father when he finally did return. And I can picture in my mind the happy scene on the day the father returned and found them each in a beautifully clean dress and rewarded them by taking them to get some ice cream. On the other hand; I wonder what the father would have done if he had returned to find his little girls had not kept their dresses clean. I am sure the Father didn't tell the little girls what day that he was going to return just so the girls couldn't procrastinate in working to keep themselves clean.

Similarly is the case with our Lord, He has gone on a far journey, leaving us the instructions to keep watch for him each day, and to keep our garments lest we be found naked when he does come. And he purposely has not informed us of the exact day that he will return because he wants us to be busy about working to provide garments for all of his children.

Two angels said to the disciples gathered on the Mount of Olives watching as Jesus went up into the clouds back to Heaven; "Why stand ye here gazing up into Heaven? This penetrating question is asked not to chastise them for watching, but rather it was a command to get busy providing garments, because Jesus is coming right back, and very quickly, in the very same way that he left!

I Watch for Jesus return because I love him, and I want to see him and be with him. Being clothed with his righteousness stirs within my soul the sense that this world is not really my home, and often is the time that I just don't feel at home in this world, because of this world's rejection of the one whom I love so much! I always possess a spiritual blessing in the depths of my soul because I can discern within my heart and mind the Holy Spirit pointing out the ever increasing fullfillment of the signs of his return!

Like the song says; "I'm all cleaned up, waiting for my Jesus; all cleaned up whiter than snow; Yes I'm all cleaned up waiting for my Jesus; I am all cleaned up and I,m ready to go"! Watching keeps one ready to go!

Sadly, in America today only 20% of Christians give any credence to the possibility of Jesus second coming occurring in their lifetime. That is really a sad statistic. Perhaps todays Christian community is more apathetic about the imminent return of Jesus than any generation in all of Church history. That in and of itself is a sign of the Lord's return. ( In a hour that ye think not. )

Contrastly, even the non-Christian's of America expect the appearance of a cosmic Christ sometime very soon. Many new-age enthusiasts are watching steadfastly for a God-man to advance civilization into a quantum leap toward a new age. Why do Christians not keep watch as faithfully? There will soon be a "Grand Delusion" perpetrated upon the world ( II Thess 2:11 ) to ensnare all who refuse to be clothed with garments of righteousness.

I Peter chapter three indicates that scoffers would come in the last days asking; "Where is the promise of his coming"? It continues to descibe these people as being willingly ignorant of the prophetic word of God which portends the soon return of Jesus. Seeing as how Jesus shall return like a thief in the night yet at the same time observing all the signs of the season for the final countdown, we still can see that Blessed day on the horizon as it approaches. But that requires watching for that day! Blessed is he that watches!

Why would anyone want to be willingly ignorant of that day? If they have their garments on, imagine the blessing that they are missing by not seeing the day as it nears!

Titus 2:13 exhorts us to "LOOK" for that "Blessed Day"; and the glorious appearing of the Lord!

Listen carefully to II Peter 3:11-12:

Seeing then that all these things shall be dissolved, What manner of persons ought ye to be in all holy conversation and Godliness, Looking ( watching ) for and hasting unto the coming of the day of God?

Bible prophecy encourages believers to live holy and godly, holding steadfastly to the promised hope of his coming! That is one of the greatest blessings that a Christian can have as he struggles to occupy in this old world! That is one of the real purposes of Bible Prophecy. Being able to see the day as it draws near incites one to be strong and confident amidst the storm-tossed sea of life, because victory is within view.

Watching through the window of Bible prophecy provides a stimulus to embrace a life of discipleship. Watching begats a zeal for working, witnessing, and real worshipping. It also emboldens within the heart of every watcher that we are Winning, and not being clubbed to death by the Devil.