Follow Focus on Jerusalem on 'Twitter'
(FOJ note) You can actively follow hourly news, comments and articles on the Twitter link posted above.The Newsroom will continue as always, but the Twitter link provides quick hot-button alerts.
UNESCO Draft Resolution Declaring Israeli Sovereignty Over Jerusalem 'Illegal'
April 28….(Algemeiner) The United Nations' cultural organization UNESCO is to vote next Tuesday, May 2, on a resolution introduced by the Palestinians and several Arab states rejecting Israeli sovereignty over the entire city of Jerusalem, including its majority Jewish western half.
The draft resolution, submitted by Algeria, Egypt, Lebanon, Morocco, Oman, Qatar and Sudan on behalf of the Palestinians, with input from European Union countries as well, states that "any action taken by Israel, the Occupying Power, to impose its laws, jurisdiction, and administration on the City of Jerusalem, are illegal and therefore null and void and have no validity whatsoever."
Both the Israeli government and the Trump Administration, which has frequently hinted that it will recognize Jerusalem as Israel's capital, are reported to be pressuring UNESCO officials and the organization's 58 member states to postpone or oppose the vote. The struggle is an uphill one, as the Arab states have an automatic majority at UNESCO, and the resolution is expected to go through.
Israel responded angrily to the wording of the draft, saying that UNESCO had exceeded its mandate by intervening on the issue. "UNESCO's executive board refuses to stop the politicization that has been undermining the organization's status," an unnamed Israeli diplomatic official told YNET News. "Against the recommendation of UNESCO's director and the promises and declarations made by different leaders over the past year, UNESCO is repeating the ritual of passing political, anti-Israeli resolutions that undermine any action Israel takes in Jerusalem, adopting past resolutions that denied Jewish ties to the city, and recycling political condemnations against Israel on Gaza."
American Jewish groups also appealed to UNESCO to reconsider. A letter sent to UNESCO's Executive Board by a trio of high-level officials of B'nai B'rith International, including CEO Daniel S. Mariaschin, declared: "Passage of the draft in question would further critically undermine the standing of UNESCO in those areas that are within the organization's competency, and your government must reject complicity in an outrageously ahistorical affront not only to Israel but to Jews as well as Christians around the world."
UNESCO member states, Bna'i Brith said, "have an especially profound moral duty to oppose attempts to deny, question or obscure Jews' ties, historic and contemporary, to their most sacred of sites in Jerusalem and elsewhere in the Holy Land, including Rachel's Tomb, the Cave of the Patriarchs, the Western Wall and above all the Temple Mount."
The row over the draft resolution comes just three days after UNESCO Director General Irina Bokova emphasized the links to Jerusalem of Judaism, Christianity and Islam alike.
"The Al Aqsa Mosque/Al-Haram al-Sharif, the sacred shrine of the Muslims, is also the Har Habayit, or Temple Mount, the holiest place in Judaism, whose Western Wall is revered by millions across the world, a few steps away from the Saint Sepulchre and the Mount of Olives holy to the Christians," Bokova said, in an address to the World Jewish Congress' 15th Plenary Assembly in New York.
WEEK OF MARCH 19 THROUGH MARCH 25
Putin Warns Israel; Stay Out of Syria
(Vladimir Putin has issued a clear warning to Israel, saying that unless they order their fighter jets to leave Syrian airspace immediately, Russia be forced to take action.)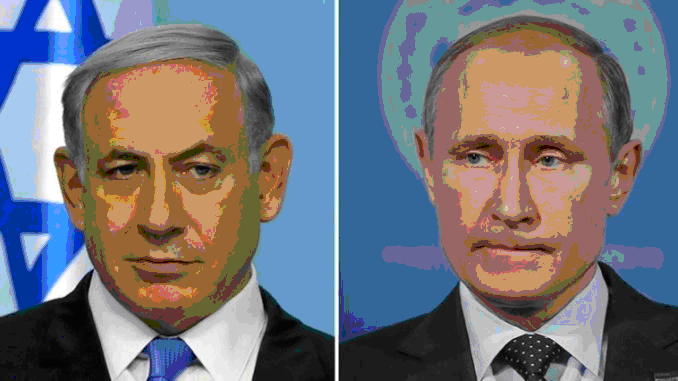 March 21….(Ha Aretz) According to Ambassador Bashar Jaafari, Putin told Netanyahu that the rules of the game for Israel in Syria have changed, warning him that Israel are no longer free to use military aircraft in the country under Russia's watch. "Putin sent a clear message," Bashar Jaafari told Syrian television. "The fact is that the Israeli ambassador to Russi was summoned for a conversation only a day after he submitted his credentials to the Russian Foreign Ministry last Thursday, and was told categorically that this game is over."
Syria's use of anti-aircraft fire against Israel last Thursday night has changed the rules of the game, too, Jaafari said, adding that Syria will not stand idly by in the face of an Israeli threat. He also claimed that when the civil war began in Syria in 2011, opposition militia groups sabotaged the anti-aircraft defense systems belonging to President Bashar Assad's regime, giving Israel freedom to operate. In a separate incident, Syrian media reported Sunday that the commander of a militia fighting alongside the regime was killed in an Israeli airstrike around Quneitra, in the Golan Heights.
The Lebanese TV channel Al Mayadeen, which is associated with Hezbollah, identified the casualty as Yasser Assayed, a member of the national defense militia. A source associated with the Assad regime said Assayad was a commander in the Golan brigade, a militia of Druze fighters (from villages in the Syrian part of the Golan Heights) who are fighting with the regime.
Between Thursday night and Friday morning, Israeli fighter jets attacked several targets in Syria, triggering the most serious clash between Israel and Syria since the civil war erupted six years ago. In response to the airstrikes, the Assad regime's aerial defense system fired several missiles at the jets. Israel's Arrow anti-missile defense system was launched, shooting down one of the missiles north of Jerusalem. The incident forced Israel to admit for the first time that it had launched an aerial attack in Syria.
Following that, Israel's ambassador to Moscow, Gary Koren, was summoned to the Russian Foreign Ministry for talks with Deputy Foreign Minister Mikhail Bogdanov, again, an unusual development. Since Russian forces began operating in Syria in 2015, there have been a number of airstrikes that foreign media have attributed to Israel. But the Israeli ambassador had never previously been called in to clarify Israel's actions.
Iran Vows to 'Liberate' Golan Heights
March 21….(Israel Today) Many believe that it's inevitable that the Syrian civil war will eventually spill over into northern Israel. Iran is doing everything in its power to prove them right.
Iran's Lebanese proxy, Hezbollah, is already heavily engaged in the war in Syria. But the group has suffered major losses, and is stretched thin trying to keep Syrian dictator Bashar Assad in power.
So Iran has funneled money and resources to establish a new Hezbollah brigade focused on "liberating" the Golan Heights from Israeli control. A spokesman for the "Golan Liberation Brigade" told Iranian media: "This is a trained army with specific plans. If the government of Syria requests, we and our allies are ready to take action to liberate Golan. We will not permit Arab and Islamic countries in the region to remain in the grasps of the occupiers." The new brigades promotional video featured soldiers carrying flags that read "Israel Will Be Destroyed."
WEEK OF FEBRUARY 26 THROUGH MARCH 4
Arab Summit May Compromise with Assad
March 1 (DEBKA) Secret contacts currently underway ahead of the Arab League summit later this month may bring about a sea change in the Arab world's relationship with Syrian President Bashar Assad,debkafile's sources report.
On Saturday, Feb. 25, Egypt's parliamentary committee for Arab affairs called for the return of Syria to the Arab League. This step symbolized an initiative launched by a number of leaders to invite Syrian President Bashar Assad to the March 29 Arab Summit in Amman, five years after Syria was expelled from the 22-member Arab League over the savage civil war then at its height.
Three leaders are spearheading the moves for Assad's reacceptance by the Arab community, whether together or separately: Russian President Vladimir Putin, Egyptian President Abdel-Fatteh El-Sissi and Jordanian King Abdullah. All three hope to see a historic handshake and greetings between Assad and Saudi King Salman. This would signify the reconciliation between Saudi Arabia which backed the Syrian rebels, and the Assad regime. But for Assad, it would mark collective Arab recognition of his personal victory, when few expected him to come out alive from the nearly seven sevens of cruel warfare, first sparked by the Arab Spring of December 2010.
Putin's interest in this epic event is self-evident. When he launched a major Russian intervention in the Syrian war in September 2015, President Barack Obama predicted that the Russian army would sink in the Syrian quagmire. The Russian leader proved him wrong, and his reputation in the Arab world would soar if he could persuade King Salman to accept Assad's return to the Arab summit. The plan is for the Syrian ruler to arrive in Amman armed with a Russian safe-conduct guarantee, aboard a Russian military aircraft which would fly him there and back from Russia's Syrian military base at Hmeimim
debkafile's intelligence and Middle Eastern sources report a flurry of arrangements for the event, with military officers and intelligence agents from Russia, Egypt, Jordan, Saudi Arabia and Syria flying back and forth between Cairo, Riyadh, Amman, Damascus and the Russian command in Syria. Our sources also disclose that US officials have hinted in informal contacts with these parties that President Donald Trump is not averse to the initiative, although his public position on the subject must await the final determination of his Middle East policy at large.
The US president scarcely mentioned the Middle East in his speech to Congress Tuesday night, Feb. 28, but for a reference to Iran's ballistic missiles, because his policy his still a work in progress. Putin may well take advantage of this lacuna for a more far-reaching project, enlisting Iran to the Arab peace process with Assad, and expanding it to include a patching up of the quarrel between Tehran and Riyadh. That was the object of the intensive comings and goings this week in the region, which saw Kuwaiti and Iranian officials talking quietly in Tehran, visits by Iranian President Hassan Rouhani to Kuwait and Oman on Feb. 15, and the trip by Saudi Arabian Foreign Minister Adel Al-Jubeir to Baghdad on Feb. 25, when he sat down with Iraqi Prime Minister Haider Al-Abadi. They were all playing their part in a ploy for making Saudi reconciliation with Assad a halfway mark towards making peace between the oil kingdom and Iran as well.