WEEK OF FEBRUARY 27 THROUGH MARCH 5
Hamas's Suicide Bomber Videos: Footage of Hate
(Farewell messages 'There is no blood better than the blood of Jews')
March 3….(WND) An organization monitoring Palestinian media has compiled a collection of farewell videos of suicide bombers that demonstrate the virulent anti-Semitic message of the terrorists. "The romanticized view of suicide terrorists in the Oscar-nominated Palestinian film 'Paradise Now' bears little resemblance to the real world of suicide bombers," writes Itamar Marcus and Barbara Crook of Palestinian Media Watch. "The terrorist videos include calls for Israel's destruction, the belief that killing Israelis will guarantee entrance into paradise and the belief that as reward for their terror, the men will marry maidens of paradise." Excerpts from the videos include the statements: We are a nation that drinks blood, and we know that there is no blood better than the blood of Jews. My dear mother ... wipe your tears. ... Don't let me see you sad on my wedding day with the maidens of paradise. Escort our souls to heaven after we fulfill this duty of crushing the descendents of monkeys and pigs. I hoped that the shredded limbs of my body would be shrapnel, tearing the Zionists to pieces, knocking on heaven's door with the skulls of Zionists. My blood shall be my path to march to heaven. This is the farewell video of Hamas bomber Adham Hujyla Abu Jandal and was published on a Hamas website last month.
Doctrinal Flack over the Falwell-Hagee "Salvation for Jews" Comments
March 3….(FOJ) There has been considerable controversy and debate since the internet circulation of a Jerusalem Post story claiming that Jerry Falwell of Liberty College in Virginia and John Hagee of Cornerstone Church in San Antonio, Texas have concluded that they now believe in the concept of Dual Theology. Dual theology teaches that salvation for Jews is independent of the Cross of Christ, and that Jews gain salvation through a separate covenant with God by virtue of being the Chosen nation. FOJ has received several questions about this subject. FOJ is not knowledgeable of any changes in the doctrinal position by Falwell or Hagee, and that matter is for those men and their ministries to discuss. But for the record, FOJ will simply say that salvation for the Jews is only attainable by way of the finished mission of God's manifest sacrificial Lamb, who submitted himself to the Cross to pay for the sins of all mankind. The righteousness of Jews in the Old Testament was conveyed by way of their instruction to look forward in time to the fulfillment of God's promise to send a lamb (slain from the foundation of the world) to take away their sins. Christians in the New Testament have the advantage of looking back in history to the actual finished work of the Lamb of God on the Cross, and accepting the reality of his efficacious sacrifice. Jews today can only come to salvation the same way every other person in the world can. Jesus Christ and the Cross. Israel today, as a generality, remains blinded to the fact that Jesus was God's sacrificial Lamb, and therefore their Messiah
Russian FM Advises Hamas To Reform
| | |
| --- | --- |
| | Hamas political leader Khaled Meshal and colleagues (center) arriving in Moscow today. |
March 3….(Ha Aretz) Mussian Foreign Minister Sergey Lavrov said Friday that Hamas will have no future if the Palestinian militant group fails to transform itself into a political structure. Lavrov said there was a "need for Hamas, having been elected to a political body to transform itself into a political party and to be sure that the military wing of Hamas became a legitimate part of the Palestinian security structures." Hamas' exiled political leader Khaled Meshal bluntly rejected any discussion of the militant group's refusal to recognize Israel, dealing a setback to Moscow's effort to persuade it to soften its stance. Lavrov urged international patience, saying that "we don't expect that Hamas will do all this and change itself overnight. He said that Hamas needs "to reassess its new role, for which maybe it wasn't ready when the elections took place." Russia's invitation, extended by President Vladimir Putin, was the first crack in an international front against the group, considered a terrorist organization by Israel, the European Union and United States. Hamas has sent dozens of suicide bombers to Israel and does not accept the presence of a Jewish state in the Middle East. Hamas officials arrived in Russia for first talks with a major foreign power on Friday but poured cold water on hopes of a peace breakthrough by saying they were firm in their refusal to recognize Israel. "The issue of recognition is a done issue. We are not going to recognize Israel," Mohammed Nazzal, a senior official accompanying the group's political leader Khaled Meshal, told reporters after their delegation arrived in Moscow.
Hamas Planning a Sharia Law Justice System in Palestine
| | |
| --- | --- |
| | |
March 2….(FOJ) When Hamas was formed in 1988 with Iranian assistance, the terrorist entity published a manifesto calling for "holy war" to create an Islamic state from the Jordan River to the Mediterranean Sea and challenging the Palestine Liberation Organization's (Fatah under Arafat) claim as the sole representative of the Palestinian people. Hamas said, Zionism must be vanquished for Allah's victory to be realized. Hamas believes that the Palestinian Liberation Organization adopted the idea of the secular state, which completely contradicts the idea of Islamic religious ideology. Hamas coordinated its early efforts against Israel in league with the PLO only in so far as the PLO was a tool to permit the PA to become established, and gain territorial concessions from Israel. Now with Statehood being supported even by the US, Hamas by virtue of its popularity amongst the Palestinian peoples and in contrast to the internal monetary corruption of the PA intends to establish another Islamic Republic in the West Bank on the order of fundamentalist Islam, such as already exists in Iran. In as much as Arafat and his Fatah-led PLO utilized executions, intimidation, and terrorism to subdue the Palestinian people under one brand of Arab terrorism, Hamas intends to transform the PA into a strict Islamic Sharia state. It will include the same execution styled mutilation of any suspected violators of Islamic fundamentalism, and death to anyone who dares to defy Allah and he quest for the destruction of Israel.
Dilemma for US Regarding India vs. Iranian Nuclear Programs
March 1….(San Francisco Chronicle) President Bush goes to India this week on a mission to forge an ever closer alliance with the burgeoning South Asian power, but some members of Congress and experts say the price of building the relationship may prove too high. Perhaps the most important -- and controversial -- part of the president's trip is an effort to conclude a groundbreaking agreement that would, for the first time, permit U.S. companies to sell civilian nuclear power reactors and technology to India, whose booming economy is starved for energy. Such sales have been regarded as a virtual taboo because of India's refusal in the past to sign the Nuclear Non-Proliferation Treaty (NPT) and place its reactors under international monitoring. There is considerable uncertainty that Congress will agree to such an arrangement, and there are already signs that the deal may be in trouble in Washington because of concerns it might weaken controls on trade in technology that could be used to develop nuclear weapons. There is also considerable resistance among some Indian politicians and officials to some of the conditions being imposed as part of the deal. Despite two days of intense negotiations last week, the United States and India failed to agree on the all-important issue of separating India's civilian and military nuclear programs. Any deal is premised on India accepting the international monitoring of its civilian nuclear facilities, while its military sites would be exempt. But if India does not allow a sufficient number of its facilities to be opened to inspection -- a way of guaranteeing that it is not engaging in illicit trade or rapidly expanding its weapons stockpile -- Congress is likely to resist. "It's important to have a good agreement that works for the Indians, works for the United States, will be acceptable to our Congress and to the Nuclear Suppliers Group" of nations that export nuclear material, national security adviser Stephen Hadley told reporters in Washington on Friday. The talks are part of what could prove a major shift in U.S.-India relations, which have long been wary. Last March, during a visit to New Delhi, Secretary of State Condoleezza Rice said it was U.S. policy to assist India in becoming a "world power." A nuclear deal would not only give India access to sources of clean energy that it needs to sustain its economic expansion, it would also allow American companies, and companies from other Western countries, to market highly lucrative commercial power reactors and other technology to India. The problem is that India has never signed the NPT, the key international tool for preventing the spread of weapons technology. In the grand bargain enshrined in the 1970 treaty, signatory countries, including Iran, are allowed to have access to civilian nuclear technology, but they must permit international monitoring of their facilities and swear off nuclear weapons programs. India developed a nuclear stockpile through a covert program, and refuses to give up its estimated 40 to 50 warheads, so it has remained outside the system. Under the treaty, signatory countries are forbidden from selling nuclear technology to non-signatory countries such as India, Pakistan and Israel, which built and maintain stockpiles of nuclear bombs. India, which has long insisted it is a responsible nuclear power, wants the United States to make an exception in its case. Congress may insist that the Bush administration not only pressure India to place as many of its nuclear facilities as possible under international safeguards, but also demand that India also agree to ban any further nuclear testing and to stop producing weapons-grade fuel. In addition to the benefits of an alliance with the booming South Asian democracy, officials have said the deal would help make India a regional counterbalance to China, and it would also ensure Indian support for Western efforts to prevent Iran from developing nuclear weapons. Some US observers think that India should become a tool for checking Chinese power in Asia, a form of what he called "polite containment." "The US might need partnerships with other Asian states to counter growing Chinese capabilities, which even today directly threaten the United States and its allies. Few argue with the benefits of a closer relationship with India, whose economic growth rate rivals China. But what worries many experts and lawmakers is whether this will encourage other countries, particularly Pakistan, and possibly Iran, to seek similar exceptions, and thus weaken efforts to limit trade in nuclear equipment and technology. There are a lot of nervous people when it comes to the US-Indian nuclear agreement because it crosses what had been a forbidden line, and may establish a double standard viewed in the case of a rogue state with terrorist ties like Iran.
Iran Readies Plan to Close Strait of Hormuz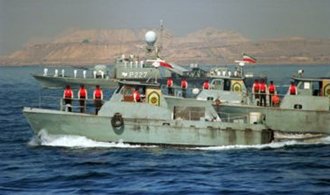 March 1….(Ken Timmerman/Newsmax) Iran's Revolutionary Guards are making preparations for a massive assault on US naval forces and international shipping in the Persian Gulf, according to a former Iranian intelligence officer who defected to the West in 2001. The plans, which include the use of bottom-tethered mines potentially capable of destroying U.S. aircraft carriers, were designed to counter a US land invasion and to close the Strait of Hormuz, the defector said in a phone interview from his home in Europe.
They would also be triggered if the United States or Israel launched a pre-emptive strike on Iran to knock out nuclear and missile facilities. "The Iranian plan is to stop world trade," the source said. Between 15 and 16.5 million barrels of oil transit the Strait of Hormuz each day, roughly 20 percent of the world's daily oil production, according to the US government's Energy Information Administration. Revolutionary Guards missile units have identified "more than 100 targets, including Saudi oil production and oil export centers," the defector said. "They have more than 45 to 50 Shahab-3 and Shahab-4 missiles ready for shooting" against those targets and against Israel, he added. The defector, Hamid Reza Zakeri, warned the CIA in July 2001 that Iran was preparing a massive attack on America using Arab terrorists flying airplanes, which he said was planned for Sept. 11, 2001. The CIA dismissed his claims and called him a fabricator.
Bush: Iranian Nukes-"Not On My Watch"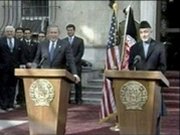 March 1….(Debka) President Bush flatly stated in the 2004 presidential election that Iran would not develop nuclear weapons under his watch as the President of the United States. We shall not let Iran have the means, the knowledge to make nuclear weapon. This would destabilize the world. President George W. Bush spoke on this issue with unprecedented clarity when he made an unannounced first visit to Afghanistan Wed. March 1. Tight security surrounded his five-hour visit to Kabul and the US base at Bagram, and his talks with President Hamid Karzai. Bush was also due to open the new US Embassy before flying off to India and Pakistan.
Tuesday, US Lt.-Gen. Michael Maples, director of the Defense Intelligence Agency, told the US Senate in Washington that insurgents represent a greater threat to Afghan government authority across the country today than at any point since the Taliban government's overthrow in Oct. 2001. He predicted an upsurge of Taliban operations in the spring after a fourfold increase of suicide attacks in 2005 compared with 2004.
George Washington Prayer Ruled Unfit for School
March 1….(WND) A federal judge has ruled against a public school teacher who filed a lawsuit after administrators removed Christian-themed postings from his classroom, including a depiction of George Washington praying at Valley Forge and news clippings about the faith of President Bush and former Attorney General John Ashcroft. William Lee, a Spanish teacher at Tabb High School in York County, Virginia was represented by the Christian public-interest group Rutherford Institute in US District court, arguing his free-speech rights were violated. The postings, removed at the beginning of the 2004-05 school year after a parent complained, included news articles about Bush's Christian faith and Ashcroft's prayer meetings with staffers.
But Judge Rebecca Beach Smith wrote in her opinion the case "is not about what free speech rights Lee has as an individual expressing himself on private property," according to the Associated Press. "Rather, this case is a question about what free speech rights Lee has as a public school teacher-employee," she said. School officials also removed from Lee's classroom a flier promoting the National Day of Prayer. Lee's attorneys argued his bulletin boards were a limited public forum for the private speech of teachers, but Smith insisted they were part of his curriculum and, therefore, not protected by the First Amendment, the AP said. Principal Crispin Zanca contended the school's policy gave discretion to remove a wide variety of postings "regardless of whatever expression or demonstration of personal interest they may possess," including offensive materials such as profanity. News articles must pertain directly to the class subject matter, the principal said. Zanca allowed Lee to keep postings about the religious practices of Inca and Mayan civilizations, a photo of Boy Scouts praying in memory of 9-11 victims and an article and accompanying photo of a flight technician with "Pray for America" on his helmet. In 2004 a California teacher sued after being prohibited from providing supplemental handouts to students about American history because the historical documents, including the Declaration of Independence, contained some references to God and religion. According to the suit, Stephen Williams' principal ordered him to submit his lesson plans and supplemental handouts to her for advance approval. Aside from Williams, a Christian, no other teachers were subject to the advance-screening requirement.
FOJ Note: Washington and Lincoln's birthdays have been relegated from national holidays to a single day observance for the office of the Presidency. How long will it be until America no longer honors our founding father's, and honors someone like the Antichrist?
Israel Rethinking Foreign Relations With Russia
March 1….(Ha Aretz) Acting Prime Minister Ehud Olmert will convene a special meeting today on Israel's bilateral relations with Russia. The discussion comes in the wake of Russian President Vladimir Putin's invitation to Hamas to visit Moscow that was extended earlier this month to senior officials, as well as Russia's compromise proposal regarding the international crisis surrounding Iran's nuclear program. A Hamas delegation led by the head of the movement's political bureau, Khaled Meshal, will travel to the Russian capital on Friday to meet with Foreign Minister Sergei Lavrov and other ministry officials. The Hamas delegation will not be meeting with Putin. Initially, Hamas refused to send a delegation headed by Meshal if Putin wasn't going to meet with it, but the Islamic organization eventually agreed to the Russians' terms. Putin's invitation to the senior Hamas officials was yet another expression of the independent stance Russia has adopted recently vis-a-vis the Middle East, and it aroused much criticism in Jerusalem. Political sources in Jerusalem said that today's discussion had been scheduled a long time ago, and was a regular annual event. Nevertheless, they added, it now has added significance in light of Russia's increased involvement in the region.
Oil-Hungry Asia Stays Friendly With Iran
March 1….(The International News) With the tone rising by the day between Iran and the West over Tehran's nuclear drive, Asia is staying cool, preserving warm ties with the Islamic republic whose oil it desperately needs. Asia feels little direct threat from Iran's populist President Mahmoud Ahmadinejad, even as his quest for nuclear technology and bellicose diatribes against Israel earn him pariah status in the United States and Europe. Iranian Foreign Minister Manouchehr Mottaki after difficult talks in Brussels in mid-February headed on a tour of more friendly Asia. He is due in Japan Monday after visits to Indonesia and Thailand. "Our country, which maintains friendly relations with Iran, will see to it that Iran, which wields influence in the field of energy, will not be isolated in the international community," Japanese Chief Cabinet Secretary Shinzo Abe said ahead of the trip. Japan, usually a steadfast US ally, has defied Washington by maintaining its lucrative commercial relationship with Iran ever since the 1979 Islamic revolution overthrew the pro-Western shah. Japan in 2004 inked a two billion-dollar contract to develop Azadegan in southwestern Iran, considered one of the biggest untapped oil reserves in the world. The world's second largest economy imports nearly all of its oil needs, with 15 per cent coming from Iran, and has fought bitterly with China for access to oil and gas in disputed waters and Siberia. "As Japan is the only country that has suffered nuclear attack, it is not acceptable for it to have more nations possessing nuclear arms," said Osamu Miyata, a Middle East expert at the University of Shizuoka. But he added: "If the UN Security Council adopts economic sanctions against Iran and Japan votes for it while China votes against, Iran may move to give the development rights for the oil field to China." "Japan is unlikely to take policies that get in the way of US policy on Iran. But if the United Nations moves to sanctions, it would not benefit Japan's national interests. I believe Japan would try to convince Iran." The International Atomic Energy Agency (IAEA) is set Monday to deliver a report on the Iranian nuclear program that could lead the way to Security Council action. China, the only Asian nation with a veto on the Security Council, over the weekend dispatched its vice foreign minister to Tehran for talks on the crisis. China needs Iran for its breakneck economic growth, with the Islamic republic providing 13 percent of Chinese oil imports. Beijing also relates to Tehran in its sensitivity over international criticism and punitive measures.
"Beijing wants to give Tehran some face-saving period to reduce tension and avert sanctions," said Jing-dong Yuan, an expert on Asian non-proliferation at the Monterey Institute of International Studies in California. Perhaps the most complicated Asian views on Iran are in India, which also is defensive about foreign concerns over its nuclear program. India has in recent years improved relations with both Iran and the United States, whose President George W Bush visits this week. Despite the nuclear standoff, New Delhi is looking to secure plans with Iran to build a multibillion-dollar gas pipeline. India voted against Iran at the IAEA, infuriating Prime Minister Manmohan Singh's communist allies, who accused him of kowtowing to the United States. But Arundhati Ghosh, India's former ambassador to the UN Conference on Disarmament, said New Delhi's main motivation for the vote was that "we didn't want to see another nuclear weapons state in the region."
Seasons of War
God created the world and mankind, and all of his creation was good in the beginning. Unfortunately, because of Satan, we now live in a fallen world. Thus because sin abounds in the hearts of men everywhere, evil is a demonic malady that is convulsed upon all humanity. Therefore, evil, just like planting and harvest, works in the affairs of mankind to find a season to unleash itself. (Ecclesiastes 3:1-14 To every thing there is a season, and a time to every purpose under the heaven: A time to be born, and a time to die; a time to plant, and a time to pluck up that which is planted; A time to kill, and a time to heal; a time to break down, and a time to build up; A time to weep, and a time to laugh; a time to mourn, and a time to dance; A time to cast away stones, and a time to gather stones together; a time to embrace, and a time to refrain from embracing; A time to get, and a time to lose; a time to keep, and a time to cast away; A time to rend, and a time to sew; a time to keep silence, and a time to speak; A time to love, and a time to hate; a time of war, and a time of peace.) For a beautiful slideshow regarding the reason that good men must be strong in times of war, allow me to recommend the following slideshow located at http://www.forest.ws/WeSupportU.htm
Dubai Ports Firm Enforces Boycott of Israeli Goods
Feb. 28….(Jerusalem Post/FOJ) The Bush Administration's decision to enlist the parent company of a Dubai-based and government owned firm over six US ports has set off a political storm in the US over the purchase of six American ports. FOJ has discovered via a Jerusalem Post interview conducted by a JP researcher that Dubai Imports participates in the Arab boycott against Israel. The firm, Dubai Ports World, with Bush Administration support, is seeking control over six major US ports, including those in New York, Miami, Philadelphia and Baltimore. It is entirely owned by the Government of Dubai via a holding company called the Ports, Customs and Free Zone Corporation (PCZC), which consists of the Dubai Port Authority, the Dubai Customs Department and the Jebel Ali Free Zone Area. When a JP reporter asked a representative of the company about the boycott, the reply was, "Yes, of course the boycott is still in place and is still enforced," said Muhammad Rashid a-Din, a staff member of the Dubai Customs Department's Office for the Boycott of Israel. "If a product contained even some components that were made in Israel, and you wanted to import it to Dubai, it would be illegal," he said. A-Din noted that while the head office for the anti-Israel boycott is located in Damascus, he and his fellow staff members are paid employees of the Dubai Customs Department, which is a division of the PCZC, the same Dubai government-owned entity that runs Dubai Ports World. In a Dubai Imports manual under a section entitled "Frequently Asked Questions", the manual lists six documents that are required in order to clear an item through the Dubai Customs Department. One of them, called a "Certificate of Origin," "is used by customs to confirm the country of origin and needs to be seen by the office which ensures that any trade boycotts are enforced," according to the Dubai Imports company. A-Din of the Israel boycott office confirmed that his office examines certificates of origin as a means of verifying whether a product originated in the Jewish state. On at least three separate occasions last year, the Jerusalem Post learned, companies were fined by the US government's Office of Anti-boycott Compliance, an arm of the Commerce Department, on charges connected to boycott-related requests they had received from the Government of Dubai. US law bars firms from complying with such requests or cooperating with attempts by Arab governments to boycott Israel. In one instance, according to a Commerce Department press release, a New York-based exporter agreed to pay a fine for having "failed to report in a timely manner its receipts of requests from Dubai" to provide certification that its products had not been made in Israel.
Iran Seeks to Turn Hamas into Hizbullah
Feb. 28….(Jerusalem Post) Iran has just announced that it will advance Hamas 250 million dollars in aid. In return, Iran wants the same control over Hamas it has over Hizbullah, an organization that is nothing less than a "delivery system" for Iranian weapons, Henry A. Crumpton, the US State Department's counterterrorism coordinator, told the Jerusalem Post. Crumpton, who last week held a joint counter-terror dialogue with Israel, said that while most pundits think in terms of missiles when talking about Iranian delivery systems, Hizbullah, which he said is "just an extension of the Iranian government," must be thought of in these terms as well. "You combine the Iranian nuclear weapons program with Hizbullah, and that is a pretty nasty mixture," he said. Crumpton said that while Iran does not yet have that kind of control over Hamas, "it is clearly an objective.
Israel Fears A Two-Headed PA
Feb. 28….(JNEWSWIRE) Jerusalem is growing increasingly concerned by global efforts to turn PLO chief Mahmoud Abbas into a "fig leaf" to cover the naked aggression and violent goals of the elected Hamas terrorist organization. The international community clearly looks to justify its continued support of the "Palestinian cause." While much of Europe has a long standing tradition of duplicity when it comes to dealing with Hamas, Israel has been hoping that liberal "political-correctness" does not filter through to its allies in Washington. And so Acting Prime Minister Ehud Olmert urged visiting US State Department envoy David Welch Sunday to hold fast to America's determination to deny terrorism any succor, even under the guise of humanitarian aid to the "Abbas-half" of the Palestinian Authority. Said Olmert, as quoted by Ynet: "Israel sees no separation between Abbas and the authority ruled by Hamas, and this must be understood and emphasized." Earlier in the day, Foreign Minister Tzipi Livni told Welch the peace process would go nowhere so long as Abbas is used as a covering for what up until last month was recognized by all involved as a terror group. "It would be a mistake if the international community takes comfort in the arms of Abbas after Hamas' ascension to power." Livni said Abbas had become all but irrelevant as far as Israel was concerned, considering that Hamas would soon hold the reins of the Palestinian Legislative Council, all PA ministries and the premiership. Nonetheless, both Livni and Welch looked to distance the Palestinian Arab public from the killers they had overwhelmingly elected. That position would seem to contradict the will of the Palestinian Arabs, who since that fateful January vote have confirmed their unwavering support for the virulent policies of Hamas via a number of public opinion polls.
Russia Rescues Tehran from UN Security Council Penalties
Feb. 27….(DEBKA) Russia and Iran announced yesterday that they had reached a deal on Iran's Bushehr nuclear reactor. The deal lays out a plan to have Russia inspect Iran's enriched uranium. The Russians, by going along with Iran's demands, have rescued the Islamic Republic from the threat of a US-European-Israel complaint to the UN Security Council. Referral of Iran's nuclear breaches of the NPT was to have taken place after the critical IAEA board session in Vienna March 6. Now, the Russian delegate will be able to ask for time to work on the details of the Moscow-Tehran accord. The Iranians will thus buy several precious months to continue to process uranium, their main objective in engaging in diplomacy in the first place. The hands of Washington, the EU and the UN are meanwhile tied over referral to the Security Council by the shadow of Russian veto hanging over any resolution penalizing Iran. Moscow has thus delivered a sharp setback to the US-Israeli drive to put spokes in the wheels of Iran's nuclear weapons program. The Kremlin-led faction that brokered the deal advocates breaking ranks with Washington and Europe and striking out for a bilateral Moscow-Tehran deal that under certain conditions releases the brakes on the Islamic republic's nuclear program. Israel is thus confronted with a potential strategic threat as grave, or graver, than the Hamas rise to power in Palestinian government. In the space of a month, the two developments have tightened the Iranian noose around the Jewish state. The Russian go-it-alone initiative had aroused deep concern in Washington, Jerusalem and Vienna. The West feared that to succeed, Russia would bow to a deal that permitted hands-on Iranian involvement in the manufacturing process and decisions on quantities of the joint uranium enrichment venture in Russia. This would remove the safeguards demanded by the US and Europe against the Russian-Iranian enterprise turning out weapons-grade uranium. According to information reaching Washington and Jerusalem, Russia also favors letting Iran continue enrichment at home simultaneously with the Russian-hosted enterprise. The Russia-Iranian deal enables Iran to sidestep the UN nuclear watchdog and interupts the international drive for diplomatic action to arrest Iran's progress toward a bomb.
Hamas Planning More Rocket Assaults on Israel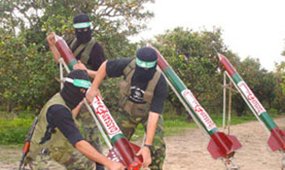 Feb. 27….(FOJ) With Israel's security wall effectively cutting down on the suicide strikes inside Israel, Hamas is planning for an increased phase of rocket attacks in Israel by firing newly developed rockets with more range and better accuracy over the wall. Hamas activists may not be actively launching Qassam rockets at Israel from the Gaza Strip nowadays, but they are providing assistance to militants from other groups who are carrying out such attacks. Most of the rocket fire is being carried out by Islamic Jihad activists, activists from Fatah's Al-Aqsa Martyrs Brigades, and members of local factions such as the Popular Resistance Committees. For all intents and purposes, Hamas has been in control of the northern branch of the PRC over the past few months. Qassam attacks have significantly increased recently. At least 130 Qassam rockets fired from the Gaza Strip fell in Israeli territory in January, more than double the 64 that landed in Israel in December 2005. Senior IDF and political officials have reiterated warnings to the Palestinians that Israel will be forced to adopt harsh military measures if the rocket fire continues. The current Qassam rockets have a range of just over 11 kilometers, but militants are working to increase this. For some time, Hamas has been trying to smuggle in Russian Grad rockets, which have a 24-kilometer range. Such rockets would be able to reach the Ashkelon power station and other strategic targets within Israel.
US Will Fund Hamas Authority Indirectly
Feb. 27….(JNEWSWIRE) After adamantly vowing to deny American funding to the Hamas terrorist organization, Washington over the weekend backtracked by saying it will not halt aid to the Palestinian Authority, but will merely attempt to redirect it to humanitarian works. The Seattle Times quoted visiting US State Department envoy David Welch following his meeting with PA official in Ramallah: "Washington continues to be devoted to the humanitarian needs of the Palestinian people and we shall remain so." Israel immediately recognized the scheme as doomed to failure, reported Israel's Yediot Ahronot Hebrew daily. Senior government officials like Defense Minister Sha'ul Mofaz and Foreign Minister Tzipi Livni warned that even money placed directly in the hands of PLO chief Mahmoud Abbas is likely to end up in Hamas' pockets. Both Mofaz and Livni were expected to raise this concern when they met with Welch later on Sunday.
But Israel's position is likely to have little effect on the actions of the Bush Administration, which is determined to oversee a final peace settlement, and views Abbas as its best chance to achieve that goal. Fully aware of this, Abbas has threatened to quit if the West does not continue financing the "Palestinian cause," asserting that financial pressure is pushing Hamas against the wall and making it impossible for him to set policy. Quipped Abbas in an interview with Britain's ITV-1 Friday: "If I can't do my job the way I see fit, I'll resign."
When the Nukes Come to Port
Feb. 27….(WND) With all the controversy over the United Arab Emirates company approved to run port operations, one man with a lot of experience and expertise in the area says it really doesn't matter who gets the contract, though he is sure it should be an American company. Robert Pfriender, president of Allied International Development, says everyone is really missing the point on port security. "The real concern," he tells Joseph Farah's G2 Bulletin, "is that if a weapon of mass destruction arrives at one of mainland ports, it will be much too late for any possible security measure to have any effect." 12-kiloton nuclear device (small by today's standards, and similar in size to that used on Japan) detonated at the Brooklyn Redhook Terminal would likely kill 2 million people or more as the radioactive fallout rains downwind on the completely unprotected citizens of Long Island, his company estimates. "Such an event which is unfortunately entirely plausible at the current time would change the nature of our free society in profoundly negative ways and would likely ruin the national economy aside from the great human tragedy of immeasurable proportions," he adds. And that's why Allied International Development put together a comprehensive plan for Customs and Border Protection to develop three offshore cargo container security inspection ports to inspect each and every container prior to it being cleared for entry to the US mainland. The ports would be located 25 miles offshore to mitigate the effects of a detonation and so any fallout (which is minimal over water) would not pass over land. "We offered to develop these ports with private financing and at no cost to the government," he said. "The operation of the ports would generate revenue from a small inspection fee for each container. The fully automated robotic process would add only a slight delay to the container delivery time." Not only did Pfriender ensure the proposal was seen by Customs officials as far back as August 2002, less than a year after the Sept. 11 attacks, he also took the time to see that virtually every member of Congress received this proposal, along with officials in the White House, the Department of Defense, the Coast Guard and the Department of Homeland Security. Interestingly, the only response he received from Customs was a letter signed by Jason Ahern, the administration's point man on pushing the UAE deal through. "Obviously, Mr. Ahern and his superiors have either no idea of what security should be or they purposely choose to not implement a security protocol that will prevent the demise of our country," says Pfriender. Pfriender says Customs chooses to rely on the "Container Security Initiative," which is a virtual (as opposed to a reliable physical) "inspection" of containers. In reality, less than 4 percent of containers are targeted for this "inspection" which is really only a screening, with less than 1 percent of the 4 percent of containers which are screened being actually inspected. Further, these "inspections" are carried out by foreigners at foreign ports and Customs can only rely upon the honesty of the foreign inspectors. Worse, there are only a few dozen ports enrolled in this program out of thousands of ports worldwide. None of these ports are located in countries which are the most serious threats to US national security.
Pray for Zola Levitt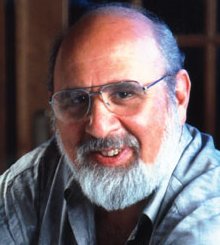 Zola Levitt, the Jewish Christian and Bible prophecy scholar known for his tagline, "Pray for the peace of Jerusalem," has been diagnosed with lung cancer and is not expected to live more than a year. That is the word from Zola's son, Mark Levitt. "The good news, barring a medical miracle, is that he will meet our Lord before the rest of us, Mark said." Zola's trouble was first noticed Feb. 10 when Zola had some difficulty speaking while traveling in Florida. Examinations revealed three lesions in his brain and what appeared to be a tumor in his left lung. His liver also appeared to be affected. The brain lesions are thought to be from cancer tissue that has migrated from the lung. Zola and his wife, Sandra, returned to their Dallas home, and on Feb. 20, a biopsy was performed and Zola was diagnosed with stage 4 Metastasic squamous cell Non-Small Cell Lung Cancer (NSCLC). Stage 4 is the most advanced stage of lung cancer, when the disease has spread to a distant part of the body, such as another organ. Surgery is almost never used if the cancer has metastasized to another organ. Mark Levitt reports Zola is now getting radiation therapy five days a week and chemotherapy once a week, noting the brain lesions "have shrunk remarkably in size." "He has some pneumonia due to the lung cancer and has a cough from that, but is not in any pain and currently has few other symptoms," Mark says. on the website.
WEEK OF FEBRUARY 20 THROUGH FEBRUARY 26
Al Qaeda Attack Foiled on Saudi Oil Refinery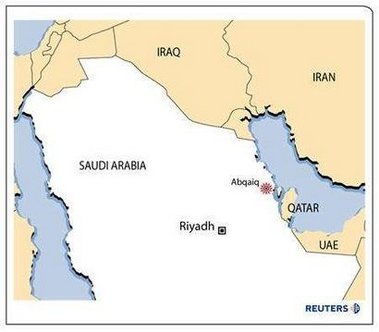 Feb. 24….(AP) Suicide bombers in explosives-laden cars attacked the world's largest oil processing facility Friday, but were prevented from breaking through the gates when guards opened fire on them, causing the vehicles to explode, officials said. The Saudi oil minister said the blast "did not affect operations" at the Abqaiq facility, denying an earlier report on Al-Arabiya television that the flow of oil was halted briefly after a pipeline was damaged. The facility "continued to operate normally. Export operations continued in full," the minister, Ali Naimi, said in a statement. Al-Naimi, the oil minister, said "security forces and Aramco security officials managed to thwart a terrorist attack against" the installation. The price of oil jumped by more than $1.20 on world markets as they heard of the attack. The April delivery price of Nymex sweet light crude, the US benchmark, rose $1.26 to $61.80. The European benchmark, Brent crude, leaped $1.21 to $61.75 for April delivery. It was the first attack on an oil facility in Saudi Arabia, and it targeted one of the kingdom's most important. The huge Abqaiq processing facility near the Gulf coast handles around two-thirds of the country's oil output, according to the US Department of Energy's Energy Intelligence Agency. Saudi Arabia has been waging a fierce three-year crackdown on al-Qaida militants, who launched a campaign in 2003 aimed at overthrowing the royal family with a string of attacks With over 260 billion barrels of proven oil reserves, a quarter of the world's total, Saudi Arabia is the top foreign supplier to the United States and is the main source of liquidity in the world market. Saudi Arabia maintains crude oil production capacity of around 10.5-11.0 million barrels a day, and claims that it is "easily capable" of producing up to 15 million bbl/d in the future and maintaining The Abqaiq facility processes about 5-7 million barrels a day.
On May 1 2004, attackers stormed the offices of Houston-based oil company in the western Saudi oil hub of Yanbu, killing six Westerners and a Saudi before Saudi security forces killed the attackers. Several weeks later, al-Qaida-linked gunmen stormed oil company compounds in Khobar, on the eastern coast, and took hostages. Twenty-two people, 19 of them foreigners, were killed by the time the siege ended. In December 2004, al-Qaida leader Osama bin Laden called on militants to attack oil targets in the Gulf to stop the flow of oil to the West.
Iran: We'll Strike Dimona if US Attacks
Feb. 24….(Ha Aretz) If the United States launches an attack on Iran, the Islamic republic will retaliate with a military strike on Israel's main nuclear facility. Dr. Abasi, an advisor to Iran's Revolutionary Guard, said Tehran would respond to an American attack with strikes on the Dimona nuclear reactor and other strategic Israeli sites such as the port city of Haifa and the Zakhariya area. Haifa is also home to a large concentration of chemical factories and oil refineries. Zakhariya, located in the Jerusalem hills is, according to foreign reports, home to Israel's Jericho missile base. Iranian affairs experts believe Abasi's statements are part of propaganda battle being wages by all sides, including Israel and Iran, in the lead up to next months United Nations Security Council debate on Iran's nuclear program.
10,000 Pastors Sign Letter Debunking Creationism
Feb. 24….(Bill Wilson/KIN) Just one small example of how far the church has gone toward being lukewarm is the ten thousand ministers of the gospel who have signed on to the "Clergy Letter Project." The Clergy Letter Project starts by saying that many Bible stories are legend or myth. It says, "Many of the beloved stories found in the Bible, the Creation, Adam and Eve, Noah and the ark, convey timeless truths about God, human beings, and the proper relationship between Creator and creation expressed in the only form capable of transmitting these truths from generation to generation. Religious truth is of a different order from scientific truth. Its purpose is not to convey scientific information but to transform hearts." And the letter goes on to say, "We believe that the theory of evolution is a foundational scientific truth, one that has stood up to rigorous scrutiny and upon which much of human knowledge and achievement rests. To reject this truth or to treat it as "one theory among others" is to deliberately embrace scientific ignorance and transmit such ignorance to our children."
FOJ Note: We are truly deep into the Laodicean Church Age. The actions of these thousands of pastors is deplorable. (Jeremiah 23:1 Woe be unto the pastors that destroy and scatter the sheep of my pasture! saith the LORD.)
US Finding that Arab World Truly Supports Terror Against Israel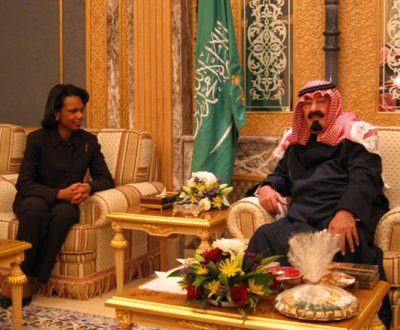 Feb. 23….(FOJ) US Secretary of State Condoleeza Rice has concluded her sobering mission to lobby the so-called friends and allies of the US in the Middle East to join the US Bush administration's policy of not supporting terrorist organizations. Therefore, the Bush Middle East Doctrine of promoting democracy in the Arab world as a method of combating terrorism has shown itself to be a mirage, and a geo-political gambit that was doomed from the start because it failed to ascertain that the Arab world is consumed with hatred for Israel and is passionate about two things, its religion, and---"destroying Israel." Hamas has won the electorate amongst the Palestinians, and Iran and Syria are continuing to stem the push for democracy in Iraq by fomenting a civil war. Prince Saud al-Faisal of Saudi Arabia told Condoleezza Rice that aid to the Palestinians should be based on humanitarian needs. Based on that fact, the Prince said Saudi Arabia will choose to rebuff America's call to deny aid to a Palestinian government led by the terrorist group, Hamas. Earlier Secretary Rice met the same rejection of US policy towards the terrorist entity in Palestine from Egyptian leader Hosni Mubarak.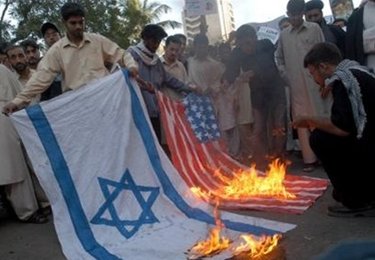 Shiite Muslims around the world have joined in numerous riots to burn United States and Israeli flags in condemnation of yesterday's bombing of Samarra's Golden Mosque, one of Shi'ite Islam's holiest sites in Iraq. It seems like Islam has a sacred mosque, or a sacred something or other every where these days that the US and Israel are blamed for desecrating. It may just be me, but it seems obvious to me that there are many demonic forces on the loose in the Arab world (and elsewhere) that is driving the whole world to the brink of Armageddon. Surely, the Lord has allowed the sword of Islam to be sent forth to all nations to make them drunken, and to draw them all down into the Valley of Decision. (Jeremiah 25:15-38)
Iraq Seemingly Descending into Civil War
Feb. 23….(FOJ) Iranian President Mahmoud Ahmadinejad blamed the United States and Israel on Thursday for the destruction of a Shiite shrine's golden dome in Iraq, saying it was the work of "defeated Zionists and occupiers." It is quite obvious to FOJ that Iran is fomenting the inspiration for the insurgency inside Iraq, and it is using its compatriots in Syria to enact the targets for attack.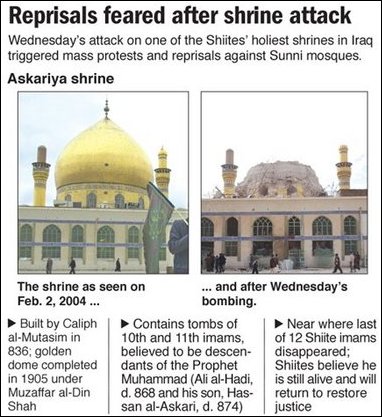 The mad mullahs of Iran are utilizing their fellow Shiite clerics like Al Sadr to incite the insurgency and drag the country into a civil war, much like the pattern followed in Lebanon in the 1980's, which resulted in a Syrian-Hezbollah takeover. Speaking to a crowd of thousands on a tour of southwestern Iran, the president referred to the destruction of the Askariya mosque dome in Samarra on Wednesday, which the Iraqi government has blamed on insurgents. "They invade the shrine and bomb there because they oppose God and justice," Ahmadinejad said, referring to the US-led multinational forces in Iraq. The truth is probably that Iran had the mosque bombed in order to instigate a Sunni uprising. Ahmadinijab continued, "These passive activities are the acts of a group of defeated Zionists and occupiers who intended to hit our emotions," he said in a speech that was broadcast on state television. Addressing the United States, he added: "You have to know that such an act will not save you from the anger of Muslim nations." The bombing has set off a string of sectarian attacks in Iraq, just as the mullahs had hoped. Angry crowds thronged the streets, militiamen attacked Sunni mosques and at least 19 people were killed.

Secretary Rice not Finding Many Allies in Middle East
| | |
| --- | --- |
| | Rice met with Saudi King Abdullah bin Abdul Aziz in Riyadh |
Feb. 23….(JNEWSWIRE) Washington is finding it difficult to convince its so-called "allies" in the Arab world to stop financing what is now a recognized and unabashed terrorist entity – the Hamas Authority. Cairo, Riyadh and the rest all signed on for the US-led effort against Osama bin Laden's Al Qaeda, but the equally fanatical and virulent Hamas is apparently a different story. What's the difference? While Al Qaeda presents as much a threat to the largely secular dictatorships of the Middle East as it does to Israel and the US, Hamas' primary goal is the eradication of the Jewish state, an objective America's friends in the region have long cultivated. On the very first stop of her four-day Middle East tour aimed at cutting off financial aid to the Palestinian Authority following Hamas' electoral victory, US Secretary of State Condoleezza Rice was rebuffed by her Egyptian counterpart. Standing next to Rice at a joint press conference in Cairo Tuesday, Egyptian Foreign Minister Ahmed Aboul Gheit said: "We should give Hamas time to develop their own ideas." Gheit's comment smacked of the international news media's ongoing refusal to accept that Hamas is already deeply committed to its long-established core ideas of destroying Israel and forcing the region's Jews to live as second-class citizens as a first step towards global Islamic domination. While Egypt does not provide the Palestinian Authority with any sizable financial aid, the Bush Administration saw signing Cairo up for its anti-Hamas campaign as important for two reasons: Egypt, as the largest Arab state, carries a lot of weight with the rest of the Arab world; and The Egyptian Muslim Brotherhood, of which Hamas is an offshoot, has already vowed to utilize its global network to raise significant funds for its terrorist brothers. Rice's next stop in Riyadh on Wednesday also ended in failure when her host, Saudi Arabian Foreign Minister Prince Saud al Faisal, stated: "We wish not to link the international aid to the Palestinian people to considerations other than their dire humanitarian needs." Rice is due to wrap up her trip in the United Arab Emirates, where her losing streak is expected to continue.
Saudis Refuse to Agree to US Isolation of Hamas
Feb. 23….Saudi Arabia refused Wednesday to join an American effort to deny foreign aid to a Palestinian government led by Hamas, the second Arab ally in two days to rebuff Secretary of State Condoleezza Rice.
"We wish not to link the international aid to the Palestinian people to considerations other than their dire humanitarian needs," Saudi Foreign Minister Prince Saud al-Faisal said through a translator. Rice sat at Saud's side as he spoke, as she had stood by on Tuesday when Saud's Egyptian counterpart said it was premature to cut off aid to a Hamas-led government. The top US diplomat is making her first visit to the Middle East since Hamas swept Palestinian elections last month, stunning Washington and threatening the already fragile Israeli-Palestinian peace process. Both Saud and Egyptian Foreign Minister Ahmed Aboul Gheit said the world should not prejudge Hamas, signaling that the Arab world, like some European countries and Russia, is hedging its bets about whether and when to sever financial ties that keep the cash-strapped Palestinian government afloat. The Saudis told Rice and the United States that they plan to continue sending approximately $15 million monthly to the Palestinian government. The United States and the European Union list Hamas as a terrorist organization. Arab nations generally have friendly relations with Hamas, which also has a successful political arm. "For the United States, Hamas is a terrorist organization," Rice told reporters. "We cannot give funding to a terrorist organization. It's really that simple."
Pro-Israel Christians Form Lobby
Feb. 23….(YNET) Pro-Israeli Christian groups operating in the United States have decided to form an umbrella organization that will engage in lobbying efforts in Washington beginning this coming summer. The organization, made up of mostly evangelical groups, will also open offices across the country, hold events in support of Israel, offer political, financial and public relations support, and work to strengthen the strategic alliance between the US and Israel. This umbrella organization is expected to comprise some 30-35 million American evangelists who have until now operated separately, and will act similarly to the way the Jewish lobby operates in the US. The new organization will be led by John Hagee, an influential evangelist with some put at the White House, who heads a congregation of tens of thousands of worshippers in San Antonio, Texas. Hagee's Sunday sermons are broadcast to millions of American viewers on television. Some two weeks ago, Hagee convened 400 heads of Christian congregations and organizations, representing 30-35 million Americans, to discuss the establishment of the umbrella organization, set to be directed by Hagee himself. Israel's Ambassador in Washington Danny Ayalon later hosted a special meeting with 80 Christian leaders, including Robert Stern, designated to serve as vice chairman of the organization. Up until now, Christians in the US have only joined forces once a year, during the "Day of Prayer for Israel," held for the fourth time this year. Ambassador Ayalon and Israel's consuls in different parts of the country have routinely attended the events. Ayalon welcomed the establishment of the new umbrella body and said that nurturing the relations with Christian communities is an important goal. During the last four years, Israel has institutionalized ties with Christian groups, Ayalon said, adding the Jewish community overcame many fears regarding this cooperation, which is now "almost a consensus." According to Ayalon, the pro-Israeli Christian community in the US is a prominent community in American society and constitutes a significant aspect of strategic relations between the two countries. The formation of this umbrella organization is an important development that may ensure Christian support for Israel for many years to come, Ayalon concluded.
China Considering Aid for Hamas
Feb. 23….(Jerusalem Post) China said Wednesday it would consider giving aid to the new Hamas-led Palestinian government if Hamas leaders request it. A Foreign Ministry spokesman, Liu Jianchao, said Beijing hopes the new Palestinian leadership "could start from maintaining the fundamental interests of Palestinian people, and continue to push forward the China-Palestine relations and the Middle East peace process." Asked at a regular news briefing whether China might offer aid to compensate for money withheld from Hamas by Israel, Liu said, "If the Palestinian side raises this request, we will consider it."
Syria To Acquire North Korean Missiles
Feb. 23….(MENL) The United States expects that Syria will procure the No-Dong intermediate-range ballistic missile from North Korea. A report by the Congressional Research Service said Syria would seek to extend the range of its ballistic missile arsenal amid the success of its ally, Iran. The report, entitled "Missile Defense: The Current Debate," said Syria would require the No-Dong to prepare for a Middle East war. "Although Syria has not shown any overt interest in acquiring longer-range missiles," the report said, "it is possible that as regional security prospects continue to deteriorate, Syria may attempt to acquire longer-range systems such as the No-Dong MRBM [medium-range ballistic missile]." The No-Dong, based on the Scud missile, was said to have a range of about 1,200 kilometers. North Korea is said to have also sold the No-Dong or components to Egypt, Iran and Libya.
Russian Missile Cruiser Moskva docked at Syrian Latakia Port

Feb. 23….(DEBKA) A task force led by the Moskva and the Azov landing ship became the first Russian naval force in a decade to call at a Syrian port. DEBKAfile's military sources report: The force sailed out of its home port of Sevastopol on the Black Sea, on Feb. 5, to join a NATO-led anti-terrorist operation in the Mediterranean for a combined three-month drill focusing on combating the smuggling of weapons of mass destruction, illegal weapons trade and migration. The drill is named The Active Endeavors Operation. NATO leaders and US army chiefs were keen enough on Russian participation for NATO secretary general Jaap de Hoop Scheffer to promise the gesture of the first visit by an alliance chief aboard the Moskva. However, neither he nor the Americans taking part in the exercise had any idea that the Russian naval force intended to break away from the exercise long enough to put in at a Syrian port, a call which Syrian president Bashar Assad took as a gesture of support from Moscow. The visit underlined the Kremlin's plan to play a larger part in the military affairs of the Middle East, largely by making friendly overtures to America's adversaries. President Vladimir Putin's invitation to discuss arms sales in Moscow with an invited Hamas delegation was part of this picture.
FOJ Note: FOJ has noted and documented how Russia moved Iraq's weapons of mass destruction from Iraq into Syria before the start of the US led invasion against Saddam Hussein. The docking of the Moskva at the Syrian port serves further notice that Russia has a unique and special relationship with Syria.
Introducing Ismail Haniyeh: New Palestinian Prime Minister
Feb. 22….(FOJ) Ismail Haniyeh, the Gaza leader of the Hamas terrorist organization, which is headquartered in Damascus, has emerged as the new Palestinian Prime Minister. He replaces Mahmoud Abbas. Haniyeh is 50 years old. Haniyeh, in conjunction with Mahmoud Zahar was responsible for leading Hamas in the West Bank and Gaza Strip after the Israeli-targeted assassination of blind Islamic sheikh Ahmad Yassin. Mr. Haniyeh served as Hamas bureau chief for Yassin, but was given a higher leadership position after Yassin's death. Haniyeh was one of the leading figures who urged Hamas to form a party list and participate in the Palestinian elections, and was the top seat in both the municipal and parliamentary elections.
| | |
| --- | --- |
| | Ismail Haniiyeh is shown in this photo casting his vote in the recent Palestinian elections. To his left, wearing the Hamas shawl is his comrade in terrorism, Mahmoud Zahar. |
Like many other terrorist leaders in Gaza, Haniyeh was targeted by the IDF for assassination for his numerous roles in terrorist attacks against Israeli citizens. In 2003, following a suicide bombing on a bus in Jerusalem, the IAF dropped a bomb on a house in Gaza in an assassination attempt of Haniyeh, Yassin, and bomb-maker Mohammad Deif, but all three of the terrorists escaped unscathed. Haniyeh was born in the Shati refugee camp in the Gaza Strip in 1955, although the exact date of his birth is unknown. He began studying Arabic literature at the Islamic University in Gaza in 1987, where he became active in Islamic student movements. In 1992, he was deported by Israel to Lebanon along with 400 other Hamas activists, but was eventually allowed to return to Gaza. Upon his return, he was appointed dean of the Islamic University, and became the leader of the Hamas' student movement, from which position he was well placed to recruit suicide bombers. Haniyeh has always favored terror and violence over diplomacy, and said the Hamas' wins in the municipal elections in 2005 were proof that the majority of Palestinians support terrorism against Israel.
Russia's Growing Political Clout
Feb. 22….(K/House/Chuck Missler) Beneath the Baltic Sea, a pipeline is being built between Russia and Germany. Slated for completion by 2010, the 744-mile Northern European Pipeline is a 5 billion dollar project that will pump billions of cubic meters of natural gas from Western Siberia to Germany and the rest of Europe. More importantly, the project has come to symbolize Europe's growing reliance on Moscow for its ever-expanding energy needs. Three-quarters of Europe's natural gas will be imported by 2020, the bulk of which will come from Russia. But some experts say Europe's reliance on Russian gas is problematic, particularly if Moscow makes a pattern of using energy as a tool for foreign policy. The Russian government controls most of the nation's energy resources and seems willing to use its energy clout as a political weapon. Russia recently received criticism when Gazprom, Russia's giant state-owned energy monopoly, briefly suspended gas supplies to Ukraine, in the dead of winter, in a dispute over gas prices and transit costs. The EU bloc of 25 countries relies on Russia for over a quarter of its energy needs. Germany, for example, imports over a third of their gas from Russia. Several Eastern European nations are completely dependent on Gazprom. Gazprom sells a third of its gas to Europe, accounting for nearly 70 percent of the company's revenue. Russia is a key player in world energy markets. It holds the world's largest natural gas reserves, the second largest coal reserves, and the eighth largest oil reserves. Russia is also the world's largest exporter of natural gas, the second largest oil exporter, and the third largest energy consumer. Russia has reaped huge economic benefits from rising energy prices. In addition to the European gas pipeline, construction has begun on an Eastern Siberia-Pacific Ocean oil pipeline to feed growing Asian markets. Russia has also made lucrative energy deals with Canada and the United States. In fact, some experts believe Russia could become the third-largest exporter of energy to the US before the end of the decade. Over the past two years, partly as a consequence of the war in Iraq, Russia has been carefully cultivating ties with Turkey, Iran and Syria. After losing the Mid-East foothold provided by Saddam Hussein's Iraq, the Russians have been building a new axis of power based on those three key countries. Russia is now Turkey's second-largest trading partner, with a volume of $10 billion in trade per year; Russia strengthened ties with Iran by supplying it with nuclear-related technologies; and last year Russia and Syria made plans to increase diplomatic and military cooperation. Russia wrote-off approximately 10 billion dollars of Syria's Soviet-era debt and has supplied Syria with Russian made SA-18 surface-to-air missiles. Russia's arms exports in 2005 totaled a record breaking 6.1 billion dollars. Despite the ongoing controversy about Iran's nuclear program, Russia intends to sell Iran up to 30 Tor M-1 surface-to-air missiles in a deal estimated to be worth up to 700 million dollars. Russia claims to be our ally and partner in the war against terrorism. However despite US objections, Russia is all too willing to sell advanced weaponry to countries (like Syria and Iran) which support the insurgency in Iraq. Russia has also made overtures to the Hamas-controlled Palestinian government. Russia does not consider Hamas to be a terrorist organization, even though Hamas has claimed responsibility for the murder of more than 500 people in at least 350 separate terrorist attacks since 1993. Russia is a co-sponsor of the Road Map Peace Plan, but that does not mean they are a friend to Israel. Prior to the elections in January, Russian military experts were sent to the Gaza Strip to train Palestinian security forces. In addition to training, Russia is prepared to provide the Palestinians with armored vehicles, ammunition, and helicopters. In past speeches Putin has called on Israel to make concessions and withdraw "from all the occupied Arab lands back to the June 4, 1967 border." Tensions in the Middle East continue to increase and recent events indicate that the famed battle prophesied in Ezekiel 38 and 39 could be on our near horizon. It is during this battle, that God will directly intercede to protect Israel from Magog and its allies.
Insurgency-Terrorists Bomb Iraqi Shiite Shrine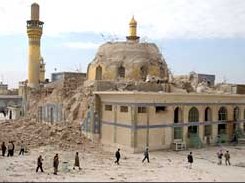 Feb. 22….(Jerusalem Post) A large explosion Wednesday heavily damaged the golden dome of one of Iraq's most famous Shiite shrines, sending protesters into the streets and triggering reprisal attacks against Sunni mosques. It was the third major attack against Shiite targets in as many days. Shiite leaders called for calm. But militants attacked Sunni mosques, killing one cleric, and a gunfight broke out between Shiite militiamen and guards at a Sunni political party in Basra. No group claimed responsibility for the early morning attack on the Askariya shrine in this city 95 kilometers (60 miles) north of Baghdad. But suspicion fell on Sunni extremist groups such as al-Qaida in Iraq of Abu Musab al-Zarqawi. In Baghdad, National Security Adviser Mouwafak al-Rubaie pointed to religious zealots such as the al-Qaida terror network and Ansar al-Sunnah, telling Al Arabiya television that the attack was an attempt "to pull Iraq toward civil war."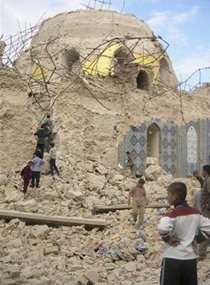 Tradition says the Askariya shrine, which draws Shiite pilgrims from throughout the Islamic world, is near the place where the last of the 12 Shiite imams, Mohammed al-Mahdi, disappeared. Al-Mahdi, known as the "hidden imam," was the son and grandson of the two imams buried in the Askariya shrine. Shiites believe he is still alive and will return to restore justice to humanity. An attack at such an important religious shrine would constitute a grave assault on Shiite Islam at a time of rising sectarian tensions in Iraq. The shrine contains the tombs of the 10th and 11th imams, Ali al-Hadi who died in 868 AD and his son Hassan al-Askari who died in 874 AD and was the father of the hidden imam. The golden dome was completed in 1905. Samarra has been among the most difficult cities to pacify in the Sunni heartland. In 2004, the city fell under the control of extremists, and al-Qaida flags could be seen flying over some buildings in the city. US forces regained control but the city remains tense. Samarra is located about 70 miles north of Baghdad, in the infamous Sunni Triangle.
Israel Warns of 'Evil Axis' World War
Feb. 22….(Ha Aretz) Israel's ambassador to the United Nations, Danny Gillerman, on Tuesday warned of a new "terror axis" between Iran, Syria and Hamas, which could kick start "the first world war of the 21st century." Addressing the UN Security Council on a quarterly session to discuss international terrorism, Gillerman asked council members if their governments would agree to al-Qaeda or the Kurdish group PKK running in elections. "Imagine al-Qaeda or the PKK running in elections? A dictator's democracy is a dangerous false impression," Gillerman told the Council. Gillerman warned of Hamas' venture in politics, saying "the world is witnessing a new alliance between Iran, Syria and Hamas, which constitutes an axis of terror." Gillerman evoked Iranian President Mahmoud Ahamadinejad's January visit to Syria and the warm welcome in Tehran of Hamas leaders this week. Political leader Khaled Mashaal led a Hamas delegation to Iran where he said Iran will play a more central role in Palestinian affairs after guarantees for financial backing to the Palestinian government from the Islamic Republic. "This new terror axis poses a big threat to regional and world stability, and is a recipe for the worst ever plague. If we ignore this imminent threat, the axis of evil will be the seeds of the first world war of the 21st century," Gillerman said. He called on the international community "to take seriously Syria, Hamas and Iran's joint effort and to act seriously to prevent Iran, an extremist and dangerous government that supports terror, from acquiring the knowledge to develop nuclear arms." Gillerman said that the democratic elections in the Palestinian Authority cannot cover up Hamas extreme ideology which calls for the destruction of Israel. He invited Council members to read Hamas' charter, a key provision of which calls for the murder of Jews and the annihilation of the Jewish state.
Iran Extends Sponsorship of Terrorists to Hamas
Feb. 22….(DEBKA) This week's Tehran visit by a Hamas delegation led by politburo chief Khaled Meshaal ushered in an era of close military collaboration between the Islamic republic and the Palestinian terrorists, according to DEBKAfile's military sources. Earlier this year DEBKA-Net-Weekly's counter-terror sources uncovered Iran's support in military training, logistical support, weapons and money for the terrorists fighting US forces in Iraq under Abu Musab al Zarqawi. It was the subject of US ambassador Zalmay Khalilzad's accusation at a news conference in Baghdad Monday, Feb. 20. We reported earlier that Iranian agents in Iraq were:
1. Passing money and arms to Sunni guerillas in Iraq and choosing their Iraqi and US targets.
2. Running training camps for Zarqawi's men.
3. Offering al Qaeda combat personnel three-week holidays at special rest and recuperation centers in Iran.
4. Providing hospital care in Iran for injured Iraqi Sunni insurgents and al Qaeda terrorists.
Ambassador Khalilzad said Monday Washington does not "want Iranian interference in Iraq, providing arms and training the militias and forces which are hostile to this new Iraq." While Iraq and Iran maintained good relations, he warned "Iran has another policy as well, which is to work with the militias and extremist groups and provide training and weapons, direct or indirect." He criticized Tehran's demand for British forces to withdraw immediately from the southern city of Basra. Tehran's hostility to Washington is unabashed. So too is its hostility to the Jewish state. Israel should therefore expect the worst. While Iranian officials talk big about making up the future Hamas government's shortfall from an international aid cutoff, the money is not nearly on stream. Hamas leaders in Tehran played hard to get; they balked at putting themselves entirely in Iran's power or letting the Palestinian Authority become an Iranian dependency or outpost. However, Meshaal and party welcomed any assistance on offer for building a Hamas-controlled military force, available also to support any Tehran action against Israel, whether direct attacks or terrorism modeled on the Iraqi guerrilla-terrorist insurgency. The Hamas delegation and Iranian leaders came to an agreement for Hamas military missions to be invited to Tehran and given all the formal honors of official Palestinian Authority delegations. The Islamic republic will also make training camps available for Hamas terrorists as well as weapons and military aid.
Russia Rushes to Offers Palestinians Emergency Aid
Feb. 21….(Ha Aretz) Russia offered yesterday to provide emergency assistance to the Palestinians, a day after Israel decided to freeze transfers of tax revenues to the Palestinian Authority. Russian Foreign Minister Sergey Lavrov offered the aid as part of international human relief efforts during a conference call between Russia and the three other members of the Mideast peace Quartet: the United States, the United Nations and the European Union. Meanwhile, Iran and the Muslim Brotherhood called on Muslim countries yesterday to provide annual financial aid to Hamas, which sent a delegation to Tehran in an effort to drum up support. Hamas political bureau head Khaled Meshal met with Iranian leader Ayatollah Ali Khamenei and Iranian President Mahmoud Ahmadinejad, in the latest stop on a tour of Arab and Islamic nations. Hamas is trying to build up a new source of financing following its victory in last month's Palestinian parliamentary elections and the impending formation of a Hamas-led government The United States and Europe, the world's two largest donors to the Palestinians, have said they will not provide funding directly to any Hamas-led government, and the United States is stepping up its campaign to stop the flow of cash. But Iran urged Hamas not to fear for its finances. Khamenei said aid from Islamic nations to the Palestinians will send a significant sign to the world and improve relations among Muslims. "Annual financial assistance to Palestine is one way that Muslim nations can share the responsibility of Palestine," he said in talks with Meshal, according to Iranian state-run television. "The Palestinian people voted for Hamas knowing that meant the continuation of the armed struggle and the jihad against the Zionists," said Khamenei, urging Hamas to stick by its rejection of Israel, its insistence on the return of Palestinian refugees and the creation of a Palestinian state with Jerusalem as its capital. Meshal attributed the Hamas electoral win to its terror tactics: "The Hamas victory in the elections was achieved thanks to the armed struggle and the blood of the martyrs, who were a keystone in Hamas policy. The nation voted as it did despite its awareness of the difficulties facing Hamas. There is media, political and financial pressure directed by the West, the United States and the Zionists, but Hamas will continue on its path under the new conditions, without giving up on its principles and red lines. The Palestinian people need help urgently to hold on." The Muslim Brotherhood, the Middle East's largest fundamentalist movement, announced its own private funding drive yesterday, saying it would ask its supporters to donate one quarter of their income to support Hamas. The Organization of the Islamic Conference, a 57-member grouping of Muslim nations, also plans to provide institutional and financial aid to the PA, Malaysian Prime Minister Abdullah Ahmad Badawi said yesterday. Arab League foreign ministers met in Algiers yesterday in an attempt to revive a funding plan they originally agreed on in 2002 that would provide the PA with some $50 million a month. However, Arab countries have consistently failed to meet those pledges. The Arab League is not expected to make a final decision on promises of funds until a summit next month in the Sudanese capital, Khartoum. US Secretary of State Condoleezza Rice, meanwhile, is set to arrive in Cairo today, before heading to Saudi Arabia and the United Arab Emirates to caution them against funding any Palestinian government headed by Hamas.
Iran to Hamas: Take The Fight to Israel
Feb. 20….(YNET) Iran's spiritual leader Ayatollah Ali Khamenei met Monday with Hamas Politburo Chief Khaled Mashaal and other members of the group visiting Tehran, telling them they must continue to fight Israel. "The only way to succeed is to continue to resist the occupation," Khamenei said. "The Palestinian people knew voting for Hamas marks the continuation of fighting against the Zionist occupation regime."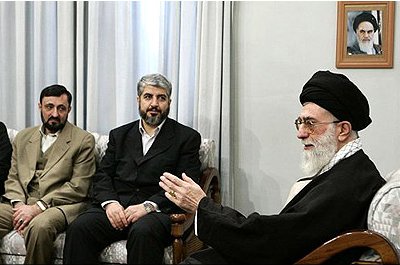 (Khaled Mashaal with Khamenei)
Khamenei noted Hamas' recent election victory was a "sweet surprise, and proof Allah's promises materialize." His comments were quoted by Iran's official news agency. The country's spiritual leader also called for unity among Palestinians, which he said was necessary in order to achieve their national goals. Mashaal, meanwhile, praised Iran's position, and noted "Hamas' victory belongs to all Muslim nations. Of course Iran has a part in the triumph." "This victory was a blessing by the almighty, meant to spare the blood of the oppressed and reward the martyrs," Mashaal said. Khamenei later lauded Hamas for continuing its elections campaign despite the obstacles, saying "they continued the campaign until Allah's promises were fulfilled one after the other." "All those victories are a result of resistance to the occupation," Khamenei said, and praised the Palestinian people for being "intelligent and politically mature" and voting for Hamas with the knowledge this will mean continued resistance. Iran's spiritual leader backed Mashaal's position, which rejects recognition of Israel, and demanded Palestinian refugees be allowed to return to Israel and the establishment of a Palestinian state with Jerusalem as its capital. "This is the only way to succeed," Khamenei said. Khamenei also called on Arab countries to assist the new Hamas-led government and back its refusal to recognize Israel. "Such support will boost the link between Muslims and Palestinians and have great influence on the world, while also boosting the moral of those facing Israel's systematic belligerence," he said. Mashaal arrived in Tehran from Syria, where he met with senior Turkish officials and discussed with them financial aid to the Palestinian government. Hamas leaders are expected to visit more countries in the coming days are hoping to visit Kuwait during the tour.
Hamas Terrorist Nominated as new PA Prime Minister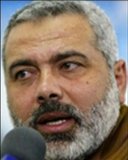 Feb. 20….(JNEWSWIRE) The Palestinian Arabs voted for terrorists and they will receive no less, despite efforts by the international press to whitewash Hamas' new political faces as "pragmatists" and "moderates." Most prominent among the blood-soaked terror bosses will be Ismail Haniyeh, who was nominated as Hamas' choice for prime minister of the Palestinian Authority as the group was officially installed as the new majority party in the Palestinian Legislative Council Saturday. Media outlets such as Reuters, the Associated Press and the BBC immediately sought to paint Haniyeh as anything but the terrorist and supporter of mass murder he has been for decades. Wrote the Associated Press: "A pragmatist, [Haniyeh] served as a liaison between Hamas and Palestinian Authority, established in 1994 and dominated by the rival Fatah movement." Reuters was like-minded in its assessment: "Haniyeh, 43, is widely viewed by Palestinians as a pragmatist who has good relations with rival factions and someone with whom Israel could ultimately do business." The BBC asserted it was Haniyeh's "moderation" that helped Hamas to win so many seats: "But he is considered a moderate in the movement's ranks whose position on the list was intended to appeal to mainstream Palestinian voters." While all three mention that Haniyeh was on several occasions arrested by Israeli security forces and in 1992 was expelled with other top Hamas terrorists to southern Lebanon, they fail to detail the terrorist activities Haniyeh engaged in that led to those actions against him. Nor do they mention that in 1993 Haniyeh earned himself a spot on Israel's most wanted list for his role in a horrific "suicide" bomb attack that killed 23 people and wounded and maimed 130 others on a public bus in Jerusalem. Also omitted are recent comments by Haniyeh revealing his continued support for terrorism against Israel and backing of the virulent Hamas charter: Following Israel's "disengagement" last summer, Haniyeh, speaking to the Associated Press, praised the terrorist arms that had brought about the "liberation" of Gaza and northern Samaria, and said they would be used to drive Jews off even more land. The Jewish Virtual Library notes that Haniyeh said Hamas' strong showing in municipal elections last year was proof the majority of Palestinian Arabs support terrorism against Israel. Reuters recently quoted Haniyeh calling demands that Hamas alter its anti-Semitic and hate-filled charter "unjust to the Palestinian people." Little more than a decade ago, the international press corps, together with the governments of Europe and the United States, succeeded in transforming the mass-murderer Yasser Arafat into a recognized and respected diplomat.
They appear determined to do the same for Hamas.
Carter: "Don't Punish the Palestinians because of Terror"
| | |
| --- | --- |
| | (FOJ) Former US president Jimmy Carter, pictured here, cautioned the United States and Israel against punishing the Palestinian people for electing a government led by a terrorist. If the former President had a brain, it could be used as a suicide bomb. |
Feb. 20….(AP) Former US president Jimmy Carter cautioned the United States and Israel against punishing the Palestinian people for electing a government led by Hamas. "During this time of fluidity in the formation of the new government, it is important that Israel and the United States play positive roles," Carter wrote in a Washington Post opinion piece. "Any tacit or formal collusion between the two powers to disrupt the process by punishing the Palestinian people could be counterproductive and have devastating consequences," Carter warned. "Unfortunately, these steps are already under way and are well known throughout the Palestinian territories and the world," added Carter, who observed last month's election. "Israel moved yesterday to withhold funds (about 50 million dollars per month) that the Palestinians earn from customs and tax revenue. Perhaps a greater aggravation by the Israelis is their decision to hinder movement of elected Hamas Palestinian Legislative Council members through any of more than a hundred Israeli checkpoints around and throughout the Palestinian territories," Carter wrote. "This common commitment to eviscerate the government of elected Hamas officials by punishing private citizens may accomplish this narrow purpose, but the likely results will be to alienate the already oppressed and innocent Palestinians, to incite violence, and to increase the domestic influence and international esteem of Hamas. It will certainly not be an inducement to Hamas or other militants to moderate their policies," said Carter. "If Israel is willing to include the Palestinians in the process, (Mahmud) Abbas can still play this unique negotiating role as the unchallenged leader of the PLO (not the government that includes Hamas)," Carter added. For Carter, "it would not violate any political principles to at least give the Palestinians their own money; let humanitarian assistance continue through the UN and private agencies; encourage Russia, Egypt and other nations to exert maximum influence on Hamas to moderate its negative policies; and support President Abbas in his efforts to ease tension, avoid violence and explore steps toward a lasting peace."
Hamas Leader Visits its Iranian Terror Masters
| | |
| --- | --- |
| | (FOJ) Damascus based Hamas terrorist coordinator Khlaed Meeshal meets with his staunch anti-Israel ally, the Iranian President Mahmoud Amahdinejab. Hamas is obviously coordinating plans with Iran to wage the next phase of its terror campaign against Israel and the US. |
---
| | |
| --- | --- |
| Khaled Meshaal (L), politburo chief of the terrorist Palestinian group Hamas, meets with Iran's Supreme Leader Ayatollah Ali Khamenei (the mastermind of Islamic terror) in Tehran, Iran February 20, 2006. Later, he met with Iran's anti-Israel President, Mahmoud Ahmaddinejab. | |
US May Use Georgia as Launching Pad to Iran
Feb. 20….(Jerusalem Post) American officials have been quietly probing whether Georgia, situated just northwest of Iran, will be willing to allow Washington to use its military bases and airfields in the event of a military conflict with Teheran, The Jerusalem Post has been told. The Americans have been putting out feelers, a high-ranking Georgian government foreign affairs official told the Post, in advance of a possible military strike to prevent Iran from achieving nuclear weapons capability. American reports in recent months, speculating about the possibility of a campaign against Iran because of the failure of diplomatic efforts to thwart a potential nuclear weapons program, have suggested that sustained military action, rather than a single strike, may be required given the number of Iranian nuclear facilities, their divergent locations and Iranian defenses. Georgian government officials said that Tbilisi fears harsh Iranian military retaliation against the Georgian republic if US forces were to use its territory as a base for strikes against Iran, but nonetheless may feel obligated to accede to such a request, given the country's heavy reliance on US aid and support. The US maintains its own military bases in Georgia. While the Americans have been testing the waters lately in this direction, the source indicated, no official request of this kind has yet been made. Georgia is also worried about the possibility of civil unrest, citing the strong opposition by its Muslim minority to the country's participation in the war in Iraq, where there is a limited Georgian military contingent. Military collaboration with the US would also have "a most negative effect" on relations between Moscow and Tbilisi, which remains strained since the election of Georgia's US-educated president, Mikhail Saakashvili, in 2004. Saakashvili is considered one of the most consistent US supporters in the post-Soviet bloc and enjoys solid American backing. Indeed, Saakashvili is often accused by Moscow of maintaining an "American outpost in the region." The Georgian source added that a similar US request might be made to Azerbaijan, an immediate neighbor of Iran and another close American ally. The close proximity of both countries to Iran makes Tbilisi and Baku desirable partners in a potential alliance against Iran. The US is preparing for a variety of scenarios," one of which is too use Azerbaijan as the launch pad for their attack. Azerbaijan, which is closer to Iran than Georgia and enjoys strong ties with Israel and Washington, is also home to US radar stations which line its border with Iran. US officials stationed in the region said they did not need Azerbaijan's or Georgia's cooperation in an attack against Iran. According to the sources, if the US wanted to attack Iran, it could always use Iraq or Afghanistan, where US forces are already heavily deployed, as its base. Meanwhile, Iranian Intelligence Minister Gholamhossein Mohseni Ejehei on Sunday warned that any Israeli attack against it would be "stupidity" and provoke a swift response, state-run television reported. Israel has said it would not allow Iran to develop a nuclear capability, and has indicated it might take "necessary steps" if negotiations fail to convince Iran to give up its uranium enrichment program. Last month, Iranian Defense Minister Mostafa Muhammad Najjar said if Israel attacks Iran's nuclear facilities, Iran will respond so strongly that it would put the Jewish state into "an eternal coma" like Prime Minister Ariel Sharon
Iran Urges Muslim States to Grant Hamas-led PA Annual Aid
Feb. 20….(AP) Iran's supreme leader called on Muslim nations Monday to provide annual financial aid to a Hamas-led Palestinian government and supported the radical group's refusal to recognize Israel. Hamas political leader Khaled Mashaal and other officials were in Iran - a top backer of Hamas - in the latest stop of a tour of Arab and Islamic nations aimed at drumming up support as Israel and the United States move to cut off money to the Palestinians. "Annual financial assistance to Palestine is one way that Muslim nations can share the responsibility of Palestine," Iranian supreme leader Khamenei urged Hamas to stick by its rejection and its insistence on the return of Palestinian refugees and the creation of a Palestinian state with Jerusalem as its capital. "Continuation of this stance and observing (these issues) as a red line is the only way for success," said Khamenei, who has the final say in all state matters in Iran. He said aid from Islamic nations to the Palestinians will send a significant sign to the world and improve relations among Muslims. He praised Hamas' recent victory in the general elections as a "divine sweet surprise." Israel and the United States, which consider Hamas a terrorist group, accuse Iran of giving financial and material support to Hamas, though Tehran insists it only gives moral backing. Mashaal, heading a Palestinian delegation, arrived in Tehran on Sunday for a two-day visit. He is to meet Iranian leaders including President Mahmoud Ahmadinejad, who provoked international condemnation last year by calling for "Israel to be wiped off the map." In December, during Mashaal's last visit to Tehran, he supported Iran's hard-line stance against Israel saying that Hamas and Iran formed a united front against Israel. Ayatollah Ali Khamenei said in talks with Mashaal, according to state-run television.
WEEK OF FEBRUARY 12 THROUGH FEBRUARY 19
Ex-Official: Russia Moved Saddam's WMD
Kenneth R. Timmerman - Sunday, Feb. 19, 2006
A top Pentagon official who was responsible for tracking Saddam Hussein's weapons programs before and after the 2003 liberation of Iraq, has provided the first-ever account of how Saddam Hussein "cleaned up" his weapons of mass destruction stockpiles to prevent the United States from discovering them."The short answer to the question of where the WMD Saddam bought from the Russians went was that they went to Syria and Lebanon," former Deputy Undersecretary of Defense John A. Shaw told an audience Saturday at a privately sponsored "Intelligence Summit" in Alexandria, Va. (www.intelligencesummit.org).
"They were moved by Russian Spetsnaz (special forces) units out of uniform, that were specifically sent to Iraq to move the weaponry and eradicate any evidence of its existence," he said. Shaw has dealt with weapons-related issues and export controls as a U.S. government official for 30 years, and was serving as deputy undersecretary of defense for international technology security when the events he described today occurred. He called the evacuation of Saddam's WMD stockpiles "a well-orchestrated campaign using two neighboring client states with which the Russian leadership had a long time security relationship." Shaw was initially tapped to make an inventory of Saddam's conventional weapons stockpiles, based on intelligence estimates of arms deals he had concluded with the former Soviet Union, China and France.
He estimated that Saddam had amassed 100 million tons of munitions - roughly 60 percent of the entire U.S. arsenal. "The origins of these weapons were Russian, Chinese and French in declining order of magnitude, with the Russians holding the lion's share and the Chinese just edging out the French for second place."
But as Shaw's office increasingly got involved in ongoing intelligence to identify Iraqi weapons programs before the war, he also got "a flow of information from British contacts on the ground at the Syrian border and from London" via non-U.S. government contacts. "The intelligence included multiple sightings of truck convoys, convoys going north to the Syrian border and returning empty," he said. Shaw worked closely with Julian Walker, a former British ambassador who had decades of experience in Iraq, and an unnamed Ukranian-American who was directly plugged in to the head of Ukraine's intelligence service.
The Ukrainians were eager to provide the United States with documents from their own archives on Soviet arms transfers to Iraq and on ongoing Russian assistance to Saddam, to thank America for its help in securing Ukraine's independence from the Soviet Union, Shaw said. In addition to the convoys heading to Syria, Shaw said his contacts "provided information about steel drums with painted warnings that had been moved to a cellar of a hospital in Beirut."
But when Shaw passed on his information to the Defense Intelligence Agency (DIA) and others within the U.S. intelligence community, he was stunned by their response. "My report on the convoys was brushed off as 'Israeli disinformation,'" he said.
One month later, Shaw learned that the DIA general counsel complained to his own superiors that Shaw had eaten from the DIA "rice bowl." It was a Washington euphemism that meant he had commited the unpardonable sin of violating another agency's turf. The CIA responded in even more diabolical fashion. "They trashed one of my Brits and tried to declare him persona non grata to the intelligence community," Shaw said. "We got constant indicators that Langley was aggressively trying to discredit both my Ukranian-American and me in Kiev," in addition to his other sources.
But Shaw's information had not originated from a casual contact. His Ukranian-American aid was a personal friend of David Nicholas, a Western ambassador in Kiev, and of Igor Smesko, head of Ukrainian intelligence. Smesko had been a military attaché in Washington in the early 1990s when Ukraine first became independent and Dick Cheney was secretary of defense. "Smesko had told Cheney that when Ukraine became free of Russia he wanted to show his friendship for the United States." Helping out on Iraq provided him with that occasion.
"Smesko had gotten to know Gen. James Clapper, now director of the Geospacial Intelligence Agency, but then head of DIA," Shaw said. But it was Shaw's own friendship to the head of Britain's MI6 that brought it all together during a two-day meeting in London that included Smeshko's people, the MI6 contingent, and Clapper, who had been deputized by George Tenet to help work the issue of what happened to Iraq's WMD stockpiles.

In the end, here is what Shaw learned:
In December 2002, former Russian intelligence chief Yevgeni Primakov, a KGB general with long-standing ties to Saddam, came to Iraq and stayed until just before the U.S.-led invasion in March 2003.
Primakov supervised the execution of long-standing secret agreements, signed between Iraqi intelligence and the Russian GRU (military intelligence), that provided for clean-up operations to be conducted by Russian and Iraqi military personnel to remove WMDs, production materials and technical documentation from Iraq, so the regime could announce that Iraq was "WMD free."
Shaw said that this type GRU operation, known as "Sarandar," or "emergency exit," has long been familiar to U.S. intelligence officials from Soviet-bloc defectors as standard GRU practice.
In addition to the truck convoys, which carried Iraqi WMD to Syria and Lebanon in February and March 2003 "two Russian ships set sail from the (Iraqi) port of Umm Qasr headed for the Indian Ocean," where Shaw believes they "deep-sixed" additional stockpiles of Iraqi WMD from flooded bunkers in southern Iraq that were later discovered by U.S. military intelligence personnel. The Russian "clean-up" operation was entrusted to a combination of GRU and Spetsnaz troops and Russian military and civilian personnel in Iraq "under the command of two experienced ex-Soviet generals, Colonel-General Vladislav Achatov and Colonel-General Igor Maltsev, both retired and posing as civilian commercial consultants."
Washington Times reporter Bill Gertz reported on Oct. 30, 2004, that Achatov and Maltsev had been photographed receiving medals from Iraqi Defense Minister Sultan Hashim Ahmed in a Baghdad building bombed by U.S. cruise missiles during the first U.S. air raids in early March 2003.
Shaw says he leaked the information about the two Russian generals and the clean-up operation to Gertz in October 2004 in an effort to "push back" against claims by Democrats that were orchestrated with CBS News to embarrass President Bush just one week before the November 2004 presidential election. The press sprang bogus claims that 377 tons of high explosives of use to Iraq's nuclear weapons program had "gone missing" after the U.S.-led liberation of Iraq, while ignoring intelligence of the Russian-orchestrated evacuation of Iraqi WMDs.
The two Russian generals "had visited Baghdad no fewer than 20 times in the preceding five to six years," Shaw revealed. U.S. intelligence knew "the identity and strength of the various Spetsnaz units, their dates of entry and exit in Iraq, and the fact that the effort (to clean up Iraq's WMD stockpiles) with a planning conference in Baku from which they flew to Baghdad."
The Baku conference, chaired by Russian Minister of Emergency Situations Sergei Shoigu, "laid out the plans for the Sarandar clean-up effort so that Shoigu could leave after the keynote speech for Baghdad to orchestrate the planning for the disposal of the WMD." Subsequent intelligence reports showed that Russian Spetsnaz operatives "were now changing to civilian clothes from military/GRU garb," Shaw said. "The Russian denial of my revelations in late October 2004 included the statement that "only Russian civilians remained in Baghdad." That was the "only true statement" the Russians made, Shaw ironized.
The evacuation of Saddam's WMD to Syria and Lebanon "was an entirely controlled Russian GRU operation," Shaw said. "It was the brainchild of General Yevgenuy Primakov."
The goal of the clean-up was "to erase all trace of Russian involvement" in Saddam's WMD programs, and "was a masterpiece of military camouflage and deception." Just as astonishing as the Russian clean-up operation were efforts by Bush administration appointees, including Defense Department spokesman Laurence DiRita, to smear Shaw and to cover up the intelligence information he brought to light.
"Larry DiRita made sure that this story would never grow legs," Shaw said. "He whispered sotto voce [quietly] to journalists that there was no substance to my information and that it was the product of an unbalanced mind." Shaw suggested that the answer of why the Bush administration had systematically "ignored Russia's involvement" in evacuating Saddam's WMD stockpiles "could be much bigger than anyone has thought," but declined to speculate what exactly was involved.
Retired Air Force Lt. Gen. Thomas McInerney was less reticent. He thought the reason was Iran.
"With Iran moving faster than anyone thought in its nuclear programs," he told NewsMax, "the administration needed the Russians, the Chinese and the French, and was not interested in information that would make them look bad."
McInerney agreed that there was "clear evidence" that Saddam had WMD. "Jack Shaw showed when it left Iraq, and how." Former Undersecretary of Defense Richard Perle, a strong supporter of the war against Saddam, blasted the CIA for orchestrating a smear campaign against the Bush White House and the war in Iraq. "The CIA has been at war with the Bush administration almost from the beginning," he said in a keynote speech at the Intelligence Summit on Saturday. He singled out recent comments by Paul Pillar, a former top CIA Middle East analyst, alleging that the Bush White House "cherry-picked" intelligence to make the case for war in Iraq.
"Mr. Pillar was in a very senior position and was able to make his views known, if that is indeed what he believed," Perle said. "He (Pillar) briefed senior policy officials before the start of the Iraq war in 2003. If he had had reservations about the war, he could have voiced them at that time." But according to officials briefed by Pillar, Perle said, he never did.
Even more inexplicable, Perle said, were the millions of documents "that remain untranslated" among those seized from Saddam Hussein's intelligence services. "I think the intelligence community does not want them to be exploited," he said. Among those documents, presented Saturday at the conference by former FBI translator Bill Tierney, were transcripts of Saddam's palace conversations with top aides in which he discussed ongoing nuclear weapons plans in 2000, well after the U.N. arms inspectors believed he had ceased all nuclear weapons work. "What was most disturbing in those tapes," Tierney said, "was the fact that the individuals briefing Saddam were totally unknown to the U.N. Special Commission." In addition, Tierney said, the plasma uranium programs Saddam discussed with his aids as ongoing operations in 2000 had been dismissed as "old programs" disbanded years earlier, according to the final CIA report on Iraq's weapons programs, presented in 2004 by the Iraq Survey Group.

Rice Warns Iran, Mideast States Not to Finance Hamas-led PA
Feb. 18...(Ha Aretz) Secretary of State Condoleezza Rice cautioned Iran and other Middle East powers on Friday of the consequences for the region of giving money to a Palestinian government led by Hamas. She also expressed doubt that the militant Islamic group could raise badly needed international financing unless it changes its policies. "I would hope that any state that is considering funding Hamas, a Hamas-led government, would think about the implications of that for the Middle East" and for the goal of peace between Israel and the Palestinians, Rice said. In an interview with a panel of Arab journalists, Rice delivered a new and blunt warning to Iran. "Iran has its own troubles with the international community, and it might want to think twice about enhancing those troubles" by bankrolling Hamas, Rice said. The United States considers Hamas a terrorist group and Iran a patron of terrorism. It has no official dealings with either. Hamas just won a parliamentary election in the Palestin aid with evident skepticism. The top US diplomat noted that Middle Eastern governments including Egypt, Jordan, Saudi Arabia and the Persian Gulf states have signed on to the goal of peace. She implied that those governments should be pressuring Hamas to renounce violence and accept Israel's right to exist. Egypt, she said, has been sending Hamas the right message. "Let me put it this way," Rice said. "I think there's only one reason for contact at this point, and that's to make clear what the message is." Hamas has refused to reconsider its anti-Israel policies since winning its surprise victory last month. The organization has claimed responsibility for dozens of suicide bombings against Israel but also has a successful political arm.
China Rushes to Complete $100B Deal With Iran
Feb. 18...(Washington Post) China is hastening to complete a deal worth as much as $100 billion that would allow a Chinese state-owned energy firm to take a leading role in developing a vast oil field in Iran, complicating the Bush administration's efforts to isolate the Middle Eastern nation and roll back its nuclear development plans, according to published reports. The completion of the agreement would advance China's global quest for new stocks of energy. It could also undermine US and European initiatives to halt Tehran's nuclear plans, possibly generating friction in Beijing's relations with outside powers. The deal would clear China Petrochemical Corp., also known as Sinopec, to develop the Yadavaran oil field in southern Iran. Beijing and Tehran are attempting to swiftly conclude a deal in the next few weeks, ahead of the possible imposition of international sanctions against Iran, according to a report published in Friday's editions of The Wall Street Journal. The report relied upo potentially enormous oil fields in Russia. But the speed with which China and Iran are moving to conclude their agreement and begin development appears to signal Beijing's intent to limit the United States-led drive for sanctions against Iran to curb what the Washington describes as Tehran's rogue effort to develop nuclear weapons. As one of the five permanent members of the UN Security Council, China can veto a sanctions proposal within the international body, or at least threaten to do so to restrict the bite and breadth of such an initiative. "The timing is really interesting," said Shen Dingli, an international relations expert at Fudan University in Shanghai. "China and Iran appear to be collaborating not only for energy development but also to increase the stakes in case sanctions are imposed. This is a subtle message that even if sanctions are passed, you could have limited sanctions without touching upon oil. China is saying, 'This is my cheese. Don't touch.' "China's voracious appetite for energy is ran to halt its nuclear plans. But China's aggressive pursuit of an oil deal with Iran underscores how energy security has become a paramount concern for Beijing at a time of relentless industrial growth. Government forecasts show China's demands for imported crude oil swelling from about one-third of its total needs to about 60 percent by 2020. Analysts assume that the Iranian field could produce as much as 300,000 barrels of oil per day, making it one of the larger overseas operations for a Chinese company. Sinopec would hold a 51 percent stake in the Yadavaran project, according to the Caijing report, while India's Oil and Natural Gas Corp. would hold 29 percent. The rest of the venture would be divided among Iranian companies and perhaps other outside investors
Russia Warns US Against Striking Iran
Feb. 17….(Breitbart) Russia's top military chief on Thursday warned the United States against launching a military strike against Iran and a top diplomat voiced hope that close cooperation with China could help resolve the Tehran nuclear crisis. With tension mounting over Iran's nuclear programs, Gen. Yuri Baluyevsky, the chief of Russia's general staff, warned the United States against attacking Iran. "A military scenario can't be ruled out," Baluyevsky was quoted as saying by Russian news agencies. He said that while Iran's military potential cannot compare to the United States', "it is hard to predict how the Muslim world will respond to the use of force against Iran." "This may stir the whole world, and it is crucial to prevent anything like that," Baluyevsky was quoted as saying. Deputy Foreign Minister Alexander Alekseyev, meanwhile, said that cooperation with China could help push Iran toward accepting Moscow's offer to host Iran's uranium enrichment program.
Russia and Hamas to Discuss Arms
Feb. 17….(Jerusalem Post) Russia's President Vladimir Putin formally invited Hamas leaders this week to visit Moscow for talks in early March. Stunned Israeli officials are considering sanctions against the Hamas led PA. The meeting may end with a new deal to supply the terrorist organization with arms, including two M-17 helicopters and 50 armored personnel carriers, according to a report by the Interfax news agency. Russian army chief of general staff General Yuri Baluvevsky said the two helicopters would be unarmed, however. He justified the sale of armored equipment as necessary for "stabilizing the situation".
Russia Moving Quickly to Arm Hamas
Feb. 17….(JNEWSWIRE) There is little chance Hamas' visit to Moscow in the coming weeks at the invitation of Russian President Vladimir Putin will result in the terror group moderating its positions, which Washington and its European allies had hoped would be the primary focus of talks. Instead, the new masters of the Palestinian Authority are likely to return with shiny new weapons with which to further bleed the Jewish state. Confirming the existence of a possible arms deal, the Russian military's chief of staff, General Yuri Baluyevsky, told his nation's Interfax news agency Thursday: "The decision to sell arms to Hamas must be reached through the cooperation of both sides." Meanwhile, cooperation between Russia and Hamas is expected to encounter few obstacles as the Kremlin looks to utilize the terrorists' overwhelming electoral victory to reassert its once dominant influence in the Middle East. As Hamas swept to victory at the ballot box last month, Putin declared almost gleefully that the Palestinian Arabs' choice represented: "A big blow to American efforts in the Middle East, a very serious blow." The burgeoning ties between Russia and an entity uniquely positioned to oversee the destruction of Israel, and the planned transfer of weapons of war from the former to the latter will immediately draw parallels to the prophecy of an invasion by "Gog, of the land of Magog" for those who read and believe the Word of God. Thus says the Lord God: "On that day when My people Israel dwell safely, will you not know it? Then you will come from your place out of the far north, you and many peoples with you... You will come up against My people Israel... It will be in the latter days that I will bring you against My land, so that the nations may know Me, when I am hallowed in you, O Gog, before their eyes." (Ezekiel 38:14-16)
New Islamic Fatwa Does Not Forbid Use of Nuclear Weapons
Feb. 17….(MEMRI) (When the Entire World is Armed With Nuclear Weapons, it is Permissible to Use These Weapons as a Counter-Measure.) "The spiritual leaders of the ultra-conservatives in Iran have accepted the use of nuclear weapons as lawful in the eyes of shari'a. Mohsen Gharavian, a disciple of Ayatollah Mesbah Yazdi (who is Iranian President Ahmadinejad's spiritual mentor), has spoken for the first time of using nuclear weapons as a counter-measure. He stated that 'in terms of shari'a, it all depends on the goal.' "The religious leadership of the Islamic Republic of Iran, which has until now regarded the use of nuclear weapons as opposed to shari'a, and has repeated this point again and again, has so far kept silent about this. In spite of the fact that, in the last few weeks, some of the senior leaders of the Islamic Republic have tried to reduce the pressure exerted by the radical conservatives, the radicals nevertheless seem to have complete control over the political arena. "Iranian National Security Council Secretary Ali Larijani, who is in charge of the nuclear dossier, has spoken to reporters only once since the IAEA Board of Governors approved its resolution, and his silence is significant. But yesterday, the IraNews news agency published recent remarks by Mohsen Gharavian regarding the nuclear issue. Gharavian is a lecturer at the religious schools of Qom, and is a disciple of Ayatollah Mesbah Yazdi. In his recent remarks, he said for the first time that the use of nuclear weapons may not constitute a problem according to shari'a. He further said that 'when the entire world is armed with nuclear weapons, it is permissible to use these weapons as a counter-measure. According to shari'a, too, only the goal is important...' "Gharavian said that he sees no problem with the military use of nuclear weapons: 'One must say that when the entire world is armed with nuclear weapons, it is only natural that, as a counter-measure, it is necessary to be able to use these weapons. However, what is important is what goal they may be used for."
Israel Expects Terrorists to Begin Using Missiles
Feb. 16….(MENL) Israel's military has assessed that the Palestinian Authority or aligned groups would acquire a range of rockets and anti-aircraft missiles over the next few months. Military intelligence has determined that Palestinian forces in the Gaza Strip have acquired such weapons as the Soviet-origin Katyusha rocket, SA-7 anti-aircraft missile and advanced variants of anti-tank missiles. The assessment said the weapons are be provided by Hizbullah and smuggled through Egypt's Sinai Peninsula to the Gaza Strip. "We estimate that in 2006 anti-aircraft missiles will infiltrate the Gaza Strip and the West Bank. This news obviously is the reason that El Al Israel Airlines has installed anti-missiles systems on its passenger aircraft, completing an overhaul launched after a 2002 attempt to shoot down an Israeli commercial plane.
US Develops Countermove for Iran: Bring it Democracy
Feb. 16….(Knight-Ridder) Secretary of State Condoleezza Rice escalated the US confrontation with Iran on Wednesday, announcing that the Bush administration planned to significantly increase funding to stimulate democracy in the pivotal Middle Eastern country. Secretary Rice, appearing before the Senate Foreign Relations Committee, said the White House would request $75 million in a supplemental budget request to expand broadcasting into Iran, support civic groups such as labor unions and increase US visits by Iranian students. Another $10 million in spending already had been planned. "The United States will actively confront the policies of this Iranian regime, and at the same time we are going to work to support the aspirations of the Iranian people for freedom in their own country," Rice said. The remarks by Rice, who called Iran a "strategic challenge" to the United States, signaled what senior US officials said would be a diplomatic offensive in coming weeks to counter what they see as Iranian President Mahmoud Ahmadinejad's increasingly bellicose behavior. It remains to be seen whether the proposed democracy funding will have an impact on the Iranian government, which, while unpopular, appears firmly entrenched and has proved adept at playing on Iranians' nationalist sentiments. Nor is it clear that countries such as China and Russia, which have cooperated with US efforts to curb Iran's suspected nuclear-weapons program, will join in a broader campaign to pressure Iran and potentially change its government.
US House of Representatives Approves Resolution on Hamas
Feb. 16….(Voice of America) The House of Representatives has overwhelmingly approved a resolution opposing any new US aid to the Palestinian Authority unless Hamas revokes its call for the destruction of Israel. The resolution is symbolic, but House members have introduced separate legislation that would provide for strong sanctions against the Palestinian Authority. The resolution expresses the sense of Congress that no US aid should be provided if any party holding a majority of seats in the Palestinian legislature advocates the destruction of Israel. In speeches on the floor of the House of Representatives, lawmakers voiced their opposition to any US taxpayer dollars going to the Palestinian Authority until Hamas changes its stated goals and renounces violence. In a written statement, the new House Republican leader, John Boehner, said approval of the symbolic resolution sends a message to Hamas that the United States will not support terrorist organizations.
Israel Signals 'Peace' Process is Dead
Feb. 16….(JNEWSWIRE/By Ryan Jones) Even as it agrees to transfer tens of millions of dollars to the Hamas Authority, the Government of Israel is finally starting to realize that any semblance of a "Palestinian" peace partner has now disappeared. During deliberations Tuesday on whether or not to grant Palestinian Arabs who marry Israeli Arabs residency in the Jewish state, prominent High Court Justice Mishael Cheshin said of the Palestinian Authority: "I'm talking about an enemy regime, a regime that wants to destroy Israel that is not willing to recognize the Jewish State... this is a de facto enemy state." Cheshin gave his formal backing to the State's refusal to permit entry to "Palestinians" simply because they wed local Arab women, pointing out that the majority of the Palestinian Arab public had just backed Hamas at the ballot box: "Why should we take risks during a war? Don't we want to survive?" Defense Minister Sha'ul Mofaz went one better, suggesting the PA take Iraq's place in what US President George W. Bush termed the "axis of evil." Speaking to reporters following a meeting with Egyptian dictator Hosni Mubarak in Cairo Tuesday, Mofaz said: "Through Hamas, the axis of evil, which begins with Iran and passes through Syria and Hizb'allah, will continue to other countries where there are radical organizations." Hamas itself did little to deflect the Israeli assertions, as the group's top leaders continued their virulent diatribes against the Jewish state. Speaking to a gathering in Khartoum, Sudan Tuesday, overall Hamas chief Khaled Mashaal made no secret of his organization's intentions after assuming control of the PA: "Our mission is to liberate Jerusalem and purify the al-Aqsa Mosque... Allah is leading us to victory and liberation." Mashaal brushed aside Western threats to cut financial aid if Hamas does not renounce its terrorist ways and accept Jewish sovereignty in the Middle East: "The crowd gathered here supports our Jihad way. We say to our people: Allah and the Islamic nation are with us. Do not fear poverty and do not fear the threats." Meanwhile, the "international quartet" of the United States, European Union, Russia and the United Nations continues to look for ways to "moderate" Hamas and salvage its efforts to broker a final peace settlement.
Saddam General: WMDs in Syria
(Another former confidant of ex-dictator makes claim, also links Iraq to al-Qaida)
Feb. 15...(WND) A former general and friend of Saddam Hussein who defected but maintains close contact with Iraq claims the regime supported al-Qaida with intelligence, finances and munitions and believes weapons of mass destruction are hidden in Syria. Ali Ibrahim al-Tikriti, southern regional commander for Saddam Hussein's Fedayeen militia in the late 1980s, spoke with Ryan Mauro of WorldThreats.com. Known as the "Butcher of Basra," al-Tikriti commanded units that dealt with chemical and biological weapons. He defected shortly before the Gulf War in 1991. Last month, Saddam Hussein's No. 2 Air Force officer, Georges Sada, told the New York Sun Iraq's weapons of mass destruction were moved to Syria six weeks before the war started. Sada claimed two Iraqi Airways Boeing jets converted to cargo planes moved the weapons in a total of 56 flights. They attracted little attention, he said, because they were thought to be civilian flights providing relief from Iraq to Syria, which had suffered a t organizations and Islamist terrorist organizations working together to fight the United States." Al-Tikriti dismissed the commonly heard claim that the US helped bring Saddam to power, calling it "absolutely ludicrous." The Baathist revolution, he said, was backed by the Soviet Union because of the shared socialist ideology. "I was there helping with the revolution and worked on two occasions with Soviet KGB officials to help train us, much like the United States did with the Taliban during the Soviet campaign in Afghanistan," he said. "The United States never directly gave us any WMDs but rather ingredients. They were not mixed and these 'ingredients' could have been easily used for commercial use but were rather used to build low life chemical weapons." Al-Tikriti says he knows Saddam's weapons are in Syria because of contingency plans established as far back as the late 1980s, in the event either Damascus or Baghdad were taken over. "Not to mention, I have discussed this in-depth with various contacts o out it," he said. "This courageous move made me think deep and hard." Al-Tikriti said he still maintains good sources inside and outside of Iraq. "Some of Saddam's key scientists are personal friends of mine, as well as other key leaders in the former Iraqi military," he said. "I have helped draw information since my defecting to the United States government voluntarily and with the permission of these contacts. The only difference between many of them and I, is that I had the opportunity to defect and they didn't."
Iran: Death Sentence Still Stands Against Salmon Rushdie
Feb. 14….(AP) Iran's fatah or religious edict condemning British author Salman Rushdie to death over his novel "The Satanic Verses" will remain in force "forever," the official news agency IRNA said. The announcement was made Tuesday on the anniversary of the 1989 edict issued by the leader of Iran's Islamic revolution, Ayatollah Ruhollah Khomeini. "I inform the proud Muslim people of the world that the author of the Satanic Verses book which is against Islam, the Prophet and the Koran, and all involved in its publication who were aware of its content, are sentenced to death," the ayatollah said in the fatwa.
Poll: Americans Nervous About Iran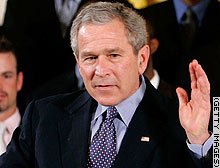 Feb. 14….(CNN) A recent Gallup poll suggests that Americans are concerned about the Iranian nuclear situation. The 1,000 adults who responded to the Gallup telephone poll taken between Thursday and Sunday said they fear the Bush administration will be too quick to use military force if diplomacy fails, and at the same time are concerned the administration won't do enough to keep Iran from developing nuclear weapons. (Ironically, UN Secretary General Kofi Anan cautioned President Bush in a meeting on the Sudan genocide today at the White House that the US needs to let diplomacy prevail in the Iranian nuclear shell game.) Most respondents saw a high chance that if Iran were to develop nuclear weapons, it would use them against the United States or its ally Israel. Fifty-nine percent thought Iran would use nuclear weapons against the United States, and 80 percent thought the Iranians would hand them over to terrorists to use against the United States. More thought Iran would use the weapons against Israel, 77 percent, and about as many, 81 percent, thought Iran would give them to terrorists who wanted to use them against Israel. Sixty-eight percent of the respondents called for economic and diplomatic action to keep Iran away from atomic weapons, while only 9 percent called for military action. Even if diplomacy were to fail, only 36 percent of those who responded to the survey thought military action would be called for, while 45 percent said it would not. Respondents also put little faith in the United Nations, with 51 percent saying they were not confident that the international community could handle Iran. Moreover, 69 percent said they were concerned that the Bush administration would be too quick to use military force, yet 67 percent were also concerned the United States wouldn't do enough to keep Iran from developing nuclear weapons.
A Third Palestinian Intifada Being Planned?
Feb. 14….(WND) With Hamas now in power, the long-ruling Fatah party and its "military wing" Al Aqsa Martyrs Brigades forced into the opposition, and Israel announcing it will soon withdraw from the West Bank, Palestinian terror leaders tell WorldNetDaily recent events here are leading them to launch what they call a third intifada, or violent confrontation, against Israel consisting of suicide bombings, rocket attacks against Jewish communities and "a few new surprises in our arsenal." Some terror leaders, particularly from the Al Aqsa Brigades, whose associated Fatah party scored poorly in last month's parliamentary elections, say they are planning massive violence against Israeli civilians mostly to revolt against the new Hamas-controlled Palestinian government. "The new intifada is only a matter of time and this will be the hardest and the most dangerous one. It's just about timing until the order to blow up a new wave of attacks will be given," Abu Nasser, a senior Al Aqsa Brigades leader from the Balata refugee camp in northern Samaria told WorldNetDaily in an interview. In the last 10 days Israeli forces intercepted 12 potential suicide bombers and have stopped several dozen bombings the past few months, prompting fears of "a new and worrisome wave of terror," said Yuval Diskin, head of Israel's Shin Bet security services. Hamas last month catapulted to power, winning Palestinian parliamentary elections by a large margin and wresting control from Fatah. Israel has warned the losing terror groups, particularly Fatah's Al Aqsa Brigades, will try to stymie efforts by Hamas to form a new government and sign a long-term cease fire with the Jewish state. Also, members of the Islamic Jihad terror group expressed disappointment their organization decided not to run in elections, and have warned they will stop Hamas from imposing a truce. Diskin warned that Iran and Syria, currently under mounting international pressure, are streaming large sums of money to Palestinian terror groups to spur on local cells to carry out attacks in hopes of starting regional violence. The Palestinians launched their first intifada in 1987, which developed into a well-organized violent rebellion orchestrated by Yasser Arafat's Palestine Liberation Organization from its headquarters in Tunis. The so-called second intifada was initiated in 2000 after Arafat rejected at Camp David an Israeli offer of a Palestinian state on most of the West Bank, Gaza Strip and sections of eastern Jerusalem. Some 993 Israelis and 3,781 Palestinians have been killed so far. Many say the second intifada is still being waged. The terror groups themselves say they are planning a new wave of violence against Israelis, which some terror leaders are calling a "third intifada." They detailed for WorldNetDaily how they will carry it out. Abu Nasser of the Al Aqsa Martyr's Brigades warned that the so-called third intifada will be a combination of suicide bombings and rocket attacks against Jewish towns. "The Al Aqsa Brigades recently unified most of our cells and groups and we will wait for the most suitable moment to launch our resistance acts. As for the acts, there will be suicide attacks but there will be a massive use of rockets. These rockets will be launched against Israeli settlements in the West Bank, but also if needed against Israeli cities inside the green line." Since Israel's evacuation of the Gaza Strip this past August, security officials have been warning that the Palestinian terror groups transferred their rocket capabilities to the West Bank, which is within firing range of Israel's international airport and many major Israeli cities, including Jerusalem and Tel Aviv. WorldNetDaily caught up with Abu Oudai, the Al Aqsa Martyrs Brigades leader responsible for coordinating the organization's rocket network in the West Bank. He warned that his organization is preparing a rocket war against Israel: "We have launched several times and with the help of Allah we will launch these rockets regularly. There will be no calm, no cease fire until the occupation leaves our land. I don't need to tell you that the aerial distance from Jenin to Netanya, Tel Aviv, Jerusalem and other cities is not big without telling you what are all our plans concerning other parts of the West Bank." Oudai said his organization and other terror groups have stockpiled Palestinian rockets, including Qassams, which can travel about 2 miles, more primitive Jenin-1 and Jenin-2s, and Arafat-1 and Arafat-2 rockets, some of which can reportedly travel up to 3 miles. He claimed his group is developing a new rocket that will put all of Israel's major cities within firing range. "The very near future will prove their capacity to kill and destroy and to beat the Israelis in the West Bank exactly like we did with these rockets in the Gaza Strip," Oudai said. Oudai pocked fun at Israel's West Bank security barrier, which has been credited with making it more difficult for Palestinian groups to carry out suicide bombings. "The Israelis have built a huge wall on which it spent billions of dollars but still we are hitting Israel with our rockets and reaching every target we want. This wall will not defend Israel from our rockets which have defeated the wall and all the security measures taken to prevent our attacks," Oudai boasted. Israeli military leaders previously warned that the Jewish state will launch an "unprecedented" military campaign against any rocket firing from the West Bank.
Islamic Jihad: We Will Expand the War
Islamic Jihad has claimed responsibility for every suicide bombing against Israel since last February's cease fire, including bombings in a Tel Aviv disco and restaurant and a Netanya shopping mall, among others. Al Aqsa leaders told WorldNetDaily they aided the recent bombings. Islamic Jihad also says it fired most of the rockets launched from the Gaza Strip since Israel's August withdrawal. Israel says Islamic Jihad is directly backed by Iran and Syria. Jihad chief Ramadan Shallah operates openly from Damascus and regularly visits Tehran. Security sources say Hezbollah headquarters in Damascus and Beirut have ordered Islamic Jihad to carry out attacks in hopes of drawing Israel into a protracted military conflict. Israel's Diskin warned that Iran and Syria are looking to use Islamic Jihad in part to distract mounting international pressure against their respective countries. Iran is under fire for its alleged nuclear ambitions, and the international community led by the United States has threatened to bring Syria to the United Nations Security Council for allegedly interfering in the investigation into the assassination last year of former Lebanese Prime Minister Raqif Hariri, for which Syria has been widely blamed. WorldNetDaily spoke with Islamic Jihad's northern West Bank leader Abu Khalil, who warned his terror group is planning a terror onslaught to chase Israel from the West Bank and eventually from Jerusalem. "We will launch very soon very painful attacks that will shake the enemy. In fact, this is more the continuation of the second intifada because we never said that the intifada has ended. We will never give calm and security to the enemy. This will happen only when Israel will run away from Jerusalem and the West Bank like it did in Gaza," Abu Khalil said.
Informed Americans Still Favor Israel
| | |
| --- | --- |
| | A Gallup poll shows that Americans are very pessimistic about Middle East peace, more sympathetic to Israel, and less favorable to the PA. Sympathy towards Israel increases with news-awareness. |
Feb. 14….(YNET) The annual Gallup Poll on World Affairs was conducted on a random sampling of 1,002 adults on Feb. 6-9, some two weeks after the Hamas terrorist organization won power in the Palestinian Authority (PA). Some findings: A plurality of Americans, 44% believe the United States should conduct diplomatic relations with the PA only if Hamas recognizes Israel. Half that number believes the United States should deal with the PA regardless of its stance toward Israel, and one-quarter of Americans say the United States should not conduct any relations with the PA at all. Ignorance on the Middle East conflict does not work to Israel's advantage, according to Gallup. Americans who say they follow news about world affairs "very closely" are more likely to sympathize with the Israelis (66%) than Americans who follow foreign news only somewhat closely (59%) or who do not follow it closely (52%). Americans are much less favorable to financial assistance to the PA than they are towards a diplomatic relationship. A majority, 57%, oppose giving any financial aid to the Palestinian Authority while Hamas is in power, while 30% would give aid if the PA recognizes Israel. Just 5% favor giving aid even if the PA does not recognize Israel. Gallup also asked whether American sympathies lie more with the Israelis or with the Arabs of the Palestinian Authority. The numbers this year: 59% are with Israel, and only 15% with the PA. These figures represent one of the most lopsided margins in favor of the Israelis ever recorded by Gallup. When not compared with each other, Israel received a "favorable" rating from 68% of Americans, and the PA received the same from 11%. Last year at this time, Israel received 69% approval, and the PA 27%. This year's readings are the most negative Gallup has found since it began asking about the Palestinian Authority in 2000, while last year's were the most positive. The poll found that Republicans (77%) are significantly more likely to sympathize with the Israelis than are Democrats (50%) or independents (50%). By a 2-1 margin, Americans now say there will never come a time when Israel and the Arab nations will live in peace. The 65% to 32% split compares with a roughly 50-50 split last year.
Hamas/Mahmoud a-Zahar: Palestinian War on Israel Will Continue
Feb. 14….(DEBKA) Spelling out the incoming Palestinian government's agenda, a-Zahar said: We will not recognize Israel; our armed struggle will go on until all of Palestine is "liberated;" we will abrogate the Oslo accords and all the agreements the PLO and the Palestinian Authority signed; all negotiations with Israel must go through a third party; we don't need money from Israel or "the Great Satan;" Arab nations will give us money; we have long-range missiles. DEBKAfile: Mahmoud a-Zahar, who is terminally ill with cancer, in effect handed down his political-military testament. It contained the incoming Palestinian government's point-by-point response to the conditions laid down by the United States, Israel and the Middle East Quartet (sans Russia) for dealing with a Hamas-led government, recognize Israel, renounce terror and honor international accords. He showed the Islamic terrorists to be unmoved by threats of isolation and the restrictive rules of engagement the Olmert government proposes to impose on a Palestinian Authority after Hamas is sworn in. Responding to Israeli Prime Minister Ehud Olmert's election pledge to set Israel's final borders, the Hamas leader declared total war on the Jewish state and its very existence.
Russia Confirms Missile Defense Contract with Iran
Feb. 13….(India News) Amid the escalating crisis around Iran's nuclear program, Russia announced last week that it will still arm Tehran with missiles that can secure nuclear facilities from attacks. "We concluded a contract for the supply of air-defense systems to Iran and there is no reason not to complete the sale," Mikhail Dmitriyev, the head of Russia's military-technical cooperation agency, said. Worth an estimated $700 million, the deal for up to 30 Tor M-1 surface-to-air missiles is the largest since Russia in 2000 withdrew from an agreement with the US restricting the supply of military hardware to Iran. Defense Minister Sergei Ivanov stressed that the Tor is a defensive system and that the sale does not violate Russia's international obligations. The weapon is effective against aircraft, cruise missiles and guided bombs. The missiles are expected to be deployed at the nuclear research centre at Isfahan and the reactor that Russia is completing for Iran at the southern port of Bushehr. According to Dmitriyev, Russia's overall exports of arms in 2005 were worth a record $6.1 billion. The sales target for 2006 is $7 billion, he added. The main customers for Russian military hardware are China and India.
FOJ Note: Why has Russia joined with the US and EU and voted to recommend that Iran's nuclear program be reviewed by the UN Security Council? Russia, a signer of the nuclear non-proliferation treaty has unquestionably aided the rogue Islamic republic of Iran to acquire nuclear weapons, making Russia a suspected proliferations treaty violator. If Russia were truly concerned about its implications in the Iranian nuclear development, then why would Russia further seek to defend Iran's prospective nuclear facilities? It is obvious that Russia is using the "Islamic wildcard" to counter US prominence in the region. Apparently, Russia does not mind the prospect of having a nuclear-weapons capable nation on its southern border, so long as the target is Israel and the United States. Russia is clearly demonstrating early signs that it is readying itself for the Ezekiel 38 scenario, by arming a grouping of nations that are anti-Israel, who in turn just happen to be anti-American because of its support for Israel. Iran envisions a world without America, and thereafter a world without Israel. Russia obviously has dreamt a similar vision.
US Preparing Military Blitz Against Iran's Nuclear Sites?
Feb. 13….(Telegraph) Strategists at the Pentagon are drawing up plans for devastating bombing raids backed by submarine-launched ballistic missile attacks against Iran's nuclear sites as a "last resort" to block Teheran's efforts to develop an atomic bomb. Central Command and Strategic Command planners are identifying targets, assessing weapon-loads and working on logistics for an operation, the Sunday Telegraph has learnt.
They are reporting to the office of Donald Rumsfeld, the defense secretary, as America updates plans for action if the diplomatic offensive fails to thwart the Islamic republic's nuclear bomb ambitions. Teheran claims that it is developing only a civilian energy program. "This is more than just the standard military contingency assessment," said a senior Pentagon adviser. "This has taken on much greater urgency in recent months." The prospect of military action could put Washington at odds with Britain which fears that an attack would spark violence across the Middle East, reprisals in the West and may not cripple Teheran's nuclear program. But the steady flow of disclosures about Iran's secret nuclear operations and the virulent anti-Israeli threats of President Mahmoud Ahmadinejad has prompted the fresh assessment of military options by Washington. The most likely strategy would involve aerial bombardment by long-distance B2 bombers, each armed with up to 40,000lb of precision weapons, including the latest bunker-busting devices. They would fly from bases in Missouri with mid-air refueling. The Bush administration has recently announced plans to add conventional ballistic missiles to the armoury of its nuclear Trident submarines within the next two years. If ready in time, they would also form part of the plan of attack. Teheran has dispersed its nuclear plants, burying some deep underground, and has recently increased its air defenses, but Pentagon planners believe that the raids could seriously set back Iran's nuclear program. The White House says that it wants a diplomatic solution to the stand-off, but President George W Bush has refused to rule out military action and reaffirmed last weekend that Iran's nuclear ambitions "will not be tolerated". Sen. John McCain, the Republican front-runner to succeed Mr. Bush in 2008, has advocated military strikes as a last resort. He said recently: "There is only one thing worse than the United States exercising a military option and that is a nuclear-armed Iran." Senator Joe Lieberman, a Democrat, has made the same case and M. Bush is expected to be faced by the decision within two years. By then, Iran will be close to acquiring the knowledge to make an atomic bomb, although the construction will take longer. The President will not want to be seen as leaving the White House having allowed Iran's ayatollahs to go atomic. In Teheran yesterday, crowds celebrating the anniversary of the 1979 Islamic revolution chanted "Nuclear technology is our inalienable right" and cheered Mr. Ahmadinejad when he said that Iran may reconsider membership of the nuclear Non-Proliferation Treaty.
Iran to West: Remove Israel, or We Will
Feb. 13….(JNEWSWIRE) If the West fails to peacefully remove the "Zionist entity" from the Middle East, the "Palestinians" and their Islamic allies will do so through violent fury, warned Iranian President Mahmoud Ahmadinejad at a mass demonstration in Tehran Saturday. Addressing the hundreds of thousands who turned out to mark the 27th anniversary of Iran's "Islamic Revolution," the virulent leader, as reported by WorldNetDaily, said regarding Israel: "We ask the West to remove what they created sixty years ago and if they do not listen to our recommendations, then the Palestinian nation and other nations will eventually do this for them. Remove Israel before it is too late and save yourself from the fury of regional nations." Islam dictates that formerly-Muslim dominated lands cannot revert to permanent non-Muslim control. It is this cornerstone of their faith that drives the murderous anti-Israel policies of Hamas and most of the Jewish state's Middle East neighbors. But the threat is not only to Israel and other non-Muslim nations that have regained their sovereignty. Reconquering them is only the first step. According to the Muslim faith, jihad must be waged until the entire world is under the thumb of Islam. Ahmadinejad declared that now is the time for the West to bow to this reality and submit to Allah: "On the anniversary of the victory of the Islamic Revolution, the Iranian nation, numbering in the millions, calls upon those governments to worship Allah." Similar sentiment was expressed by Iran's Hamas allies in the Palestinian Authority last week. Speaking at a Damascus mosque on February 3, overall Hamas political leader Khaled Mashal declared: "We say to this West... By Allah, you will be defeated... Tomorrow, our nation will sit on the throne of the world. This is not a figment of the imagination, but a fact.
FOJ Note: The Antichrist, in order to gain power will likely pledge "secretly" to remove Israel from the Middle East!
Ahmadinejad: Israel 'Will be Removed'
Feb. 13….(YNET) Iranian President Mahmoud Ahmadinejad said on Saturday that the Palestinians and "other nations" will eventually remove Israel from the region. Addressing a mass demonstration in Tehran, one of many organized throughout Iran to commemorate the 27th anniversary of the Islamic revolution, he once again questioned the Holocaust "fairy tale". "We ask the West to remove what they created sixty years ago and if they do not listen to our recommendations, then the Palestinian nation and other nations will eventually do this for them," Ahmadinejad said in a ceremony marking the 27th anniversary of the Islamic revolution. "Do the removal of Israel before it is too late and save yourself from the fury of regional nations," the ultra-conservative president said. He once again called the Holocaust a "fairy tale" and said Europeans have become hostages of "Zionists" in Israel. He also accused Europeans for not allowing "neutral scholars" to investigate in Europe and make a scientific report on "the truth about the fairy tale of Holocaust." "How come that insulting the prophet of Muslims worldwide is justified within the framework of press freedom, but investigating about the fairy tale Holocaust is not?" Ahmadinejad said. "The real Holocaust is what is happening in Palestine where the Zionists avail themselves of the fairy tale of Holocaust as blackmail and justification for killing children and women and making innocent people homeless," Ahmadinejad said. The president said that the results of the parliamentary elections in Palestine and the victory of the Hamas group "clearly showed what the people really want." "You (the West) want democracy but do not respect the outcome," Ahmadinejad said, referring to the election results in Iraq and Palestine. "It seems that you (the West) only want that form of democracy whose results just repeat your standpoints and only follow your policies," he said. Ahmadinejad once again called on the West to adopt the "simple option" and allow Palestinians to voice their political will through a referendum.
Mass demonstrations organized by the state were held throughout Iran on Saturday as the nation commemorated the 27th anniversary of the revolution that established the Islamic Republic in Iran. According to state media, hundreds of thousands of people came into the streets to show their solidarity with the government over pursuing the country's nuclear programs and voice their protest against publication of cartoons deemed insulting to the Prophet Mohammed. While chanting "Death to America", "Death of Israel" and "Nuclear energy is our undisputable right", the crowd walked toward the Azadi (Freedom) Square in Tehran where Ahmadinejad held his annual speech.
Hamas: We'll End Violence (Terror) if Israel Withdraws
Feb. 13….(YNET) Khaled Meshaal, leader of the Palestinian terror group Hamas rejected international demands to renounce violence, saying in a newspaper interview published Monday that Israel must first pledge to leave all occupied lands. Mashaal told the Russian daily Nezavisimaya Gazeta that Moscow had taken a valuable step by invitingHamas leaders to Russia for talks later this month. Russia has said it will press Hamas, which won an unexpected victory in Palestinian legislative elections last month and will form the next government, to recognize Israel's right to exist and foreswear violence. Russia is the first of the countries in the Middle East Quartet that respected the choice made by the Palestinian people and made it clear once again that it does not consider Hamas an extremist and terrorist movement," said Mashaal. "We greatly appreciate this stance," he said. The other members of the so-called Quartet of Middle East peacemakers, the United States, the European Union and the United Nations, have insisted they would not deal with a Hamas-led Palestinian Authority. Hamas, responsible for scores of deadly attacks against Israelis, has refused to renounce its charter calling for Israel's destruction or to give up its weapons, despite its decision to uphold a cease-fire declared a year ago. The United States and Europe consider Hamas a terrorist organization. Mashaal, who is expected to lead the delegation to Moscow, said that as long as Israel insisted on retaining control of occupied territories, Hamas would not give up violence. The Hamas leader also reiterated that his group does not accept the "Road map" peace plan backed by the Quartet because Israel allegedly does not abide by it. President Vladimir Putin's invitation to Hamas to visit Moscow stunned Israel. One cabinet minister accused Putin of, "Stabbing Israel in the back." But in an apparent effort not to alienate Moscow as Washington seeks Russian support for international pressure over Iran's nuclear program, Israel on Sunday signaled it would not trigger a crisis with Russia over its intention to invite leaders of Hamas for talks.
Russia Eyes Opportunity in Hamas Win
Feb. 13….(JNEWSWIRE) Moscow appears to have seized on Hamas' electoral victory last month as a means of countering burgeoning American influence in the Middle East and the Bush Administration's determination to spread democracy in the region. The authoritarian Middle East was a prime ally of the Soviet Union during its long "cold war" with the United States-led West. That all changed with the fall of what former US President Ronald Reagan termed the "Evil Empire" and the turning of most Arab states (for lack of choice) to their new benefactors in Washington. Russian influence in the Middle East waned even further with the fall of Saddam Hussein's regime, leaving Syria the lone regional power still beholden to Moscow. That is, until Hamas burst onto the political scene during January's Palestinian Legislative Council elections, providing a Russia far less dogmatic about shunning the killers of men, women and children than its Western counterparts with an opportunity to again exert its influence here. It was in this context that Russian President Vladimir Putin, speaking to reporters at the Kremlin on January 31, reacted to news of Hamas' win by declaring almost gleefully that it represented: "A big blow to American efforts in the Middle East, a very serious blow." Putin sought immediate disparity with the policies of the West, opening his arms to Hamas: "Our position on Hamas is different from that of the United States and Western Europe... [we have] never regarded Hamas as a terrorist organization. But this does not mean that we totally approve and support everything that Hamas has done."That position will translate into concrete action later this month when Hamas accepts Putin's invitation to send a delegation to Moscow for official government-to-government talks. Israel, which has already witnessed one anti-Jewish terrorist network (Yasser Arafat's PLO) gain international legitimacy, has reacted to Putin's highly publicized move with muted fury. In a fiery dispatch to the Kremlin, Opposition Leader Binyamin Netanyahu reminded Putin that Russian law regards Hamas as a terror group, and warned that his actions would start a chain reaction leading to the legitimization of all anti-Western Islamic terrorism. During a NATO summit in Sicily Saturday, Defense Minister Sha'ul Mofaz urged his Russian counterpart to reconsider the invitation before it is too late. At the same time, a statement released by Netanyahu's Likud cast doubt on whether Russia or any nation would cold-shoulder Hamas after Acting Prime Minister Ehud Olmert last week agreed to continue funding the Palestinian Authority as if recognized terrorists were not now running the show.
WEEK OF FEBRUARY 5 THROUGH FEBRUARY 12
Sharon Sinks Into Israel's Past
Feb. 10….(The Australian) Forgotten but not gone, Israel's iconic warrior-politician lies unconscious on the seventh floor of a hospital. A month ago, Ariel Sharon was the fulcrum of Israeli politics. He single-handedly transformed its landscape by breaking from the ruling right-wing Likud party to create the centrist Kadima ahead of next month's elections. When he suffered a massive stroke on January 4, journalists flocked to Hadassah Ein Karem Hospital on the outskirts of Jerusalem, filling the courtyard as they reported every twitch of the stricken leader's eyes and limbs. But as Mr. Sharon failed to wake, the media drifted away, and now all are gone. Although there is tight security within the intensive care unit, the only visible sign outside its doors is an armed policeman with a yarmulke, and tiny security cameras on the wall. "It is unbelievable," said one official. "He was the prime minister. Nothing moved without going through him. Everything was connected to him, and then," he clicks his fingers, "he faded away." The Middle East, like the journalists, has also moved on. Mr. Sharon would be shocked if, by some miracle, he woke now. The Islamic militant group Hamas has won the Palestinian elections, tipping Israeli-Palestinian relations into uncharted waters. Iran has moved towards outright confrontation with the West over its drive to acquire nuclear technology.
"Israeli society has a remarkable ability to overcome loss," said Daniel Ben-Simon, a commentator for Haaretz newspaper. "Israelis mourned Sharon for one week. They said 'thank you' and vowed to cherish his legacy. Sharon left a will, and that will is Kadima. People support it to show their respect for him." By general consensus, Mr. Sharon's successor, Acting Prime Minister Ehud Olmert, has struck the right note of pragmatic sorrow by slowly preparing Kadima for the March 28 ballot without its founder. Kadima last week airbrushed Mr. Sharon's name off campaign posters outside its headquarters, replacing Forward Sharon with Forward Israel. But a giant poster of the 77-year-old former general still hangs from the roof. Under Israeli law, Olmert cannot become prime minister until doctors declare that Sharon cannot resume his duties, and they have yet to do that. "I get up every morning praying that Sharon will wake up and come back to us," Olmert said this week. But most Israelis now accept that the chances of Sharon recovering slim. Political analyst Yariv Ben Eliezer said: "It suits Olmert not to declare Sharon out of the game. It allows him to show sensitivity while benefitting from Sharon's embrace."
Putin Making A Power Play in Mid-east
Feb. 10….(Reuters) By inviting Hamas for talks, Vladimir Putin has taken a bold but risky plunge into the Middle East peace process that he hopes will restore Russia's role as a player on the world stage, experts say. And, though his offer on Thursday caught the United States, Israel and other Western powers on the hop, Putin has left himself with room for maneuver to ensure his ties with his powerful Western partners are not hurt, they say. Putin's remarks in Madrid set diplomatic channels humming between Moscow and other world capitals on Friday as Russia emerged from the shadow of the United States and European Union, the key peace brokers in the Middle East. "These statements amount to a take-over of the Middle East peace initiative," Alexei Malashenko of the Moscow Carnegie Center said. "In a situation in which all the other peace mediators have proved to be paralyzed, we have in Russia a chance of giving the negotiating process a second wind," said pro-Kremlin analyst Sergei Markov. Other analysts said Putin's reference to links with Hamas itself came as a surprise since the two sides had not been known to have contacts. Hamas, considered a "terrorist" organization by Washington won a crushing victory over the long-dominant Fatah group in a Palestinian election on January 25. The group, which is sworn to Israel's destruction, has spearheaded suicide attacks against the Jewish state over the past five years. Russia is a member of the Quartet that also groups the United States, the European Union and the United Nations. But Moscow has always been a marginal player. Russia agrees with the Quartet line that Hamas has to accept the right of Israel to exist. Putin reaffirmed that point, and Russian officials were quick to echo him on Friday. "Everyone is telling Hamas that they must embark on a measured course because they won't get far with such radical policies. We shall urge a change in Hamas policies at the meeting with their representative," Interfax news agency quoted Russian Middle East envoy Alexander Kalugin as saying. But one Western diplomat said all the same "Putin is stretching the Quartet agenda considerably". "He has gone out fairly well ahead by inviting the Hamas leadership for talks without agreement first about principles that have to be complied with," said the diplomat who monitors Russia's Middle East policy. As Israel expressed surprise and Washington said it was seeking details of Moscow's intentions, a senior Hamas official said in Gaza that the group's leaders "would be delighted" to take up an invitation from Putin. But the diplomat said Putin could still step back from his overtures to Hamas if it does not relent in its policy toward Israel once in power in the Palestine Authority. Though Putin pulled a political rabbit out of the hat, commentators point out that US and European Union aid to the Palestinian Authority dwarfs anything that Moscow can provide, underscoring the little real leverage Russia has in the region. The apparent boldness of what may in the end be a low-cost move for Putin appeared more to reflect his desire to boost his and Russia's image in a high-profile year that includes holding the presidency of the G8 group of rich nations. Reasserting Russia as a big player on the world stage is very much Putin's agenda. He may be trying to rebuild that at relatively low cost," the diplomat said. However briefly, the surprise move evoked memories of Soviet times when Moscow used its role as the main sponsor of Yasser Arafat's Fatah movement in its Cold War confrontation with the United States. After the 1991 collapse of the Soviet Union and especially after Arafat established his own ties with the West, Moscow's role in the Middle East peace process was reduced to only token presence.
Putin Invites Hamas Leaders to Russia
Feb. 10….(AP) Russian President Vladimir Putin announced yesterday that he would invite Hamas leaders to Moscow, opening a crack in a wall of US-led opposition to dealing with the Palestinian election winner until it recognized Israel. Ismail Haniyeh, a senior Hamas official said in Gaza that leaders of the group, whose charter calls for Israel's destruction, "would be delighted" to visit Russia if Putin tendered a formal invitation. "Maintaining our contacts with Hamas, we are ready in the near future to invite the Hamas authorities to Moscow to hold talks," Putin told a news conference in the Spanish capital Madrid where he was on a visit. Hamas, considered a terrorist organization by Washington, won a crushing victory over the long-dominant Fatah group in an election on January 25. Haniyeh said Hamas leaders meeting in Cairo agreed to seek a unity government with other factions. In New York, Russia's UN ambassador Andrew Denisov told a news conference that a key item on any agenda for any talks with Hamas would be "prevention and the stopping of all terror activities" as well as the group regarding Israel as an independent state, neighbor and partner. Denisov also said Moscow would push for the "rejection of radical views and positions which are inappropriate" and tell Hamas to keep up the "momentum of the peace process." Speaking through a Spanish interpreter, Putin said: "We haven't considered Hamas a terrorist organization. Today we must recognize that Hamas has reached power in Palestine as a result of legitimate elections and we must respect the choice of the Palestinian people." Setting US rules of engagement with Hamas, President Bush said in a Reuters interview a week ago that the group must abandon its goal of destroying Israel and disarm.
Israel Stunned by Putin's Invitation to Hamas
Feb. 10….(YNET) Acting PM's aides say Olmert disappointed over Russian president's invitation to Hamas leaders, say Putin's remarks contradict Quartet's stance; Minister Boim: Putin dancing with wolves. Meanwhile, Annan counsels international patience with Hamas.
| | |
| --- | --- |
| | Putin, in a joint press conference in Madrid with Spain's Prime Minister Jose Luis Rodriguez Zapatero, said Thursday that Russia did not consider Hamas a terrorist organization, and urged the global community to work with a Hamas-led Palestinian government. |
Officials at the Prime Minister's Office in Jerusalem expressed their shock Thursday evening following Russian President Vladimir Putin's invitation to Hamas leaders to visit Moscow. The officials made it clear that Putin's remarks contradict the Quartet's stance. They added that the Putin's statement Russia does not consider Hamas a terror group contradicts the outlook of the entire international community. "Russia is part of the Quartet, and the Quartet's statement after Hamas' election was totally different," a senior official in Jerusalem said. Putin's move is considered by Israel as a breach of the International circle of agreement regarding Hamas. Following the PA elections and talks held by Acting Prime Minister Ehud Olmert and Foreign Minister Tzipi Livni with state leaders and foreign ministers, it appeared that Russia would act according to the same understandings. According to the understandings, there would be no dialogue with Hamas before it renounces terror and disarms, and until Hamas recognizes Israel and stops calling for its destruction and commits to all of the agreements signed between Israel and the PA since the Oslo agreement in 1993. Hamas has masterminded more than 60 suicide bombings against Israelis since 2000. In the next few days, Israel is expected to try and find out why Moscow changed its stance. In addition, an effort will be made to prompt the states that reached an agreement with Israel on the demands to be made of Hamas to operate in order to change Russia's position. In the past few months, Israel and Russia had reached a number of comprehensive agreements on international issues, from the position onthe murder of former Lebanese Prime Minister Rafik Hariri to the Iran nuclear issue and the position on Hamas following its victory.
'Putin Dancing with Wolves'
Housing Minister Zeev Boim told Ynet that "Putin must understand that he is dancing with wolves and displaying double standards, on the one hand fighting the Chechen Muslim rebels, who are carrying out terror attacks in Russia, and on the other hand embracing Ayatollahs in Iran and terror representatives from Gaza." "Putin's declaration on his willingness to allow Hamas' terror leaders to arrive in Moscow is very concerning. One must only wonder how Putin would feel if we would recognize a state led by the Chechen rebels. Russia must decide on its place among the free world states. After supporting Iran and Syria, it continues to reveal a very concerning position," Boim said.
Foreign Ministry officials were shocked by Putin's remarks. A ministry official said that only three weeks ago, following Hamas' victory, Livni spoke with her Russian counterpart Sergei Lavrov. Shortly afterwards, the Russian Foreign Ministry issued a statement saying that "regardless of the election results, all the Palestinian participants in the election procedure should honor principles of settling the conflict through peaceful means, as determined in the Road Map."
US: Putin Must Clarify Invitation to Hamas
Feb. 10…..(Jerusalem Post) The news of Putin's offer brought a sharp reaction also from the United States. An American official even asked how would the Russians react should the US invite leaders of the Chechen rebels to visit Washington. The State department said Thursday that Washington will demand clarifications from Russia about its intention to invite Hams leaders for talks in Moscow. US State Department spokesman Sean McCormack said Washington expected Russia to uphold international demands that Hamas give up armed resistance and recognize Israel's right to exist. "At this point we have sought some clarification from the Russians as to what exactly their intentions are, what their plans are," McCormack said. "As a member of the quartet, we would certainly expect that Russia would deliver that same message," he said. The Americans' anger stems from the fact that Russian Foreign Minister Sergei Lavrov signed five days ago on the Quartet's decision to condition talks with a Hamas-led government on the group renouncing terror, disarming its terror infrastructures and recognizing Israel and the agreements signed so far between Israel and the Palestinians. Washington officials said that Putin's remarks hurt the international effort to isolate Hamas and force the group the toe the line with the international community. The officials added that the invitation issued by Putin to Hamas leaders contradicts the Americans' efforts in the global war against terror. US Ambassador to Russia Williams Burns, who is very involved in the Israeli-Palestinian issue, was asked to pass the Americans' protest to Putin and to act to change the decision. Burns rejected the notion that Putin's remarks undermine the unity or power of the Quartet. The group's proposal for resuming peace talks between Israel and the Palestinians has languished for years. Russia, as a member of the Quartet originally signed off on a statement conditioning international support to the PA on the new government's "commitment to the principles of non-violence, recognition of Israel, and acceptance of previous agreements and obligations, including the Roadmap." Hamas accepts none of these terms. One Israeli senior government official said that the Russians needed to decide whether or not they were a constructive member of the Quartet. "They can't have it both ways," he said. The official also asked why when innocents are blown up by Chechens it constitutes "terrorism," but when the same thing happens in Jerusalem "the Russians start to make excuses." One senior diplomatic official said that the Hamas victory in the Palestinian Legislative Council election had provided the Russians with an opportunity both to differentiate themselves from US Middle East policy, and also to move into a more central role in the region. Russia's stature in the Arab world would rise considerably, the official said, if everyone else boycotted Hamas, but Moscow was willing to deal with them.
Armageddon Looms on Horizon
Feb. 9….(FOJ) Last year the US National Security Agency and the US Congress concluded a study about nuclear non-proliferation and weapons of mass destruction. Their conclusions were startling. They found that there is a 50% chance of a nuclear, biological or chemical attack upon the US within five years. They further estimated that the threat increases to a 70% likelihood within the next decade. The current nuclear chess game over Iran's nuclear program and the ensuing threats against Israel are sobering! Is it just mere coincidence that so many nations have gone overboard in the development and acquisition of so many types of weapons of mass destruction? Is it by mere accident that the very nations that were prophesied hundreds of years ago to be involved in an Armageddon scenario against Israel are today busy researching and constructing their doomsday war machines? Recently a political/scientist/history organization noted that the chances of Armageddon type scenario happening today are no better than the chances of it not happening. One hundred years ago the same formula for calculating the "Armageddon Syndrom" produced a "zero chance" for an Armageddon event happening. In the past ten decades we have gradually gone from a zero chance to a multi-billions-to-1 chance, until now today we stand at an even chance for Armageddon happening. Coincidence? Not hardly! When one calculates the chances of all these things happening at the exact point in history that Israel was being reconstituted amongst the community of nations in this world, (for the 2nd time) and that just one city, "Jerusalem" is the fuse that could ignite Armageddon, one must marvel at the precision of Bible prophecy.
Iraq's Shiite Muslims Flail "Al Tatbeer" in Karbala
| | |
| --- | --- |
| | The Shi'ah Muslims, probably under Gnostic and some old Iranian influences, expanded Islamic beliefs that the ruler of Islam must be from the family of the Prophet Mohammad, and that the perfect leader (imam) is transformed into a metaphysical manifestation of God. The imam, alone, is considered to be infallible and can reveal the hidden and true meaning of the Qur'an. The Sunni sect of Islam embraces the principle of toleration, making it possible for diverse sects to recognize and coexist with one another. Shiite's believe the "Mahdi" a Messiah-like figure, and Son of Mohammad will return in the Last Days and establish the universal rule of Islam from Jerusalem. Shiite's believe the Mahdi requires the annihilation of Israel! |
Feb. 9…..(FOJ) About one million Shiite Iraqis marched and beat themselves today in blood-soaked processions through the Iraqi holy city of Kerbala and other Shiite centers around the country to mourn the seventh century death of their revered martyr, Imam Hussein. Karbala police chief Brig. Razzaq Abid Ali al-Taei said up to 2 million people either marched in drum banging and flag waving parades or watched as the teeming crowd moved by. Hundreds of thousands of pilgrims began several days ago descending on Karbala, where Hussein is believed buried, for ceremonies marking Ashoura, the 10th day of Muharram in the Islamic lunar calendar. In Karbala, about 20,000 men wearing white shrouds and waving swords above their heads began marching around 2 am between the gold-domed Imam Hussein shrine and another dedicated to his brother, Abbas, less than a mile away. Following dawn prayers, about 8,000 people, dressed in black as a sign of mourning and including children as young as 8, marched between the two shrines to the deep beat of bass drums. Some slapped chains across their backs until their clothes were soaked with blood, while others beat their heads with the flat side of long swords and knives until blood ran freely in a ritual of grief that was banned under ousted dictator Saddam Hussein. Some sliced their foreheads with the edge of a sword in a practice known as "al-Tatbeer," meaning "sword" in Arabic, and beat themselves while chanting "Haider, Haider," a name by which Hussein's father, Ali, is known. Imam Hussein's martyrdom supposedly teaches men manhood and that they shouldn't fear anything. Hussein, the grandson of Islam's Prophet Muhammad, was massacred along with about 70 followers by an army of Umayyads, their rivals for leadership of the Muslim community, during a 680 AD battle in Karbala. Hussein's death cemented the split in Islam between Shiites and Sunni Muslims. The Umayyad Dynasty began in the 7th century AD and was headquartered in Damascus, which, ironically today is headquarters for many of the Islamic terrorist organizations.
Rice Dashes Kadima's Election Platform
Feb. 9….(JNEWSWIRE) US Secretary of State Condoleezza Rice Wednesday threw a serious stick in the spokes of Israeli Acting Prime Minister Ehud Olmert's post-election plans to set his nation's final borders by disengaging from Israel's central heartland. During a joint press conference with visiting Israeli Foreign Minister Tzipi Livni in Washington, Rice was asked for her reaction to Olmert's intentions, which were the brainchild of his predecessor and mentor, Ariel Sharon. Secretary Rice, holding on to the illusion of a negotiated peace settlement, indicated the Bush Administration opposes all unilateral Israeli moves that do not enjoy the approval of the Palestinian Authority: "The United States position on this is very clear and remains the same. No one should try and unilaterally predetermine the outcome of a final status agreement. "This presents a quandary for Olmert, who just a day earlier had this to say on Israel's Channel Two News as he dismissed the possibility of a negotiated settlement following Hamas' victory: "We are going toward separation from the Palestinians, toward establishing a permanent border for Israel." Those borders, according to Olmert, will include all of Jerusalem, as well as three large settlement blocs in Judea and Samaria. They are certain to not enjoy the approval of the PA, and therefore not of Washington either. Just last month, Defense Minister Sha'ul Mofaz, a close confidante of Olmert and supporter of his policies, told the Herzliya Conference that without US backing the plan is a non-starter. Olmert, like Sharon before him, is unlikely to defy the will of his American patrons, leaving his blueprint for resolving the current situation in tatters. He is likely to cover for this by following the Gaza model, a surrender to international dictates regarding the land masked as a unilateral move for the good of the nation.
Hezbollah Leader Whips Islamic World Into Frenzy Against US
Feb. 9…..(FOJ) On the day after President Bush called for calm, an dafter Secretary of State hinted that Syria and Iran were using the September, 2005 posting of Muhammad-related cartoons in Denmark, the Hezbullah terrorist leader Hasan Nasrallah is calling for more demonstrations and using a Shiite Holy Day to call for the destruction of the US.
| | |
| --- | --- |
| | Nasrallah is the Shiite spiritual leader of the Hezbullah terrorist organization that receives funding and support from the Fundamentalist Islamic Republic of Iran. Hezbullah has been instrumental in enabling Syria to control Lebanon for decades. Hezbullah was the terrorist cell that perpetrated the 1983 Beirut bombing of the US Marine barracks that killed 182 American soldiers. Nasrallah is Iran's point-man Islamic cleric that regularly incites the Islamic masses in Syria-Lebanon to wage the Jihad against Israel and the US, in coordination with Iran's overall war to destabilize the Great Satan, and eventually to destroy Little Satan; (Israel) (FOJ) |
The leader of Hezbollah, heading a march by hundreds of thousands of Shiite Muslims Thursday, said President Bush and his secretary of state should "shut up" after they accused Syria and Iran of fueling protests over cartoons of the Prophet Muhammad. Denmark, meanwhile, said it had temporarily closed its diplomatic mission in Beirut, which was burned by protesters Sunday, and all staff had left Lebanon. Danes feared religious processions in Muslim countries Thursday to mark the Shiite festival of Ashoura would spill over into violence against its diplomats and soldiers after days of protests over the caricatures, which were first published in a Danish newspaper in September. About 2,000 hard-line Muslims also rallied and burned a Danish flag Thursday in the Bangladeshi capital of Dhaka. In Beirut, Hezbollah leader Sheik Hassan Nasrallah urged Muslims worldwide to keep demonstrating until there is an apology over the drawings and Europe passes laws forbidding insults to the prophet.
| | |
| --- | --- |
| | Shiite Muslim veiled women hold a placard as they walk in the rain with other women wearing bandanas reading 'Here I Am At You Service, Oh Messenger Of Allah' during a march to mark Ashoura day in the suburbs of Beirut, Lebanon, Thursday, Feb. 9, 2006. The leader of Hezbollah, heading a march by hundreds of thousands of Shiite Muslims on Thursday, said US President George W. Bush and his secretary of state should 'shut up' after they accused Syria and Iran of fueling protests over cartoons of the Prophet Muhammad. Sheik Hassan Nasrallah urged Muslims worldwide to continue demonstrations. |
The head of the guerrilla group, which is backed by Iran and Syria, spoke before a mass Ashoura procession. Whipping up the crowds on the most solemn day for Shiites worldwide, Nasrallah declared: "Defending the prophet should continue all over the world. Let Condoleezza Rice and Bush and all the tyrants shut up. We are an Islamic nation that cannot tolerate, be silent or be lax when they insult our prophet and sanctities." "We will uphold the messenger of God not only by our voices but also by our blood," he told the crowds, estimated by organizers at about 700,000. Police had no final estimates but said the figure was likely to be even higher. Speaking about the controversy for the first time on Wednesday, Bush condemned the deadly rioting sparked by the cartoons and urged foreign leaders to halt the spreading violence. Rice said Iran and Syria "have gone out of their way to inflame sentiments and to use this to their own purposes. And the world ought to call them on it." Iran has rejected the US accusations. Syria has not commented publicly. In protests throughout the Muslim world, demonstrators who saw the drawings as deeply insulting to Islam have attacked embassies in Syria, Lebanon and Iran and rioted in Afghanistan. Islam is interpreted to forbid any illustrations of the prophet.
| | |
| --- | --- |
| | Shiite Muslim supporters of the Hezbollah group raise their fists as they shout pro-Imam Hussein slogans while wearing bandanas reading 'Here I Am At Your Service Muhammad' during a march to mark Ashoura day in the suburbs of Beirut, Lebanon, Thursday, Feb. 9, 2006. Ashoura day is the remembrance of the 680 AD battle in which their saint and grandson of Islam's prophet Muhammad, Hussein, was killed by rivals cementing the split in Islam between Shiites and Sunnis. |
| | |
| --- | --- |
| Shiites mark the ceremonies of Ashura by flagellating themselves at a Shiite Muslim shrine near Damascus. Muslims all over the world are mourning the slaying of Imam Hussein, a grandson of Prophet Mohammed during the first ten days of the first Islamic month of Moharram and Ashura is the tenth and concluding day. | |
Secretary Rice: Iran, Syria Stoking Islamic Anger
Feb. 9….(My Way) Three people were killed in Afghanistan on Wednesday in fresh protests against cartoons depicting the Prophet Mohammad, while the United States accused Iran and Syria of deliberately stoking Muslim anger. The deaths in the town of Qalat, in the southern province of Zabul, brought the total number of Afghans killed in protests this week to 10. Twenty were injured in Wednesday's clash. Tens of thousands of Muslims have demonstrated in the Middle East, Asia and Africa over the cartoons, first published in Denmark, then Norway and several other European countries. The caricatures, including one showing the Prophet Mohammad wearing a bomb-shaped turban, have unleashed fury among many Muslims who consider any portrayal of their Prophet as blasphemous, let alone one showing him as a terrorist. US Secretary of State Condoleezza Rice accused Iran and Syria, both at loggerheads with the West, of inciting violence over the cartoons for their own purposes. Afghan police at first fired in the air to disperse about 600 protesters in Qalat after they threw stones at police and set fire to a police vehicle, provincial police chief Nasim Mullahkhel said. Some protesters then tried to attack a nearby US military base and police fired to stop them, Mullahkhel said. Afghanistan's top religious council called for an end to the protests saying people would use the disturbances for purposes of sabotage. Moderate Muslims, while condemning the cartoons, have expressed fears that radicals are hijacking debate over the boundary between media freedom and religious respect. Egypt and Saudi Arabia, with large Sunni Muslim populations, have not witnessed violent protests. In Teheran, demonstrators pelted the British embassy with stones on Wednesday, shouting "Death to Britain" and "We are willing to sacrifice our lives for the Prophet Mohammad." Protesters carried placards condemning the portrayal of the Prophet as well as London's role in referring Iran to the UN Security Council over its nuclear program. Another group of 100 demonstrators chanted slogans outside the Danish embassy in Tehran. EU officials and diplomats believe much of the violence against European diplomatic missions and citizens in Damascus, Beirut, Tehran and Gaza has not been spontaneous but instigated by governments or political groups for their own ends. "Anyone who knows Syria knows that people don't just go downtown and demonstrate without some official nod or wink," one EU official said, noting that Lebanese ministers had blamed Syria for the torching of the Danish mission in Beirut. Speaking at a Washington news conference with Israel's Foreign Minister Tzipi Livni, Rice said: "Iran and Syria have gone out of their way to inflame sentiments and to use this to their own purposes and the world ought to call them on it." She said nothing justified the violence that had resulted from the cartoons and appealed to governments to urge calm. "There are governments that have used this opportunity to incite violence," she added, referring to Syria and Iran. Earlier, President George W. Bush also said the violence must stop. "I call upon the governments around the world to stop the violence. To be respectful. To protect property. To protect the lives of innocent diplomats who are serving their countries overseas," he said. EU foreign policy chief Javier Solana plans to travel to Arab and Muslim countries in an attempt to calm anger over the publication of the cartoons in Europe. In Indonesia, the world's most populous Muslim country, government officials and religious leaders urged calm after Denmark told its citizens to leave for their own safety. Muslims burned the flag of Italy and called for the boycott of EU goods in the Bangladesh capital Dhaka on Wednesday. In the West Bank city of Hebron, international monitors briefly withdrew after Palestinians attacked their headquarters in protest at the cartoons.
Hezbullah Leader Nasrallah Tells Bush/ Rice to 'Shut up' About Muslims
Feb. 9….(Jerusalem Post) The leader of Hizbullah, heading a march by hundreds of thousands of Shi'ite Muslims on Thursday, said US President George W. Bush and his secretary of state should "shut up" after they accused Syria and Iran of fueling protests over cartoons of the Prophet Muhammad. Sheik Hassan Nasrallah urged Muslims worldwide to continue demonstrations until there is an apology over the drawings and Europe passes laws forbidding insults to the prophet. The head of the guerrilla group, which is backed by Iran and Syria, spoke before a mass procession of Shi'ites marking Ashura, an annual remembrance of the 680 AD battle in which Hussein, their saint and grandson of Muhammad, was killed by rivals, cementing the split in Islam between Shi'ites and Sunnis. Whipping up the crowds on the most solemn day for Shi'ites worldwide, Nasrallah declared: "Defending the prophet should continue all over the world. Let Condoleezza Rice and Bush and all the tyrants shut up. We are an Islamic nation that cannot tolerate, be silent or be lax when they insult our prophet and sanctities." "We will uphold the messenger of God not only by our voices but also by our blood," he told the crowds, estimated by organizers at about 700,000. Police officers had no final estimates but put the figure at even higher. Speaking about the controversy for the first time Wednesday, Bush condemned the deadly rioting sparked by the cartoons and urged foreign leaders to halt the spreading violence and to protect diplomats in besieged embassies. Rice, the US secretary of state, said Iran and Syria "have gone out of their way to inflame sentiments and to use this to their own purposes. And the world ought to call them on it." "There can be no settlement before an apology and there can be no settlement before laws are legislated by the European Parliament and the parliaments of European countries," Nasrallah said. Islamic nations should demand "a law committing the press and the media in the West that proscribes insulting our prophet. If this matter cannot be achieved that means they (West) insist on continuing this," he added. Nasrallah said that if the controversy touched on Jews or Israel the West would have reacted differently and quickly. "Is the Islamic world less important that a bunch of Zionists? We cannot acquiesce to this."
Three Future Leaders of a Hamas Government
Feb. 9….(FOJ) The victory of Hamas in the PA election two weeks ago marks the first time that a radical Islamic movement with a terrorist arm has ascended to power in a democratic manner. Its main players:
1.) Khaled Mash'al, leader of the Hamas Movement and head of its diplomatic desk:
He was born near Ramallah in 1956, moved to Kuwait at age 11 and lived there until age 34, when he moved to Jordan. In 1996, he assumed a leading position in Hamas. In September 1997, the Mossad attempted to assassinate him by injecting him with poison. The poison was discovered, and when Mash'al's condition began to deteriorate, and doctors said his life was in danger, Israel was forced to send an antidote to keep him alive. Two years later, he was banished from Jordan, and moved to Damascus, from where he runs Hamas, with the help of Iran and Syria, until today.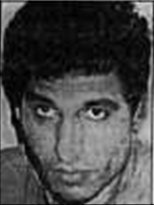 2.) Muhammed Def: The most wanted Hamas terrorist since his organization of the mass terror wave in Israel of February-March 1996. He is head of the Hamas military wing. He escaped several Israeli attempts on his life. Born in Gaza in 1965, to a family from the Ashkelon area. He became the head of Hamas' terrorist wing in 1996 when his mentor, bomb-making expert Yichye Ayash, was killed by Israel. Though he dropped into hiding, he was seriously wounded in one of the Israeli attacks on him. He continues to call for jihad against Israel. At least 53 people were killed in two Def-organized suicide attacks in Jerusalem, one in Ashkelon and one in Tel Aviv in the course of eight days in early 1996.

3.) Ismail Haniye, number one on the Hamas list in the recent election for the PA legislature, considered a "pragmatic" Hamas leader: Born in 1963 in Gaza to a family from the Ashkelon area. He was active in the Hamas students' arm until his arrest in 1989, imprisoned in Israel for three years, and banished with other Hamas terrorists to Lebanon. A year later, he returned to Gaza, and was appointed the Dean of the Islamic University. Headed Sheik Ahmed Yassin's office for seven years until Yassin was killed in a targeted Israeli attack in 2004.
Christian Group Relocates to West Bank in Protest Against Olmert Withdrawals
Feb. 9….(WND) (Calling on Bible believers worldwide to oppose Israel's withdrawal)
A Christian organization here has decided to move its headquarters from Jerusalem to a West Bank community in protest of Israel's announced withdrawal from the area and is calling on Christians worldwide to help save the territory, which many refer to as Israel's "biblical heartland." The move comes on the heels of Acting Prime Minister Ehud Olmert's revelation yesterday his administration will seek to unilaterally pull out from most of the West Bank, including strategic areas many military analysts consider crucial for Israel's defense. "Christians worldwide must unite and help stop this tragedy before such a withdrawal creates an Iranian-backed fanatic Muslim Hamas state on Israel's border and only 20 miles from Israel's major airport where terrorists can fire at will at incoming airplanes," Jan Willem van der Hoeven, director of the International Christian Zionist Center, told WND. The ICZC, a Christian pro-Israel advocacy organization, is moving to the Benyamin community of Beit El in the West Bank in solidarity with the areas resident and to protest any withdrawal from the territory. "We are moving to the heartland of the people of Israel to where the God in whom also Christians believe promised this land to one people, namely His own, as an everlasting possession," said Van der Hoeven. Officially stating what had long been assumed by many here, Olmert yesterday said Israel will unilaterally withdraw from the West Bank and take other moves aimed at changing the borders of the Jewish state. Israel will separate from most of the Palestinian population that lives in the West Bank, and that will obligate us to separate as well from territories where the state of Israel currently is," said Olmert in his first media interview since assuming his job as premier after Prime Minister Ariel Sharon's massive stroke last month. Olmert said under his West Bank withdrawal plan, Israel will maintain select security zones and some of the area's major West Bank Jewish communities, alluding to evacuating West Bank towns that fall outside Israel's security fence. About 200,000 Jews live in the West Bank. The security fence, still under construction in certain areas, cordons off nearly 95 percent of the territory from Israel's pre-1967 borders. More than half the West Bank's Jewish residents reside on the side of the fence closest to Israel. About 80,000 more Jews live on the other side of the barrier. Sharon this past summer withdrew entirely from the Gaza Strip. Charged Van der Hoeven: "Is Olmert crazy? Israelis unilaterally withdrew from Lebanon in 2000 and created a Hezbollah terror zone in the south that continually attacks. Sharon withdrew from Gaza in August and now there is a Hamas-al-Qaida state bordering the Negev that resulted in the election of Hamas, the flying of rockets regularly from Gaza, and the moving into Gaza of all the areas terror groups ready to attack. Gaza is a terror refuge. Now Israel wants to withdraw from the West Bank and surround itself by essentially three terror states that do Iran's bidding?" Van der Hoeven, also the founder of Jerusalem's International Christian Embassy, said his organization is calling on "the 60-80 million Bible-believing Christians from Brazil to South Korea" to visit the West Bank and petition their governments against supporting any Israeli withdrawal. "If they truly care about Israel, Christians must bring the cause to [President] Bush. I can't understand his duplicity. Bush is wasting American money by doing everything to fight terrorism in Iraq and Afghanistan and yet he helped create a terror state in Gaza and is helping create another one in Judea and Samaria. He is giving a gift to terrorism and putting Israel's existence at risk," said van der Hoeven. "Christians should visit Hebron, Beit El, the Golan, Bethlehem, all the areas so they can see for themselves what might be given up and stand in solidarity with the Jewish people. Van der Hoeven volunteered the services of his organization in organizing group tours. He pointed to the West Bank's rich biblical history as impetus for "every Christian to absolutely oppose any Israeli pullout. Many villages in the West Bank, which Israelis commonly refer to as the "biblical heartland," are mentioned throughout the Torah. The Book of Genesis says Abraham entered Israel at Shechem (Nablus) and received God's promise of land for his offspring. He later was buried in Hebron. The nearby town of Beit El, anciently called Bethel meaning "house of God," is where Scripture says the patriarch Jacob slept on a stone pillow and dreamed of angels ascending and descending a stairway to heaven. In that dream, God spoke directly to Jacob and reaffirmed the promise of territory. And in Exodus, the holy tabernacle rested in Shilo, believed to be the first area the ancient Israelites settled after fleeing Egypt. The West Bank is considered landlocked territory not officially recognized as part of any country. Israel calls the land "disputed." The United Nations claims the West Bank is "occupied" by Israel, which maintains overall control of most of the area while the Palestinian Authority has jurisdiction in about 40 percent. The Palestinians claim a population of roughly 2.4 million, but new demographic studies show the numbers likely are inflated. The actual Palestinian population could be up to 1 million less. The territory remained under Jordanian rule from 1948 until Israel captured the West Bank in 1967 after Jordan's King Hussein ignored Israeli pleas for his country to stay out of the Six Day War. Most countries rejected Jordan's initial claim on the area, which it formally renounced in 1988. The West Bank borders most of Israel's major cities, including Jerusalem and Tel Aviv. Military strategists long have estimated Israel must maintain most of the West Bank to defend its borders from any ground invasion. Van der Hoeven said he hopes group's move to the area will "give strength and courage to many in Israel and motivate Christians to take up this most crucial cause."
Exxon: America Will Always Rely on Foreign Oil
Feb. 8….(Reuters) The United States will always rely on foreign imports of oil to feed its energy needs and should stop trying to become energy independent, a top Exxon Mobil Corp. executive says. "Realistically, it is simply not feasible in any time period relevant to our discussion today," Exxon Mobil Senior Vice President Stuart McGill said, referring to what he called the "misperception" that the United States can achieve energy independence. The comments, in a speech at an energy conference in Houston, come a few days after US President George W. Bush declared America was addicted to Middle Eastern oil and promised to help the country kick the habit. Many in the United States believe America should wean itself off oil imports from the Middle East, fearing it makes the country dangerously dependent on an unstable region. The world's largest publicly traded oil company, however, says hoping to end foreign oil imports is not only a bad idea, but also impossible. "Americans depend upon imports to fill the gap," McGill said. "No combination of conservation measures, alternative energy sources and technological advances could realistically and economically provide a way to completely replace those imports in the short or medium term." Instead of trying to achieve energy independence, importing nations like the US should be promoting energy interdependence, McGill said.
"Because we are all contributing to and drawing from the same pool of oil, all nations, exporting and importing, are inextricably bound to one another in the energy marketplace," he said.
Hamas Will Never Settle for Pre-1967 Final Borders
Feb. 8….(FOJ) Hamas terrorist leader Khaleed Meshaal, the exiled Palestinian Hamas leader heading its Damascus affairs says Israel must return to pre-1967 borders and recognize the right of return for Palestinians before any truce can be enacted between Hamas and Israel. However the attached map from a Hamas-Palestinian brochure indicates that the 1967 borders are just a terrorist pretext demanding for demanding further Israeli withdrawals. The map shows (in red) that the Arab-Muslim leaders will demand the areas seized by Israel in 1948 also. While acting Prime Minister Ehud Olmert is lobbying his Kadima party to withdraw from the entire West Bank, except for 3 Israeli enclaves, Hamas is likely to reject the Roadmap Plan.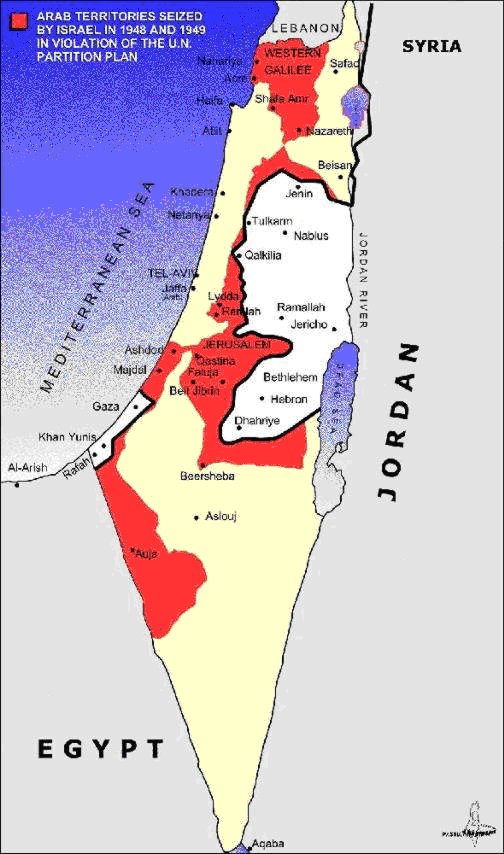 Pro-Iran Shiite leader Al-Sadr Uses Muhammad Drawings to Gain Iraqi Political Limelight
Feb. 8….(FOJ) Behind Iraq's protests over cartoons satirizing the Prophet Muhammad has been one increasingly important figure, the fiercely anti-American Shiite cleric Muqtada al-Sadr. Al-Sadr, whose militia has fought US troops and rival Shiite groups for prestige and power since the ouster of Saddam Hussein. Sadr has been meeting Middle East heads of state, including Iranian leaders and Syrian President Bashar Assad. His political supporters have also won 30 seats in Iraq's 275-member parliament, giving al-Sadr considerable clout in the dominant Shiite coalition, the United Iraqi Alliance. Al-Sadr, in his early 30s, offers an alternative to Iraqis furious at the government's inability to restore security and basic services and to those opposed to the presence of US-led troops. In a sign of his popularity, particularly among younger Shiites, al-Sadr has drawn thousands of supporters onto the streets to denounce Denmark, where the drawings of the Muslim prophet were first published. In Damascus, al-Sadr told reporters that Iraqi and Syrian relations remain strong and that their common enemies were the United States, Israel and Britain, who were bent on "sowing seeds of sedition" between the neighboring Arab states. He also sent a message to the Americans that Iran and Syria, accused by the US of sponsoring regional militants, were his friends, adding "I will be one of the defenders of Syria and Iran, and all other Islamic states." Meanwhile, Lebanon's dominant coalition accused Syria yesterday of deliberately fomenting the violent protests in Lebanon over cartoons about the Islamic prophet Muhammad, while the United States urged its Arab allies (Saudi Arabia) to help quell the spreading anger. In Iran, hundreds of protesters hurled stones and firebombs at the Danish Embassy in Tehran. In Iran, a prominent Iranian newspaper said it was going to hold a competition for cartoons on the Holocaust in reaction to European newspapers recently republishing the prophet drawings. Iran's supreme leader, Ayatollah Ali Khamenei, said the Muhammad drawings were an Israeli conspiracy motivated by anger over the victory of the militant Hamas group in last month's Palestinian elections. The European Union, in turn, warned Iran that attempts to boycott Danish goods or cancel trade contracts with European countries would lead to a further deterioration in relations. Those relations already are strained by concerns over Iran's nuclear program. Al Sadr is obviously using the flap over the Muhammad pictures to gain leverage for Shiite Iranian influence in Iraq, and to lobby for solidarity with Syria.
Israeli Election Poll Indicates Kadima (Olmert) Not Faring So Well
Feb. 8….(JNEWSWIRE) The results of a new public opinion poll show that most Israelis oppose further unilateral withdrawals, and that most Israelis believe a government headed by Ehud Olmert's Kadima Party will implement additional unilateral withdrawals. Carried out on Sunday and Monday by Maagar Mohot Survey Institute and commissioned by the Zionist Organization of America, the poll showed a significant majority of Israelis do not back surrendering more land in Judea and Samaria to the Palestinian Arabs under a series of likely scenarios. Over 50 percent oppose withdrawals if the Palestinian Authority continues its failure to end anti-Jewish terrorism; and 56 percent oppose withdrawals if there is a chance the resulting Palestinian Arab state and its Arab world allies will pose a threat to Israel; and 64 percent oppose withdrawals if the evacuated areas will be used to fire Kassam rockets at central Israel as the recently evacuated Gaza Strip is used today to target Western Negev towns. Sixty percent of the survey's 624 respondents said they see a vote for Kadima as a vote for additional withdrawals from Judea and Samaria even if "Palestinian" terror continues unabated. Only nine percent believe a future Olmert-led will not make concessions to the killers of Jewish men, women and children. The poll did show that of the 57 percent of Israelis that are certain they will vote, a majority plans to vote for Kadima. However, 34 percent said they have either not decided which party to vote for or refused to give a reply. If that 34 percent, which will decide the future occupants of 40 Knesset seats, belongs to the large majority opposing "disengagement" from the Land of Israel, Kadima may be in for a rude awakening. Time will tell if the leftist commissioned and reported polls flooding Israel's media on an almost daily basis with numbers showing a landslide victory for Kadima can be trusted. One thing is certain, the ZOA survey shows that the leftist polls are at present only representing part of the picture with so many Israelis still undecided.
US Offers Israel A Shield Against Attack by Iran
Feb. 7….(Ha Aretz) It has been mutually agreed that the US will provide a defense umbrella to shield Israel from any Iranian attack, according to recent comments by US President George Bush and Acting Prime Minister Ehud Olmert. President Bush has raised the American commitment to Israel a notch closer to the defense level it provides for NATO. "It's similar to the American defense umbrella on NATO members," a source said. In an interview with Reuters on his flight to Nashville, Tennessee, last Wednesday, Bush voiced concern over Iranian President Mahmoud Ahmadinejad's statements, calling to wipe Israel off the map and denying the Holocaust. Bush said "Israel is a solid ally of the US, we will rise to Israel's defense if need be." Asked whether he means that the US would help defend Israel militarily, Bush said "You bet, we'll defend Israel." Prior to Bush's comments, Vice President Dick Cheney made a similar statement. Cheney said in an interview to CNBC on January 19, that if Iran attacked Israel there was no doubt the US would support Israel. He said he believed any administration would. Asked whether the support would include military assistance, Cheney said it was clear that the US would support "our friends in Israel in these circumstances, if they're attacked." Olmert commented on this at Sunday's cabinet meeting. "The American president's statement held a very important development - he said the US would stand by its ally, Israel, also militarily, if need be, in view of the Iranian threat." Olmert thanked Bush for "his ongoing friendship and deep commitment to Israel's existence," and said Israel would continue with the political effort "while doing everything necessary so that Israel's power of deterrence cannot be damaged, and to preserve its ability to defend itself."
Acting PM Olmert Indicates Israeli Final Border Plan
Feb. 7….(AP) Israel's acting Prime Minister Ehud Olmert said in an interview to be aired Tuesday that he intends to hold on to all of Israel's major settlement blocs and smaller ones on the border with Jordan. It was the clearest indication yet of how Israel plans to draw its final borders, defining the central issue for Olmert's Kadima Party as it heads into March 28 elections that polls indicate it will win handily. Separately, Defense Minister Shaul Mofaz was quoted Tuesday as saying Israel would establish its final borders with or without a negotiated deal within the next two years. Political affairs reporter Nissim Mishal said it was the first time any Israeli leader gave such specific details on what Israel would keep. Mishal said Olmert specified he intended to hold on to the three major West Bank settlement blocs, Ariel, Gush Etzion and Maaleh Adumim, in addition to the Jordan Valley. He also said Olmert hinted of further unilateral withdrawals like the one Israel carried out this summer from the Gaza Strip, now that Hamas militants have won Palestinian elections and are set to take power. "He talked about Israel having to maintain a Jewish majority in the state of Israel, meaning that we have to create a new border, what is called final borders," Mishal said. "He knows that we can't negotiate with Hamas. So the only conclusion that can be derived from this is that in order to reach final borders, Israel will have to carry out additional (unilateral) withdrawals." In recent appearances, Olmert has said that while Israel prefers a negotiated final peace deal with the Palestinians, that was not the only option. Mofaz, a senior Kadima official, also suggested the party would carry out further unilateral withdrawals from lands the Palestinians wants for a state. Israel's final borders, he said, would be drawn in the next two years. "If we won't be able to reach agreed-upon borders, we will operate in a different way, which it is not appropriate to detail now," Mofaz said Monday while touring the West Bank. "We don't need to wait for someone else to impose our fate." "In the coming years, and I'm talking about a few years, the final borders of the state of Israel will be set down, and the future of most of the settlements in Judea and Samaria and the Jordan Valley will be decided in these two years," Mofaz said, referring to the biblical name Israelis use for the West Bank.
Russia Warns US Against Conflict With Iran
Feb. 6….(AP) Russia's foreign minister warned the US against threatening Iran over its nuclear program Monday after Defense Secretary Donald H. Rumsfeld reportedly agreed with a German interviewer that all options, including military response, remained on the table. Russian Foreign Minister Sergey Lavrov called for talks to continue with Tehran, which was reported to the UN Security Council on Saturday by the International Atomic Energy Agency. "I think that at the current stage, it is important not to make guesses about what will happen and even more important not to make threats," Lavrov said during a visit to Athens, Greece. Rumsfeld, in an interview with the German daily newspaper Handelsblatt, was asked if all options, including the military one, were on the table with Iran. "That's right," Rumsfeld responded, according to Handelsblatt's print edition Monday. Lavrov said the use of force would be possible only if the United Nations consented. Radzhab Safarov, a Moscow-based expert on Iran, said this month's talks in Moscow could produce a breakthrough because some Iranian politicians had questioned the wisdom of Iranian President Mahmoud Ahmadinejad's uncompromising course and had grown increasingly worried about growing international isolation. "There is a strong chance that these talks will lead to a decision that would help defuse the situation," Safarov said at a news conference. Safarov said any US or Israeli military action against Iran would prompt Iran to retaliate by blocking oil deliveries through the Persian Gulf and throwing the global market into chaos.
Iran Threatens to Close Hormuz in Retaliation
Feb. 6….(Weekend) Iranian president Mohammad Ahmadinejad is evaluating an all out military response, including closing the Strait of Hormuz, if Iran is attacked by US-led Western powers for its WMD program. Iran told this plainly in a meeting with Russia last week, adding that the world would have to pay a "heavy price" for any attack, as it would close the Hormuz and search and apprehend tankers and ships and terminate means of sea communications, even if they were commercial. Iran also threatened retaliation against any country providing the US with bases or other means to launch its military campaign. Though Iran's WMD program has provoked no action in the UN Security Council but some debates in the IAEA, Ahmadinejad is preparing for military retaliation. Russia is surprised with Iranian intentions and the readiness to launch war, even though a US-led strike is a distant possibility when efforts are on to find a solution, and it may halt military supplies to Iran. The Strait of Hormuz a narrow strategically important stretch of waterway between the Gulf of Oman in the southeast and the Persian Gulf in the southwest. On the north coast is Iran. (Persia) The strait at its narrowest is 21 miles wide, having two 1 mile wide channels for marine traffic separated by a 2 mile wide buffer zone, and is the only sea passage to the open ocean for large areas of the petroleum exporting Persian Gulf States. The closing of the Straits of Hormuz would also shut down oil exports from Saudi Arabia, Quatar, and Kuwait.
Sharon's Condition Unlikely to Improve
Feb. 6….(Ha Aretz) In the month since Prime Minister Ariel Sharon suffered a massive stroke, there has been no improvement in his condition and no sign that he is likely to regain consciousness. He is still breathing with the aid of a respirator, and Hadassah Hospital still defines his condition as "serious but stable." On the basis of the information released by Hadassah, doctors uninvolved in Sharon's treatment said that his condition can be defined as "vegetative" - what in popular terminology is known as "being a vegetable." Nevertheless, they added, the possibility that Sharon will regain consciousness, though slim, cannot yet be completely ruled out, and there is a slight chance that he could regain some of his physical and mental capabilities. "His age, his medical background and the dramatic nature of his stroke are not in the prime minister's favor," said Dr. Avraham Lazari, deputy director of the Re'ut rehabilitation hospital and an expert on rehabilitative medicine. However, he added, people in Sharon's condition do occasionally regain consciousness.
Hamas to Boost Financial and Political ties with Iran, Syria
| | |
| --- | --- |
| | Hamas leader Mahmoud al-Zahar and Palestinian Authority Chairman Mahmoud Abbas meeting in Gaza City on Saturday |
Feb. 5….(Ha Aretz) In the wake of its landslide victory in the Palestinian legislative elections, Hamas is expected to grow much closer to Iran and Syria. Ties with Iran will center on financing, operational know-how and political support. Israel believes agreements on this matter were already reached on the eve of the elections at a meeting in Damascus with visiting Iranian President Mahmoud Ahmadinejad. During his visit to Syria, Ahmadinejad met with representatives of the Palestinian organizations and with the head of Hezbollah, Sheikh Hassan Nasrallah. Of particular importance was Ahmadinejad's meeting with the leader of Hamas abroad, Khaled Meshal. In the past, Iran relied primarily on Islamic Jihad, but since Yasser Arafat's death the ties with Hamas have grown tighter. Ahmadinejad promised Hamas financial and political support and closer military ties. With Hamas winning the Palestinian Authority parliamentary elections, this means that aid for Hamas' military wing will indirectly aid the Palestinian security organizations. On the other hand, the internal talks indicate that Syria and Hezbollah, as well as Iran, are underscoring the need to beware of cooperation with Al-Qaida elements, which infiltrate from Iraq into Palestinian refugee camps in Lebanon to forge ties with Hamas and Islamic Jihad. Israeli defense officials say that if Israel backs down and continues aiding the Palestinian Authority as if nothing happened, and especially after a Hamas government is formed, there will be a sweeping retreat in the West's position regarding aid for a Hamas government. "Israel must not blink" on the strict terms imposed on Hamas, they say; any concession will cause the Western countries' stances to collapse. An Israeli retreat would adversely impact Jordan's situation. The Jordanians have told the Israelis that they are worried Israel might "export to Jordan" the problems created vis-a-vis Hamas and Iran.
In Damascus and Tehran, Hamas is considered a "winning card" worth backing. A mutual embrace is therefore expected. Iran intends to make sure Hamas does not give in to political pressure from the West and several Arab countries to reach a political compromise including recognition of Israel and a stop to the violence in return for Western financial aid to the PA. Iran and Syria are demanding that Hamas stand firm on its ideology. Tehran is promising financial aid in place of the West, and says it has vast resources from oil sales to help Hamas. The "illicit" funneling of money to terrorist groups in the territories goes through various conduits that are difficult to block. This is one of Israel's greatest failures in its war on terror. In one case Israel seized concealed Hamas accounts at an Arab bank, which prompted complaints from the United States, Egypt and Jordan. Israel appointed an inter-ministerial committee to counter the money flow to terrorist groups in the territories. The committee improved the methods of combating this phenomenon, but has not really succeeded in blocking the smuggling, which will now surely increase following Hamas' victory and its growing ties to Iran.
Jordan's King Abdullah Urges Unity Among Religions on Terrorism
Feb. 5….(World Watch) King Abdullah II of Jordan, speaking at a Feb. 2 gathering organized by evangelicals, urged Christians, Jews and Muslims to unite around common values and to consider Islamic terrorism as an "attack upon civilization" instead of a "clash of civilizations." Addressing the luncheon event of the yearly National Prayer Breakfast, King Abdullah told the audience of about 3,000, most of them evangelical Christians, that terrorists "do not preach the Islam of the Koran or the prophet Muhammad. Theirs is a repugnant political ideology which violates the principles and statutes of traditional Islamic law." "In every generation, people of faith are tested," the king said. "In our generation, the greatest challenge comes from violent extremists who seek to divide and conquer. Extremism is a political movement, under religious cover. Its adherents want nothing more than to pit us against each other, denying all that we have in common." Among the values the three religions share are a belief in one God and in the "Abrahamic scriptures," as well as the commandments to love God and neighbor, he said. The speech marked another step in King Abdullah's recent efforts to provide a different understanding of Islam than that portrayed by terrorists. This was his first address to a large evangelical audience as part of that campaign. In his 13-minute speech, the king quoted the Koran eight times, the New Testament on seven occasions and the Old Testament twice. The king's perspective matched that of President Bush, who has frequently referred to Islam as a peaceful religion since the Sept. 11, 2001, terrorist strikes on the World Trade Center and the Pentagon. Others, however, have described Islam as a religion that fosters violence and is involved in a clash with the West. Terrorist attacks on the United States, Spain and England "have led some to believe in a clash of civilizations," the king said. "Nothing could please extremists more; that is their view of reality." The November suicide bombing in Amman in his home country that killed more than 50 people, as well as terrorist attacks in other parts of the Muslim world, such as Egypt, Morocco and Saudi Arabia, demonstrate this view is false, he said. "Almost every day Muslims are killed by extremists in Iraq," he said. "Extremists of any religion who teach intolerance and violence mutilate Scripture to advance their cause," the king said. He decried the recent attacks on churches in Iraq and the cartoons in European newspapers "vilifying" Muhammad, though he affirmed respect for free speech.
Israel's Nuclear Policy Fiasco after Its Hamas Contretemps
Feb. 5….(Debka) Washington and the European Union are congratulating themselves on getting 27 of the International Atomic Energy Agency (IAEA)'s 35 members to refer the Iranian nuclear program to the UN Security Council. This is still a long way from sanctions. But the diplomatic achievement was achieved at a price, one that was paid for by the collapse of a fundamental Israeli policy platform just two weeks after the interim Olmert government was rocked back by the Islamic Hamas terror group's attainment of enough parliamentary seats to form the next Palestinian government. Jerusalem watched the United States buckle under European pressure and accept Egypt's demand to incorporate the following phrase in the resolution on Iran: The resolution recognized "that a solution to the Iranian issue would contribute to global nonproliferation efforts and the objective of a Middle East free of weapons of mass destruction, including their means of delivery." This linkage between Iran's violations of its commitments under international treaty and the Israeli case has long been demanded by the Arab states and opposed by Washington. Its acceptance now opens the way for the integration of the same linkage in the Security Council debate on Iran. It provides a pretext for a whole new set of maneuvers and dilatory tactics by Tehran. For Israel, there are several serious ramifications:
1. The last batch of prime ministers, the late Yithzak Rabin, Shimon Peres, Ehud Barak, Binyamin Netanyahu, Ariel Sharon and now Ehud Olmert, opted to leave the nuclear issue in the hands of the United States and the United Nations. None of them foresaw the day when the Israeli case would be dredged up as a stratagem to ease the passage of the Iranian nuclear crisis to the UN Security Council.
2. While the Vienna decision looks like a victory for Western diplomacy, Iran's leaders have lost no time in seizing on it as a license to go full throttle ahead with their illicit uranium enrichment, free of UN spot inspections. Furthermore, they have been given added leverage: before halting their own program, they can demand that the entire Middle East be disarmed - first and foremost Israel.
3. The reference to weapons of mass destruction and means of delivery would also require Israel to give up its long-range missiles.
4. The Arab states will achieve their old ambition of forcing the Security Council to address Israel's nuclear program.
5. The American surrender to the Arab demand was carried through by telephone between US secretary of state Condoleezza Rice and Egyptian foreign minister Aboul Gheit. Jerusalem was not brought into the picture and was taken completely unawares. This is an indicator of how Washington regards interim prime minister Ehud Olmert. (President Bush proclaimed that the US would defend Israel in any nuclear attack)
6. The Bush administration's capitulation to Arab and European demands is part of the collapse of the larger US strategy in the Middle East ever since Hamas rose to victory two weeks ago. Washington's changed attitude shows up in one issue after another, the Palestinians, Lebanon, Syria and now Iran.
Hamas Declares Oslo Peace Process Null & Void
Feb. 5….(YNET) Hamas leader, Khaled Mashal, said in Syria following the group's victory that Hamas will never recognize Israel's right to exist. Mashal's position has now been reiterated by the organization's leaders in Judea, Samaria, and Gaza. The Fatah led PA was largely dependent on a monthly transfer of import duties by Israel to remain financially solvent. The PA used the money to pay the salaries of 135,000 employees many of whom serve in the military. A number of Israeli officials have expressed concern that failure to make the monthly payment could precipitate a collapse of the PA. Government legal experts said that Israel had no right under the Oslo accords to withhold the money, so long as the PA is ruled by the Fatah party. The Olso accords were based on legal recognition by the PLO, led by the Fatah, of the State of Israel. The accords also preclude parties that do not recognize Israel from running in PA elections. The PA flouted that provision by allowing the Hamas to run in the election. After winning the PA election, the Hamas repudiated the Oslo accords, calling them null and void. Yet, interim Israeli Prime Minister Ehud Olmert has changed his position on the transfers, and determined that Israel will permit the monthly transfer payments.
FOJ Note: Ehud Olmert has been cast in the spotlight at a very critical time in history. Thus far, Mr. Olmert seems to be a weak leader, and takings his cues from Washington. Last week he ordered the IDF to assault an Israeli settlement at Amona. It appears that Olmert's unpopularity will see him voted out of office. My own instincts lead me to conclude that Benjamin Netanyahu will be reelected as PM, just as Hamas-Damascus and Iran are prepping for a broader terrorist war against Israel, and perhaps climaxing with terrorists involved in a violent exchange with the US.
WEEK OF JANUARY 30 THROUGH FEBRUARY 6
Syrians Torch European Embassies Over Mohammed Caricatures
| | |
| --- | --- |
| | Muslims around the world held another of their infamous "Day of Rages" again today in reaction to the printing of some cartoons posted in a Danish newspaper this week. The chant "Allah is greater," and the brandishing of the Koran is a challenge to the deity and omnipotence of the God of the Holy Bible. Fundamentalist Muslims are basically saying that the god Allah is supreme over Jehovah! |
Feb. 4…. Rage against caricatures of Islam's revered prophet poured out across the Muslim world Saturday, with aggrieved believers calling for executions, killings, revenge and storming European buildings and setting European flags afire. Hundreds of Syrian demonstrators stormed the Danish Embassy in Damascus, and set fire to the building. Protesters have been staging sit-ins outside the embassy almost daily since the uproar over the drawings broke out last week. Witnesses say today's protest started peacefully, but that as anger escalated, protesters broke through police barriers and torched the building. In Gaza City, demonstrators hurled stones at the EU Commission building and stormed a German cultural center, smashing windows and doors. Protesters also burned German and Danish flags and called for a boycott of Danish products. In the West Bank town of Hebron, about 50 Palestinians marched to the headquarters of the international observer mission there, burned a Danish flag and demanded a boycott of Danish goods. "We will redeem our prophet, Muhammad, with our blood, and Allah is greater, they chanted. The cartoons, first printed in a Danish newspaper in September and then republished in European publications this week, have touched a raw nerve in part because Islamic law is interpreted to forbid any depictions of the Prophet Muhammad. Aggravating the affront was a caricature of Muhammad wearing a turban shaped as a bomb with a burning fuse, among other provocative images. Hundreds of Palestinians protested in the so-called occupied territories, and the leader of the Islamic militant group Hamas, which recently swept parliamentary elections there, told Italian daily Il Giornale on Saturday that the cartoons should be punished by death. "We should have killed all those who offend the Prophet and instead here we are, protesting peacefully," said a top group leader, Mahmoud Zahar. Masked gunmen affiliated with the Fatah Party called on the Palestinian Authority and Muslim nations to recall their diplomatic missions from Denmark until that nation's government apologizes.
US Agrees to 'Mid-East Nuclear-Free Zone'
Feb. 4….(YNET) The UN Nuclear watchdog agency on Saturday referred Iran to the UN Security Council over suspicions it might want nuclear arms. The decision by the International Atomic Energy Agency's 35-nation board sets the stage for future action by the top UN Body that could include economic and political sanctions. Still, any such moves were weeks if not months away, with two permanent council members, Russia and China, agreeing to referral only on condition that no council action be taken until at least March. Javed Vaeidi, the deputy head of Iran's powerful Security Council, said in response that Iran would "immediately" set into motion steps to restart full-scale uranium enrichment and curtail the inspecting powers of the IAEA. Washington compromised on a US-Egyptian dispute over linking fears about Tehran's atomic program to a Middle East nuclear-free zone - and indirectly to Israel. Diplomats said the Americans accepted mention of such a zone in the draft referring Iran to the Security Council late in the night. A copy of the confidential draft links the decision to ask for Tehran's referral to the country's breaches of the nuclear nonproliferation treaty and lack of confidence that it is not trying to make weapons. A majority of board members back referral but possible delay had loomed after United States and Egypt tangled over linking the issue to long-standing Arab demands that Israel - generally considered a nuclear power, give up such arms. Diplomats familiar with the issue said France, Britain and Germany - the three European nations formally submitting the US-backed draft resolution calling for referral, had mediated between Cairo and Washington. The diplomats, who demanded anonymity in exchange for discussing the negotiations, said US Secretary of State Condoleezza Rice and Egyptian counterpart Ahmed Aboul Gheit also had been involved in trying to iron out language acceptable to both sides. A Western diplomat at the meeting said the United States felt strongly about not linking its ally Israel to nuclear concerns in the Middle East when it considers Iran the real threat in the region. But the Americans agreed in the face of overwhelming support for inclusion of such a clause from its European allies spearheading the resolution.
FOJ Note: I have always said that the Iranian Nuclear chess game will have implications for Israel. The nuclear-free-zone linkage between Iran's illegal activities and the Israeli case has long been demanded by the Arab states and opposed by Washington. Its acceptance now opens the way for the integration of the same linkage in the Security Council debate on Iran and represents the collapse of one of a foundation of Israel's foreign and security policies. The resolution recognized "that a solution to the Iranian issue would contribute to global nonproliferation efforts and… the objective of a Middle East free of weapons of mass destruction, including their means of delivery." Ultimately, the Global structure under the Antichrist will guarantee security for all nations in the region, but it will be a false sense of safety for Israel.
National Choices have National Consequences
Feb. 3….(By Charles Krauthammer) Amid much gnashing of teeth, the Hamas victory in the Palestinian elections is being called a disaster. On the contrary. It is deeply clarifying and ultimately cleansing. If the world responds correctly, it will mark a turning point for the better. The Palestinian people have spoken. According to their apologists, sure, Hamas wants to destroy Israel, wage permanent war and send suicide bombers into discotheques to drive nails into the skulls of young Israelis, but what the Palestinians were really voting for was efficient garbage collection. It is time to stop infantilizing the Palestinians. As Hamas leader Khaled Meshal said at a news conference four days after the election, "The Palestinian people have chosen Hamas with its known stances." By a landslide, the Palestinian people have chosen these known stances: rejectionism, Islamism, terrorism, rank anti-Semitism and the destruction of Israel in a romance of blood, death and revolution. Garbage collection on Wednesdays. Everyone is lamenting the fall of Fatah and the marginalization of its leader, Mahmoud Abbas. This is ridiculous. The election exposed what everyone knew and would not admit: Abbas has no constituency. Would it have been better to keep funneling billions of dollars from the European Union and a gullible United States to the thoroughly corrupt administration of a hapless figurehead? Billions that either end up in Swiss bank accounts or subsidize countless gangs of young men carrying guns? The current nostalgia for Fatah moderation is absurd. What moderation? Yasser Arafat's 1993 paper recognition of Israel's right to exist was as fraudulent as his famous Oslo side letter renouncing terrorism. He spent the next seven years clandestinely sponsoring it, then openly launched a four-year terrorist war, the most vicious in the history of the Arab-Israeli conflict. With this election, we can no longer hide from the truth: After 60 years, the Palestinian people continue to reject the right of a Jewish state to exist side by side with them. Fatah, secular, worldly and wise, learned to lie to the West and pretend otherwise. Hamas, less sophisticated, more literal and more bound by religious obligation to expel the Jews, is simply more honest.
This election was truth in advertising. Now we know. What to do? The world must impress upon the Palestinians that there are consequences for their choices. And so long as they choose rejectionism, the source of a 60-year conflict the Israelis have long been ready to resolve, the world will not continue to support and subsidize them. And that means cutting off Hamas completely: no recognition, no negotiation, no aid, nothing. And not just assistance to a Hamas government but all assistance. The Bush administration suggests continuing financial support for "humanitarian" services. This is a serious mistake. First, because money is fungible. Every dollar we spend for Palestinian social services is a dollar freed up for a Hamas government to purchase rockets, guns and suicide belts for the "Palestinian army" that Meshaal has already declared he intends to build. Second, because it sends the Palestinians precisely the wrong message. If they were under a dictatorship that imposed rejectionism on them, there would be a case for helping a disenfranchised Palestinian people. But they just held the most open and honest exercise of democracy in Palestinian history. The Palestinian people chose. However much they love victimhood, they are not victims here. They are actors. And historical actors have to take responsibility. They want blood and death and romance? They will get nothing. They choose peace and coexistence? Then, as President Bush pledged in June 2002, they will get everything: world recognition, financial assistance, their own state with independence and dignity. In August 2001, Hamas sent a suicide bomber into a Sbarro pizzeria in Jerusalem. He killed 15 innocent Israelis, mutilating many dozens more. A month later, Hamas student activists at al-Najah University in Nablus celebrated the attack with an exhibit, a mockup of the smashed Sbarro shop strewn with blood and fake body parts, a severed leg, still dressed in jeans; a human hand dangling from the ceiling. The inscription (with a reference to the Qassam military wing of Hamas) read: "Qassami Pizza is more delicious." The correct term for such a mentality is not militancy, not extremism, but moral depravity. The world must advise the Palestinian people that if their national will is to embrace Hamas, its methods and its madness, then their national will is simply too murderous and, yes, too depraved for the world to countenance, let alone subsidize. The essential first lesson of any newborn democracy is that national choices have national consequences. A Hamas-led Palestine, cut off entirely, will be forced to entertain second thoughts
Syria's Weapons of Mass Destruction
Feb. 3….(Joseph Farah of World Net Daily) President Bush didn't lie about Saddam Hussein's weapons of mass destruction. Not only did Iraq stockpile chemical and biological weapons, Baghdad used them and Bush's political opponents had no doubts about the existence of those arms before Bush came to power. And now Hussein's top military adviser, Georges Sada, has written a persuasive and well-documented book detailing what happened to those weapons. Based on information obtained through his close relationships with other Iraqi pilots, Sada reveals in "Saddam's Secrets" that Iraqi military personnel stripped out the seats in commercial airliners, loaded them with the weapons and flew them to Damascus just prior to the US invasion. It's a blockbuster revelation, but you didn't read about it in the New York Times, Washington Post or in any reports by the Associated Press. Only talk radio, cable television and the alternative new media gave the book and its disclosures any attention. Of course, that means Bush's opportunistic political opponents will continue to hammer away with the "Bush-lied-kids-died" line right up through the congressional midterm elections later this year. In other words, they will continue to accuse Bush of doing exactly what they are doing – lying. But this revelation by Sada raises a more serious matter than just domestic politics. If, indeed, Sada is right, and I have believed for years, based on independent intelligence reports, that he is, then we have a big problem with Syria. If Bashar Assad took control of Saddam Hussein's weapons of mass destruction before the onset of war, that means he still has them today. Since the WMDs were one of the primary reasons we went to war in Iraq, what are we going to do about Syria? It is not as if Assad and the Syrians have been choir boys prior to this report. Last year, Assad was personally implicated in the murder of Lebanese Prime Minister Rafik Hariri. An investigation of that assassination continues, but there is little doubt in the minds of anyone who follows Middle East news that the president of Syria is implicated in the plot. Syria is also a major sponsor of terrorism throughout the world. Damascus hosts more terrorist groups than any other capital in the world. Syria is Iran's main conduit of support to the largest terrorist group in the world – Hezbollah, which is a strategic ally of Osama bin Laden's al-Qaida. Syria also serves as a base of operations for terrorists attacking our troops in Iraq. It is also in league with Iran, now the world's focus of a nuclear weapons threat. In short, every reason the United States had to invade Iraq and overthrow the regime of Saddam Hussein now applies to Syria. If we don't take action against Syria soon, we will have to apologize to Saddam Hussein. I don't pretend to fully grasp our strategic options, but I know it's time for some soul-searching about Syria. If Syria is in possession of biological and chemical weapons obtained from Saddam Hussein, how long will it be before Assad puts some of those weapons in the hands of the Islamic terrorists who seek to use them against us? Is it not entirely likely that he has already turned over some of these weapons to Hezbollah and others to be used against Israel? President Bush made a tactical error when he announced to the world that US intelligence on Iraqi weapons of mass destruction was wrong, and that Saddam Hussein had no such weapons. The revelations by Sada and the continuing reports that Iraq arms were transferred to Syria need a full investigation or we may be indeed be guilty of making a serious intelligence blunder with regard to those elusive WMDs.
Bush: US Would Defend Israel Against Iran
Feb. 2….(Reuters) President George W. Bush vowed on Wednesday the United States would defend Israel militarily if needed against Iran and denounced Iranian President Mahmoud Ahmadinejad for "menacing talk" against Israel. In a Reuters interview aboard Air Force One en route to Nashville, Bush also said he saw a "very good chance" the governing board of the International Atomic Energy Agency would refer Iran to the UN Security Council for possible sanctions. "I am concerned about a person that, one, tries to rewrite the history of the Holocaust, and two, has made it clear that his intentions are to destroy Israel," Bush said. "Israel is a solid ally of the United States, we will rise to Israel's defense if need be. So this kind of menacing talk is disturbing. It's not only disturbing to the United States, it's disturbing for other countries in the world as well," he added. Asked if he meant the United States would rise to Israel's defense militarily, Bush said: "You bet, we'll defend Israel." Ahmadinejad has prompted international condemnation for anti-Israel rhetoric in recent weeks, including saying it should be wiped off the map, and also calling into question the Holocaust.
FOJ Note: According to Bible Prophecy, the United States will not be around to help in the defense of Israel during Israel's "Time of Trouble." (Tribulation era) The overwhelming question for prophecy scholars is; "what transpires to change America's foreign policy of allied defense of Israel between now and the Tribulation?" The prophet Jeremiah seemingly reveals in chapter 25 that America (Coastlands or isles) may succumb to an overwhelming attack. But one thing is for sure, ultimately toward the end of the Tribulation, Israel will be completely surrounded by enemies as ALL nations of the world gather and encircle Jerusalem to fight against God's anointed, and Israel will have no earthly allies or defenders! (Joel 3:2 I will also gather all nations, and will bring them down into the valley of Jehoshaphat, and will plead with them there for my people and for my heritage Israel, whom they have scattered among the nations, and parted my land.) (Luke 21:20 And when ye shall see Jerusalem compassed with armies, then know that the desolation thereof is nigh.)
Stage Set for Iran Referral to United Nations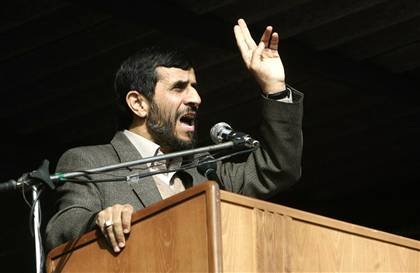 Feb. 2….(WND) European nations set the stage Wednesday for referral of Iran to the UN Security Council within days, submitting a text calling for such a move to the International Atomic Energy Agency's decision-making board. In arguing for involvement of the top UN body, which could impose sanctions, the draft resolution expressed "the absence of confidence that Iran's nuclear program is exclusively for peaceful purposes." Submission means the 35-nation board of governors has to make a decision on approval at its meeting that starts Thursday. With Russia and China throwing their support behind referral on Monday after months of opposition, the motion was expected to pass by a wide margin. Although Russia and China are longtime allies and trading partners of Iran, they agreed Monday on the need for Security Council involvement with Britain, France and the United States, the three other permanent Security Council members with veto power, in the start of a protracted process that could end in sanctions for Tehran. President Bush stepped up pressure on Iran in his annual State of the Union address Tuesday night, saying "the nations of the world must not permit the Iranian regime to gain nuclear weapons." He said the United States "will continue to rally the world to confront these threats." Bush also said Iran was "held hostage by a small clerical elite that is isolating and repressing its people" and must stop sponsoring terrorists in the Palestinian territories and Lebanon. Iranian President Mahmoud Ahmadinejad struck back Wednesday, vowing to resist the pressure of "bully countries" and saying Tehran will continue its nuclear program. The draft calls on Iran to:
Reestablish a freeze on uranium enrichment and related activities.
Consider whether to stop construction of a heavy water reactor that could be the source of plutonium for weapons.
Formally ratify an agreement allowing the IAEA greater inspecting authority.
Give the IAEA additional power in its investigation of Iran's nuclear program, including "access to individuals" for interviews, as well as to documentation on its black market nuclear purchases, equipment that could be used for nuclear and non-nuclear purposes and "certain military-owned workshops" where nuclear activities might be going on. Singled out as a major concern were documents in Iran's possession that an IAEA report on Tuesday said served no other purpose than to make an atomic bomb.
Jimmy Carter: Give Hamas a Chance
(Former US president says financial aid to PA must not be cut, adds new Hamas government should be recognized)
Feb. 2….(CNN) Hamas deserves to be recognized by the international community despite its 'militant past,' and its leaders may well abandon violence, according to former US president Jimmy Carter. Carter, who was speaking to CNN, also said that the United States must not cut off financial aid to the Palestinian Authority, but rather to transfer it via a third party, such as the United Nations. If you sponsor an election or promote democracy and freedom around the world, then when people make their own decision about their leaders, I think that all the governments should recognize that administration and let them form their government," Carter said. "If there are prohibitions, like, for instance, in the United States, against giving any money to a government that is controlled by Hamas, then the United States could channel the same amount of money to the Palestinian people through the United Nations, through the refugee fund, through UNICEF, things of that kind," the former president added. Carter noted: "The people of Palestine, who already suffer, under Israeli occupation, will not suffer because they are deprived of a right to pay their school teachers, policemen, welfare workers, health workers and provide food for people." Carter was the U.S. president who stood behind the peace agreement between Israel and Egypt at Camp David. He later won the Nobel Peace Prize. After finishing his term as president in the White House, he established the "Carter Center" in Atlanta, and has sent many monitors to elections in various countries
Israel Unleashes Force – Against Jews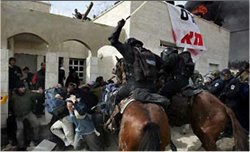 Feb. 2….(JNEWSWIRE) Hundreds of Jews were sent to the hospital (by fellow Jews), the settlers were further demonized increasing an already deep national rift, and yet another thriving community was destroyed all for the sake of gaining a few extra mandates in Israel's general election next month.That is how many in Israel saw Acting Prime Minister Ehud Olmert's decision to send in thousands of armor-clad riot police to evict a handful of Jewish settlers and their supporters Wednesday morning in an unprecedented show of force by an Israeli government against its own citizens. Ground zero for the confrontation: the tiny village of Amona in the Binyamin region of Israel's central hill country. As the evacuation got underway, live images of mounted and club-wielding officers charging into groups of Israelis teens elicited expressions of shock from more than one television news anchor. By mid-afternoon it was all over, and IDF bulldozers moved in to demolish Amona's nine beautiful houses. The casualty figures stood at 100 police officers and at least 220 civilians wounded, among them two members of Knesset.
Bush: No New State unless Hamas Renounces Charter to Destroy Israel
Feb. 2….(WND) There will be no Palestinian state if a Hamas-led government does not renounce its established aim to destroy Israel, President Bush declared today in an interview. In his first interview after last night's State of the Union address, Bush told the Associated Press it was too early to tell what path Hamas might take after its landslide parliamentary election victory last week, but "conditions for peace and the conditions for a settlement will be up to Hamas to make the right decisions." Bush was the first US president to advocate a Palestinian state, independent from Israel. But he says his administration's position is clear, "Hamas must renounce its desire to destroy Israel, it must recognize Israel's right to exist and it must get rid of the armed wing of its party." "In order for there to be democracy and in order for there to be two states living side by side with peace, you can't have the party of one state intending to destroy the other state," he told the AP. "And secondly, in order to participate in a democratic society, you can't have an armed wing available to enforce something a party decides to do," Bush added. Any changes, however, in the aims and methods of Hamas, an acronym for the Islamic Resistance Movement, appears unlikely. The terror groups chief Mahmoud al Zahar says Hamas might soon offer Israel a long-term cease fire but will not recognize the Jewish state's right to exist. Earlier he demanded Israel change it's official flag. Al-Zahar's comments followed a WND exclusive in which a top Hamas leader said his group will soon make public a "peace initiative" in which it will offer to trade strategic land with Israel, cease attempts to capture parts of Jerusalem, and sign a 10-year renewable truce with the Jewish state with the aim of later destroying Israel. "I am not ruling out a long truce period with Israel during which we will hold back armed confrontation as long as the Israeli soldiers respect the truce and do not commit violence against the Palestinian people," said al-Zahar, speaking to WND by cell phone from the Gaza Strip. The Hamas Covenant, established in 1988, indicates change is not likely, stating the group's "program is Islam. From it, it draws its ideas, ways of thinking and understanding of the universe, life and man," and "Allah is its target, the Prophet is its model, the Quran its constitution: Jihad is its path and death for the sake of Allah is the loftiest of its wishes." Drawing from the sayings of Muhammad and the Quran, the charter says Hamas "aspires to the realization of Allah's promise" that the "Day of Judgment will not come about until Muslims fight the Jews." The covenant declares that all of the Holy Land, including Israel is Islamic land that can never be surrendered to non-Muslims. Its introduction quotes "martyr" Imam Hassan al-Banna, who said, "Israel will exist and will continue to exist until Islam will obliterate it, just as it obliterated others before it." The charter also makes no room for the kind of "peace process" engaged in by the Palestinian Authority. Article 13 says, "Initiatives, and so-called peaceful solutions and international conferences, are in contradiction to the principles of the Islamic Resistance Movement. ... There is no solution for the Palestinian question except through Jihad."
Israel Freezes $45 Million for Palestinians
Feb. 1….(AP) Israel froze this month's transfer of $45 million in tax rebates and customs payments to the Palestinian Authority while it reviews its options following the Hamas victory in last week's parliamentary election, the government said Wednesday. "The transfers will be on hold" while the issue is being reviewed, Israeli Foreign Ministry spokesman Mark Regev said. "The expectation is that automatic transfers will not continue." "There is a concern on our side that the moneys transferred will come back to haunt us in the form of suicide bombings," he added. Palestinian officials said Israel's payment for January already is several days overdue and they may not be able to pay the salaries of 137,000 government workers if Israel does not send the money. Unemployment in the Palestinian areas runs high, and many Palestinian families depend on a government salary. A failure to pay the January salaries could pose the most difficult test yet for Hamas, which has resisted international demands to recognize Israel, disarm and renounce violence. President Bush repeated the demand Tuesday night in his State of the Union address, saying the "leaders of Hamas must recognize Israel, disarm, reject terrorism and work for lasting peace." Moussa Abu Marzouk, the deputy head of Hamas' political bureau in Syria, told The Associated Press that last year's cease-fire with Israel could be renewed to placate the Western powers. But he rejected Bush's call. "These conditions cannot be accepted and the US president should accept the reality, because the Palestinian people have exercised their democratic choice, with mechanisms that are basically Western, and they chose Hamas," Abu Marzouk said, adding Bush "should deal with Hamas as it is. Also Wednesday, Egypt's top intelligence official, Omar Suleiman told journalists that Cairo intends to tell Hamas leaders to recognize Israel, disarm and honor past peace deals, the latest sign Arab governments are pushing the militant group to moderate its views. Suleiman spoke after Egyptian President Hosni Mubarak met in Cairo with Palestinian leader Mahmoud Abbas. In all, the Palestinian Authority needs some $116 million every month to cover the payroll. It has repeatedly borrowed from banks and received additional support from donor countries. However, the Palestinian Cabinet secretary, Samir Hleileh, said it appears unlikely the banks would lend to the government in times of uncertainty. The United States and the European Union also have said millions of dollars in aid, the lifeline of the Palestinian economy, could be in jeopardy unless Hamas changes its policies toward Israel. Western donors funnel about $900 million to the Palestinians each year, most of it designated for reconstruction projects in the impoverished Gaza Strip and West Bank. Osama Hamdan, a senior member of Hamas' exiled leadership, said Tuesday his group is already looking for new sources of funding, especially from the Muslim world. However, Hamas will likely find it difficult to persuade Muslim nations to make up the shortfall, and the threat of no money remains the international community's best weapon to get Hamas to moderate its violent ideology. Israel's monthly tax transfer to the Palestinians totals an average of about $45 million. The funds are from customs and other duties collected by the Israelis on behalf of the Palestinians.
President Bush in his State of the Union Speech Reiterated Leaders of Hamas must Recognize Israel, Disarm, Reject Terrorism and Work for Lasting Peace
Feb. 1….(Debka) The US supports democratic reform across the broader Middle East but elections are only the beginning. The Palestinian people have voted in elections, but now the leaders of Hamas must recognize Israel, disarm, reject terrorist and work for lasting peace. Iran, he went on to say, is a nation now held hostage by a small clerical elite that is isolating and repressing its people. The regime in that country sponsors terrorists in the Palestinian territories and in Lebanon, and that must come to an end. The Iranian government is defying the world with its nuclear ambitions, and the nations of the world must not permit the Iranian regime to gain nuclear weapons.
Bush: US Must Cut Dependence on Mideast Oil
Feb. 1….(AP) President Bush declared Tuesday night that America must break its long dependence on Middle East oil and rebuked critics of his stay-the-course strategy for the unpopular war in Iraq. "America is addicted to oil, which is often imported from unstable parts of the world," Bush said as he sought to drive the election-year agenda in his annual State of the Union address. He declared that the "the state of our union is strong" despite Americans' anxieties about the war in Iraq, the economy, soaring energy costs and rising energy prices. Oil prices are inching toward $70 a barrel, throwing a cloud over the economy and pinching Americans' pocketbooks. As he has in every State of the Union address to some extent, Bush said the United States must curb its reliance on foreign oil imports. He called for more research on batteries for hybrid and electric cars and work on alternative fuels to produce ethanol from wood chips, stalks or switch grass. "Our goal is to make this new kind of ethanol practical and competitive within six years," the president said. "Breakthroughs on this and other new technologies will help us reach another great goal: to replace more than 75 percent of our oil imports from the Middle East by 2025. America's imports of oil and refined product from the Persian Gulf make up less than a fifth of all imports and 11 percent of total consumption, according to Energy Department statistics.
Takeover of Egypt Part of Hamas' Plan?
(Palestinian terrorists have close alliance with neighboring Muslim Brotherhood)
Feb. 1….(WND) Following Hamas' victory by a large margin in last week's Palestinian parliamentary elections, experts watching the terror group closely tell WND it has been aligning itself more than ever with its hard-line Islamic counterpart in Egypt and point to worrying signs the new Palestinian powerbrokers might have designs for an eventual Egyptian takeover. Sources close to the group say a major Egyptian opposition figure has been serving the past year as spiritual leader of Hamas. "If I were Egyptian President Hosni Mubarak, I would look with great concern at the Hamas ascension to power in the territories. This has very dangerous implications for the Egyptian regime. Hamas was founded in 1987 as a military offshoot of Egypt's Muslim Brotherhood, which seeks to create an Islamic theocracy throughout the Middle East and ultimately around the world. Although ideologically connected to the Brotherhood, Hamas' stated goal is mostly focused on the destruction of Israel by "armed struggle." Still, Hamas leaders have long maintained anti-Western attitudes and have talked about the need for secular Arab states to be replaced with Islamic regimes. Egypt is the second-largest recipient of United States financial aid in the Middle East. It signed a peace agreement with Israel in 1979. The US calls Mubarak's government moderate and maintains Egypt is an important strategic ally. Palestinian and Israeli security officials told World Net Daily Mubarak is concerned the ascension of Hamas to power will embolden the Muslim Brotherhood, members of which ran in last year's general elections, to seek a similar power grab in Egypt. Analysts say Mubarak considers the Brotherhood a major challenge to his government. It scored very well in the latest Egyptian elections, winning an unprecedented 20 percent of the Parliament and trouncing all other opposition parties in spite of widespread reports of massive election tampering on the part of Mubarak's National Democratic Party. Mubarak also arrested more than 1,500 Brotherhood activists prior to the elections. An Israeli security official said Egypt is especially concerned by the close proximity of the Gaza Strip, which borders the Sinai Desert. "There is major worry now in Mubarak's regime of losing control in the Sinai. Hamas is already in control of Gaza. There have been indications Hamas has designs for more control of the Sinai along with the Muslim Brotherhood. There is particular concern if they gain any control that al-Qaida cells thought to be in the area will be allowed to flourish and can attack both Egypt and Israel."
Egyptian forces together with Palestinian security officers and European monitors now control the Rafah Crossing at the Gaza-Sinai border after a deal brokered in November by US Secretary of State Condoleezza Rice. Over the past two months, Hamas has numerous times breached the border to allow weapons and terrorists to cross through, one time even ramming a dump truck through the border wall, leaving it open for much of two days. Earlier this month, two Egyptian border guards were killed by gunmen trying again to breach the wall. Also, Egypt from time to time has accused Hamas of involvement in attacks on its soil. Egyptian security reports hinted at possible Hamas involvement in the suicide bombings of tourist centers in Taba in October 2004, killing 34 people, including 11 Israelis. Still, Egypt has seemingly friendly dealings with Hamas leaders and regularly serves as a mediator in brokering deals involving the group. Overall Hamas leader Khaled Meshaal, who resides in Syria, is due to meet with Mubarak later this week to discuss the terror group's formation of a government. "Political life in Egypt at present is controlled by two poles: the regime and its security and military agencies on one side and the Muslim Brotherhood on the other," said Brotherhood leader Abdel Rahman. "Maybe Hamas' win will help Muslim brothers to have a bigger influence on Egypt's foreign policy."
FOJ Note: It is noteworthy to remember that during the Tribulation, the Antichrist will be compelled to enter into Egypt to put down an uprising. After putting own the trouble in Egypt, news from Russia and the Far East trouble him.
(Daniel 11:40-44 And at the time of the end shall the king of the south push at him: and the king of the north shall come against him like a whirlwind, with chariots, and with horsemen, and with many ships; and he shall enter into the countries, and shall overflow and pass over. He shall enter also into the glorious land, and many countries shall be overthrown: but these shall escape out of his hand, even Edom, and Moab, and the chief of the children of Ammon. He shall stretch forth his hand also upon the countries: and the land of Egypt shall not escape. But he shall have power over the treasures of gold and of silver, and over all the precious things of Egypt: and the Libyans and the Ethiopians shall be at his steps. But tidings out of the east and out of the north shall trouble him: therefore he shall go forth with great fury to destroy, and utterly to make away many.)
Putin Touts Russia's Missile Capabilities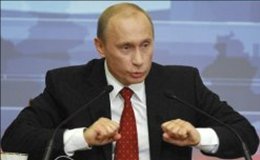 Jan. 31….(Breitbart) President Vladimir Putin boasted Tuesday that Russia has missiles capable of penetrating any missile defense system, Russian news reports said. "Russia has tested missile systems that no one in the world has," the ITAR-Tass, Interfax and RIA Novosti news agencies quoted him as saying at a news conference. These missile systems don't represent a response to a missile defense system, but they are immune to that. They are hypersonic and capable of changing their flight path." Putin said the new missiles were capable of carrying nuclear warheads. He wouldn't say whether the Russian military already had commissioned any such missiles. He said he had shown the working principles of the missile systems to French President Jacques Chirac during a visit to a Russian military facility. "He knows what I'm talking about," news agencies quoted Putin as telling reporters after state-run news channels had cut their live broadcast of the news conference. In April 2004, Chirac became the first Western leader to visit Russia's top-secret Titov space control center, which is also involved in launches of its intercontinental ballistic missiles. Putin said that the new missiles were capable of changing both the altitude and the direction of their flight, making it impossible for an enemy to intercept them. "A missile defense system is designed to counter missiles moving along a ballistic trajectory," Putin was quoted as saying. Putin and other Russian officials have boasted of the new missiles in similar comments in recent years, but they haven't identified them or given any further details other than about their ability to change their flight path on approach to a target. Most analysts viewed the earlier announcements about "hypersonic" missile systems as Moscow's response to US missile defense shield plans.
Moscow Says Iran has a large Nuclear Device in its "Preliminary Stage."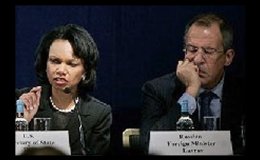 Jan. 31….(Debka) Russian FM Sergei Lavrov put this bit of new information before the five permanent UN Security Council and Germany today. Until today Moscow and Beijing had stood out against the UN nuclear watchdog' referring the Iran dossier to the Security Council. Teheran hit back by saying the decision was unconstructive and the end of diplomacy!
According to Lavrov, Russian intelligence estimates that Iran is now capable of detonating this non-weaponized nuclear device, or in other words carrying out its first nuclear test. This estimate which Russian President Vladimir Putin passed to President George Bush some weeks ago is challenged by US and Israeli nuclear experts, who do not believe Iran is up to the stage of a nuclear device. However, on Jan. 21, the opposition FDI claimed Iran would carry out its first nuclear test before the Iranian new year, which falls on March 20.
Ahead of the IAEA's Thursday meeting in Vienna, a leaked report claimed Iran had last week given the watchdog sensitive documents which apparently showed how to mold highly enriched uranium into the hemispherical shape of warheads, in an effort to stave off referral to the Security Council. At the same time, according to the same unnamed diplomats, the agency passed to Tehran intelligence provided by the US that suggests Iran has been working on details of nuclear weapons, such as missile trajectories and ideal altitudes for exploding warheads. When the IAEA asked Iran for an explanation of the documents, Tehran replied they had been obtained from members of a nuclear black market network. Still ahead of the nuclear watchdog's meeting, Moscow and Beijing dispatched diplomats to Tehran to explain that their support for referral to the Security Council did not mean an end to diplomacy. Referring the issue to the UN would have a "very big effect" on oil prices, Libyan Energy Scretary Fathi Hamed bin-Shatwan said Tuesday at an OPEC meeting in Vienna.
FOJ Note: Up until today, Russian President Putin had faithfully pledged to President Bush that Russia would checkmate any Iranian attempts to develop a nuclear weapon. Today's revelations by President Putin reveals that Russia is not a faithful member of the Nuclear Non-proliferation Treaty, and is moving swiftly ahead with plans to help Iran acquire nuclear weapons. For more on this topic, see FOJ 's Question and Answer # 275. Ironically, Mr. Putin also chose today to announce and brag about Russia's new ICBM capability.
Syria Calls on Arab States to Step in if Western Aid to PA is Cut
Jan. 31…..(Ha Aretz) Syria said on Tuesday it would propose that Arab nations compensate the Palestinians for any aid Western powers might cut after last week's Hamas election victory, the state-run SANA news agency reported. The agency quoted Syrian Foreign Minister Farouq Shara as saying his country would submit the proposal at an Arab summit in March. "The move comes within the framework of the continuous Arab support to the Palestinian people, and the respect of its will and choices," SANA said. Syria is a key Hamas supporter and has been under international pressure to expel the group's leadership from Damascus, including politburo chief Khaled Meshal.
Putin: Don't Cut Palestinian Aid; 'Hamas Win Was Blow to US ME Policies'
Hamas victory debunks US policy in Mideast, Putin says
Hamas's victory in the Palestinian Authority elections is a severe blow to US policy in the Middle East, Russian President Vladimir Putin said Tuesday. Hamas needed to stop making radical statement, recognize Israel as an independent country and cooperate with the international community, he said at a press conference. Stopping aid to the Palestinians would be a mistake, he added.

Jan. 31….(Ha Aretz) The world should not cut off aid to the Palestinians after the Islamic militant group Hamas's shock victory in the Palestinian legislative election, Russian President Vladimir Putin said on Tuesday. "The election of Hamas was a great blow to American efforts in the Middle East. A very serious blow," he told a news conference. "Russia has never declared Hamas a terrorist organization, but it doesn't mean we support and accept everything Hamas has done and all the statements it has made." Putin said Russia, one of the Quartet of Middle East peace sponsors, expected Hamas to recognise Israel's existence and abandon its radical position, but that it would not support cutting off the Palestinians. "A refusal to help the Palestinian people would be mistaken," he said. World powers including the leading donors, the European Union and the United Staes, have suggested they might halt aid to the Palestinian governing institution, the Palestinian Authority, unless Hamas renounces violence and abandons its stated aim of seeking Israel's destruction. Putin called on Hamas to engage in peaceful dialogue, and said Russia's position on the Middle East differed from that of the United States and Europe. UN Secretary-General Kofi Annan, meeting with the Quartet sponsors said yesterday that a Hamas-led Palestinian government must commit to non-violence, recognition of Israel and acceptance of existing peace agreements if it is to maintain its level of financial support. Speaking for the Quartet of would-be peace-making nations after their meeting in London, Annan also said Hamas must set up a government that is committed to the rule of law, to tolerance, reform and sound fiscal management. Shortly after Annan spoke, the Al-Arabiya satellite channel in the Middle East reported that Hamas had rejected demands to disarm and recognize Israel.
FOJ Note: Russia has been making strategic moves throughout the Middle East to counter the US Middle Eastern policy. Russia is equipping Syria and the Palestinians with military hardware to counter Israeli capabilities. Russia has also been instrumental in enabling Iran to develop nuclear weapons.
Hamas Authority: We'll Get our Money Elsewhere
Jan. 31….(JNEWSWIRE) If Washington and Israel stop financially aiding the Hamas Authority (Hamas-led PA), the "Palestinians" will get money from Iran and other Muslim states, and the West can go fly a kite. Palestine Monetary Authority Governor George Abed told media analyst Aaron Lerner Monday Israel and the US cannot block the transfer of funds from Iran, Iraq, Syria or any other regional power via the banking system in PA-controlled Judea, Samaria and Gaza. Earlier, leading Hamas candidate Ismail Haniyah announced his organization was ready to turn to its allies in Tehran, Damascus, Riyadh and elsewhere in the Islamic world.
Dedicated, Unwaveringly, to Israel's Demise
Jan. 31….(JNEWSWIRE) As the largely ignorant international community speculates about whether or not Hamas will change its stripes following its rise to power, and as Western governments pressure it to do so, the blood-soaked terror group is proclaiming loud and clear that its intentions regarding Israel remain unaltered. "Let nobody imagine or delude himself for one moment that Hamas might condemn or obstruct any [terrorist violence] against [the Jewish state], under any circumstances," Hamas Representative in Lebanon Osama Hamdan told ANB TV on January 25. What Hamdan explained, and what the world will not grasp, is that Hamas, and indeed most of the Arabs living in this region, do not view the massacre of Israeli Jews in coffee shops, aboard public buses or at shopping malls as acts of terrorism, but rather defensive actions against what they teach their children is a "brutal occupation." Their concept of what constitutes unacceptable and immoral violence is simply not the same as Western society's. And so Hamdan was able to state without blinking an eye that when speaking about the murder of even unarmed Jews: "We are not talking about aggression. We are talking about defense. We are defending ourselves." As for accepting Israeli sovereignty over any part of the land between the Jordan River and the Mediterranean Sea, the world can forget about it, Hamdan said. "Whoever says that these lands [referring to the Galilee, coastal plain and Negev regions] are not Palestinian, that's his problem." "We in the Hamas movement, and the entire Palestinian people, I believe, are convinced that the land is Palestinian... [and] must be liberated." Hamdan's claim to be speaking for all Palestinian Arabs is today quite valid considering Hamas' overwhelming electoral victory. Directly addressing American and European leaders in a January 29 Al Jazeera interview, overall Hamas leader Khaled Mashaal noted that the Palestinian Arabs, contrary to the predictions of US President George W. Bush, chose his movement despite and probably because of its terrorist policies. "The Palestinian people has chosen Hamas with its known stances. If America wants to negotiate with Hamas, it is most welcome, but based on the positions for which the people chose us." "No one should accuse us of being out of line or singing out of tune" with the public will. Some of the Hamas charter's more salient points: Hamas is one of the links in the Chain of Jihad in the confrontation with the Zionist invasion. The Islamic Resistance Movement aspires to the realization of Allah's promise, no matter how long that should take. The Prophet, Allah bless him and grant him salvation, has said: "The time will not come until Muslims will fight the Jews (and kill them); until the Jews hide behind rocks and trees, which will cry: 0 Muslim! there is a Jew hiding behind me, come on and kill him!" Peace initiatives, the so-called peaceful solutions, and the international conferences to resolve the Palestinian problem, are all contrary to the beliefs of the Islamic Resistance Movement. There is no solution to the Palestinian problem except by Jihad.
Saudis Welcome Hamas Victory
(Saudi Kingdom calls on global community to respect rights of Palestinian people)
Jan. 31….(WorldNetDaily) While much of the rest of the world has viewed the Hamas victory in the Palestinian elections with caution if not outrage, the kingdom of Saudi Arabia officially weighed in on the vote with praise for the terrorist organization. Following a meeting of the Council of Ministers, chaired by Prince Sultan, the Cabinet issued a statement welcoming the Hamas win and warning the international community to respect the rights of the Palestinian people to determine their future through the ballot box. "We look forward to a favorable international response to these developments," said the statement about the elections in Palestine in which Hamas won 74 of the 132 parliamentary seats. The statement also called upon the international community to pressure Israel to follow the road to peace to achieve a just and comprehensive Middle East peace settlement. The warm welcome for the Hamas victory is seen as an indication Saudi Arabia is likely to continue funding the Palestinian Authority under its new direction. Riyadh has pledged $100 million in funding through the next year. While the US has indicated it will not continue funding of the PA under Hamas leadership, Washington has discreetly suggested to Arab nations they should pick up the slack. The Saudi pledge was made to PA leader Mahmoud Abbas when he visited Saudi Arabia last month
Iran: No Legal Basis for UN Sanctions
Jan. 31….(YNET) Iran says the UN Security Council has no legal basis for imposing sanctions on the Islamic republic, in response to a decision by 5 of the council's permanent members to bring Iran's nuclear case for review. Iran said on Tuesday moves to send its nuclear case to the United Nations Security Council were not legally justified and that it would not bow to demands it halt atomic research and development. Vice President Gholamreza Aghazadeh, who is also Iran's nuclear chief, suggested there was still a chance the International Atomic Energy Agency would not go along with the five members. "The biggest problem for the West is that they can't find any legal justification to refer Iran to the UN Security Council," the semi-official Iranian Students News Agency quoted Aghazadeh as saying. The UN nuclear agency is holding a meeting of its 35-nation board in Vienna on Thursday to consider referring Iran's nuclear file to the Security Council, which has the authority to impose sanctions against Iran. Great Britain, China, France, Russia and the United States decided at a meeting of their foreign ministers in London on Tuesday to call on the agency to report Iran to the council. But they also agreed that the Security Council should wait until March to take up Iranian nuclear file after a formal report on Tehran's activities from the atomic agency. Last week Iran sent its top nuclear negotiator, Ali Larijani, to Moscow and Beijing to seek Russian and Chinese support against the Western drive to refer Iran to the Security Council.
Al Qaeda's No. 2 Terrorist: Next Attack on US Soil
Jan. 31….(WND) Al-Qaida's No. 2 man, Ayman al-Zawahiri, says on a new video played by Al-Jazeera satellite television today that the next terror attack will be on US soil. Al-Zawahiri confirms he survived the US air strike targeting him in Pakistan earlier this month and calls President Bush "the butcher of Washington and a failure" with reference to the attack. "The war will be transferred to Bush's soil," al-Zawahiri warns. Al-Zawahiri, an Egyptian doctor by training, says of Bush: "You are not only a liar, but also a failed crusader and a traitor." – a similar message to that of his last video, also broadcast by Al-Jazeera, which predicted Bush's defeat and "the victory of Islam" in Iraq. He appears in his turban and pointing an admonishing finger. "I cannot die if God does not want this," says al-Zawahiri. "My life does not depend on you, but is in God's hands. Do you know where I am now? I am amongst Muslims, who are protecting me." The second part of the message is addressed directly to the American people. Al-Zawahiri reminds them that their president did not accept Osama bin Laden's offer in his video message transmitted by al-Jazeera Jan. 19, a truce in exchange for America's withdrawal from Iraq. "Who has actually withdrawn from Iraq? Which soldiers are currently killing themselves?" al-Zawahiri asks. "When your sons come home in coffins, you should thank Messrs Bush and Blair for this." In the video, al-Zawahiri spoke before a black background. No automatic weapon was visible, unlike past videos. The lion of Islam, Sheik Osama bin Laden, may God protect him, offered you a decent exit from your dilemma. But your leaders, who are keen to accumulate wealth, insist on throwing you in battles and killing your souls in Iraq and Afghanistan and, God willing – on your own land."
UN Pushing to End Nation-States & Sovereignty
Jan. 30….(WND) The UN has a plan to make every Miss America Pageant contestant happy by bringing about "world peace." All it will take, says the draft of a visionary proposal by the UN Development Program, is to getting rid of all the pesky nations of the world. In fact, the plan endorsed by prominent world figures including Nobel laureates, bankers, politicians and economists to end nation-states as we know them is also designed to end health pandemics, poverty and "global warming." The UN says an unprecedented outbreak of co-operation between countries, applied through six specific financial tools, would serve as pretty much a cure-all for the world's ills and generate an extra $7 trillion in economic growth. The authors of the ambitious report don't expect nations to fold up and take the hint any time soon. But the idea is to start the ball rolling, and maybe years or decades from now the world will actually be ready to listen. Most of the focus of the UN plan is on global warming, a climate change phenomenon some consider to be more theory than reality. But it seems to be the central component in the UN's globalization scheme for the future, the very organizing principal behind the push to eliminate borders, sovereign governments and autonomous nation-states. If the scheme seems far-fetched, consider that it already has the backing of the UK, France, Italy, Spain, Sweden and the Bill and Melinda Gates Foundation, according to the London Independent. The UN plan includes six immediate action steps:

1. Reduce greenhouse gas emissions through pollution permit trading;
2. Cut poor countries' borrowing costs by securing the debts against the income from table parts of their economies;
3. Reduce government debt costs by linking payments to the country's economic output;
4. An aggressive campaign of worldwide vaccinations;
5. Tapping into the vast flow of money from migrants back to their home country;
6. Aid agencies underwriting loans to market investors to lower interest rates.
It's not the first time the UN has come out openly to suggest global government is the only solution to the world's problems. "Our Global Neighborhood" was a 410-page final report of the Commission on Global Governance, and was first published in 1995 by Oxford University Press. That 28-member "independent commission," created by former German Chancellor Willy Brandt, developed the following strategy, as reported in the EcoSocialist Review: "To represent a shot-across-the-bow of George Bush's New World Order, and make clear that now is the time to press for the subordination of national sovereignty to democratic transnationalism." Then-UN Secretary-General Boutros Boutros-Ghali endorsed the commission, and the UN provided significant funding. The plan calls for dramatically strengthening the United Nations, by implementing a laundry list of recommendations, including these:

Eliminating the veto and permanent member status in the Security Council;
Authorizing global taxation on currency exchange and use of the "global commons;"
Creating an International Criminal Court;
Creating a standing army under the command of the secretary-general;
Creating a new Economic Security Council;
Creating a new People's Assembly;
Regulating multinational corporations;
Regulating the global commons;
Controlling the manufacture, sale and distribution of all firearms.
And none of those recommendations were new. All had been proposed in a variety of documents for decades by various groups and individuals. However, this did mark the first time the comprehensive plan for global governance was published with the approval and funding support of the United Nations. To justify the sweeping changes proposed by the commission, a new concept of "security" was offered. The UN's mission under its present charter is to provide "security" to its member nations through "collective" action. The new concept expands the mission of the UN to be the security of the people, and the security of the planet. Thus, in their speeches to the UN's Millennium Assembly in 2000, both Secretary General Kofi Annan and President Bill Clinton made reference to this new concept, saying national sovereignty could no longer be used as an excuse to prevent the intervention by the UN to provide "security" for people inside national boundaries. To provide security for the planet, the plan called for authorizing the UN Trusteeship Council to have "trusteeship" over the "global commons," which the plan defines to be: " ... the atmosphere, outer space, the oceans beyond national jurisdiction, and the related environment and life-support systems that contribute to the support of human life."
Rice: US Wants Countries to Cut off Aid to Hamas
Jan. 30….(Ha Aretz) US Secretary of State Condoleezza Rice on Sunday ruled out any American financial aid to a Hamas government in the Palestinian territories and said Washington wants Arab nations and others to cut off money as well. Humanitarian aid to the Palestinians, many of whom are poor and unemployed, is likely on a "case-by-case basis," Rice said. She indicated that the Bush administration would follow through on aid promised to the current, US-backed Palestinian government led by President Mahmoud Abbas. "The United States is not prepared to fund an organization that advocates the destruction of Israel, that advocates violence and that refuses its obligations," under an international framework for eventual Mideast peace, Rice said. Hamas, or the Islamic Resistance Movement, won a decisive majority in last week's Palestinian legislative elections. The group, which has political and militant wings, will now take a large role in governing the Palestinians. The makeup of the new government is not clear. The Islamic militants, who carried out dozens of suicide bombings and seek Israel's destruction, have said they oppose peace talks and will not disarm. Israel refuses to deal with Hamas. Hamas' unexpected electoral victory raised questions about the future of the peace process between the Palestinians and Israel, and how the United States can influence such efforts or help impoverished Palestinians. "We're going to review all of our assistance programs, but the bedrock principle here is we can't have funding for an organization that holds those views just because it is in government," Rice said. The top US diplomat spoke to reporters as she flew to London for a Mideast strategy session with European and Russian leaders and UN Secretary-General Kofi Annan. Rice also will meet separately with other permanent members of the UN Security Council to discuss Iran and an upcoming vote on whether to refer the Tehran government to the council over its nuclear program. Rice was more definitive than President Bush and other administration officials have been about the future of US aid now that Palestinians have voted in Hamas. The US, Europe and Israel list Hamas as a terrorist organization; various Arab governments have contact with the group. "It is important that Hamas now will have to confront the implications of its covenant if it wishes to govern," Rice said. "That becomes a primary consideration in anything that we do." It is not clear that all European nations or the United Nations would cut off aid, let alone Arab governments that do not recognize Israel. "I just think that anyone who is devoted to trying to bring Middle East peace between two states has an obligation now to make sure that anybody that is going to be supported is going to have that same" goal, Rice said. Some in Israel and in the administration would like to isolate and impoverish the new Hamas leadership in hopes of either forcing the group to moderate its policies or hastening disillusionment with the incoming government among Palestinians. US aid is a small part of the $1.6 billion annual budget of the Palestinian Authority. About $1 billion comes from overseas donors, more than half of that from European nations. The rest is a mix of funds from international donor agencies, Arab and Asian governments, and the US, which gave $70 million in direct aid to the Palestinian Authority last year. Separately, the US spent $225 million for humanitarian projects through the US Agency for International Development last year, and gave $88 million for refugee assistance. In the past, USAID money has gone for such projects as sprucing up the Ramallah auditorium where Palestinian leaders hold press conferences. Rice suggested that only the most pressing needs would be considered now. Earlier Sunday, with Hamas' victory discussed on the US talk shows, a Republican senator said cutting US aid to the Hamas-run government could push the Palestinians closer to Iran and create further chaos in the Middle East.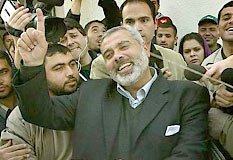 Hamas, meanwhile, asked the international community Monday not to cut aid to the PA in the wake of its win in the Palestinian parliamentary elections last week, pledging that the funding would be used only for social relief and not for violence. "We call on you to transfer all aid to the Palestinian treasury," Hamas leader Ismail Haniyeh told a news conference in Gaza. Addressing international concerns that aid would be used to fund terrorism, Haniyeh said: "We assure you that all the revenues will be spent on salaries, daily life and infrastructure." Asked if suspended funds from Israeli-collected taxes would be diverted to attacks on Israelis and to the armed wing of Hamas, Haniyeh said "No, this money is the people's, and it will go to the people."